Have you seen the recipes of how to color eggs with shaving cream? It sounds – and looks – cool, but who wants shaving cream on food that they will eat? That's gross! You can dye eggs with non-toxic food products instead, so you don't have to worry about food covered in bath products (or smell shaving cream on eggs hidden around your house!)
Here's how to dye Easter eggs with whipped cream or whipped topping (also called Cool Whip by many – including my own family).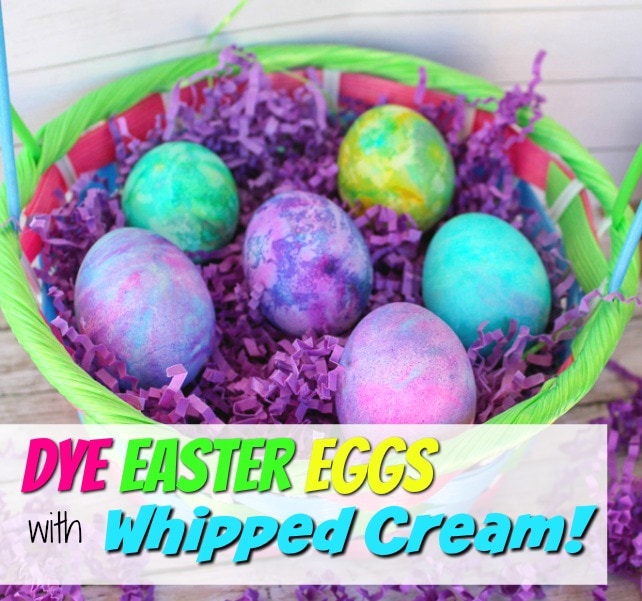 You might also like our step-by-step process of how to dye eggs with Kool-Aid.
How to Dye Easter Eggs with Whipped Cream
Supplies:
Eggs – already hard boiled and cooled; use as many or as few as you'd like
Whipped Topping – Use store brand whipped topping or name brand Cool Whip; get the large container
White vinegar
Instructions:
Soak the eggs in a bowl of vinegar for at least 10 minutes.
In a large container, such as a large casserole dish or cookie sheet, thaw out the whipped topping. Smooth the whipped cream into an even thickness.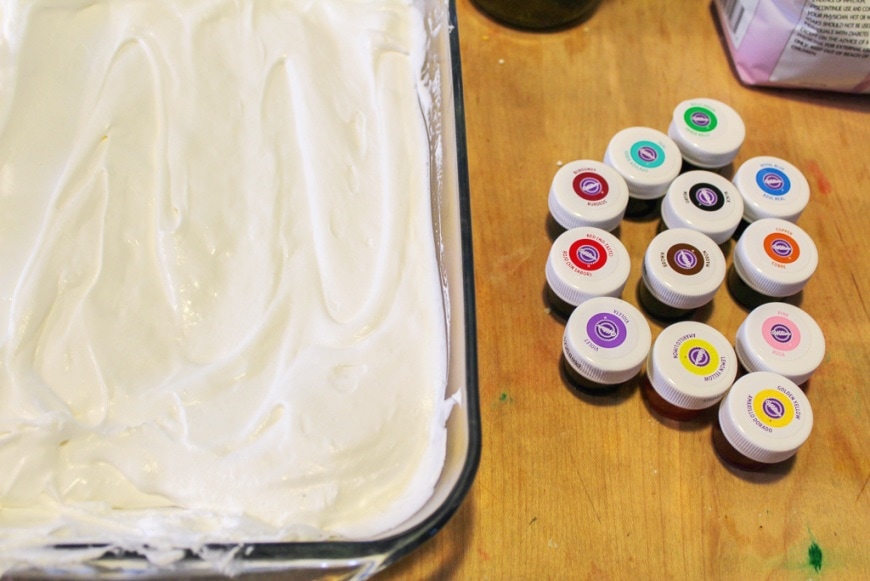 Using gel food coloring, add a few drops to the whipped cream and gently mix and swirl the coloring. You can choose just one solid color, or mix several colors in the whipped cream in the same container for a rainbow effect.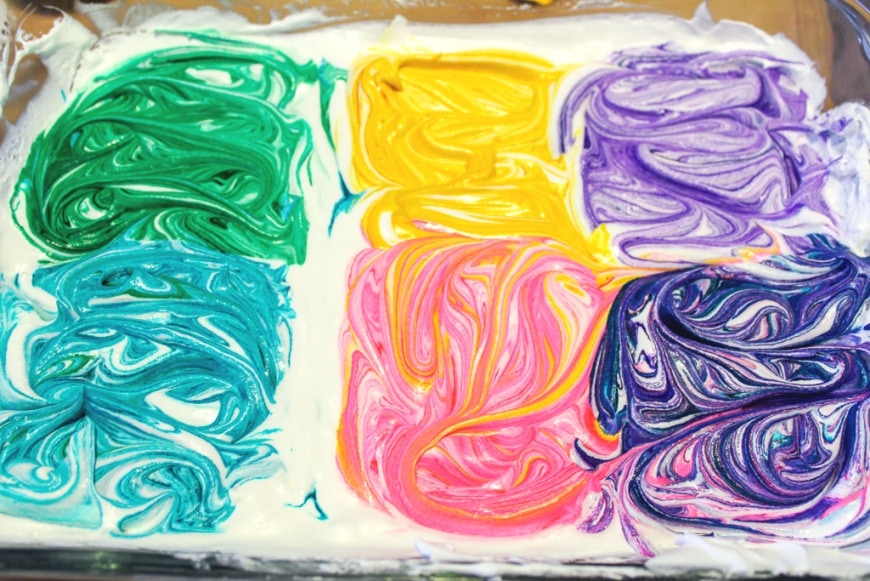 NOTE: It is very important to use gel food coloring! Traditional food coloring will not be as dark or as easily seen.
Once you've got all of your colors created, place an egg in the whipped topping. You can place as many eggs as will fit in the container of whipped cream.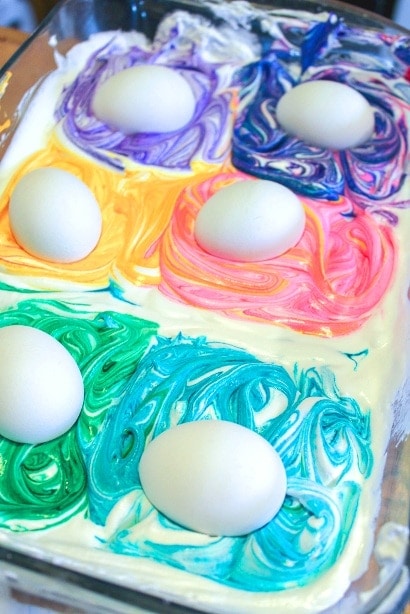 Spoon colored whipped cream on top of each eggs to fully cover the egg. Leave the eggs in the colored whipped cream for 15 minutes.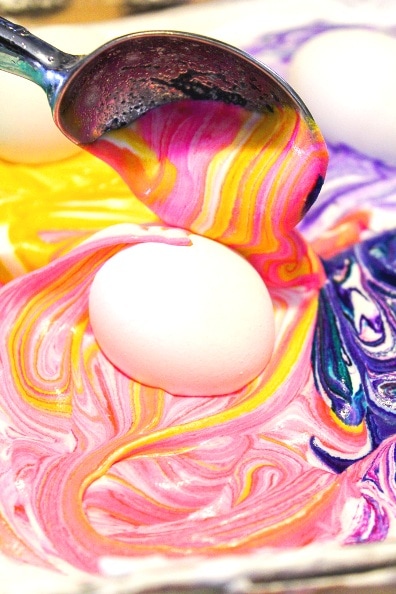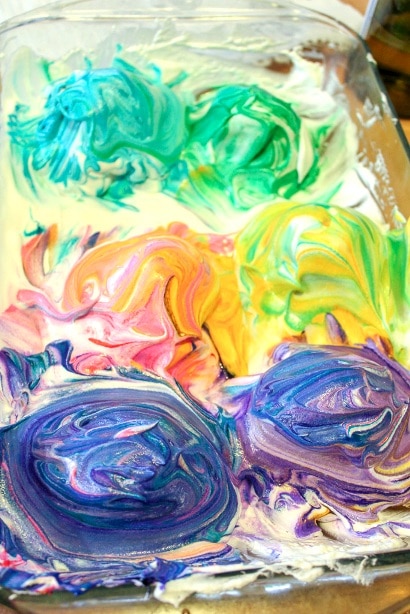 Next, fill a small bowl with water. Gently dunk the egg (one at a time) in the water and swish it around. *Do not rub the excess whipped cream off of the Easter egg or run the egg under the tap as that will wash away the coloring.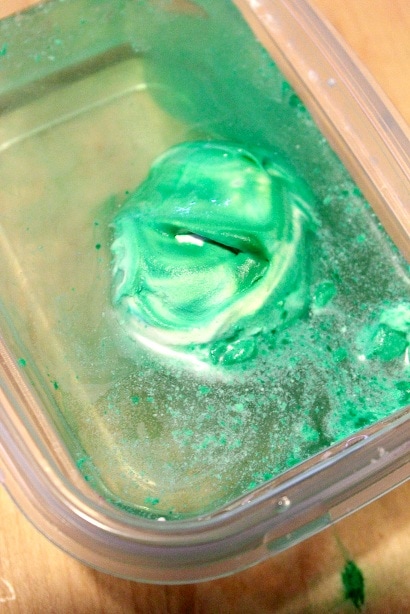 Allow the Easter Eggs to dry.


Hide the Easter eggs as normal, in an Easter egg hunt or in an Easter basket. Check out these cute Easter Basket Gift Ideas, too.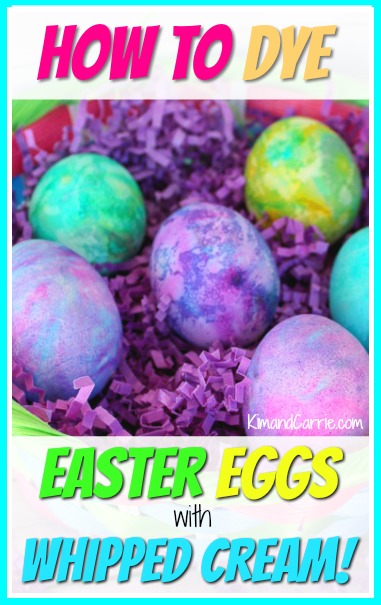 Enjoy your Cool Whip Easter Eggs that don't have a manly smell of musk or cologne 😉 And feel better knowing that they used only edible, food-based dyes to color the eggs your kids and family will be enjoying all week long!
Are you looking for more fun and unique ways to dye Easter eggs? Here's how to dye Easter eggs with nail polish.
Or try these 5 all-natural egg dyes using food and spices in your pantry.