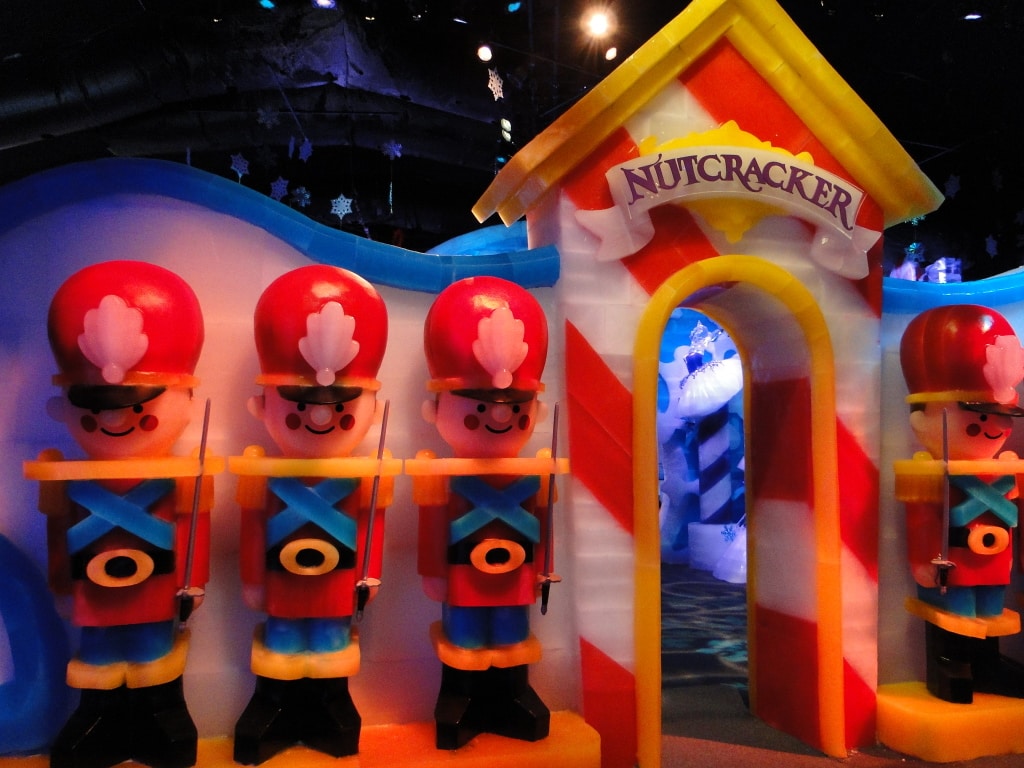 If you have never seen ICE! at Gaylord Palms, oh, you do not know what you're missing!!!
Long considered one of the can't-miss-events in central Florida for the holidays, ICE! at the Gaylord Palms in Kissimmee, Florida starts in mid-November and runs until January 4, 2015.
Let's set the stage for why this event is so uber awesome. First, you're in Florida, where the weather is balmy and warm but just doesn't quite feel like the holidays. So what are you going to do? Head to Gaylord Palms (just outside of the main entrance to Walt Disney World property) where you can experience a wintry wonderland, and then go hop in the outdoor pool to warm up.
ICE! is an indoor ice event filled with 2 MILLION pounds of colorful ice sculptures and ice slides. Yes, that's right, a LOT of ice! Along with the seasonal sculptures also comes a blast of wintry air. It's 9 degrees in ICE! It's really, really, really cold (you've got to admit that, even if you are from up north and used to colder temps).
The 2014 theme of ICE! is the Nutcracker. Each year the theme changes, so you'll never see the same sculptures twice. Except, of course, for the exquisite nativity scene made from sparkling, clear white ice that shines underneath the lights. It's powerful and a true visual image of the Reason for the Season.
Not all aspects of ICE! are just to look at. There is an interactive ice slide that is always a favorite among kids and adults.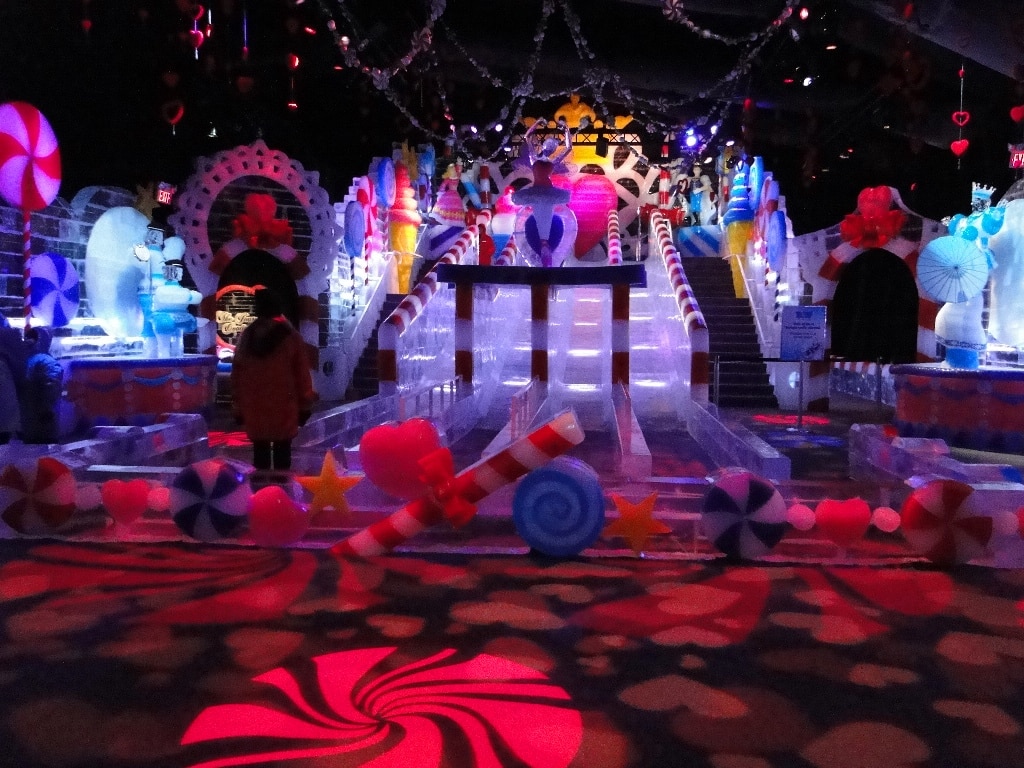 New this year is an Ice Bar where you can taste Johnny Appleseed hard cider after it's been poured through an ice luge into your souvenir glass. The cost is $15.95.
ICE! is just one part of the Christmas at Gaylord Palms celebrations, though. You can find so much more to do than simply walk through ice sculptures.
New this year is the Alpine Rush Snow Tubing. There's 1.5 million pounds of real snow in this room that has eight snow tubing lanes. It's a thrill to sit in an inflatable tube and swoosh down the snow run. You will go fast on this run, so be prepared! I screamed and laughed along with the little kids because it was a thrill for a Floridian to enjoy snow tubing!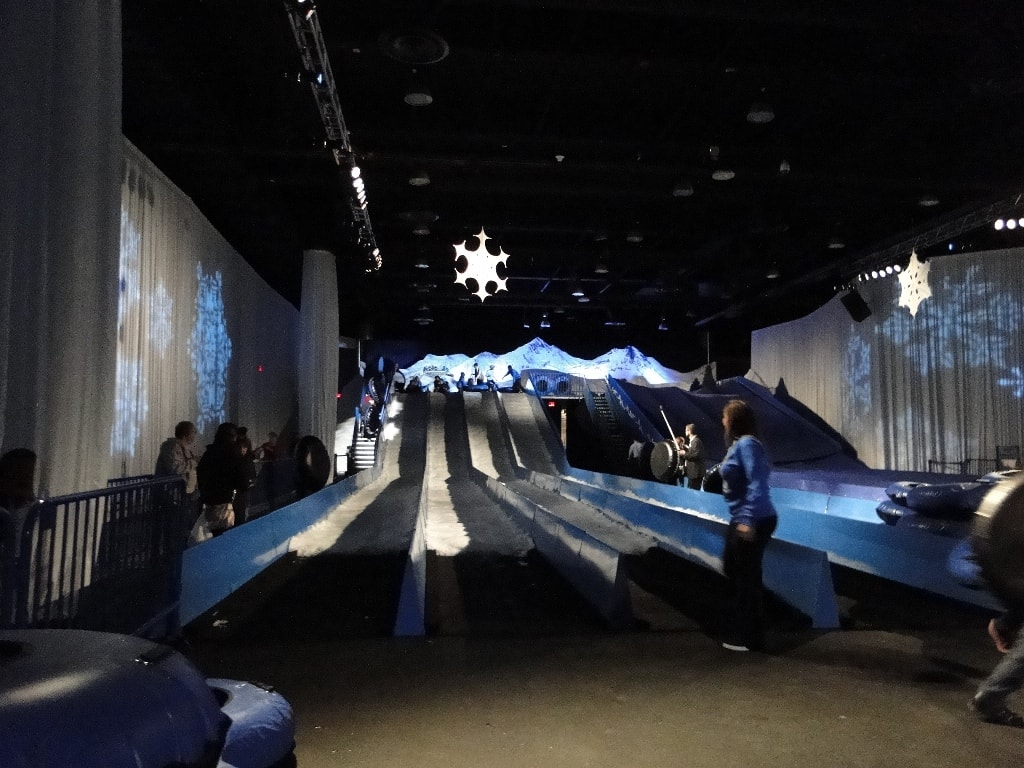 Also in the Convention Center area with ICE! and Alpine Rush Snow Tubing are a chance to make gingerbread houses and cookies, a photo studio for holiday photos, and an area to enjoy snacks from businesses such as Ms. Bee's Popcorn and Gigi Cupcakes.
Of course there is a shopping area, and it is HUGE at the Gaylord Palms! Market Square has everything Christmas-related with a heavy emphasis on nutcrackers this year to go along with the theme.
That's just what is happening in the Convention Center. Back in the main atrium of the Gaylord Palms, you'll be amazed at the light show, Luminescence, that is free for all guests to watch. With more than 2 million twinkling lights hanging from the rafters and synchronized to music, it is a magical celebration of Christmas!
There are also live stage shows, as well as photos with Santa, a Reindeer Roundup Scavenger Hunt, holiday dining options, and so much more! Of course Gaylord Palms is decorated beautifully with live plants and dramatic displays as they always are with the change of each season. There's so much to do here, you'll definitely want to make a complete day of it!
We know you've got questions – and Kim and Carrie have got answers! We've both been to ICE! over the years and here's the words of wisdom and helpful hints we want to pass along:
The Number One question is – What Should I Wear to ICE? It all depends on your cold tolerance, quite honestly, but here's what Kim wears (who is ALWAYS cold!!) – jeans with a thin layer of long johns underneath; a sweater with a fleece vest over it (thin sweater and vest because I don't own anything too heavy living in Florida!); a warm pair of socks; thick shoes, such as boots. Do not wear open-toed shoes, flip flops or sneakers made with mesh. Your feet will freeze, no matter how hearty you think you are. In fact, long pants and closed toe shoes are required.
You do not need to bring a winter coat! A heavy duty, calf-length parka with hood will be provided free of charge for everyone. You do not have to wear it if you want to bring your own, though.
You MUST, MUST, MUST bring gloves – and make them thick ones! There are no pockets on the parkas, so if you don't bring gloves, your hands will be painfully cold. It also helps to have the kind of gloves that you can still operate a smart phone with if you are taking pictures. Taking your hands in and out of gloves to operate a camera or phone will become uncomfortable very quickly.
A hat is attached to the parka that they will loan you, but it will not easily stay on your head. Bring a scarf to wrap around your neck outside of the parka to not only keep your neck warm, but also to keep the hat staying on your head. Otherwise, bring your own warm hat (made for snow, not a decorative hat). You WILL want it!
Tissues are a good idea to have on hand with you. There will be tissues when you leave, but you might need them indoors, too, when your nose starts running with the cold.
Bring a bag to carry all of the fashion accessories that you'll only need inside ICE! Otherwise, you're sure to lose mittens, gloves, and more. You will not need to be wearing these items in any of the other aspects of Christmas at Gaylord Palms, including the Alpine Snow Tubing.
Your camera lens will likely fog up after leaving ICE! and re-entering the building. Keep that in mind for taking pictures immediately afterwards, depending on how long your lens might take to de-fog. My camera didn't take too long this year, but in years past it was about 10 minutes. Our iPhones, however, had no problem.
Parking is crazy expensive and is not included. It's $18 a car for self parking. You can recoup that cost if you eat at one of several restaurants at the Gaylord Palms and get your parking ticket validated.
Don't wait until Christmas to go! The closer it gets to the holidays, the more crowded it is. Consider an off-peak time, like early November and December, or mid-week.
Use discounts!! Florida residents can save up to $4, while Marriott Rewards Members can now save 20% on Sun-Thurs admission using the code MRICE14.
Book online. Not only will you save money, but you'll save lots and lots of time.
Prices are $28.99 for adults in advance and $29.99 for adults at the Box Office. ALL tickets then have a $2 facility fee per ticket added, which really is annoying for anyone who hates being nickel and dimed.
You can pay for priority access and add on a snow-tubing package.
Have you ever been to ICE!? What would you recommend for a first timer?