ICE! at Gaylord Palms is one of the most popular Christmas events in Orlando! Each July, the theme for ICE! is announced in a grand celebration. We were thrilled to see that ICE! 2019 at Gaylord Palms will be The Polar Express this year!
Here's everything you need to know about ICE! 2019 at Gaylord Palms near Orlando. We're sharing some sneak peeks of what The Polar Express will look like carved out of 2,000,000 pounds of ice. (And we are sharing lots of pictures from previous year's events!).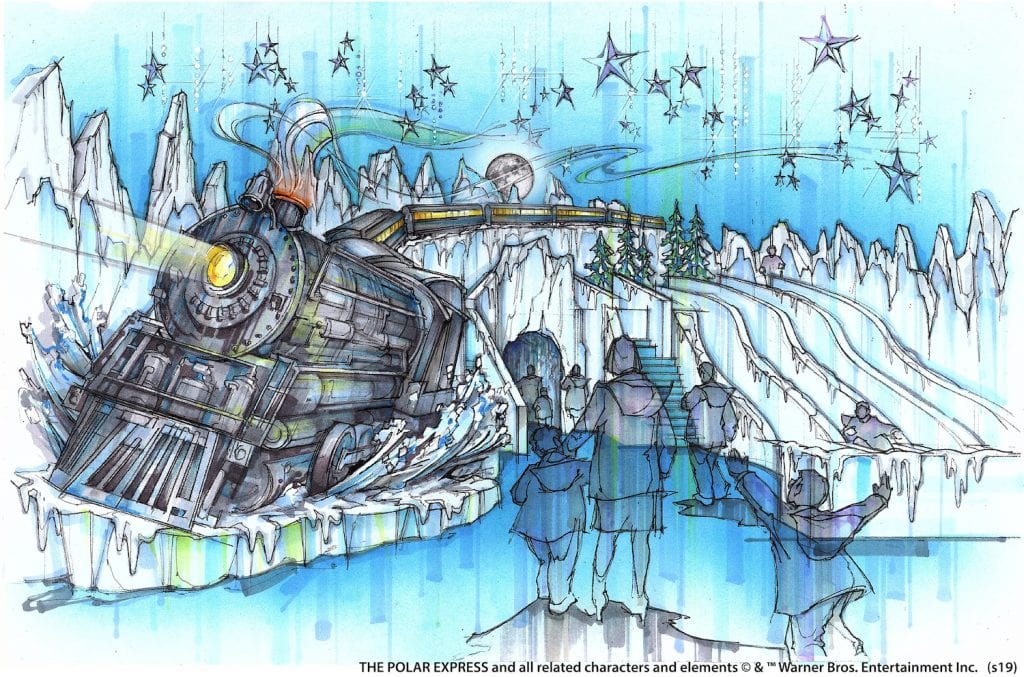 ICE! 2019 at Gaylord Palms
Warner Bros.' The Polar Express will be the theme for ICE! at Gaylord Palms. Guests will take a magical (if not very cold!) journey to the North Pole, learning about friendship, bravery and the true spirit of Christmas.
ICE! will be November 25, 2019 through January 5, 2020.
New for ICE! 2019 this year is:
Elf Training Academy
Families can experience a day in the life of one of Santa's toy makers inside the new Elf Training Academy at Alpine Village. Guests can become honorary gift maker elves as they create the perfect Christmas present for someone special, all under the guidance of the elf supervisor.
Many fan favorites are returning to ICE! 2019 at Gaylord Palms. See below for more details on all there is to do during Christmas at Gaylord Palms.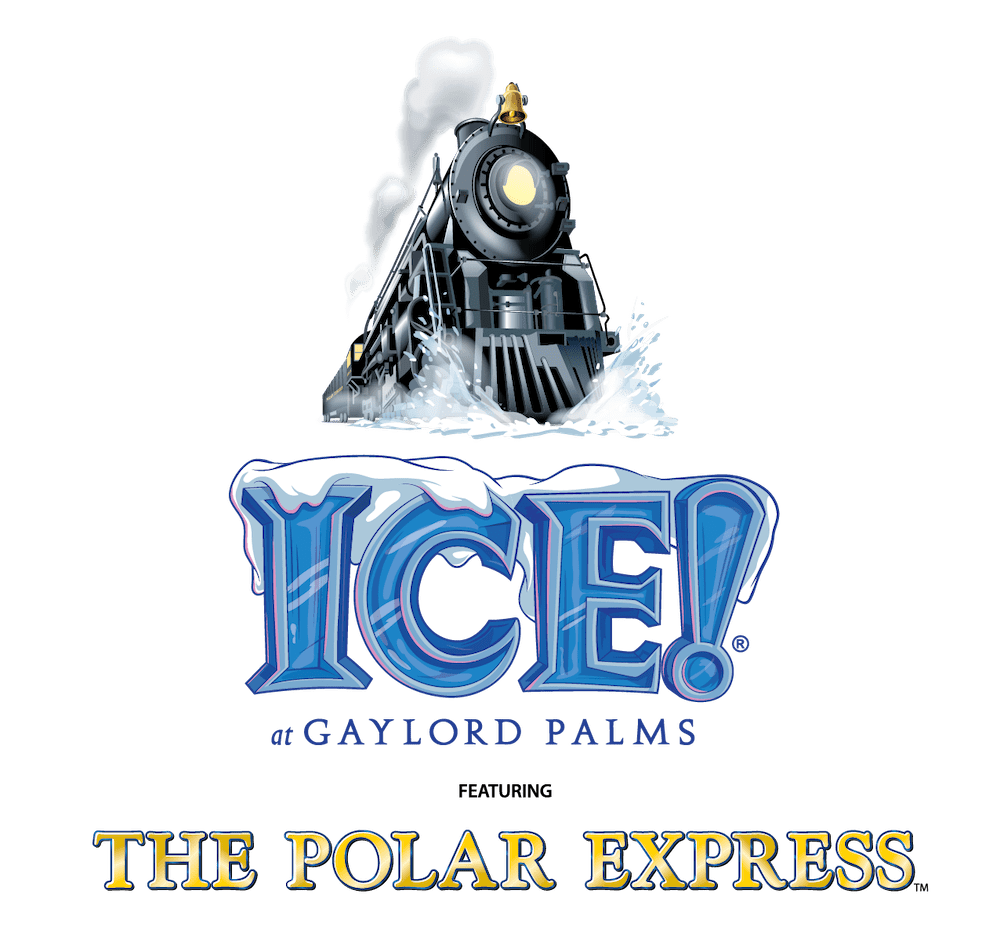 ICE! Gaylord Palms Orlando 2018
The theme for 2018 ICE! at Gaylord Palms near Orlando was "A Christmas Story."
"A Christmas Story" has always been a classic holiday movie. See our photos of how the favorite Christmas movie was created out of ice.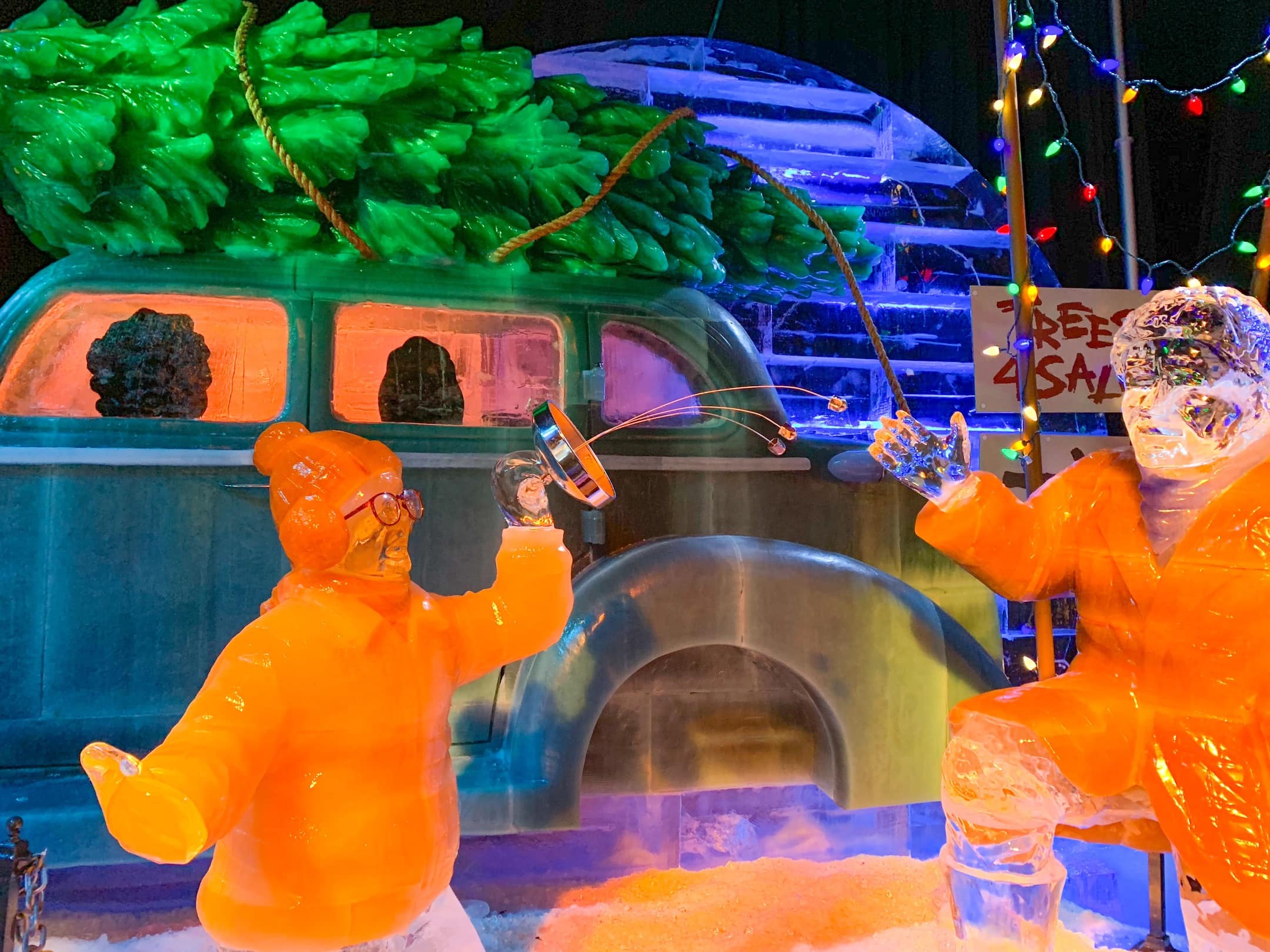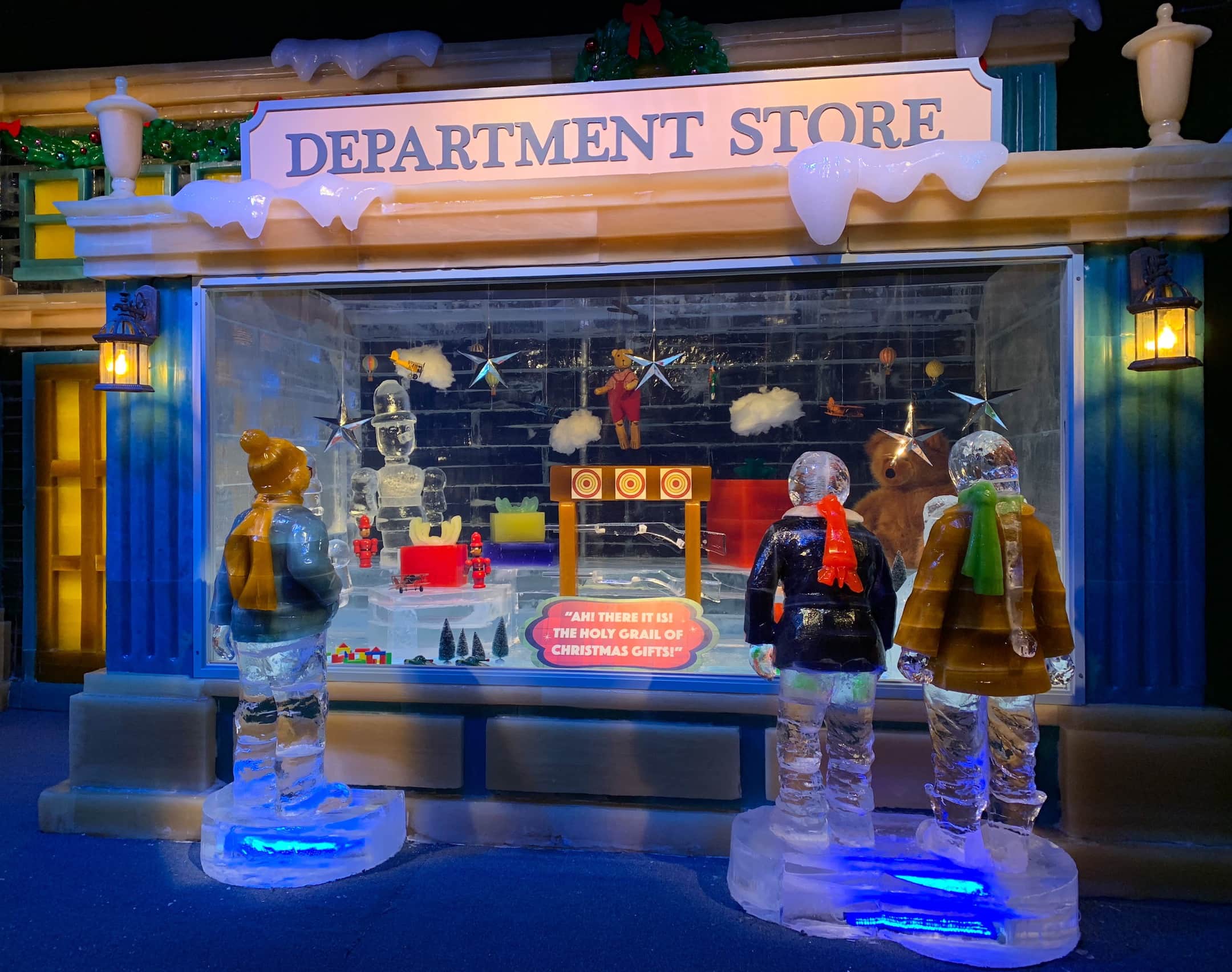 The hilarious family tale will come to life through hand-carved ice sculptures and displays, inviting guests to relive the film's iconic scenes such as The Old Man's Major Award, Aunt Clara's pink nightmare and the ultimate triple dog dare at the school's flagpole, and many more!
There are more than a dozen fan-favorite scenes from "A Christmas Story," along with the event's two-story ice slides (this year they are curved!) and the popular Frostbite Factory live ice carving showcase.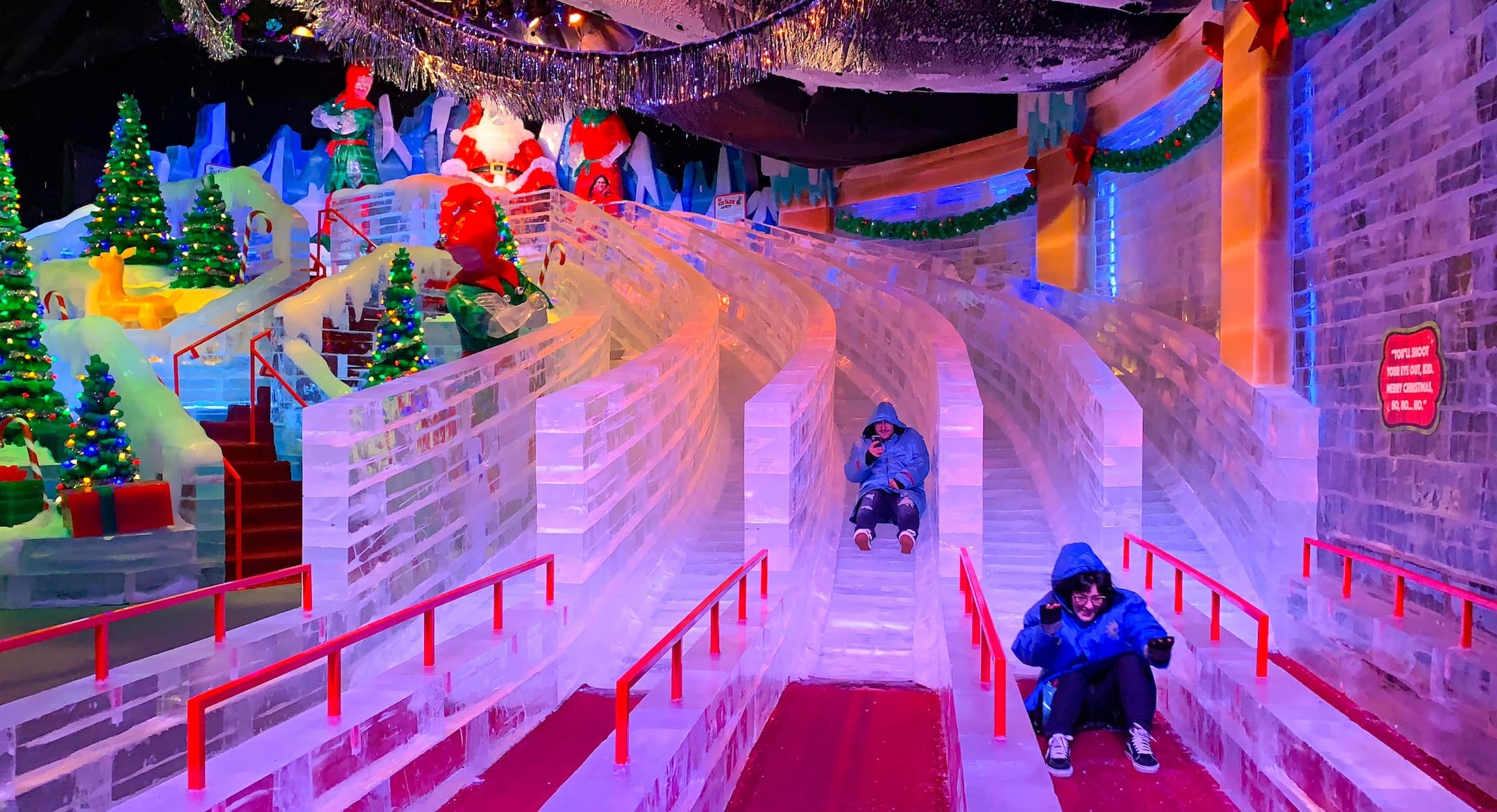 WATCH THE FULL WALK THROUGH VIDEO WITH NO CROWDS!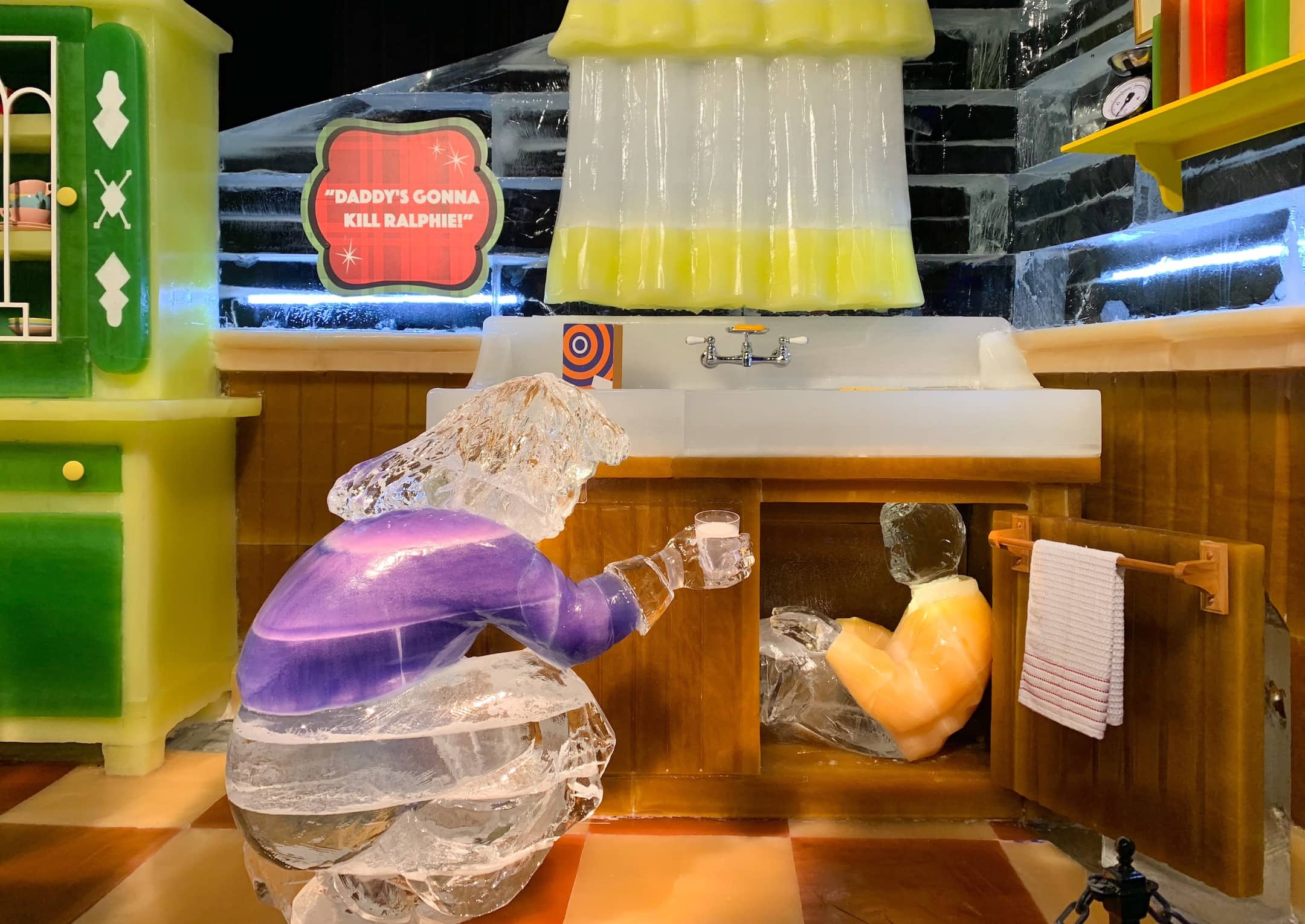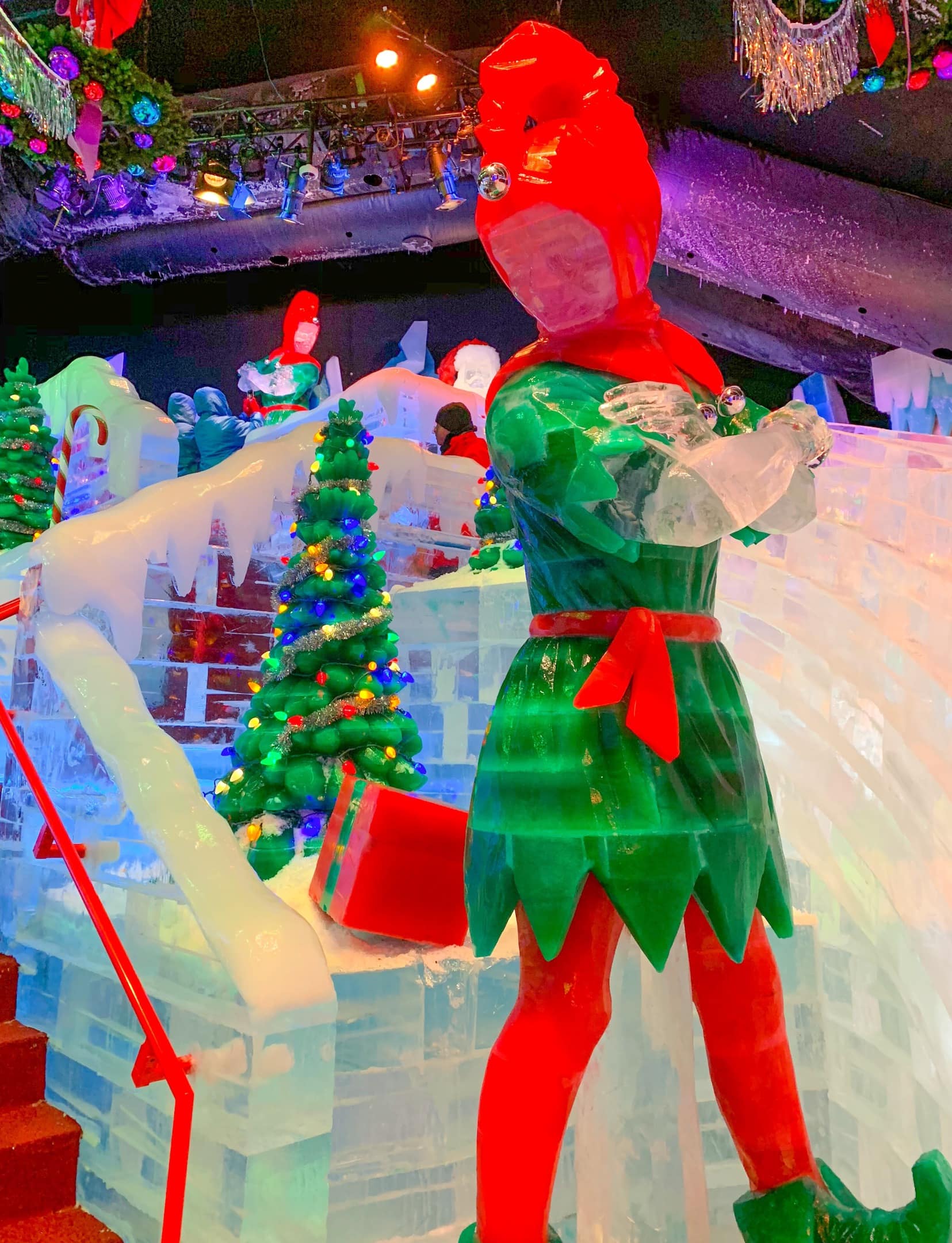 The ICE! experience concludes with a separate area dedicated to a traditional Nativity created with crystal clear ice.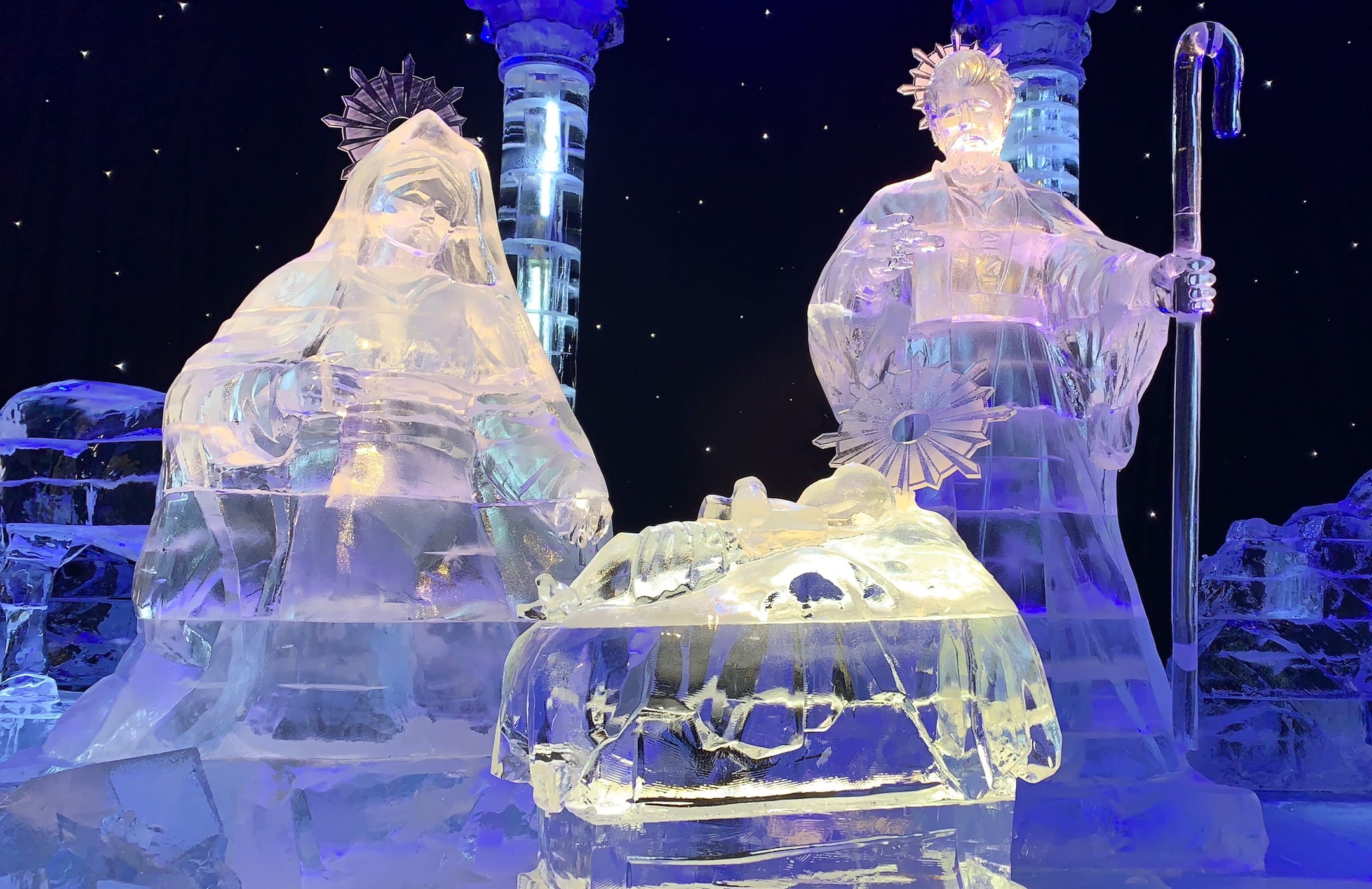 ICE! at Gaylord Palms
Every year the theme changes for ICE! at Gaylord Palms near Orlando, Florida. The new theme isn't known until it is announced during a Christmas in July event at Gaylord Palms.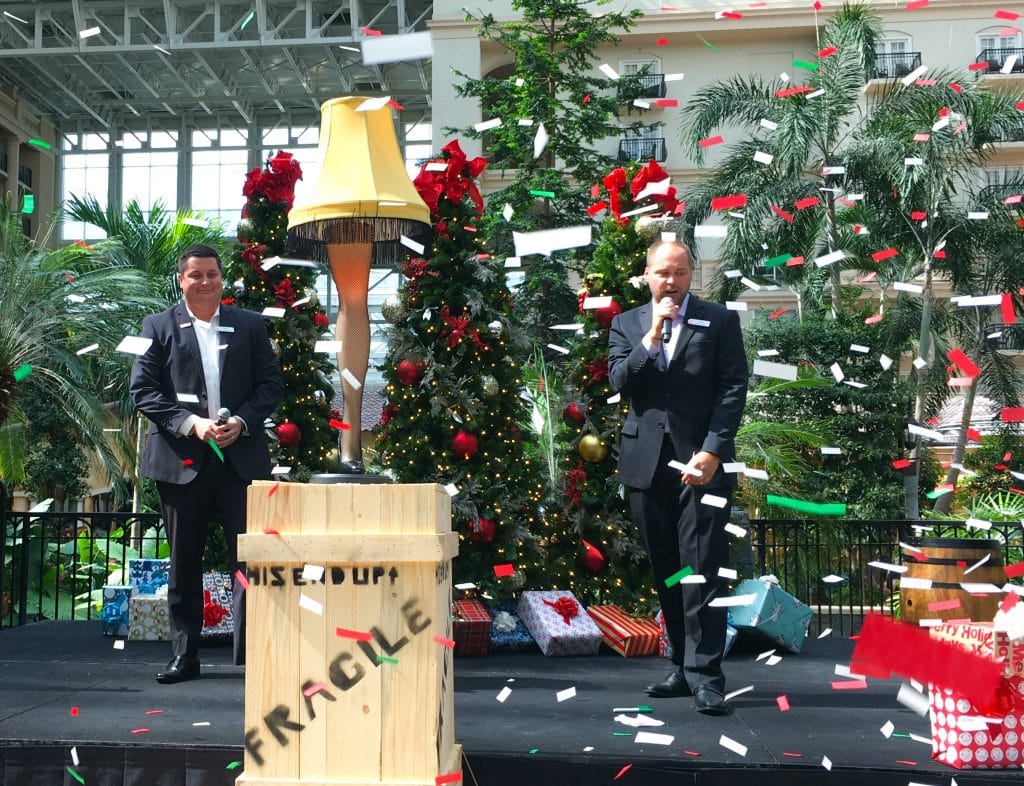 We have been there for the media announcement for the past few years. Here are some of the fun and festive reveals of the Gaylord Palms ICE! theme:
Choosing a theme for Gaylord Palms' Christmas event can be more of a challenge, compared to other Gaylord ICE! events. That's because Gaylord Palms in Orlando is surrounded by Walt Disney World, Universal Studios and SeaWorld.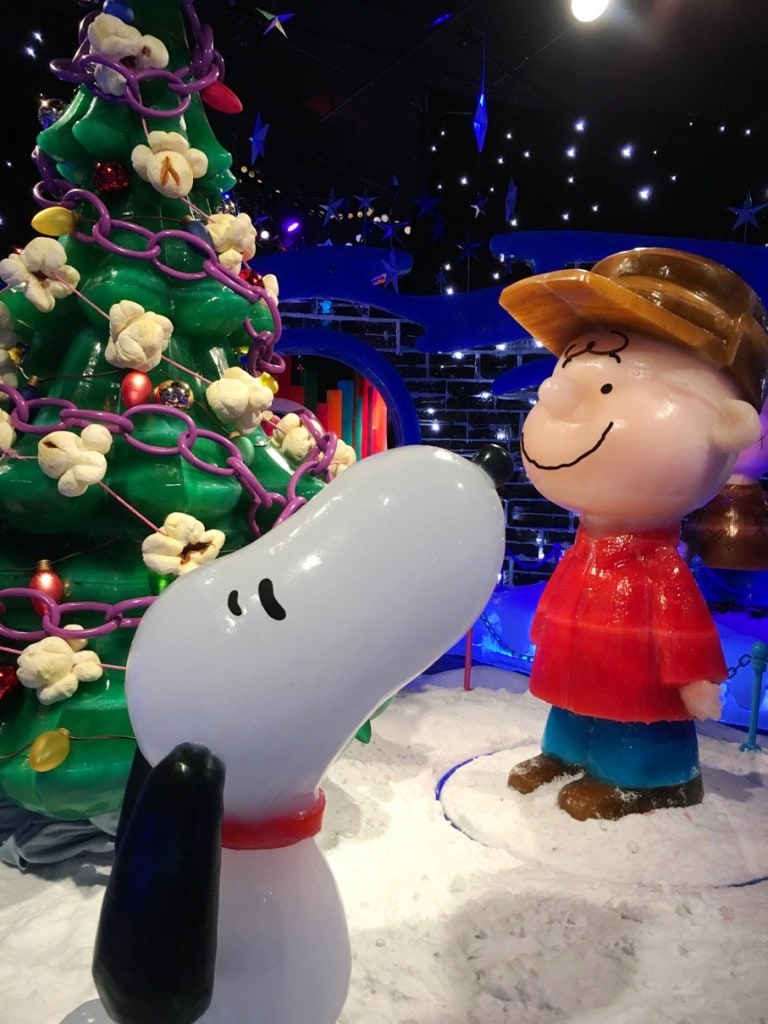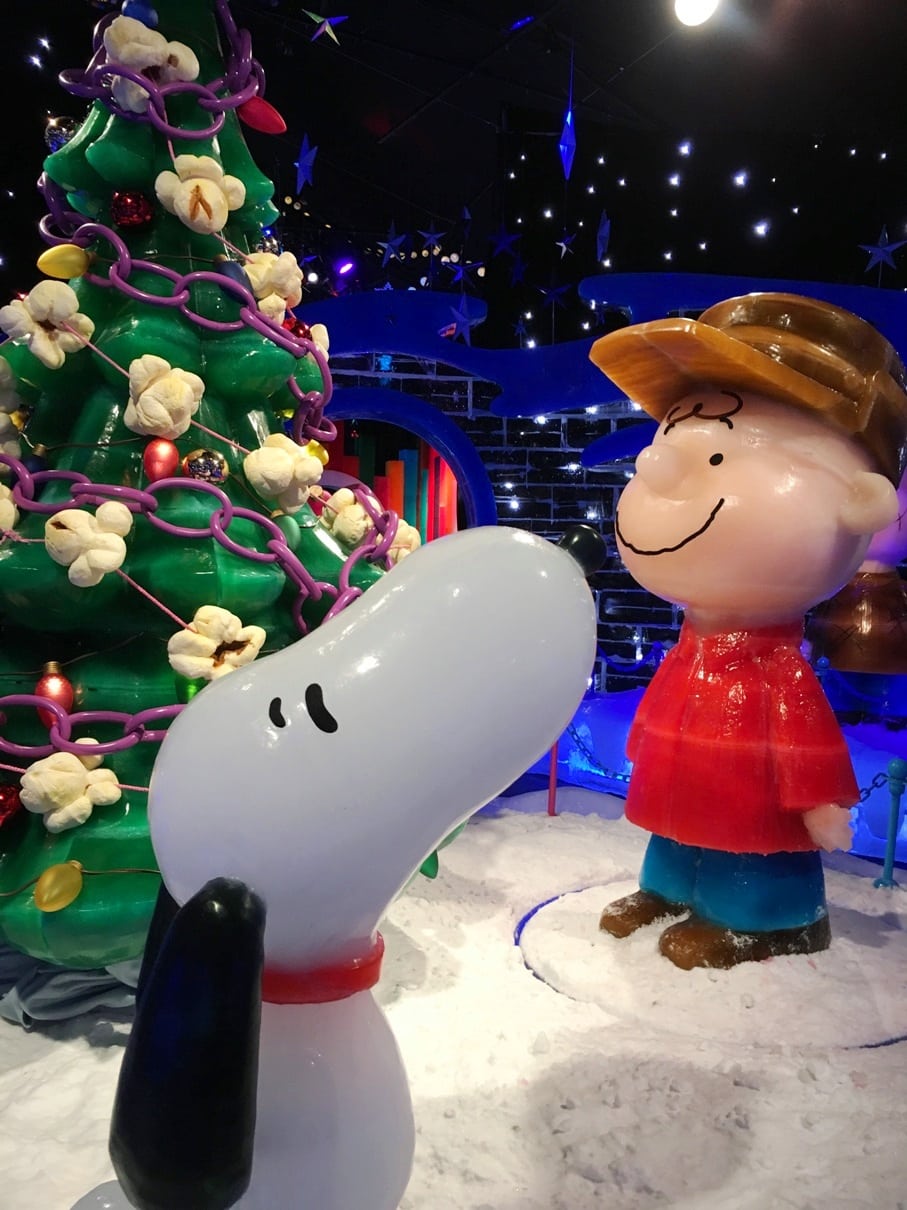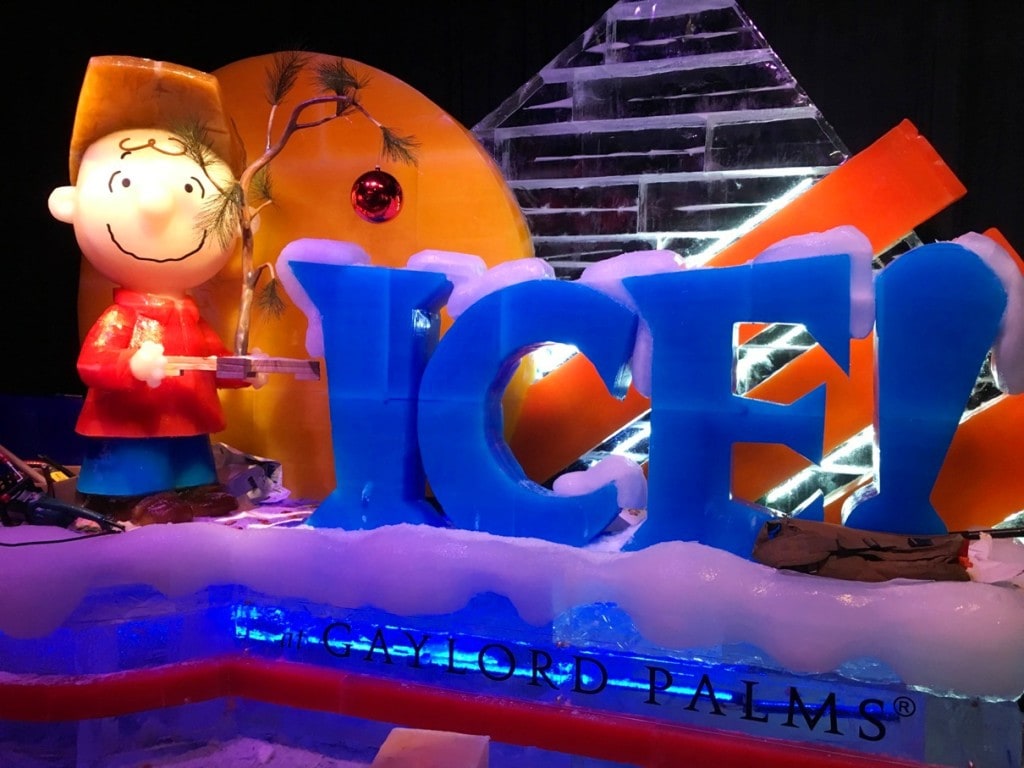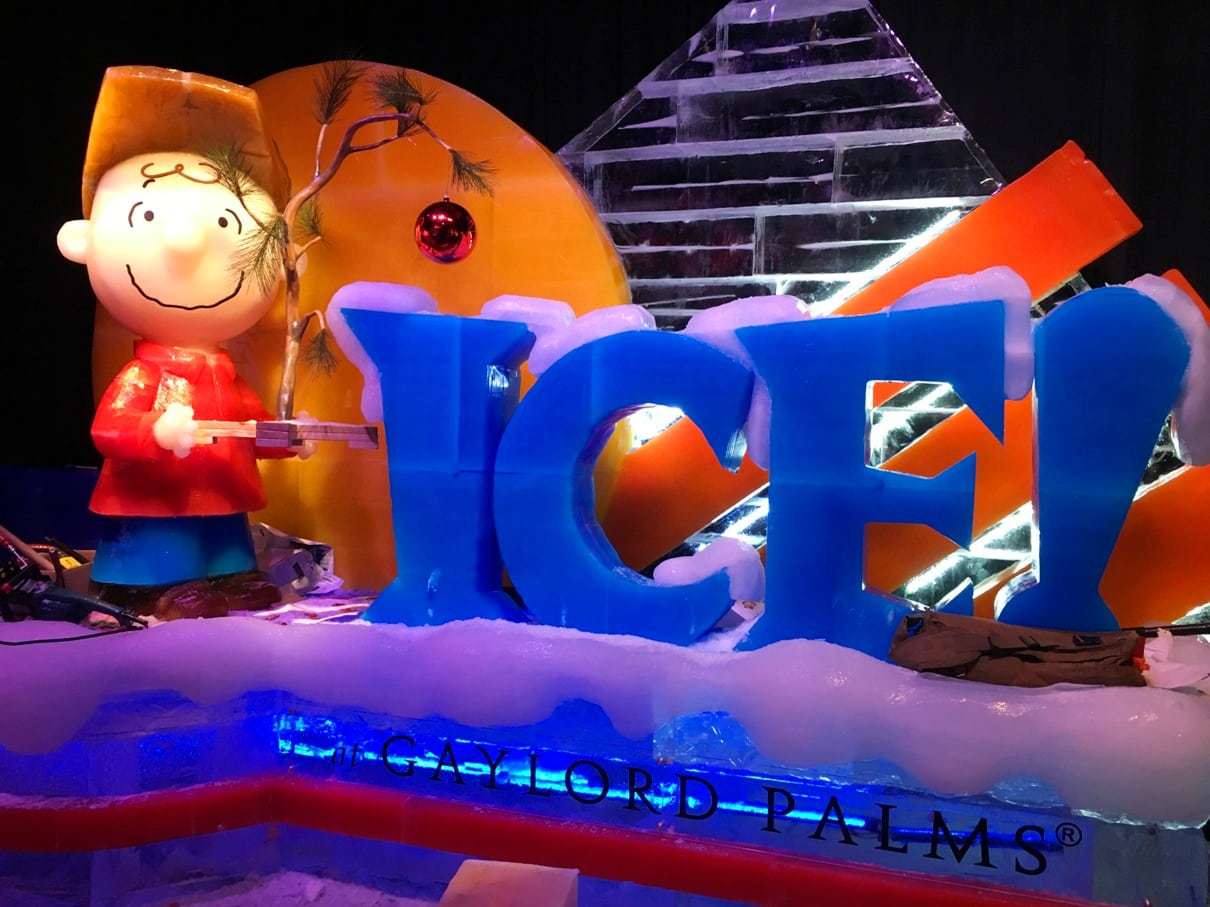 All of these theme parks have their own intellectual property, which means they own the rights to popular characters. And they don't want anyone in their immediate area competing with their own Christmas displays.
Nevertheless, ICE! at Gaylord Palms has always been spectacular! Every theme has been fun and a classic Christmas experience. Previous themes for ICE! include:
A Christmas Story (2018)
Christmas Around the World (2017)
Night Before Christmas (2015)
The Nutcracker (2014)
Videos from previous Christmas events:
How is ICE! at Gaylord Palms Made?
The ICE! attraction is crafted by artisans from Harbin, China, home of the world's largest ice and snow sculpture festival.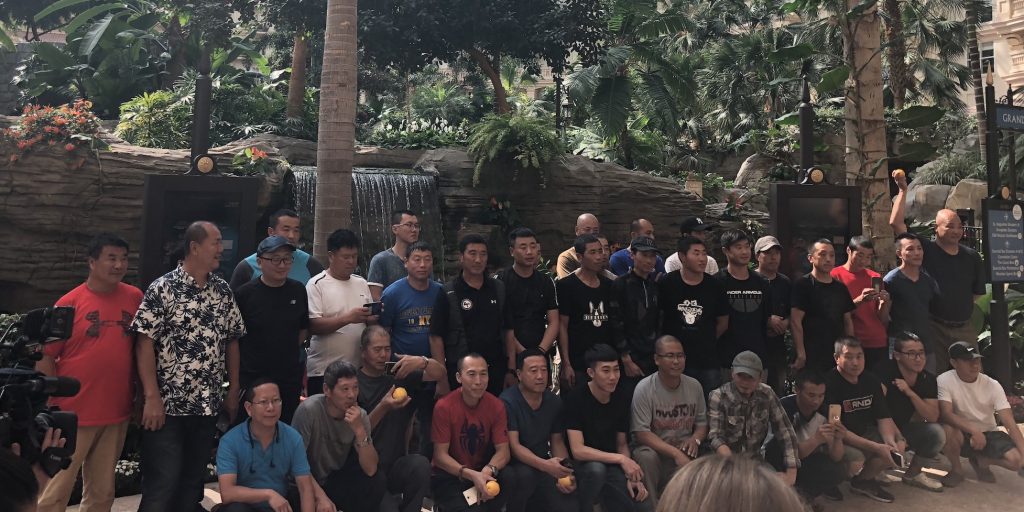 The ice carvers travel more than 6,000 miles to hand-carve more than two million pounds of colorful ice, creating larger-than-life sculptures.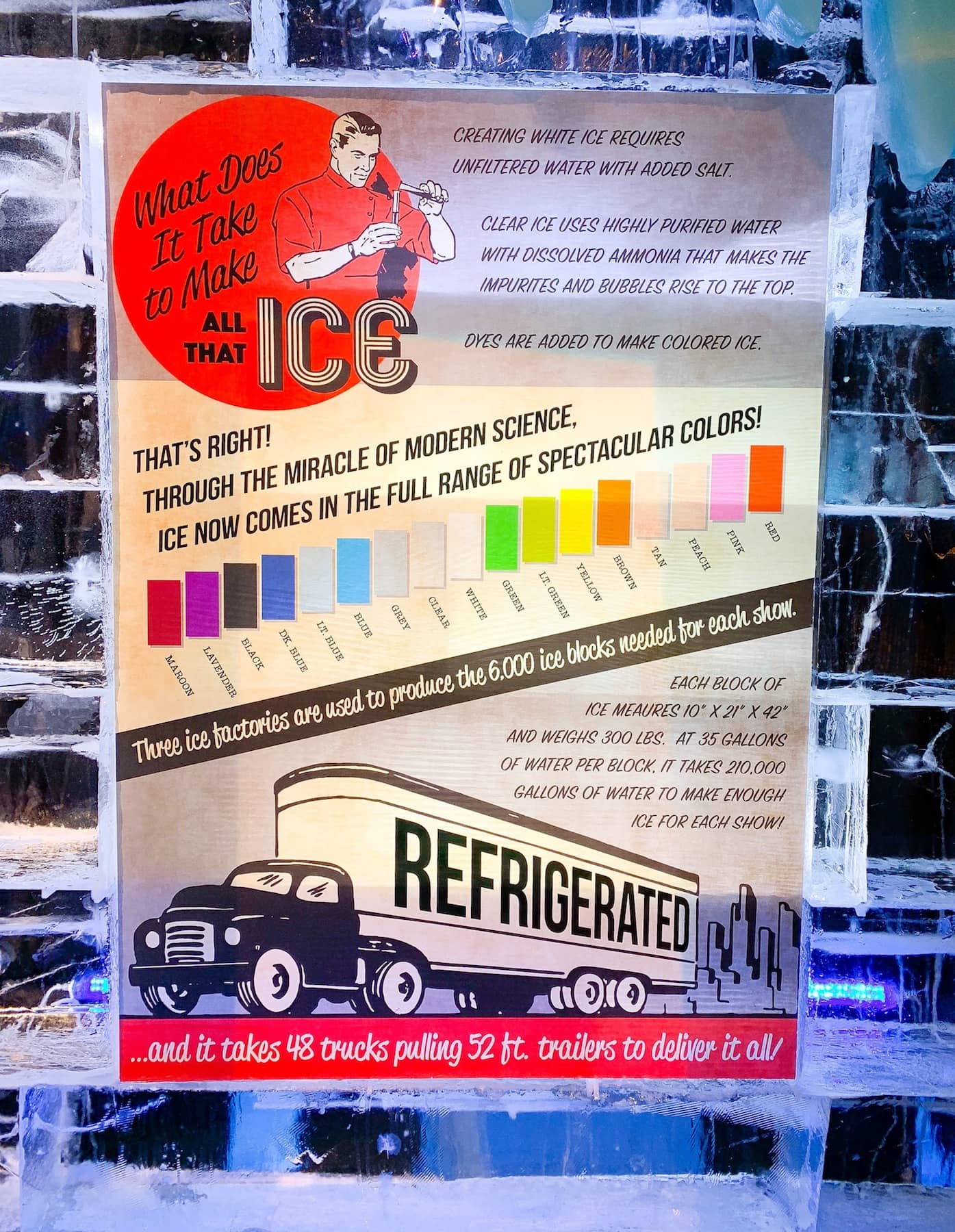 In October, the huge white tent that helps to house the Christmas event can be seen at the Gaylord Palms in the parking lot. Inside, real ice is kept at 9 degrees, even in the Florida heat.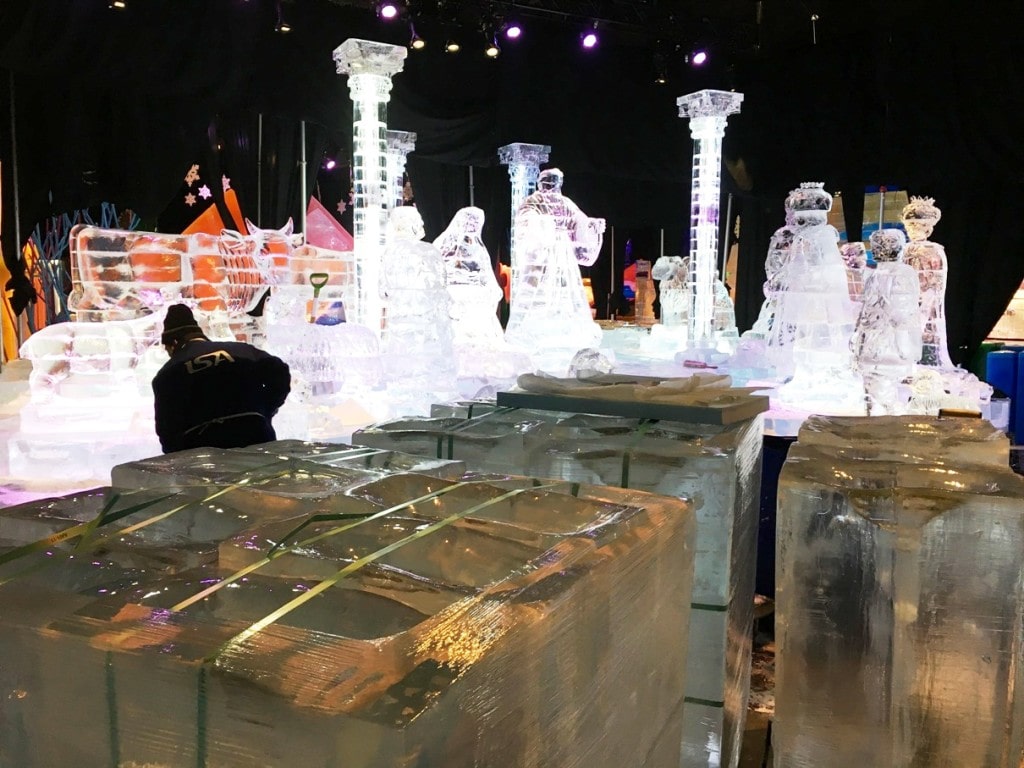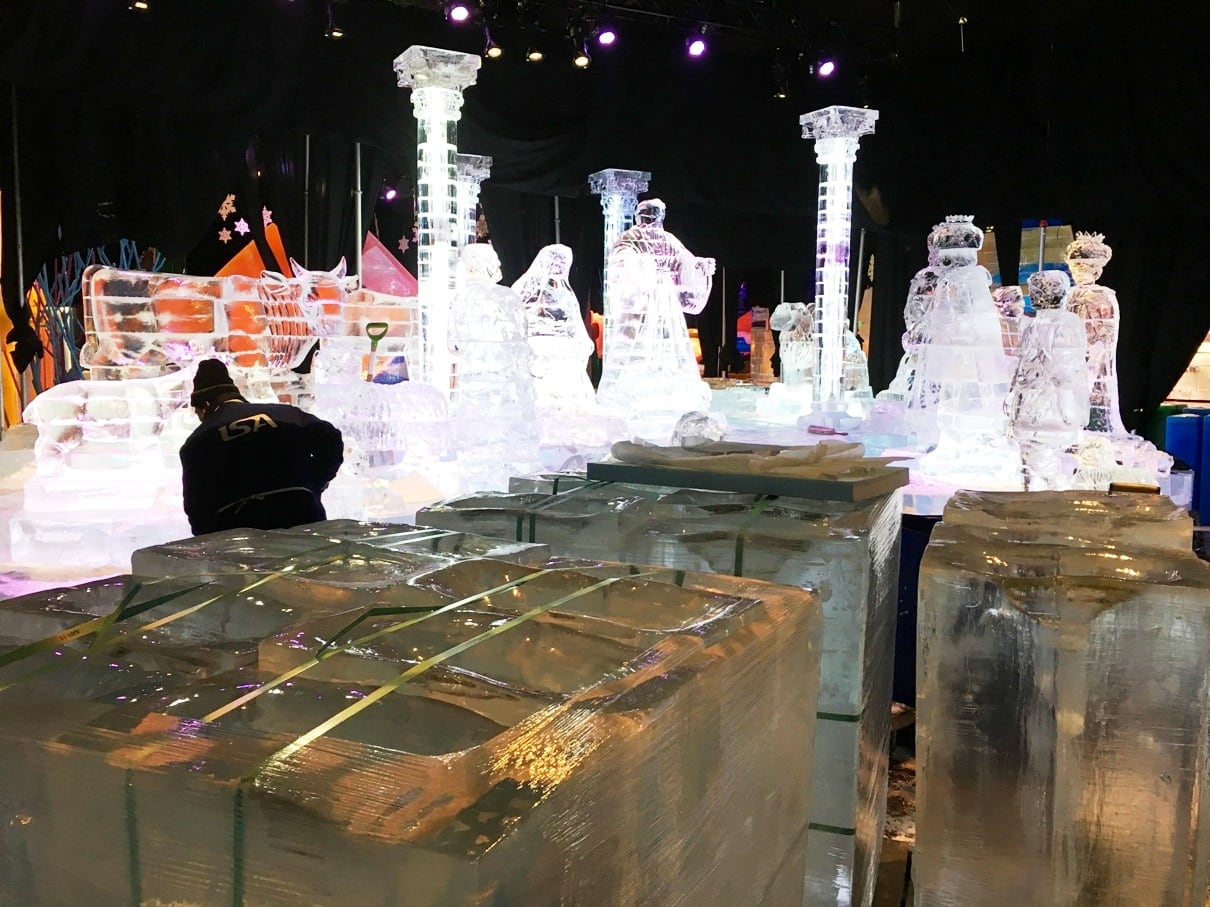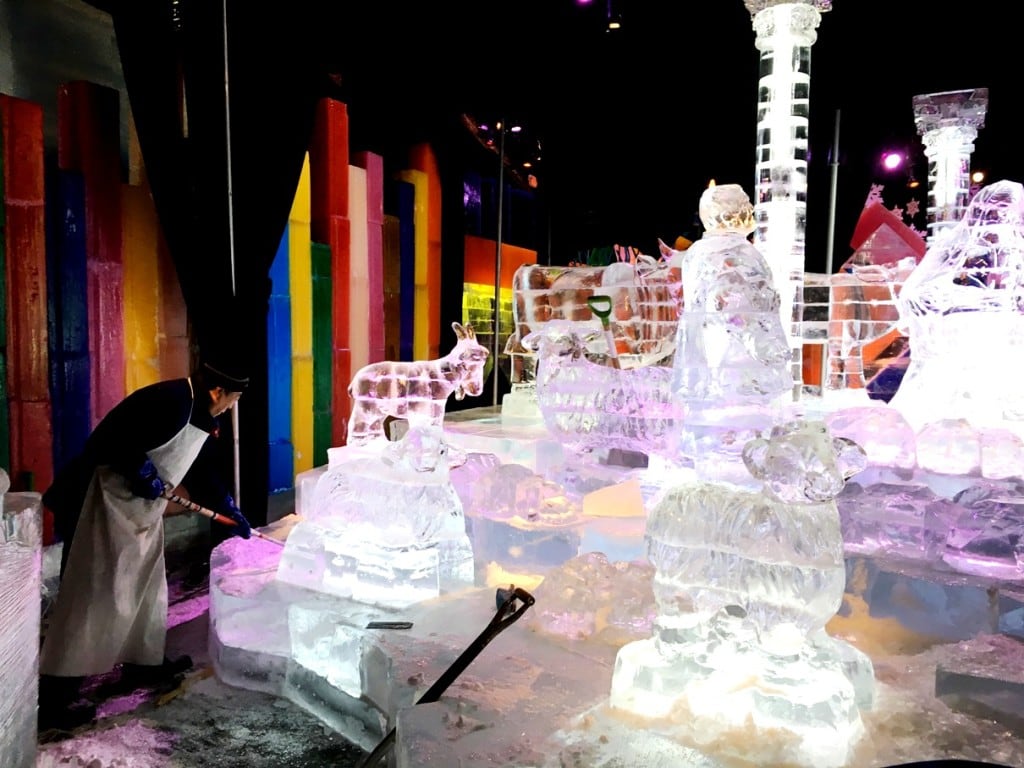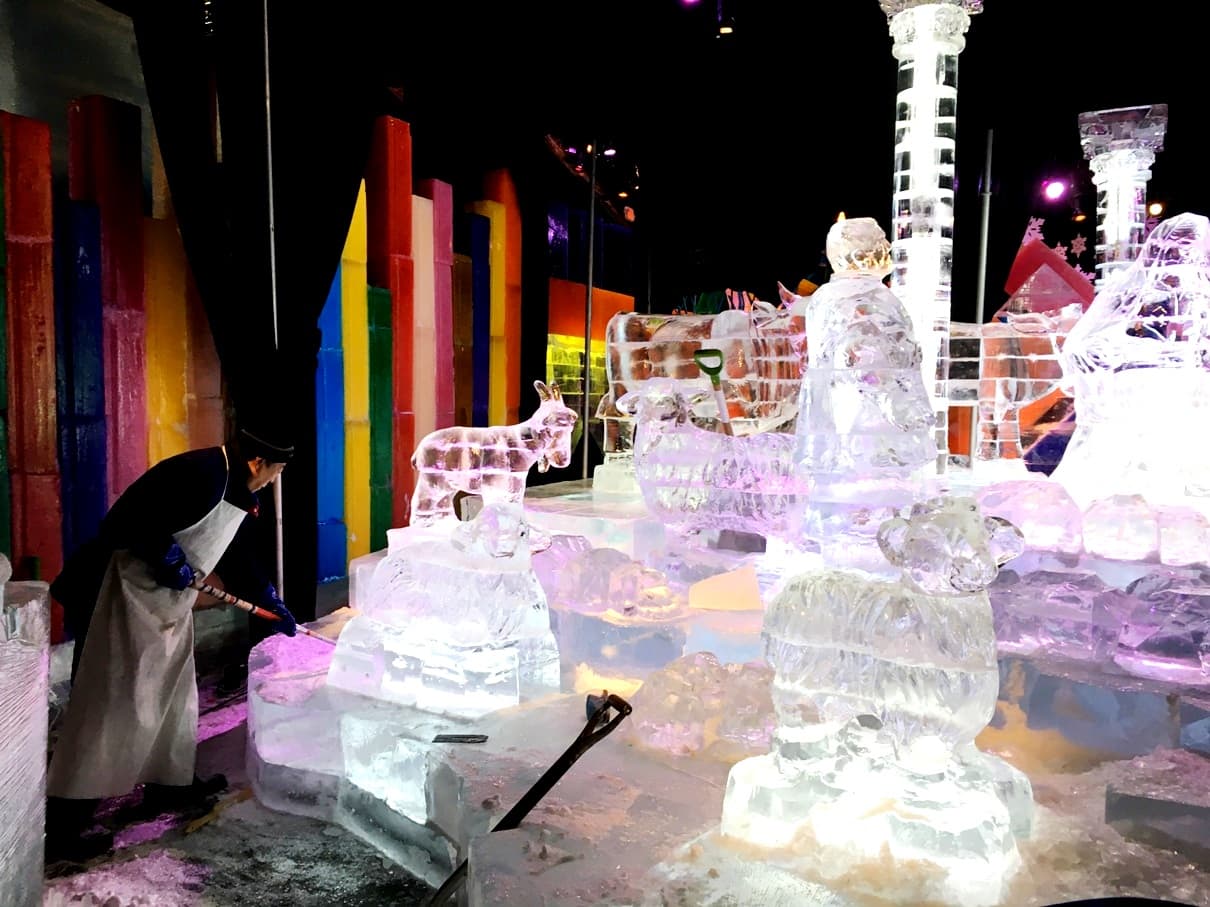 The two million pounds of ice are kept at a steady nine degrees from the moment that they are formed at the resort until the Christmas event is over in January of the next year. At that point, the ice is allowed to melt in the sunshine and disappear.
How Cold is it in the ICE! Display?
The walk through ice display, which gives the entire Christmas event its name, is 9 degrees Fahrenheit.
This temperature does not change. It WILL be cold inside. Even the workers must rotate out of their work shifts frequently because they cannot be in the cold for too long.
What Should I Wear to ICE! at Gaylord Palms for Christmas?
Did you come to Orlando without a winter coat? Don't worry!
Big blue parkas are loaned to guests when they enter ICE! at Gaylord Palms. After all, it's 9 degrees inside and you can't enjoy it if you are freezing.
The complimentary loaner parkas are calf-length and will cover most of your body. You do not have to wear the coat if you do not want to.
However, 9 degrees gets pretty cold pretty fast. Even for those that are coming from Northern climates. When you're stopping to look at ice carving demonstrations, sliding down blocks of ice, and taking pictures, the brisk climate soon becomes not-so-merry after a while.
Warm weather clothing such as hats and gloves are available for purchase at Gaylord Palms resort.
However, it's just smart to bring your own cold weather gear. We suggest:
Mittens (Your hands will get painfully cold, especially if you are trying to take pictures. Bring gloves, especially the ones that allow you to operate a smartphone for picture taking.)
Hat
Scarf (Especially if you want the hood of the parka to stay on your head without having to hold your hands and grip it around your neck)
We also highly suggest bringing a bag to store all of your belongings, including the warm weather layers that you will want to take off as soon as you get out of ICE! There are no pockets on the parkas.
Will My Phone or Camera Be Okay in the Cold?
During our many times visiting ICE! at Gaylord Palms for Christmas, we've always used a smartphone to take photos and video, as well as a camera for photos.
Your camera or phone will likely be fine. However, the extreme cold can make your phone drain its battery very quickly or simply shut off.
Bringing a battery pack is highly advisable to keep your phone working in the extreme cold.
Since your phone or camera (or glasses) will fog up when you leave ICE!, be sure to bring a lens cleaning cloth to get the moisture off.
What Is There to Do at Gaylord Palms for Christmas?
There is SO much to do during Gaylord Palms' Christmas celebration that you will need a day or two devoted to the event to get to see everything! Make plans to spend the night to truly experience one of central Florida's most popular and beloved Christmas events.
Experiences for 2019
Dreams of Christmas
Gaylord Palms' St. Augustine atrium will be home to a brand-new, dazzling light show. This multisensory experience will feature a new musical score accompanied with millions of dancing, choreographed lights all around the resort's six-story Christmas tree during nightly shows.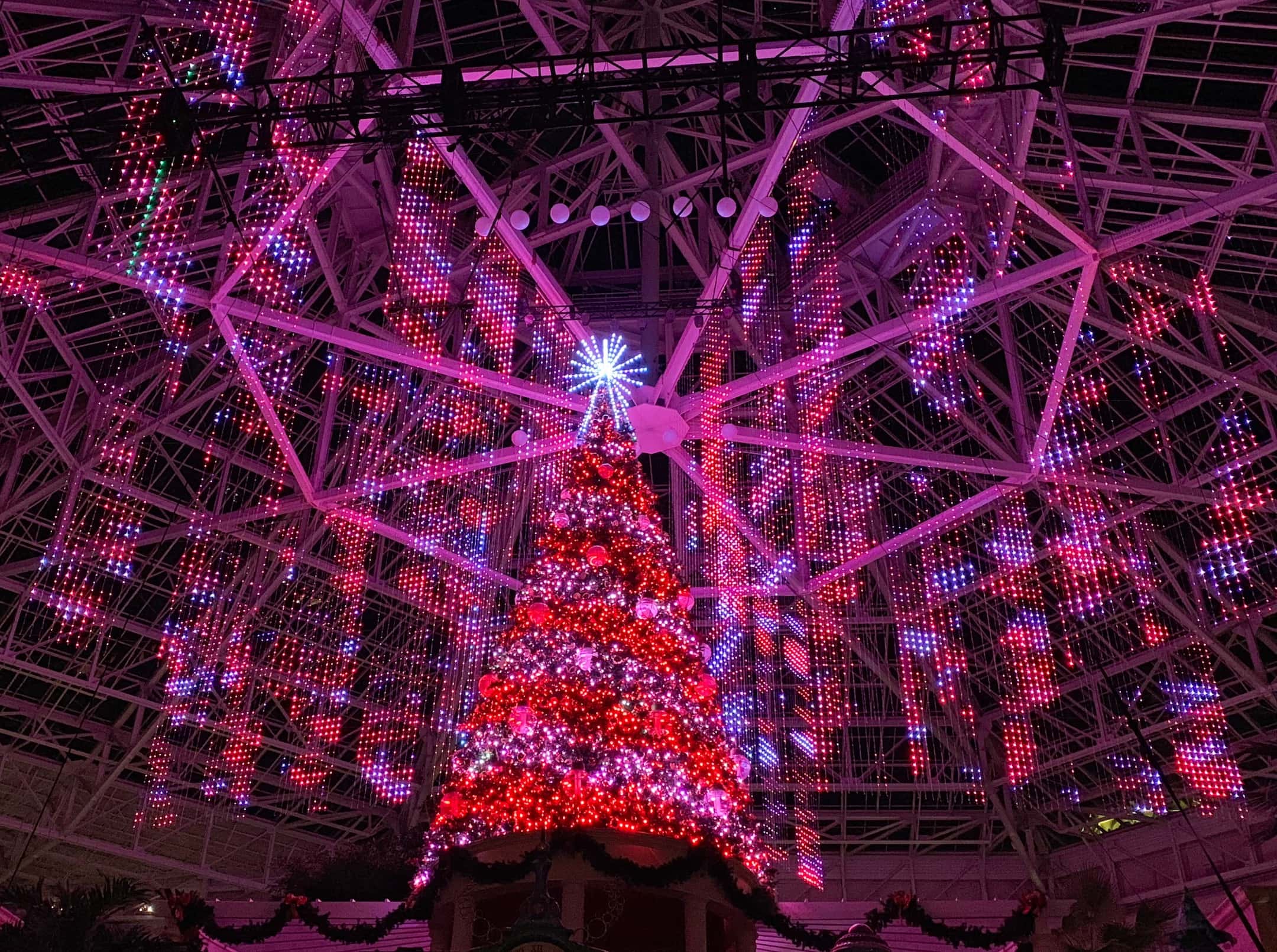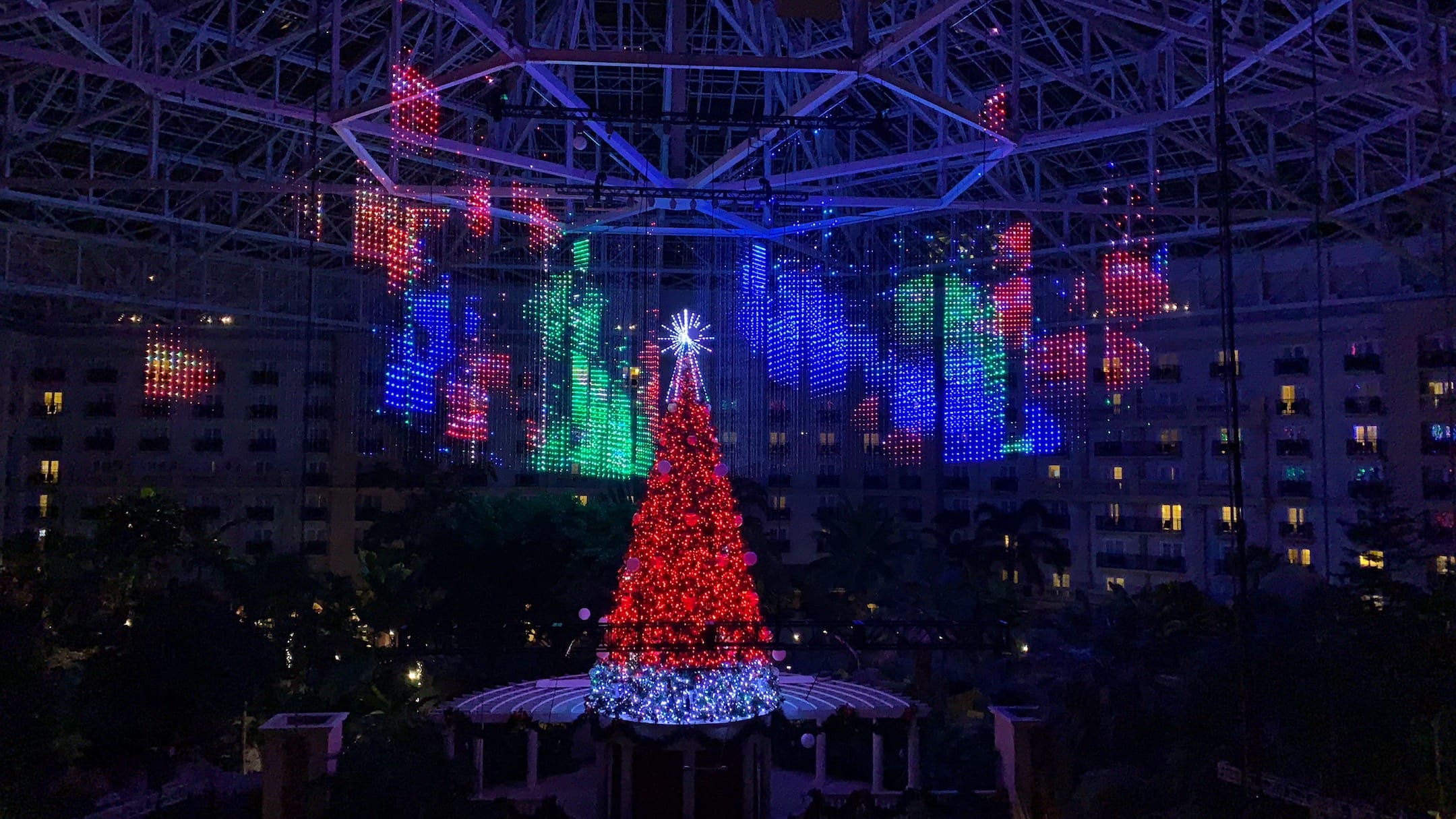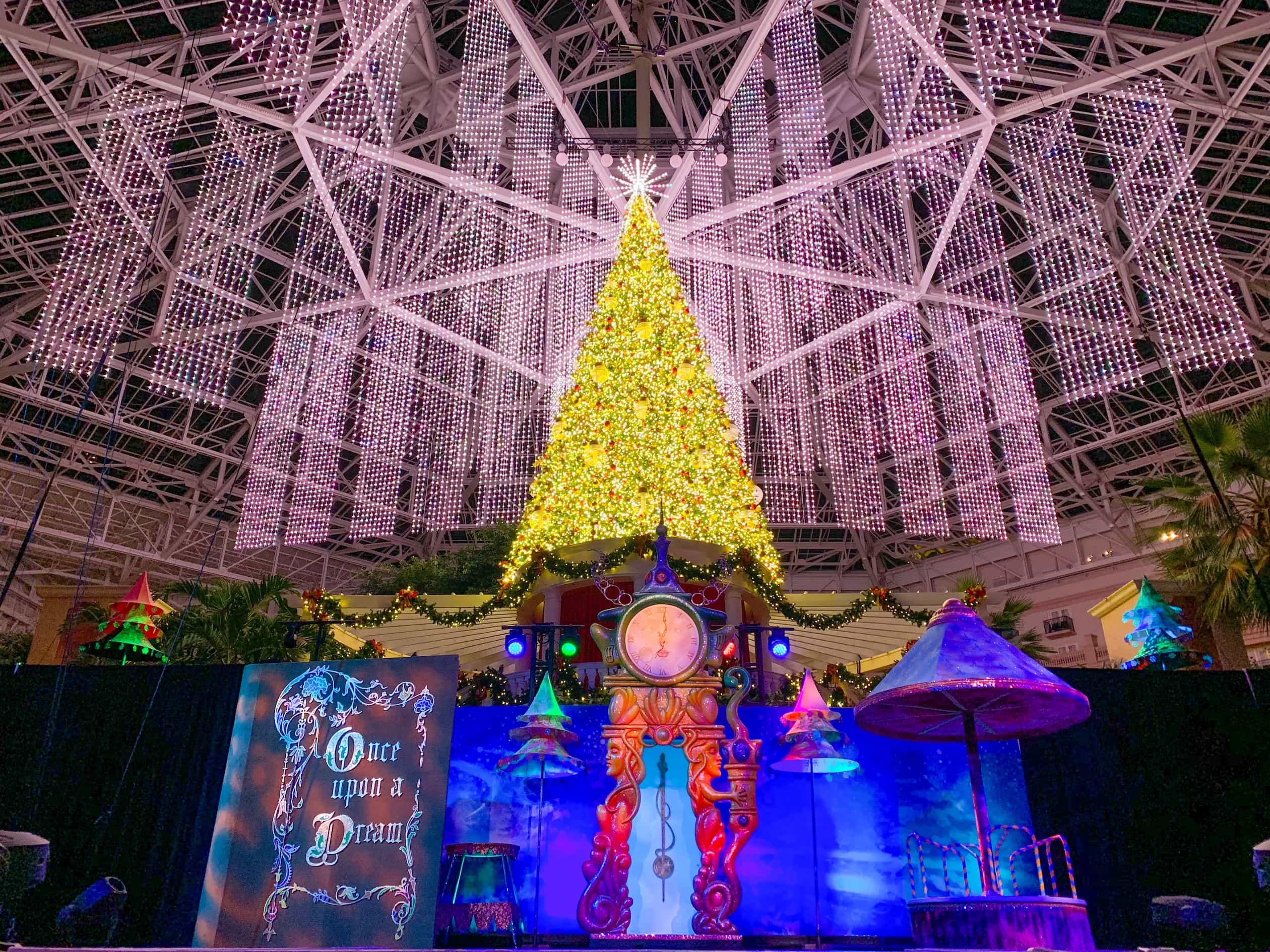 See a previous year's Christmas Tree Light Show at Gaylord Palms resort:
Character Breakfast
Buffet restaurant Villa de Flora will host The Elf on the Shelf® Character Breakfast, where guests can join Santa's Official Scout Elves for a fun and festive character breakfast. Kids and adults will enjoy a delicious buffet spread complete with classic breakfast favorites and live cooking stations, enjoying special visits from Santa's Official Scout Elves as they dine.

Santa Scavenger Hunt
An all-new Secret Santa Scavenger Hunt will have guests enlisting in Santa's Secret Service to decode some fun. Families will utilize their very own Santa's Secret Service Decoder Ring to decipher clues to become full-fledged members of Santa's Secret Service. Only the most elite yuletide sleuths will be able to locate the unique Christmassy clues hidden throughout the resort's atrium to break the code and earn a Santa's Secret Service badge. You'll get a pin (a Santa Badge) when you've completed your scavenger hunt.
Sugary Sweet Storytime
Alpine Village Sweet Shop will now be the home of a new show: Sugary Sweet Storytime! Guests will be transported to the world of The Nutcracker in this interactive show led by the Sugarplum Fairy herself.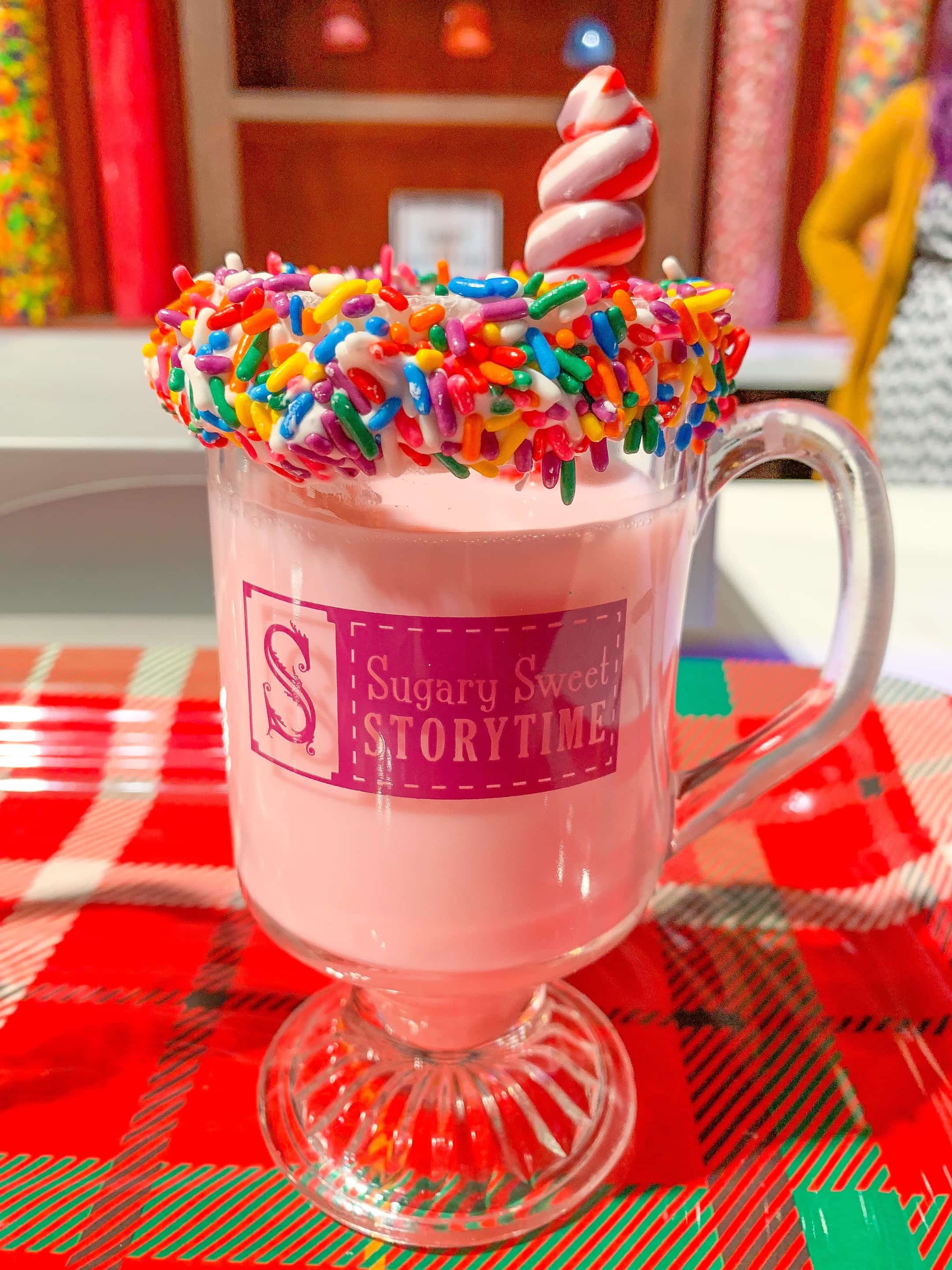 The experience is completed with a one-of-a-kind, super sweet, super sparkly and super tasty Sugarplum Hot Chocolate in a festive souvenir mug. Kids will get to choose one of the following hot chocolates:
Sugarplum hot cocoa (pink)
Sky blue hot cocoa (blue)
Naughty or Nice Escape Room
The Naughty or Nice Escape Room is fun for the entire family. Mischievous Jack Frost has moved the names of "Nice" Gaylord guests onto the Naughty side of Santa's delivery list! Guests will need to work together to follow the clues and solves the puzzles to secure a spot on the better side and avoid a stocking full of coal! Guests will have 30 minutes inside Santa's den to get the puzzle worked out.
Classic Holiday Favorites for ICE! at Gaylord Palms
Sound of the Season Concerts
For the third year, Christmas at Gaylord Palms will host its Sounds of the Season Concert Series. The performances that will shine on stage beneath the resort's towering Christmas tree this year include:
*All performances will also include a concert patron-exclusive admission to the ICE! attraction.
Cirque Dreams Unwrapped Show
Now in its fifth year, "Holiday thrills" take on a whole new meaning during Cirque Dreams Unwrapped, a 25-minute, action-packed experience, featuring soaring acrobatics, theatricality and imagination that will have guests on the edge of their seats.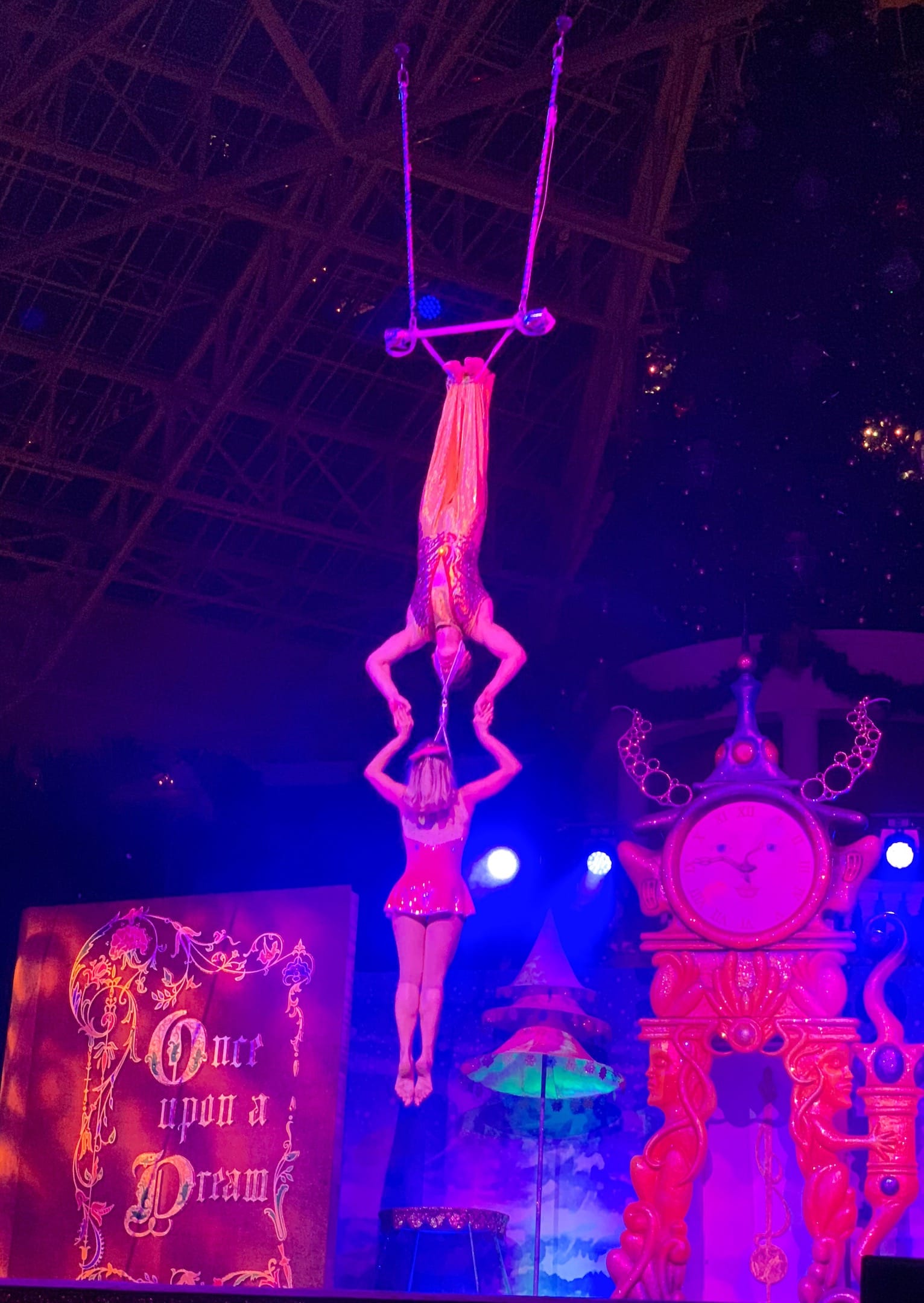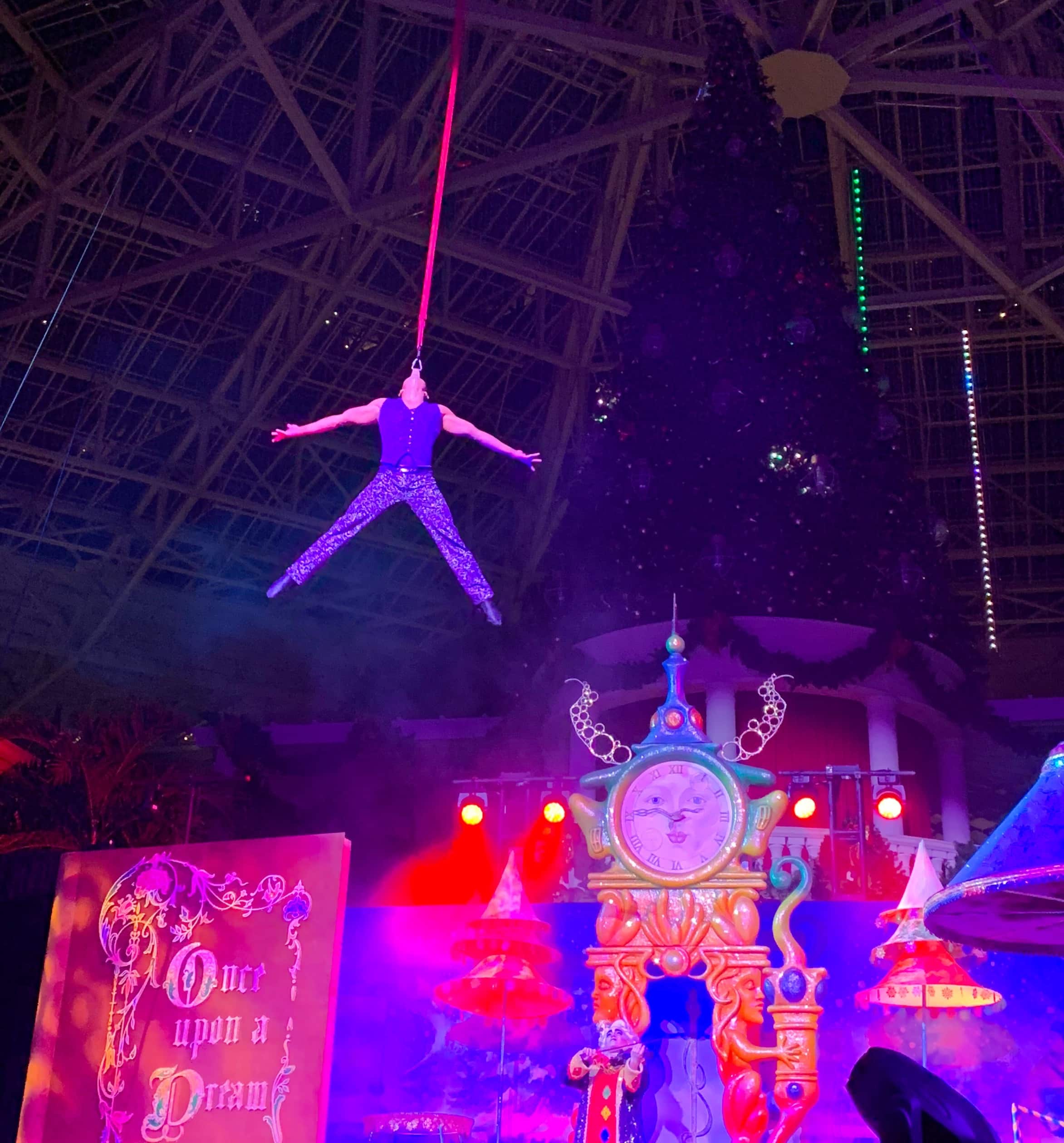 Cirque Dreams Unwrapped features new acts and performers each year to bring to life a magical and timeless Christmas wonderland, all imagined by Broadway director and renowned Cirque Dreams founder Neil Goldberg.
Three Kings Festival
A special commemoration of the extended holiday season celebrated by many Christians in Spain and Latin America honoring the Three Wise Men and their visit to meet baby Jesus as told in the Gospel of Matthew. Among the special activities planned is a musical show "The Journey of Los Tres Reyes Magos" along with special food and beverage options. The event will run from December 27 through January 5.
Balsam Hill Christmas Tree Trail
Guests exploring the meandering paths inside the resort's Everglades atrium will find the Christmas Tree Trail, a display of nine magnificent trees provided by Balsam Hill.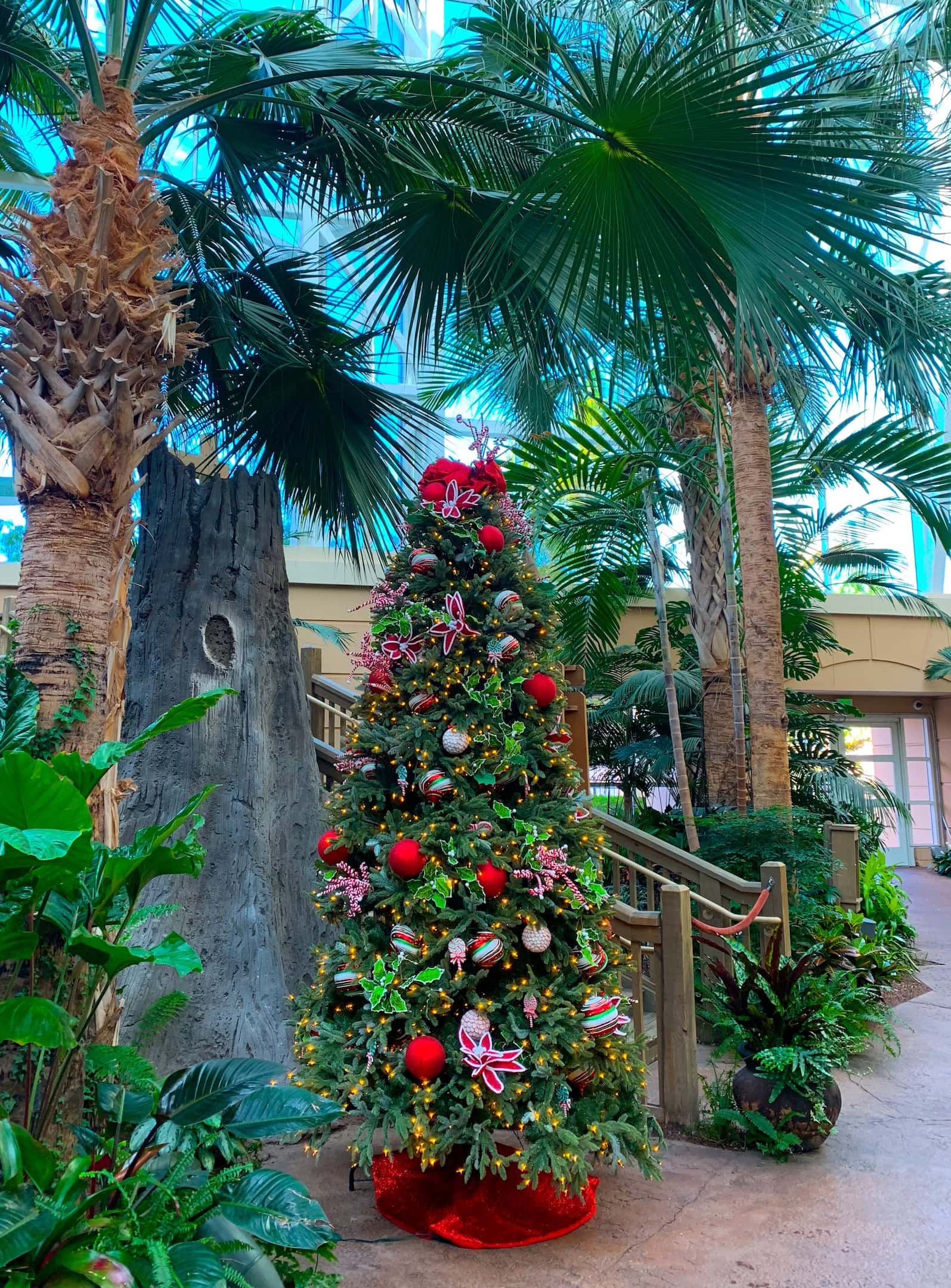 Sparkle the Elf, Santa's chief Christmas Tree Decorator, has personally prepared these for display at Gaylord Palms. From snowmen and candy canes to reindeer and nutcrackers, each tree represents one of Sparkle's favorite things about Christmas, with one even honoring the Florida-themed resort!
Post Office
The immersive, interactive Reindeer Express Post Office returns this year, where everyone is invited to jot down their top Christmas wishes on a postcard before entering this special facility to launch their wishes off on a journey to Santa.
Alpine Village
Festive Alpine Village will again be the central hub for holiday happenings. In addition to ICE!, the village is home to various attractions and shows, Photos with Santa, seasonal food and beverage options plus holiday retail locations, including a Build-A-Bear Workshop®, where imaginations soar.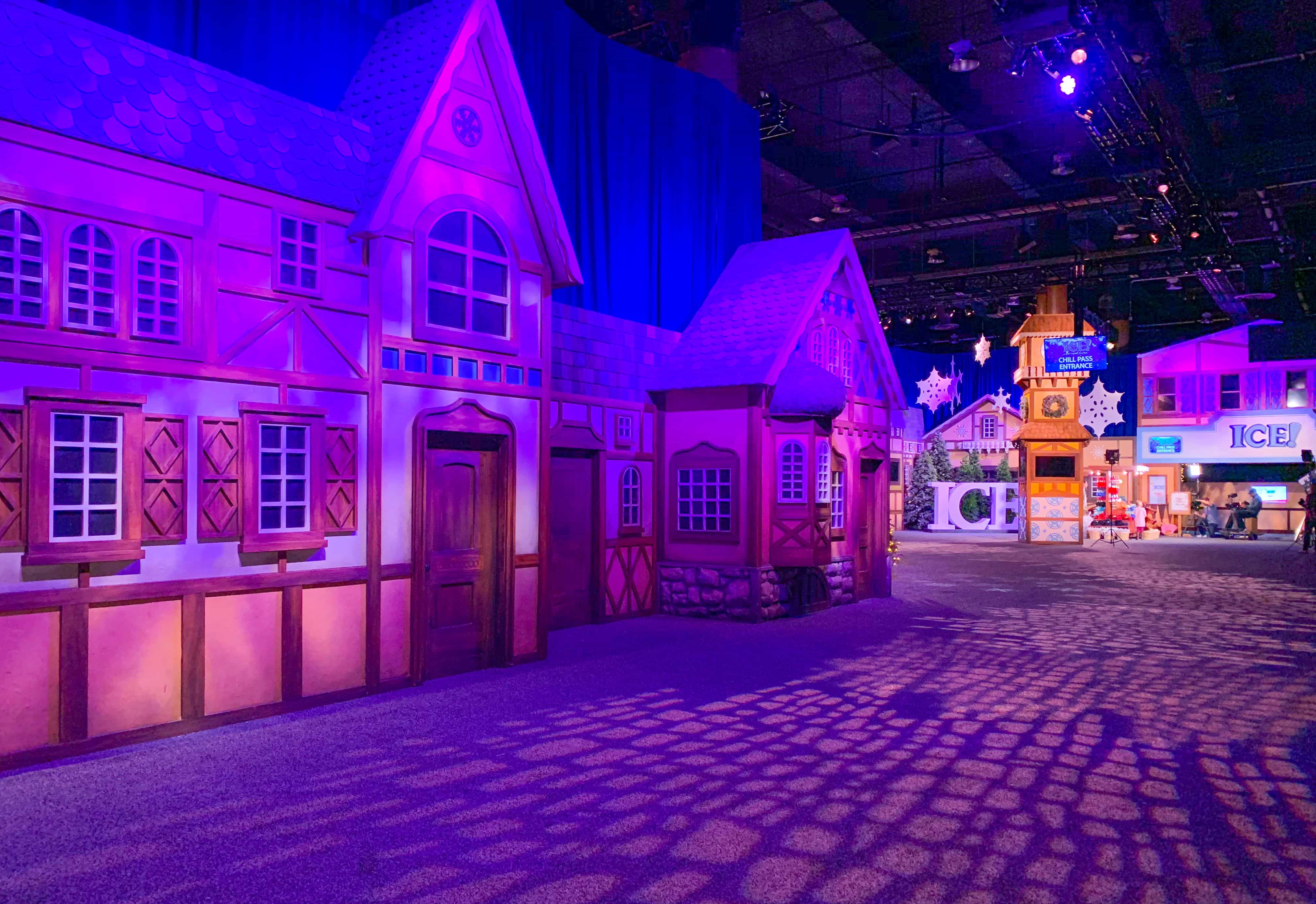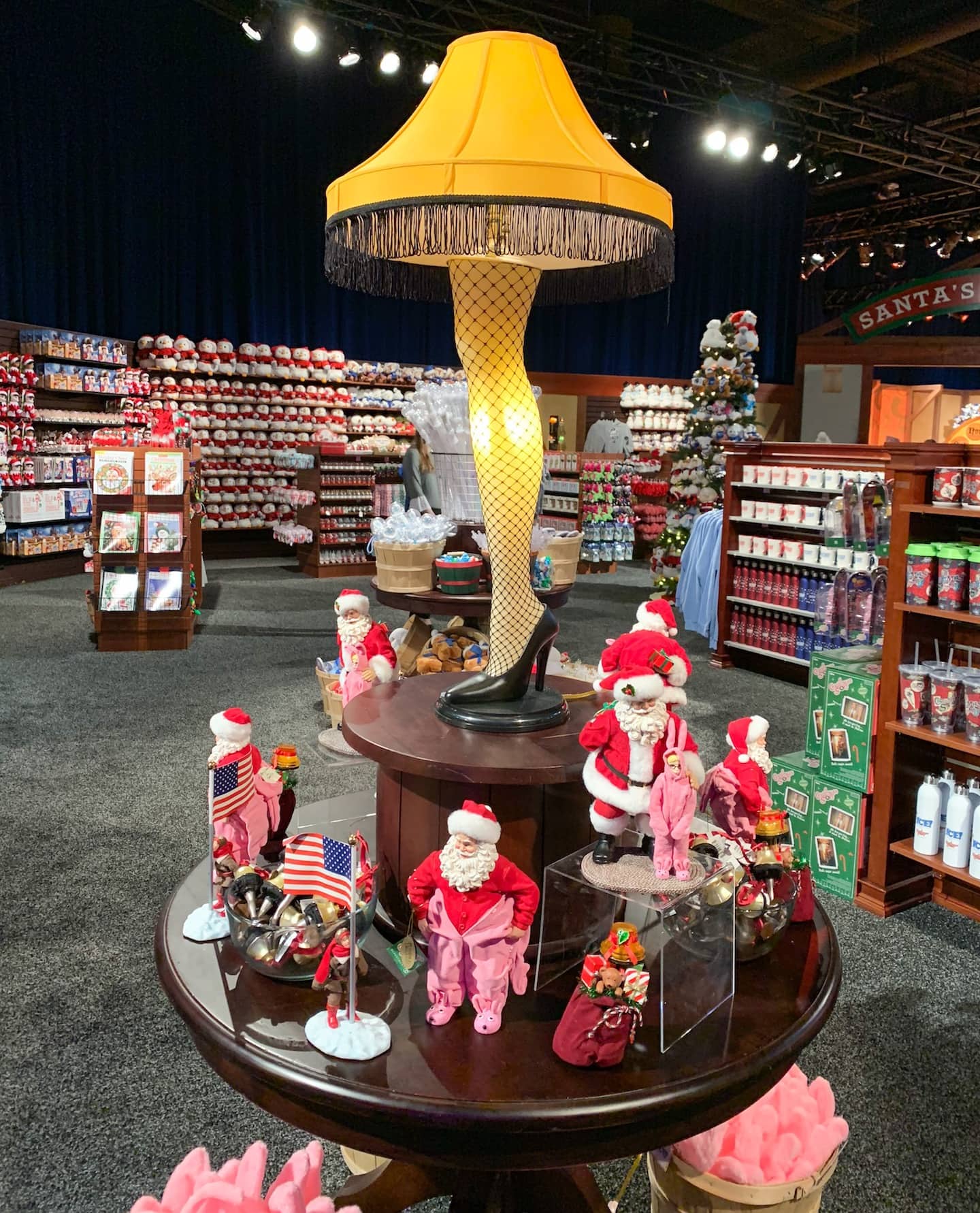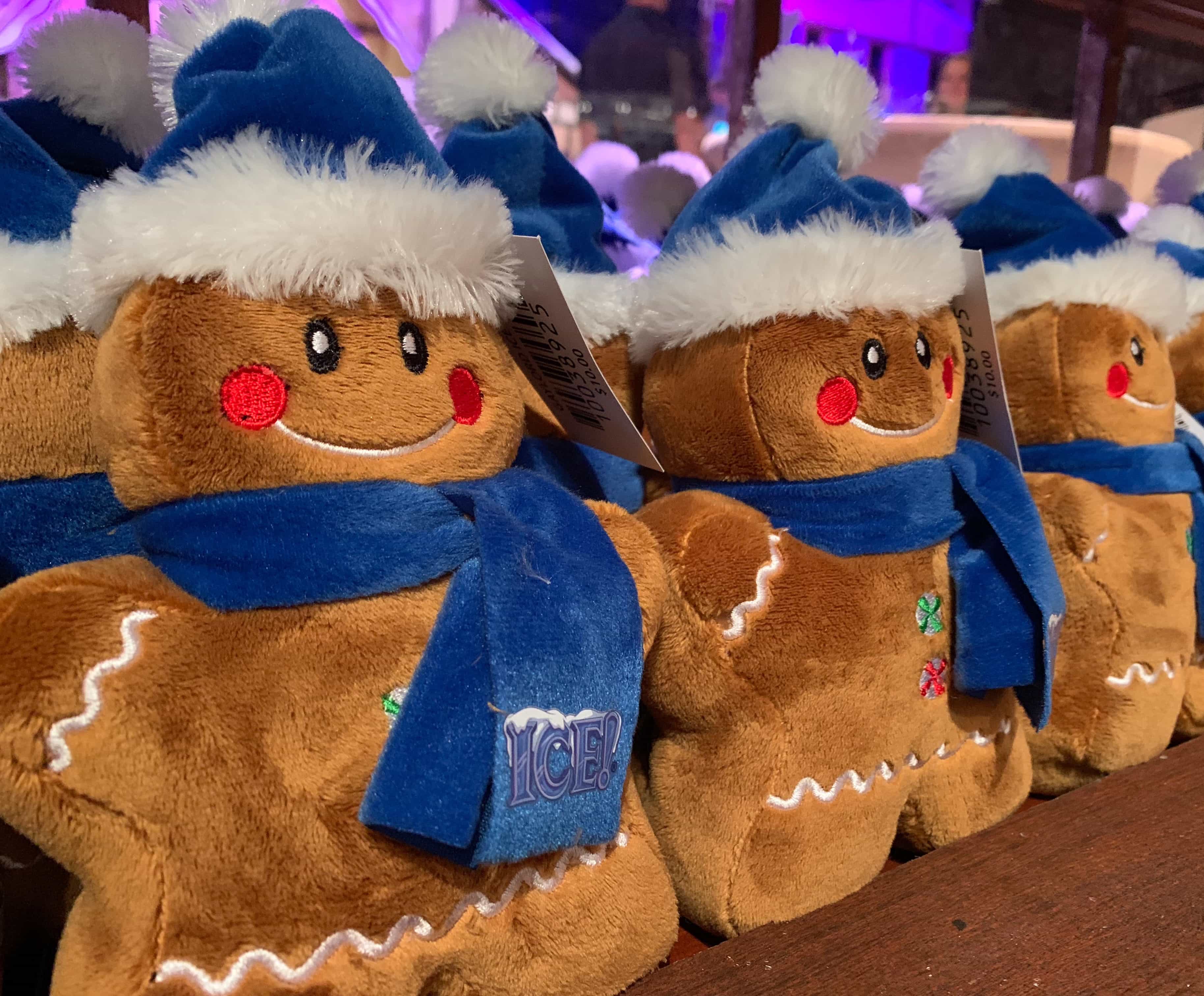 Guests choose from all kinds of furry friends to make and bring home, including the Gaylord Hotels-exclusive light-up Snowburst polar bear.
Gingerbread Decorating
Gingerbread Decorating Corner returns, now located inside the new Alpine Village Sweet Shop! Guests may select a gingerbread house or a themed cookie kit to enjoy a sticky and fun interactive experience, creating sweet souvenirs to take home. The Alpine Village Sweet Shop will offer additional candies and treats for purchase to decorate sugary masterpieces or to delight someone's sweet tooth. The deliciously fun gingerbread pair, Cinnamon and Nutmeg, will also be available for toasty hugs and holiday photos.
Mrs. Claus' Christmas Traditions Show
Mrs. Claus' Christmas Traditions brings the First Lady of the North Pole back to Gaylord Palms as she leads a half-hour interactive show. Guests enjoy classic holiday stories and a sing-a-long, plus a delicious finale as the holiday hostess presents everyone with warm cookies and a glass of cold milk. This show has proven to be SO POPULAR that the number of shows has doubled in 2018.
Snow Ball Throwing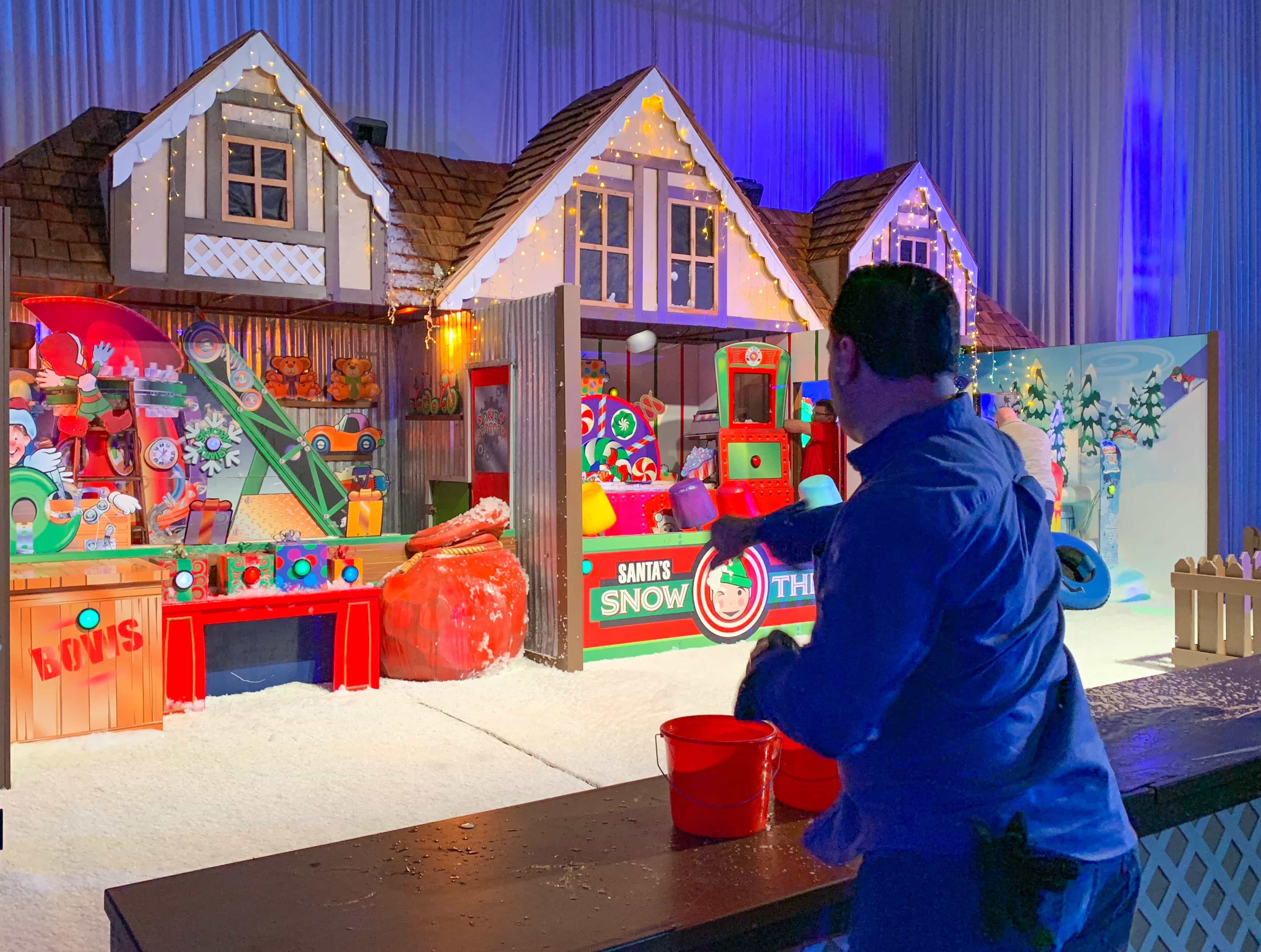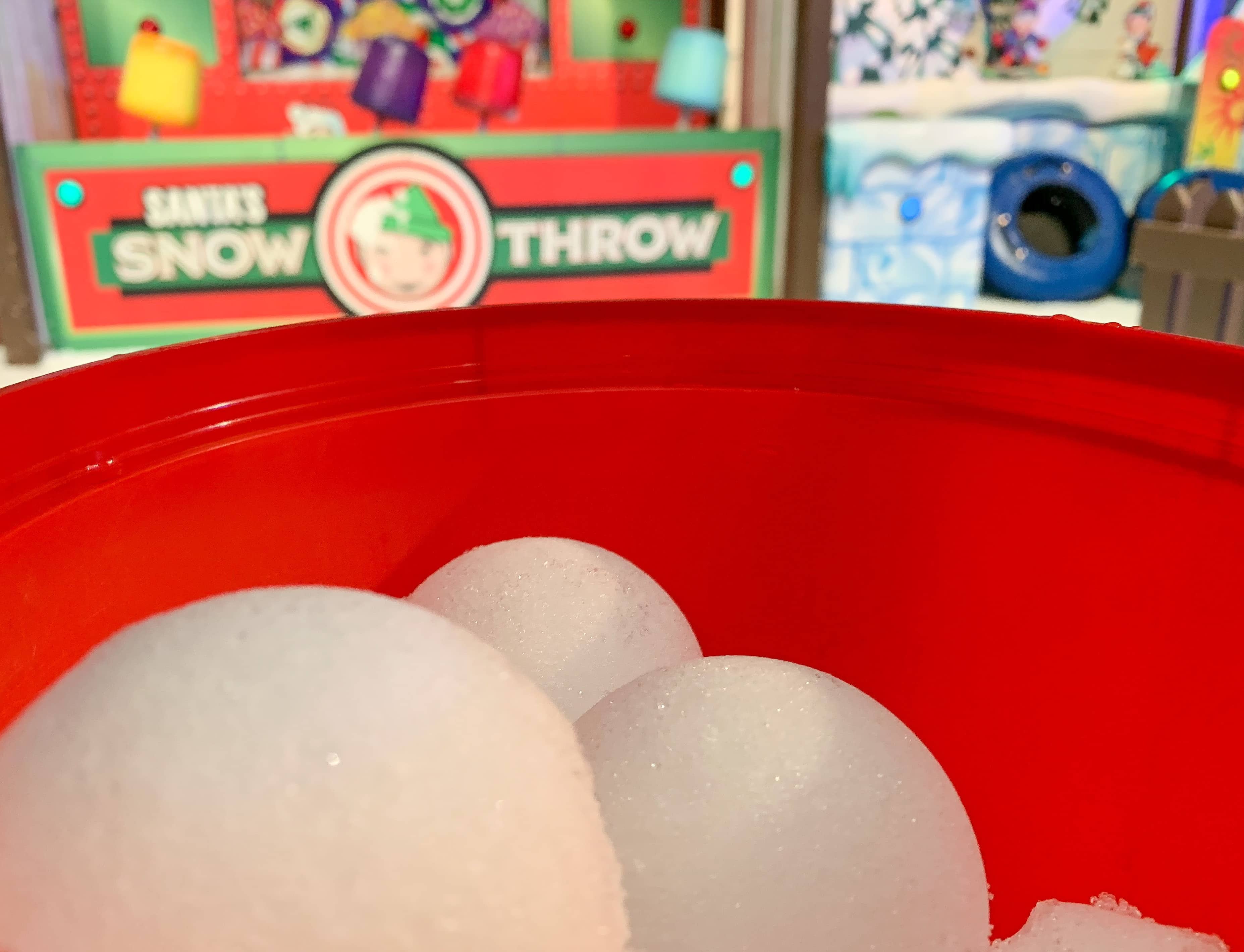 Santa's Snow Throw puts real snow in the hands of guests as they show off their pitching prowess by tossing snowballs at a variety of interactive targets created by Santa's Elves. Bragging rights go to those with the best aim!
Alpine Rush Snow Tubing in Florida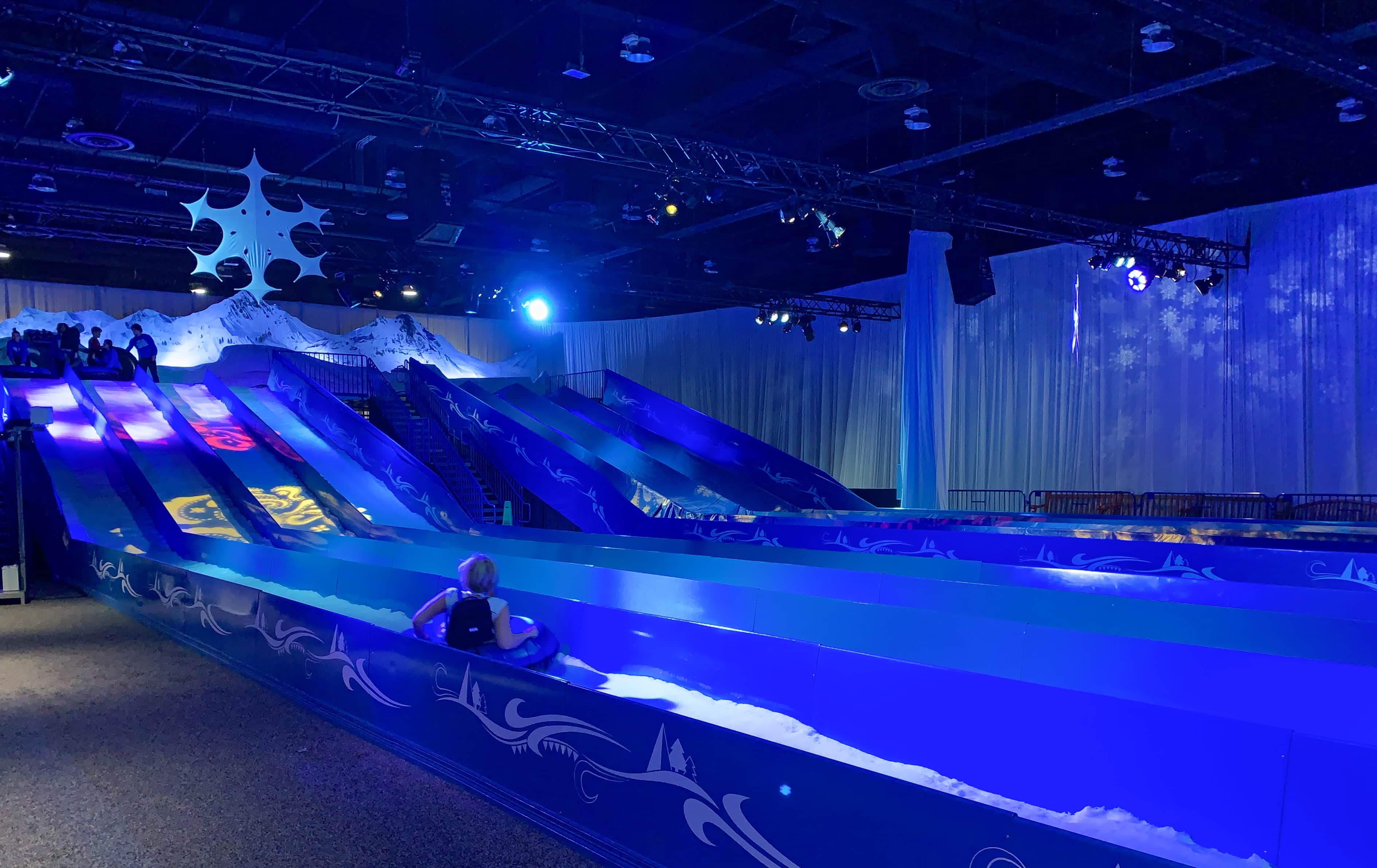 Snow Tubing at Gaylord Palms first started in 2014 and has been popular with both kids and adults ever since! There's 1.5 million pounds of real snow in this room that has eight snow tubing lanes. It's a thrill to sit in an inflatable tube and swoosh down the snow run. You will go fast on this run, so be prepared! I screamed and laughed along with the little kids because it was a thrill for a Floridian to enjoy snow tubing!
Alpine Rush snow tubing sends guests zooming down an eight-lane tubing hill covered in real snow. This attraction is for both kids and adults and offers both single and double tubes to accommodate children and parents.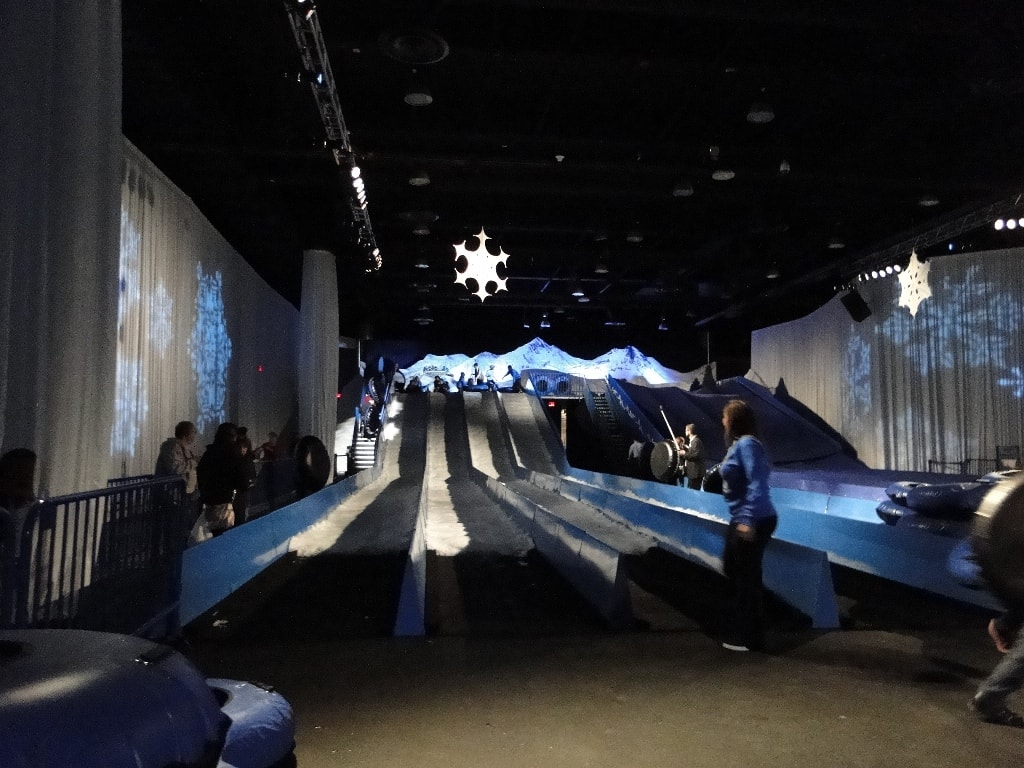 Spend the Night at Gaylord Palms
The best way to experience all of Christmas at Gaylord Palms is with an overnight stay.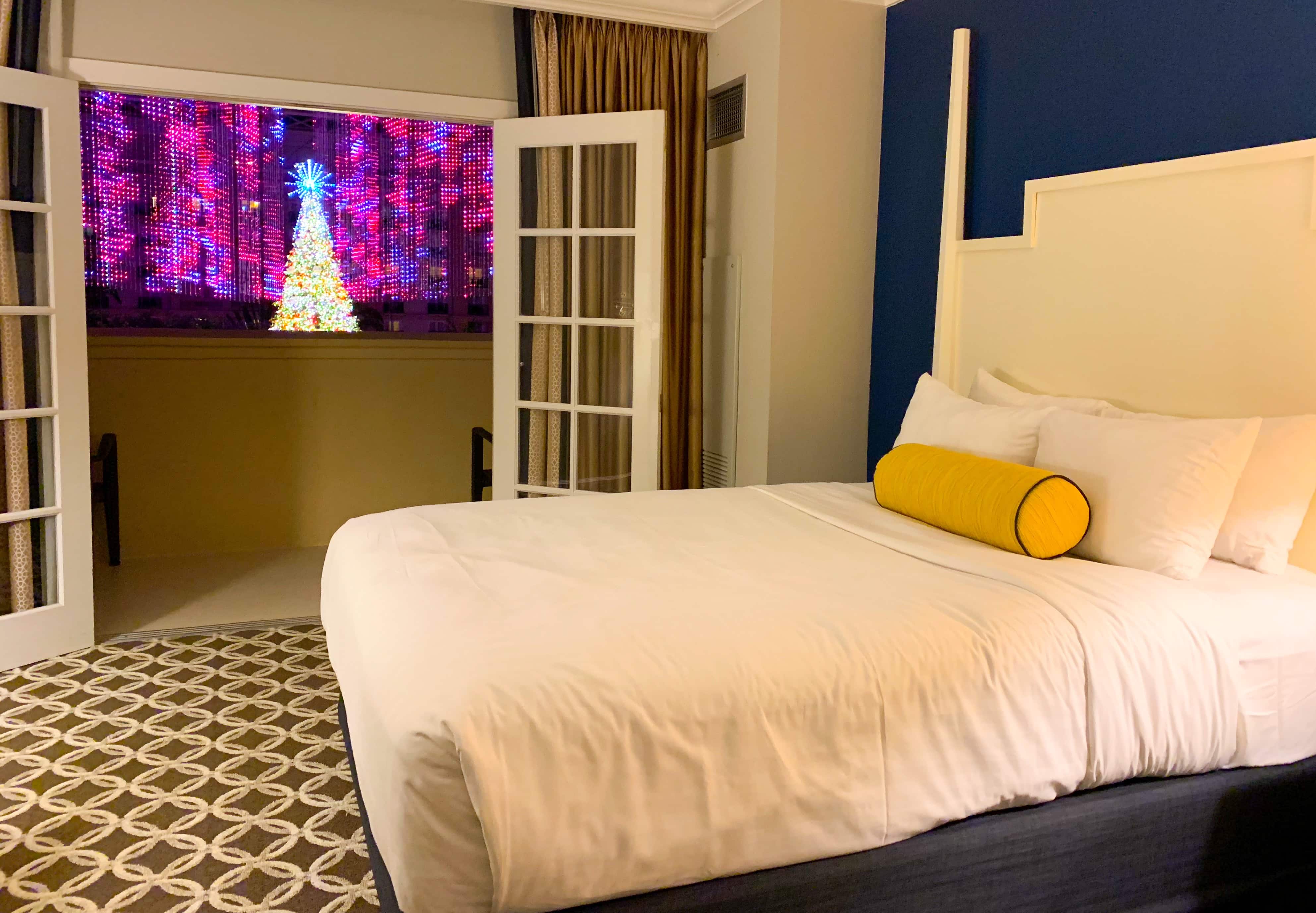 One-night packages start at $224 plus tax, resort fee and parking. Packages include ICE! tickets for two (with option to add additional adults or children) plus a souvenir family photo. Overnight guests may also schedule a visit to ICE! during the daily hotel guest-exclusive Extra Cool Hour from 9 a.m. to 10 a.m.
ICE! Gaylord Palms Tickets
There are a variety of ways to buy tickets for ICE! at Gaylord Palms in Orlando. Keep in mind, many of the experiences for the Christmas event require a separate ticket. Which type of ticket or pass you purchase depends on what experiences you want to enjoy. And whether or not you know your travel dates in advance.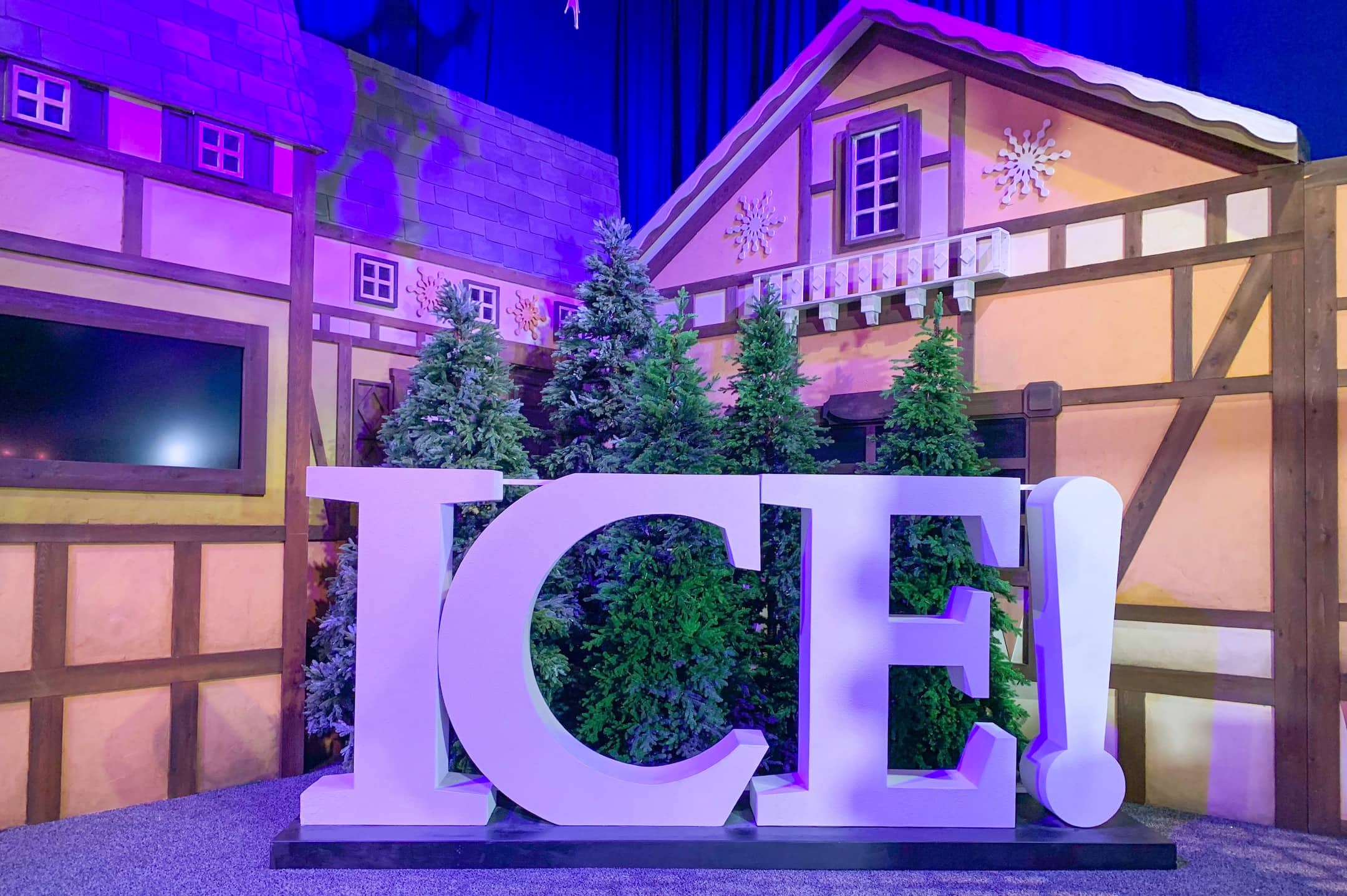 Here were the ticket options for the Christmas event ICE! at Gaylord Palms 2018:
The Play & Save Pass – Platinum Plus
Includes:
ICE! featuring A CHRISTMAS STORY™
Chill Pass – Front of Line access to ICE!
Snow Tubing
Secret Santa Scavenger Hunt
Mrs. Claus' Christmas Traditions Show
Santa's Snow Throw (One Bucket of Snow Balls per Person)
Gingerbread Decorating Corner (2-cookie kit Per Person)
Sugary Sweet Storytime Show
Self-Parking (One Vehicle)
Base Prices:
Adult: $103.00
Child: $84.00
The Play & Save Pass – Platinum
Includes:
ICE! featuring A CHRISTMAS STORY™
Chill Pass – Front of the Line Access to ICE!
Snow Tubing
Secret Santa Scavenger Hunt
Mrs. Claus' Christmas Traditions Show
Santa's Snow Throw (One Bucket of Snow Balls per Person)
Gingerbread Decorating Corner (2-cookie kit per Person)
Base Prices:
Adult: $80.00
Child: $72.00
The Play & Save Pass – Gold
Includes:
ICE! featuring A CHRISTMAS STORY™
Snow Tubing
Secret Santa Scavenger Hunt
Mrs. Claus' Christmas Traditions Show
Base Prices:
Adult: $55.96
Child: $46.96
The Play & Save Pass – Silver
Includes:
ICE! featuring A CHRISTMAS STORY™
Snow Tubing
Secret Santa Scavenger Hunt
Base Prices:
Adult: 49.99
Child: $39.99
ICE! Exhibit Only
Adult Advanced Online (12+): $28.99
Advanced Online Child (4-11): $14.99
Advanced Online Senior (55+): $26.99
Freezin' Season Pass for ICE! Exhibit
Includes front-of-the-line priority access via the Chill Pass line
Adult Freezin' Season Pass (12+): $59.99
Freezin' Season Pass w/Parking – Adult (12+): $99.99
Freezin' Season Pass – Child (4-11): $35.99
Snow Tubing
$18.99
Gingerbread Decorating Corner
$29.99
Sugary Sweet Storytime
$15.99
Mrs. Claus' Christmas Traditions
$9.99
Cirque Dreams Unwrapped Guaranteed Seating
Adult (12+): $15.99
Child (4-11): $11.99
Naughty or Nice Escape Room
$15.99
Secret Santa Scavenger Hunt
$9.99
Santa's Snow Throw
$9.99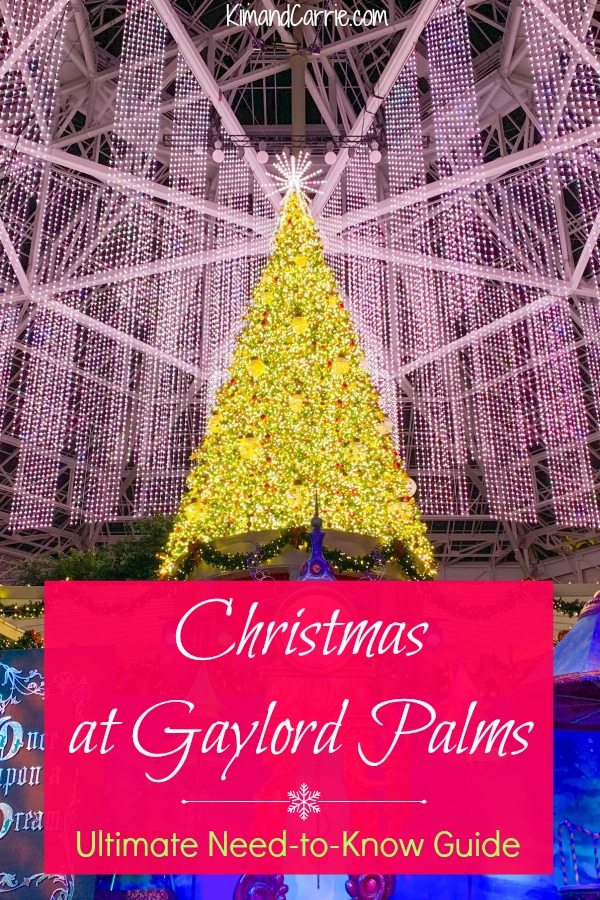 ICE! Gaylord Palms Discounts
Florida residents can get a discount on ICE! at Gaylord Palms. Use discount code FLR18 to save $3 either with an online order or at the box office.
There are discounts for the Military and First Responders. Save up to 20% when buying tickets at the box office. Show your ID for the discount.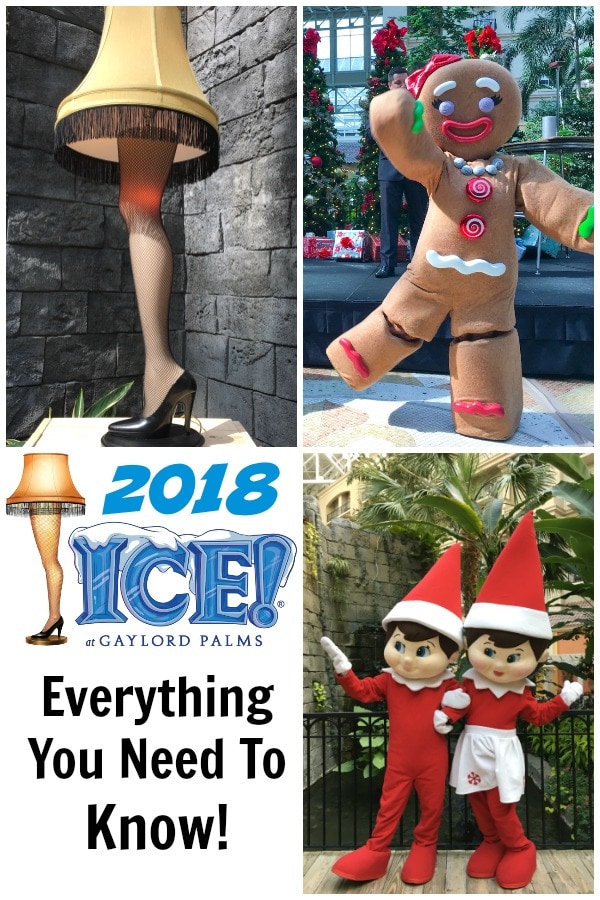 How Much is Parking at Gaylord Palms?
Parking is $24 plus tax per car.
You used to be able to get your parking validated if you purchase a certain amount of food or drink at Gaylord Palms' restaurants. We don't think this is the case anymore, but you could always ask.