When I went to Germany to see the Christmas markets, I was excited to buy handmade wooden toys and gifts made in Germany. We traveled to several cities in Germany, but I was most excited about going to Rothenburg, to see inside the Kathe Wohlfahrt Christmas Store and the German Christmas Museum.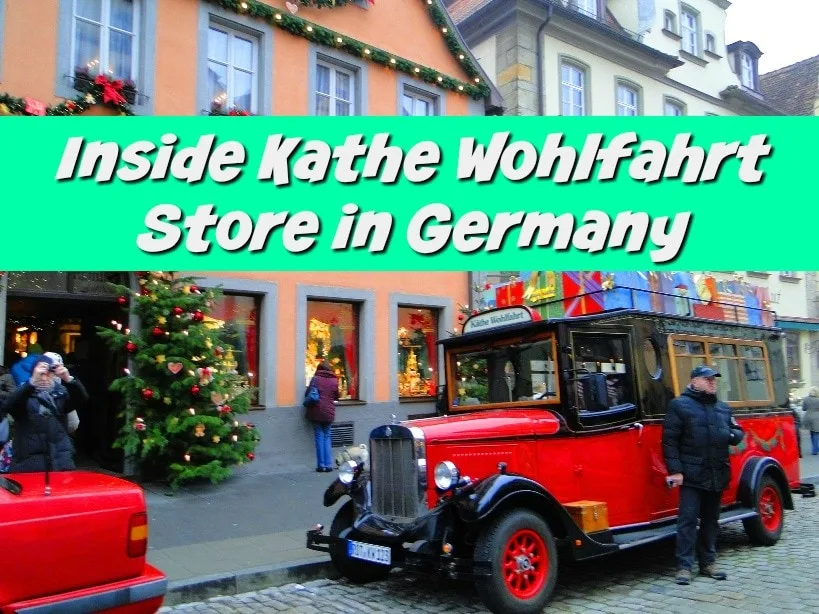 If you're not familiar with Kathe Wohlfahrt's stores (in Germany, other Europe countries and one in Michigan in America), they are Christmas toy lands full of handmade and traditional wooden Christmas ornaments, Christmas decorations, Christmas home décor and so much more.
In fact, the "Christmas Village" in Rothenburg is the WORLD's largest selection of German Christmas decorations.
To say that a Kathe Wohlfahrt store is magical is an understatement.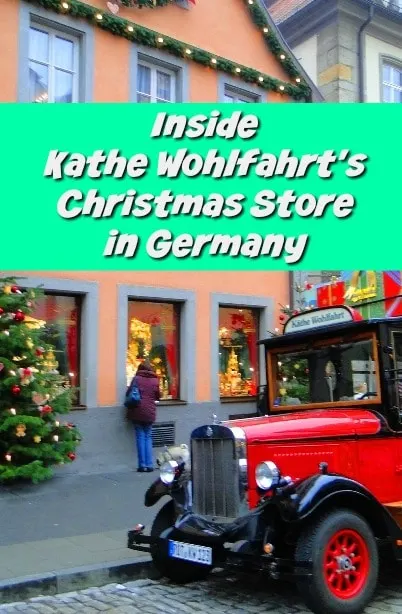 I was in Germany with the German Tourism Board to experience the magic of Germany's Christmas Markets. We had a tour of the "Christmas Village" in Rothenburg ob der Tauber. Usually photos are not allowed inside the store.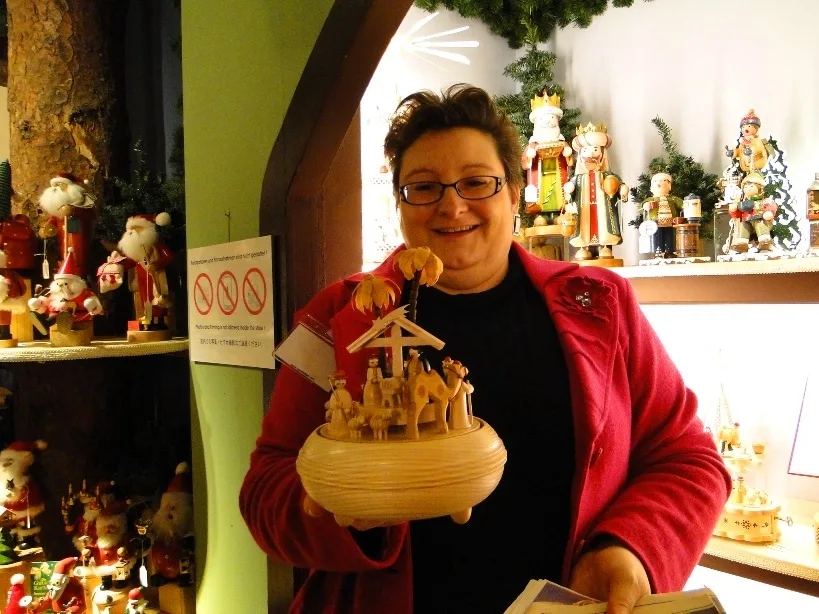 Since we were on a media tour, we were allowed to take photography and I wanted to share those pictures with you!
Kathe Wohlfahrt Christmas Village in Rothenburg
At Kathe Wohlfahrt's Christmas Village in Rothenburg, 16,000 square feet are packed with tiny and big German Christmas decorations and ornaments.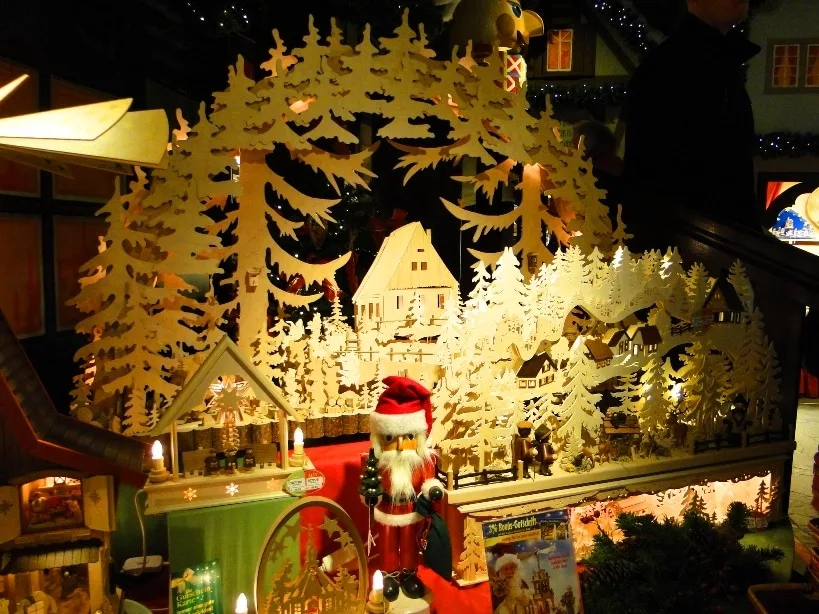 It's hard to even see everything, with tiny ornaments hidden on trees and shelves laden with Christmas pyramids, nutcrackers, incense burners, and more.
Inside Kathe Wohlfahrt's Christmas Village, it looks like a Franconian village with snow-covered houses.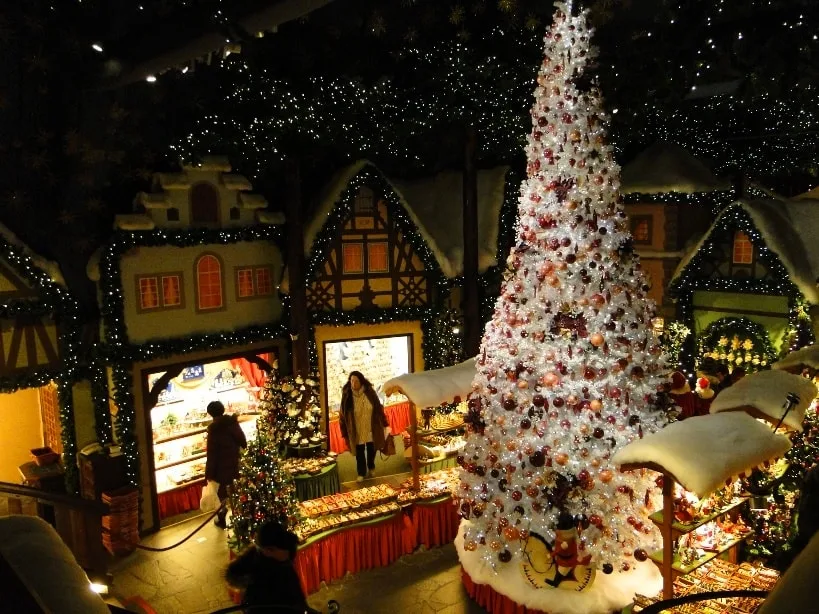 Twinkling stars light up the "night" sky and rambling "cobblestone" pathways meander through the store.
Unbelievably, there are over three miles of Christmas garland in the Kathe Wohlfahrt store!
Inside, the main focal point is a 16 foot tall revolving white Christmas tree, decorated with over 1,000 glass balls and 12,500 sparkling lights.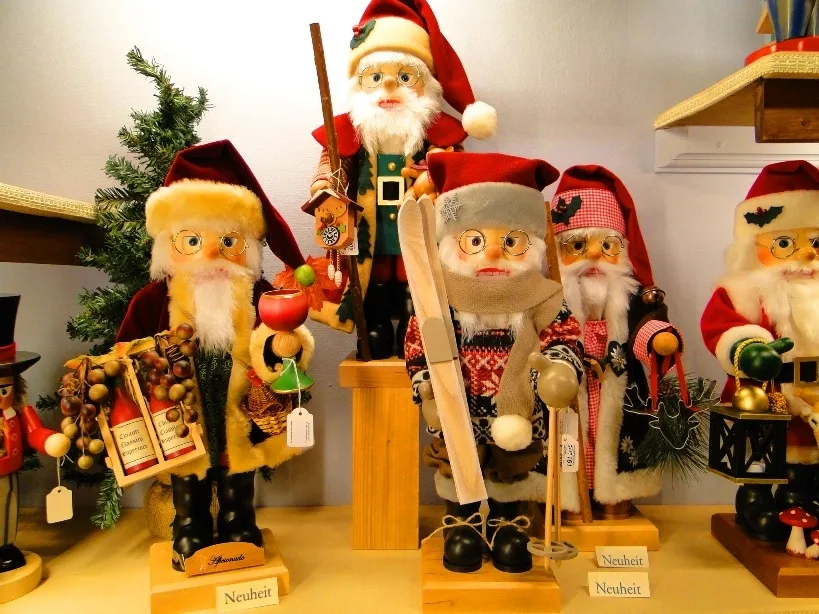 Another focal point is the Christmas Pyramid, an 18 foot tall masterpiece that revolves and weighs more than 2 tons.
Outside, be sure to get a picture with the "Weihnachtsdorf", a colorful bus outside that is perfect for great photos!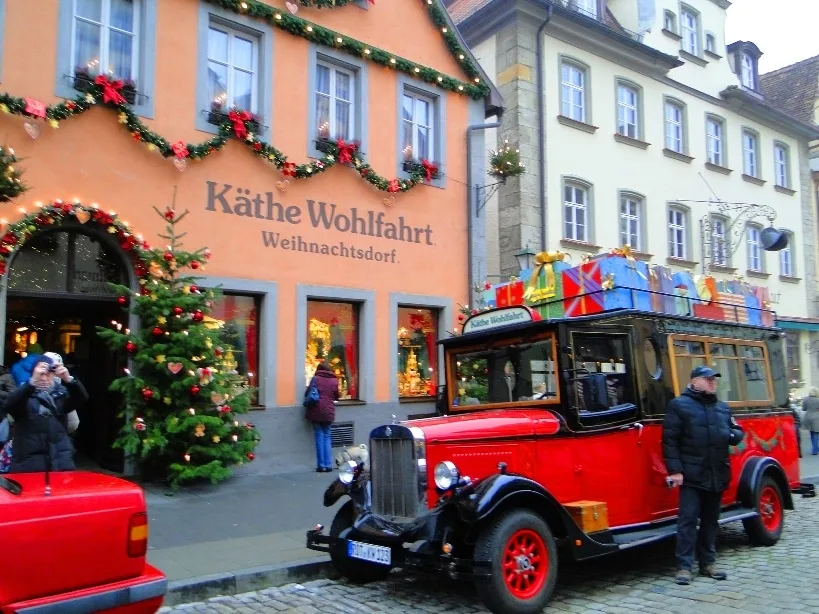 Want to see Kathe Wohlfarhrt Christmas Village, but don't want to stress about getting there? This Romantic Road tour brings you to Rothenburg ob der Tauber with a chance to go shopping.
German Christmas Museum
Above the Kathe Wohlfahrt Christmas Village, you will find the German Christmas Museum. The German Christmas Museum was started by Harald Wohlfahrt to showcase the many ways Christmas has been celebrated from 1870 to 1950.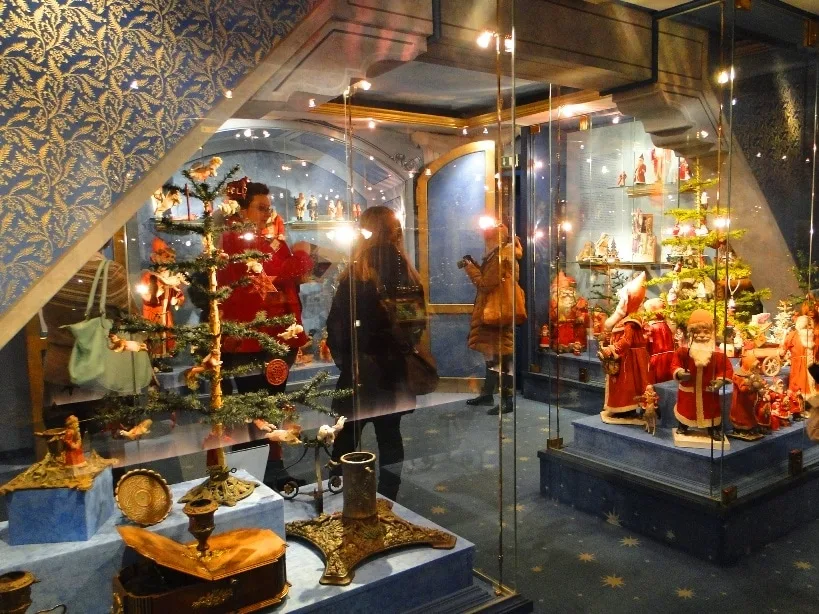 Walking through the colorful and festive displays of historic Christmas décor, you can't help but me amazed at how many Christmas traditions have lasted through the years.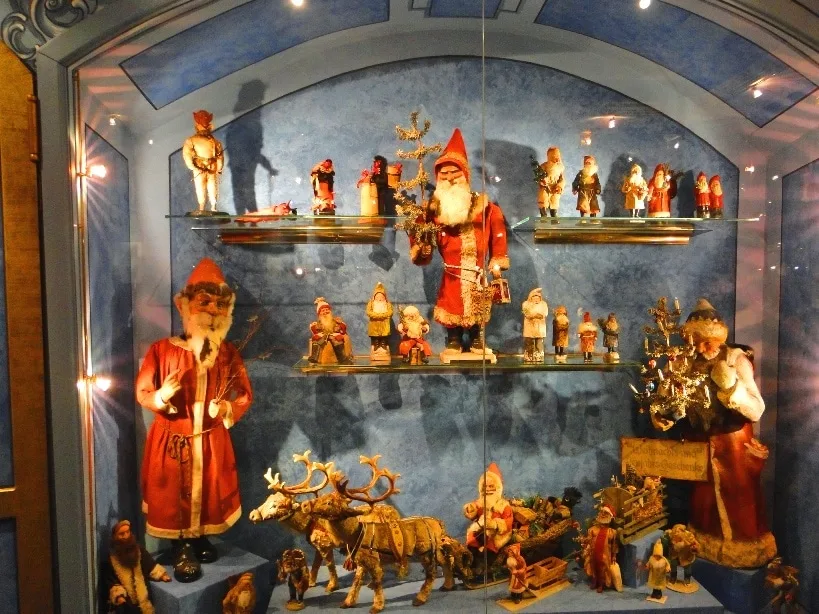 It truly is breathtaking to look at these ancient Christmas traditions, from old cards to Christmas trees that were sent to military members during the war.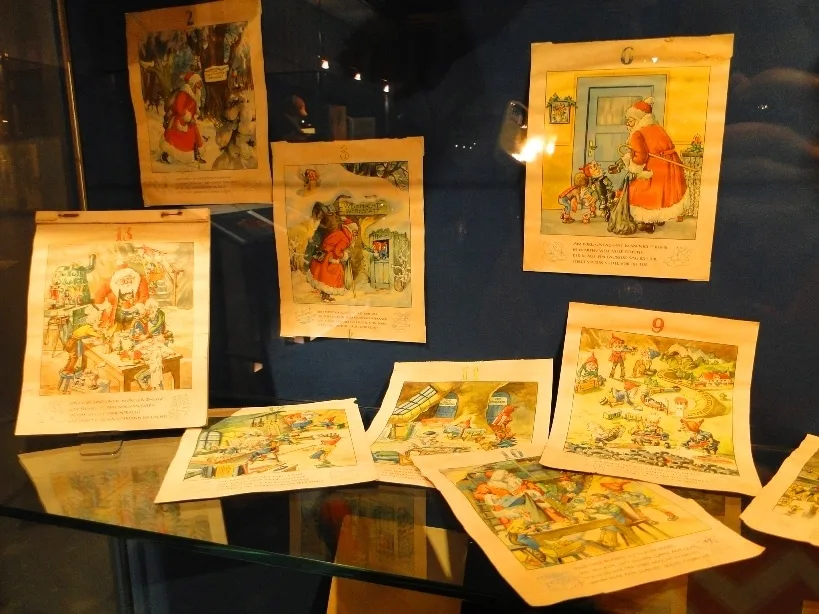 If you love Christmas, be sure to leave plenty of time to walk through both the German Christmas Museum and Kathe Wohlfahrt's Christmas Village. It could easily be a half day event if you love traditional Christmas decorations as much as I do.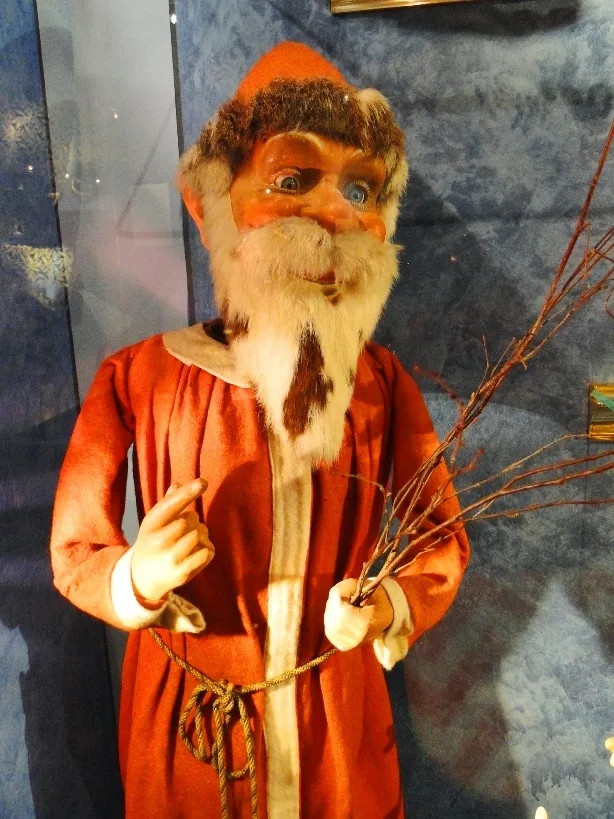 The German Christmas Museum does have an admission fee. It's small, and well worth it.
Tip: Get the Family Ticket for just 7 Euro. It's good for 2 adults and 2 children. And it's cheaper than purchasing 2 adult tickets.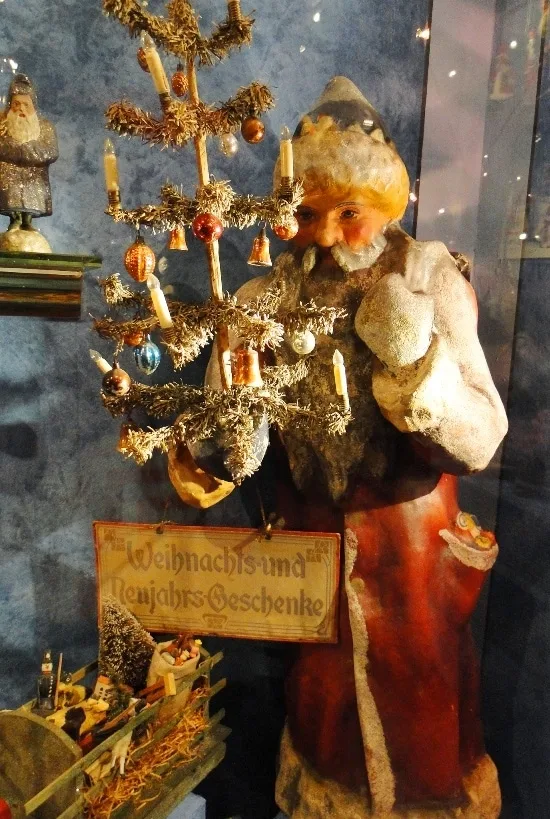 Guided tours are available (we had one), but chances are you'll be able to appreciate the historical Christmas decorations on a self-guided tour.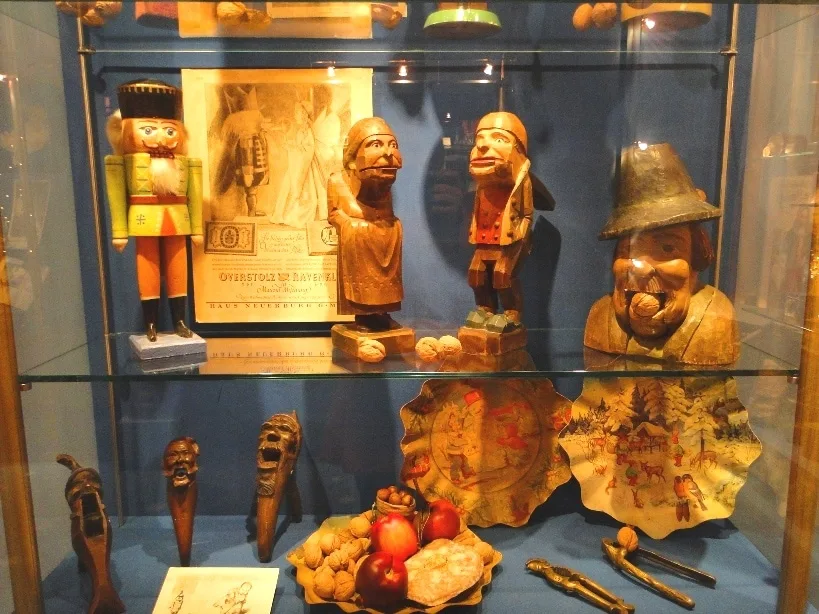 Related Posts:
Rothenburg Christmas Market
If you're in Rothenburg at Kathe Wohlfahrt's shop during the Christmas Market, all you have to do is walk outside to continue the Christmas magic.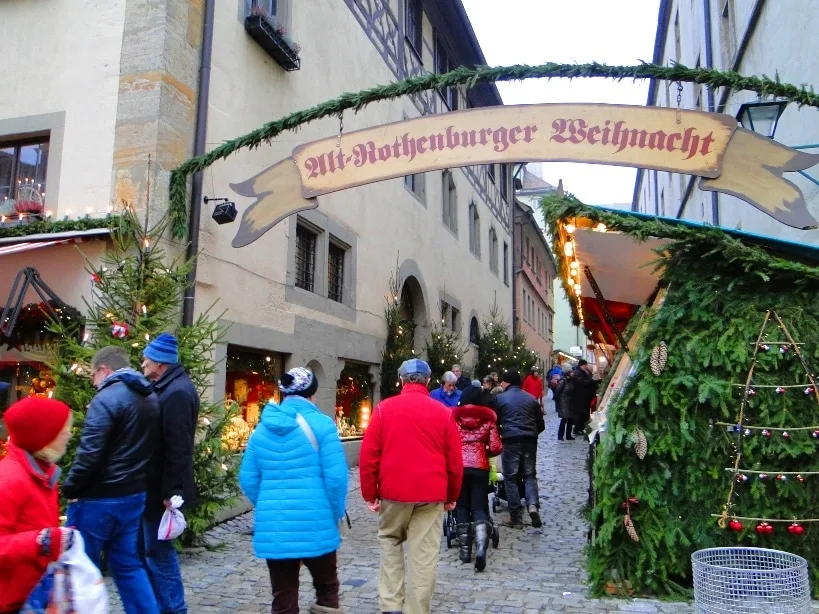 I love the way that there were stalls set up all along the narrow ancient streets throughout the city. Walk around the small town square and then continue down side streets all laden with festive Christmas cheer.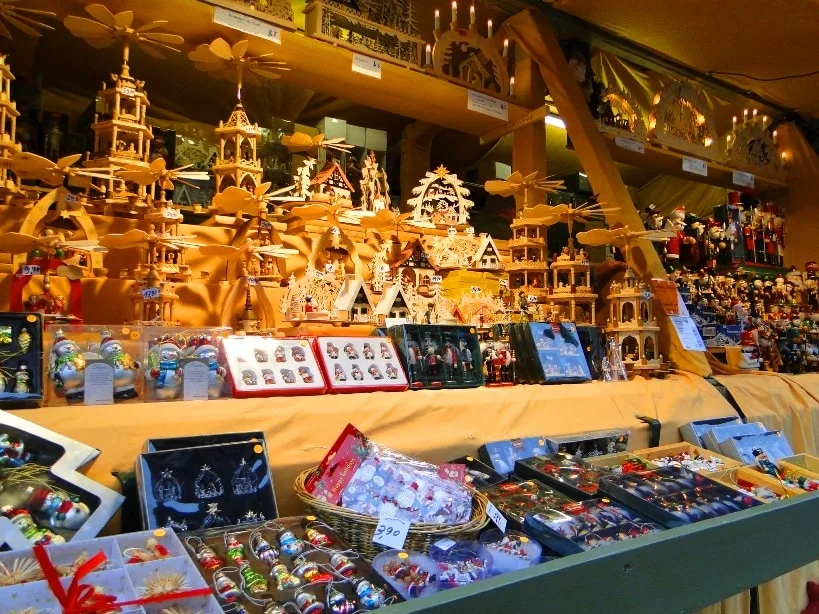 You'll find a Kathe Wohlfahrt stall in the Rothenburg Christmas Market, too.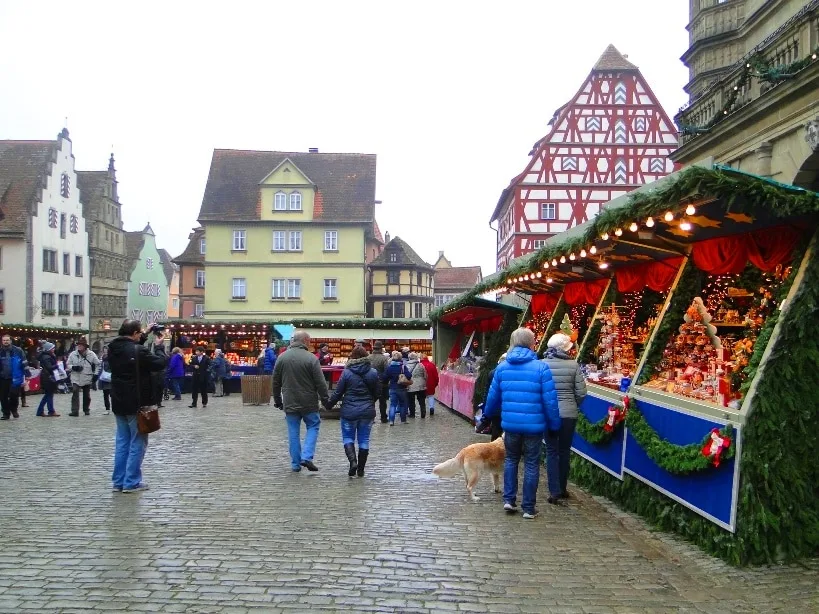 The Christmas magic of Kathe Wohlfahrt continues beyond its beginnings in Rothenburg, Germany. See their store locator for stores in Europe and Stillwater, Minnesota and many Christmas Markets in the U.S.A.