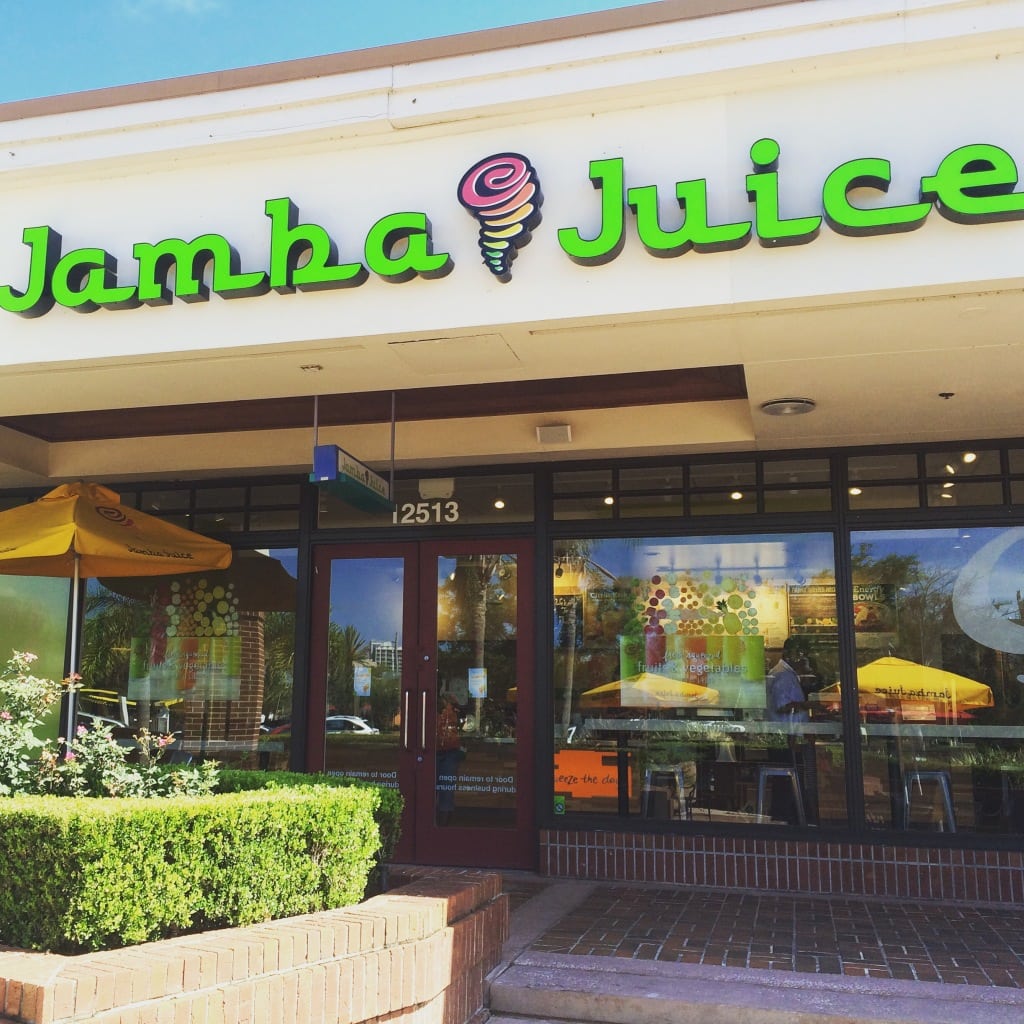 Jamba Juice has only recently come to the Orlando area, and with an opening in Crossroads at Lake Buena Vista this month, there are now three Jamba Juice locations in Orlando (with another one coming to UCF very soon).
The location across from the entrance to Walt Disney World means that you can grab a quick and healthy snack before heading to the parks or shopping at Downtown Disney.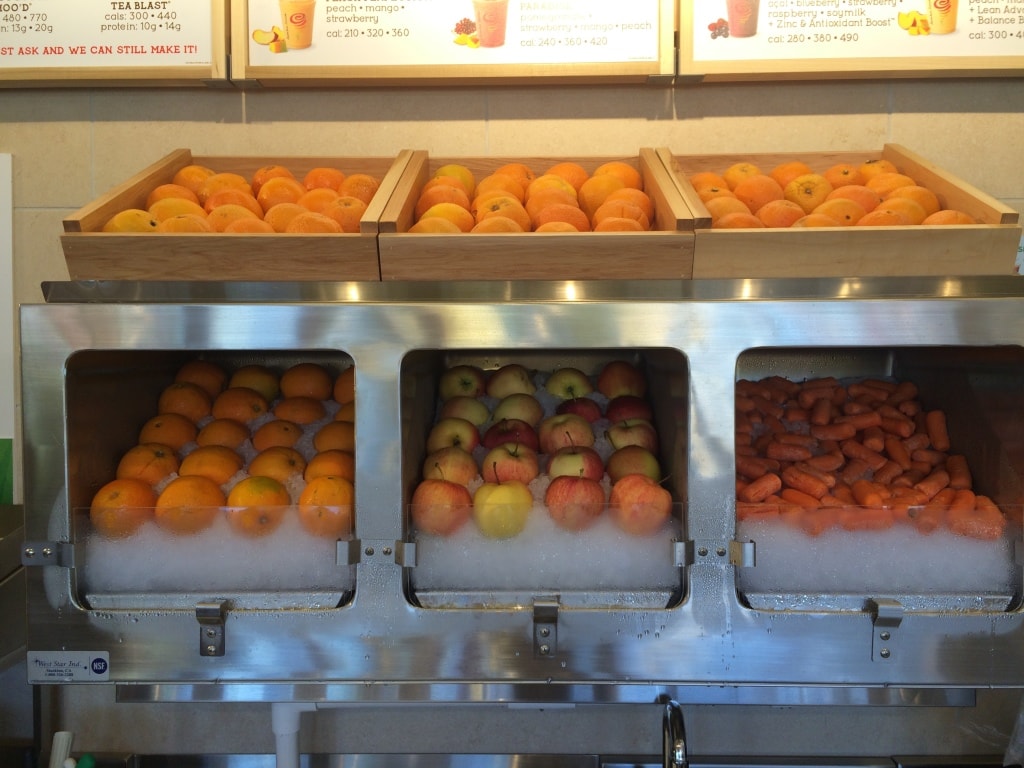 The Crossroads location will have their Grand Opening on Saturday, June 27 from 11 a.m. – 2 p.m. Complimentary samples of smoothies, juices and bowls will be available.
So, what can you expect at Jamba Juice? The healthy franchise is known for their smoothies and 100% fresh squeezed juices, all of which are free from any added sugar, preservatives and bad stuff. A small selection of snacks, sandwiches, wraps and flatbreads are also available. We suggest the waffles! 🙂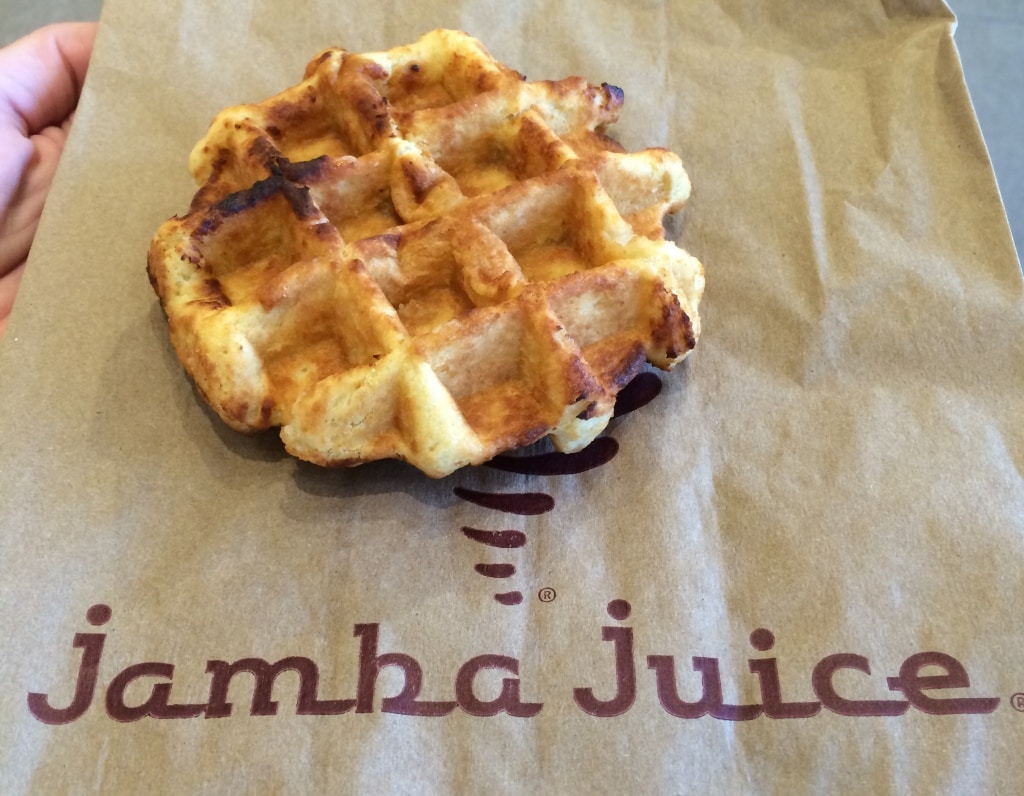 During a media preview, we indulged in a variety of tastes and treats from Jamba Juice's extensive menu.
We tried the Strawberries Wild, arguably the Number One seller at Jamba Juice locations. It has strawberries, banana and apple blended with non-fat frozen yogurt (or sherbet). It's super cold, smooth and creamy and we can see how this would be a popular smoothie. It has 2.5 servings of fruit in a smoothie.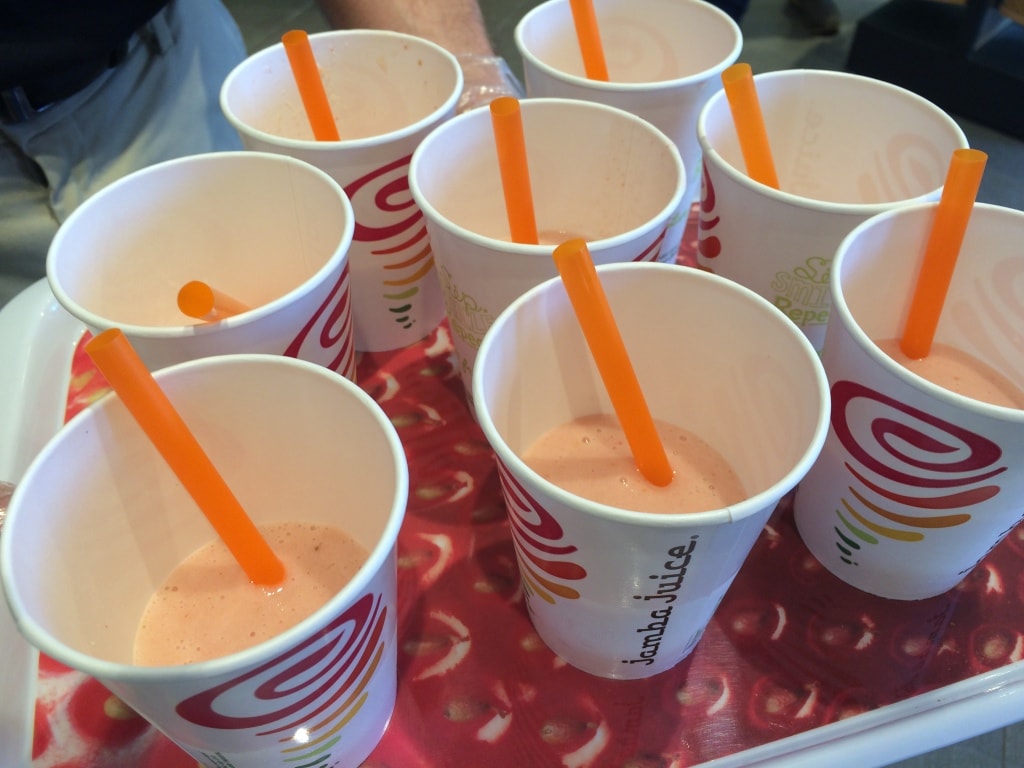 The Caribbean Passion smoothie has mango, strawberry, peach, orange and passion fruit with non-fat frozen yogurt or sherbet, for 2.5 fruit servings per 16 oz. glass.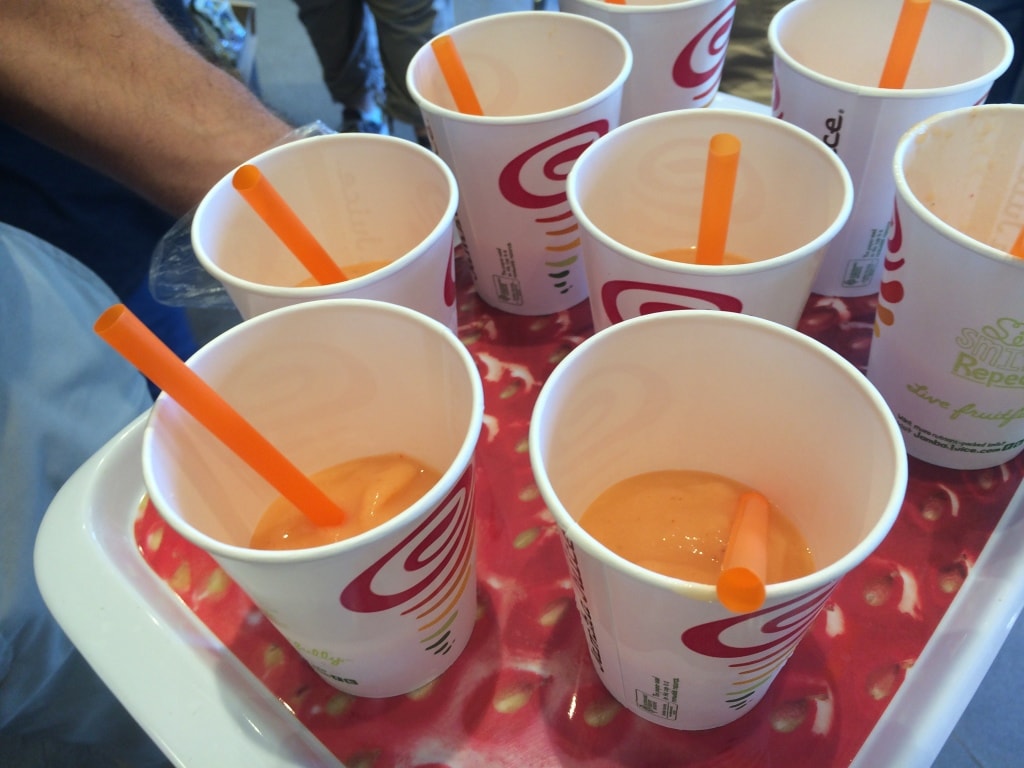 For the Freshly Squeezed Juices, all you're getting is 100% fruits and vegetables juiced right before you, as this video shows.
We tried the Citrus Kick, with orange, apple, pineapple and ginger juice. It was surprisingly mild and quite delicious.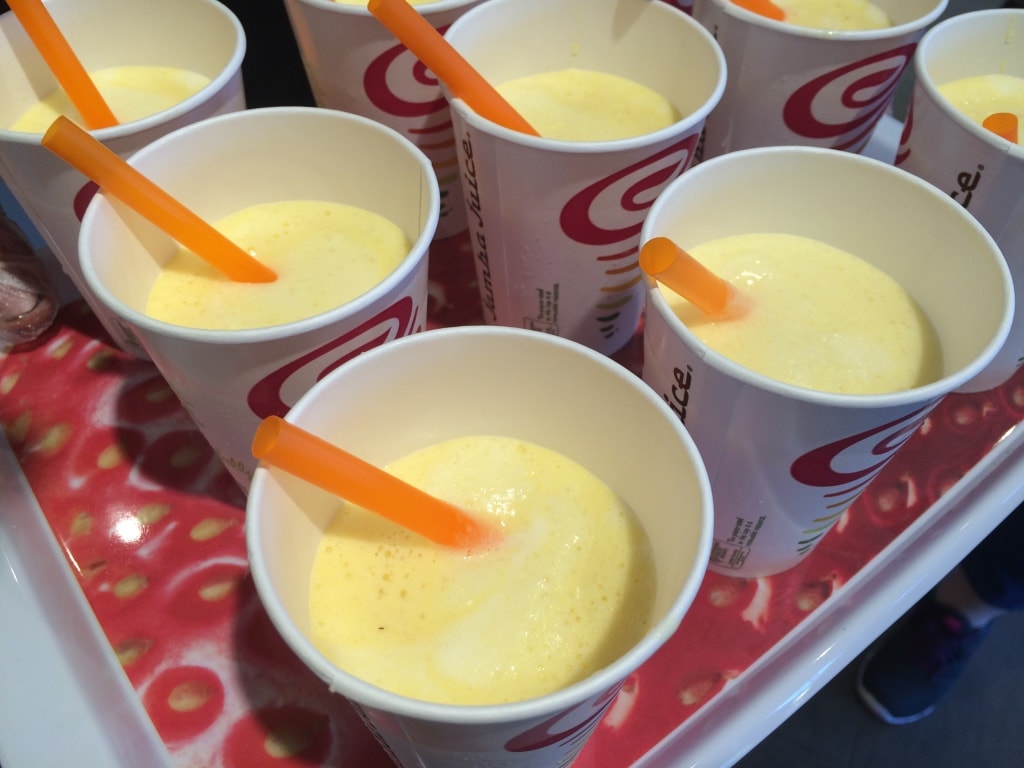 The Veggie Vitality certainly doesn't have a pleasant color, but it doesn't taste half bad. With carrots, apple, spinach, kale and chia seeds, this juice packs in a whopping 5 servings of fruits and vegetables in one glass.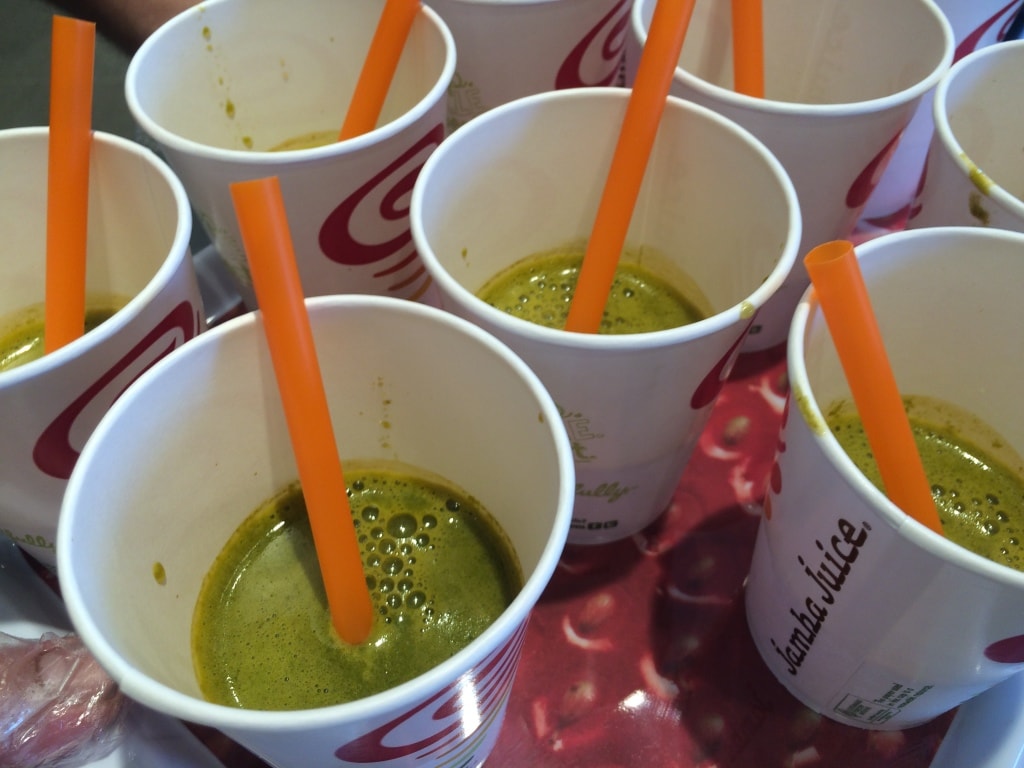 The energy bowls are a bit different at Jamba Juice. The Acai Primo Bowl combined the goodness of a really thick smoothie with fresh toppings such as granola, bananas, blueberries, coconut and honey. It was quite good, and a unique start to your day for breakfast, or a filling snack any other time.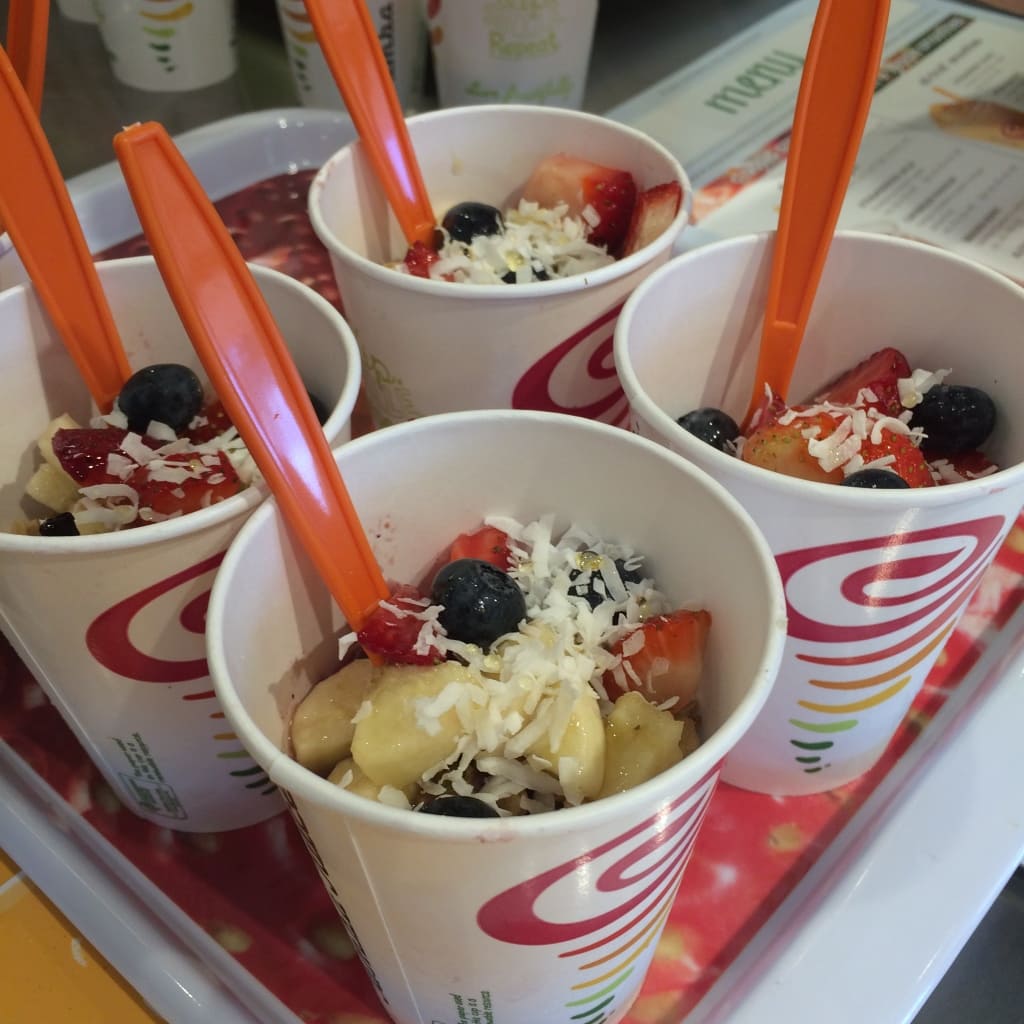 The team of Crossroads is just as committed to health as their customers. Owner Harsha Gagadam lost 40 pounds by changing the way he ate, and knew that when he brought a new franchise to the Orlando area, he wanted it to be a healthy one. General Manager Don lost 120 pounds by switching to a healthier diet and exercising. He know is involved in the community in active pursuits, including marathons where you might just see him wearing a shirt promoting Jamba Juice.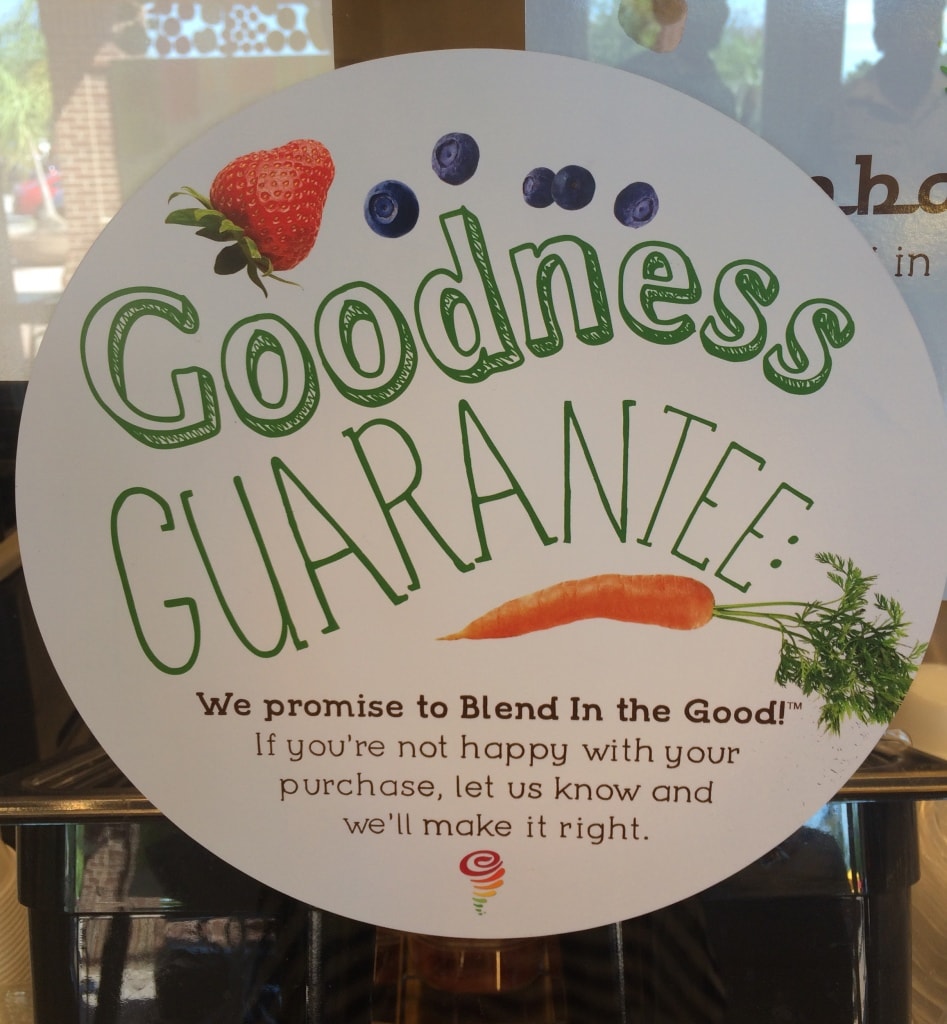 Expect to be greeted with a smile every time you enter Jamba Juice. That's their mission.
And expect some extra perks found in a community eatery, too.
For instance, look for Mystery Smoothie Mondays. Got a great recipe you think they should make? Chances are Jamba Juice Crossroads might feature yours for a day.
Ask about the underground snacks, yummy treats so good (and locally created) that they're not on the main menu.
For Walt Disney World Resort cast members, as well as other hospitality workers (SeaWorld, Universal, restaurants, etc.), show your I.D. for a 10% discount any time.
Watch out for weekly events, too, such as dress like a Disney character for 20% off your purchase.
Anyone can always sign up for Jamba Insider Rewards, though, and get $3 just for joining! No need to carry a card, just provide your phone number.