In Orlando, we were lucky to have a Godiva Chocolate boutique store inside the Mall of Millennia.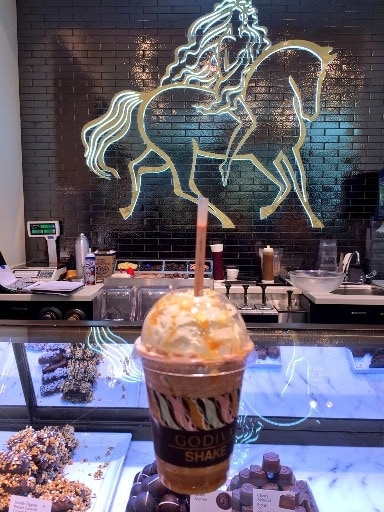 The stores were not commonly found throughout the U.S. – which makes them a special treat. Especially the Godiva milkshakes they made!
As of March 2021, all Godiva stores are now closed. So you definitely want to order your chocolate online! I love how your chocolate comes shipped with a cold-pack so that it does not melt!
Inside a Godiva Chocolate Boutique you would find plenty of boutique exclusives. Among the best had to be the handcrafted Godiva chocolate shakes that you can't get anywhere else! These shakes are ridiculously rich and indulgent.
They also served other good stuff at Godiva (such as soft serve ice cream cones, chocolate covered strawberries, and more….).
When I was getting a shake for lunch (yes, lunch, I know….. but I do not feel guilty!!), I asked the always-personable staff if I could film them while making my Milk Chocolate Caramel Shake.
Here's the process. FYI, it tastes better than it looks! 🙂
Want an actual recipe to follow? Yeah, we hear you! Why not try this Godiva White Chocolate Liqueur Milkshake?
You might also like this thick chocolate milkshake recipe:
Did you know that you can buy Godiva hot chocolate mix to make hot – or cold – beverages at home?
You might also be interested in these easy Boozy Spiced Rum Cocoa Bombs Recipe. Or our indulgent hot chocolate charcuterie board.