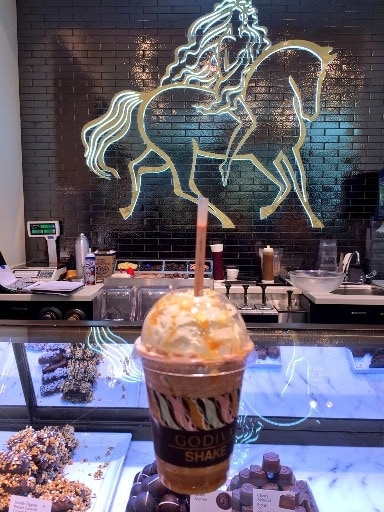 In Orlando, we're lucky enough to have a Godiva Chocolate boutique store inside the Mall of Millennia. The stores are not commonly found throughout the U.S. – which makes them a special treat, as well as the chocolate goodness that can be found inside!
Inside a Godiva Chocolate Boutique you'll find plenty of boutique exclusives, but among the best has to be the handcrafted Godiva chocolate shakes that you can't get anywhere else!! These shakes are ridiculously rich and indulgent. For only $6.39 with tax, it's an affordable treat that could be – and probably should be – shared with a friend or loved one.
So forget an uber-expensive drink at Starbucks, also found in the Mall of Millenia. Walk right past that and get the good stuff at Godiva (which also includes soft serve ice cream cones, freshly dipped chocolate strawberries, and more….).
When I was getting a shake for lunch (yes, lunch, I know….. but I do not feel guilty!!), I asked the always-personable staff if I could film them while making my Milk Chocolate Caramel Shake. Here's the process. FYI, it tastes better than it looks! 🙂