Ever wondered where did Walt Disney live? Or ask yourself where the real Main Street USA is located? If you want to know what inspired Walt Disney's creativity, where his Dreaming Tree is or where the Disney farm is located, the answers are all the same. For every true Disney fan wanting to explore early Disney history, you MUST visit Marceline, Missouri.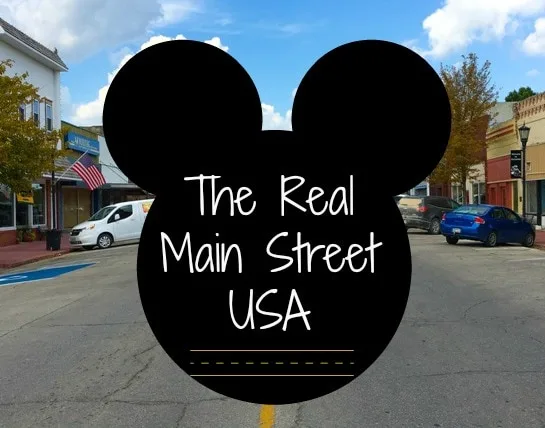 A Disney Fan's Visit to Marceline, Missouri
During our RV trip last year, we passed by Marceline, Missouri twice. The first time, I had no idea that we would be traveling by Walt Disney's hometown. I saw the sign for the Walt Disney Hometown Museum on the highway and knew we didn't have the time to stop.
Even still, I looked it up on the phone and realized that they were closed on Mondays (our travel day) anyway. With the pouring rain coming down that day, I didn't want to visit the real Main Street USA in Marceline anyway, so I dreamed of being able to visit Walt Disney's childhood home someday.
Thank God we passed through Marceline, Missouri on our way back to North Carolina!
Actually, I think we had several ways to come home. When we saw that we could easily come through Marceline, though, we detoured. After all, we are huge Disney fans. We enjoy learning more about early Disney history.
I don't think you can proclaim that you are a huge Disney fan if you're not anxious to see where Walt Disney got his start or tour the actual town that inspired portions of Disneyland and Walt Disney World Resort.
More things of importance happened to me in Marceline than have happened since, or are likely to in the future.

~Walt Disney
So we made plans to visit Marceline and I started looking into details:
First of all, the Walt Disney Hometown Museum is a MUST. It would be silly to visit Walt's hometown without visiting the collection of memorabilia – and talk to people who knew him when he lived in Marceline.
Second, be sure you look at times of the museum's opening and other destinations in the tiny town. It's unfortunate to come when the restaurant is closed or the movie theater is not in operation. Choose what you want to see and be sure that you confirm opening times.
Travel Tip: The Walt Disney Hometown Museum is closed on Mondays.
Finally, driving a 33-foot RV through a tiny town in Missouri was a concern to us. Thankfully, the ladies at the Walt Disney Hometown Museum have dealt with an RV tourist or two. Actually, I think most of the people visiting when we were there were RVers passing through. When we called, they told us exactly how to come in and that parking was not going to be an issue.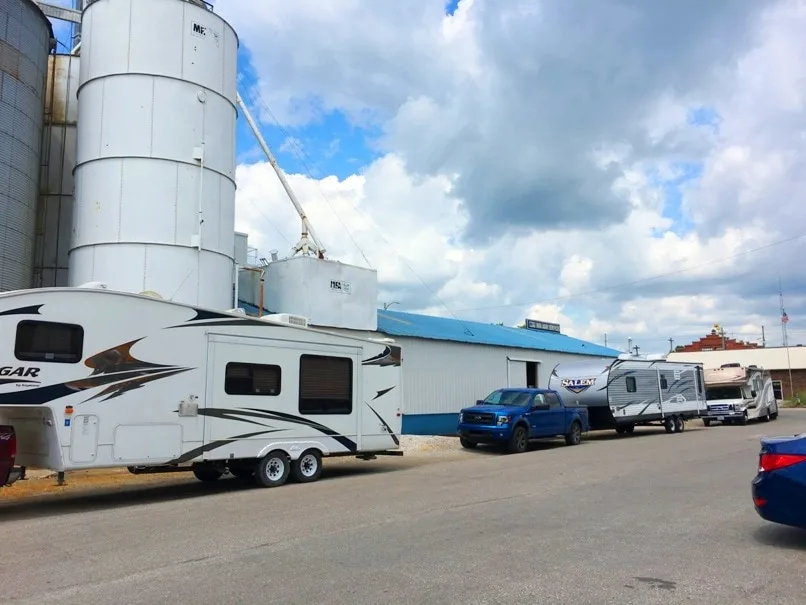 We were able to make it into Marceline with no issues. For RVers, there is adequate parking across the street from the Walt Disney Hometown Museum in front of an industrial building. It's really just a long strip of land in front of the building, so it's kind of pull in parking. Several RVs were parked there at the same time.
Walt Disney Hometown Museum
The Walt Disney Hometown Museum was definitely going to be the highlight of our visit to Marceline, Missouri. We had no idea how awesome it was going to be.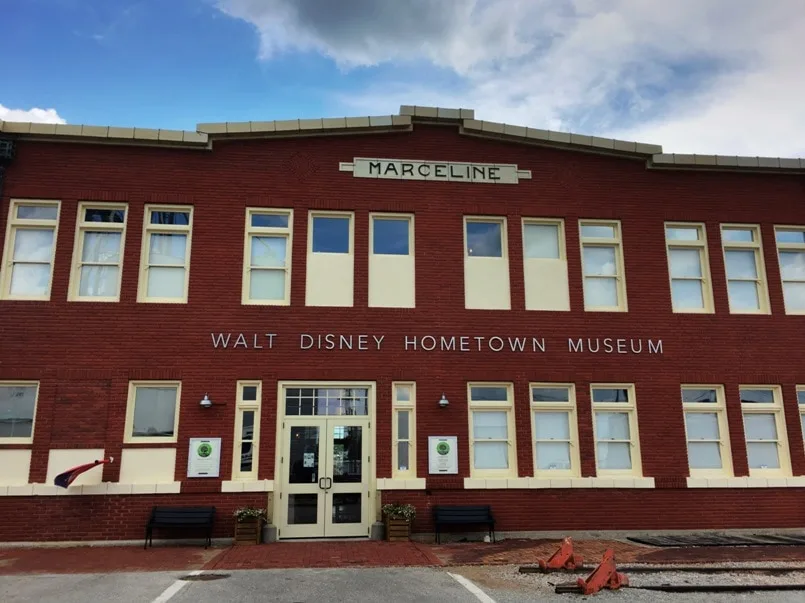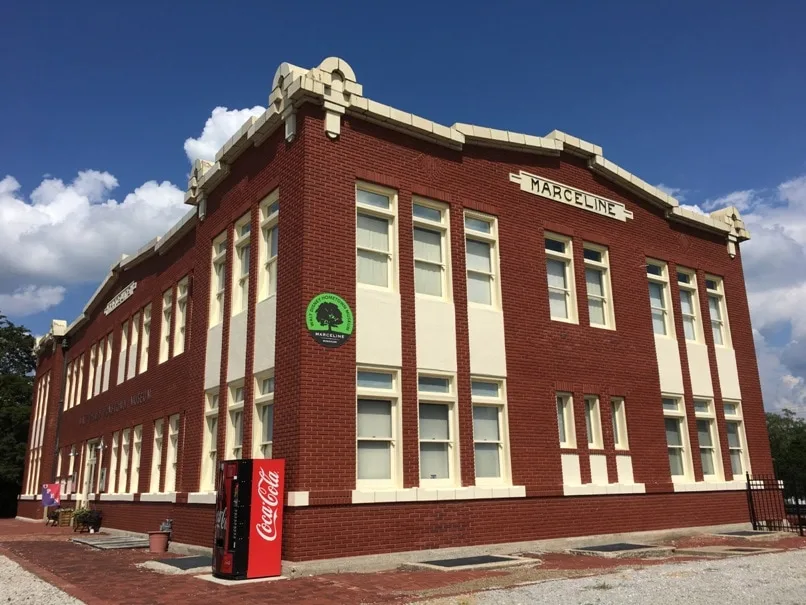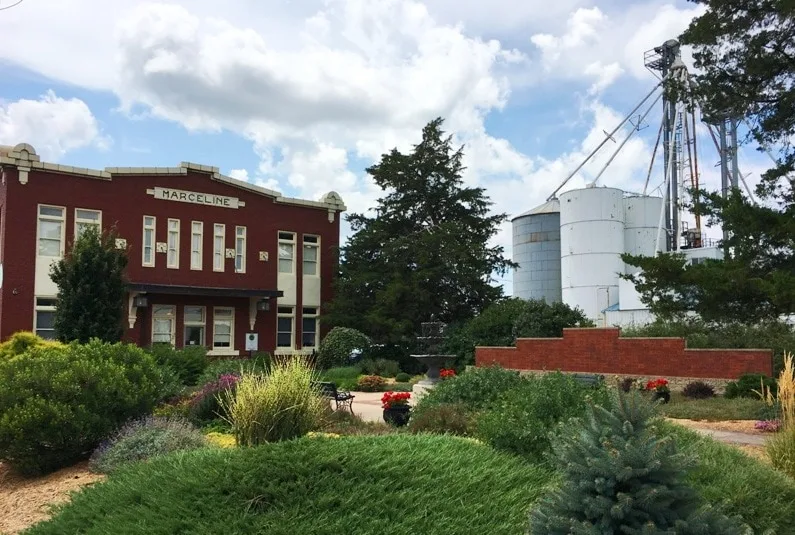 We planned a stop for just a couple hours in Marceline as we were on our way to an overnight stop. We wish we had gotten there earlier and spent more time.
The Walt Disney Hometown Museum is everything that a Disney fan would want. There are so many pieces of unique Disney family history that offer insights into the Disney's before they ever dreamed of the fame they would achieve.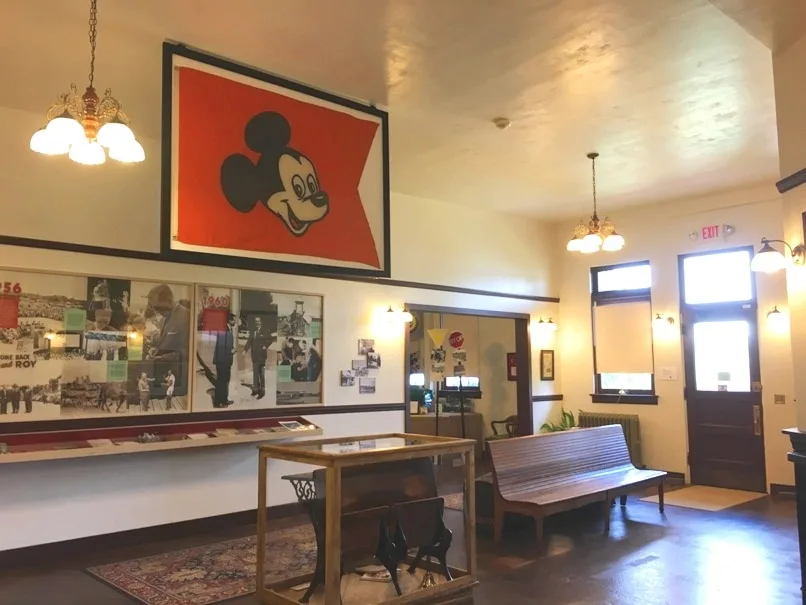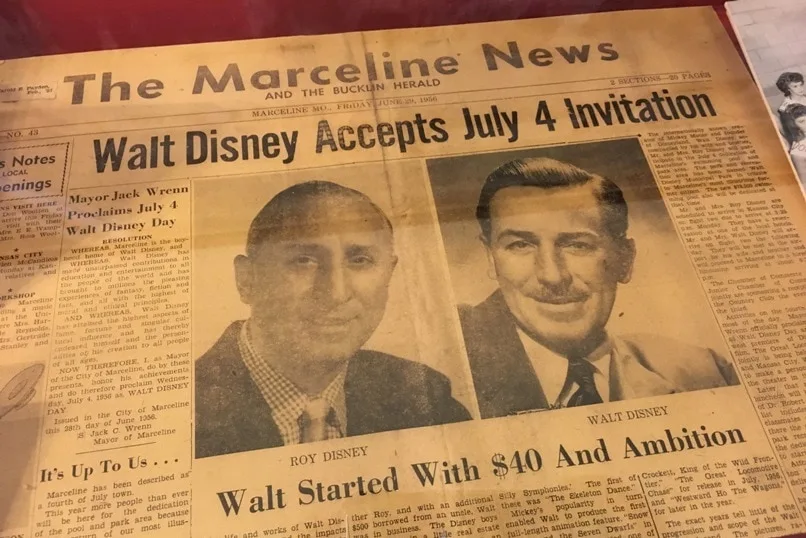 The Disney museum is two floors and 10,000 square feet of space. The entire museum can be enjoyed on a self-guided tour.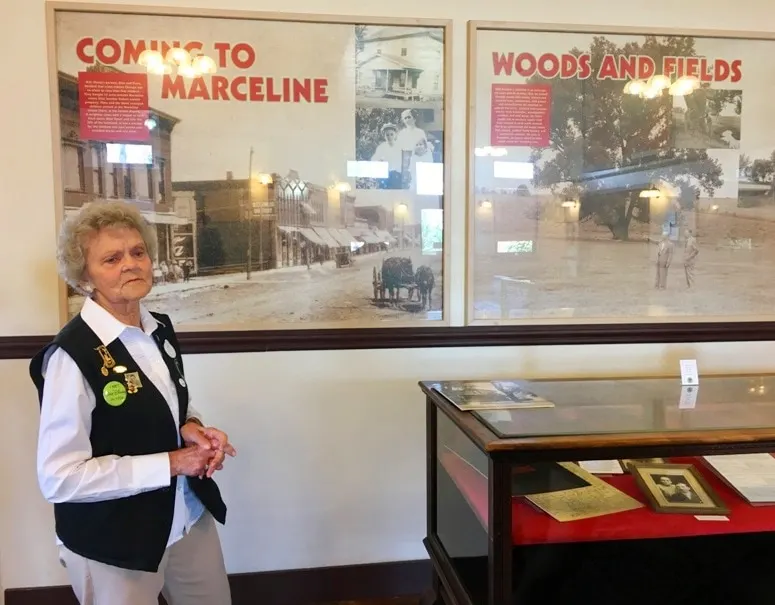 If you are lucky, though, you'll take a one-room guided tour (it's free) with the lady who KNEW Walt Disney himself. In fact, Disney and his wife spent the night at her house when they came back to Marceline. She has some wonderful stories to share about Walt Disney, the real man.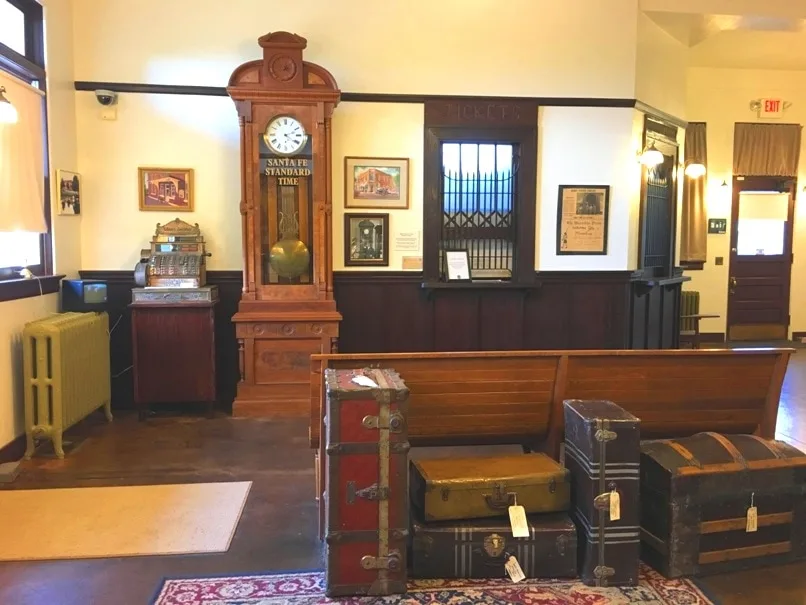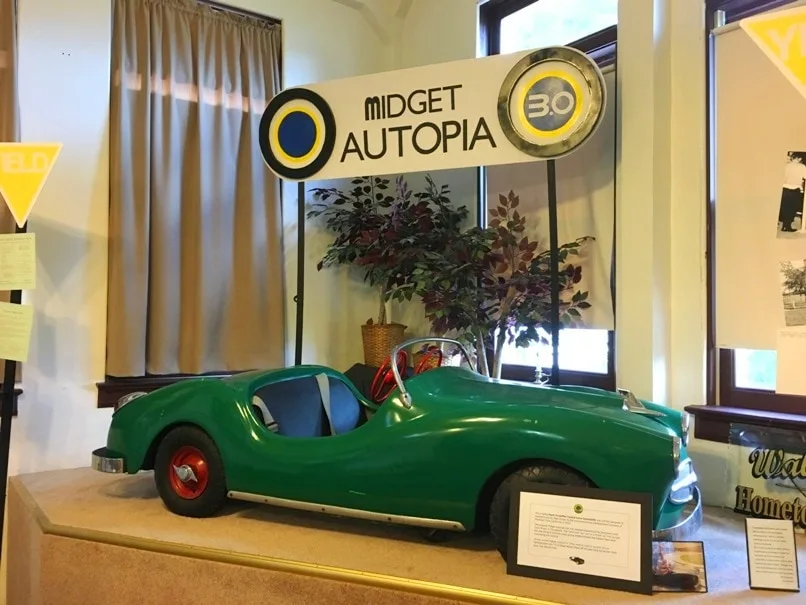 One of the most fascinating exhibits, to me, are the details of the secret "Marceline Project" that Walt and Roy Disney had planned for Marceline, Missouri.
If you are familiar with the "Florida Project," which eventually became Walt Disney World near Orlando, then you'll get a sense of appreciation of what the "Marceline Project" would have been. Sadly, the "Marceline Project" was put on hold and then shelved when Walt Disney became sick and died during construction of Walt Disney World.
The plans were on Walt's Burbank desk when he died. It would have started in five months. After his brother's death, Roy did not further pursue the project in their hometown.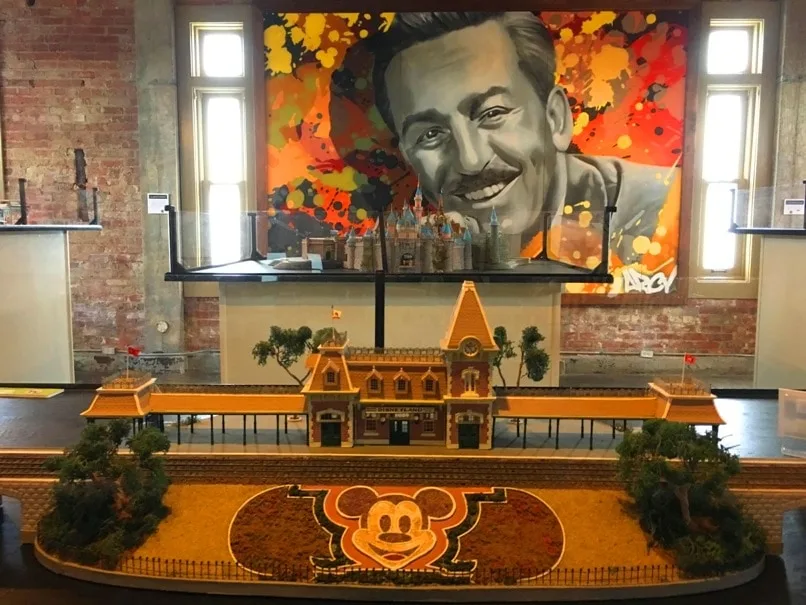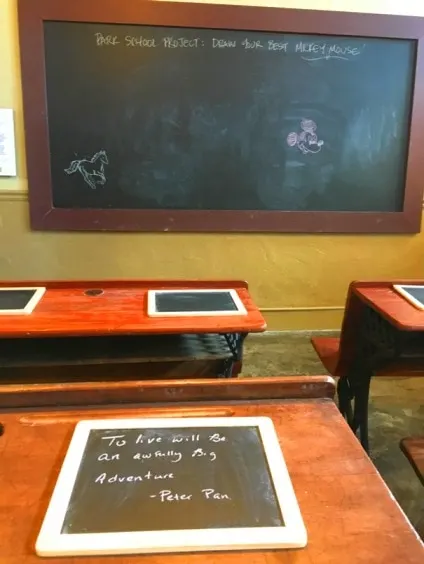 The Walt Disney Hometown Museum is located at the train stop. The picture below is the patio just outside of the gift shop. This is where Walt's fascination with trains started. To sit on the patio by the train tracks, and to see a train go by, gives you goosebumps. The trains in Disneyland and Walt Disney World were inspired by Walt's time right there.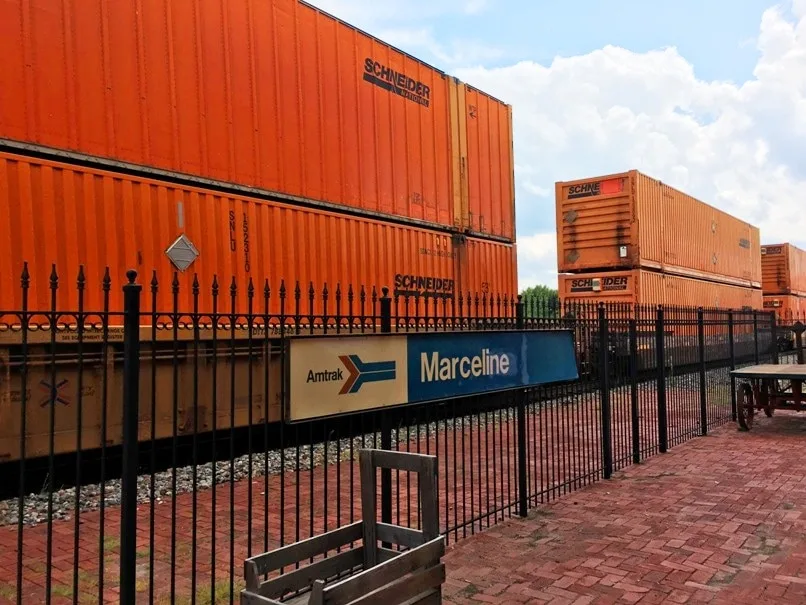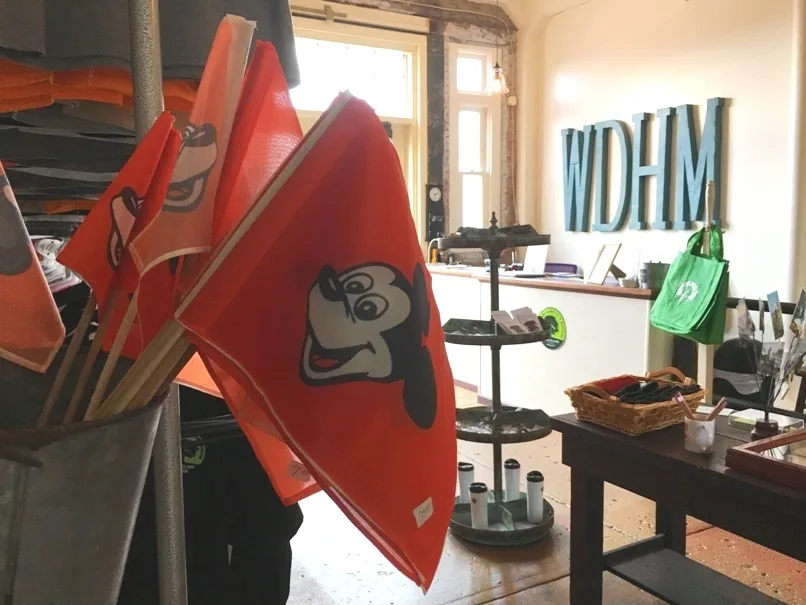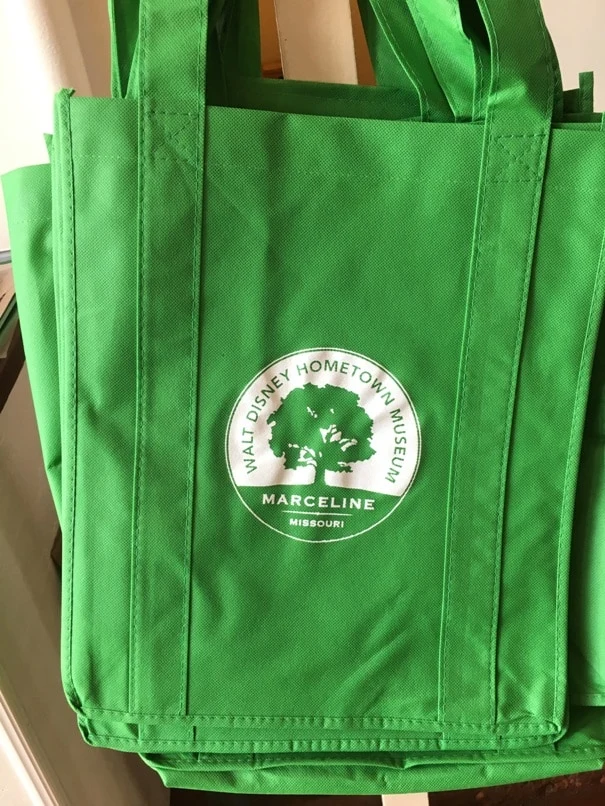 There is a gift shop at the Walt Disney Hometown Museum. It didn't have as many types and varieties of souvenirs that we're used to at Disney shops and theme parks. You will definitely find something unique, though, that can't be bought anywhere else.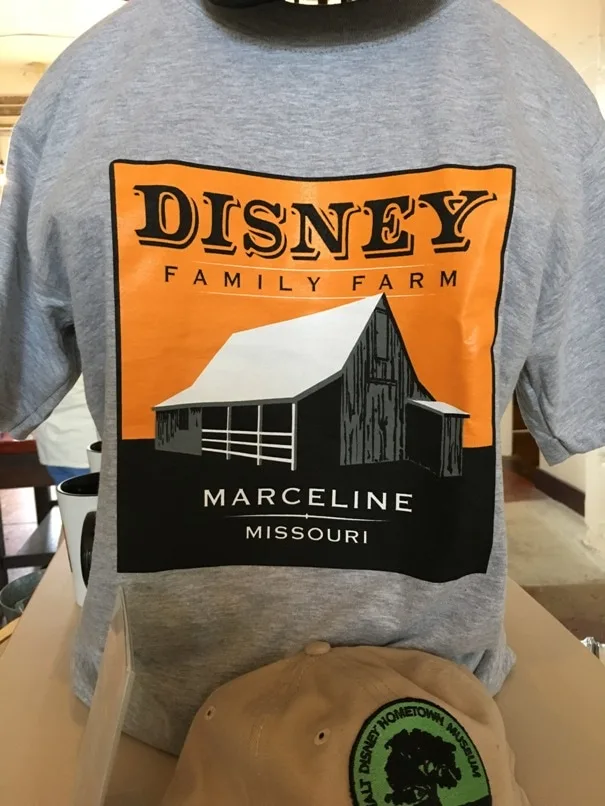 The Real Main Street USA
So much of Disneyland and Walt Disney World is based on real life places from Walt Disney's childhood. One of the places that is most relatable to visitors is Main Street USA in both theme parks.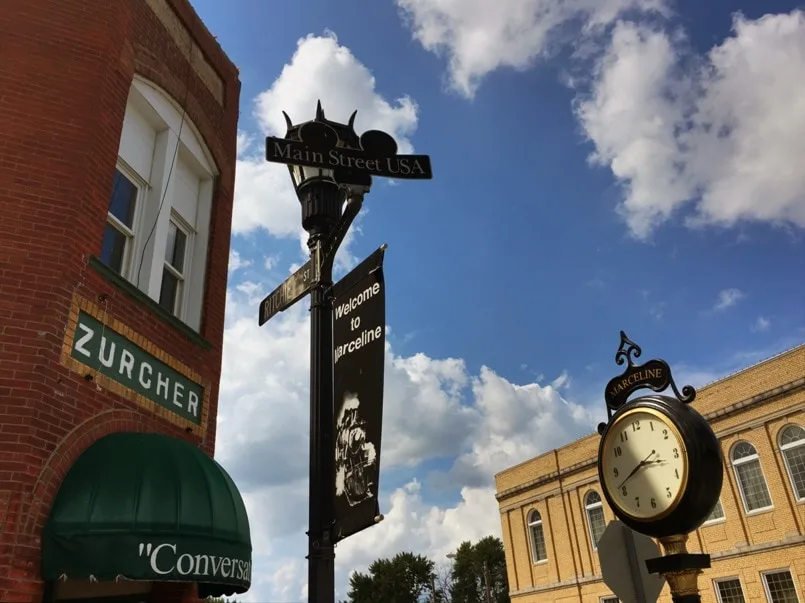 Disney visitors always ask:
What is Main Street USA modeled after?
Main Street USA was inspired by what real American town?
The answer is North Kansas Avenue in Marceline, Missouri. This is the real Main Street USA.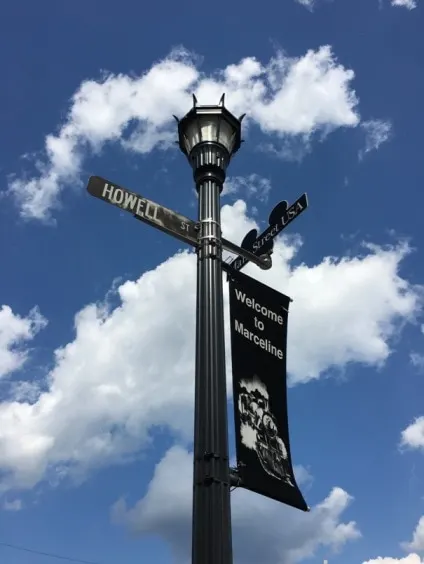 This street going through downtown Marceline, Missouri is line with traditional shops, restaurants and places of business that were the heartbeat of small towns in America.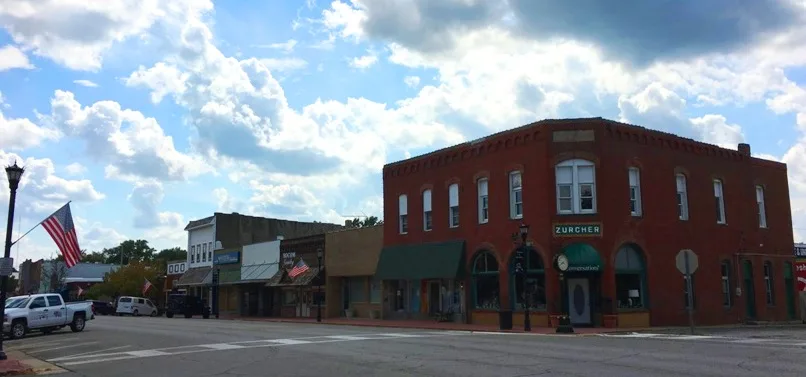 The portion that is in downtown has been renamed Main Street USA. The street signs are amazing – with Mickey Mouse ears on the name.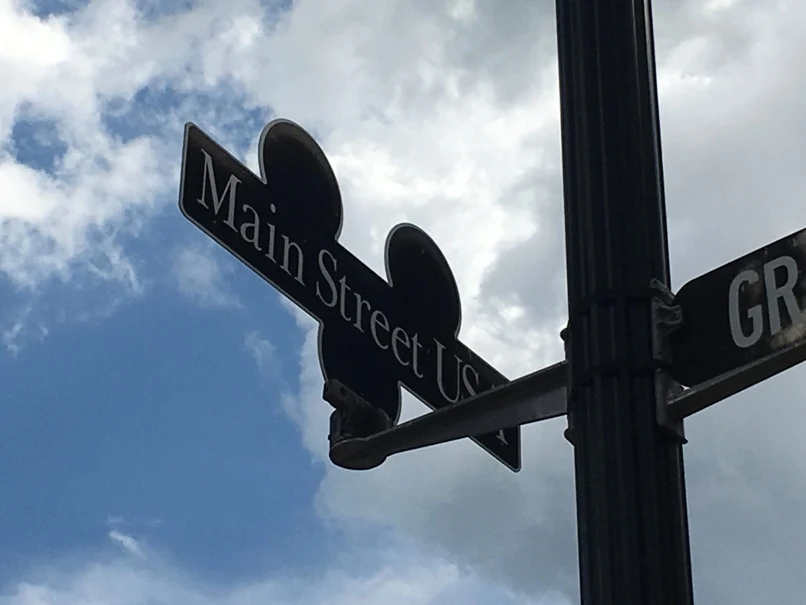 Just the street signs alone are reason enough for any true Disney fan to visit Marceline, Missouri.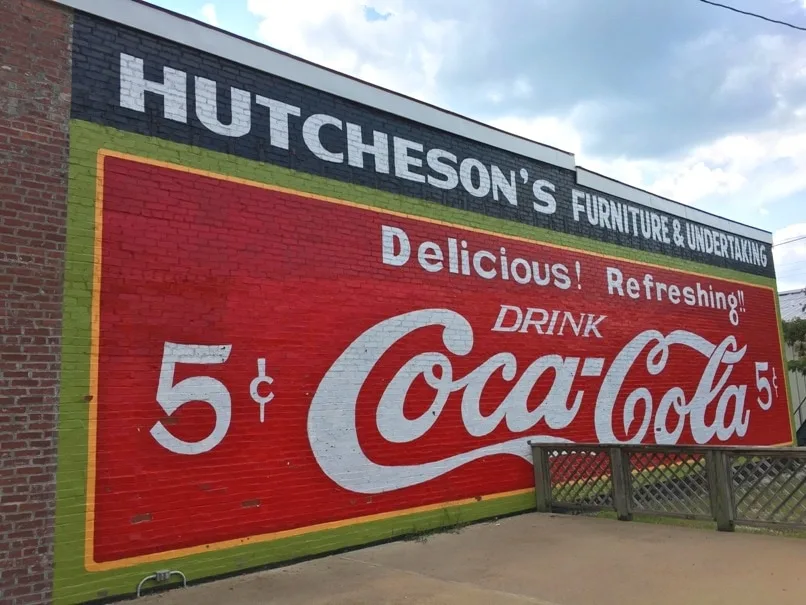 The Coke Wall is one of the interesting locations that Disney fans will appreciate. A young Walt Disney was absolutely fascinated by the advertisement being painted on the side of a building in his hometown. It is estimated the painting was done in 1906, when the Disney family moved to Marceline. This would later influence his artwork and design, as well as the look of Main Street USA. In 1955, Walt Disney had his design team reconstruct the 'Coke Corner' for Disneyland. Even today, after 60 years, Coke is the beverage of choice within the Disney theme parks. Coca Cola even had their own artists come out in 2015 to refurbish the sign in Marceline.
Disney Theme Park Helpful Tips:
The Uptown Theater is where there have been two Disney film premieres. In 1956, Roy and Walt Disney were on hand for the Midwest premiere of The Great Locomotive Chase. The Spirit of Mickey premiered here in 1998.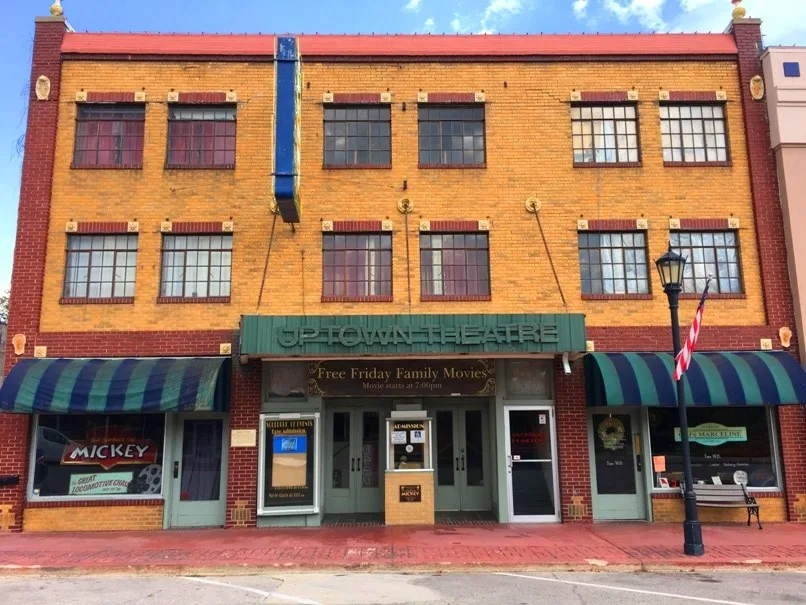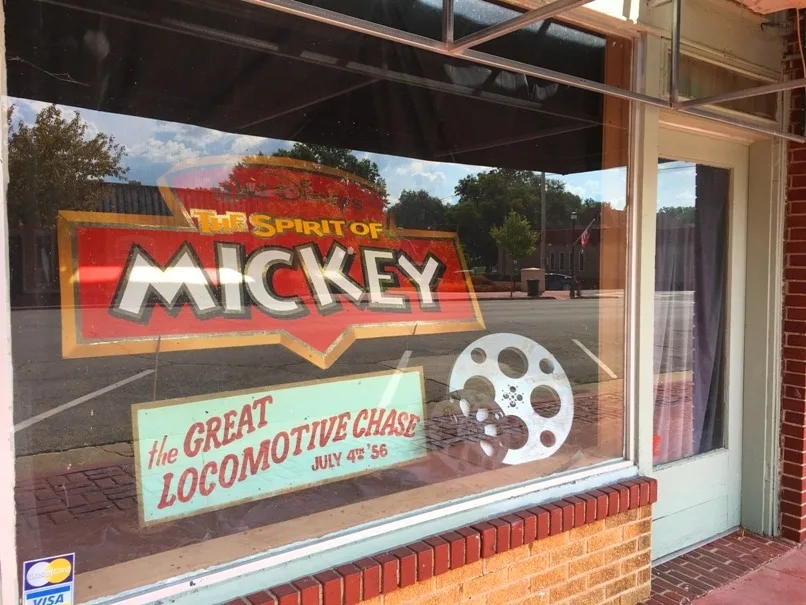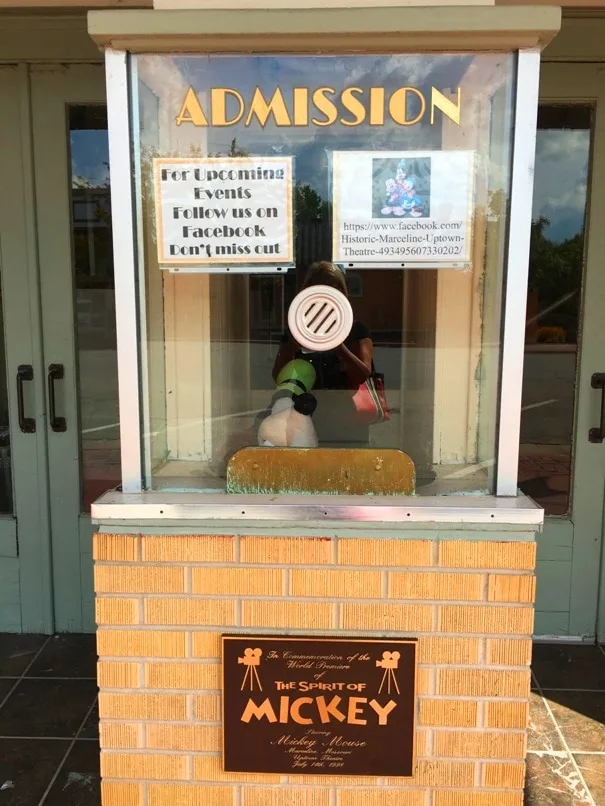 There are other historic Disney inspirations along Main Street USA, too. And plaques that will guide you towards the historic spots.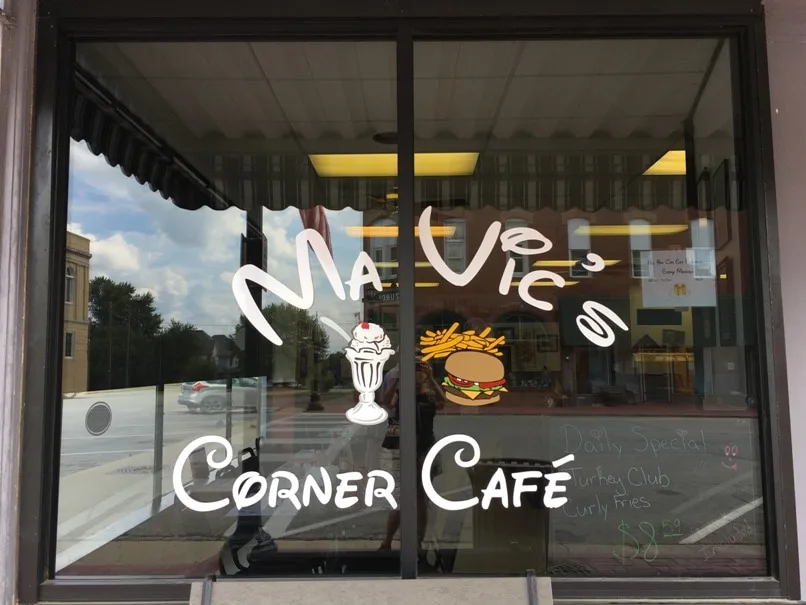 Unfortunately, we didn't get to do a lot on Main Street USA. We visited in late afternoon and everything was closed. We would have loved to eaten in Ma Vic's Corner Cafe where the menus were printed with the famous Disney font. I'd suggest visiting in the morning.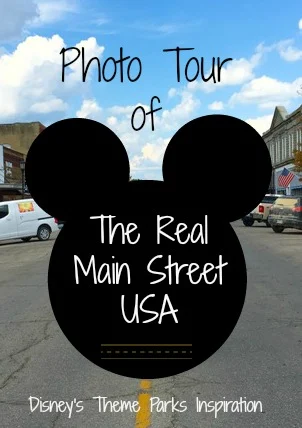 Walt Disney Dreaming Tree Location and Walt Disney Barn
The legend of Walt Disney's Dreaming Tree and Walt Disney Barn might not be as well known as many Disney stories. Yet it is integral to how Walt Disney's cartoons and theme parks got their start.
We didn't know too much about the Walt Disney Barn before coming to Marceline, Missouri. Truth be told, we probably wouldn't have even known to visit it without the map that the ladies at the Walt Disney Hometown Museum provided for us.
Both the Walt Disney Dreaming Tree Site and the Walt Disney Barn can be visited behind Walt Disney's boyhood home. It is located near the intersection of North Kansas Ave. (the street is called Main Street USA through downtown) and Broadway.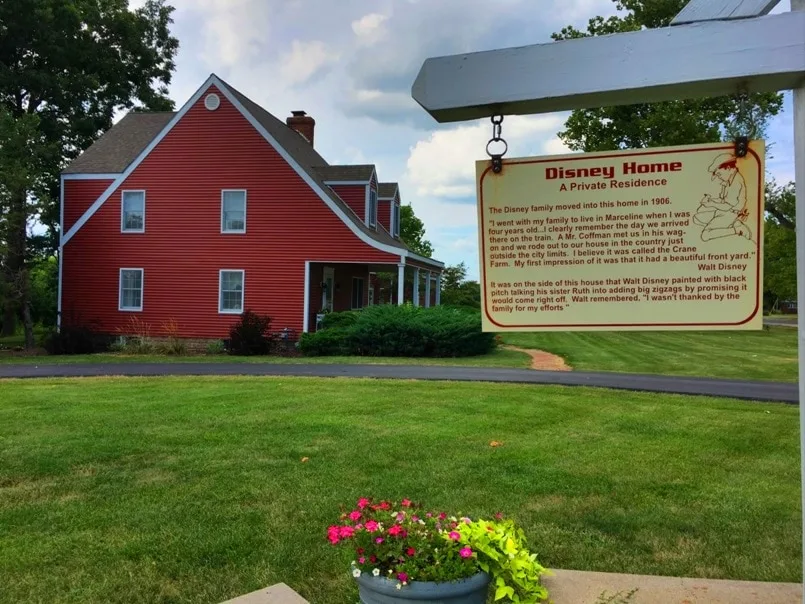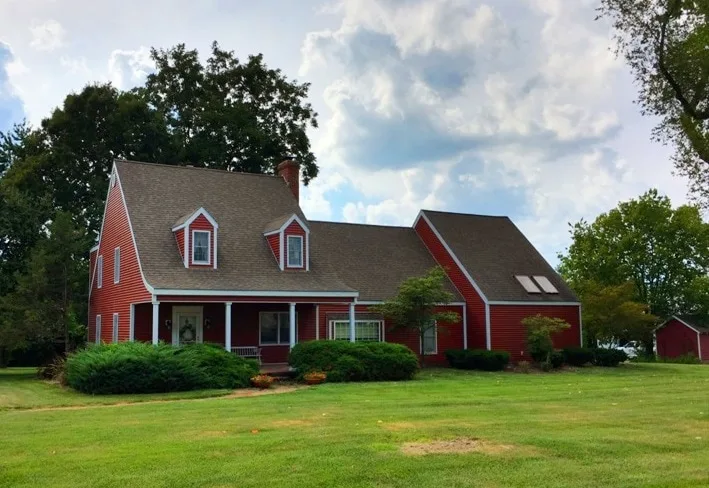 Walt Disney's home is located on the corner of the intersection (Preferred Bank is across the street). You cannot visit the inside of the home, and you certainly can't walk around the property in the front. However, there is a historic plaque by the road, and there is room to pull off to the side of the road and admire the house from across the street.
If you drive just a short distance down Broadway, you'll find a very small parking area with a sign to the Disney Barn and Dreaming Tree Site.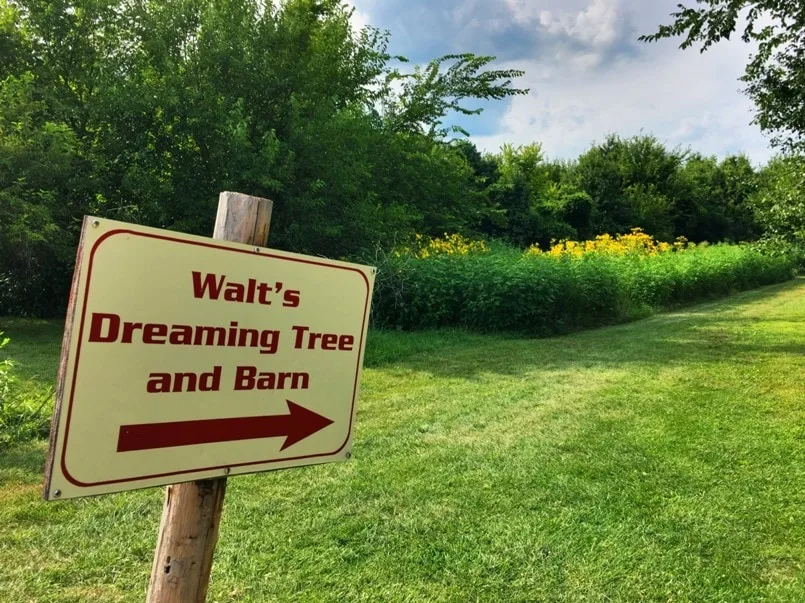 The Disney Barn and Dreaming Tree Site are located on the private property of the Walt Disney Home. However, the owners have made it available for visitors to explore. So, yes, it's okay to walk on their private property to see these historic Disney sites. There's plenty of official signs to guide the way.
Walking down the path towards the Disney Dreaming Tree Site and the Disney Barn is something out of a Disney film. At least it was for me.
I walked down the path heavy with wildflowers and saw butterflies floating on the breeze. A rabbit darted out from the overgrowth and hopped down the path in front of me as I followed along.
I swear, it was like something out of Snow White and the Seven Dwarves.
Walt Disney used to walk this very site. He would head towards his beloved Dreaming Tree, where he would watch nature and dream of a better life. When he returned to Marceline, Missouri as an adult, Disney would always make time to come back to his Dreaming Tree and reminisce.
The original Disney Dreaming Tree has since been lost (disease, lighting strikes and a wind storm). However, a descendant of the original Disney Dreaming Tree was planted nearby on the path by one of Walt Disney's grandsons and three Disney Ambassadors.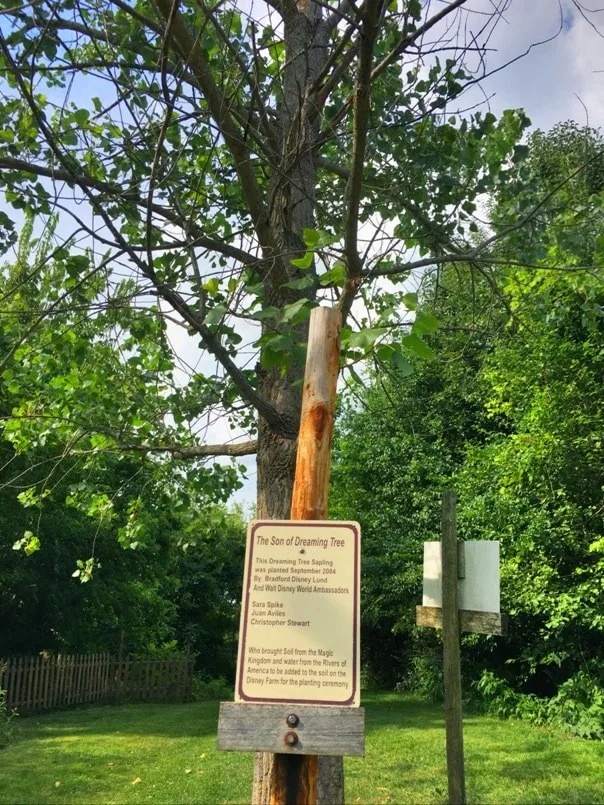 Soil was brought from the Magic Kingdom and water was brought from the Rivers of America and was added to the soil on the Disney farm for the tree planting ceremony. If you're a Disney fan, you're probably getting emotional right now……. I felt the same way hearing this story.
The Son of Dreaming Tree, as it is called, is still rather small compared to the original.
Past the Dreaming Tree Site, you'll continue onwards towards the Disney Barn. The barn was recreated in the Disney film, So Dear to My Heart.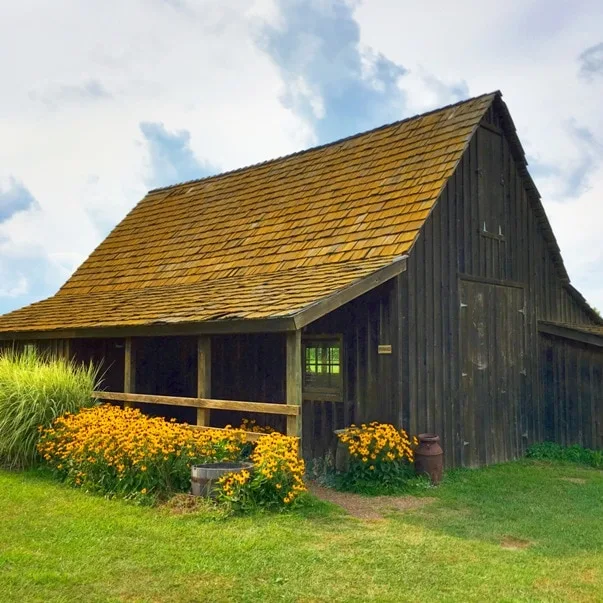 The Disney Barn is where Walt Disney got a start in the entertainment business. He put on a "barn circus" and charged admission to see a goat, a pig and the family cat and dog dressed up in his sister Ruth's doll clothes.
The barn was so important to Walt Disney's life that he recreated it at his home in California. From here, Disney Imagineering was born.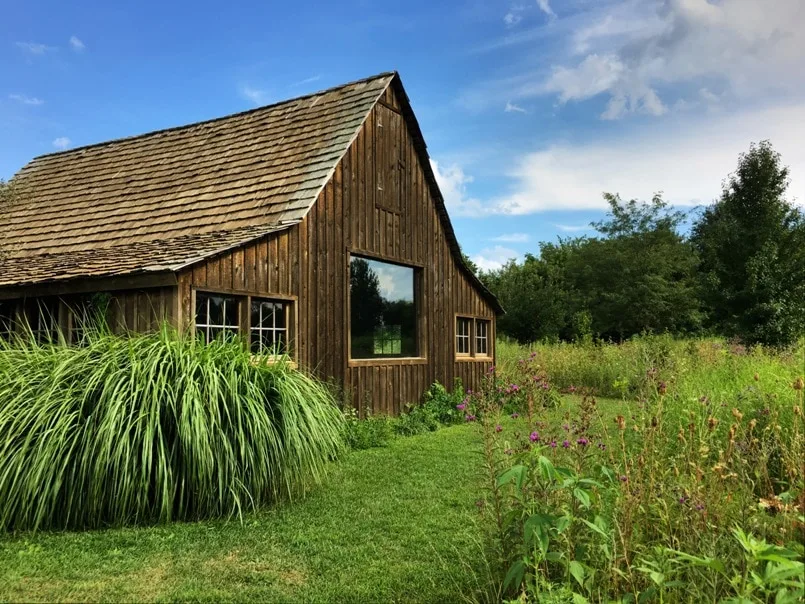 For us, the Disney Barn was especially meaningful. As a former Disney Imagineer, my husband spent some quiet time in the Disney Barn. He signed his name inside, much like so many other visitors and other Disney Imagineers had done in the past.
For anyone who loves Disney, it's nice to know that you can enter the barn and sign your name to pay your respects. (There are usually markers inside, but you might want to bring your own just to be doubly sure.)
EP Ripley Park
As Disney fans and train lovers, we spent a lot of time in EP Ripley Park. Walt Disney used to play in this very park as a child, too.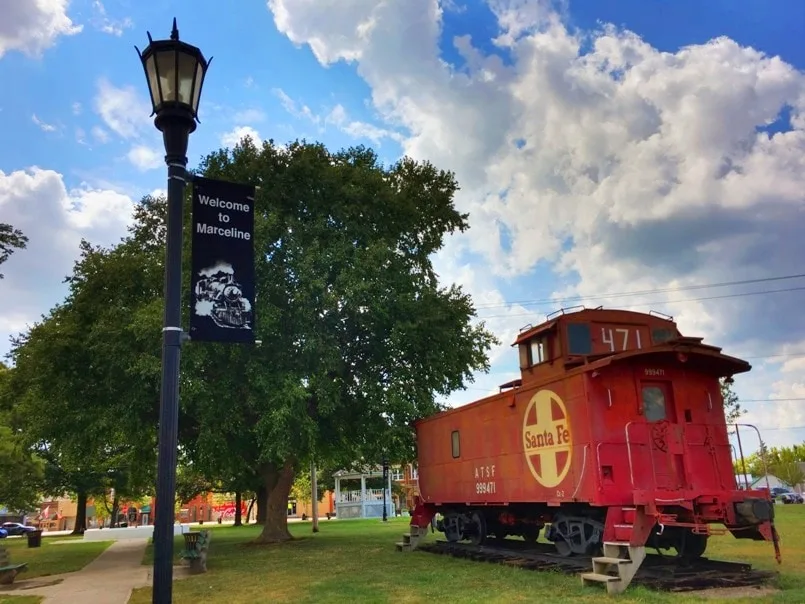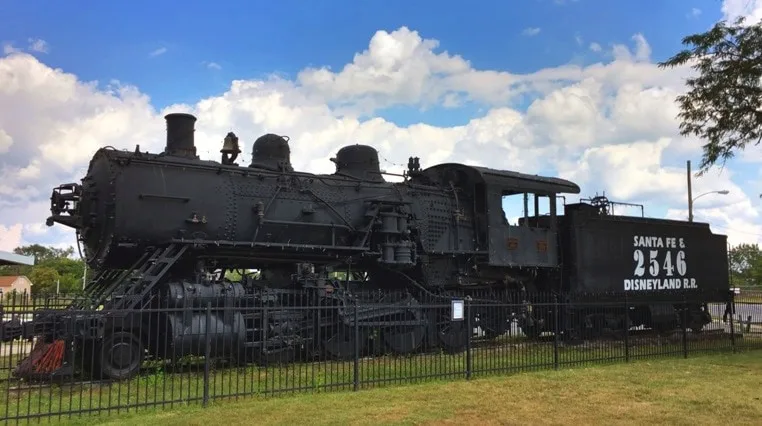 One of the opening day trains at Disneyland was named EP Ripley. Why? E.P. Ripley was the first president of the Atchison, Topeka and Santa Fe Railroad.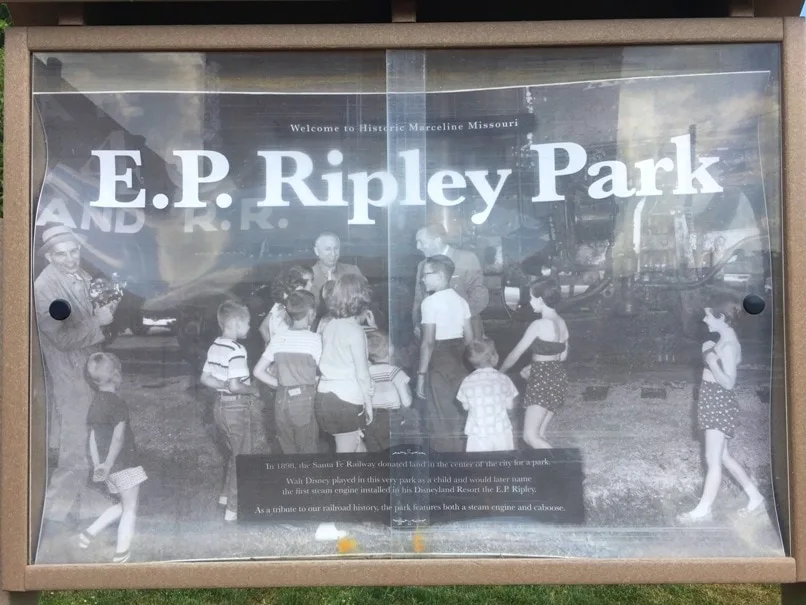 Toonfest
In a small town that inspired Walt Disney's world-famous cartoons, it is fitting that Toonfest is held once a year.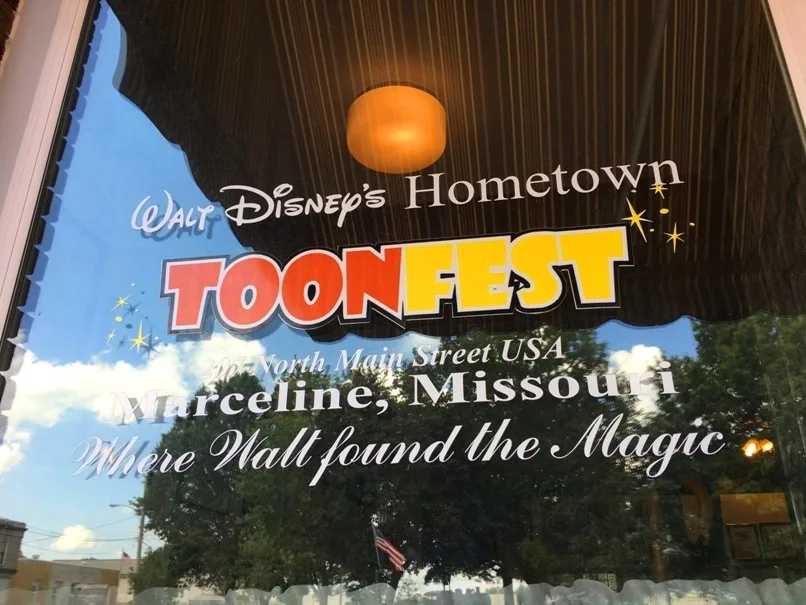 We were not there during Toonfest (wish we could go!), but the nicest gentleman saw us in the street on Main Street USA taking pictures. In true small town goodness, he came out of his office and asked if we wanted a picture together. He made our day!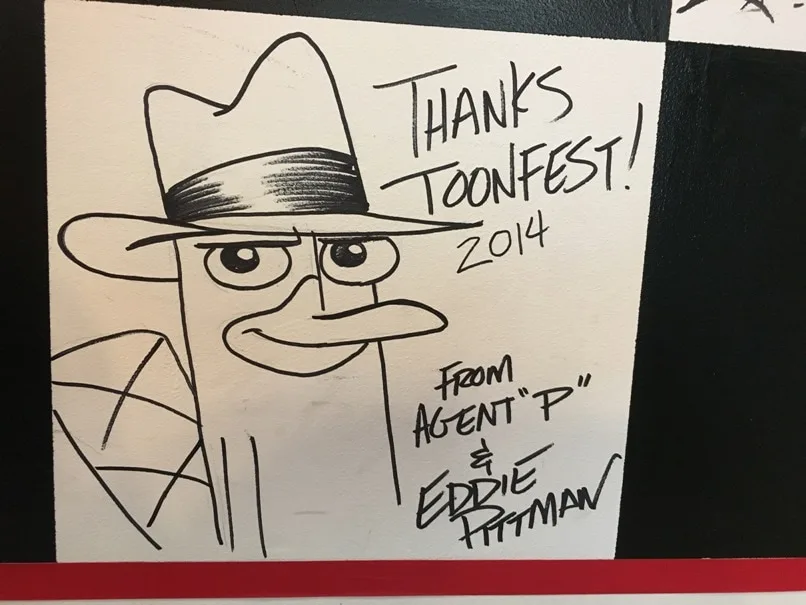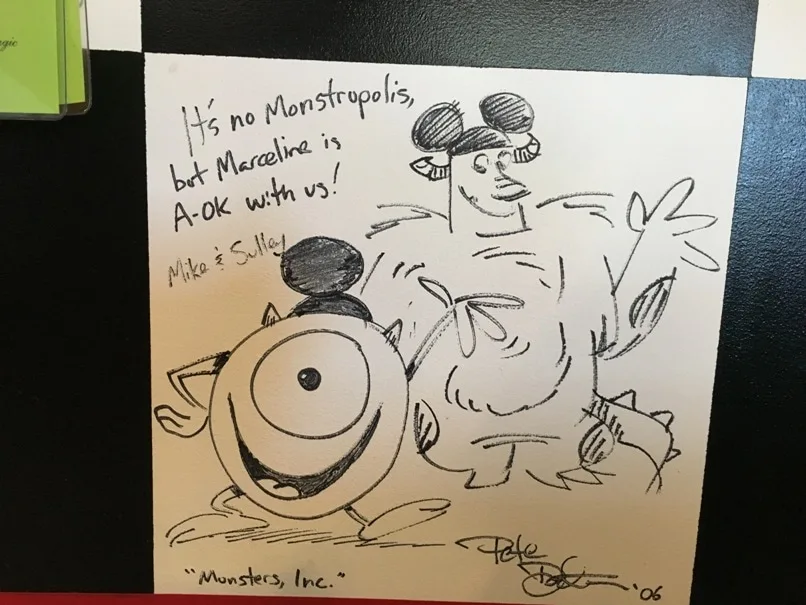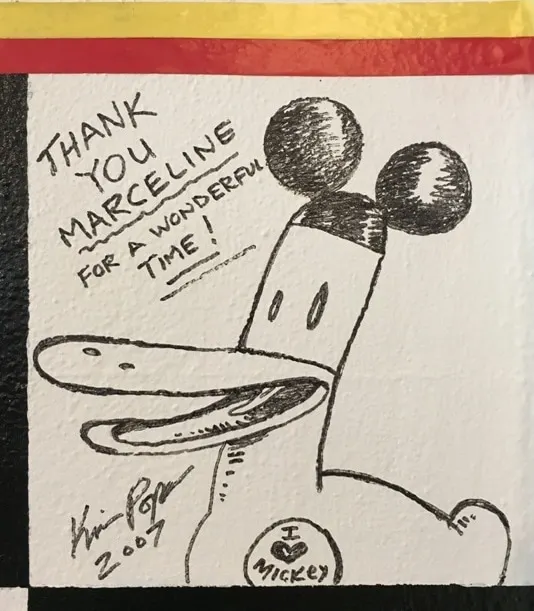 Then he took us to the Toonfest headquarters and showed us around. I don't know if many visitors actually get to enter this office, but it was magical for us! Some of the best animators in the world come to Marceline, Missouri for Toonfest. They leave their mark in signed autographs of their famous creations. And they also share their legacy of animation for all visitors.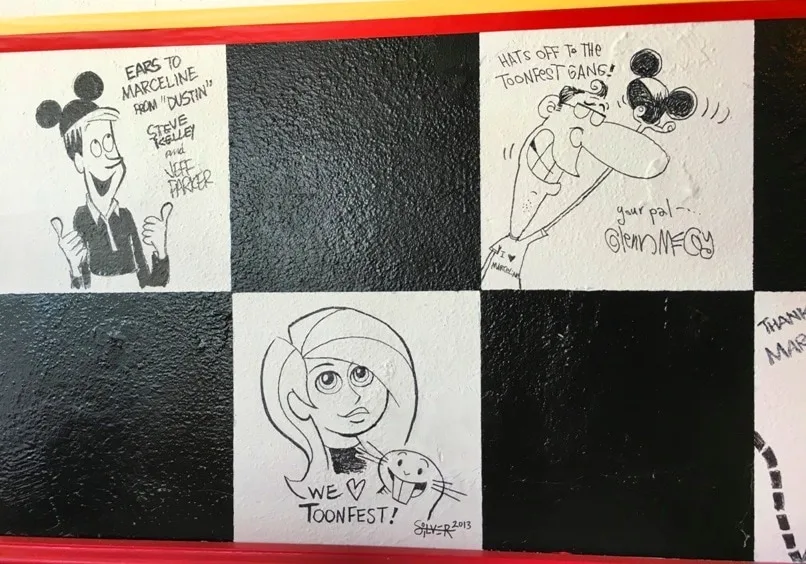 In 2017, the first Dreaming Tree Gala was held at Disney's Contemporary Resort near Orlando, Florida in support of the Walt Disney Hometown Museum. If you are in Orlando and can't get to Marceline, Missouri, this is a great way to support the museum with food, fascinating conversation, fireworks, and more!