We're loving the new trend of boho chic crafts, especially macrame! It is surprisingly very easy to do. Which is why we like this mini rainbow macrame wall hanging.
While this rope craft doesn't use knots like true macrame does, it does have a similar theme to the retro home decor. And it's much easier to do! So no need to worry about trying to figure out where to tie knots or how to make an elaborate wall covering.
We love this cheery rainbow wall hanging because it makes you smile when you think about it. And if you're a fan of Natural Life products, you might feel like this is a Natural Life knock-off type of craft.
Not ready to DIY it? All good. Why not support a small business who makes them by hand? We love this huge pom pom rainbow wall hanging!
P.S. We feature even more ready-made rainbow wall hangings down at the end of the post!
How to Make a Rainbow Macrame Wall Hanging
Supplies
Macrame rope (both thick and thin)
Skeins of colorful yarn
Felt fabric (can be a scrap piece)
Scissors
Hot glue gun
Round wooden bead (large)
Pom poms
Tapestry needle
Instructions
Step 1:
Decide what size you'd like the rainbow to be. This tutorial is for a miniature macrame rainbow wall hanging. Which could easily be used as a charm on your purse, backpack, etc. But if you'd like a much larger rainbow, scale up the sizes accordingly. Cut 3 pieces of thick rope depending on the size of the rainbow. Take the rope and bend it into a rainbow shape that you'd like. Then cut that piece. Then, cut each of the next few pieces about 3/4 inch shorter than the previous one so that you have at least three different ropes in three different sizes.
Step 2:
Take any one of the rope pieces and select a colored yarn. Leaving 1 inch of the rope uncovered from its open end, start to wrap the yarn around the rope. Tie a knot in the yarn at your beginning point and start wrapping.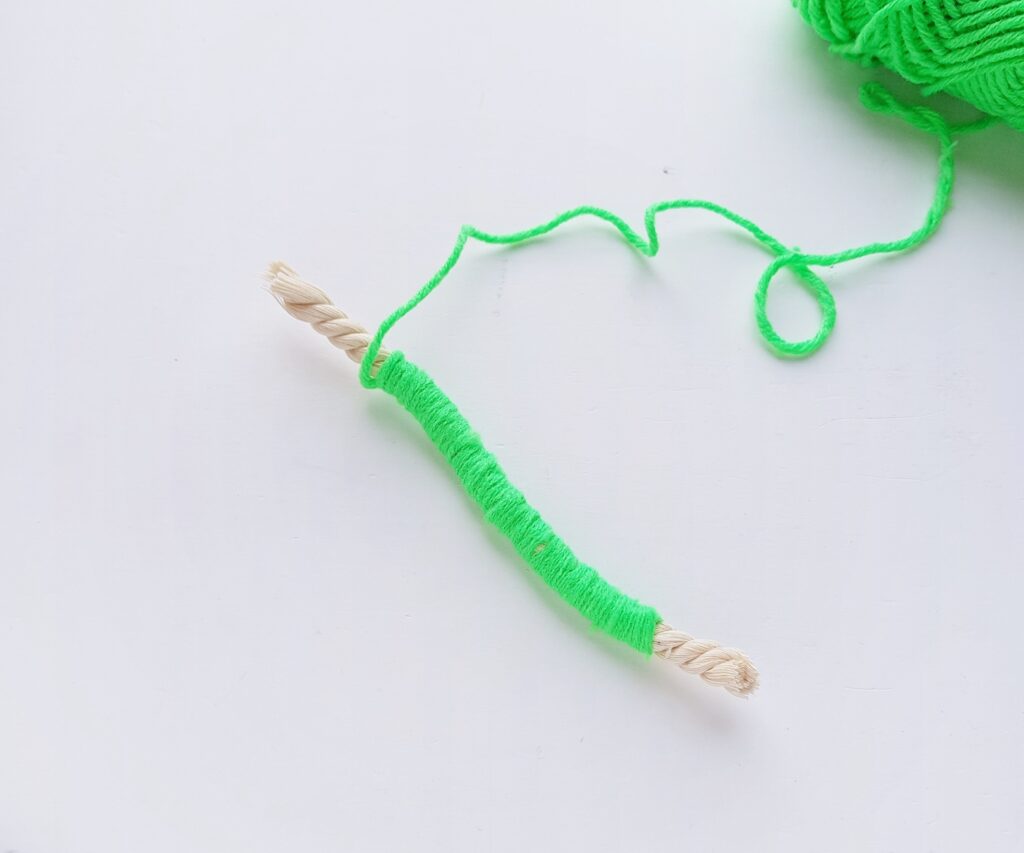 Step 3:
Wrap the yarn around the rope until reaching almost the other end of the rope. Make sure to leave 1 inch uncovered on that end too.
Step 4:
Cut off yarn from the skein and leave 3 or 4 inches extra yarn on hand. Using a tapestry needle (with a larger eye), thread the yarn. Push it through the rope at the edge of where the yarn was last wrapped. Pull the needle all the way through.
Step 5:
Insert the needle under the yarn wrap and pull it out again.
Step 6:
Cut off extra yarn once secured.
Step 7:
Continue to wrap and cover the other 2 pieces of rope.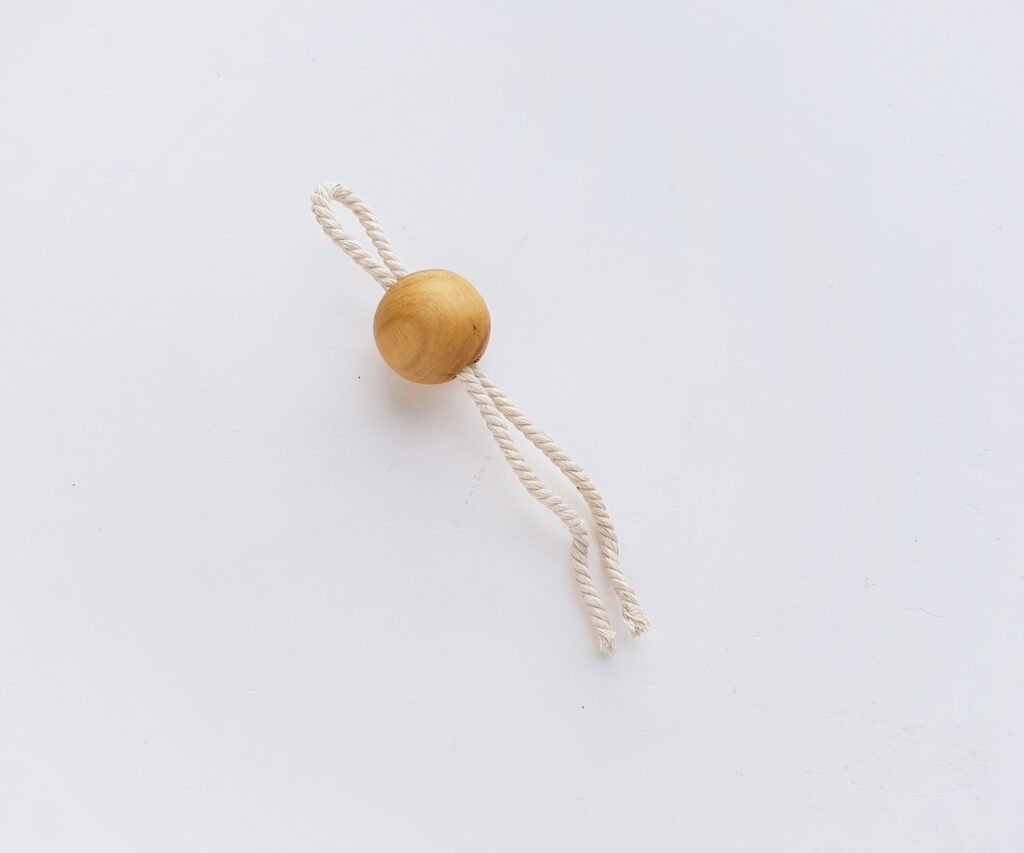 Step 8:
Using thin rope, fold a length of rope in half. It should be about 3 1/2 inches long to make a mini rainbow macrame wall hanging like this one. But it might need to be longer to make a larger wall hanging. Push the bead onto the folded rope from the looped end. Depending on the size of the rope and the hole of the bead, it could be pretty tight without slipping off (that's what you'd ideally want).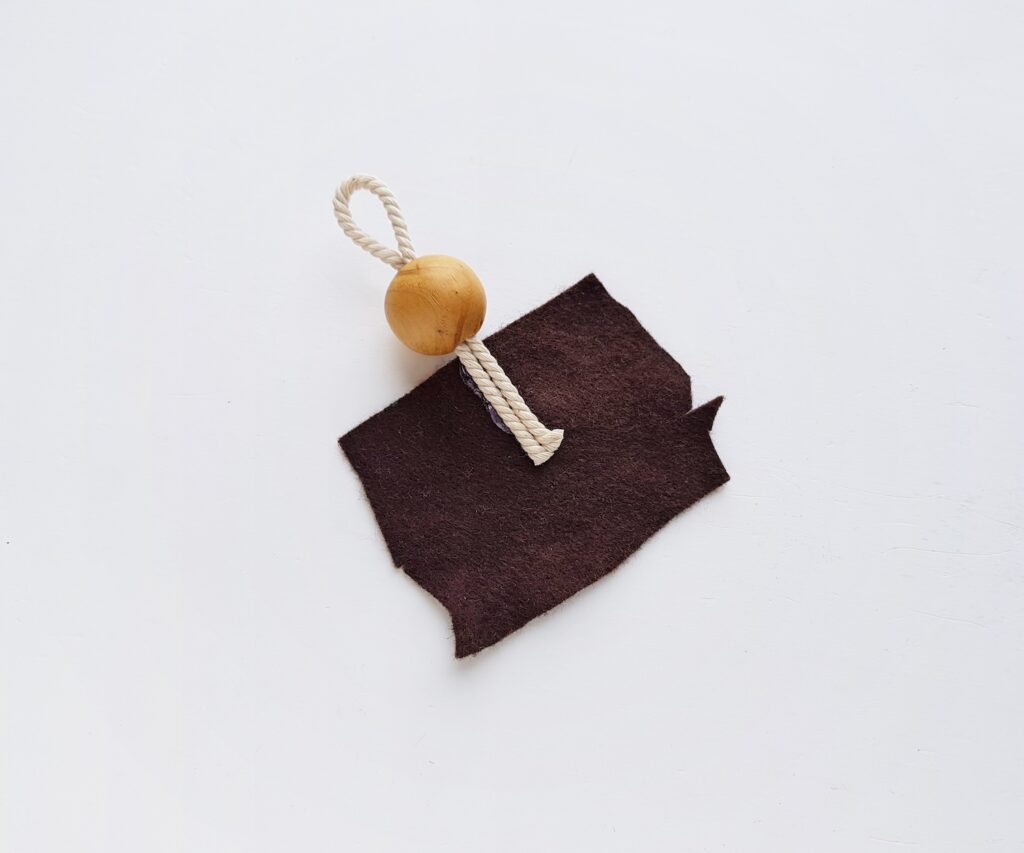 Step 9:
Take the felt fabric and glue the open ends of the beaded rope on the felt. Keep the bead and the looped end of the rope off of the felt fabric.
Step 10:
Take the longest yarn wrapped rope and attach it on the felt by creating a curved rainbow shape. Use hot glue to attach it.
Step 11:
Attach the medium rope next and then the shortest rope. Try to keep the ropes as close together as possible so that it looks just like a rainbow.
Step 12:
Carefully cut away the remaining felt from around the rope rainbow.
Step 13:
Glue pom poms around the top of the rainbow. Gently fray the ends of the rope to be wavy and loose.
More DIY Projects
Ready Made Rainbow Wall Hangings on Etsy
It's fun to DIY. But sometimes you don't have the time (or patience, dare we say) to make a craft. And often, if you're not a big crafter, buying all of the new supplies might end up costing as much as having someone make it for you. Here's some great small businesses to support:
We can't get enough of these colors of this beautiful rainbow macrame wall hanging!
These aren't your normal rainbow colors, but this wall hanging is beautiful nonetheless! It's perfect for someone who prefers neutrals.
The double fringe on this rainbow macrame makes our heart swoon! We love it!