I love watching Shark Tank to see the inventions that people come up with. There are so many great ideas! One of these great ideas was the Monkey Mat, a portable floor for kids and adults alike. I thought that it looked like a great item to have in my arsenal of 'always be prepared' items. With my 8 month old son's first plane ride approaching to go see his Aunt in Florida, I was eager to get my own Monkey Mat in anticipation of wait times at the airports. After letting my son pick from the 4 color choices (Blue, Gray, Red, Orange-my son's choice) at Toys R Us; I was anxious to try it out!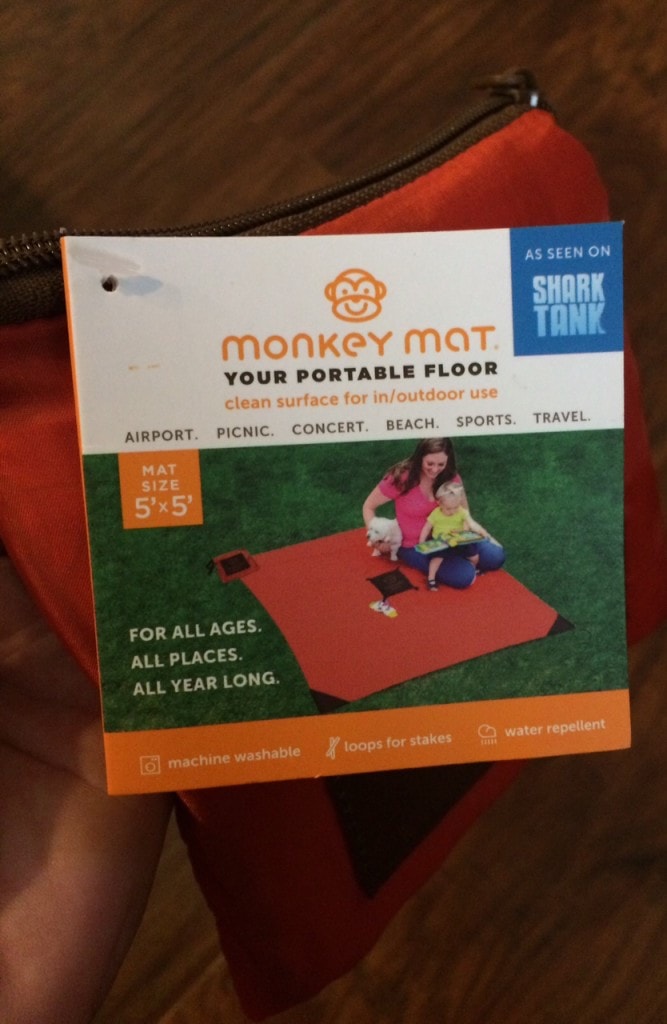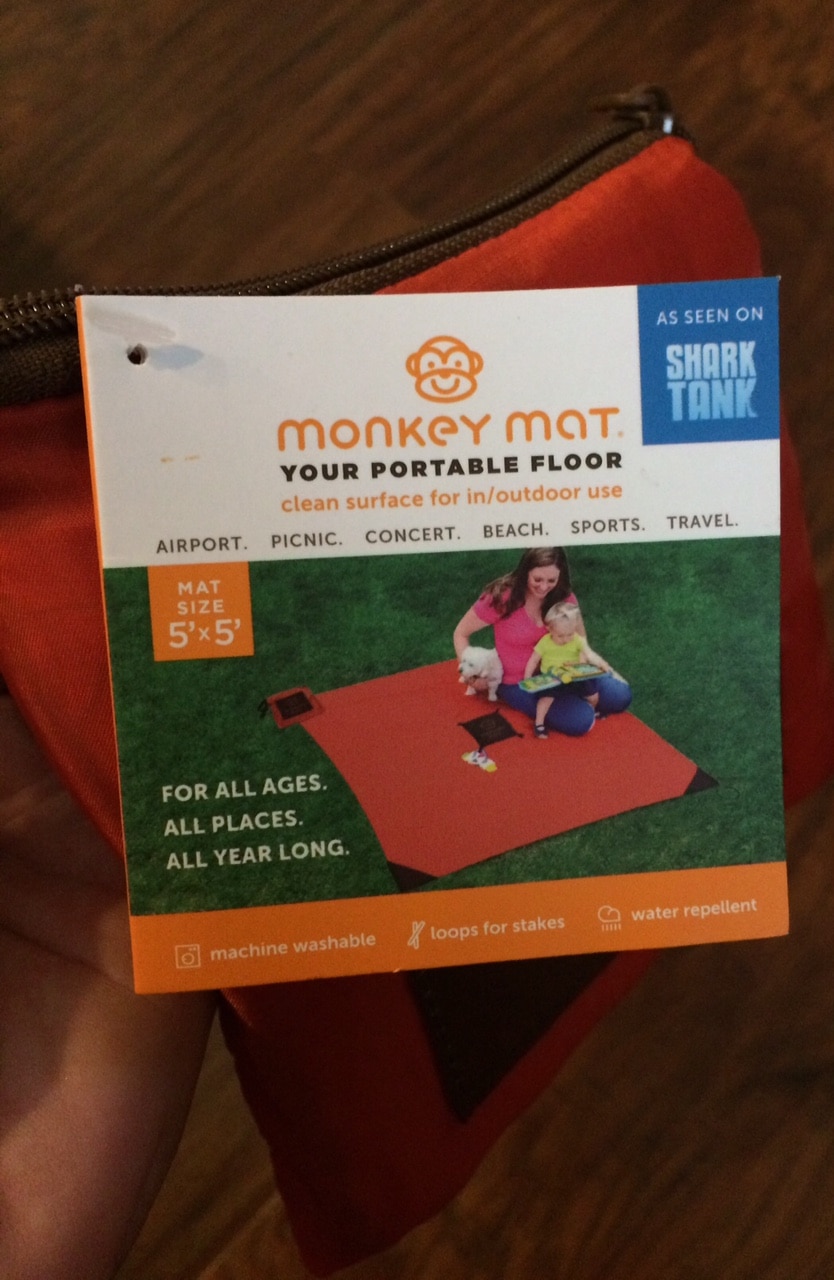 The Monkey Mat is a 5'x5′ nylon multipurpose mat that comes in its own small attached pouch that you can simply stuff the mat back into. There is a handle that makes it convenient to attach to a stroller or bag. The Monkey Mat stuffed easily into my diaper bag, ready to go! When we arrived at the airport waiting to board, I pulled my mat out along with some toys and was quite pleased with myself. That is, until he started to play…. Each corner has a small weight designed to keep the mat flat on the surface. However, these weights are not designed to withstand the curiosity of a small child. In no time he had pulled the mat from its smoothed surface to a jumbled pile surrounding him.
The Monkey Mat did spark the interest of some neighboring bored children as well! The Monkey Mat did protect him from playing on the dirty floor that thousands of people walk across every day, but it was not the perfect situation that I had envisioned in my mind. After the somewhat disappointment at the airport, I decided to give it one more try at the beach during our upcoming family vacation. Again, it fit nicely in my beach bag – small packaging and convenient. After setting up our canopy at the beach, I laid the Monkey Mat out on the ground. With the breeze coming off the ocean, the likely hood-hood of it staying in place was not looking good. There are Monkey Stakes that you can purchase to put into the ground to keep the Monkey Mat further secure, but I had not purchased these. They may have helped; hard to say. I placed a beach towel on top and let him play with his toys (attempting to keep him out of the sand – pointless effort by the way!) The Monkey Mat did a pretty good job though, considering the challenges. The sand did wipe off easily and it kept the beach towel from getting completely covered in sand.The nice thing about the Monkey Mat is that it was designed for sand to easily shake off as well as dirt or grass and it is also water-repellent. And after use, it is machine washable!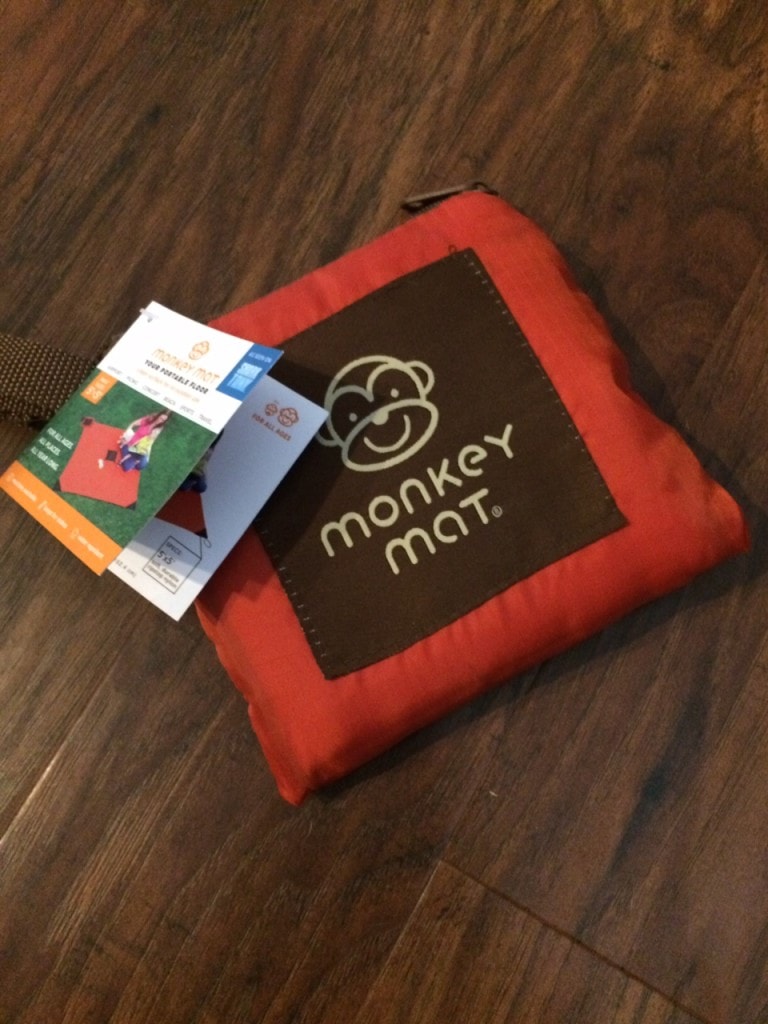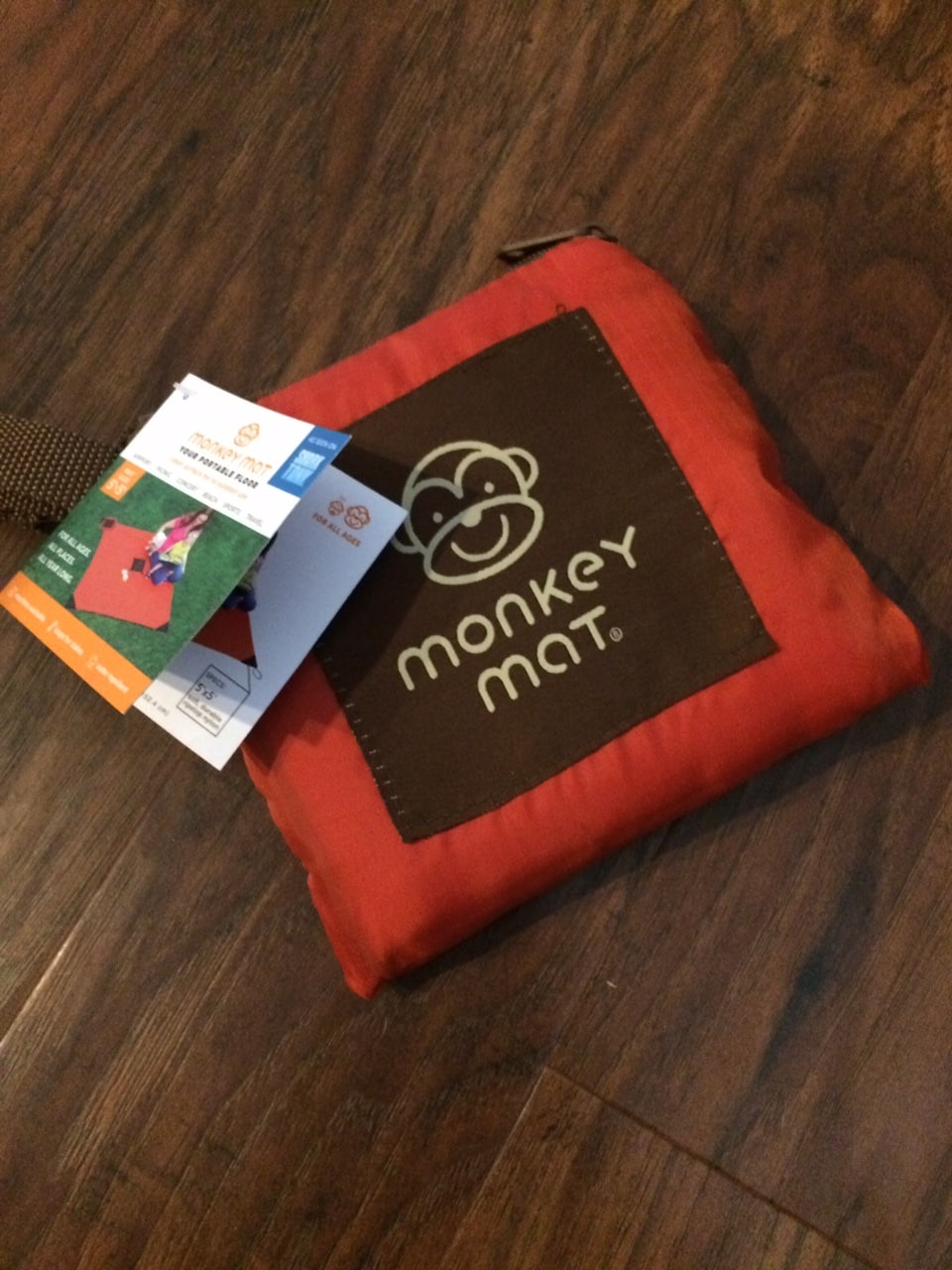 All in all, the Monkey Mat is not a waste of money. I do feel that the stakes would probably come in a handy if they are used in a solid ground (maybe not sand… again I don't know). The Monkey Mat was designed by moms to provide a clean portable surface for kids; however adults could get plenty of use out of it as well. It would be great to use for picnics, or concerts, or anywhere you may normally throw down a towel or a bulky blanket. Bottom line is that the Monkey Mat is a great idea, however keep in mind that it may not be perfect for every situation. I will definitely keep mine handy for any time I want to throw a clean surface down indoors or out. To me; for the price point and the small convenient packaging, the Monkey Mat is worth the investment!