Remember the days when we used to go to movie theaters and buy the fancy snacks to enjoy a film? That seems like a distant memory, right? After all, it is so expensive to go to the movies, now, and isn't it so much easier to stay in your pajamas and cuddle up on the couch to watch a movie at home?
If you miss the enjoyment of crunching on popcorn and pouring out a handful of Sno-Caps from the box while you are watching a film, then this DIY Movie Night Charcuterie Board is definitely for you!
Make this movie night charcuterie board for a fun family experience (or a great date night)!
Our snacking charcuterie board has the best sweet and salty flavors with classic movie theater snacks.
This sweet and salty snack board is perfect for watching movies such as:
Helpful Tips for the Best Charcuterie Board
Making a charcuterie board at home definitely isn't hard, but these tips will help you create the best version to wow your friends and family:
A wooden charcuterie board or cutting board is perfect for layering snacks on. However, you can easily use a large tray or serving platter, whatever you have on hand.
The Dollar Tree often has large plastic platters for $1.25 that are excellent for charcuterie boards.
You can even use a baking sheet as your board! If you want, cover it with parchment paper or foil for a cleaner look.
Using spoons or mini scoops is helpful for getting small candies and popcorn off of the tray. After all, no one wants to eat food that has been touched and handled by everyone else, even if they are family.
There are a variety of fun scoops to use, but I love these rainbow stainless steel scoops that are so pretty! And these mini hand tongs are quite the conversation piece!
Don't have any small bowls for the nuts or candies? Try using cupcake liners instead!
For an adults-only charcuterie board, add some upscale items such as macarons or chocolate truffles.
How to Make a Movie Night Charcuterie Board
Ingredients
M&M's chocolate candies
Goldfish baked cheddar crackers
Honey roasted nut mix
Honey sesame sticks
Assorted mini chocolate candies, individually wrapped, such as Snickers, Twix, or Hershey Kisses
Chocolate-covered pretzels
Popped popcorn
Large serving board or platter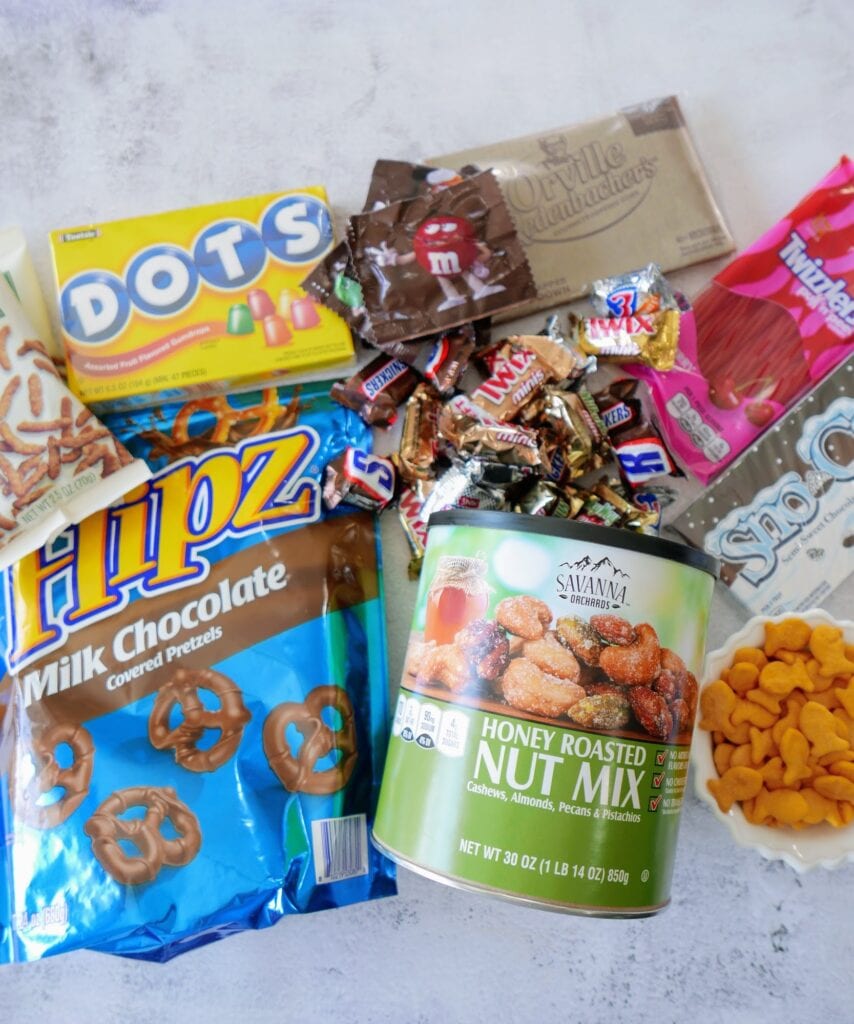 Directions
Start to make the board by placing small ingredients in small bowls. These would be things like the IM&M's and Sno-Caps that will make a mess by small (or big) hands grabbing into the pile to take a few.
Using bowls of varying heights is a great way to add visual interest. Or use bowls in different colors or textures.
Place the bowls around the serving board or platter to anchor the corners.
Next, start to fill in around the bowls with foods.
I stared with the chocolate candy, and then finished with the chocolate pretzels and popcorn.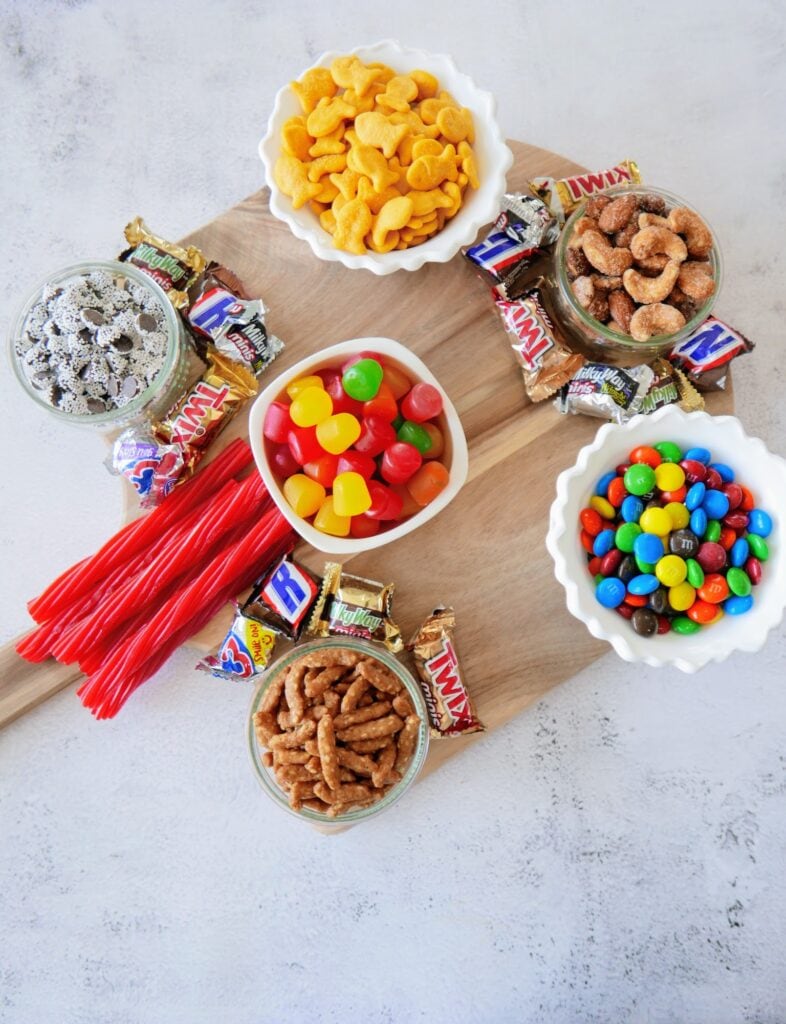 Be sure not to put too many of the same colors together. You want there to be visual interest around the board. For instance, don't put chocolate candies and chocolate pretzels side by side because it is hard to tell them apart when watching a movie in a dimly lit room.
Just have fun with the process! There is no perfect way to make a charcuterie board. All that matters is that you use the foods and snacks that everyone loves and is happy with!
More Movie Night Snack Ideas
There are so many different variations of what makes a great movie night charcuterie board! Consider adding some of these items, too:
Peanuts
Cashews
Rice Krispy Treats
Potato Chips
Pork Rinds
Beef Jerky Bites
Almonds
Pistachios
Tootsie Rolls
Check out our fun movie-themed recipes for even more ideas to make a family movie night great!