A recent work trip took us to Pasadena, California last month. While most people love to compare Florida to California and say they're the same, we couldn't disagree more! Visiting California is unlike anything in Florida. Which is why we enjoyed our 3 Day Weekend in Pasadena, California so much!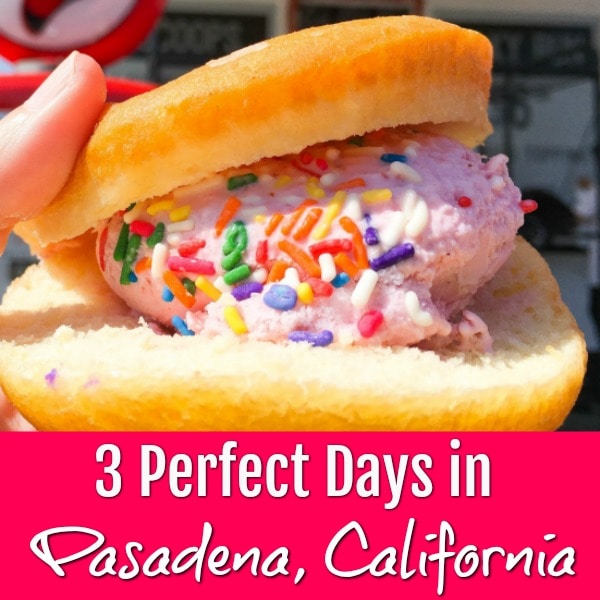 If you're in the Los Angeles area, then a visit to Pasadena, just a few minutes away, is a MUST! Here's how to enjoy a visit to Pasadena, even if it's just for a long weekend.
How to Get to Pasadena
From Orlando we took a direct flight to Los Angeles. Direct flights are smart, because you don't have to worry about delays at your layover destination. This is what I always carry on a plane – and what you should, too.
Pasadena, California is a short drive from the Los Angeles International Airport. When I say "short," that means that the distance isn't too far. What California traffic is like at any given moment, though, can definitely alter how long it takes to get to Pasadena.
We rented a car for our trip.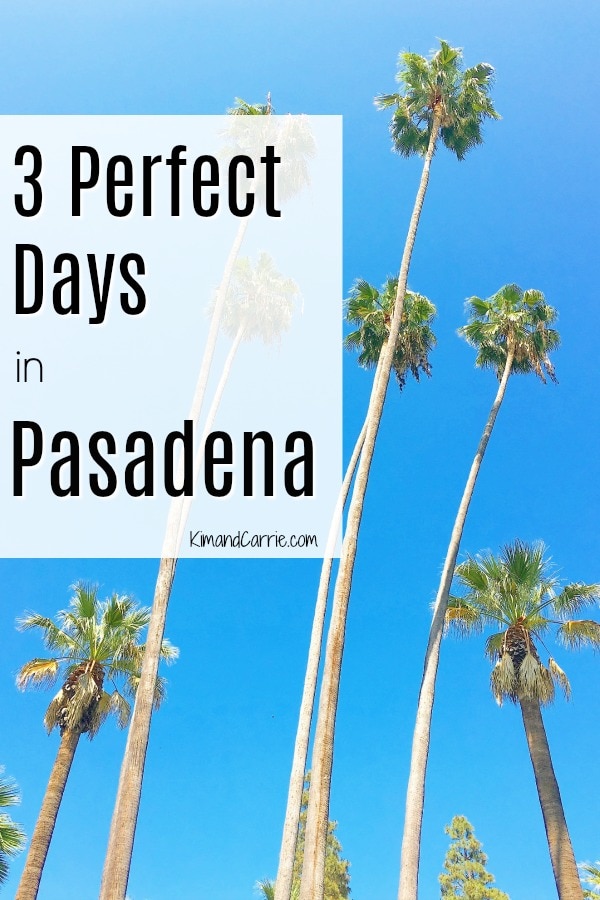 FYI – renting a car at LAX is a whole process. You don't just walk to the car rental agencies. You've got to take a bus, and it's a ways away. You're not walking to the car rental companies, FYI. All of the car rental agencies have buses that come around continuously.
Don't want to drive? Consider a private transfer from LAX.
The Weather in Pasadena
We were excited to escape Florida's heat and humidity in June. The temperature in Pasadena in mid-June was showing 85 degrees, but it was a different type of heat. Not as humid and a lot cooler at night.
While it was 85 – 90 degrees, I actually wore jeans because it wasn't THAT bad compared to Florida. So, it was really delightful to experience warm summer temperatures without all of the humidity.
Where to Stay in Pasadena
There are plenty of great places to stay. But among the BEST has to be The Langham!
A luxury resort, The Langham is a 23-acre property that is situated in a residential area. You're not going to be downtown in Pasadena, but the area is nice and quiet and still within a couple miles of all of the sites that you will likely want to see.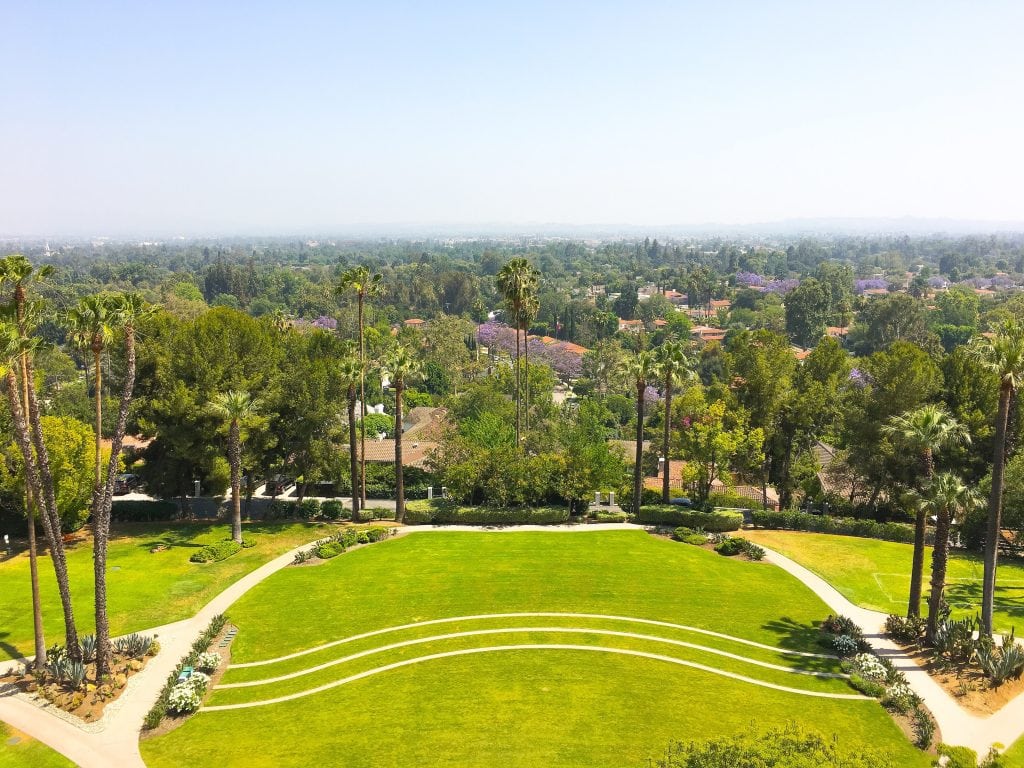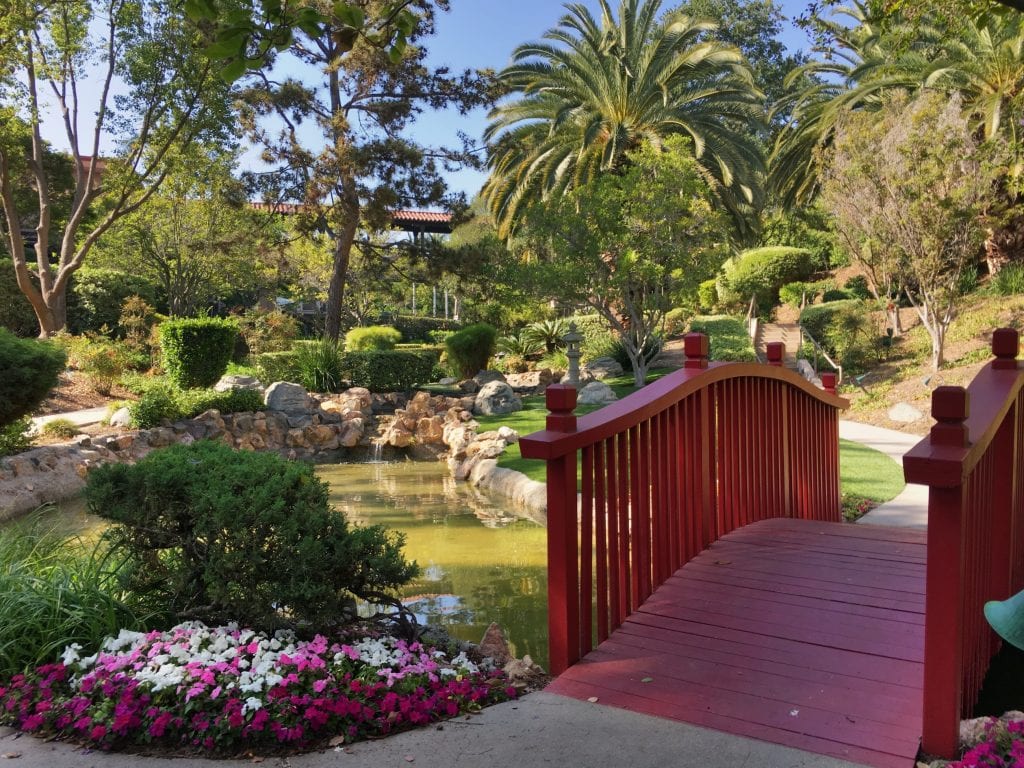 The Langham has several different types of accommodations. There is the main building with a more modern feel. And there are lots of "cottages" which are further away from the main building but have a more home-like feel. Each cottage seems to be different, while some have massive living areas and dining rooms, and our cottage had more of a traditional hotel room style.
We were originally give a room in the main hotel. Here's the pictures: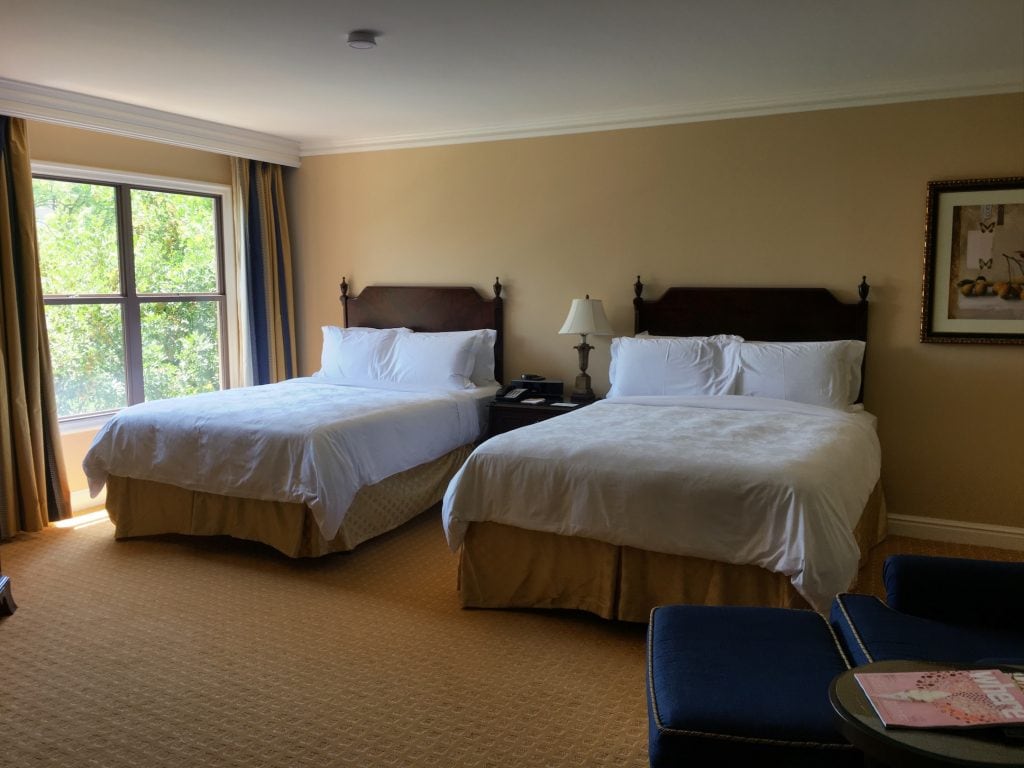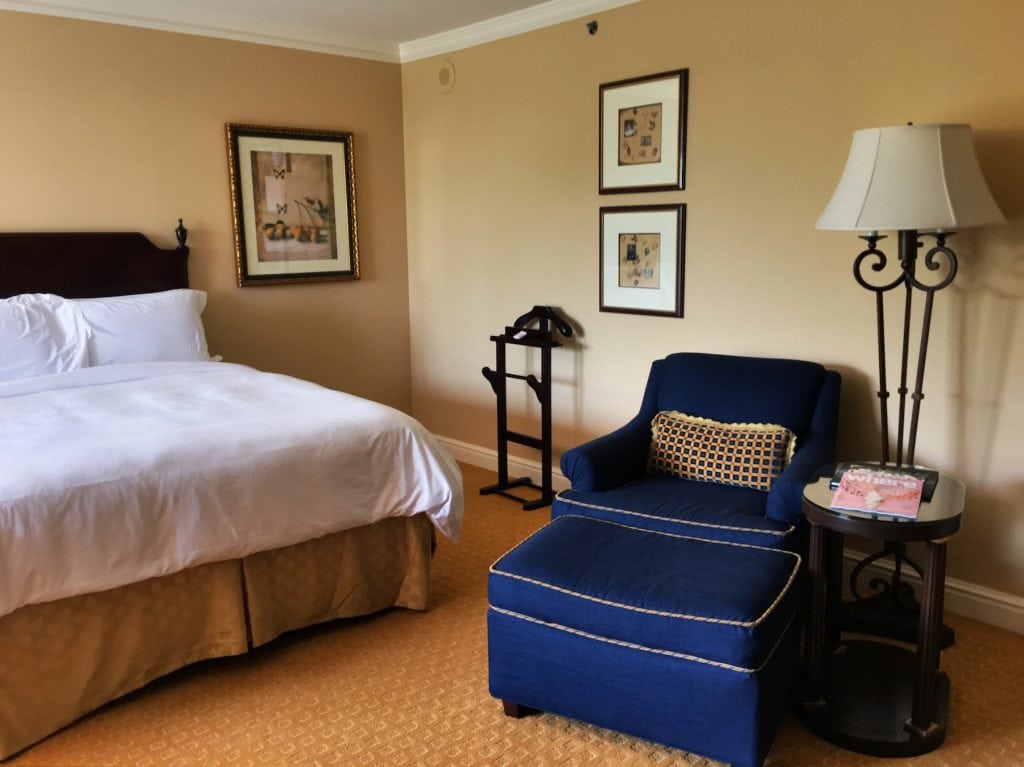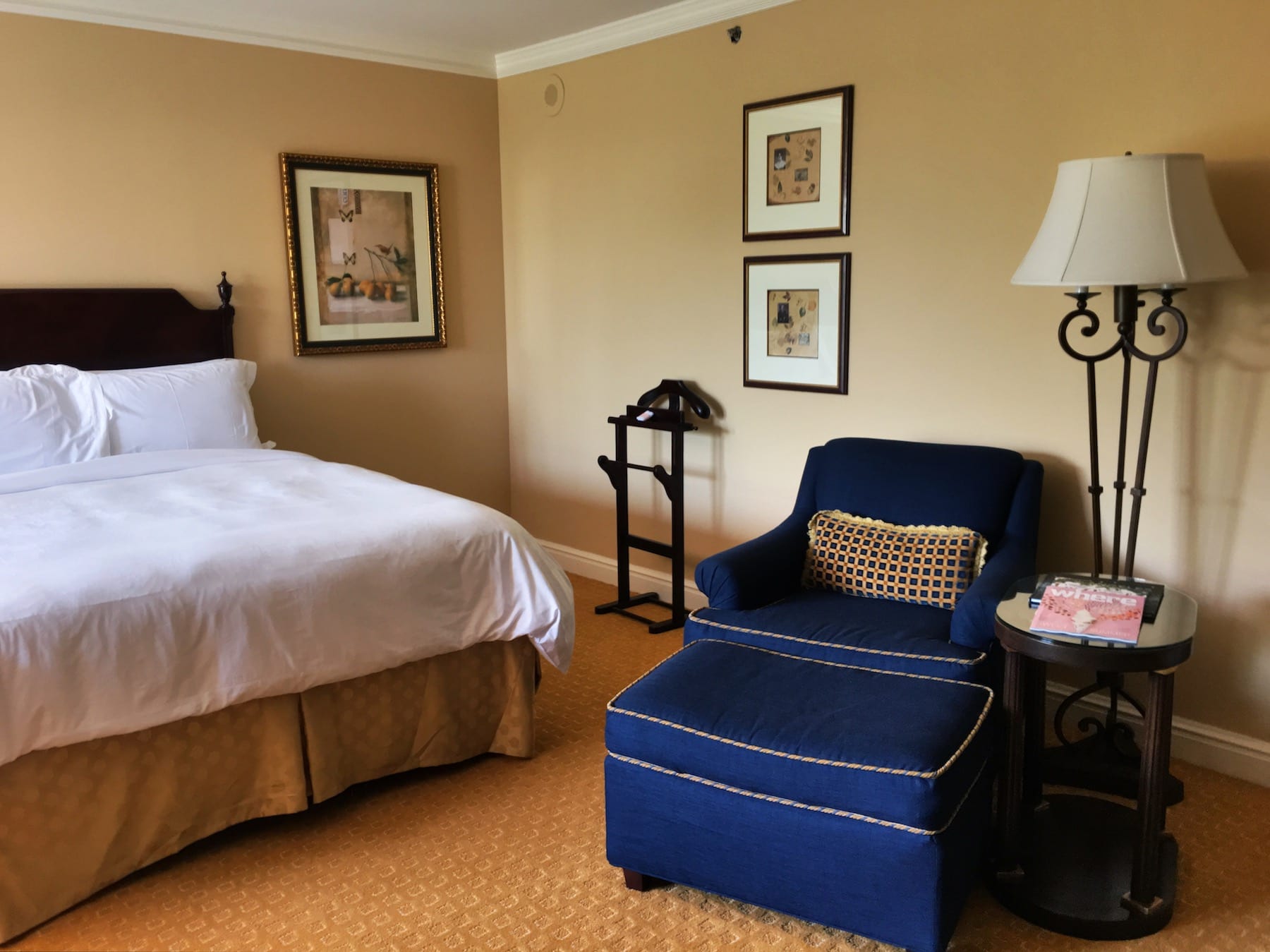 But my husband had stayed in a cottage room previously, and raved about it, so we asked to switch. While the only available cottage available wasn't as big as the other cottages (he had previously had a huge living room, office space and bedroom), we still enjoyed it. We got a balcony and extra privacy, although the cottage rooms do smell a little musty (a common complaint among many people who were staying in them). Somehow I forgot to take pictures of our cottage! This is the only one I quickly took, but it doesn't do it justice.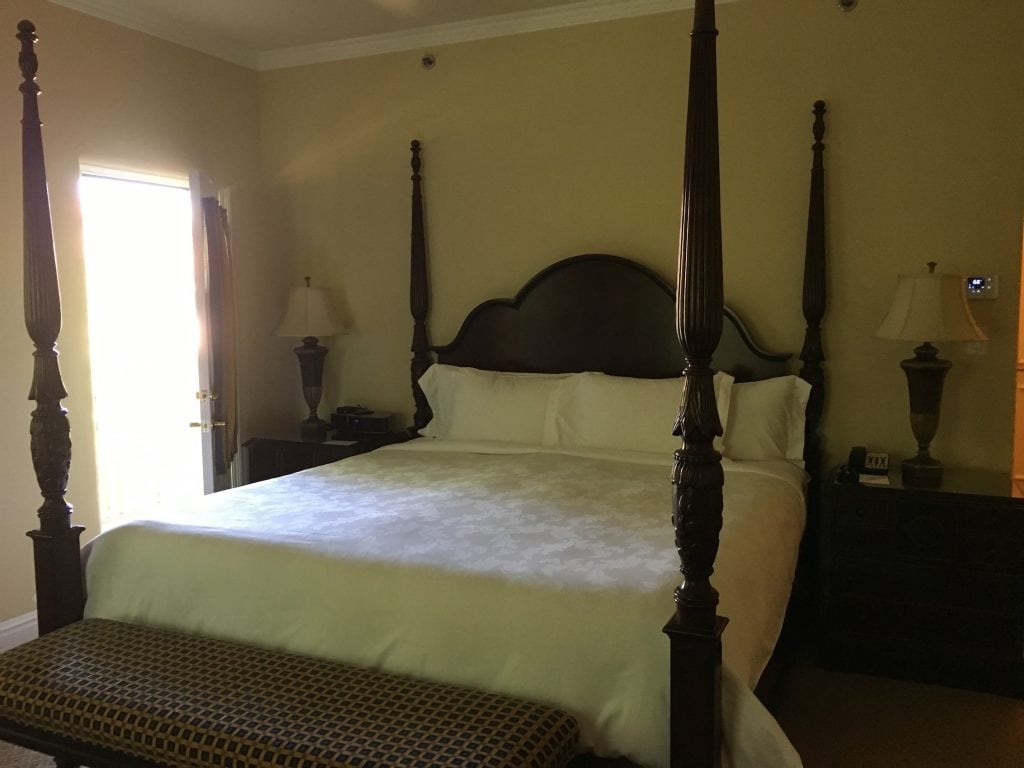 If you're staying at The Langham (or just visiting it), I highly suggest the historic walking tour in the afternoon. We got to peek inside many rooms and all of the restaurants. The history of the property is fascinating, too, and tightly interwoven with the history of Pasadena, California.
Off course, Airbnb is another great choice, too! Get $40 off your first Airbnb stay with our coupon code!
What to Do in Pasadena
I had three days to enjoy the highlights of Pasadena, California. Quite honestly, I saw almost everything I wanted to on my list. I'm more of a laid back traveler. I like to spend time at the destination, take lots of pictures, enjoy a meal, and generally not feel frantic trying to get a to-do list done. If you're more of a fast pace traveler, you could do all of these things in 1 – 2 days.
Here is what I did: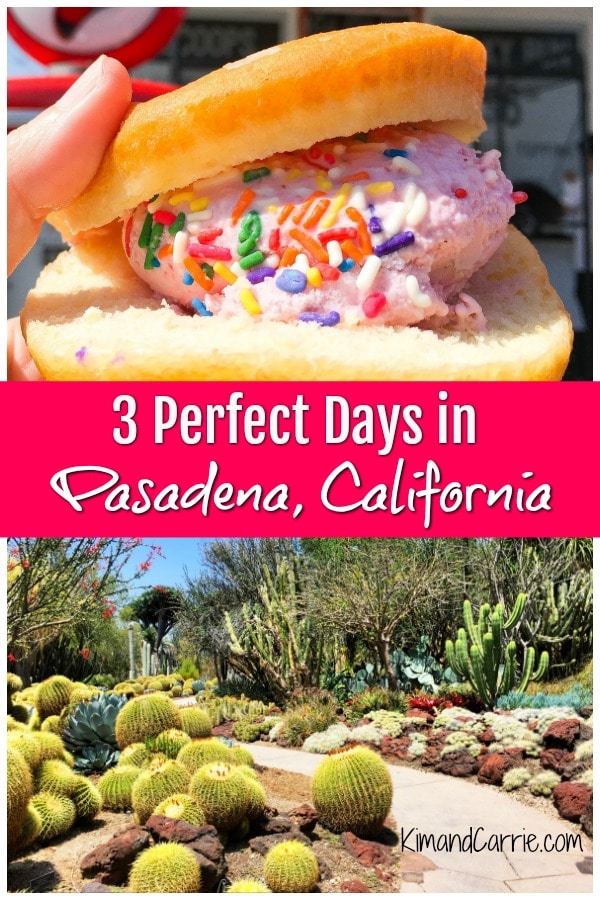 Downtown Pasadena
After a leisurely morning at The Langham, I took their free car service to Downtown Pasadena. The Langham will drive you anywhere within a 2 mile radius of the hotel.
I shopped the streets of Downtown Pasadena, which is a part of historic Route 66. Who knew?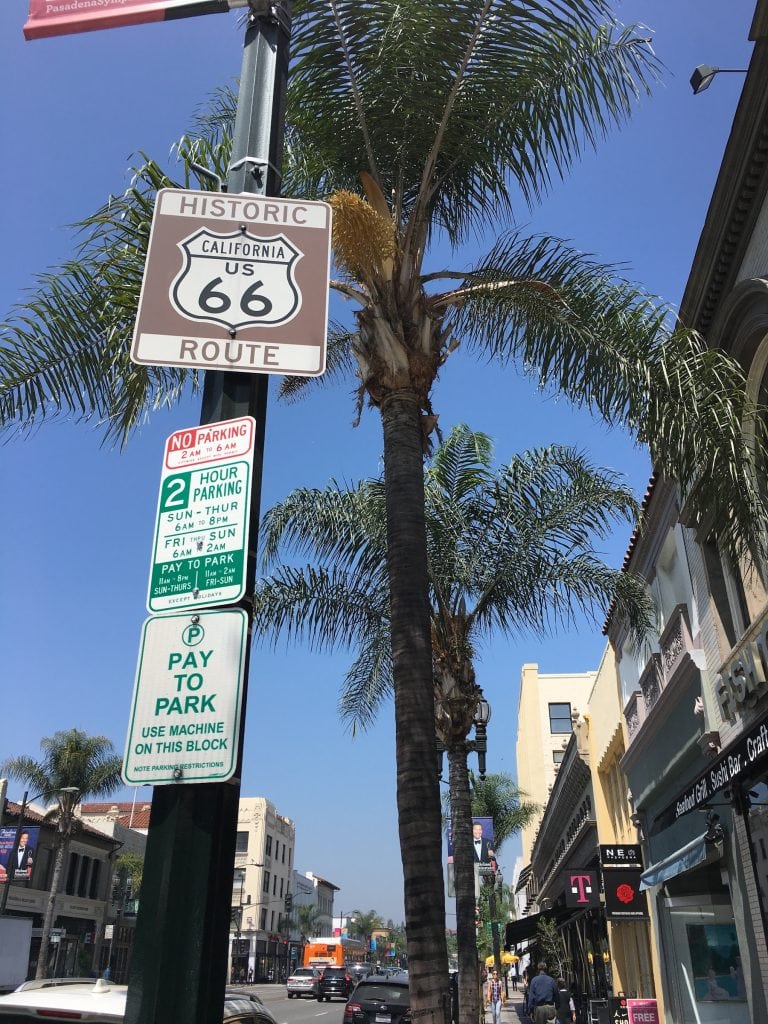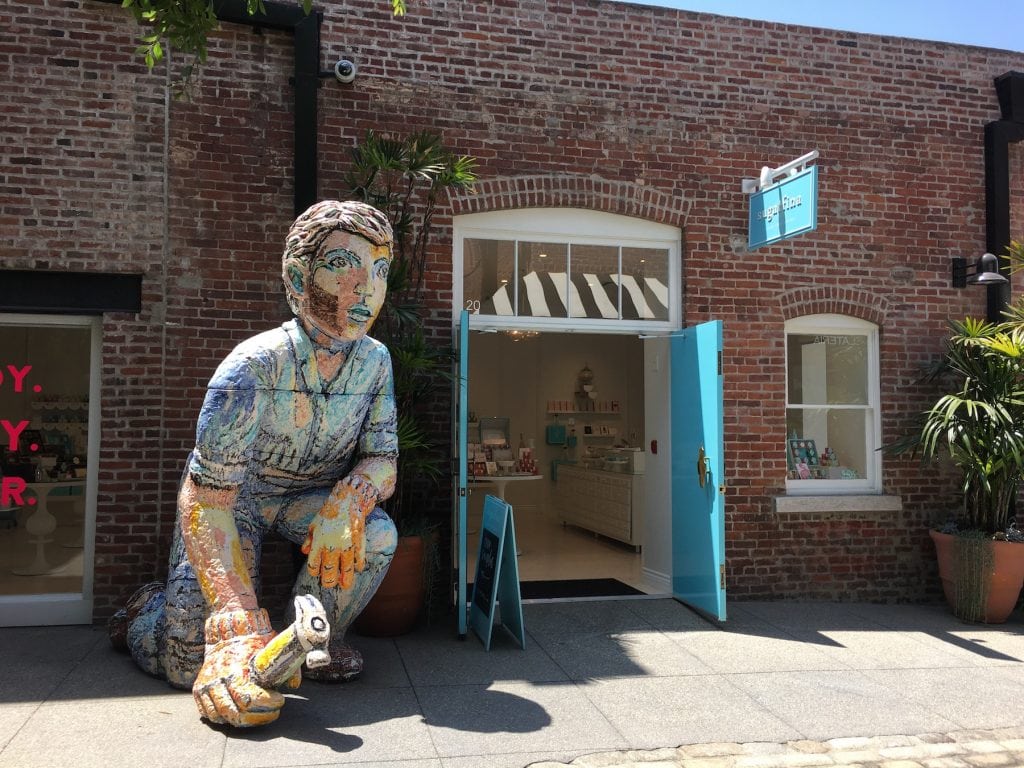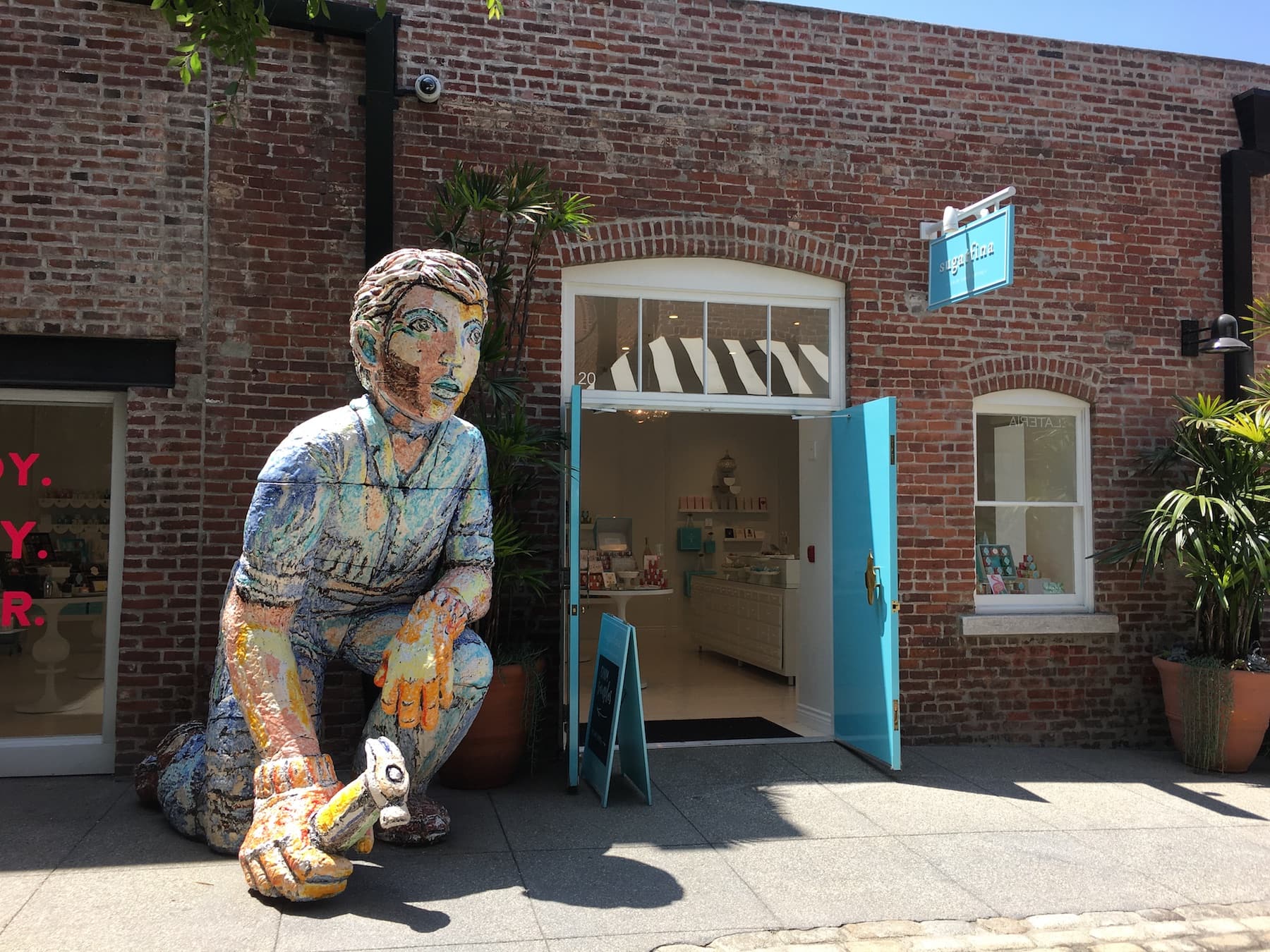 One of my favorite places was Pie Hole. A cute pie shop located in a communal space where several businesses have set up shop (including an ice cream shop).
The fresh pies were delicious. I chose the Banana Bourbon Pie.
Next time I'd love to do this Small Group Food Walking Tour through Pasadena.
Tournament of Roses Headquarters
My destination for the afternoon was the Tournament of Roses headquarters. I actually walked from downtown Pasadena to the Tournament House. It wasn't a bad walk (about 20 minutes).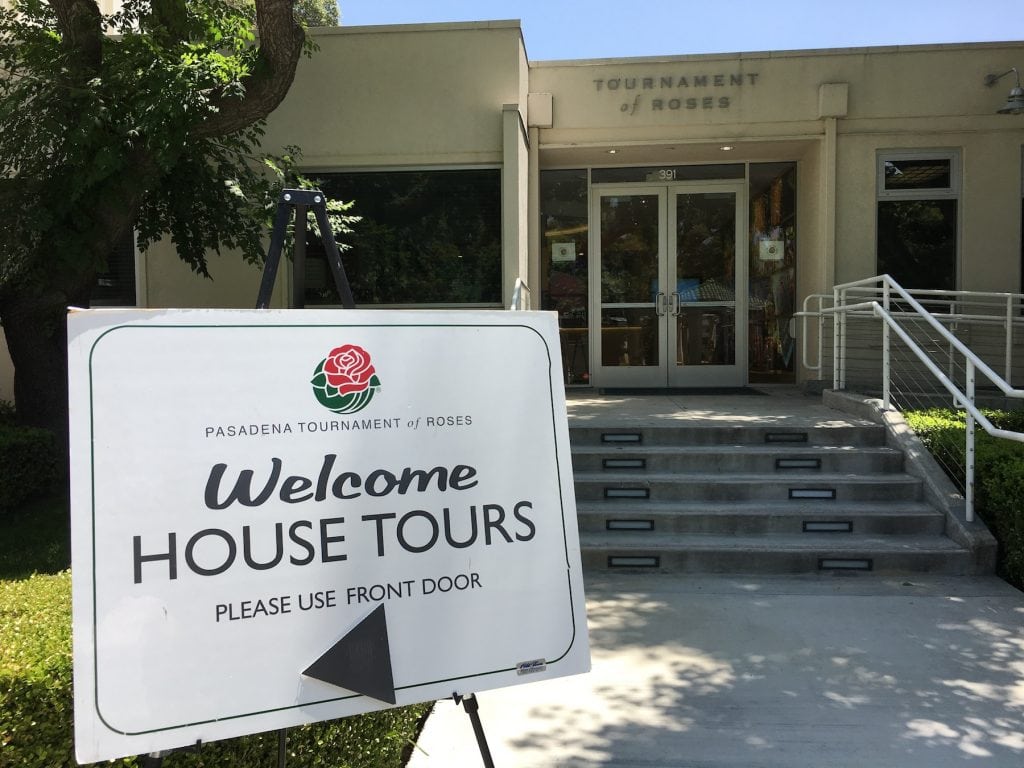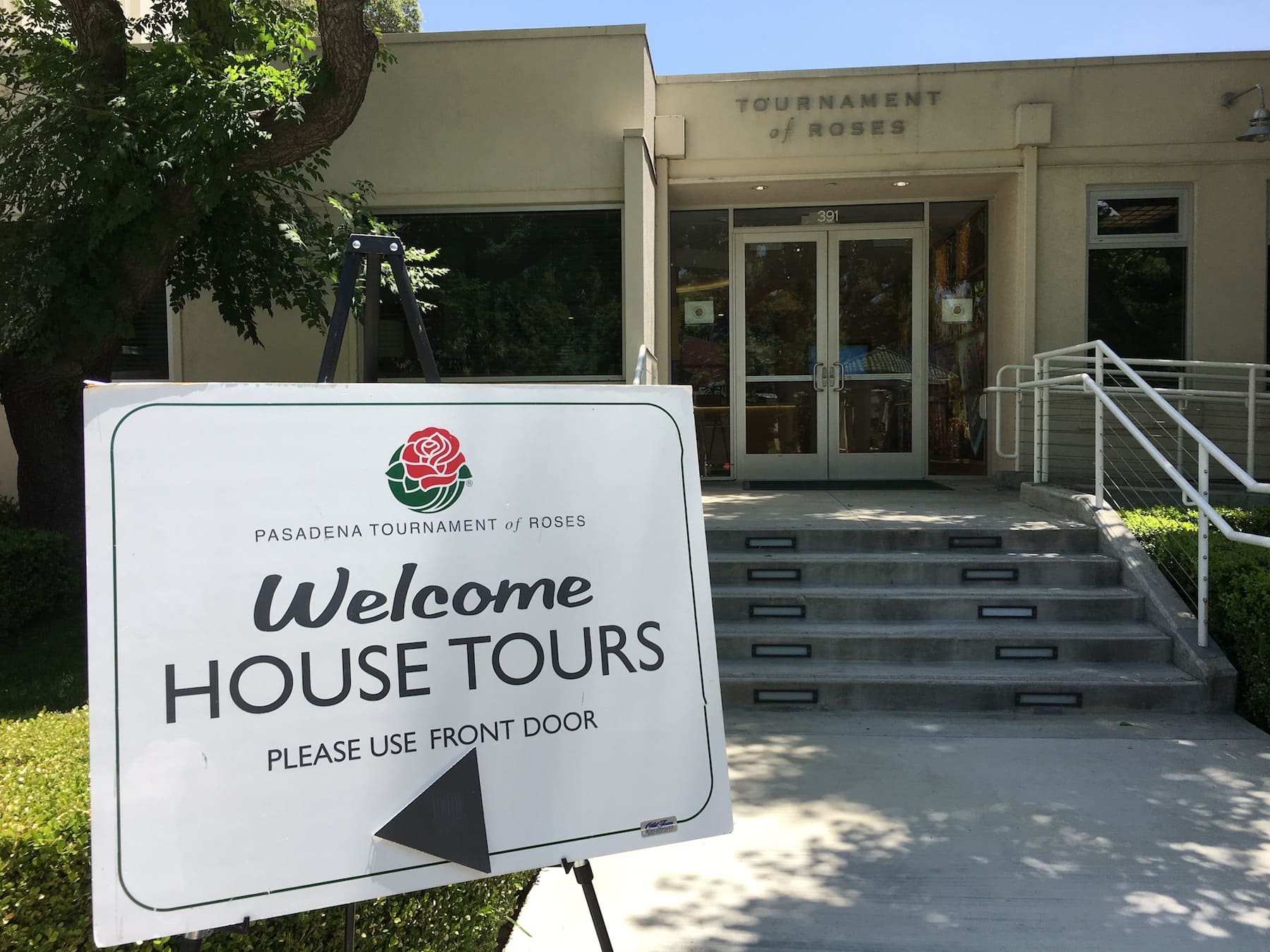 Tournament House is the official name given to the headquarters of the Tournament of Roses parade. The house was actually a home of William Wrigley Jr., the chewing gum entrepreneur.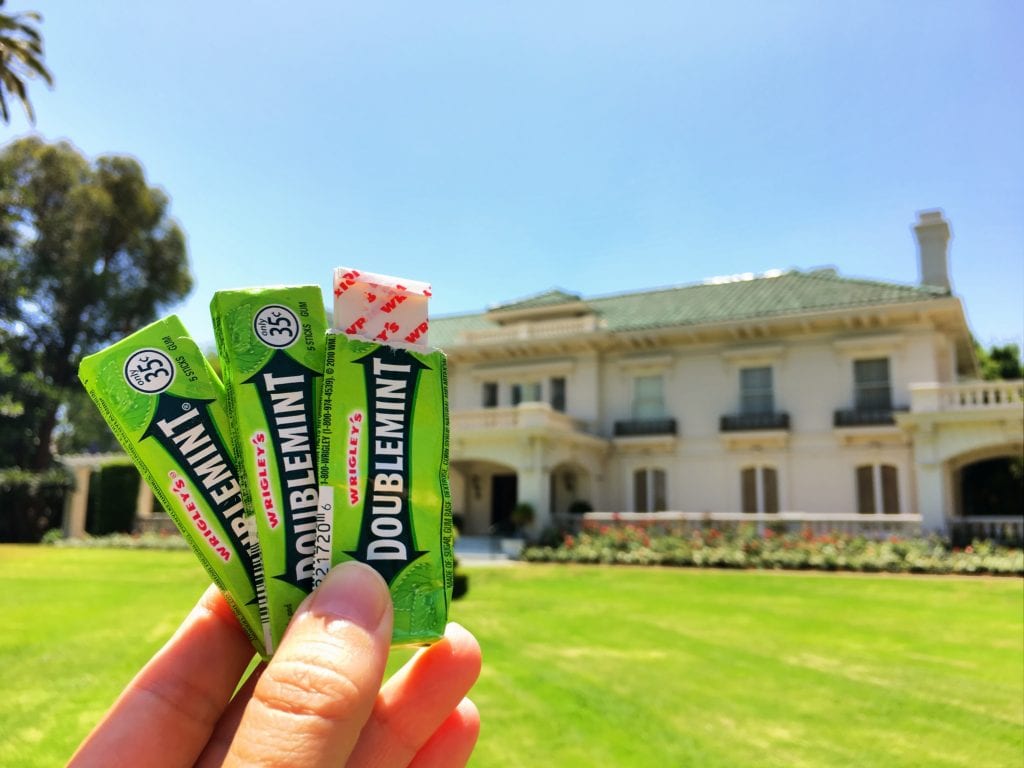 The former home of the Wrigley chewing gum magnate was given to the Tournament of Roses to be a working headquarters. So while the historic and opulent home is awesome to see, it's also very much a place of work. In fact, it's where the fundraisers and galas take place, and where the Tournament of Roses Queen and Princesses get ready before the parade.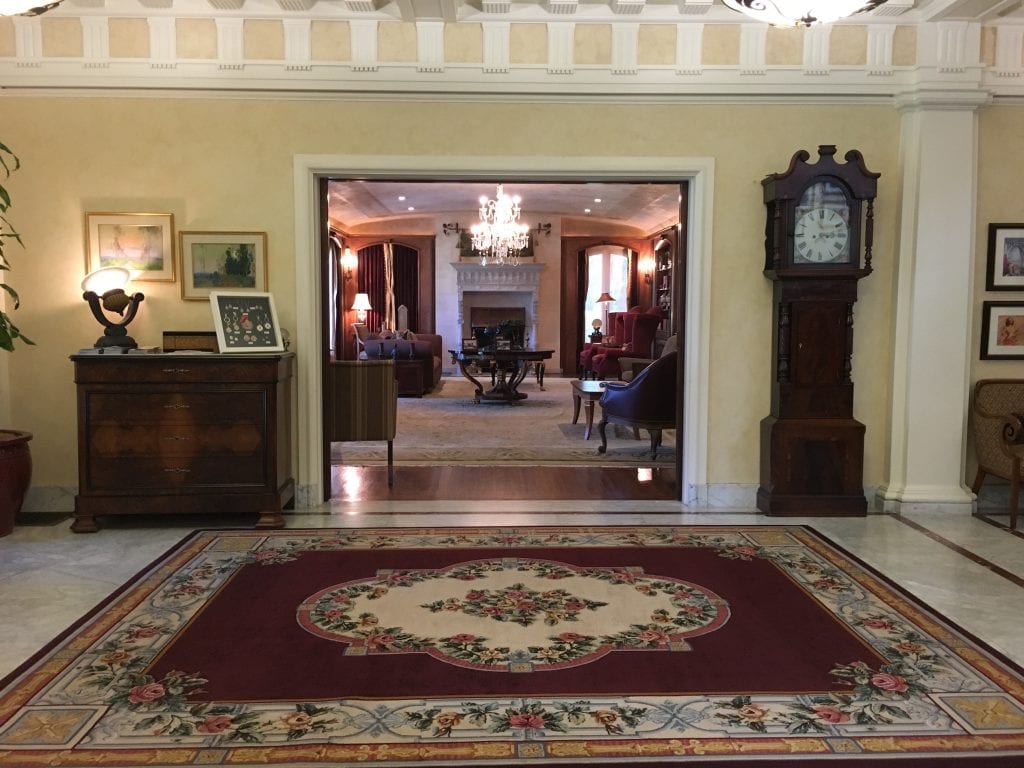 As a working headquarters, tours of the Tournament House are limited. Here are the details:
Tours are FREE
You do NOT need to reserve ahead of time
Tournament House tours are about 1 1/2 hours long
Tours are only offered on Thursdays
There are two tours on Thursdays. One at 2 p.m. and another at 3 p.m.
The tours are ONLY available from February through the end of August
The tour of Wrigley's old house was fascinating. We were allowed to touch everything, peek inside closets and really explore the house like the employees do each day. You'll see the bathroom where a former U.S. President once got stuck (and no one could find him!) along with a room decorated with foil in honor of Wrigley chewing gum wrappers. You'll see the Tournament of Roses cup, and glittering crowns from former Tournament of Roses Queens.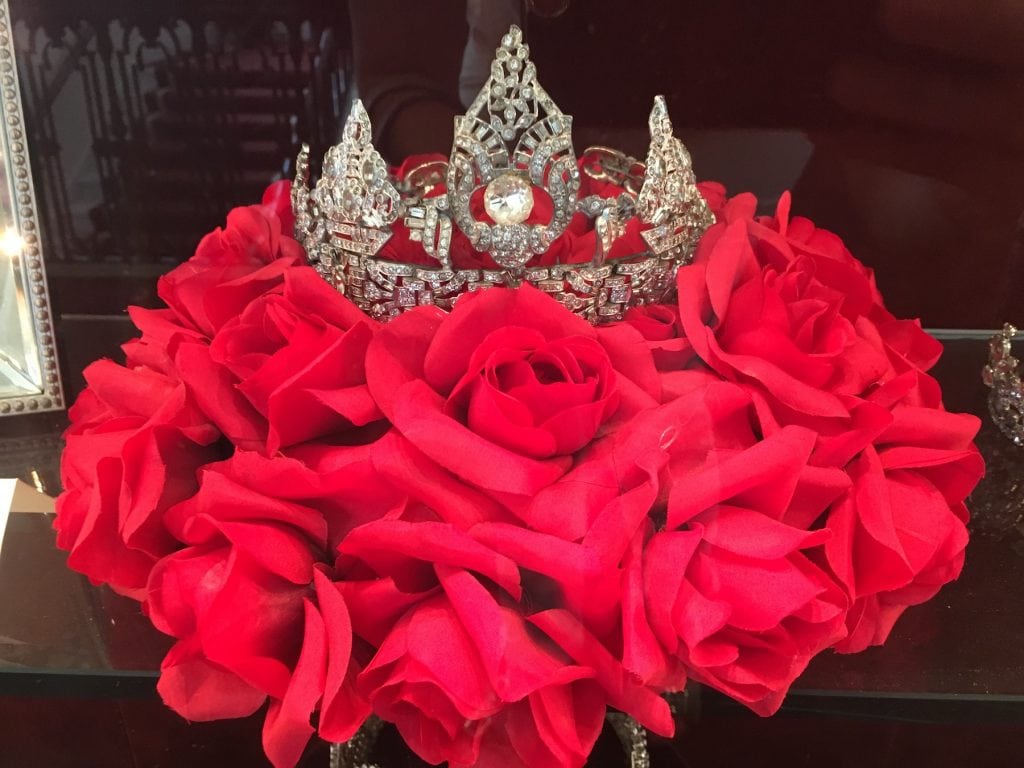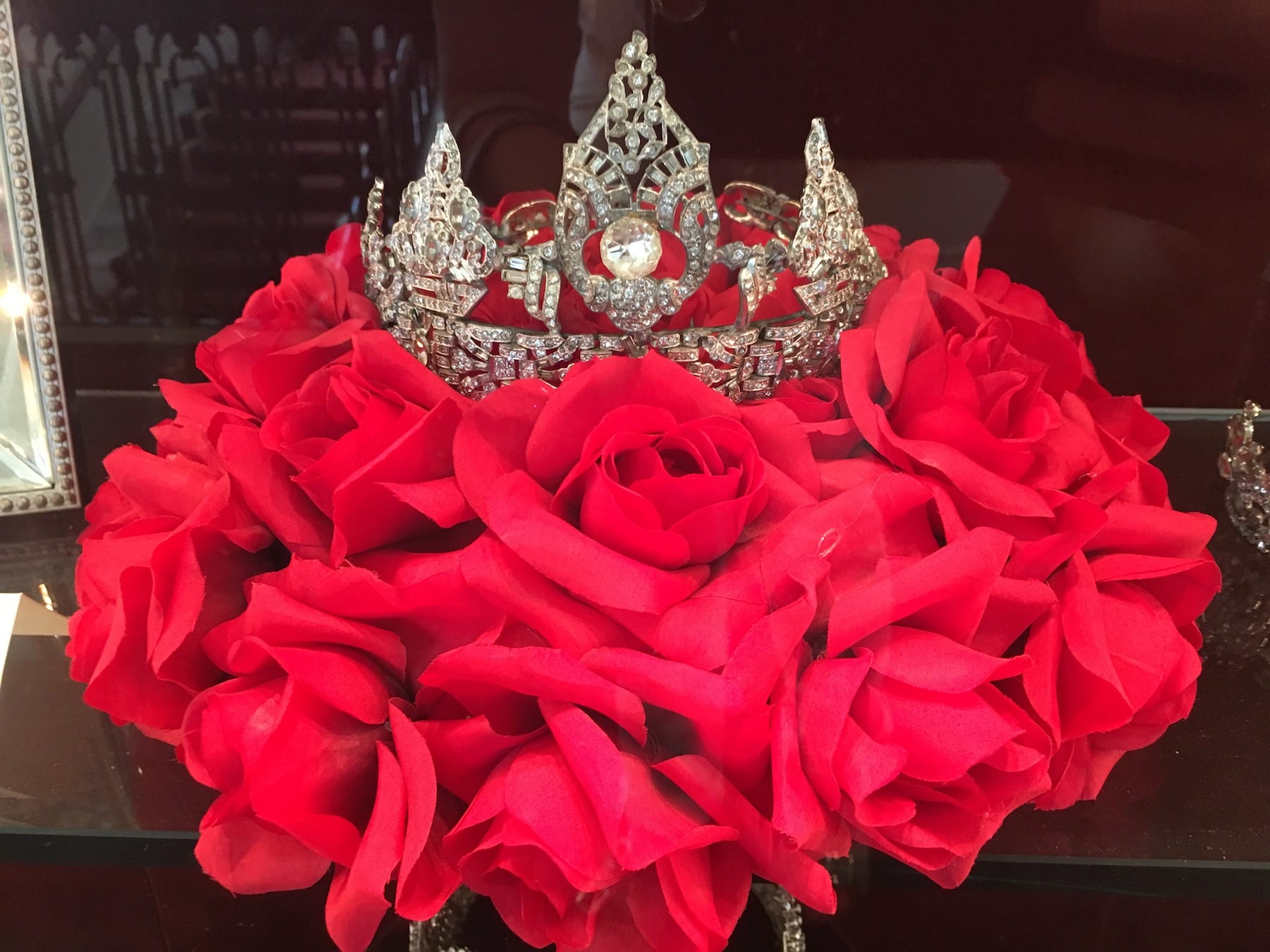 Outside, wander through the extensive rose gardens. And consider packing a picnic lunch to enjoy at the quiet and shaded picnic tables in the garden.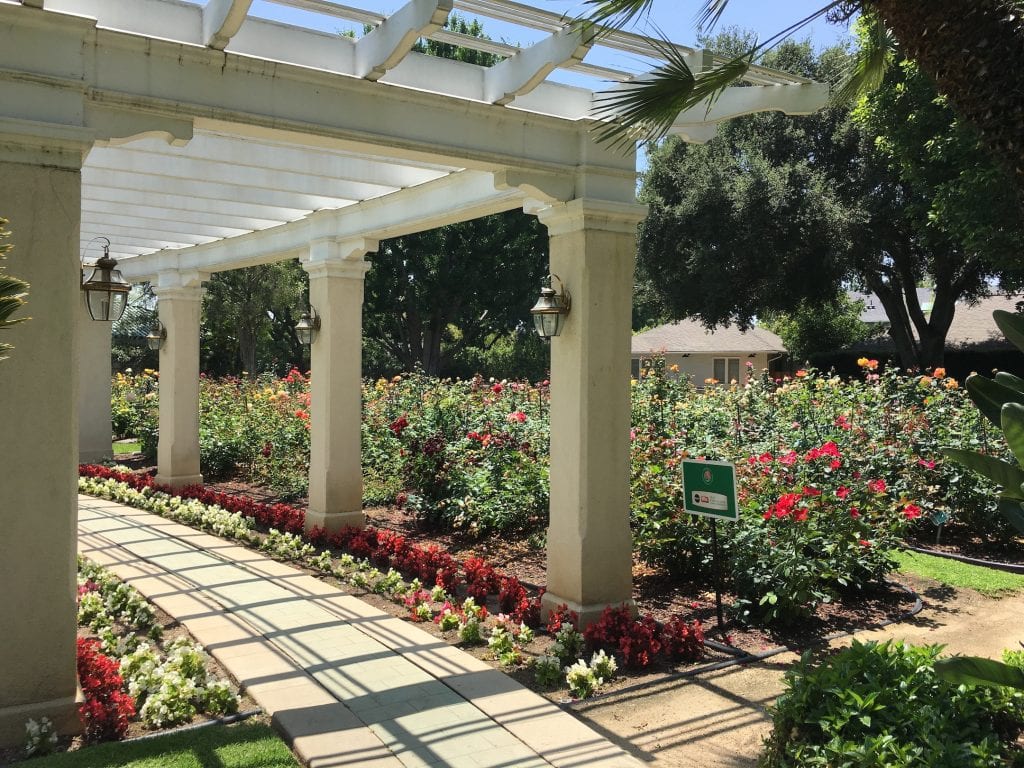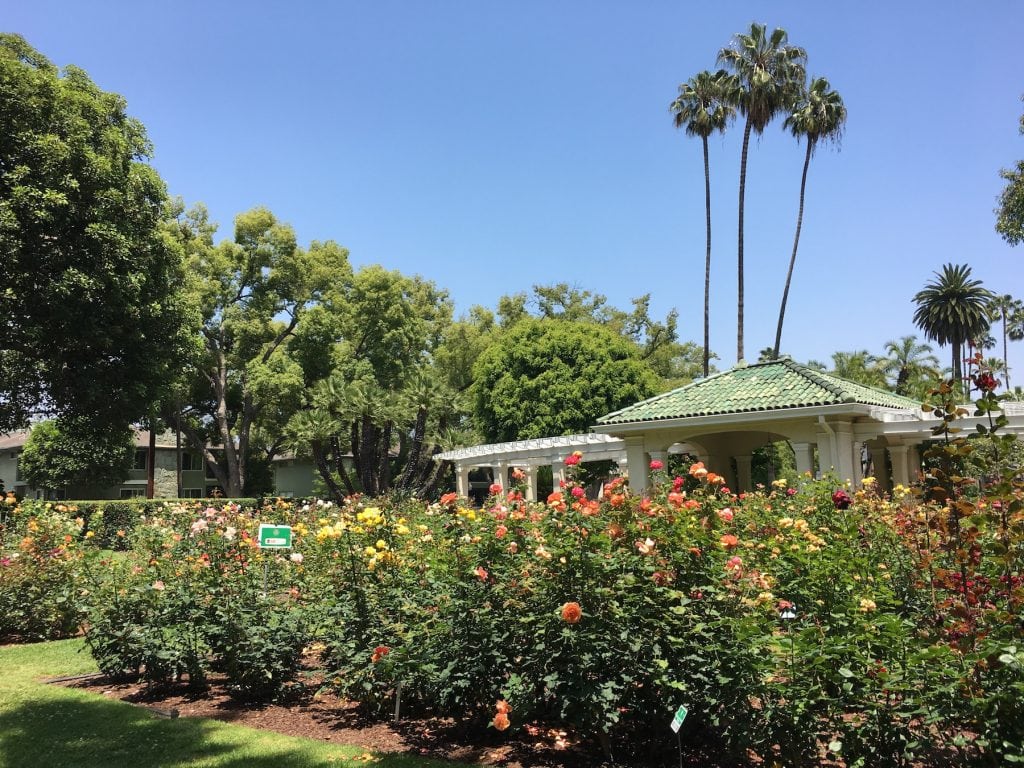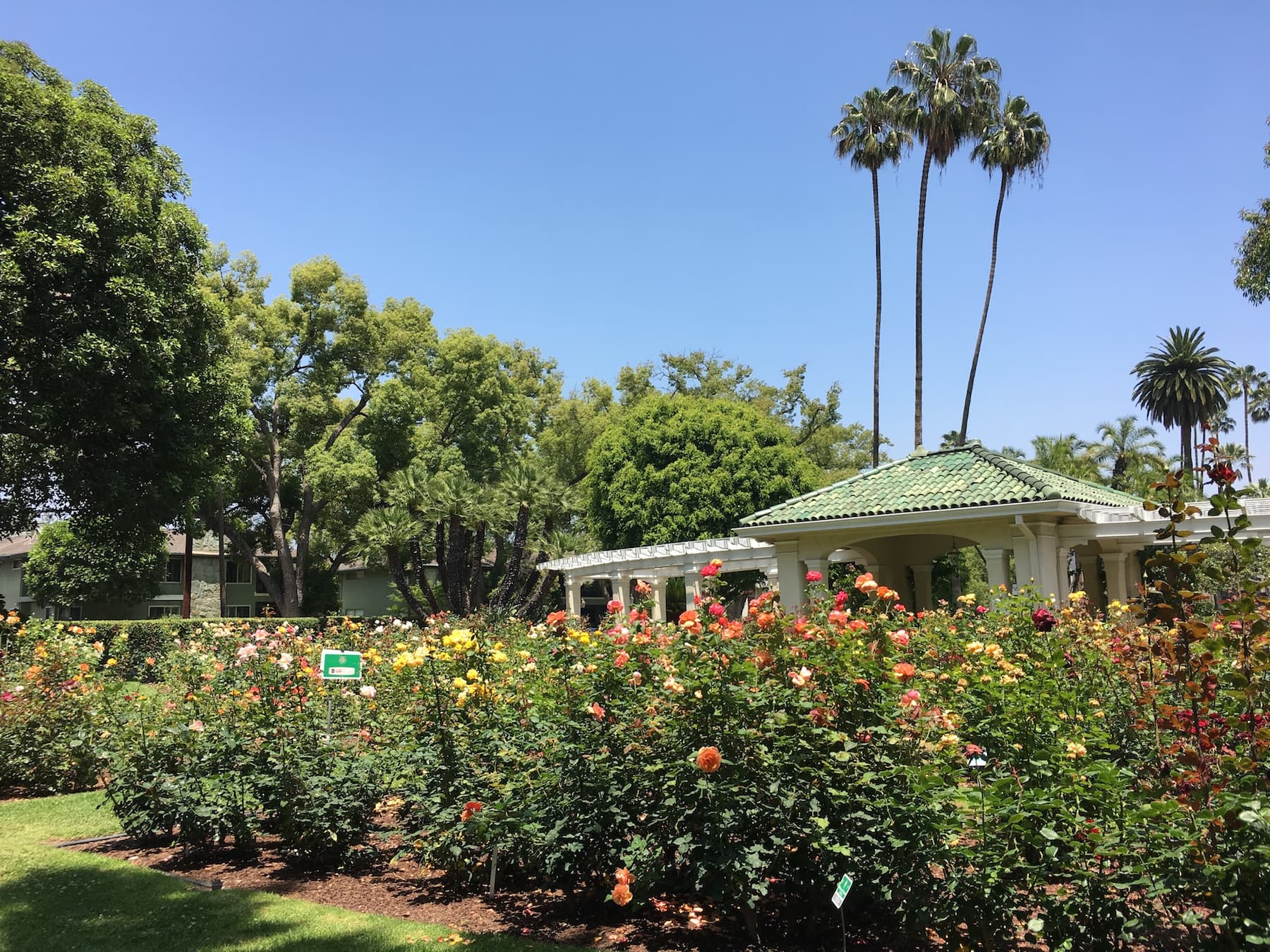 I'm dreaming of actually seeing the Rose Parade in person one year. I'd DEFINITELY get Tournament of Roses Parade reserved seating and a packaged tour. After talking with the Tournament of Roses volunteers, I wouldn't try to see the parade any other way.
Huntington Gardens
Huntington Gardens is a MUST see in Pasadena. Case closed.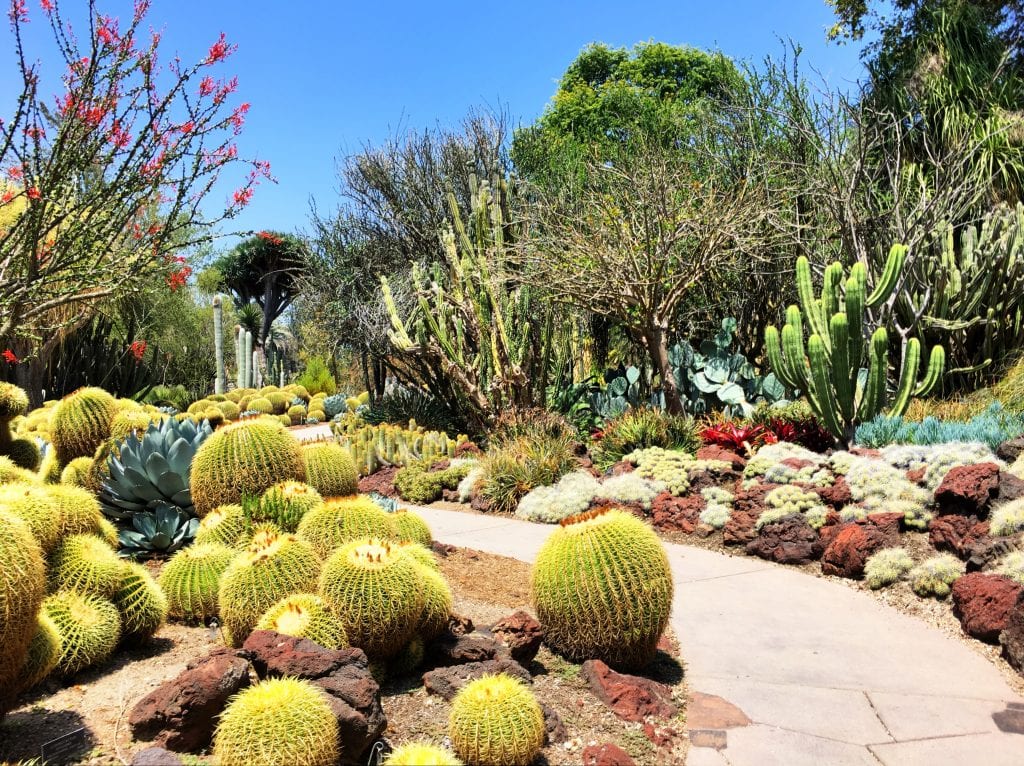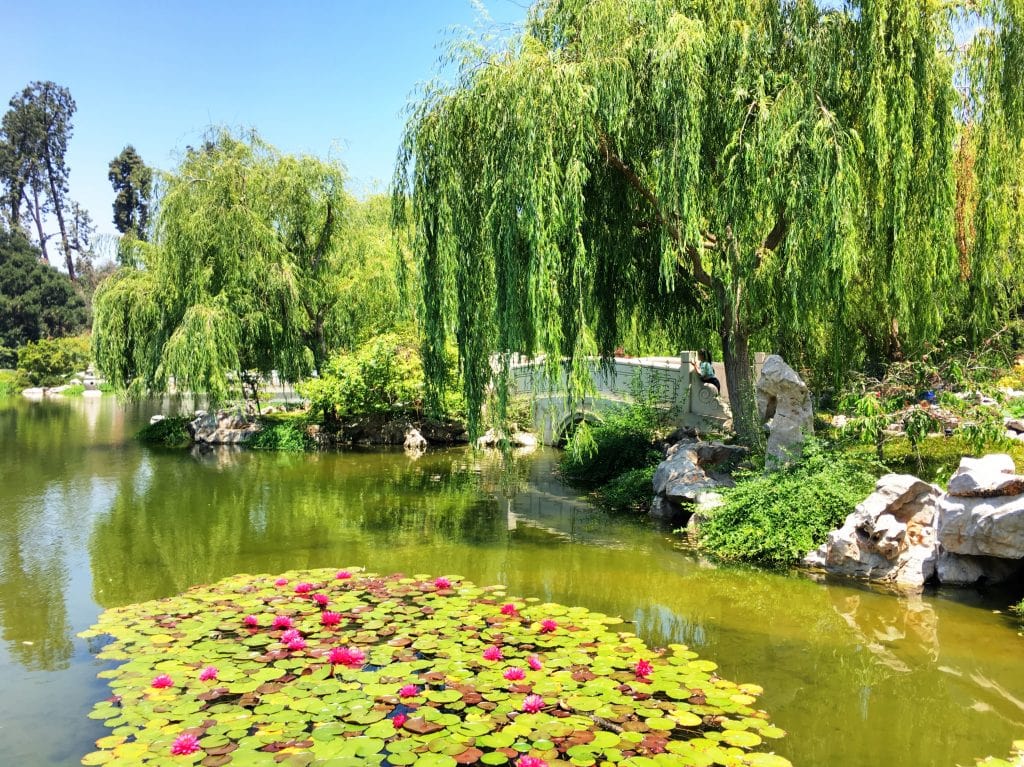 You haven't seen a garden until you've seen Huntington Gardens! The collection of 12 gardens, with 15,000 varieties of plants over 120 aces is breath taking – and a little overwhelming!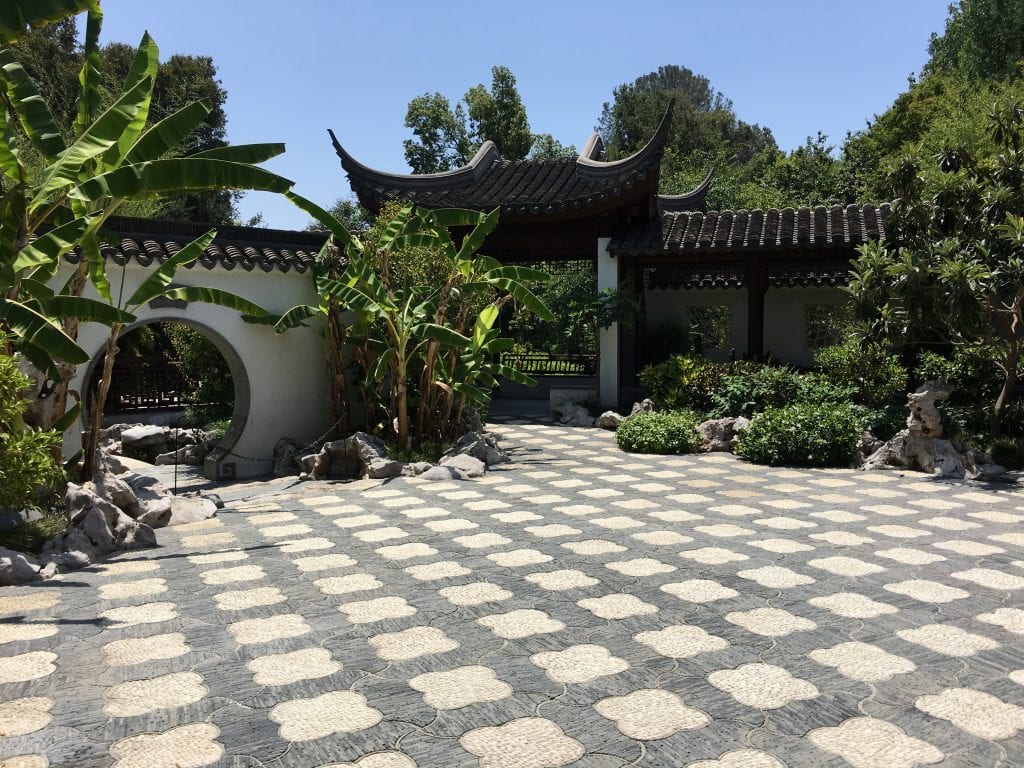 We spent all day in Huntington Gardens. The admission price of $25 was WELL worth it!
In addition to acres of gardens to wander through, there are also three art galleries, with priceless works of art. Among the treasures are:
A manuscript of Chaucer's Canterbury Tales
A Gutenberg Bible
Shakespeare's First Folio
Henry David Thoreau's manuscript of Walden
Audubon's Birds of America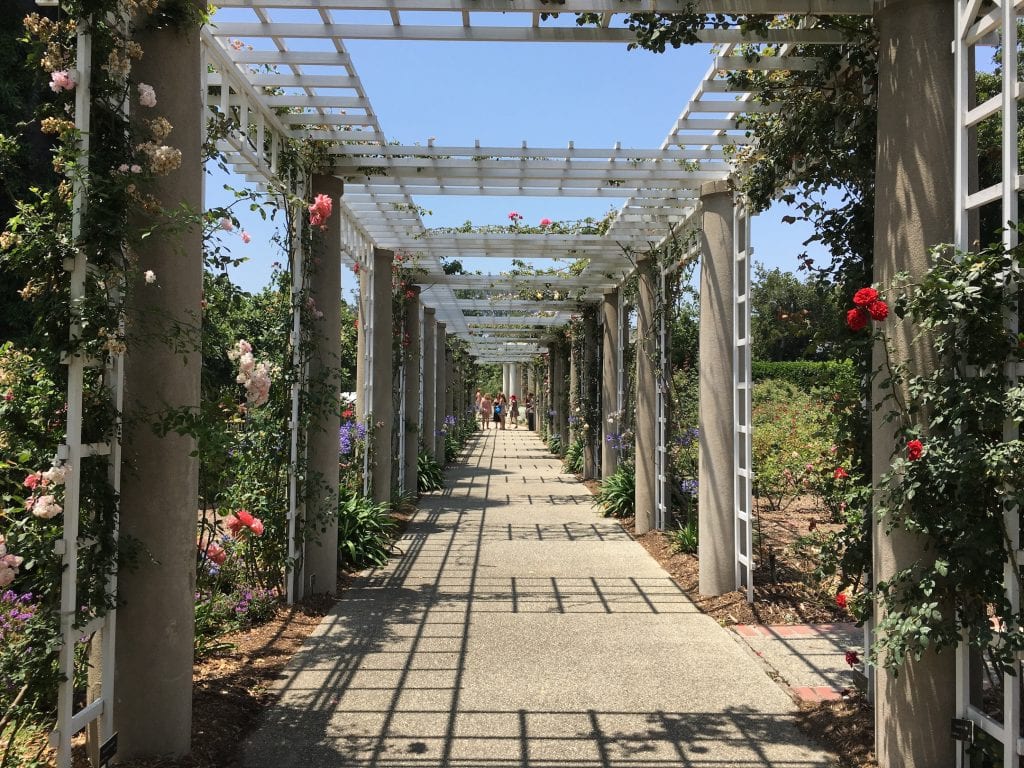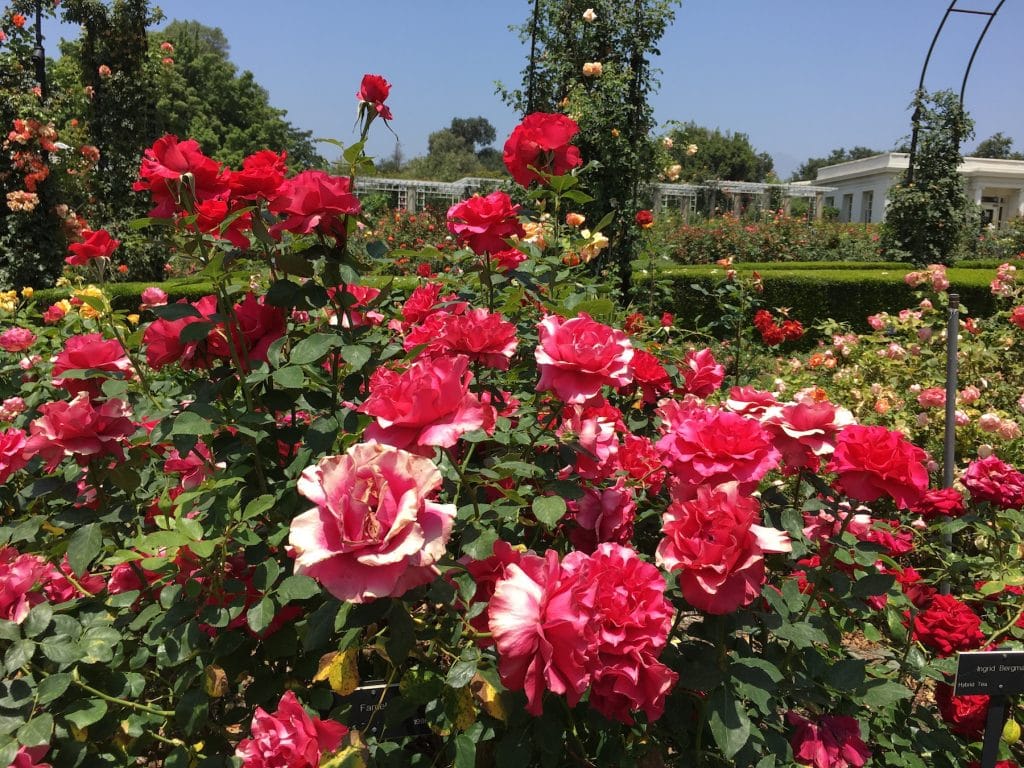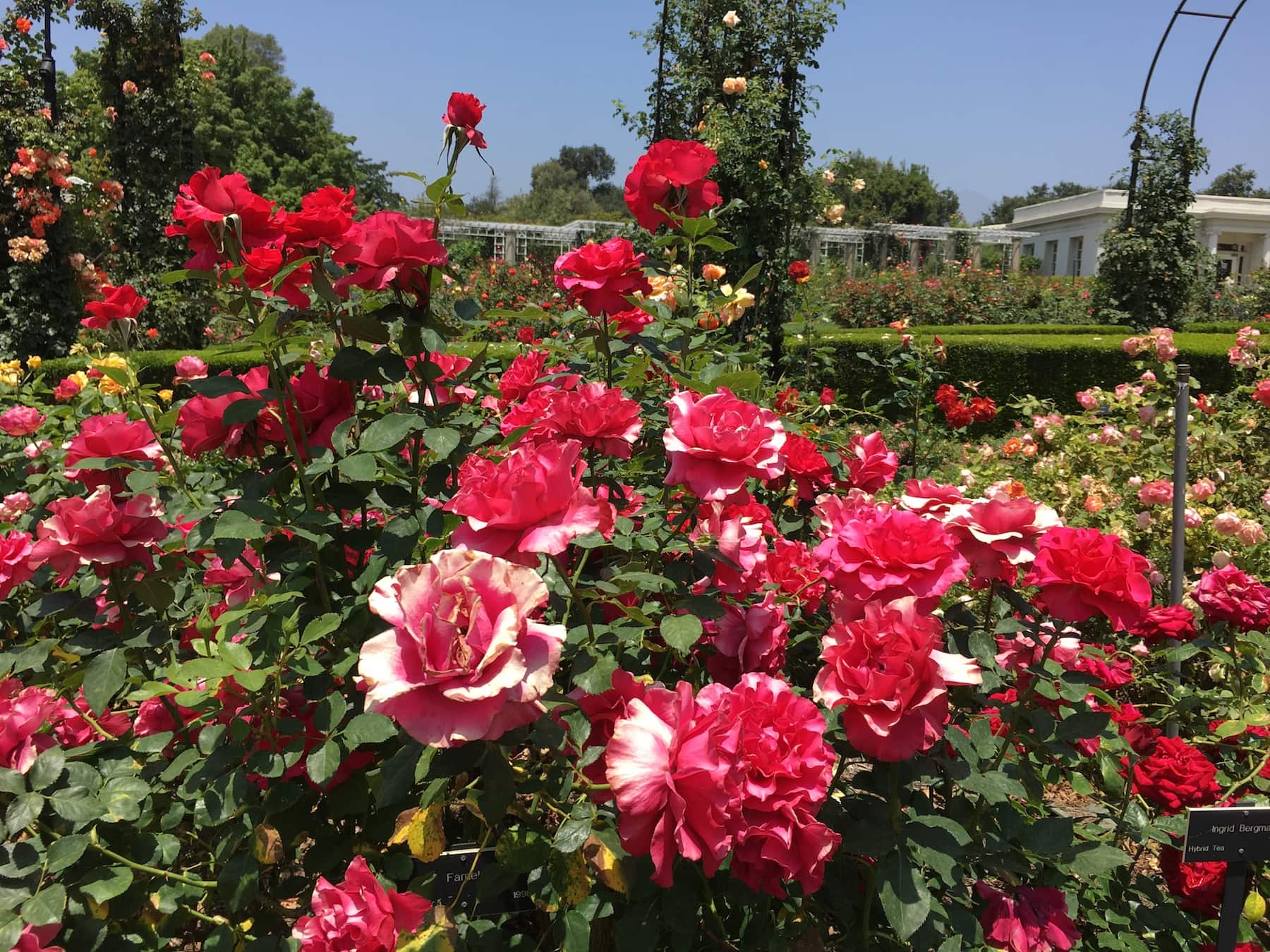 Consider stopping for a bite to eat or an ice cream cone in the middle of the day. It can be a long day touring the grounds if you are interested in really seeing the plants and enjoying the vastly varied gardens of Huntington Gardens.
Gamble House
We made reservations to see the Gamble House after a friend suggested we better reserve a spot. Boy, are we glad we did!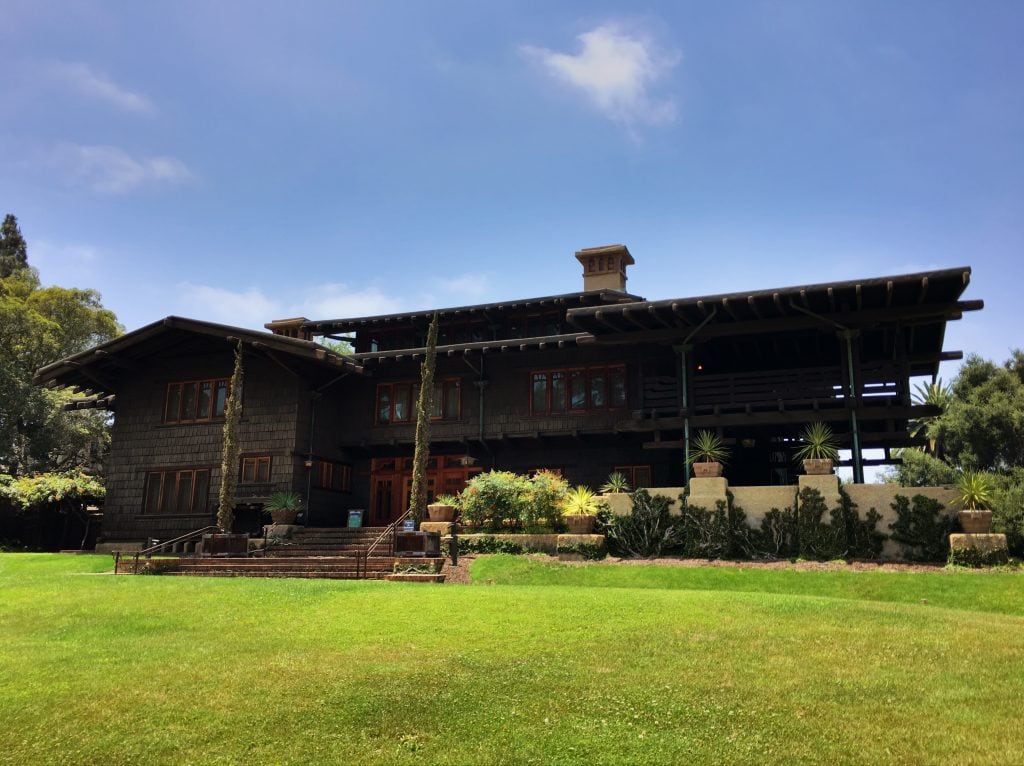 The Gamble House is the former home of David and Mary Gamble of THE Procter & Gamble company fame.
Today, it's most well known for being a stunning example of American Arts and Crafts architecture. As well as being the exterior of Doc's house in the movie Back to the Future.
You wouldn't guess that tours would be so popular here, but they are. Tours of Gamble House are only available Thursday through Sunday. So be sure to book a time online, otherwise you might be disappointed showing up for a tour and none are available.
There are mini lunch time tours on Tuesdays, too, if that's your only option. It's a brown bag lunch tour that costs less, but a smaller tour time, too.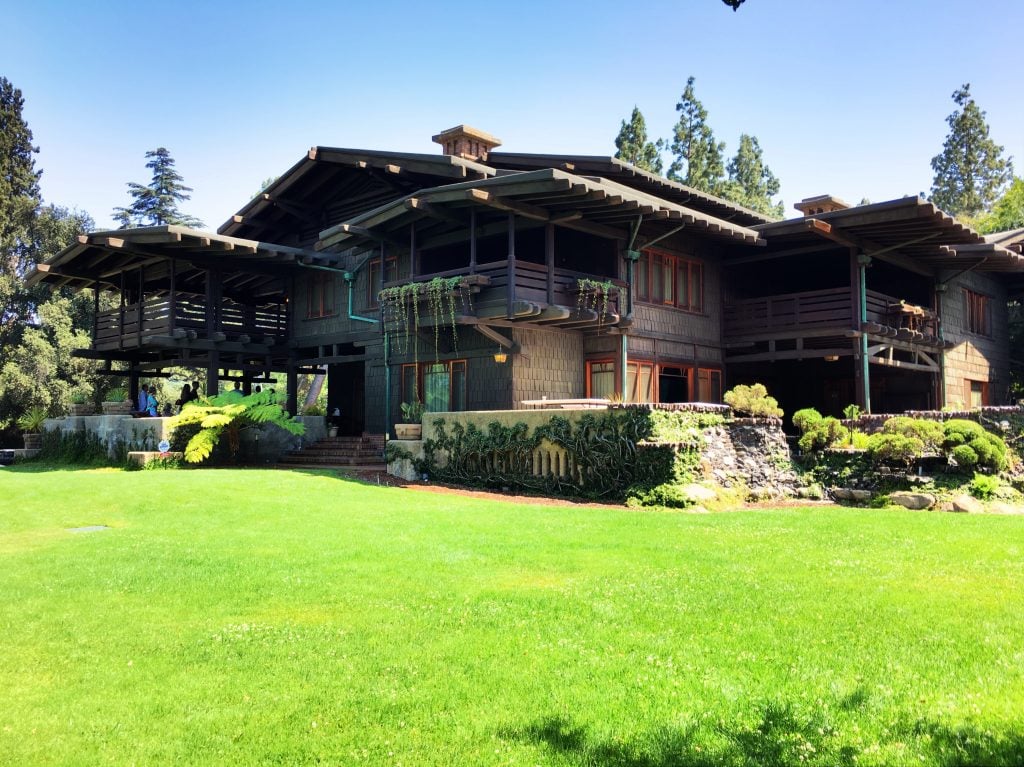 By the way, parking can be a real problem here. There are only a few spots in front of Gamble House. You might need to park on neighborhood streets surrounding the historic home and walk.
Where to Eat in Pasadena
The Langham
I enjoyed several meals at The Langham. The pool-side restaurant, The Terrace, is a great place for breakfast, lunch or dinner. Or a cocktail. Outside is great. The inside leaves a bit to be desired, personally.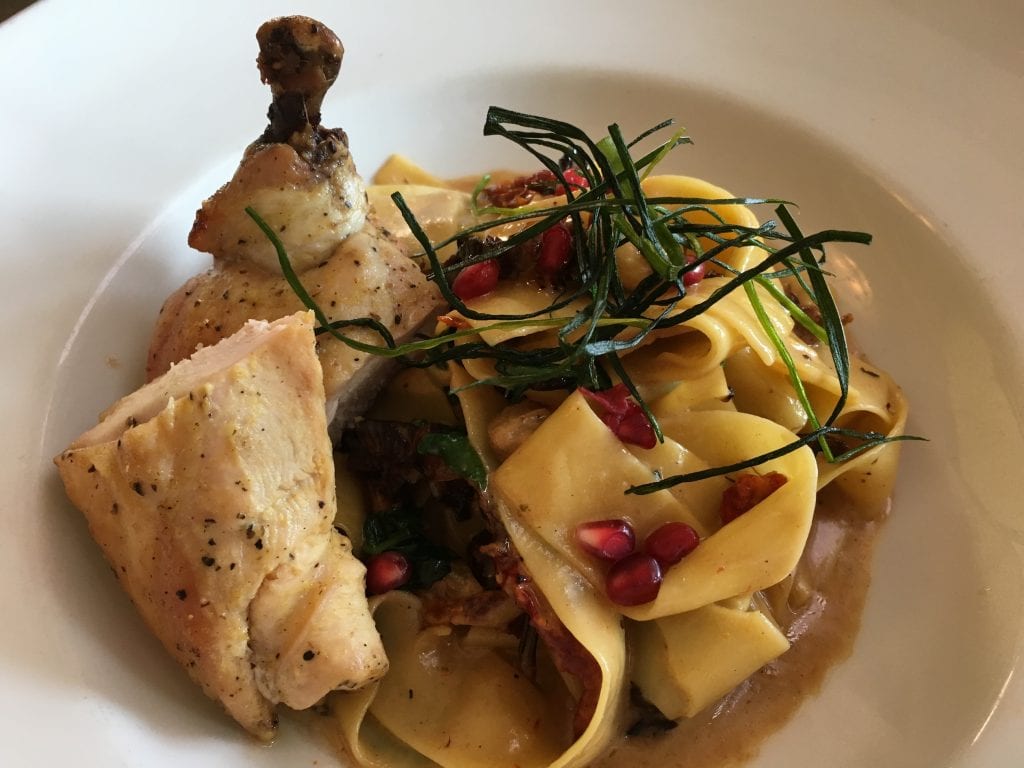 I tried to enjoy the famous tea at The Langham. But even though it was a weekday, apparently they were all booked. When I said it was just me enjoying tea, they pulled a cocktail table from the lobby, put it in the middle of the aisle, set up a chair and added some plates, and were going to seat me there.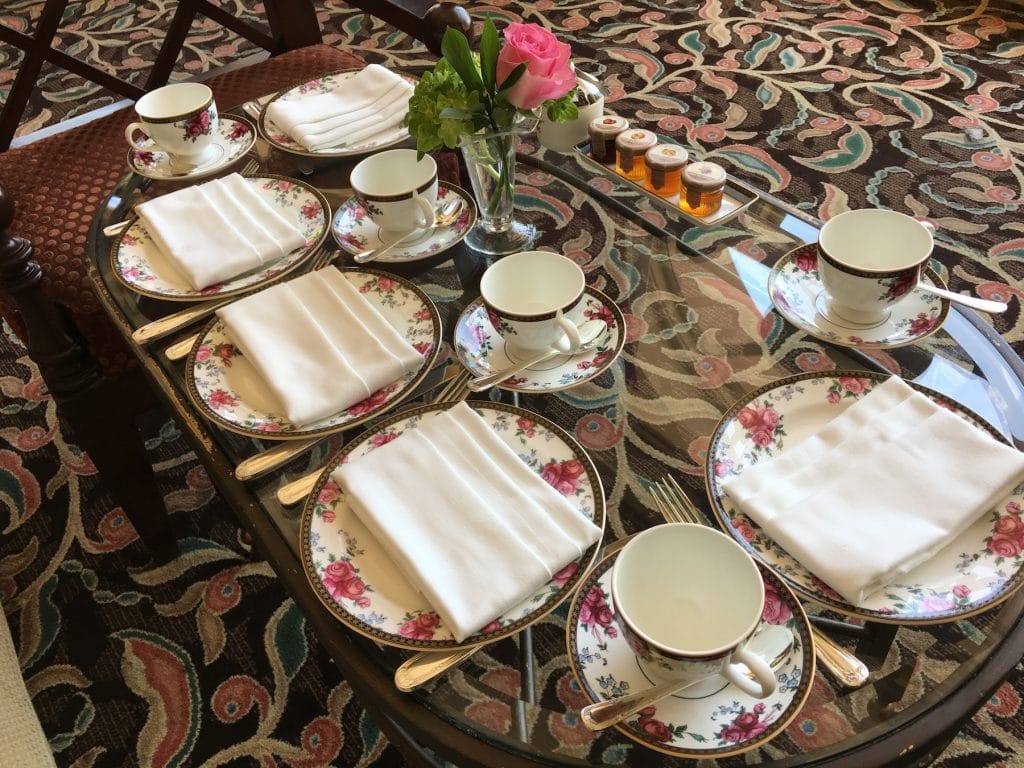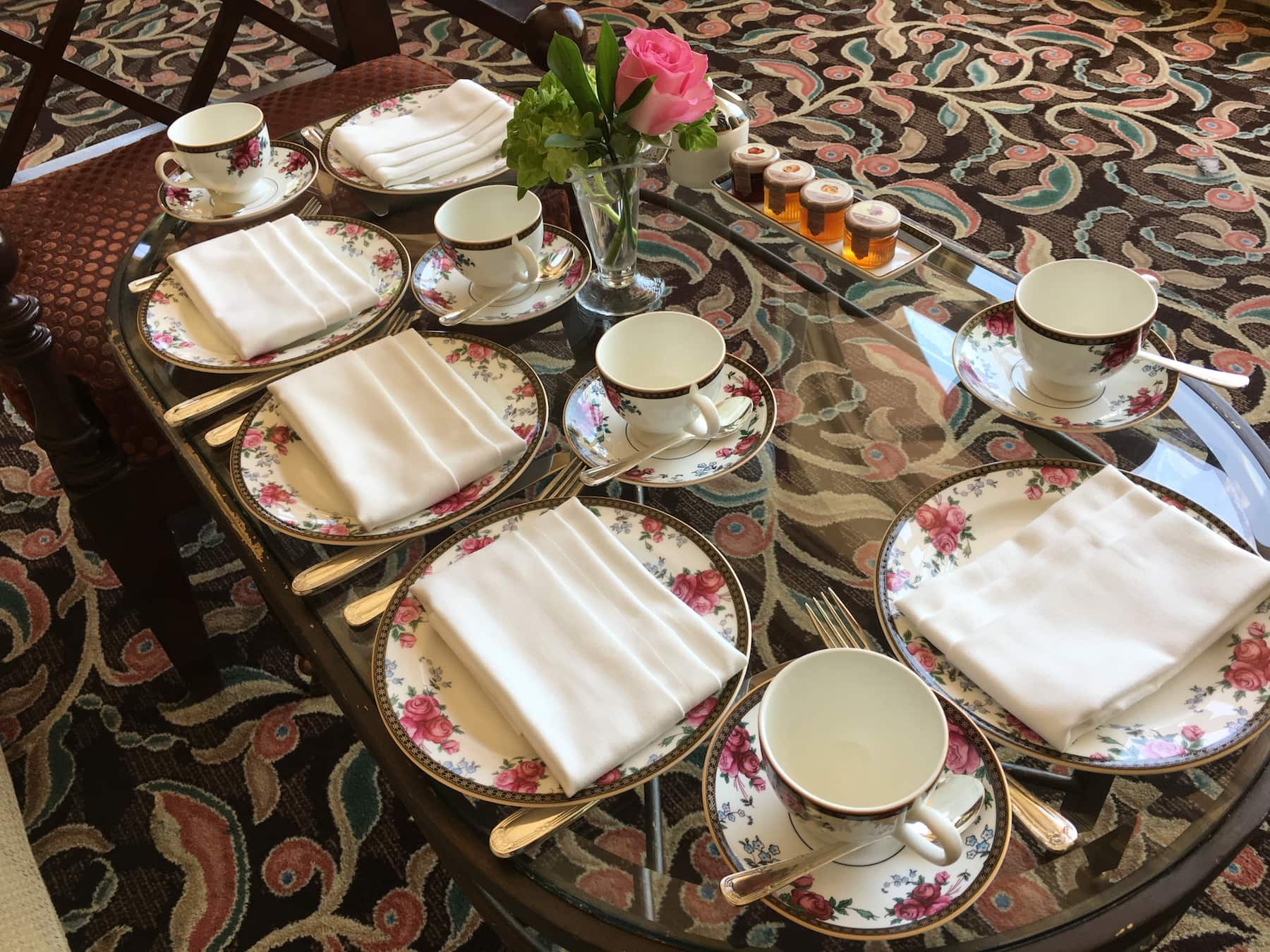 When I saw the price of the tea ($62) and the fact that I was literally sitting in the middle of the traffic aisle (with no flower on the table or any of the other niceties, as seen above), I politely left. I don't mind paying for quality, but not high prices just for the sake of having tea.
We did enjoy drinks on the porch of The Tap Room. It's a great place to see stunning views of Pasadena stretching out beyond you, and overlook the vast green lawn and palm trees below.
Guests can enjoy free ice cream and free s'mores on certain days. The s'mores bar was amazing, with specialty candies and homemade flavored marshmallows.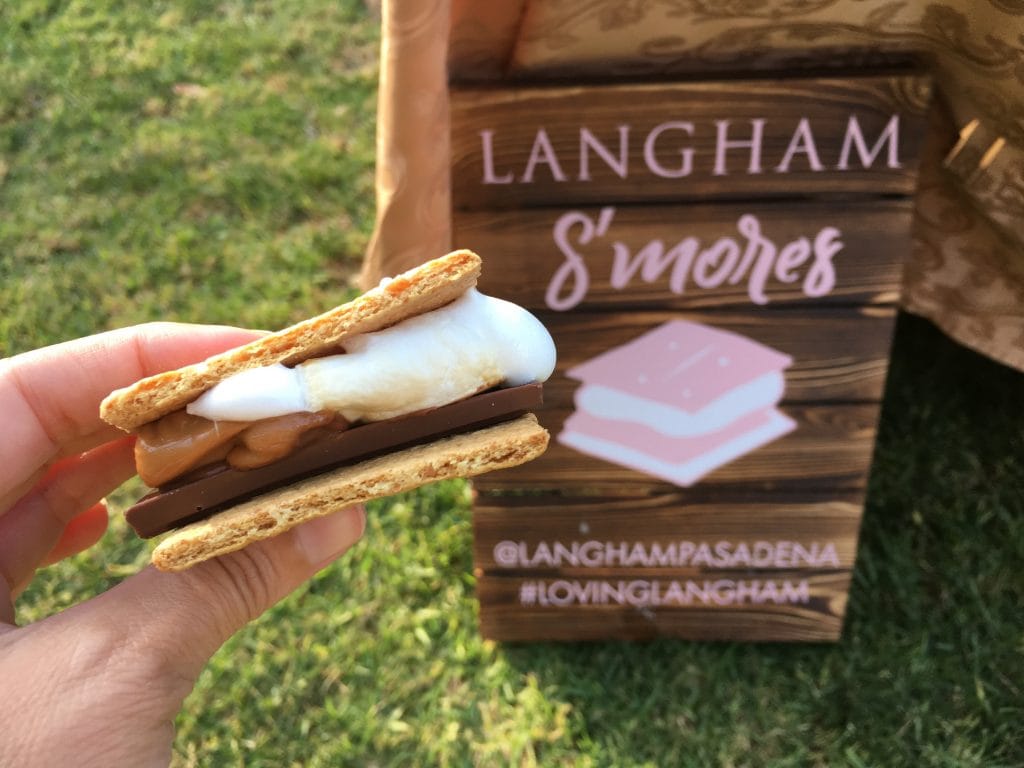 On Saturday, there was $3 tacos in the pool courtyard. We ordered a cocktail, listened to amazing live music, and watched the chef grill steak for the most amazing tacos! Totally worth it!
Huntington Gardens
You can enjoy a meal at Huntington Gardens without paying for admission. We enjoyed steak and fries on a covered patio overlooking the gardens at 1919 Cafe.
If you're at Huntington Gardens, there is a Rose Garden Tea Room and Noodle House in the Chinese Garden as well.
Afters Ice Cream
I saw raving reviews about this unique ice cream eatery online, and when an employee at The Langham suggested it as a great place to eat, I knew we had to go there!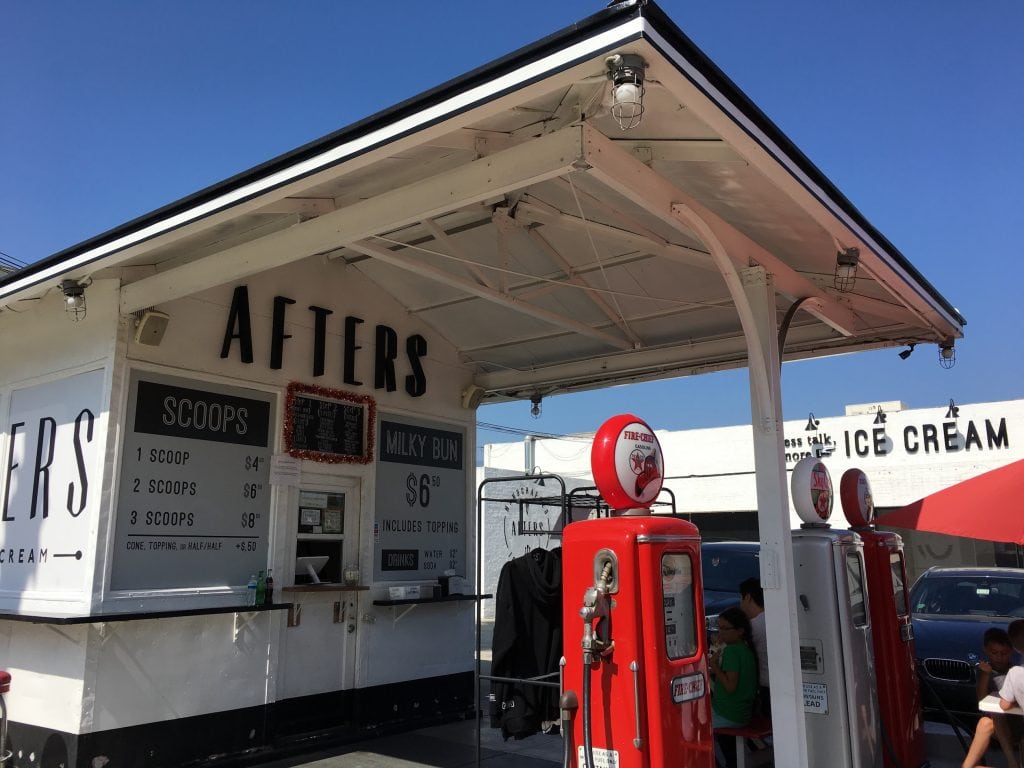 You'll be surprised at the gas station feel of Afters Ice Cream. Walk up to the ordering window and pick a unique flavor and topping.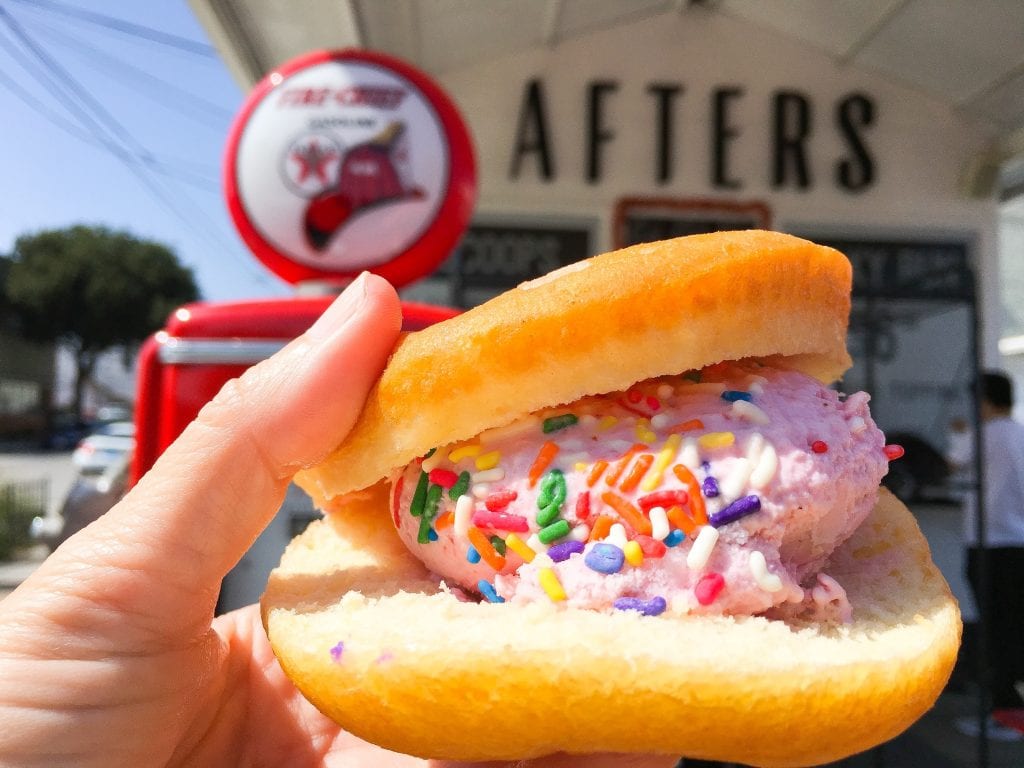 And be sure to get the MilkyBun. It's ice cream on a doughnut. While I thought it was entirely too sweet, it is a flavor sensation that you've got to experience!
If you like this 3-Day Itinerary for Pasadena, California, you might also like the Best San Diego Attractions for Kids Beyond the Theme Parks.