We love simple, easy recipes that make you say WOW! And these Patriotic Red White and Blue Rice Krispies treats in the shape of stars are snacks that do just that!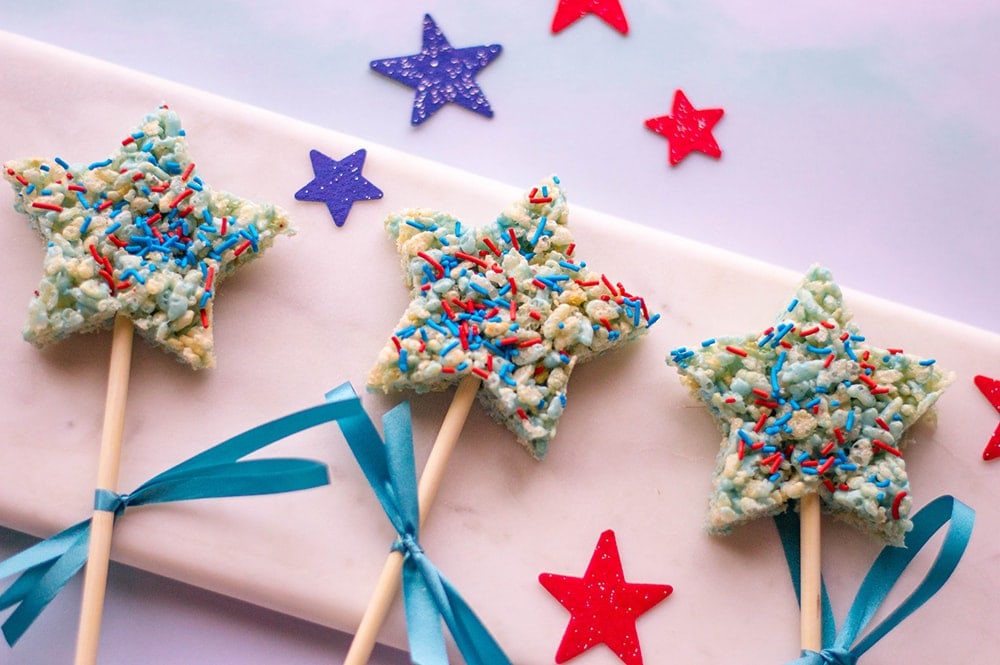 This quick, kid-friendly recipe is so easy that the whole family can get involved. Children can help stir the ingredients together. And they will love cutting out the Rice Krispies treats with patriotic cookie cutters.
These snacks are perfect for Memorial Day, Fourth of July, Election Day, President's Day and any time you want to celebrate America with red, white and blue snacks.
But don't stop there!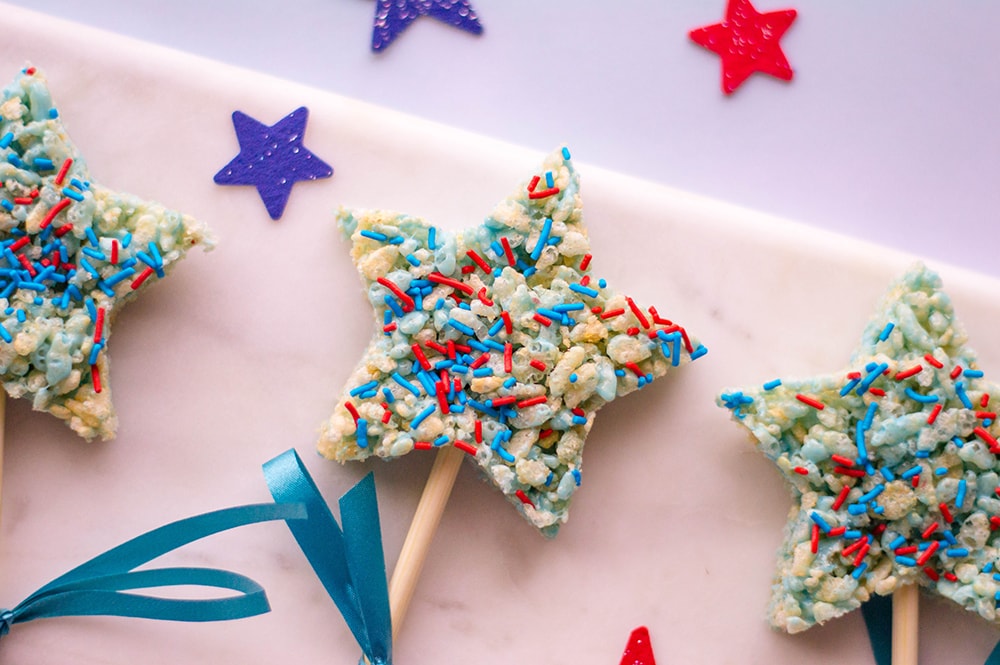 Consider customizing this recipe for party ideas for other occasions. All you need to do is customize the food coloring and the sprinkles.
So using a red food coloring and multi-colored sprinkles would be great for a kid's birthday party. Pink food coloring and glittery ice sugar would make perfect Princess party treats. Black and orange colors with a pumpkin shape would be ideal for Halloween.
We show you how to make these cute Red White and Blue Rice Krispies treats for patriotic holidays. So grab some ingredients and make these cute snacks in an afternoon.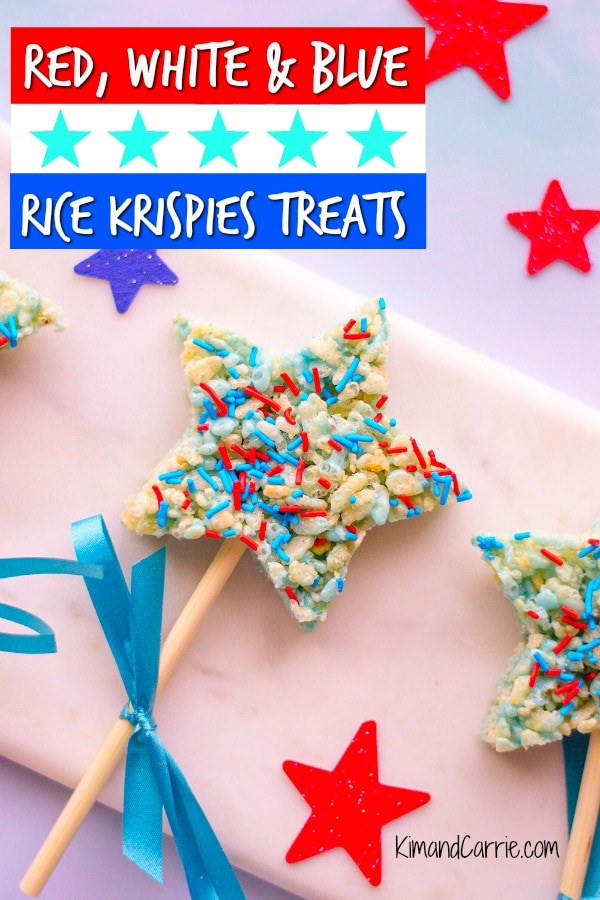 Patriotic Red White and Blue Rice Krispies Treats Recipe
Ingredients:
3 Tbsp. butter
20 large marshmallows
3 cups rice cereal (like Rice Krispies)
2 small drops blue gel food coloring
Red and blue sprinkles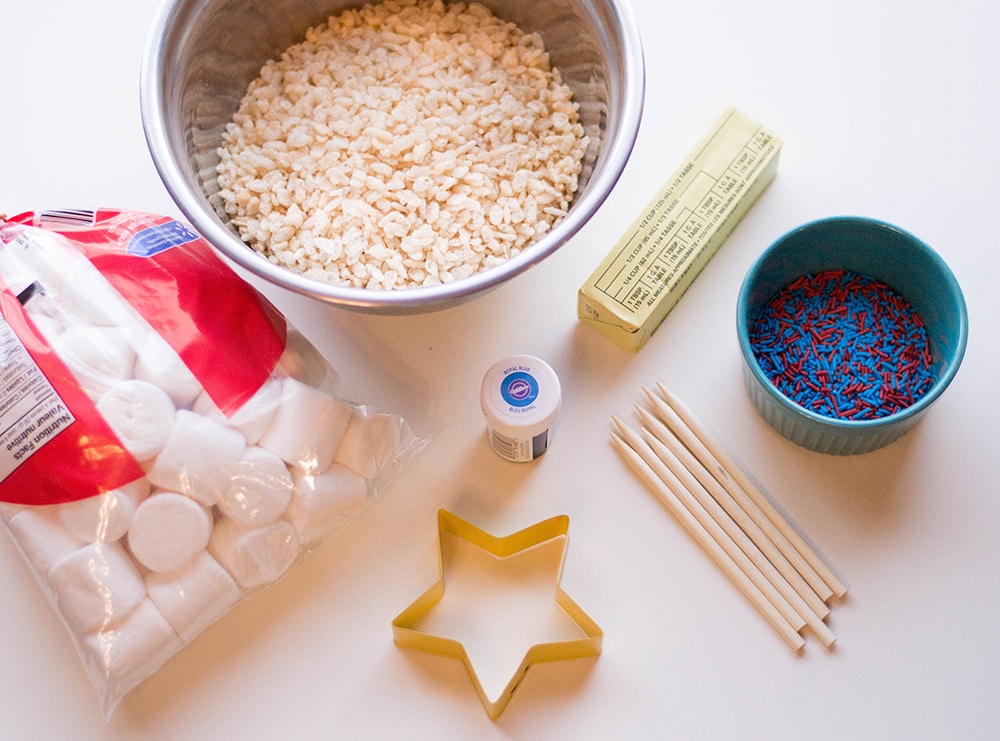 Supplies:
Yields: 4 (or more) star-shaped cereal treats (depending on the size of your cookie cutter)
Directions:
Coat the bottom and sides of a square pan (8 X 8 or 9 X 9) generously with butter. (NOTE: This is not part of the 3 tbsp. of butter in the ingredient list. Use additional butter to coat the pan.)
In a saucepan, over medium heat, melt butter and then add marshmallows. Allow to melt completely then remove from heat.
Add in blue gel food coloring and mix until marshmallow mixture is completely colored.
Stir in the cereal and mix until evenly coated with marshmallow mixture.
Pat the cereal treat mixture evenly into your coated pan. Top with sprinkles and pat down some more (so that the sprinkles stay in place). Allow the patriotic red white and blue treats to set.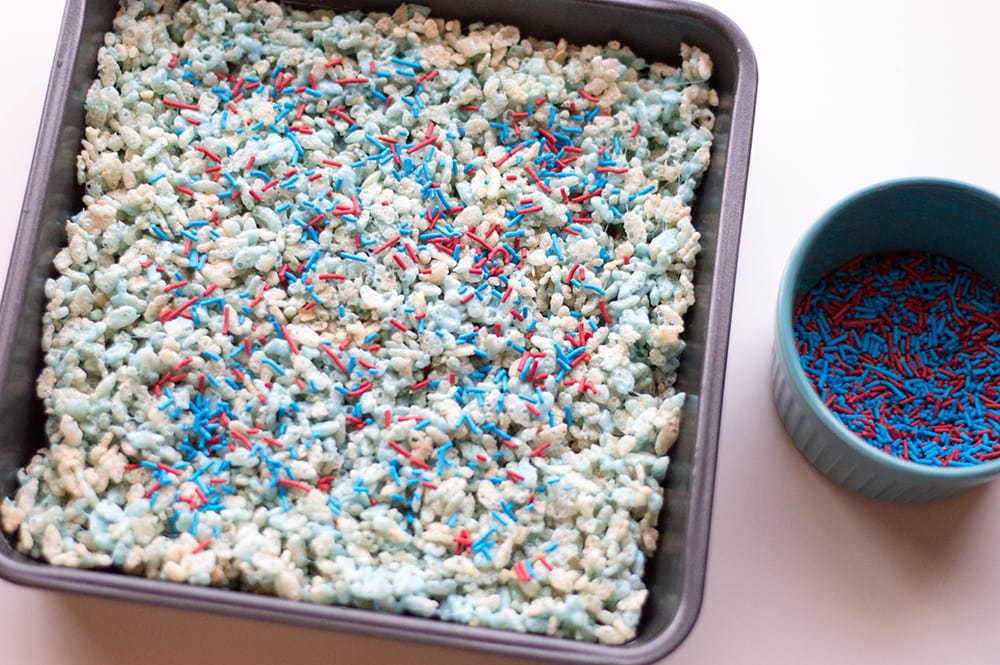 Using a star cookie cutter, cut out patriotic treats into the shape of stars (save the scraps and enjoy them!).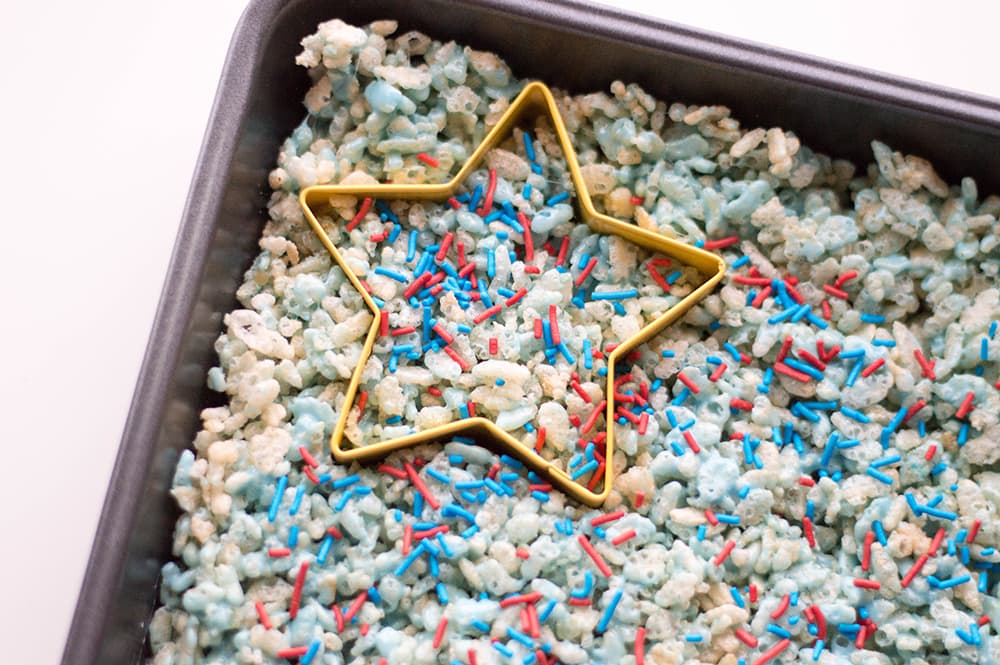 Insert a lollipop stick at the bottom.
For a great presentation, tie a ribbon on the lollipop stick. Display the patriotic red white and blue Rice Krispies treats on a decorative tray.
Or insert into a styrofoam ball in a vase or sand pail (cover the styrofoam with something decorative, such as confetti, stones, etc.)
More Easy Snack Recipe Ideas
Looking for even more fun, colorful snacks for parties? Then check out our Captain America Shield Cookies No Bake Recipe, Thor Hammer Cupcakes, Avenger's Party Treats Black Widow Snack Cakes and Incredibles No Bake Cookie Snacks.