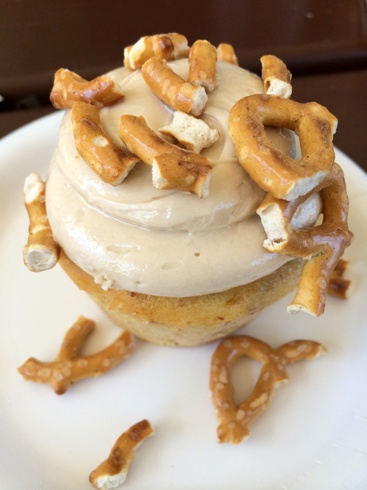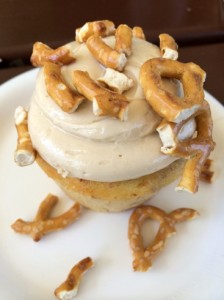 One of the best additions to Epcot's Flower and Garden Festival this year might be the Piggylicious Bacon Cupcake. Found at the Smokehouse pop-up food café in The American Adventure pavilion, these bacon cupcakes with a maple frosting and pretzel topping are arguably one of the most popular food items this year.
The beauty of the bacon cupcake recipe is that you can do it at home just by adding ingredients to a boxed cake mix! The following recipe, shared by Disney Executive Chef Robert Gilbert, shows how to easily recreate this recipe at home.
Piggylicious Bacon Cupcakes with Maple Cream Cheese Frosting
Makes 24
Bacon Cupcakes
One box yellow cake mix
Enough bacon fat to replace the canola oil (as called for on the box recipe)
Water (as called for on the box recipe)
Eggs (as called for on the box recipe)
6 oz. cooked crispy bacon
Put cake mix in a bowl. Add bacon fat, water, and eggs.
Beat ingredients with a hand mixer according to the package directions. Fold in the cooked bacon.
Add mixture to cupcake pan and bake according to package directions.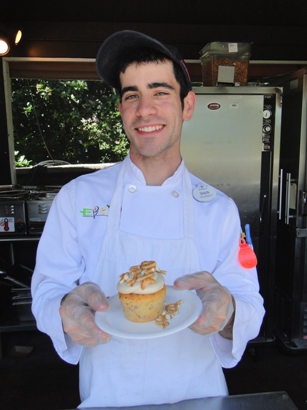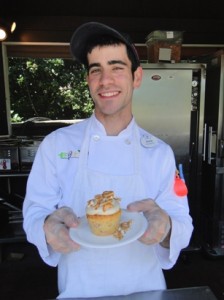 Maple Cream Cheese Icing
8 oz. cream cheese
1/4 cup butter, softened
2 tsp. maple flavoring
16 oz. (about 4 cups) powdered sugar
1 small bag of pretzel twists
In a mixing bowl with a paddle attachment, cream together the cream cheese and butter until light and fluffy, about 8 minutes.
Add maple flavor until combined.
Add powdered sugar until well mixed.
Frost each cupcake with the frosting, and garnish with crushed pretzel twists.