This shop has been compensated by Collective Bias, Inc. and its advertiser. All opinions are mine alone. The following content is intended for readers who are 21 or older. #LobsterfestCelebration #Lobsterfest #CollectiveBias
Ever feel like you could use a vacation but don't have the time for a getaway? I feel that way every day lately. And so does my sister. We're both overworked, overtired and got some major stress going on. Which is why we were thrilled to enjoy a necessary indulgence during Red Lobster's Lobsterfest.
Necessary Indulgences
We all need a break from the stress of daily life. If we don't give ourselves a special treat, then life gets monotonous. And less fun. And stress starts to build.
My sister and I should have treated ourselves sooner than we did. So when we heard about Red Lobster's Lobsterfest, we knew this was the time to go and finally treat ourselves!
There's just something so indulgent about eating lobster, right? Enjoying a lobster meal is usually associated with special occasions such as anniversary meals or cruise ship dinners. It's a simple thing you can do to feel like you've been transported away from daily life.
On the way to our much-needed Lobsterfest meal, life just kept happening. My sister's truck broke down (cracked radiator) on the side of the road in the freezing, pouring rain. By the time the issue was fixed and we switched vehicles, my sister looked at me and said, "I have never wanted a drink and to eat lobster as much as I do right now."
I agree, Carrie. I agree.
Lobsterfest 2018 Menu Items
When we finally arrived at Red Lobster, we were worn out, stressed out and ready to be pampered.
And Red Lobster totally took care of us 🙂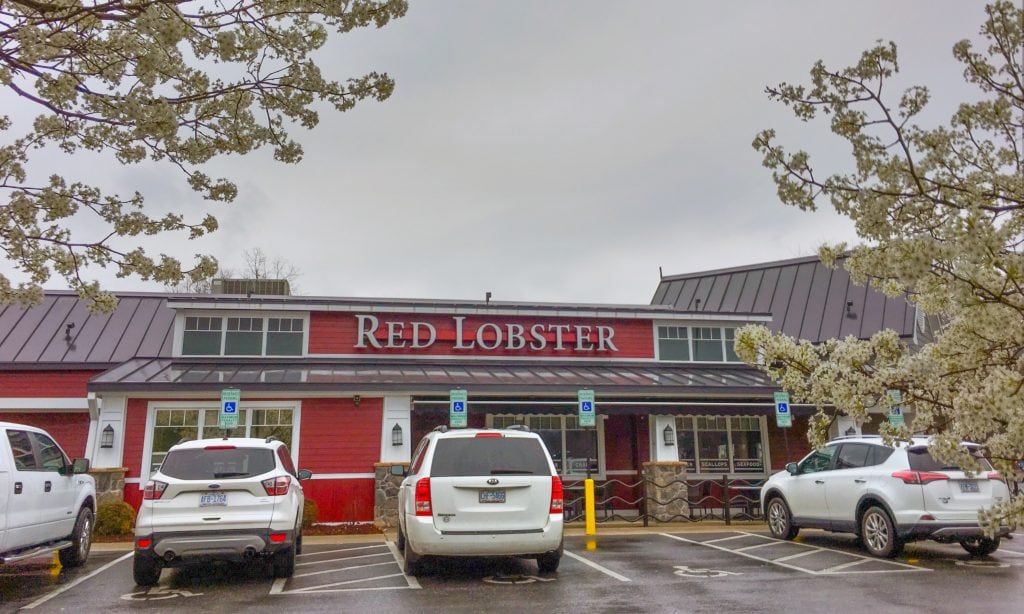 Lobsterfest only happens for a limited time in the year. It's when the largest variety of lobster dishes are available at Red Lobster. So if you love lobster, you've got to make plans to enjoy this special time.
Our server Amy at the Asheville, North Carolina restaurant was absolutely amazing! She greeted us with the warmest welcome and a smile, started joking with us as soon as we sat down, and put us at ease. And it didn't stop with just the welcome. Amy was a constant ray of much-needed sunshine on a gloomy day until the moment we left. She truly made our meal memorable.
We started our Lobsterfest meal immediately with the two new featured cocktails on the Lobsterfest 2018 menu.
Lobster Lover's Punch
The Lobster Lover's Punch was spectacular.
We wanted to get the 50th Anniversary collectible glass that is available for purchase with the drink.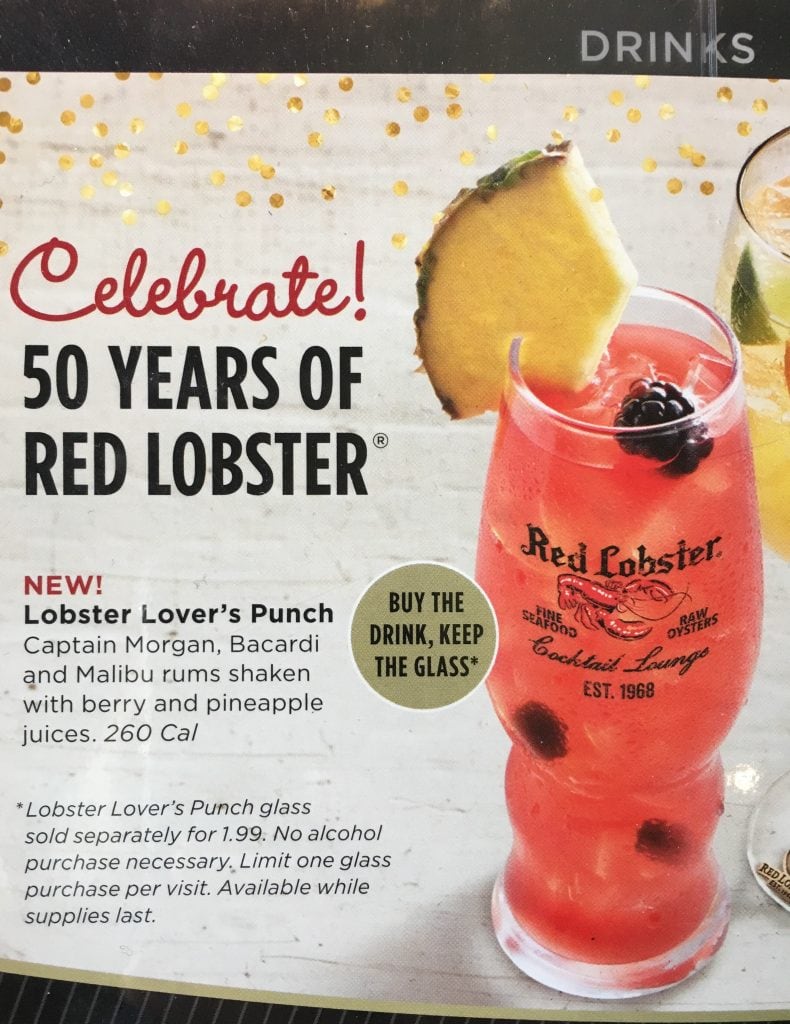 Apparently, the glass is so very popular that it immediately sold out at the Asheville location. So we enjoyed the drink in a standard glass, instead.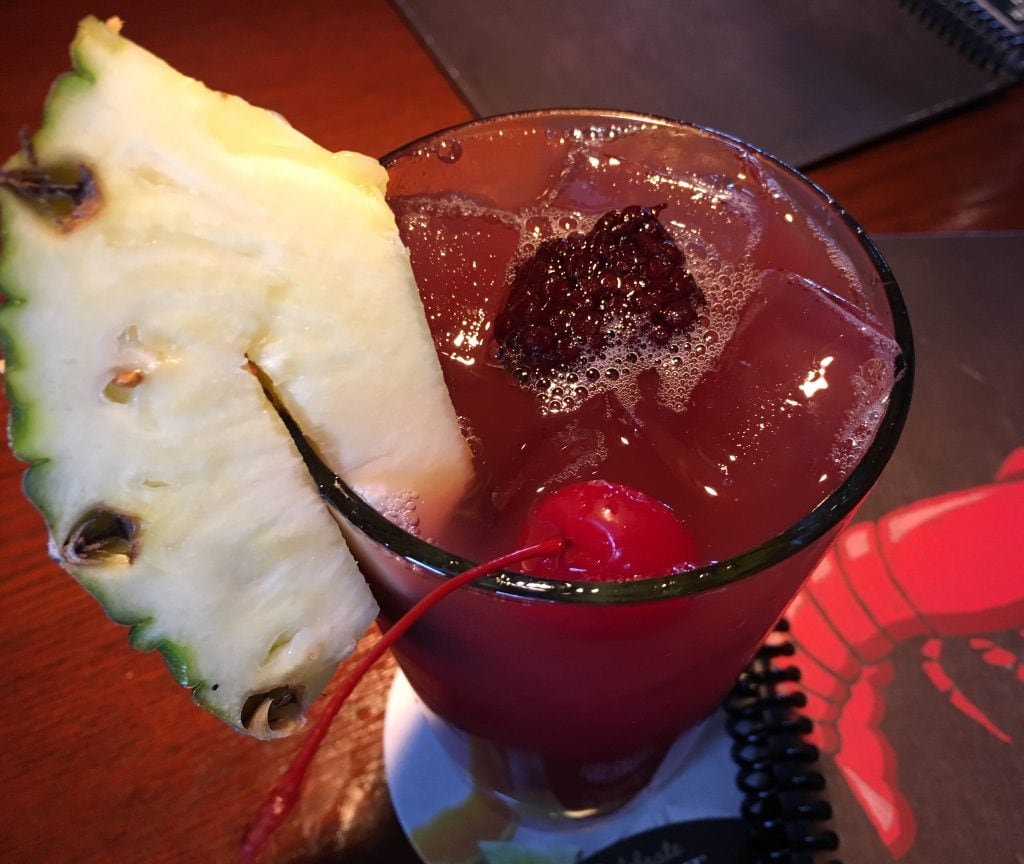 Still just as delicous, though! The Captain Morgan®, Bacardi® and Malibu® rum was shaken and topped with berry and pineapple juice with edible garnishes, as well.
Tropical White Sangria
We also tried the Tropical White Sangria, with moscato, pineapple and mango juices with a splash of Sprite® for a fizzy drink.
We had the chance to buy one of the 50th Anniversary wine charms that are available with the cocktail, and wish we had!
Sisters Share to Enjoy All of Lobsterfest!
We're all about sharing. Even food. That's what sisters and great friends do, right? So to get a taste of everything – and order more options that way – we asked the server to split up our food portions so we could each have more than just a bite of an entrée.
We had a hard time deciding on everything that was on the Red Lobster Lobsterfest Menu. We were really tempted by the newest items:
NEW! Dueling Lobster Tails™ – Maine lobster tail steamed in parchment paper with fresh herbs, tomatoes and lemon, paired with a grilled Maine lobster tail topped with shrimp, bay scallops and roasted bell peppers in a rich sherry lobster cream. Served with choice of side.
NEW! Lobster Truffle Mac & Cheese – Maine and langostino lobster tossed with cavatappi pasta in a cheesy truffle lobster cream, topped with toasted Parmesan panko crumb.
NEW! Lobsterfest® Surf and Turf – Tender Maine lobster tail paired with choice of a wood-grilled sirloin, NY Strip or filet mignon, topped with a langostino and Maine lobster beurre blanc. Served with mashed potatoes and choice of side.
NEW! Stuffed Tilapia with Langostino Lobster (must be a secondary entree to go along the other three above) – Fresh tilapia roasted with Red Lobster's signature seafood stuffing and topped with langostino lobster in a creamy lobster beurre blanc. Served with choice of two sides.
Lobster Truffle Mac & Cheese
Carrie was so excited to try the New Lobster Truffle Mac & Cheese. She loves both lobster and macaroni and cheese, so why not combine the two? The delicious dish combines Maine and langostino lobster with a cheesy truffle lobster cream covering cavatappi pasta and topped with toasted Parmesan panko crumb.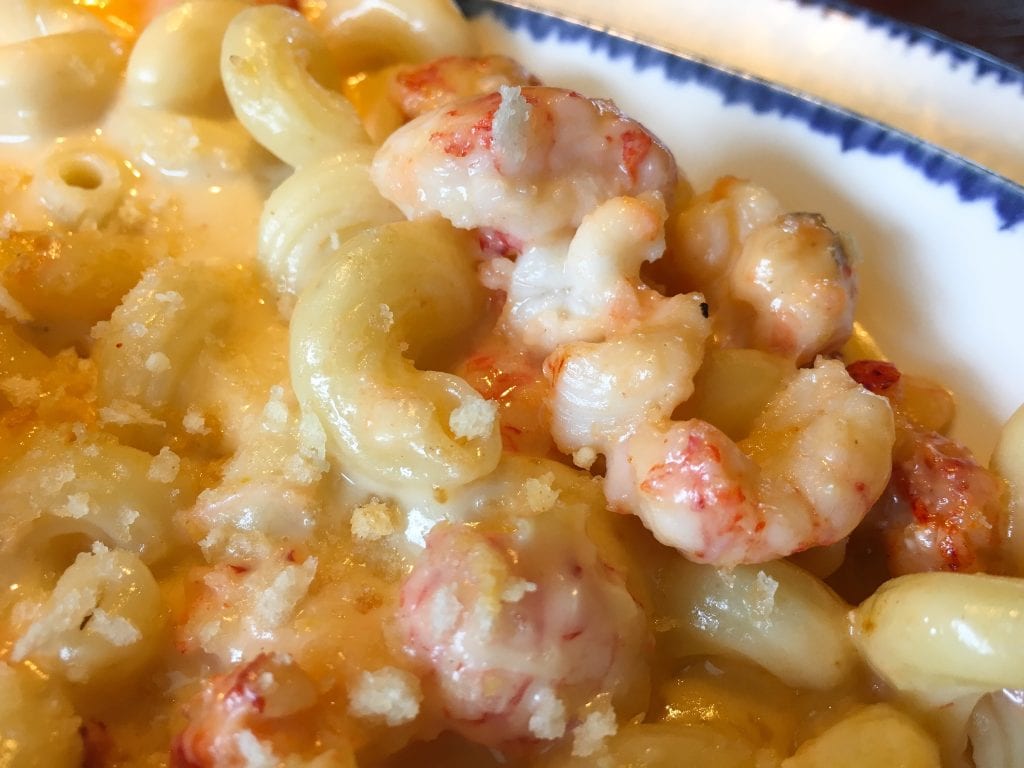 But, being sisters we share everything, so I got first bite!
Absolutely delicious!
So delicious, in fact, that our server Amy was raving about how much she loves it, too. She said after we ordered it she was inspired to order some for her lunch, as well, because it's one of her favorites. We all raved about what a great item it was!
Lobster and Langostino Pizza
When we asked what else was on the Lobsterfest menu, Amy walked us through the entire menu and suggested the thin crust pizza with tender chunks of Maine and langostino lobster. The pizza is an appetizer on the regular menu, and is on the Lobster Lover's Lunch menu, too.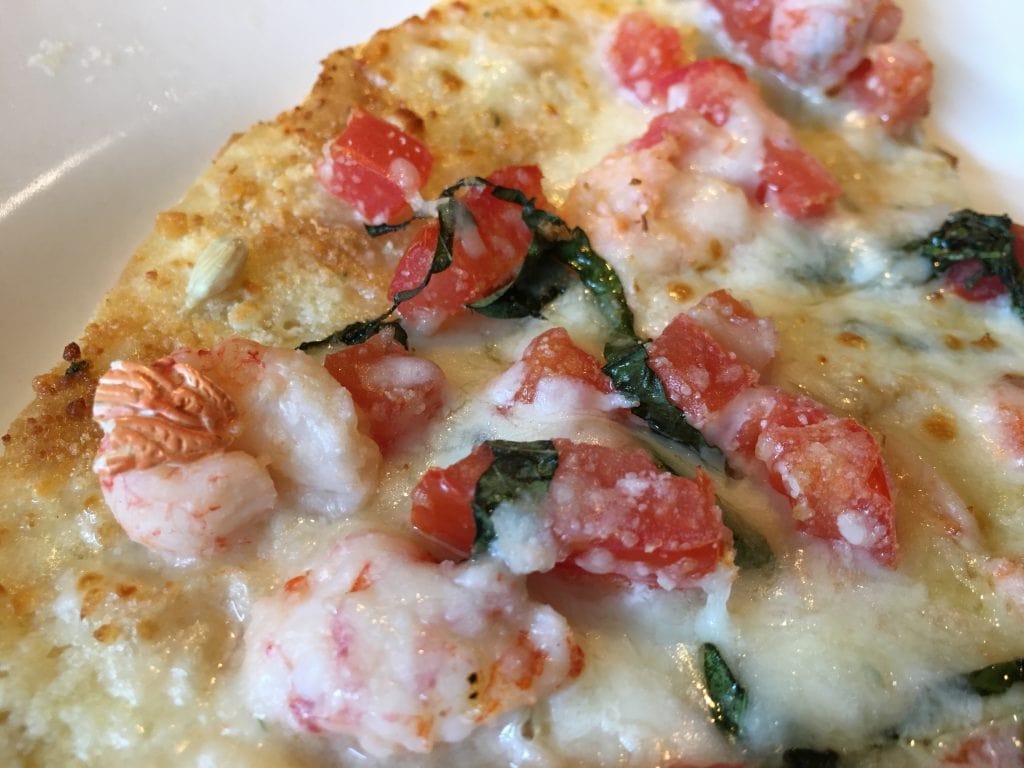 And it definitely was delicious!
Famous Biscuits
Who could forget the famous Red Lobster Cheddar Bay biscuits? These were definitely on our must-have list during Lobsterfest.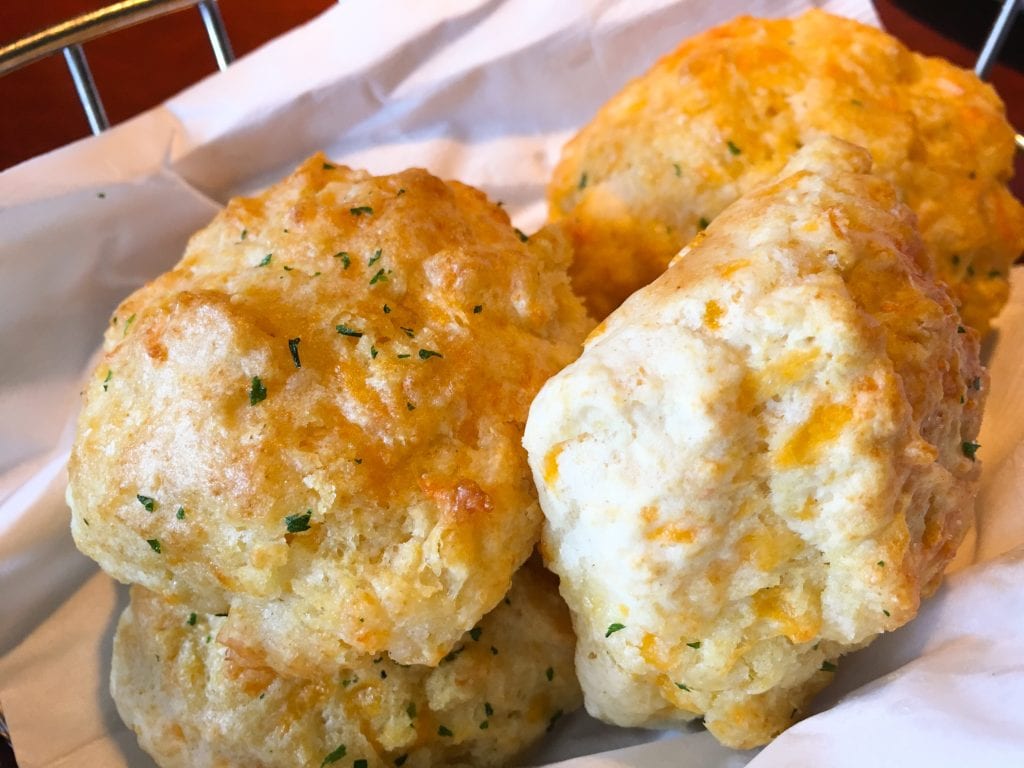 Thankfully, Amy kept on bringing more and more of them!
Sustainable Seafood
All of the seafood served at Red Lobster is sourced in a manner that is Traceable, Sustainable and Responsible to ensure that a healthy seafood supply exists now and for generations. Learn more about the Seafood with Standards and Red Lobster's sustainability efforts.
To learn more about lobster sustainability from some of the trusted fishermen who've provided lobster to Red Lobster for generations, check out the video below:
This video was produced in partnership with Great Big Story.
Relaxed and Refreshed
Wow! We felt so refreshed and relaxed after our girls day out. It's amazing how much a necessary indulgence can refresh your soul. Seriously.
You are worth treating yourself right. A couple of hours away to enjoy some good food and great conversation with family or friends is necessary for your happiness. Make plans now to treat yourself right, before the time slips away!