Travel goodie bags are the perfect way to eliminate boredom on a road trip. Hours of driving with nothing to do can wear on your morale and your mood. Road trip goodie bags offer something to look forward to and break up the monotony of travel. After all, who doesn't love opening up a small present of items chosen just for them to enjoy?!
For kids, busy bags for car trips also encourage positive behavior during the drive. No more whining, complaining or melt downs in the back seat. And you won't hear "Are We There Yet?" moaned a hundred times before the end of the day! When there is the promise of a present, you will be surprised at how well the kids can behave for a while!
Make your vacation goodie bags extra special with our printable travel goodie bag labels! These labels allow you to write down the times or reasons of when and why the bags can be opened.
Put a few of the items in the list below in lunch-size brown paper bags and fold over the top to secure. Staple or tape one of these labels to the top of each bag.
Goodie Bag Ideas
When finding the best items for car activity bags, you want small items that won't take up much room, as well as fun things to do that don't require electricity or batteries. These are some of the best ideas for travel goodie bags for adults and for kids.
Fun Stuff to Do
Word Puzzle Book
Crossword Puzzle Book
Old-School Pen and Paper Games (get our free download!)
Sudoku Book
Pack of Cards
Magazine
Crayons
Coloring Book
Pencils
Paper
Mini Notebook
Stickers
Old Fashioned View Finder
Slinky
Mini Puzzle
Magnetic travel games (this Minecraft magnetic game is a great STEM toy)
Sunglasses
Book to Read
Flavored Lip Balm
Sheet Masks for a Spa-like Experience
Cash or Gift Cards for Destinations You Will Stop At (McDonald's, Wendy's, etc.)
Gaming Gift Cards
See our list of 52 Road Trip Activities for Kids for some more great ideas.
Snacks
Snack Size Potato Chips
Popcorn
Snack Size Pretzels
Trail Mix Packs
Beef Jerky
Cookie packs
Granola bars
Dried fruit
Squeeze pouches of fruit
Candy
Lollipops
Be sure to see our huge list of 269 Non-Perishable Snack Foods for Road Trips for even more great ideas.
Drinks
Bottled water
Soda bottles or cans
Capri-Sun
Juice Boxes
Boxed Milks
Seltzer
Energy Drink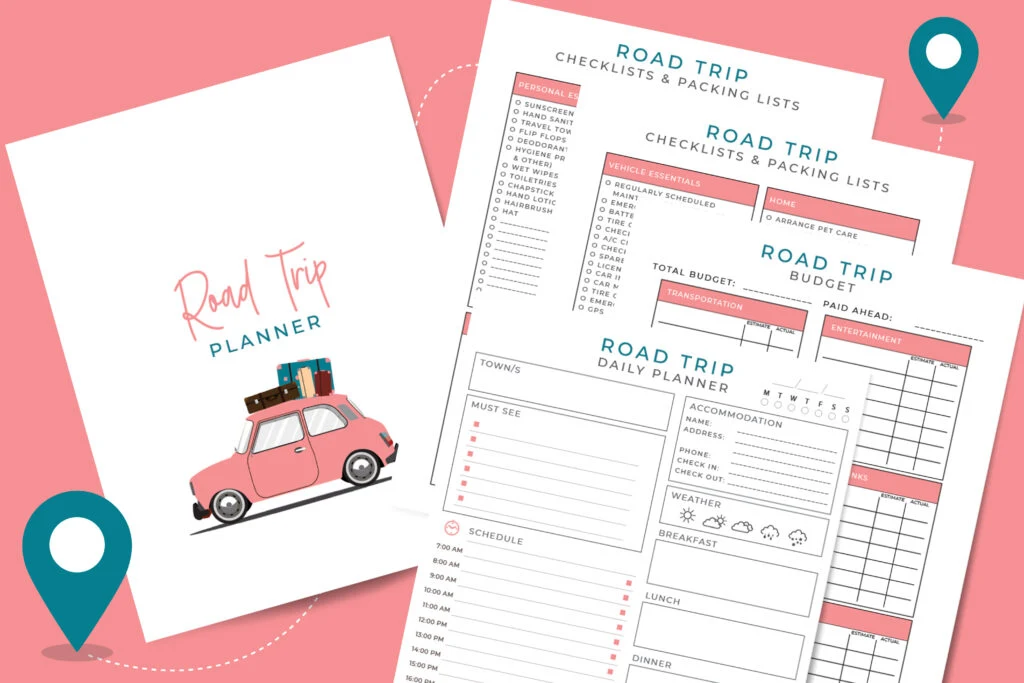 Get Our Free Road Trip Planner!
Organize your travels with this instant download. Checklists, packing lists, budget tracker and a daily planner are all included.
How to Use Travel Goodie Bags
Travel goodie bags are perfect for encouraging good behavior from kids in the car. Think of it as a bribe of not complaining!
Road trip bags for adults are also great to have something to look forward to. They are a great way to share your love with your boyfriend, girlfriend, husband, wife, or partner when they are not traveling with you.
Nothing says that you care like a fun treat bag full of things you know they will like.
Remember, you can print out these fun labels in 3 different styles that have times or ideas of when to open the bags.
Here are some ideas for using car activity bags for both adults and kids:
Give out a bag after good behavior
Promise a goodie bag for not complaining or asking "When Are We Going to Get There?"
Help kids learn time by giving out a goodie bag at a designated time of the day
Have travel goodie bags for adults to open each time they stop to stretch their legs (this helps encourage physical activity when driving)
Make a goodie bag with a theme of stops along the drive.
Hide a goodie bag in their luggage or in the vehicle for them to find along the way.
These bags are also great to use on the plane and for train travel, too!
If you're doing a road trip for a vacation, check out our list of 41 Best Road Trip Captions for Instagram to share your fun on social media!