We're on a two month RV trip out West this summer. These are the tips and tricks and best destinations that we enjoyed! Be sure to read all of our weekly travel diaries.
From Columbia, Missouri, we were on a mission to make it to Grand Tetons National Park over several days (based on our trip planning we talked about in Week 1 Travel Diary).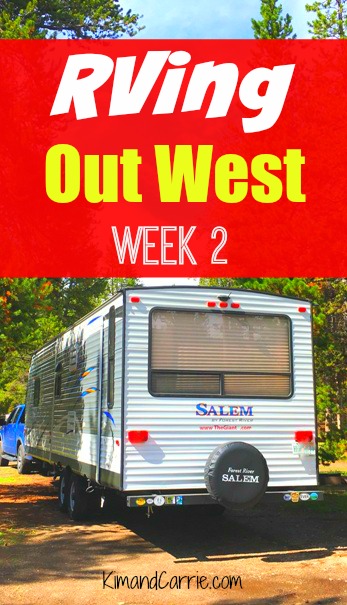 We knew that there would be long travel days from Monday to Thursday, when we finally arrived at Grand Tetons National Park – a favorite of ours after a visit last year.
So it was an early morning in Columbia, Missouri, leaving Cottonwoods RV Park and heading to Nebraska City, Nebraska. Every day for the next three days would be predominantly just driving all day, an overnight stop, and then on the road again.
Nebraska City, Nebraska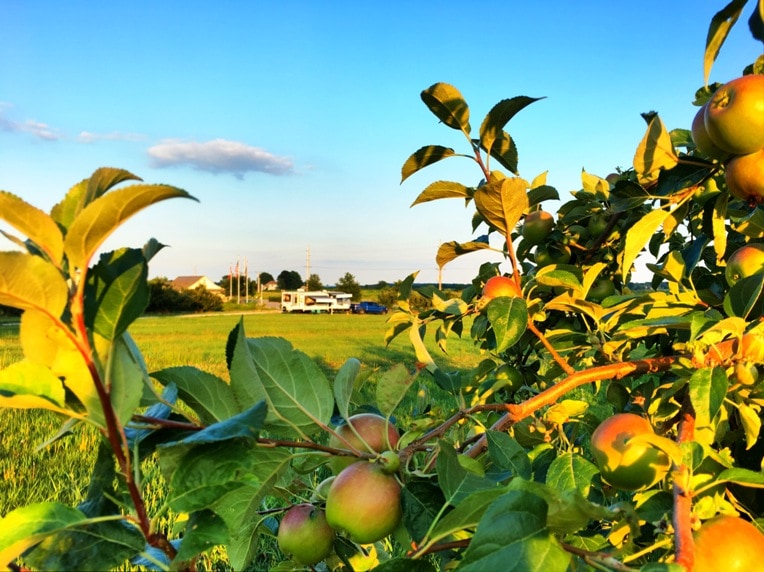 In Nebraska City, we stayed overnight at a Harvest Hosts location. Harvest Hosts is a unique opportunity for RVers to stay for free overnight at fun locations while supporting local farms, wineries, and other tourist stops.
You call ahead and make a reservation. The Harvest Hosts location offers you a place to set up your RV with no hookups. You don't have to pay a site fee. However, you are encouraged to spend the same amount of money that you would have at an RV site on food/wine/souvenirs/admission fees etc. at the Harvest Hosts location.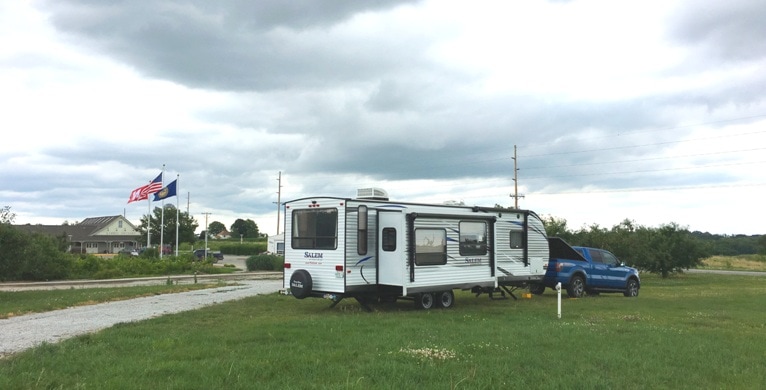 It's a win-win situation. You're spending money on food or things you're enjoying anyway. And the farmer or small business owner gets a boost in income.
Harvest Hosts works this way: Pay a yearly fee ($40 with auto-renewal or $44 for one-time membership) and get access to the network of locations that will allow you to spend the night for free on their site. Locations are not revealed until you are a member (although you can look up general locations on their map) and part of being a good member is not revealing the locations. So, all I'll say is that we stayed at an apple orchard that had the most amazing hard cider that I've tasted! In fact, we bought a growler of the hard cider (original, but the mojito flavor was great, too!).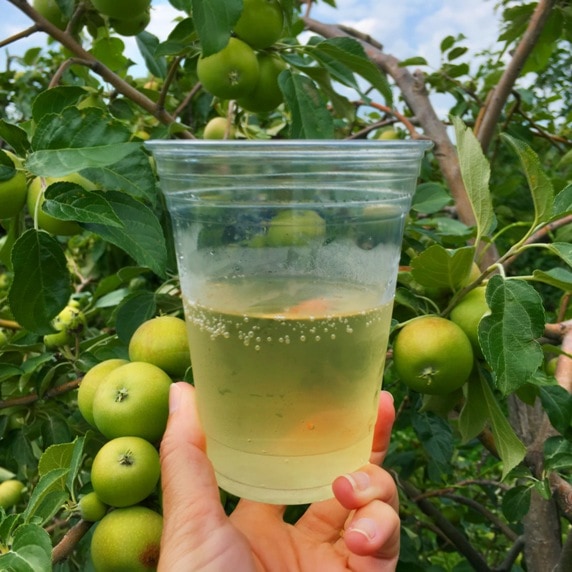 Interested? Be sure to put my name (Kimberly Button) as a referral on your sign up sheet and you'll get one additional MONTH FREE!
We were in a field without power, so I went to the orchard's picnic pavilion at night (no one was around) and worked on my laptop for a few hours getting work done. It was so peaceful and so weird to feel like you had an entire farm all to yourself overnight. But I will get used to it!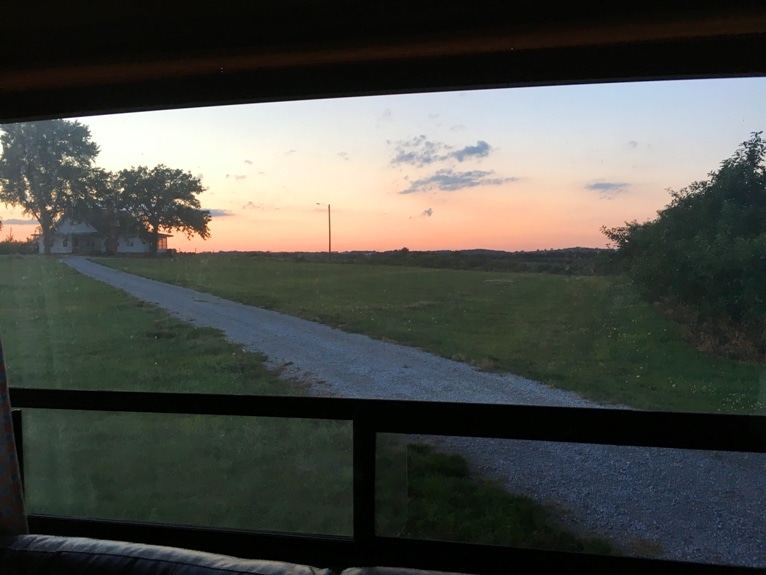 Sidney, Nebraska
We got an early start the next morning to drive to Sidney, Nebraska as our destination for the night.
Along the way, I fell in love with Nebraska. There's something so charming and so peaceful about their endless pastures and fields on the side of the road. We watched enormous trucks bring parts of wind turbines down the road – bigger parts than I could have ever imagined! Windmills floated on the breeze off in the distance. So much prettier than the oil fields and processing centers that would soon be dotting the horizon in Wyoming.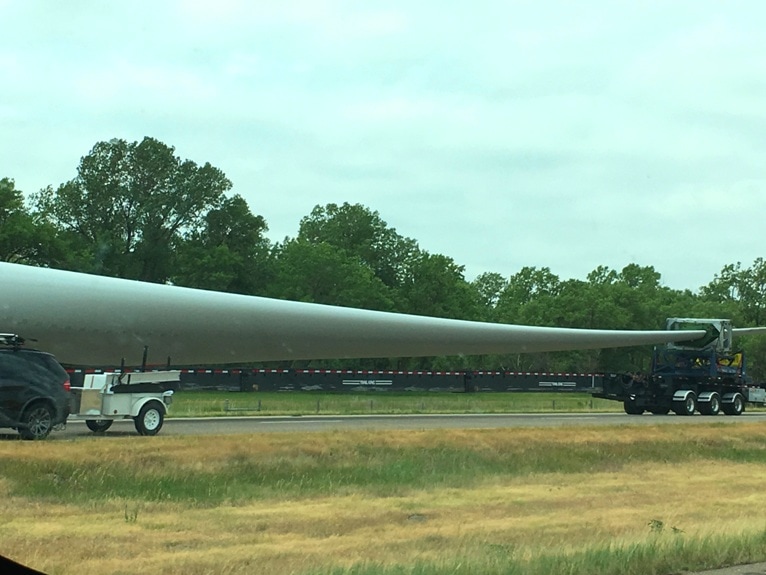 Along the way, we stopped at two very interesting locations on Interstate 80 through Nebraska. The first was The Great Platte River Road Archway in Kearney. This massive museum and visitor attraction straddles Interstate 80 across the road.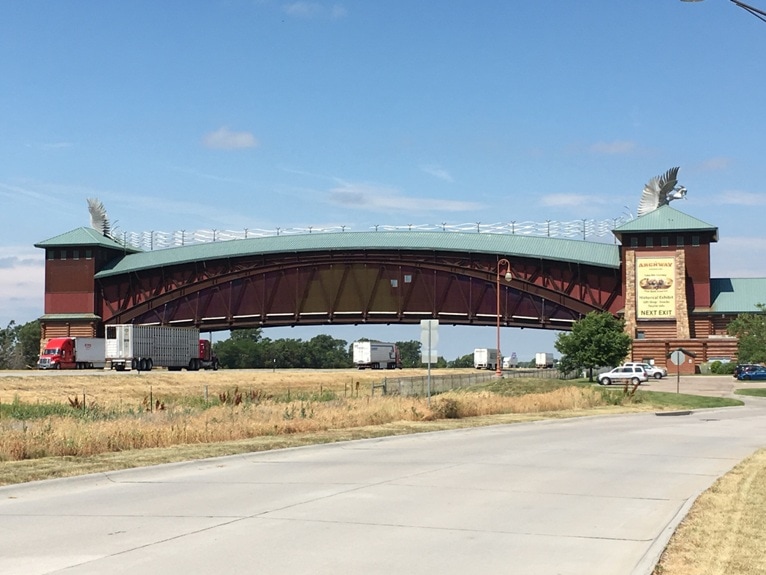 The 310-foot archway houses a museum dedicated to America's Westward movement. It's a unique attraction that seems to be struggling, quite honestly.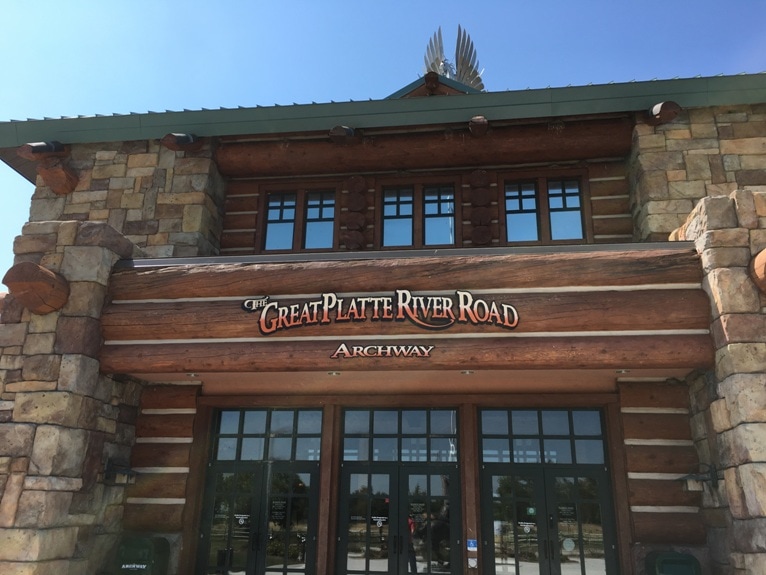 We drove up and were wowed by the scale and design of the building. I had read that a former-Disney Imagineer worked on the project, and in fact it looked a lot like Disney's Wilderness Lodge. You can just tell it has a theme park touch to it.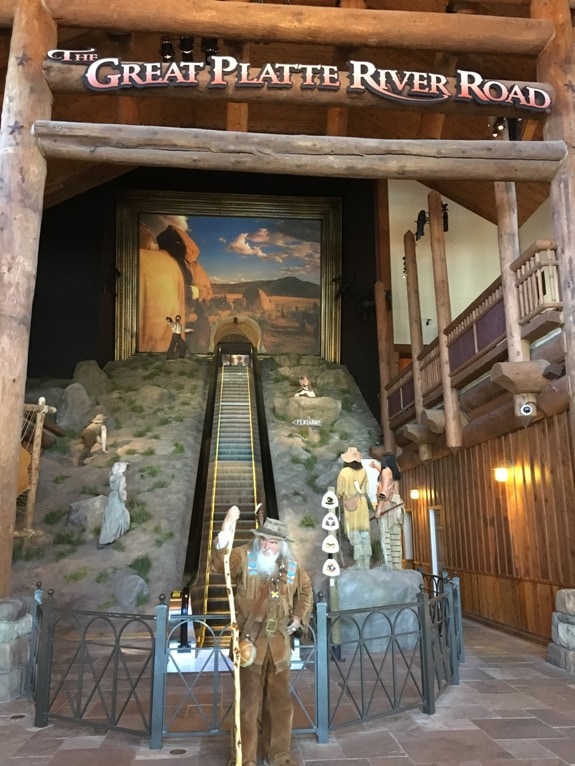 Inside, you'll walk in to a huge atrium and greeted by staff dressed like an old sheriff or a traditional Wild West personality. But that's where I stopped.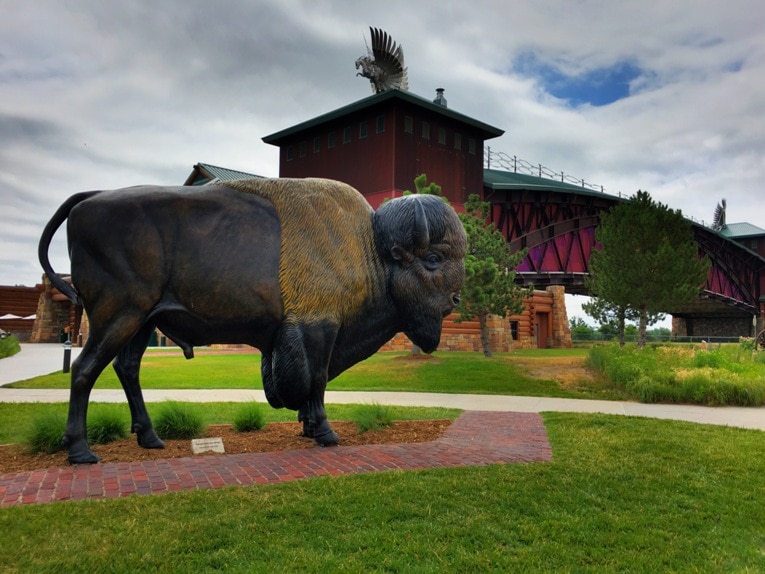 The $12 entrance fee wasn't enticing to me, especially since we had a lot to see and do on the road. The gift shop offered plenty of souvenirs to buy, and outside you could walk around and see bison sculptures and even a fort to climb in.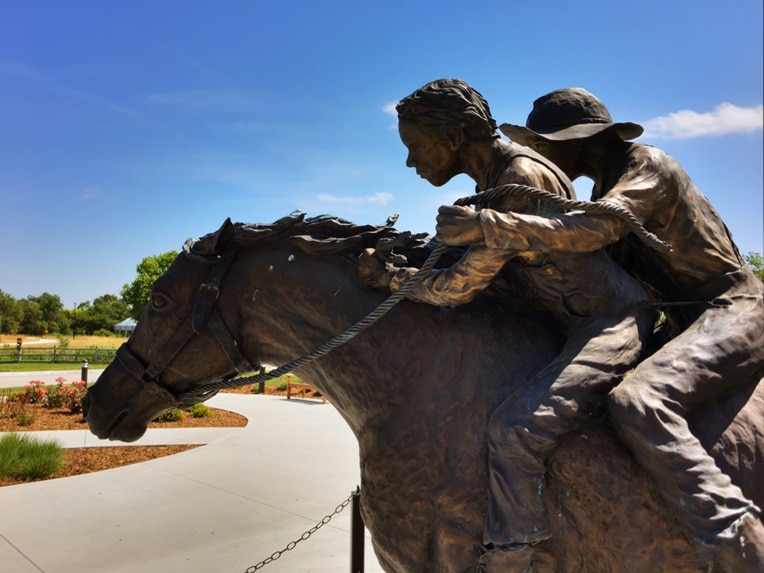 It's a destination that is struggling with trying to entice visitors to come and stay for a while. However, it does offer free overnight RV parking in its expansive parking lot, so visiting the museum and then staying overnight might be worth it for you.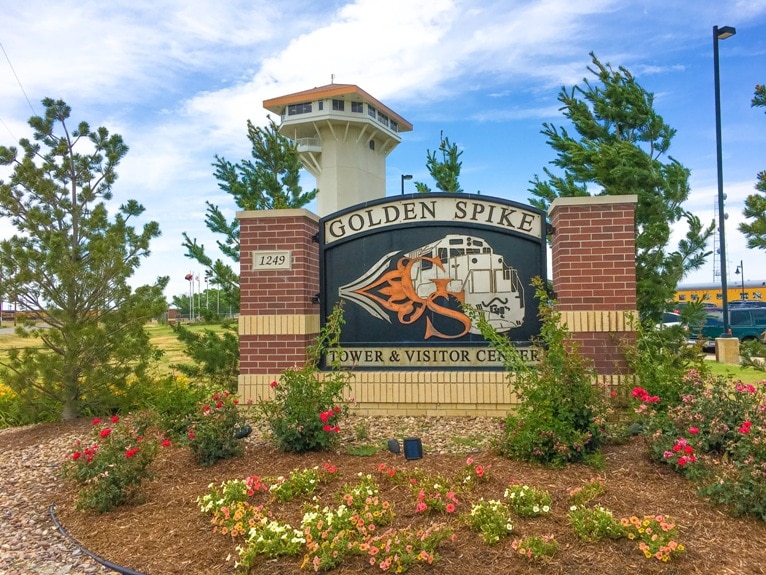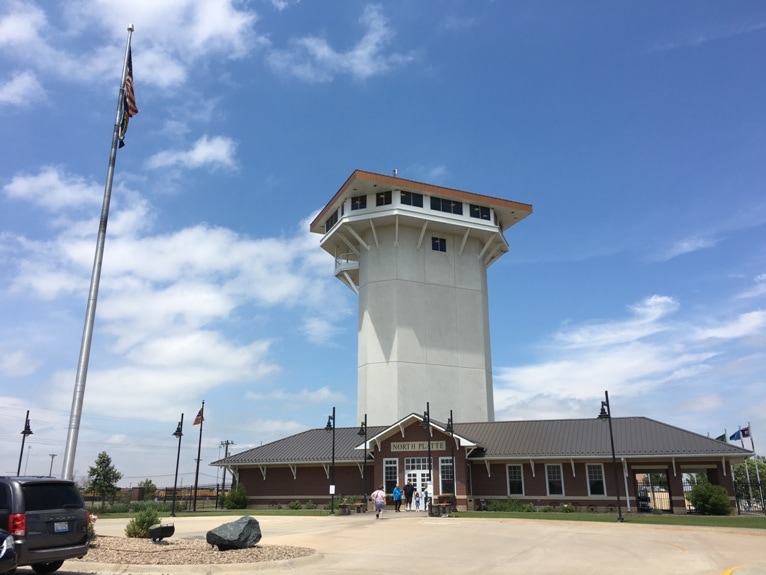 We left and continued down the Interstate to North Platte, where the Golden Spike Tower is located at the Bailey Rail Yard. The world's largest rail yard, this visitor attraction is really pretty cool. The entrance fee is $7 ($6 with AAA) and gives you admission to the tower overlooking the rail yard, with lots of interpretive displays and facts. There will probably be a volunteer up there to take questions, too. There are two observation spots – a 360 degree indoor observation deck and an open air observation deck.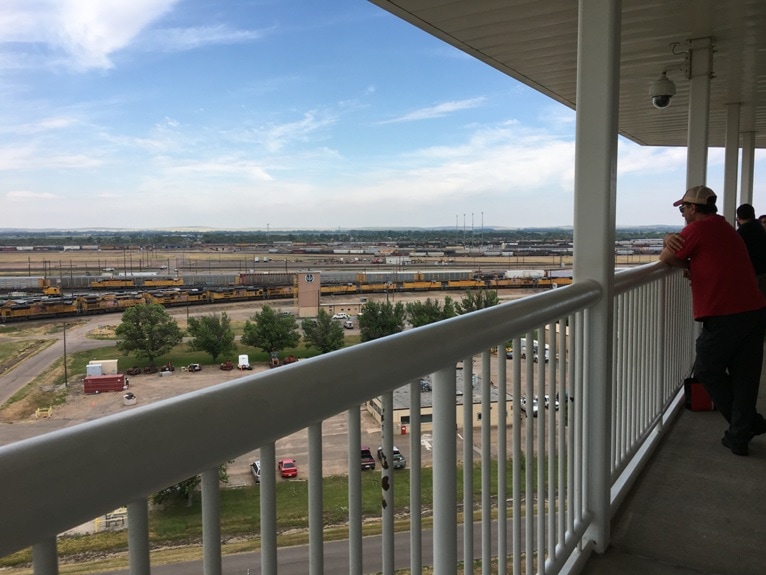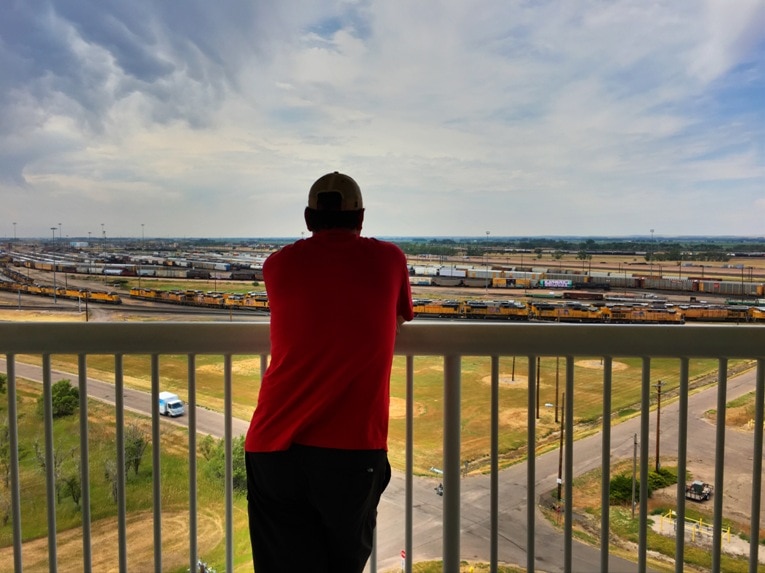 We packed a picnic lunch (actually a hot lunch thanks to our portable oven that works off of a cigarette lighter – and it works great!) and ate at the many picnic tables they had nearby the rail yard. We listened to train brakes and chugging choo choos as the flags flapped in the wind representing the states from the rail service.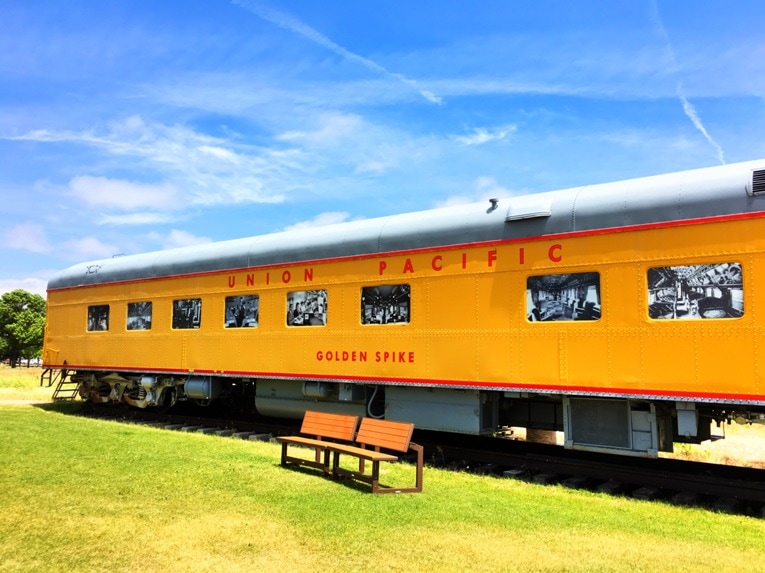 While in North Platte, a visit to the Sinclair's gas station offers a pretty cool photo opp, too!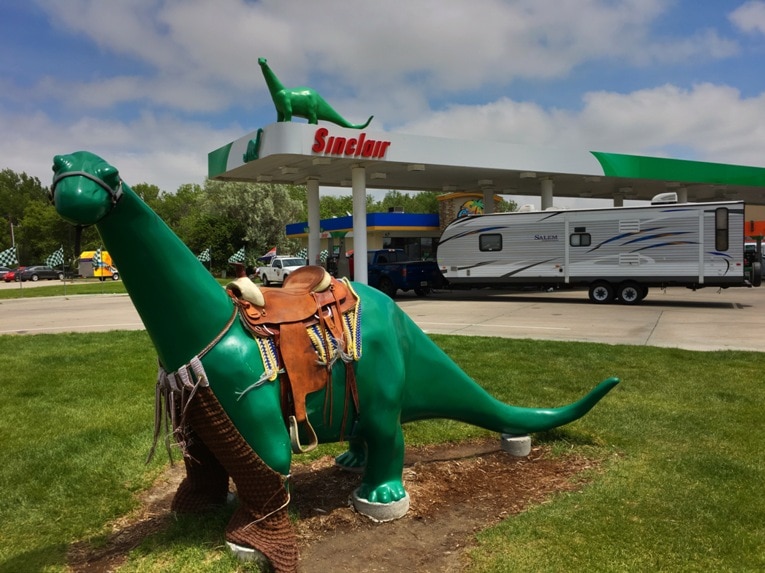 We could have stayed longer, but we wanted to get to Cabela's Campground in Sidney, Nebraska and it's a first-come, first-served campground, so we didn't want to dawdle. It was the first time we had ever not made a reservation for the night so we were nervous. Our back-up plan was the Wal-Mart parking lot in town.
We got to Cabela's Campground around 4 p.m. with time to get a nice site. Had we waited a couple hours, though, we might have been out of luck because the campground filled to capacity that night, even though it was a Tuesday. There was plenty of boondockers in the Cabela's parking lot, too, so that would have been a backup, I guess.
It was my first time in a Cabela's. The outdoors store was quite interesting, with massive displays of animals that had been killed on display, as well as a check-in desk for weapons and a café featuring wild game dishes.
Not sure if I'd be going back on a regular basis. However, this was the very first Cabela's store in the U.S. so it was interesting to visit this location.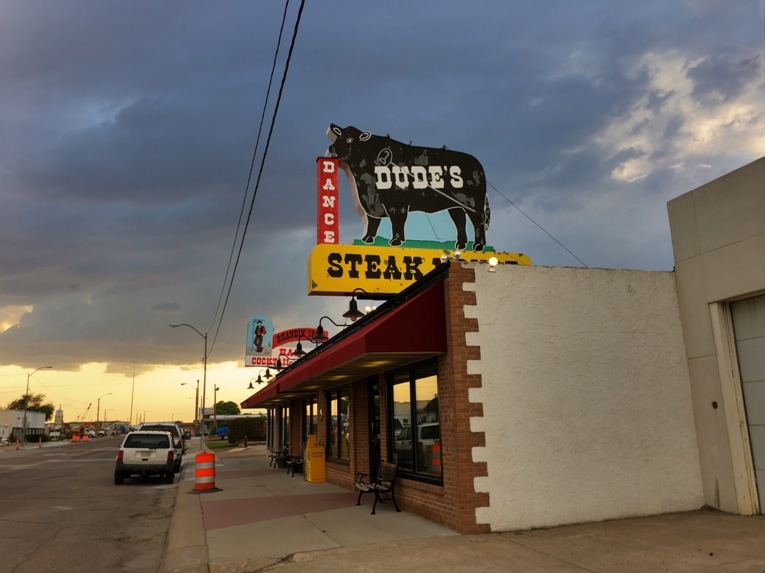 For dinner, we decided to splurge and go to Dude's Steakhouse downtown. I just happened to see it listed in a tourism brochure. What an unusual place! A total blast from the past. It definitely hasn't changed much over the decades. Yet the old-fashioned décor somehow worked and the hefty steak dinners (and the hefty prices, ironically, for a town seemingly in the middle of nowhere) were a fun find.
Rawlins, Wyoming
From Sidney, we left and started our way through Wyoming. As we traveled closer to Wyoming and towards Grand Tetons, the wind kept picking up. As an RVer, you never want high winds. It's hard to keep the trailer on the road and really diminishes your gas mileage (even more than normal!).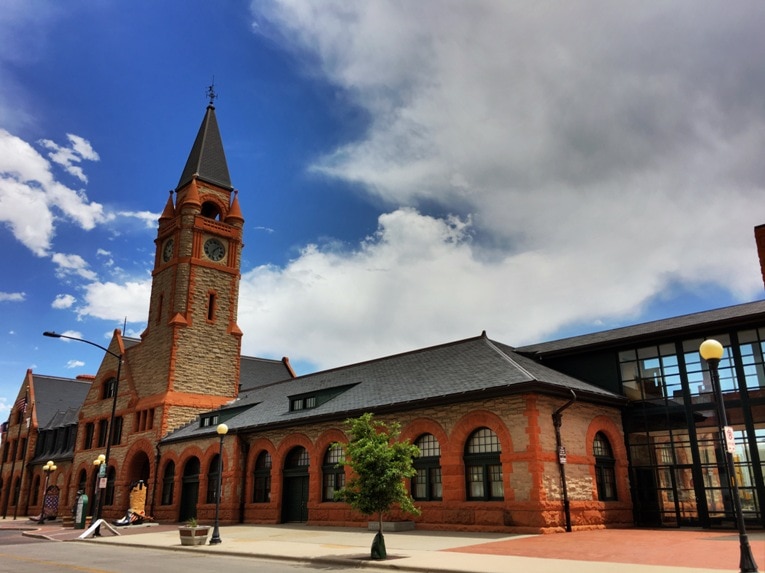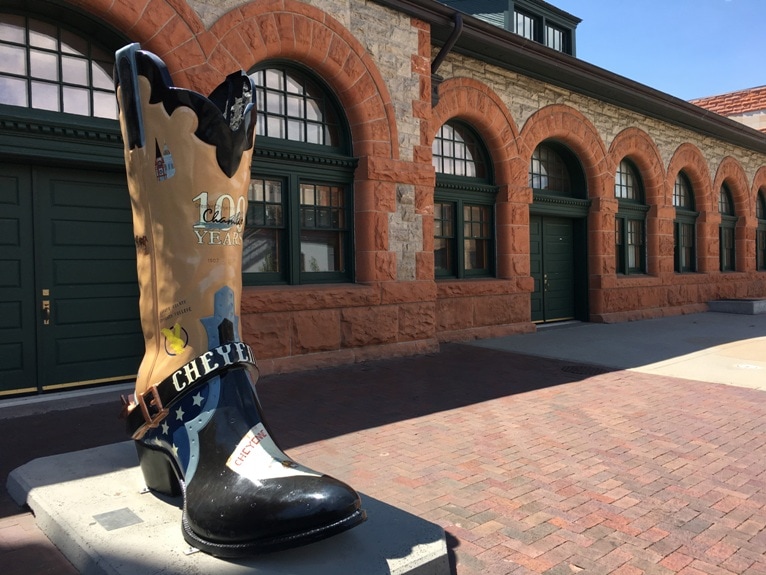 We stopped in Cheyenne, Wyoming for a lunch break. The cool little town looked like fun. We called ahead to the Visitor's Center to make sure there would be enough parking for an RV. They directed us to a large parking lot a couple blocks from the main Visitor Center. Yes, the parking lot is there. And we did park there. But parking isn't always guaranteed to be available for larger rigs, based on how it's set up. And we were given the wrong road directions to get there (and barely made it through before they closed the road off for construction).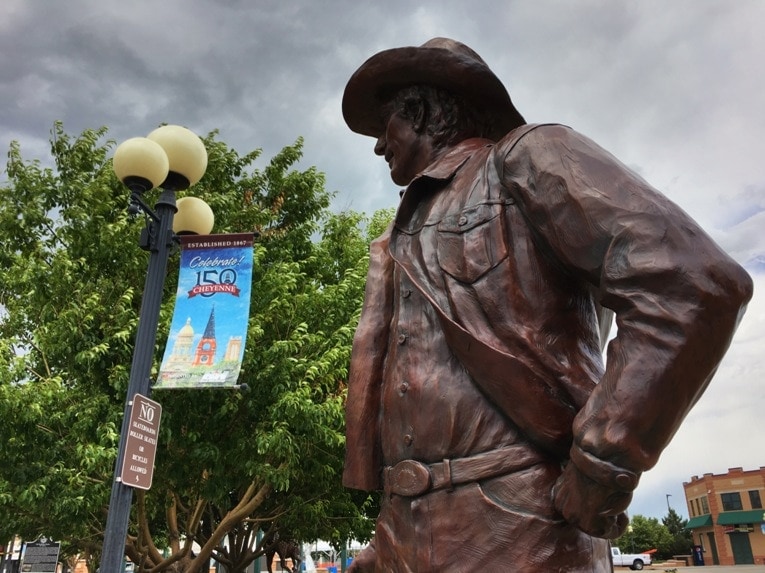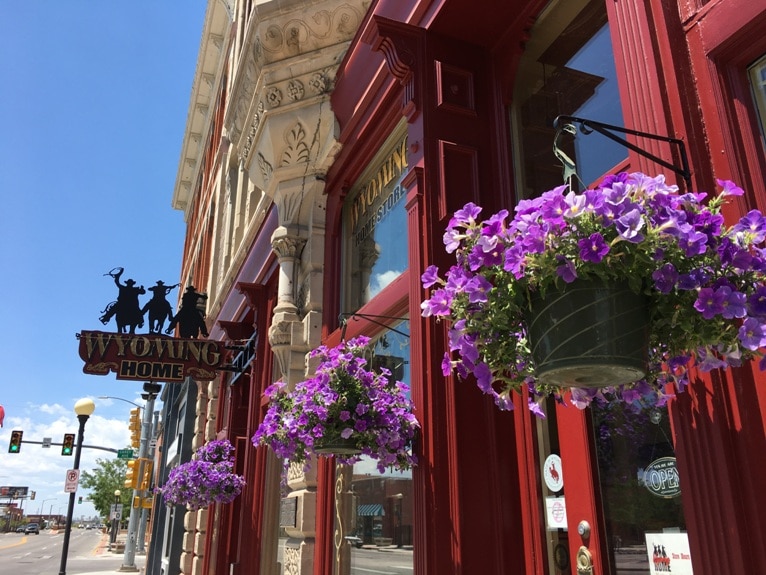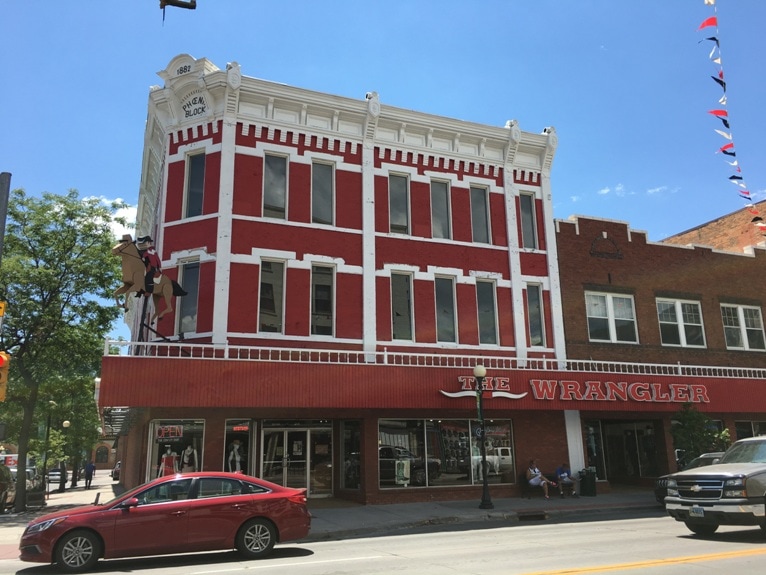 There's so much to look at in Cheyenne. It was a fun town for pictures. However, surprisingly, we found there was a serious lack of decent places to eat. We found a steakhouse downtown that was absolutely packed to the walls. Again, surprising since this is the home to the capitol (which was under construction – so no pictures). We're used to thriving state capitals. This one seemed to have absolutely nothing going on in the blocks surrounding the government buildings.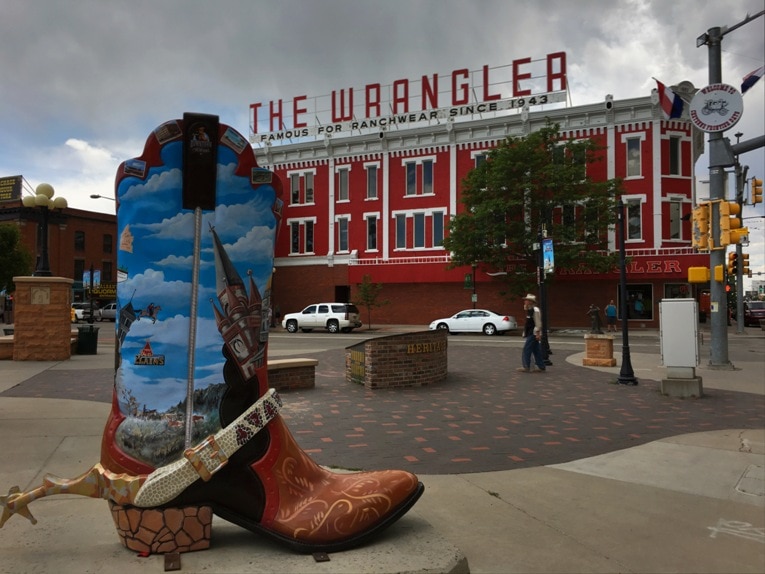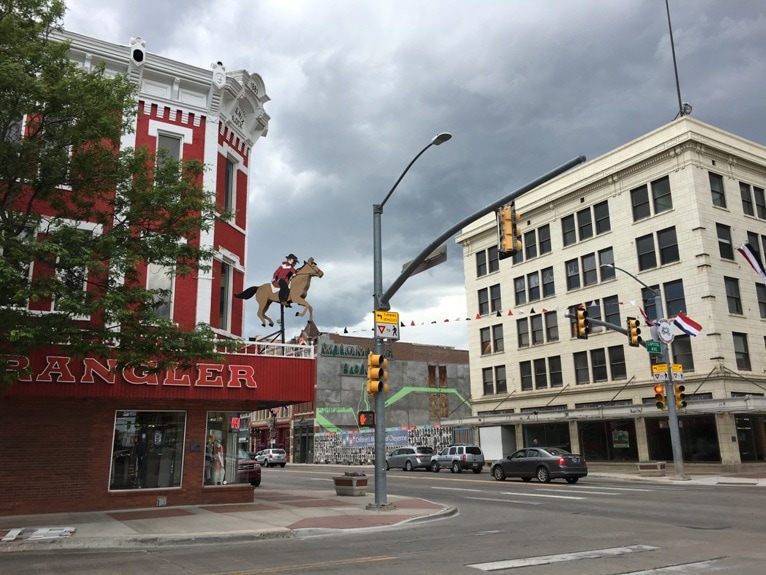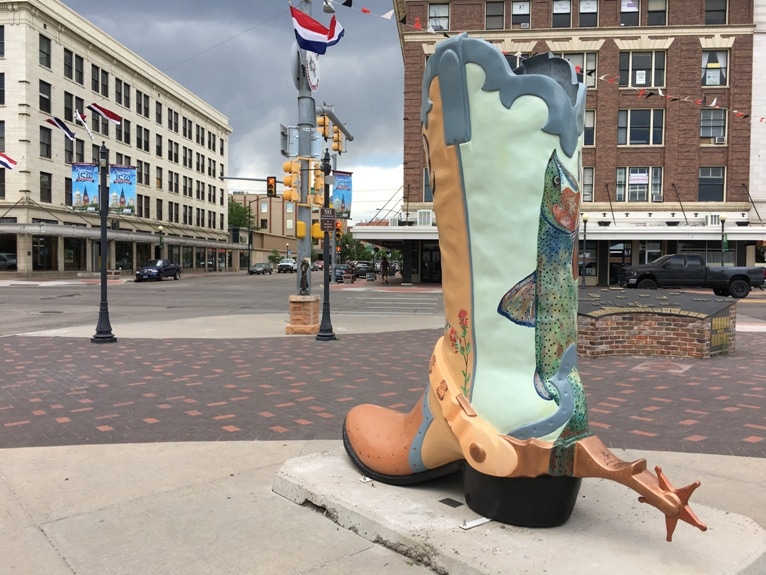 What I wish we had been able to do is stop at Sierra Trading Post's outlet store on the outskirts of Cheyenne. We saw their headquarters and store as we were driving in on the highway. Not easy to pull around and get into a store with a travel trailer. I really wish we had been able to do that.
We continued to drive towards Rawlins, Wyoming, which was to be our overnight stop. The wind kept picking up. There were signs flashing that winds were up to 40 mph. We believe them.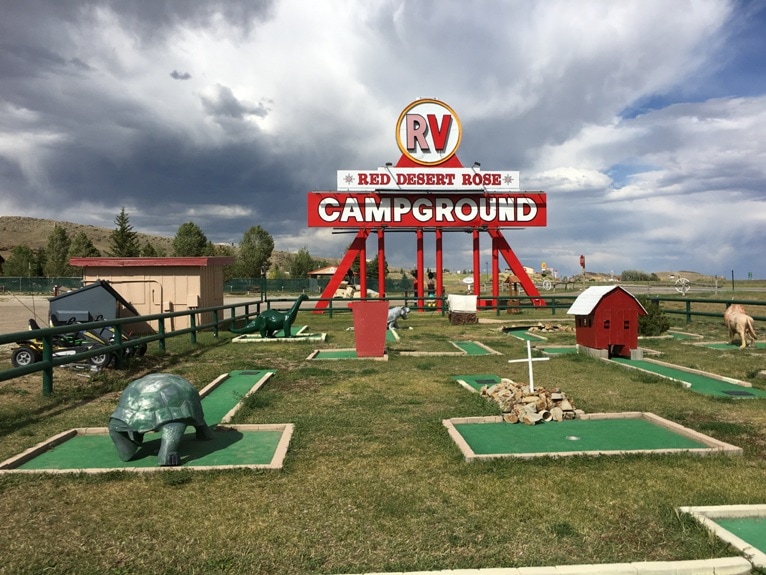 After gusts of wind nearly blew us out of our lane along the long drive, we finally arrived at the Red Desert Rose Campground. Sure, there are plenty of other campgrounds in Rawlins, which seems to be set up as only a pit stop while driving or housing for plant workers nearby. Yet the Red Desert Rose was just so kitschy, we had to stay there for the photo ops and fun.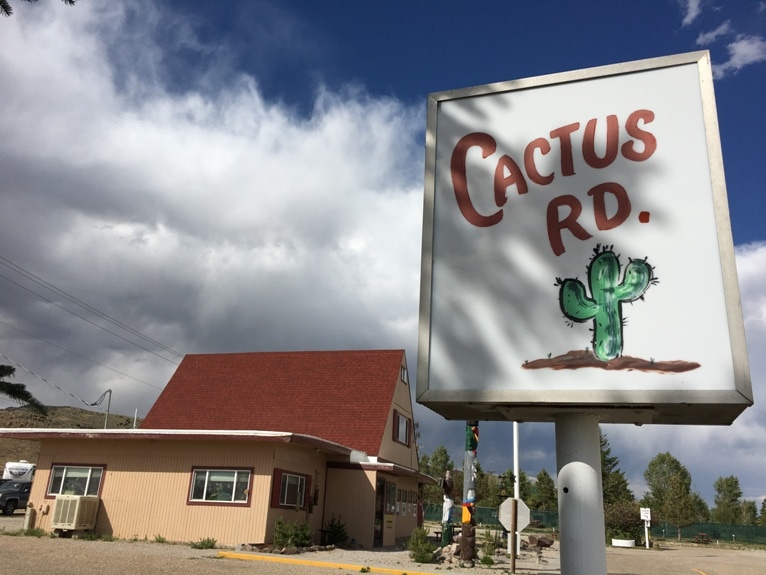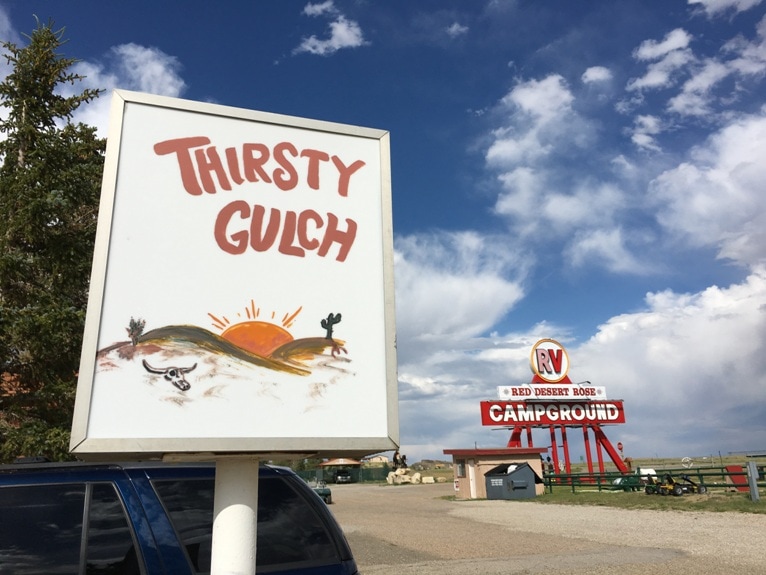 We stepped outside of the truck into what seemed like gale-force winds. We commented upon check-in how windy it was. The receptionist said that it was normal to have 40 mph winds. She said that a couple days before, they had closed down the highway because the winds were gusting to 60 mph.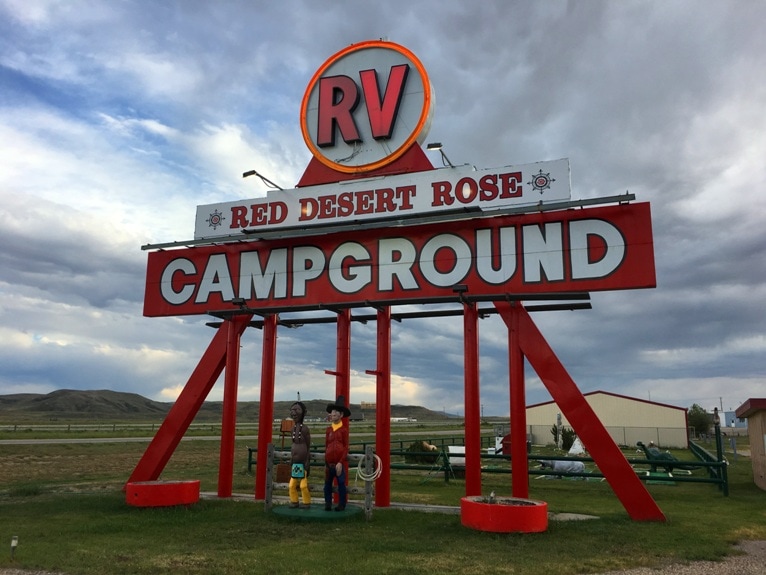 So, sandwiched tightly in-between two other RVs, we set up our site for the night. At one point, the wind was so strong that the open windows slammed shut, the door was slammed shut (it had been latched open) and the trailer was literally rocking in the wind.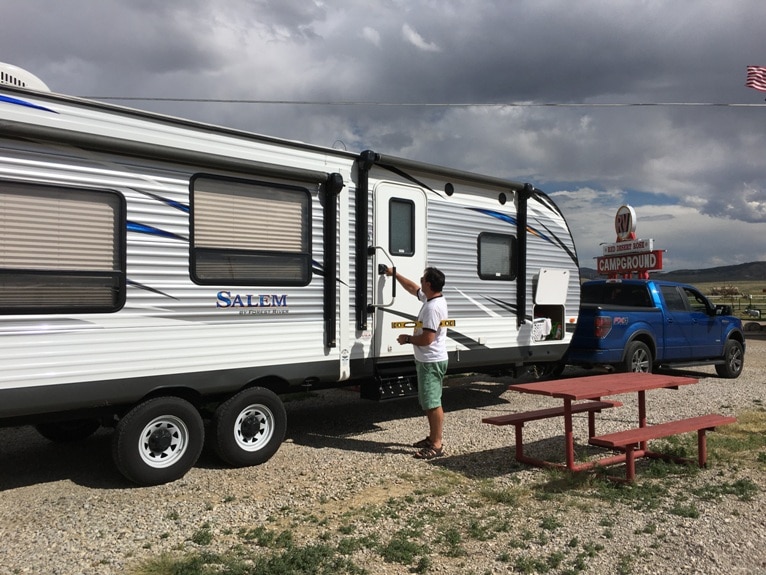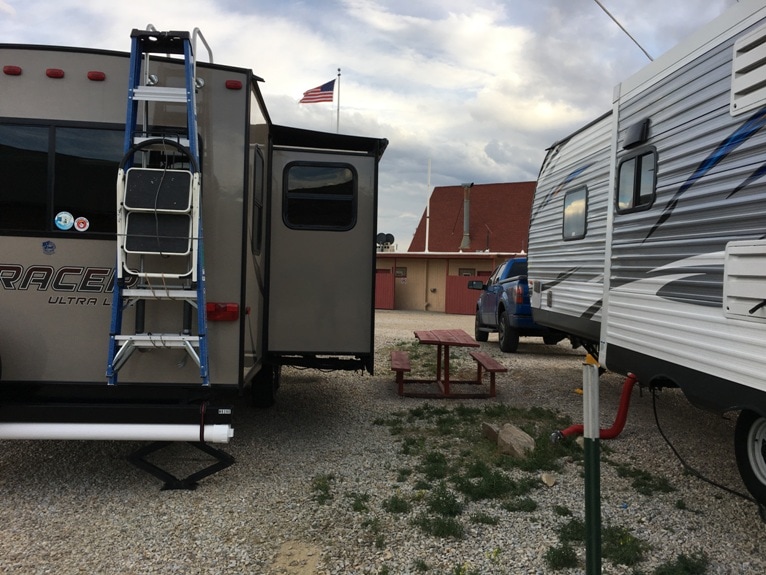 I won't be staying in Rawlins again. It's just too harsh.
On a lighter note, the photo props and mini putt-putt golf were fun. And we had a deer eating in the back of our trailer with red rock views in the distance. PLUS, they have a free loaner vehicle in case you don't want to unhook your vehicle from the RV. Pretty cool.

Grand Tetons
Finally, it was on to Grand Tetons National Park. As we got closer, we saw all of the sights that we fell in love with last year when we were here and stayed inside the park at the Lodge.
We drove in from the opposite side through a National Forest (we came through Jackson Hole last year) and fell in love with the scenery on that side of the park.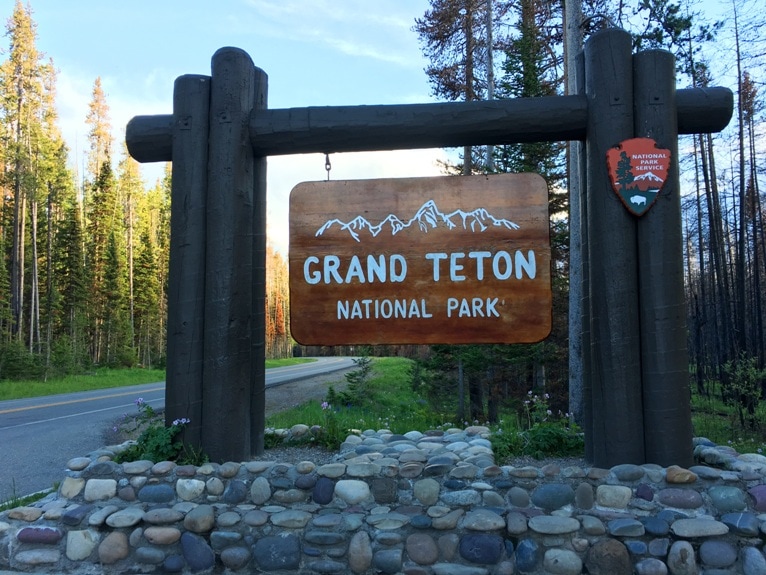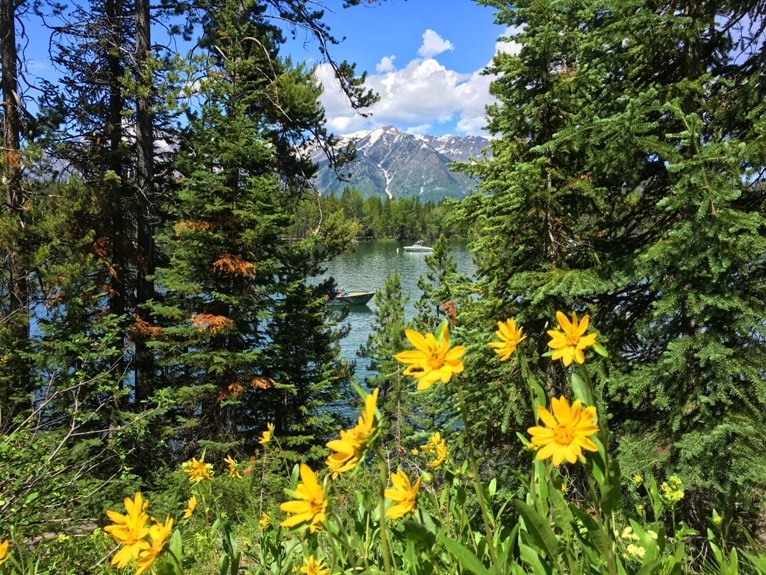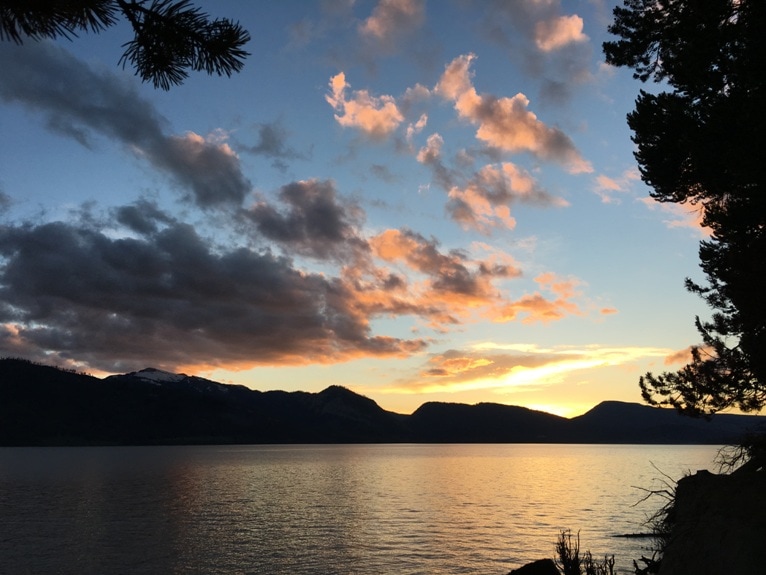 We actually had to drive through the National Park to get to Headwaters Lodge and Campground at Flagg Ranch, which is technically outside of the park and located in John D. Rockefeller Jr. Memorial Parkway. You feel as if you have all of the same perks as official campgrounds in the Grand Tetons, yet this location means they give you information on both Grand Tetons, as well as Yellowstone National Park (just 5 minutes drive away).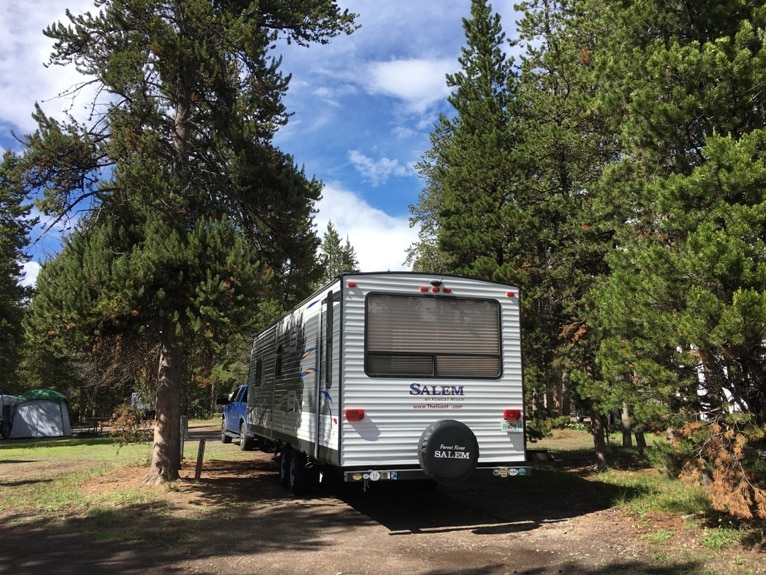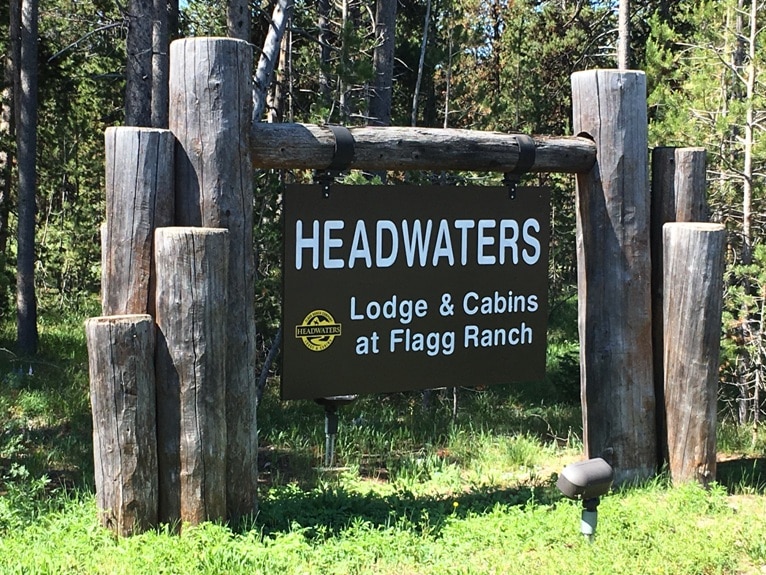 There were few options for a trailer as big as ours (33 feet) in the national park campgrounds, so this was our best option. We really enjoyed the campground.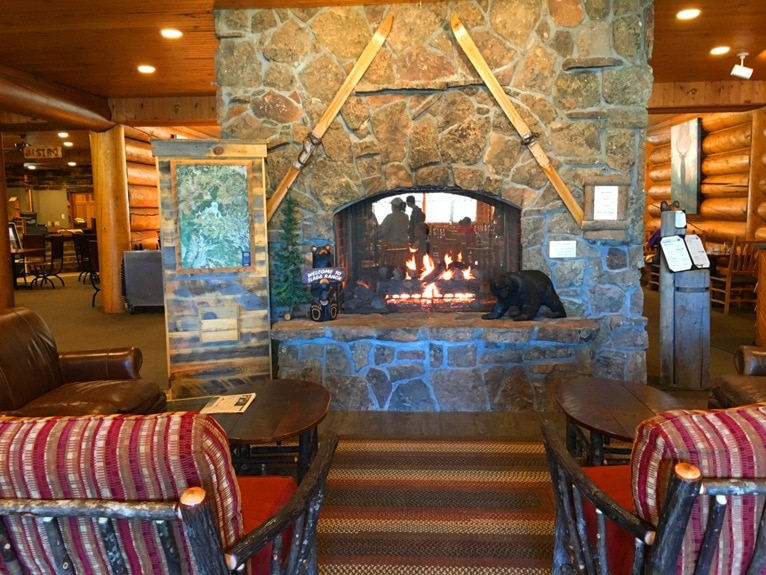 It was a true wilderness feel, the campground was spacious enough to feel like you had some room on your own, and the nearby lobby area with a roaring fireplace, restaurant, bar and gift shop had all the creature comforts of a hotel.
Staying outside of the Grand Tetons National Park wasn't bad at all. It was about a 15 minute drive to get back inside, and it encouraged us to visit parts of the park that had seemed a little too far away when we were staying centrally at the Lodge.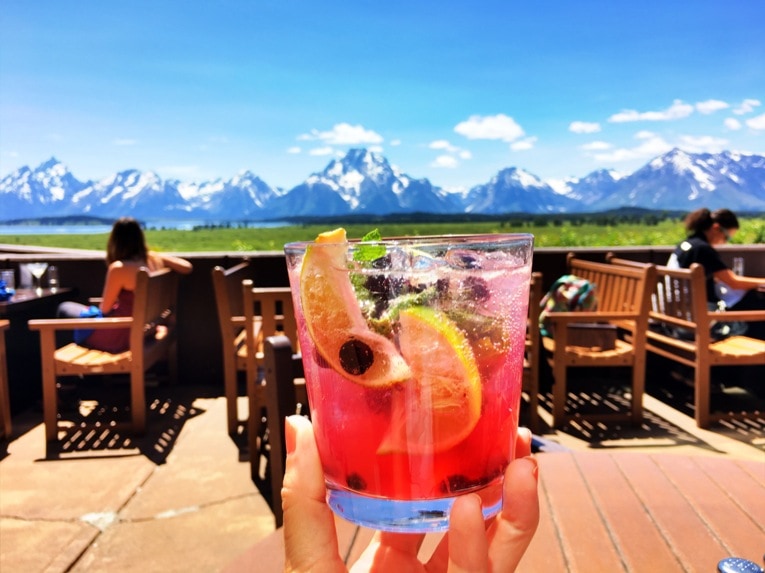 Grand Tetons National Park does not disappoint. We took hikes (the wildflowers were in bloom and beautiful – watch our video!) and pictures and just relaxed, even though it was the very busy July 4th holiday weekend. There were people, but it never felt overwhelming and just beyond the busiest Visitor Centers you could find quiet respites.
We were definitely sad to leave Grand Tetons. Yet it was time to explore new locations in Yellowstone, Montana and Glacier National Park during the next week………..