My husband and I are RVing for a year in between moving from Orlando, Florida to western North Carolina. When we left Orlando at the beginning of March 2017, we spent our first month staying in Florida, visiting family and pretty much not seeing anything new. Then we came to NC and stayed for a total of 2 1/2 months. So, really, our first time seeing anything new is our trip out West.
As East coast people, we don't see a lot of the western parts of the U.S. Everyone says it's much more enjoyable to RV out West, so we'll see!
RV Trip Planning
How did we decide where we're going on this RV trip?
Well, first of all, we started with a time frame. There is a small window of time to see Glacier National Park, which was on our list of national parks to visit. However, trying to get into the campground is crazy! You've got to book out almost a year in advance.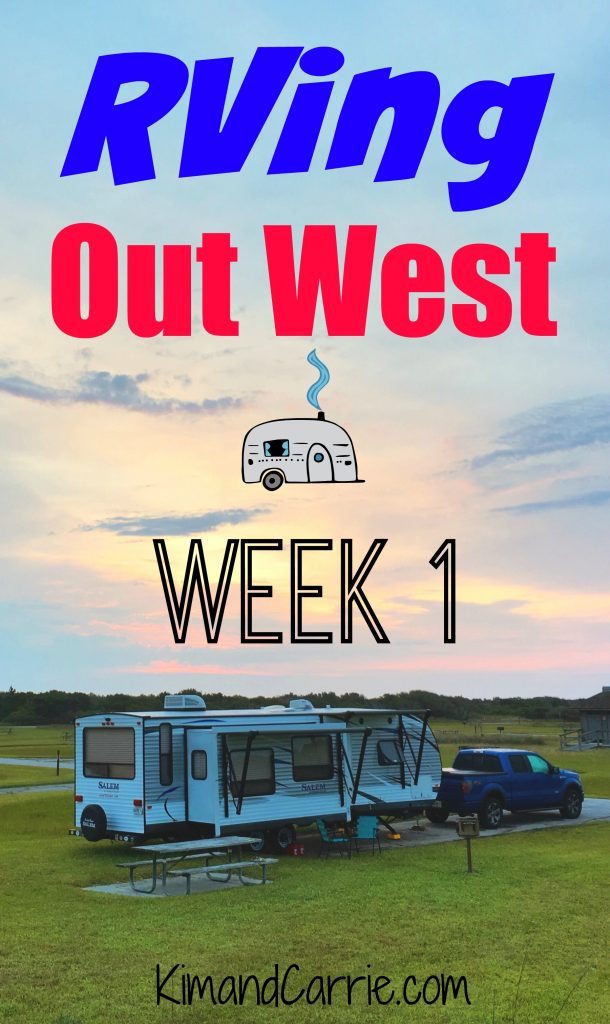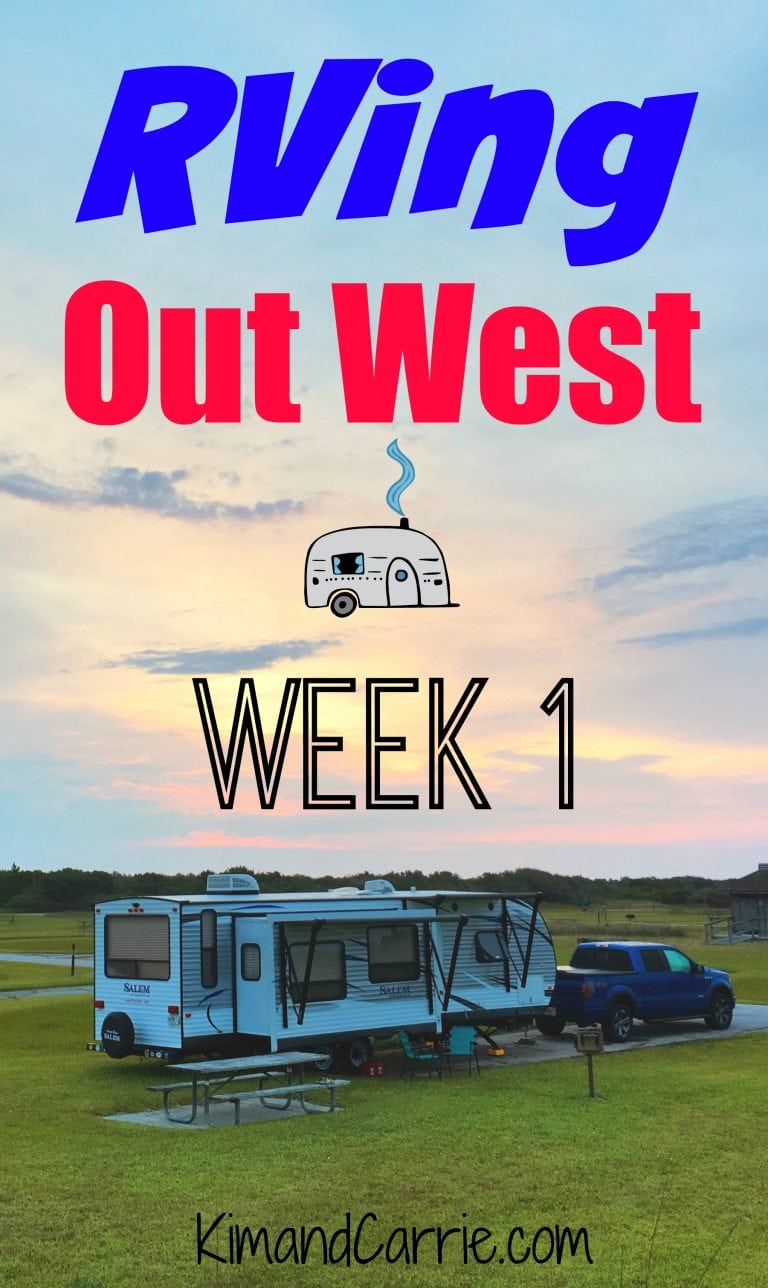 So when we started looking in January about campground availability in Glacier National Park, we were blessed to find a 5 day time slot at St. Mary's Campground. So we grabbed it.
We then looked at Grand Tetons National Park, a place that we went last year and absolutely loved. We found a 4 day time slot and grabbed it.
Everything else would be filled in around those times.
We then started working back from that point. I knew I wanted to spend Father's Day in North Carolina, since I hadn't been home for Father's Day in over a decade.
I also have a conference in Charlotte, NC in mid August, so we needed to be back home before then.
That meant that we would leave the day after Father's Day and start heading out West. Which ended up being perfect timing because our good friend Jamie was getting married in Columbia, Missouri (which is on the way) around the same time that we were going through.
Perfect timing!
My husband does a lot of the trip planning, with input from me. He looks for routes and distances. I give input on whether I'd like to stay there or not.
We try to keep it to around 3-4 hours of driving. If there's places to stop along the way, we work that in through the day. The maximum amount of time we'd like to drive is 5-6 hours. And that's still a long travel day.
So, that's a bit about how we're starting this journey. I'll post a week recap showing where we traveled, what we learned and helpful tips on what to do if you follow us to where we've been.
Enjoy!
Week 1 – Hendersonville, NC to Columbia, Missouri
We left our RV campground in Hendersonville, NC where we've been setting up a home base until we find a home.
Our first stop was just a 3 hour drive away – Cumberland Mountain State Park in Crossville, TN.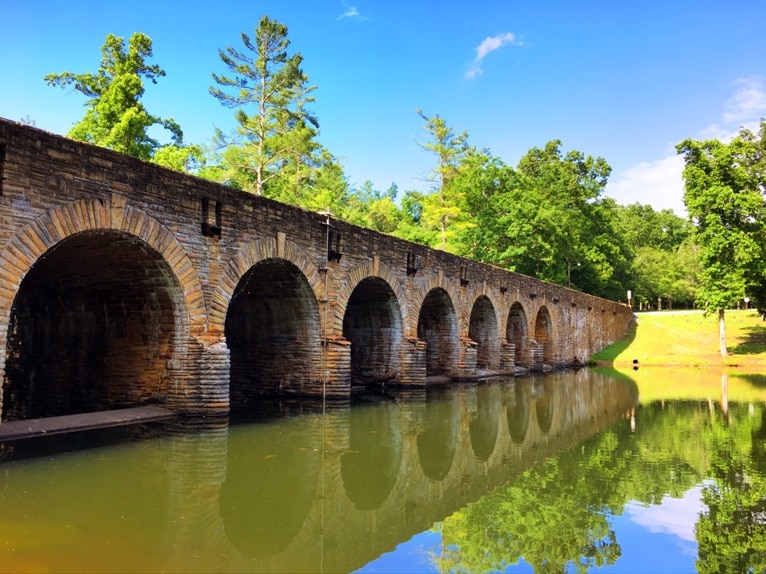 We loved Cumberland Mountain State Park. The sites were tight to get into in the area we chose with full hookups. Watch the video and learn more:
We didn't do much at the state park. There wasn't really too much to do for us! The pool was closed, we weren't going to use the golf course, and the restaurant was closed on Monday.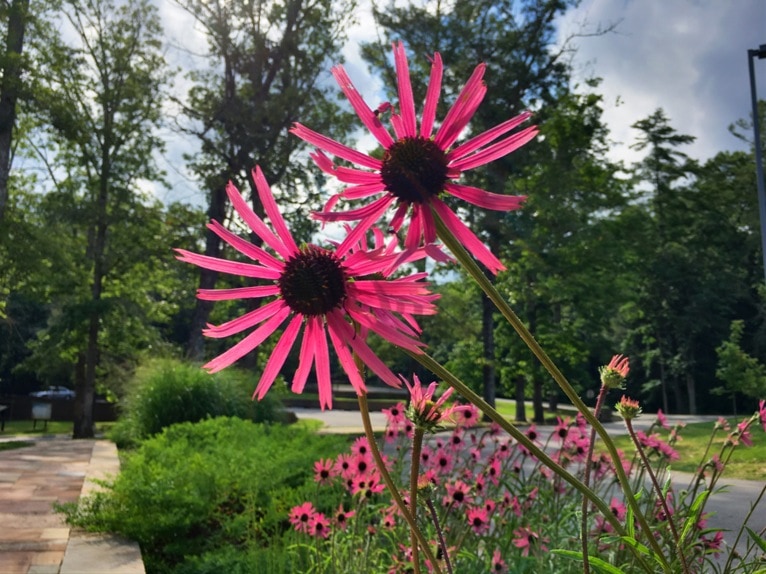 It was a nice walk around the park, looking at the historic bridge built by the CCC.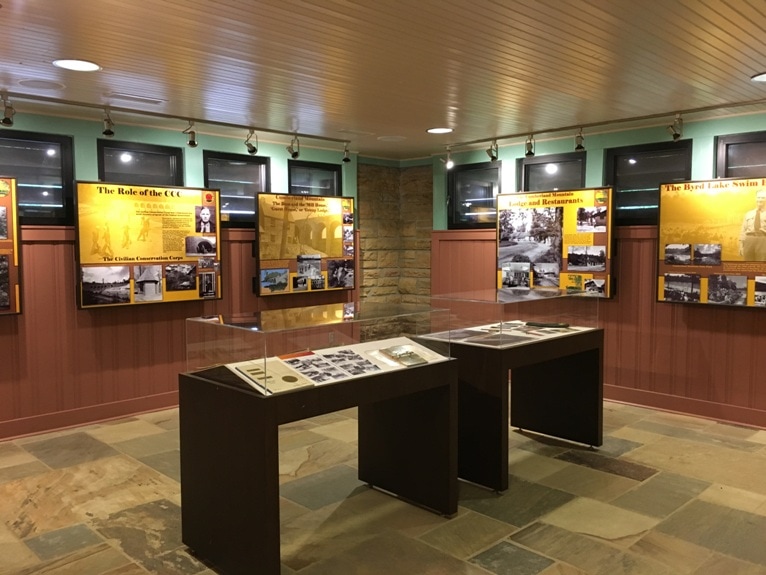 There was also a tiny museum dedicated to the CCC workers which was really interesting. And we discovered some rocks which apparently is part of the newly emerging Crossville Rocks movement.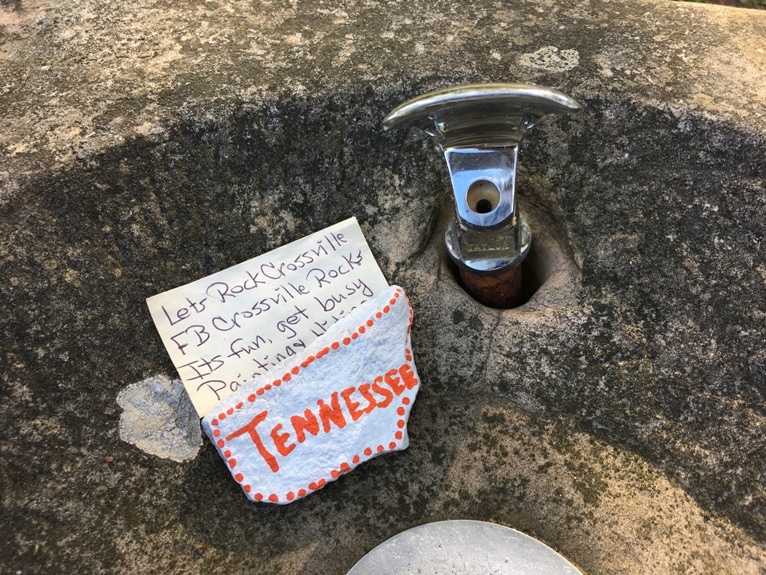 Next up was Nashville, TN. We only had two nights to stay in Nashville based on the itinerary to get us to our friends' wedding over the weekend.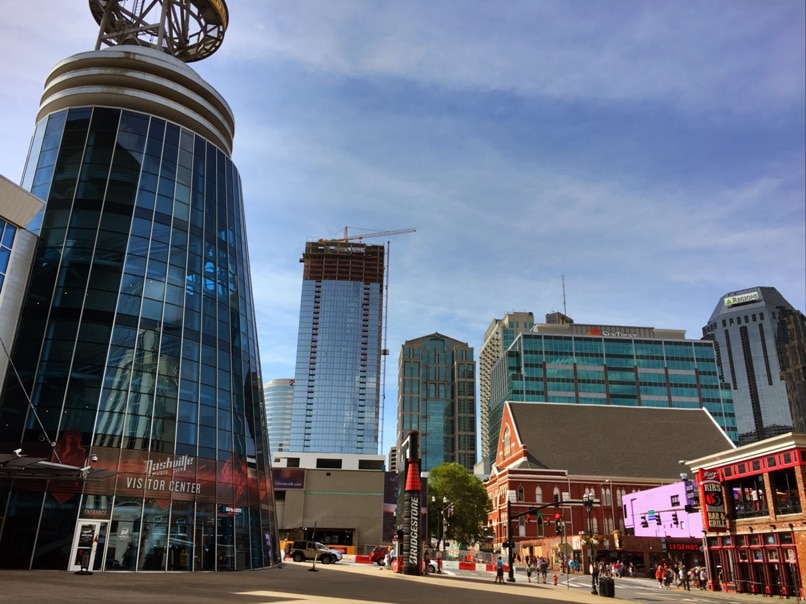 It was our first time to Nashville. Quite honestly, it's a little overwhelming. So much to see and do. So many people. And parking downtown is horrible (and you've got to pay a lot of money).
We stayed in Jellystone RV Campground. The kitschy Yogi Bear statues and theme were fun. It's definitely a family oriented park. This is a place where families go as their entire vacation getaway.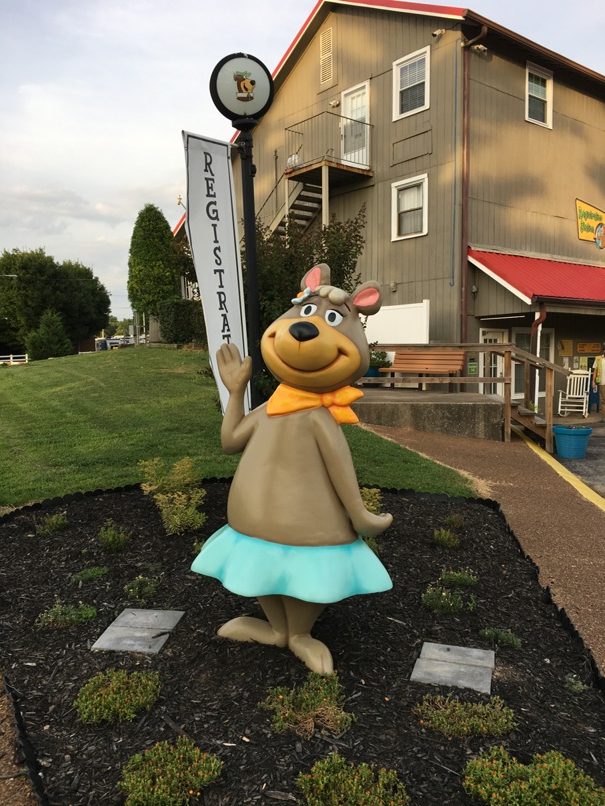 We honestly thought the park was a bit overpriced. You're paying for a "resort" atmosphere even if you choose not to use any of the resort atmosphere because you're downtown or at other tourist attractions. And the one-scoop ice cream sundae we got with just a drizzle of chocolate sauce for a whopping $7 really put us in a sour mood on the price point of this RV campground. However, it was really nice overall.
Our first day we went downtown to check out the main street. It's loud, crowded, and definitely a tourist atmosphere!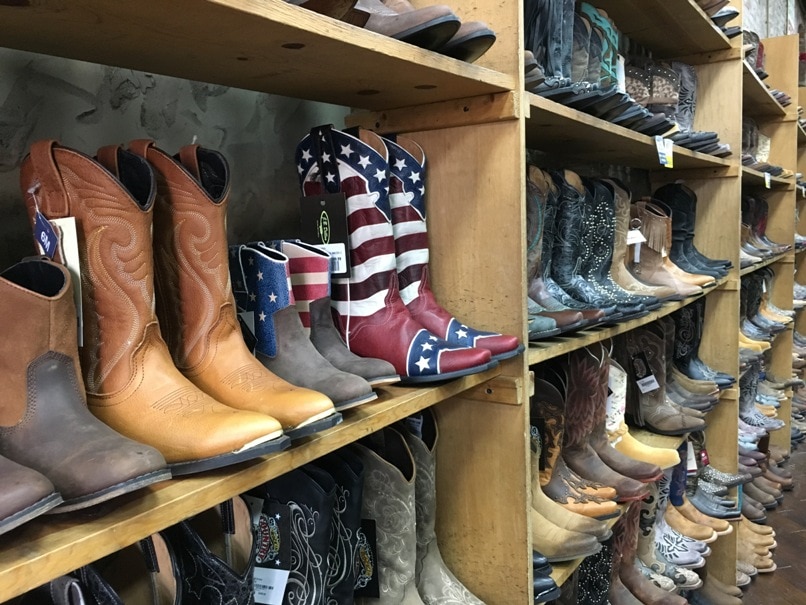 We then headed to Gaylord Opryland which was amazing. I absolutely LOVE Gaylord Palms in Kissimmee, Florida (especially ICE!) so we wanted to see what this property looked like.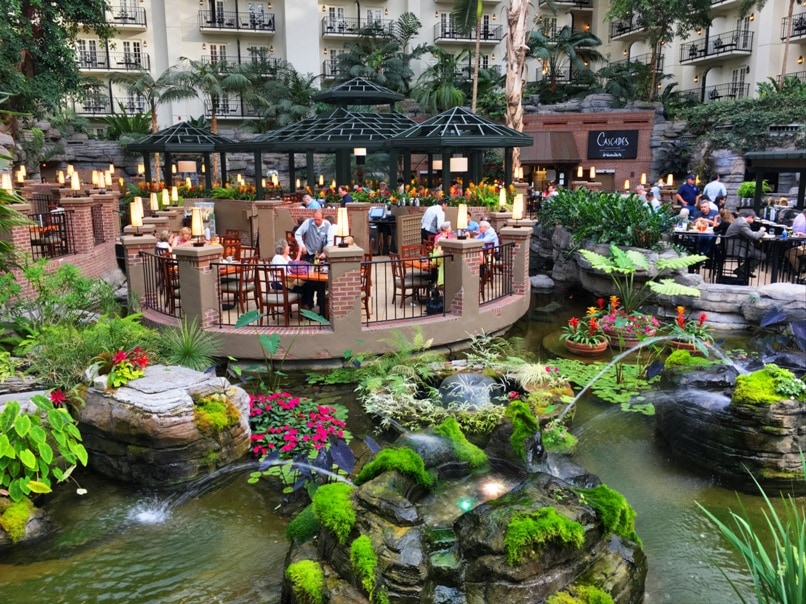 We were impressed. Gaylord Opryland seems so much bigger, and it was spread out a lot more. We had the most amazing meal in the Jack Daniel's Restaurant! Oh, wow!!!!!! I highly recommend the burnt ends BBQ dish with the grilled green beans. One of the best meals on the road so far!
Next day was the Grand Ole Opry. The Backstage tour was simply amazing, and I don't even know much about the Grand Ole Opry. I'm guessing big fans would be absolutely overwhelmed!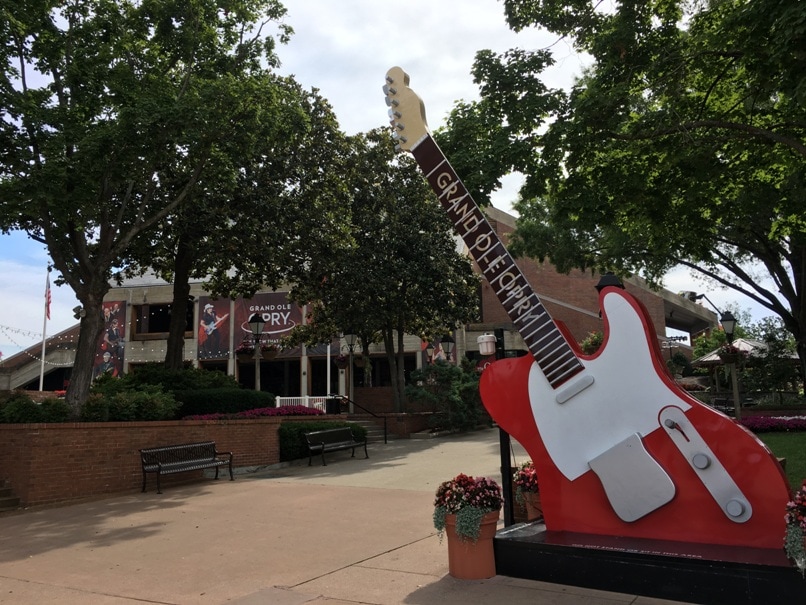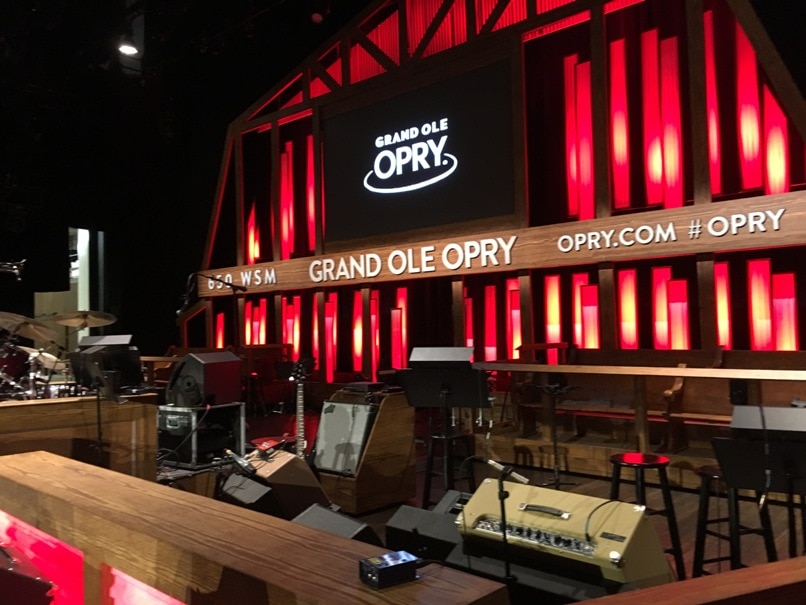 We headed to The Hermitage, the home of our 7th President, Andrew Jackson. The attraction is massive. Be prepared to spend several hours and lots of walking across the grounds. It is definitely interesting, though.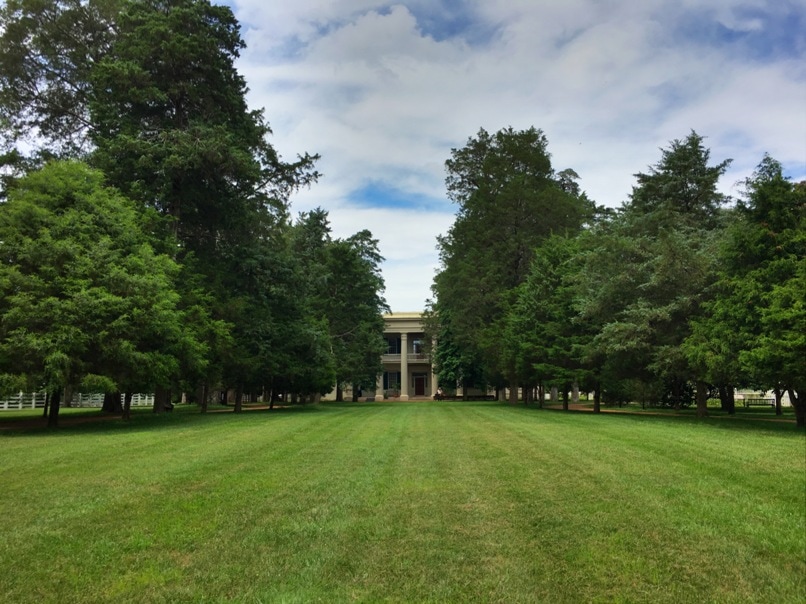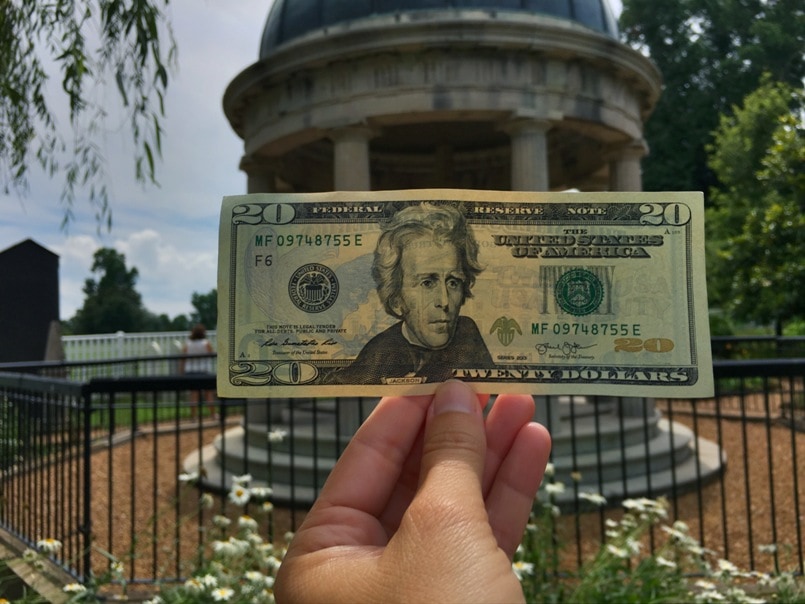 Then we headed to the Country Music Hall of Fame Museum. It was a bit of a let down. The museum seemed to be all over the place with what they showed (which obviously is a hard genre to narrow down). There was a lot of clothing on display. If I had a short time in Nashville, I'd skip it unless you're a huge country music fan from the very beginning of the genre.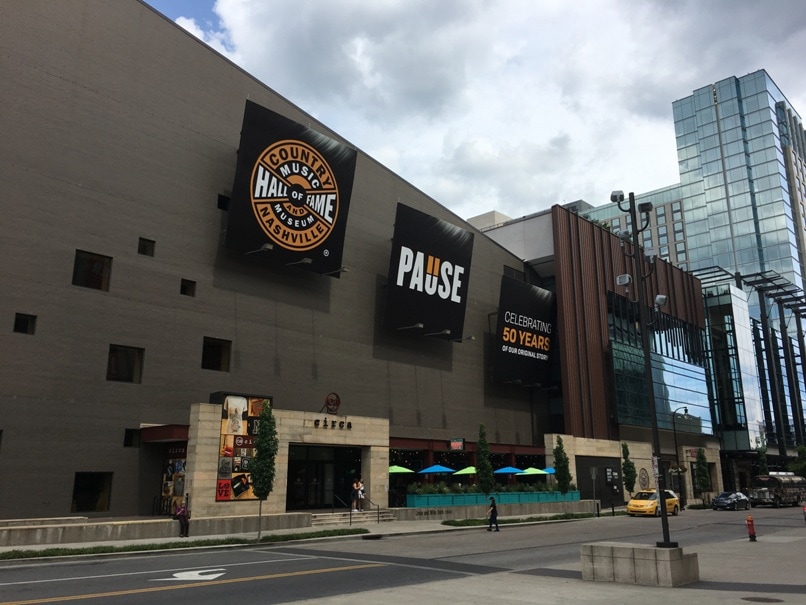 Next day, on to Wayne Fitzgerrell State Park in Whittington, Illinois. It rained all day and we were excited to get to another state park which are usually good.
We stopped along the drive at the first Illinois rest stop which was located near Metropolis, Illinois. I never knew that Metropolis has officially been named the home of Superman, so I was super excited to find a cutout of the superhero at the rest stop (and the rain stopped long enough to get a good photo!)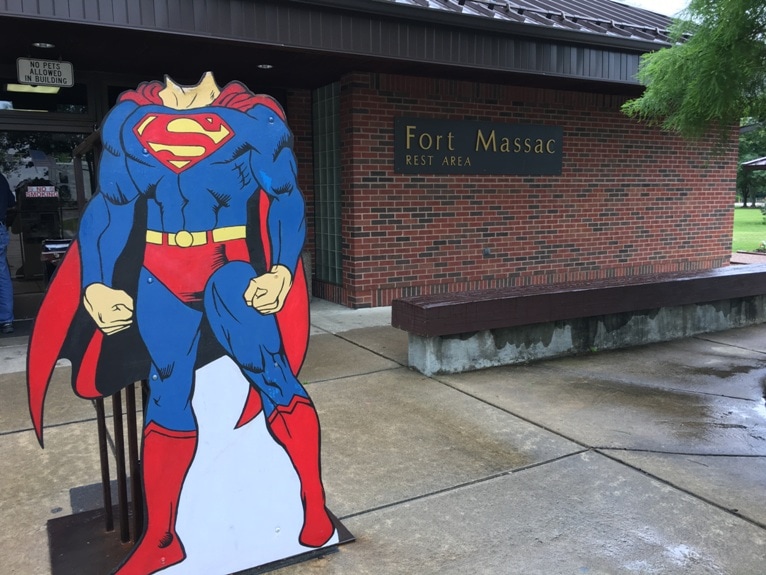 We started getting a weird feeling driving through Illinois, when the roads started becoming really hard to drive on, the rest areas were closed on the highway, and highway exits were actually closed.
When we got to the park, we thought it was really weird that everything seemed closed down. It was a beautiful park in the middle of summer, so why wouldn't you have the campgrounds and resort open?
Soon we found out that Illinois has been having budget problems for years, and this state park was recently on the chopping block for shutting down things a few months prior to our arrival. (A few days after we left, Powerball officially pulled out of Illinois because winners weren't being paid in a timely manner.)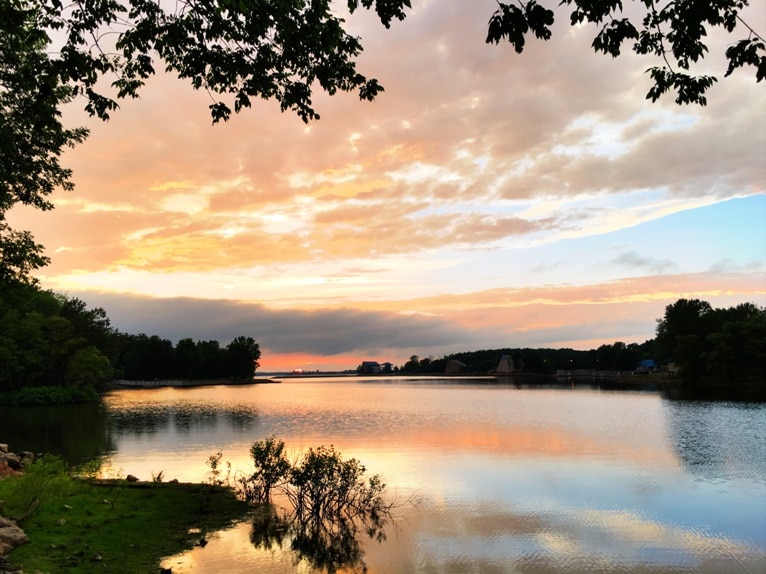 We loved being so close to the lake at Wayne Fitzgerrell State Park (the sun only came out for the sunset and then started pouring overnight), but happy to leave.
In the pouring rain and thunderstorms, my husband packed up the trailer and we headed to Cottonwoods RV Park in Columbia, Missouri for our friend's wedding.

Columbia is a cute town and we loved walking through downtown. We didn't really do much while in the area.
We ate at Shotgun Pete's, which is really good BBQ! The brisket is amazing. Be forewarned, though, they don't serve fries or many traditional sides. I think it was just beans and potato salad and that's about it.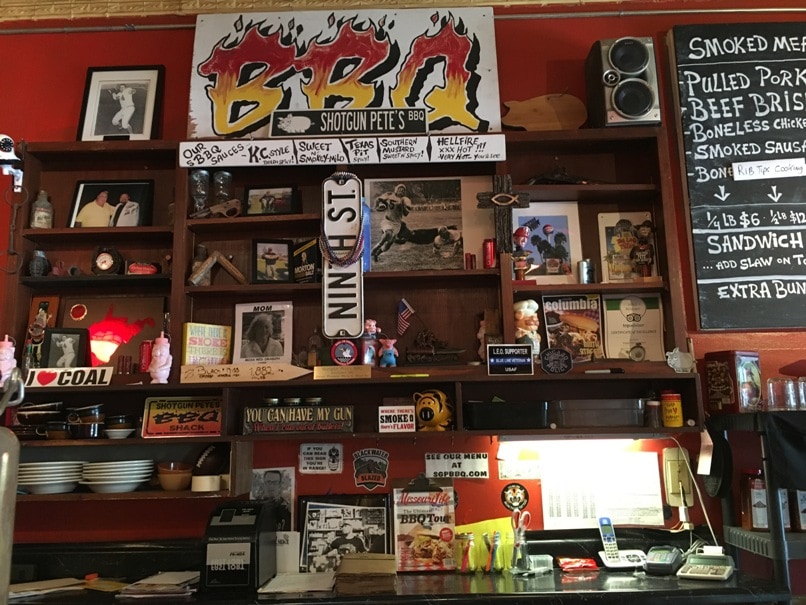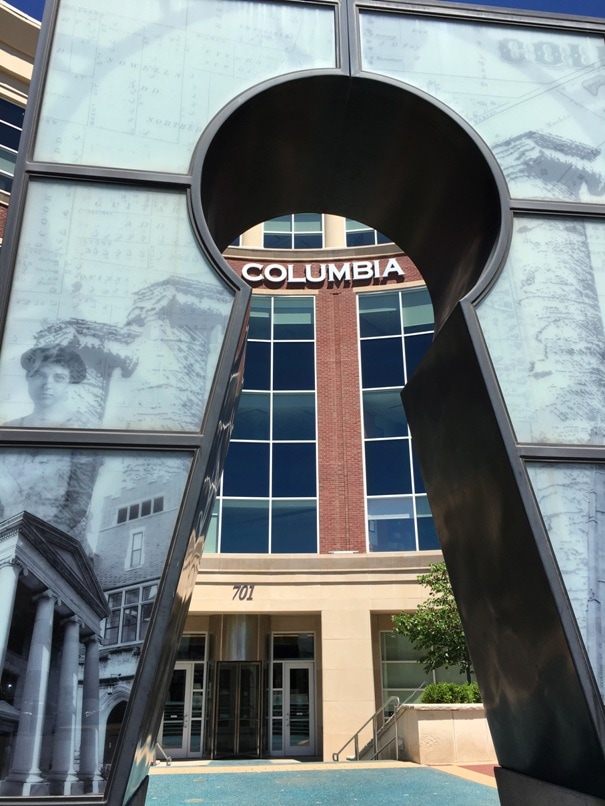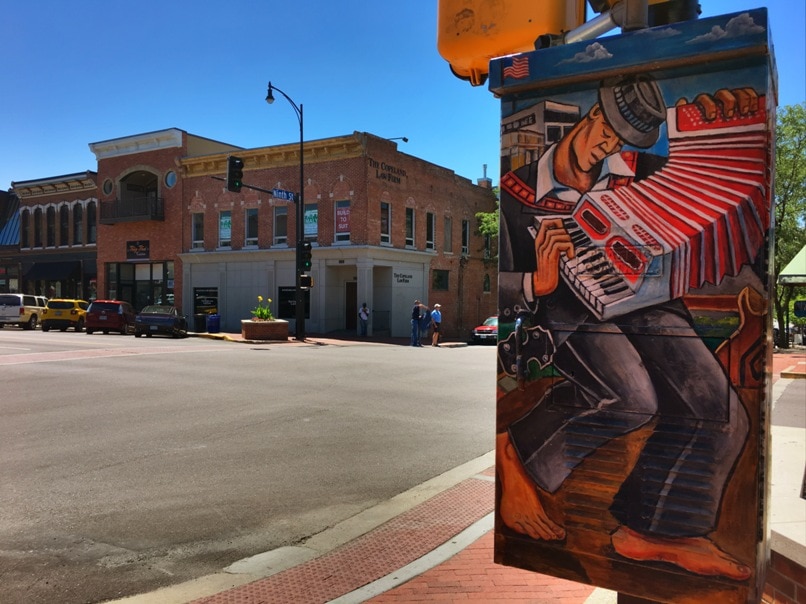 We did discover Hy-Vee grocery stores for the first time! Apparently we picked a REALLY good Hy-Vee to try for the first time. It was a brand new location, with a restaurant and bar inside and a selection that was amazing!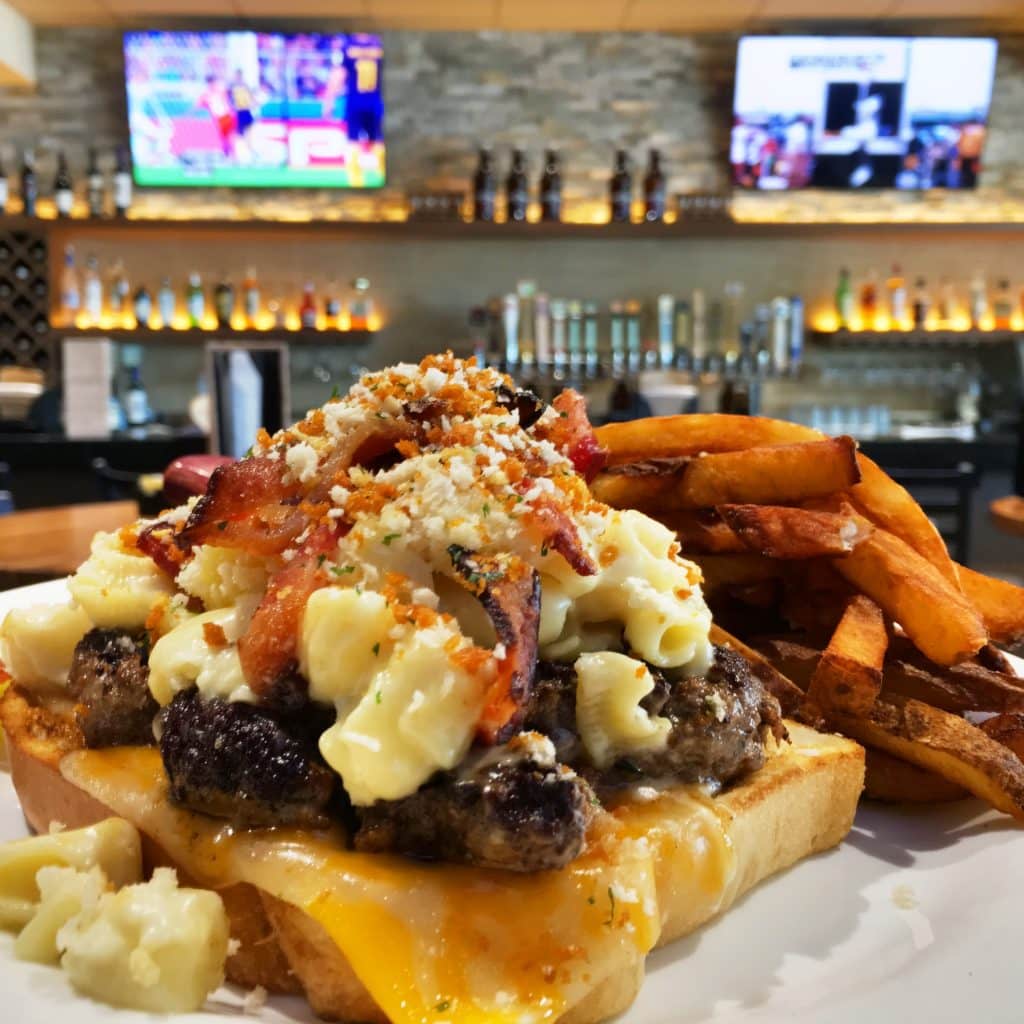 It was so good, we went back twice. Which was apparently surprising to many of our friends on Facebook who had grown up in the Midwest and shopped at Hy-Vee as a kid. They didn't know what the big deal was, so maybe it depends on how old or new your Hy-Vee grocery store is.
We also tried Frozen Custard, which is apparently a big deal in Missouri but we never had it in Florida!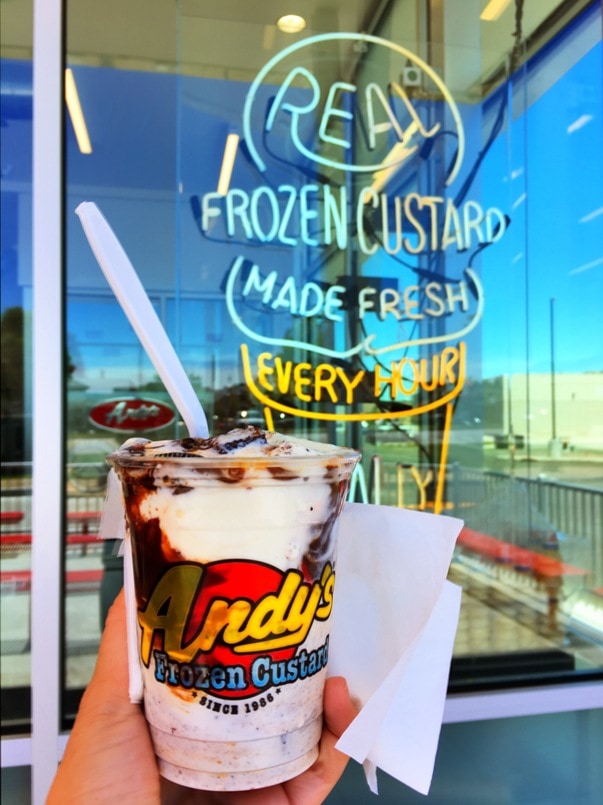 As far as Cottonwoods RV Park, the people were super nice. In fact, it had one of the nicest, family-feeling vibes that we've encountered at any RV campground. The library room full of DVDs to borrow and tons of books, along with their many picnic areas and grills, were awesome. However, the size of the sites was absolutely ridiculous. They were so incredibly tiny that I looked right into our neighbors living room. Literally, we had about enough room to put a picnic table in between rigs, and that was it.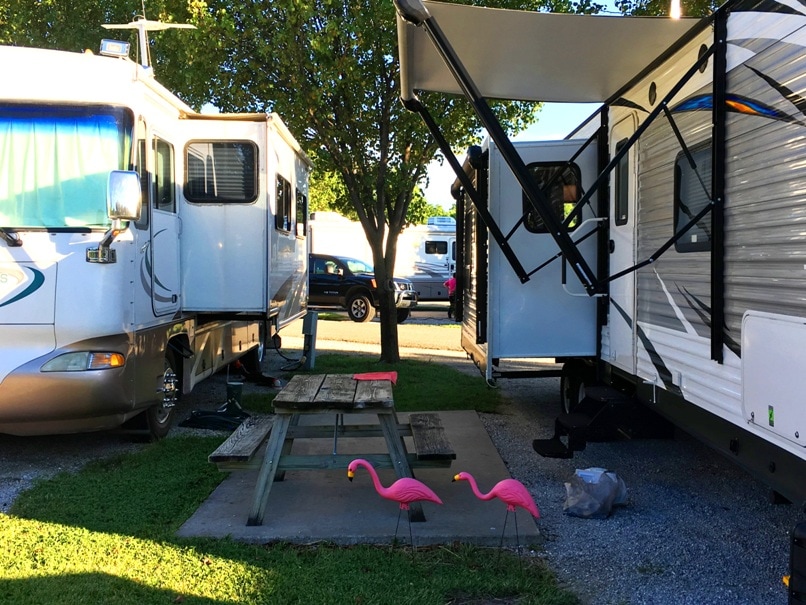 The Class A RVs seemed to get a better deal than anyone. They had plenty of room, with sites that had landscaping. Unfortunately, if you were a small Class C or camper van that was staying the night, you actually had to share a site with the Class As. So you had to back up into their site, and the vehicles were just feet apart, so if you had a back window, you'd be staring directly into the vehicle behind you. The Class As had plenty of parking in front of their rigs, but anyone that had to back into the site had to do some careful parking to find room for their car.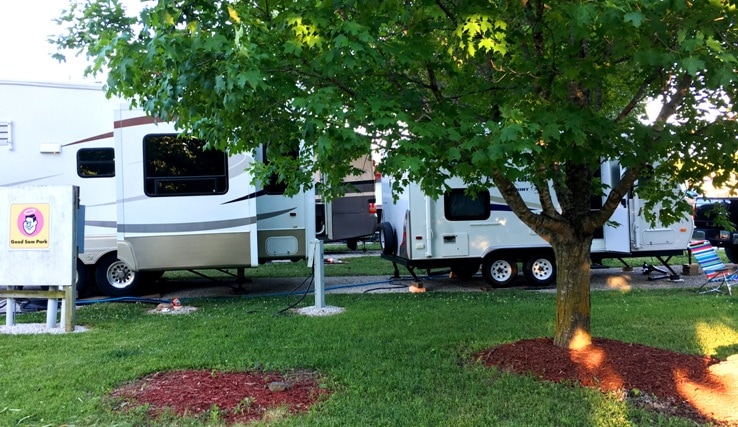 Tomorrow, it's on to Nebraska………
Follow along on our YouTube channel where we post video tours of almost all of our RV sites, as well as my Instagram account with pictures from the road.