Looking for great skiing in the Southeast? Look no further than North Carolina!
With the Blue Ridge Mountains running through the state, skiing in North Carolina is a popular winter pastime. You won't even have to venture far from cities like Asheville to find the best slopes.
North Carolina is likely not the first destination most people then of when it comes to skiing but they are definitely missing out! There are a handful of ski resorts in North Carolina that make the perfect winter getaway, no matter your skill level. The famous French-Swiss Ski College is even located in North Carolina, at Appalachian Ski Mountain.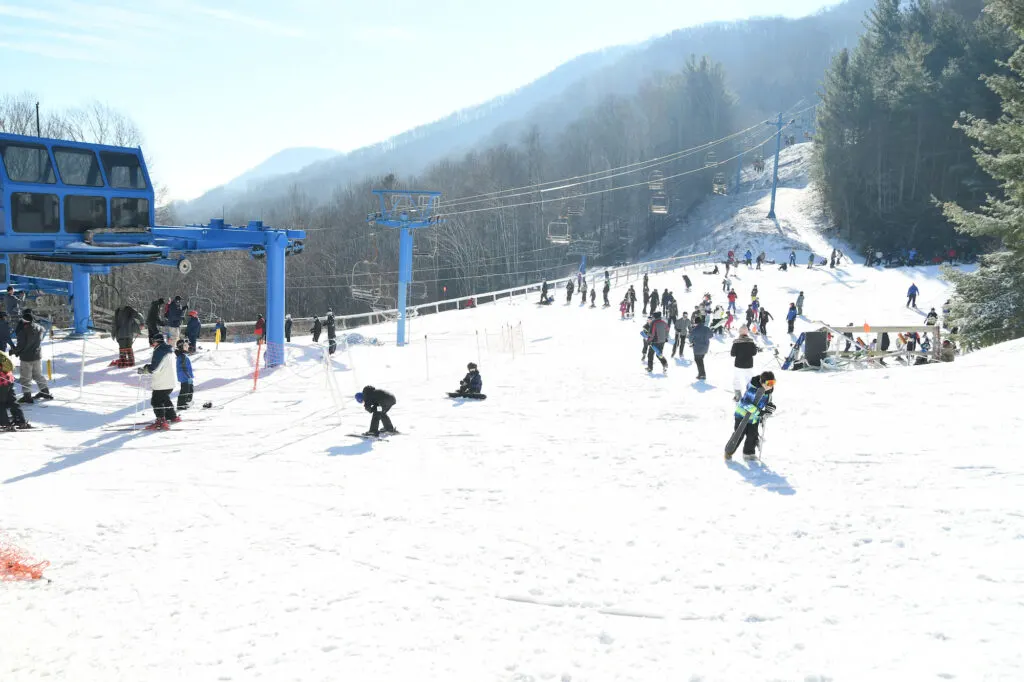 Whether you are looking to ski for the first time or are searching for your next family ski vacation, don't overlook these ski resorts in North Carolina. Many of these locations also offer snow tubing, making these fun winter destinations even if you do not know how to ski!
We have included videos with aerial views of the slopes so that you can see what the terrain looks like before planning a visit.
Sugar Mountain Resort
A top contender for being the best ski resort in North Carolina, Sugar Mountain Resort features both the largest ski resort and the biggest vertical drop in the Blue Ridge Mountains. The vertical drop is a spectacular 1,200 feet!
Sugar Mountain is located not far from Boone, NC, and resembles more of a picturesque village than a town. The resort itself spans 125 acres with 21 slopes for all levels and 8 lifts to get you back to the top.
Additionally, since Sugar Mountain gets over 70 inches of snow per year, their season tends to extend slightly longer than others, from around Thanksgiving into March.
Other activities available at Sugar Mountain include 700 feet of tubing lanes and a 10,000-square-foot ice skating rink, and snowshoeing.
Opening day was November 14, 2022.
1009 Sugar Mountain Drive
Sugar Mountain, NC 28604
(800) SUGAR-MT
Beech Mountain Resort
The town of Beech Mountain is known for a lot of things. It's a popular destination for summer activities like hiking and golfing, and it's home to Land of Oz (yes, that's a Wizard of Oz theme park). It also holds the title of "highest town in the Eastern US" at an elevation of 5,506 feet.
As one might expect from the highest town on the East Coast, Beech Mountain is home to some of the best skiing in North Carolina. In particular, at Beech Mountain Resort.
With 17 trails on 95 acres and an 830-feet vertical rise, Beech Mountain Resort is a place where everyone can have some fun, whether they are taking their first ski lesson or are already a pro. It has been a popular ski resort for families since 1967, as they do have lessons appropriate for the little ones too.
Once you are done skiing, take advantage of the resort's other amenities, like their 7,000-square-foot ice skating rink, 5506 Skybar, and Beech Mountain Brewery Co, one of the few ski resorts in the United States with a brewery at the resort.
Beech Mountain opened for snow tubing on November 19, 2022. Skiing and snowboarding started on November 25, 2022.
1007 Beech Mountain Parkway
Beech Mountain, NC 28604
(800) 438-2093
Appalachian Ski Mountain
For skiing in NC high country, head to Appalachian Ski Mountain in Blowing Rock, northeast of Asheville.
Appalachian Ski Mountain has some of the best slopes in North Carolina and unlike many of the other resorts, they do cater a bit towards experienced skiers. Some beginners may find their slopes a bit challenging but they do offer lessons and guidance.
The French-Swiss Ski College is not only the oldest ski school in North Carolina but in the entire Southeast. They offer both private and group classes, for all ages and abilities, so if you are new to skiing or are ready to up level, it is definitely worth looking into!
Other features of Appalachian Ski Mountain include around 12 ski slopes, including 3 black diamonds, freestyle terrains, 2 terrain parks, and plenty of lifts.
Inside the Bavarian-style hotel, you will find the usuals – a restaurant, gift shop, and ski shop – but also a nursery and video game room for the kids. And don't miss the stunning observation deck!
Opening day was November 18, 2022.
940 Ski Mountain Road via 1423 Edmisten Road (use this address to not be routed through residential backroads via Google Maps)
Blowing Rock, NC 28605
(828) 295-7828
Related Post: 10 Best Christmas Tree Farms Near Asheville, NC
Cataloochee Ski Area
For skiing near Asheville, head to Cataloochee Ski Area in Maggie Valley. They are a popular option for beginner and intermediate skiers, as most of their 18 trails over 50 acres are appropriate for those still learning.
Their adaptive skiing program ensures that everyone, regardless of disability, is able to enjoy time on the slopes.
At an elevation 5,400 feet, Cataloochee's vertical drop is 740 feet.
Those who have been skiing since they could walk need not be disappointed, as they do still have a few slopes reserved for the experts.
Unlike some other resorts, the slopes at Cataloochee have light support so nighttime skiing is an option for those feeling adventurous.
Not feeling so adventurous? They also offer ski lessons for all ages!
Opening day was November 14, 2022.
1080 Ski Lodge Road
Maggie Valley, NC 28751
(800) 768-0285
Wolf Ridge Ski Resort
Another popular option for skiing near Asheville, Wolf Ridge Ski Resort is located in Mars Hill, just 20 miles north of Asheville, and home to the oldest university in Western North Carolina – Mars Hill University.
Wolf Ridge offers everything you would expect of a quality ski resort – over 50 acres of terrain, slopes appropriate for all levels, snow-making capabilities, lighted runs, and plenty of lifts.
The resort is constantly upgrading too. After going through a few name changes, they now have new slopes and updated snow machines to provide guests with an even better experience.
For those who need a little change from skiing, you can also find snowboarding and tubing, as well as some unique options like snowmobile tours, on-mountain photography, and winter hiking.
It is no surprise that Wolf Ridge Ski Resort has made Mars Hill an annual vacation destination for many!
Opening day was November 25, 2022.
578 Valley View Circle
Mars Hill, NC 28754
(828) 689-4111
Sapphire Valley Ski Resort
Located near the North Georgia border, Ski Sapphire Valley is not as grand as many of the other resorts on this list. However, for those just looking for a fun time below I-40, it is a great option.
The small ski resort has been open since 1964 and offers .3 miles of slopes with a 200-foot vertical drop and one ski lift.
Sapphire Valley is also a popular spot for snowboarding and many come just for their Frozen Parks Tube Park, which has a 500-foot run and 60-foot vertical drop.
Beginners are welcome at Sapphire Valley and they offer classes for snowboarding, skiing, and tubing. It is a great spot for families as kids as young as 4 years old can join in the lessons!
Note that the season here does start a bit later than many other locations – usually around mid-December.
Opening day for 2022 is estimated to be December 17.
127 Cherokee Trail
Sapphire, NC 28774
(828) 743-7663
Related Post: Where to Find Snow in Florida
These are the best places for snow skiing in North Carolina. Be sure to see our best places for cross country skiing in the state, too. We would love to hear what your favorite NC Ski Resort is, and why! Let us know in the comments!