Looking for the best snow tubing in North Carolina? Whether you are visiting Boone, Asheville, or the Great Smoky Mountains National Park area, there are plenty of snow tubing options to choose from. Many of the resorts and parks also have other winter activities, like skiing and ice skating, to make your visit to North Carolina feel more like a winter wonderland.
North Carolina may not be the first place someone thinks of as being a snow tubing destination but there are over 10 snow tubing resorts and parks in the state. This includes Hawksnest, which is the largest snow tubing park in the Southeast, several ski resorts that have separate slopes for tubing, and smaller, family-owned parks perfect for an afternoon of fun.
Whether you are a local looking for something to do this winter or just in the process of planning a winter vacation, these are the best places for snow tubing in North Carolina.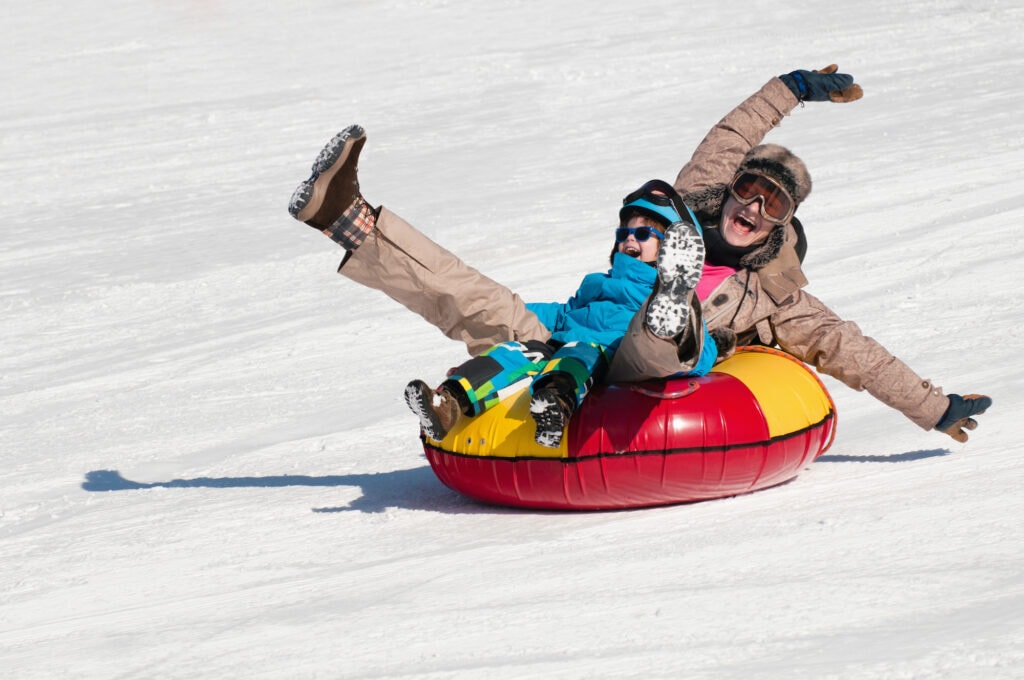 Be sure to see our guides to best ski resorts in North Carolina and where to go cross country skiing, as well.
Snow Tubing Near Boone, NC
Hawksnest Tubing
The largest snow tubing park in the Southeast, Hawksnest attracts guests from around the world each winter. Located just 14 miles outside of Boone, NC in northern North Carolina, Hawksnest features over 30 snow tubing lanes and is open to guests age 3 and up.
They have 4 different terrain areas and the length of the lanes ranges from 400 to 1,000 feet, so there's something for everyone whether they are tubing for the first time or out for an adrenaline rush.
Hawksnest does take advance reservations and dates do sell out, so plan accordingly. The season typically begins around Thanksgiving.
Beech Mountain Resort
Head to "Eastern America's highest town", aka the highest town East of the Rockies, for some epic snow tubing.
With their lanes reaching up to 700 feet in length, Beech Mountain Resort enforces a strict height requirement of 42 inches tall. Kids cannot ride with their parents and need to be able to handle their own tube as well.
Tickets can be purchased in advance for the regular season, though early season and late season tickets can be purchased in-person only, as opening and closing day are dependent on weather.
The season typically runs from mid-November to the end of March.
Jonas Ridge Snow Tubing Park
Located in Newland, just 25 miles outside of Boone, Jonas Ridge Snow Tubing Park offers fun for the whole family.
They have no strict age requirements but do suggest kids be at least 3 years old, as they need to be able to sit in their own tube and not with a parent.
The different lanes on the mountain offer different levels from slow and not-so-steep to steep and fast, so whether it is your first time tubing or your 100th, you are guaranteed to have a good time. Plus, the not-so-steep tubes are perfect for the young ones!
Jonas Ridge is smaller and more family-oriented than some of the bigger resorts, which is ideal for those tubing with kids!
Sugar Mountain Resort
Another ski resort that also offers a slope for snow tubing, Sugar Mountain Resort is located in Sugar Mountain, just outside of Boone. They offer 700-foot-long lanes with a minimum age of 3 to ride with a parent.
One thing to note is that tickets are sold on a first come first serve basis with sales starting just an hour before the session so it is not possible to reserve a spot in advance.
The season here is a bit longer than other places, typically starting in early November.
Snow Tubing Near Asheville, NC
These are some great places to go before or after North Carolina's Christmas tree farms near Asheville.
Zip N Slip
Located in Mars Hill, Zip n Slip is one of the top snow tubing destinations in all of North Carolina. It is easily accessible from both Asheville, NC and Johnson City, Tennessee which makes it popular for locals and tourists to both cities.
Zip N Slip has recently doubled their snowmaking ability, so they now offer 10 lanes for tubing instead of four.
They also offer amenities like a solarium with a fireplace for watching others (and warming up) and a food truck with a small but tasty menu.
One thing to note about Zip N Slip is that they tend to sell out for the entire season, so this is definitely a place you will want to book well in advance.
Wolf Ridge Ski Resort
Located in Mars Hill, just 30 minutes from Ashville, Wolf Ridge Ski Resort offers a separate section just for snow tubing. The sole slope is over 350 feet long and 80 feet wide and tubes can be hooked together, allowing for the ultimate family fun afternoon.
Even better, they have a "magic carpet" that will pull you back to the top of the slope so you can repeat the fun again and again.
Wolf Ridge is open every day during the winter season, except for Christmas Day, and kids under 5 are free with paying adults.
Frozen Falls Tube Park
Located within the Sapphire Valley Ski Resort, Frozen Falls Tube Park features a 500-foot-long run with a 60-foot drop. Talk about an adrenaline rush!
Sessions are available from 10 am to 4 pm most days and are sold on a first-come first-serve basis, though guests at Sapphire Valley can purchase in advance for the weekend.
There is no weight, height, or age limit for Frozen Falls, so it is perfect for the entire family. Big groups of 10 or more can also easily be accomodated in advance.
Snow Tubing Near Maggie Valley, NC
Cataloochee Tube World
Located just 30 minutes from the Great Smoky Mountains National Park, Cataloochee Tube World is a great option fo snowr tubing in North Carolina. Their snow guns can make up to 80 gallons of snow per minute, so you can count on a white mountain almost anytime in the winter!
Cataloochee enforces a strict height requirement of at least 42 inches. Kids must be big enough to ride on their own.
While it is dependent on weather, this Tube World usually opens by Thanksgiving.
Highlands Outpost
While Highlands Outpost in Scaly Mountain offers year-round entertainment, during the winter they have some of the best snow tubing in North Carolina!
One thing that makes Highlands Outpost stand out is their Kiddle Hil / Snow Play. This area is specifically for kids under 8 years of age who aren't quite ready for the big slopes.
For the regular snow tubing, Highlands Outpost has a requirement of 42 inches tall AND 4 years old, as the kids must be old enough for their own tube.
If you want even more winter fun, check out their combo snow tubing & ice skating pass!
Snow Tubing Near Hendersonville, NC
Black Bear Snow Tubing
As a family-owned business, it is no surprise that Black Bear Snow Tubing focuses on fun for the whole family. In fact, they offer not just snow tubing in the winter but summer tubing as well, so if you miss the winter season, don't worry. You can still have a blast at Black Bear!
They also mantain an alcohol- and profanity-free zone.
Black Bear requires that riders be at least 4 years old and 35 pounds, as all riders are required to be in their own tube.
Since Black Bear has their warm weather tubing mat, you can visit even if the conditions haven't been cold enough for snow at other nearby snow tubing locations.
Related Posts:
Moonshine Mountain
Despite the name, Moonshine Mountain is a small snow tubing park that's perfect for families. The steep hillside is covered in snow and surrounded by larger-than-life statues and whimsical decor.
They do have a shorter season than others on this list, not opening until December, and do not take reservations.
Tubing here is on a first-come, first-serve basis and does sell out some days.
You will find this tubing park in the middle of an otherwise-residential area outside of Hendersonville, so be careful when visiting on busy weekends because the traffic can be backed up trying to get into the small area, and there is usually one person doing traffic control in the two-lane road.
There is a minimum height requirement fo 36" for tubing at Moonshine Mountain and a weight limit of 300 pounds for the tubes and 250 pounds for the lift.