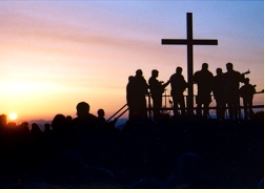 An amazing way to celebrate Easter morning is to attend the Sunrise Service at Chimney Rock at Chimney Rock State Park.
From a mountain top perch high above the Hickory Nut Gorge in Chimney Rock, NC, guests will see the sunrise over the mountains, while singing and praising God. What a glorious day to celebrate from this unique vantage point 🙂
This year is the 60th Anniversary of the Chimney Rock Sunrise Easter service. Nearly 1,000 people attend on Easter, so you want to be sure to get there early for the 6:30 a.m. service. Gates open at 5 a.m. No cars will be admitted after 6 a.m.
Music and a non-denominational sermon are part of the Easter sunrise service. Reverend David MacEachern, pastor of Bat Cave Baptist Church, will be speaking. Live spiritual music from Park employees, including music on a hammered dulcimer, are also included.
Those who attend the Chimney Rock Easter Sunrise Service will receive free admission to the Easter service, and are invited to enjoy Chimney Rock at Chimney Rock State Park afterwards, and to eat breakfast at the Old Rock Café.
Photo Courtesy of Chimney Rock at Chimney Rock State Park