Travel is full of so many educational opportunities across America. It's a great way to teach kids about history as they see National Landmarks and Monuments in the U.S. So whether you are getting ready for a vacation, road schooling, or homeschooling and focusing on United States history, you will love these fun resources.
This U.S. travel education pack is free to download. It's also just one of the 52 Road Trip Activities for Kids that we recommend!
U.S. Landmarks for Kids Memory Matching Game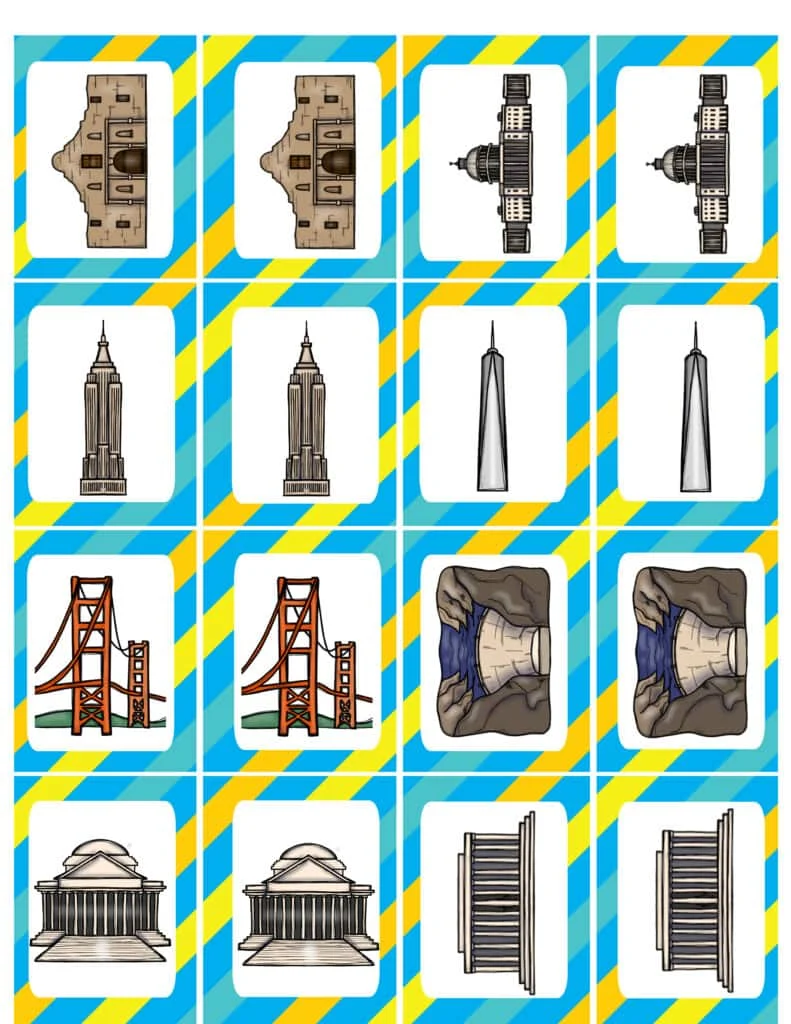 First, we have a fun and colorful memory matching game of the National Landmarks and Monuments in America.
It's easy to print out these two pages of icons. Then cut along the lines to create two cards for each location.
If you have a color printer and thin paper, you might be able to easily see through the paper when it is turned upside down. If that's the case, glue the matching game to a sheet of pasteboard or another piece of white paper. Use a glue stick so that the colors don't run.
Mix up all of the cards. Place all of the pieces upside down (photo side down). Have your child choose two cards at random. If the cards have been mixed up well, they will choose two different landmarks in one turn. Have another player go.
The goal is to end up remembering where the matching pairs of landmarks and monuments are. So that on a next turn, when you pick up one photo, you will remember where the matching card will be.
When two cards are matched, remove them from the game. The person with the most amount of matching pairs wins.
More Free Printables:
Educational Worksheets / Learn to Write
The same monuments and landmarks that are in the memory matching game pieces have their own educational worksheets, too.
These worksheets for kids have a coloring page of a National Landmark or Monument.
There is also a place to practice writing and spelling the name.
Flashcards for Kids
A third way to learn more about U.S. Landmarks and Monuments while homeschooling or road schooling are these flashcards.
Print out the colorful flashcards and ask your children about what is shown.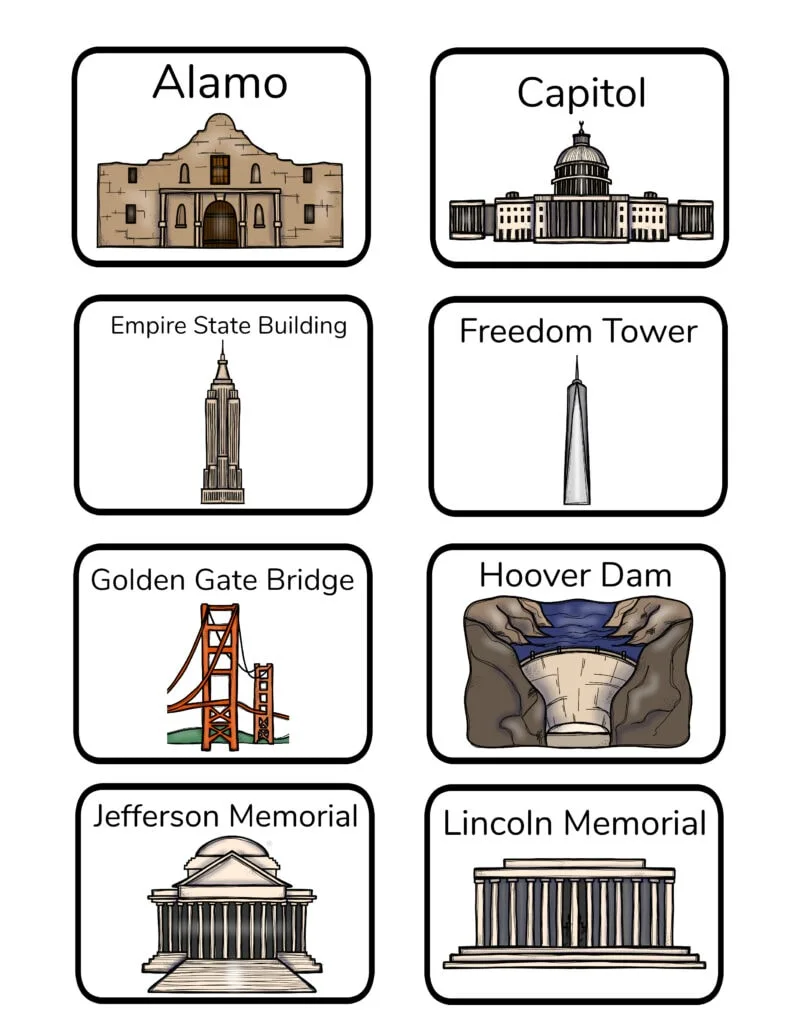 Questions to ask include:
What is this landmark?
What state is it located in?
Why is it important to America?
Would you want to travel here?
Have we traveled here?
Are we going here?
More Resources for Homeschooling
These free printables are perfect for teaching kids about America's history.
Need more resources? Check out these U.S. National Landmark Facts on SoftSchools or American History for Kids.
Want even more fun ways to teach your kids about American history? Check out this USA Landmarks and Monuments Playset or this great book about America's Important Places and Words.