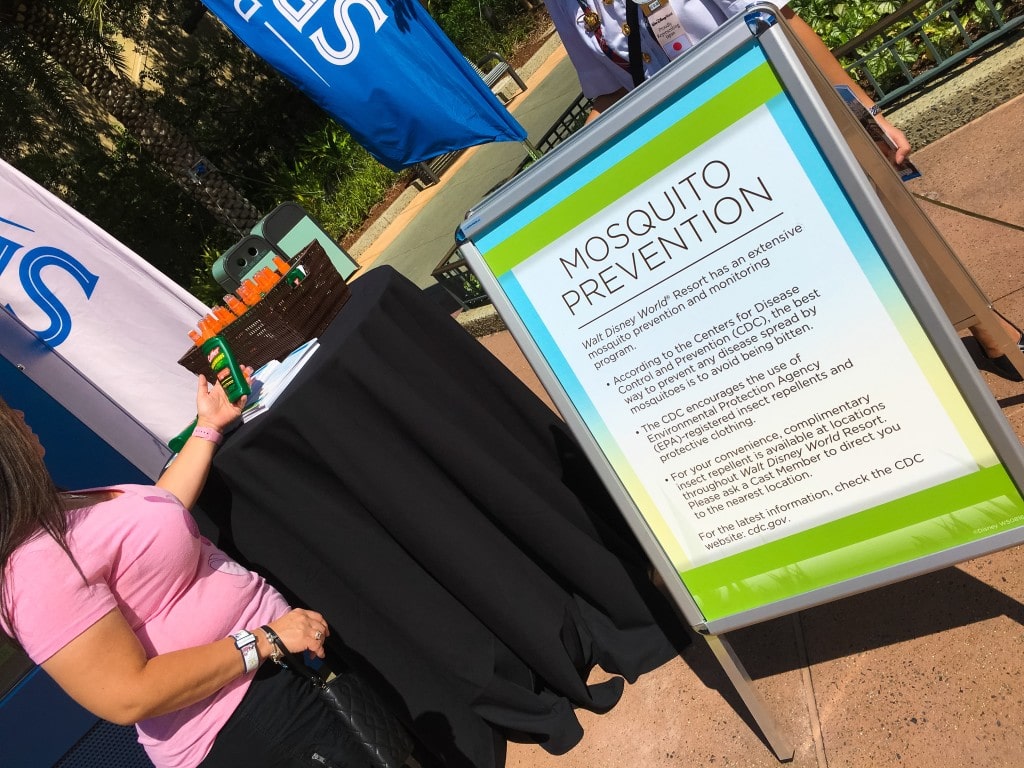 Walt Disney World Resort has started providing free bug spray to protect guests from mosquito bites, as the Zika virus spreads in Florida. Disney is offering guests and visitors free bug spray applications in its theme parks, Disney Springs, ESPN Wide World of Sports and hotel properties to protect themselves and their children from mosquito bites which can transmit disease.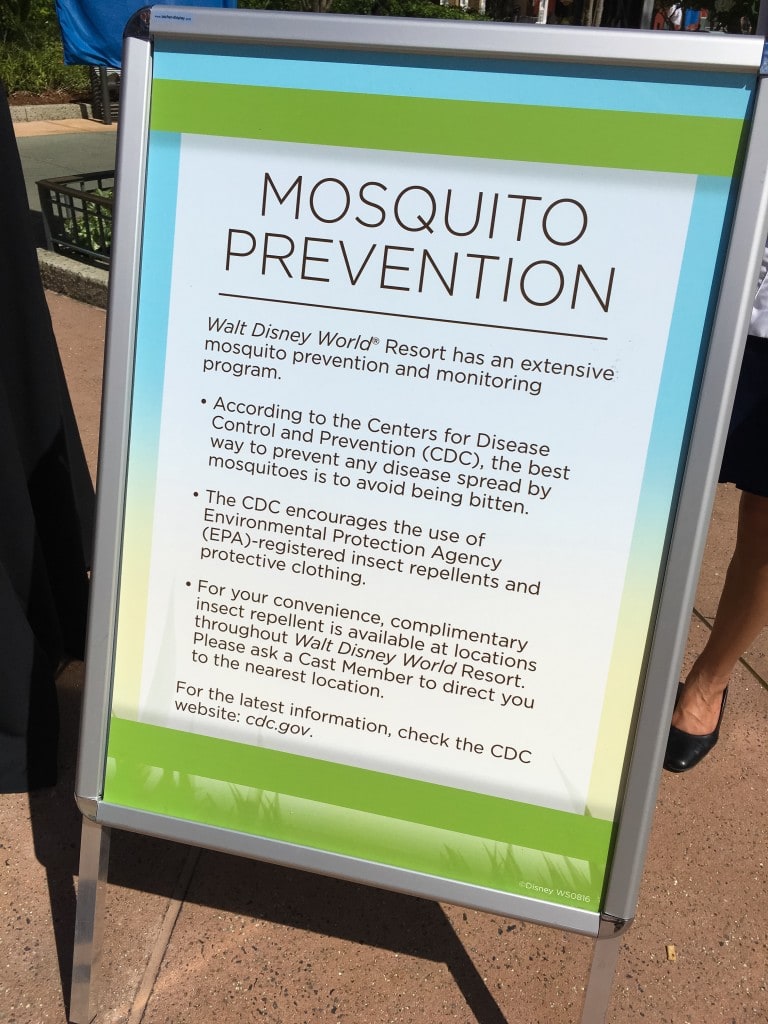 The Walt Disney World Resort joins Universal Studios Orlando, SeaWorld and Busch Gardens in an effort to protect visitors and guests from mosquito bites while on vacation in Florida.
Zika virus has been reported in two Florida counties so far – the Miami Beach area and Pinellas County – and has impacted tourism already in the Miami area, according to Reuters. The mosquito protection efforts have debuted at all tourism areas even though there have been no reports of Zika virus in Orange or Osceola county.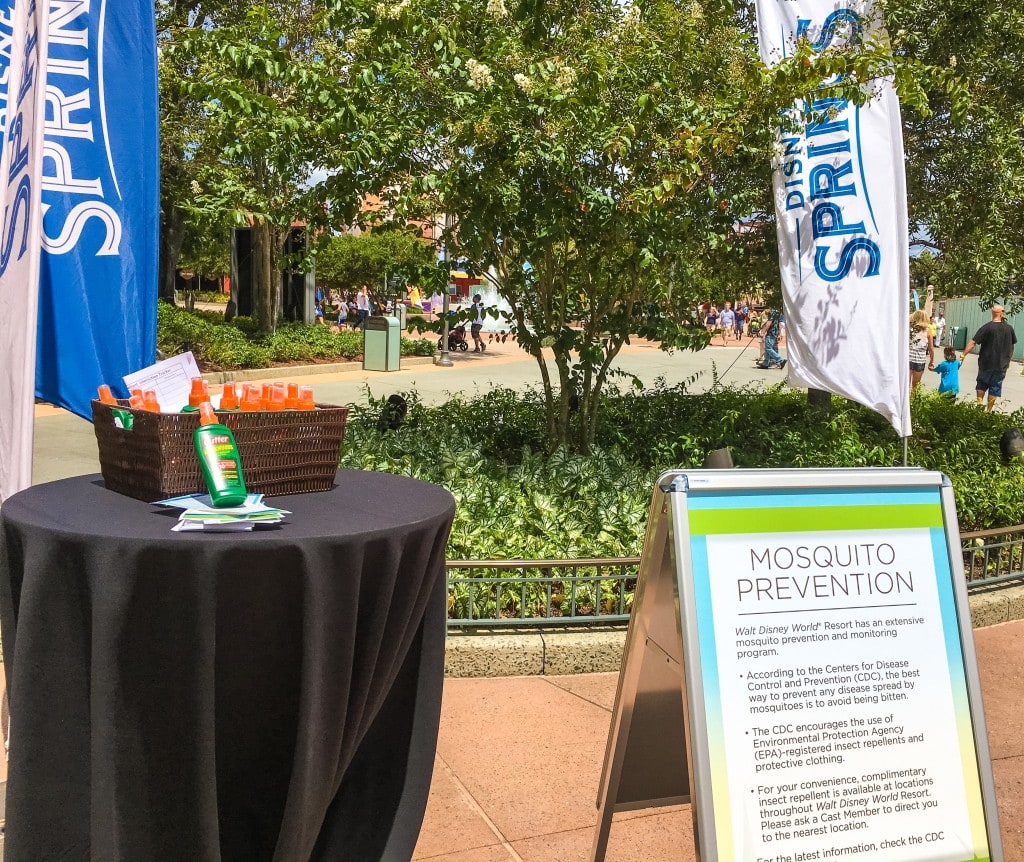 Walt Disney World makes NO mention of the Zika virus in its wording found on fliers and informational placards at Disney Springs on August 28, 2016 – the first day of the roll out of mosquito protection for guests. The educational information simply states "Mosquito Prevention" and refers to Walt Disney World Resort's "extensive mosquito prevention and monitoring program."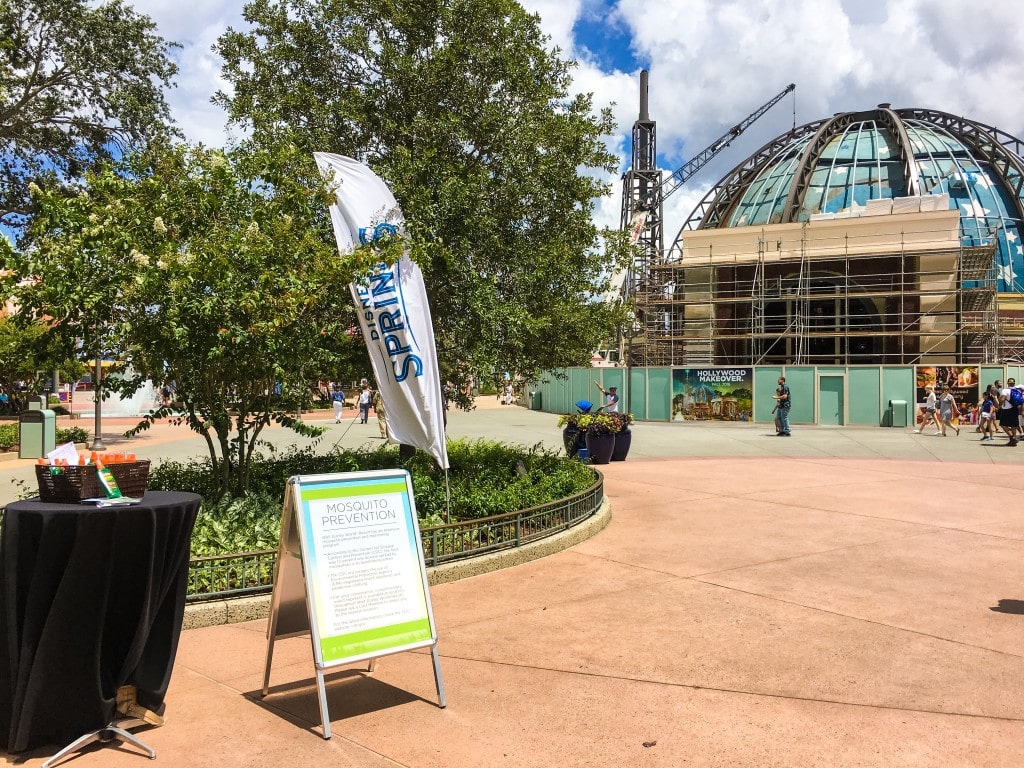 The Disney information given to guests goes on to state:
"According to the Centers for Disease Control and Prevention (CDC), the best way to prevent any disease spread by mosquitoes is to avoid being bitten.

The CDC encourages the use of Environmental Protection Agency (EPA)-registered insect repellents and protective clothing.

For your convenience, complimentary insect repellent is available at locations throughout Walt Disney World Resort.

For the latest information, check the CDC website: cdc.gov"
At Disney Springs, a table was staffed with a cast member, information fliers stating the above, and bottles of Cutter Backwoods Insect Repellant (affiliate link) bug spray to be applied at the table.
No one seemed to be actually using the spray, only taking pictures of the table.
Disney will also offer pump bottles and towelettes in its four theme parks and ESPN Wide World of Sports. Hotel rooms will have aerosol bug spray.
Pin it and Share!

FYI – the CDC suggest applying bug spray over sunscreen, not underneath. So be sure you've already applied your sunscreen before applying bug spray.
Bug spray is just one part of the prevention of mosquito bites which transmit diseases, including Zika. Read these 10 Tips for Protecting Yourself from Zika.