As a travel writer, I have a routine of what I always carry in my bag on a plane, and what I've found to be the most important things to carry in my luggage over the years. From international flights to domestic short trips, what you need to pack in your bag on the plane doesn't really change too much. I pack all of this in a small carry-on bag (such as a purse) separate from my carry-on piece of luggage.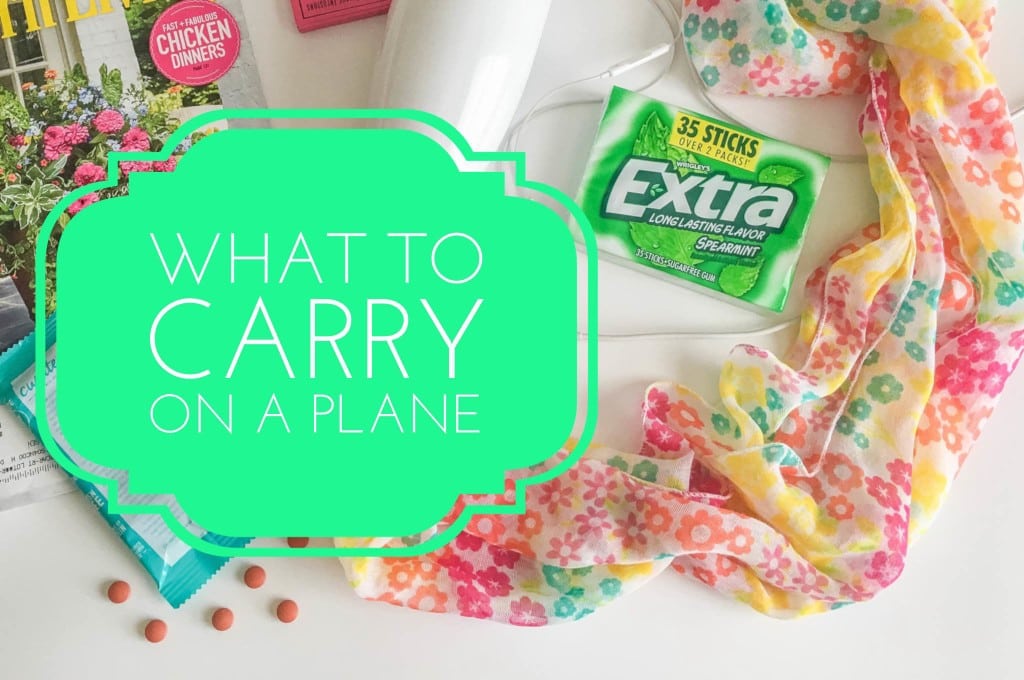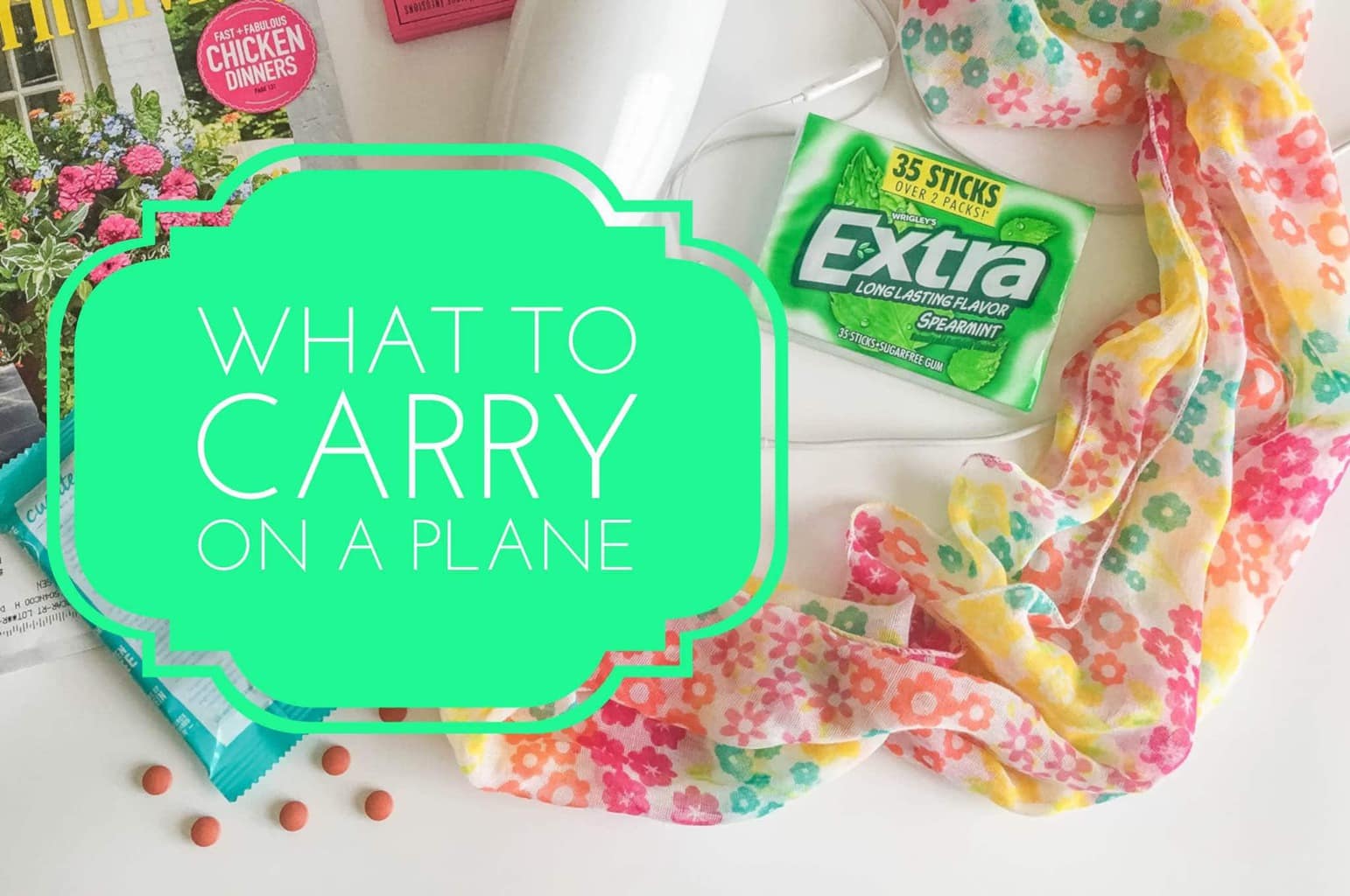 After a decade of intense travel, these are the things that I know that I want within arms reach on a plane. Here's my checklist for what to carry on with you on the plane for a safe, comfortable and happy flight!
Phone Never put your phone in your luggage overhead. Keep it on you or in a bag under the seat in front of you. It allows you to quickly phone someone or take pictures or video in an emergency. Plus, if you land but you're sitting on the tarmac for a while waiting on a gate, you can access your phone. Otherwise, you can't stand up to get into your luggage.
Chargers and Cords You can't get very far without any power. Keep the appropriate chargers and backup battery packs close by to stay connected.
Gum You know how you just ate a meatball sandwich on your layover and now you've got to sit 6 inches from perfect strangers, breathing in their face? Yeah, you're going to need some breath freshener – and chances are your seat mates will, too. Why not be one of those airplane passengers that people actually want to sit by and offer your seatmates some gum?
A stick of gum is also a lifesaver when the airplane pressure changes and you – or anyone around you – is in pain from the pressure in your ears. Offer up a stick of gum at this moment and you'll definitely get a smile in return.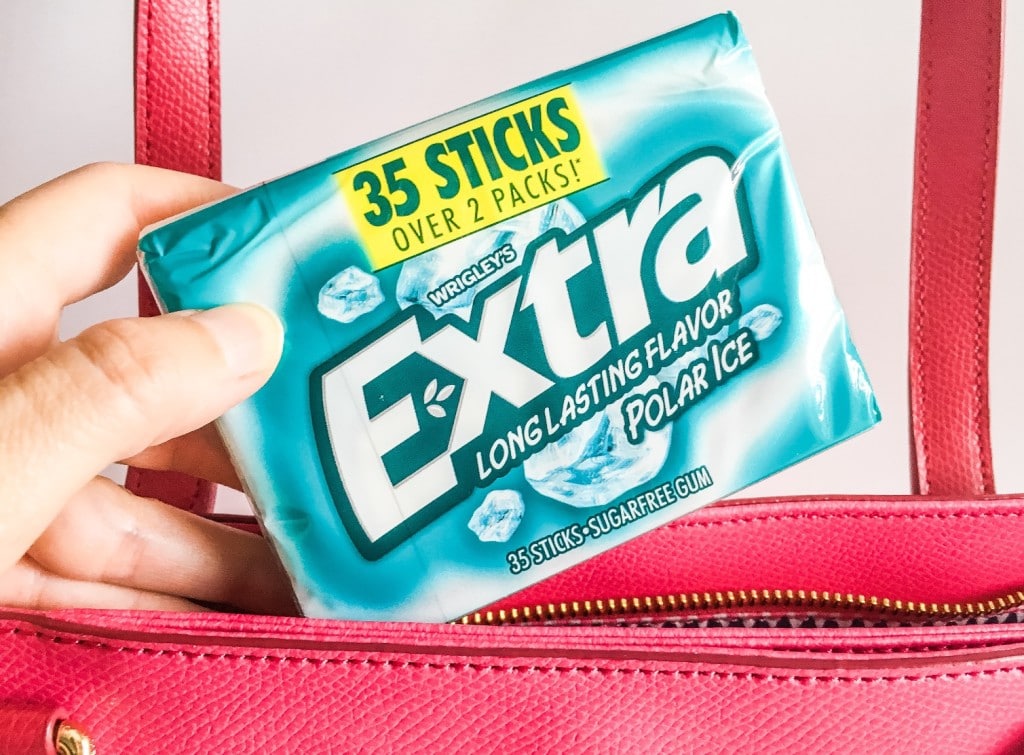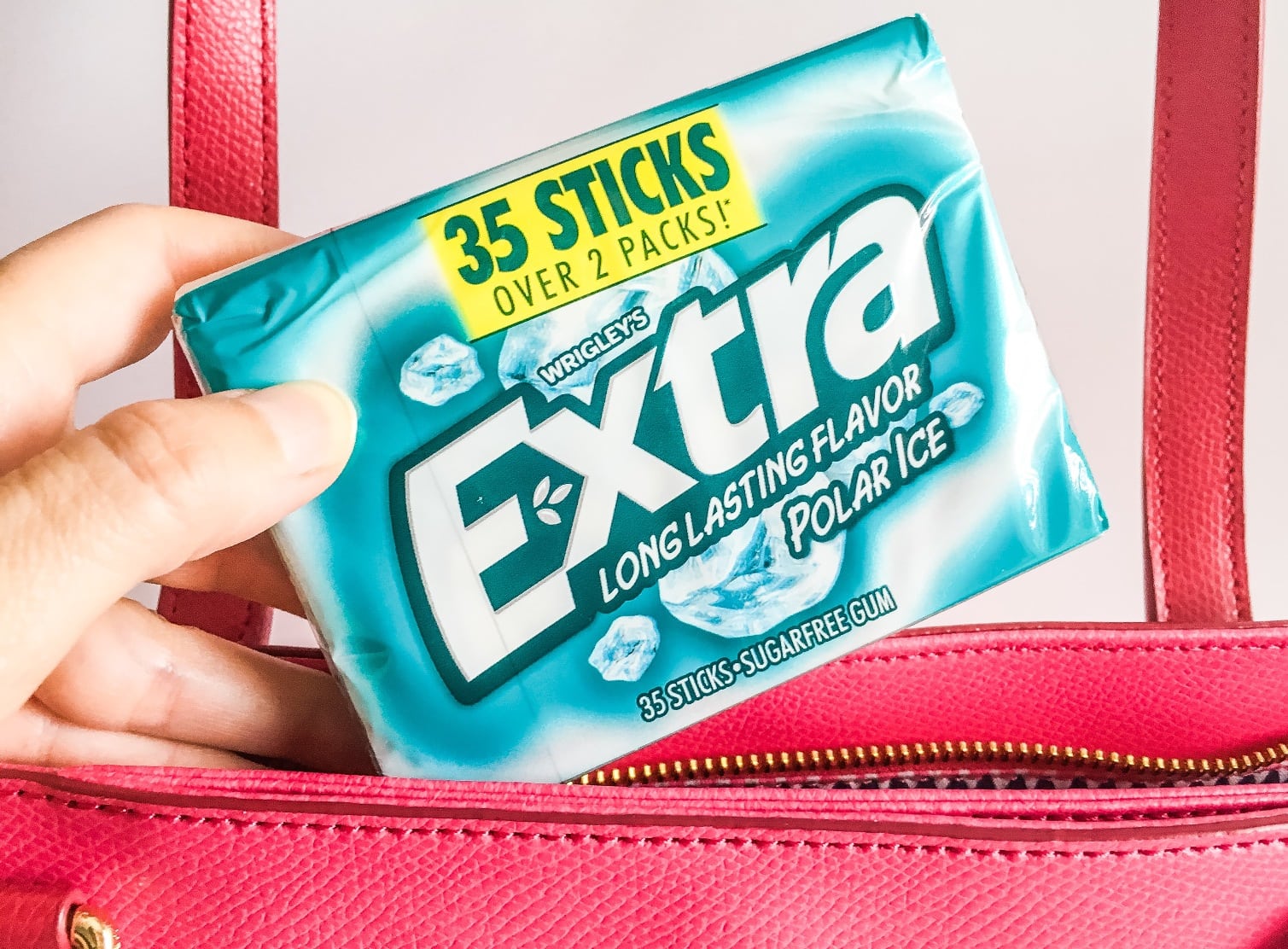 No one wants to pull a stick of gum from a beaten up pack that looks like it's falling apart, though. Inspire chewing confidence by offering up gum from an awesome case made from recycled, durable materials.
Snacks That Could Replace a Meal I've been stuck on airplanes for hours where flight attendants can't serve food and you can't get up out of your seat (whether turbulence, stuck at the gate, etc.). If you get hungry or if your blood sugar starts dropping, you NEED food! The airline will not help you out. Pick up some granola bars, nut bars or something with protein that could keep you full for a few hours if necessary.
Magazine or Book Yes, inflight TV screens are awesome. As is the Candy Crush game on your phone or a thriller on your Kindle. But for those moments when you can't access digital entertainment, or if the power on your seatback should go out (yes, it's happened to me on an international flight where the TV screen wouldn't work for 8 hours), then you need something to keep you occupied.
Ibuprofen/ Motion Sickness Pills/ Etc. I always keep a small amount of whatever pills that I think I might need in my carry on bag on a plane. You never know if you'll get a headache (especially on a long flight). Though motion sickness pills take a bit to start working, I was never so happy to have them when I flew cross country and 30 minutes into the flight we hit turbulence that had us bouncing in our seats. I've also flown through the horrible wind currents surrounding a hurricane, which are NO fun to fly through, by the way. Trust me, I wanted and needed that motion sickness remedy nearby.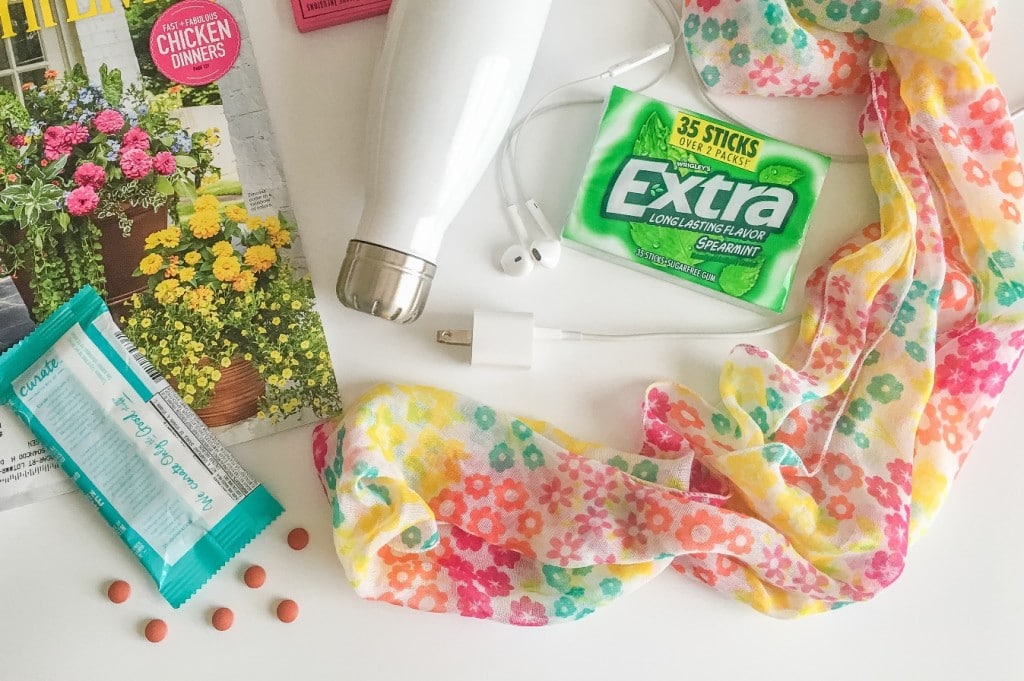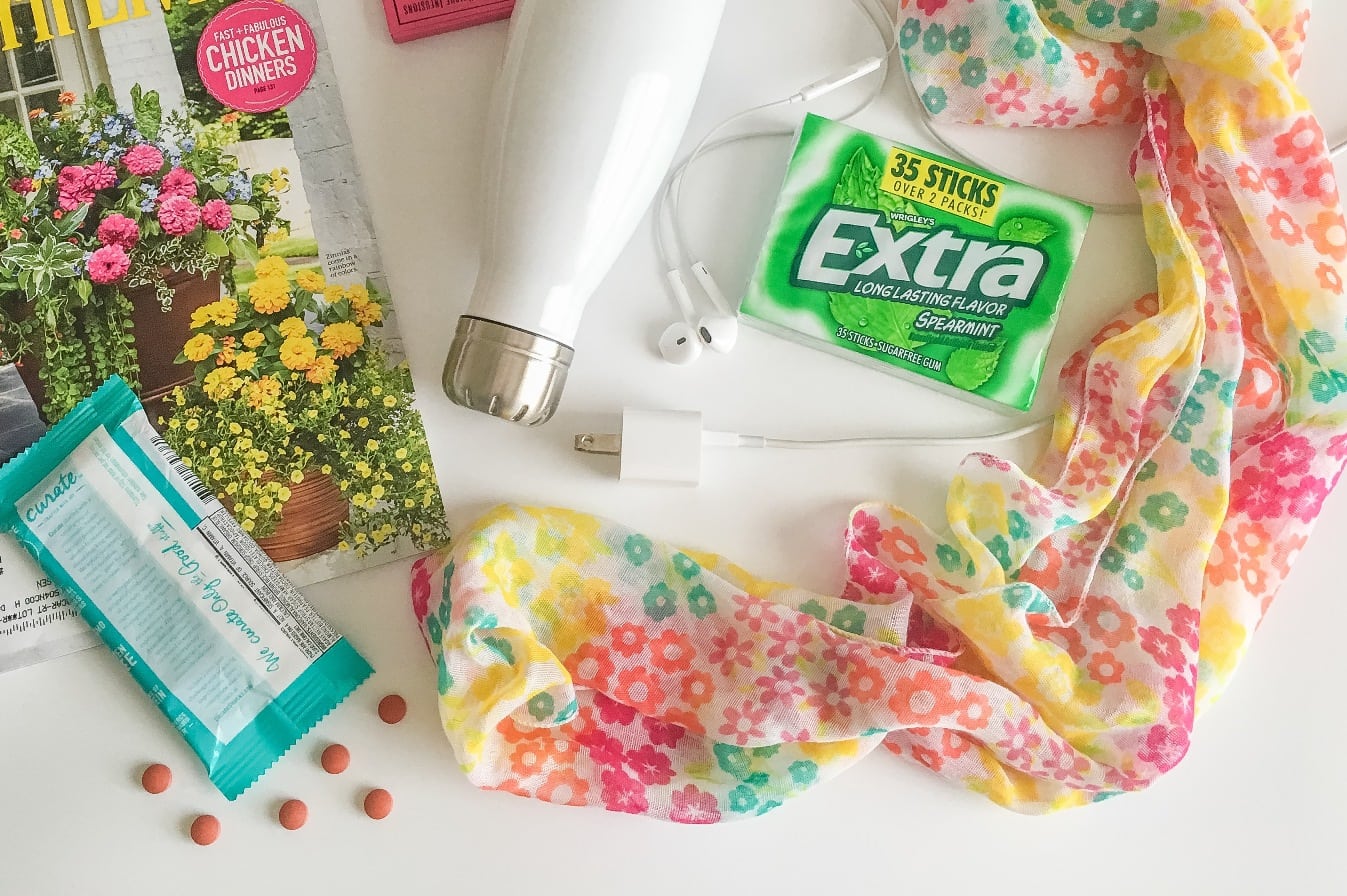 Water Bottle Bring an empty one in your carry on bag to fill with water after passing through TSA, or buy one in a snack stand after going through security. You can't rely on the airlines to give you enough. I was on a Delta flight that was delayed on the tarmac for four hours. The flight attendants came through once, I believe, with water.
Earphones Planes charge about $5 for the privilege of buying their cheap ones. Bring your own.
Scarf I use a multipurpose scarf as a fashion accessory, that can also act as a mini blanket on a cold flight. Bigger blanket scarves can double as a pillow or neck support when balled up.
Cash/ Credit Cards Keep these in a bag on hand, not the luggage overhead, just in case you want to buy food onboard or order a movie.
Pertinent Travel Info I always print out a copy of travel info before leaving, even if I have a digital record. I've been stuck too many times before (including in the Frankfurt, Germany airport with no wifi because I couldn't read the German prompts on the app) without having hotel contact information, address or phone numbers.
Electronics You Wouldn't Want Checked Even if they are in your large carry-on meant for overhead, that piece of luggage might need to be checked, whether for overcrowded luggage bins or a smaller plane. Keep the cameras, phones, and video cameras that are pricey in a bag next to you that can easily fit under the seat in front of you.
~~~
I'm curious. What do you bring in your carry on? Let me know!