Over the past few years, Wilmington, North Carolina has seen a surge in its craft beer scene, with many new breweries popping up. Today there are 15 breweries in Wilmington, each with a unique story and great-tasting beer!
The Wilmington breweries include unique options such as solar-powered brewing, local yeasts that have been harvested in the city and a chemist that spends 6 hours getting the water just perfect before even starting to brew!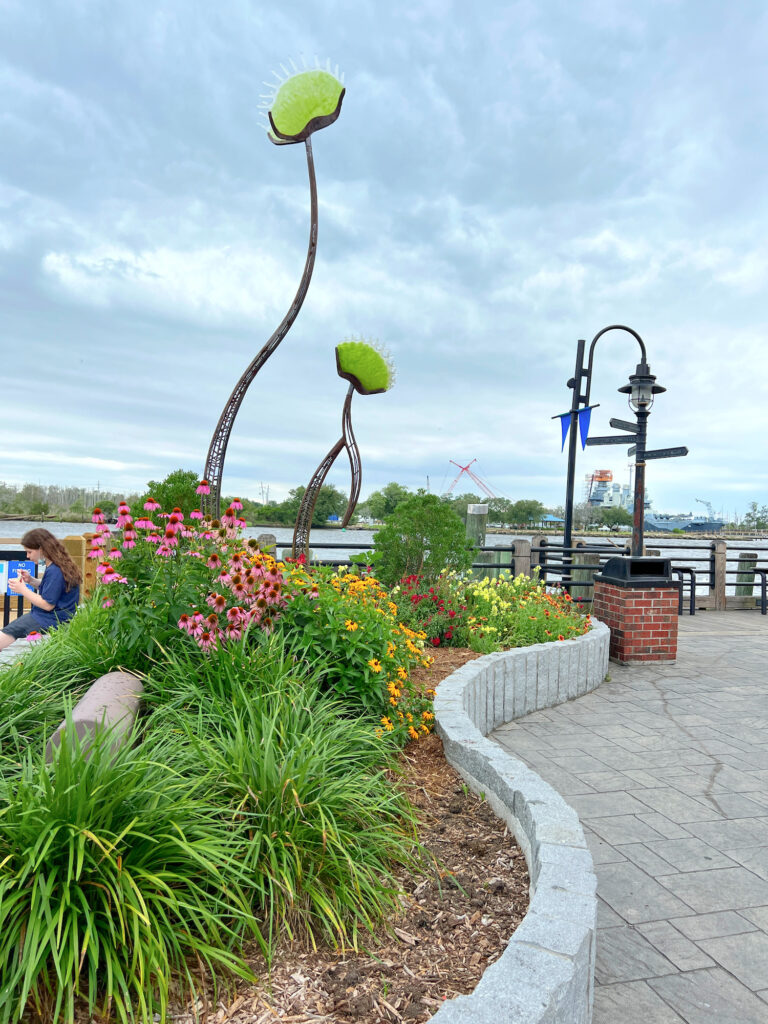 Below is a list of all Wilmington breweries. We have included videos showing what each location looks like, as well as short interviews with the brew masters.
In this article, the breweries are listed in the order below:
Bill's Brewing
Mad Mole Brewing
Broomtrail Craft Brewery
Edward Teach Brewery
New Anthem Beer Project
Flytrap Brewing
Flying Machine Brewing Company
Catawba Brewing Company
Hi Wire Brewing
Front Street Brewery
Waterman's Brewing Company
Ironclad Brewery
Waterline Brewing Company
Wilmington Brewing Company
Wrightsville Beach Brewery
At the end of this article, we have also included a list of breweries in Wilmington, NC that serve food.
Bill's Brewing
Bill's Brewing is one of the more well-known breweries in Wilmington as you can find their canned beer at stores and restaurants throughout the area. The location has been a bit of a staple, first known as The Backyard Grill which became Captain Bill's Backyard Grill and then Bill's Front Porch.
It has been used a restaurant, catering venue, and now a brewery. Behind the brewery you will also find volleyball courts if you are up for a game!
Bill's offers a large variety of craft beer on tap, from IPA and dark lager to seltzers and frequently releases new seasonal flavors. They also offer a full lunch and dinner menu.
Just note that they are currently open only on Friday and Saturday!
4238 Market Street
Wilmington, NC 28403
(910) 769-1059
Mad Mole Brewing
Mad Mole Brewing stands out on this list because it is solar powered. The entire brewing process uses solar energy so they offer beer that, they say, is "brewed by the sun".
This brewery also holds the title for "America's Favorite Solar-Powered Microbrewery".
On tap you will find a wide range of Belgians, IPAs, and more. They also frequently host food trucks so you can grab a snack while they're there too.
6309 Boathouse Rd Unit C
Wilmington, NC 28403
(910) 859-8115
Broomtail Craft Brewery
Broomtail Craft Brewery is a little off the beaten path in Wilmington and not a place most tourists would accidentally stumble across but the small, cozy taproom is well worth a visit.
They are a small brewery that focuses on the art and science of beer-making (the owner is a water chemist, so you know only the best water is used in brewing!).
Only naturally harvested raw materials are used in their beer, such as local yeasts that have been collected in the region.
They also have a sister location, The Sour Barn, that focuses on sour beers only.
6404 Amsterdam Way
Wilmington, NC 28411
(910) 264-1369
Edward Teach Brewery
Located next to the Brooklyn Arts Center, Edward Teach Brewery is one of the more popular breweries in town, open daily from 1 pm on weekdays and 12 pm on weekends.
The building was originally a fire engine house and is now designed to feel like the inside of a boat, an ode to the name.
Edward Teach was the real name of the famous Blackbeard pirate, so the boat and pirate theme is played up throughout the venue. The brews even have fun names like Scallawag Session IPA.
604 N 4th Street
Wilmington, NC 28401
(910) 523-5401
New Anthem Beer Project
New Anthem is one of the only breweries in town to operate multiple locations. While the Greenfield location is where the production happens, the original Dock Street location is a popular downtown venue.
The downtown location is much smaller, so it is often packed – likely why they opened the second location just a few blocks away!
They offer dozens of Dark, Hoppy, Belge, Lager, and Mix Ferm beers on top at both locations. The Greenfield location also has a huge parking lot and is right in front of a trolley stop – very convenient for getting downtown!
Food trucks are only available at the Greenfield location.
116 Dock Street
Wilmington, NC 28401
(910) 399-4683
110 Greenfield Street
Wilmington, NC 28401
(910) 399-3100
Related Post: 41 Movies Filmed in North Carolina (many have been filmed in Wilmington, known as the Hollywood of the East!)
Flytrap Brewing
Another brewery located in the Brooklyn Arts District, Flytrap Brewing focuses on small-batch American and Belgian style ales. After 7 years of home brewing, co-owner Mike Barlas decided to open a brewery.
They also rotate seasonal brews and have a beautiful beer garden that is dog-friendly so this is a great place to visit with your pup!
The name is a nod to the Venus flytrap, the carnivorous plant that eats bugs. Wilmington (and the 60 miles around it) is the only native habitat of the plant!
Snacks are served at this location, such as chips and pretzels, but not heavier food or meals.
319 Walnut Street
Wilmington, NC 28401
(910) 769-2881
Flying Machine Brewing Company
With a steampunk-inspired design, Flying Machine Brewing Company focuses on something many others do not – traditional English beers. The process of making these is much longer than just brewing up an IPA, which is why many other breweries don't bother.
Definitely give the Stringfellow English Table Beer a try!
Not a fan of English beer? With over 20 beers on top, they will definitely have something you love! This is a great place to hang out as they have a two-story patio and a gaming room. (Plus coffee, wine and ciders for the non-beer-drinkers.)
3130 Randall Parkway
Wilmington, NC
(910) 769-8173
Catawba Brewing Company
Catawaba Brewing is one of the larger businesses on this list, with 5 different locations throughout North Carolina, including other locations in Asheville and Morganton.
Their Wilmington location opened when they bought out the previous Skytown Beer Company and re-opened in their location.
Catawba Brewing in Wilmington is a brew pub with over 20 craft beers on tap and a simple lunch or dinner menu served up by their Zombie Fresh Kitchen (see the full menu online). They also have a drive-thru window and their patio space is pet-friendly!
4712 New Centre Drive
Wilmington, NC 28405
(910) 660-8721
Hi Wire Brewing
Unlike the other breweries on this list that have their brewery and taproom in the same location, Hi Wire Brewing offers just a large taproom decorated with huge, colorful murals.
Hi Wire has a variety of taprooms across North Carolina and in other southern destinations, such as Alabama, Tennessee and Kentucky.
Their beer is made off-site, then transported to the pub.
Hi Wire Brewing is located just a couple of blocks from the Cape Fear Museum of History and Science.
If you are interested in the process of brewing, they do offer a regular Brew Tour at an off-site location that gives you a look behind the scenes.
1020 Princess Street
Wilmington, NC
(910) 933-5500
Front Street Brewery
Front Street Brewery, which has now been open for over 25 years, holds the title of the first brewery in Wilmington and the 7th in the state of North Carolina.
They have also won over 100 craft beer awards!
But not only does Front Street serve up dozens of their own craft beer, they also have "Eastern North Carolina's Largest Whiskey Selection" with 485 bourbons and whiskeys to choose from.
So if you are not a huge beer drinker, or someone in your group isn't, this is a great place to go!
This downtown location does have an extensive menu in their restaurant, so be sure to make a meal out of a visit here! There is outdoor seating and the location is dog-friendly.
9 N Front Street
Wilmington, NC
(910) 251-1935
Waterman's Brewing Company
If you are looking for a filling and flavorful brunch or dinner to accompany your beer, look no further than Waterman's Brewing Company. They offer a brunch menu with dishes like burgers, shrimp and grits, and chicken and biscuits, as well as a dinner menu featuring tacos, sandwiches, and even ahi tuna.
Note that brunch is only available 10 am to 2 pm on the weekends.
You will find a large beer list and the taproom that doubles as an event space for up 150 guests.
1610 Pavilion Place
Wilmington, NC 28403
(910) 839-3103
Ironclad Brewery
If you don't want to have to worry about finding a place to park, Ironclad Brewery is the perfect spot, as it is located right across from public parking.
It is also another Wilmington brewery that renovated an unexpected building into a brewery – in this case, a car dealership, funeral home, auto repair shop, and general store. Talk about a building with history!
They brew a variety of craft beers and seltzers but also offer wine and spirits, which makes this another great place to check out even if you are not a huge craft beer fan.
115 N 2nd St
Wilmington, NC 28401
(910) 769-0290
Waterline Brewing Co
Waterline Brewing Co is a contender for "Brewery in Wilmington With The Best Location." It is located in a circa-1940s warehouse under the picturesque Cape Fear Memorial Bridge, near the boat slip, overlooking the river, and boasts the slogan "Brewed Under the Bridge".
There is actually so much more to do a Waterline than just drinking beer. Outside, they offer corn hole, basketball games, and a stage for live music while inside you will find board games, another stage, and an attached art gallery.
Tours are available.
Be sure to check their calendar because they frequently host special events! (Even Octoberfest!)
721 Surray Avenue
Wilmington, NC 28401
(910) 777-5599
Wilmington Brewing Company
Wilmington Brewing Company is a business that started small with Asheville roots and ended up expanding (a few times!) as it become a local Wilmington favorite. They offer a rotating collection of 15 beer on tap, weekly food trucks, and lots of special events.
But what makes them stand out even more to craft beer lovers is the home-brew section, where you can find everything you need to try your hand at brewing craft beer at home.
824 S. Kerr St
Wilmington, NC 28403
(910) 769-0293
Wrightsville Beach Brewery
Don't let the name fool you – Wrightsville Beach Brewery is indeed located in Wilmington. If pizza and beer sounds like a good combo to you, this is a Wilmington brewery you must check out!
Related Post: Blockade Runner Resort in Wrightsville Beach – Why It's So Amazing!
They were actually one of the first breweries to offer their own food (vs the food trucks that many new breweries are featuring) and they are still famous for their pizza and oysters.
Their brew list may be smaller than some of the others on this list, with around 10 beer on tap, but when it comes to craft beer, it is definitely quality over quantity!
Each month, a different brew is selected to be "Beer of the Month," and 11% of proceeds are donated to a selected charity.
6201 Oleander Drive
Wilmington, NC 28403
(910) 256-4938
Wilmington, NC Breweries That Serve Food
Bill's Brewing
Mad Hole Brewing
Broomtrail Craft Brewery (sometimes has food trucks)
Edward Teach Brewery (usually food trucks on site; check the calendar for which ones and what dates)
New Anthem Beer Project (Greenfield location only)
Flying Machine Brewing Company (food trucks)
Catawba Brewing Company (restaurant on site)
Front Street Brewery (restaurant on site)
Waterman's Brewing Company
Waterline Brewing Company (food trucks)
Wilmington Brewing Company
Wrightsville Beach Brewery (restaurant on site)
Wilmington, North Carolina's breweries are just one of the many fun things to do in the coastal city. Battleship Wilmington is a must-see (be sure to read our guide of helpful tips before your visit).