Southern Pines is one of the most charming towns I've visited in North Carolina. This vibrant community is often overshadowed by the history and prestige of neighboring Pinehurst, but it deserves recognition on its own.
In fact, I much prefer Southern Pines over Pinehurst. There, I've said it.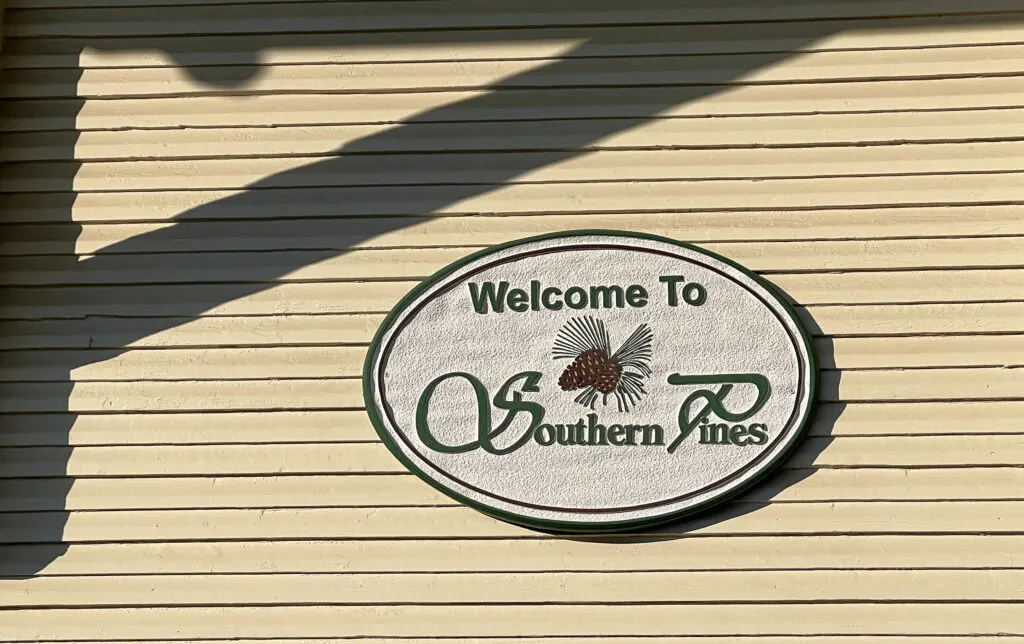 Southern Pines reminds me a lot of my hometown of Hendersonville, before Hendersonville started getting too big. (A sentiment that was shared by a Southern Pines local when we were talking to people that live in the town.)
There's everything you need in Southern Pines, lots of nature activities, and a hometown community feel without too much traffic or asking you to pay for parking.
If you are looking for a cute weekend destination, definitely put Southern Pines on your list. Our detailed guide gives you the best things to do in Southern Pines, as well as plenty of restaurant suggestions in the town (we ate well!) and places to stay.
For Floridians, here's a helpful comparison: We thought that Southern Pines is very similar to downtown Winter Garden, Florida. And it reminded us a little bit of Winter Park, FL with the train station being located in the middle of the downtown.
Where is Southern Pines?
Southern Pines is a town located next to Pinehurst, Aberdeen and Carthage in North Carolina.
Located in the Piedmont, it is a very easy drive from many of the state's major cities and population centers, which makes the area a great day trip or weekend destination.
Approximate drive times:
Durham to Southern Pines: 1 hour, 15 minutes
Raleigh to Southern Pines: 1 hour
Charlotte to Southern Pines: 2 hours
Asheboro to Southern Pines: 1 hour
Winston-Salem to Southern Pines: 1 hour, 45 minutes
Greensboro to Southern Pines: 1 hour, 20 minutes
Wilmington to Southern Pines: 2 hours, 15 minutes
Asheville to Southern Pines: 4 hours
Be sure to see our Non-Golfing Guide to Pinehurst for another great day trip destination!
Shop Downtown
Downtown Southern Pines is one of the most vibrant downtowns I have seen in a while. It is a downtown where the community comes to eat, play and shop, as well as the visitors.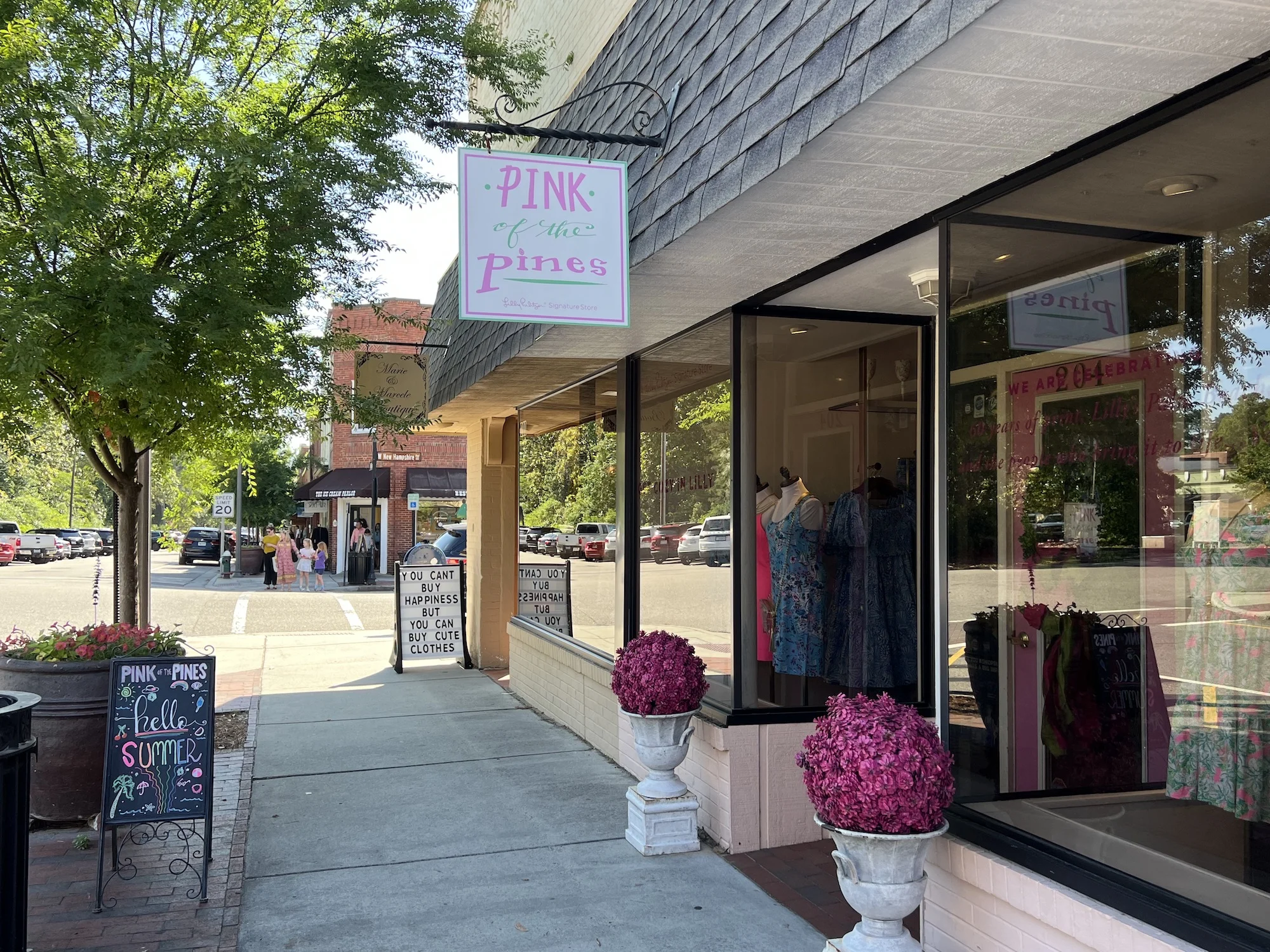 There are quite a few stores to enjoy shopping at along the Main Street, with something for everyone, from gourmet cheese to outdoor sporting equipment to guitars.
Against the Grain Shoppe has a huge collection of items from North Carolina small businesses.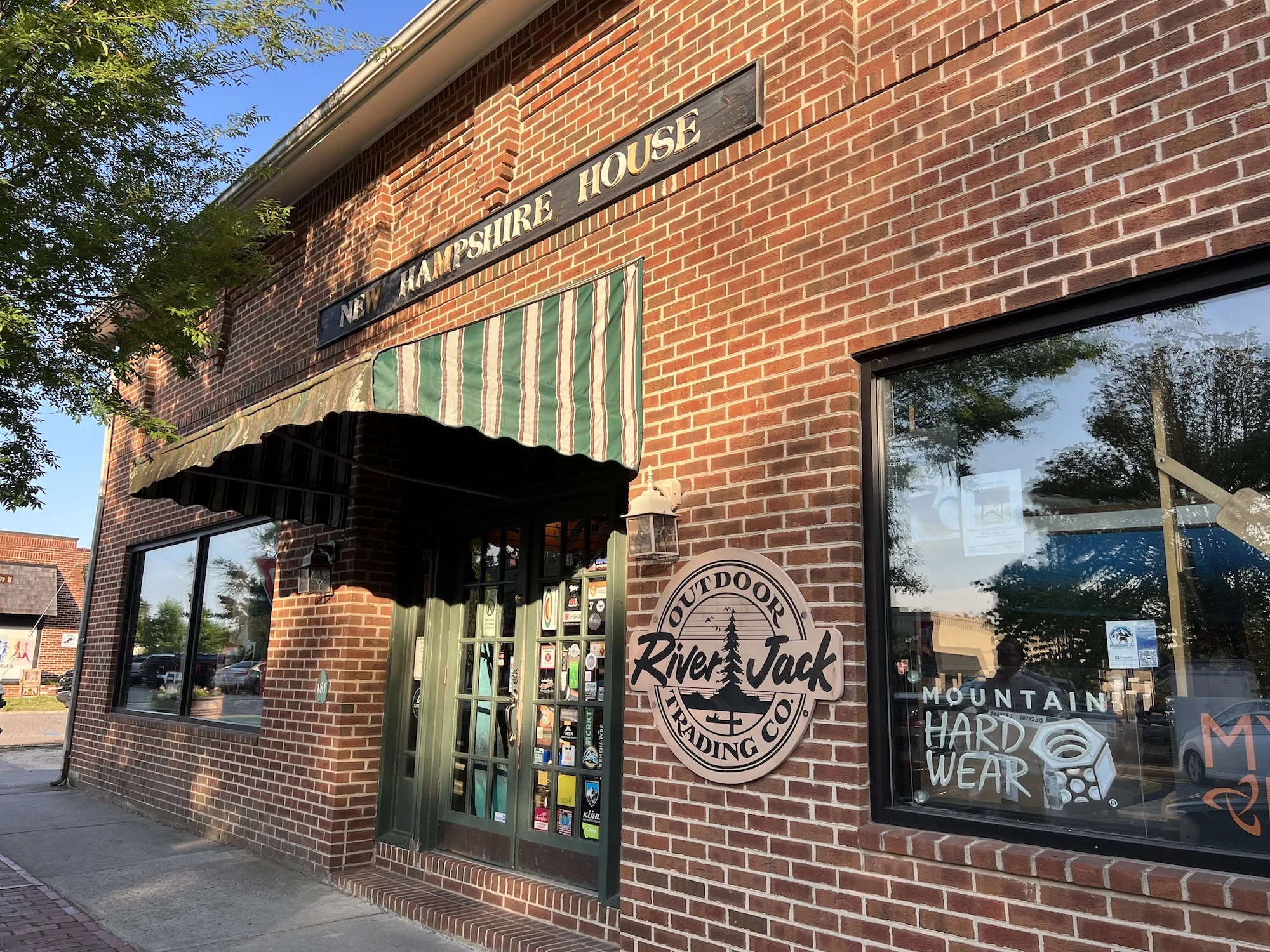 Parking is free in downtown Southern Pines with no time limits.
Taxidermy Hall of Fame
One of the most unique places in Southern Pines has got to be the Taxidermy Hall of Fame, which also is an antique tool museum and creation museum, too. Plus, the museums are located in a Christian bookstore that also sells fudge.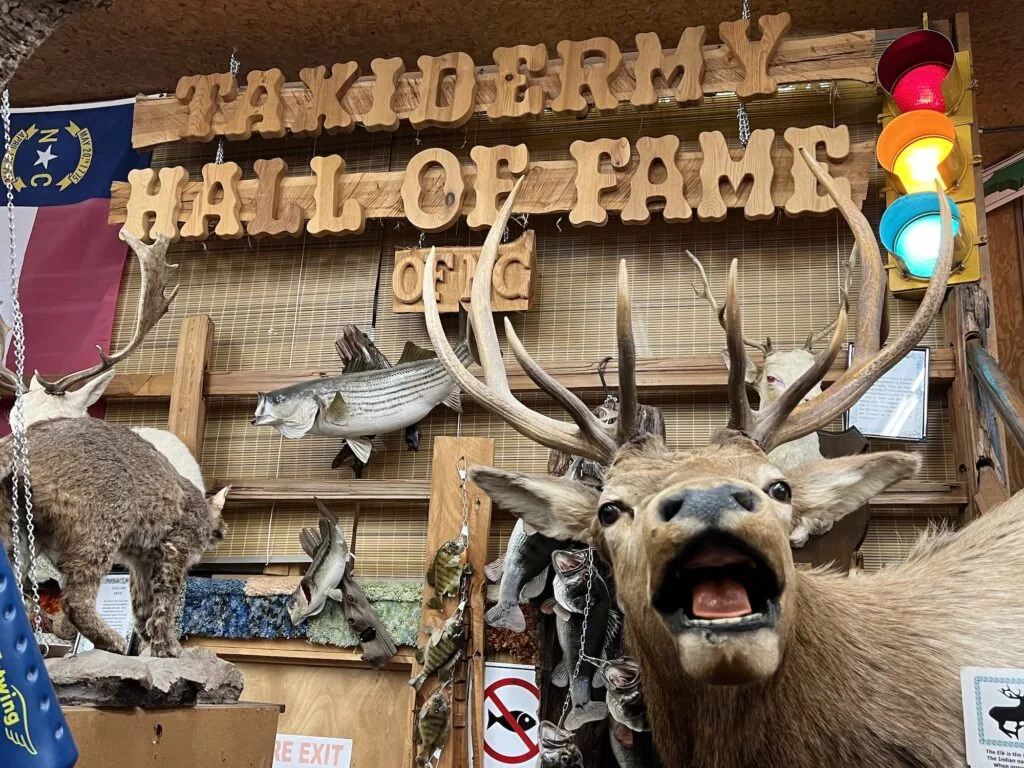 It is a lot to see in one place! But it is definitely worth it.
Walk through two levels of taxidermied North Carolina wildlife, along with an overwhelming amount of displays on antique tools and other fun finds. Every surface has something to look at, even the ceilings!
Be sure to get a sample of fudge on your way out. You can get free samples and you will find out how delicious it is!
The Heritage Flag Company
Just a block or two off of Main Street you will find the headquarters of The Heritage Flag Company. This veteran-owned business creates heirloom-quality wooden flags out of wine barrels and even wood from the famed No. 2 golf course in Pinehurst.
There are so many different types of flags in the small store, from small pieces you can easily pack in your suitcase to large flags perfect for hanging over your mantle at home.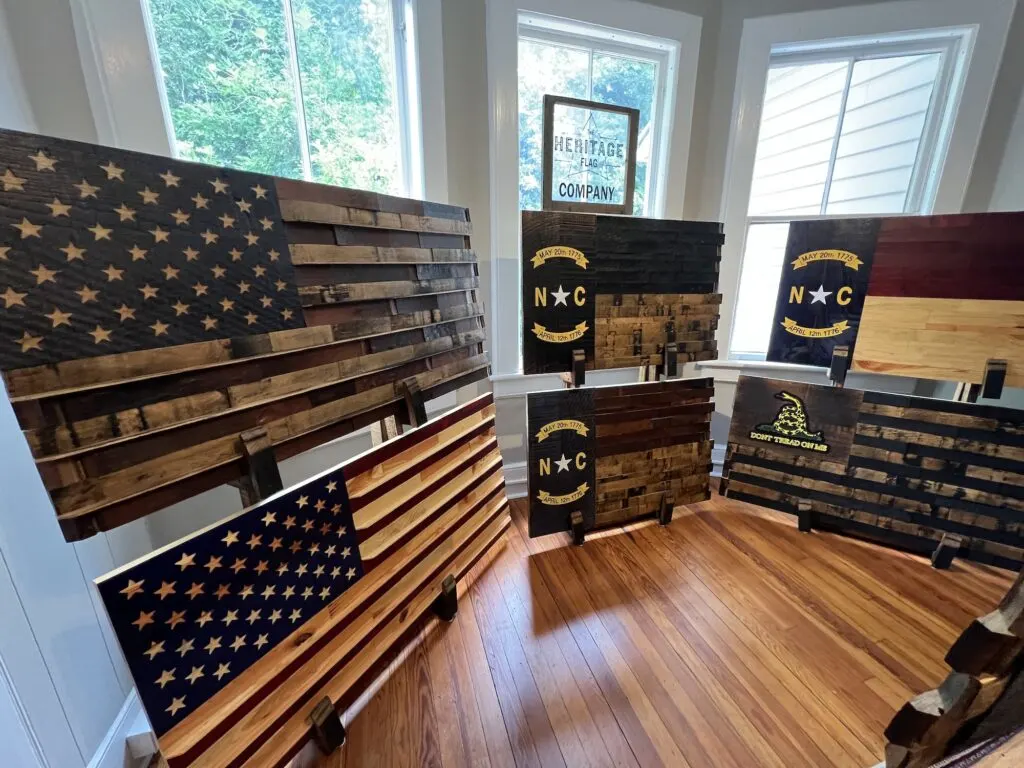 The majority of the sales at this company are from their website, so they are definitely ready and able to help you pick out a piece of art and ship it home to you.
R. Riveter
This American-made handbag company supports military spouses who often find it hard to hold onto a good job as they are moved with their husbands across the country.
Spouses assemble parts of the products at home and the bags and accessories are assembled in America. The founders of R. Riveter appeared on ABC's Shark Tank and teamed up with billionaire Mark Cuban as an investor to expand their business.
The flagship store is located in Southern Pines. Inside, you will find their colorful pieces which include hand bags, cosmetic bags, and even jewelry.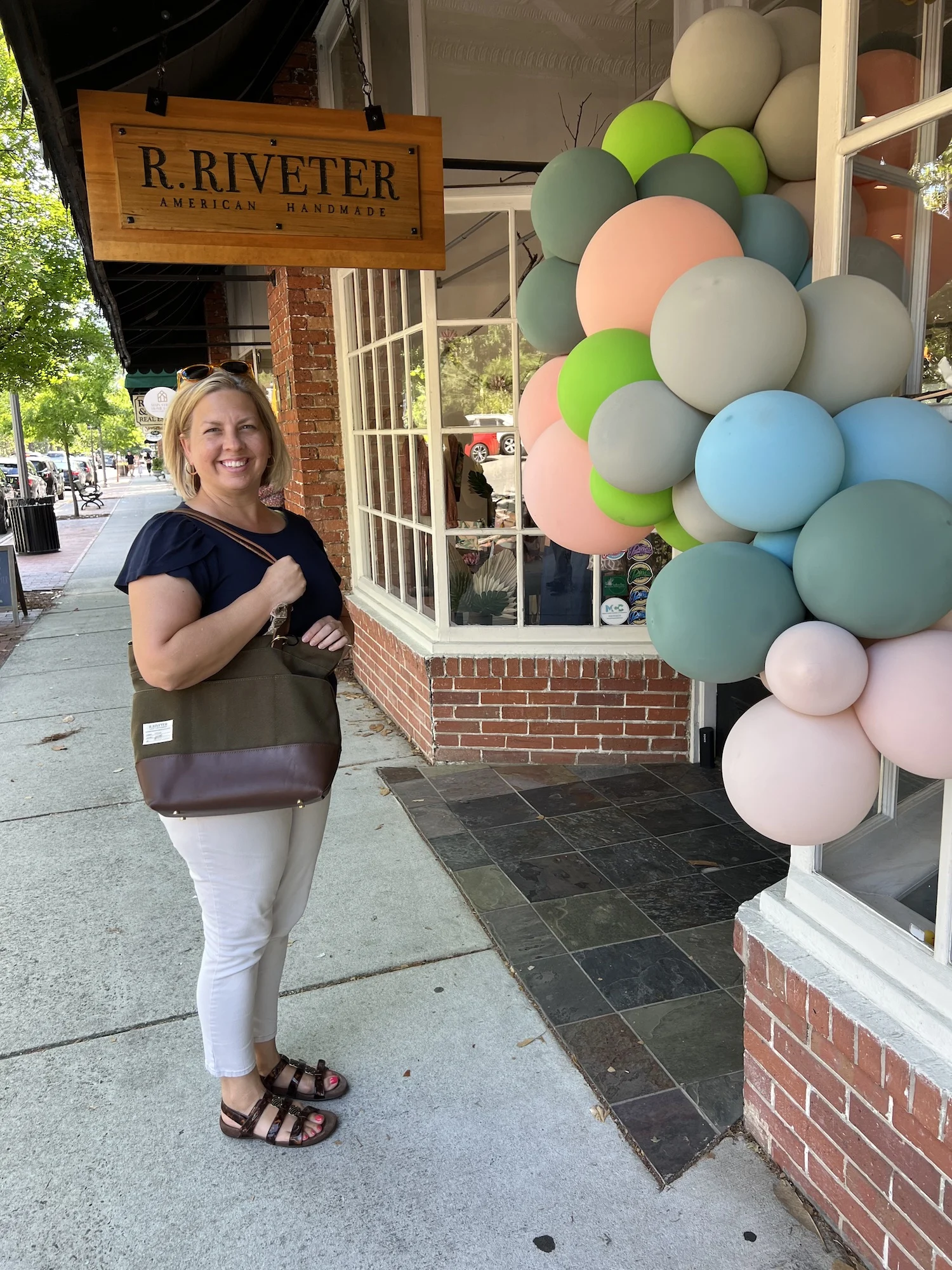 We have owned an R. Riveter bag since the company first started. It's one of Carrie's most-loved bags of all time! Her puppy started chewing on the handles and started destroying the bag. I brought it in to the store and they were great at finding a way to fix the bag and helping us get our R. Riveter purchase back to the best shape possible!
Amtrak
Isn't it always fun to find a working train station? And especially a train station in the middle of a downtown?
The Southern Pines train station is quintessential old-fashioned America. The Amtrak train (Silver Service/ Palmetto Train) still comes through twice a day, though usually early in the morning and late at night.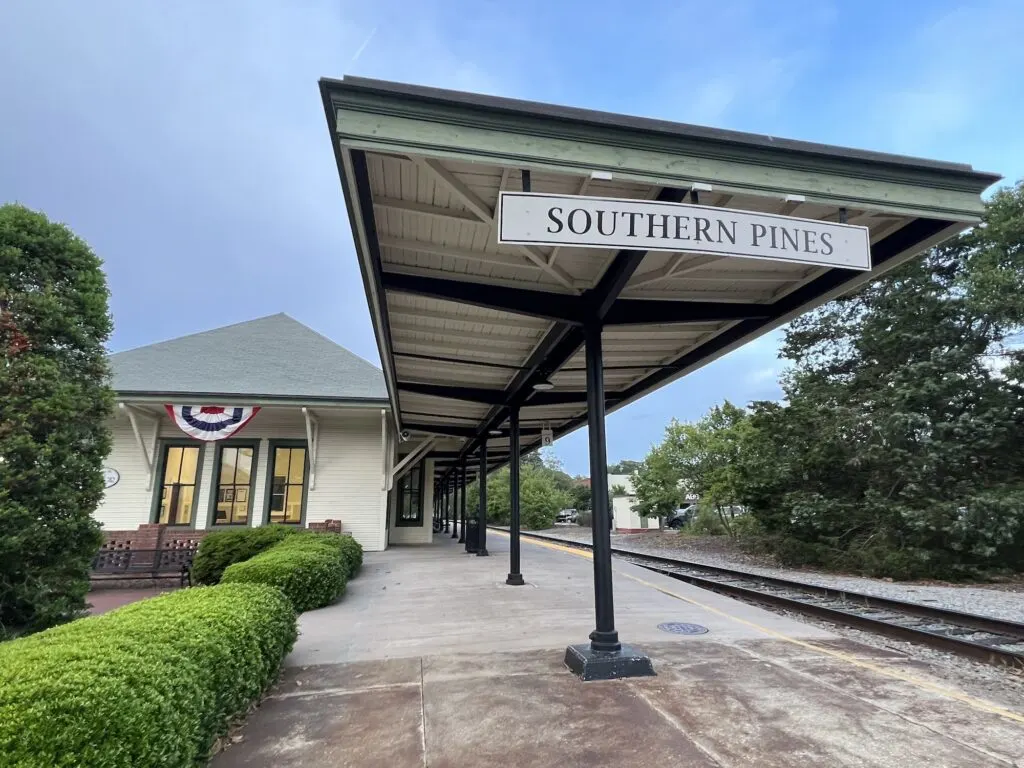 Inside the train station you will find a self-service checkout, as well as some replicas of what train travel used to be like in days gone by.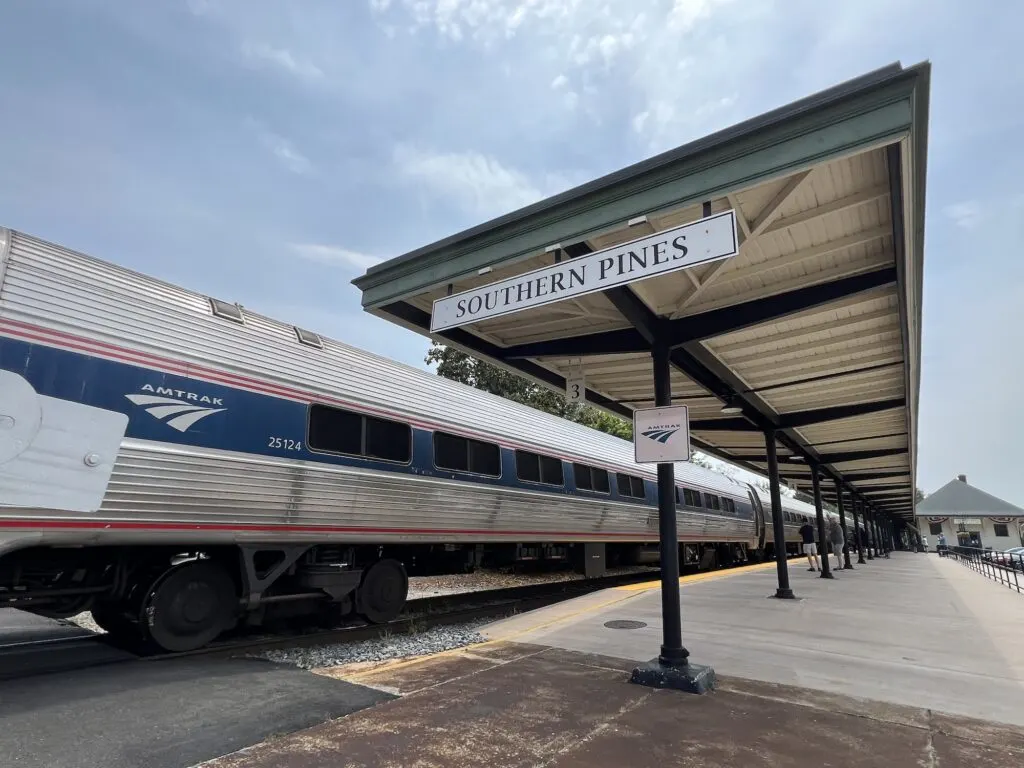 Visit the Welcome Center
At the opposite end of the active train station you will find the Southern Pines Visitor's Center. Step inside the small space for some exhibits on the history of the area, as well as the opportunity to purchase some Southern Pines souvenirs.
See a Movie
Just like I love to see a train station in a small downtown, I also love to see an old-fashioned movie theater on a Main Street. In Southern Pines, you can get both!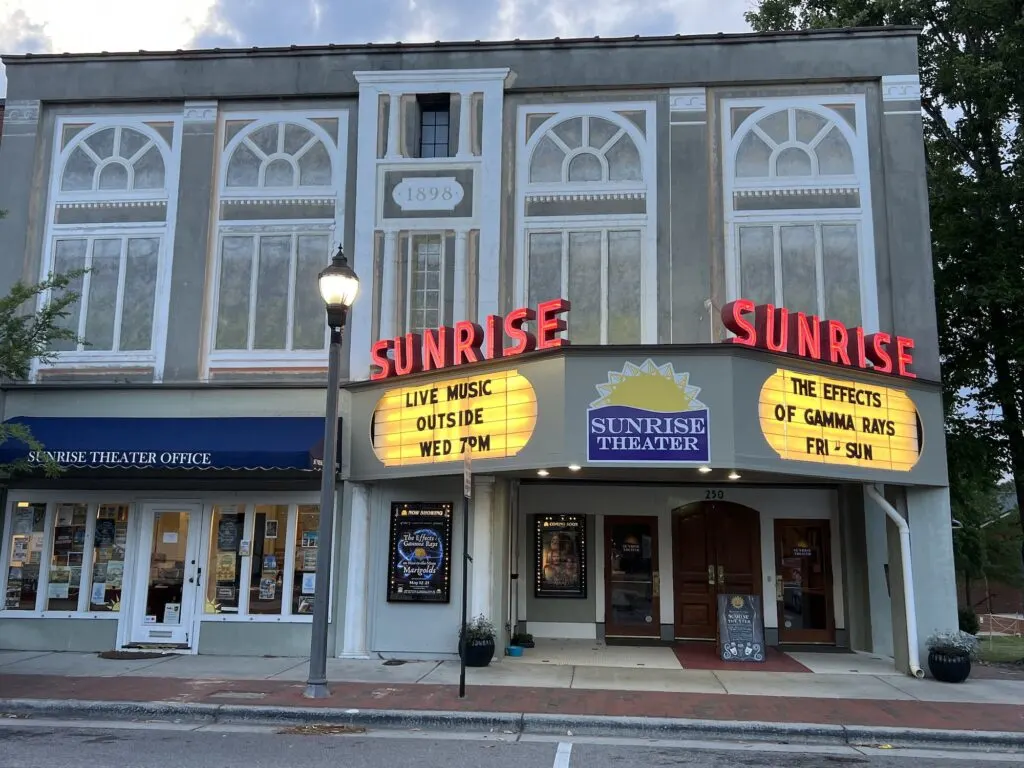 The Sunrise Theater has modern movies, as well as concerts, live music events and even live streaming of opera.
Southern Pines Growler
Southern Growler is located just a block or so off of Southern PInes' Main Street, across from The Heritage Flag Company.
Get your growlers refilled, or enjoy a pint or flight.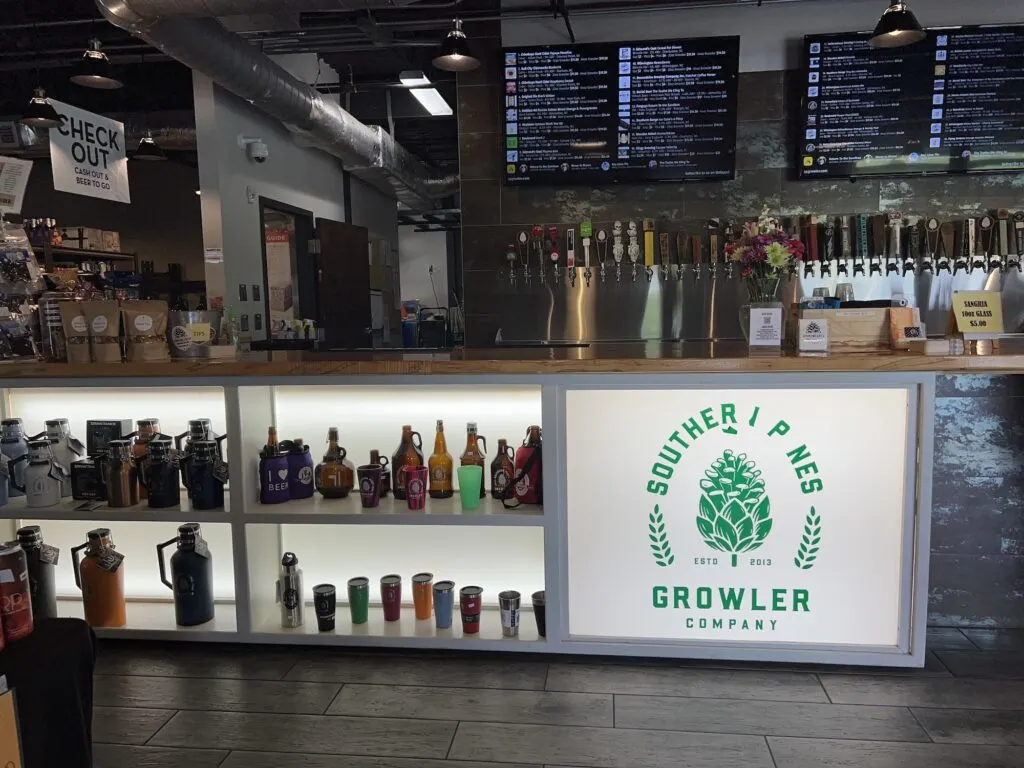 With plenty of outdoor patio seating, it's a great place to enjoy a beautiful day.
Weymouth Center for Arts and Humanities
The Weymouth Center for Arts and Humanities is located in the Boyd House, which was the home of author James Boyd.
Boyd wrote Drums, which has been called one of the best novels about the American Revolution.
The house is stunning, with huge windows letting in lots of natural light and fine furnishings that you are welcome to sit on and feel like you are at home.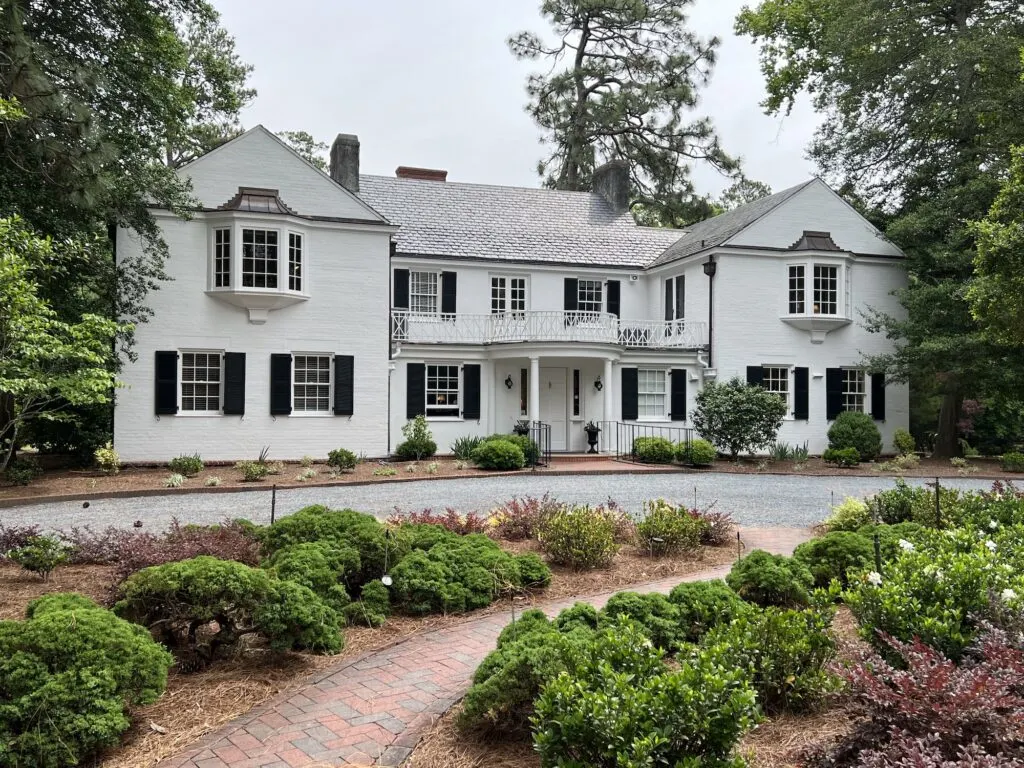 The library is one of the most popular rooms, and my favorite as well. Inside the quintessential library you will find many of Boyd's books on display.
Upstairs in the Boyd House you will find the NC Literary Hall of Fame. Located in one room of the house, this collection honors the authors and poets that have been inducted into the Hall of Fame, including Maya Angelou, Carl Sandburg and O. Henry.
Outside, there are acres of grounds to explore, with gardens, fountains and longleaf pines. Be sure to take some time to wander the property.
See inside the house and the gardens in our YouTube video below:
Weymouth Woods Sandhills Nature Preserve
Part of the NC Parks system, this 930-acre nature preserve has miles of trails underneath long leaf pines to explore.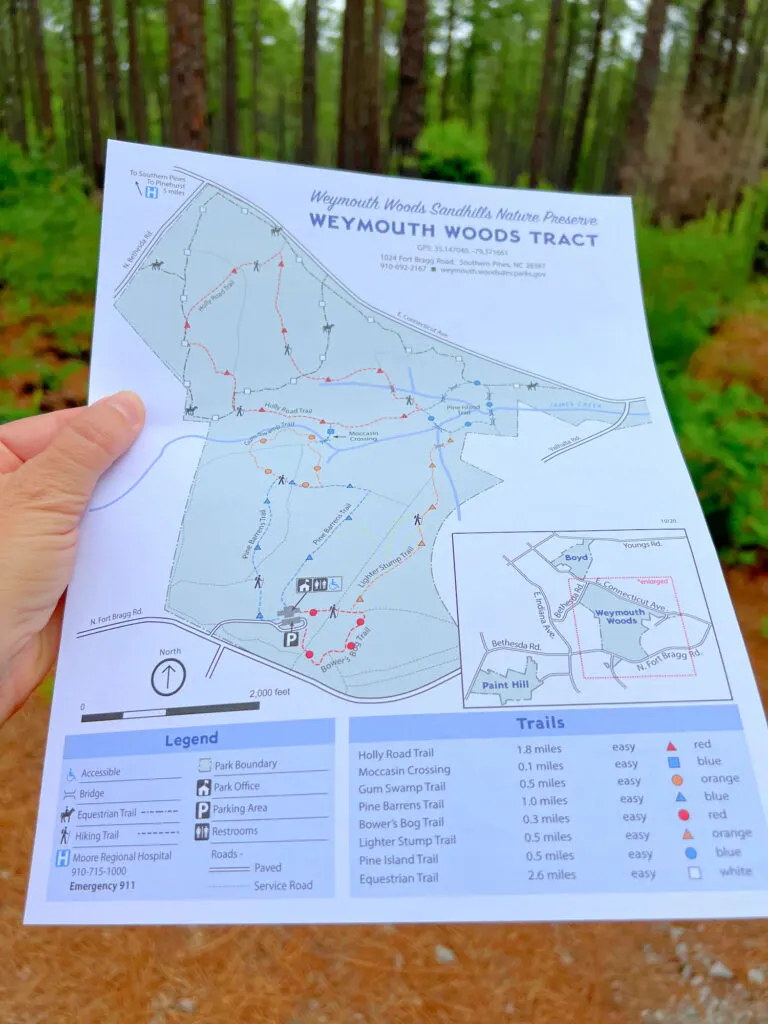 *This is a different location that the Weymouth Center for Arts and Humanities. We made that mistake thinking we could park at one place and visit both.
The Sandhills region of North Carolina isn't usually talked about. In addition to the Mountains, the Piedmont and the Coast, there is a small section known as the Sandhills, where Southern Pines and Pinehurst are located. This nature preserve keeps this small part of natural North Carolina protected for future generations.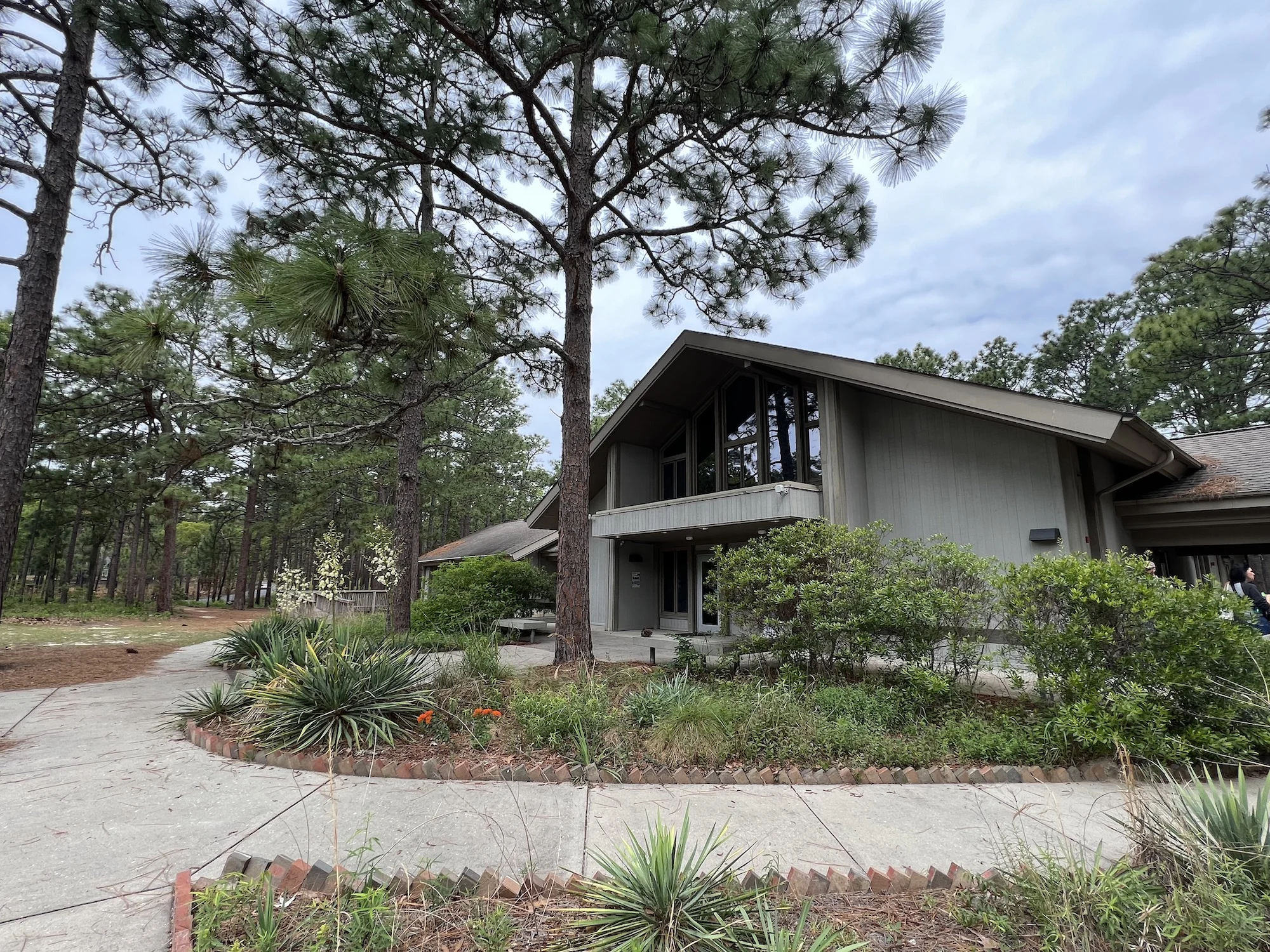 Walthour-Moss Foundation
The Walthour-Moss Foundation has more than 4,000 acres of virtually unspoiled woodland. While predominantly used as horseback riding trails, the vast acreage is available for pedestrian walking, as well.
Be on the lookout for rare birds and other wildlife that call these protected Sandhills home.
Restaurants in Southern Pines
Ashten's
One of my biggest mistakes in Southern Pines was making a reservation for the dining room at Ashten's instead of the downstairs pub. I still dream of the the over-the-top red-hued pub downstairs!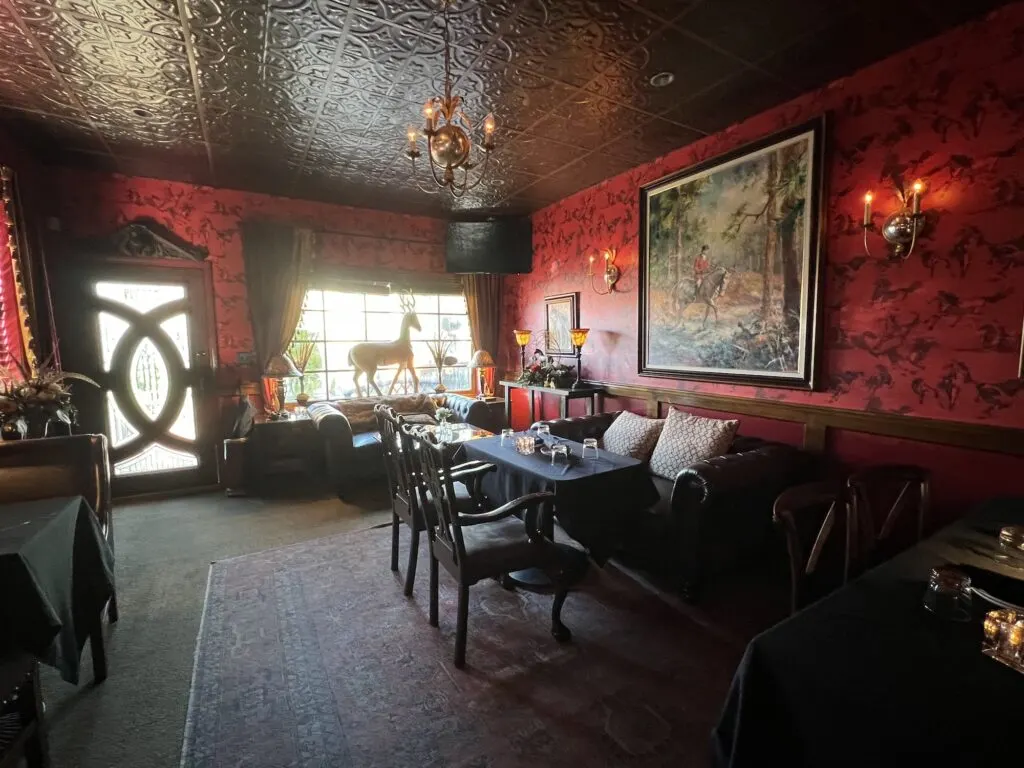 With two vastly different dining experiences under one roof, there is something for everyone. Refined and elegant upstairs or funky with an old-fashioned English pub vibe downstairs.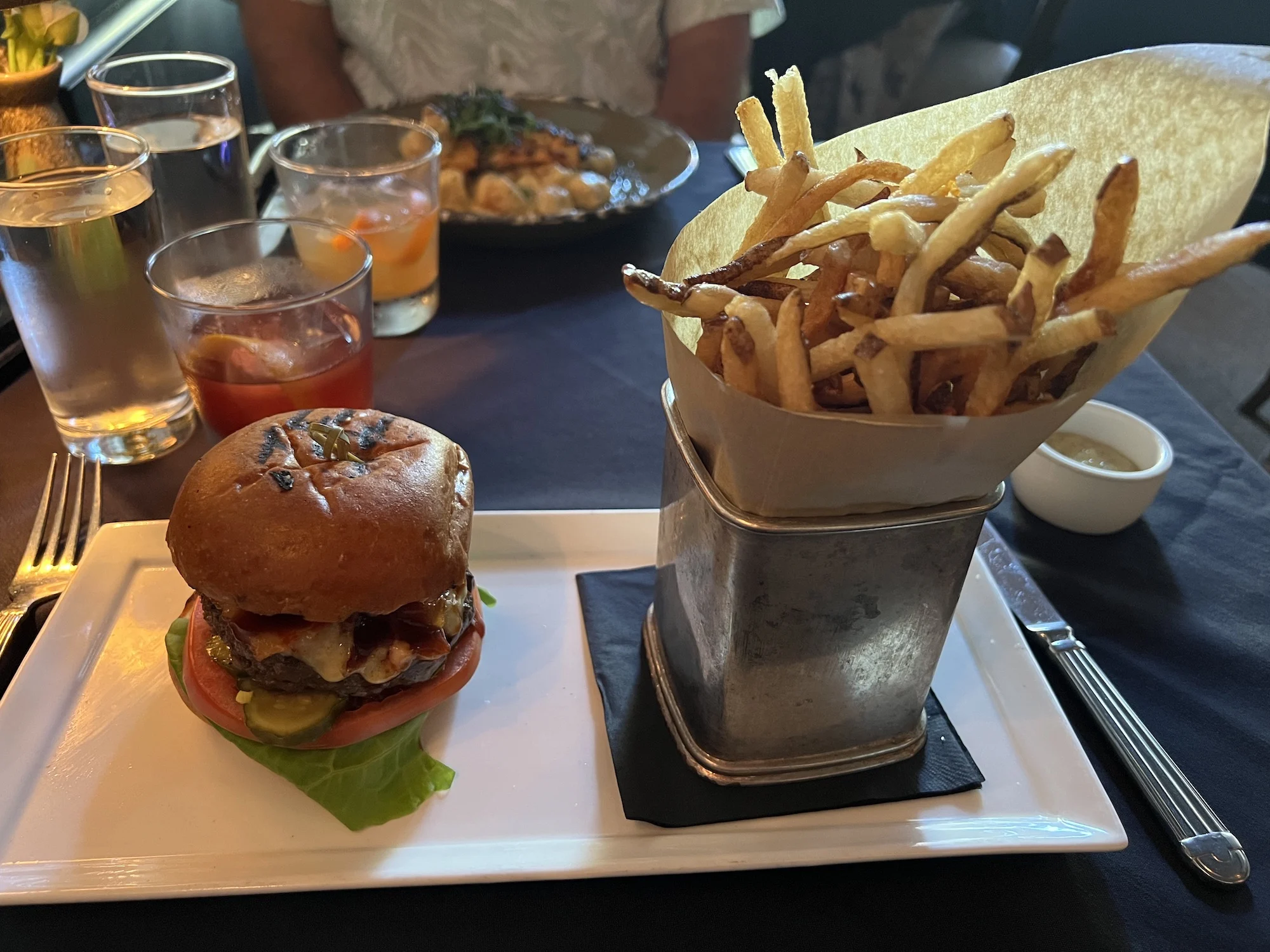 Regardless of which dining room you choose, the food is all the same. And it is delicious!!!
By the way, if you choose to make a reservation online rather than just walking in, there are choices between the dining room, the Pub at a table, or the Pub at a couch. You know which one I'll be choosing next time we visit!
Red's Corner
If you love food trucks, then Red's Corner is the place for you! There is a permanent collection of food trucks in this dedicated space, as well as visiting food trucks each week.
You will find beers and wine available, as well as live music. Stop by for a yoga session, too!
This is a space where the community comes together and enjoys time outdoors.
Pine Scone Cafe
Though not located in cute downtown, the Pine Scone Cafe was one of our favorite finds in Southern Pines.
The location is near Kohl's and all of the big-name retailers. However, the taste of their handmade scones makes us think of grandma's house.
I enjoyed the scone breakfast sandwich which was a meal in itself, packed with protein and veggies and served with a side of potato chips or fruit.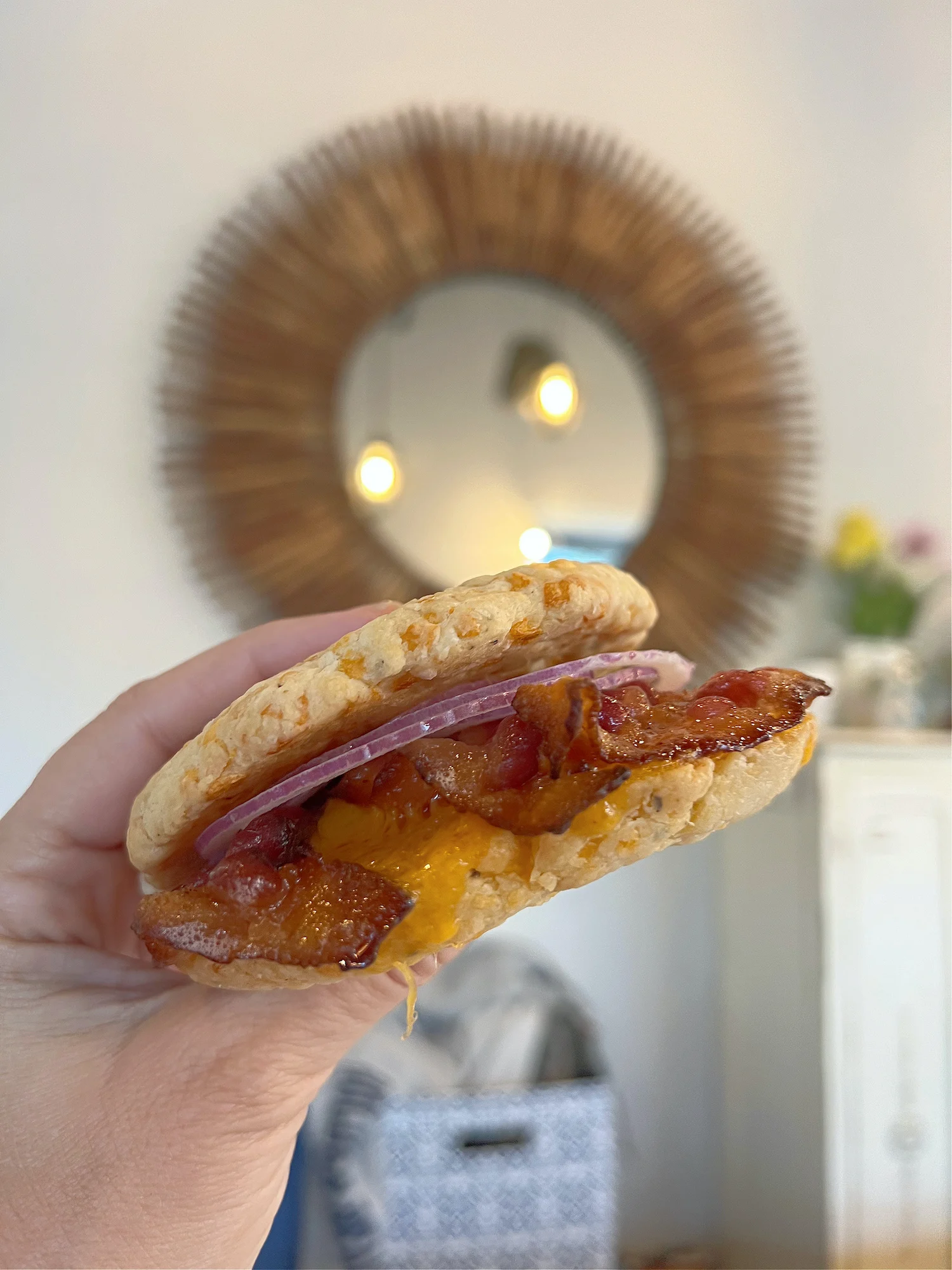 There is also a location in Pinehurst, too.
The Ice Cream Parlor
Located on the corner in downtown Southern Pines, The Ice Cream Parlor is everything you want it to be: community hangout, a place to get an inexpensive ice cream cone, and great fast food with a hot dog special of the day!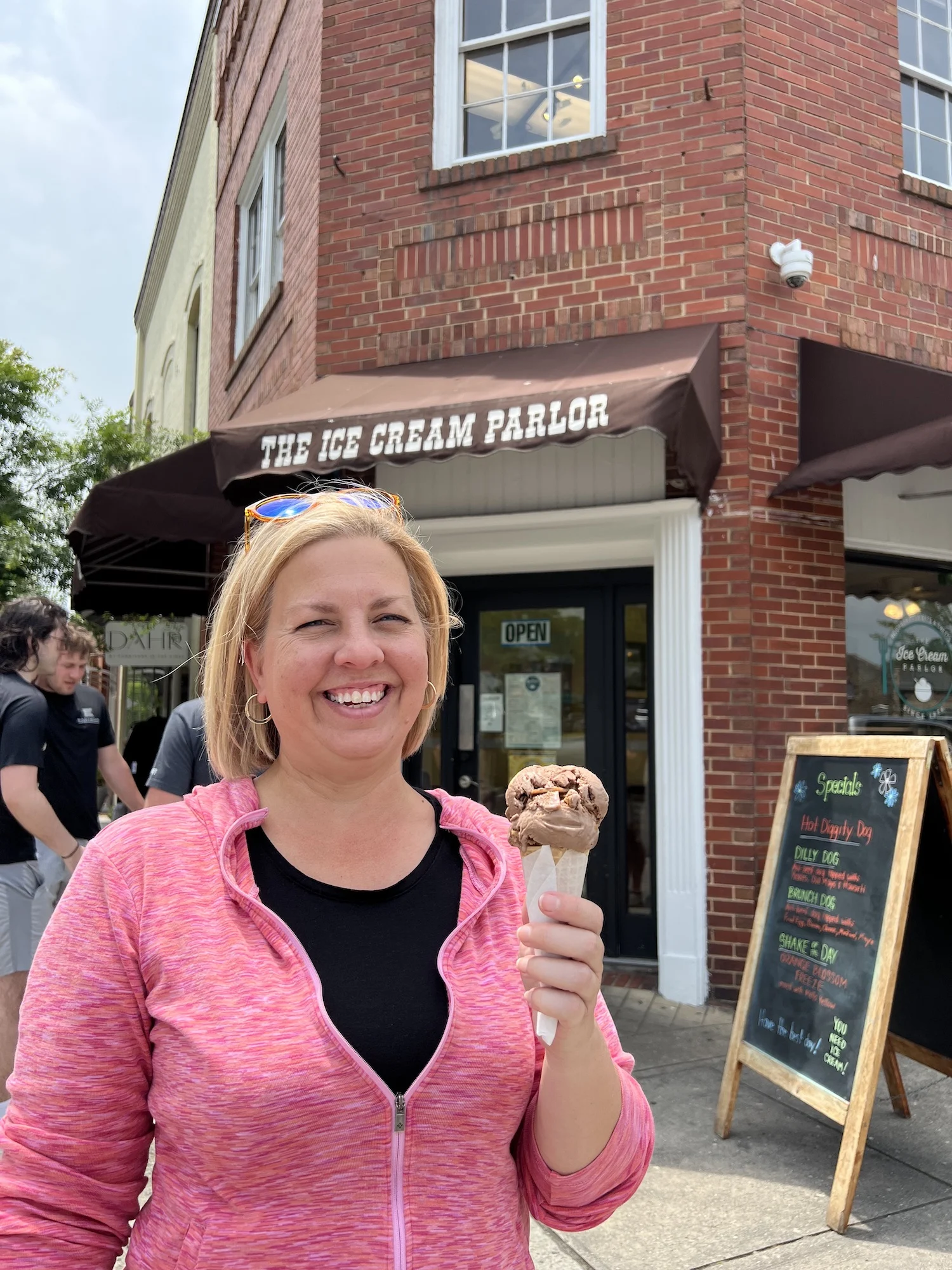 If you want to get fancy, skip the Hershey's ice cream and choose one of the homemade ice creams instead. The Lavender and Honey is one of the most popular flavors!
Chapman's Food and Spirits
One of the most highly-rated and talked about restaurants in Southern Pines is Chapman's Food and Spirits. This location gets rave reviews for their food and drinks.
We didn't have enough time in our stay in Southern Pines to eat everywhere, so this one is definitely high on our list for when we return!
Embers BBQ
A relatively new restaurant in Southern Pines, we enjoyed a platter of delicious BBQ and all the fixings. Grab a table outside on a nice day and enjoy your 'que.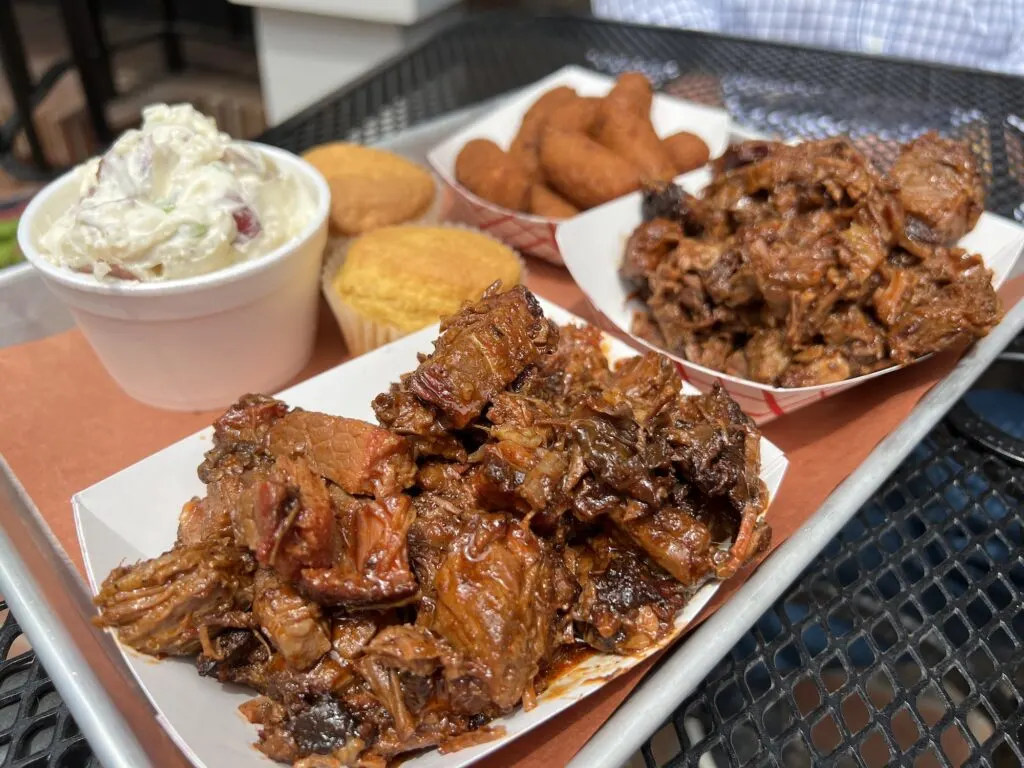 Betsy's Crepes
One of the most popular places in Southern Pines, you are going to need to get here early if you want a crepe on a Sunday morning!
From sweet to savory, there is a crepe here for everyone! And everyone seems to come to Betsy's Crepes when in town.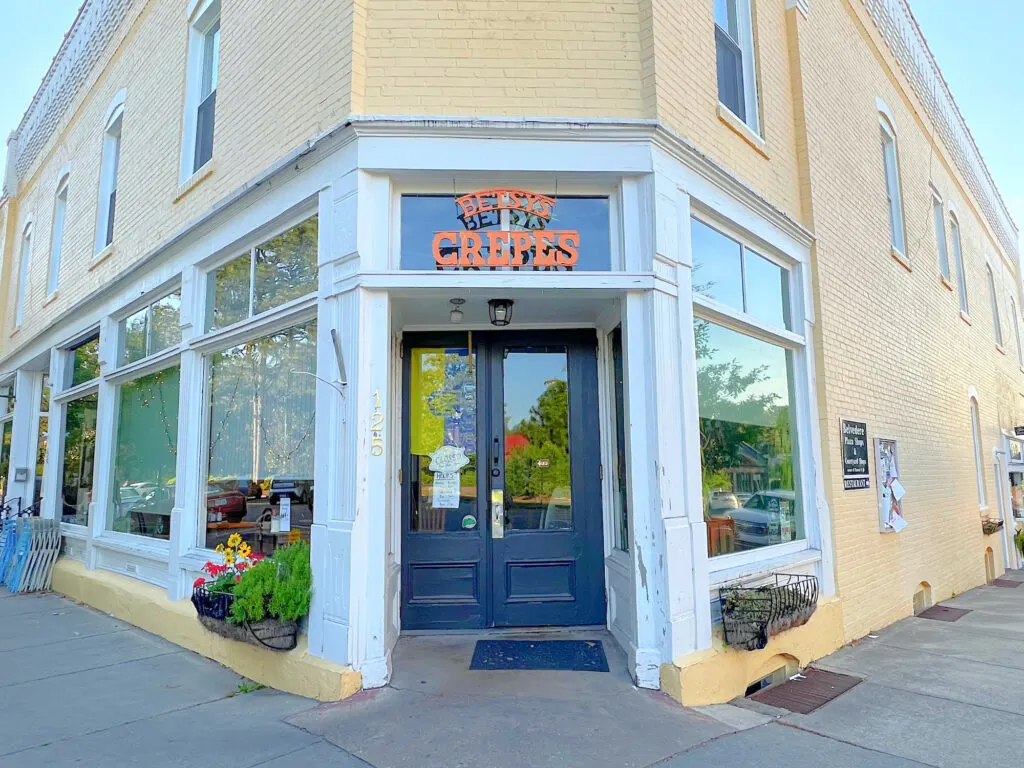 You've been warned, you better get here early or be prepared to stand in line!
Chef Warren's Bistro
We haven't been to Chef Warren's Bistro but we keep hearing great things about it. This upscale restaurant is high on our list of places to eat when we return to the town.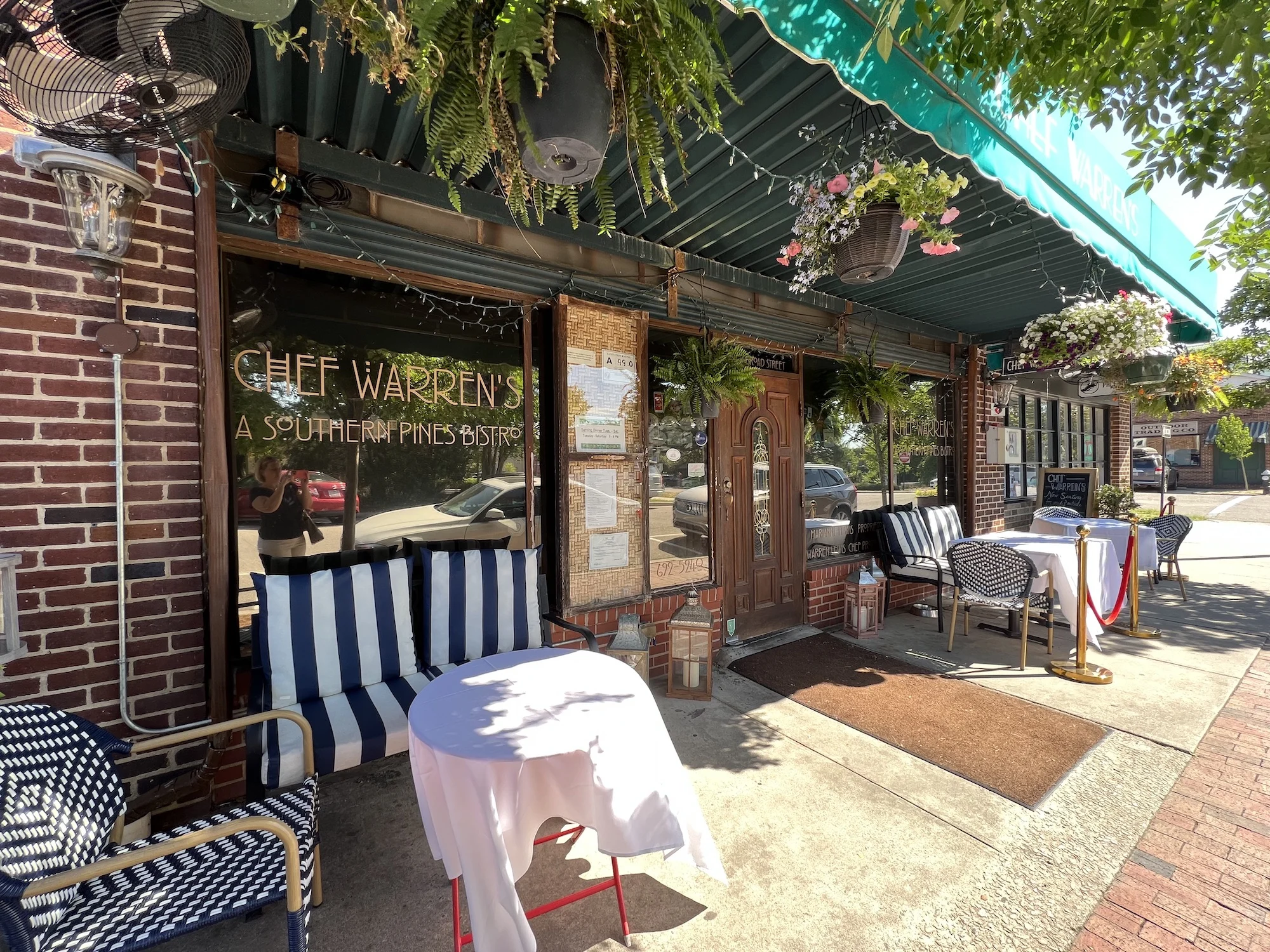 Sweet Basil
One of the most popular places for lunch in town, Sweet Basil is only open four hours a day. Schedule your visit around their operating hours for their fresh lunches that lean towards the healthy and light side.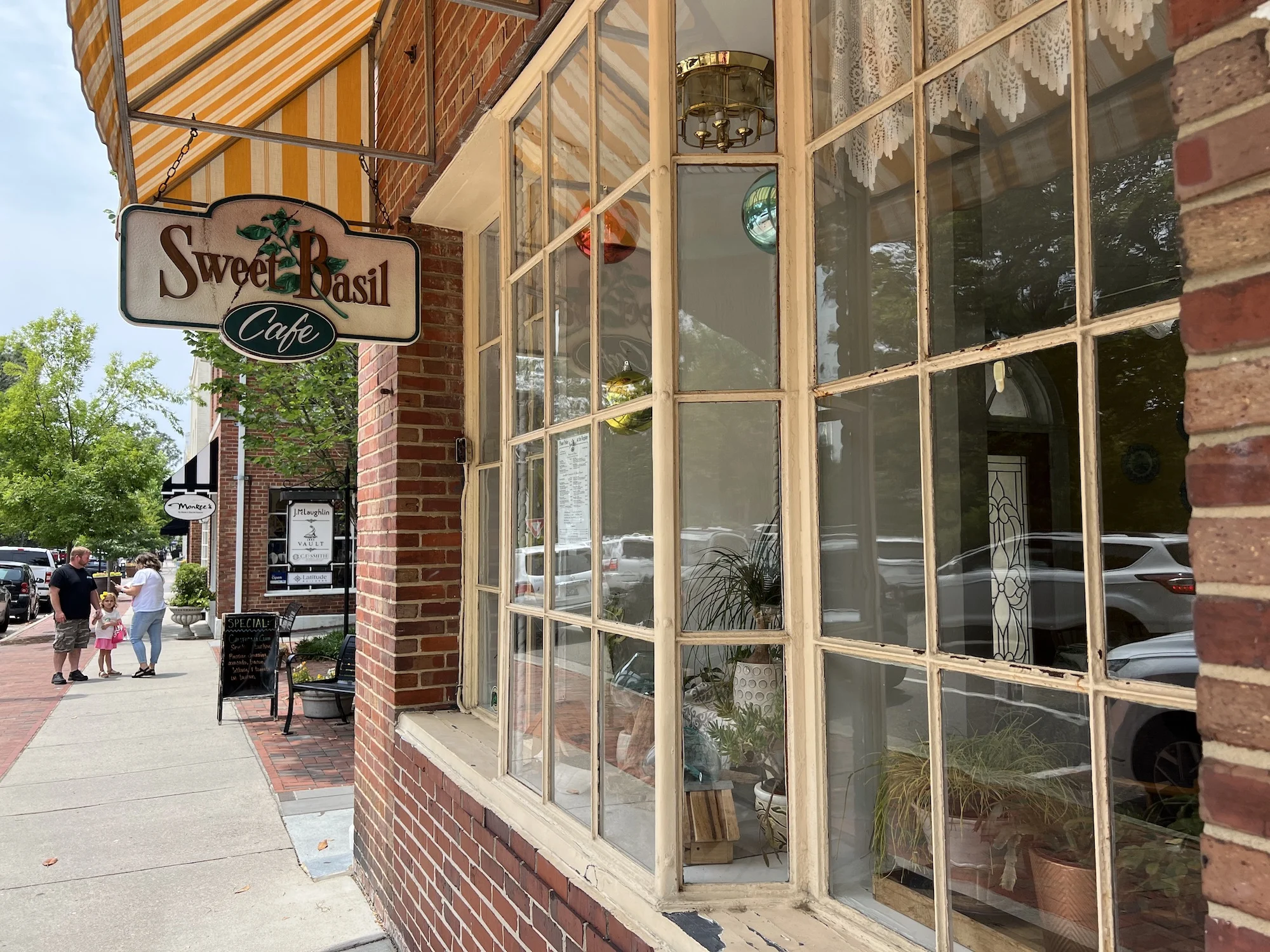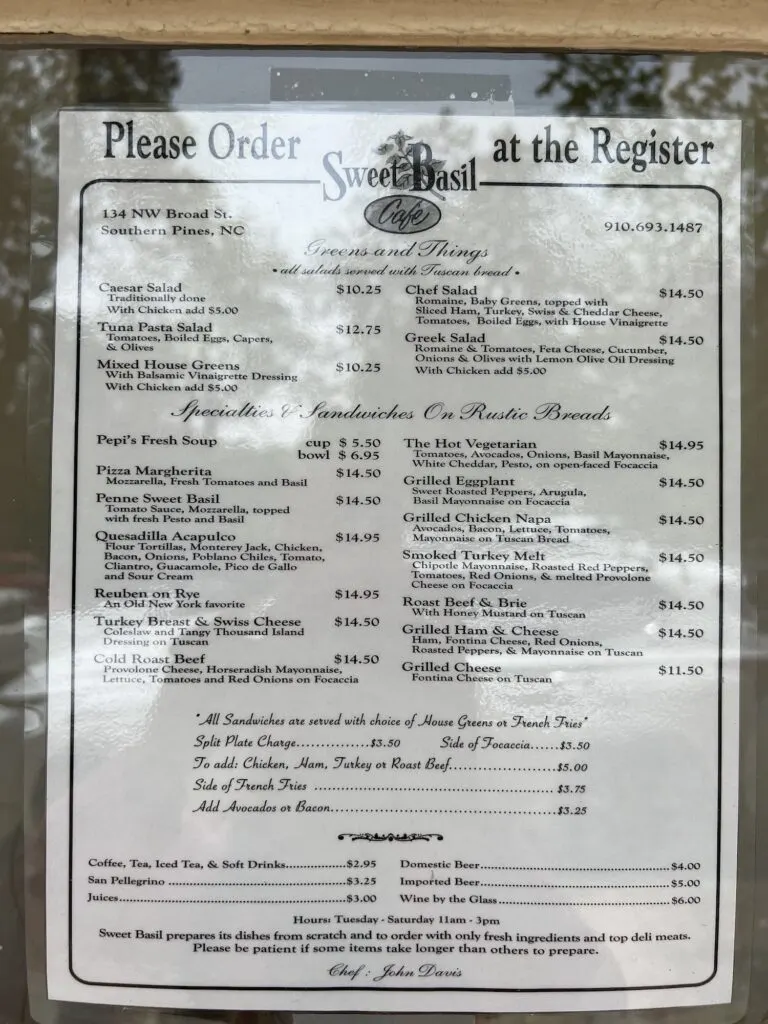 SoPies Pizza
For quick and casual, you can't beat SoPies Pizza. It's the locals' favorite!
Southern Pines Brewing Company
There are two locations for Southern Pines Brewing Company in the town.
At the taproom and production brewery, you will find food trucks and events in addition to the beer menu. The downtown Southern Pines location is a more convenient location if you are downtown. They have more than 30 drafts and even beer slushies to enjoy while sitting outside.
Sandhills Pour Tour and Wine Trails
When wandering through the area's wineries, breweries and even a cidery, be sure to get a passport stamp!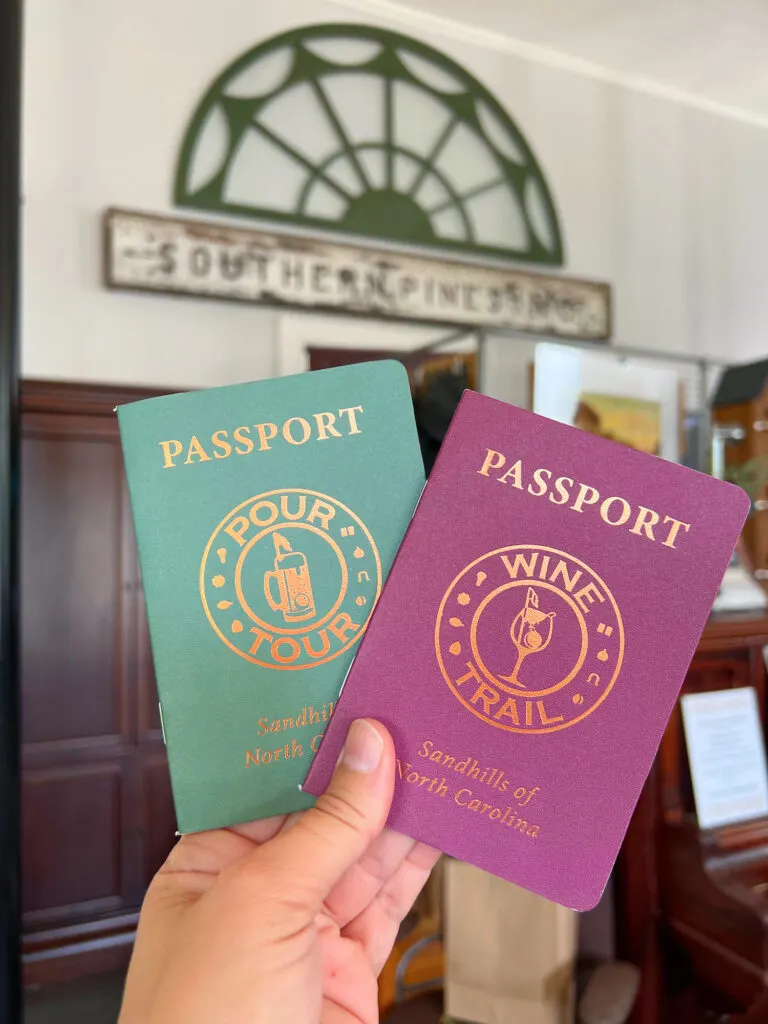 The Sandhills Pour Tour and Wine Trail passports can be picked up at the Southern Pines visitor's center.
Get all of the stamps and win a prize!
Hotels in Southern Pines
Wondering where to stay in Southern Pines? There are a variety of hotels, inns and bed and breakfasts to choose from.
Jefferson Inn
The Jefferson Inn is a lovely inn located right downtown in Southern Pines. The Ice Cream Parlor is just a block away (which may be a good thing or a bad thing for my waistline, I don't know, LOL!).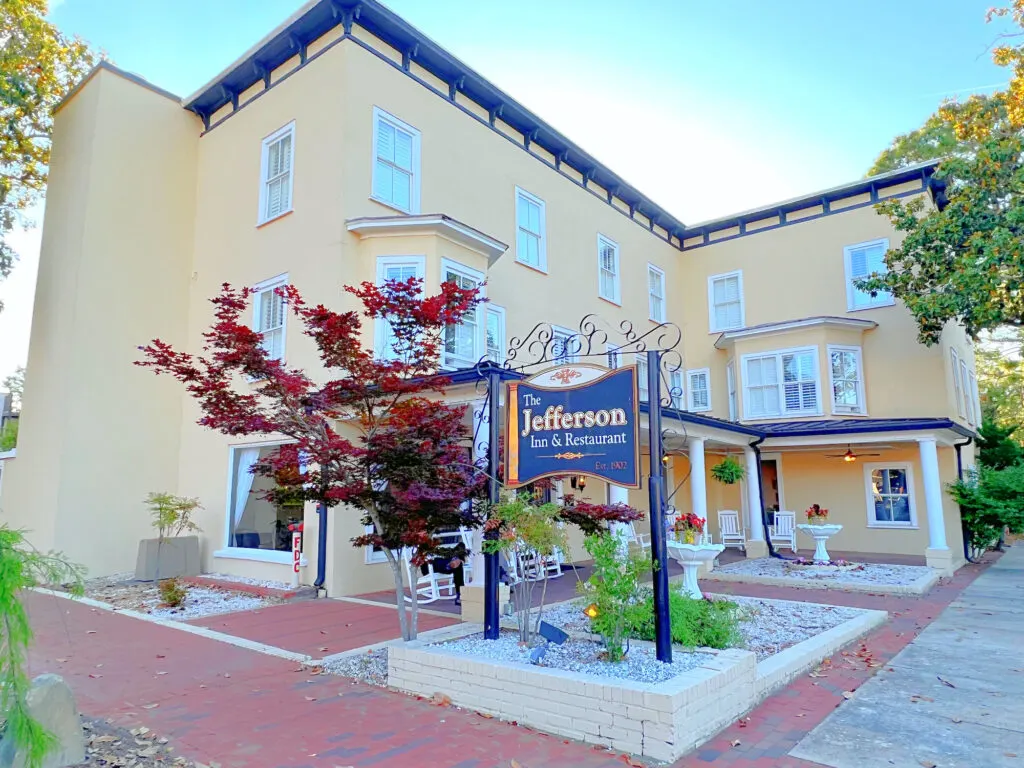 More than 100 years old, the Inn now has a very modern, minimalist design thanks to a 2023 refresh.
Tanglewood Farm Bed and Breakfast
We stayed at Tanglewood Farm Bed and Breakfast during our Southern Pines vacation. There are three apartment-style suites located on the 10-acre working horse farm.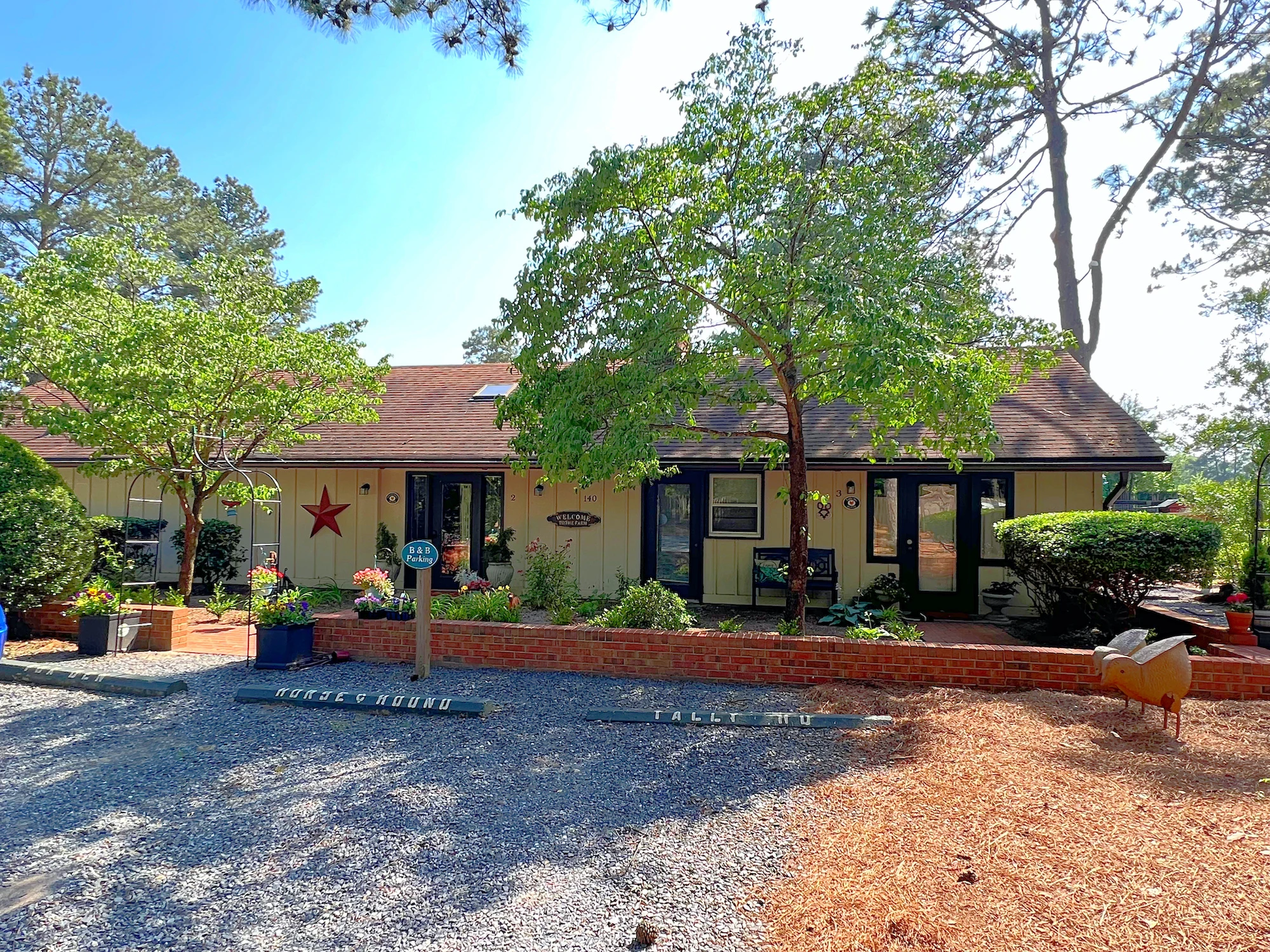 This location is perfect for city-dwellers who crave the chance to stay on a farm. The small apartments also offer kitchens and living areas which are great if you don't plan on being downtown all day.
As a working farm, there are quite a lot of rules and considerations to keep in mind when visiting the animals. This is NOT a petting zoo. You will not be able to enter the barns and you shouldn't pet the animals even if they come up to the fence.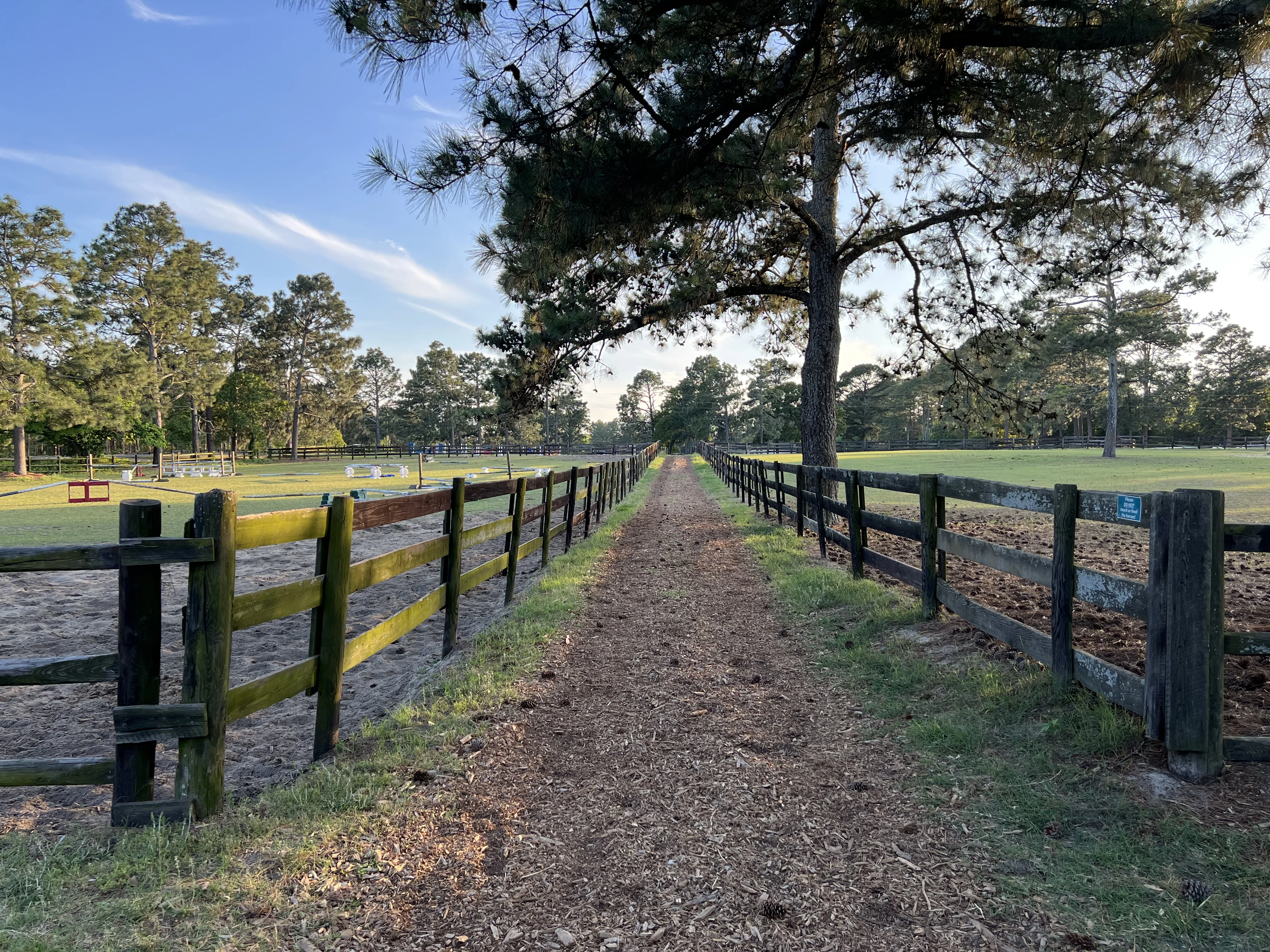 Chickens are usually roaming the land (the weren't when I was there because a fox was in the area, otherwise that would have been fun) and there are bunnies, too. You can even buy some the eggs from the chickens to cook in your kitchen or bring back home.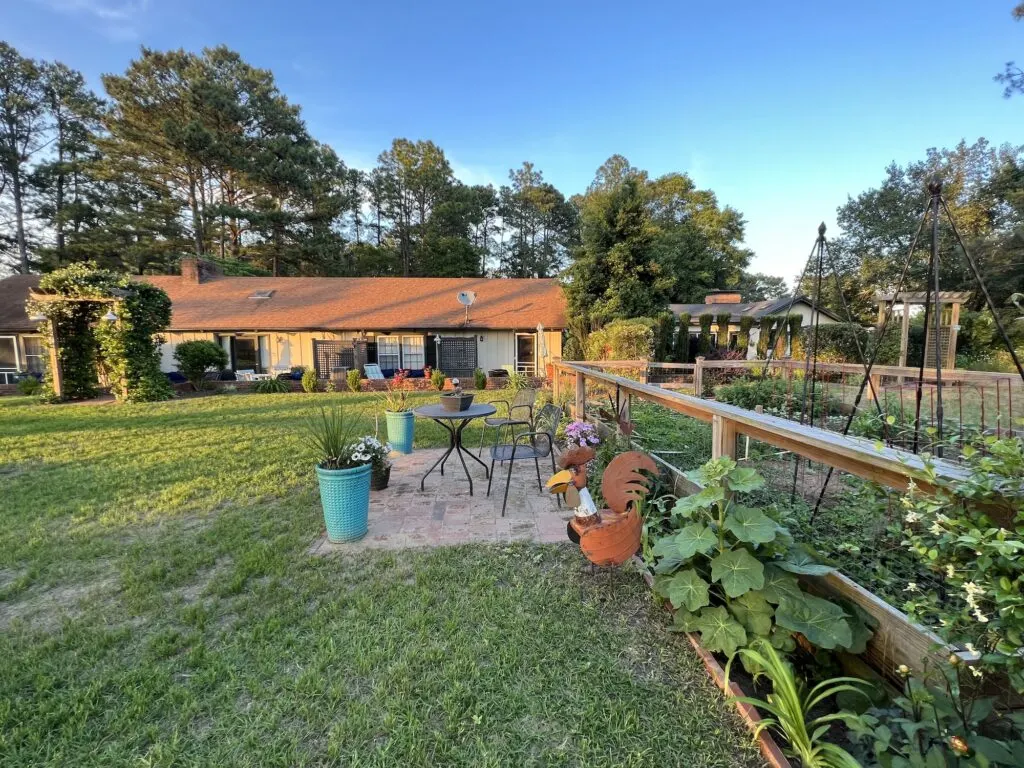 The breakfast is one of the most talked-about aspects of staying at Tanglewood Farm. However, it is only served on the weekends. As we stayed mid-week, it was a disappointment not to get to try any of the breakfast items that get rave reviews.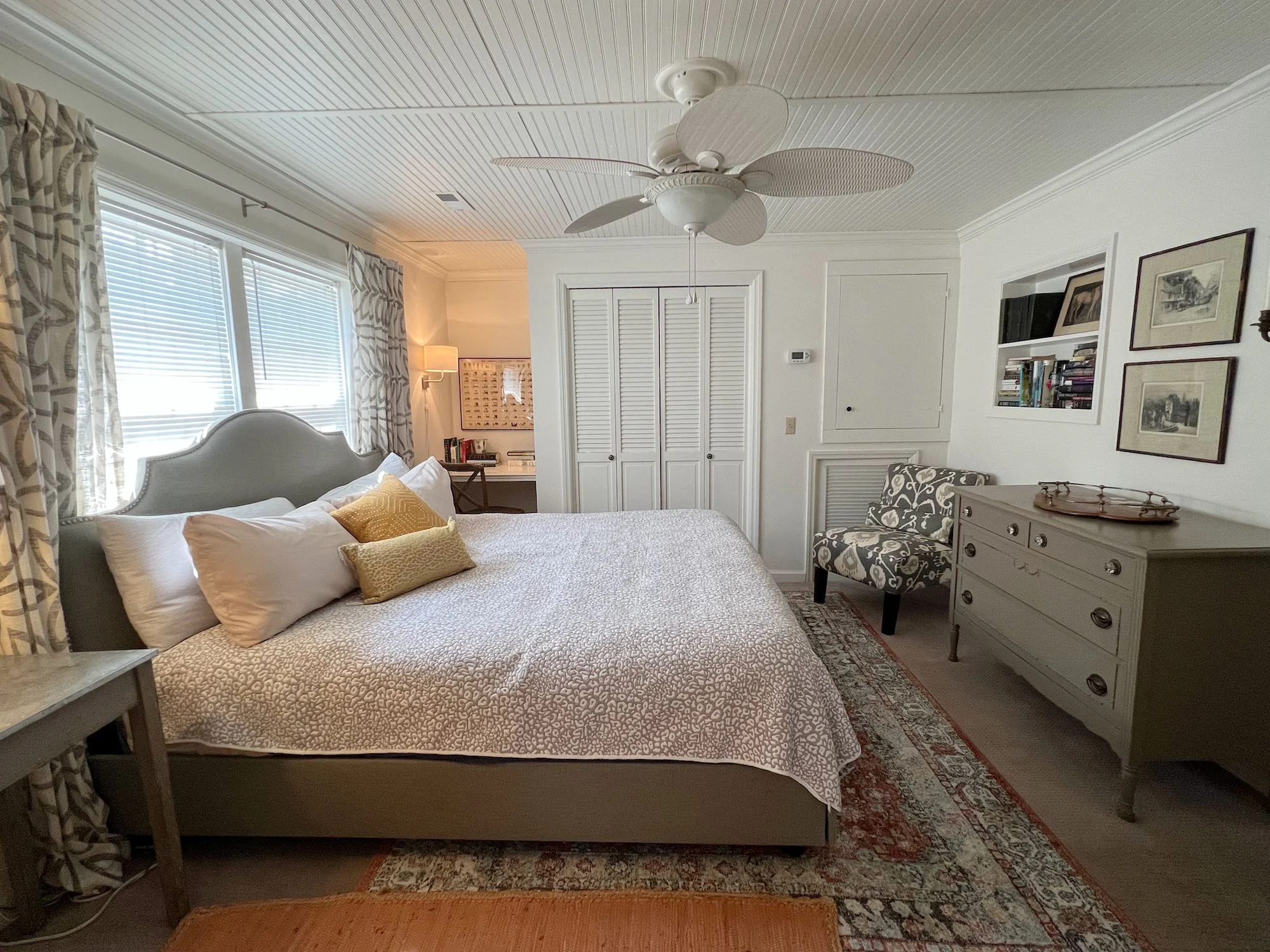 It seems we missed out on a lot of the charm that Tanglewood has to offer with no breakfast and no roaming chickens. Keep in mind that reservations at the bed and breakfast are non-refundable within 14 days of arrival.