Are you wanting stunning Easter eggs that will have your friends and family asking how you made them? Looking for a new fun activity to share with kids? If so, then these ideas are for you!
These cool ways to dye Easter eggs don't need a kit. Which means you can start making them right now, without having to go to a store to buy a ho-hum egg dyeing kit like everyone else.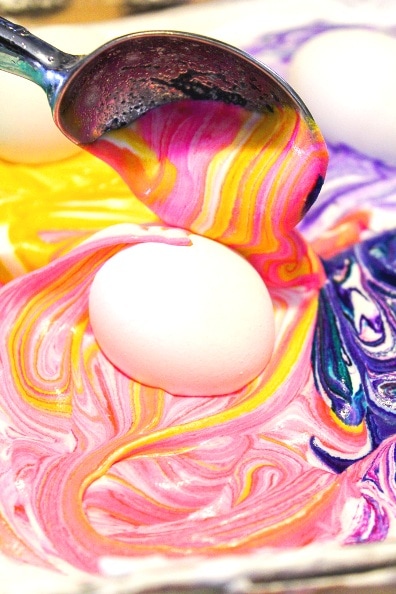 While all of the recipes below use items you probably already have at home, we couldn't resist sharing this cute EggMazing Egg Decorator Kit that you might want to order right now! It spins the egg in a bunny-shaped machine and kids add color with markers. So much fun!
Cool Ways to Dye Easter Eggs
Unique, colorful and fun ways to color Easter eggs without using a kit.
If you have some whipped cream or Cool Whip at home, this fun project is as pretty to look at while you are making it as the eggs are after you are done!
This egg dyeing technique couldn't be easier! Plus, it doesn't use any vinegar, so there is no smell!
Photo Credit: www.getgreenbewell.com
An all-natural way to dye Easter eggs using only fruit. You'll love these blue eggs (and you can use the leftover blueberries for making a pie or jam!). Plus, get a free downloadable printable of natural Easter egg dye recipes.
Photo Credit: singlegirlsdiy.com
If you have food coloring, then it's easy to make these retro boho tie-dyed eggs.
Photo Credit: singlegirlsdiy.com
These eggs are for someone who loves a bit of glam! We suggest using edible glitter to make these sparkly eggs.
Photo Credit: www.savvymamalifestyle.com
No food coloring in the house? No problem! Use tissue paper to transfer color to eggs with this easy technique.
Be sure to Pin This post to remember all of these ideas for Easter!