Looking to plan an adults-only getaway in Helen, GA? Enjoy the beauty and serenity of the North Georgia mountains with a romantic getaway to Alpine Helen. Our Ultimate Guide to Things to Do in Helen, GA for Couples is the perfect weekend itinerary.
Helen, Georgia is a small town tucked into the mountains that looks like Bavarian Germany. Yes, this southern town feels like a small German village! You don't need a passport to feel like you've traveled to Europe!
What is more romantic than a weekend getaway to Europe, right? Here are all the details of things to do, where to stay and what to eat on a romantic weekend in Helen, Georgia.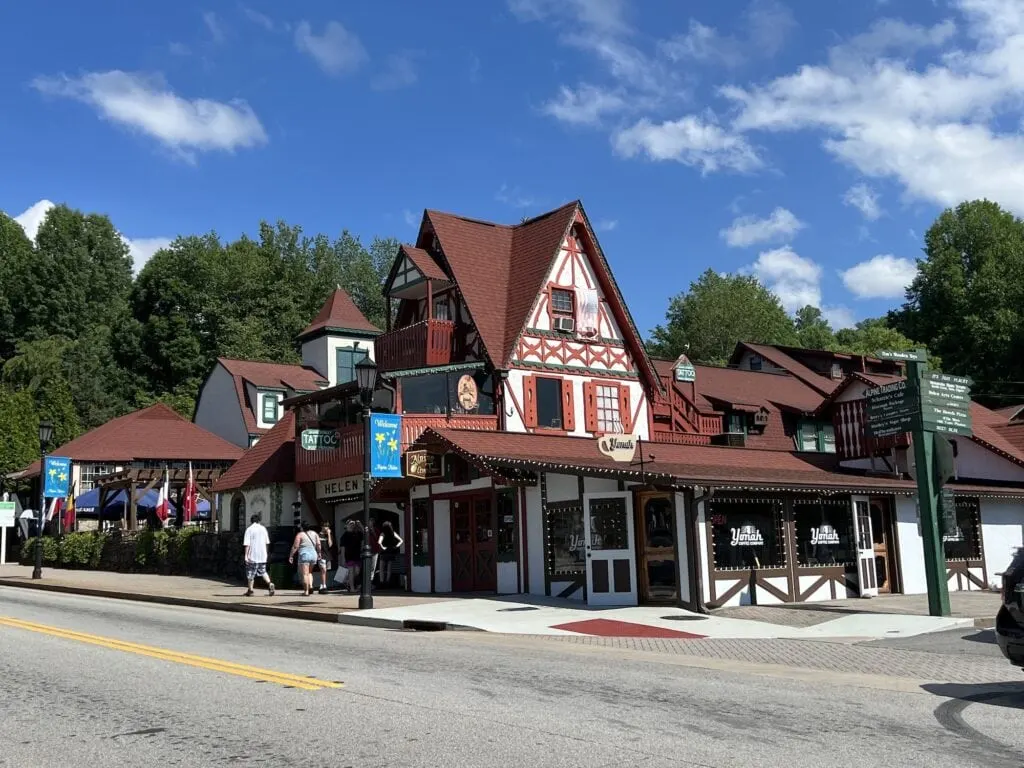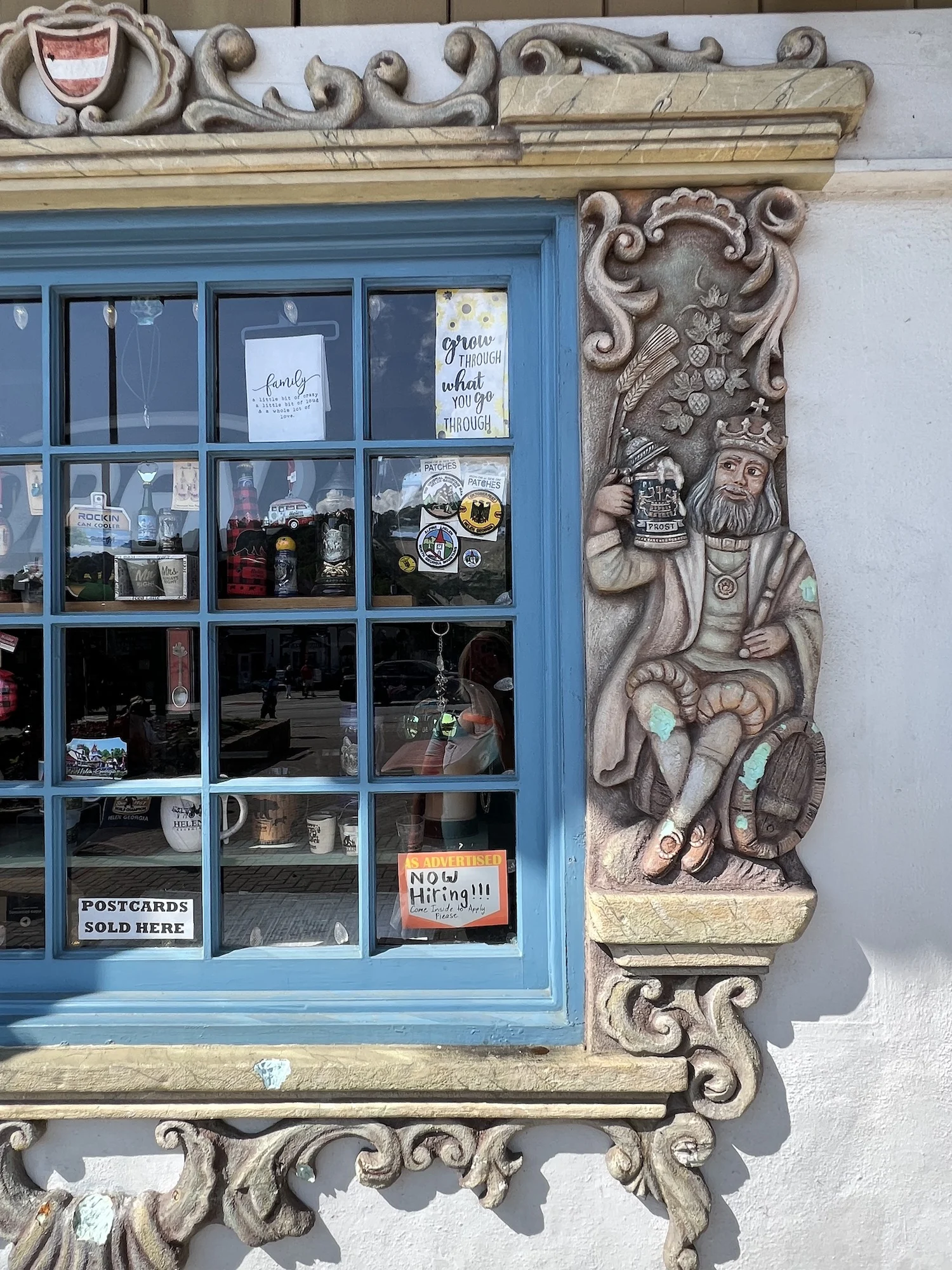 Romantic Things to Do In Helen, Georgia for Couples
Anna Ruby Falls
Anna Ruby Falls is one of the most popular destinations in Helen, GA for a reason! This magnificent waterfall is located in a National Forest. It's a short hike, but it does have a decent amount of elevation, so be prepared (see our YouTube video below for more details on the trail):
Waterfalls are said to release negative ions to make you feel happier. Whether it's the negative ions or the magnificent views, we can say for sure that Anna Ruby Falls is definitely at the top of our can't-miss things to do for couples in Helen, GA!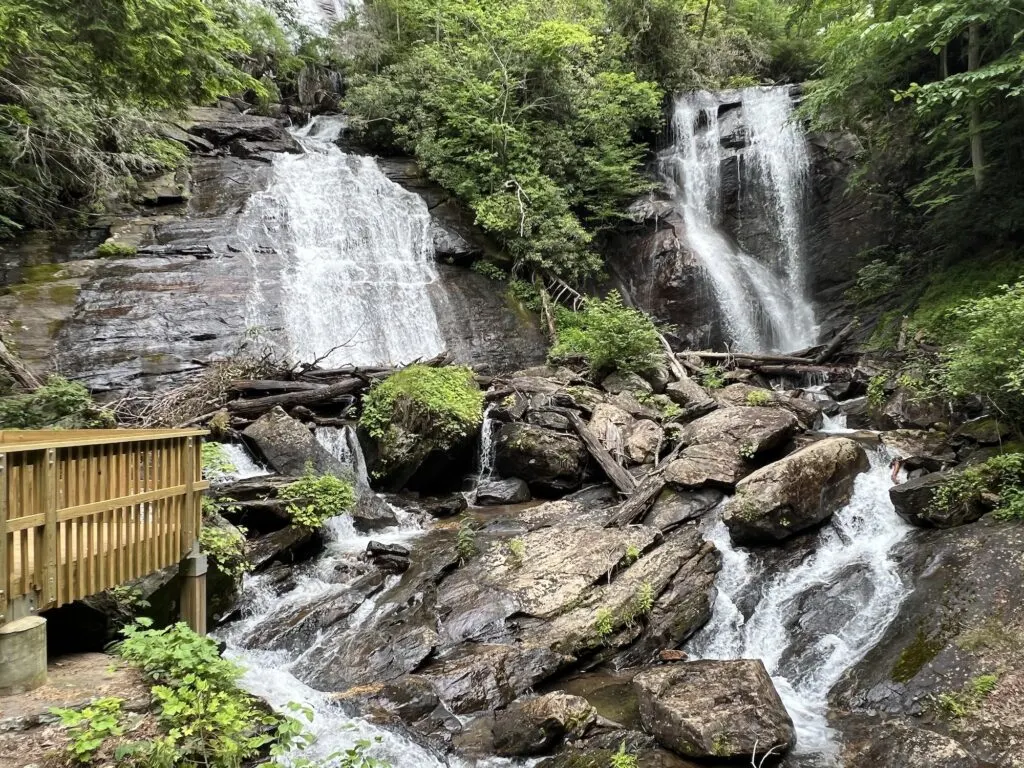 Tip: Access to the falls closes in the early afternoon. Be sure to check the website for updated entrance hours.
See our guide to all of the Helen, GA waterfalls.
Yonah Mountain Vineyards
One of the most luxurious and delightful wineries near Helen, GA is Yonah Mountain Vineyards. The 200-acre vineyards are gorgeous, offering a dramatic view of Yonah Mountain.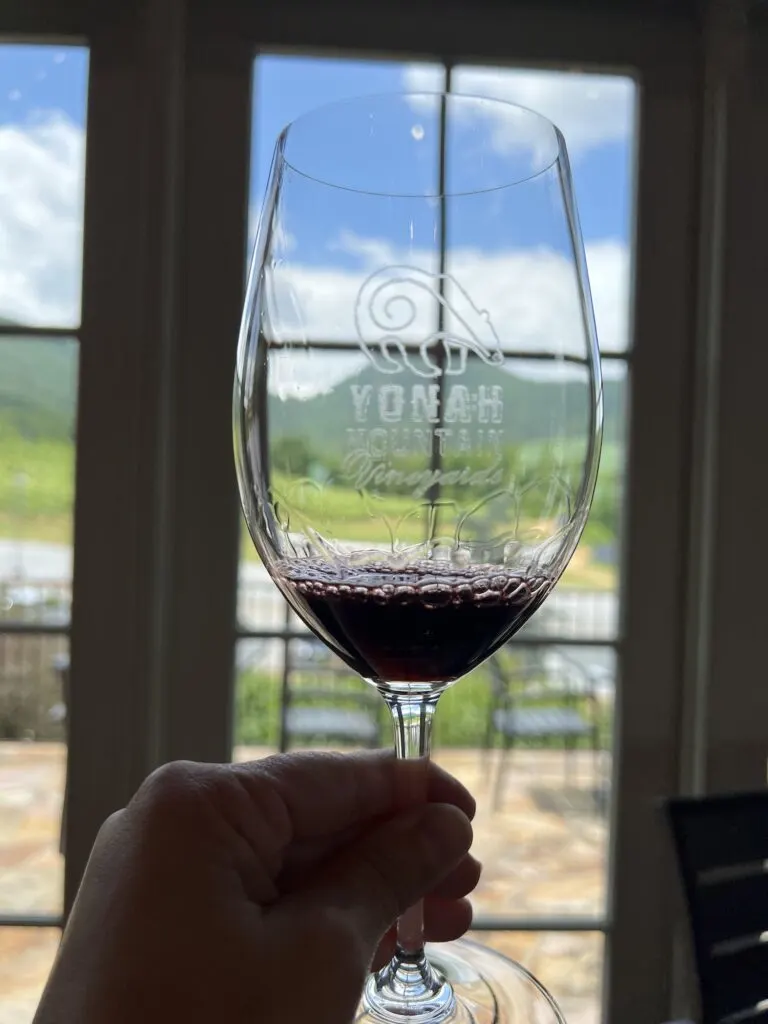 Choose from a wine flight or a glass of wine and cozy up near the waterfall feature or on the back porch with epic views of the mountain.
Tubing on the Chattahoochee River
Tubing in Helen, Georgia is legendary! The Chattahoochee River flows through downtown Helen and there are several outfitters that will rent tubes to enjoy a leisurely float down the river.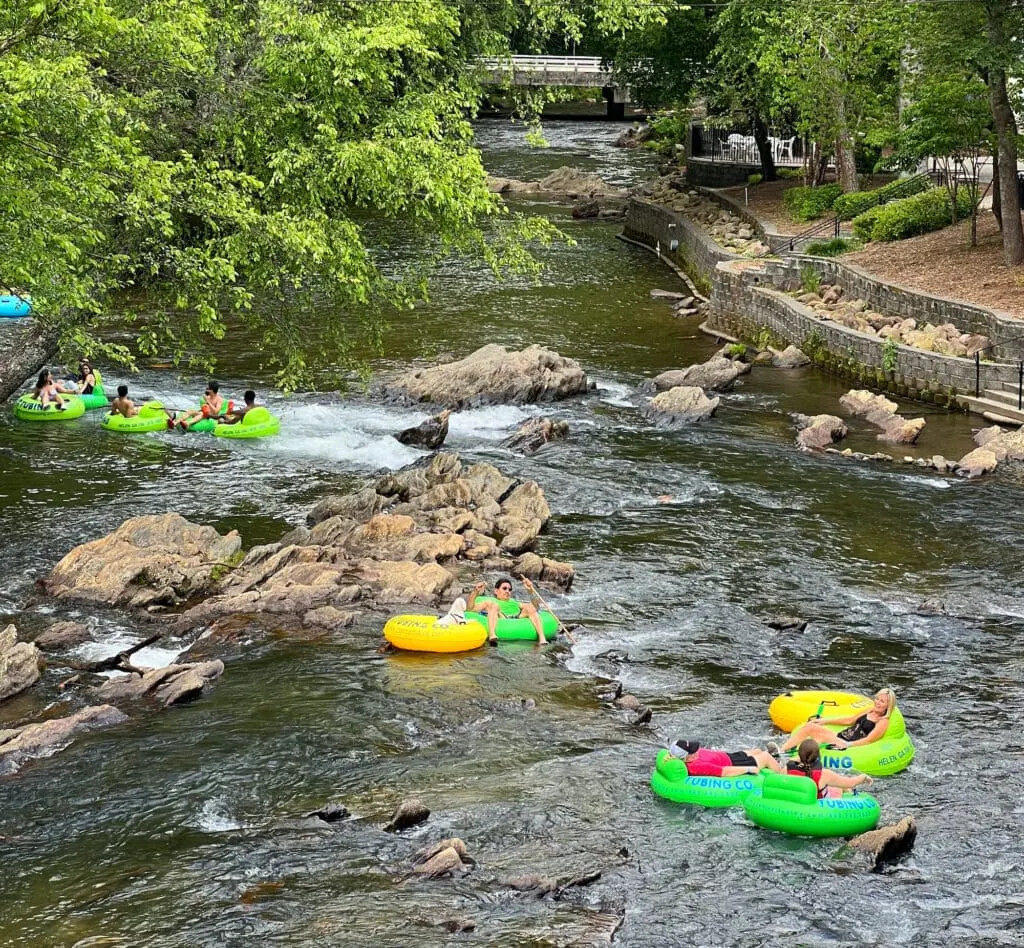 The river is gentle in most places. There are a few areas with rocks that offer a bit of a thrill, but overall it is a pleasant way to enjoy the outdoors without too much exertion!
Nacoochee Indian Mound
The Nacoochee Indian Mound is said to be one of the most photographed sites in Georgia. The simple gazebo structure is located on a historic site surrounded by cow pasture.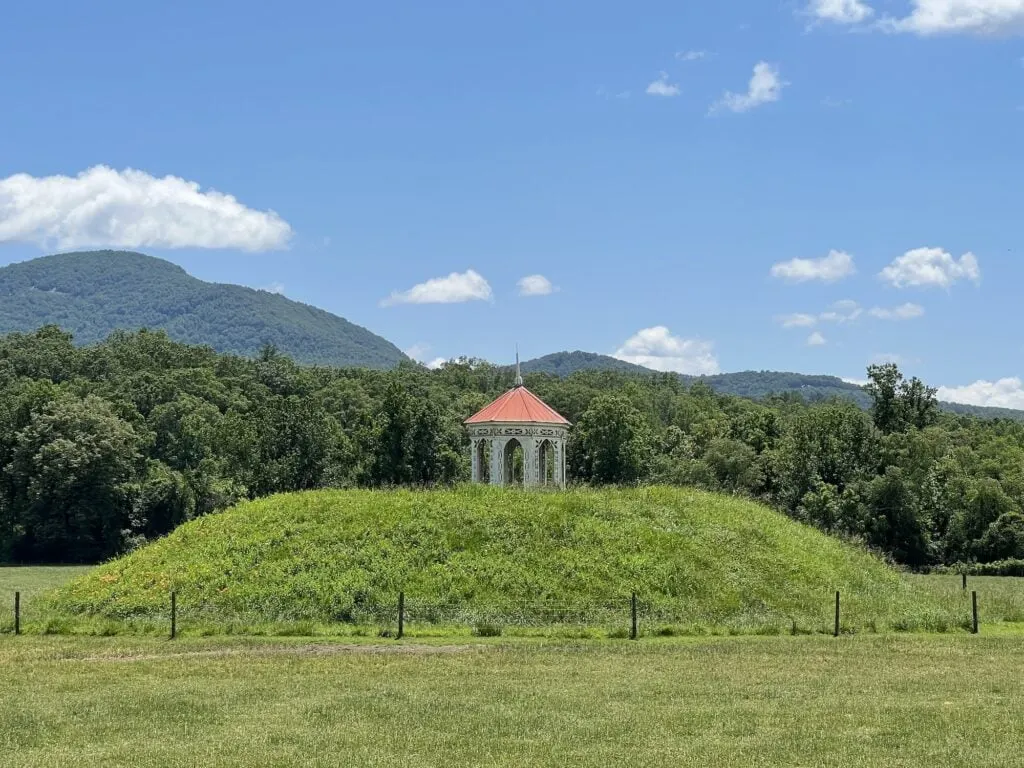 There is a small turnout for parking off of the highway in front of the mound, along with a historical marker.
Zip Lining
For adventurous couples that love a thrill, you have got to enjoy ziplining while in Helen! After flying through the treetops together, you will definitely have a special bond!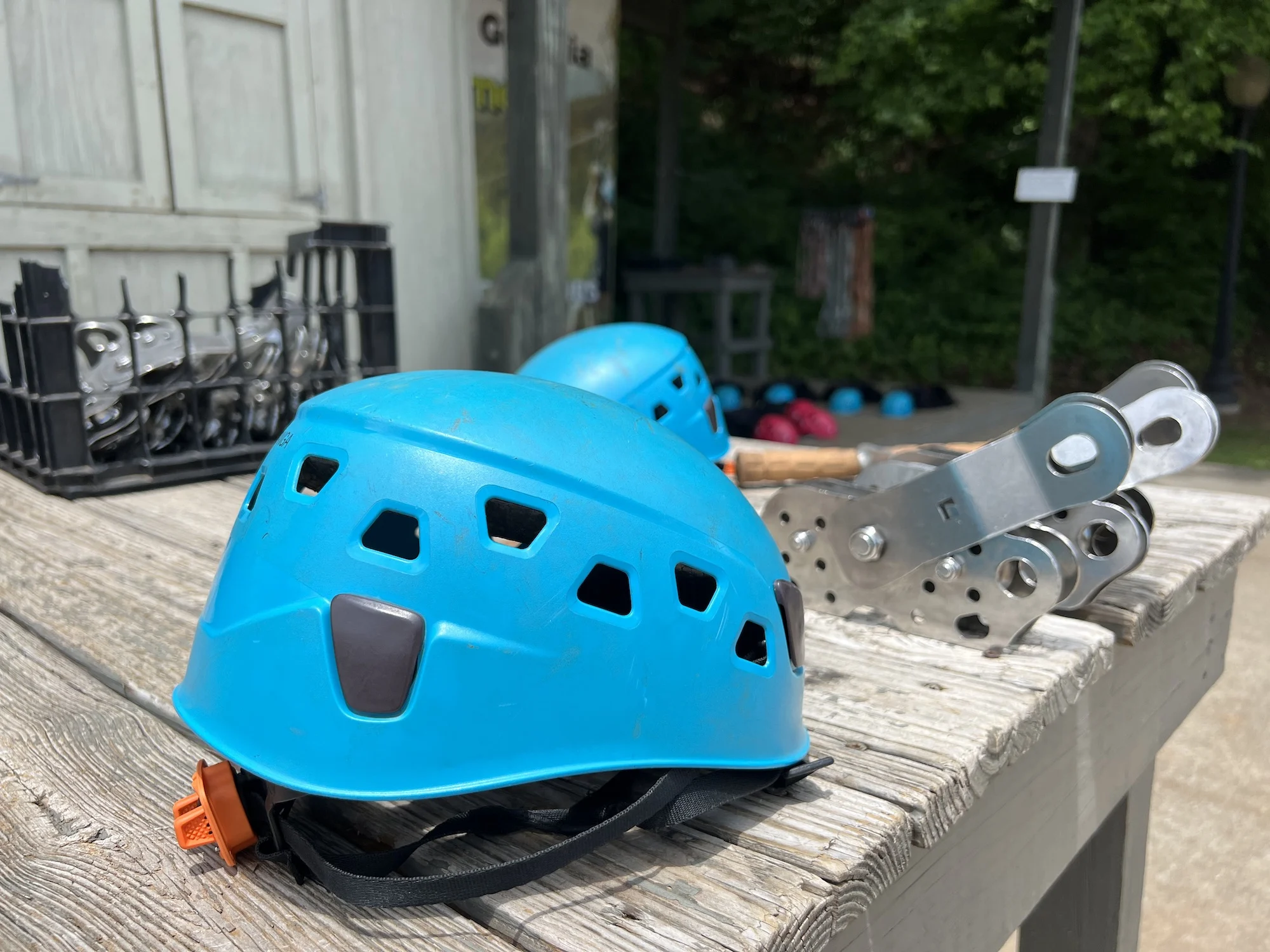 There are several ziplne companies in Helen, GA:
Nacoochee Adventures
Unicoi Zipline and Adventure Park (in the state park)
Cool River Tubing and Adventures
Roller Coaster
Another great action pack thing to do for couples in Helen is the Georgia Mountain Coaster. Located in downtown, this fun alpine coaster lets you fly through the forest on a roller coaster track. See our point of view video riding the roller coaster:
Tip: The second ride is half priced, so enjoy this attraction more than once!
Private Chef
For the ultimate couples experience, schedule a private chef to come to your cabin or cottage and cook a meal!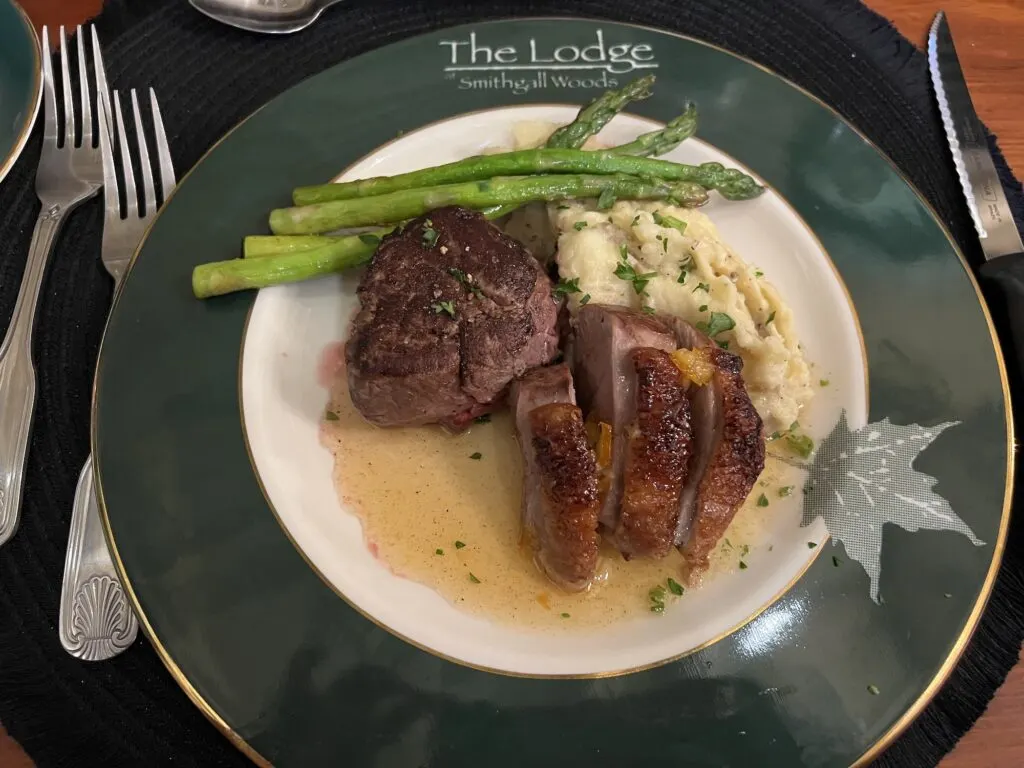 Even if you are staying in a cabin with a kitchen, do you really want to do all of the work to cook a dinner? Keep in mind, there aren't that many grocery stores in the Helen area. Other than Betty's Country Store downtown, you're going to have to go several miles outside of town to find a large grocery store.
Plus, who wants to try to find their way around an unfamiliar kitchen. And what if you are missing pots or pans that you need? Seriously, cooking dinner is not a romantic thing to do in someone else's kitchen away from home.
It just isn't.
We enjoyed a great meal from Chef Monda in our Smithall Woods Cottage during our stay. Wow, what a feast she prepared for us!
It was so great to be on the porch listening to the creek while someone else worked inside to cook a multi-course meal!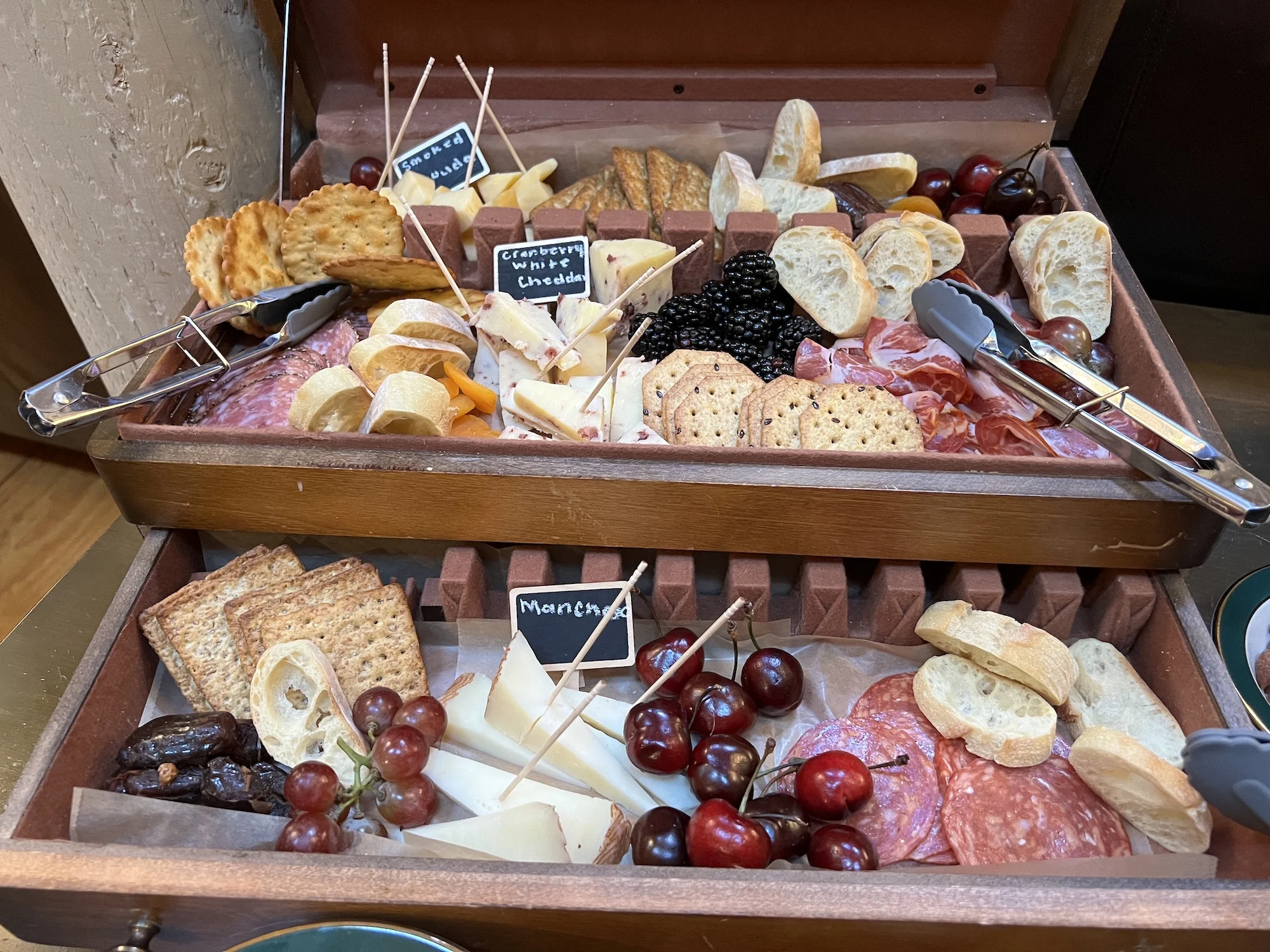 Chef Monda created a delicious array of foods from appetizers to a main meal to dessert.
Restaurants in Helen, Georgia aren't exactly the romantic settings you might be dreaming of for an adults-only weekend. Just saying. Usually they are loud, crowded and you might be interrupted by a tuba-playing polka band musician. These are facts.
So for a truly romantic evening where you can hear each other talk and enjoy the sounds of nature, hire a private chef. Chef Monda can be contacted via her email address lasaveur22@gmail.com.
Valhalla Resort Sky Bar
Located at the Valhalla Resort (one of my top picks for a couples getaway), the Sky Bar is a restaurant located on the top floor with great views of the area.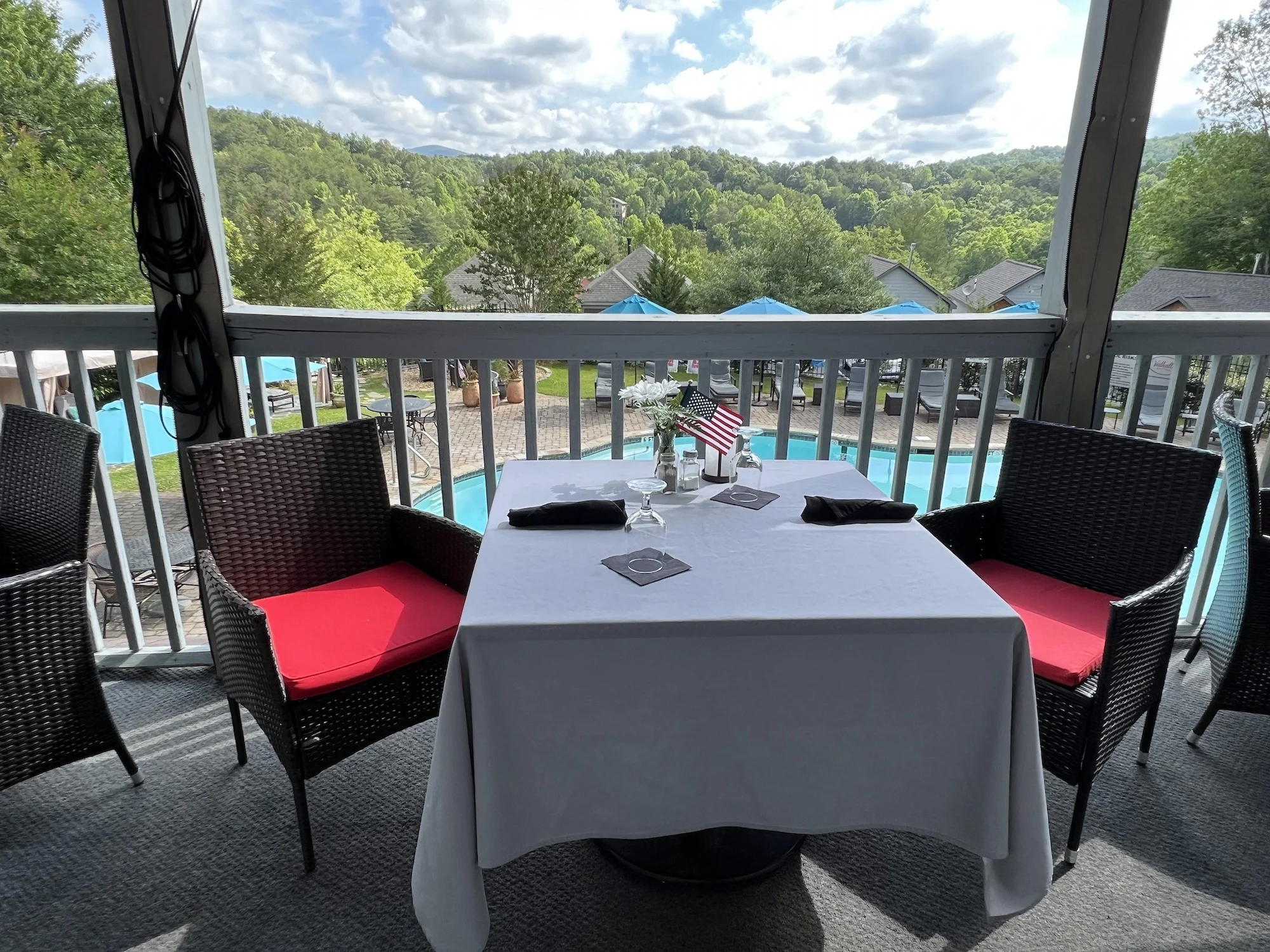 Open only in the evenings, enjoy a semi-enclosed restaurant serving up dinner, drinks and wine. There is covered patio seating, as well as indoor seating. With views this good, the glass doors are usually open, creating an indoor-outdoor dining atmosphere.
Dukes Creek Falls
Another one of the great waterfalls in Helen, GA is Dukes Creek Falls. This hike is a little more strenuous than Anna Ruby Falls, but there is no admission fee and you can go any time of the day.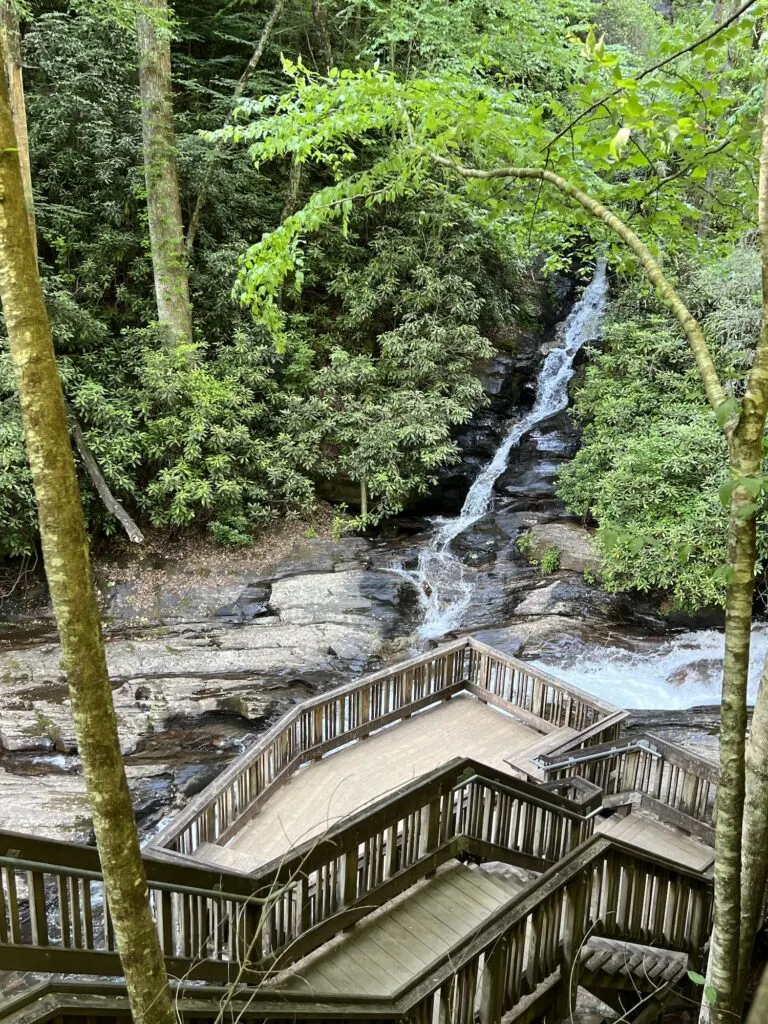 What we love is that Dukes Creek Falls is a hidden waterfall with hardly any crowds! We enjoyed our stay on the observation deck with no one else around. Perfect for a romantic evening hike.
Uhuburg Castle
Live out your fantasies of being king and queen with a visit (or stay) at Uhuburg Castle.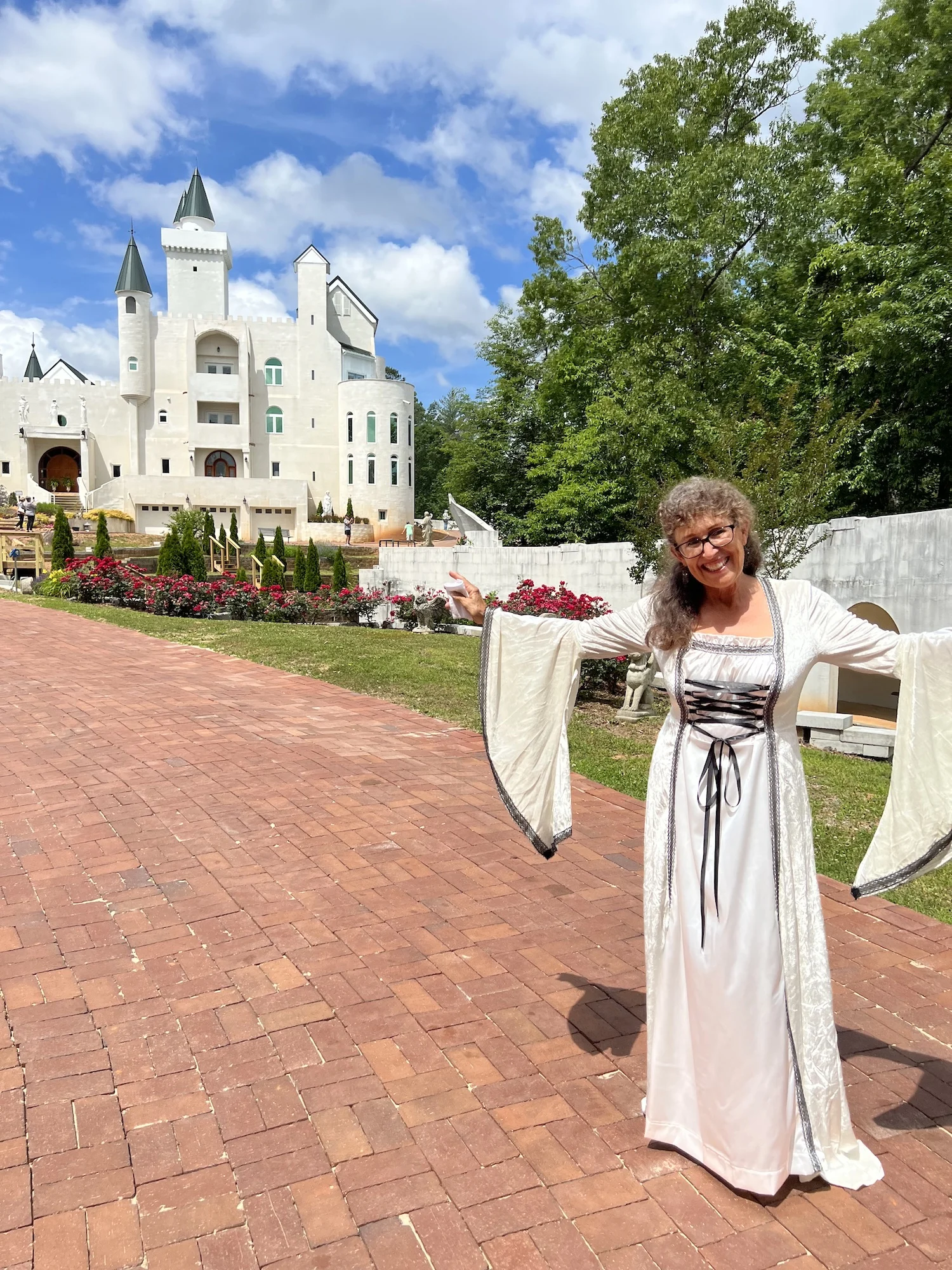 Recently opened in 2023, this Renaissance-style castle and grounds are fun to tour, and make great photo backdrops! This is a fabulous place to come if you want to have couples photos that are unique!
Climb the stairs to the top of a turret for breathtaking 360 degree views of the mountains.
Soon there will be accommodations in the towers available for rent. It's the perfect place to live out your royal fantasies!
Hardman Farm
If you love history and don't need an adrenaline-rush adventure like ziplining, then go to the Hardman Farm, a state historic site.
Take a tour of the 19th-century home built by Captain James Nichols that has the bedroom that belonged to Anna Ruby Nichols, after whom Anna Rub Falls was named. You will also see a parlor, original lighting, and telephones and climate control systems that definitely aren't used in today's day and age!
This home was last owned by the family of Dr. Lamartine Hardman, who was Georgia's governor from 1927 to 1931.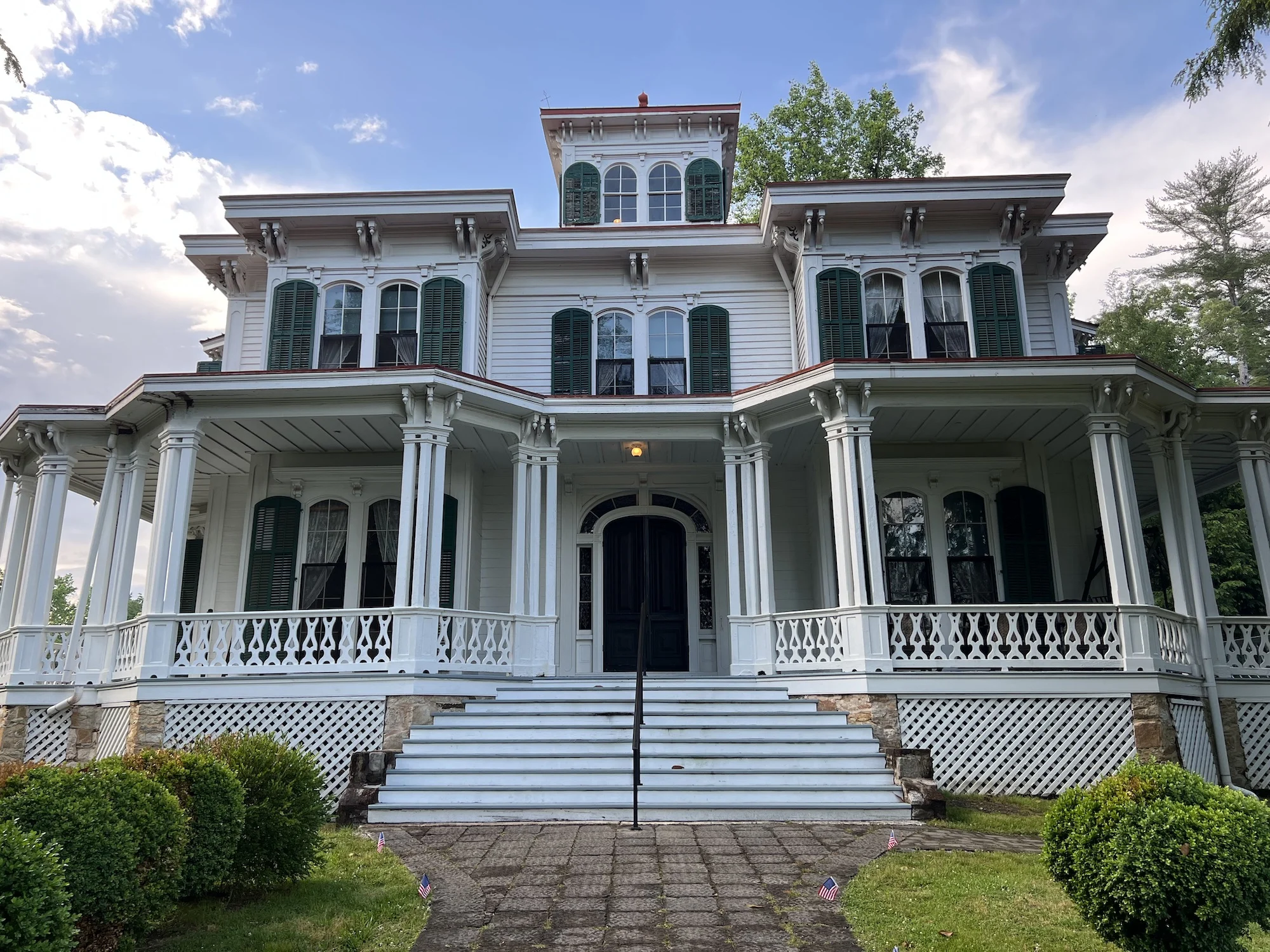 An old barn on the property was part of Nacoochee Dairy from 1910 until the mid-1920s.
Part of the ancient and historic Unicoi Turnpike can be walked at the farm. What once was a buffalo trail became a Native American trading route that you can walk along today.
The Helen to Hardman Heritage Trail, which is a walking trail that will take you to downtown, is found at this site. Along this trail is the Nacoochee Mound, a burial site that was probably used before the Cherokee lived the area.
Tip: Even if you don't visit the house, you will need to pay an entrance fee to visit the grounds.
Evening Stroll Downtown
Helen, Georgia is known for its Bavarian-style architecture that makes you feel like you have traveled to Germany. When the lights of downtown come on at dusk, it is a magical time to walk the streets and enjoy the architecture!
Unicoi State Park
Unicoi State Park is one of the most impressive state parks in Georgia. Not only is there gorgeous scenery, but you will also find a wide range of lodging accommodations, including hotel rooms, barrel houses, glamping tents and RV sites.
Unicoi has some of the best campgrounds near Helen, GA! Be sure to see the list of RV parks and campgrounds if you like camping.
A visit to Unicoi State Park is a must if you want to find a great view and spend some time in nature. There is a restaurant in the lodge which is a fun place to dine away from the crowds.
A beach in the state park is great during the summer months. Rent a non-motorized watercraft and get out on the lake, or just relax in the sand and enjoy mountain views.
Plenty of outdoor adventure activities are also available in the park.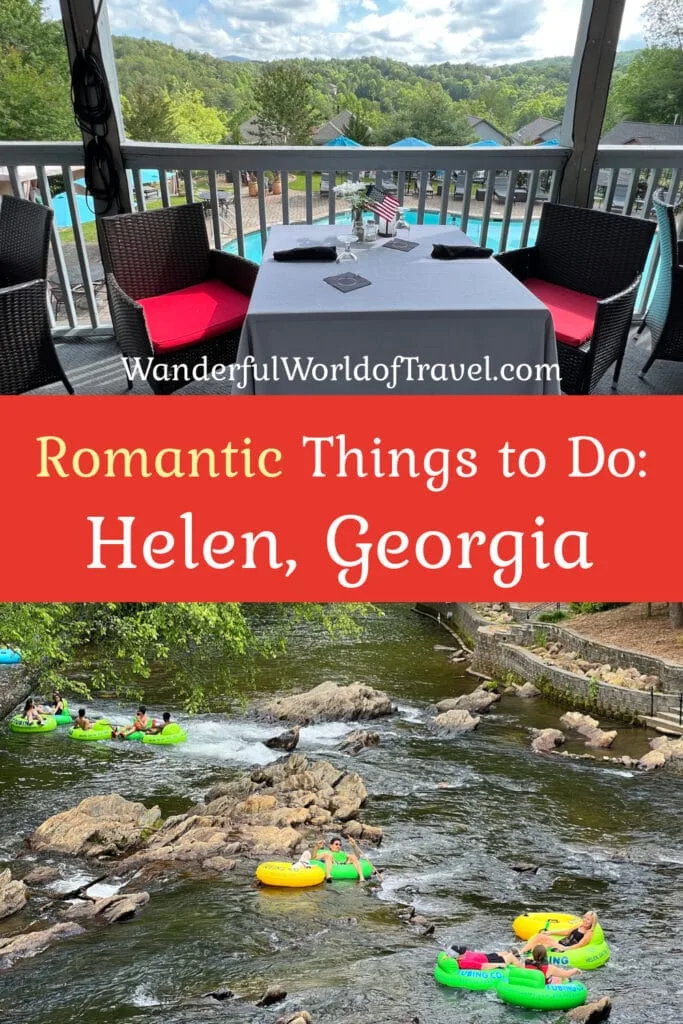 Russell-Brasstown Scenic Byway
Want to enjoy a scenic drive and just enjoy being together?
Then you will want to spend part of the day driving the Russell-Brasstown Scenic Byway. This 40.6 mile national byway is surrounded by the Chattahoochee National Forest.
The Appalachian mountains in Georgia can be admired along the drive which has scenic overlooks.
Want to get out and stretch your legs for a bit? There are hiking trails along the route, as well as fishing. It is a scenic and serene way to spend the day with your loved one.
Smithall Woods Cottages
Want a romantic and secluded getaway far away from the crowds? Then you definitely want to book a cabin at Smithgall Woods State Park.
This state park is usually overshadowed by Unicoi State Park, but that doesn't mean that it isn't gorgeous in its own right! The creeks that flow through the property are the perfect location for fishing, as well.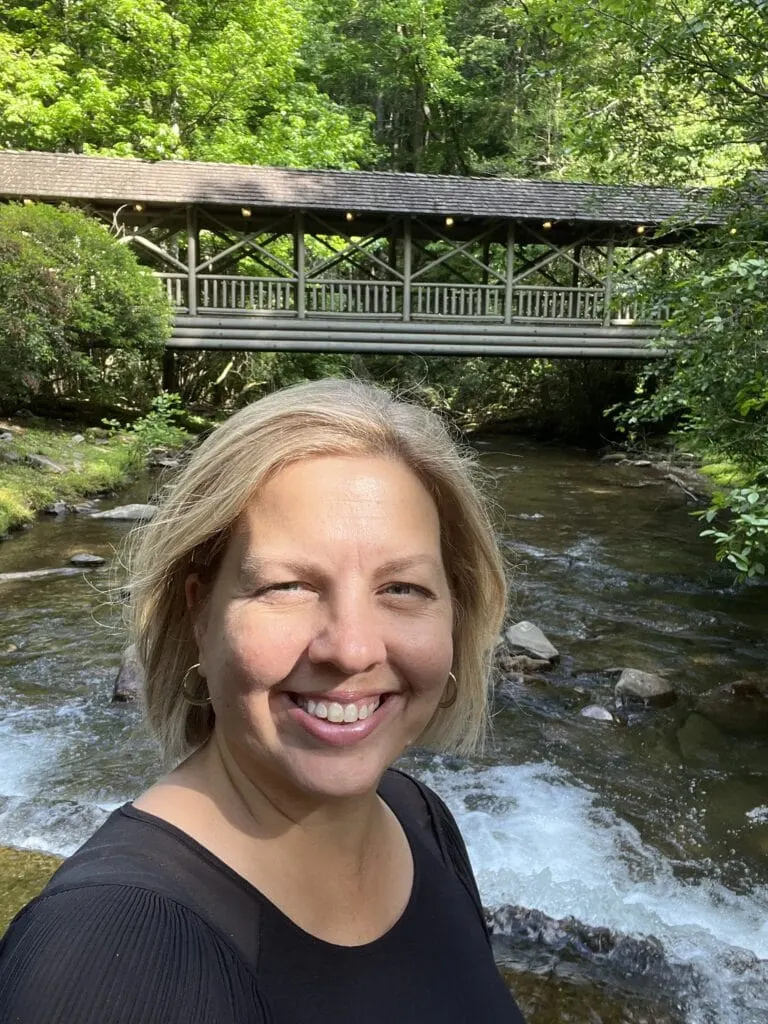 Smithgall Woods has 6 cottages that can be rented in the state park. Access to the cottages is down a secluded road that has a gated entry.
These really aren't cottages, but more like epic log cabins in the woods!
We stayed in one of the cottages on Dukes Creek and didn't want to leave! It is so quiet and so peaceful in this section of the park! And the cottages are beautifully furnished with modern amenities and Wifi (which is needed back in the woods).
You've got to see video of the cottages because photos don't do them justice! Check out our tour of four of Smithgall-Woods' cottages below:
There is even a private access to the Dukes Creek Falls waterfall trail from the cottage area.
Oktoberfest
If you are visiting in the Fall, then you will be delighted to be in town for Oktoberfest! Helen, Georgia has the longest-running Oktoberfest in America!
The 2023 Helen Oktoberfest will be held September 7-October 29.
Buy a ticket to enter the Helen Festhalle, which is the official location with authentic German foods and beers, and live bands.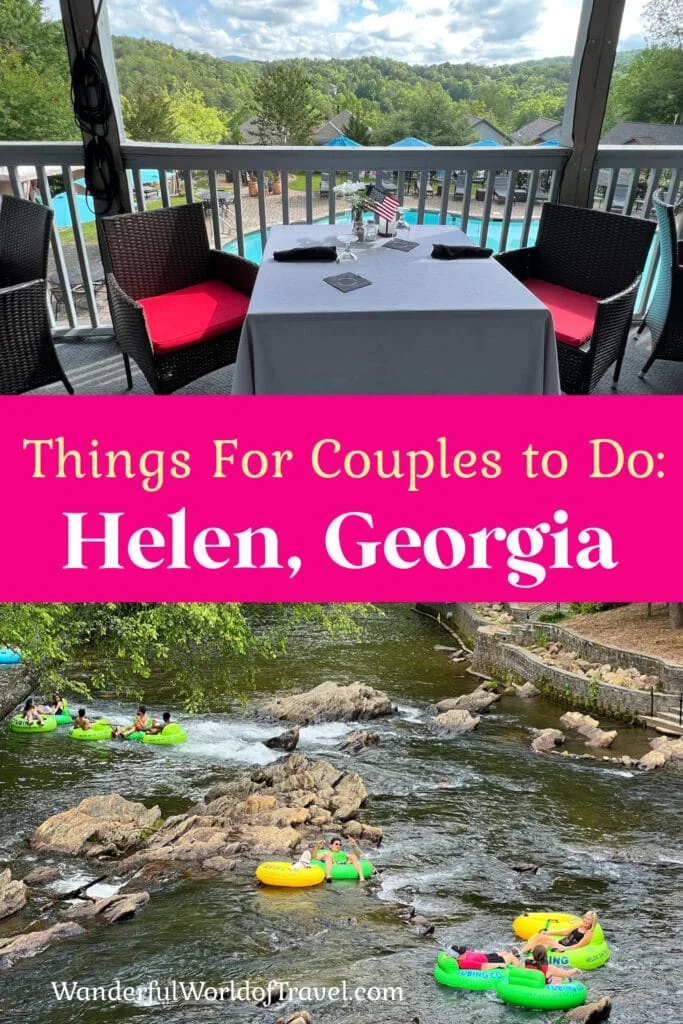 Be sure to Pin This list of things to do for couples in Helen, GA to save for future travel planning!
As you can see, Helen, Georgia is a perfect location for a romantic couple getaway. There are plenty of things to do for adults that are romantic, fun and relaxing. Choose some of these destinations for a lovely weekend itinerary.