Morimoto Asia has amazing reviews among those that enjoy sushi and seafood, but you may be wondering – "If I don't like seafood, should I go to Morimoto Asia?"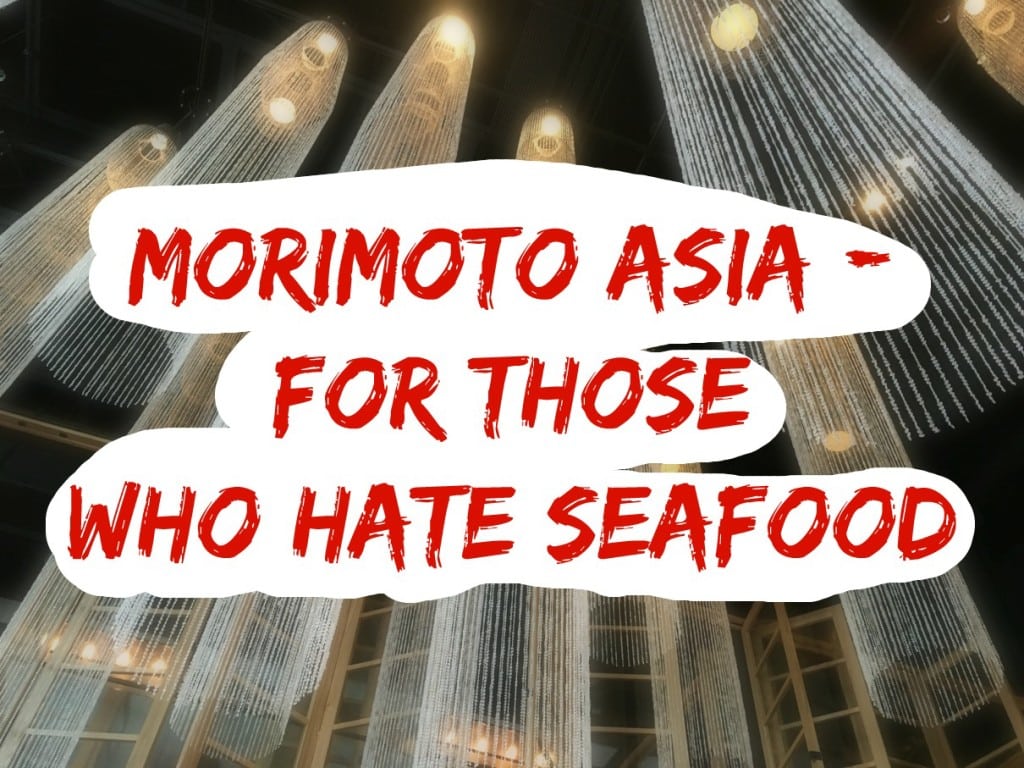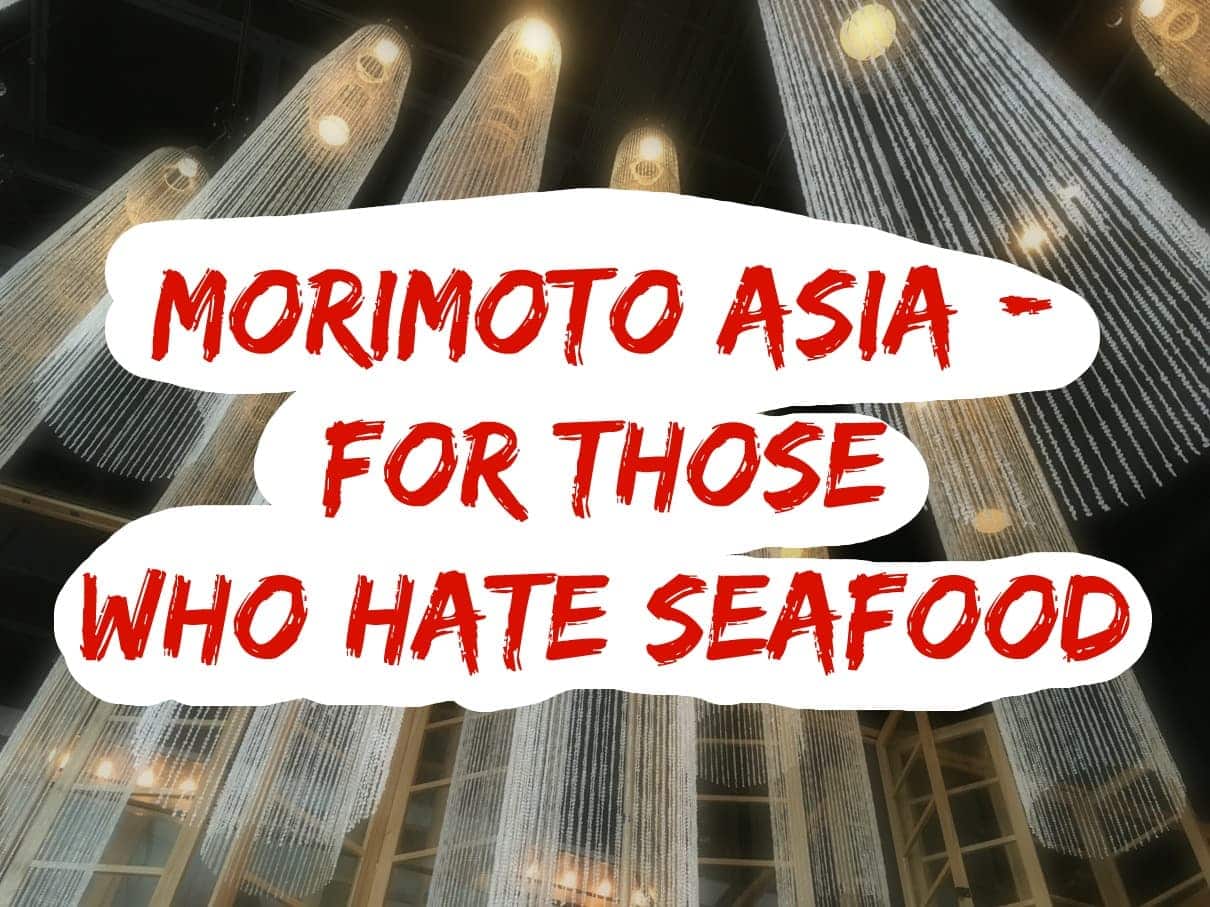 The answer is a resounding Yes!
Sure, for a non-seafood lover it seems odd going to a celebrated restaurant created by Japanese Chef Masaharu Morimoto, widely known for his appearances on Iron Chef and Iron Chef America, as well as his expertise with sushi. Morimoto's Pan Asian cuisine (China, Korea, Japan and Thailand), though, transcends what you think might be on the menu and offers something for everyone in your family, both those who crave sashimi and those who would never try it.
I was invited to try lunch at Morimoto Asia, and am happy to report that I left completely full (I was worried about needing a burger afterwards!) and ready to make another dinner reservation soon.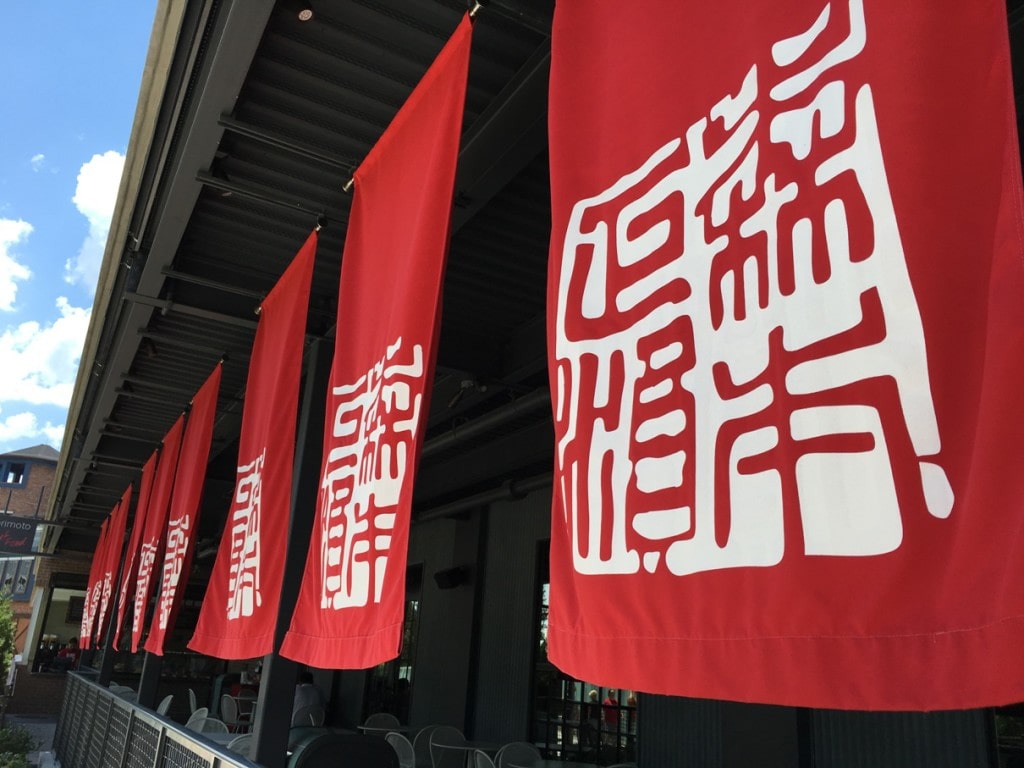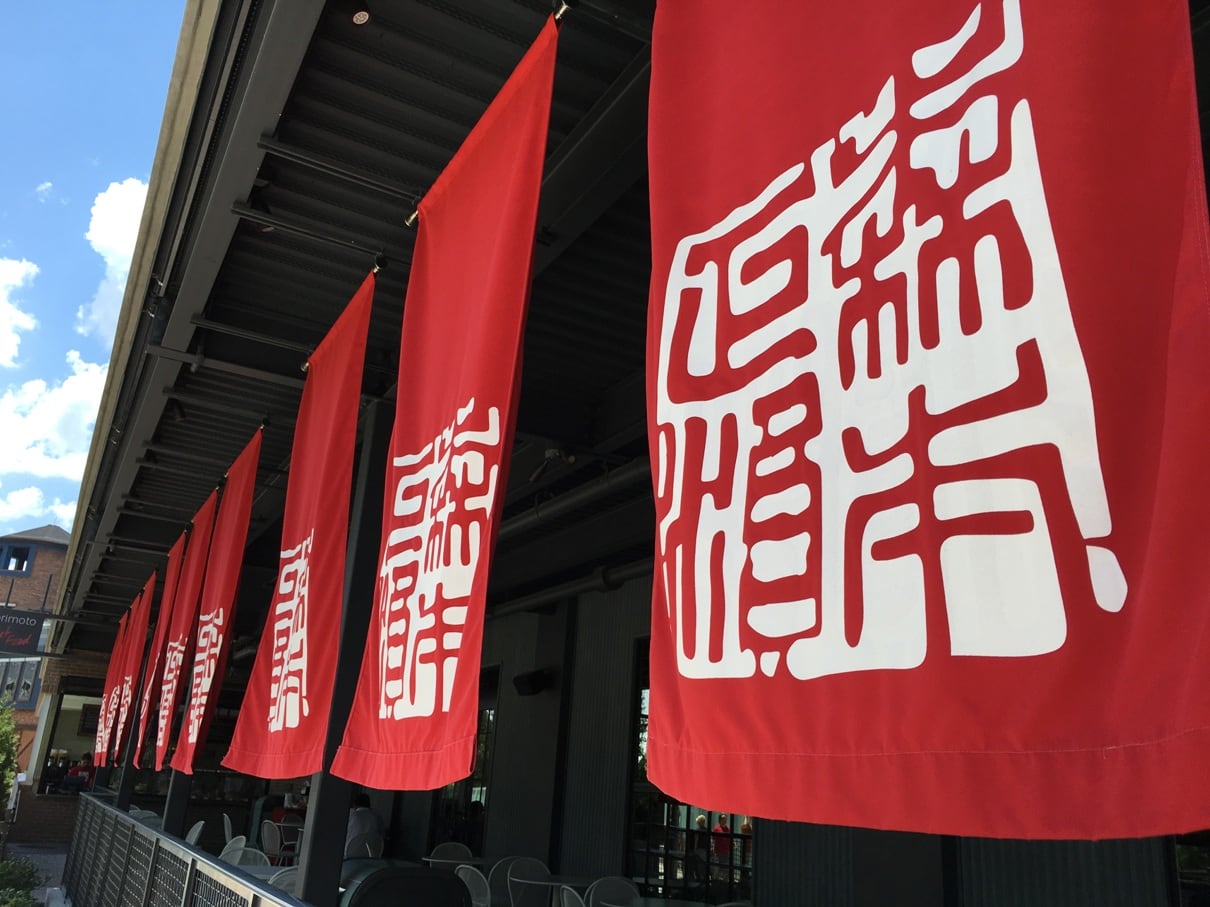 What did I eat?
Appetizers
We shared two appetizers, including the Morimoto Spare Ribs. These pork ribs with cilantro and hoisin sweet chili glaze are completely addictive. You can't stop yourself once you start eating them. And the good news? They're the most tender and flavorful ribs that fall off the bone that I've had in a while. No dry, tough meat here.
While I don't eat much seafood (and this is written for people who hate seafood – stick with me!), I will eat some tuna. Ironic, I know. So we tried the Tuna Pizza, a combination of tuna sashimi, tomato, jalapeno, olives and anchovy aioli on a crispy tortilla. This one was absolutely amazing, too. If you do eat small amounts of seafood, or will eat tuna – then get this one!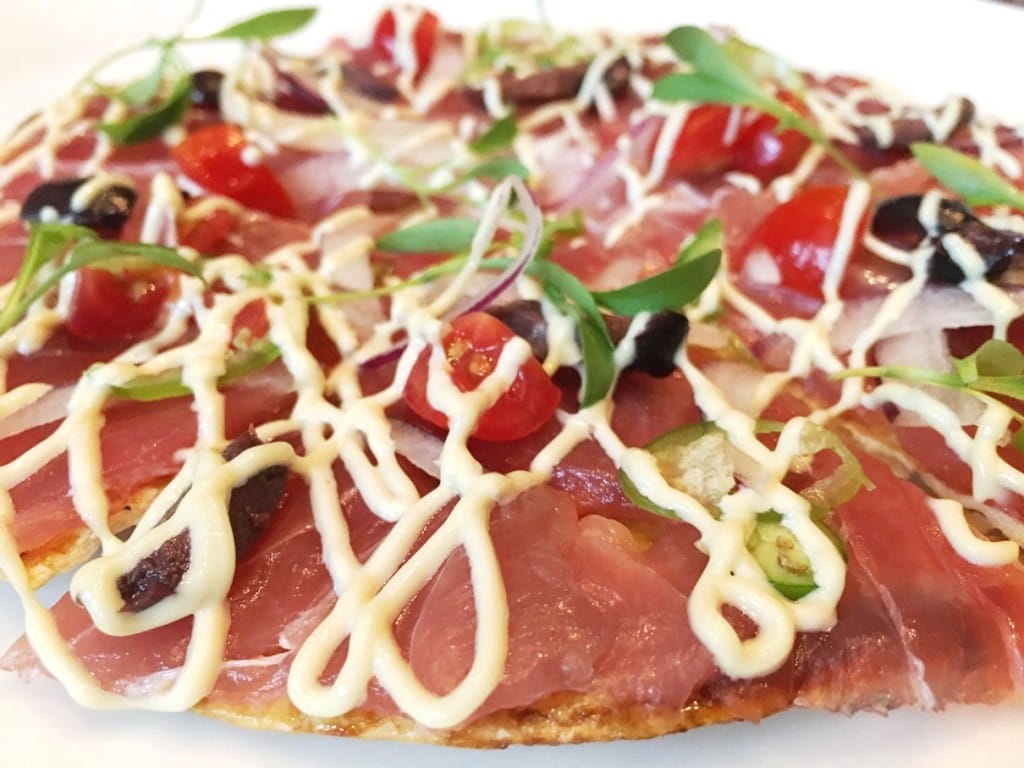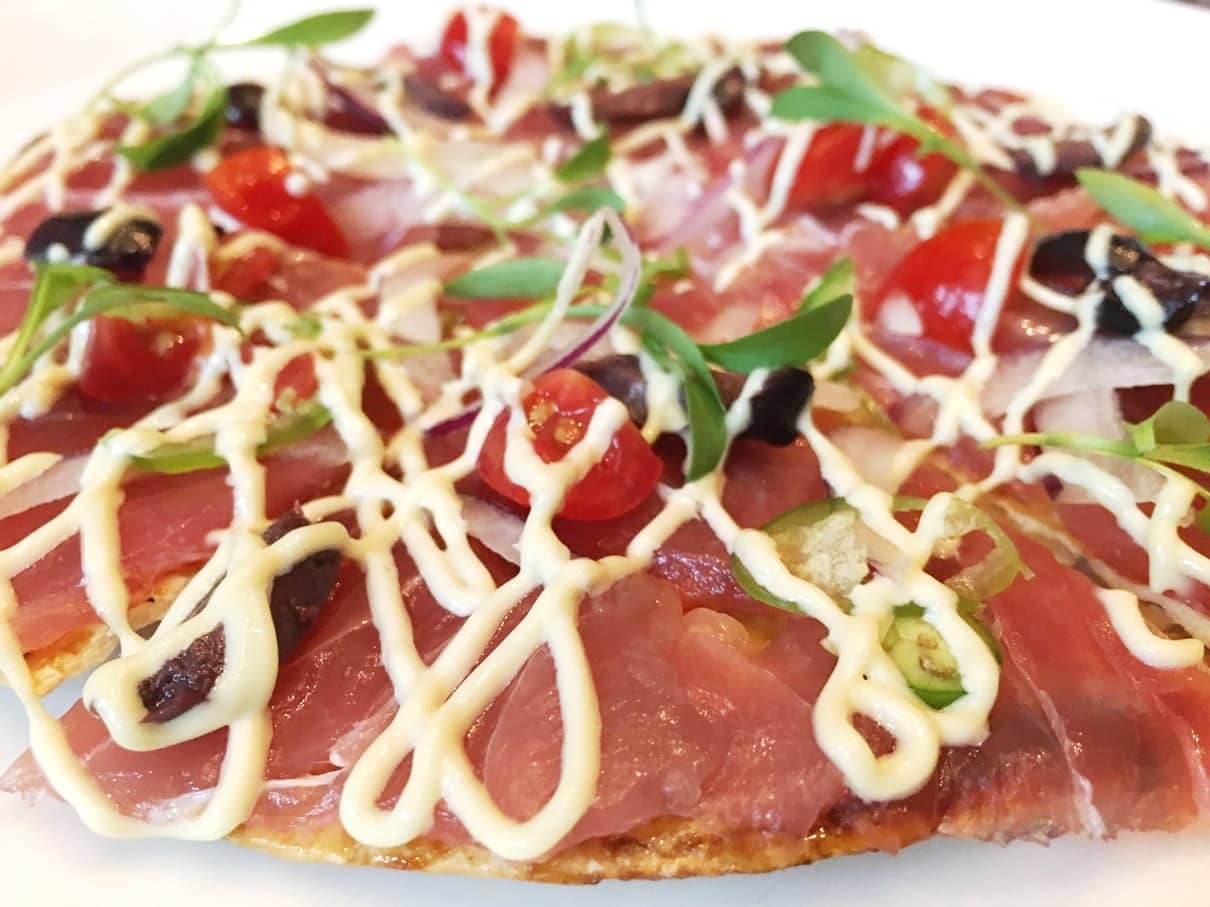 The Baos, both Grilled Chicken and Kakuni Pork, were highly recommended and I really wanted to try these. However, I have a soy allergy, and these both had decent amounts of soy, so I passed. Keep these in mind for ordering, though!
Entrees
How can you go to Morimoto Asia and not try the famous Morimoto Peking Duck? I admit, I don't usually eat duck. And it's usually not that good when I have tried it. But Peking Duck at Morimoto's is a whole different experience.
Served up with steamed flour pancakes, apricot sweet chili and hoisin miso, I was completely surprised at how much I enjoyed this unique delicacy. The crispy skin paired well with the rich meat, and served up with the sweet chili sauce, it made for an unbelievable taste experience.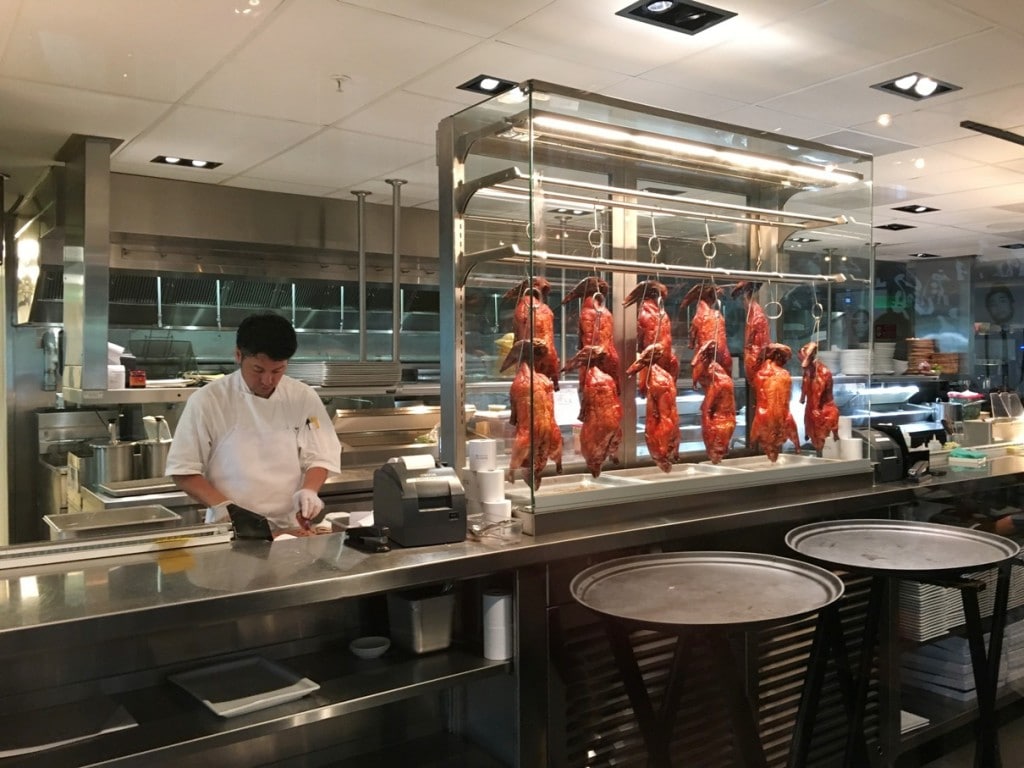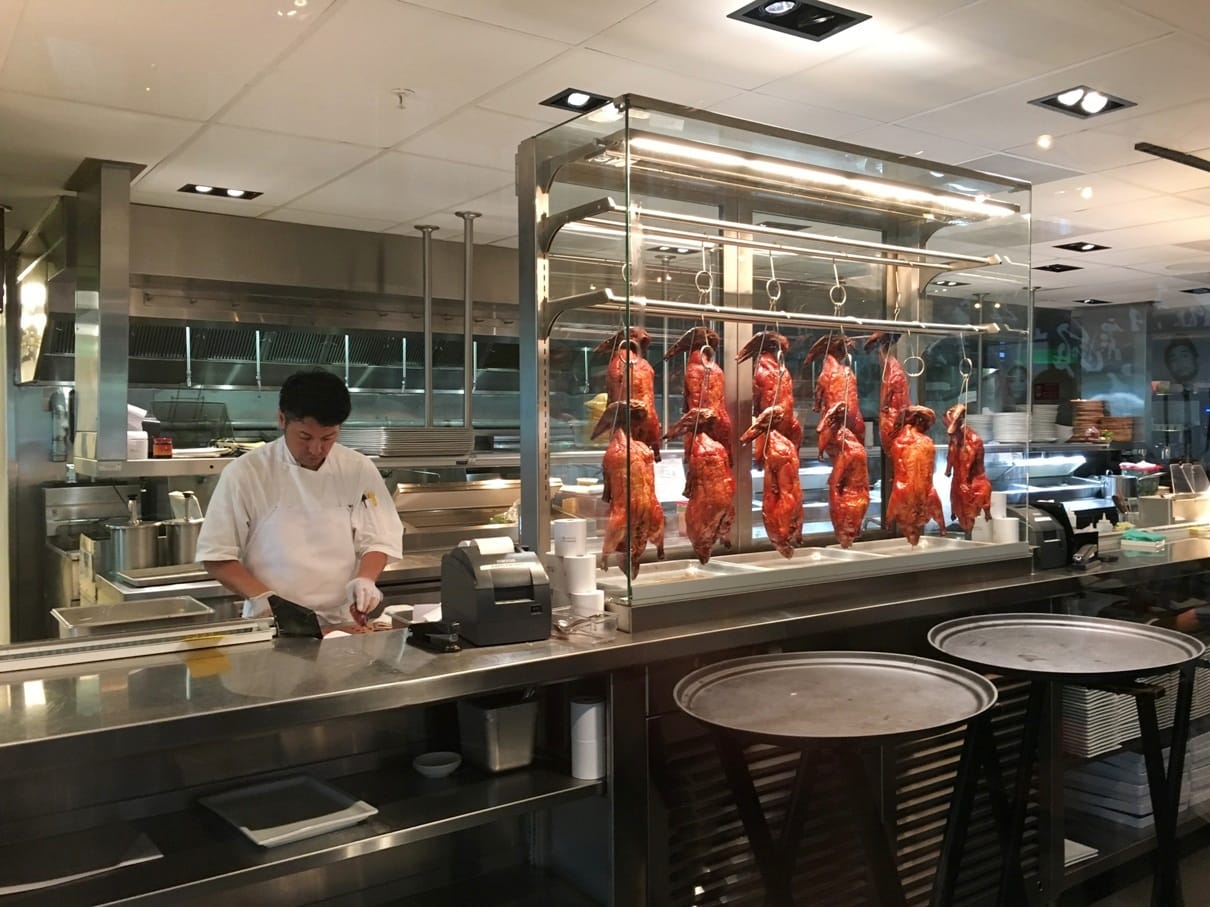 Not so adventurous? I don't blame you. Try the Orange Chicken. Yeah, I know, I know, you're thinking Orange Chicken? I can get that anywhere. No, not this kind!
Light and fresh, this isn't the Orange Chicken with a heavy, sickly sweet glaze that you might be used to. The tempura chicken is wok tossed with a sweet Florida orange sauce that delivers the expected flavor of orange, but in a much more savory way. I even loved the cabbage served up with it.
Desserts
Who knew that Morimoto Asia would have such an incredible dessert selection? They are worthy of a visit alone.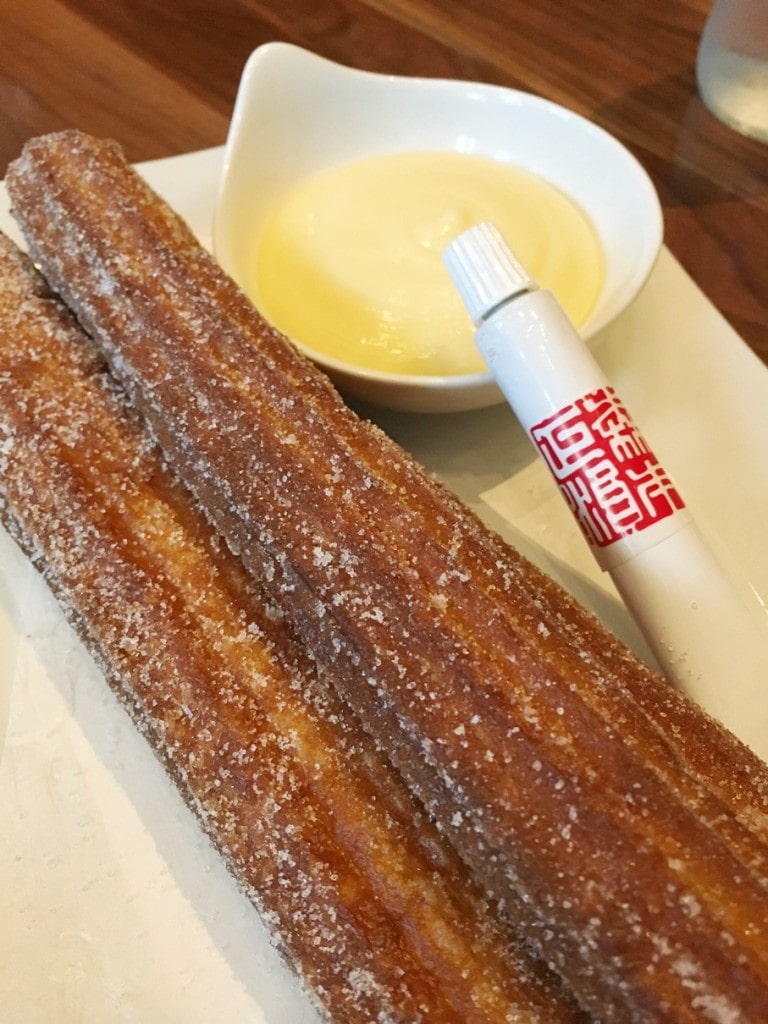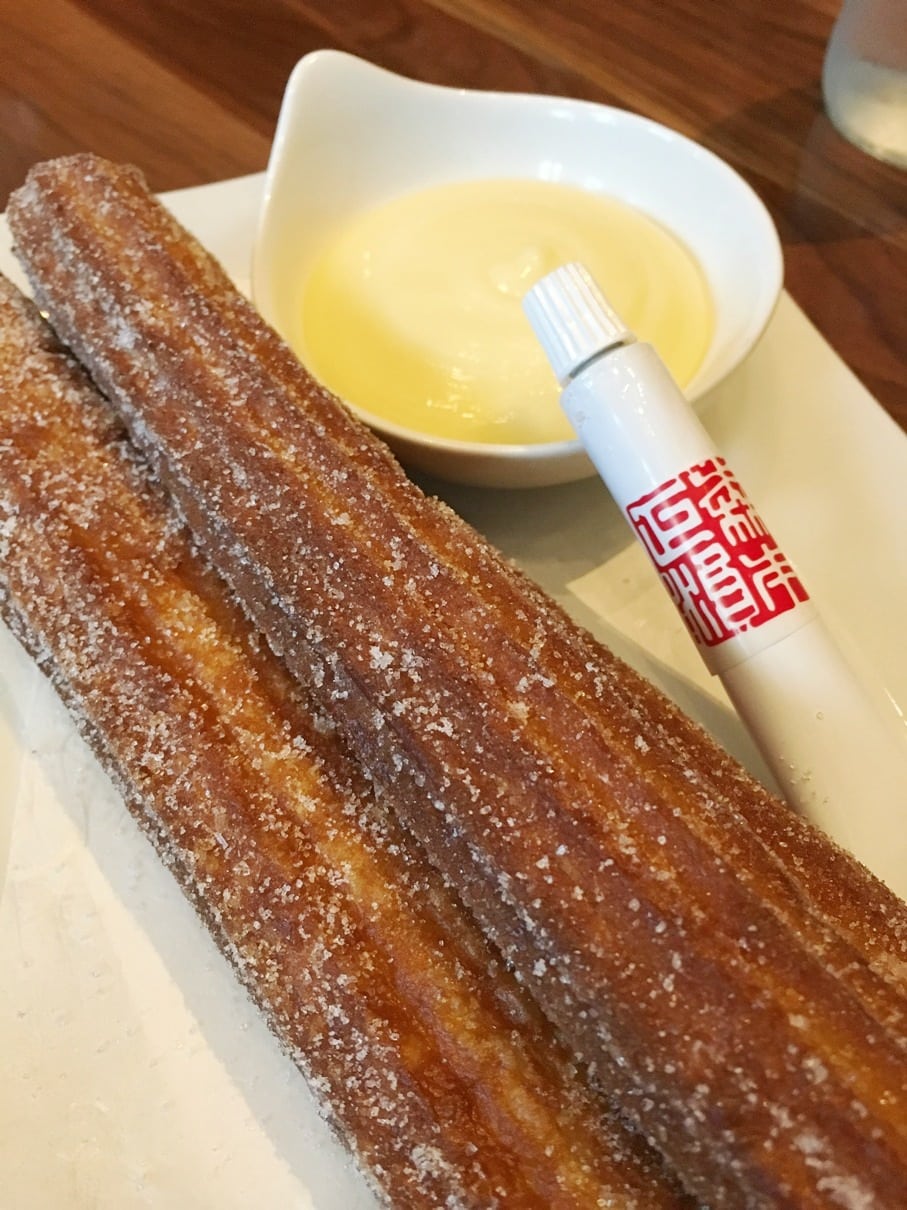 We tried the famous Churro fondue, served with Nutella in a tube and a vanilla cream so good you want to spoon it out of the bowl. Before you dismiss the idea of churros at a Pan Asian restaurant, keep in mind the Chef Morimoto created these specifically in honor of the fact that the restaurant is located near theme parks, where churros reign. His house made version transcends churros bought at a snack stand. You've got to try these!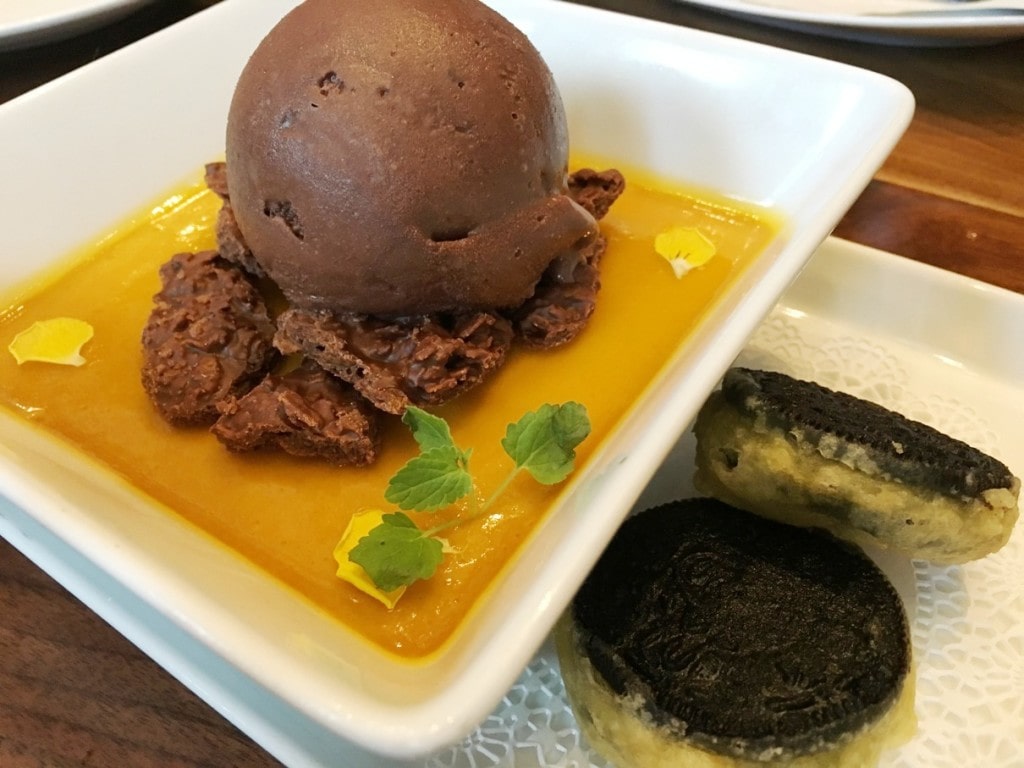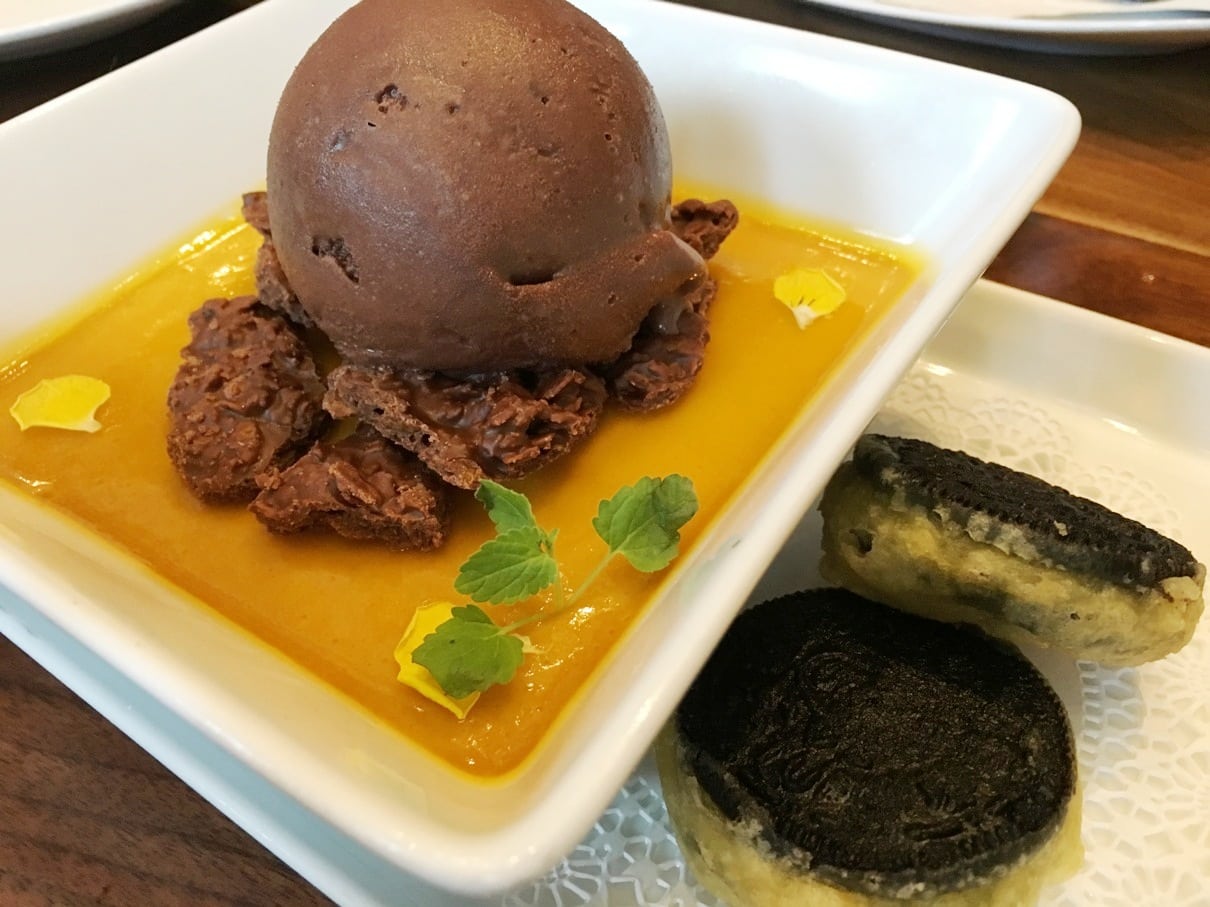 The Chocolate Cream and Crunch was a complete surprise, and one that I really enjoyed. Dark chocolate gelato sits on a bed of hazelnut chocolate crunchies layered over mandarin orange jelly with a chocolate mousse underneath. Tempura fried Oreos are served alongside, too, and are quite good!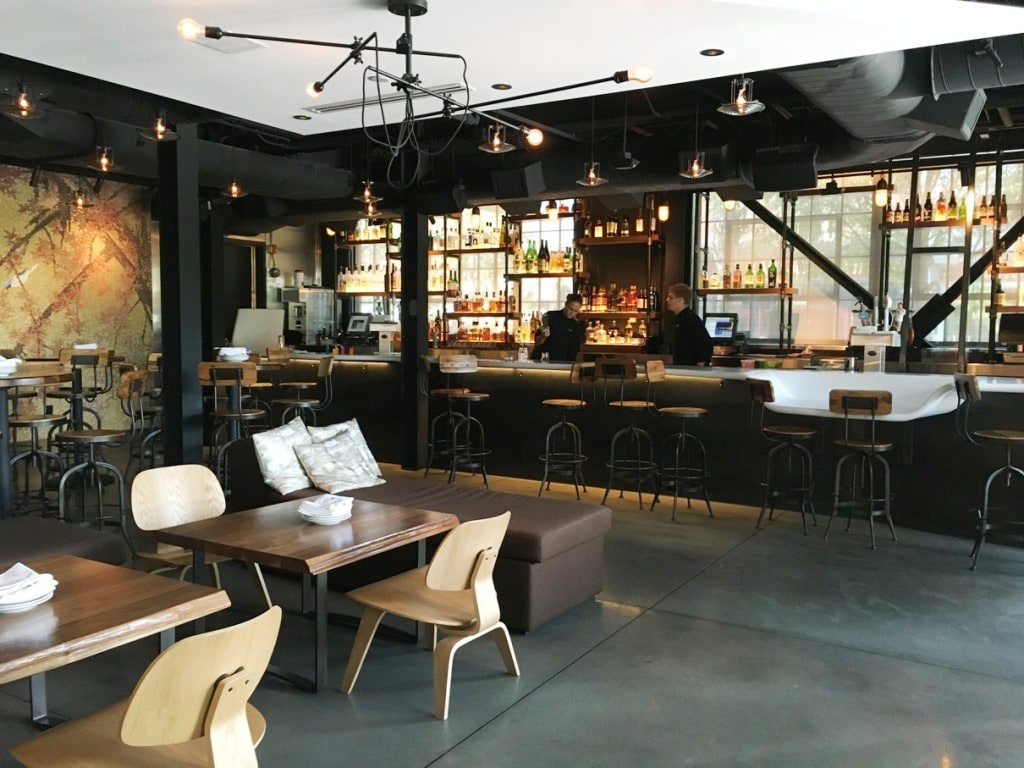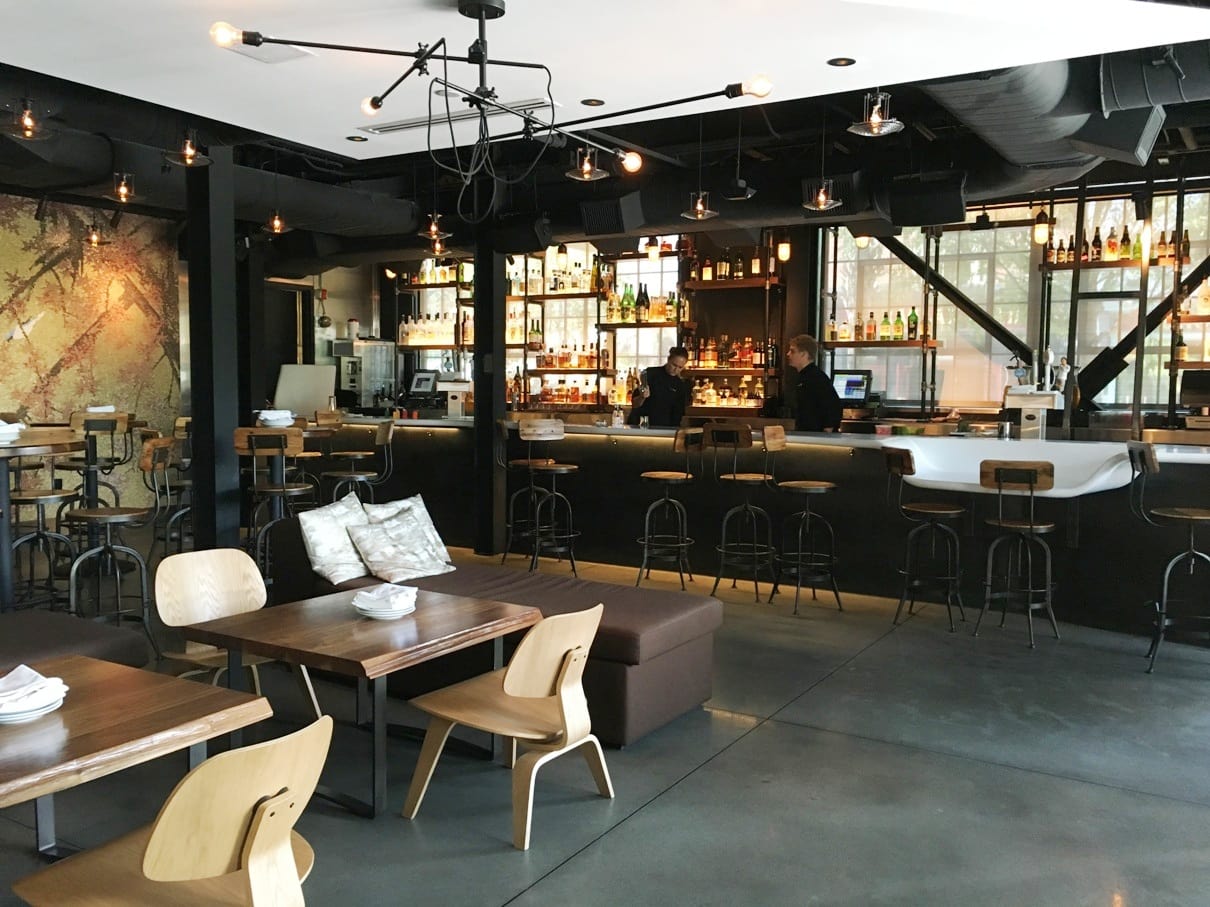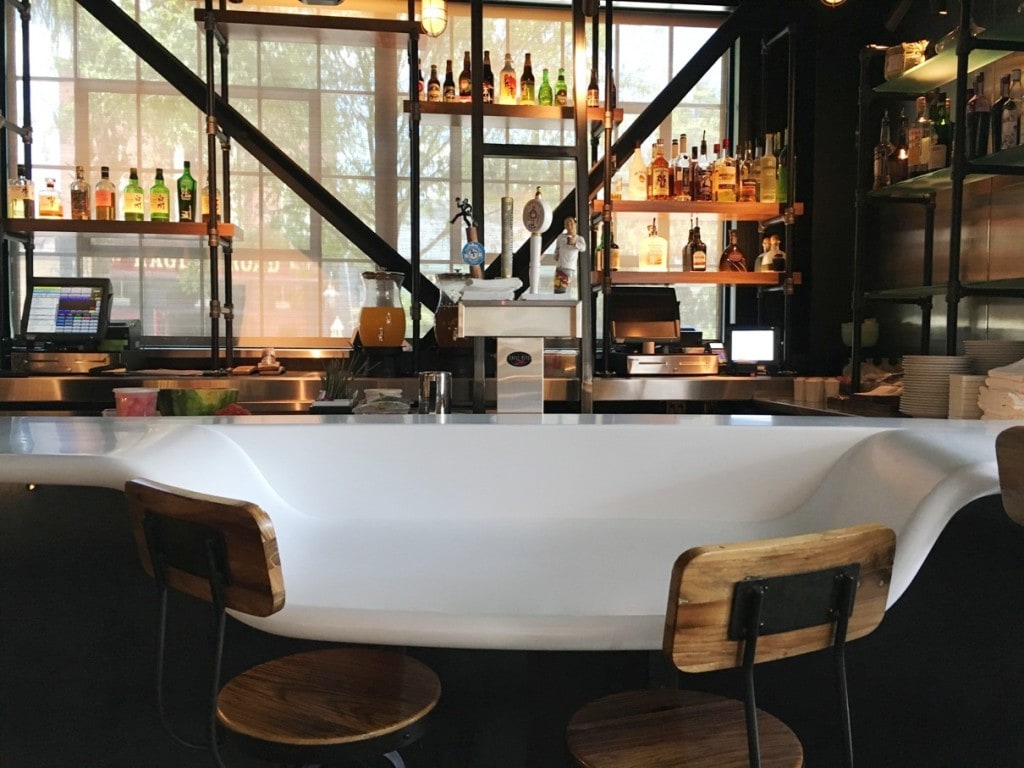 Surprisingly, these are just some of the non-seafood offerings on the Morimoto Asia menu. There are plenty more! Don't forget the bar, with an amazing exotic collection of beers, spirits and sake. If you want to try just a quick bite to eat, order at the new Morimoto Asia Street Food.
Pin It and Share!


We want to know – are you a seafood lover or not?