A day trip to visit Duke University's campus in Durham, NC is a budget-friendly way to enjoy stunning architecture and historical sites that are iconic in North Carolina.
When we were planning a visit to Duke University's gardens, we had so many questions about visiting the campus as a guest. Could you visit Duke without being a student? Was there any place to eat on campus as a visitor? Was everything on campus within walking distance or would we need to keep changing our parking spaces?
Here are all the answers to planning a campus visit to Duke University, whether as a prospective student or a curious visitor.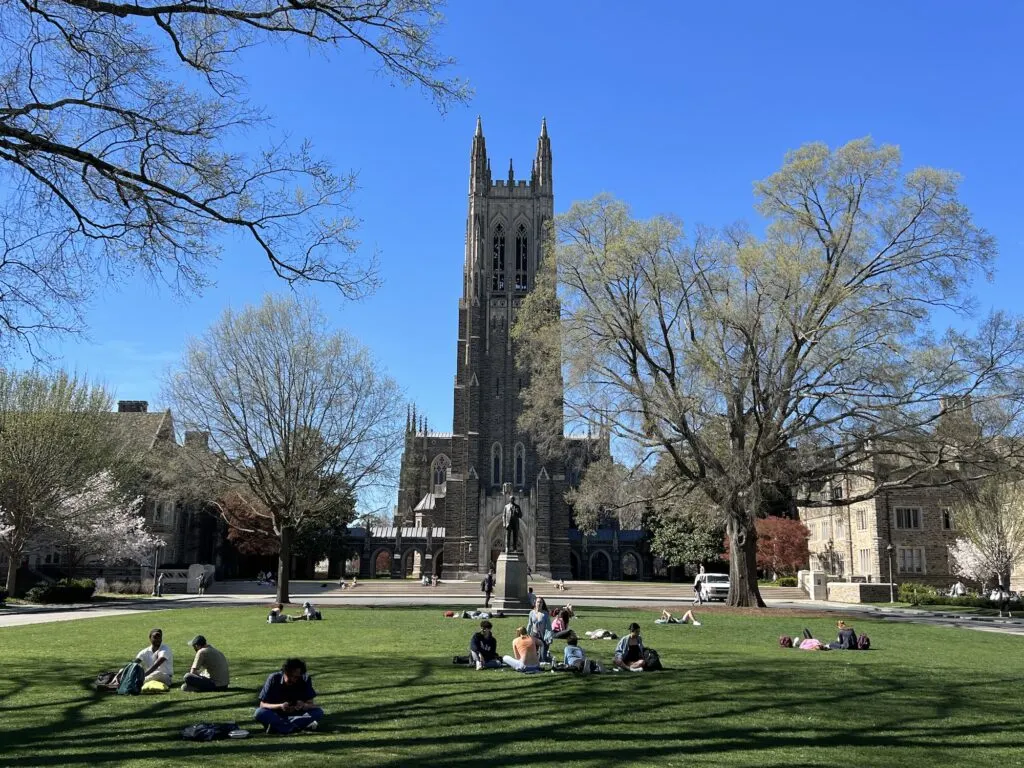 Helpful Tips for Planning a Visit
Keep these helpful tips in mind when planning your itinerary:
Most of the things to do on this list are free admission, except for the lemur encounter and dining.
Parking is not free on the campus. You will need to pay metered parking.
Always check the Duke University website for information about game days or special events, such as graduation, that could impact operating hours of any of these things to do.
Can I Walk Around Duke University Campus?
Yes, you can walk around Duke University as a visitor. The public is allowed to visit Duke at any time of the year.
How Long Does It Take to Walk Around Campus?
There is a lot to do at Duke University as a visitor, but you can probably do it all within 3-4 hours.
If you take a guided tour or enjoy the lemur experience (yes, lemurs!), then you will need to allow more time.
Visiting Duke University is the perfect half-day trip from Raleigh, Durham, Chapel Hill or Greensboro.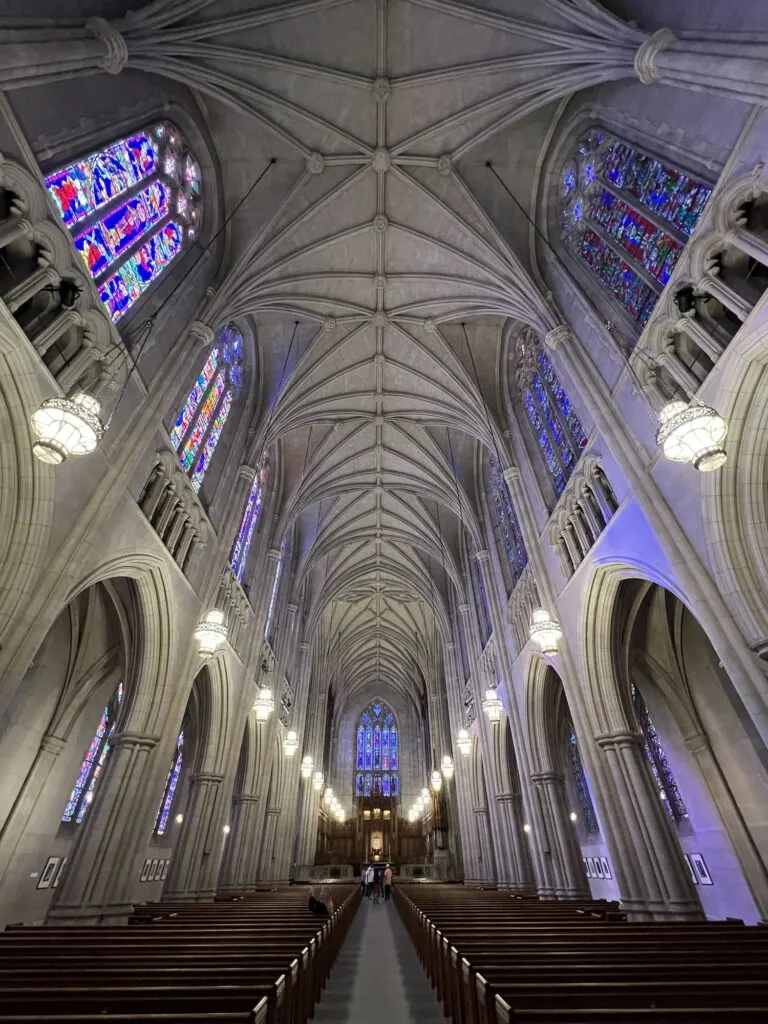 How to Get Around on Campus
While Duke University has a sprawling campus, with two separate areas known as West Campus and East Campus, it does not take long to walk among the points of interest for guests.
Everything that you would want to see as a visitor to Duke's campus is within a very walkable area.
If you have no mobility issues, we suggest parking in one spot and walking to each destination.
For those unable to walk distances, there is parking located near all of the points of interest.
The Duke University public transportation is also available to visitors, as well. These are buses that transport students across campus, and are available for the public, too.
Visitor Center
You can start your day at Duke University at the Karsh Alumni and Visitor Center. The relatively new welcome center was opened in 2019.
The stunning building has architectural details that mimic the rest of the distinctive architecture you will find on campus.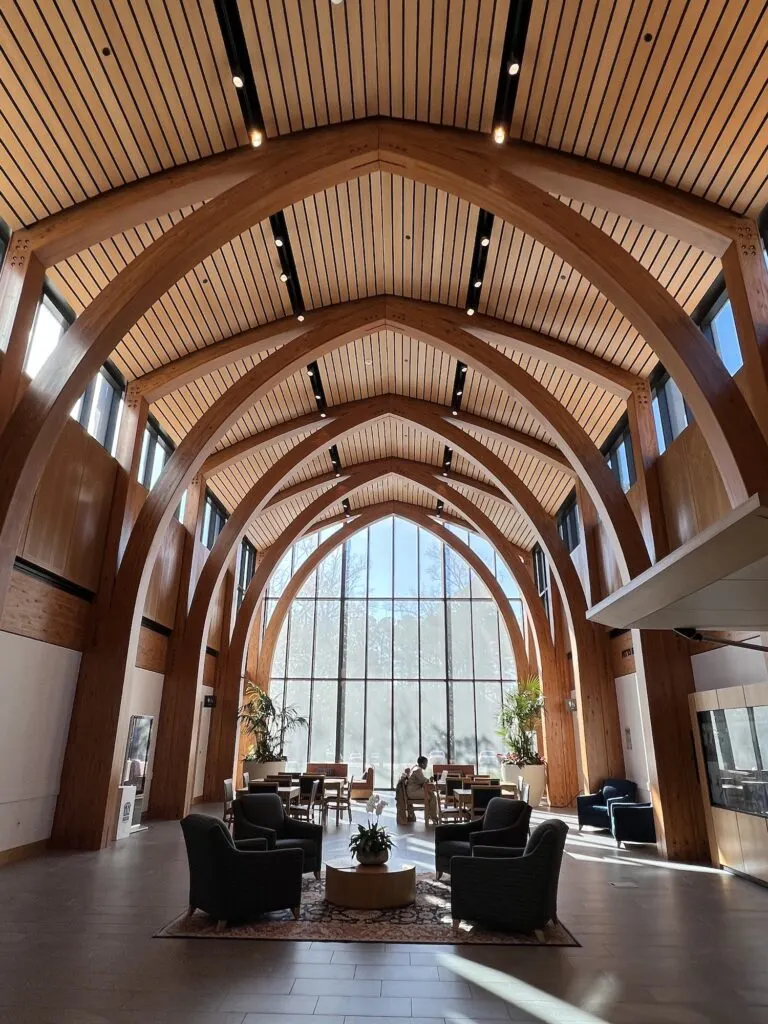 This is where you will meet for guided tours.
Anyone can join a Duke University tour. While the emphasis on the tour will be about academics and lean more towards prospective students, everyone is welcome to sign up. The tours are 1 hour and 15 minutes long.
Duke University tours book up well in advance! If you are planning a visit, be sure to sign up for your tour and reserve a spot beforehand. You can always ask at the Visitor Center if there are any openings for the day if you are a last minute visitor, though.
If you would like a map, a sticker saying that you visited Duke or to ask questions about the campus, this is where to go.
Inside are some tables and chairs, a charging station, a very small snack area for purchasing snacks, and an 8-foot touchscreen wall display where you can learn more about Duke's notable alumni, history and athletics.
Quite honestly, I found that visiting the Visitor Center was a waste of time and parking fees. While the structure is nice, so are a lot of other buildings on campus. We were hoping for something more, maybe a small museum of artifacts or memorabilia, historical photos….something. What we walked away saying was that the building looks like it was built more for a function space and happens to have some maps and an interactive wall.
Duke Chapel
Can you go inside the Duke Chapel? Yes, you can, and you are encouraged to do so!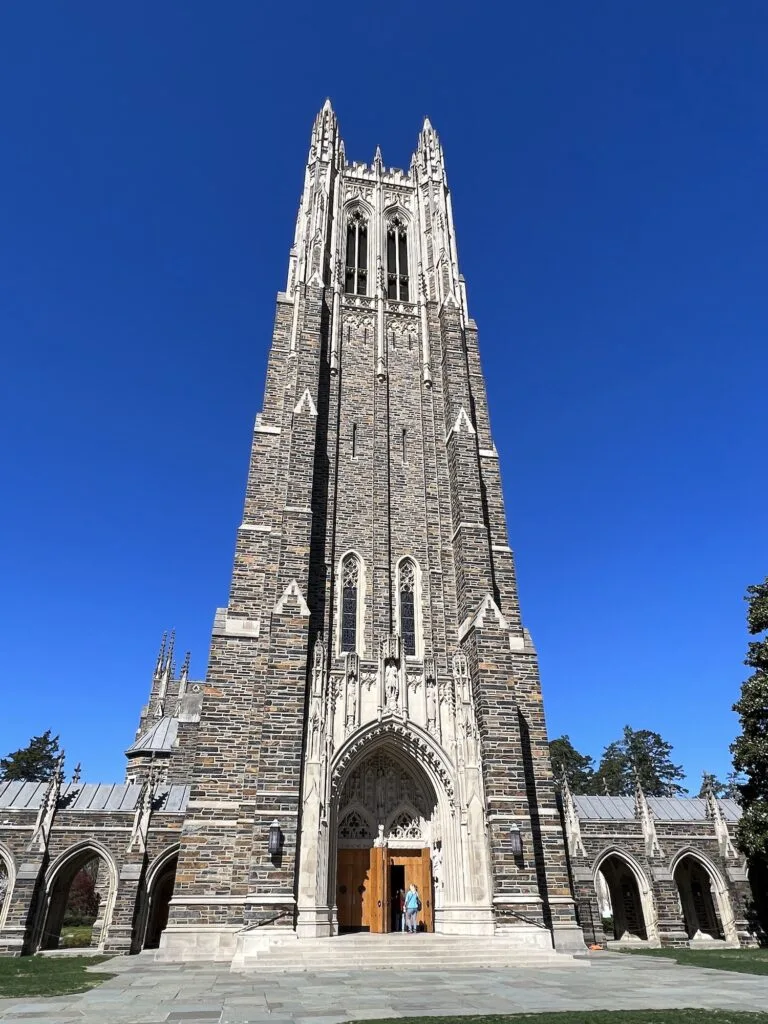 Visiting the Duke Chapel was the highlight of our campus tour. If possible, you really must spend some time exploring the interior of this iconic building at the University.
The exterior of the Neo-Gothic-inspired chapel reminds us of historic chapels we have visited throughout Europe. (And we've been to a LOT of chapels in Europe!)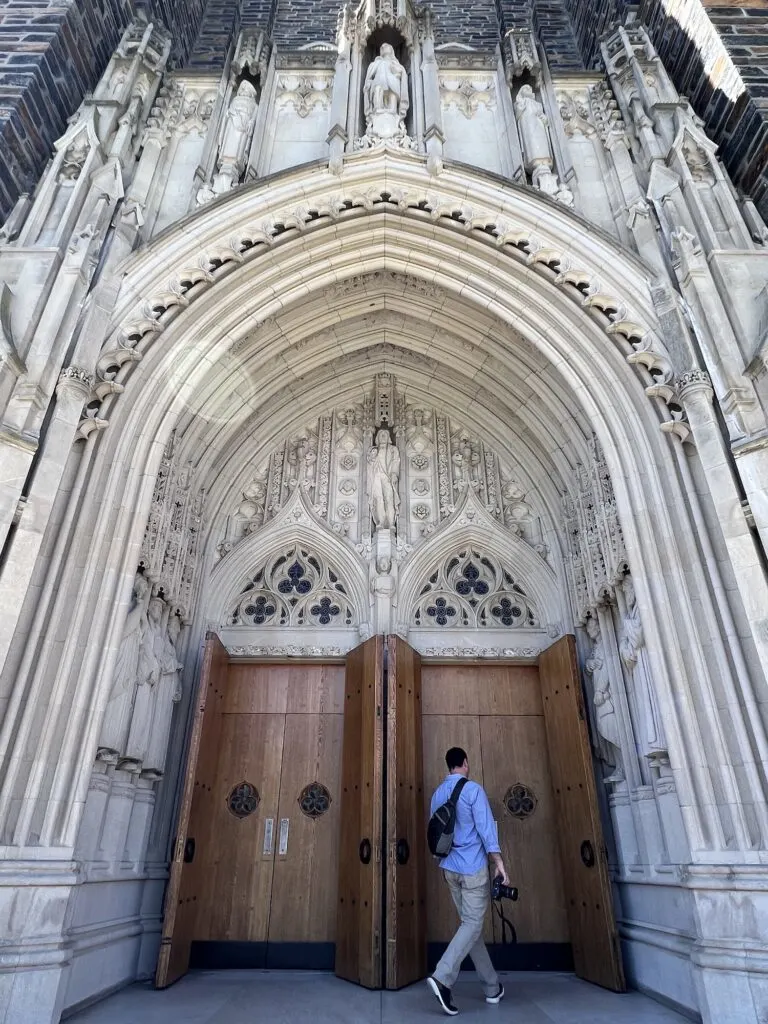 Inside, you will be dwarfed by the soaring ceilings and two levels of 77 vibrant stained glass windows telling the stories of the Bible.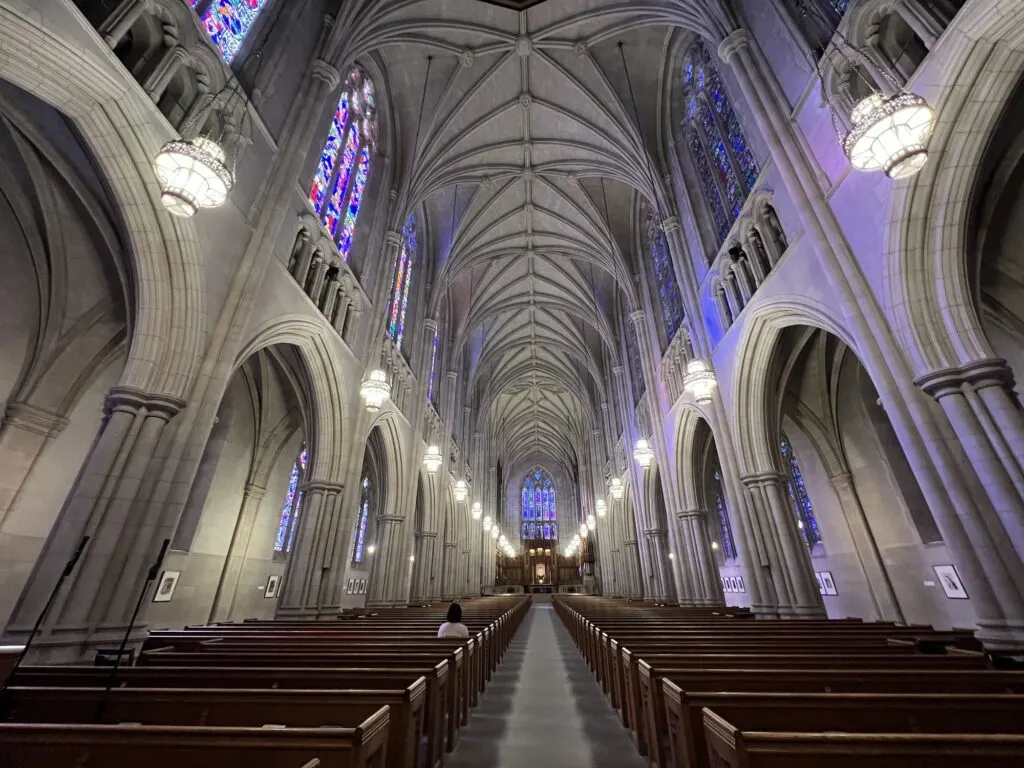 There are two organs inside the chapel. A special treat is to visit the chapel while there is an organ rehearsal or recital. You can find an event schedule online, or ask the docent sitting at the desk to the right when you walk in when there is expected to be organ music.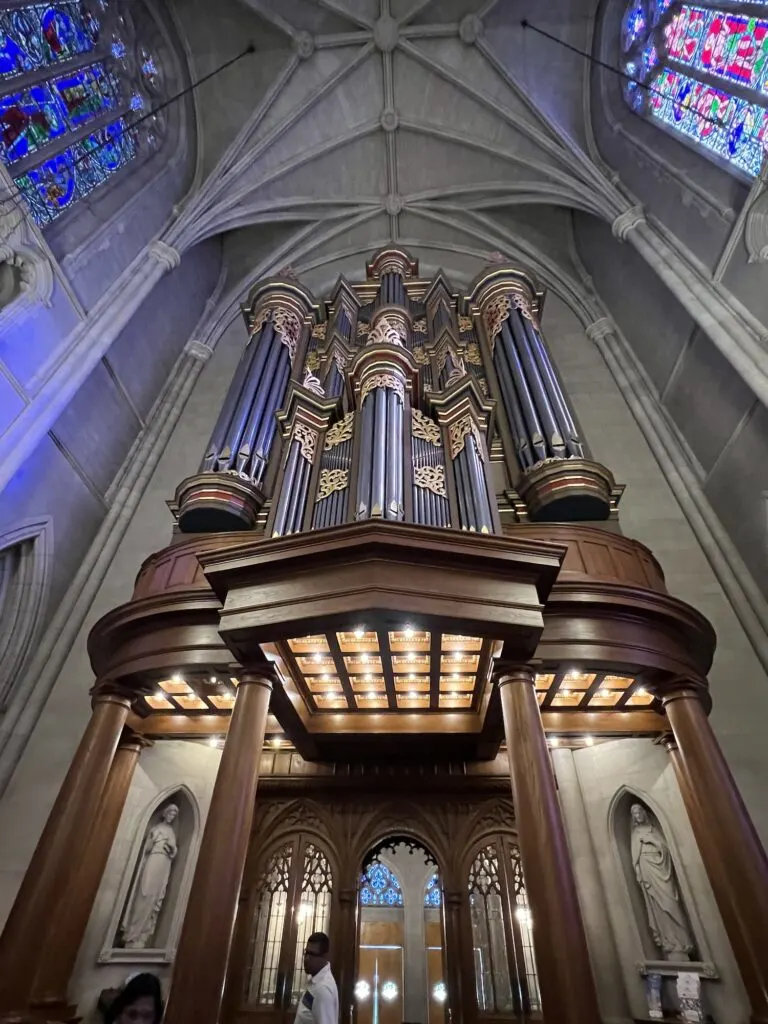 When we went, we happened to start talking to a docent that gave us an impromptu tour that was fascinating. While looking at the chapel from the inside is stunning, the history and unusual facts that you learn during a guided tour make your visit even more memorable.
Such as the fact that the builder of the stained glass windows, who didn't like doing stained glass for churches, signed his name in the Noah stained glass and was subsequently fired.
Be sure to pick up a map at the front of the chapel for a detailed guide on the windows and interesting facts.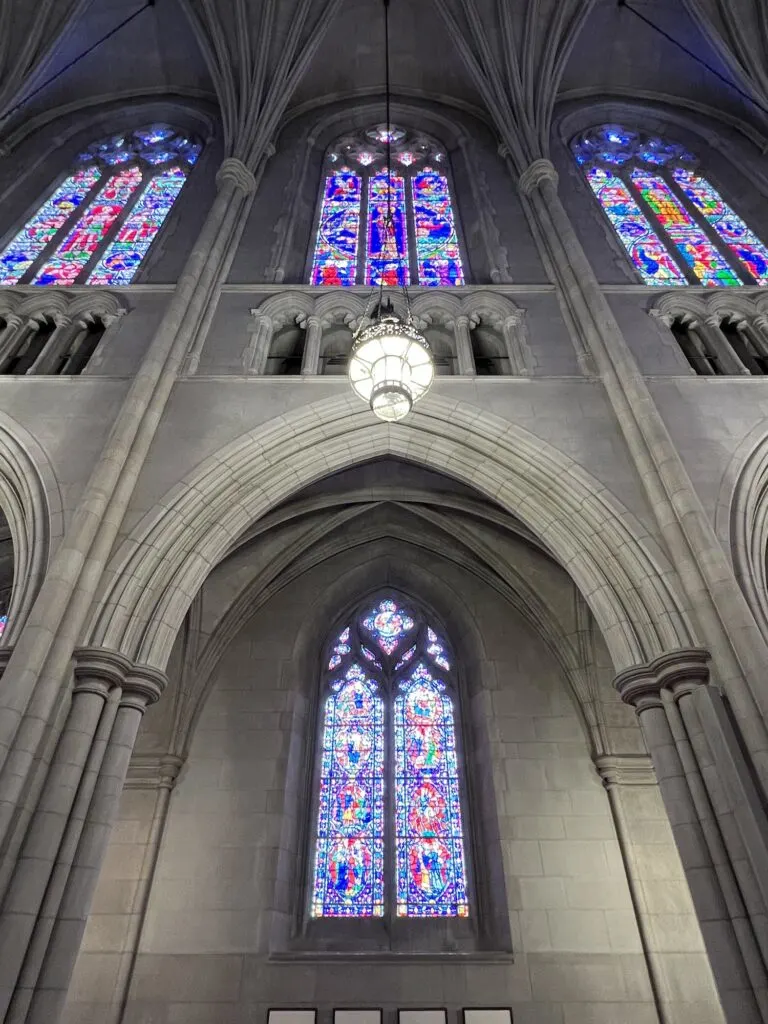 The closest public parking is the Bryan Center Parking Garage.
Be sure to look at the events listing page online before visiting to make sure that the Duke Chapel is open for visitors.
In general, the Duke Chapel is open from 8 a.m. to 10 p.m. University Worship is at 11 a.m. on Sundays, with Choral Evensong at 4 p.m. on Sundays.
The 50-bell Carillon plays at 5 p.m. on weekdays and before and after Sunday service.
Sarah P. Duke Gardens
The Sarah P. Duke Gardens is considered one of the best public gardens on the East coast. There are four distinct garden areas within the 55-acre gardens:
Doris Duke Center and Gardens
Historic Gardens
H.L. Blomquist Garden of Native Plants
W.L. Culberson Asiatic Arboretum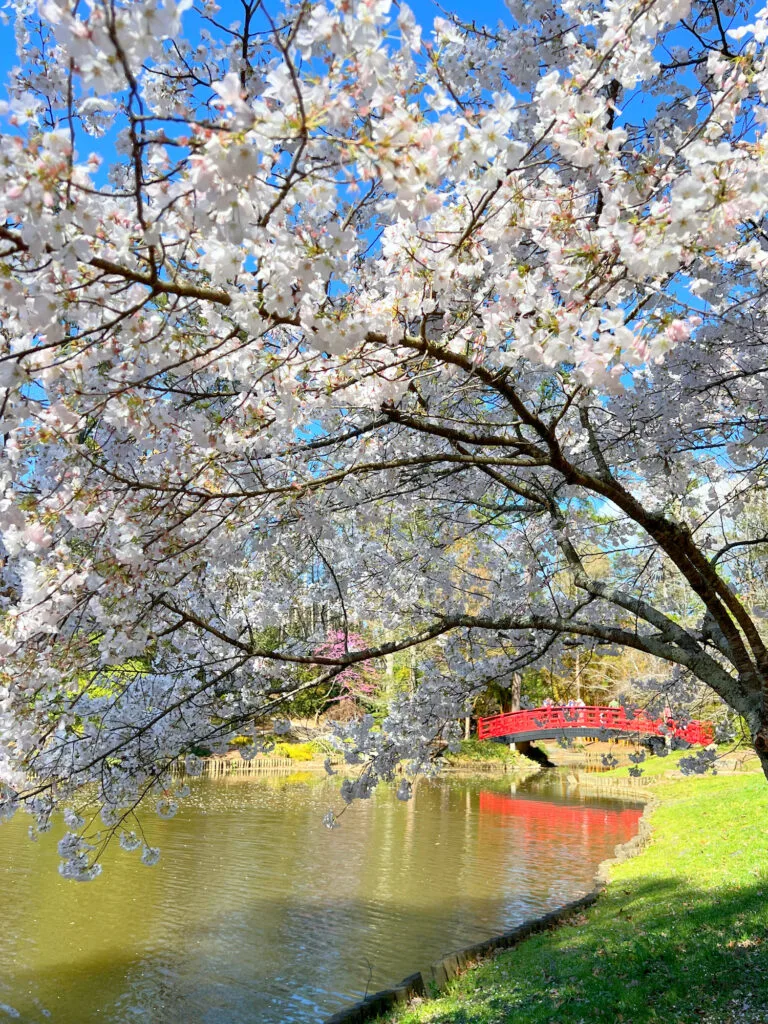 The gardens are open from 8 a.m. to dusk every day. Dog walking is only allowed before 10 a.m. and after 5 p.m.
Enjoy free admission to the gardens.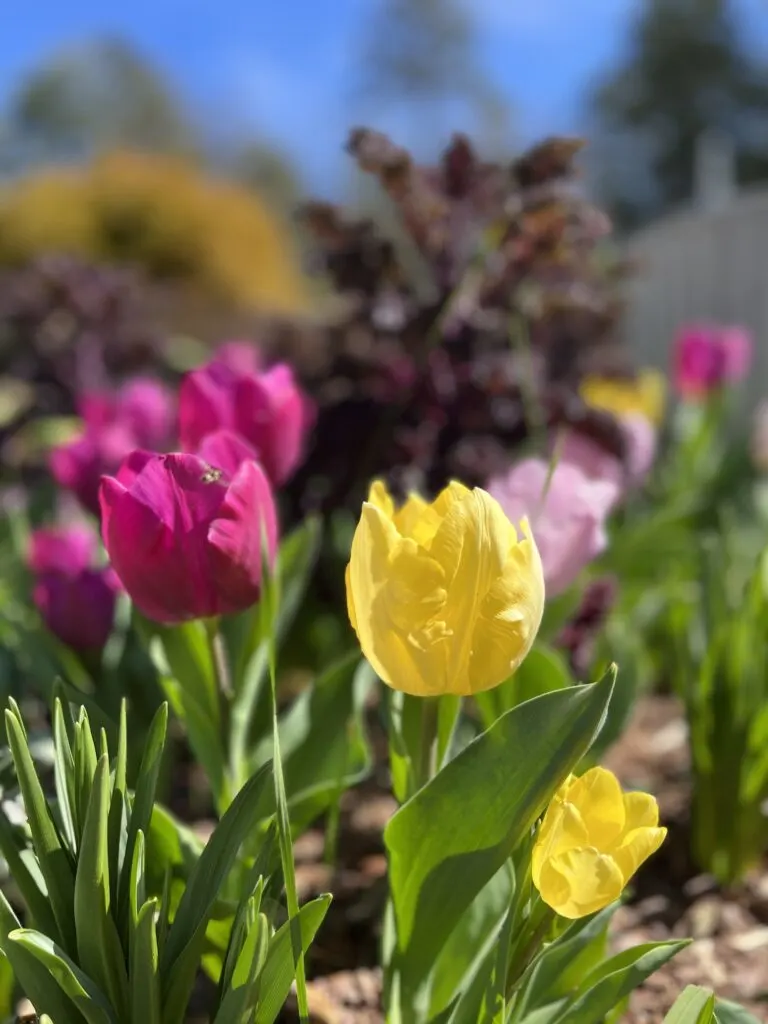 The paths are wheelchair and stroller friendly.
Restrooms are available in three areas of the gardens. The bathrooms at the W.L. Culberson Asiatic Arboretum are my favorite for their design style.
A cafe is available from Spring to November and serves lunch and ice cream.
Nasher Museum of Art
This contemporary art museum has a focus on works by artists of African descent. The artwork is bold and conversation-starting.
Enjoy free admission to the Nasher Museum of Art.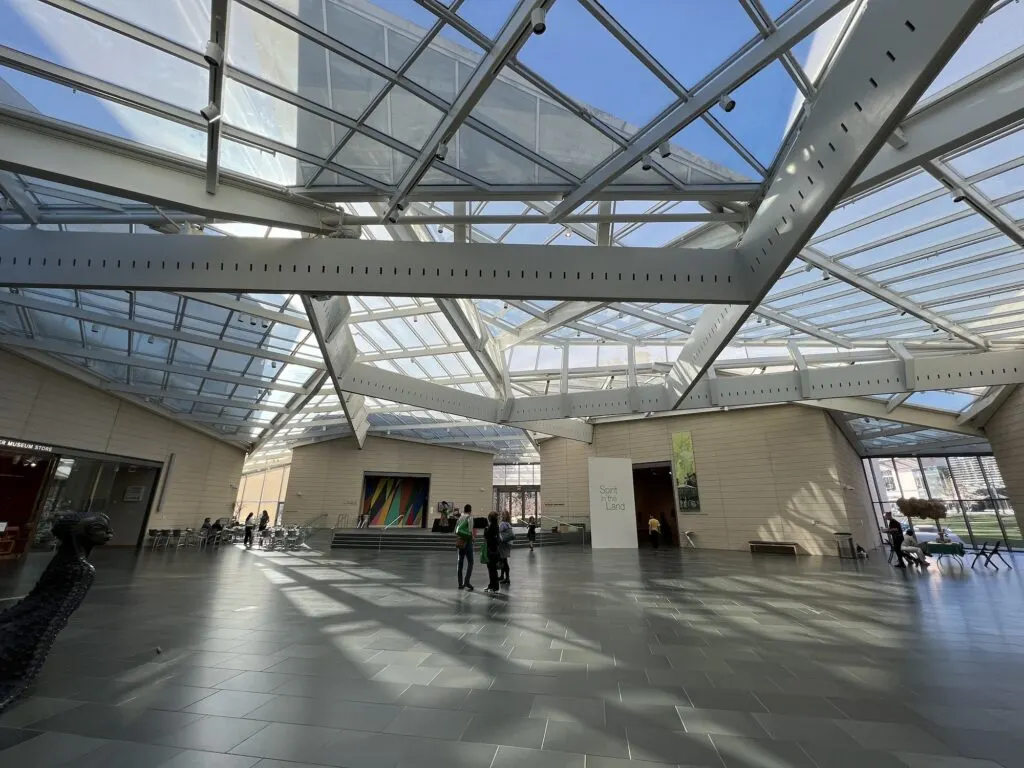 It is a very short walk from the Sarah P. Duke Gardens. Just go out the main entrance of the gardens, turn right and walk down the sidewalk to the traffic light. At the traffic light, cross the streets and the art museum is located to your right.
A cafe and small bookstore are inside the very modern and spacious building.
University Store
The main University Store is located at Bryan University Center, close to the Duke Chapel.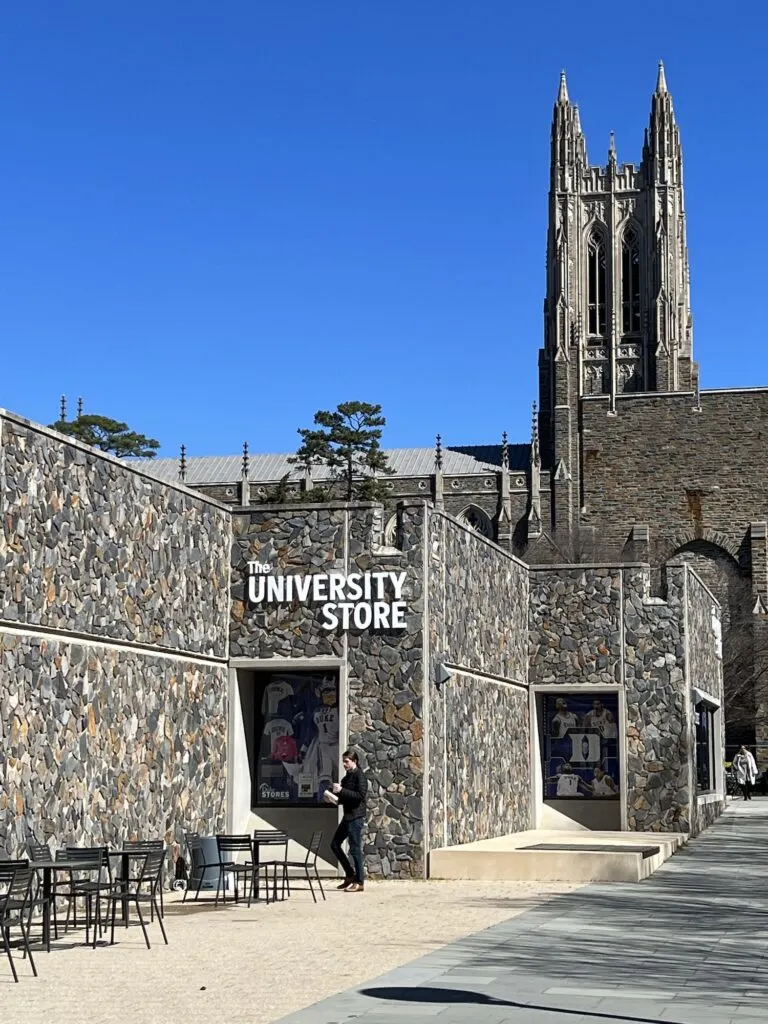 This two-story gift shop and bookstore has everything you might ever need with the Duke logo on it!
There is so much stuff to buy in this store. Be sure to look downstairs where you will find a Clearance section.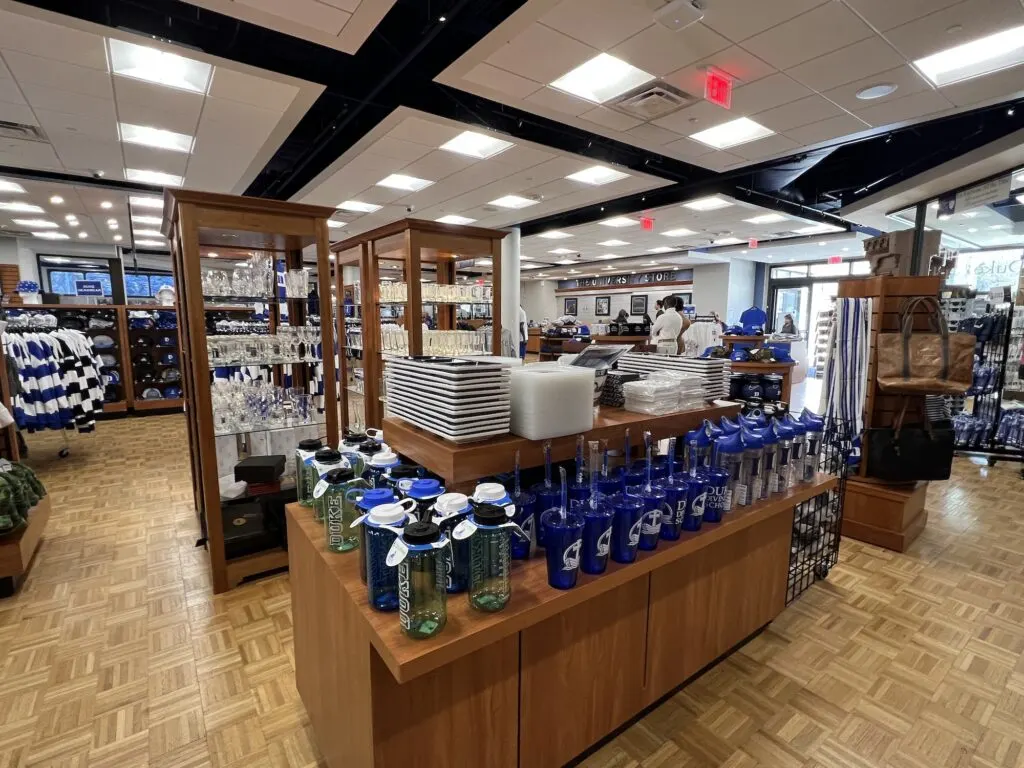 Duke Basketball Museum and Sports Hall of Fame
Located adjacent to the famed Cameron Indoor Stadium where the famed Duke men's basketball program has games, the Duke Basketball Museum is a fun destination even if you don't know much about the University's sports.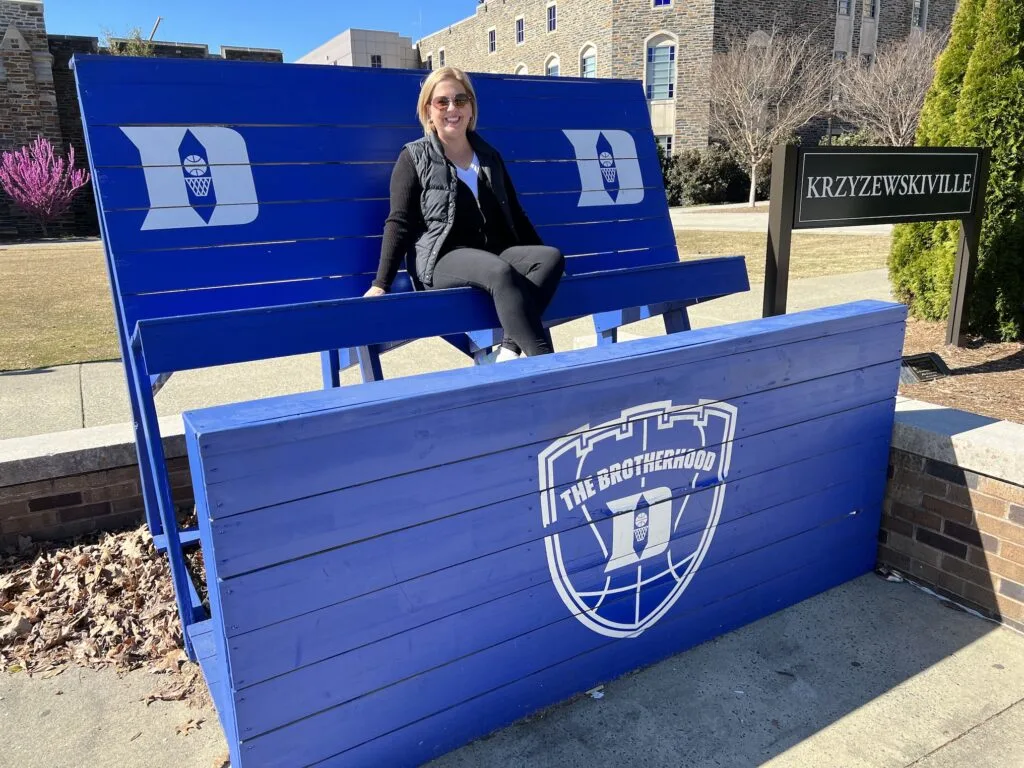 We walked around and around this building before we finally found the door! Ha ha! So don't look for a very celebrated entrance. In fact, we entered the building and wondered if we were supposed to be there.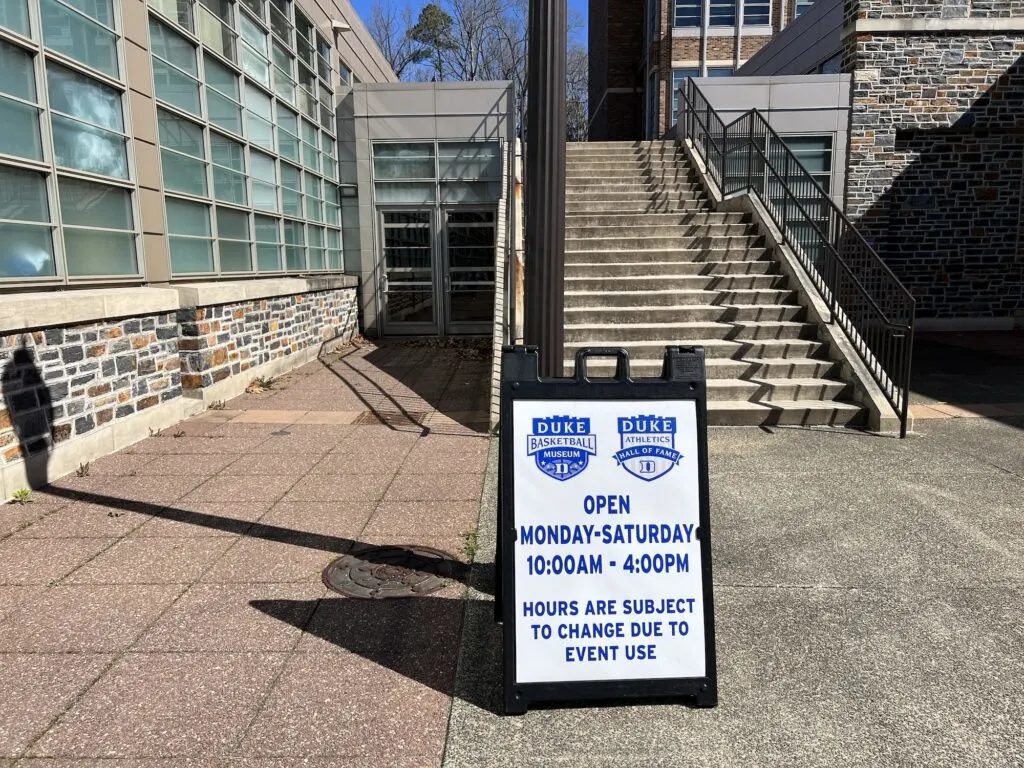 Once inside, you will be mesmerized by the wealth of sports memorabilia and game videos playing.
You will enjoy display cases showcasing the highlights of the Duke University athletic system, with a big emphasis on the men's basketball program and Coach Krzyzewski.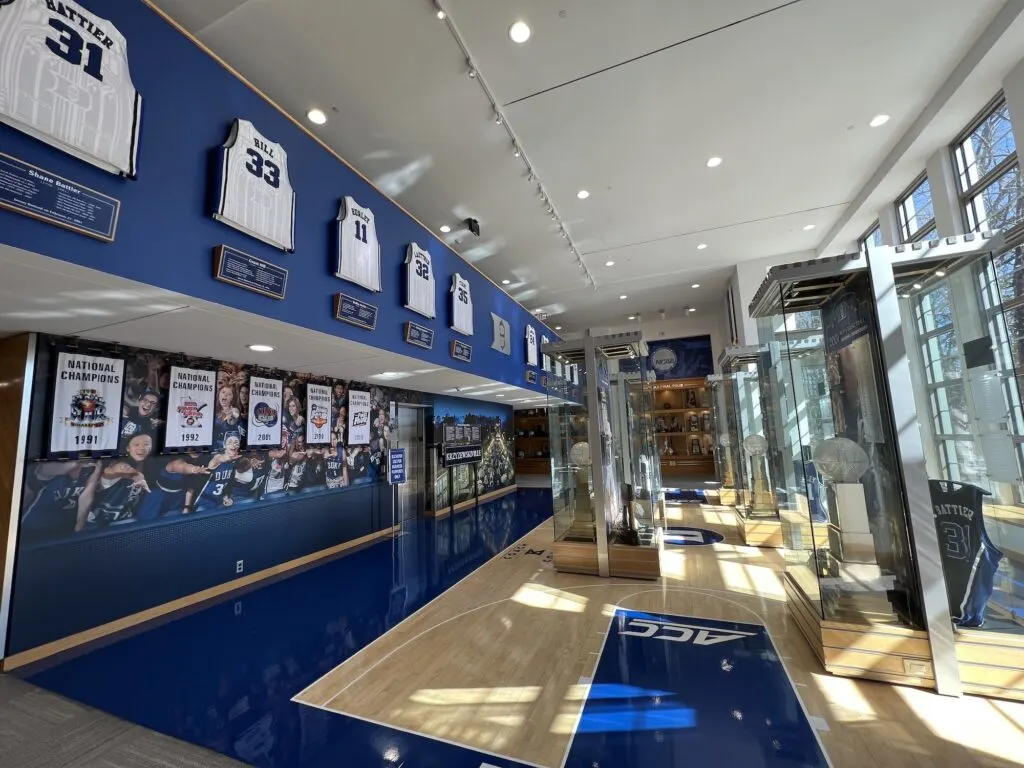 The Museum is open from Monday to Saturday from 10 a.m. to 4 p.m .with free admission.
On football game days, the hours are different, so be sure to check the website.
Duke Lemur Center
Surprisingly, the largest collection of lemurs outside of Madagascar is found at Duke University! Strange, but true.
The non-invasive research center conducts research and conservation initiatives.
Visitors can explore the Duke Lemur Center, but only with an advance reservation. Visits can only be conducted in warm weather, which means tours are generally available from late Spring to October.
Where to Eat
There are a variety of places to eat on the Duke University campus. There are also a lot of great places just a 10 minute ride off of campus, too.
Below are some of our favorite choices for where to eat at Duke University.
Terrace Cafe
Enjoy a lovely meal while strolling the Sarah P. Duke Gardens when you have lunch at the Terrace Cafe.
This cafe features menu items from The Picnic Basket catering, including sandwiches, salads and gluten-free items.
Terrace Cafe is closed from mid-November to sometime in early Spring. During our visit in early March, the weather was beautiful but the cafe hadn't opened yet. Be sure to check Duke University dining website for details on hours if you are visiting in the off-season.
Nasher Museum of Art Cafe
Fresh and local-ingredients salads, sandwiches and shareables can be found on the menu here. Items such as Lemon Linguine, Cobb salad and Braise Short Rib are among the popular dishes. You can enjoy beer, wine or cocktails, as well.
Enjoy a lovely meal on the outside patio at the art museum. There are 125-seats both indoors and outdoors which overlooks the garden and the Claes Oldenburg and Coos van Brugge "Corridor Pin" sculpture.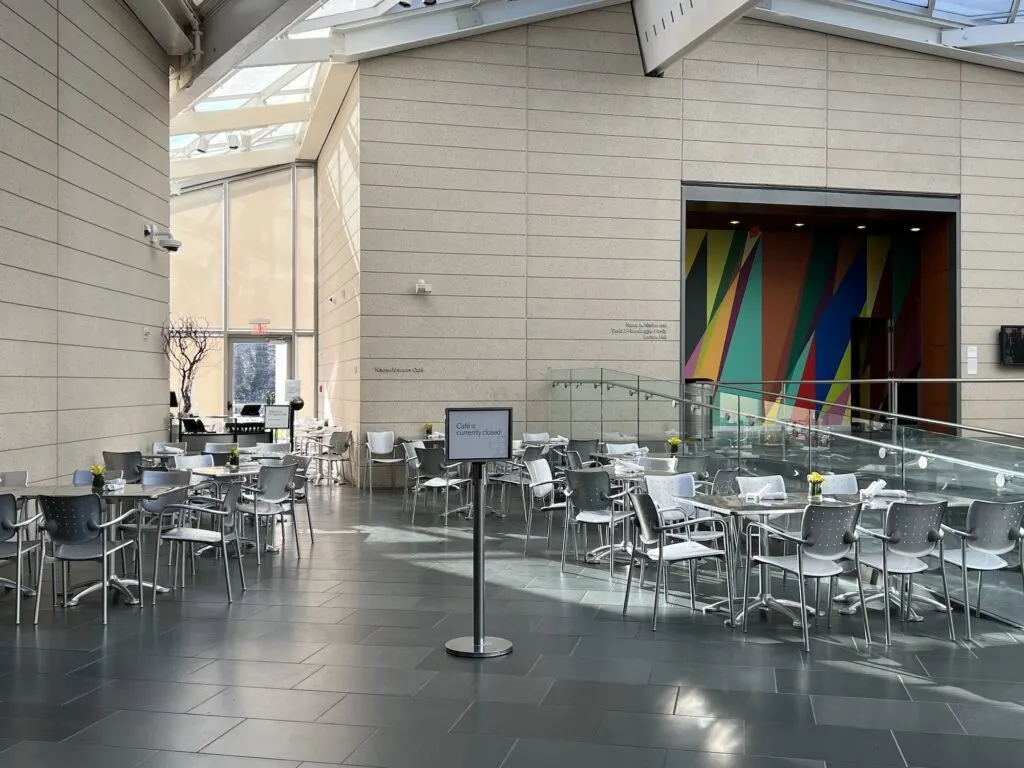 We suggest dining outside if the weather is nice because the indoor dining can get quite noisy.
The cafe is open very limited hours for lunch and brunch, so be sure to check their website. Dinner is only served on Thursday nights. The cafe is closed on Mondays.
You can make a reservation through OpenTable for the cafe.
Bryan University Center
You can find quick-service food at the Bryan University Center where the University Bookstore is.
Fairview Dining Room or Bull Durham Bar
Located at the Washington Duke Inn and Golf Club on campus, the popular Fairview Dining Room is a four diamond, four-star restaurant. Afternoon Tea is served at the Inn, or you could enjoy a lighter bite and cocktails in the Bull Durham Bar.
Parking
You will need to pay to park wherever you go. Parking is $2 per hour.
There is convenient parking at the Sarah Duke Gardens in two different sections. There is an overflow parking lot just a short walk from the main entrance, as well.
Nasher Art Museum has their own parking lot.
The Visitor Center has parking in front of the building. Apparently the dirt parking lot across from the building offers free parking to guests (according to the student representative that we spoke to at the Visitor Center), however we saw that the parking lot had a Green Zone Permit sign. So I'm not sure about that.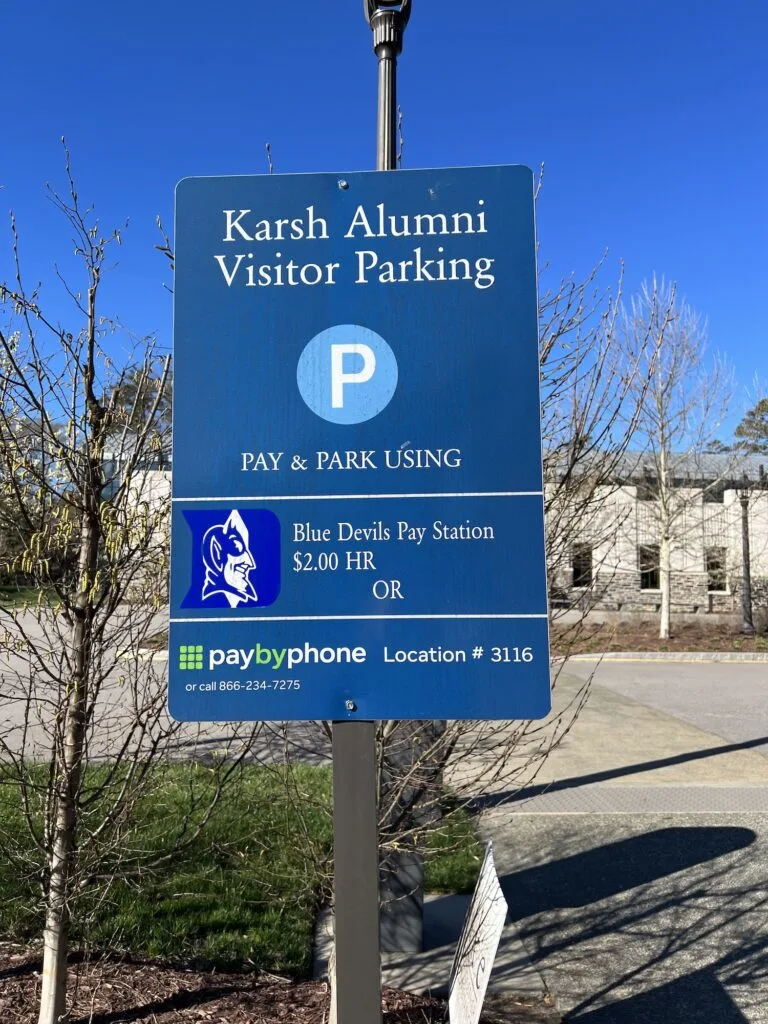 If you park at the Bryan Center Parking Garage, it is right near the bookstore, which is just behind the chapel.
Where to Stay When Visiting Duke University
If you are staying overnight while doing a campus tour, there are plenty of places to stay close to the University campus.
For big spenders and those that want a luxurious overnight stay, there are two hotels on campus located in the same area across from each other.
JB Duke Hotel is located on campus and offers complimentary transportation to Duke University Medical Center. You will find a restaurant and bar at the contemporary hotel, with free parking in the Science Drive Garage.
Washington Duke Inn and Golf Club is definitely more luxurious and elegant. It is also a mile from the Duke University Medical Center, with complimentary transportation included. This is where you will find the famed Fairview Dining Room, the Bull Durham Bar and can enjoy afternoon high tea. As well as the 18-hole Duke University Golf Club.
Need something a little less pricey?
There are plenty of hotel brands located 10 minutes or less from the campus. Including many different Hilton and Marriott properties.
A Best Western located near campus was the least expensive lodging we found.
We stayed at the Homewood Suites by Hilton Durham/Chapel Hill just a 12 minute drive from the Sarah P. Duke Gardens. This location was in between a Comfort Inn and a Staybridge Suites, with a Springhill Suites and a Home2 Suites by Hilton very close by.
There was a free breakfast and a manager's reception at night with enough food to make a light dinner. This was included in the price.
The location is surrounded by plenty of restaurants and shopping. You can easily walk to the restaurants.
Conclusion
A day trip to Duke University is a wonderful way to spend the day and learn more about one of the most famous educational institutions in North Carolina. Even if you root for the Tar Heels, you have got to admit that visiting Duke University's campus offers a fun array of destinations to enjoy and explore.