Vicksburg, Mississippi has long been known as a great destination for history buffs. But not everyone, including myself, is keen to plan a visit to look at battlefields and spend the days in history museums.
While I enjoy learning about how our nation was created and shaped over the centuries, I also like a modern-day weekend getaway full of great food, fun shopping and interesting places to visit.
The good news is that the city of Vicksburg is a fabulous destination to visit, whether you love history, art, culture or great food. It is a great weekend getaway with more than enough to entertain you for 48 hours (or more).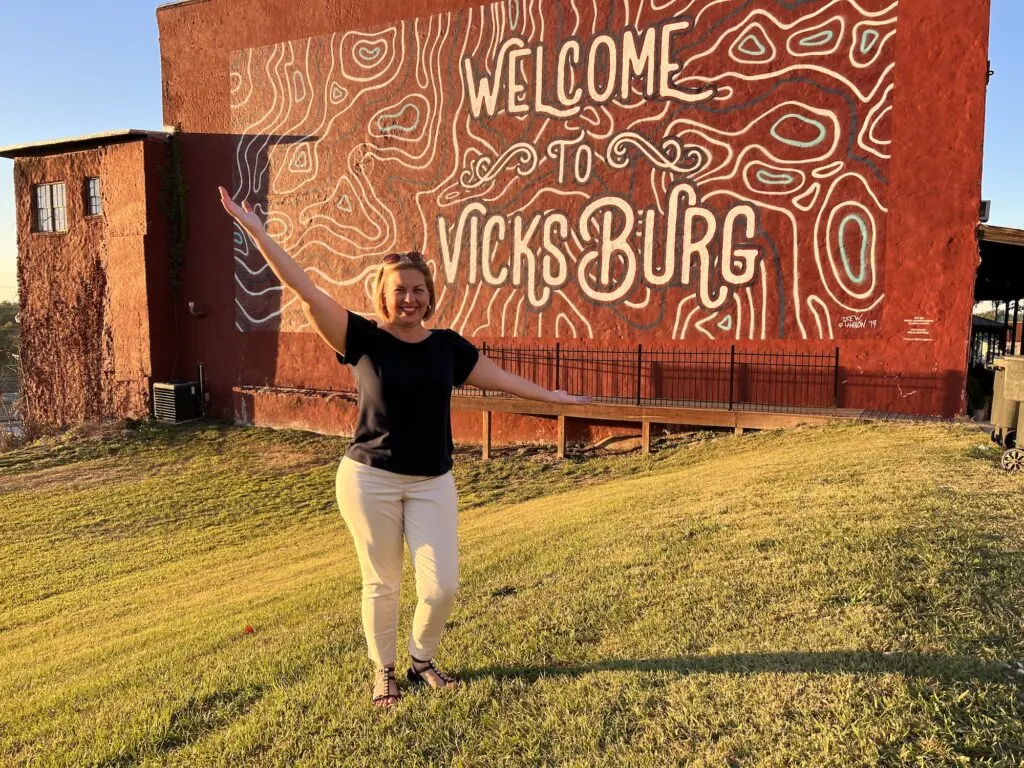 I am sharing our top picks for an arts getaway in Vicksburg which everyone is sure to enjoy. Yes, even those history buffs, too!
This guide also works as a great day trip itinerary for river cruise passengers on Viking Cruises and American Cruise Line. Some of these destinations will be on your excursions, depending on which cruise line you sail with.
Visiting Vicksburg
If flying into Vicksburg, the Jackson, Mississippi airport (JAN) is the closest airport with major airlines.
There is a Vicksburg Municipal Airport for private pilots.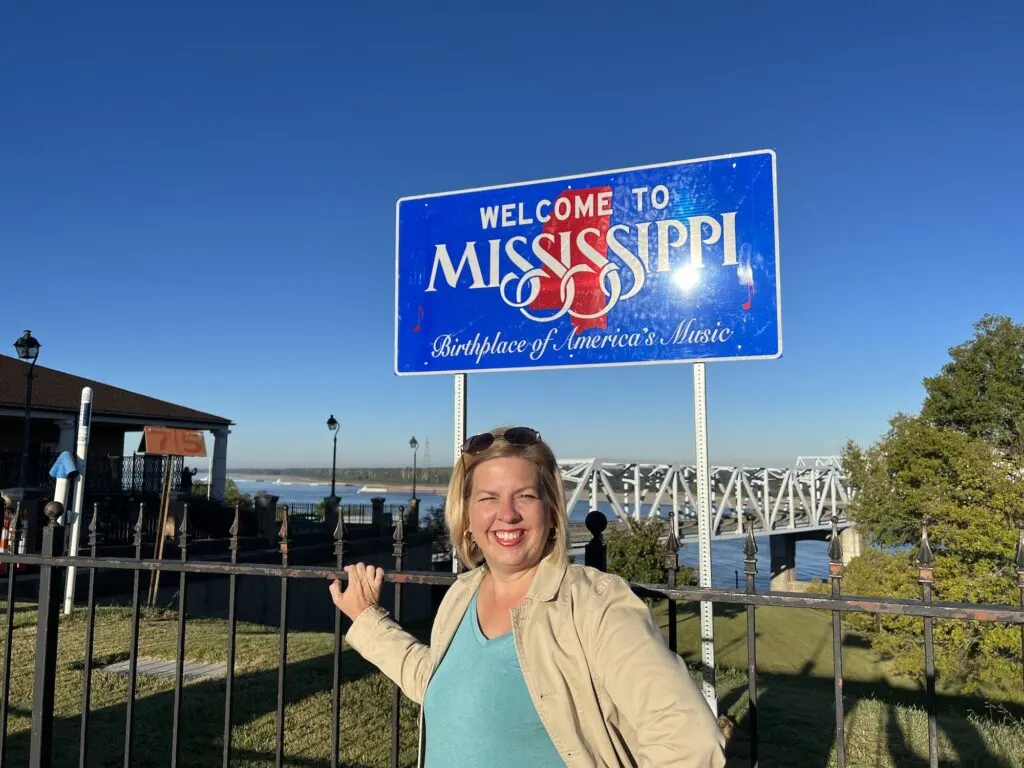 Here are some helpful tips and fun facts that we discovered during our visit to Vicksburg, Mississippi:
Vicksburg is known as the "Key to the South." The city is well-known for its Civil War history and the pivotal battle that was fought here between Union soldiers and Confederate Soldiers in 1863.
Downtown Vicksburg has a steep incline from the Yazoo canal to Washington Street, where many of the museums, restaurants and galleries are. If you have problems walking or cannot climb steep hills, be sure to drive the very short distance in between the river area and Washington Street.
We found that a majority of the best restaurants, art galleries, shops and museums are within easy walking distance of downtown Washington Street. If you are physically able to walk the inclines, you will find that Vicksburg is a very walkable city.
The historical part of Vicksburg, with the Vicksburg National Military Park and most of the destinations on this list, is located off of the Yazoo canal, a busy strip of water that comes off of the Mississippi River and goes towards the Yazoo River. You will not be seeing the "Mighty Mississippi" or strolling along its banks from this location in the city.
If you want to be near the famed Mississippi River, you will need to be in another part of Vicksburg near the Louisiana and Mississippi state line. This is where you will also find the Ameristar Casino and other casinos.
You can easily get between the slot machines and table games of the casino district to the historic city center via Washington Street. It is an easy, straightforward drive that takes 10 minutes or less.
If you want to see a great view of the Mississippi River, stop at the Warren County State Welcome Center on the Louisiana and Mississippi state line.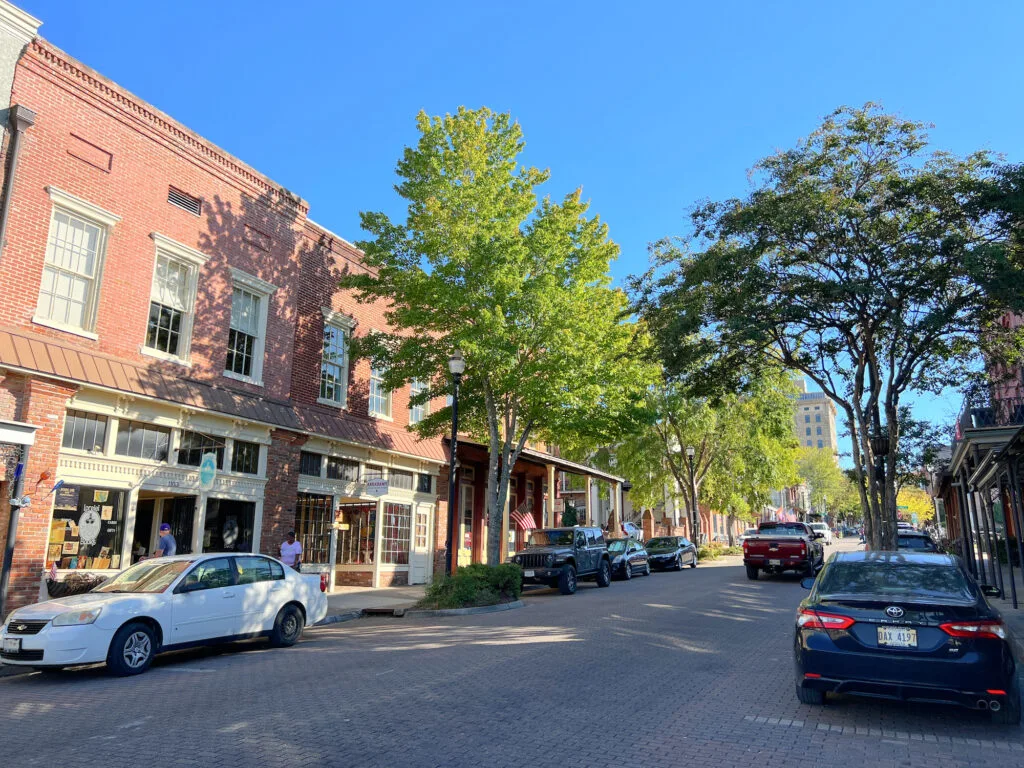 Best Things to Do in Vicksburg
Vicksburg National Military Park
It is hard to come to Vicksburg and not stop at the Vicksburg National Military Park which preserves the site of the American Civil War battle of Vicksburg which raged from March 29 to July 4, 1863.
The siege of Vicksburg was vital to the victory of either side of the Civil War. President Abraham Lincoln said "Vicksburg is the key" to victory, a phrase which has since become the city's motto.
Confederate President Jefferson Davis also said that the"nailhead that holds the south's two halves together" was Vicksburg.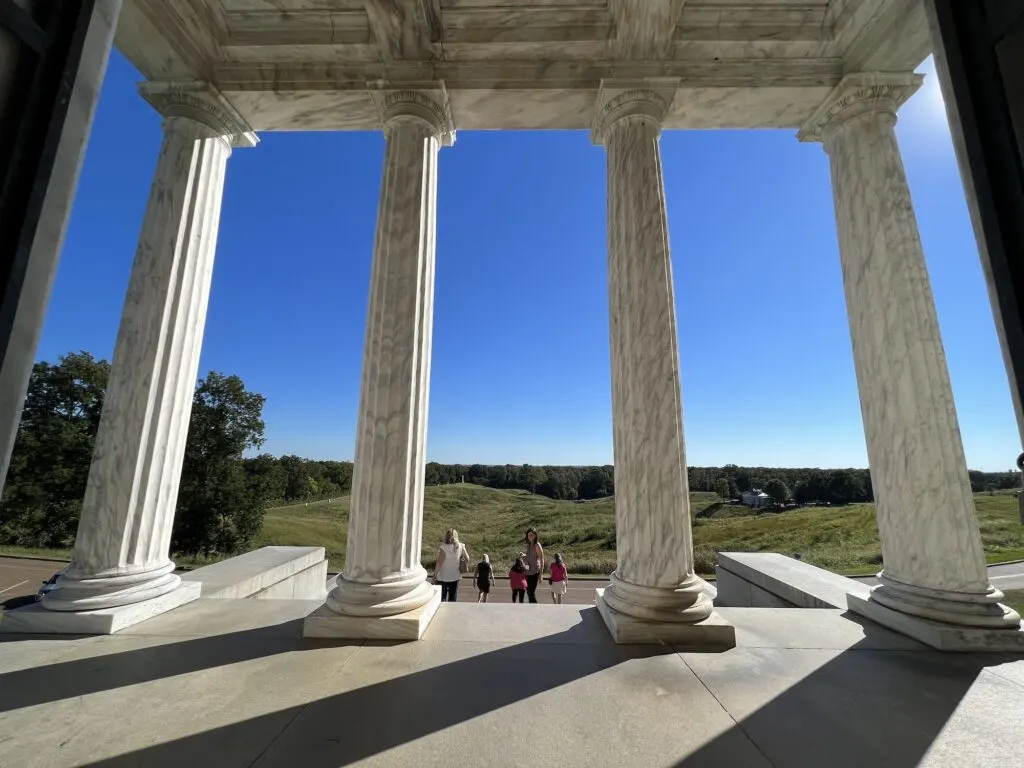 This National Park Service site is a 16-mile driving tour through the battlefields, as well as monuments and historical markers that have been erected in memoriam over the years.
This National Historic Landmark is a vast acreage of monuments and historic sites, somewhat similar to Gettysburg, so be sure to leave enough time to truly appreciate a visit.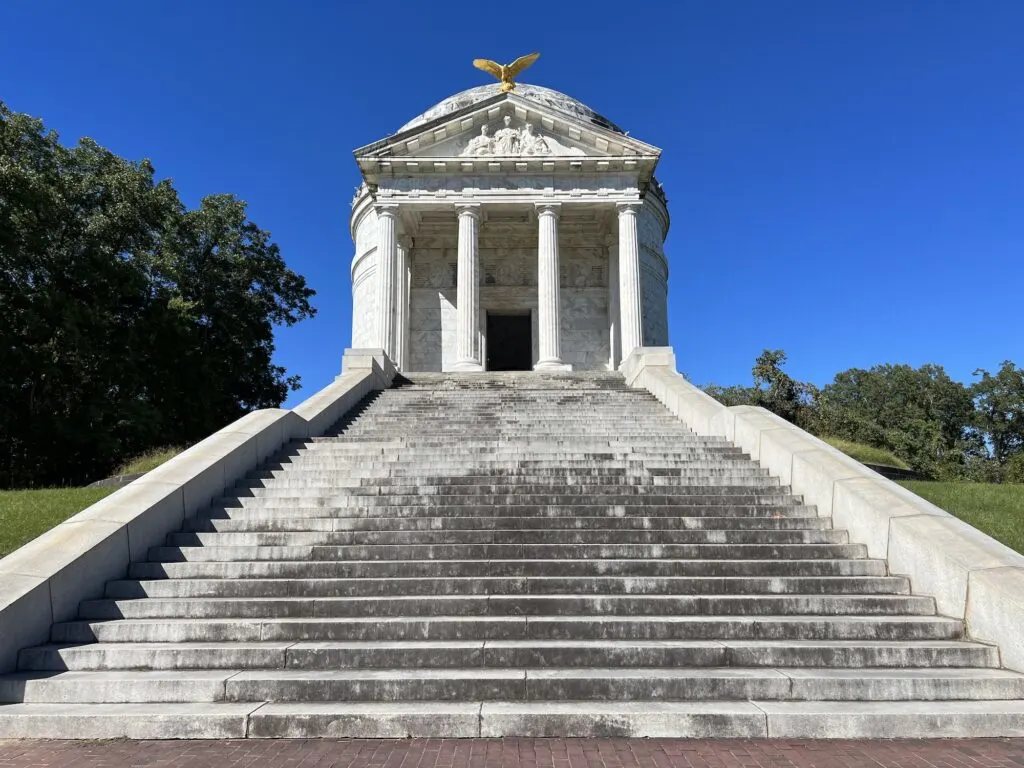 The wealth of stunning monuments through the park, including some Tiffany busts, creates a public art display that is the biggest anywhere in the state of Mississippi.
A great way to really understand and appreciate the art and historical significance of what you see in the military park is to take the Art of Commemoration Tour.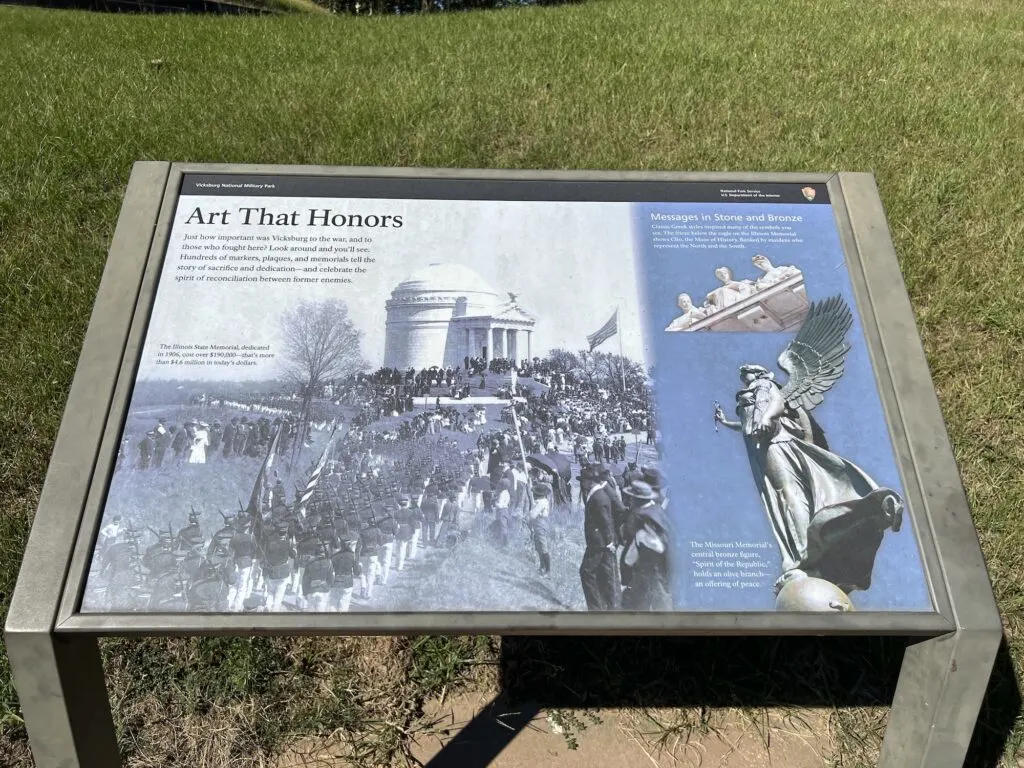 A Licensed Battlefield Guide will guide you with a personalized tour that can be customized to what you are interested in, including artwork throughout the park.
Hiring a guide starts at $60 for a two-hour tour, and includes up to 6 people in the vehicle.
We think that this private tour is the absolute best way to truly understand and appreciate the historical significance of what happened in Vicksburg. Chances are you will miss out on a lot of details and important pieces of art if you are simply driving through the park on your own with just a park map to guide you.
Among the sites not to miss are:
18,000 headstones in the Vicksburg National Cemetery, including 6,500 graves for members of the U.S. Colored Troops, the African American soldiers who fought for the Union in the United States Civil War
Memorial Arch near the Visitor Center, which has a film to watch
USS Cairo Museum which showcases a shallow-draft City Class river ironclad gunboat. Walk around the U.S.S. Cairo, which was commissioned in 1862. An indoor visitor center is also located at this location inside the military park.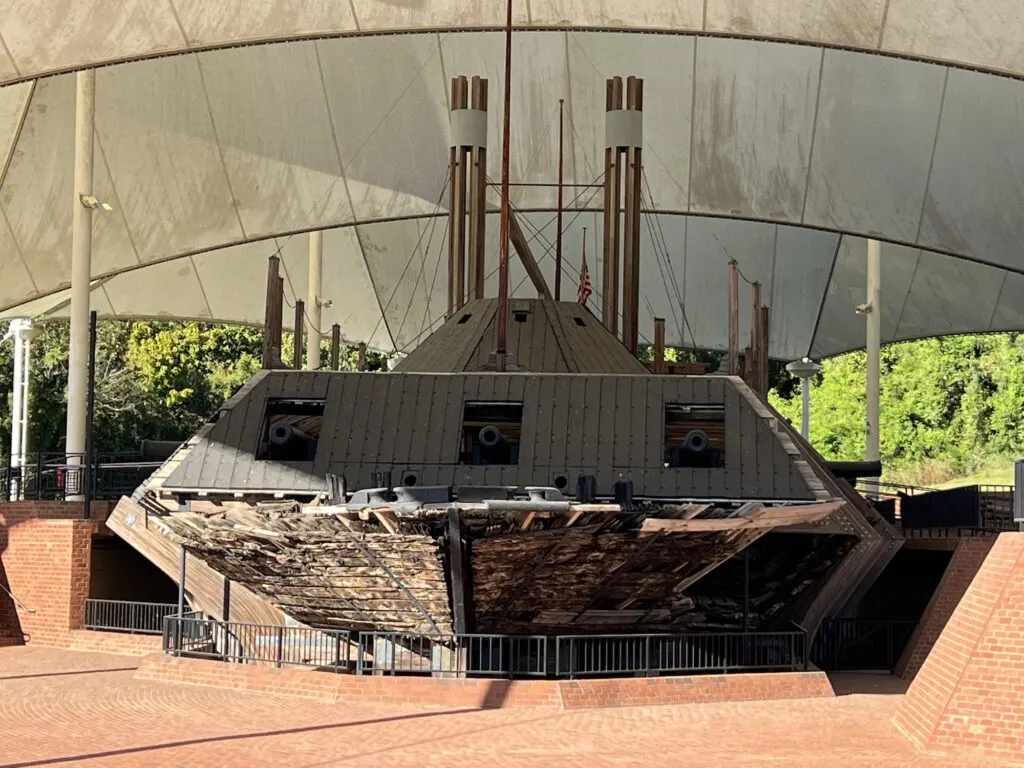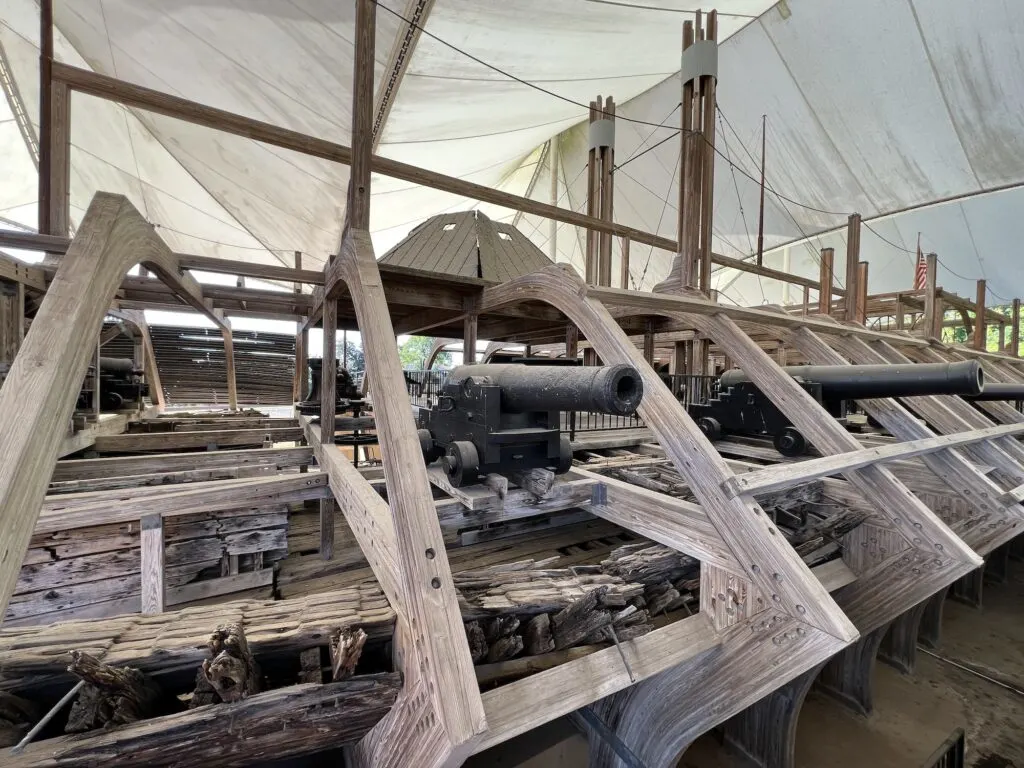 Vicksburg Riverfront Murals
The story of the city is detailed in huge murals painted on the flood wall on Levee Street by the Yazoo Canal. There are 32 murals depicting key periods of history in Vicksburg.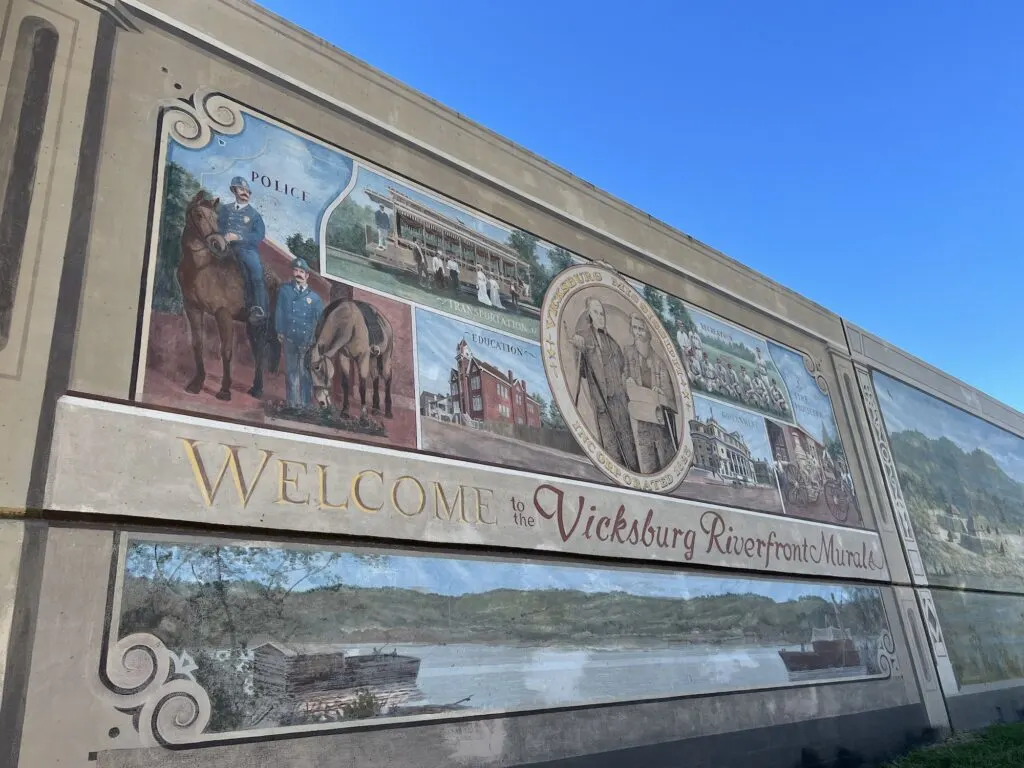 Plaques with each mural help explain the artwork that you are seeing and are a great way to understand the region's history that has been shaped by the railroad, the river and the highway.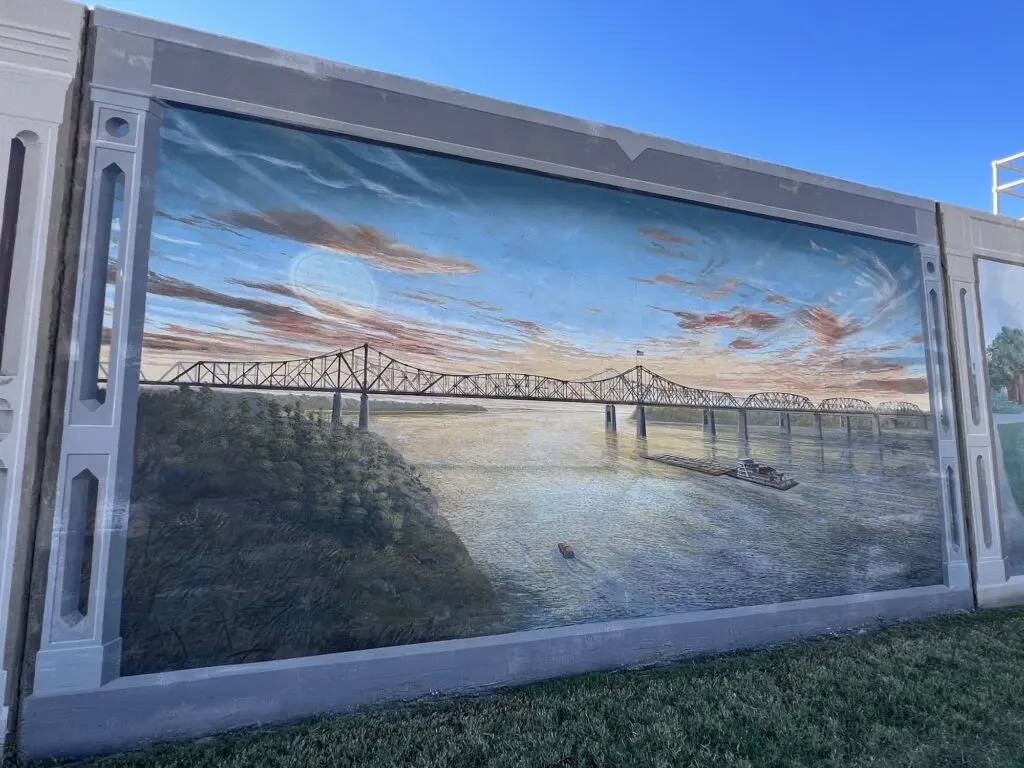 Catfish Row Children's Art Park
If you are traveling with children, they will have fun at Catfish Row Children's Art Park which is close to the riverfront murals.
Located on Levee Street and close to many of the museums on this list, this kid-friendly destination has a splash fountain, children's art and lots of opportunities to run around and burn off some energy.
If the kids are needing an outlet for their energy, this is an easy destination to walk to (down the hill) from downtown area on Washington Street.
Church of the Holy Trinity
A truly magnificent site to behold, the historic Church of the Holy Trinity boasts six Tiffany stained glass windows in the sanctuary, surrounded by other large stained glass windows that pour a rainbow of light into the church.
Church of the Holy Trinity was designed by E.C. Jones and built in 1870. In 1978, it was added to the National Register.
See these beautiful windows in our YouTube video: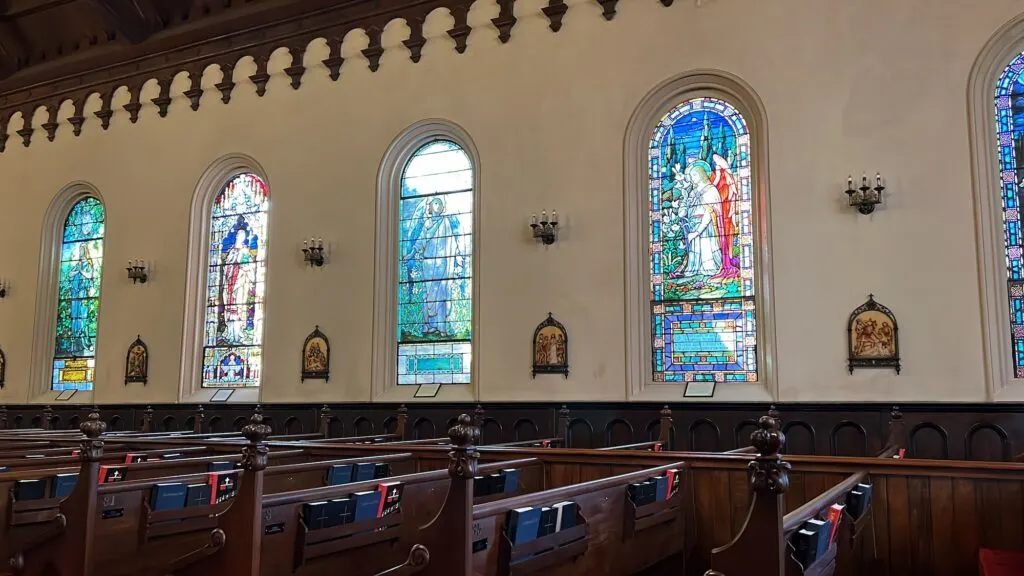 Located at South and Monroe Streets.
H.C. Porter Gallery
H.C. Porter is a southern artist whose work has gained international fame. Her signature gallery is found in downtown Vicksburg.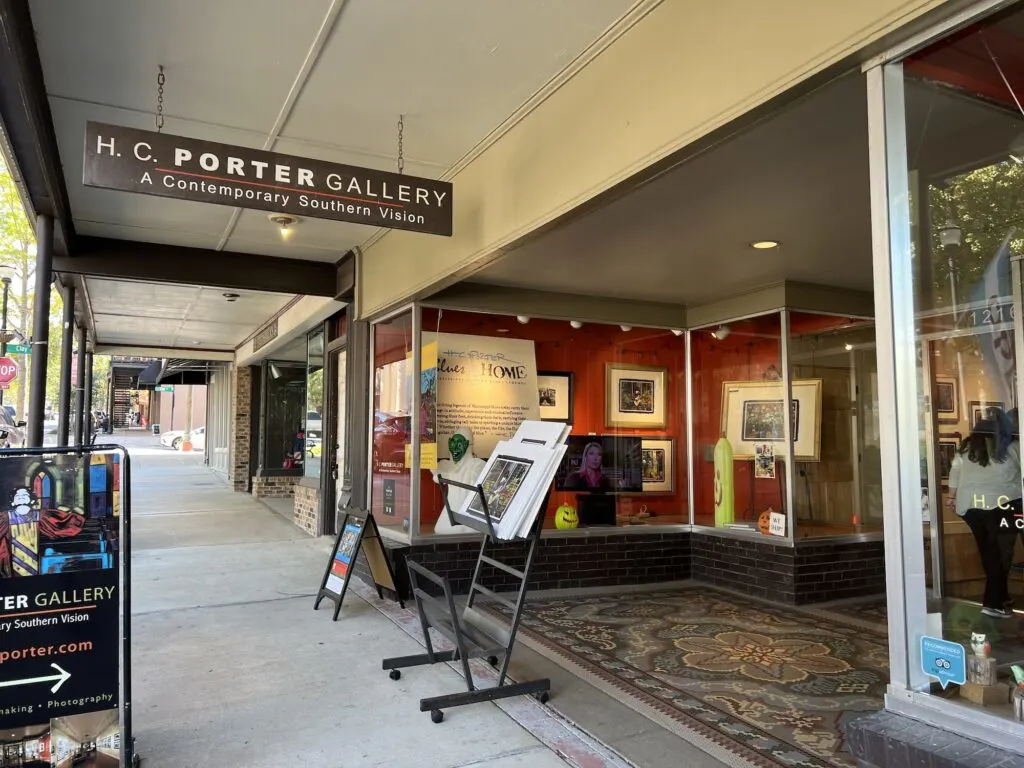 Porter creates vibrant and colorful prints, photographs and paintings. Inside her shop you will find artwork of all sizes and price points, which makes a great souvenir from Vicksburg.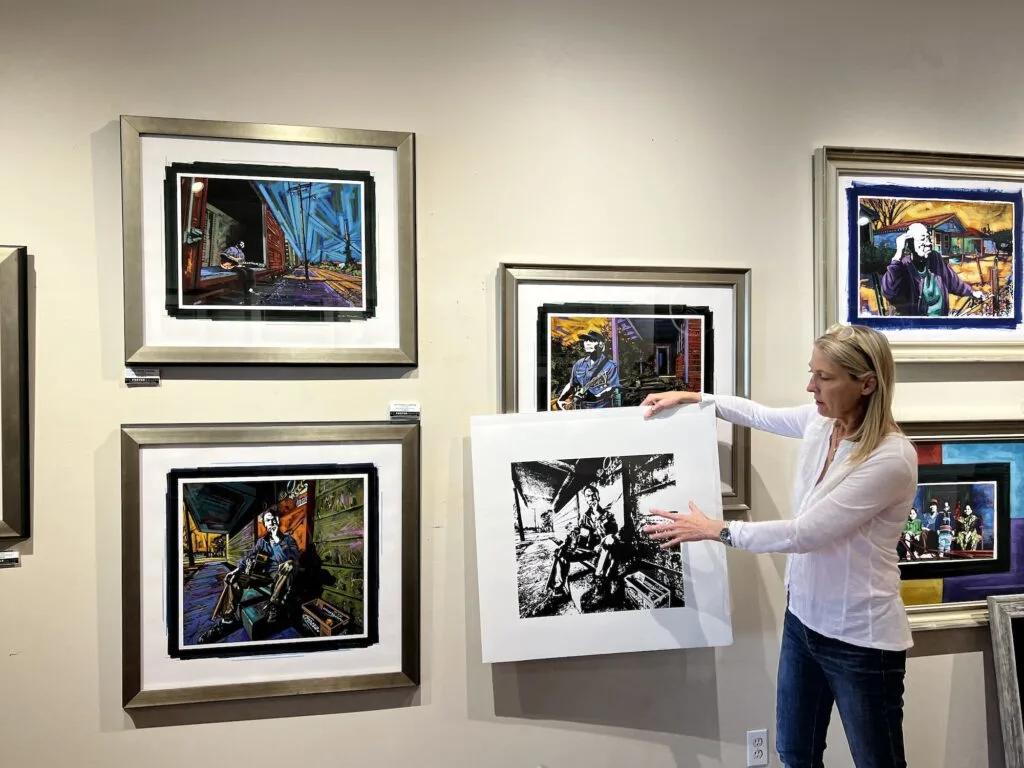 She was also chosen to create two paintings for Vicksburg National Military Park, which is a perfect blending of the history and art that makes this city so unique.
For the ultimate arts-centered Vicksburg itinerary, stay in Porter's loft above her art gallery. The listing can be found on both VRBO and Airbnb.
Vicksburg Old Town Tours
History comes alive on the Vicksburg Old Town Tours where you will see how the battle shaped the city in the 1800s and even still today.
Bertram, the great, great grandson of Jefferson Davis, owns the local company with his wife Carol Hayes-Davis.
Even though the couple is direct descendants of the Confederate President, you might be surprised at their stories and views of the historical events that happened in the area.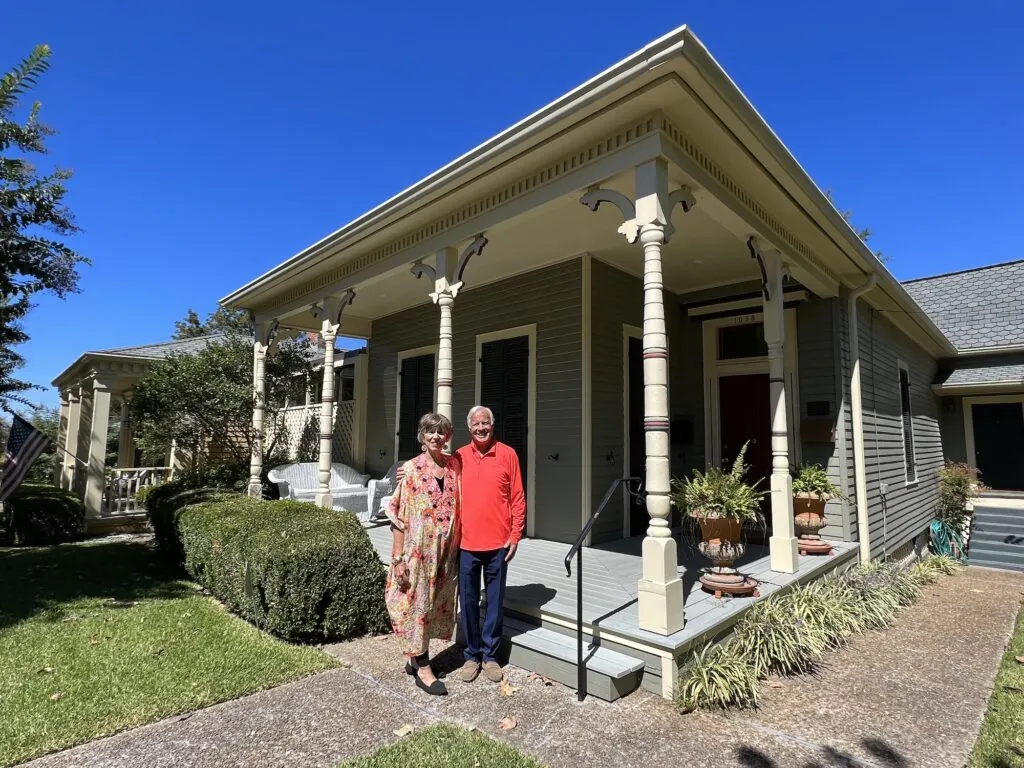 Among the stops on this tour through Vicksburg's oldest historic neighborhood are Christ Episcopal Church, which has Tiffany stained glass windows; the Duff Green Mansion (be sure to see our photos and video later in the article); Anchuca Mansion; and the Wahl-Schaffer Cottages, which are examples of the new reconstruction architecture after the Civil War.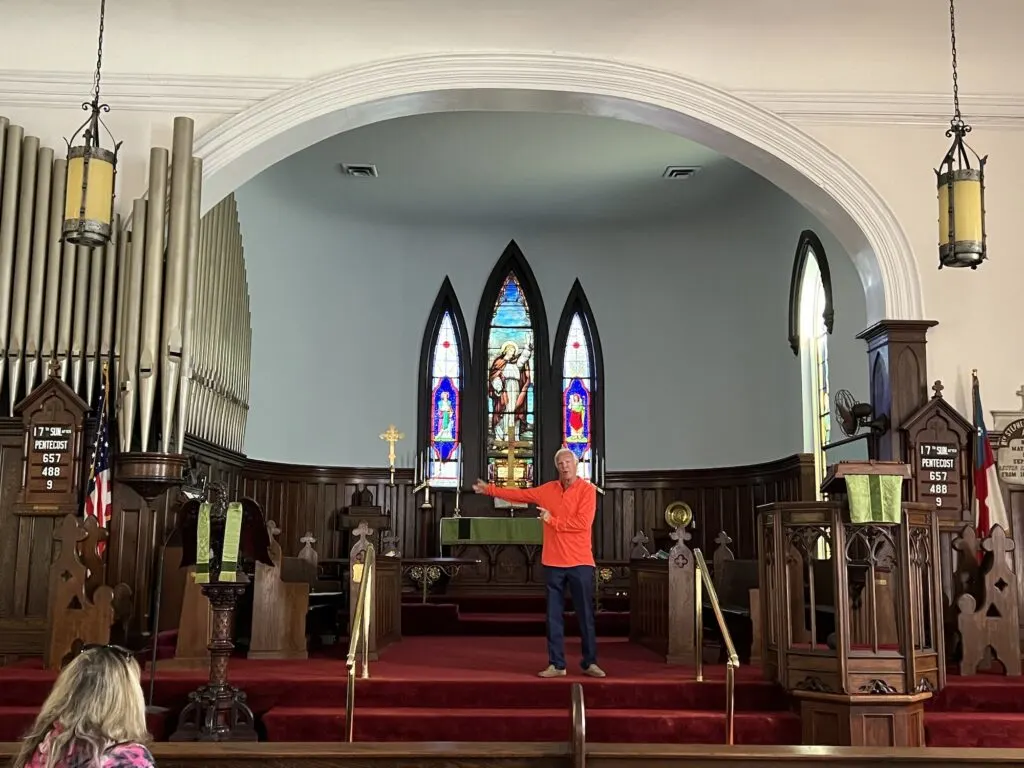 If you are interested in historic homes, antebellum homes and unique architecture, along with an explanation of the area's history, this is a great tour for you.
The Attic Gallery
If you love Southern folk art or any type of handmade art with a contemporary or "blues" vibe, then you absolutely must visit The Attic Gallery in downtown Vicksburg.
The rooms are bursting to the seams with an eclectic mix of vibrant and affordable artwork using a variety of mediums.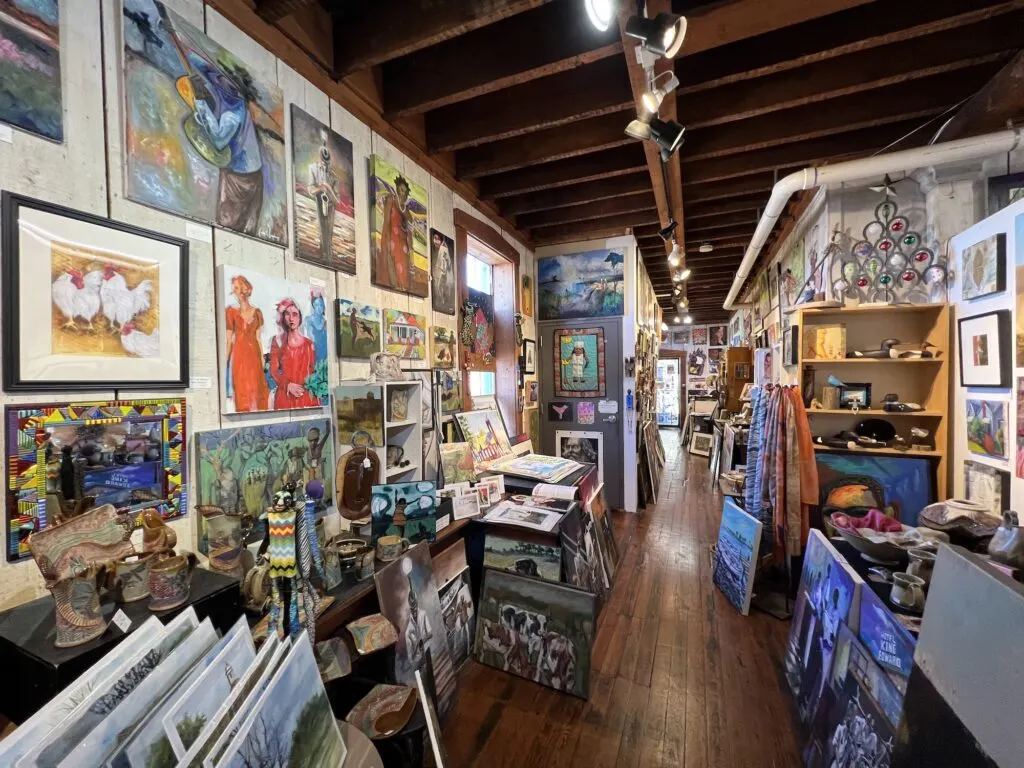 The gallery has been open for more than 50 years. You are sure to find something that you love and want to bring back as a fun souvenir.
Old Court House Museum
Step inside the Old Courthouse Museum for an almost-overwhelming display of Vicksburg's cultural history! There are a multitude of rooms in this old courthouse built in 1858. Each has a different theme.
One of the largest collections of Civil War memorabilia in the South can be found inside the historic structure, along with other unique finds such as pre-Columbian artifacts, silver, clothing, toys and art.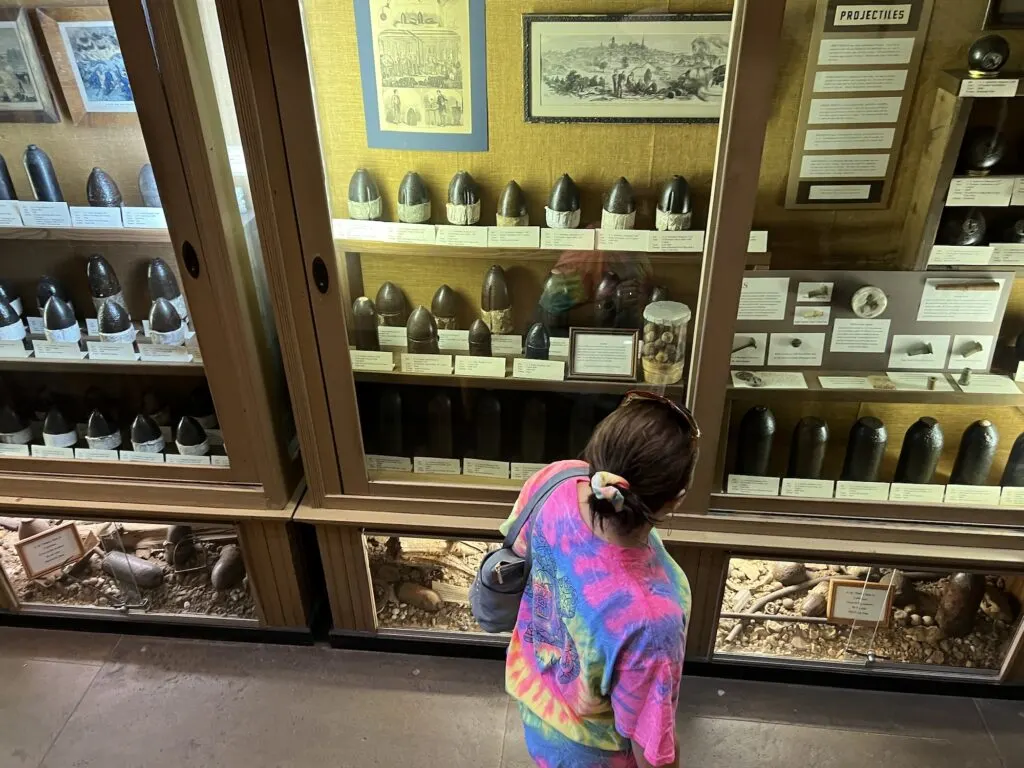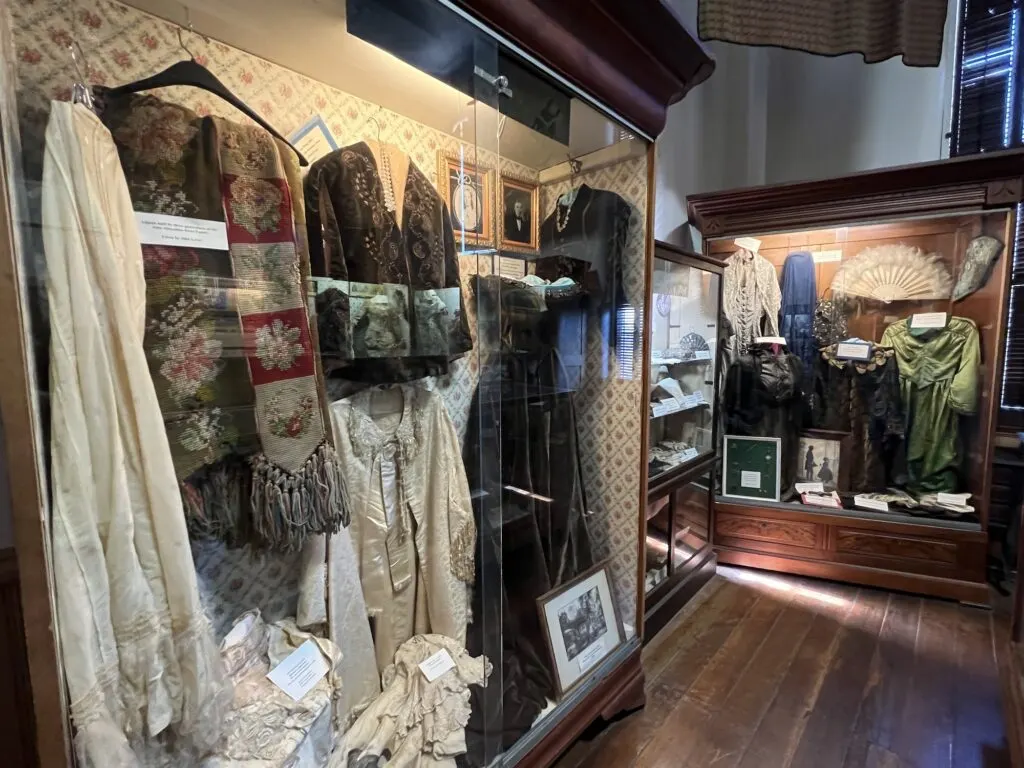 In the old court house room which is part of the museum, former President Jefferson Davis and Dr. Booker T. Washington made appearances before court was last held in 1939.
You will definitely get your money's worth in this museum, so be sure to allow enough time to look at all of the varied exhibits.
Biedenharn Coca-Cola Museum
One of the world's most popular soft drinks was first bottled in Vicksburg, Mississippi at this exact location (a former candy company) where the Biedenharn Coca-Cola Museum is located.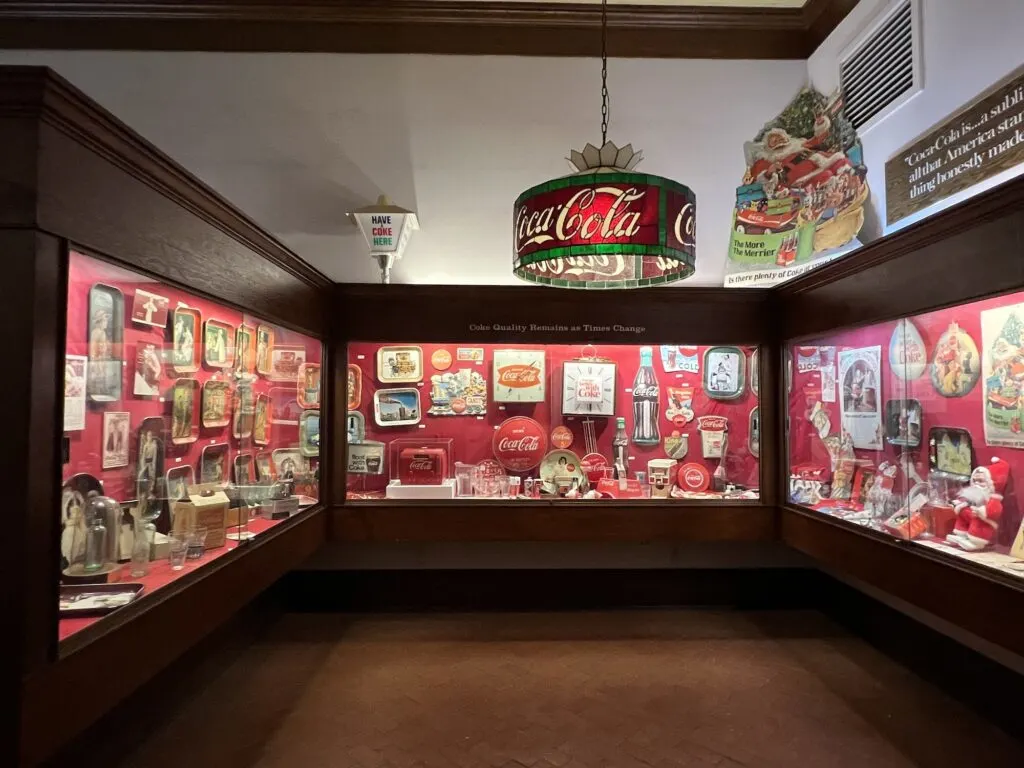 Joseph A. Biedenharn was a candy merchant that decided to put the popular fountain beverage in bottles and ship it to rural areas outside of Vicksburg.
Not only was the concept of marketing Coca-Cola unique, it was also the first time that Coca-Cola had been sold in bottles.
Biedenharm and his brothers would then go on to acquire franchises to bottle Coca-Cola in Louisiana and Texas.
Not only is the location historic, but you will also marvel at the years of Coca-Cola artwork that is showcased through the museum.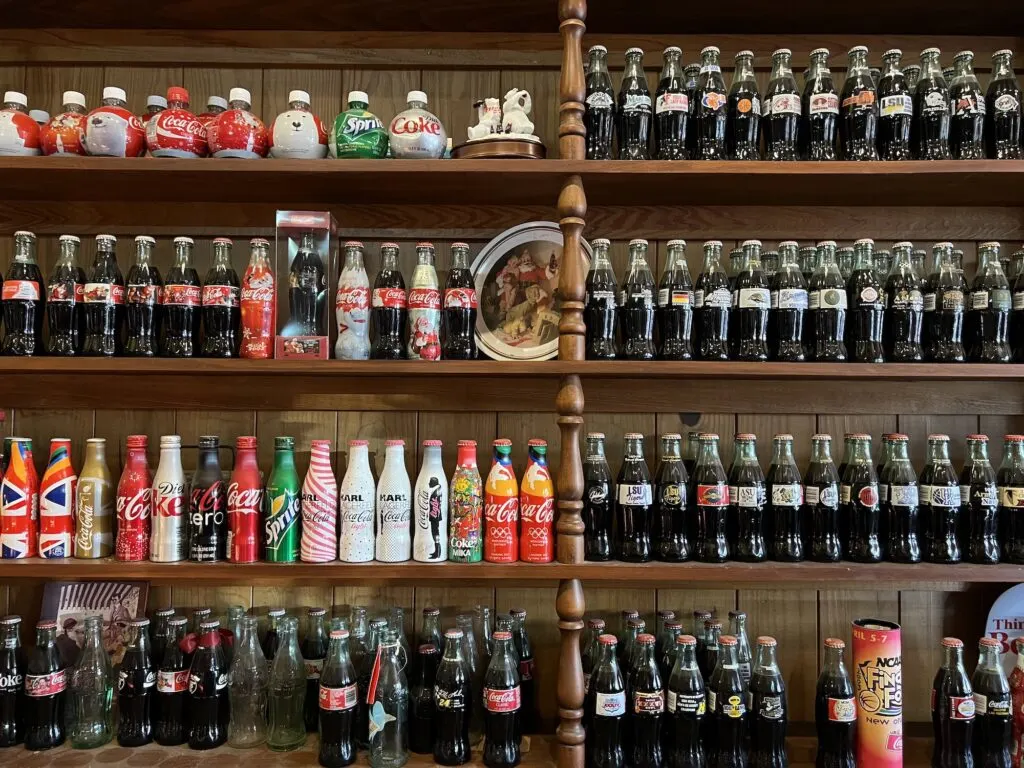 After your tour, order a Coke or a Coke float at the old-fashioned soda fountain in the gift shop.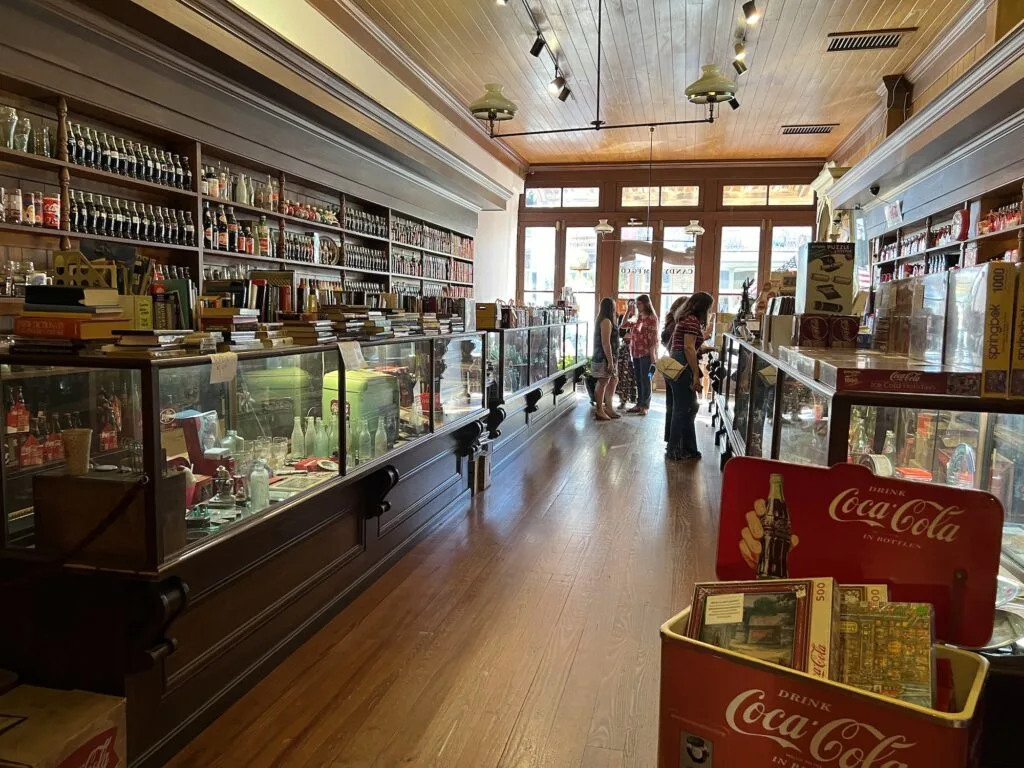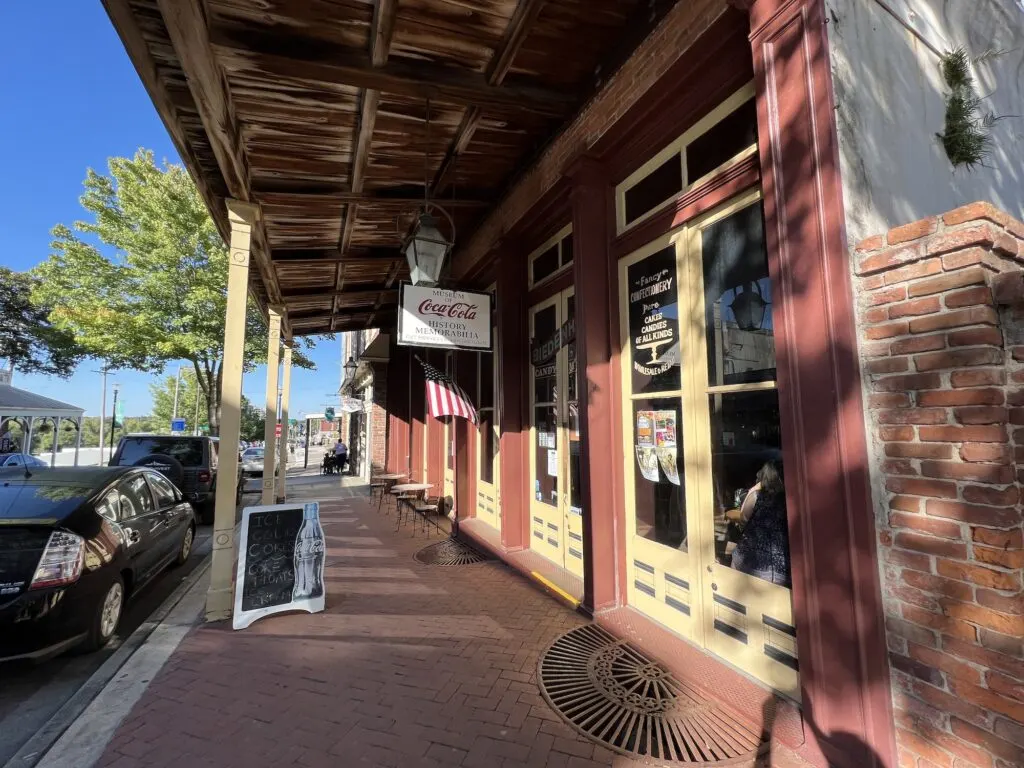 See a video tour in our YouTube video below:
The Old Depot Museum
The only diorama of the Siege of Vicksburg can be found at The Old Depot Museum.
The diorama is great for a visual representation of the 47-day siege in the city, while the 30-minute film give a great overview of the pivotal moment in history.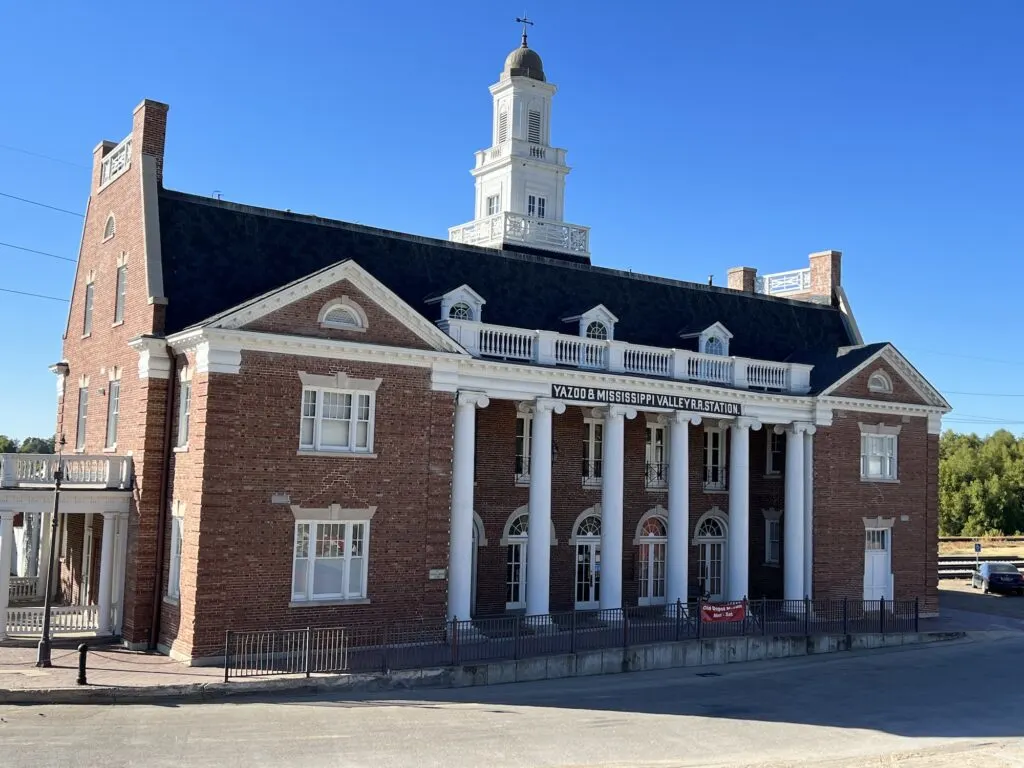 There is much more to this museum, though. You will also find an extensive collection that celebrates the modes of transportation that shaped this river-front city, from boats and ships to railroads.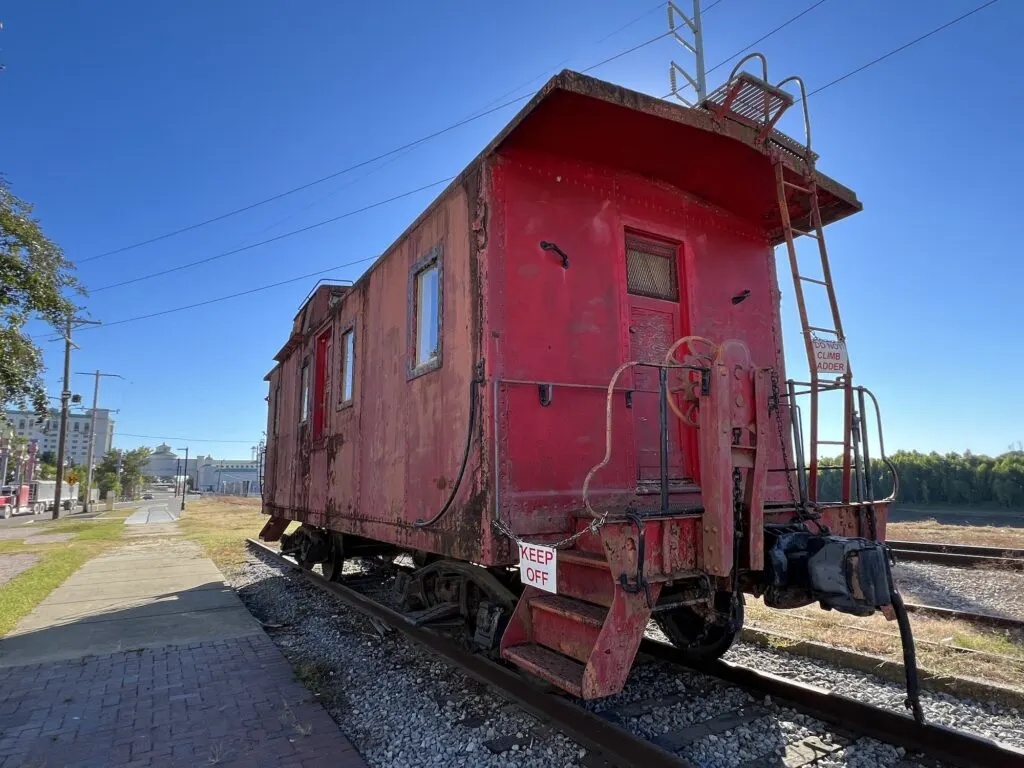 Lower Mississippi River Museum
Life in Vicksburg has been shaped by the Mississippi River, and the US Army Corps of Engineers' Lower Mississippi River Museum expertly shows how the river and Yazoo canal have shaped the area to what it has become today.
Among the exhibits are models of the 1927 flood, a self-guided tour on the M/V Mississippi IV vessel and a 1,515-gallon aquarium.
This is a free admission museum and is on Washington Street, where so many other things to do can be found.
Vicksburg Heritage Walking Trails
Many of the destinations in this list can be found along the many Vicksburg Heritage Walking Trails that have been created for visitors. There are 5 themed trails that range from 1.5 miles to 3 miles long.
So much of the historic district of the city can be seen by walking, and these trails will guide you to historical sites and unique destinations you don't want to miss.
The trails can be downloaded for you to follow during your visit.
Where to Stay in Vicksburg
Mulberry Vicksburg
During my visit, I spent two nights at The Mulberry Vicksburg. This modern hotel is located between downtown and the Yazoo Canal off of the Mississippi River.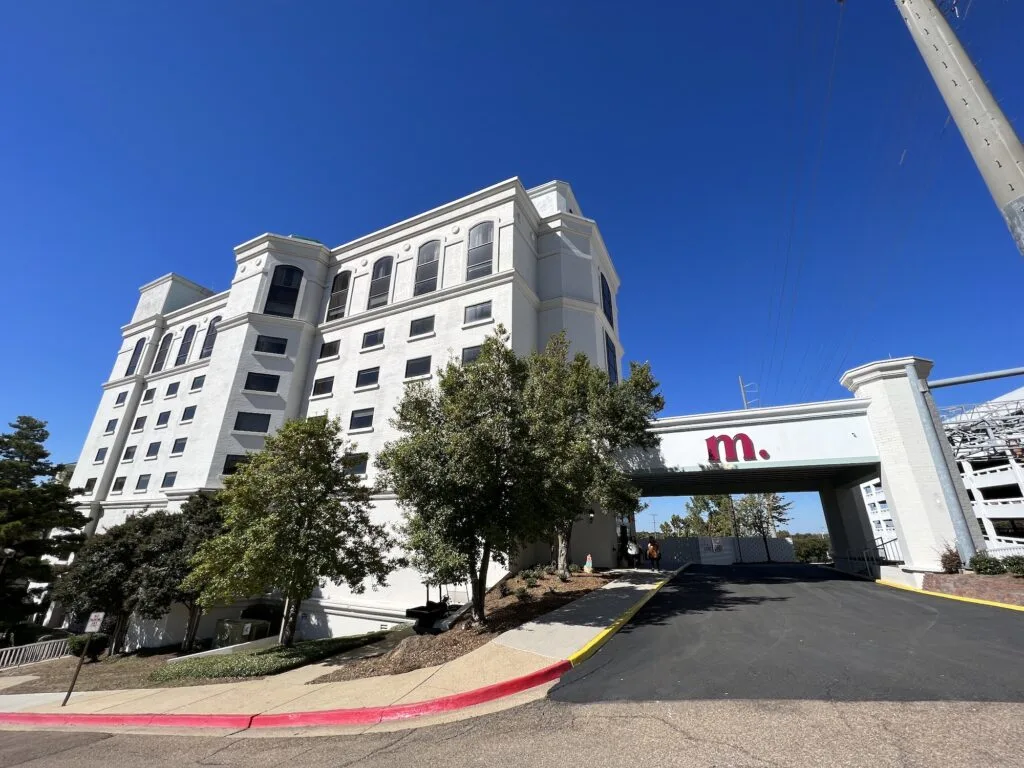 Mulberry Vicksburg is a combination of 41 hotel rooms and 52 apartment residences. The lobby is thoughtfully appointed for both residents and guests, alike.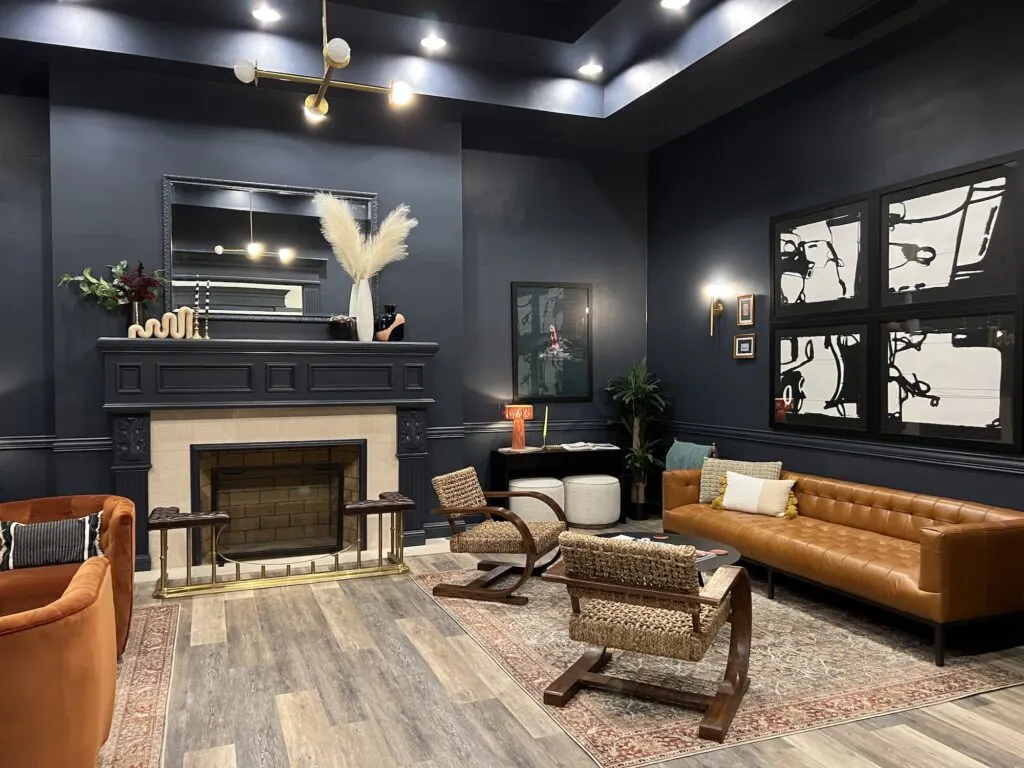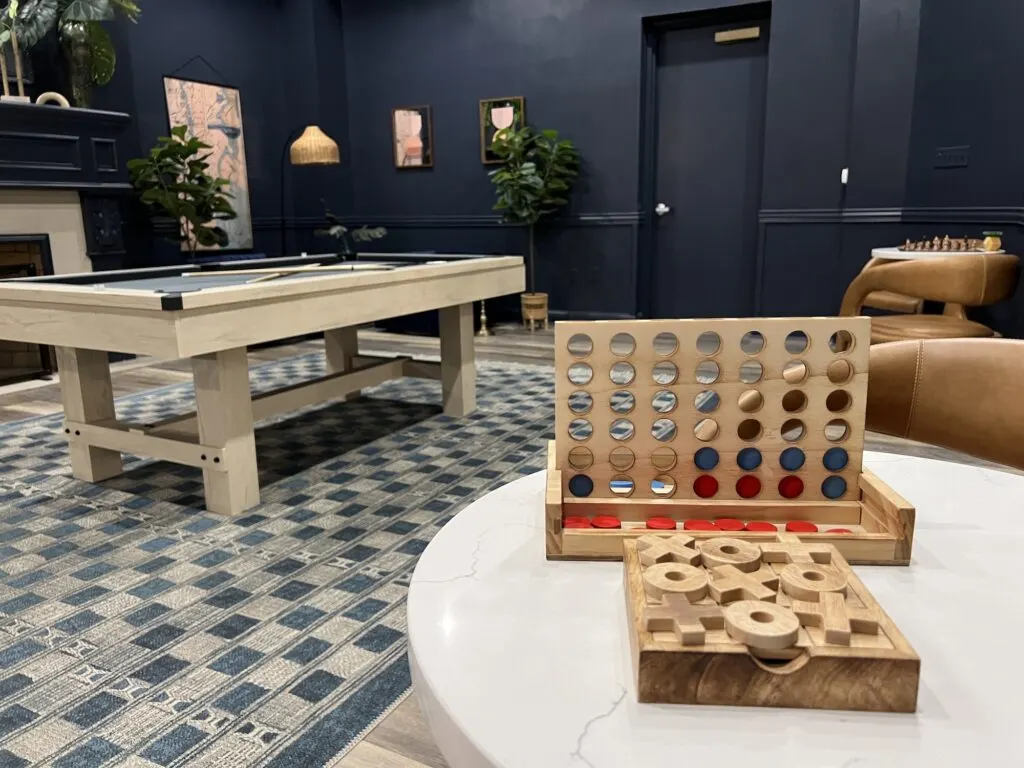 The common rooms look like they have come out of a stylish magazine. You will find plenty of places to read a book, meet friends for a drink, or take a moment to scroll through social media.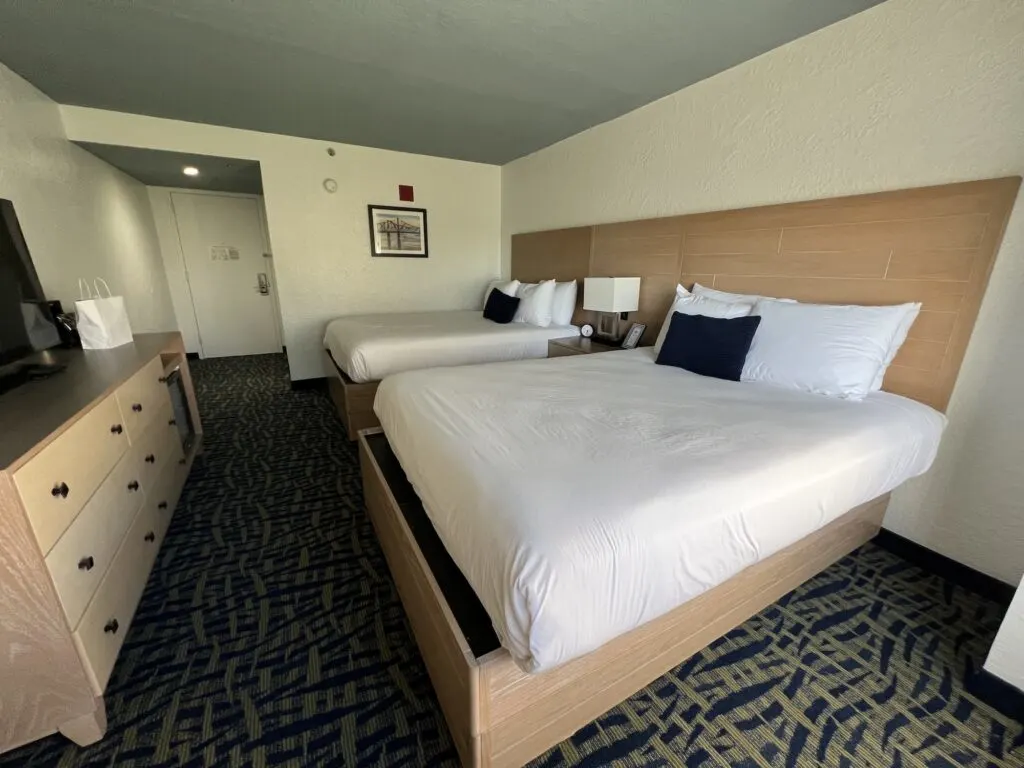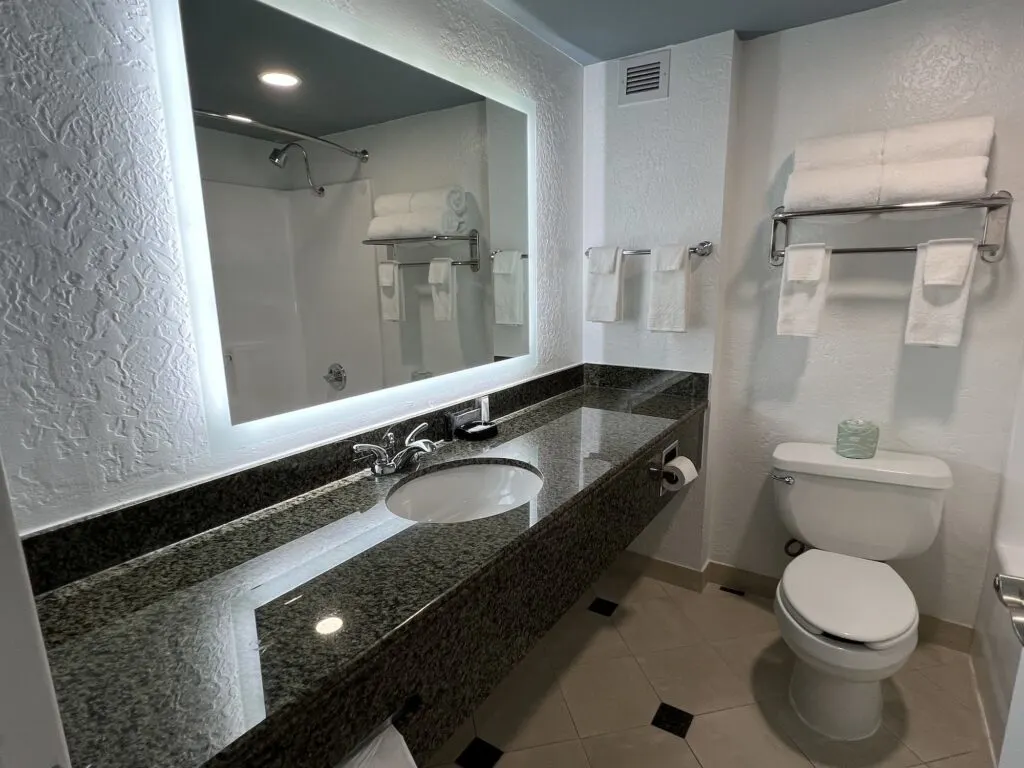 I would pay special attention to the type of room that you book. Yes, you do want to splurge for a pool view room!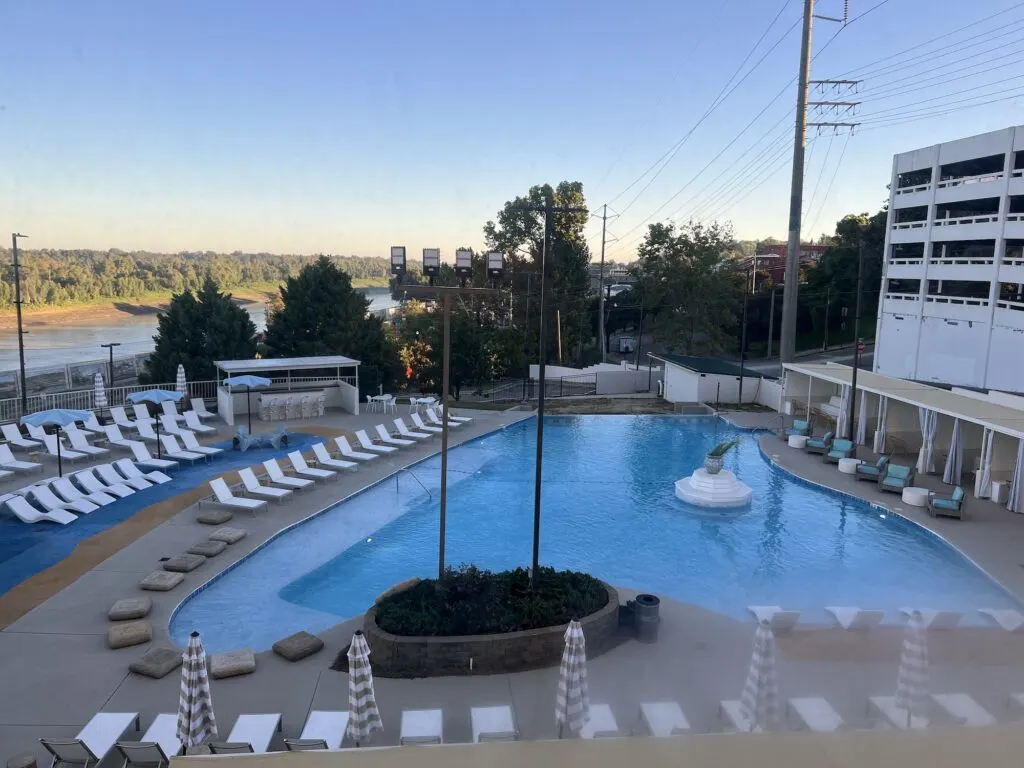 This was the view from my room before I moved to another on the opposite side of the hotel: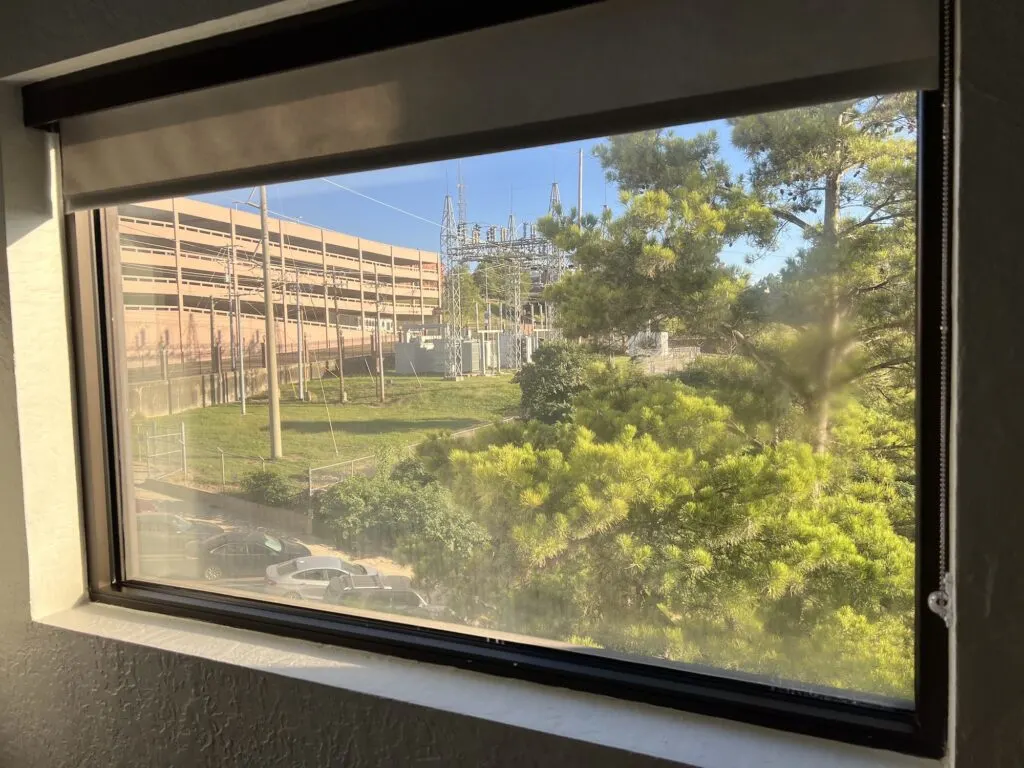 During your stay, be sure to take time to browse the Jackson Street Gallery at the Mulberry. The newest gallery in Vicksburg features an extensive collection of artwork from Mississippi artists.
See our room tour and a property tour in our YouTube video below:
The Duff Green Mansion Bed and Breakfast
Want to stay in a historic house? Then the Duff Green Mansion Bed and Breakfast should be at the top of your list!
(This is where I would stay if going back to Vicksburg!)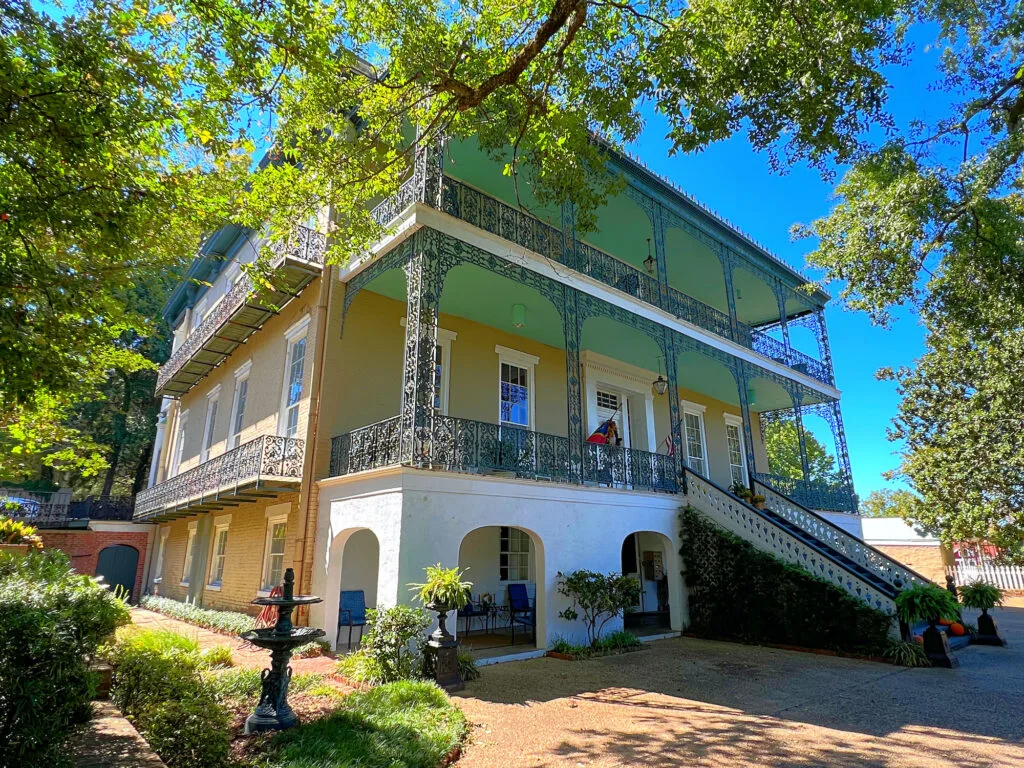 Built in 1856, this charming bed and breakfast is from the Civil War era. Jefferson Davis danced in the ballroom and Ulysses S. Grant visited this home.
There is even a Civil War cave on the property which has been listed on the National Register of Historic Places.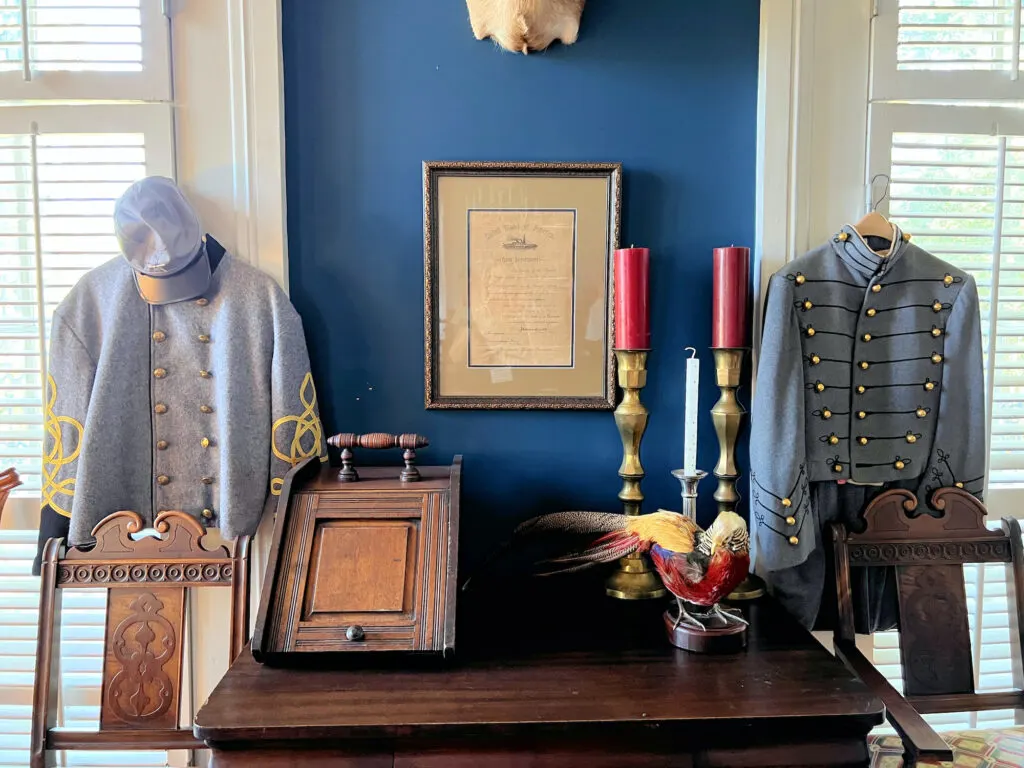 There are 9 rooms in the B&B, each with a private bathroom. Rooms are decorated with period furnishings, and during your stay you will have access to the elegant main floor of the mansion, along with the porches, patios, gardens and pool.
There are rooms on the ground level that are accessible with no stairs.
The Pemberton Suite showcases the damage sustained when a fifth cannonball hit the house, which prompted Duff to declare the home a hospital.
Enjoy a three-course breakfast in the morning to fuel you for a day of walking through historic streets and shopping the art galleries.
Even if you are not staying at the Duff Green, you can enjoy a 45-minute guided tour of the historic property at 9 a.m. after breakfast is served, and possibly some afternoon tours. The cost is $12 a person.
Call ahead to book at (601) 636-6968.
Places to Eat in Vicksburg, Mississippi
During our stay, we ate the best food! There are so many great restaurants in Vicksburg, MS. The following are the places to eat:
Walnut Hills Restaurant
A casual eatery within walking distance of the Old Courthouse Museum, Walnut Hills Restaurant offers a variety of small dining rooms in a circa-1880 historic home.
Be sure to indulge in the fried chicken that has a hint of cayenne or the classic meat and 3 veg blue plates.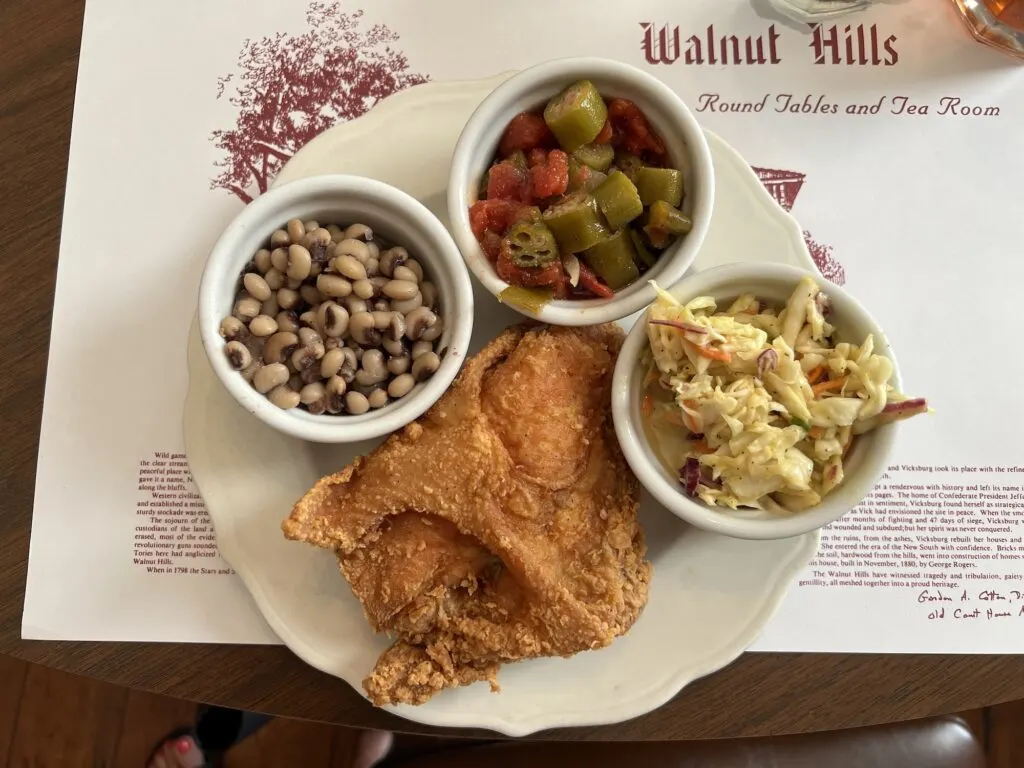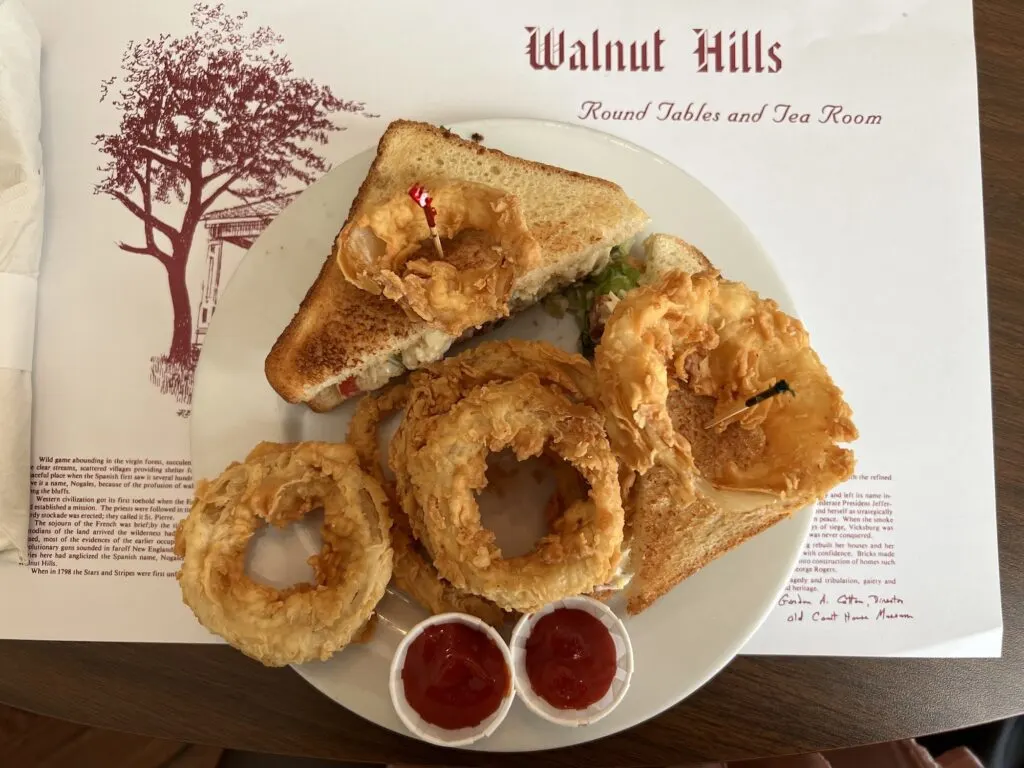 Of course, you absolutely CANNOT miss one of their amazing slices of cake or pie baked in their own bakery.
Enjoy the "Southern Plantation Cuisine" for both lunch and dinner.
Main Street Market Cafe
The menu changes weekly at Main Street Market Cafe to showcase the best seasonal foods.
However there is always one thing guaranteed to be on the menu, Betty's Biscuits. These famous biscuits are a recipe that has been passed down over the years and you don't want to miss them!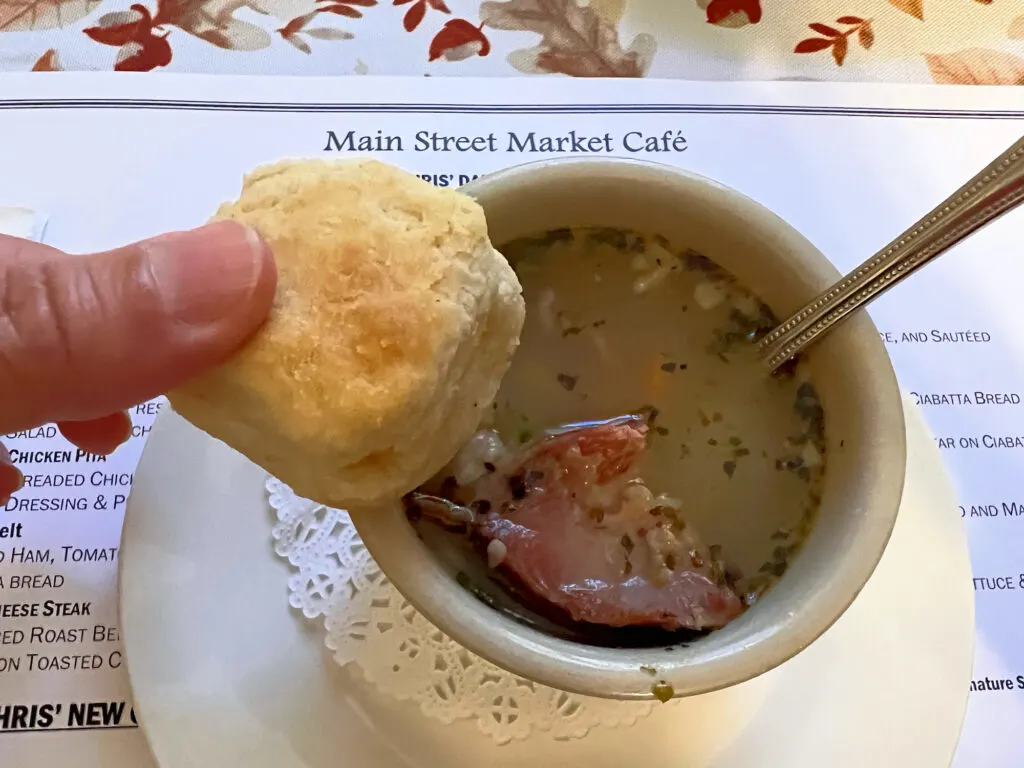 The husband and wife owners are from Mississippi and New Orleans, so you will find a lot of southern comfort foods and some with a Cajun twist. Muffuletta and chicken and sausage gumbo are frequently on the menu.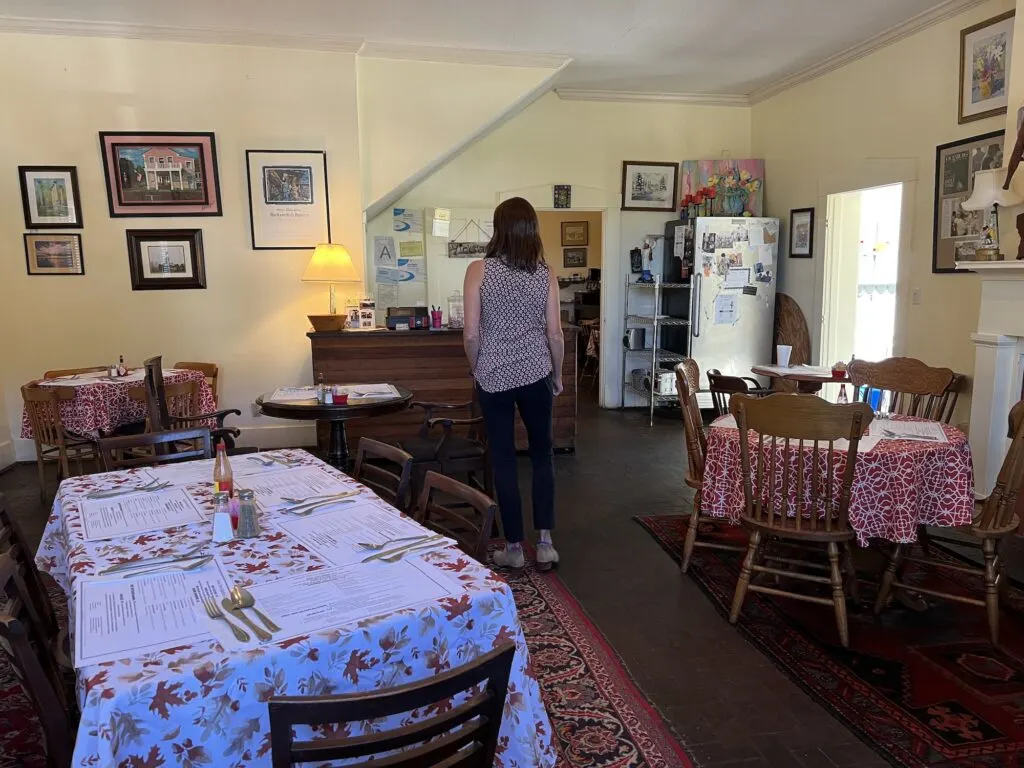 Open for lunch only.
Relish Bistro
For a more elegant yet still casual dining experience, visit Relish Bistro downtown.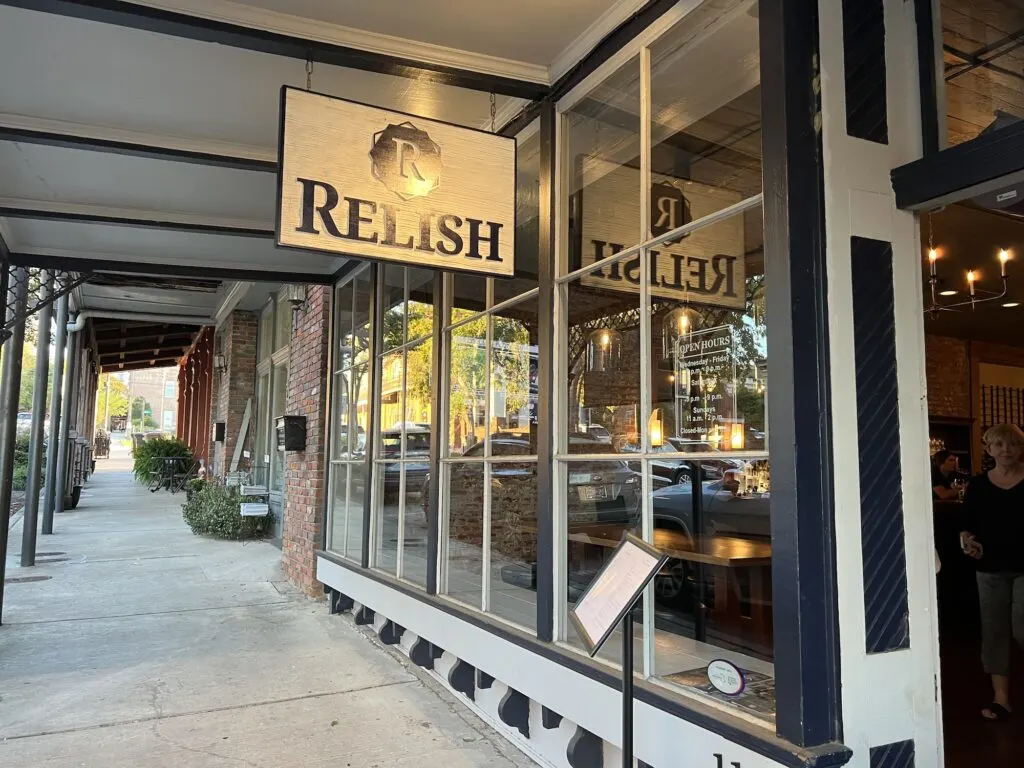 Two brothers started this popular restaurant in 2020. Jason Penley, one of the co-owners, has worked at Commander's Palace and Cochon's in New Orleans, Blackberry Farms in Tennessee, Juliet's in Austin, TX and the Ritz Carlton at Lake Oconee, Georgia.
Dinner and brunch hours.
10 South Rooftop Bar and Grill
For stunning views of downtown Vicksburg and the Mississippi River, you simply must dine at 10 South Rooftop Bar and Grill.
Located on top of the First National Building downtown, you will enjoy a panoramic view of the Yazoo canal, downtown buildings and the Mississippi / Louisiana River shoreline.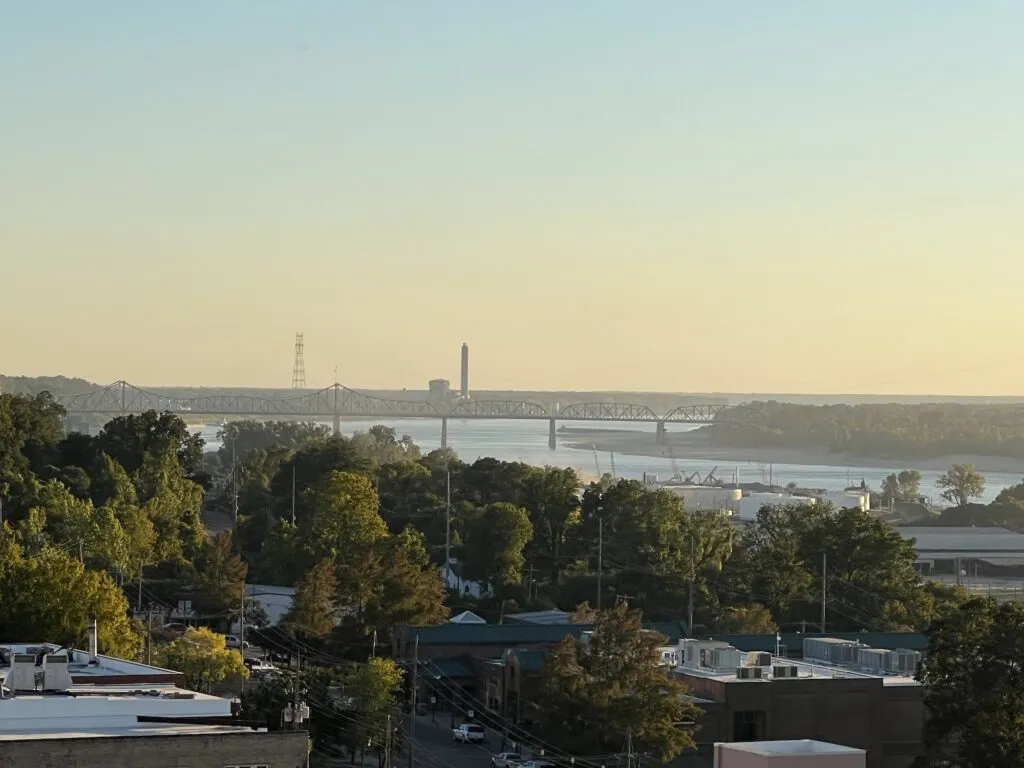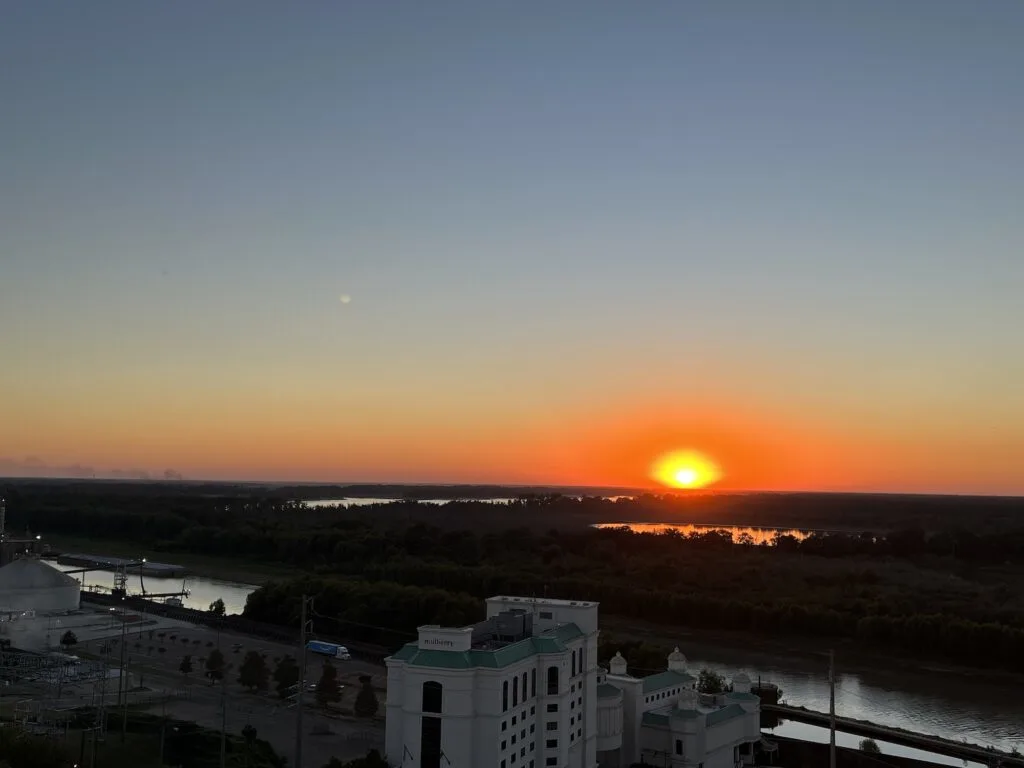 Whether you want a casual sandwich, dinner entree or fantastic cocktails, this is a can't-miss dinner destination in the city.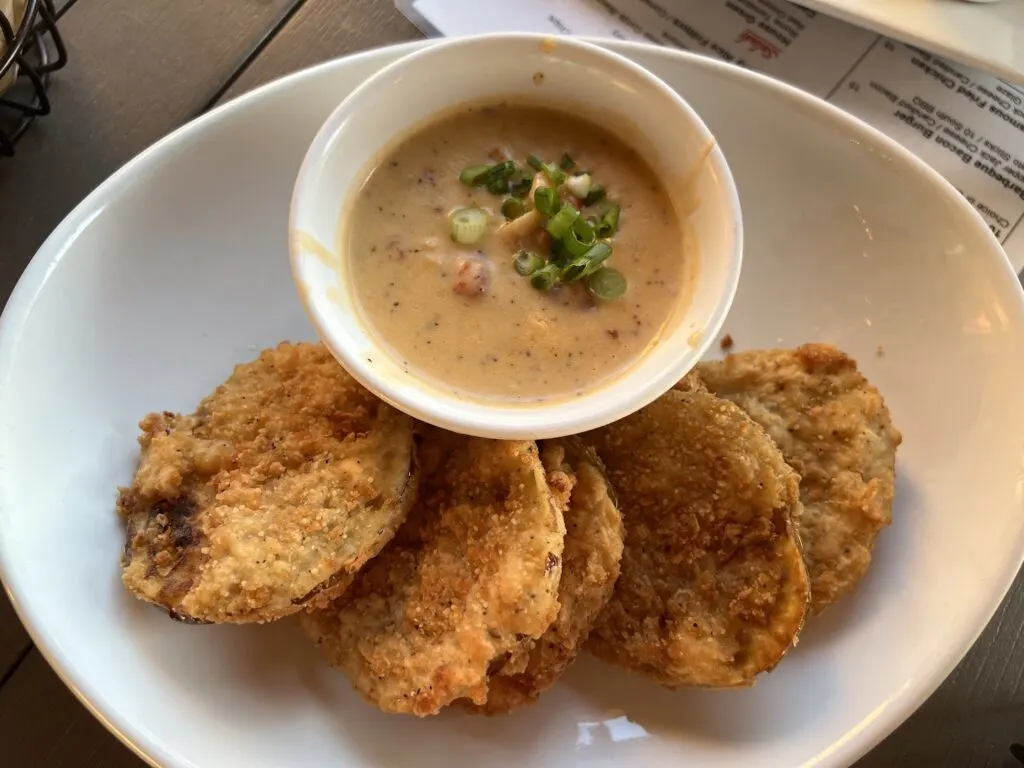 The Tomato Place
Eclectic and quirky are two words that come to mind to describe The Tomato Place, a small cafe and shop found outside of the main city of Vicksburg on 61 South.
The "Southern Grandma's Back Porch" vibes have evolved from side-of-the-road fruit stands that have since become a small cafe with a bustling produce market.
There are no huge signs pointing to The Tomato Place and quite honestly we drove right past it. It is slightly overgrown with the amount of plants outside hiding the buildings. So be sure to use your GPS and keep an eye out for a small cluster of buildings on the side of the road.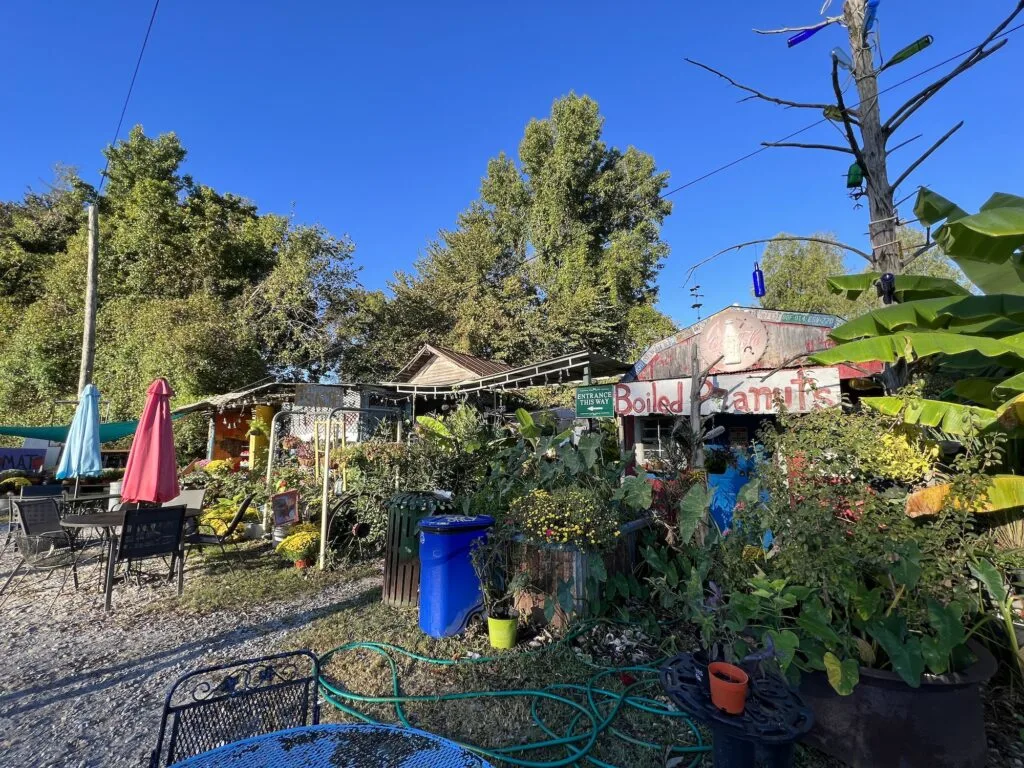 The breakfast, lunch and dinner menu is extensive, with a great selection of sandwiches, burgers, hot dogs and breakfast specials.
Of course, if you like tomatoes, you must try their fried green tomato BLT sandwich! It is incredibly delicious!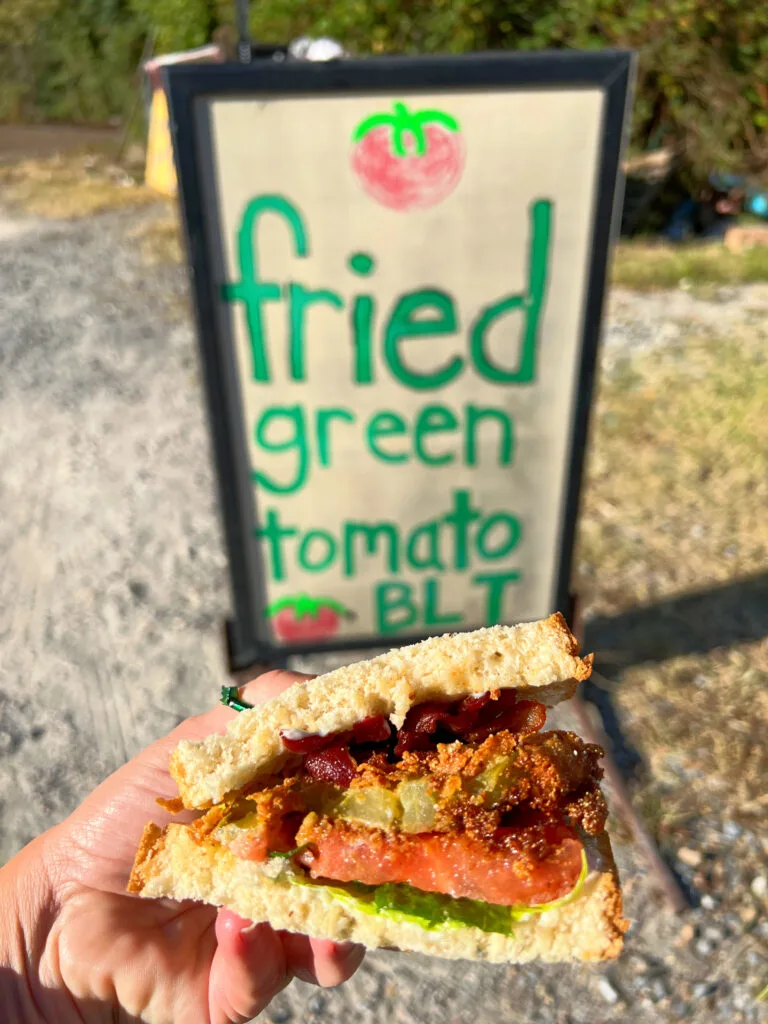 Pick up some local produce or plants to take back with you as an edible souvenir.
This roadside cafe has actually been recognized by National Geographic as a valuable contribution to the Mississippi River Geotourism program.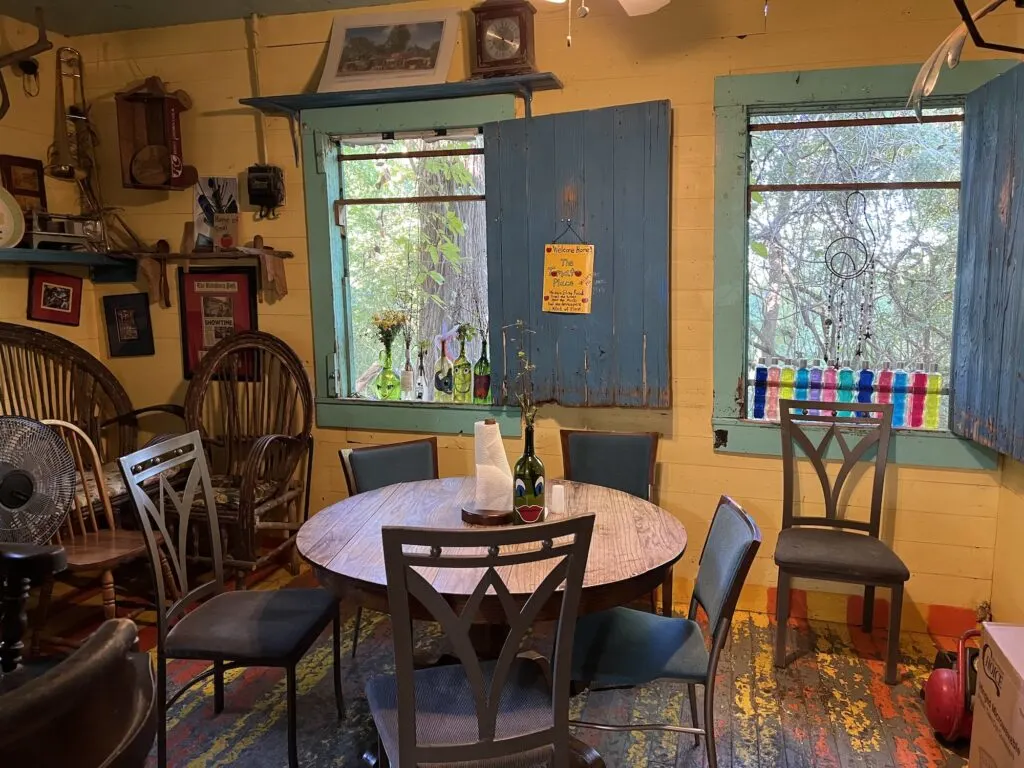 Just keep in mind there is limited parking and limited seating at The Tomato Place.
This is a full itinerary for a fun weekend in Vicksburg, Mississippi. We would love to hear some of your favorite destinations in the area, so leave a comment with your fun things to do!