Carowinds Grand Carnivale International Festival is a limited time special event that you won't want to miss! A combination of high energy music, vibrant colors, incredible live entertainment and International cuisine makes this a festival you will want to plan your travel around.
We visited Carowinds during the opening day of Grand Carnivale to taste the foods, enjoy the entertainment and find out everything you need to know to make your visit one to remember!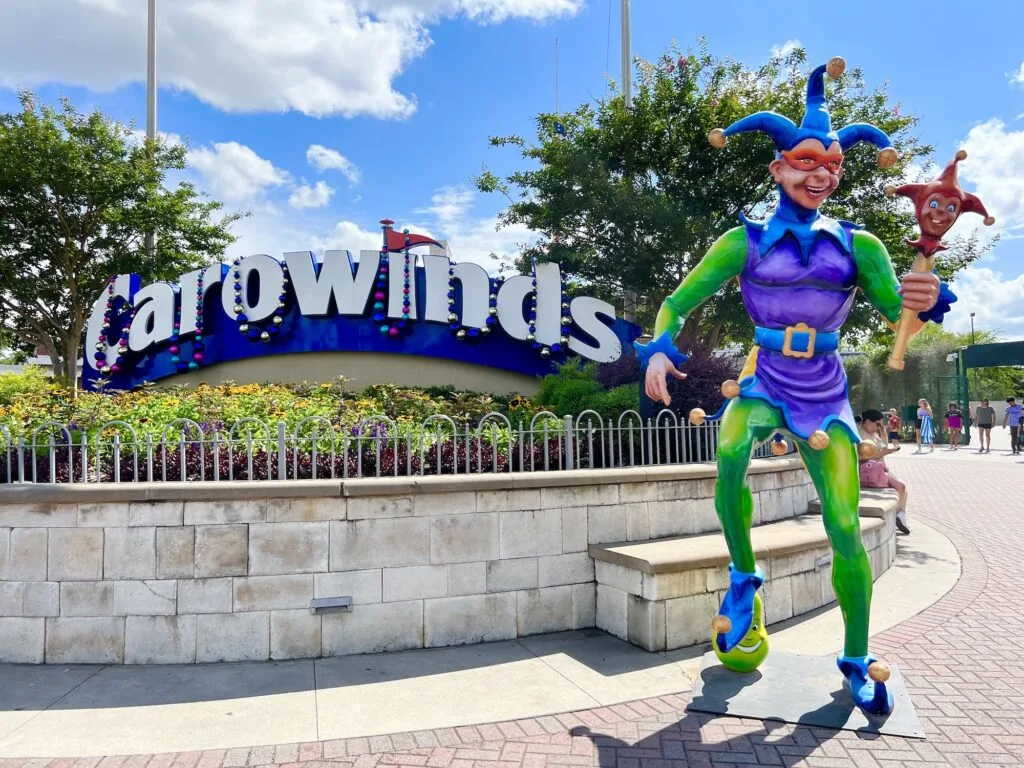 What is the Grand Carnivale International Festival?
Carowinds' Grand Carnivale International Festival is a limited time special event that celebrates "how the world kicks up its heels," according to the theme park.
The day-to-night international celebration features international foods, live music, games, crafts to make and a celebration of traditions from around the globe.
Grand Carnivale is included in the price of standard admission to Carowinds theme park.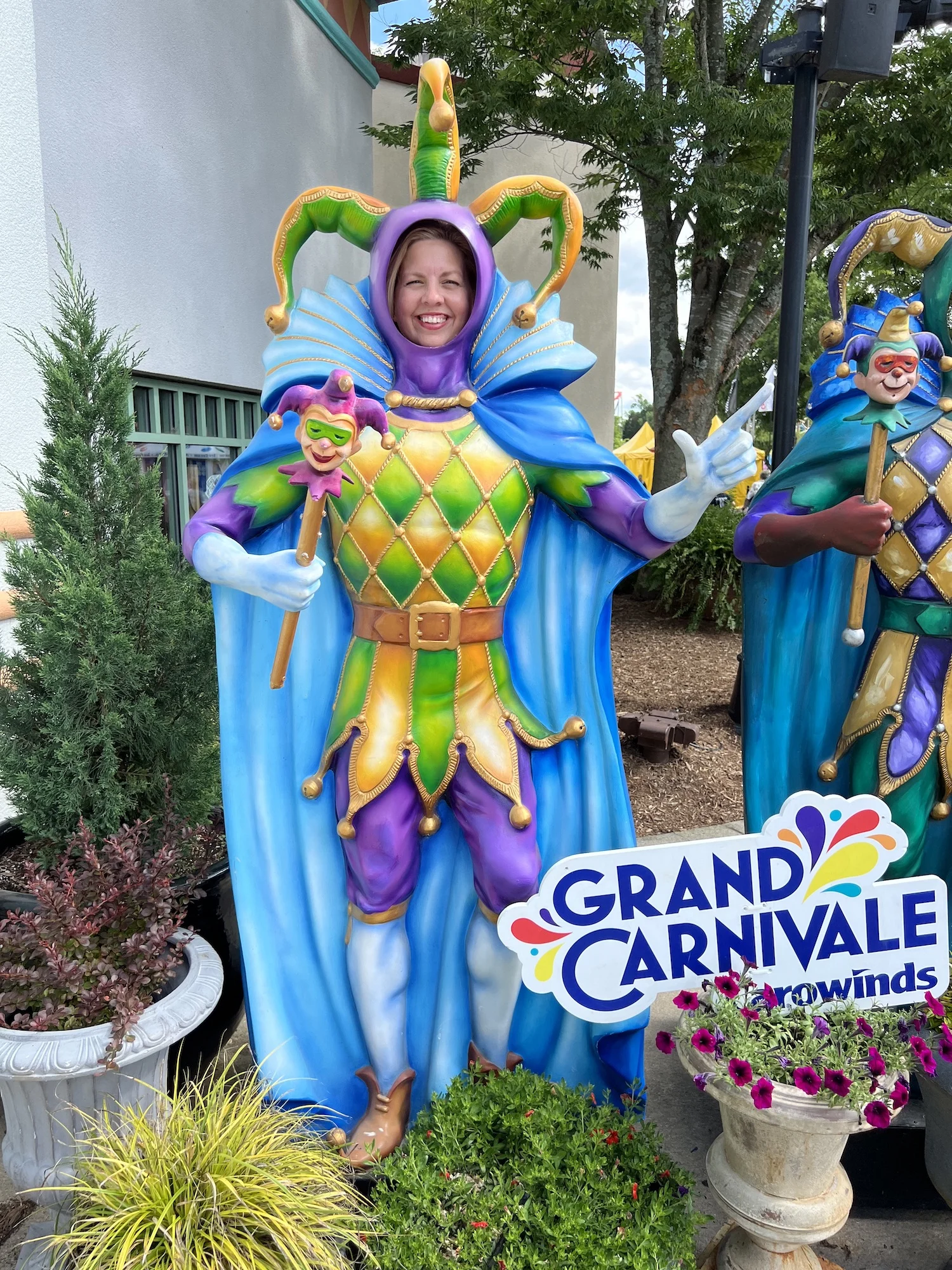 Cedar Fair Entertainment Company, the parent company of Carowinds, has Grand Carnivale events at several of its theme park locations, including Kings Island, Kings Dominion and Dorney Park, as well.
Related Post: Carowinds Tips and Tricks You Must Know Before Visiting!
When Is Grand Carnivale?
Carowinds' Grand Carnivale International Festival is held on select nights from June 24 – July 9, 2023.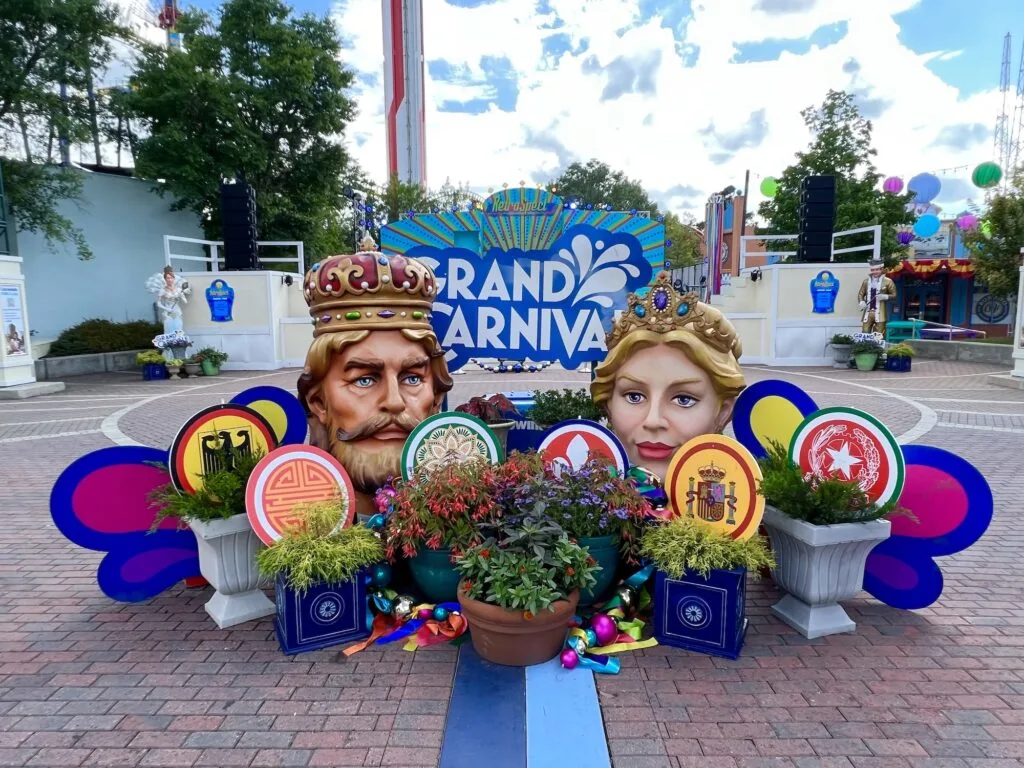 Grand Carnivale Special Events
A variety of unique experiences are enjoyed during the Grand Carnivale special event, including:
Spectacle of Color Parade
A lively parade starts at 8 p.m. each evening during the event. Led by the Grand Carnivale King and Queen, there are seven fun and colorful floats that have been created by Kern Studios in New Orleans, Louisiana.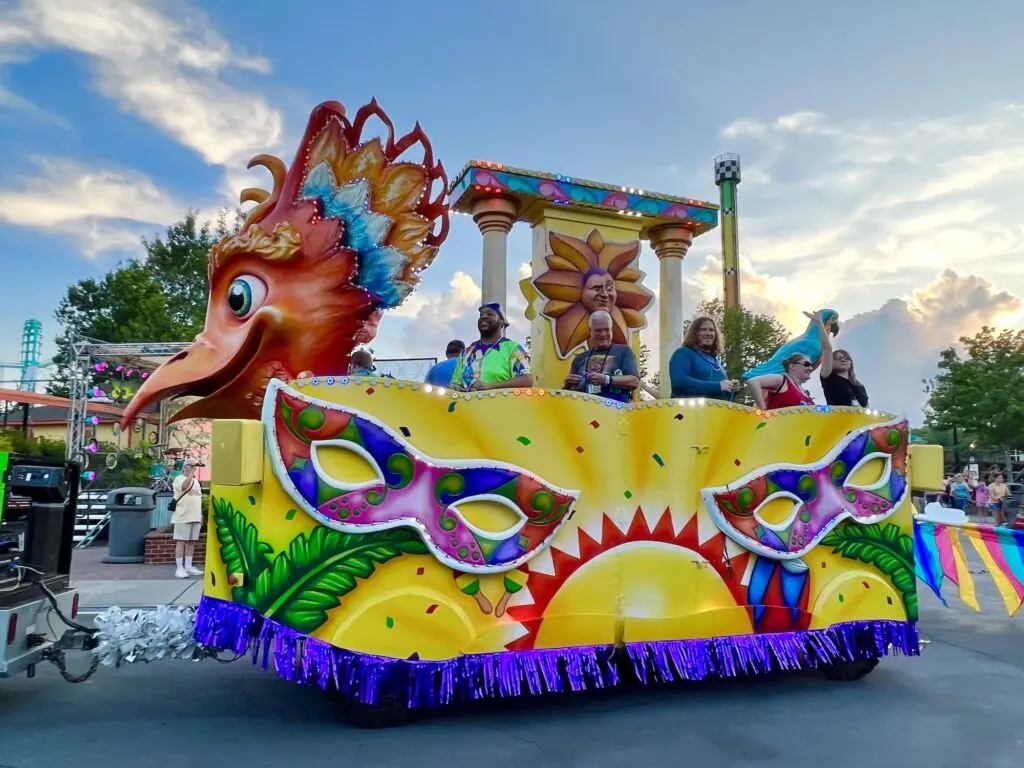 Performers dressed in colorful costumes dance through the streets of Carowinds, stopping at three locations to dance with the crowds. This is a fun experience for kids and adults alike who get the chance to dance to the pulsating rhythms, catch party streamers thrown in the air, and catch beads thrown into the crowd.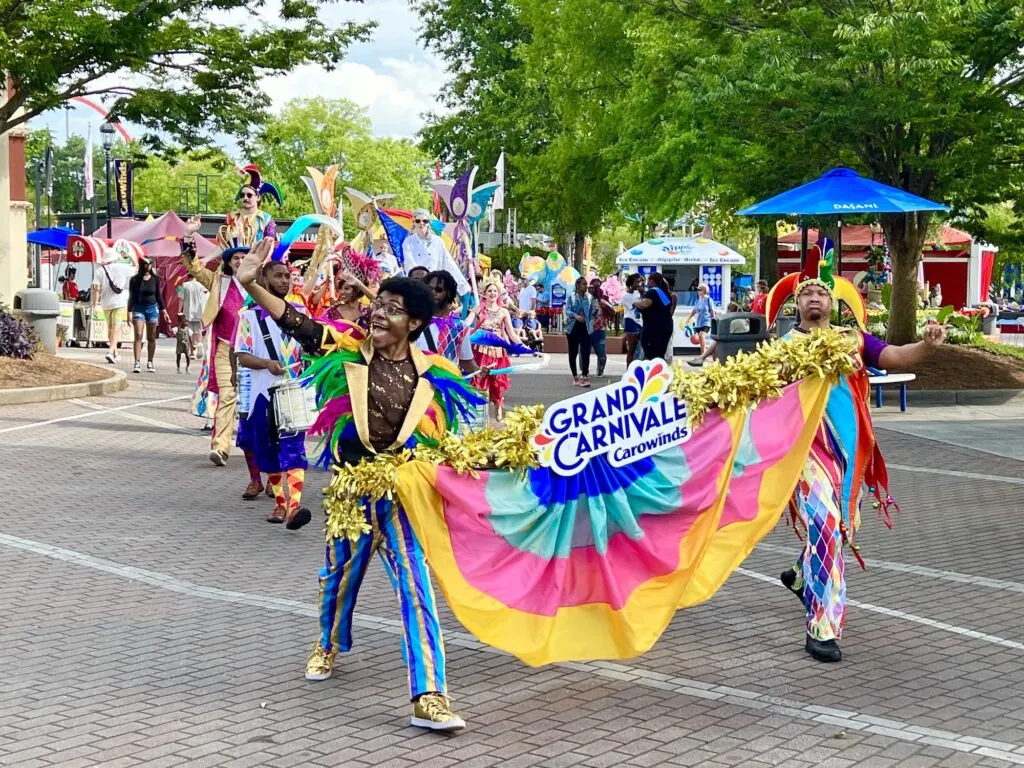 An eighth float features 8 Carowinds guests that have been selected to ride onboard the float and throw beads into the crowd.
Helpful Tip: The colorful parade, with the opportunity for guests to be onboard a float and throwing beads, is very similar to Universal Studios' Mardi Gras parade.
The end of the parade culminates in a lively dance party at the Plaza Stage, which is located near the park's entrance/exit (across from Starbucks).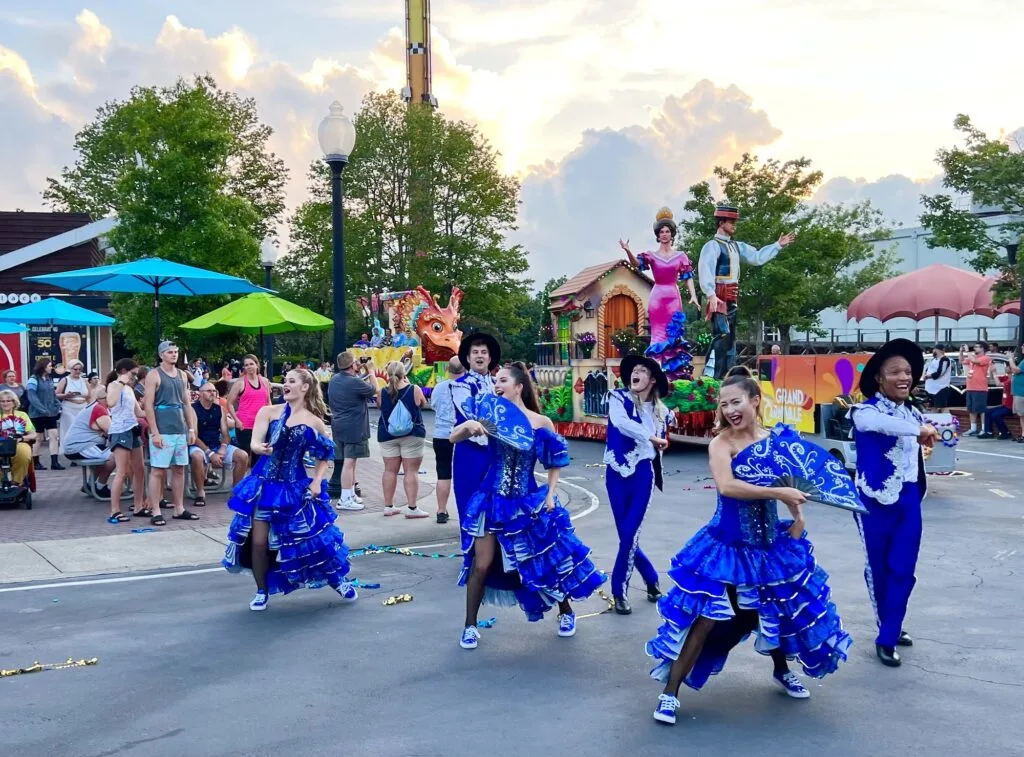 Insider Tip: The Spectacle Of Color Parade steps off near the back of the park near Carolina Harbor. This is a great place to see the parade with fewer crowds at 8 p.m. Plus, you can follow the parade along the way if you are having fun dancing along. The map showing the parade route and scheduled stops can be found in the app and by scanning a QR code in the park. The parade will wind through the park and end at the Plaza Stage around 8:30 – 8:45 p.m.
Live Entertainment
You won't want to miss the lively, toe-tapping live shows that will have you dancing in the streets. A combination of vibrant costumes, energetic dance numbers and upbeat music make these shows something that you definitely want to see!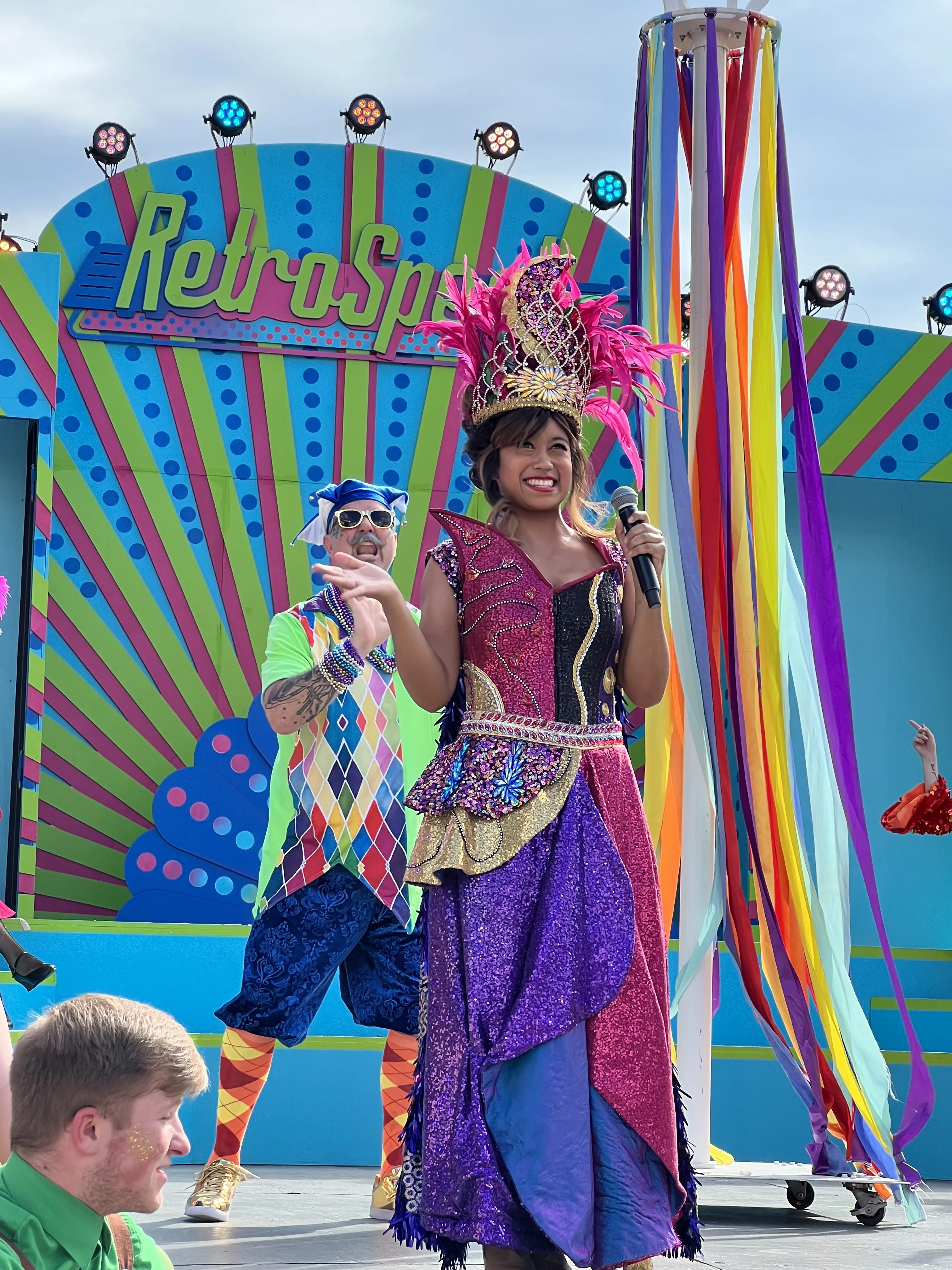 Carnivale Crafts
Craft booths are set up near the China pavilion for kids to make a crown, flowering lei or a noisemaker. These are the perfect accessories for watching the Spectacle of Color Parade!
Mardi's QR Passport to Adventure
Join Mardi P. Gras, the Alligator King, to find his friends in each county. Scan the QR code on each display to learn about the country via a YouTube video, collect stamps and receive a prize! The prize is a large button, similar to the celebration buttons at Disney and Universal.
Get the passport to adventure at Carnivale Central located near the craft booths and Italy pavilion.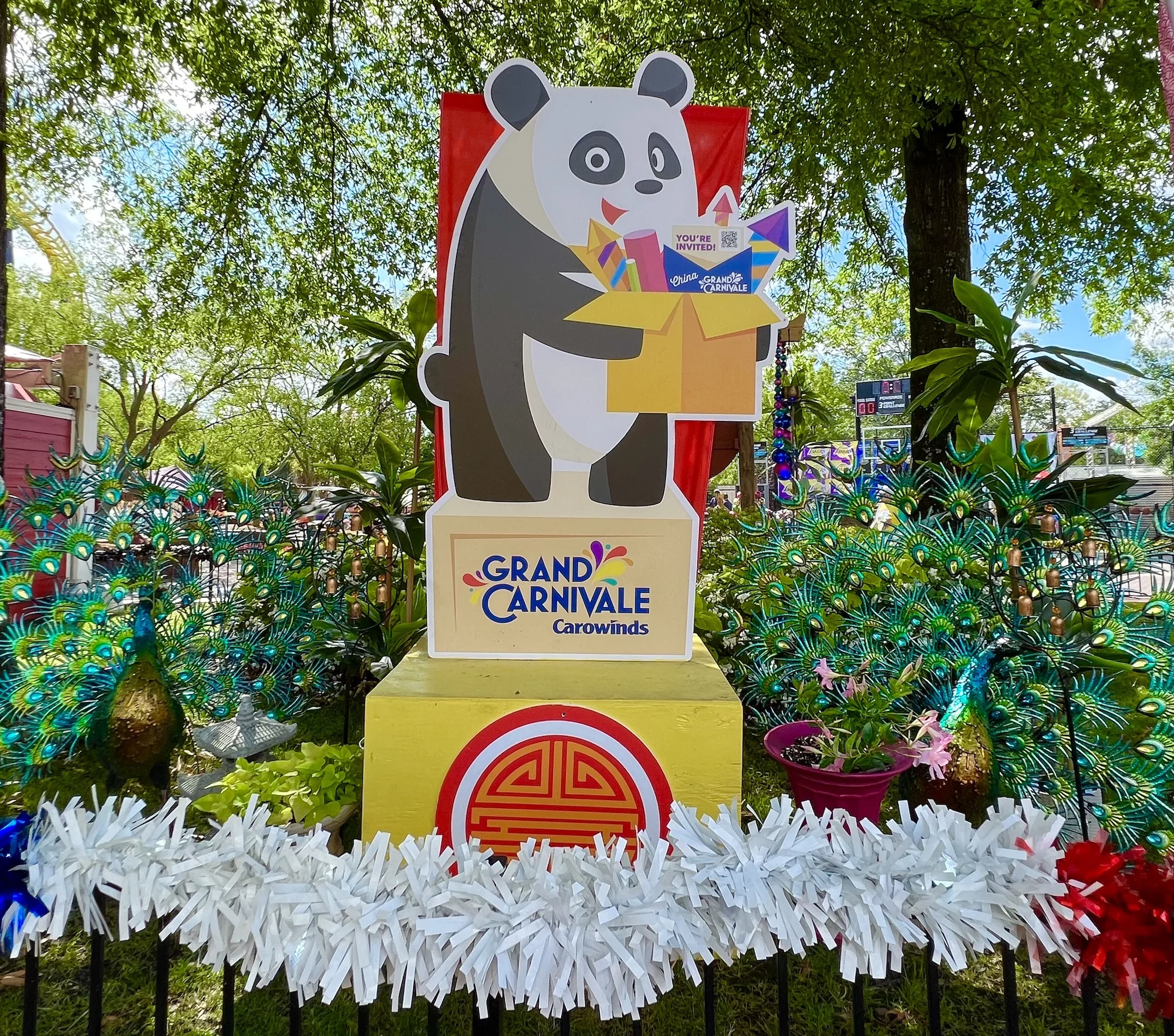 Carowinds Grand Carnivale Food
One of the highlights of Grand Carnivale is the opportunity to enjoy food from around the world. Food are available from 5-9 p.m. on event nights.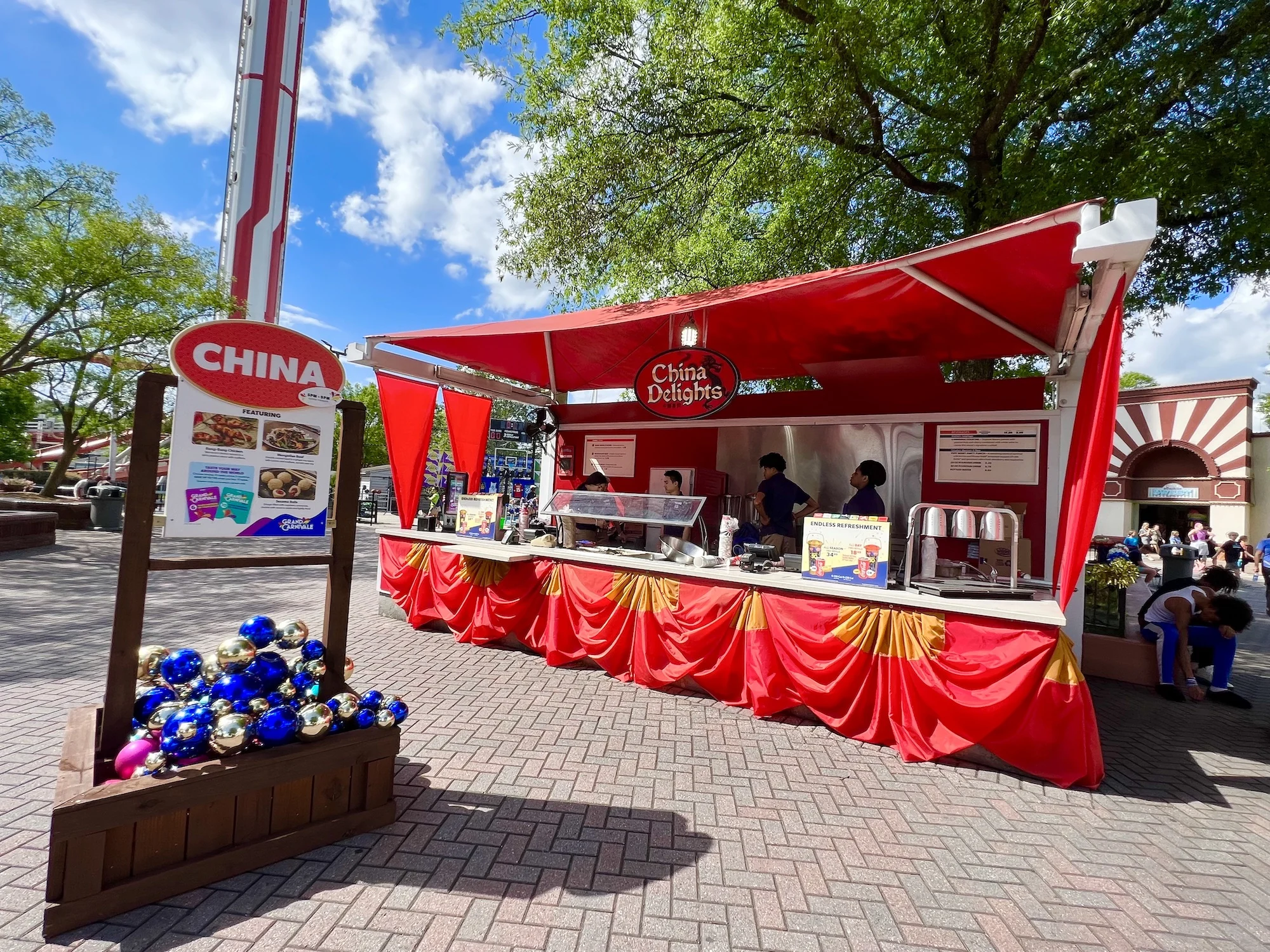 In 2023, there are more than a dozen specialty food items representing five different countries:
Germany
France
Spain
China
Italy
Helpful Tip: The Flavors of Carnivale International Food Festival is very similar to Disney's Epcot's Food and Wine Festival or Epcot's Flower and Garden Festival. However, the portions at Carowinds' are MUCH larger and more filling.
Most of the food offerings in 2023 are brand new for Grand Carnivale. I was able to see them all during a media preview at Carowinds.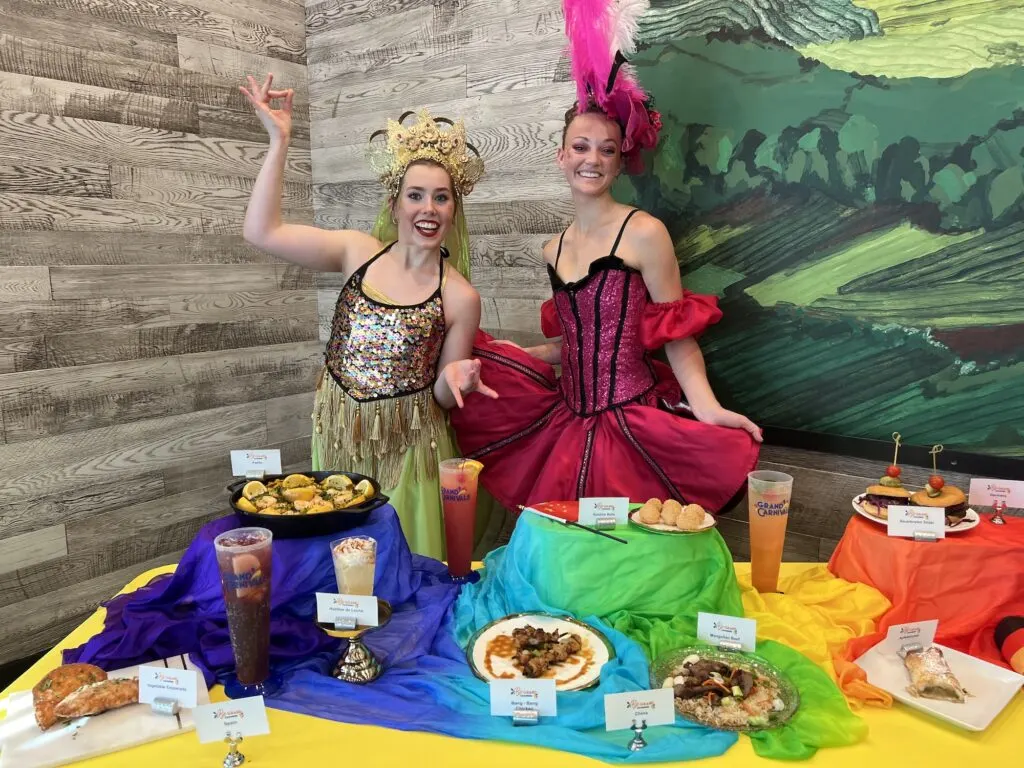 Each of the countries features:
Sweet option
Savory option
Alcoholic cocktail
Non-alcoholic beverage
A Grand Carnivale Tasting Card is a great idea. See more details at the end of the article.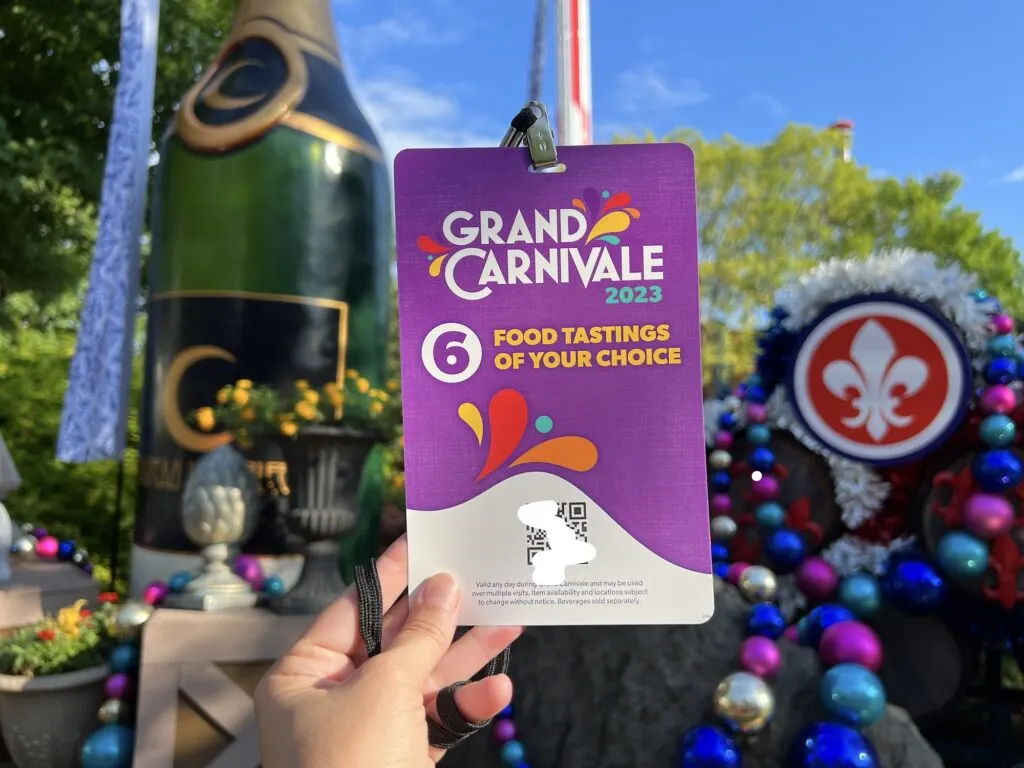 Here are the 2023 Grand Carnivale Menu Items. I was able to taste quite a few of the options and have shared my thoughts with each item.
China
Bang-Bang Chicken Skewered chicken tossed in a spicy peanut sauce with scallions.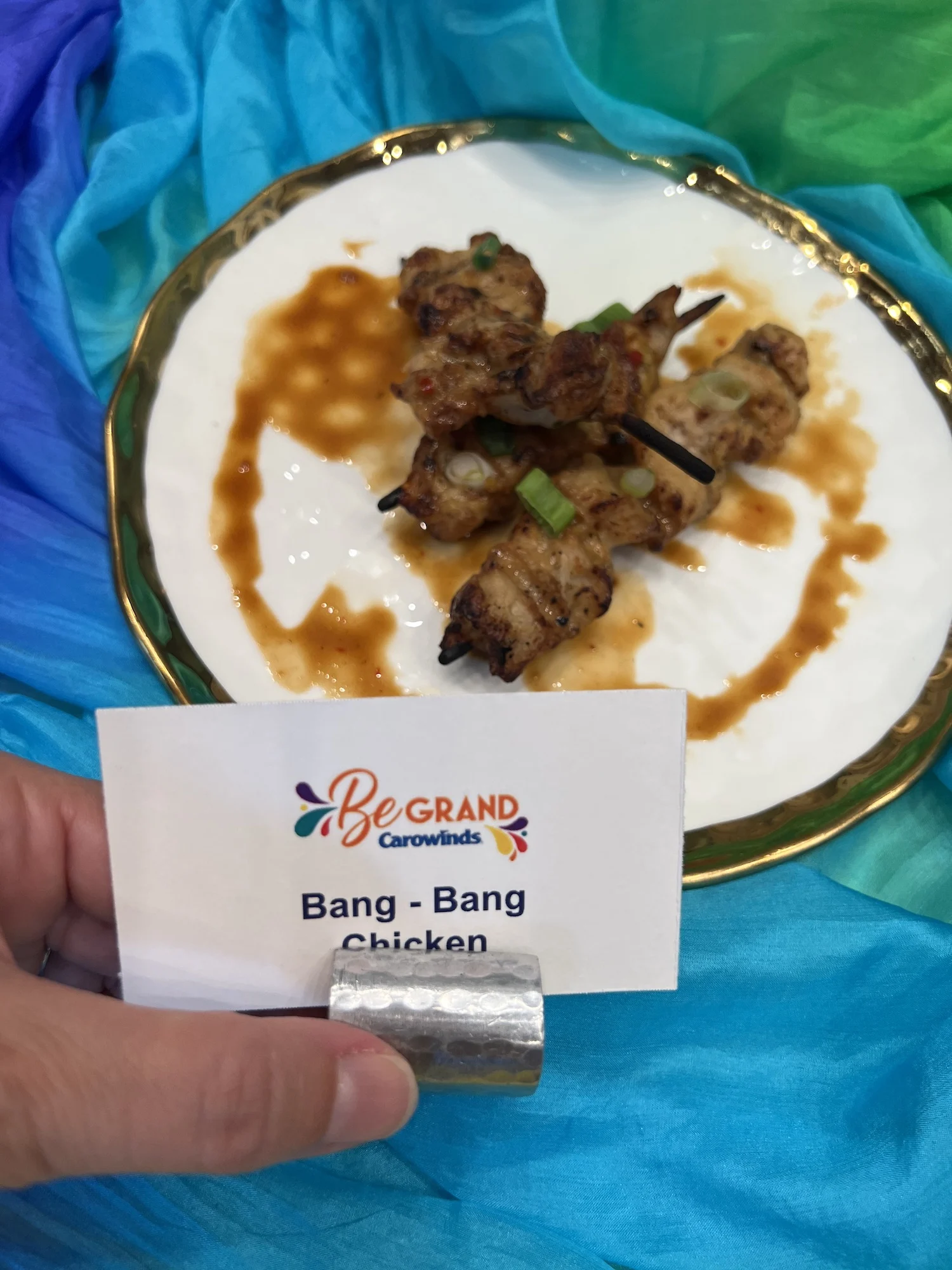 Mongolian Beef Double cooked beef in a ginger-soy sauce with carrots and scallions, served over rice.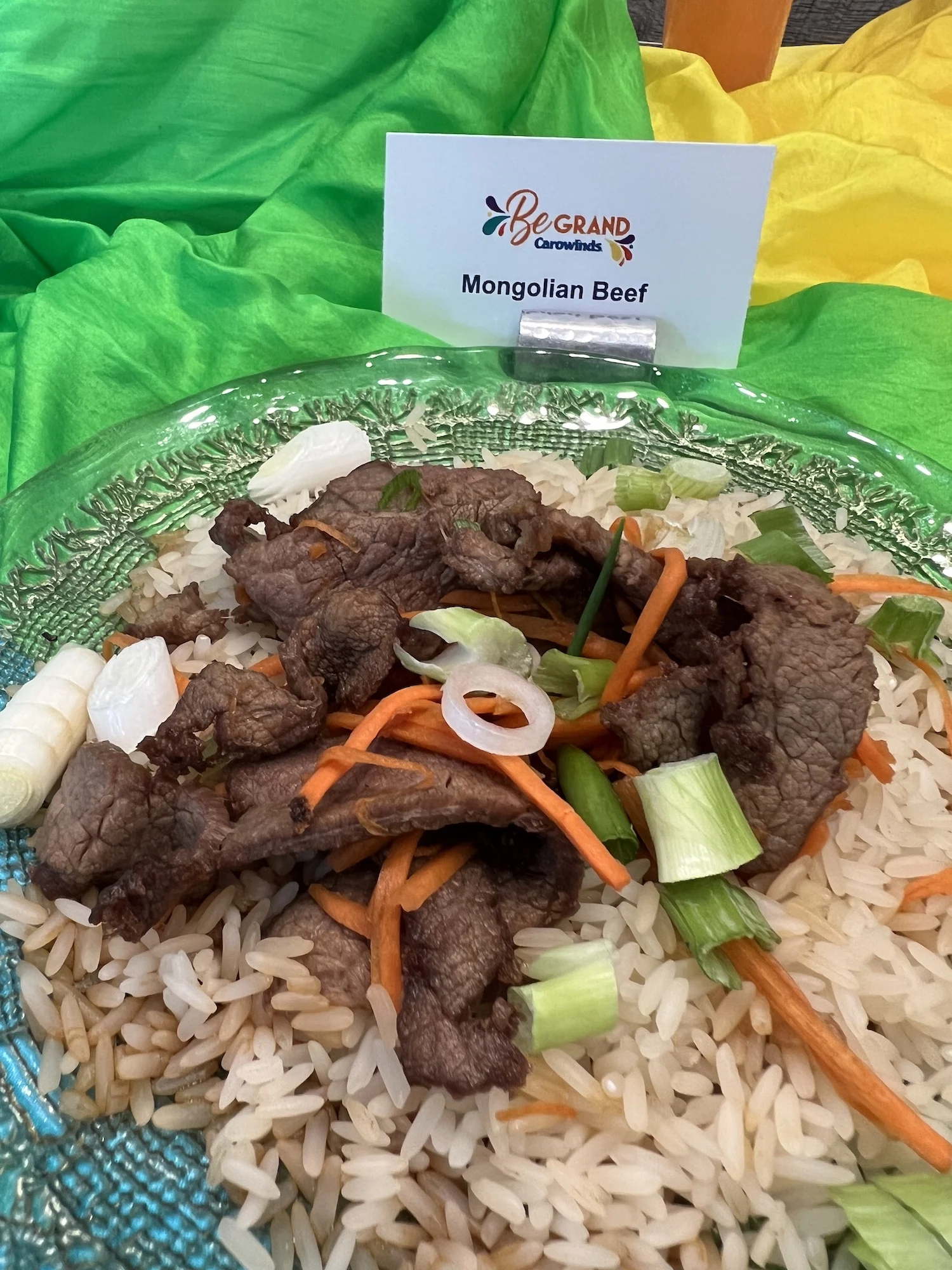 Sesame Balls Dough filled with raspberry preserves, dusted with sesame seeds and lightly fried.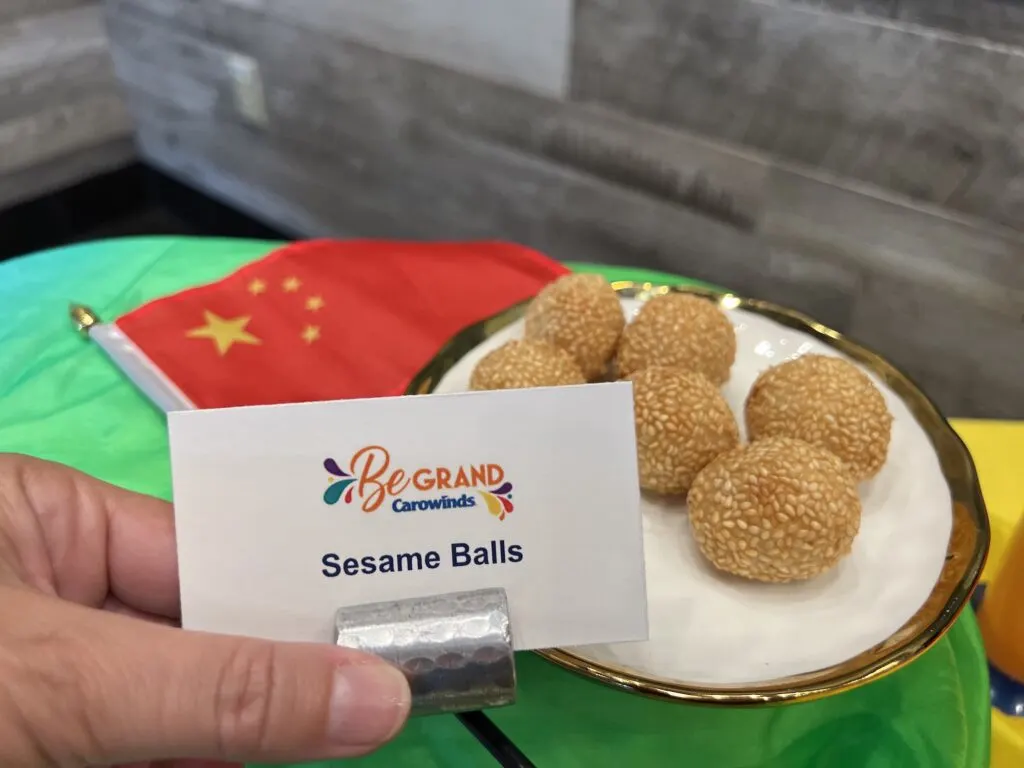 France
Crepe Champignon Thinly griddled crepe filled with a wild mushroom sauce, gruyere cheese, shallots and herbs de Provence. $7.50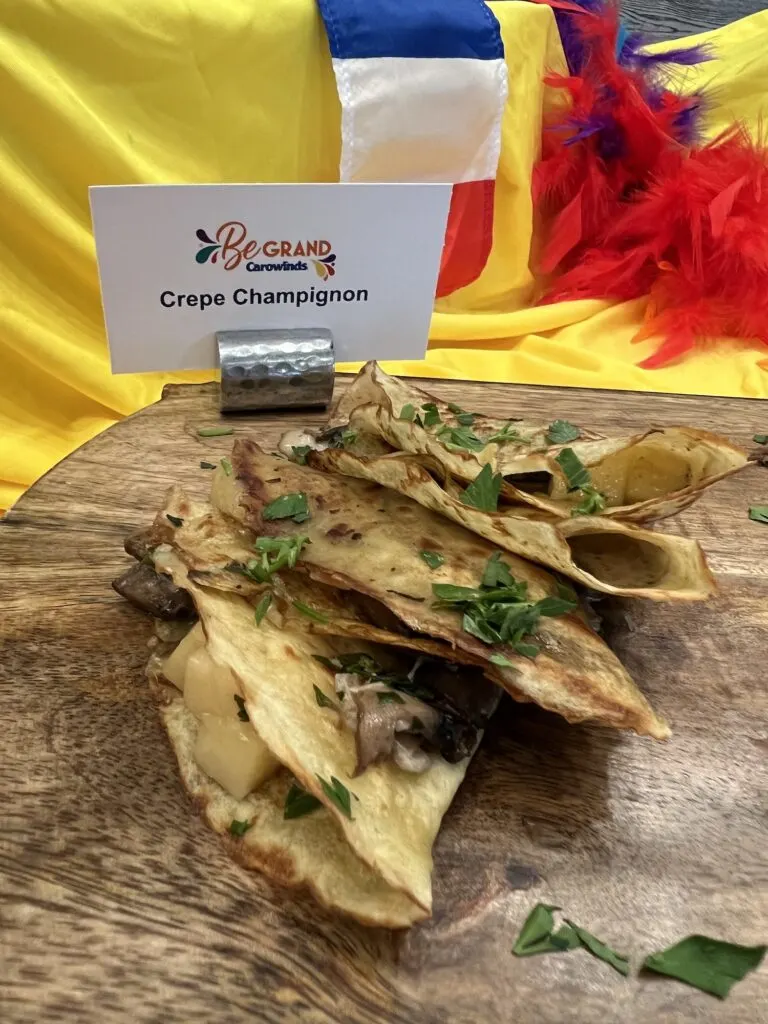 Croque Monsieur Toasted brioche sandwich with hardwood smoked pit ham, bechamel sauce, Brie cheese and fresh thyme. $9.50 This sandwich was amazing! It was delicious and worth it! A word to the wise, the béchamel sauce drizzled over the sandwich does make it messy to pick up. Consider having the sauce served on the side or use a knife and fork to eat.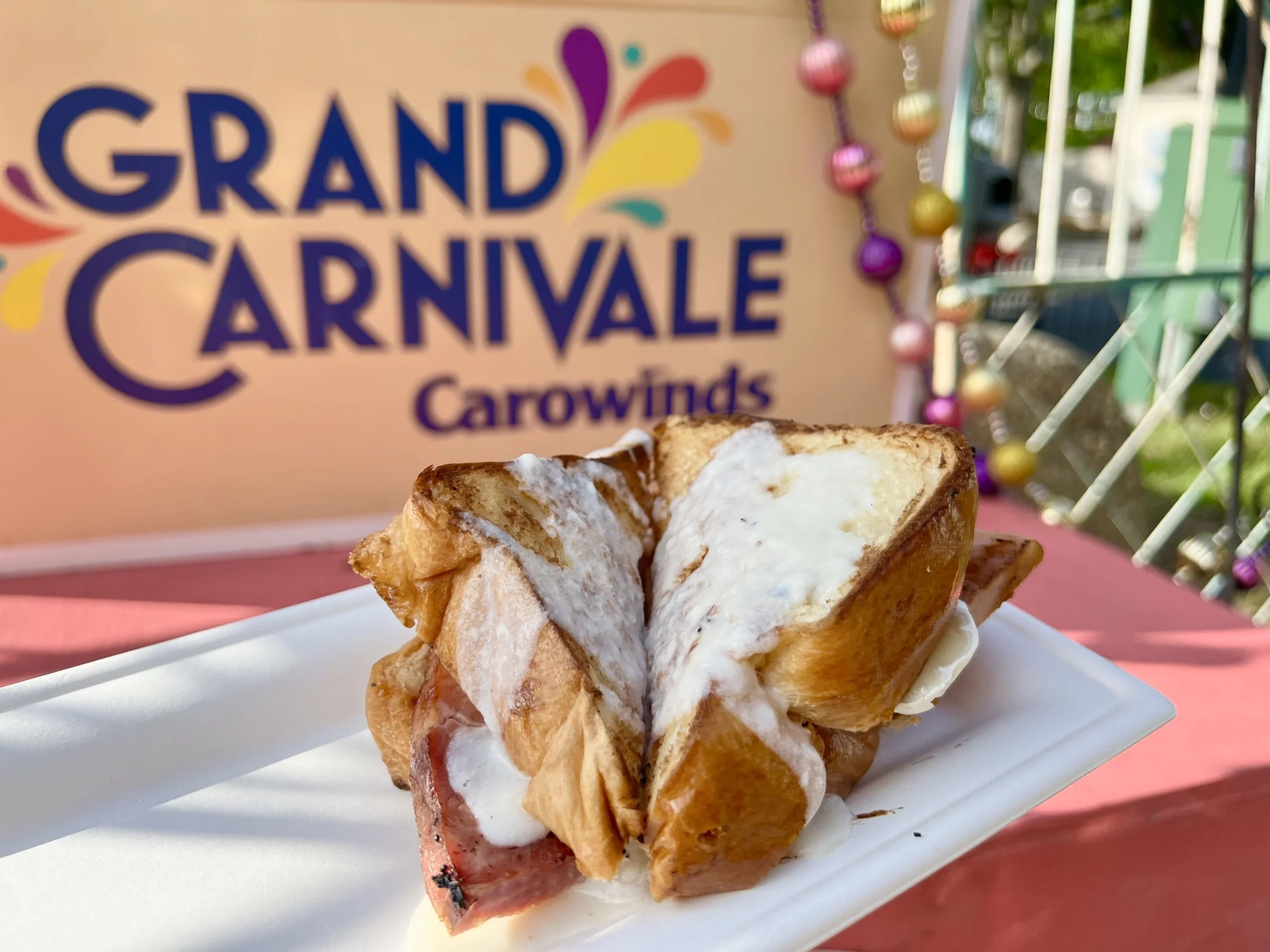 Pain au Chocolate Chocolate wrapped in flaky dough and dusted with powdered sugar. $6.50 While this was a decent pastry, we didn't think the price was worth it. For the same price, you can get better items on other country's menus.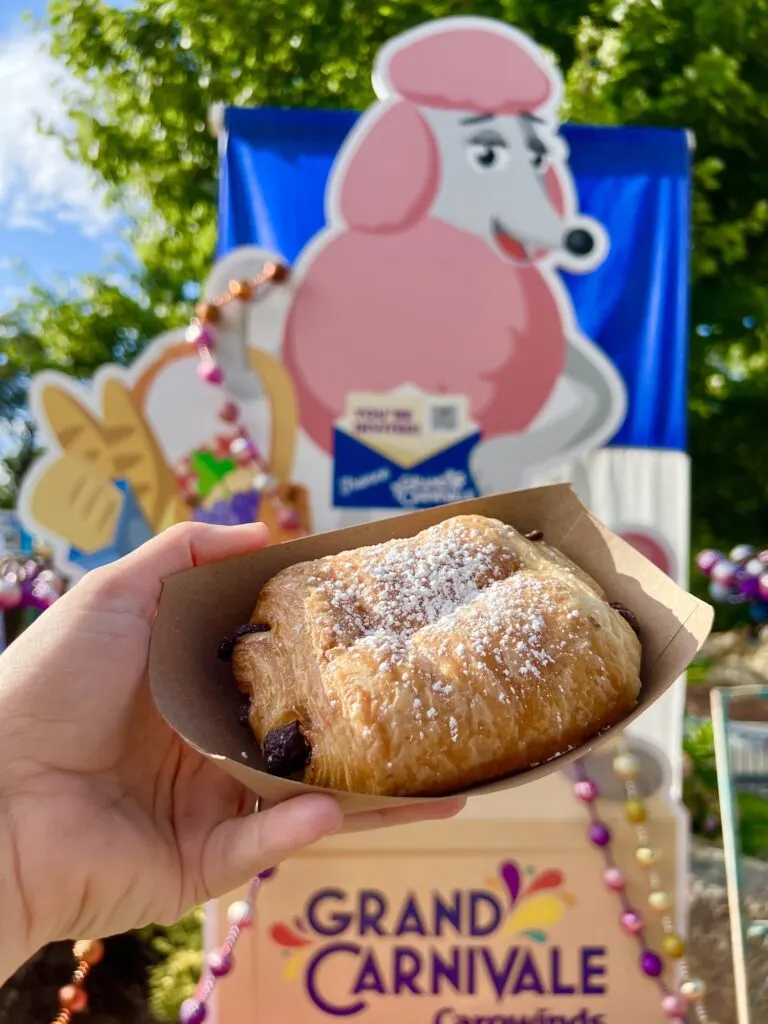 Germany
Sauerbraten Slider Slow-roasted, marinated beef on buttered slider buns with gingersnap sauce, red cabbage, tomato and pickle. $9.50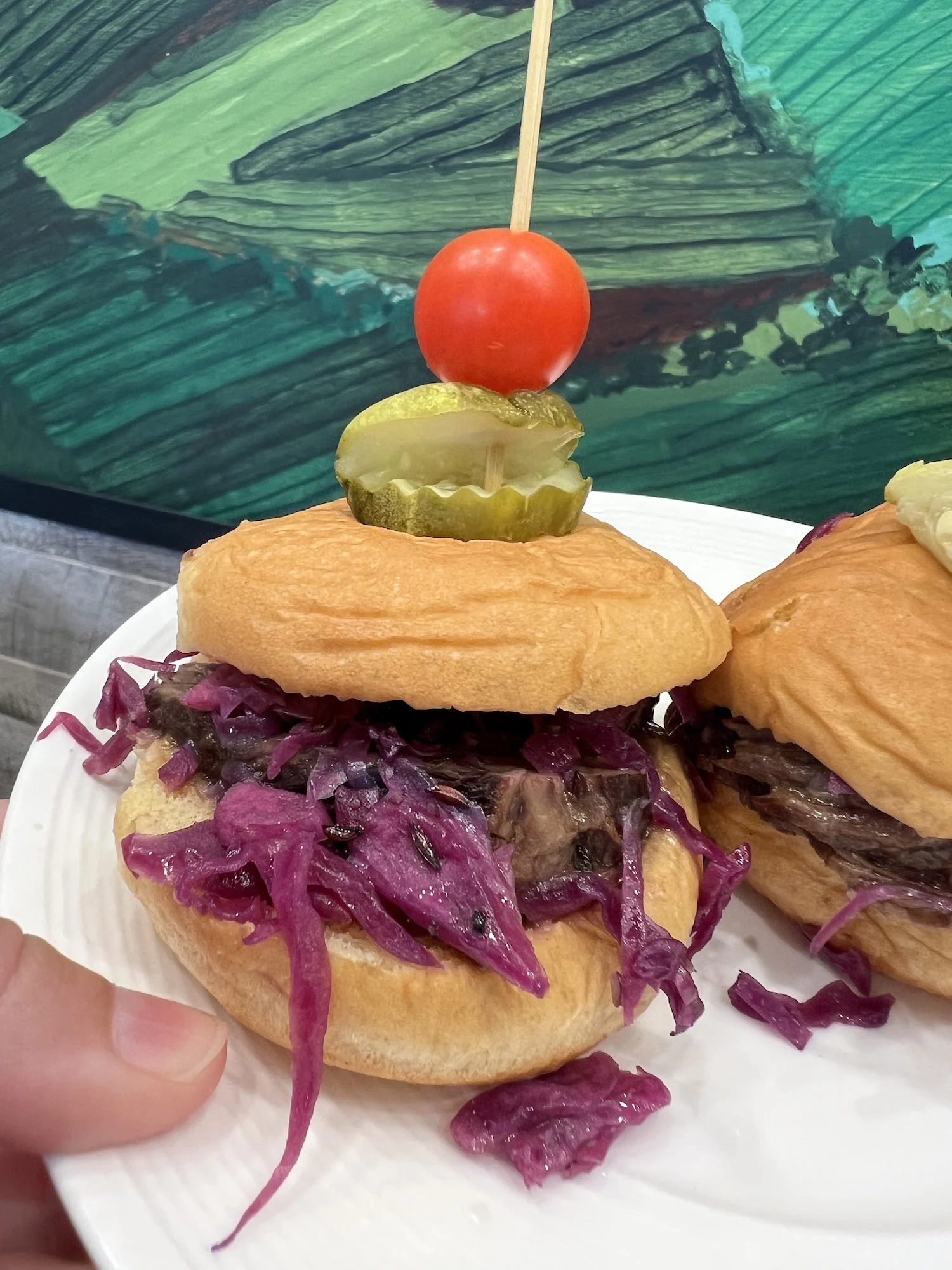 Apfelstrudel Traditional apple dessert in buttery pastry with powdered sugar and whipped cream. $6.50 We enjoyed this dessert because it was very thick and dense. The apple filling is the star of the show on this one.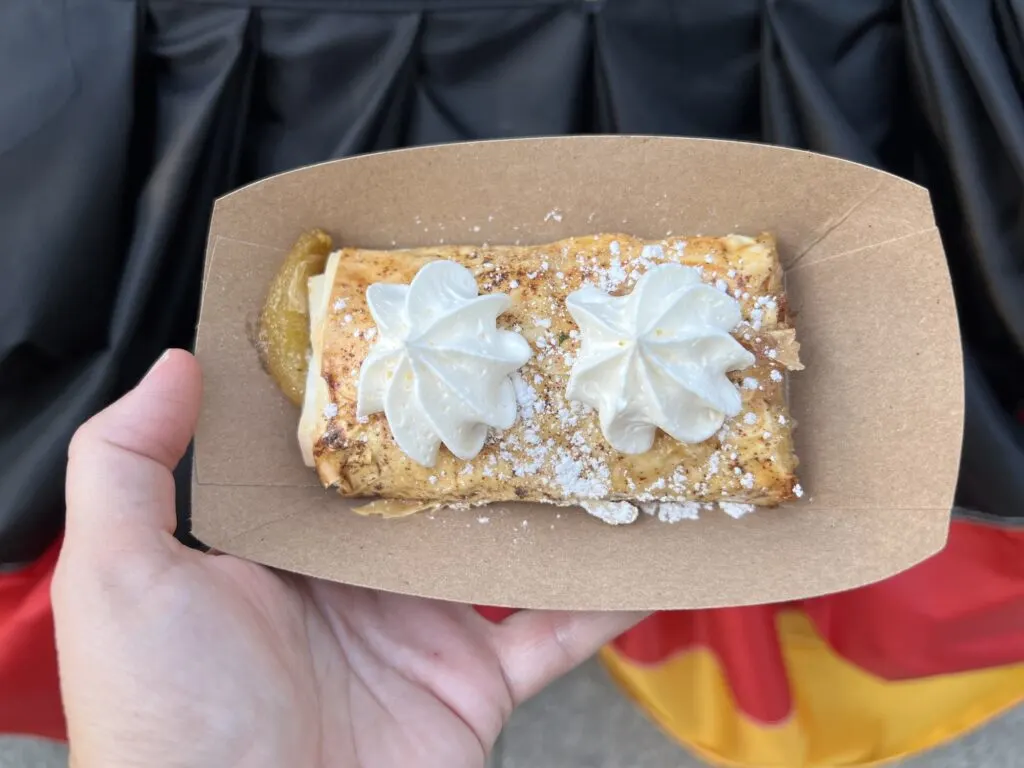 Pretzel Bites Baked pretzel bites served with a beer cheese sauce. $7.50 We liked these because they had a rich buttery spread on the pretzel bites.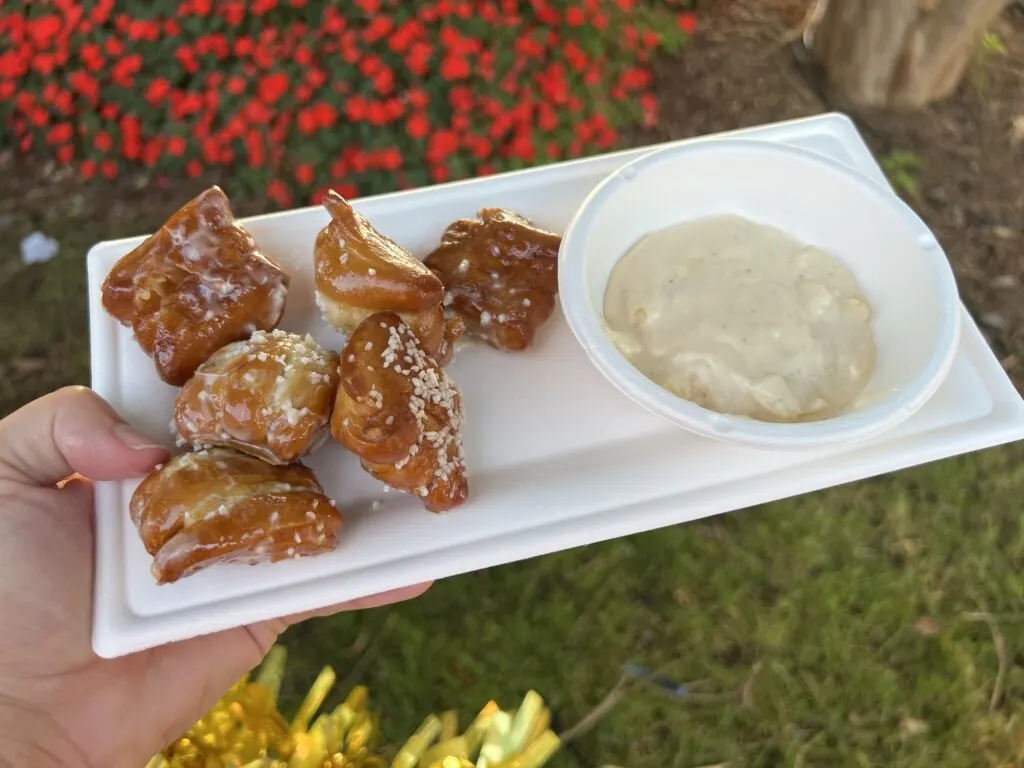 Italy
Panzerotti Golden brown dough filled with provolone, ricotta, spinach, tomato and fresh basil served with marinara. $6.50
Caprese Fresca Traditional salad from Capri with fresh mozzarella, tomatoes, basil and balsamic glaze, served with pita chips. $7.50 Another one of our favorites, the cheese and tomatoes had just enough oil and basil to be flavorful but not overpowering. The pita chips were crispy but delicious.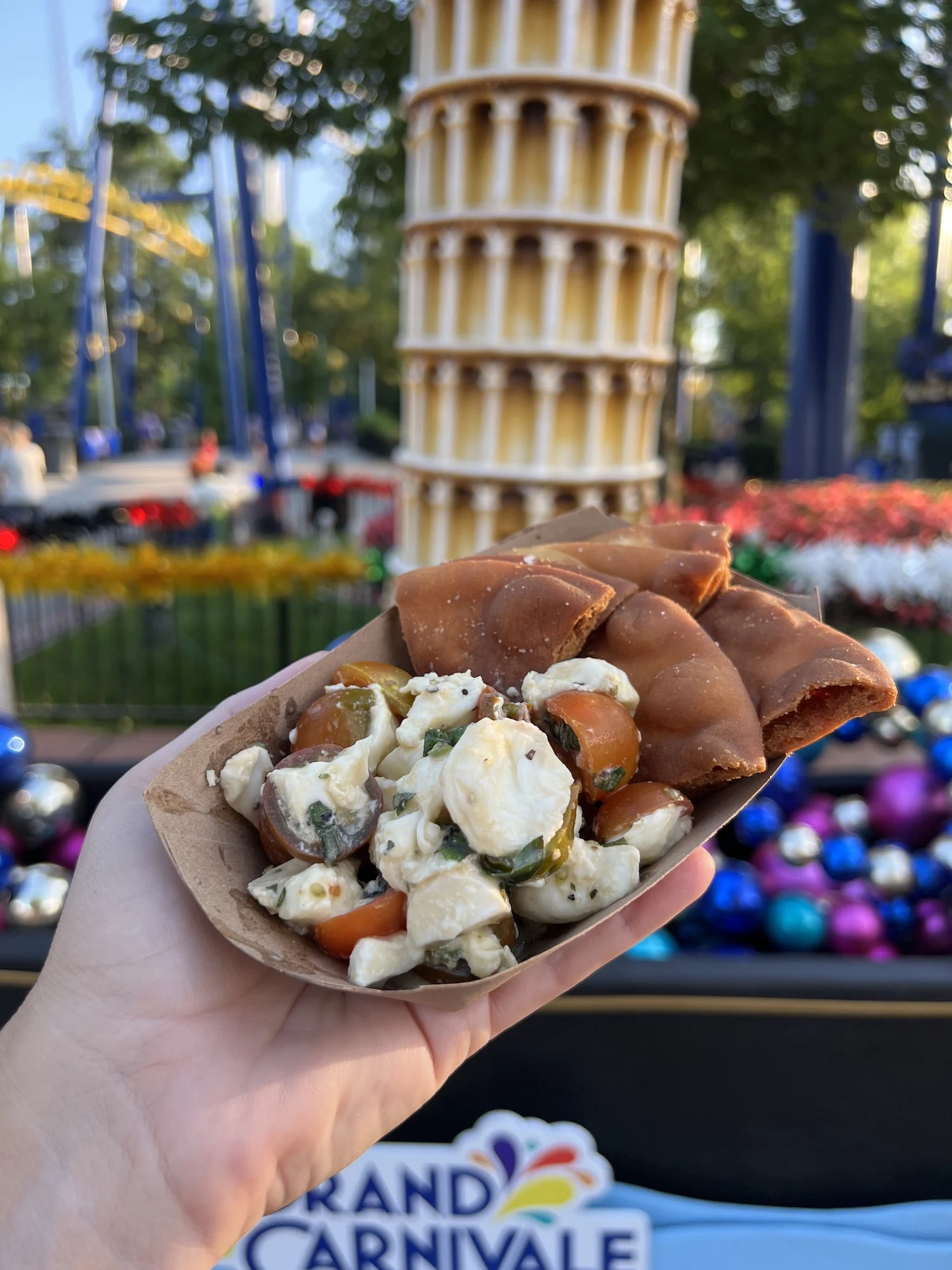 Krapfen di Carnevale Berry and cream filled doughnut dusted with powdered sugar. $6.50 We give this one 5 stars! This dessert was so incredibly heavy and dense that it was surprising when we picked up the tray! The custard inside was delicious and there were tons of berries, including whole strawberries. Absolutely worth the money for this one – and be sure to split it with someone!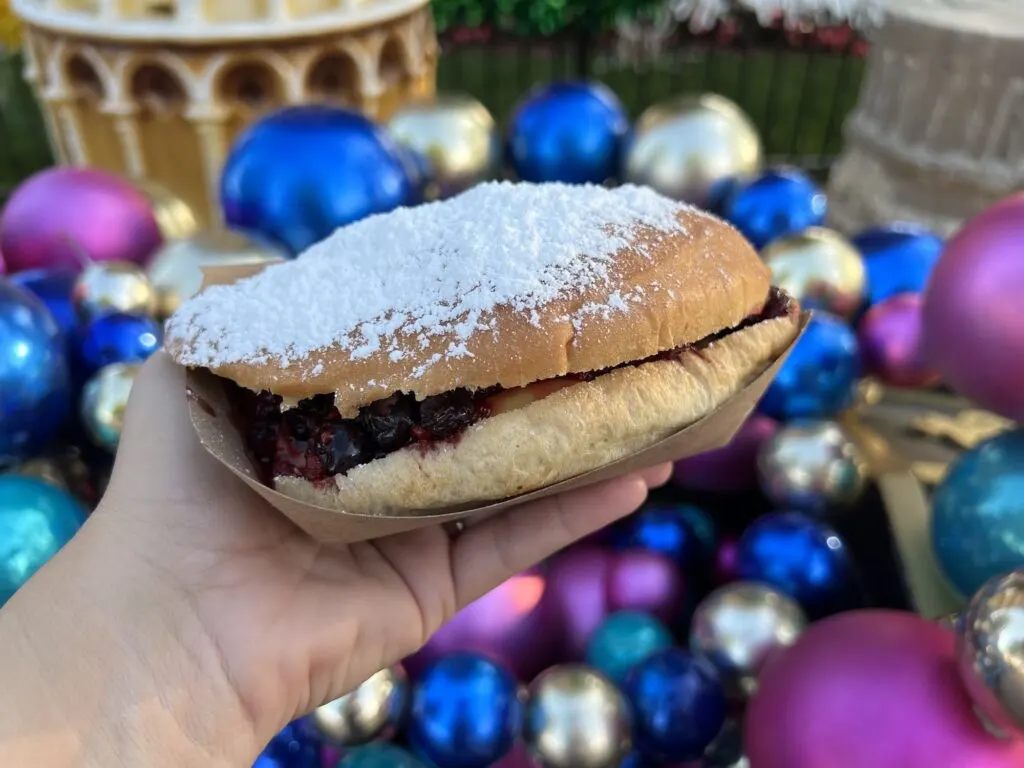 Spain
Paella Classic saffron rice with shrimp, chicken, sausage, garlic, onions, peppers, tomatoes and peas. $7.50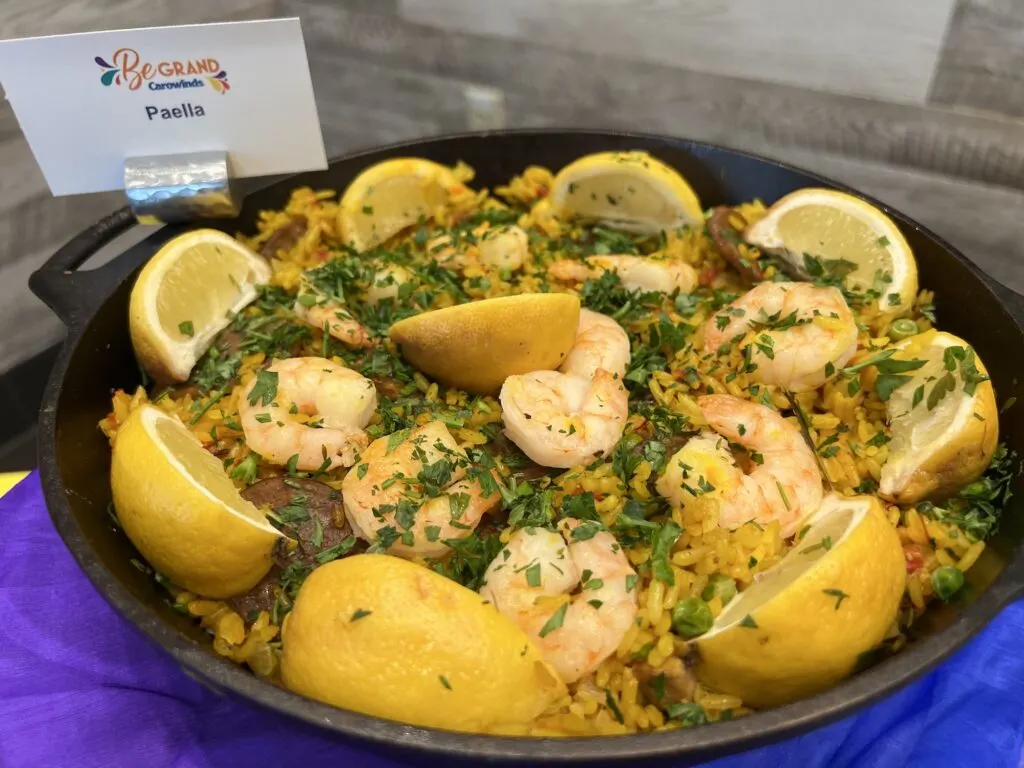 Vegetable Empanada Potatoes, butternut squash and cheese in fried pastries, served with saffron and garlic mayonnaise. $7.50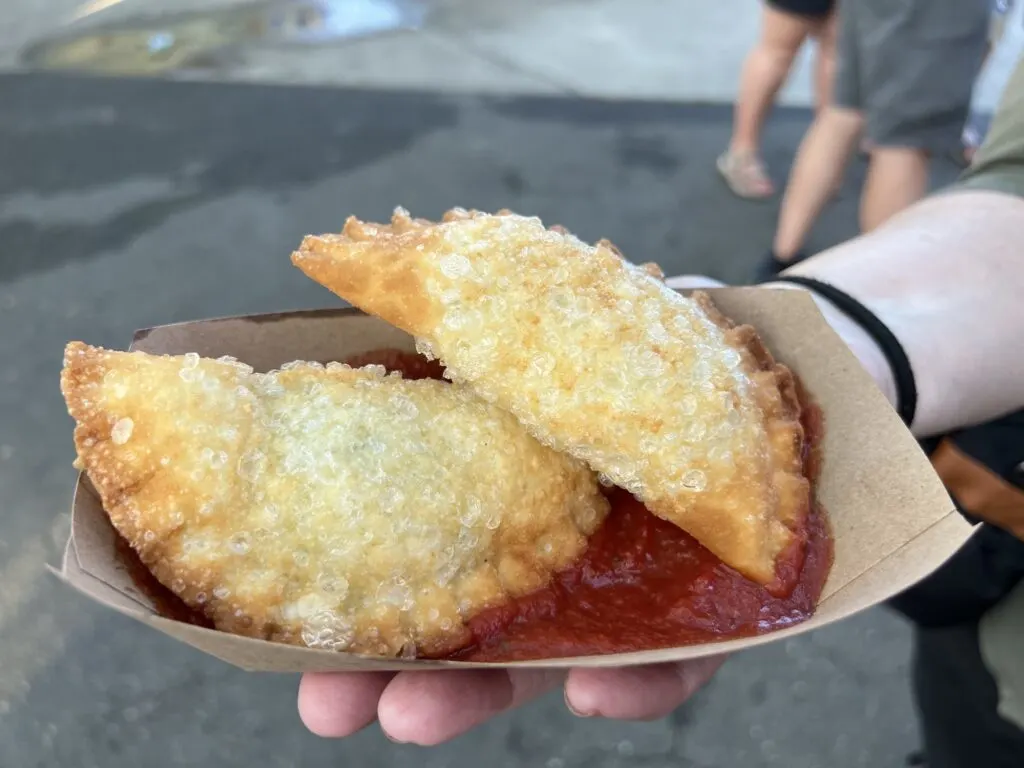 Natillas de Leche Vanilla custard infused with lemon and dusted with cinnamon. $6.50 This dessert was delicious! It was a bit heavier on the lemon taste than I was expecting, but it worked. The cinnamon flavor comes in at the end and overall this one is very refreshing in the heat.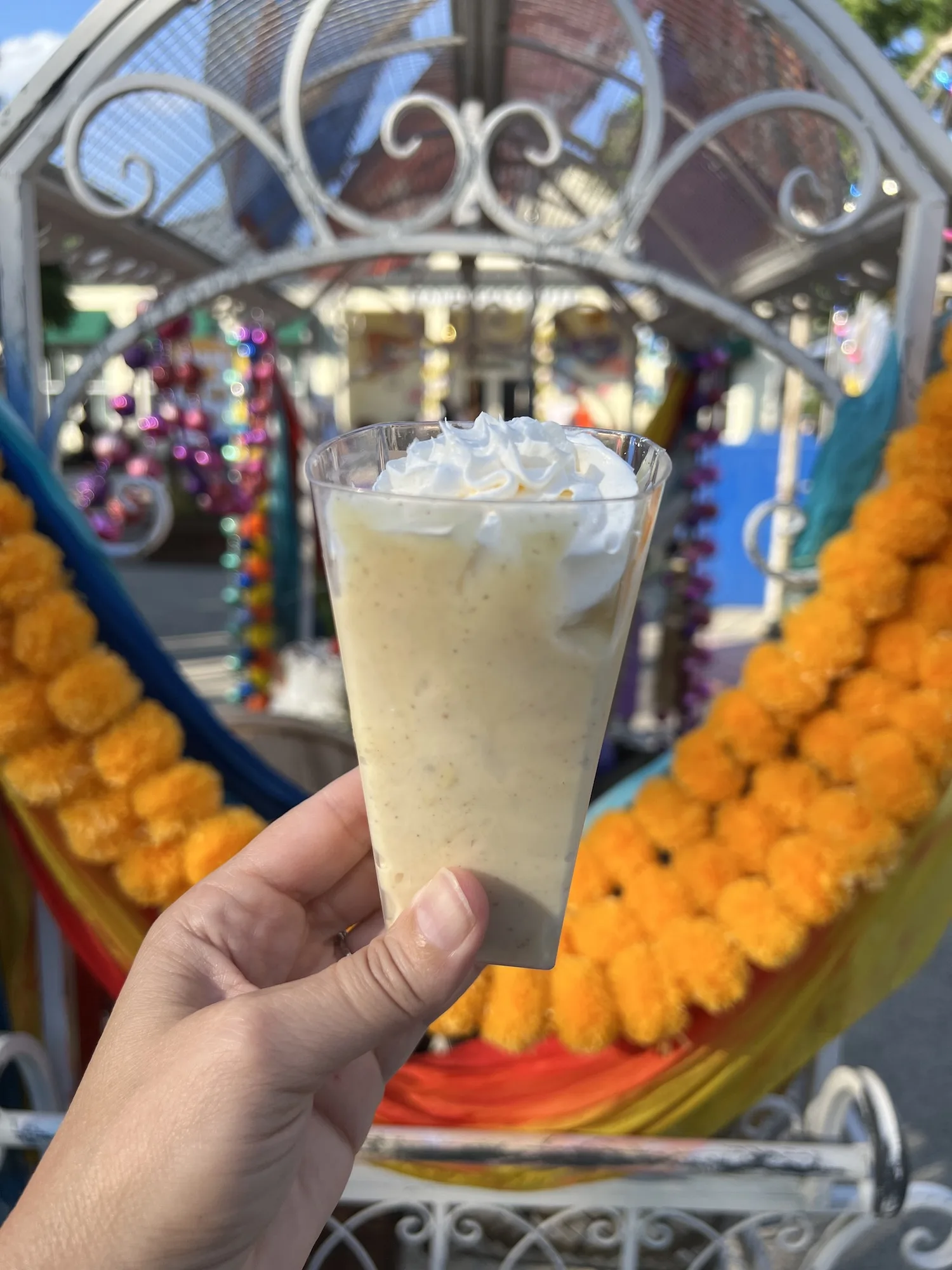 Alcoholic Cocktails and Non-Alcoholic Mocktails
There are two locations in Carowinds to get the specialty alcoholic beverages and non-alcoholic mocktails created for the festival.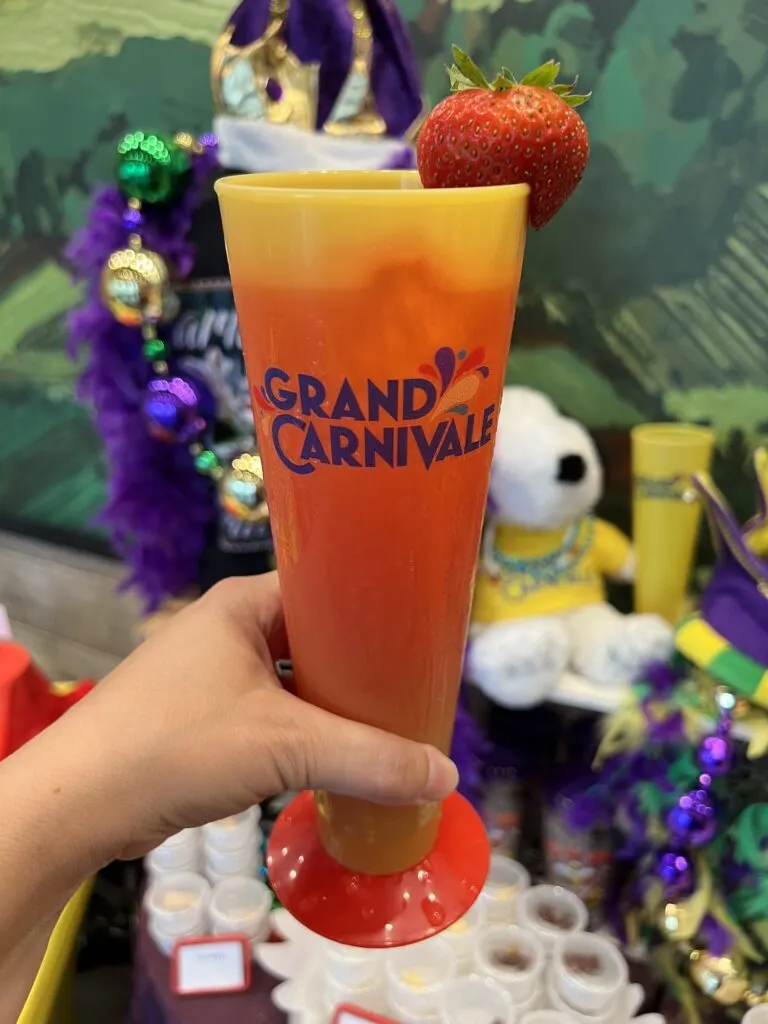 Alcoholic Cocktails are $14.99.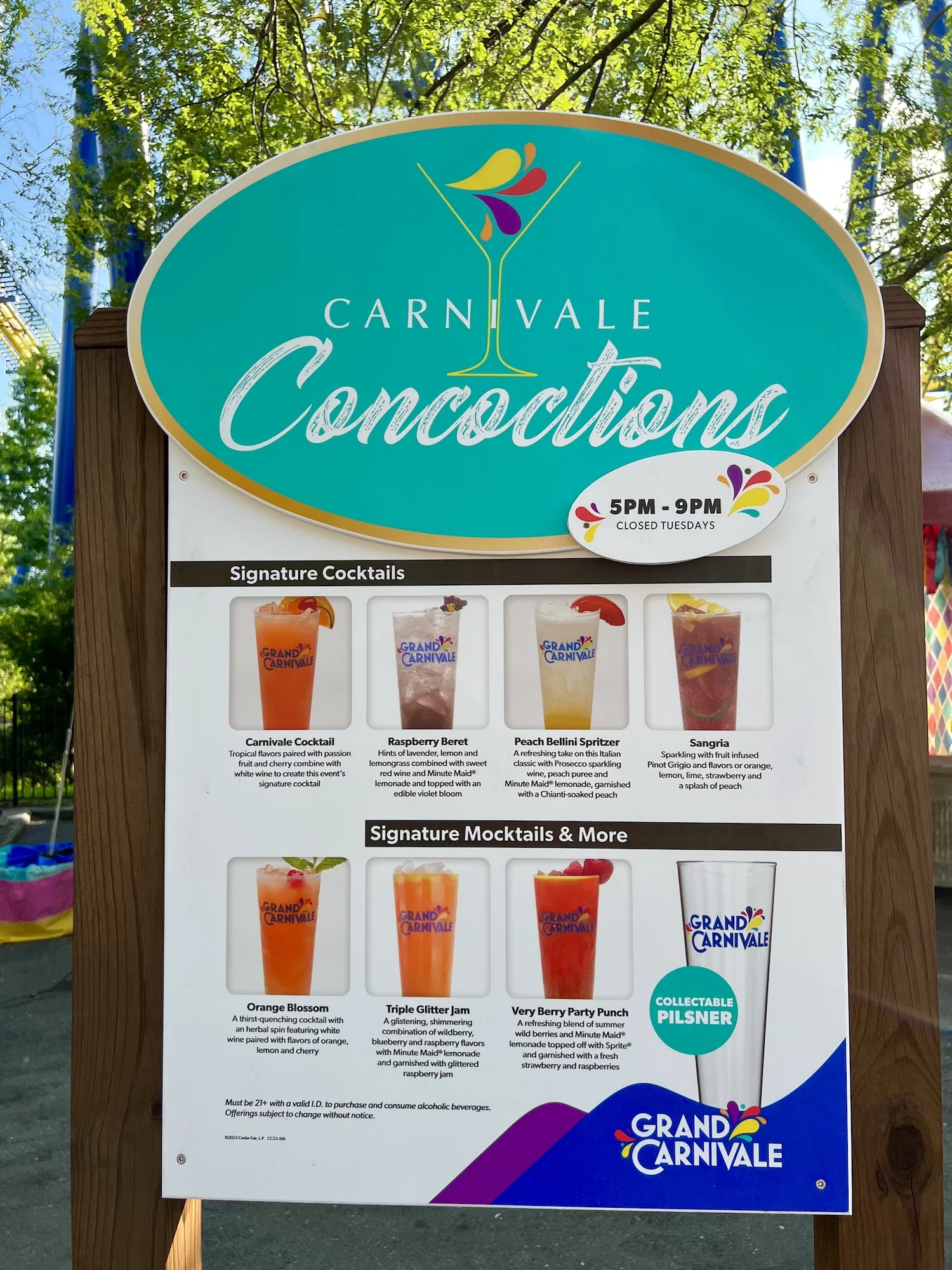 Beverages are not part of the Tasting Pass.
Helpful Tip: The drinks are not ordered in the same location as the food.
Grand Carnivale Tasting Pass
Grand Carnivale Tasting Cards give you 6 or 10 food tastings from the international foods. Buying a tasting card can save you up to $35 compared to buying items individually.
Prices start from $39.99
If you plan on tasting the entrees and meal items, compared to just the snack bites, then a tasting pass is definitely a great deal.