Is it your first time to Carowinds theme park near Charlotte, NC? If so, you probably have a lot of questions. I know we did before our first time visiting!
Carowinds is not like Walt Disney World, Disneyland, Universal Studios or even Dollywood. There are some definite differences that you need to know before you go to the theme park.
We are sharing our Carowinds Tips and Tricks that we learned during our visits. We have thrown in a few bonus tips for Carolina Harbor, their water park, too.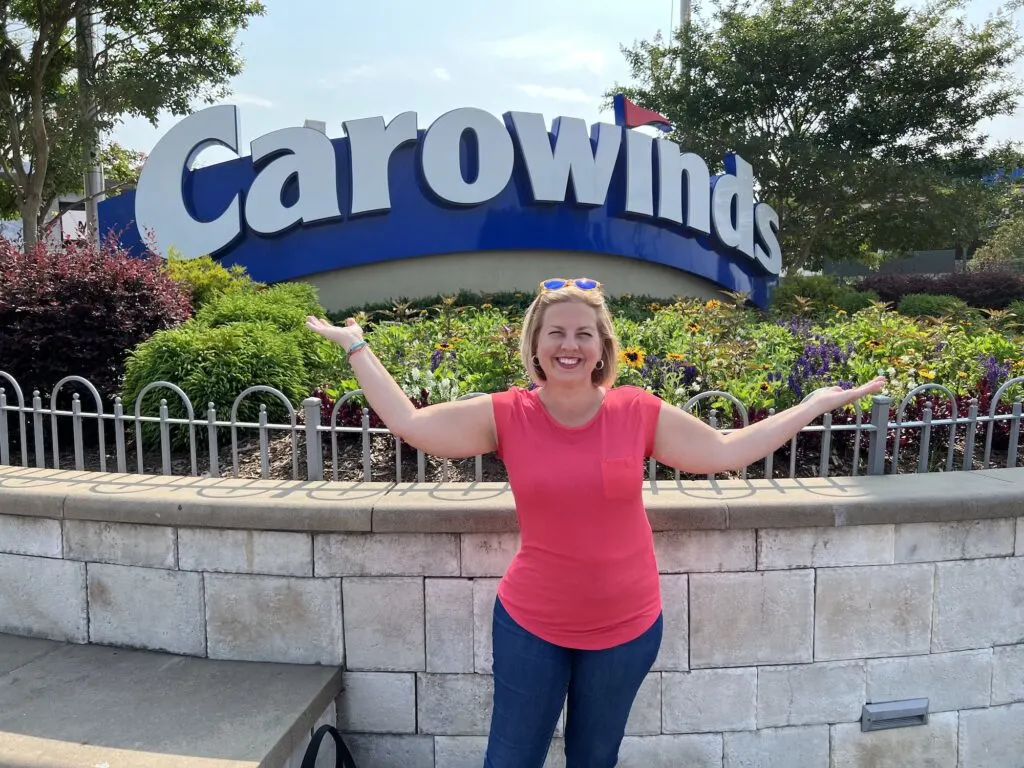 Stay On Site
When choosing a hotel to stay at near Carowinds, our top pick is the Springhill Suites by Marriott, which is on Carowinds property.
You can easily walk from the Springhill Suites to Carowinds on a flat, paved sidewalk in under 10 minutes.
This is one of the nicest hotels in our opinion on the entire Carowinds exit. Plus, you won't have to pay for parking at Carowinds when you leave your car in the Sprinhill Suites parking lot and walk.
Check out the hotel and what it looks like to walk to the theme park in our YouTube video review:
Some Ages Probably Won't Enjoy the Theme Park
If your kids are not into roller coasters (or are not tall enough) and they are too big for the kiddie rides at Camp Snoopy, they might not enjoy this theme park as much as others.
The kids section is definitely for smaller children. And most of the other attractions are high speed thrills or coasters.
That's not to say that you can't have a good time. You just might be enjoying more shows, doing a few soft adventure rides (such as Boo Busters, the Carousel and the Skytower) and perhaps playing the carnival games.
If it's during summer, you can definitely get your money's worth by visiting Carolina Harbor. That way you can enjoy some of the rides in the theme park, while enjoying a waterpark in the same day, too.
Visit During the Week
Fridays, Saturdays and Sundays are the busiest days at Carowinds. If you can choose another time to visit, such as mid-week, you will usually enjoy fewer crowds and much shorter lines.
Weekend tickets are more expensive, too. So not only will you have fewer crowds by visiting during the week, you will save money.
Go on Tuesdays
Tuesdays are generally the least crowded day at Carowinds. Unfortunately, because they are the least crowded you will also find some places closed. For instance, the Grand Carnivale special event takes place every day but Tuesdays during its limited time run in the summer.
Get an After 4 P.M. Ticket
Carowinds sells discounted tickets for admission after 4 p.m. If you want to save some money and don't need to do every ride, this can be a great deal for you.
We personally have found that the lines after 4 p.m. are not that long. The later it gets in the night, the shorter the lines get.
While a shorter day in the park might mean you don't get to do everything you want, there is also a good chance that you can see most of the attractions and rides because of shorter wait times.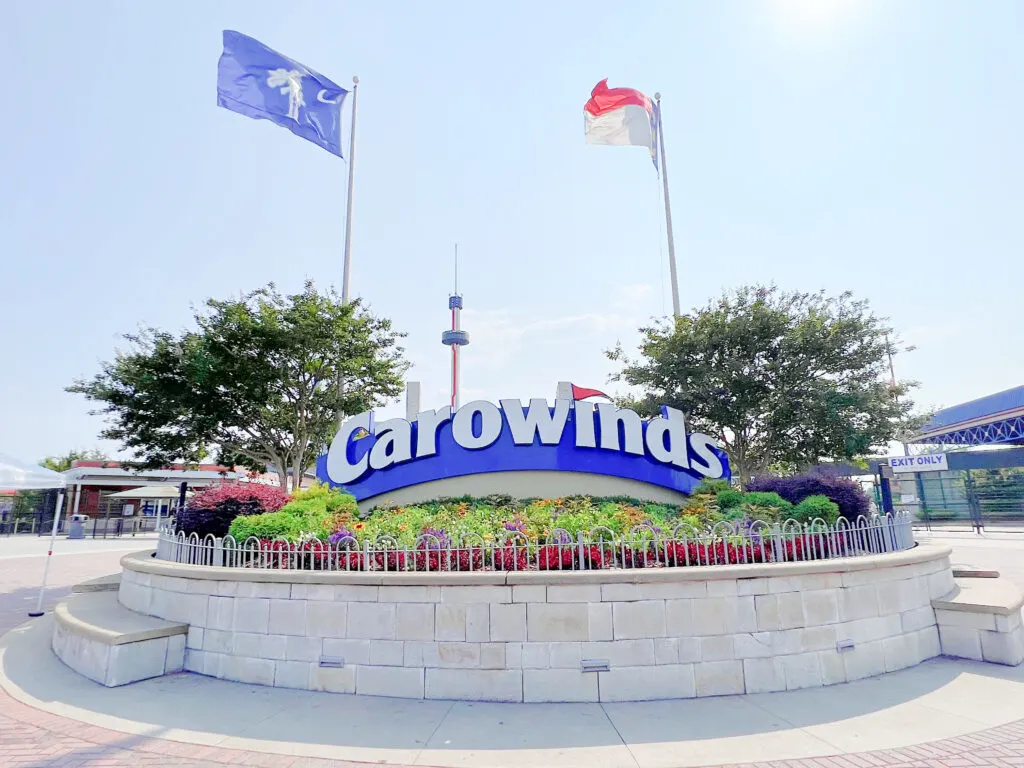 Enjoy the Water Park for Free!
A Carowinds theme park ticket also allows you entry into their waterpark, Carolina Harbor!
There is even a gate from inside Carowinds that lets you walk into Carolina Harbor without having to leave the theme park!
Be sure to bring a swimsuit, towel and other pool accessories when visiting Carowinds. The waterpark is open seasonally and weather permitting, so be sure to check before you visit.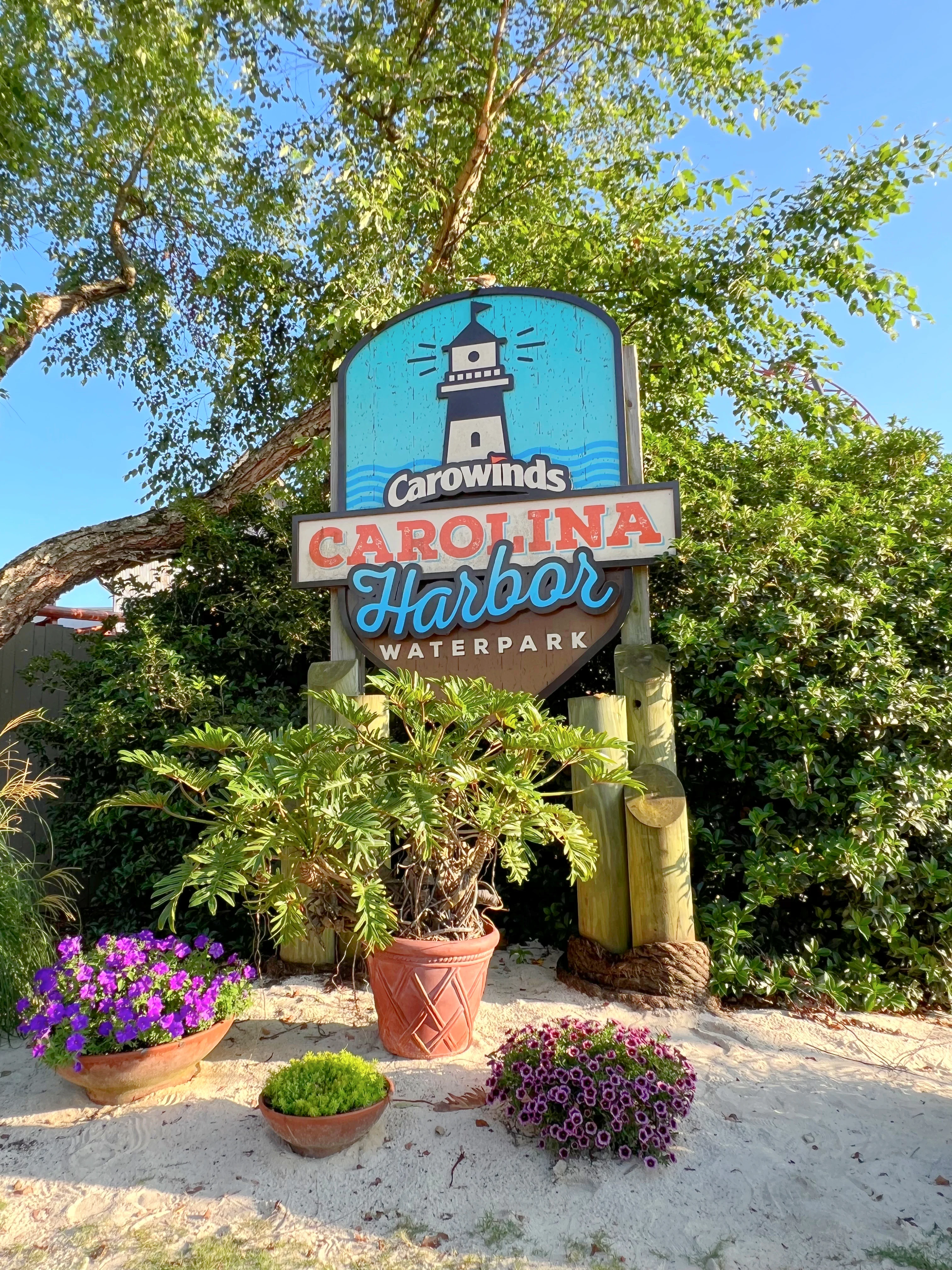 Use Season Pass Benefits
If you plan on spending at least 2 days in Carowinds during a calendar year, then it makes sense to buy the annual pass compared to two one-day tickets.
Annual pass holders can get perks such as free parking, early entry to both Carowinds and Carolina Harbor water park, discounts and bring-a-friend deals.
There are a variety of annual passes available, so be sure to see which perks make sense for you before you buy one of the more expensive passes.
There Are Two Entrance Gates
At Carowinds there are several ways to enter the park.
The most common way is to enter through the North Gate. This entrance is located closest to the ticket booth and is usually how most people will arrive at Carowinds. It is always open.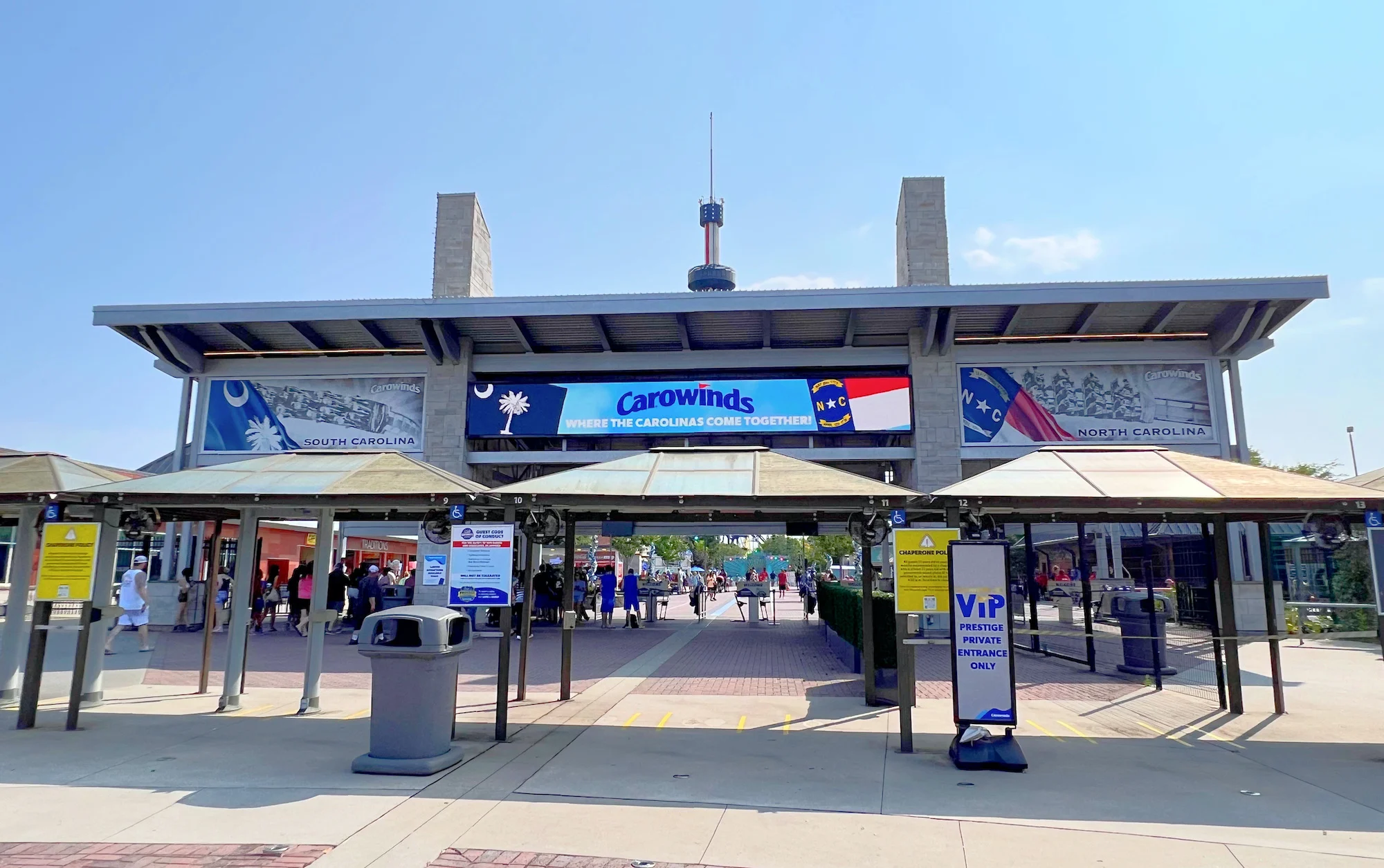 There is a South Gate entrance, as well, that is not open as often.
Entry into the theme park via Carolina Harbor water park is also possible, too.
Get Early Entry with a Season Pass
Unlike Disney World or Universal Studios, you cannot get early entry into Carowinds by staying in the onsite hotel (Springhill Suites). The only way to get early entry into Carowinds is to have a Season Pass.
Keep in mind, you will need to make sure the type of season pass you choose offers early entry. Also, there are very few attractions open during the early entry period, but it can still help you out a little bit.
You Can Bring Water Bottles (Within Reason)
While the official Carowinds policy is that you cannot bring water or drinks inside the park, it is a policy that is rarely enforced.
Bringing a water bottle or reusable bottle inside the park is generally allowed. I even asked a security guard about bringing in water and he stated that they let in water bottles, but not if you were to bring a cooler full of ice and water.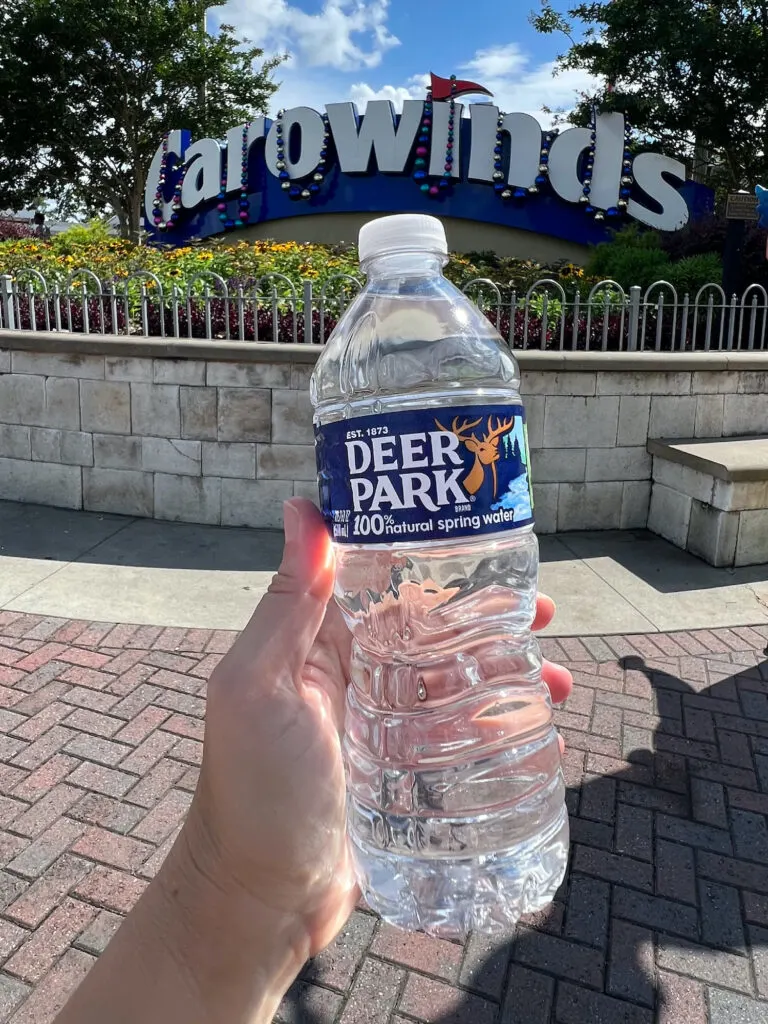 So it seems that if you bring in a personal-sized water bottle or soft drink in a plastic bottle, you will be fine. However, don't bring in a one-gallon water jug or a cooler stocked with ice and individual water bottles.
Alcohol is not allowed.
Buy The Drink Plan
Carowinds offers an unlimited drink plan that is definitely worth spending the money on!
The drink plans provide free drink refills all day using either a plastic refillable cup or a paper cup and wristband. You will need to allow at least 15 minutes in between refills.
You can pay by the day or buy a season drink pass.
Considering that a bottle of water is $4.99, you can easily pay off the drink pass when you consume at least 4 drinks during the day.
This refillable cup using Coca-Cola Freestyle Machines is similar to the Universal Studios Refillable Cups.
Fastlane
Just like Walt Disney World's Genie+ or Universal Studios' Express Pass, Carowinds has a Fastlane option to avoid the lines for a fee.
Fastlane allows you to get to the head of the line faster. However, you will need to pay for that privilege.
We have found that many days do not have long wait times, so it might be something you want to wait until the day you get there to see if you want to pay for it.
Download the App
Wait times, restaurant hours and more information are found in the Carowinds app. You will also find a park map, which can be incredibly helpful since you will not have a paper map to use.
Data Coverage is Great!
We found there to be 4 bars of coverage on Verizon, with fast speeds using data.
We never logged into Wifi, but are thrilled with how awesome the cell phone coverage is inside the park!
Ride Nighthawk Early in the Morning
If you want to ride Nighthawk, do it as soon as possible during the day. The loading process on this ride doesn't get people through very fast, which means that the lines will continue to get longer throughout the day.
Head left into the the theme park to get to Nighthawk first thing in the morning.
Ride Copperhead Strike in the Morning
Just like the Nighthawk, the loading system for Copperhead Strike causes long lines throughout the day. If this one is on your list of rollercoasters to enjoy, then get there early unless you have Fast Lane.
Copperhead Strike is located near Nighthawk in the same general area of the park.
Sweet Frog is Expensive!
You may be familiar with Sweet Frog locations at your home or elsewhere. Just keep in mind that the cost is much higher in Carowinds!
So don't load up those toppings without checking the price!
Get Free Water!
If you are on a budget, you might try to save money by not buying drinks. But that can lead to heat exhaustion, a very real problem in a theme park during the summer months.
Carowinds wants you to stay safe, so they offer free water cups all day long in their restaurants and fast food locations. You can get ice water or water with no ice.
In fact, you will frequently hear announcements in Carowinds urging you to get free water to avoid heat-related problems.
The cups are small, just so you know, but definitely important to have!
This free water program is similar to how to get free water at Universal Studios.
There Are No Paper Maps
Carowinds does not offer paper maps to guests. Everything is digital through the app, or find large maps posted on signs throughout the lands.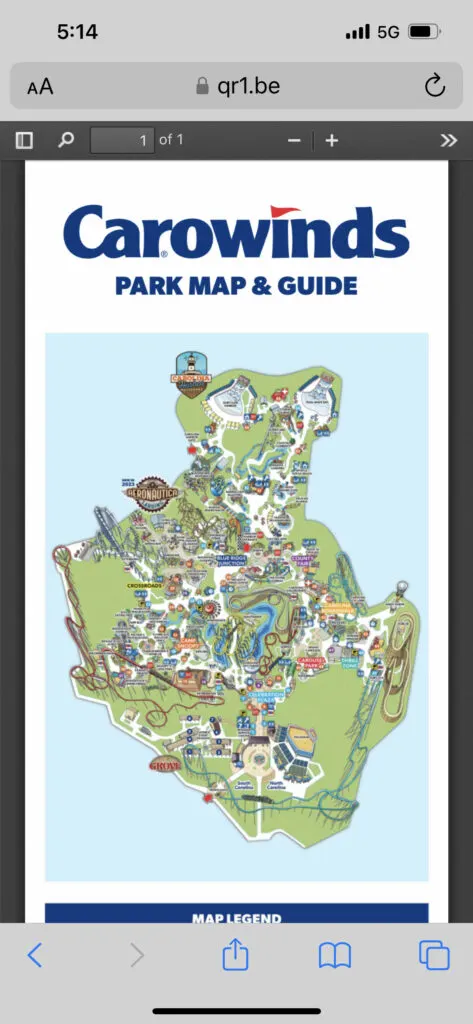 Food is Expensive
I'm used to theme park food costs at Walt Disney World and Universal Studios. However, the food costs at Carowinds seem to be a little bit higher than Disney or Universal, for more basic and less inventive foods.
For example, a bottle of water is .50 cents more at Carowinds than at Disney or Universal.
Related Post: See the food prices at Universal Studios Orlando
Be prepared for higher food prices inside the park. Good options to save money on meals are to buy the All Day Dining Pass, go back to your car to eat food that you have brought, or leave Carowinds to eat at a restaurant nearby.
You Can Bring Food (Sometimes)
While the official Carowinds policy is that you cannot bring food inside the park, it is a policy that is rarely enforced within good reason.
I asked the security personnel if I could bring in food. They said that kids snacks are usually allowed in, however, they would not allow someone to bring in a cooler or rolling bag full of food.
So while you officially can't bring in food, it seems to be a blanket policy to prevent guests from bringing in coolers or setting up picnic spots inside the park and cooking meals for their family.
Snacks, sandwiches and other small items will more than likely be allowed inside. Especially if you do not have a bag check when entering. You can avoid a bag check by not carrying metal items in your bag that will set off the alarm.
Bring Your I.D.
Carowinds has a new chaperone policy that younger guests must be accompanied by an adult. While you might not think that you need to worry about the chaperone policy if you are not visiting with kids, there is a chance that you will still be asked to show ID.
As weird as it sounds, there are multiple reports of adults trying to enter the park and being asked for their I.D., even when not traveling with children or teens and when the adults are clearly well over the age of 18.
If you are someone that likes to keep their ID in the car, just be aware that you may be asked to show proof of age when entering the park.
Avoid Bag Checks
You usually don't need to have your bag searched unless you set off the metal detector. So if you don't want to spend time in the security lines, remove metal objects from your bag or purse before entering the park.
Store Your Items in Cubbies
While you can rent lockers for the day at Carowinds, they are quite expensive.
If you need to store bags, backpacks and water bottles, there are usually cubbies or bins located near the attraction entrance/exit where you can leave your items. If there aren't cubbies available, you can usually place your items by a fence or wall while riding. (Everywhere except for Fury and Copperhead Strike, where there are lockers you will need to use.)
To make it easier to locate your belongings, consider adding a sticker or name badge to your water bottle or Carowinds reusable cup. Or have a large backpack that can carry all of the belongings, rather than lots of little bags and items that need to be stored.
Know the Rain Policy and Check the Weather
Unlike Disney's and Universal Studios' rain policy, Carowinds can shut down due to rain or inclement weather.
This can be really frustrating for guests only there for a day or who have driven quite a ways to get to the park.
While light rain generally just closes down the attractions and not the theme park, it is not surprising for the park to close early due to weather.
Often, if Carowinds closes for rain, they will issue you a voucher for another day's admission during a set period of time. Even if you have already been in the theme park for a while that day, you may receive another day's admission. However, this is NOT guaranteed.
You Can't Use Your Phone on Rides
While you can certainly carry your phone with you onto the roller coasters and other attractions if it is properly secured in a pocket or fanny pack, you cannot use your phone to record the ride or take pictures or selfies.
This is for the safety of guests, both on the attraction and those walking around below the coaster tracks.
Keep Your Keys on a Clip or In a Zippered Pocket
If you are riding the coasters, you need to make sure that your keys or key fob can't fly out of your pocket during the ride. If your keys are lost, you can't get home!
This happens more than you might think, so be sure that your keys are secured on a clip or in a zippered compartment, such as a pocket, fanny pack, neck pouch, etc.
You Will Need a Glasses Strap
If you are wearing prescription glasses or sunglasses, you will be required to wear a glasses strap to keep those items on when riding the roller coasters.
Glasses straps will not be provided, so you will need to bring your own or purchase one in the gift shops inside the park.
It is going to be WAY cheaper to bring your own glasses strap! Especially if you get this 6-pack of sunglasses and eyeglass holders on Amazon that costs just over $1 a strap.
Don't Bring Cash
Carowinds is cashless as of 2023. You will need to use a credit card or debit card for all transactions.
Still want to bring cash? You can exchange it for a debit card at kiosks located at the theme park.
Get all of the details about how to pay for items in the theme park in our guide to Carowinds payment options.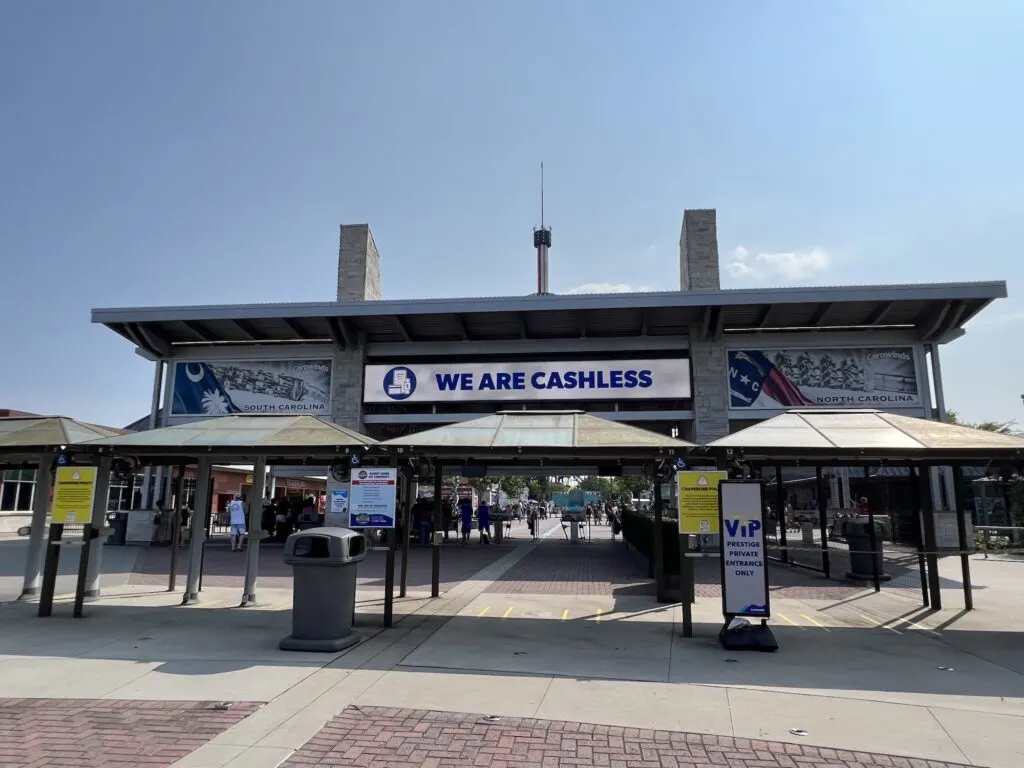 Use Parent Swap
Similar to Universal Studios' Child Swap option, this allows one adult to stay with the children on the sidelines of rides that they cannot do. Then, the parent that waited can easily get on the ride when you switch guardians with no extra wait time.
Go to Carowinds' Guest Services or Family Care Center in Camp Snoopy to enroll in the program.
Enroll in KidTrack
Worried about your child becoming lost in the crowds? Carowinds offers a KidTrack wristband in case your child wanders off. If they become separated from you, a Carowinds team member will know how to reach you.
Get the wristband at Guest Services.
Get a Height Wristband
Most of the rides at Carowinds are going to have height requirements, except in Camp Snoopy. To avoid frustration and disappointment, you can have your child measured at Guest Services and receive a color-coded wristband.
This wristband will be the same color as the height requirements that they pass on the Carowinds Minimum Height Charts so there will be no confusion as to what rides they will be able to enjoy.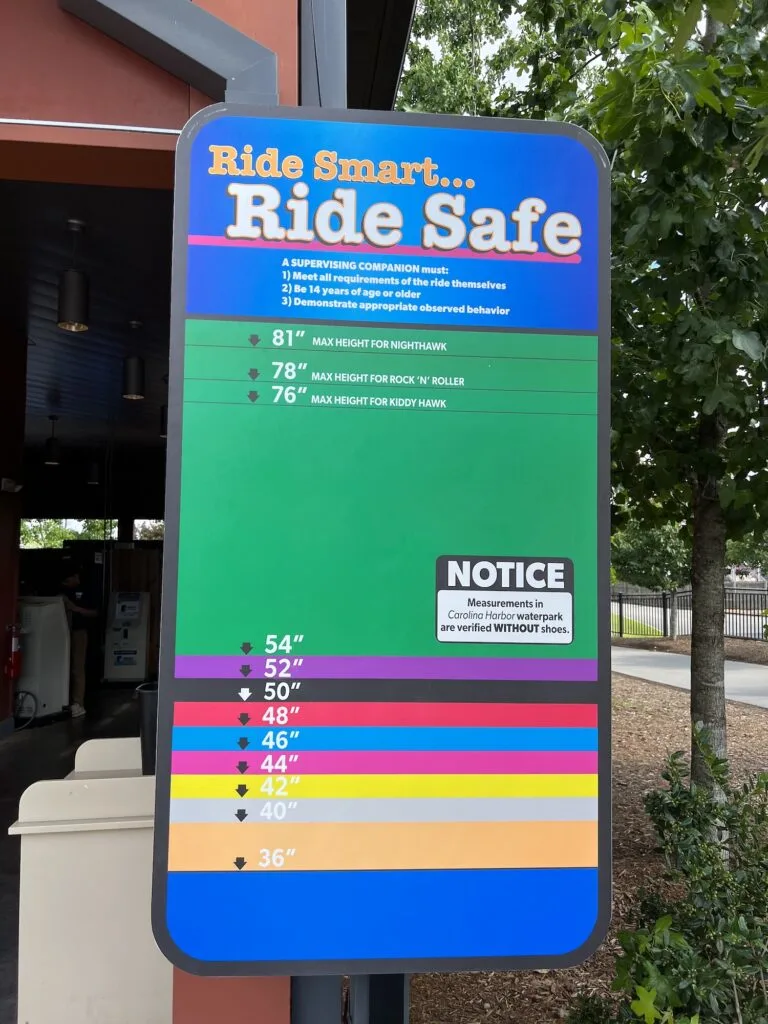 Get your wristband at Traditions at the North Gate entrance.
Pick the Best Fireworks Viewing Spot
One of the best places to see the fireworks shows in Carowinds is where County Fair and Blue Ridge Junction lands meet. This is located near Country Kitchen restaurant.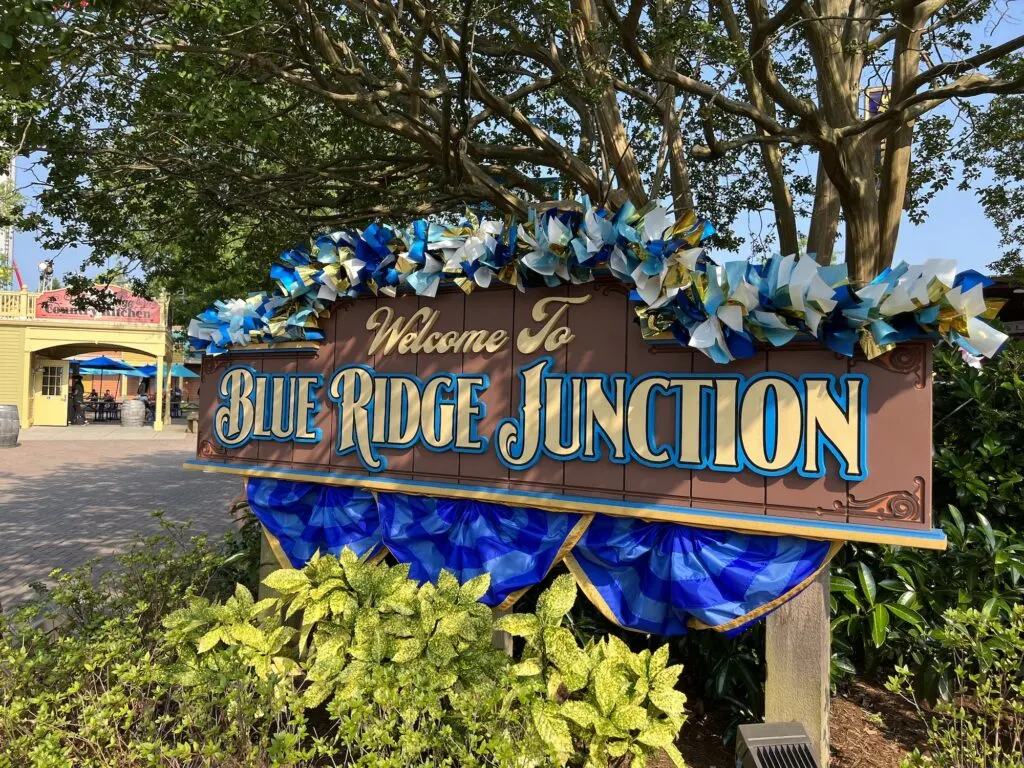 See the Characters
While there are not a lot of characters to be found at Carowinds, you will find the Peanuts characters, such as Snoopy, Lucy and Charlie Brown.
They are usually located at Camp Snoopy, but look at the app or ask a team member for details on where they are the day you visit.
Cross the State Line
Carowinds is located in both North Carolina and South Carolina, the only theme park located in two states.
You will find celebrations of the state line all throughout the theme park.
Look for the signs that have North Carolina on one side and South Carolina on the other.
Plus, be sure to look for the white and blue lines on the ground, especially around County Fair. These symbolize the state lines!
Need Assistance?
If you have special needs for boarding an attraction or standing in line, be sure to visit Guest Services who can give you a pass for assistance.
Special Diet Needs
If you need to bring food into the park because of a special diet, you may want to contact Carowinds ahead of time to get a letter stating that you are allowed food.
While food is usually allowed inside the park, especially small items such as snacks, you can rest easier if you receive an official dietary needs letter stating that you are allowed to bring in the food that you need.
Kids and Teens Need a Chaperone
A new policy that went into effect in 2023 is the Carowinds chaperone policy. Kids age 15 years and younger need to be accompanied by an adult at least 21 years of age or more when visiting the theme park after 4 p.m.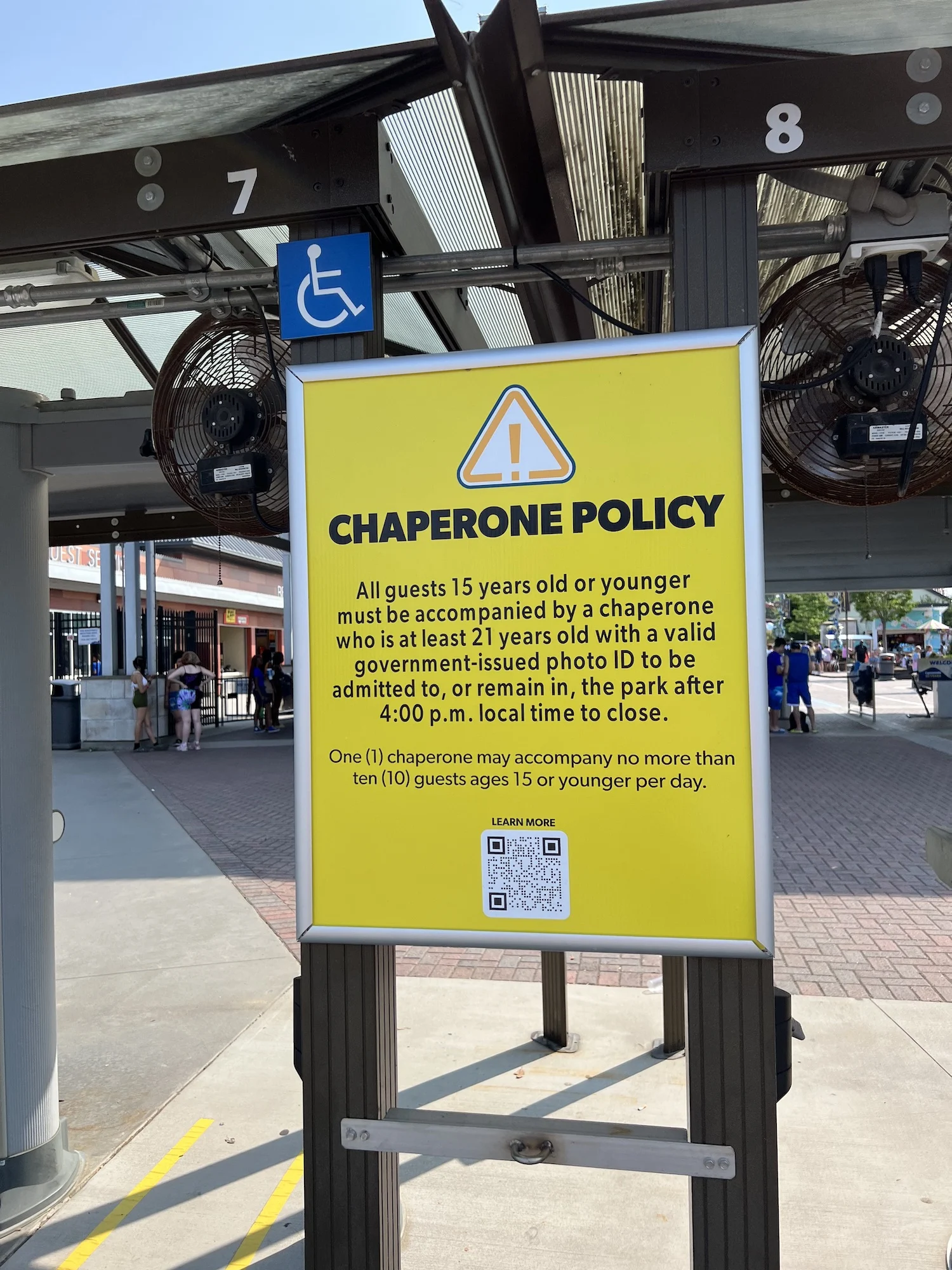 Chaperones will be required to show an ID.
Read more about Carowinds Chaperone Policy.
Bring a Locker for the Waterpark
While there are lockers available for Carolina Harbor water park, they can be expensive.
If you don't have a lot of stuff, just your phone, cards and keys, consider investing in a portable locker.
This portable lock box can be attached to your beach chair. It costs around the same price as a daily locker rental, so it is a smart investment because it can be used at any waterpark or the beach.
We recommend this portable locker in our Volcano Bay Packing List, too.
Get in a Quick Line!
Want to know one of the quickest loading lines? It is the Intimidator.
If long lines are wearing on your nerves, this one might move faster than the others!
Expect Additional Charges
You will see lots of carnival-type games in Carowinds. Expect to pay to play those games (starting around $5).
Is There a Starbucks in Carowinds?
Yes, there is a large Starbucks coffee shop inside Carowinds. You will find Starbucks immediately after you enter Carowinds via the North Gate. It is located by Plaza Stage.
Not Everything Will Be Open Sometimes
We hate to share this tip with you, but it is becoming more evident in 2023. Not everything is always open in Carowinds, and the theme park often shuts down early, either because of weather or low crowd levels.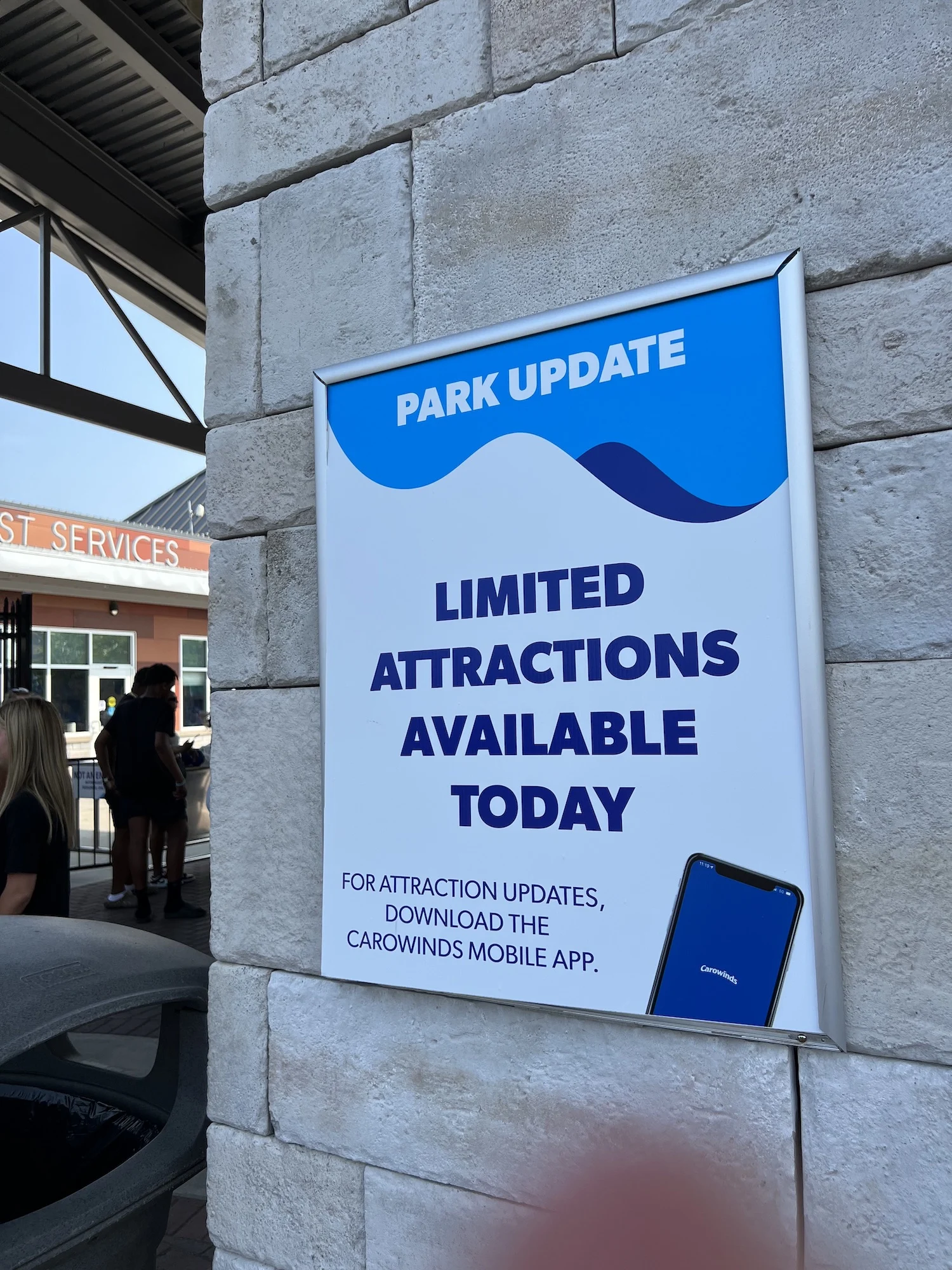 Your favorite roller coaster might not be running, or there might only be a few food locations serving meals.
Keep this in mind before your visit.