Yes, you can bring food into Universal Studios theme parks. You may want to take your own snacks either to save money, for picky eaters, or because you have medical requirements for certain types of foods.
While you can bring food to Universal Studios Orlando, you cannot bring whatever you want. There are certain limitations you need to know about before arriving at the security check at the theme park gates.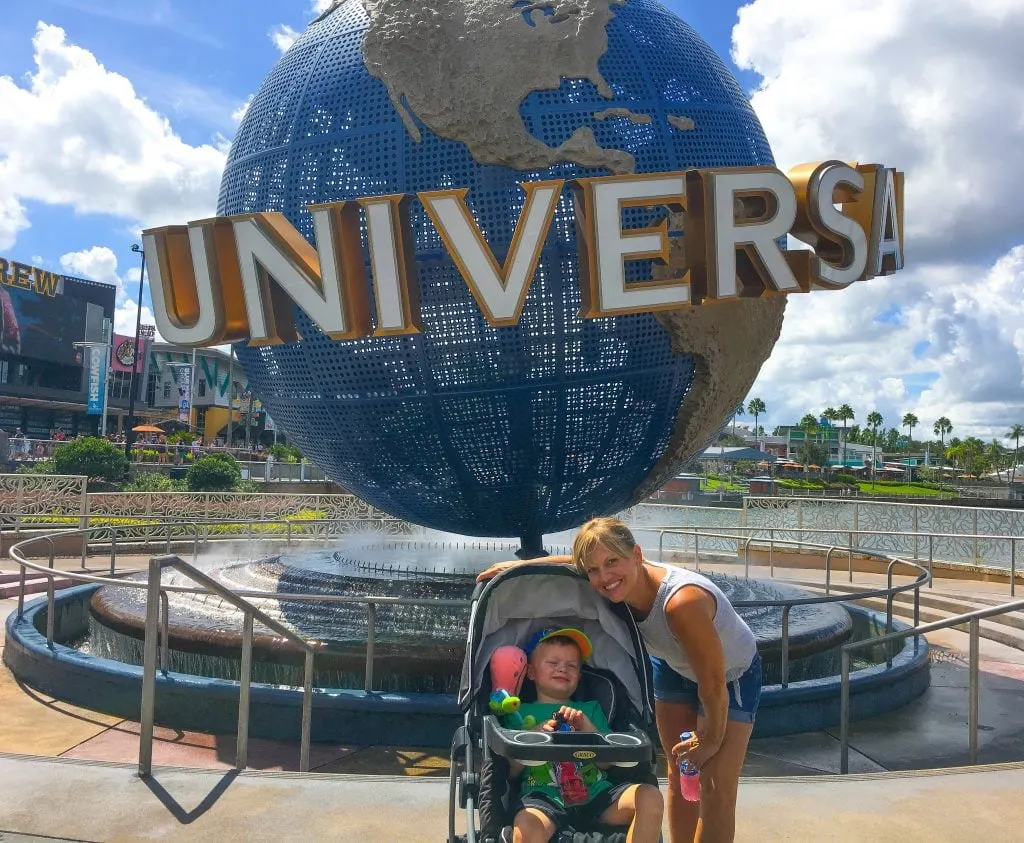 The Official Universal Studios Snack Policy
The official policy for bringing food into Universal Studios Orlando is:
Acceptable Items
Bottled water (maximum of 2 liters)
Small snacks that do not require heating
Any food required for medical purposes and medically-indicated nutritional supplements
Any food required for special dietary needs
Baby food/baby formula
Soft-sided insulated bags no larger than 8.5″ wide x 6″ high x 6″ deep
Prohibited Items
Glassware or glass containers
Open containers or drinks containing alcohol
Hard-sided coolers
Soft-sided coolers larger than 8.5″ wide x 6″ high x 6″ deep
Picnic lunches; any food that requires heating or refrigeration; folding chairs
Here are some examples of bringing in foods that adhere to the official Universal Studios snack policy, as we interpret the policy:
You can bring baby food, but it can't be in a glass jar
If you need a special lunch due to food allergies, you can bring it in but it cannot need to be microwaved
A large pizza in a cardboard box is not considered a small snack or a nutritional supplement
Gluten-free chips, dairy-free chocolates or hard-boiled eggs in a small insulated bag would be appropriate for medical purposes, as these are foods that can be considered special dietary needs
Be sure to see our huge list of the 67 best snacks for amusement parks for some great ideas of what you can bring!
Benefits of Bringing Your Own Food
There are many reasons why you might want to bring your own food or drink into Universal Studios. We never travel to a theme parks without bringing at least a few items with us. Here's why:
Save Money
All theme parks are expensive, not just Universal Studios. Food inside theme parks is very high priced, because they know that you can't just leave to go to McDonald's for a cheap lunch!
While you might choose to eat meals inside Universal Studios theme parks as part of your experience (such as the fun restaurants in the Wizarding World of Harry Potter), snacks don't have to be as magical!
Since each snack can be at least $3-5, that adds up quickly for a family!
See all of our tips for saving money on food at Universal Orlando. This is just one of our favorite old-fashioned ways to save money at theme parks!
Related Posts:
Save Time
Standing in line to order snacks, and then waiting on them to be handed to you, can take up a lot of time in your day. That's time wasted and money lost by not being able to see more attractions or shows.
It's better to be able to carry snacks with you to eat when you want.
This is just one of our 40 Universal Studios Tips that will save you lots of time and money!
Eat In Lines and on Transportation
Don't bother wasting time munching on snacks while sitting outside an attraction or show. If allowed, it is always better to eat your snacks or drink your coffee from the theme parks while you are waiting in lines or sitting in a theater waiting for a show.
Snacking on foods while on a hotel shuttle bus to Universal Studios or a boat also helps you save time when you are in the theme parks.
Dietary Restrictions / Allergies
Many people don't have the luxury of being able to eat anything they see. Food allergies, food intolerances and special medically-needed diets can make buying food in a theme park a bit of a challenge.
While Universal Studios is very accommodating for food allergies, it doesn't mean that it is always easy or convenient to find suitable snacks at food carts or in gift shops. Just because foods are available doesn't mean they are available where you are in the theme park or at that time.
If you need specialty foods, be sure to pack at least a few snacks with you just in case you can't find what you need.
How to Pack Snacks for Universal Studios
Packing foods for a day in the theme parks is a little different than other travel days. Here are some important tips to keep in mind.
You will also want to pay attention to the Universal Studios Bag Policy so that you don't bring a bag that is not allowed.
Florida Heat Can Ruin Food
The heat and humidity of Florida can make foods spoil quickly at any time of the year. Keep this in mind when choosing snack foods to bring or buy.
For instance, packing a chocolate bar to eat as a snack would be a nightmare! It would be melted by the time you walked from the parking lot.
However, chocolate wafer cookies would be fine and will indulge your chocolate craving.
If you bring foods that don't hold up to heat well, such as cheese, yogurts or fruits, you can pack them with a small ice pack in a small cooler.
Ice packs are great to put on your forehead, wrists or neck to help cool down after you don't need them to chill your food.

Also, be sure to check out our DIY magical cooling spray.
A collapsible cooler bag, like this one, is great for keeping foods cold with an ice pack because you can roll it to be smaller after you are done eating the foods. It also doubles as a tote bag and purse.
Walt Disney World allows coolers that are much bigger inside its theme parks. If you are traveling to Disney, you will want to see their official food policy rules which are different than Universal Studios.
A thermos is another great way to keep foods cold. Consider putting frozen grapes or string cheese slices in an insulated water bottle to keep items cold without the need of an ice pack. You can later fill it with ice water after you've eaten your snacks.
Related Post: Best Bags for Universal Studios
Freeze Foods When Possible
Freezing some types of foods is a good idea when packing snacks for the theme parks. Your foods will stay chilled and fresh even if it's hot.
Plus, the frozen foods can act as a small ice pack to keep other foods cold, too!
During the day, your foods will naturally defrost so they won't be frozen by the time you eat them, just cold.
Some good examples of snack foods that you can freeze are:
Grapes
Strawberries
Cherries
Cookies
Brownies
Muffins
Use Zip Top Bags
Zip-top bags, such as Ziploc bags or reusable Stasher bags, are perfect for portioning food and keeping it tidy.
These Stasher snack bags are absolutely incredible if you want to be eco-friendly and have reusable bags that can be washed.
This way you can buy a large bag or box of food in bulk and put it into small containers to save money.
It's a smart idea to keep all of your snacks in a bag, just in case they open. You don't want a messy backpack or purse filled with cookie crumbs or applesauce.
Buy Individually Wrapped Items
Sometimes it just makes sense to buy individually wrapped items, such as lunchbox-sized bags of chips and pretzels. Or wrapped brownies and pastries.
Perhaps you are packing food for a school group and parents don't want you touching their kid's food.
Or maybe you find a deal where snack packs are cheaper than buying the same amount of food in big bags.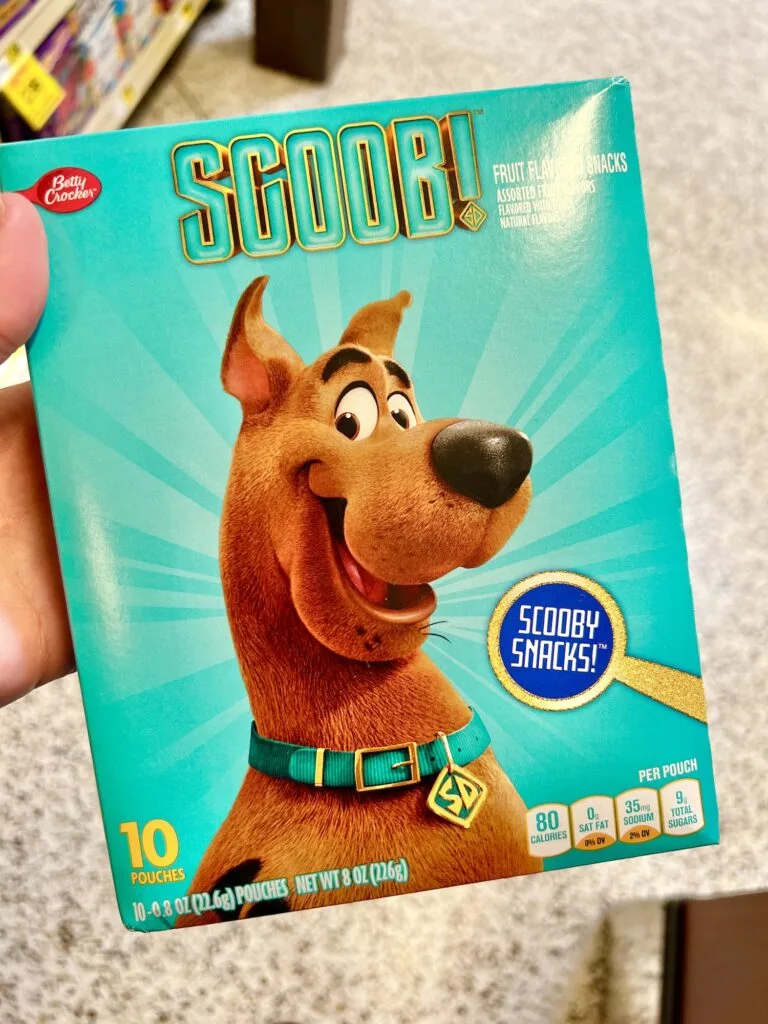 One of the biggest reasons for buying individually wrapped items is that they can help you not to use your hands while snacking. You will be touching a lot of surfaces in the theme park and your hands can have lots of germs.
Foods such as squeeze pouches, cheeses and wrapped brownies can be eaten out of the package without needing to hold the food in your hand.
Pack the Night Before
No one wants to be packing small bags of chips first thing in the morning when everyone is anxious to get on the roller coasters.
Save yourself hassle by packing foods the night before. This includes figuring out who is going to be carrying what foods and in what bag.
Pack Snacks That You Like
This is not the time to start eating healthy if you don't already eat that way. For instance, don't pack your kids carrot sticks to eat if they enjoy brownies as their snack at home.
Buy the foods and the brands that you already know and love.
However, add in some special treats for your vacation, too. That might mean sweets if your kids don't eat a lot of sweets. Or a food item that you wouldn't eat at home because it costs too much. This way you and your family will feel like you're not missing out on not buying snacks in the theme park.
Bring Hand Sanitizer or Cleaning Wipes
Your hands will be dirty and germ-y after time in the theme parks. If you can't easily get to a restroom to wash your hands, you will need to have some germ-killing hand sanitizer or antibacterial wipes with you to clean hands before eating, especially if you are snacking while in lines.
Where to Buy Snacks for Universal Studios Theme Parks
If you are driving or are local to Universal Orlando, it's best to buy foods at your grocery store and bring with you. That way you can get deals and sales on the food that you buy.
However, many people fly to Orlando to visit Universal Studios and don't have a lot of room to bring foods. Here are some great places to purchase snacks for the theme parks.
Walgreens or CVS
These pharmacy and convenience stores have a huge selection of foods, especially the locations beside theme parks.
If you have a loyalty account with either store, you can earn points and cash back just like normal. You might also have some rewards points you can use on the food.
Nation-wide sales are almost always available at Walgreens or CVS locations in major tourist areas, so you can score some great deals.
Walmart
You can buy tons of stuff at Walmart. Everything from souvenirs to sunscreen to groceries.
There is a Wal-Mart on Turkey Lake Road near Universal Studios.
They do have delivery to your hotel via Walmart Plus. You will need to meet the delivery person in the hotel lobby if you choose delivery.
Pro Tip: If you don't already have Walmart+, you can do a free 30-day trial to use while in Orlando.
Target
Another favorite is Target. Many travelers from outside of the United States, including Canada and Europe, love to go to Target to shop for clothing and souvenirs because the store is not located in their country. Stock up on foods while you are there.
The closest Target to Universal Studios is located at the Mall of Millenia exit on I-4.
Publix
The grocery store that Floridians use, Publix has a huge array of foods at great prices. Their sales are awesome and you can get a lot of great deals.
There are two Publix locations on Sand Lake Road near Universal Studios. Plus a lot more Publix stores everywhere throughout Florida.
Whole Foods
For organic and more natural foods, there is a Whole Foods location on Turkey Lake Road.
Dollar Tree
An excellent place to buy snacks. It might not always be as cheap as in a grocery store, but it is convenient. There is a Dollar Tree in the parking lot of the Walmart on Turkey Lake Road.
InstaCart or Food Delivery
Have food delivered to your hotel via food delivery services such as Instacart. You will need to meet the delivery person in the lobby of your hotel to accept delivery.
Instacart works for Publix grocery stores.
Amazon Delivery
If you can receive Amazon packages at your hotel, you can have food shipped to your room or delivered with same day delivery via Amazon Fresh.
These are the best ideas for how to bring food and snacks into Universal Studios to save money, time and eat healthier. Have fun!