Whether you are looking for a fun day of shopping away from the theme parks, trying to escape a rainy day in Orlando or love the thrill of the hunt for a great bargain, Orlando's outlet malls are a destination unto themselves.
Believe it or not, Orlando has been listed among the best cities for shopping in America, right up there with New York City and Los Angeles!
Many overseas visitors come to Orlando's outlet malls to buy designer goods that are not available in their own country. It is not uncommon to see the luggage sections of the stores around the theme parks empty because international visitors buy extra luggage and stuff it with all of their outlet purchases to bring home!
If you are ready to go shopping, these are the Best Outlet Malls Near Universal Studios Orlando.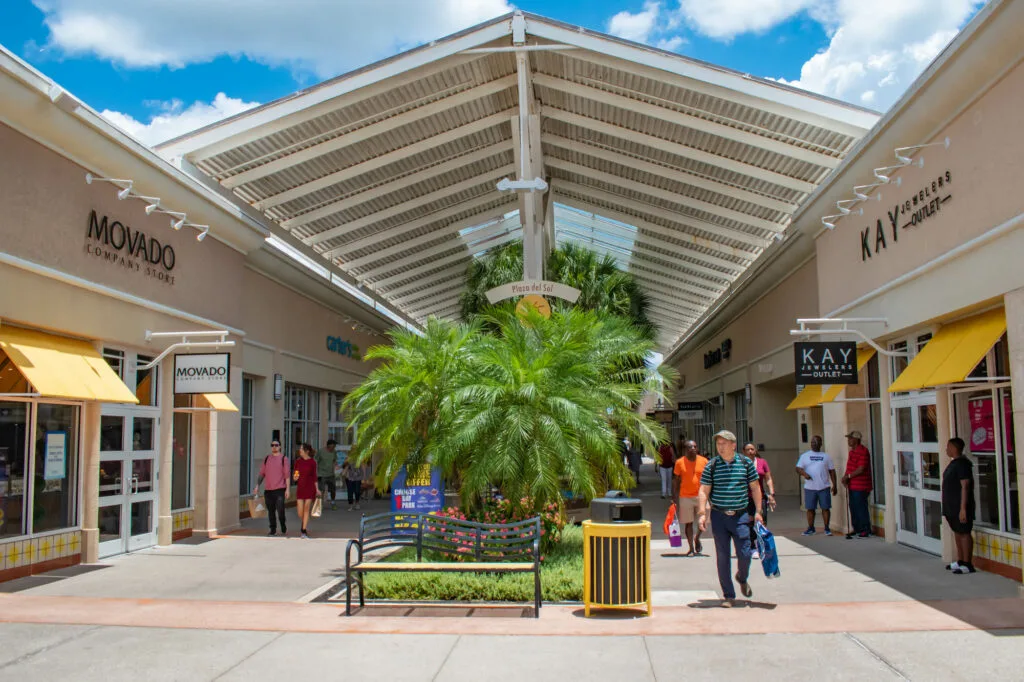 Love shopping? Then see our list of the best things to buy at Universal Studios!
Orlando International Premium Outlets
Just 5 miles from Universal Studios, the Orlando International Premium Outlets has all of the designer names that you want to shop. Plus plenty of budget-friendly shopping, too.
There are 180 stores in this outlet mall. If you can't find something that you like, you're not trying hard enough!
This is Florida's largest outlet shopping destination at 773,586 square feet!
This location is almost similar to the Orlando Vineland Premium Outlets on Vineland road.
Orlando Vineland Premium Outlets
Located near Disney Springs, the Orlando Vineland Premium Outlets have 160 stores.
With a location near Disney World, The Disney Character Warehouse store at these outlets is among the most popular destinations.
If you ever wondered where all of the excess Disney World merchandise goes that isn't sold, wonder no longer! It goes to these outlet stores (also found at the Orlando International Premium Outlets location, too).
While I love this location, it can be confusing getting there with traffic. The turn lanes are often congested. And once you turn down Vineland road, there can be a lot of traffic. Especially at times when the nearby Catholic Church has services letting out.
While there is a food court at the outlets, we suggest getting a meal at the restaurants located immediately after turning onto Vineland, such as Bahama Breeze or BJ's Restaurant & Brewhouse.
Lake Buena Vista Factory Stores
Another outlet store complex in Orlando is the Lake Buena Vista Factory Stores.
Located 8 miles from Universal Studios, you will get free store-front parking at these outlet stores.
If you don't have a car, don't worry. There is a free shopping shuttle to and from select hotels in the area.
Most of the hotels with the free shuttle option are in the Disney area, but if you are staying at one of these hotels, you won't have to pay for a ride share service.
There are 50 stores at Lake Buena Vista Factory Stores, which is less than at the Premium Outlets, but that means that it is usually not as crowded.
The Lake Buena Vista Resort Village & Spa is located 30 feet away. If you are staying at this condominium hotel resort, you can just walk to the outlets!
Does Universal Studios Have an Outlet Store?
No, Universal Studios does not sell their discontinued or excess merchandise in an outlet store.
Walt Disney World sells their merchandise at The Disney Character Warehouse locations, but Universal doesn't have outlet stores.