While pictures and memories are one of the most cherished parts of a Universal vacation, let's be honest. It's nice to have some Universal Studios souvenirs to bring home, too!
Universal souvenirs can be expensive, just like at any theme park. So unless you have an unlimited amount of cash to spend or a credit card with a high limit you don't mind maxing out, you will probably need to have some type of budget when it comes to buying Universal Studios merchandise.
Our list of the Best Things to Buy at Universal Studios works at both Universal Studios Florida and Universal Studios Hollywood. Keep these ideas in mind as you walk through the Universal Studios store or the gift shops at the exits of Universal Studios rides.
Because you know every ride in an Orlando theme park has a gift shop at the end! LOL
T-Shirts
T-shirts are one of the favorite souvenirs to buy at any destination, and for good reason!
Not only are many of the t-shirts exclusive to the theme parks, but you can wear them for years to come.
Which means that they really are an investment in your wardrobe, right?!? LOL
Souvenir t-shirts truly are one of the items that are used the most after leaving Universal Studios, which makes the money spent on the apparel a smart investment.
Anything Butterbeer
Butterbeer is unique to The Wizarding World of Harry Potter at Universal Studios and you can't officially find it outside of the theme parks, unless it is at official Harry Potter themed destinations.
Which makes anything related to Butterbeer a unique souvenir that you will want to get if you are a Harry Potter fan.
A great souvenir that will also save you money is the reusable mugs at Universal Orlando. Purchase a Butterbeer reusable mug and you can save money on your drink refills while you are using it. It is a great way to cut food costs at Universal Studios.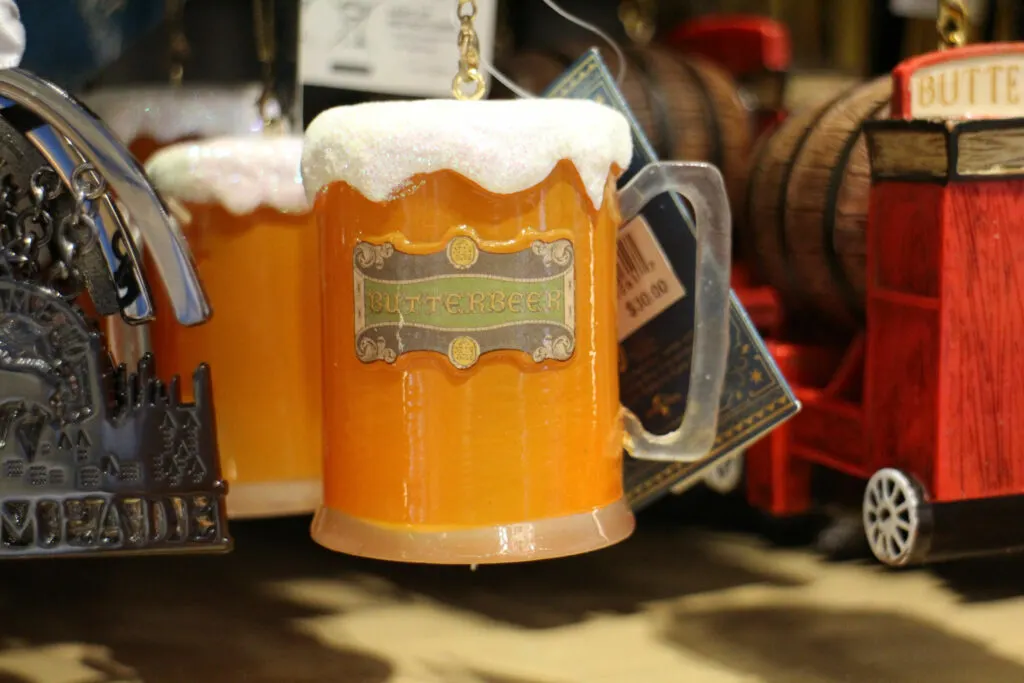 Related Post: Copycat Butterbeer Recipe to Make at Home
Christmas Ornaments
Many people love collecting Christmas ornaments from the places that they visit each year. If you have a Christmas tree full of travel memories, buy an ornament and personalize it if you would like. Be sure to see our money-saving tip below for unique ornaments!
Key Chains
A key chain can be used every day to carry your house keys or car keys at home.
We have another smart use for keychains, though. Use them as inexpensive Christmas ornaments!
Key chains are usually relatively inexpensive, compared to traditional Christmas ornaments. Check out our guide for how to turn key chains into ornaments to save money and get unique decorations.
Insider Tip: Use the package delivery service if you are staying at a Universal Studios hotel. You will be able to buy souvenirs during the day and have the store deliver them to your hotel at no cost to you. It's much easier than trying to carry the bags all day and needing to put them in lockers at each ride.
Postcard From the Owl Post
You might not need to spend a lot of money on this souvenir if you bring your own postcard and stamp from home!
Mail a postcard, letter or even a package from The Owl Post in The Wizarding World of Harry Potter for a special cancellation stamp.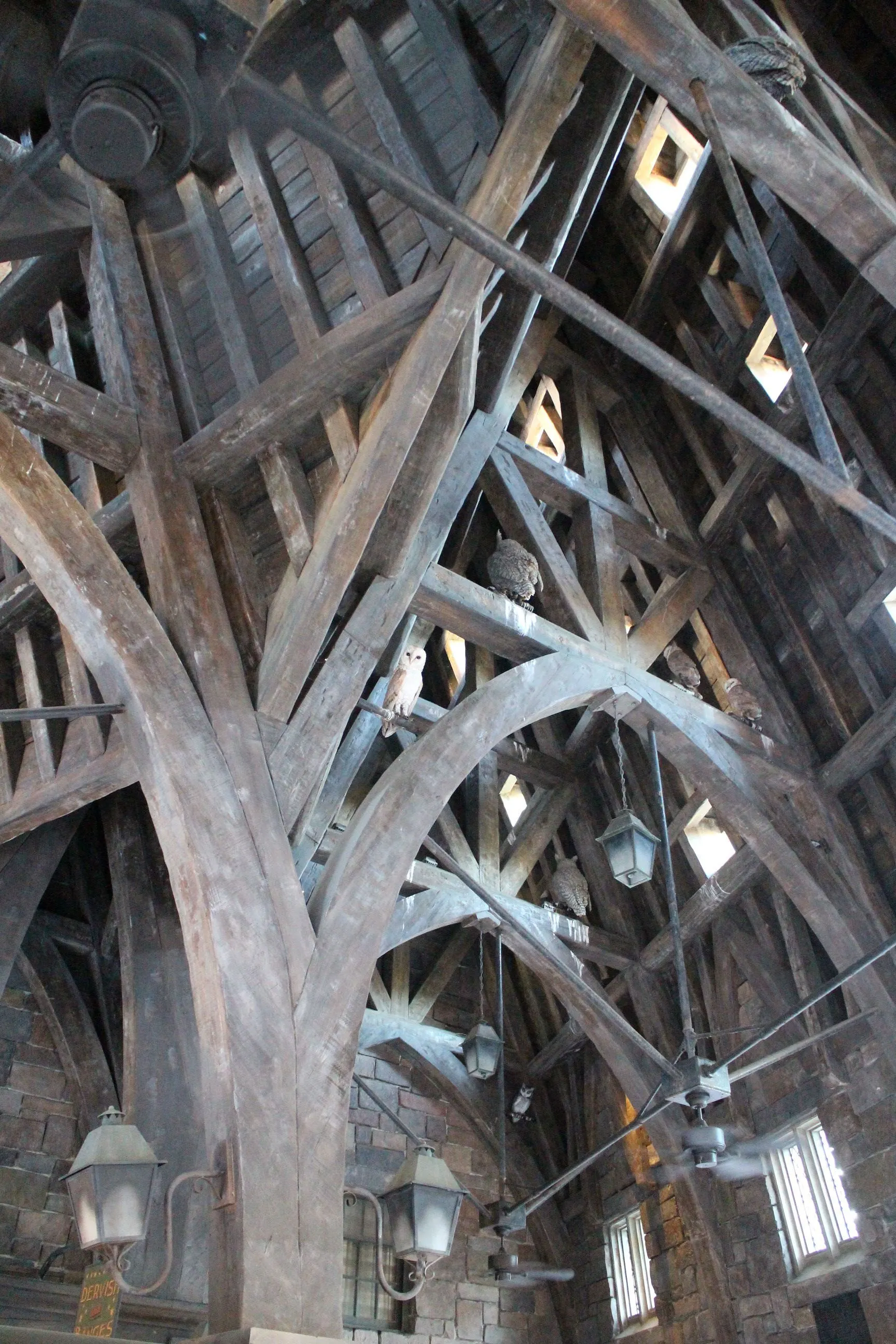 It is a great item to put in a scrapbook or souvenir box.
This is one of the cheapest souvenirs you can get at Universal Studios, which is great if you are sticking to a budget. Just keep in mind that postcards can be expensive when buying in the theme park and you might need to buy a pack of them, rather than just one or two. So pick up a postcard beforehand at the airport or in a drug store to bring inside the parks with you.
There have been some instances when postage stamps weren't readily available, so it is wise to bring some postcard or standard stamps with you, as well, to save time and money.
Gringotts Bank Notes
One of the best things to do in Diagon Alley is to get wizarding money at Gringott's Money Exchange.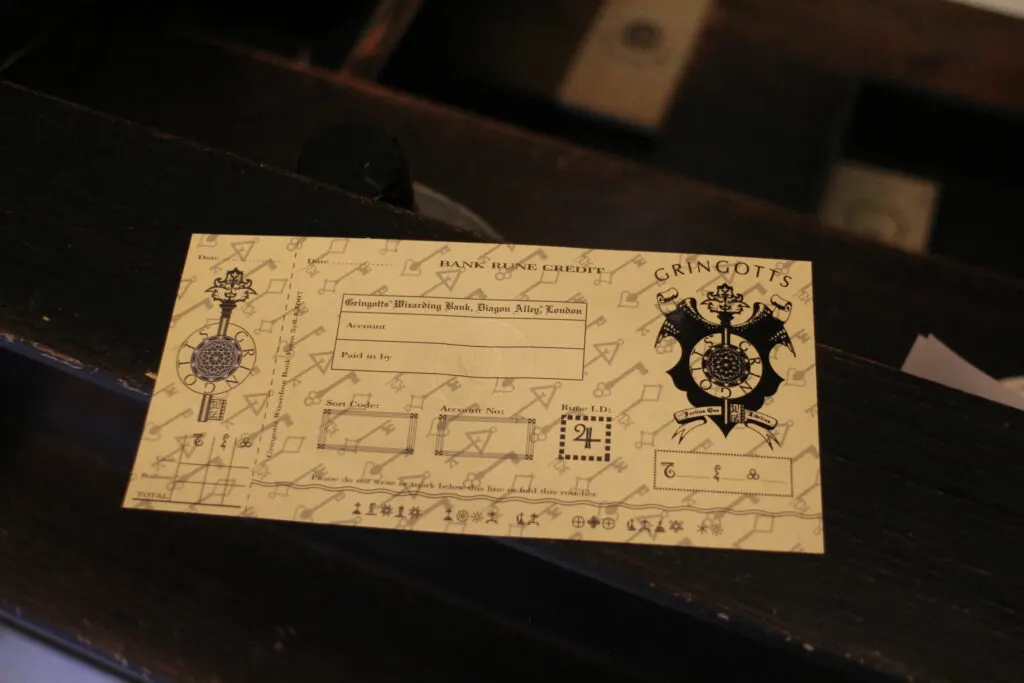 Exchange your muggle money of U.S. currency into Gringott's Bank Notes. This can be done in denominations of $10 or $20.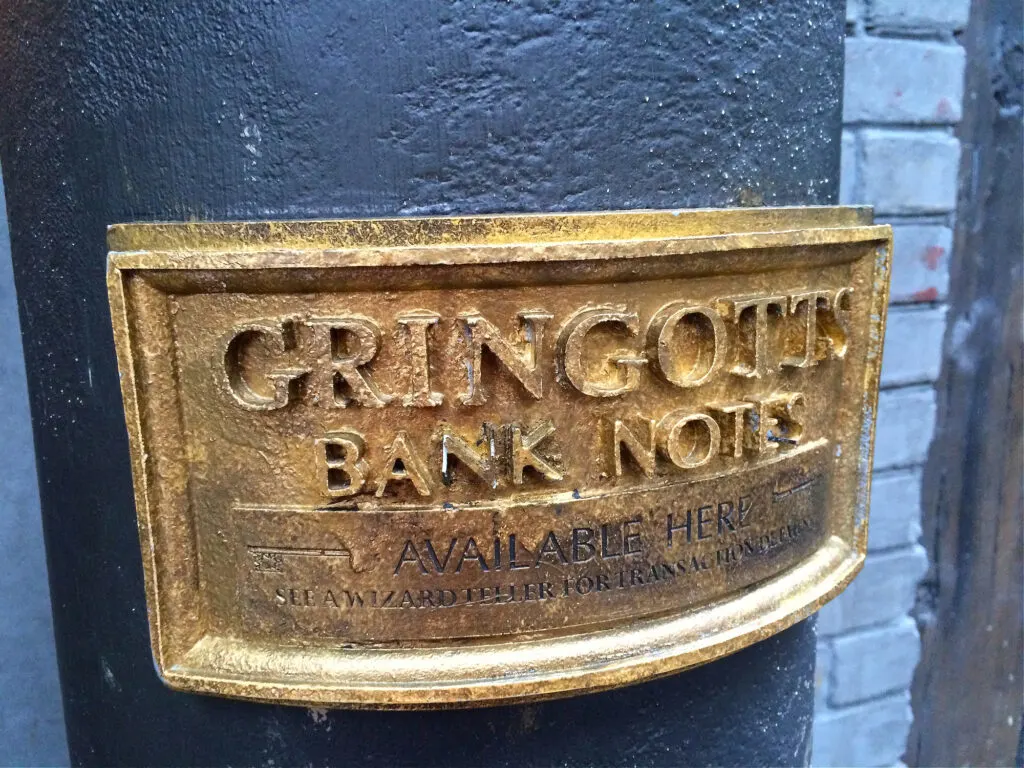 The Gringotts bank notes can be spent like cash inside Universal Studios theme park.
However, you will probably want to keep a bank note as a souvenir for your scrapbook. It is a one-of-a-kind item that you can't get outside of The Wizarding World of Harry Potter!
This is just one of the 33 things to do in The Wizarding World of Harry Potter that you don't want to miss!
Popcorn Buckets
Not only do the refillable popcorn buckets come with a delicious snack, they are also cute as a souvenir!
Refillable popcorn buckets are constantly changing in design. We love the different Minion buckets that are usually available.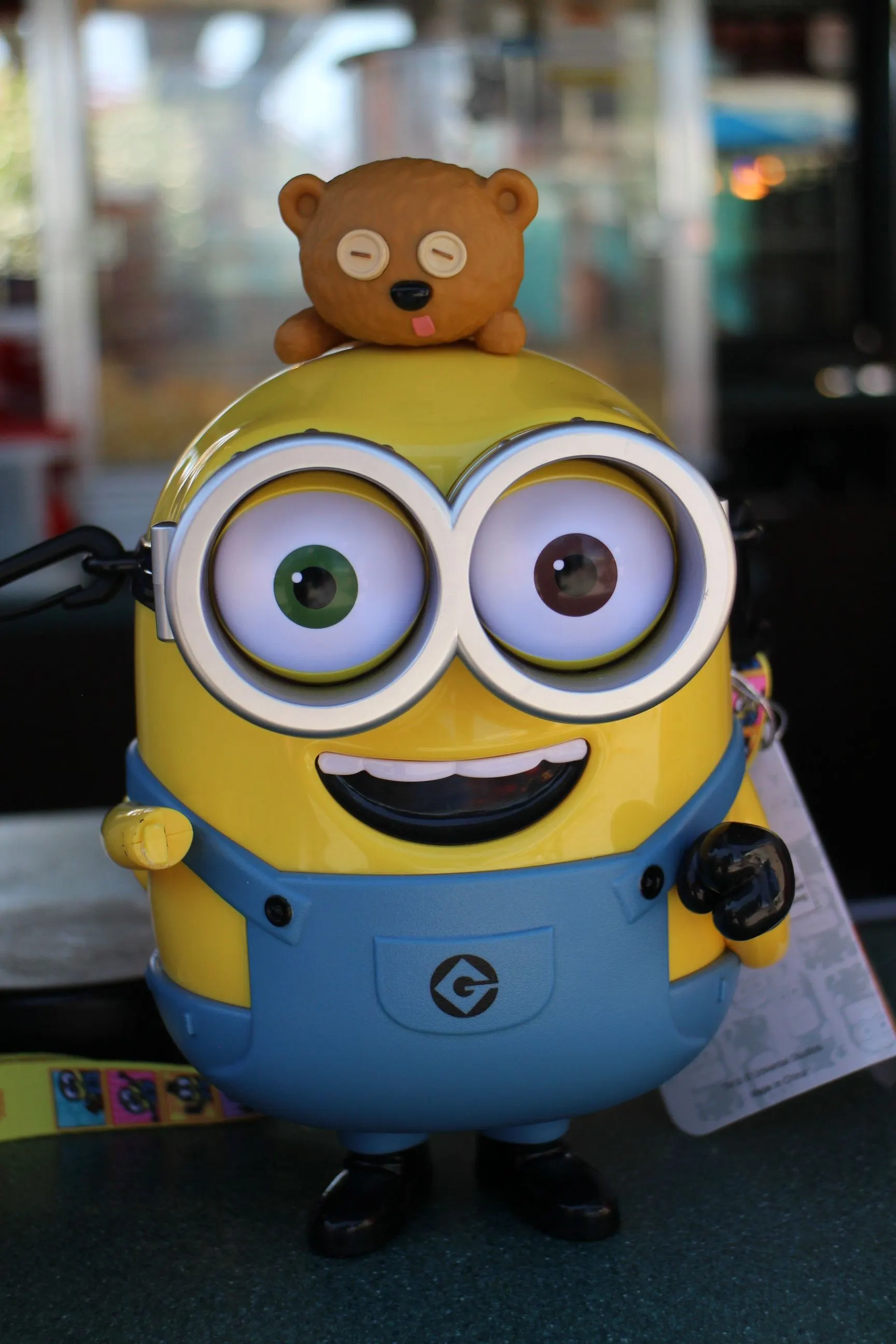 Even the standard popcorn buckets make great souvenirs. This is something that you can use at home as storage bins, or bring it to the beach like a sand bucket!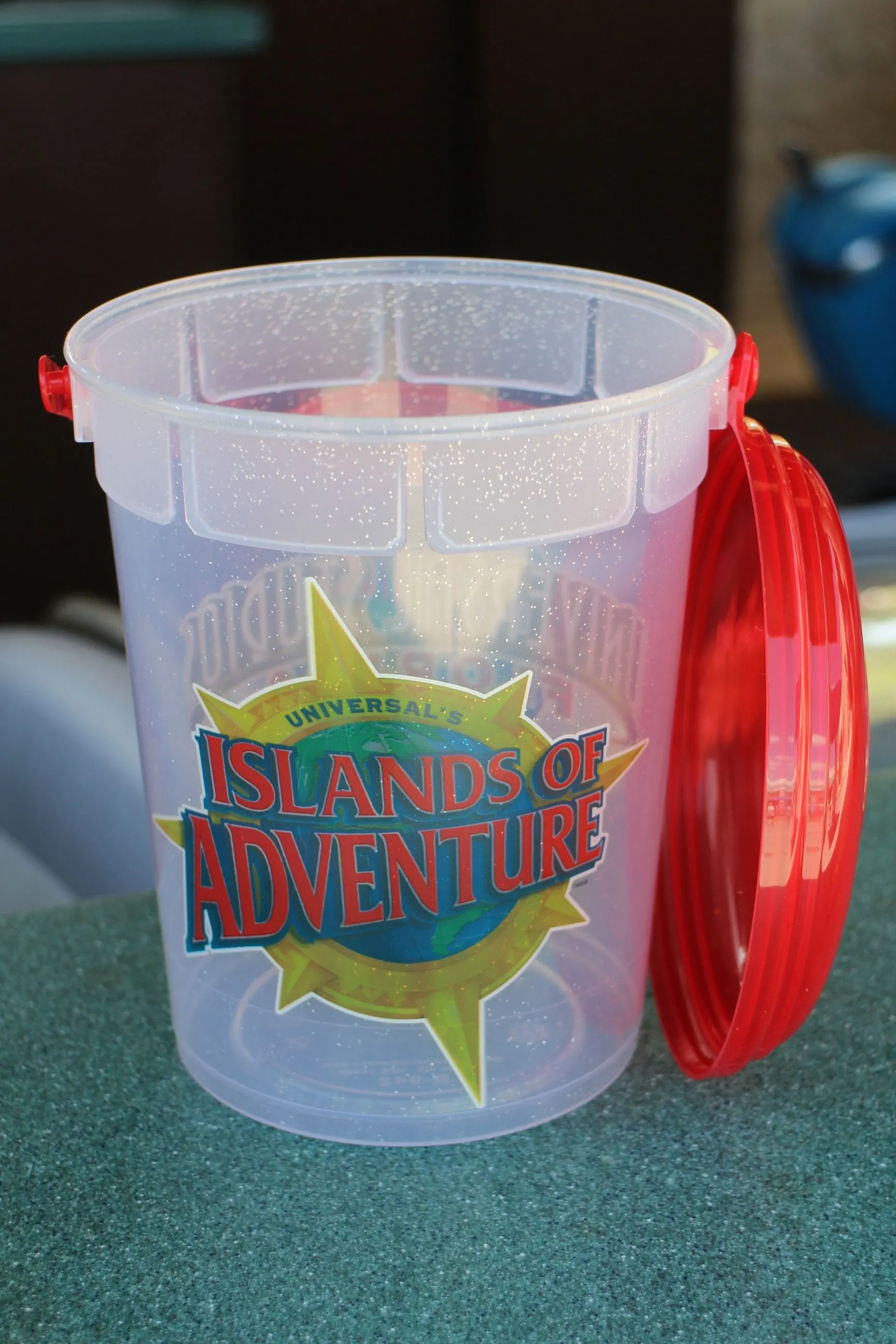 Mugs
Just like t-shirts, souvenir mugs are one of those things that you can use for years to come after your vacation.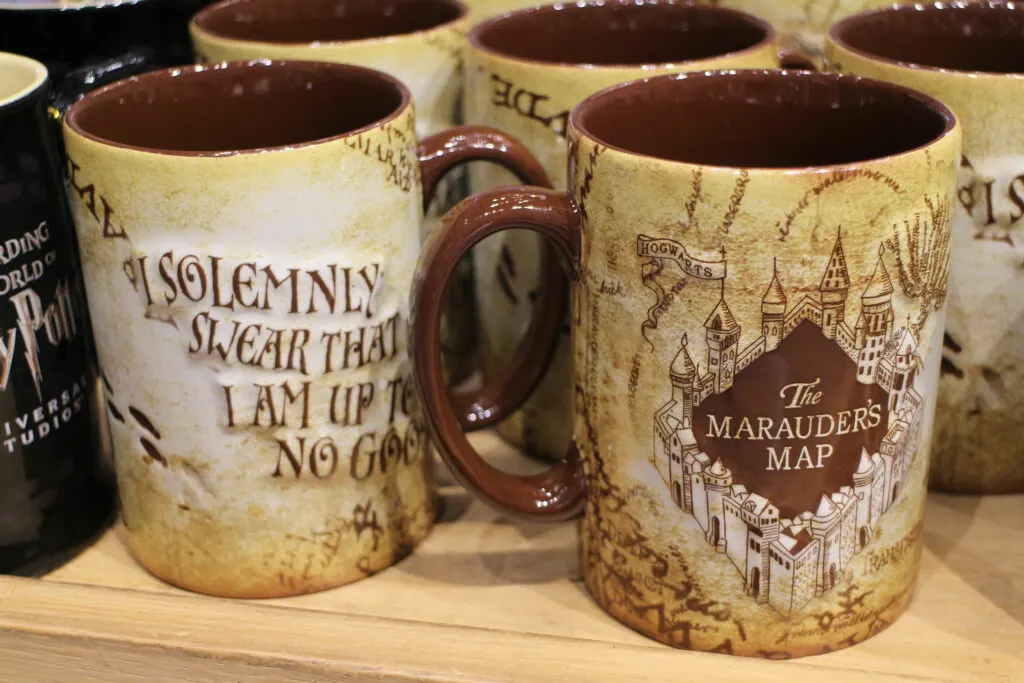 There are so many different types of mugs to buy in the gift shops. Whether you want a Jurassic Park mug, a Harry Potter mug or a general Universal Studios mug, you will find plenty of options!
Interactive Wands
The only place to buy the interactive wands that work inside The Wizarding World of Harry Potter is through Universal Studios.
While there are several ways to buy discounted Harry Potter wands before getting into the theme park, much of the joy of buying a wand is choosing the wand inside Ollivanders.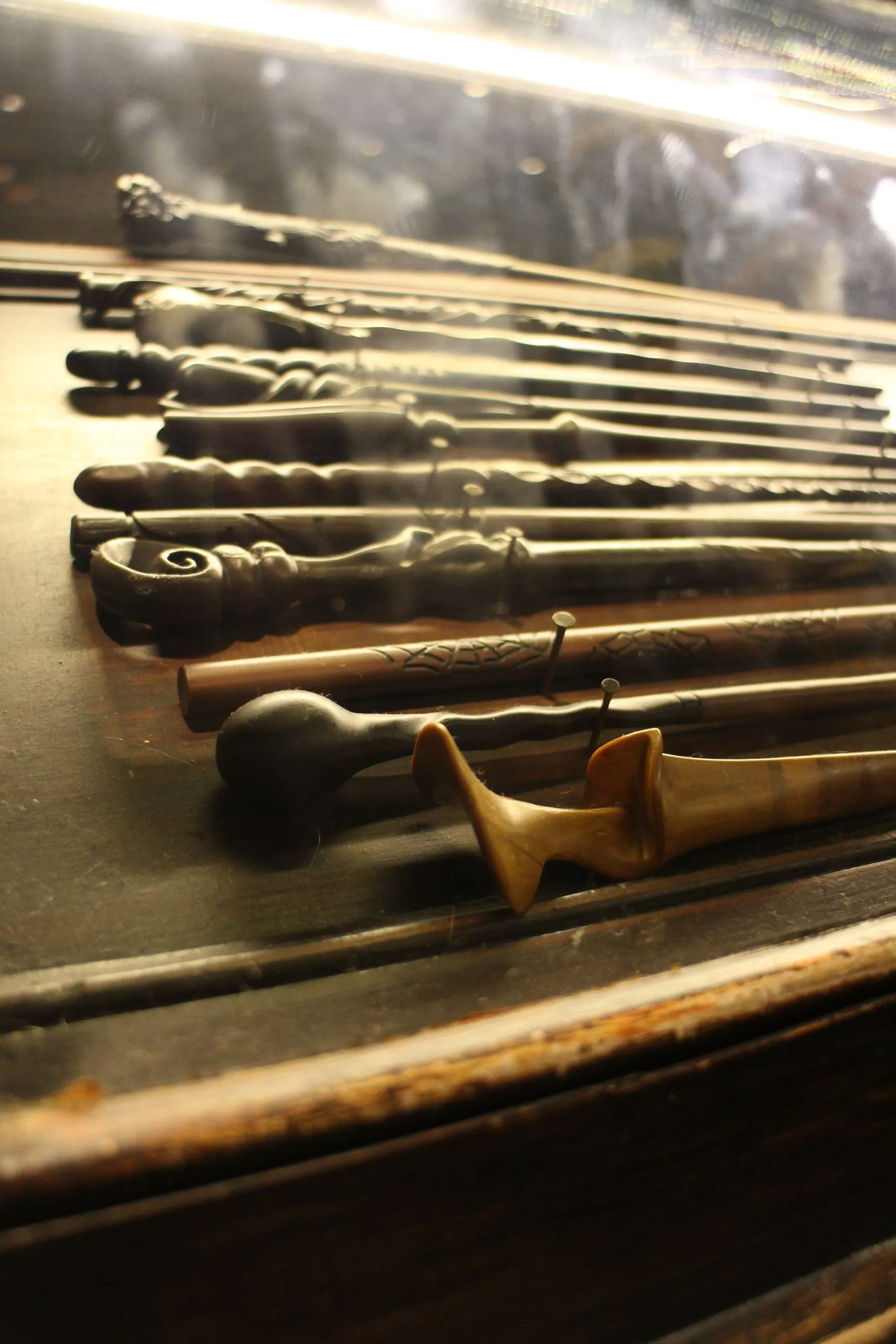 There are special wands that are unique to each Universal Studios theme park around the world, too.
If you are a huge Harry Potter fan, these limited edition wands are the perfect souvenir for you!
Harry Potter Robes
Just like interactive wands, official Harry Potter robes are best purchased while inside the theme park. That way you can try them on and see how they fit.
Plus, the magic of buying a robe inside The Wizarding World of Harry Potter is pretty special!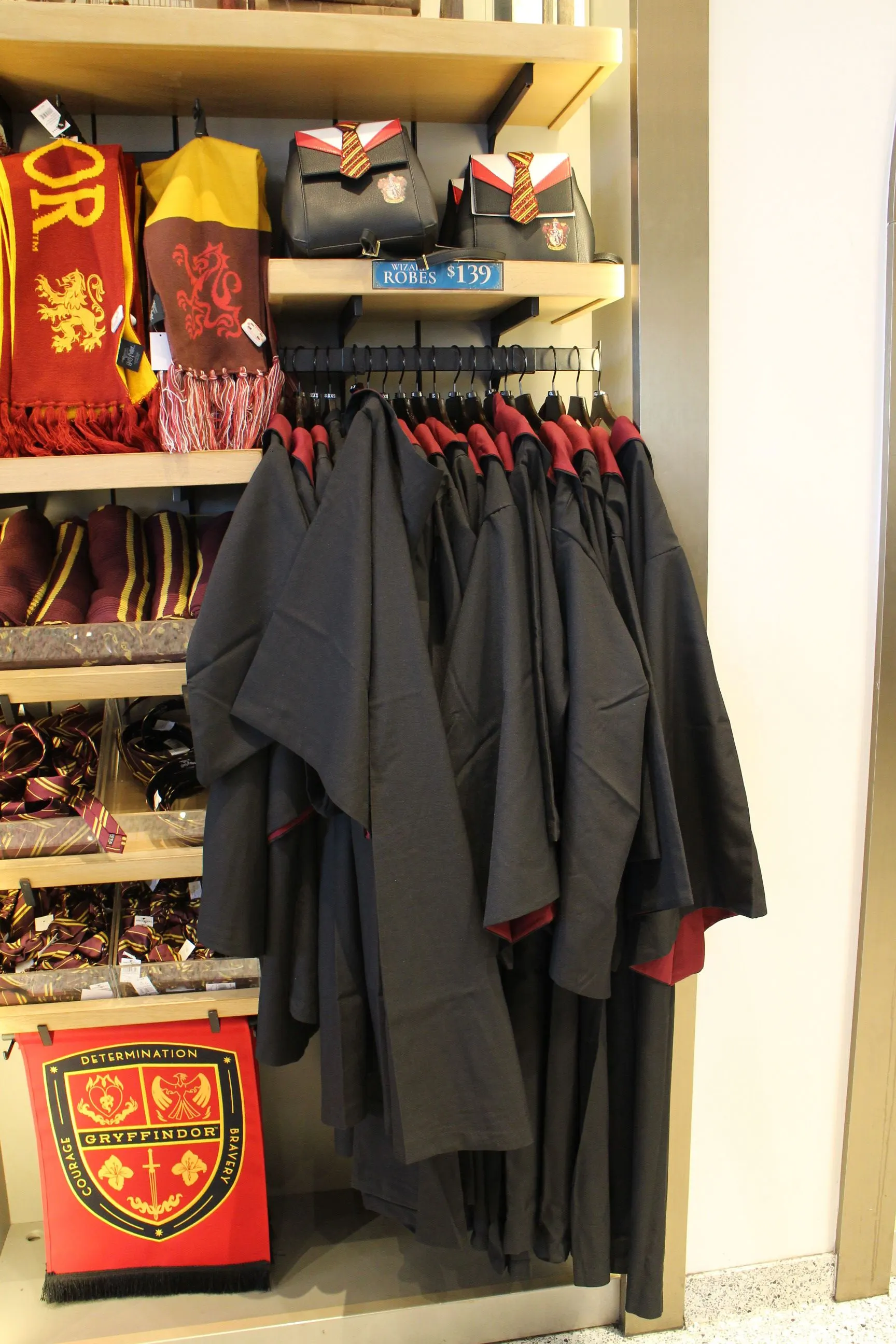 These robes are expensive so you want to make sure you take care of them! Here are the tips and tricks for cleaning Harry Potter robes after sweating in them!
Magnet
We started collecting magnets as souvenirs when we started traveling across country in our RV and needed something small to collect along the way. It is a tradition that works great in theme parks, too.
The benefits of choosing magnets as souvenirs instead of other items are:
Less expensive
Will easily fit in your luggage
See them everyday when on the refrigerator (or other surface)
This money saving tip lets you buy a great souvenir and not break the budget.
Magnets are also easy to buy in a gift shop and carry it with you throughout the day if you don't want to use package delivery to your hotel or wait until the end of the day to go souvenir shopping.
Insider Tip: Don't wait until the end of the night to go souvenir shopping. The crowds will be huge inside the gift shops. Look through the stores early in the morning or during the middle of the day and buy small items or use the package delivery services available.
Pins
Pins are a popular item for souvenir collectors, and there are plenty of options at Universal Studios theme parks.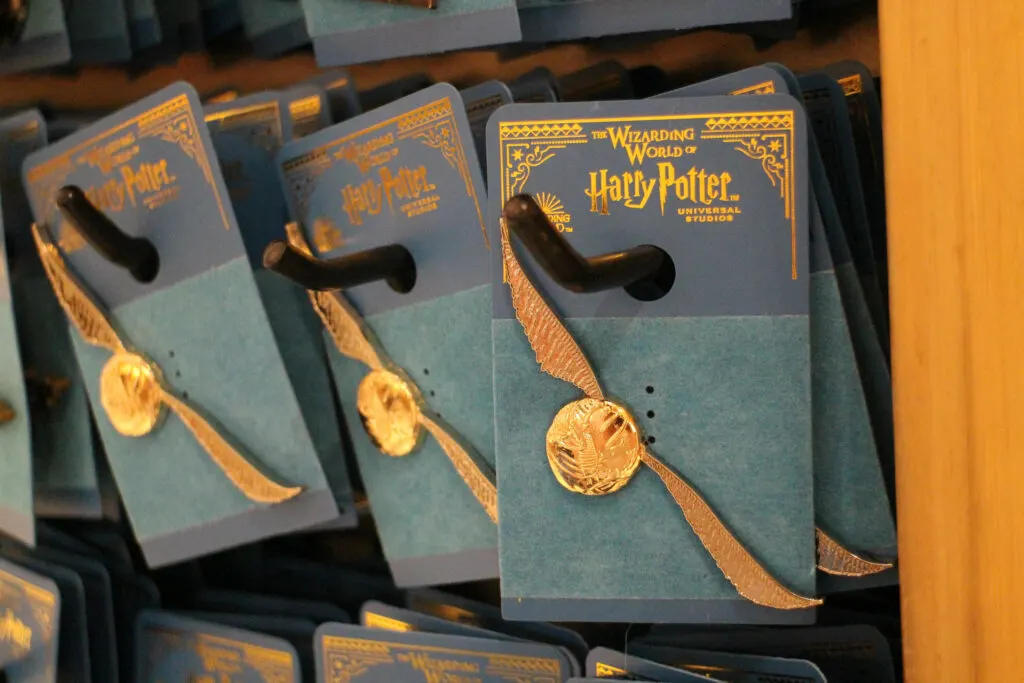 While pin trading is definitely more popular at Walt Disney World, there are still a decent variety of pins to buy at Universal.
With their small size and lower price tag, pins are a fun souvenir to collect at vacation spots. You can display them on a cork board, or wear them on a hat or jacket.
Specialty Foods
There are so many specialty foods to buy at Universal Studios, especially in Honeydukes in The Wizarding World of Harry Potter.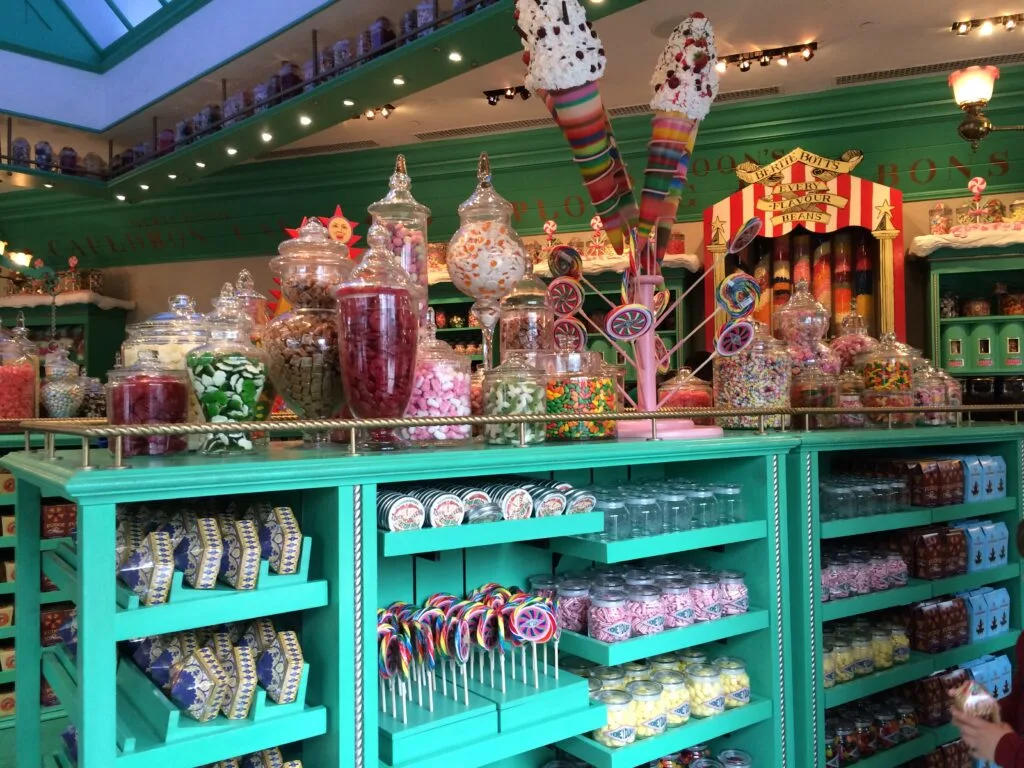 Buying chocolate can be hard because of Florida's intense heat which will melt the chocolate. This can be a problem at Universal Hollywood, too.
Besides, the Harry Potter chocolate frogs don't have a great reputation because they don't seem to have much taste. That's why we have this DIY chocolate frog recipe you can make at home!
Other candies that won't melt are a great idea, such as Bertie Bott's Every Flavor Beans.
Beyond The Wizarding World of Harry Potter you can find all kinds of unique foods and snacks that are prepackaged and make great souvenirs.
Plush Toys
For kids and kids at heart, a soft plushie is the perfect souvenir to bring back home!
I know my nephew couldn't go anywhere without buying a plush toy as a souvenir. And, quite honestly, I'm the same way!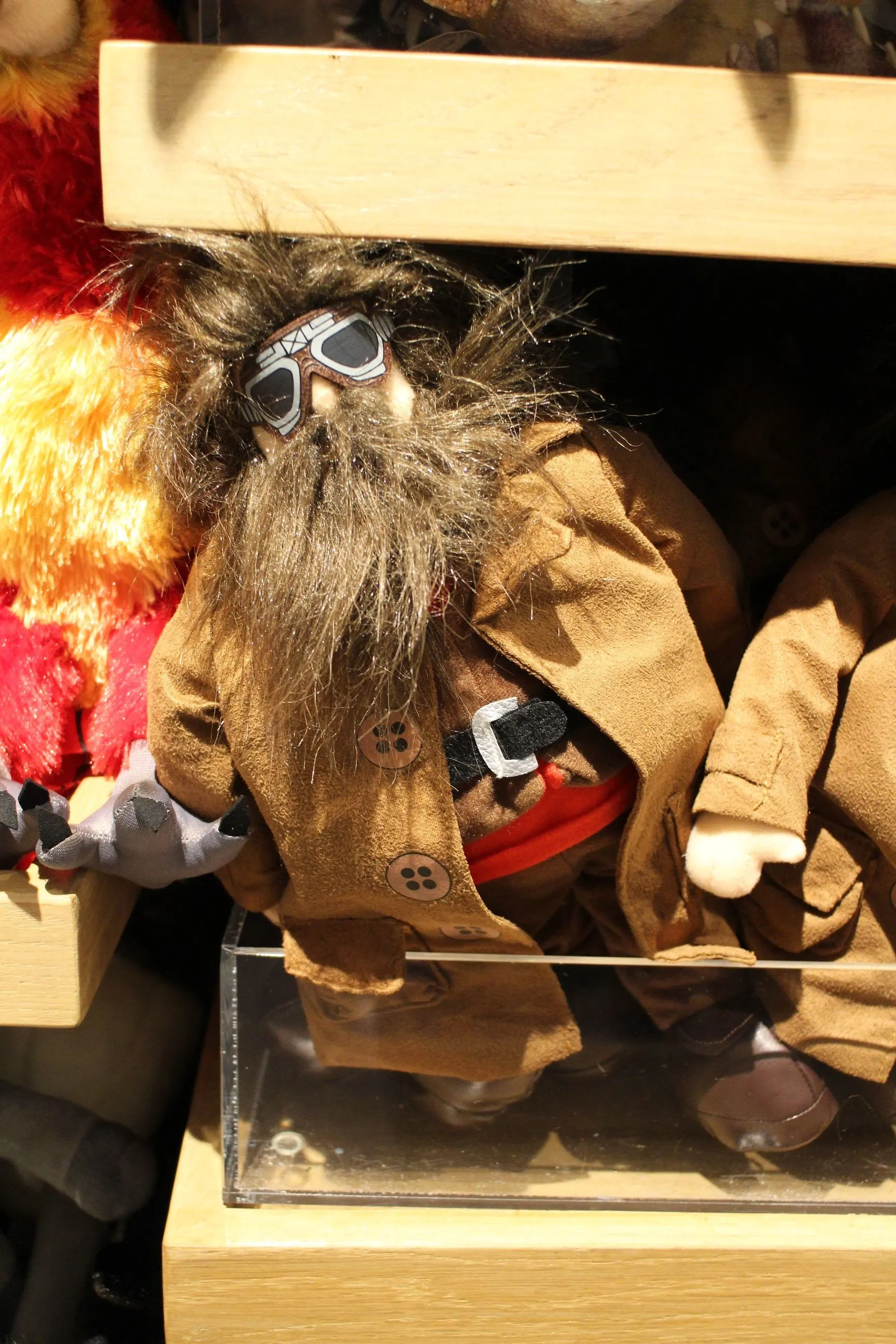 Free Souvenirs from Universal Studios
The best souvenirs from Universal Studios don't have to cost any money! These are the best kind to get because it leaves more room in your travel budget.
Here are free souvenirs to get at Universal Studios:
Park Maps
Paper maps are free to get and make excellent souvenirs. They are great for scrapbooking, as well as framing.
We use paper theme park maps to make Christmas ornaments. They are also great for other crafts.
Celebration Buttons
Universal Studios offers free celebration buttons to celebrate birthdays, anniversaries, first visits, etc. These are a GREAT souvenir to get because they can only be found at the theme parks!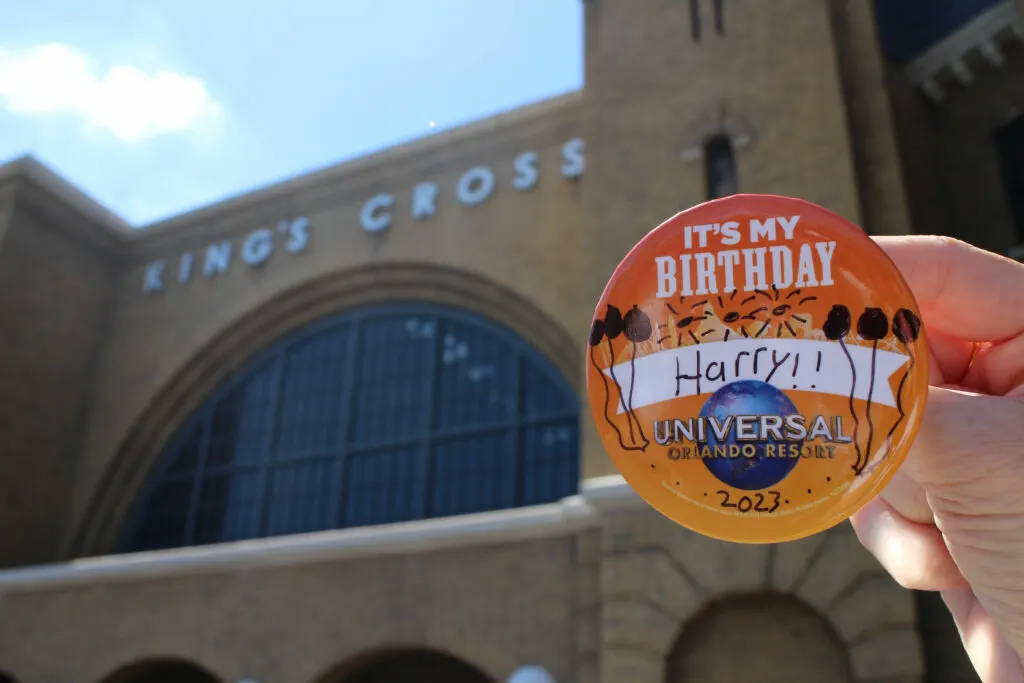 Swizzle Sticks
If you have a cocktail at Universal Studios, often there is a fancy swizzle stick in the drink. Be sure to keep these as specialty souvenirs you can't get anywhere else!
Cocktail Napkins and Coasters
Another fun souvenir we personally collect is cocktail napkins and unique coasters from places that have unique designs. We have a bar at home that we display these items on. Though they can be fun to put in a scrapbook box, too.
Pro Tip: If you want to keep the coasters or napkins, be sure to remove them from the table before your drink starts to sweat and makes them damp.
How to Save Money on Universal Studios Merchandise
Buying theme park memorabilia is not cheap. Here are some great budget-friendly tips to reduce the amount of money you spend on souvenirs:
Buy items beforehand and bring them to the theme parks with you. This works especially great if you have kids. Purchase items on Amazon, Walmart or at other discount stores, such as the Dollar Tree. Hide the items and surprise your kids with them during the day or hide them in your hotel room for them to find when they get back.
Shop at Target, Walmart, Walgreens, CVS or other discount stores in the Orlando area. Every local knows that these stores have a HUGE selection of theme park merchandise that costs much less than in the parks. The selection might not be the same, but often there are the same merch items for much less.
Visit the souvenir shops near the theme parks. There are plenty of discount stores offering things at super cheap prices. These are the stores that offer t-shirts for .99 cents and other crazy good deals.
Look for items in thrift stores before going on vacation. You can often find t-shirts and mugs for about 10% of the retail price you would pay at the theme parks.
Shop sales and clearance. Yes, even in Universal Studios stores you can find items that are on sale or on clearance. These are usually seasonal items or things that haven't sold well in the past few months. You can easily save money on official merchandise.
Pin This list to save for later!