The two major theme park resorts in Orlando have free entertainment and dining destinations that are perfect for the evening or a fun non-theme park day. Walt Disney World has Disney Springs and Universal Orlando Resort has CityWalk.
Which is better – Universal CityWalk or Disney Springs?
If you don't have time to visit both, we highly suggest Disney Springs as the best option.
Not only do you get free parking at Disney Springs, which you don't get at Universal CityWalk unless you use our free parking tips, but there are so many more things to do and enjoy at the downtown Disney location.
Everyone has different opinions on which destination is worth your time and money, though. That is why we are sharing these comparisons between the two entertainment districts.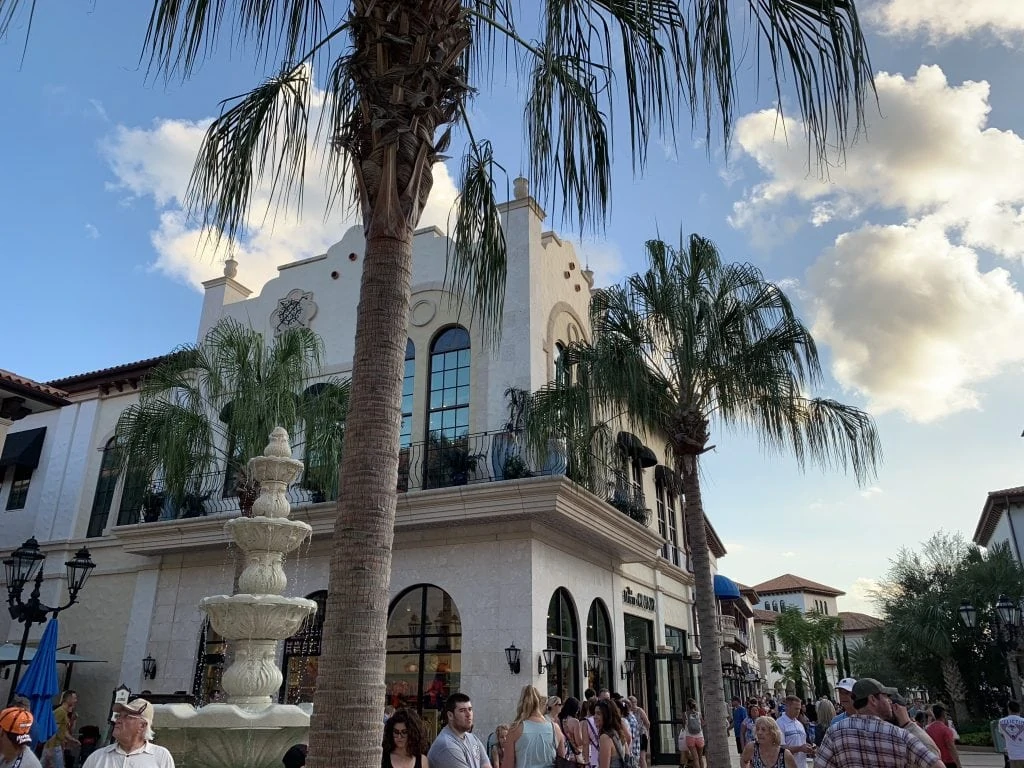 Want to do Disney and Universal in one vacation? Check out all of the ways for how to get between Disney World and Universal Studios in Orlando.
Entrance Fees
Both Disney Springs and Universal CityWalk are free to visit. There is no entrance fee to go into the entertainment and dining districts.
Do you need a ticket to go to Disney Springs? No, you do not.
Is a ticket required for Universal CityWalk? No, you do not need a ticket.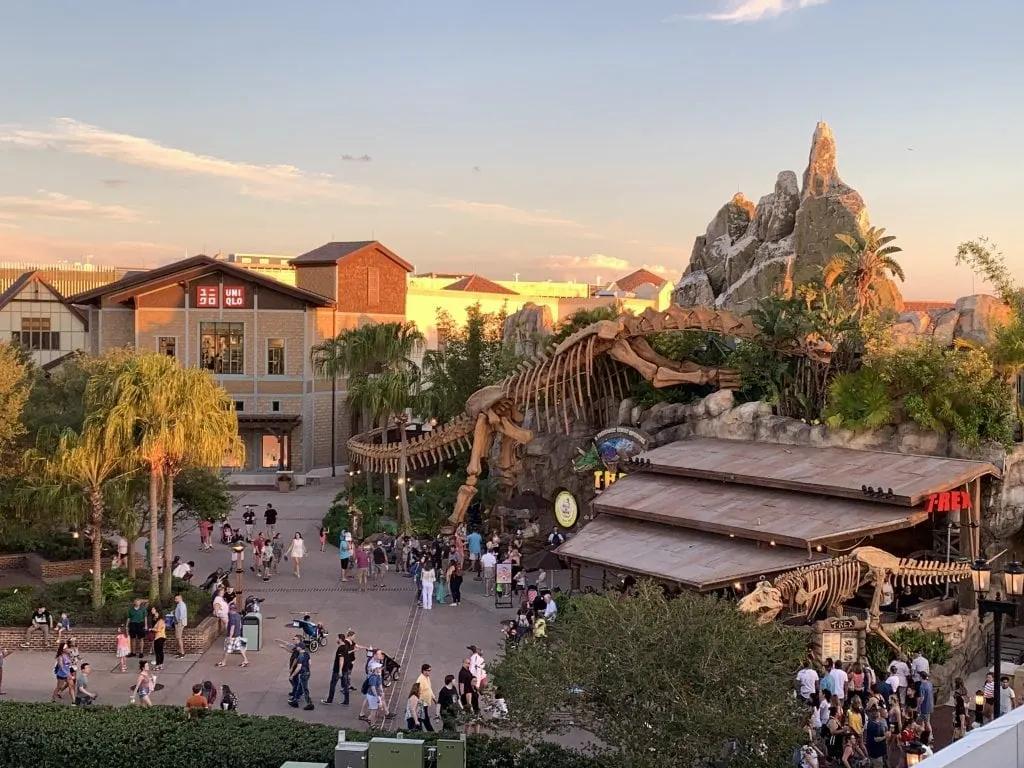 Is Disney Springs the Same as CityWalk?
No. Each location is owned by a separate theme park resort.
Disney Springs is part of the Walt Disney World Resort. Their entertainment complex used to be called Downtown Disney.
CityWalk is part of the Universal Orlando Resort.
The two locations are in different areas of Orlando and you cannot walk between them.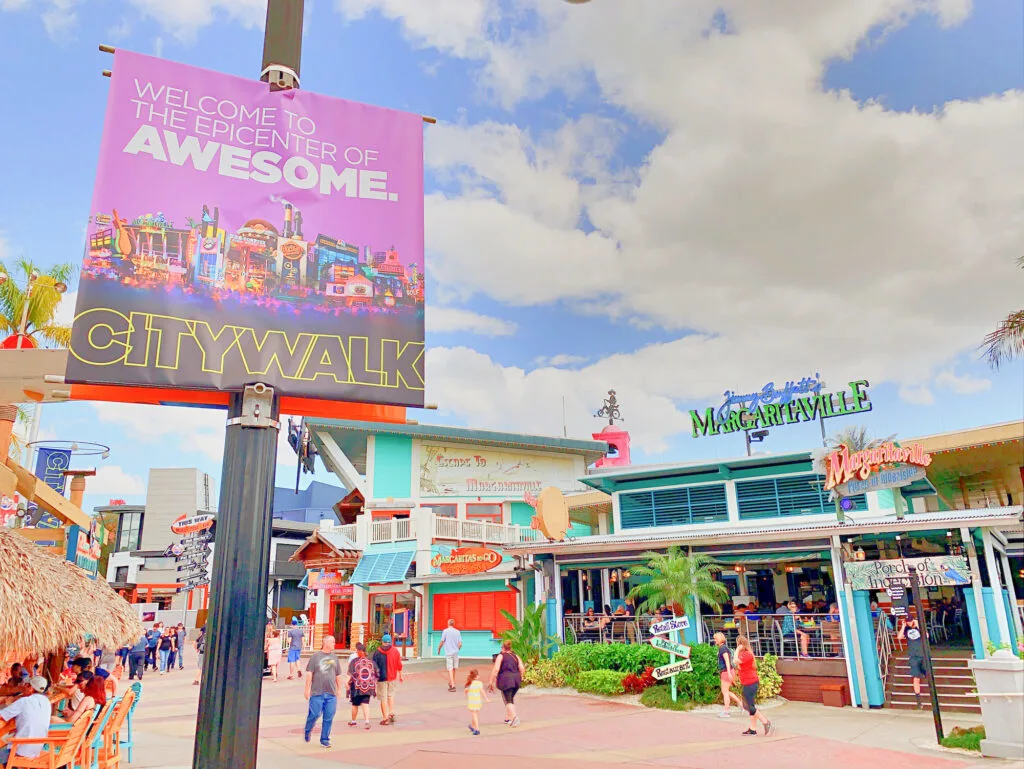 Parking
While both places are free to visit, there is a difference in parking fees.
While Disney Springs offers guests a variety of parking garages to use with complimentary parking, Universal Orlando does not.
Universal CityWalk and Universal Orlando's theme parks use the same parking garage. Which means that you must pay to park even if you don't plan on going into the theme parks.
Parking starts at $27 a day.
There are a few ways to get free parking at Universal Studios, but they might not all be convenient for you, especially if you are visiting during the day.
Location
Disney Springs is the clear winner with easy, quick and accessible ways to get to the shopping, dining and attractions.
There are several parking garages at Disney Springs. Each one is conveniently located next to different portions of the complex.
For instance, if you are wanting to go to Disney Springs for a movie, you could park in the Orange garage which is located behind the AMC Movie Theater.
The Lime parking garage is the closest to The Marketplace, World of Disney and T-Rex Cafe.
You will not have to walk too far from a parking garage to any of the options in Disney Springs. There are also elevators and escalators to get to the ground level.
At Universal CityWalk, there is only one garage and you must walk from that garage to any point in CityWalk. This can be quite a long walk depending on where you are going. For instance, if you go to Margaritaville Restaurant, it is all the way at the other end and will be quite the walk.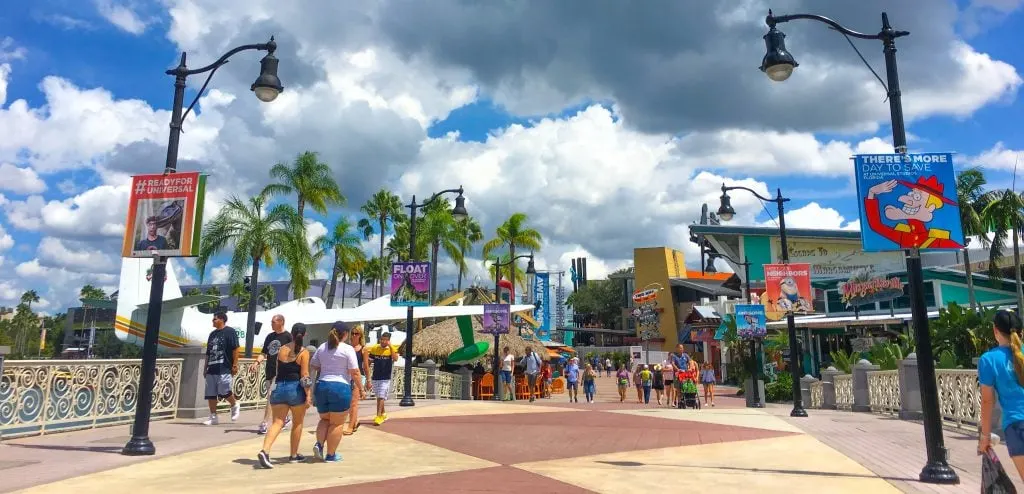 Related Post: Disney's Hollywood Studios vs. Universal Studios
Restaurants
Each destination has a variety of restaurants. However, Disney Springs has many more restaurants than Universal CityWalk.
Disney Springs has more unique and themed restaurants and quick-service food locations compare to Universal CityWalk, too.
There are 61 different options for dining at Disney Springs, including:
25 Table Service restaurants (Full Service / Sit Down)
37 Quick Service restaurants
8 Bars and Lounges
7 Food Carts and Kiosks
Universal CityWalk has 9 table service restaurants and 7 quick service restaurants. See our top picks for breakfast at CityWalk.
Several of the restaurants found at Universal CityWalk are chain restaurants you can find in other places around the U.S. Which means you might not have a lot of unique foodie finds to enjoy.
Best Restaurants at Disney Springs
We have been fortunate to have eaten at every restaurant at Disney Springs during 15 years of living in Orlando. These are some of our favorites:
Chef Art Smith's Homecomin' We love Southern food and we love restaurants that support local farms and growers! Celebrity chef Art Smith expertly combines local foods and Southern cuisine for hearty entrees that you will love. Be sure to try their moonshine cocktails!
The Edison We also love old-fashioned vintage vibes which is exactly what you will get at The Edison. Not only are there amazing cocktails and excellent food, you might also enjoy free entertainment and music during your meal.
Wine Bar George Perhaps one of the most underrated restaurants you will find at Disney Springs, this is one of our favorites!!! Absolutely amazing food and if you like wine, you cannot go wrong wit a glass at this location.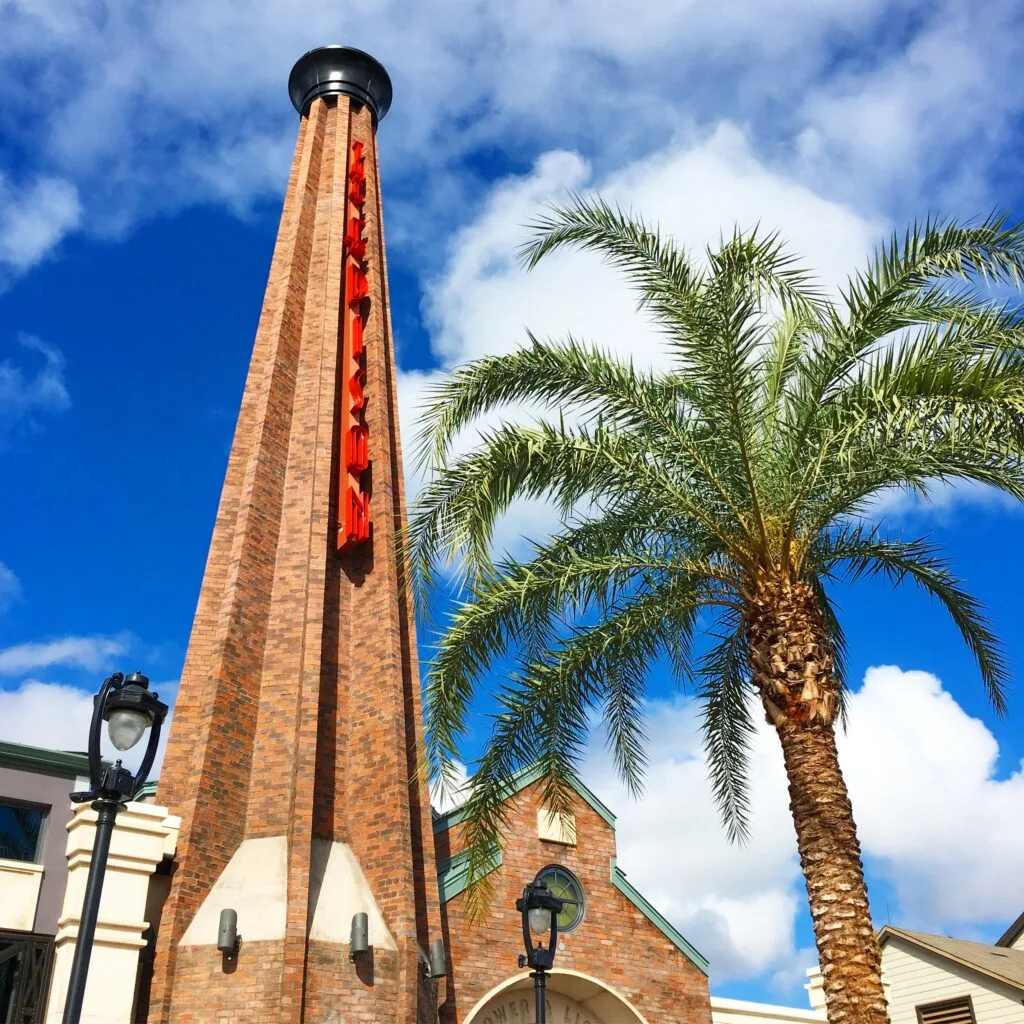 Best Restaurants at Universal CityWalk
We have eaten at most of the Universal CityWalk restaurants as a local resident. Here are the ones we recommend:
Jimmy Buffet's Margaritaville The tropical vibes and laid-back feel of this sit-down restaurant makes you feel like you are on an island getaway. It's also nice because this location is at the end of CityWalk, so you don't have as many crowds walking by if you grab a seat on the patio.
Vivo Italian Kitchen The pasta here is great! An upscale Italian restaurant that serves up traditional favorites with a modern twist.
The CowFish This burger and sushi bar offers a unique combination of foods. This is a local's favorite for the unique and delicious items on the menu.
Toothsome Chocolate Factory While the food can be hit or miss in this stunning location, the desserts and milk shakes are always a good idea!
Shopping
When it comes to shopping, Disney Springs beats Universal CityWalk for sure!
Disney Springs has such a huge variety of shopping, including plenty of Disney merchandise shops along with well-known brands such as Vera Bradley, ALEX and ANI, Kate Spade New York, The Lego Store and UNIQLO.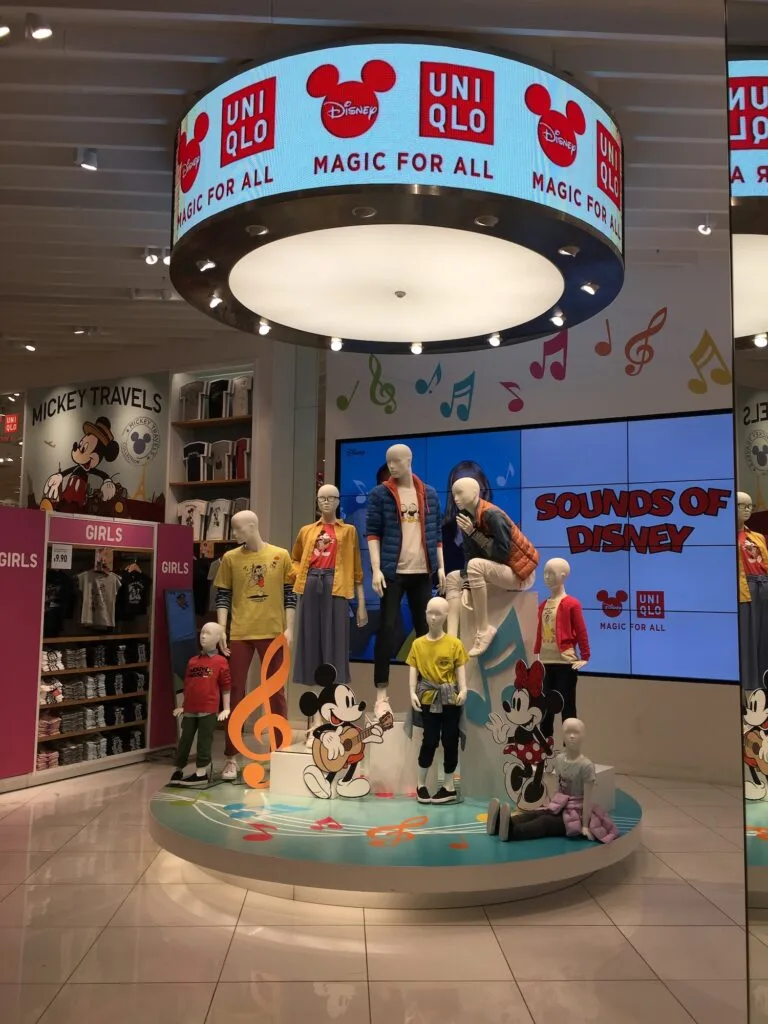 The largest Disney store in the world is found at Disney Springs.
You will find a ton of Disney-themed souvenir stores, ranging from a store with just Star Wars merchandise to candy shops with Disney-themed treats.
There really is no reason you need to go to the theme parks to get great Disney souvenirs when you can shop at Disney Springs. In fact, spending the day at Disney Springs to go souvenir shopping is one of our top suggestions for what to do on your last day at Disney.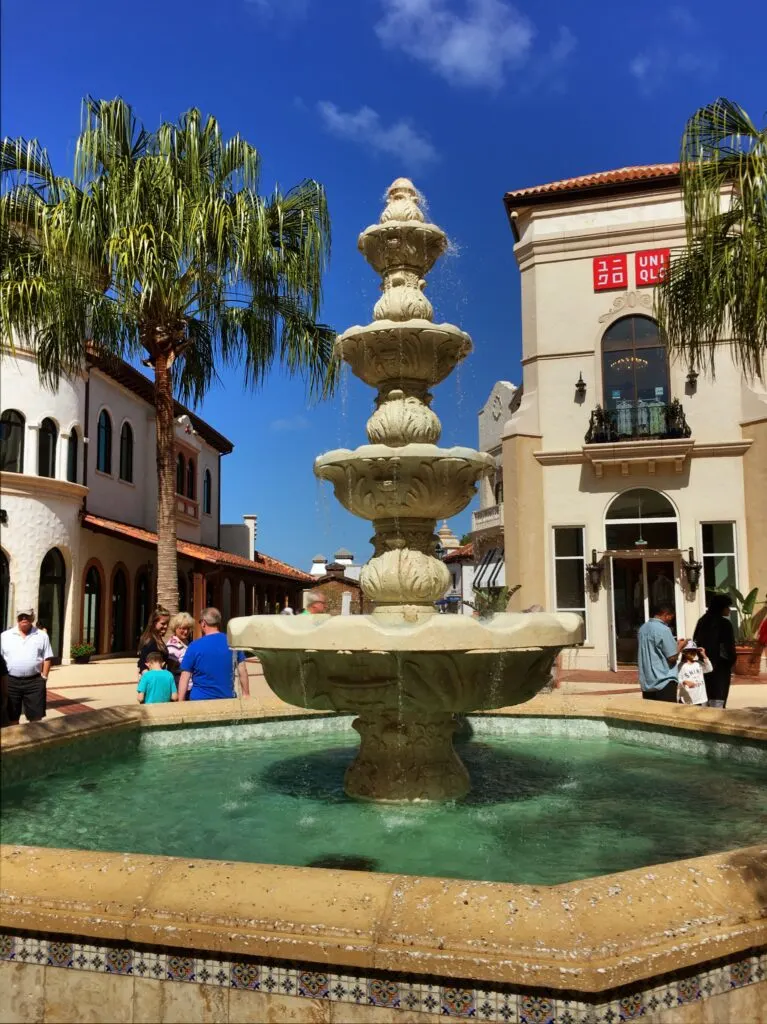 If you prefer luxury retailers, you will not be disappointed, either. These luxury brands are closer to the Westside of the district, where Cirque du Soleil is.
More of the Disney souvenir stores are located in The Marketplace area, close to the Hilton Orlando Buena Vista Palace (see our video review) and the B Resort.
There are so many places that you can spend all day shopping at Disney Springs, and I often did just that while living in Orlando.
At Universal CityWalk, you will only find a handful of stores to browse.
There is a Universal Studios store where you can buy Harry Potter wands and other Universal Studios souvenirs. The huge 8,300-square foot store has lots of things to buy that you might have forgotten to get inside the theme parks.
The Universal Legacy stores has more movie memorabilia, vintage-looking souvenirs and some other fun finds.
Other than that, you have restaurant gift shops and a surf shop to choose from.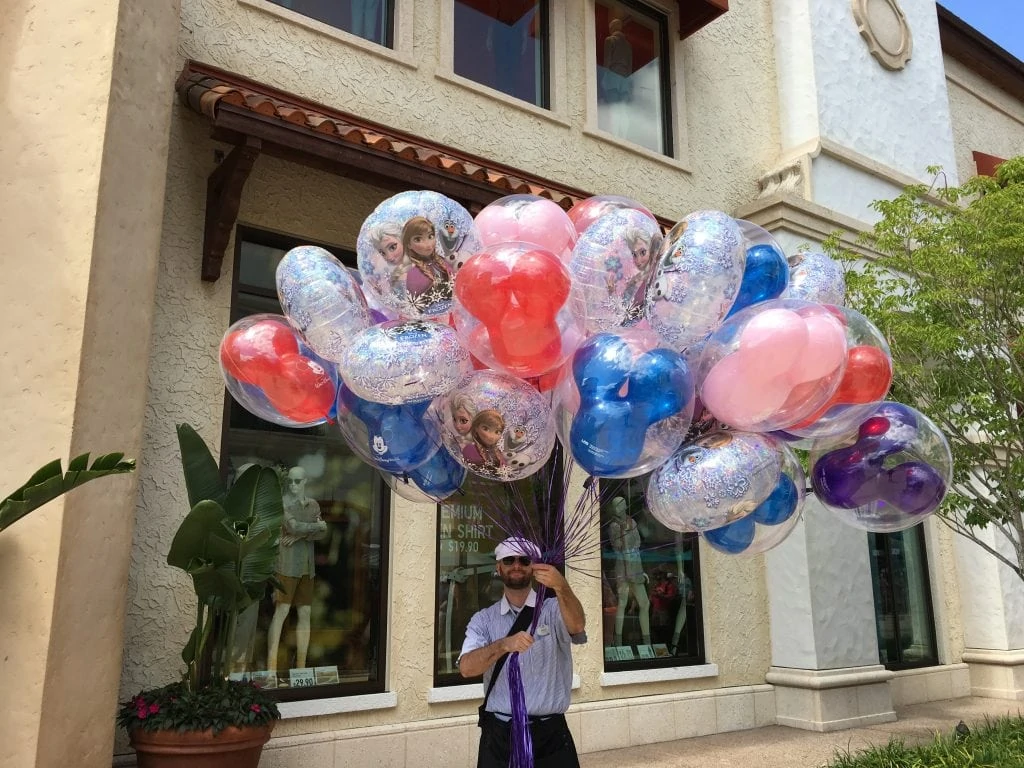 Entertainment
If you want to have some unique fun without needing to pay for a theme park ticket, then a visit to either Disney Springs or CityWalk is a smart idea!
There are a variety of different types of entertainment at each location. Once again, Disney Springs does it best with better entertainment and more of it!
Attractions
Disney Springs has waaayyyyy more attractions than Universal CityWalk! There is so much to do at Disney Springs that you can spend an entire day just enjoying the shows and the entertainment options.
Universal CityWalk has Hollywood Drive-In Golf, which is mini-golf with two different themes to choose from.
And that's about it.
Meanwhile, Disney Springs has an amusement park feel with all of their options!
Aerophile
Fly in the sky in a hot-air balloon (kinda) at Aerophile. The tethered balloon lifts off and goes 400-feet in the air for 8-minute experiences throughout the day.
The gentle ride (unless there is wind) lets you get an amazing view over Disney Springs.
This experience can easily be shut down because of high-winds, even if you don't feel the winds from ground level. So if this is on your bucket-list, you might not want to postpone your experience until later in the day because it could be closed.
Check Groupon for discounted tickets.
Amphicars
These fun cars that float in the water are a unique experience and fun photo op.
Book a tour time at The Boathouse restaurant. You will definitely want to book as soon as you are interested because this is a popular attraction!
You can fit 3-4 people in a car, depending on the size and whether or not you have kids.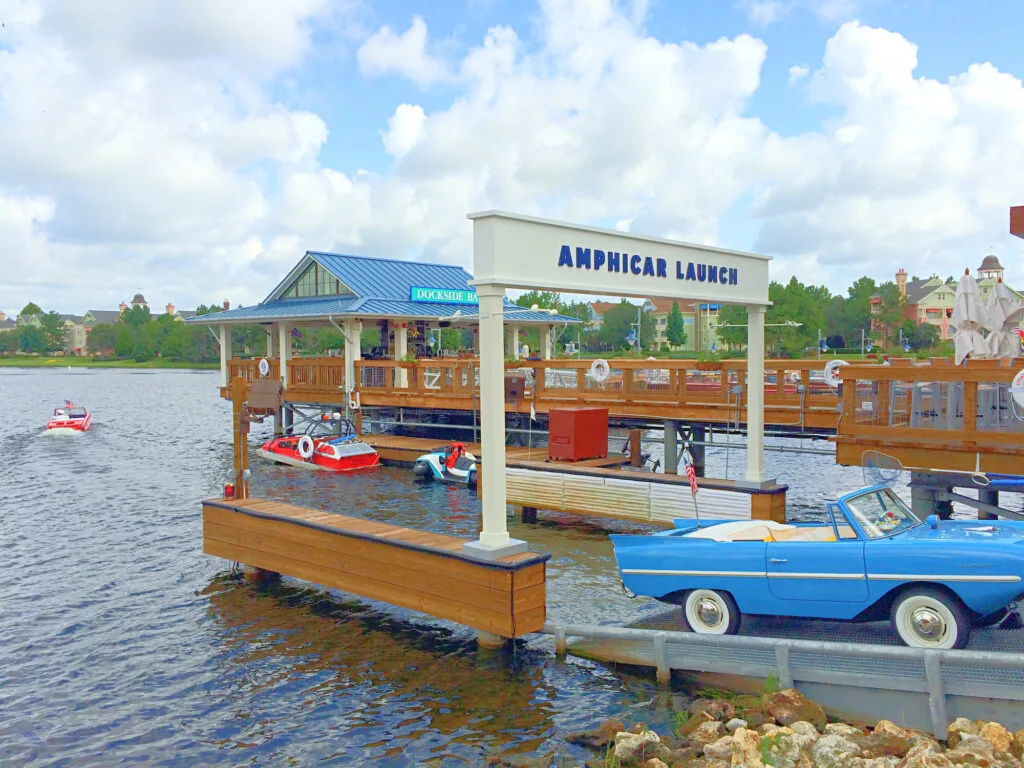 Your captain will sail your around the lagoon, where you will get great views of Saratoga Springs Resort and float on the water along with the Disney boats.
This one is a hefty cost and a splurge at $125 per car.
Splitsville Luxury Lanes
A bowling alley doesn't sound like fun until you've seen the Splitsville Bowling Alley!
This unique complex lets you enjoy a vintage game of bowling while also eating and drinking at your designated alley.
Don't want to go bowling? That's okay!
This location has billiards and other entertainment, as well. Plus, you can choose to just eat or drink at the bar without needing to go bowling.
Located next to the AMC theaters, it is the perfect location to dine or have fun before your movie time.
Cirque du Soleil
Cirque du Soleil shows can be seen around the world, and each one is unique. Drawn to Life is the show that is featured at Disney Springs.
In keeping with the Disney theme, this imaginative show reinterprets the art of classic Disney animation.
We have never seen anything like the Cirque shows. Yes, they are expensive, but they transport you to a world that you didn't even know existed until you see the performers do daring feats and test the limits of your imagination.
Going backstage at Cirque du Soleil was one of the best experiences we have enjoyed at Walt Disney World!
Coca-Cola Store
You can't miss the towering Coca-Cola Store at Disney Springs. What you might not know is that there is a rooftop bar on top of the store that lets you try drinks from around the world!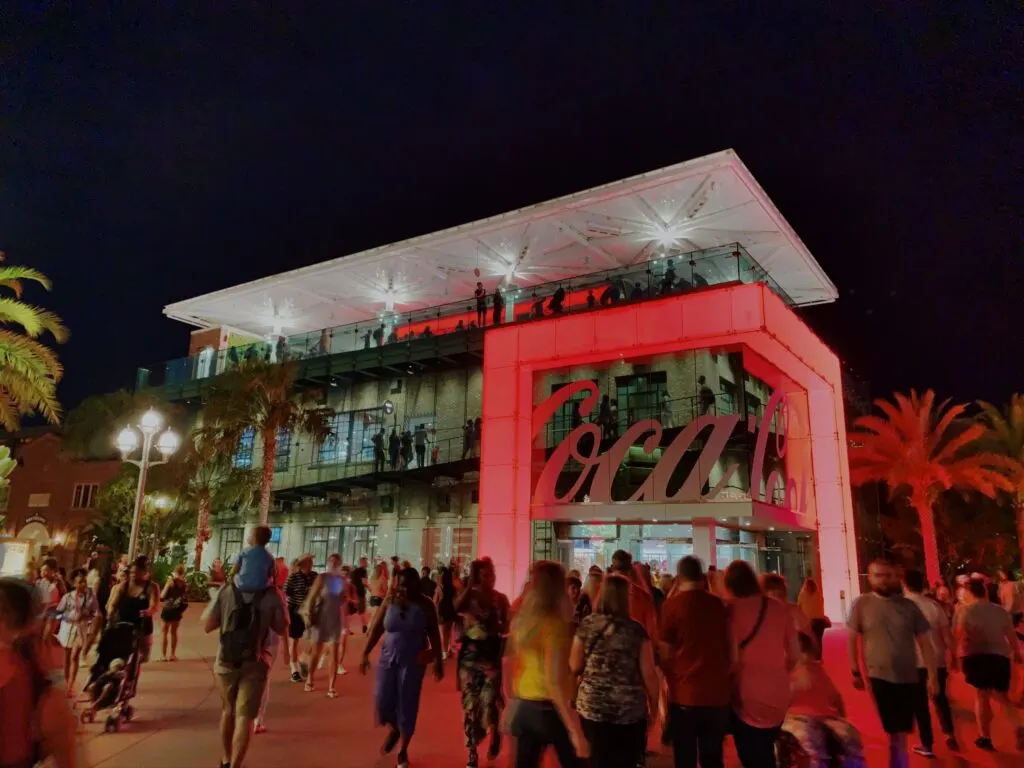 Choose from drink flights or mix your own at this venue.
Inside, go up to the second level where you can get your photo with the iconic Coca-Cola polar bear!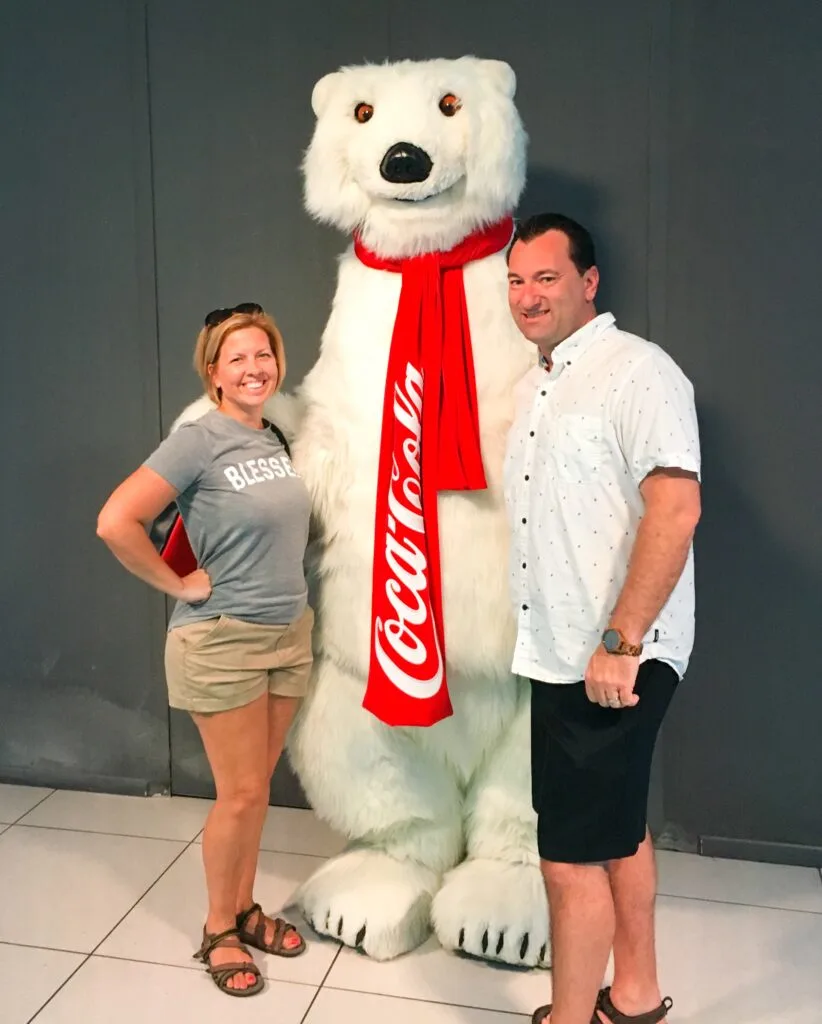 Carousel and Train
Kids will love the old-fashioned carousel and miniature train that they can ride.
Movie Theaters
Both locations have movie theaters.
Disney Springs has the AMC theaters with 24 Dolby screens.
Because Disney produces so many movies through its studios, you can often find really great premier experiences at their Disney Springs movie theater, such as the Star Wars premiere that I attended at the AMC theaters.
The best part about seeing a movie at Disney Springs is doing their dine-in movie experience.
We got so spoiled enjoying Disney's dine-in movies that it is hard to see a movie any other way! You will reserve a seat for a dine-in movie. When you get to your large, spacious, reclining seats, you will be give a full food menu.
Choose what you would like, including alcoholic drinks, and place your order with the wait staff that will come to your seat.
They will bring your food and drinks to your table that is in front of you in the theater. Food and drink can be delivered at any time, either during the pre-shows or during the movie.
Near the end of the film, your server will place the bill on your table for you to settle before leaving the theater.
Universal CityWalk has 20 Cinemark theaters. Seeing a movie at this location is one of the best ways to get free parking at CityWalk.
Live Music
Both locations have live music throughout the week.
At Universal CityWalk, you will find live musical performances at the Hard Rock Live location. These will usually be paid concerts in their 3,000-seat venue. Some of the performances are from very well known bands and entertainers, so you could be surprised with a really great concert to attend.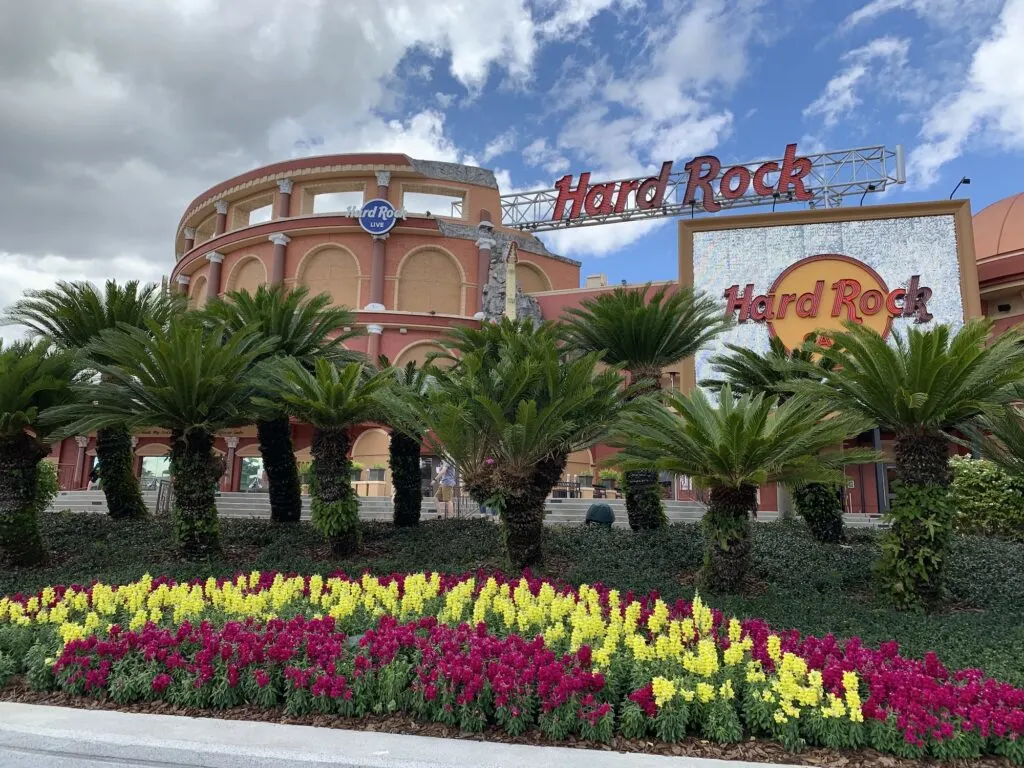 Jimmy Buffett's Margaritaville is a restaurant where you can find music, though not all day long.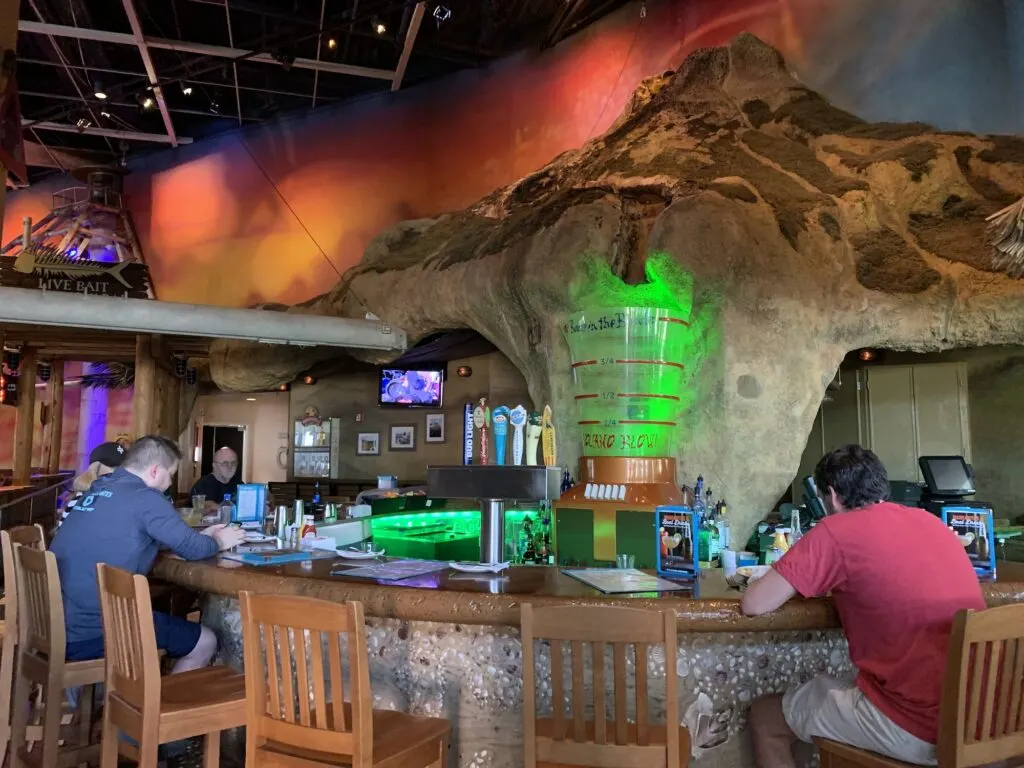 Disney Springs has several locations for live music throughout the day.
The most notable is the huge Marketplace Stage outside of the World of Disney, the largest Disney store in the world. This is where you will find high school and college bands performing, Disney Performing Arts dance troupes, and other live musicians.
It is an eclectic mix of entertainment that you will find at this outdoor stage with the lagoon set in the background.
There is plenty of live music options throughout Disney Springs in their dining venues, too. The Edison is one of those places that occasionally offers live music, as well as Raglan Road, which is known for their Irish music, and Paradiso 37.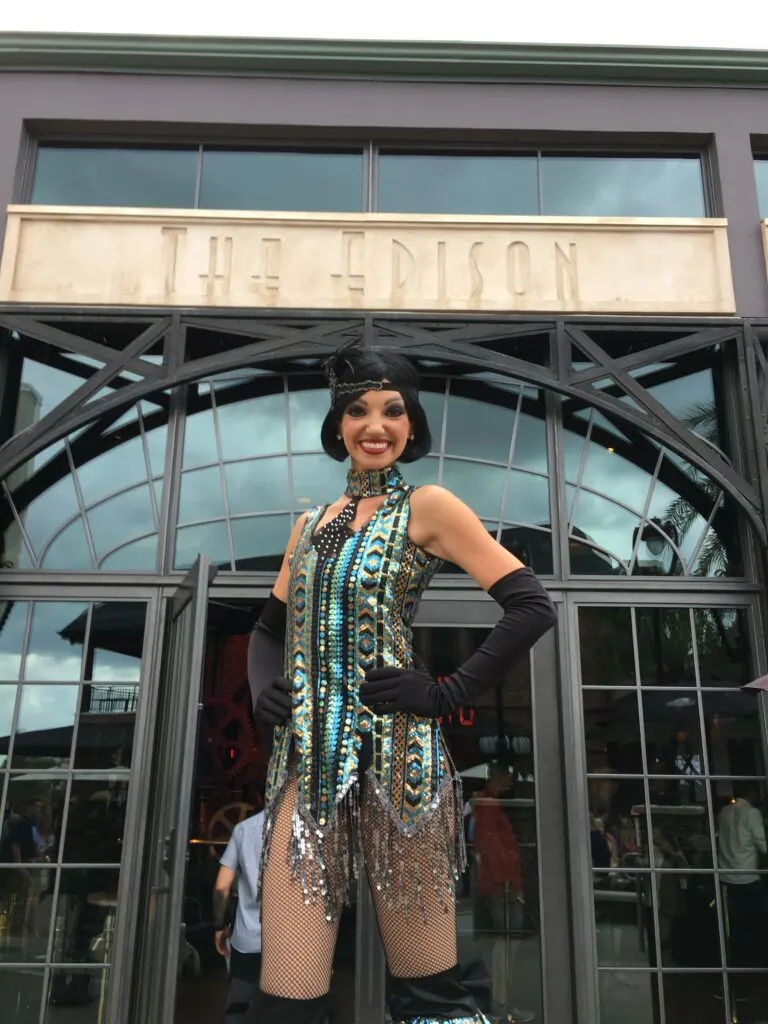 You will find roaming street performers on some nights, as well.
CityWalk does have a nightclub called The Groove. Disney Springs no longer has nightclubs.
Those of us who have lived in Orlando for a while remember when Downtown Disney had amazing nightclubs such as Mannequins and 8-Trax. Sadly, those were taken out when it was decided to become more family friendly.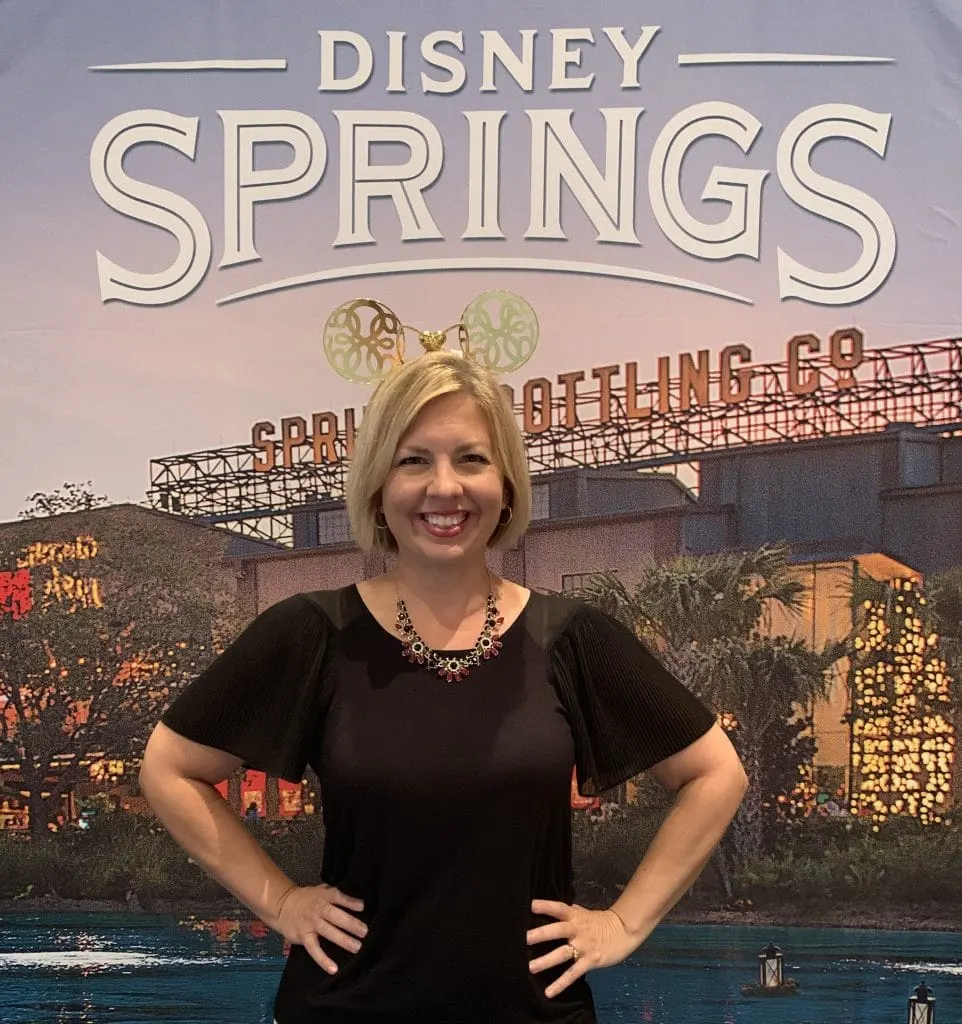 Love comparisons? Then be sure to see our Ultimate Guide to Universal Studios vs. Islands of Adventure theme parks.
Conclusion
Both Universal CityWalk and Disney Springs have a lot to offer for days when you do not have a theme park ticket, or for fun at night. While CityWalk is a smart choice as you are leaving the theme parks or if you are staying at Universal Orlando hotels within walking distance, Disney Springs has so much more to offer with more restaurants, shopping and entertainment choices.