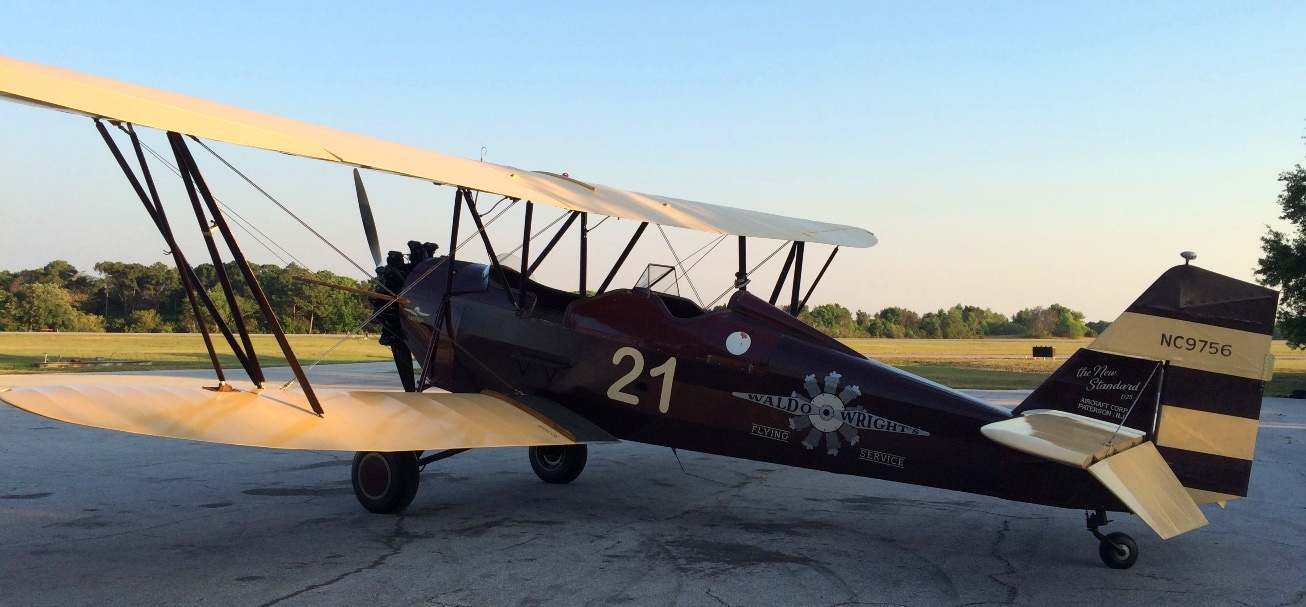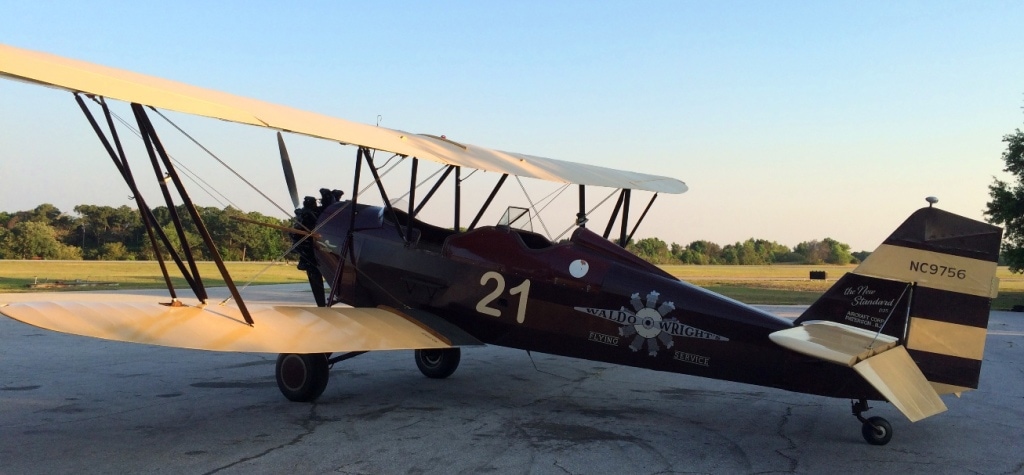 Flying in an open cockpit vintage airplane is cool. Seriously cool. Add in a breathtaking sunset and an awesome pilot and, well, you've got the making for a can't-miss attraction in central Florida that MUST be on your bucket list.
Waldo Wright's Flying Service is the company that you want to work with. It's America's largest vintage biplane ride company, started in 1995. There are two locations in central Florida – at Fantasy of Flight and at the Winter Haven airport (A third location is found in Portage, Michigan, and flight opportunities are available at shows on their events calendar). There are also two different planes that you can fly in – the New Standard D-25 and the Stearman. Either way, you're going to have an excellent adventure and one that you'll be telling everybody about afterwards.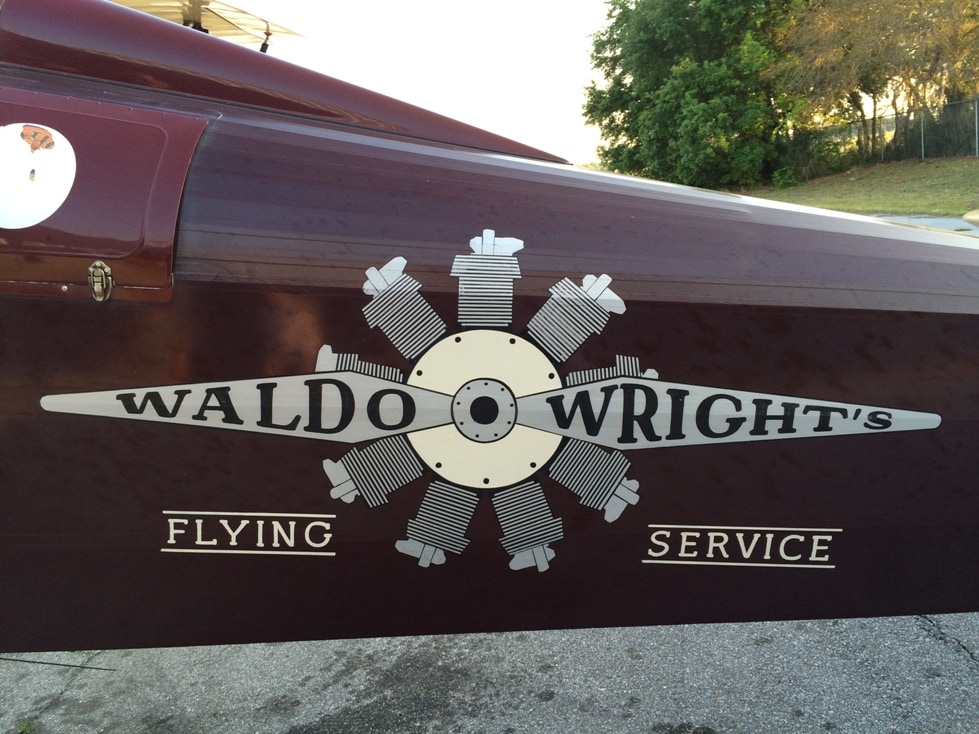 That's how I found out about the company. A family member who had flown in the Stearman raved about how much fun it was and how awesome the owners were. So when it came time to find a unique experience in the Orlando area, we turned to Waldo Wright's Flying Service. That's how you find out about Waldo Wright's. There's not a lot of advertising, but that's not because it's not worth it. The opposite is true. There are so many people telling everyone that they know about the unique experience, that Waldo Wright's is pretty full with flights. And people keep coming back over and over again.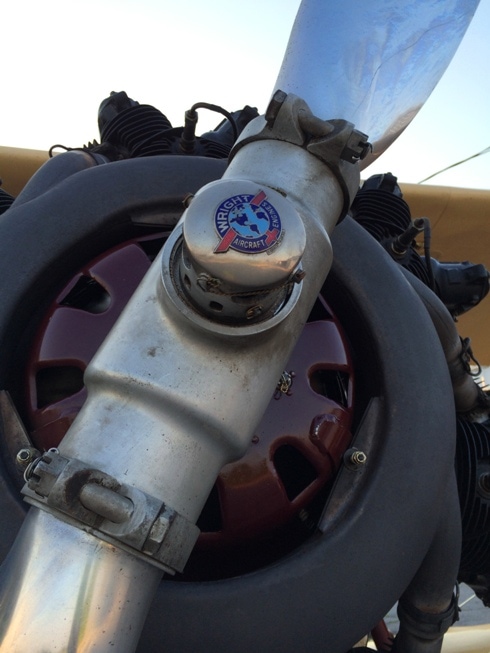 We booked a sunset flight. This is a special flight, and right now it's only offered in March, but stay tuned for any updates to that schedule. Four passengers were the maximum amount of fliers, in a two by two seating configuration in front of the plane, with the pilot, Rob, in the back.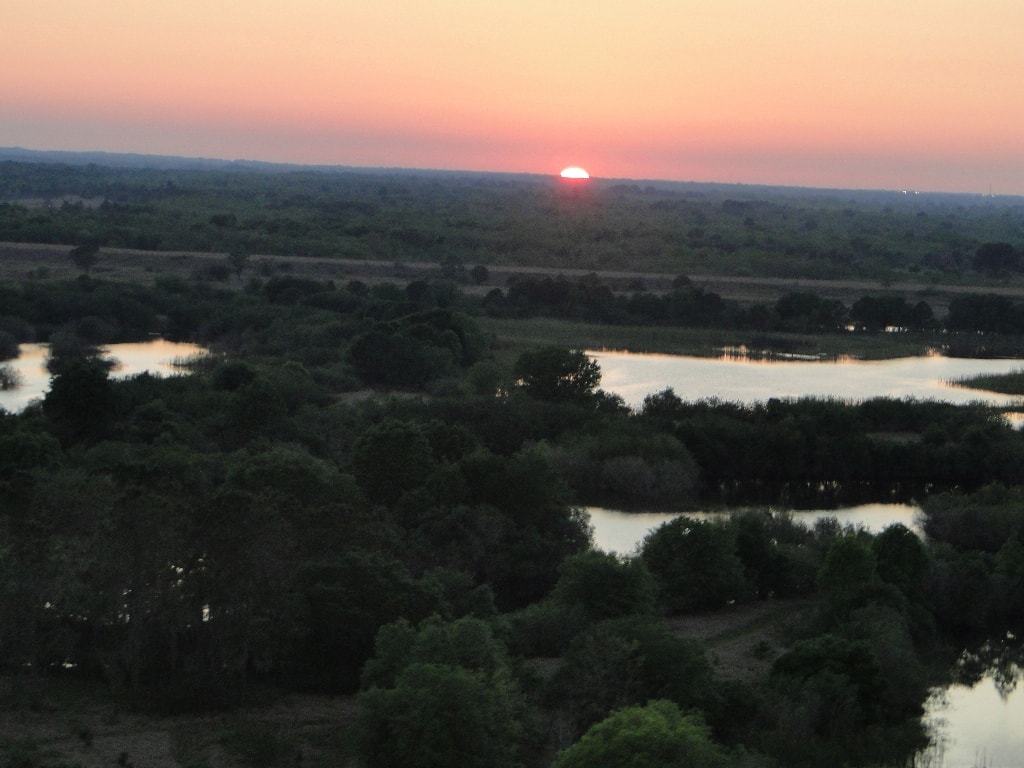 Let me tell you about Rob. He's awesome. He's patient in explaining to newbies the ins and outs of what to expect when flying. He's passionate about flying and restoring vintage aircraft. He's also a former professional basketball player for the NBA (L.A. Clippers) and played in Europe (Spain). If you have any concerns about height and fitting into the planes, Rob can speak with experience as to whether or not you'll enjoy yourself. After all, he started flying the New Standard D-25 because he was looking for a plane that would suit his height.
So, we arrived at his hangar at the Winter Haven Gilbert Field airport just as the sun was starting to set low in the sky. Vega, a beagle and basset hound mix that's as cute as can be, greeted us at the car and escorted us into the hangar. Rob showed us around the hangar since we had a few minutes (he timed the flight down to the minute to get the maximum exposure of sunset watching), and explained his current projects of restoring aircraft.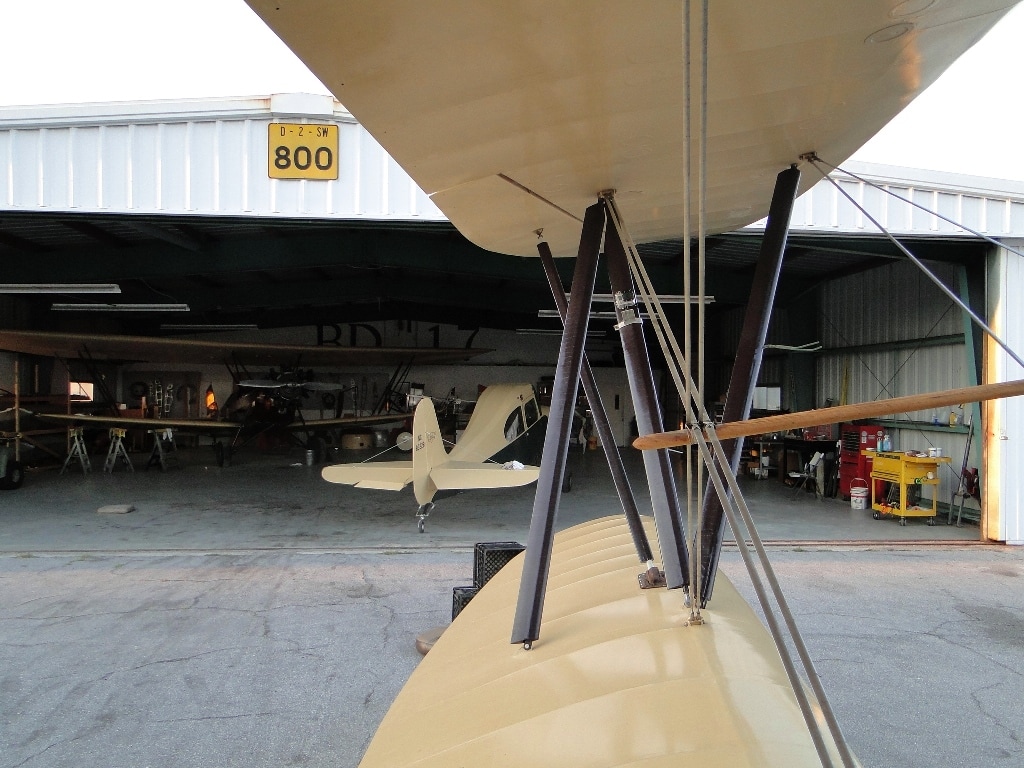 Then he walked us around the New Standard D-25 and told us the fascinating history. The New Standard was designed specifically for barnstorming at the request of the owner of the famous Gates Flying Circus. The plane we rode in was the 5th one ever made, but the oldest one still in existence. Rob has another one that was the oldest New Standard D-25. He owns two of the only nine still known to be left. Only seven still fly.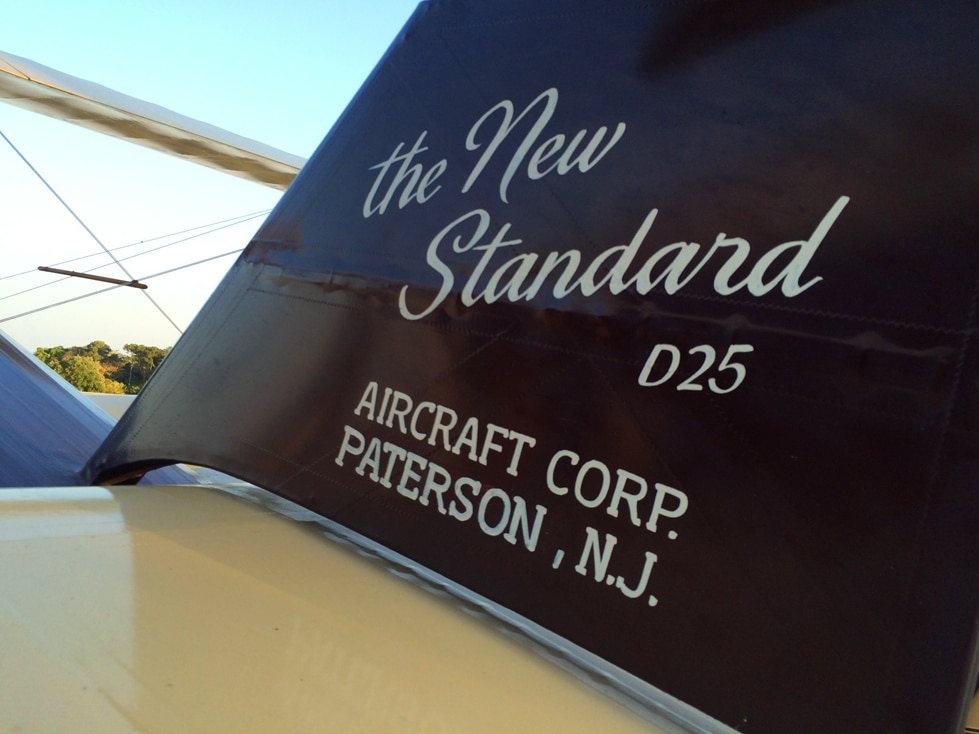 After donning a helmet and flight goggles that Rob provided, we stepped up onto the wing and climbed into the open air cockpit. Rob attached a GoPro to the wing so that we could have video footage of our 15-18 minute flight, and we were off.
This isn't a fast ride. In fact, according to the old fashioned speedometer attached to the wing, we only did around 60 mph. Take off can be accomplished at 35 mph. Even so, in an open cockpit it's quite windy as you could imagine. You'll want to keep your goggles on to protect your eyes, and with the shaking of the plane, it's a bit hard to keep a camera up and taking steady pictures. But it's totally doable, as these pictures show. Watch the video to get a sense of the noise and shaking of the plane.
Once in flight, everything is so awesome. We instantly had a smile on our faces, and Rob says that's pretty common with almost everyone. It's hard not to grin when you're flying over lakes with a ruby red sunset escaping behind the horizon in the distance. We did lazy eights and some turns. Nothing was crazy. I get motion sickness and had taken a Bonine before, but I don't think I needed it.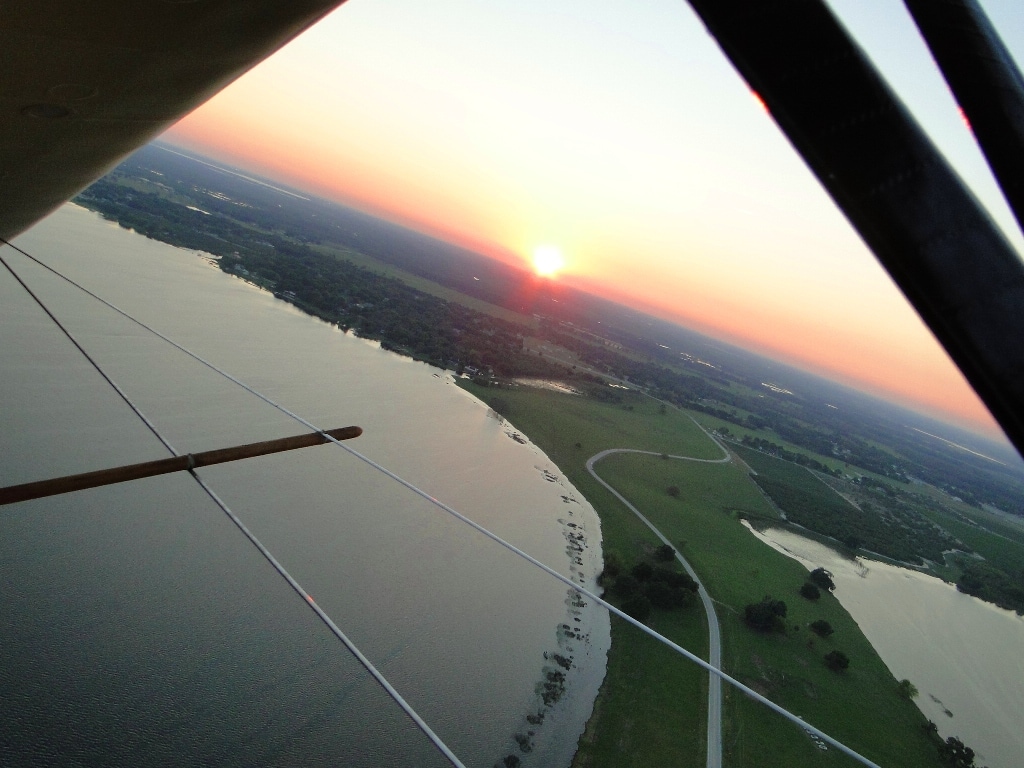 We couldn't take our eyes off of the setting sun. The colors were so gorgeous and so magnificent and it set so fast. What an amazing way to end the day.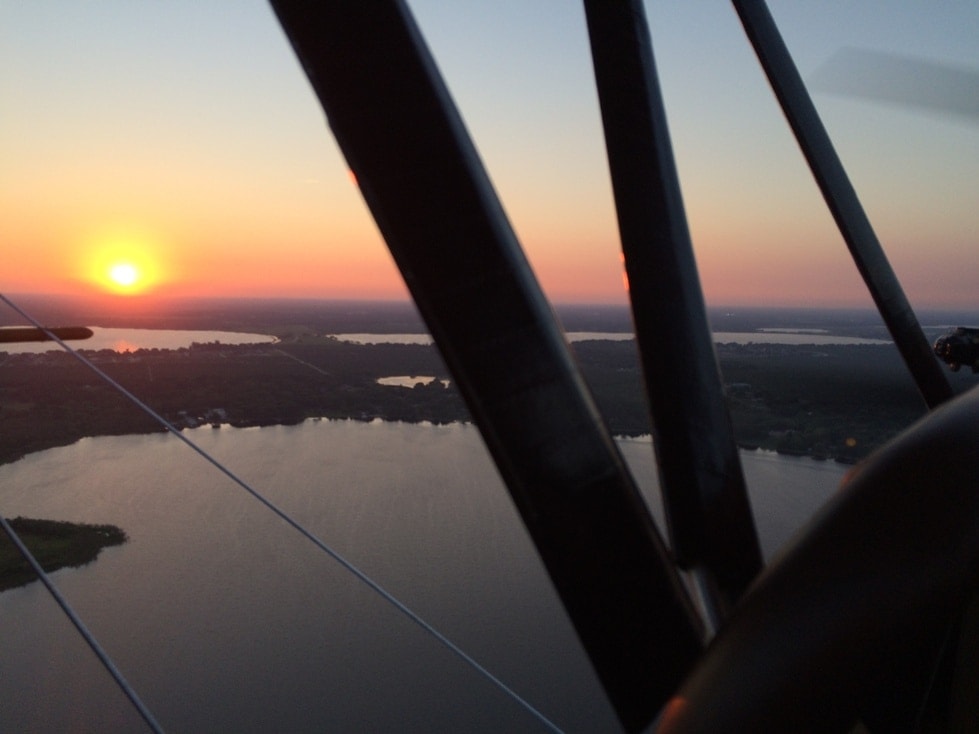 Back at the hangar, we chatted with Rob as he downloaded our video onto a jump drive and petted Vega, who was more than happy to have attention. Rob told us of the opportunities to take the controls yourself on the Stearman, and even flights with aerobatics.
I know without a doubt that we'll be back flying with Rob. I hope that someday soon you will be, too!