When you think of Adventures by Disney tours, you might instantly imagine the week-long tours in faraway places that are on your travel bucket list. The great news is you can experience a fabulous Adventures by Disney tour right now at the Walt Disney World resort! Yuletide Fantasy and Holiday D-Lights are festive tours to experience during Christmas at Disney World.
During the holidays, Adventures by Disney has two holiday themed tours backstage at Walt Disney World.
These magical tours give you a sneak peek into what it takes to create Christmas time magic at Disney's theme parks and around Walt Disney World Resort. It takes a village, y'all, to create this much Christmas magic!
We had a media sneak peek for the Adventures by Disney tours during a Christmas in July event. I was thrilled to help out my friend Serena from Living By Disney by attending the event for her because of a schedule conflict. (And if you're not following her Instagram account, you don't know what you are missing!) So check out her site for some great information, too!
While we didn't get to do the entire Holiday D-Lights Tour, and the Yuletide Fantasy Tour was a bit modified because it was July, we got a great taste of how special these Adventures by Disney programs are. They would DEFINITELY be a great addition to your Christmas time Disney World vacation.
Yuletide Fantasy
We did experience the entire Yuletide Fantasy Tour with Adventures by Disney. And even in the heat of July, I left feeling giddy with Christmas spirit after this magical backstage experience.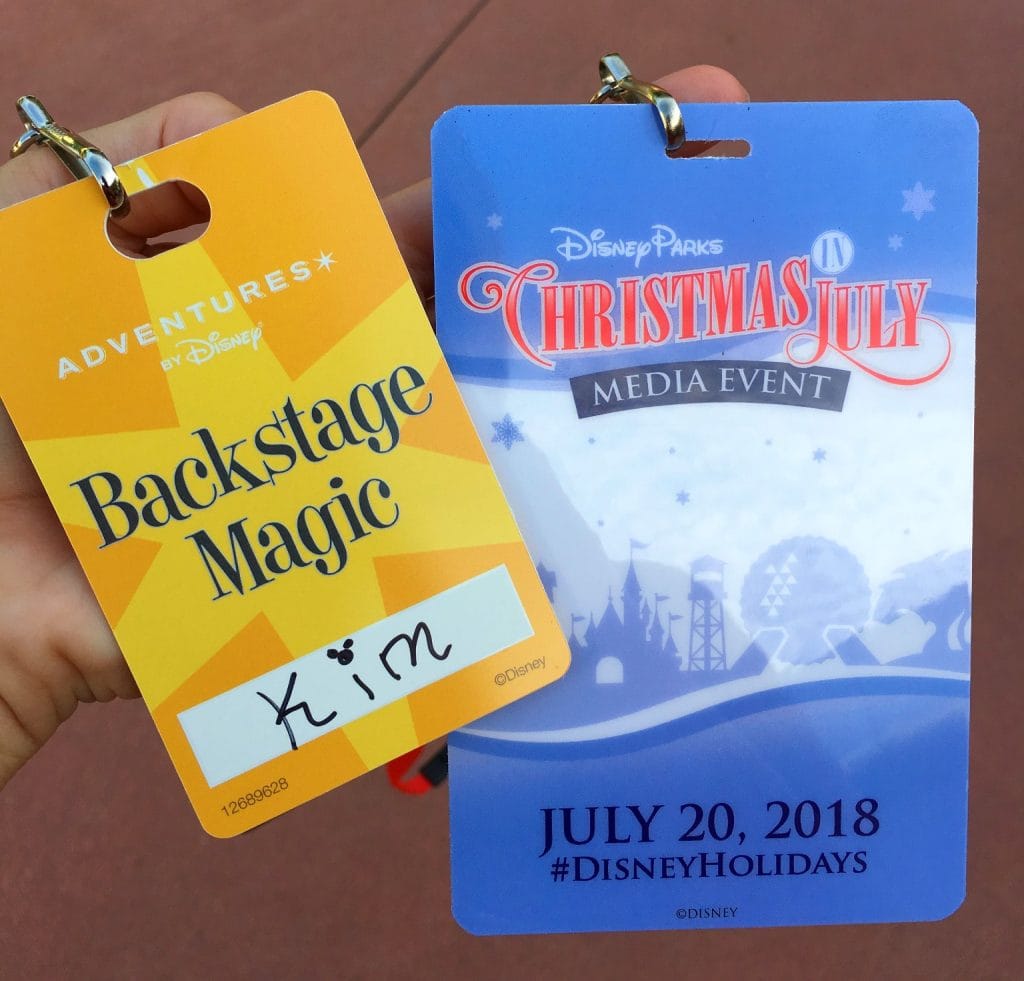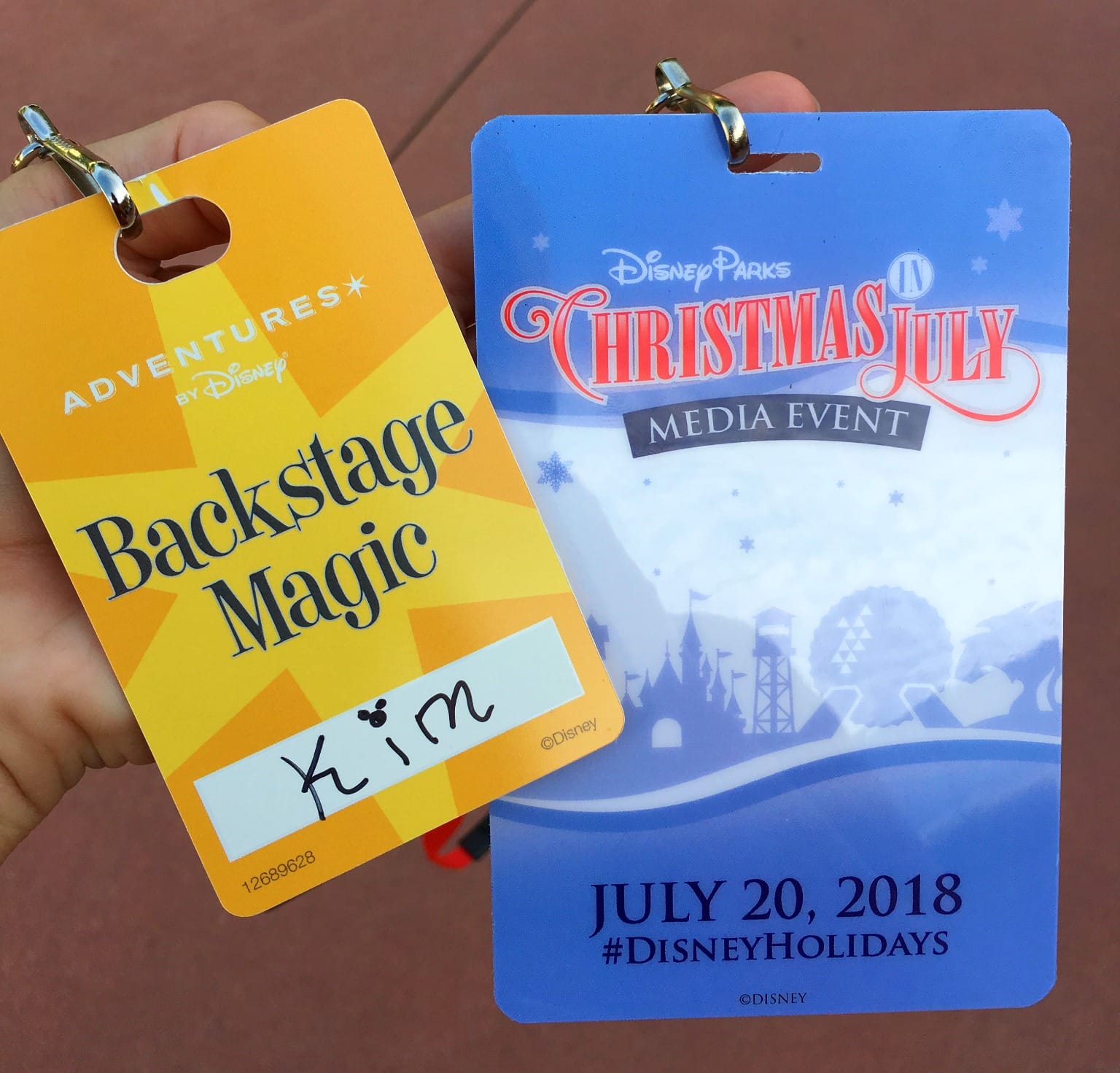 Because it was almost entirely backstage, it's hard to share photos of the Yuletide Fantasy Tour. Just keep in mind that what you see is so secret and so unique that there is a reason you can't take photos. And THAT'S EXACTLY WHY YOU WANT TO TAKE THIS TOUR!
Adventures by Disney will take some photos for you during the tour. You will have access to the photo library afterwards to download the photos.
The 3.5 hour tour brings guests backstage to see and hear about the staggering logistics that it takes to create Christmas magic at Walt Disney World resort in a matter of days.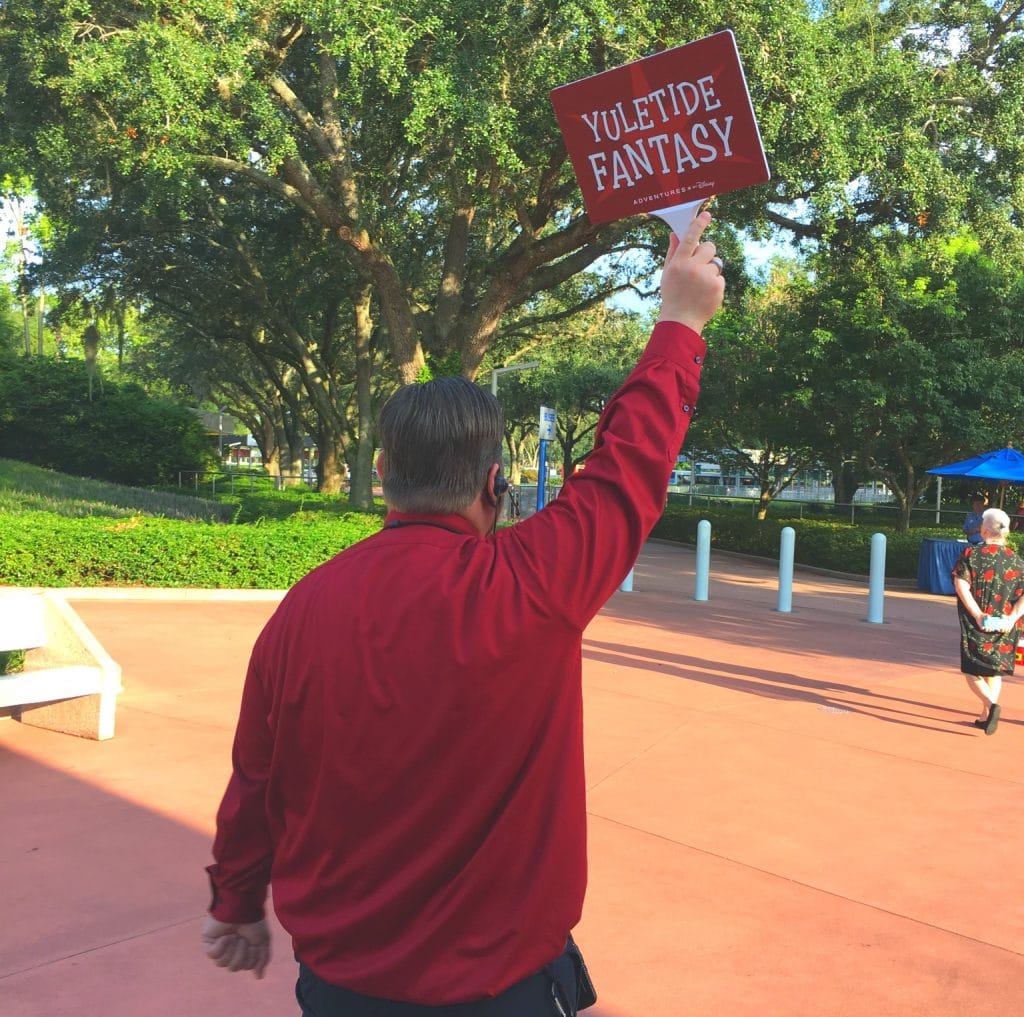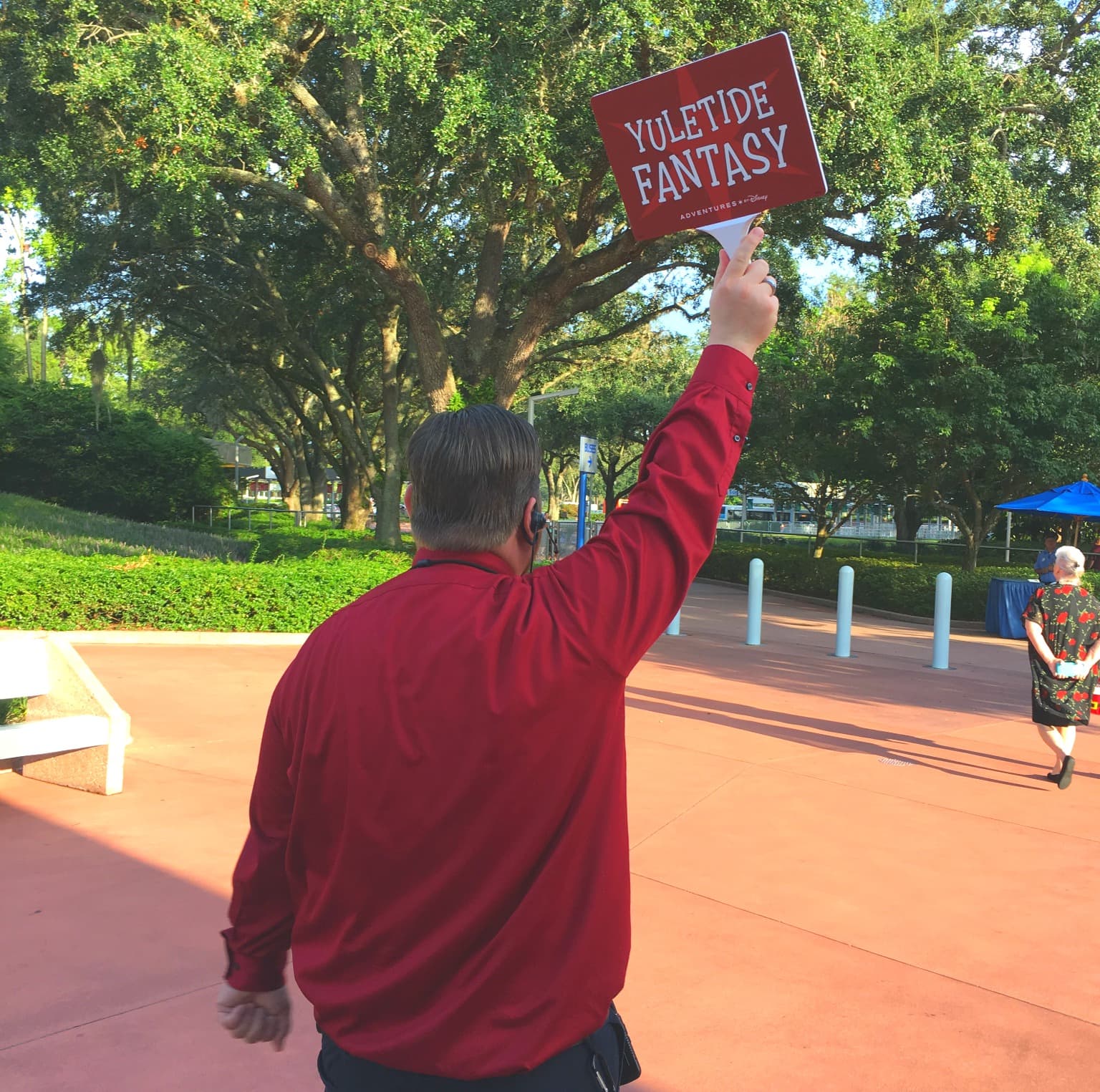 You will go inside Holiday Services to see the holiday decorations used at Disney World throughout the year. It is truly fascinating to wander the aisles and see crates and bins of the decorations that you know and love from throughout Walt Disney World. Keep in mind this is a working backstage. You will need to wear safety goggles and closed toe shoes (even in the photos).
You'll then go to Disney Event Group. This is where so much of the magic starts for guests, from custom celebrations to special gifts they will be surprised with in their rooms. If you order a Christmas tree to be delivered to your Disney resort room, your holiday tree will come from here.
In Disney's Floral Department, you'll see behind the scenes how the flower arrangements, gift bags and other specialty items are crafted and lovingly created before being sent to Disney guests or used in weddings and conventions. We actually walked through the enormous flower cooler (the doors are on the left in the picture above) and it smells divine!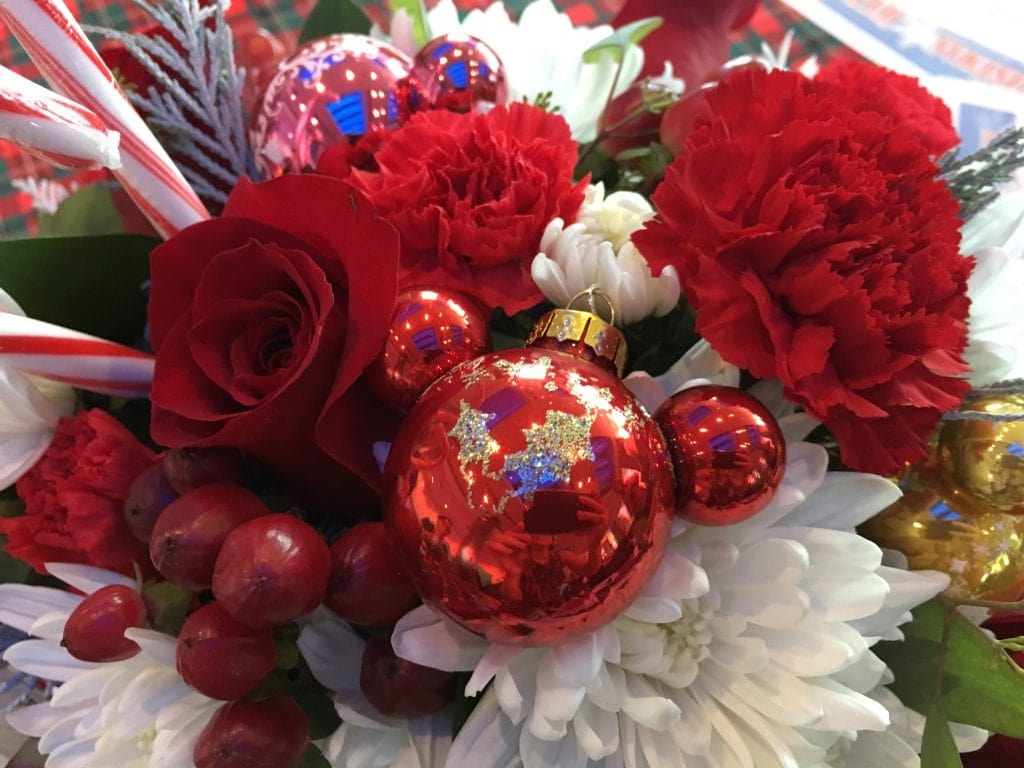 Finally, you'll head to Disney Springs at Amorette's, where you've got some holiday decorating to do! This is a fun photo opportunity as you get to decorate gingerbread men! (For our Christmas in July preview, we decorated seasonally appropriate unicorn macaroons, instead!) While you can buy the gingerbread men at Amorette's during the holiday season, this is the only time that guests are actually able to decorate their own gingerbread men at Amorette's.
Don't be surprised if you are gifted a unique pin after the tour, too!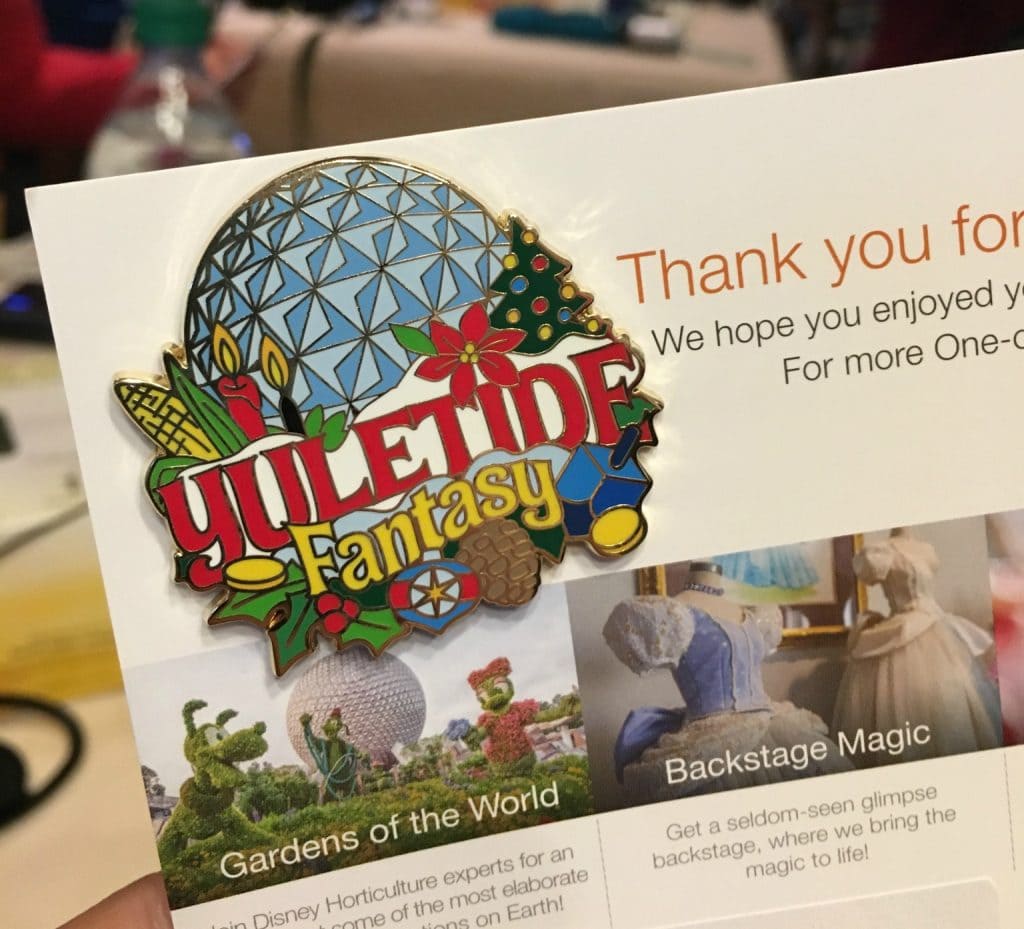 Yuletide Fantasy 2018 tour dates are from November 19 – December 29. The cost is $139.
The 3.5 hour tour starts at Epcot and ends at Disney Springs. You can either take the bus transportation back to Epcot, or stay at Disney Springs.
Holiday D-Lights Tour
During our Christmas in July media event, we just got a brief taste of what the Holiday D-Lights Tour will be like with Adventures by Disney this year.
The 6-hour tour goes backstage at two theme parks (Magic Kingdom and Epcot) during part of the tour.
You'll talk with Disney cast members from Event and Decorating Support who will tell you more about the secrets of stringing Cinderella Castle with holiday lights.
As well as what it takes to create Illuminations: Reflections of Earth with a special holiday finale. You'll even get to see what a Disney fireworks shell looks like! We were shown several different types of Walt Disney World fireworks with an explanation of how they work, why they were invented, and how many are used each night. A Disney fireworks shell looks like this:
The Holiday D-Lights Tour will let you enjoy the Candlelight Processional, as well as Illuminations: Reflections of Earth.
A meal is provided at Wilderness Lodge.
2018 Tour dates for Holiday D-Lights with Adventures by Disney are November 26 – December 20, 2018. The cost is $279 per person.
You will receive a special holiday pin with the tour.
Disney World Christmas Fun Facts
During both the Yuletide Fantasy Tour and the Holiday D-Lights Tour we were told tons of fun facts about the holidays at Disney World. Here's some of the fun facts about Christmas at Walt Disney World:
Cinderella Castle Lights
350,000 LED lights on Cinderella Castle
6,000 strands of lights
350 strobes
6-8 weeks to install
14 days to take nets down
16 person team
Nets on turrets are painted blue to match the background. Nets on the stone walls are colored tan to blend in.
Energy use for each night's light show = 3 loads of laundry
Holiday Lights at Disney World
8.5 million lights are used across Walt Disney World Resort property
5,500 lights are on the Magic Kingdom Christmas tree
98% of all holiday lights are LED. The other 2% are not LED due to special needs.
35,800 white lights are on the Christmas tree at the Contemporary Resort
Christmas Trees at Disney World
1,500 Christmas trees can be found through Walt Disney World Resort
A live Christmas tree was used at the Magic Kingdom until 1996
It takes 2 nights to install the Magic Kingdom Christmas tree
238 ornaments are on the Magic Kingdom Christmas tree
The Magic Kingdom Christmas tree is 65 feet tall, weighs 18,000 lbs. and has a 26-foot wide base.
The Contemporary Resort's Christmas tree is 70 feet tall.
Disney's Animal Kingdom Lodge's Christmas tree is 45 feet tall.
Poinsettias at Disney World
The following numbers are from 2017 Disney Christmas celebrations:
119,000 poinsettias are used across Walt Disney World Resort property
52,973 poinsettias were in Magic Kingdom
40,126 poinsettias were in Epcot
15,874 poinsettias used in Disney Springs
3,574 poinsettias used in Disney's Hollywood Studios
1,476 poinsettias used in Disney's Animal Kingdom
400 poinsettias used in roadways at Disney World
116 hanging baskets were used at Disney's Hollywood Studios (each basket holds 5 poinsettias)
15 Poinsettia towers at Walt Disney World Resort
About 3X more fireworks are used during the holidays at Walt Disney World than during normal daily displays
Share the Disney Trivia – or Pin it to Look at again later!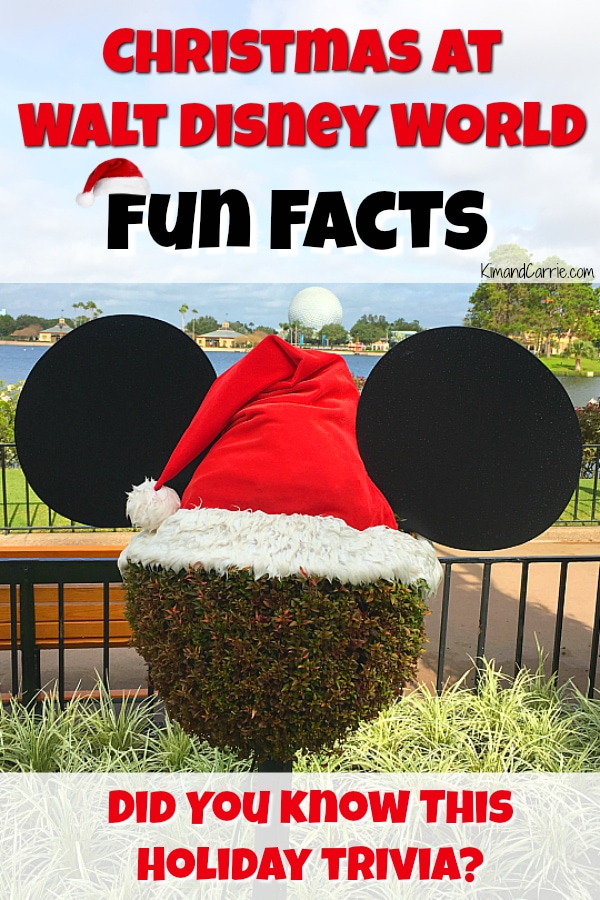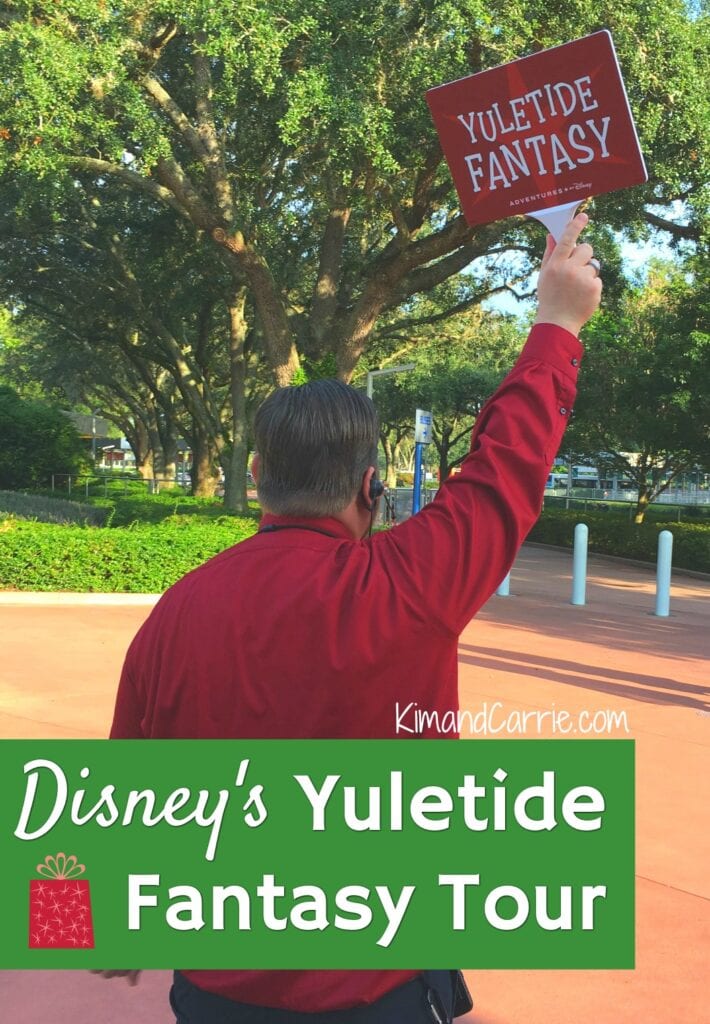 Related Posts:
P.S. Love the dress? Find it online here. You won't believe how much it cost!