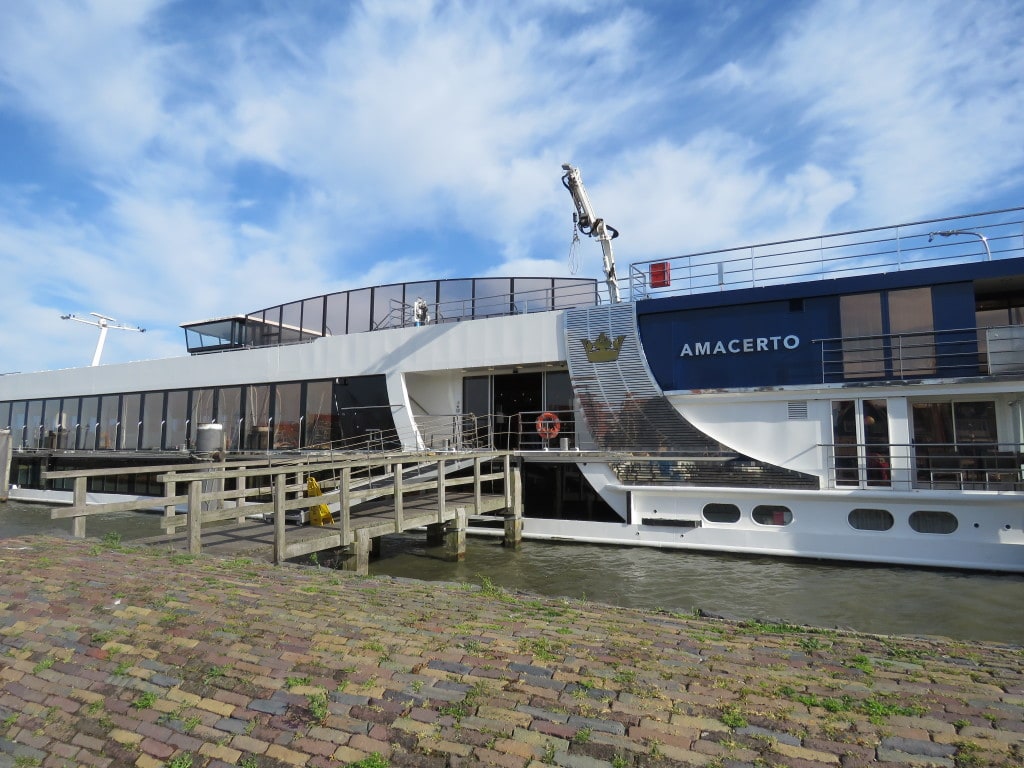 Thinking of taking a river cruise? Wondering what the room and ship looks like? Worry no more, with this photo and video tour of AmaWaterways' AmaCerto ship.
We recently sailed on the 164-passenger AmaWaterways' AmaCerto on the Tulip Time Cruise. What a spectacular cruise! Just as important as the destinations, was the ship itself, and we were NOT disappointed in all that AmaWaterways had to offer during our week long cruise in Holland, including the Netherlands and Belgium.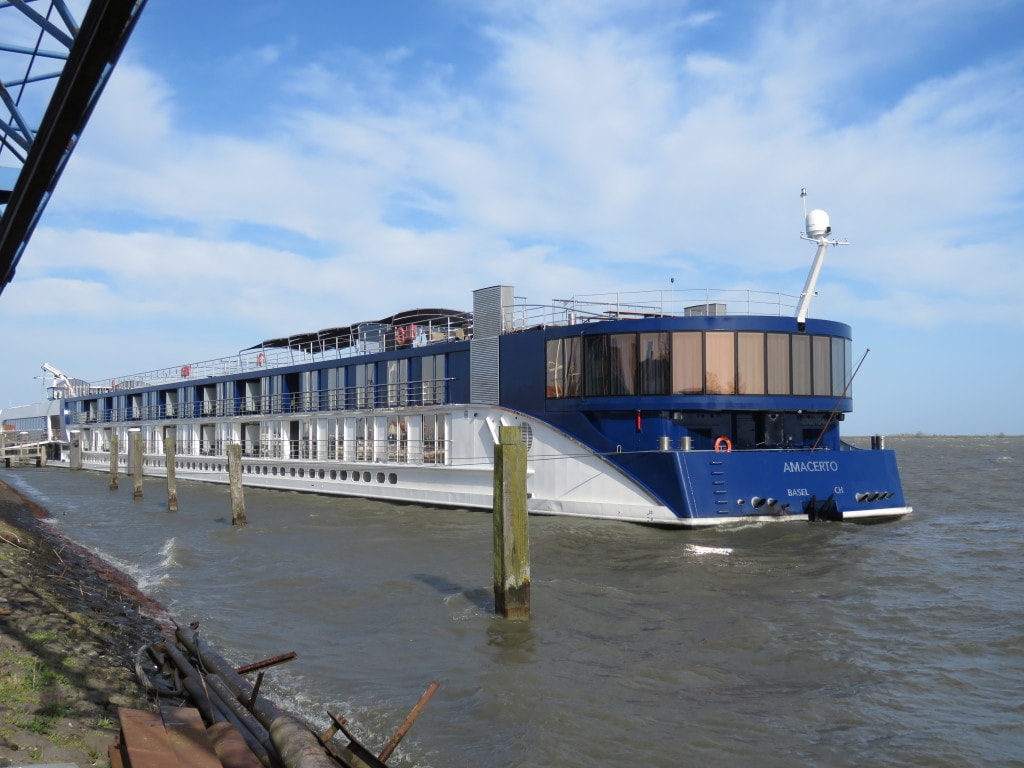 We have separate posts about the food onboard, as well as the excursions available, because there is SO much to cover when discussing the amazing value and amenities of river cruising with AmaWaterways. For now, let's focus on what the room looks like and what this AmaWaterways' ship looks like.
Watch our video tour here, then scroll down for even more photos and info on our website.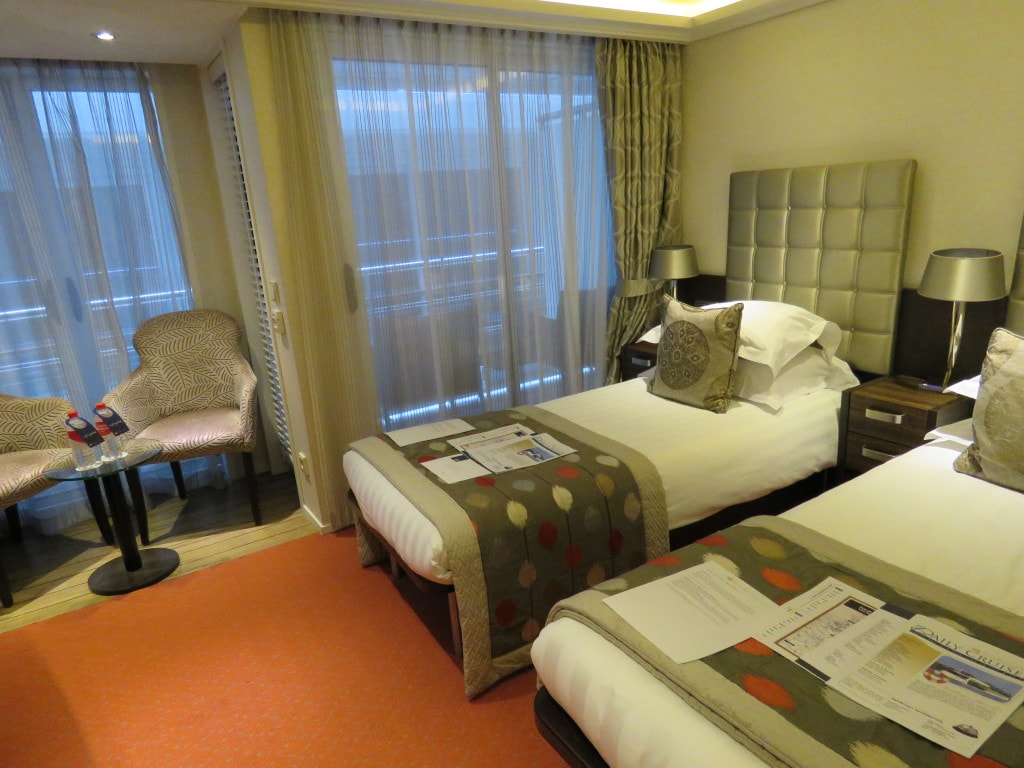 We stayed in Room #223, a Category BB stateroom on the AmaCerto. We were on the Cello Deck, in a 210 square foot "Twin Balconies" stateroom. That means that there are two different types of balconies to enjoy in your stateroom – an outside balcony, where you can physically sit on lounge chairs on the deck, and a French Balcony, which has upholstered seats inside near the large floor to ceiling window doors that also open. I stayed with my mom on the sailing, so our beds were in the two twin bed configuration. Couples obviously can have their beds pushed together.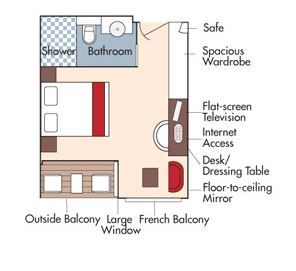 Our room was more than enough to make us happy while sailing the rivers of the Netherlands and Belgium. It was spacious and clean. We had plenty of room to put our luggage, clothing and cameras, as well as souvenirs that we bought along the way. There was even room for an impromptu vase of tulips, as we set sail from Amsterdam to start our journey on the Tulip Time cruise. With a closet area with loads of shelving, plus ample space to store hanging clothes and luggage, there were no worries about where to put our belongings. Additional storage space could be found under the desk area, in the side tables near the bed, and in the cabinets under the sink.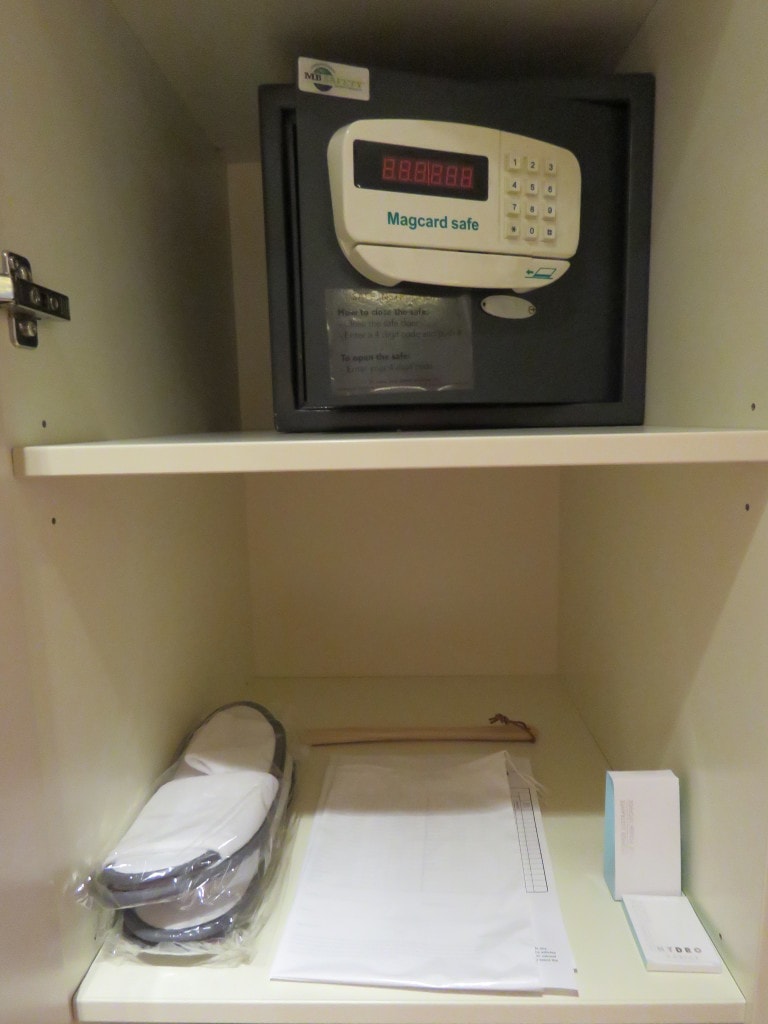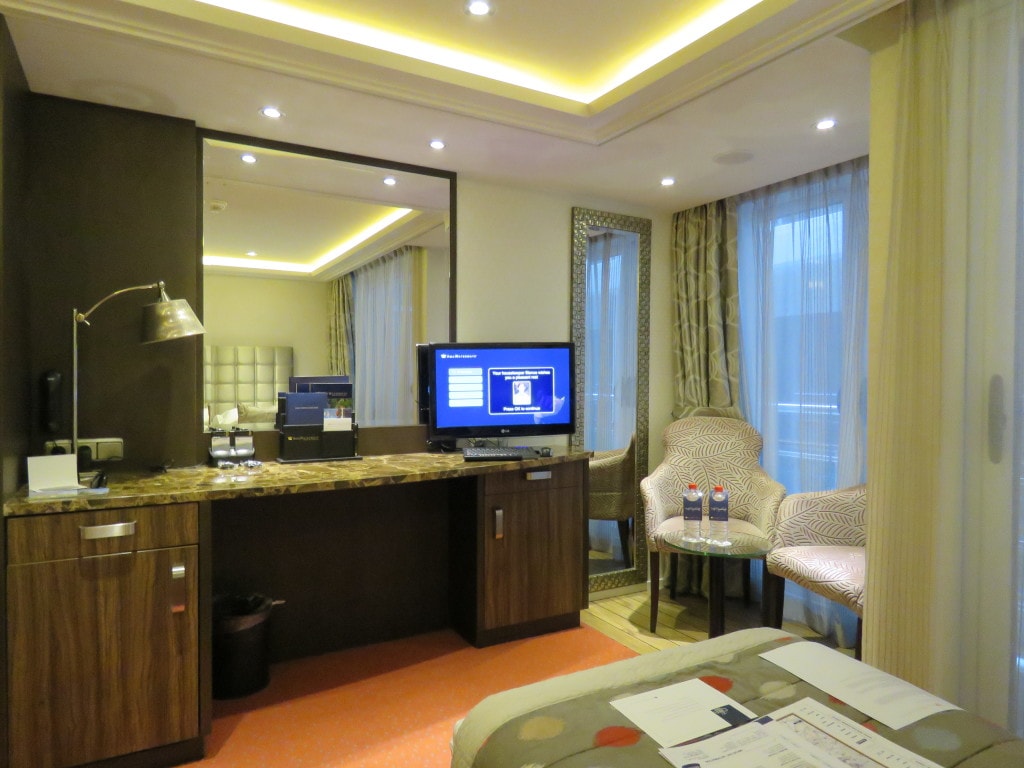 The beds were comfortable and cozy. Getting a good's night's sleep was easy on the AmaCerto, a combination of jam-packed itineraries every day, plenty of fresh air, good food and comfortable beds.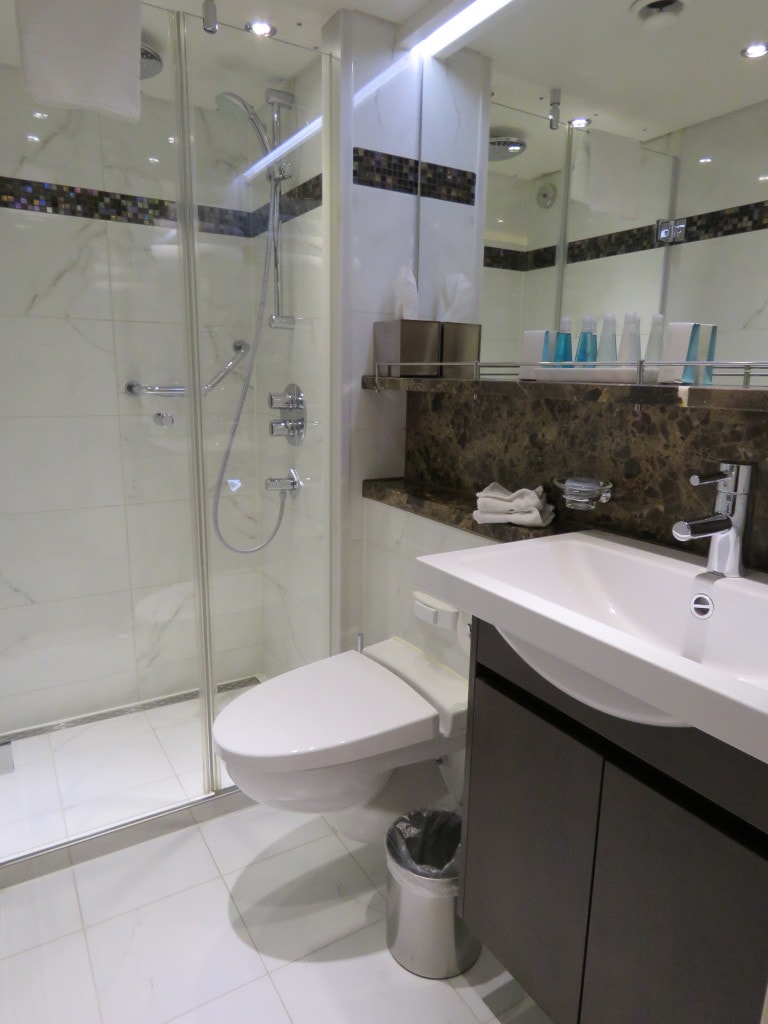 The bathroom was spacious enough to enjoy during the sailing, always a big concern before getting onboard. We were surprised at how much space we had in the bathroom, and how well it was designed, considering we were on a river cruise. The toiletries included were great, the shower pressure was nice and the hair dryer worked well, too. These tiny little details might not seem like much, but when they go wrong, they can really put a damper on your experience. No such worries on AmaWaterways' AmaCerto.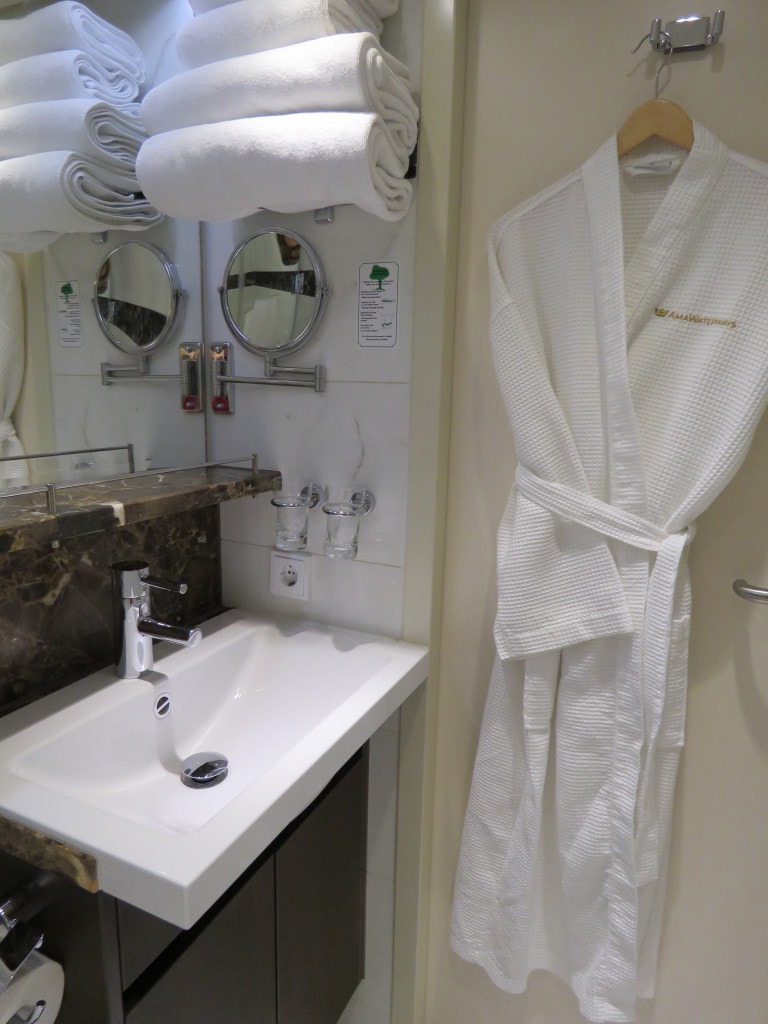 Our housekeeper Bianca was amazing (Watch her make a Swan Towel Animal)! The room was always nice and tidy, well stocked and taken care of. The few times that we had a special request (more hangers…) it was taken care of promptly. Among the great amenities that really added a nice touch were the complimentary bottles of water left in the room every day, and the refrigerator available to keep them (and small snacks) chilled. I might have brought back some desserts from the Chocolate Buffet one night and stored them in the refrigerator for future snacks….. I'm just sayin'!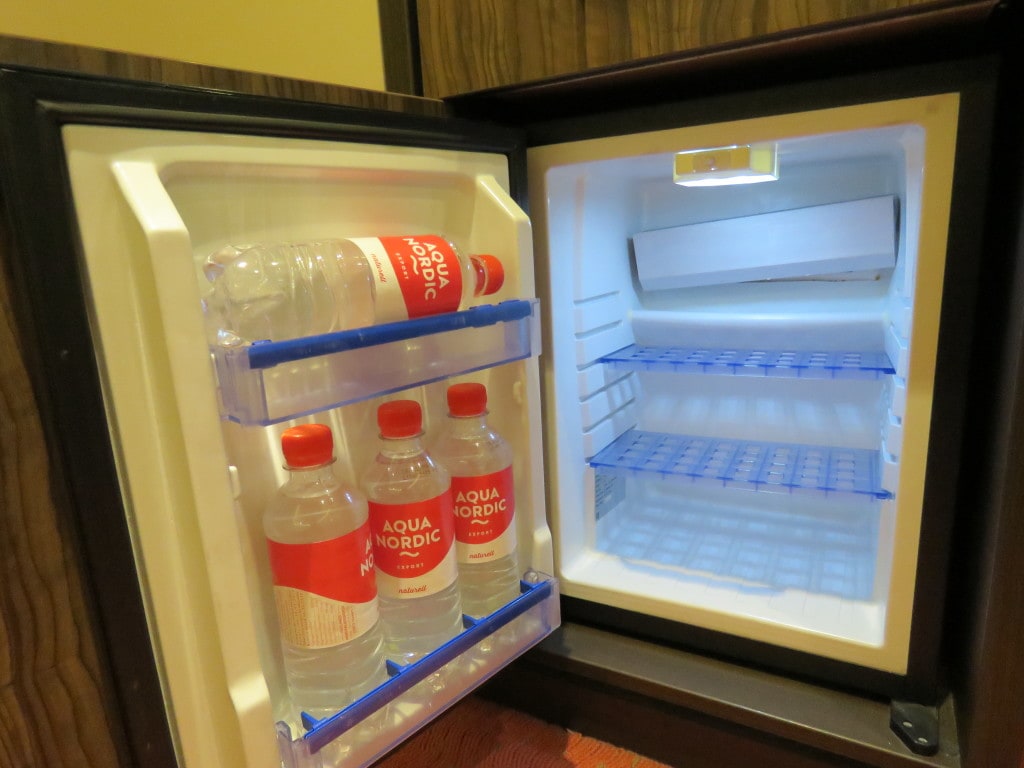 Also MUCH appreciate is internet connection in each stateroom, without having to go to a communal library on the ship. Having a TV and Internet setup on the desk is so great for when you want to quickly check some emails back home, without having to wait in line for the two computers in the ship's library, like on some other river cruises.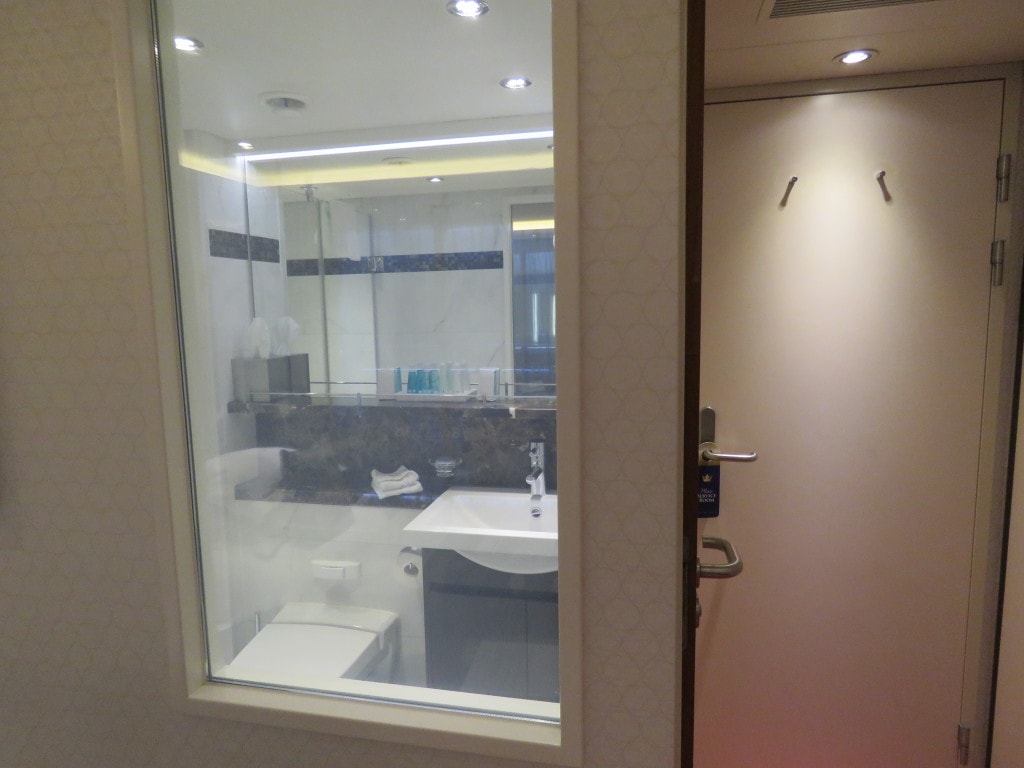 There is one thing that I want to caution you about, though, and you'll find it hysterical (we only thought it was funny afterwards, though….) Our bathroom had a huge window that looked out into the bedroom. It was really easy to see everything that was going on in the bathroom from inside the bedroom. During the introduction to our room, nothing was said about the window, and even though we tried every switch that we thought of, we couldn't find a way to make it "fog." So we hung a bathrobe up to try to mask the goings on in the bathroom when someone was in there. It wasn't until I was taking pictures in the room and accidentally hit a switch that we discovered that the window really does fog up, but only with a switch from the outside of the bathroom. We weren't the only people onboard that had the same problem. Thank God we found the solution on the first day, other shipmates took 2-3 days of artful maneuvering and avoidance before they found out about the fogging up feature.
Related: Looking for a SUPER easy camera to use with auto settings, long zoom, takes HD video and is great in low lighting to bring on your cruise? I used a SONY like this one and am thrilled with the results!
Let's be honest – we were only in the room to sleep and get ready for the day. There's way too much to explore on the ship itself and in our ports of call. Thank goodness the AmaCerto ship was amazing, too. Sleek, modern and well designed, it was classy and elegant without ever being pretentious.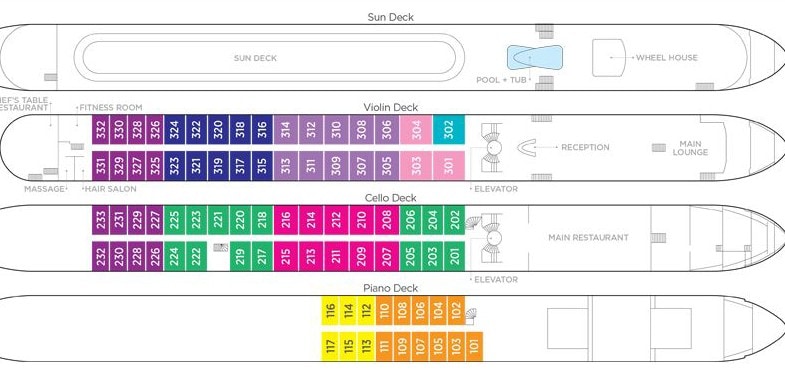 There are three decks onboard the AmaCerto. The Piano Deck is the lowest, with only staterooms. The Cello Deck has mostly staterooms and the Main Dining Room. The Violin Deck has most of the action indoors, as well as staterooms. If mobility is an issue for you, there is an elevator, but please do keep in mind that it cannot access the lower level Piano Deck. You must be able to climb stairs if you choose the rooms on the lower level.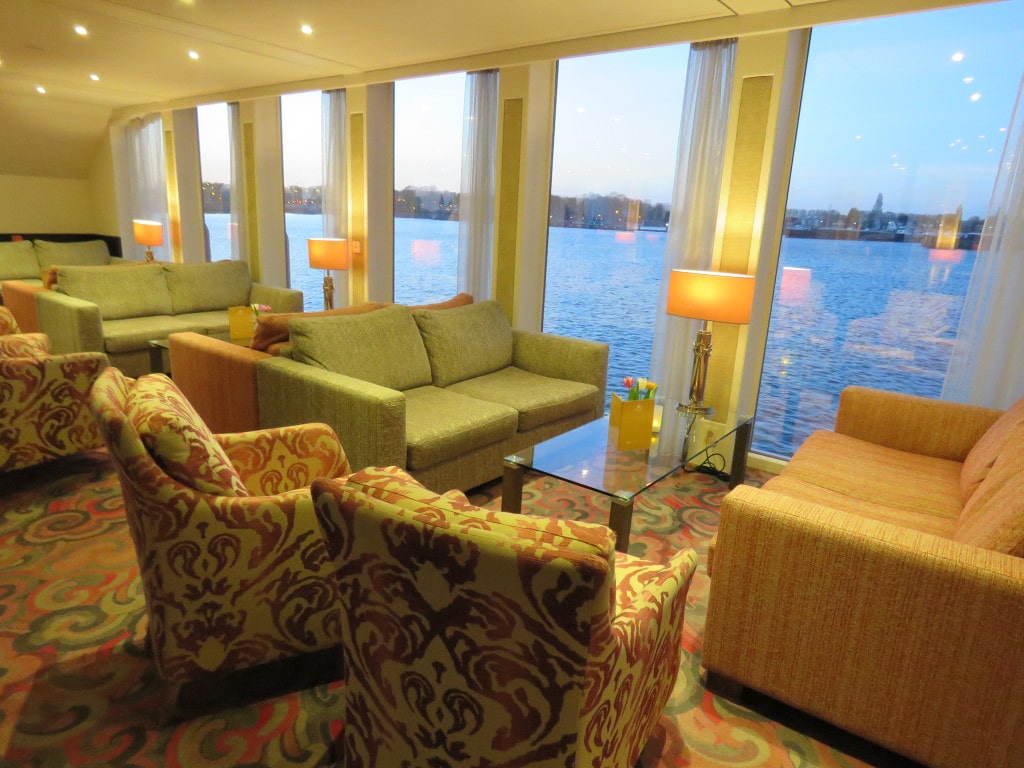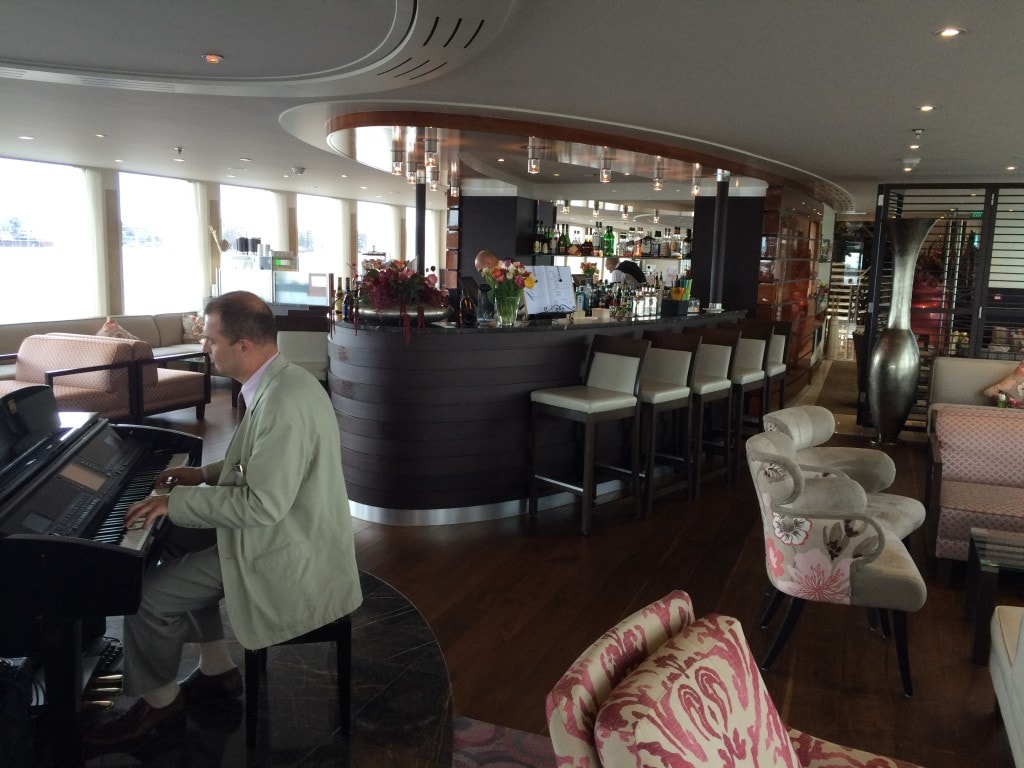 The Main Lounge and Bar is where most of the action takes place throughout the day, from port talks to evening entertainment, and even where a lunch buffet, ice cream buffet, late dinner snacks and all of the drinks are served. We spent hours relaxing in the lounge, grabbing a quick bite to eat for lunch when we didn't want the whole sit down service, or just enjoying cookies and hot tea as we sailed along to our next itinerary.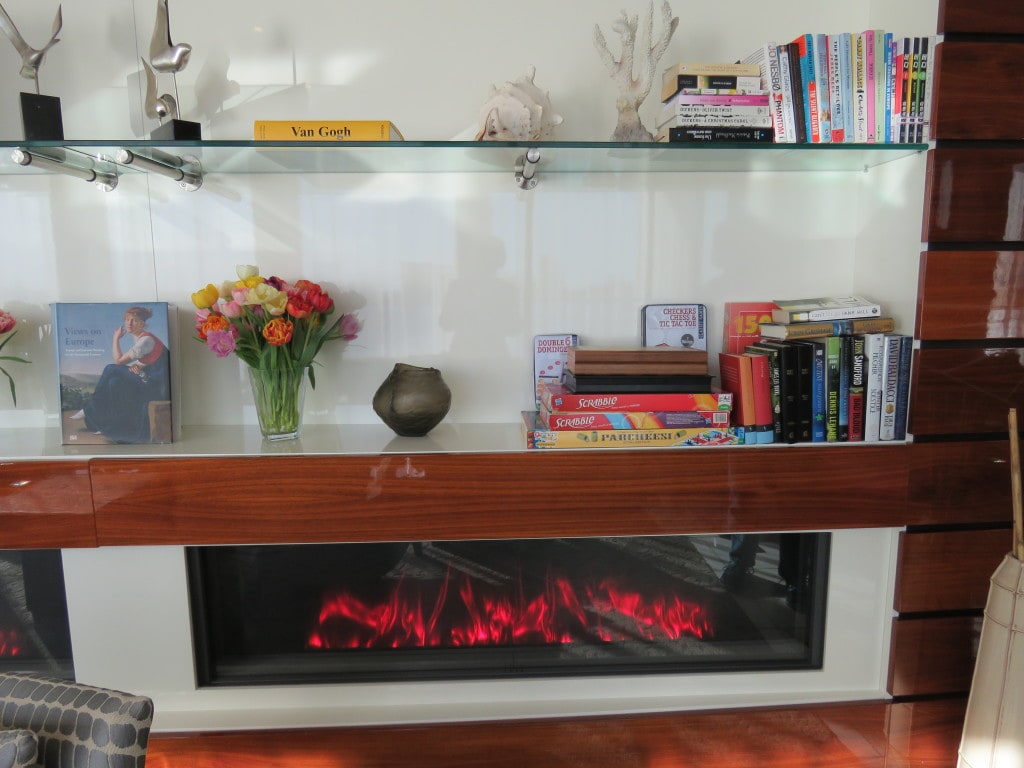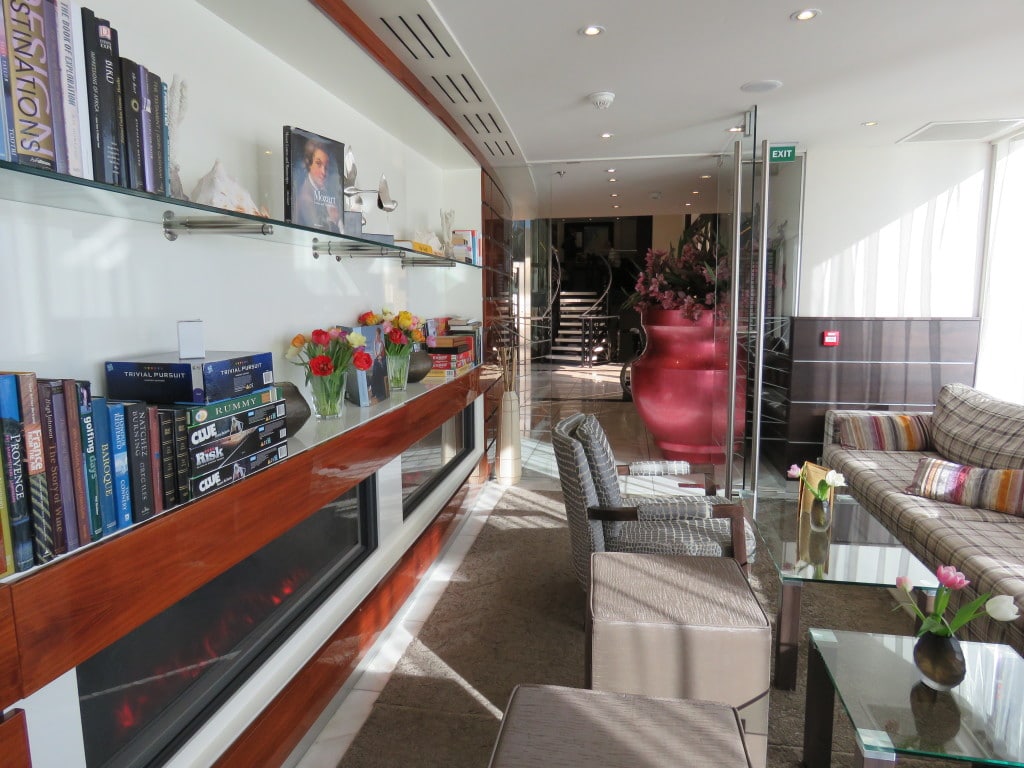 The library area is just outside of the Main Lounge, and has books, games and a brilliant "fake" fireplace that's a relaxing spot to do some reading.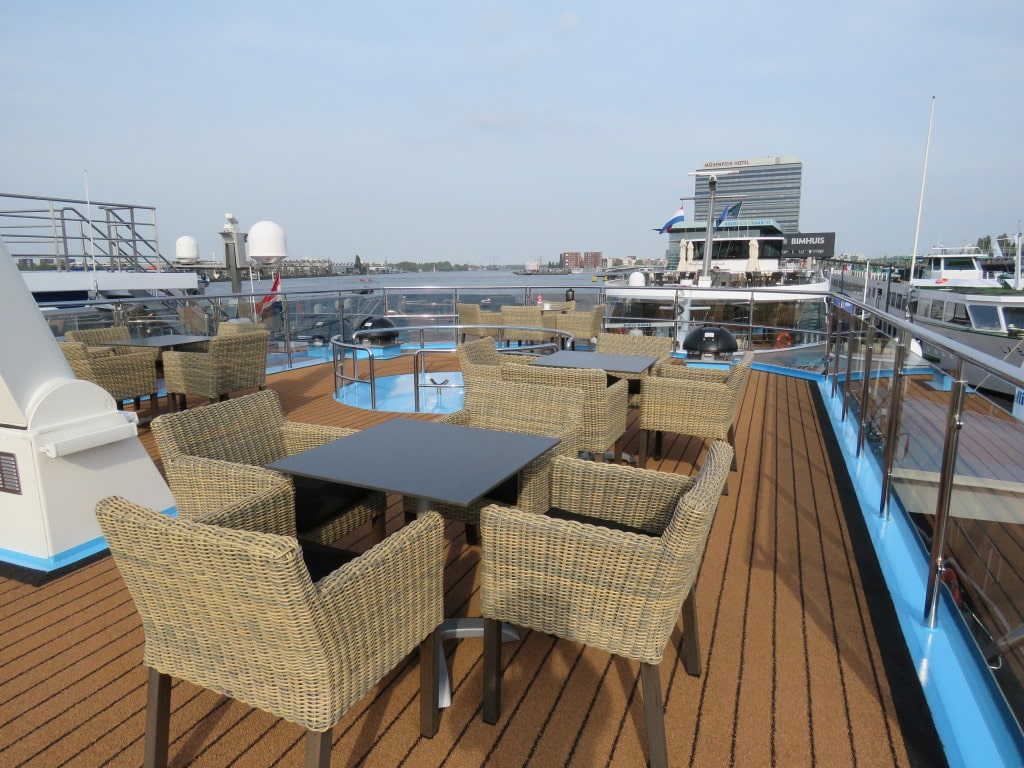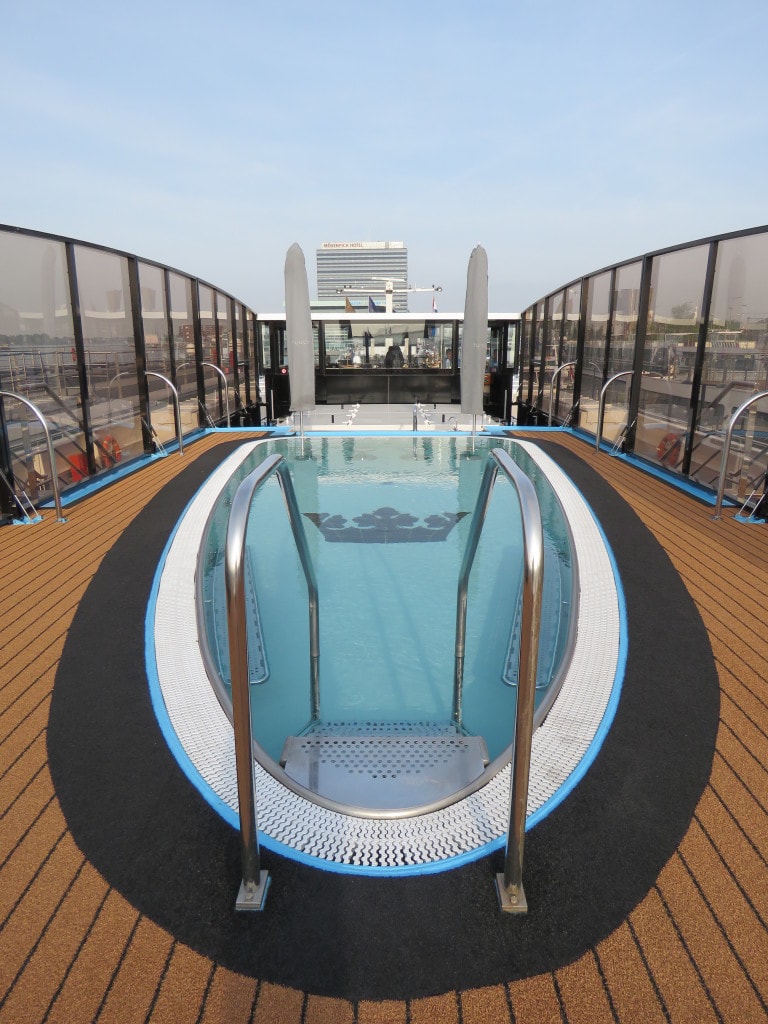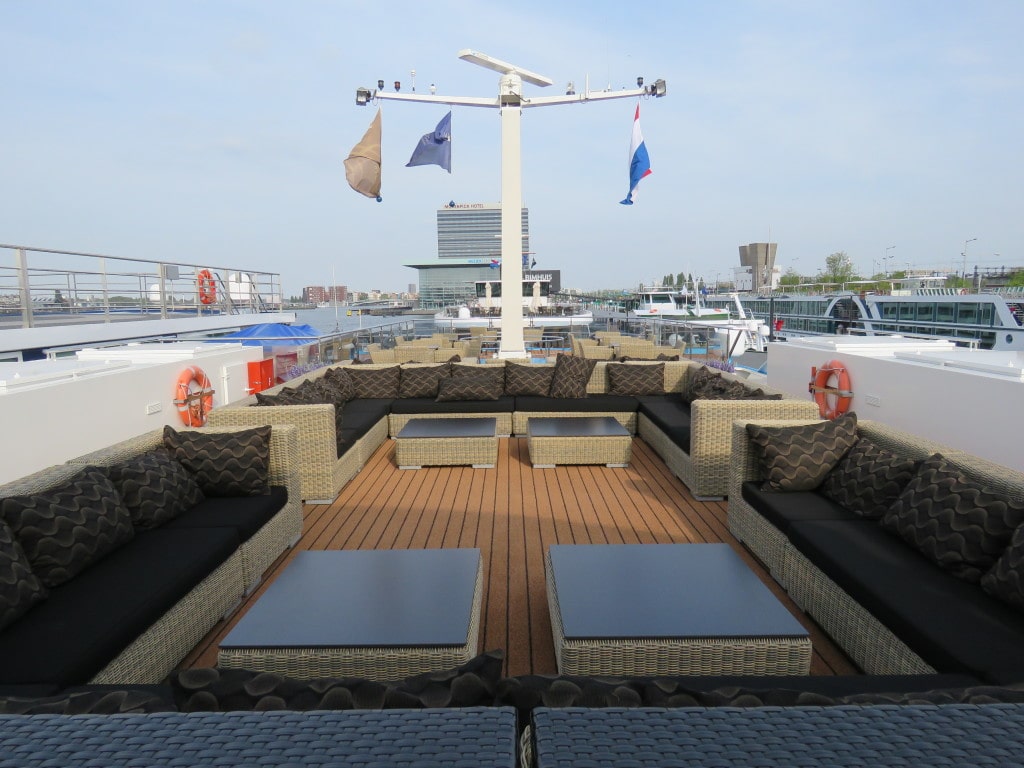 Outdoors there is the Al Fresco Dining Terrace on the Violin Deck, as well as plenty of comfortable outdoor seating on Sun Deck, with lounge chairs under cover, as well as patio furniture by the heated pool. If the weather's nice, this would be the place to be.
The Fitness Room is tiny but mighty, and there's a Massage and Hair Salon. We discuss The Chef's Table restaurant in another post. One of our fun finds was the Gift Shop onboard. There's an array of gifts, and for our Holland sailing there were plenty of wooden shoes and other traditional merchandise. We bought tiny wooden shoes for .50 Euro, while the exact same thing was sold in all of the gift shops in ports for 2 Euro. We were surprised at how fair the prices were onboard for souvenirs.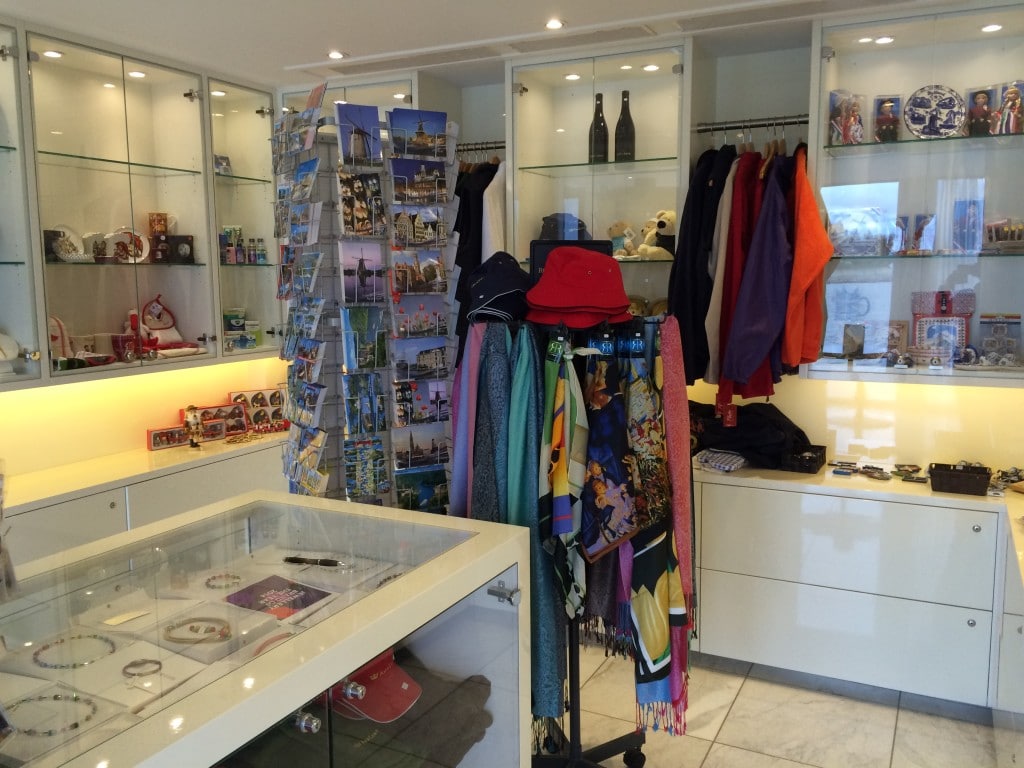 The ship is at once large enough to have plenty to do and space of your own, yet small enough to easily maneuver walking around.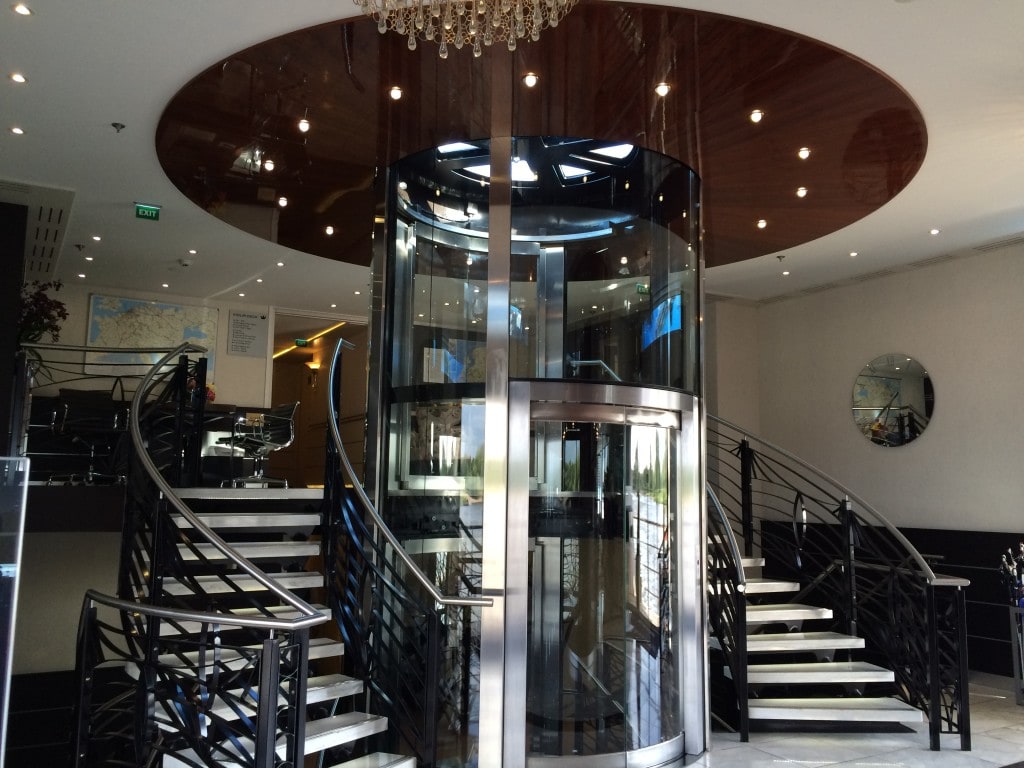 For those with physical challenges and concerns, though, you definitely want to ask questions when booking a cruise with a travel agent. Just because the ship is easy to maneuver does not mean it's entirely accessible for every single person. Narrow hallways and ramps, stairs to two of the four levels, and excursions using European transportation does not mean that there might not be challenges (many due to the destinations, not the ship itself) if you have specific needs. Speak up, don't assume and ask questions!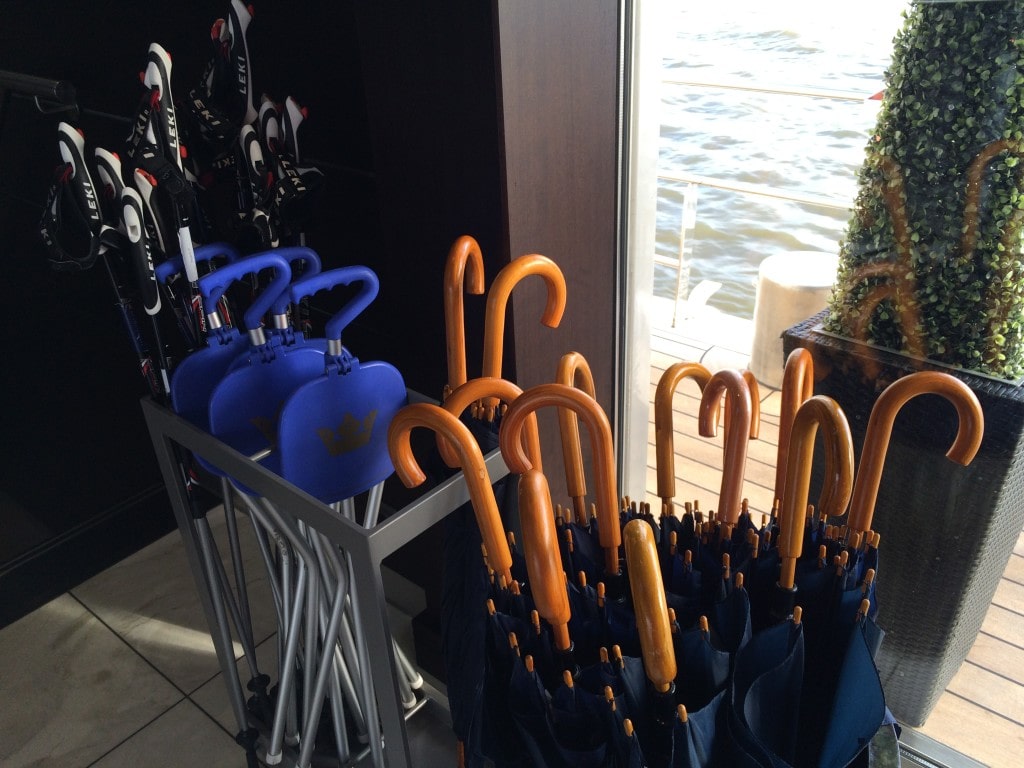 Speaking of which, there are walking sticks and walking poles with seats available at the exit each day, along with oversized umbrellas (also in your room) for inclement weather.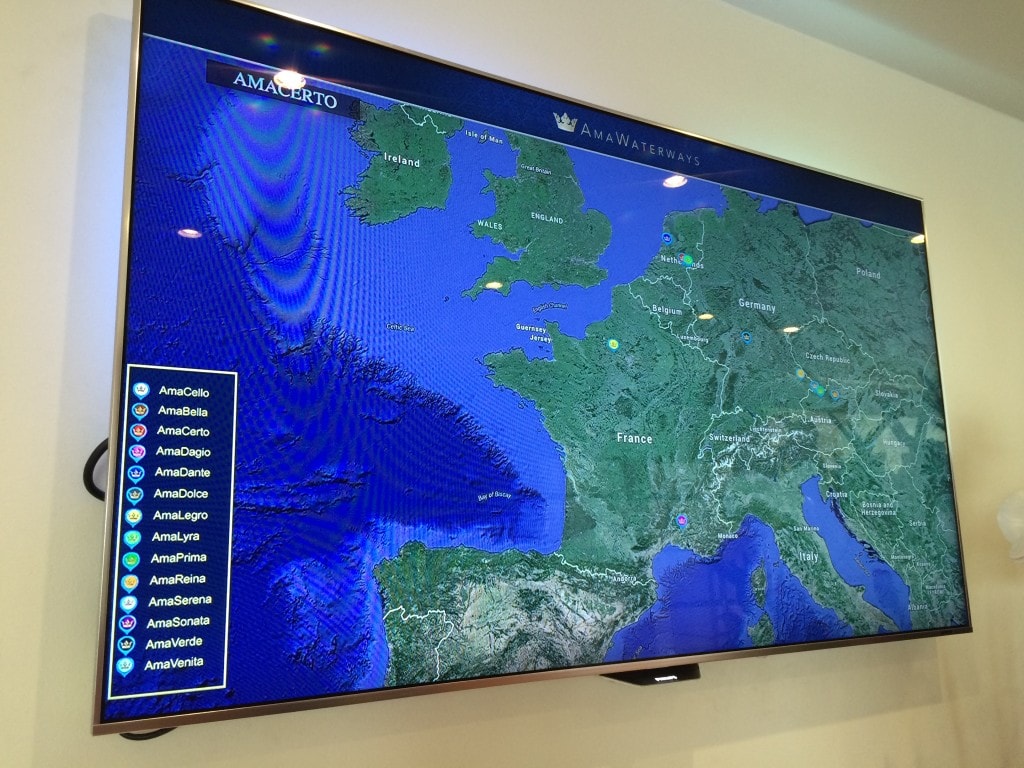 In the lobby area, there is a great interactive digital map, showing all of AmaWaterways' ships that are sailing at the current moment, and where they are in the world.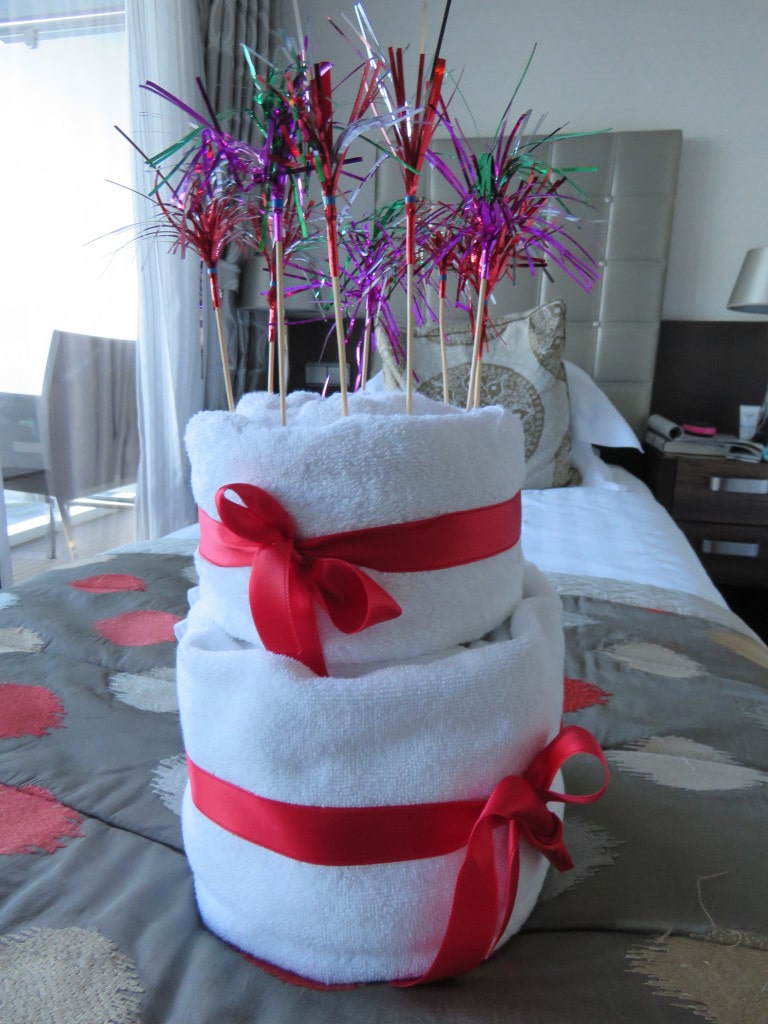 Sailing and celebrating a birthday? Check out this adorable birthday "cake" that we spotted being delivered to someone's room for their celebration.
I'm always asked what I think about river cruising, and how the ships compare, especially because I've sailed on Viking River Cruises before, too. Without hesitation, I wholeheartedly recommend the wonderful experience of sailing on a river cruise. There is nothing more convenient and easy than visiting many countries in Europe while never having to deal with train schedules, unpacking or language barriers.
The most recognizable name in river cruising for Americans right now is Viking River Cruises, so without a doubt everyone always asks me how to I compare AmaWaterways with the Viking River Cruises that I've been on. I think that the two river cruise lines are similar, but there are definite advantages and a little more luxury with AmaWaterways. The AmaCerto had two restaurants on board, while Viking has one. The AmaCerto has a pool, Massage and Hair Salon, Fitness Center and large gift shop, while Viking does not have any of those luxuries. Internet access is included in your room, whereas Viking has two community computers.
Pin It!

I was thrilled with my first AmaWaterways River Cruise, and I hope that it won't be the last. I might have been unsure about what to expect when I first stepped onboard in Amsterdam, but now I would happily go back in a heartbeat. I hope you'll join the growing movement of Americans finally discovering river cruising and set sail soon, too.