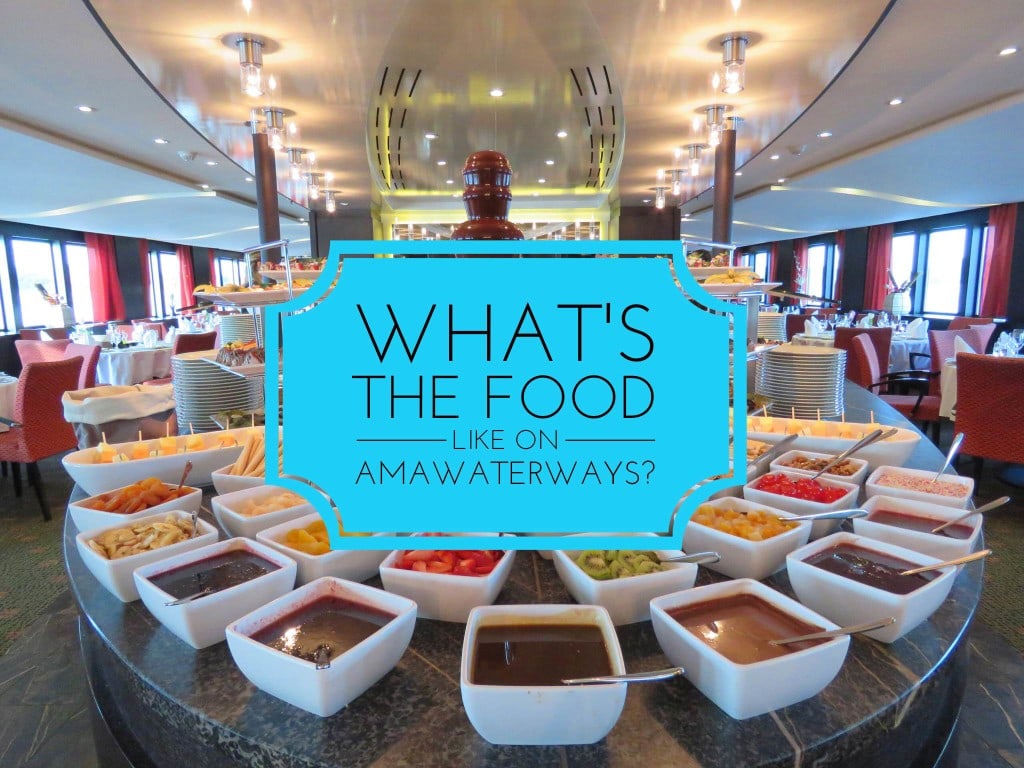 What's the food like on a river cruise? That's the number one question that I get when anyone finds out that I've sailed on river cruises.
That's why I decided to document my meals and food choices on our recent cruise with AmaWaterways (I've done a previous version for Viking River Cruises). We sailed on the Tulip Time cruise through Holland and Belgium. The food is going to be different on every ship and cruise (depending on where you're sailing and what regional cuisines they might be highlighting), but I can say for sure that our menus onboard AmaWaterways' AmaCerto ship were delicious and inventive. Definitely no disappointments!
Food is just as much a part of cruising and is the scenery itself. So here's the full menus and photo highlights of our seven night sailing:
Day One: Embarkation Day
Upon embarkation, there is a light buffet set up in the lounge, including sandwiches and soups.
For dinner, we dined at The Chef's Table, a premium dining experience that – happily! – has no surcharge. (Available on the AmaCerto, AmaVerde and AmaBella) You just need to make reservations for one night. The menu is the same for every night of the sailing, so everyone can indulge in the same decadent menu. It's a great location, on the back of the ship with full windows overlooking the river. It's a fancier setting, with intimate dining and a demonstration kitchen so that you can watch the chefs cook your meals.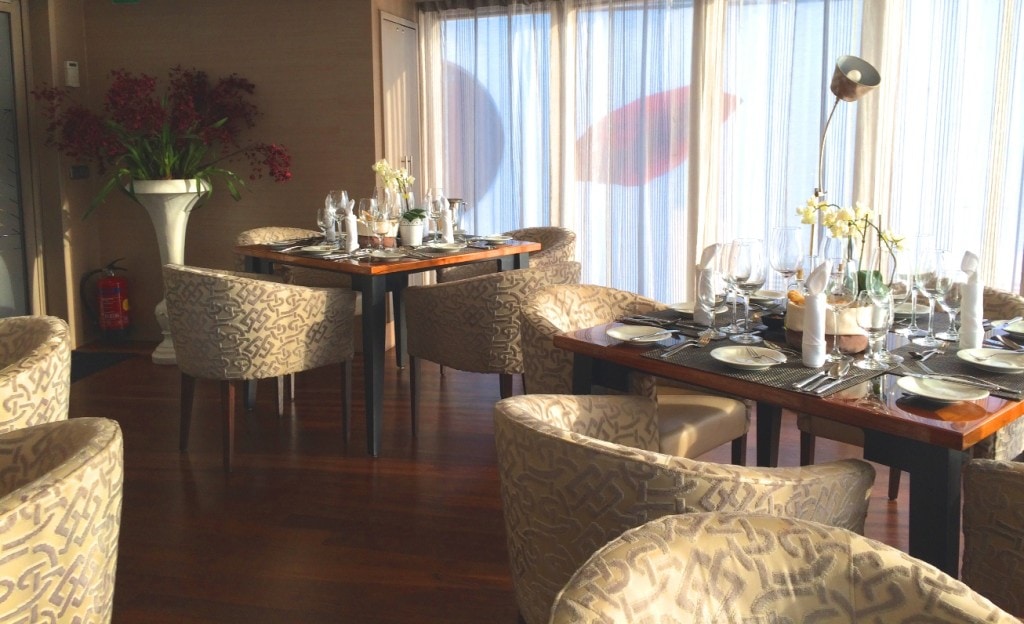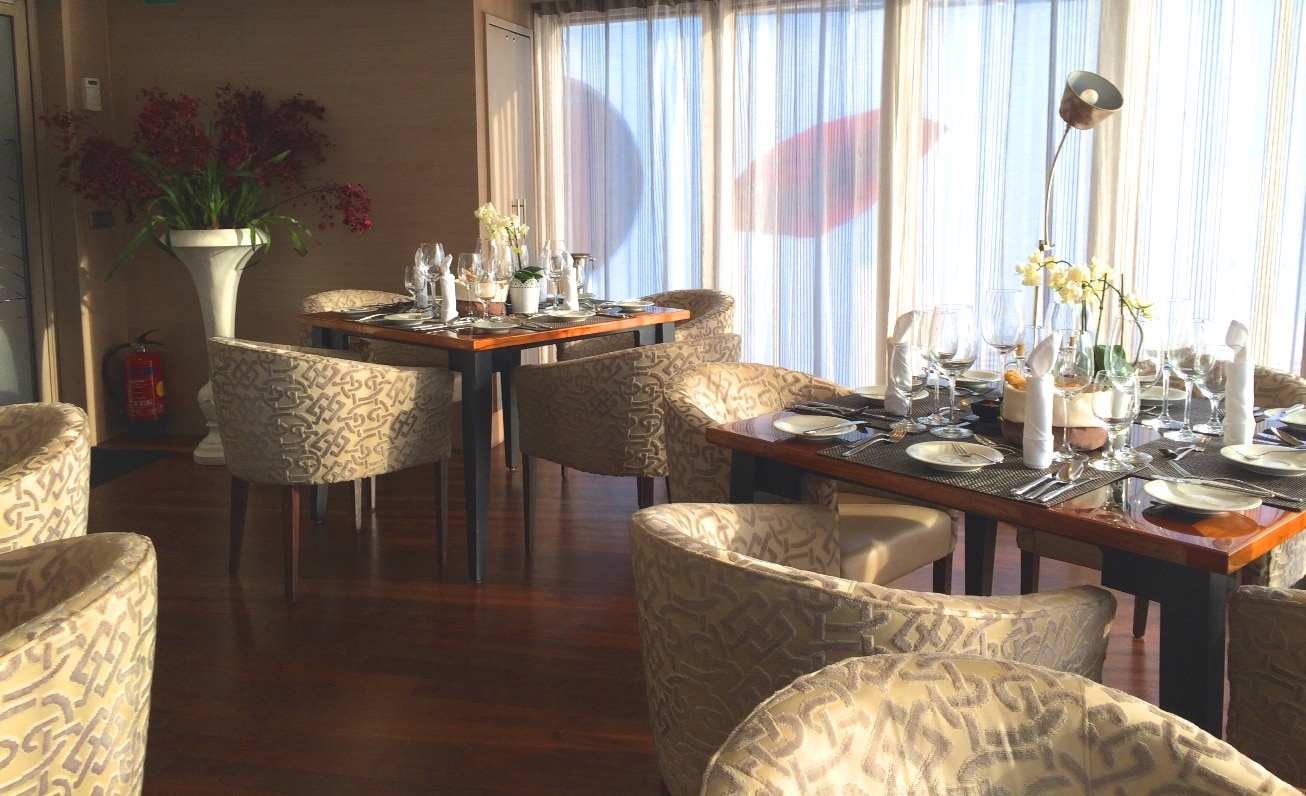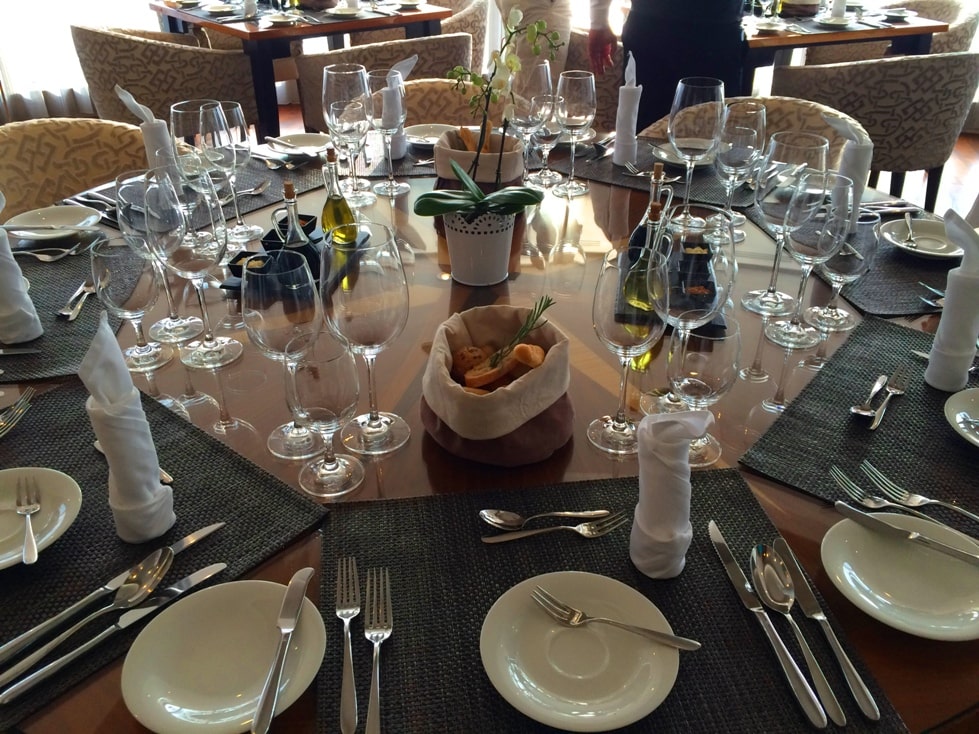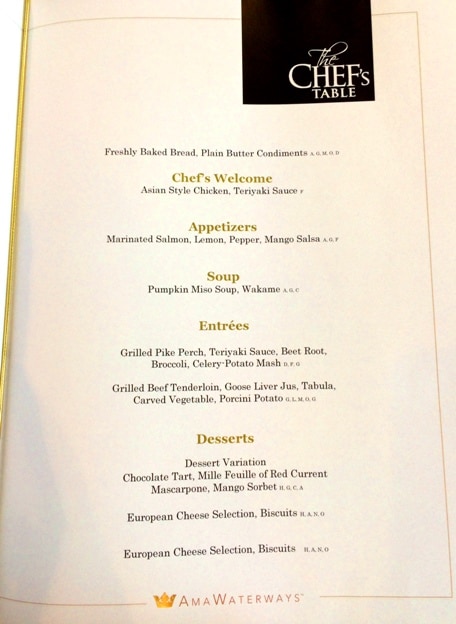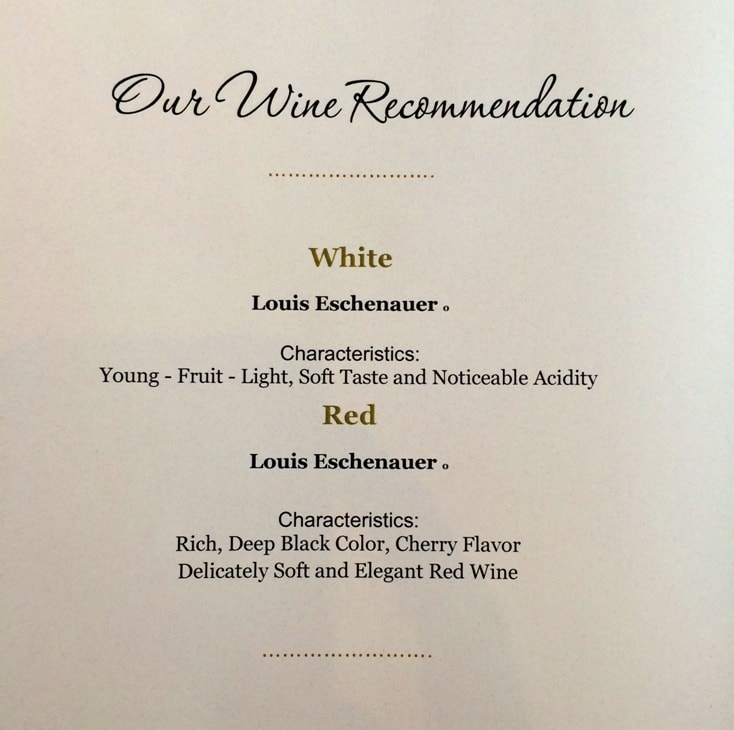 I highly, highly recommend that you make a reservation! Even with my dining specialty needs, the chef was able to expertly create delectable courses (notify them in advance of dietary needs first, though!).
Day Two
Every morning there is a full breakfast buffet (yes, even on disembarkation morning, it's the same full spread!) There is also a small menu to choose from for hot entrees served to you at the table.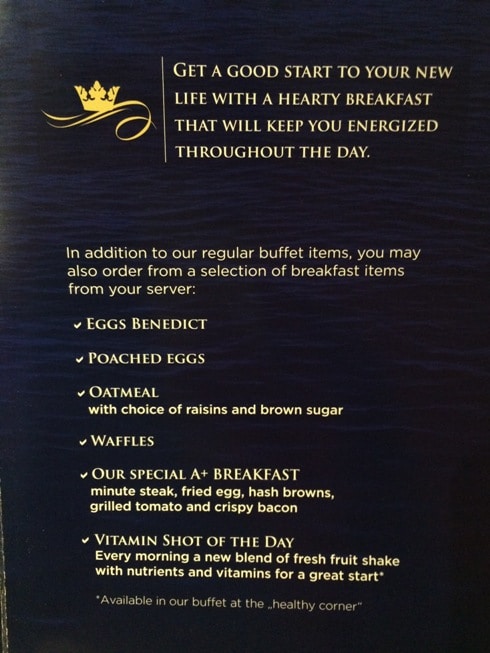 The video below shows the options at Day Two's breakfast buffet, as well as the lunch buffet and the Belgium Chocolate Buffet served later in the week.
Lunch: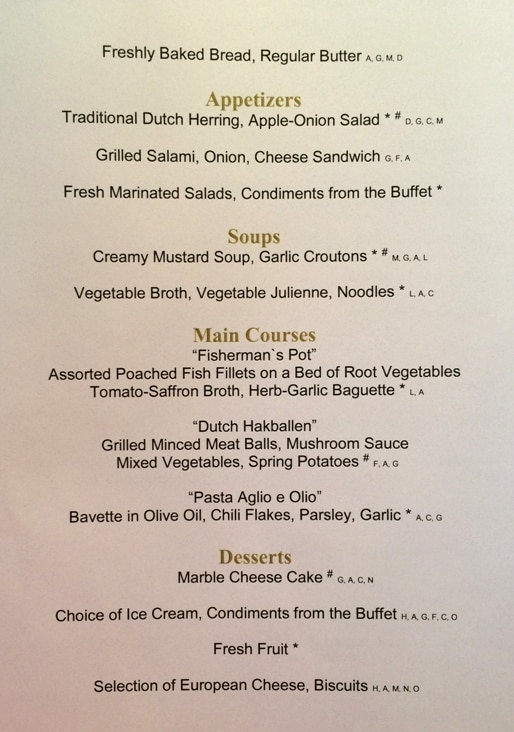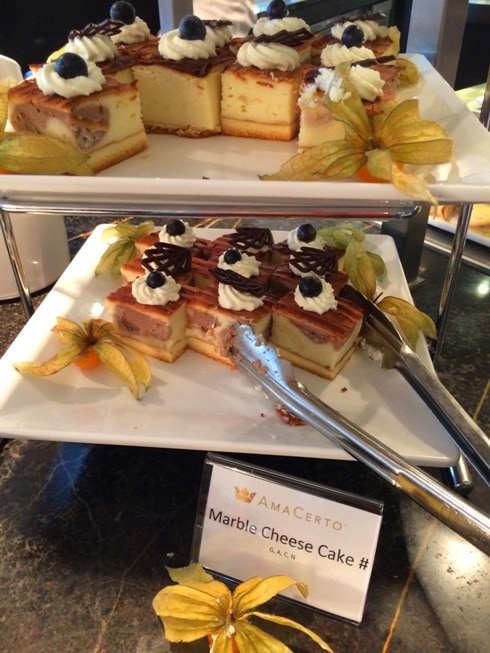 Dinner: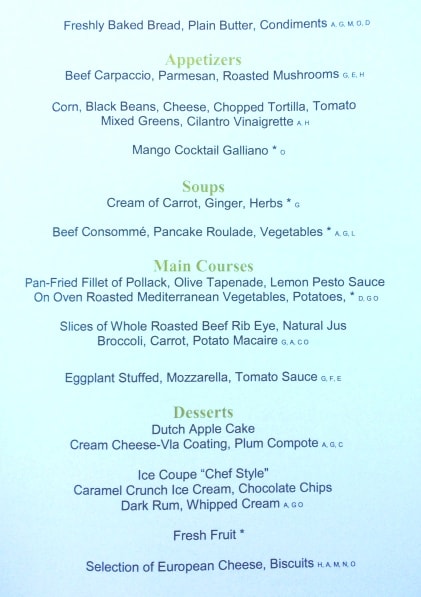 Day Three
Lunch: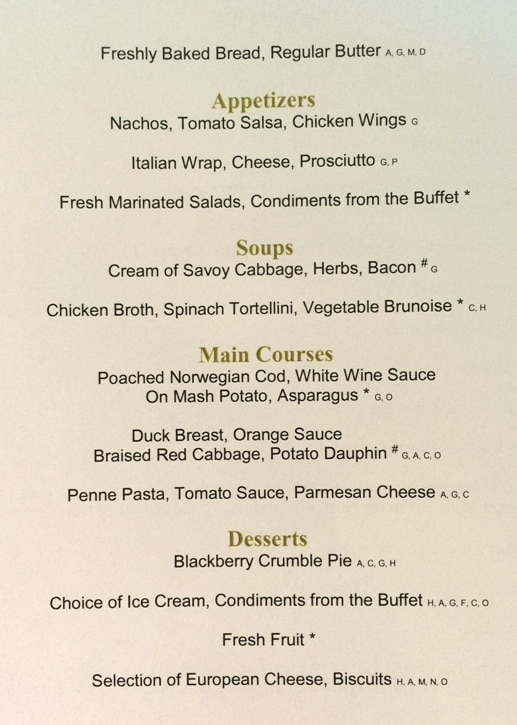 So either I forgot to take pictures, or was so hungry that I scarfed the food down. Either way, no photos from this meal!
Dinner: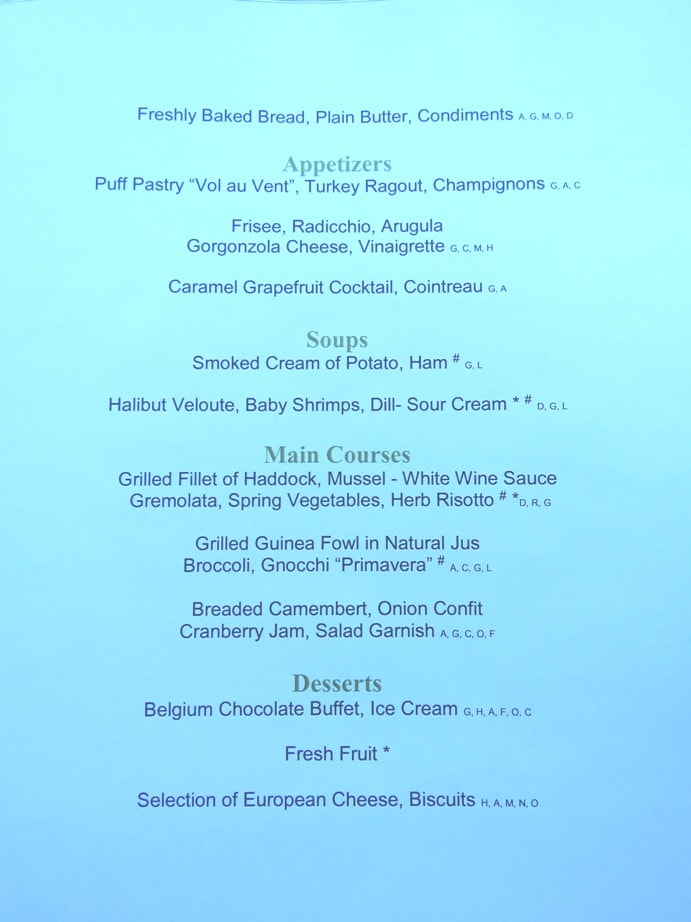 The highlight of tonight's meal was the dessert menu featuring the Belgium Chocolate Buffet 🙂 This massive spread of chocolate desserts and treats filled the room with the scent of cocoa. Celebrating all things chocolate as we sailed through a country known for its chocolate, there was a chocolate fountain, eclaires, chocolate covered strawberries, cakes, pastries, etc. Watch the video above for an even better glimpse of this sinful dessert buffet.
Related: Looking for a SUPER easy camera to use with auto settings, long zoom, takes HD video and is great in low lighting to bring on your cruise? I used a SONY like this one and am thrilled with the results!
Day Four
Lunch:
For today's lunch, we ate from the light lunch buffet served in the lounge. The buffet is a smaller version of what's downstairs. Here's the dining room's menu for that day: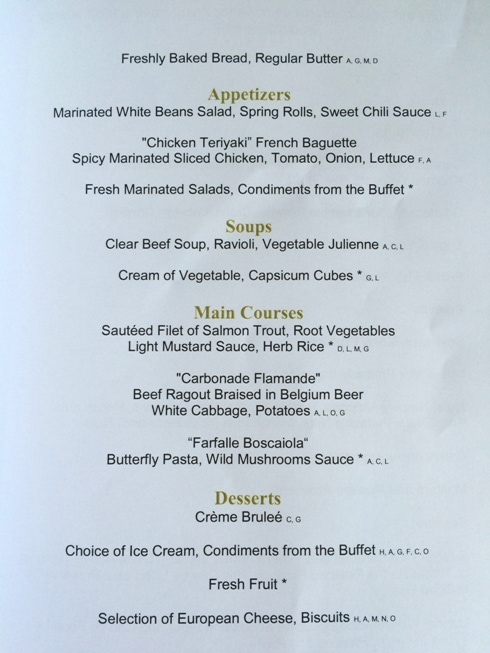 Usually the pasta served in the dining room is on the buffet, as well as some other goodies from the dining room's lunch buffet menu, including a dessert. We liked the fact that it was less food, less crowded, and great views from the picture windows in the lounge.
Dinner:
Tonight's dinner was a special one, unique to AmaWaterways. Every ship of AmaWaterways is a member of the prestigious La Chaine des Rotisseurs, a culinary organization founded in Paris in 1950. AmaWaterways is the only river cruise line invited to join La Chaine des Rotisseurs. The menu featured the logo, and the wait staff wore special attire for tonight's featured meal.
Day Five
Breakfast:
We opted for a light breakfast this morning in the lounge, after so many heavy meals and a desire to get just a little bit more sleep before another busy day. The offerings are definitely not as filling as the breakfast buffet in the dining room.
Dinner: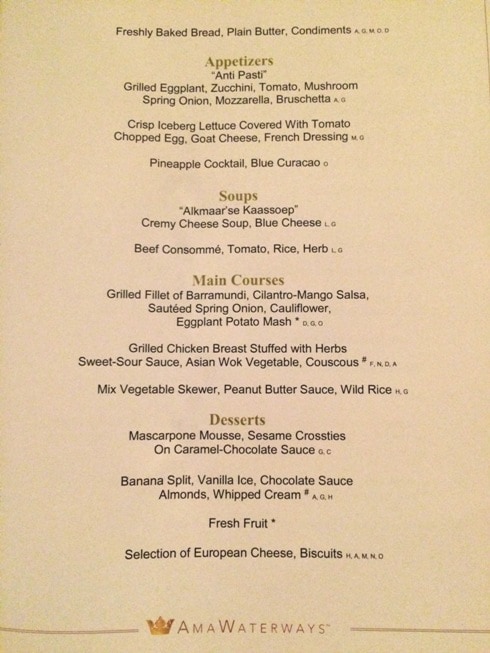 Day Six
Lunch:
Again, we ate in the lounge for lunch, enjoying the ease and convenience of showing up anytime we wanted, without a lengthy serving process of dining. Here's the main dining room's menu: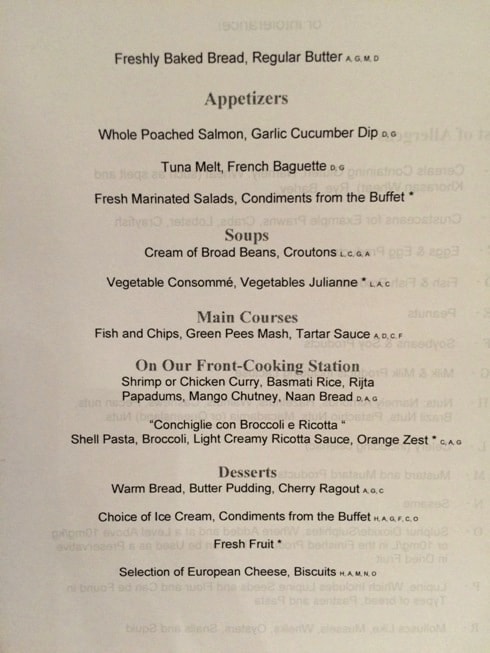 Here's our lounge lunch choices:
Ice Cream Buffet:
After lunch, an ice cream buffet was offered in the lounge. This is the biggest and best ice cream buffet that I have ever seen! So many toppings to choose from, and all of the chefs were there to dole out homemade gelato. Even better? At the end of the buffet was the option of covering your gelato in Kahlua, Bailey's or Grand Marnier. Yes, please! 🙂
Dinner:
Tonight the ship celebrated the Farewell dinner, rather than the actual night before disembarking when everyone is busy packing (and we were in port in Amsterdam that night, too, so many people wanted to skip dinner and go into town). It was more indulgent food and a celebratory attitude in the dining room!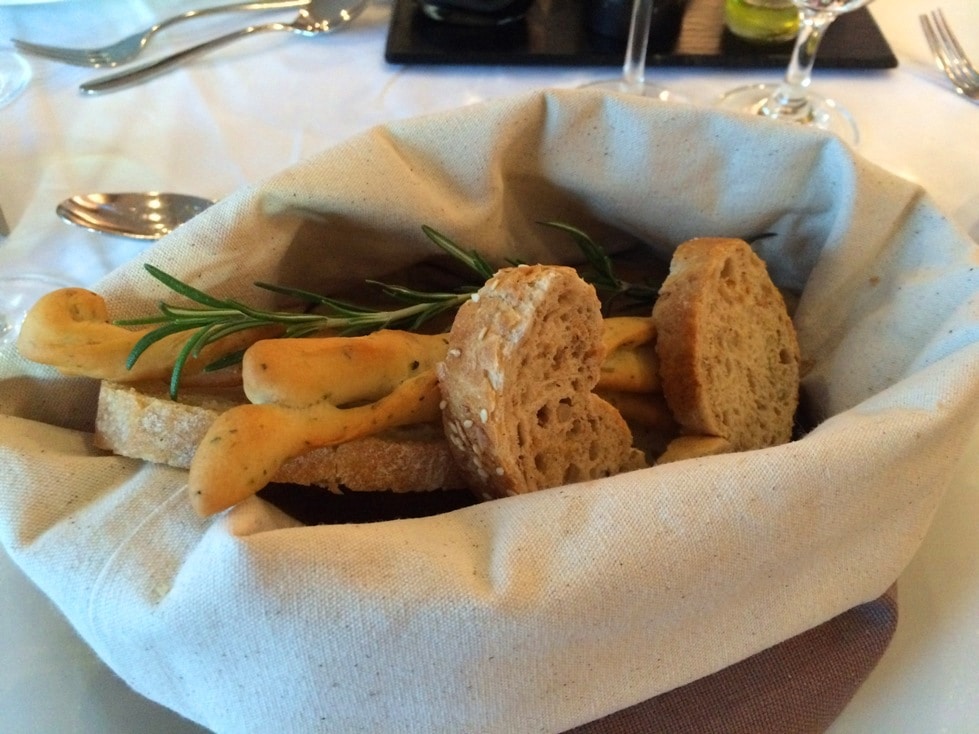 Day Seven
Lunch: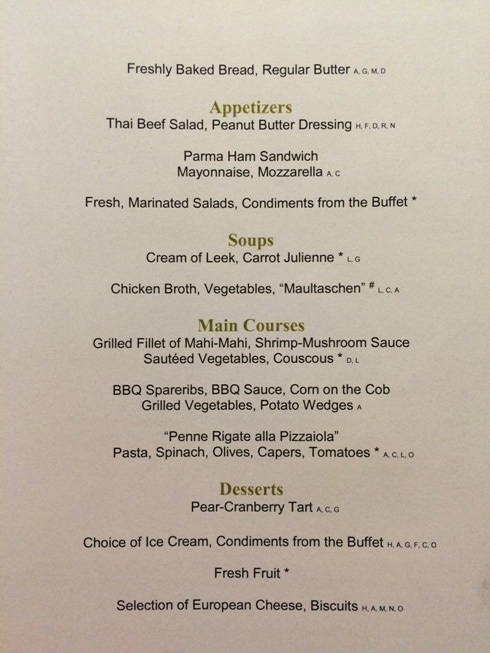 Dinner: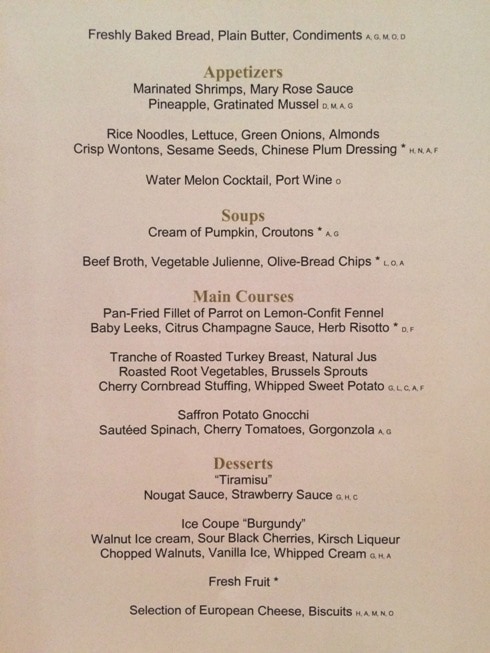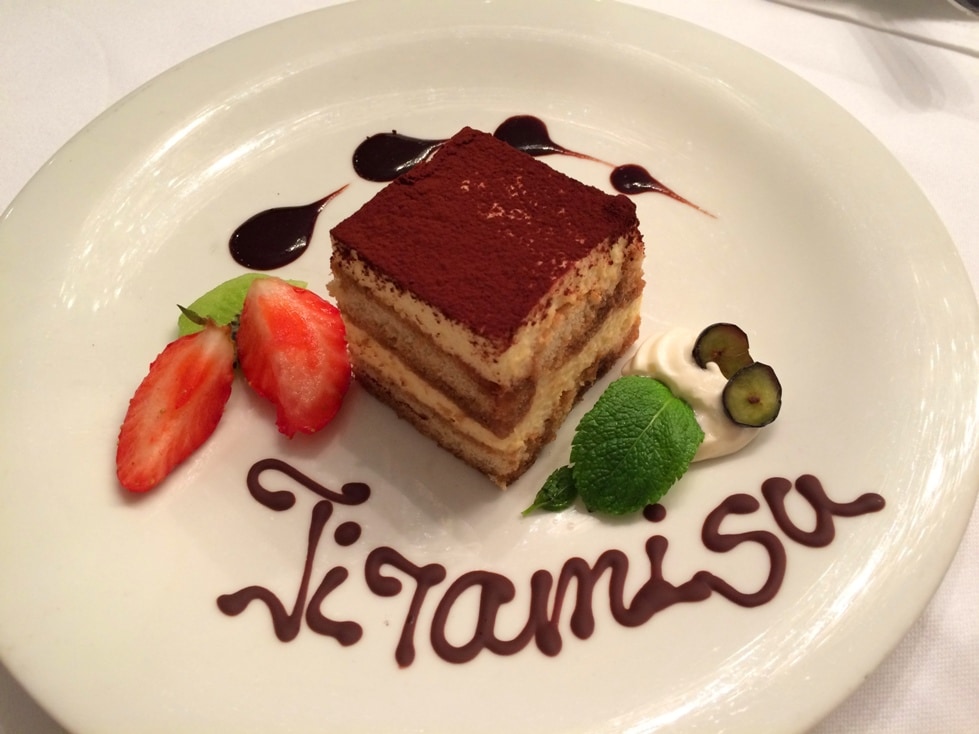 Allergy Friendly Dining
If you have food allergies or intolerances, the folks at AmaWaterways are prepared to assist you with dining choices. First of all, there is a wonderful menu listing some of the top allergens, with corresponding letter codes. You can look at the menu each day to see which of those allergens are in the foods on the standard menu. (This is a brilliant concept that is now a law in Europe)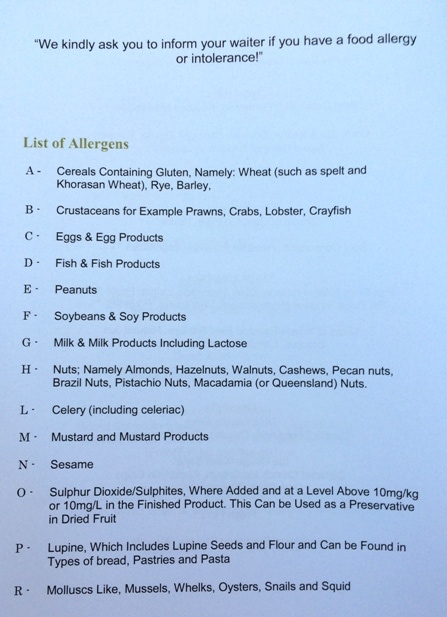 The lounge always had gluten free cookies, and lactose free creamers for coffee.
One of my friends is a vegan, and worked with the kitchen to create vegan-friendly foods. Each day, they created specialty breads for her at dinner. She could also look at the menu for each meal and request which items to be left off the dishes.
Bar Menu
The list of drinks available for purchase in the bar. Of course, you can always ask for a specialty drink, too. Keep in mind, alcohol consumed in the bar is not complimentary. Only beer and wine consumed at dinner is included in the river cruise price.
That's what the meals where like for one absolutely amazing week on the AmaCerto!
Pin it & Share with Fellow Travelers!

Have you sailed AmaWaterways? We'd like to hear what you thought about the food! Share any pictures you'd like, too!