Ten best themed quick service restaurants at Walt Disney World.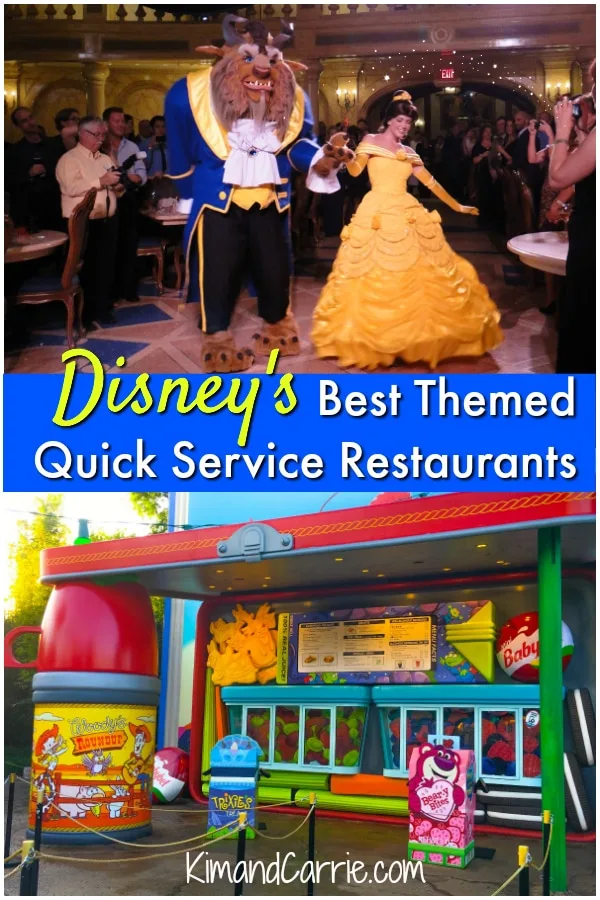 Have you been trying to get Disney Dining reservations and just can't snag a time for that restaurant you want to try?
Or, are you trying to stick to a budget at Walt Disney World and just don't know where to save money?
You're in luck. Because some the easiest restaurants to dine at in Walt Disney World are also some of the most affordable.
That doesn't mean that you won't have a great meal, though. Or have to give up any Disney Magic while dining.
10 Best Themed Quick Service Restaurants at Walt Disney World
One of the greatest things about Disney World is that their "fast food" style restaurants (known as quick service restaurants in Disney speak) are incredibly themed. Which means you still feel immersed in the Disney Magic and don't feel like you're giving up a minute of fun.
So save time, save some money and enjoy a fun meal. These are the best themed quick service locations from all over Disney World:
Be Our Guest
We were amazing blessed to attend a special event in this restaurant right before it opened to guests. Our elegant evening inside Beast's castle was magical as Belle and Beast danced in the ballroom. Snow softly fell in the windows where we were seated. And the food was amazing!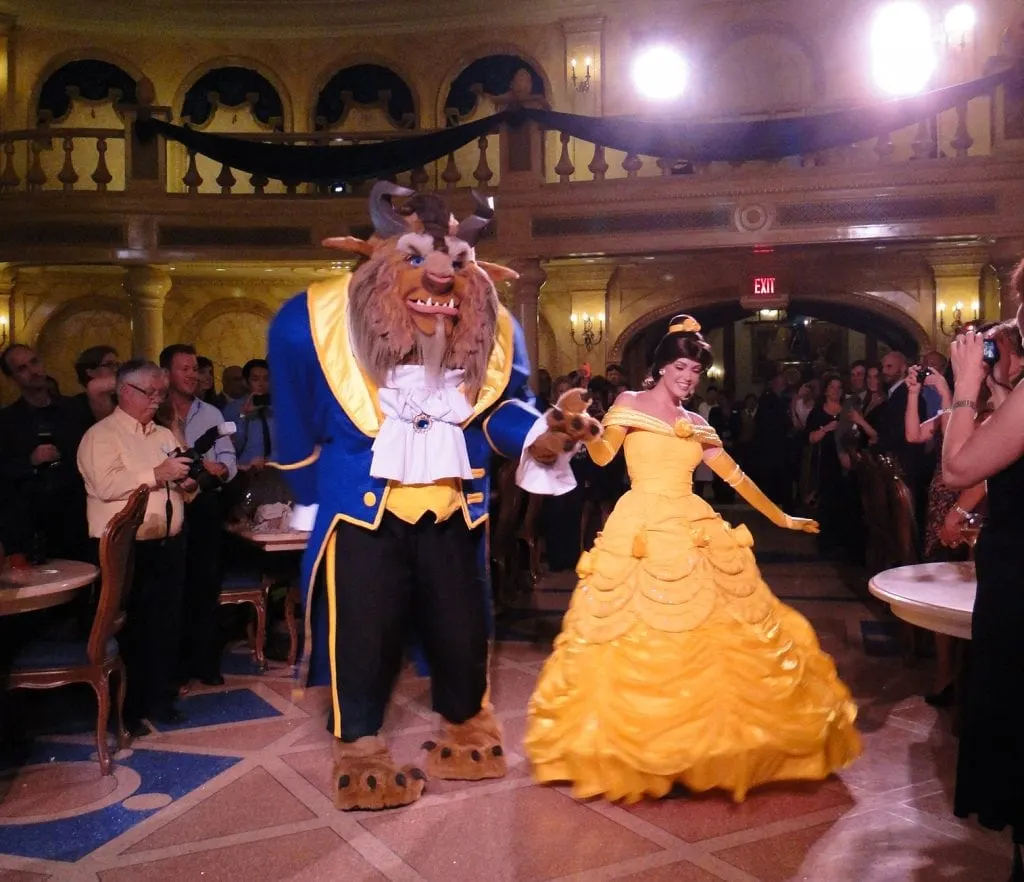 It was one of those special events that you wish you could have again and again.
We love the theming of this restaurant!
If you can't get into this super popular restaurant with a dining reservation at night, be sure to go during the day when it is a quick service restaurant.
You'll still get to eat in the same atmosphere (everything except for meeting Beast for photos during the dinner menu).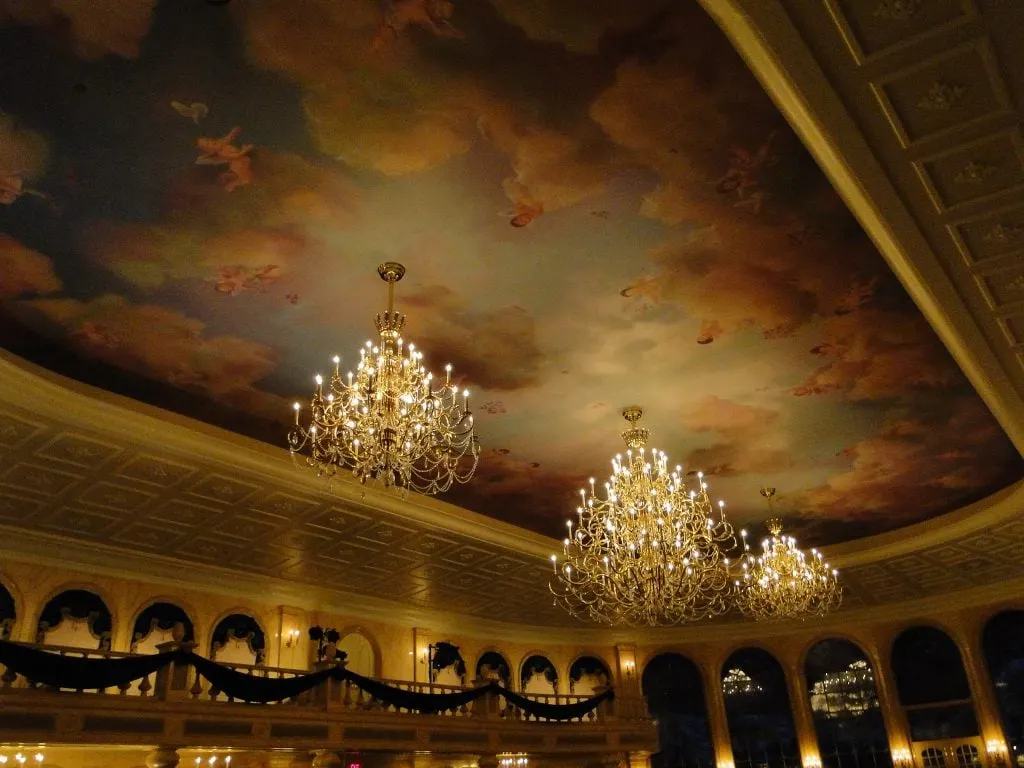 Plus, you'll save money from the $55 per person prix fixe menu at dinner time.
The lines can be long at this quick service restaurant. But the atmosphere is EVERYTHING that you've heard it would be!
Be sure to watch the snow falling behind the windows in the main gallery. And wander through all three rooms just so you experience all of the Beauty and the Beast theming.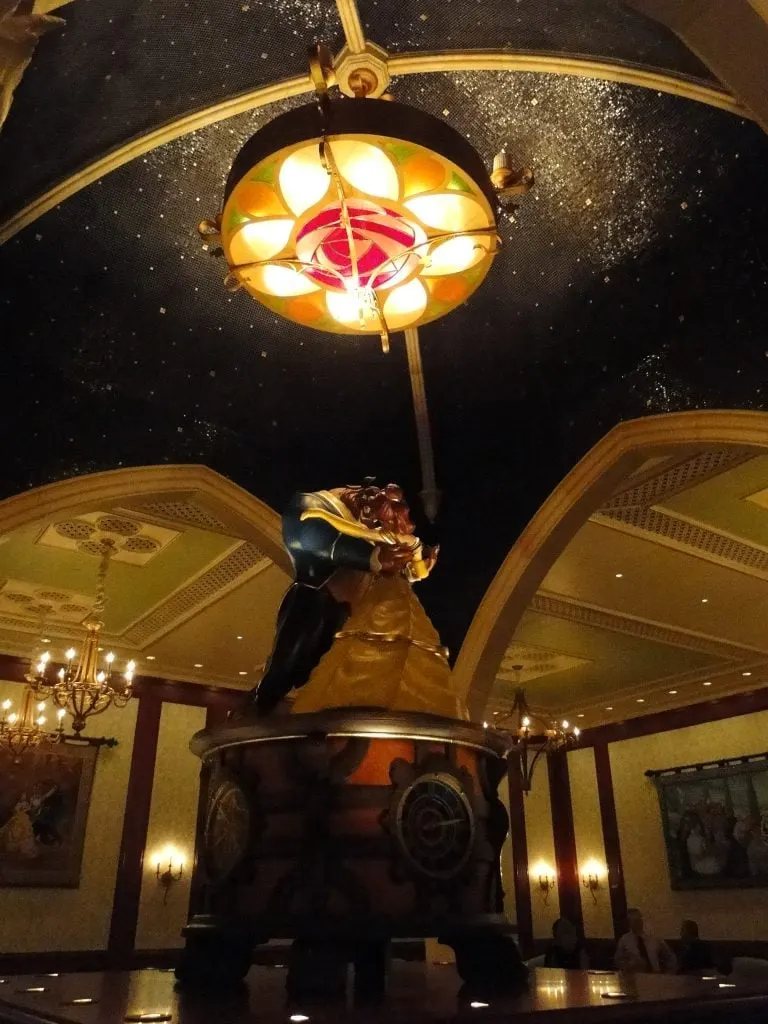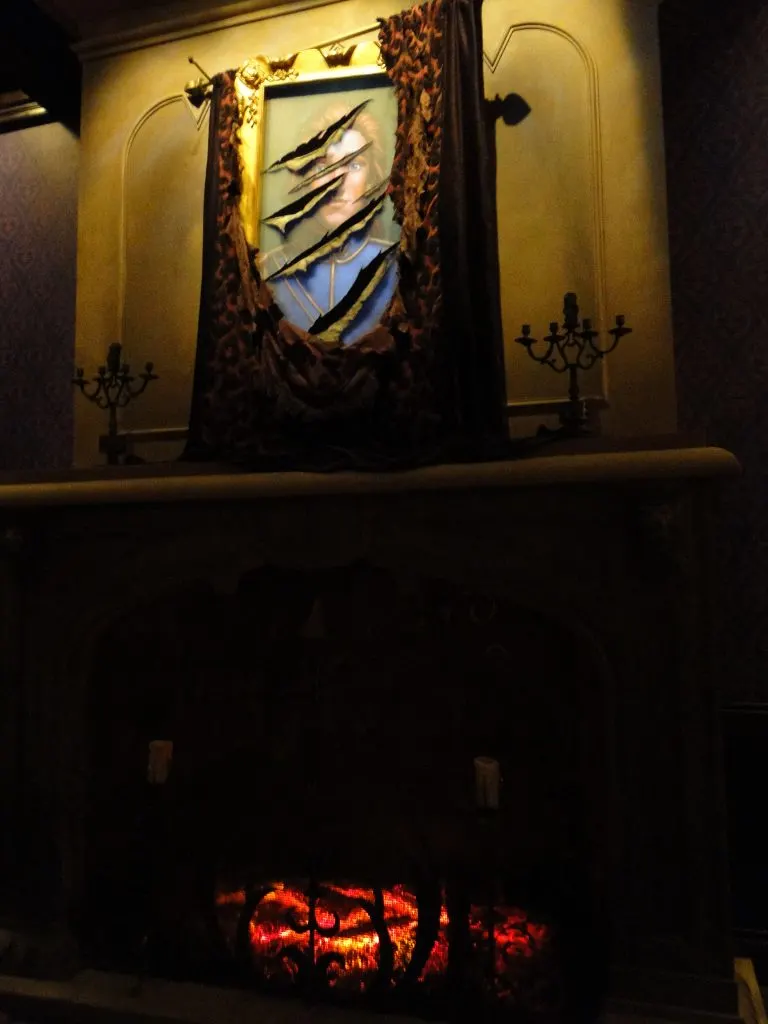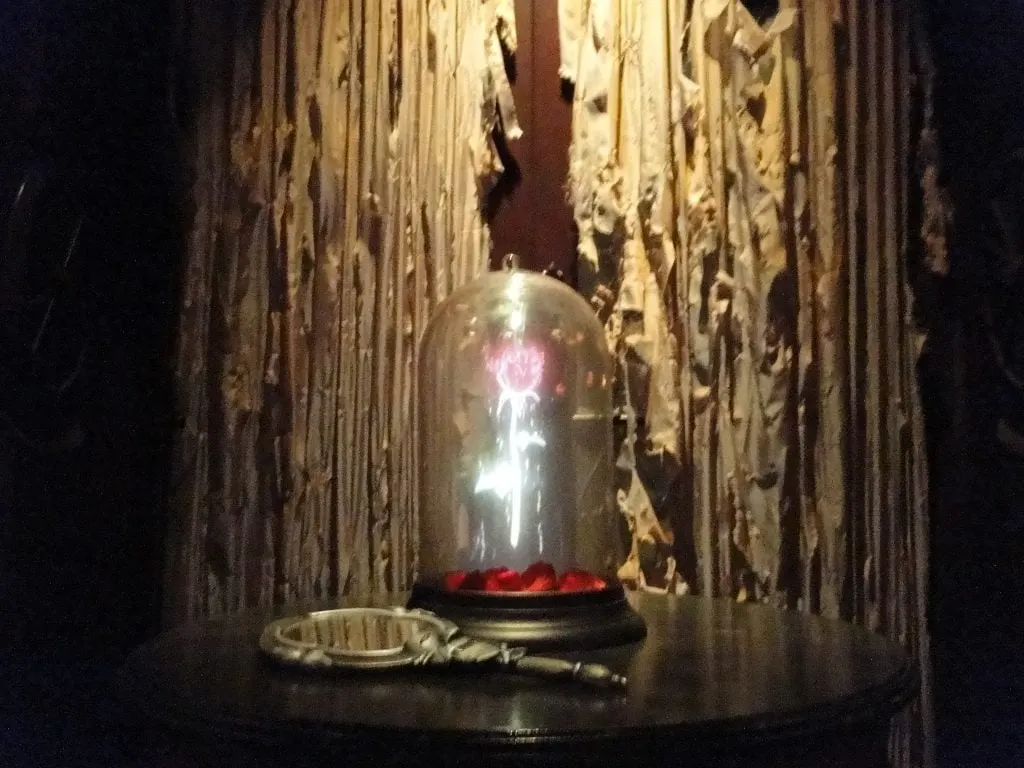 This is a LARGE restaurant, and you will order and then pick a seat. Wondering how your server will find you to bring you the food? That's one of the special perks of using a MagicBand (or you can borrow the restaurants temporary "roses" which work like a MagicBand. Here's more cool perks from using Disney MagicBands.
Satu'li Canteen
One of the newest quick service locations at Disney World is Satu'li Canteen. It is also one of the best themed.
From the look of the food, to the restaurant environment, everything about this Animal Kingdom restaurant inspired by the world of Avatar is totally immersive.
Restaurantosaurus
Dinoland USA, might be the most under appreciated themed area in all of Disney World. It is so cute!
Even if you're not into dinosaurs or aren't traveling with kids, Restaurantosaurus is worth a visit!
The quick service restaurant is fun and playful, with lots of details about exploring and digging for dinosaurs.
Plus, there is a lounge now. Which is always great for relaxing and cooling off!
Woody's Lunchbox
If you look closely, Woody's Lunchbox restaurant is located in an old discarded lunch box in Andy's Back Yard. Many people probably have never noticed the details of the lunch box shell, with plastic storage cases underneath the pickup windows.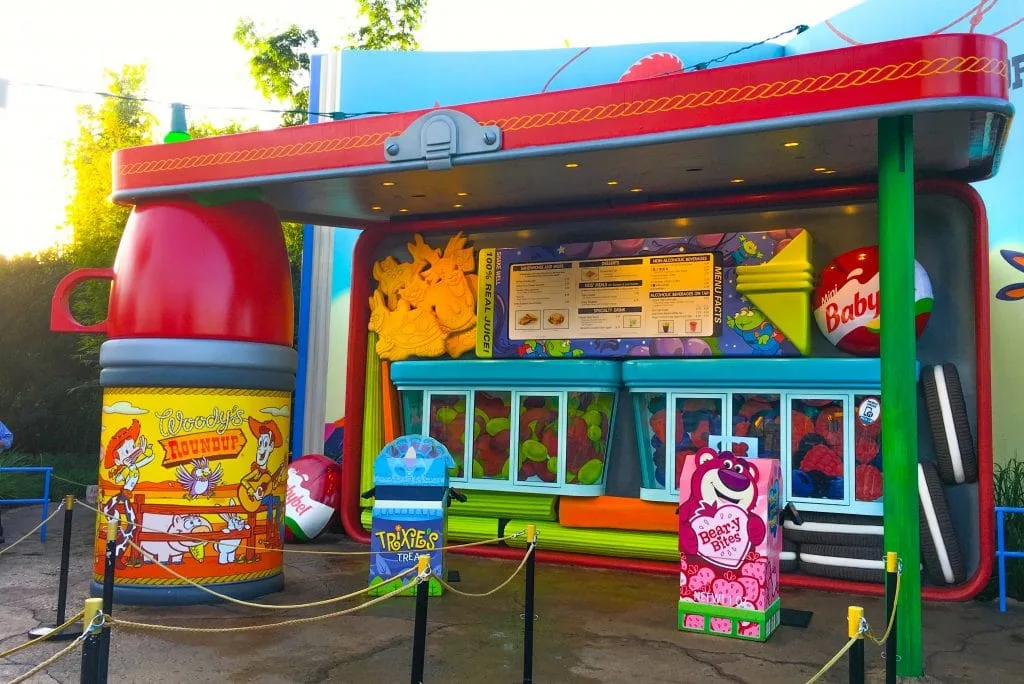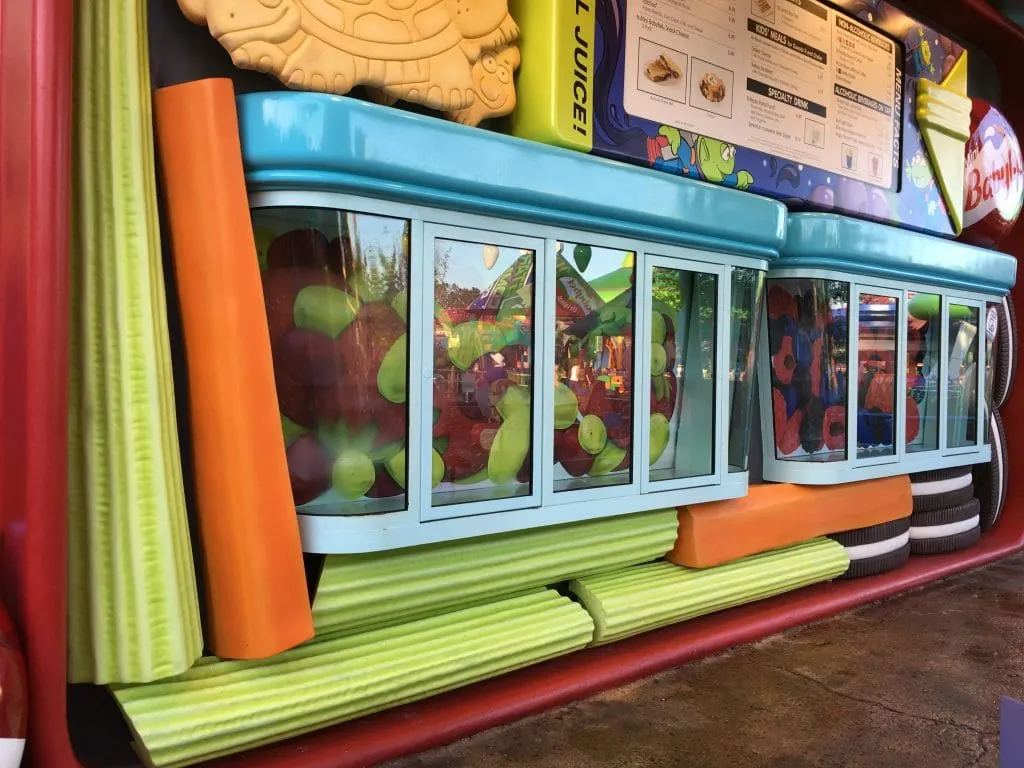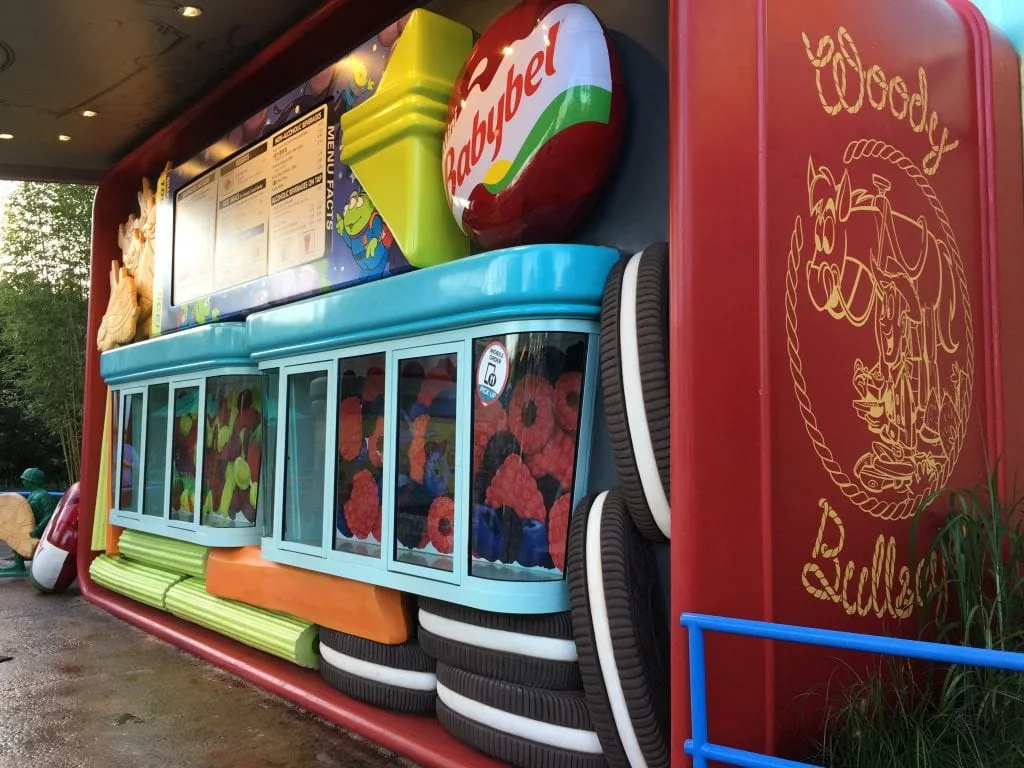 This quick service restaurant in Toy Story Land is one of the most popular counter service restaurants in Disney's Hollywood Studios.
The menu at Woody's Lunchbox is constantly changing as the chefs discover what foods people love at the newest land at Walt Disney World.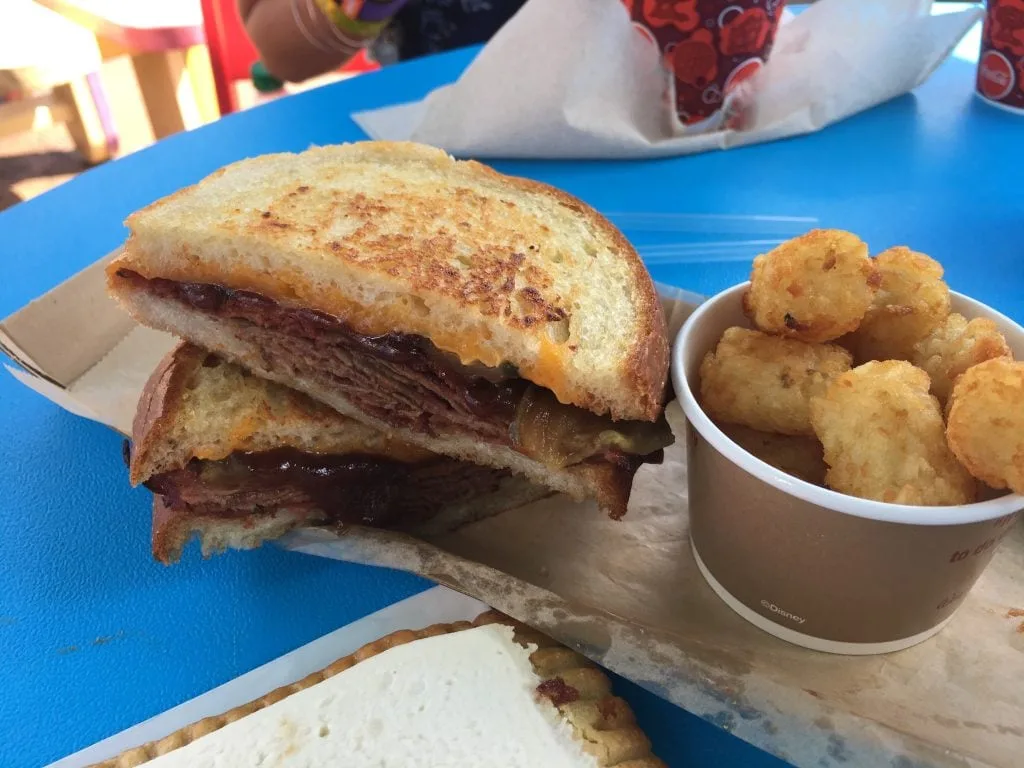 During our recent meal we had the toaster pastries, loaded tots and more. Here's more details about our food in Toy Story Land (and best tips for visiting).
Be warned: There's often not a lot of seating available in this highly popular land! And these cute chairs made from Babybel Cheeses are very popular to sit on!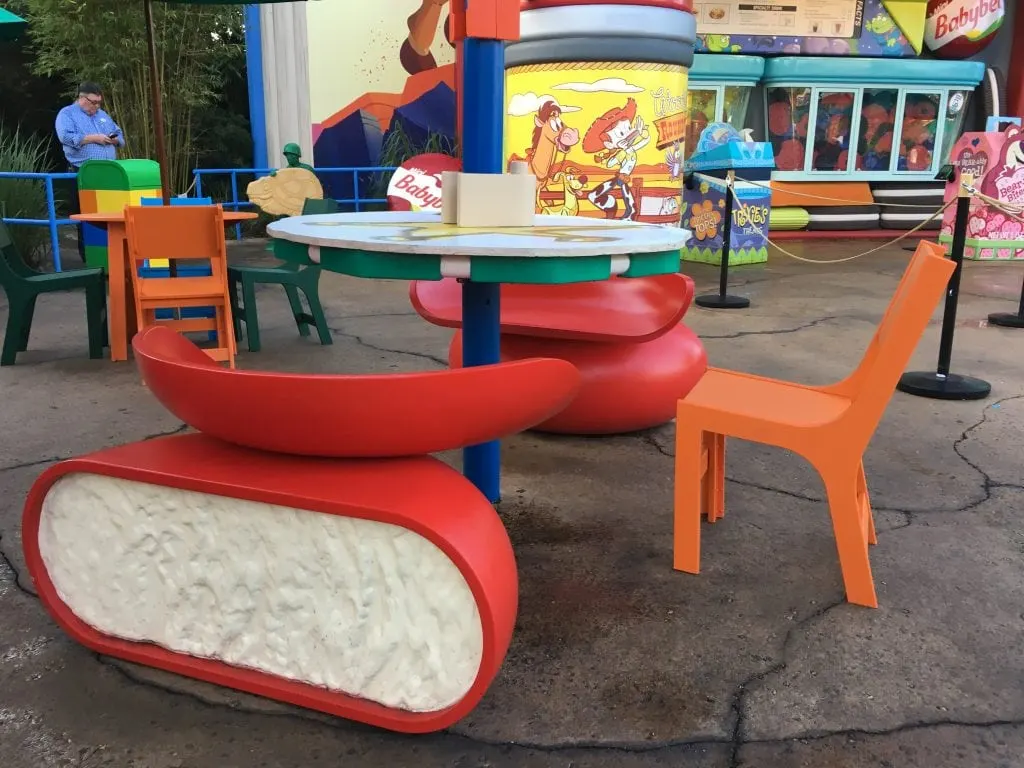 Sunshine Seasons
The bottom Level of The Land Pavilion in Epcot is home to Sunshine Seasons, a food court full of fresh eats that celebrate earth's bounty.
We absolutely LOVE this quick service concept restaurant because there is SO MUCH SPACE! Which is rare at Walt Disney World.
Get a comfy table and look up into the hot air balloons soaring overhead.
It's a great place to wait for family doing the Soaring ride or Living with the Land boat ride.
The fresh flavors at many different food stations will have something for everyone.
Plus, it's one of the perfect places to visit to escape the rain or heat in the middle of the day.
Les Halles
One of the best stops along Epcot's World Showcase is Les Halles Boulangerie in the France Pavilion.
If you weren't hungry before you enter this charming restaurant, you will be after you smell the freshly baked breads and pastries!
Everything on display is tantalizing and the food is delicious, whether you enjoy it with espresso, or mimosas.
This is what it's like to be in a French patisserie.
However, this popular spot is super crowded sometimes because there's not much seating. Everyone does what the Europeans do and gets a pastry, a coffee and just sits and relaxes. You will, too, if you're lucky enough to get a table.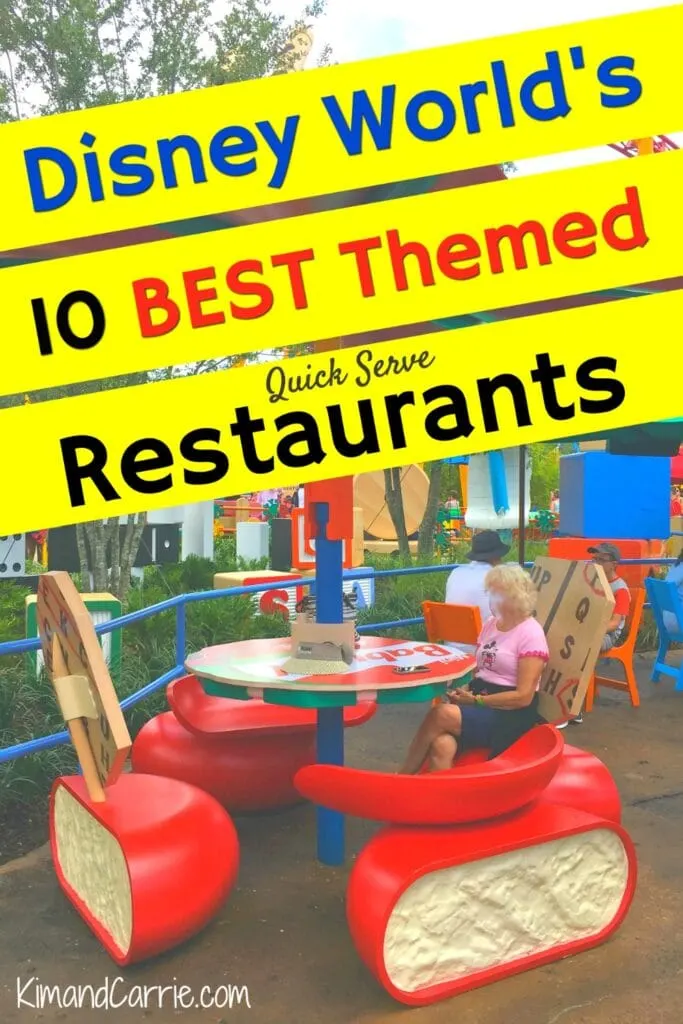 La Cantina De San Angel
The Mexico Pavilion has a variety of dining options, including the very cute (and very dark) sit-down dinner at San Angel Inn Restaurante by the volcano.
La Cantina De San Angel provides the best value with its counter service and choice of indoor dining at the nicely decorated Hacienda De San Angel (if the table service restaurant has not yet opened for dinner).
Gaston's Tavern
The Beauty and the Beast area in Magic Kingdom is absolutely magical! It certainly helps that there is a castle devoted entirely to this Beauty and the Beast themed part of the land!
It's also where you'll find another of the Top 10 restaurants on our list, Be Our Guest.
Gaston's Tavern is a counter service bakery that places you right in the middle of Belle's provincial life.
They serve delicious sandwiches, or big warm cinnamon rolls you can wash down with a Lefou's Brew.
Pecos Bill Tall Tale Inn and Cafe
This Tex Mex counter service spot in the heart of Frontierland is a favorite among guests.
Not only does it offer food that's dramatically different than the rest of Magic Kingdom restaurants, but it's also large and spacious. It's a great place to grab a table and escape the heat in their covered patio.
Columbia Harbor House
Inspired by the first American ship to circumnavigate the globe, this finely themed counter service location offers food and atmosphere that match the story.
You will feel as if you stepped into another era when you step into Columbia Harbor House quick service restaurant.
Located in Liberty Square in Magic Kingdom, try to score a seat by a window for views into the theme park.
Insider tip: Be sure to go up to the second floor for additional seating! Many guests overlook this spot and it tends to be less crowded.
More Disney Restaurant and Disney Food Tips
We've got tons of information to help you plan and enjoy your next Disney vacation!
First, be sure to follow us on Pinterest. Especially our Pinterest boards for Disney Food (recipes to make at home as well as best foods in the theme parks) and Orlando Restaurants.
Plus, we've got more Disney tips and Disney recipes on our site. Here's some of our favorites: