This easy DIY Unicorn Costume is perfect for adults. Plus, it's ideal for a hot Halloween.
When I was invited to go to the first Mickey's Not So Scary Halloween Party at Magic Kingdom, I was so excited! Then stressed. What costume would I wear that didn't cost a fortune, was easy to make, and would be perfect in the Florida heat?
After some brainstorming (and looking at Disney World's costume guidelines that prohibit some types of costumes), I decided to do a magical unicorn costume.
Buying individual pieces of a unicorn costume would be easy to do on Amazon Prime, I could get them sent to me for free and have free returns on most items if I didn't like them, and I wouldn't have to battle the slim pickings of Halloween costume ideas in a major store.
Plus, the costs would be reasonable. AND, some of the unicorn costume pieces could be worn other times of the year.
Adult Costume for Disney's Mickey's Not So Scary Halloween Party
One of the requirements of adult costumes at Walt Disney World is that you can't wear a mask on your face. But you can wear face makeup.
When my friend suggested we do professional makeup for a unicorn costume, I was definitely all in.
I went to Jamie's studio to do makeup before the first Mickey's Not So Scary Halloween Party. Using just a few colors of eye shadow, she created a magical unicorn look with makeup. She knows me so well that she did a light touch of makeup.
You could definitely do heavier makeup, though. And I'd suggest that you do. The makeup didn't really show up in pictures at Magic Kingdom, although you could see it in person. So add more color than you're used to for better photo ops!
If you don't have a professional makeup artist, it's easy to do unicorn makeup yourself. Here are some DIY tutorials:
Keep in mind, super pigmented colors work best. We used an eyeshadow palette. Even adding pink eyeshadow over lipstick.
Halloween Costumes When It's Hot
Another concern of mine for picking out an adult Halloween costume was the insane heat that was expected during the first Mickey's Not So Scary Party held on August 17.
If you know anything about Florida, you know it's HOT!
Especially in late afternoon when we'd be arriving for the party.
Add in the extra heat of a theme park, and I definitely did NOT want anything that was going to make me sweat more than normal. The heat index was over 100 degrees that day.
So it was important to wear a costume that was as cool and breathable as possible.
Easy DIY Unicorn Costume
After much scrolling through the Amazon app late at night, I chose the following items for a DIY unicorn costume. They were some of the most affordable, versatile and colorful items.
Plus, they were all on Amazon Prime or offered free shipping (at least at the time), so I could get them quickly and decide if I like them or not.


Okay, so I absolutely LOVED this unicorn horn when it arrived. Less than $10 and super cute!
I actually cut off the chin strap because I hate anything tight over my head. I sewed on the unicorn horn into the wig by attaching the felt base to the wig.
This wig really made the outfit! I think it was why people that I knew didn't even recognize me!
There are different color variations of this wig. I like the soft, muted pastels of this one.
The wig was very comfortable, not too tight. Plus it came with a cap to put over your hair before putting on the wig.
This skirt was SO MUCH FUN to wear at Walt Disney World! Note to self: Must wear more tulle skirts!
There are some caveats to this rainbow tulle skirt.
First, the skirt's waist band is black. Why, I do not know. So I used a scarf to cover it up.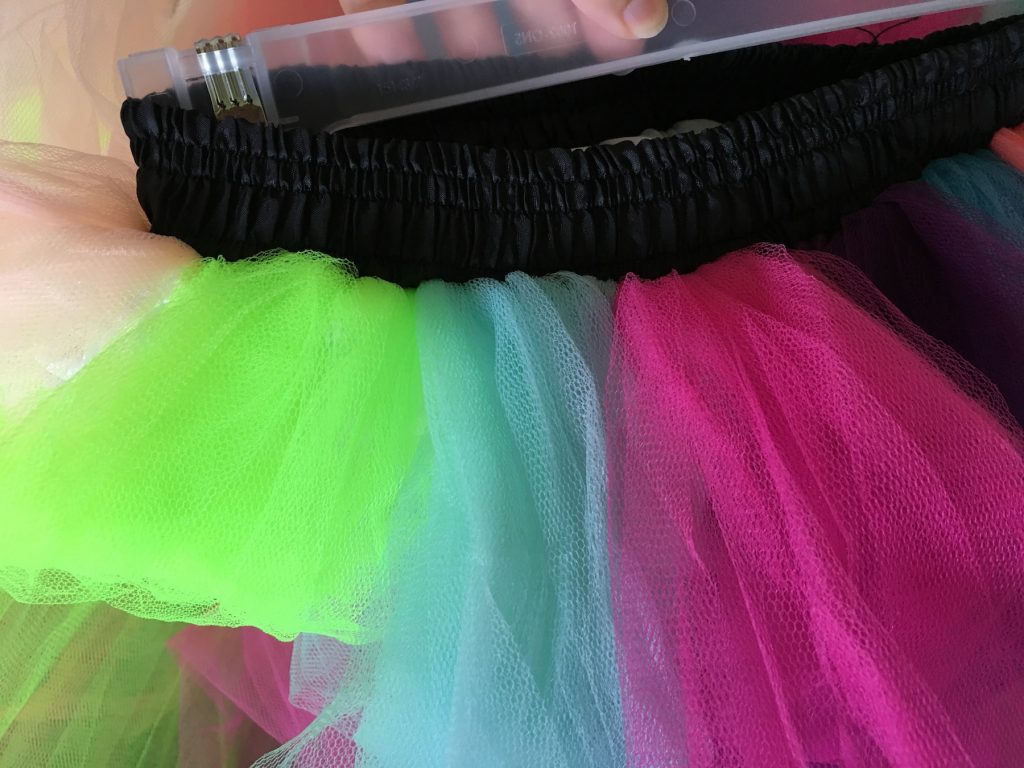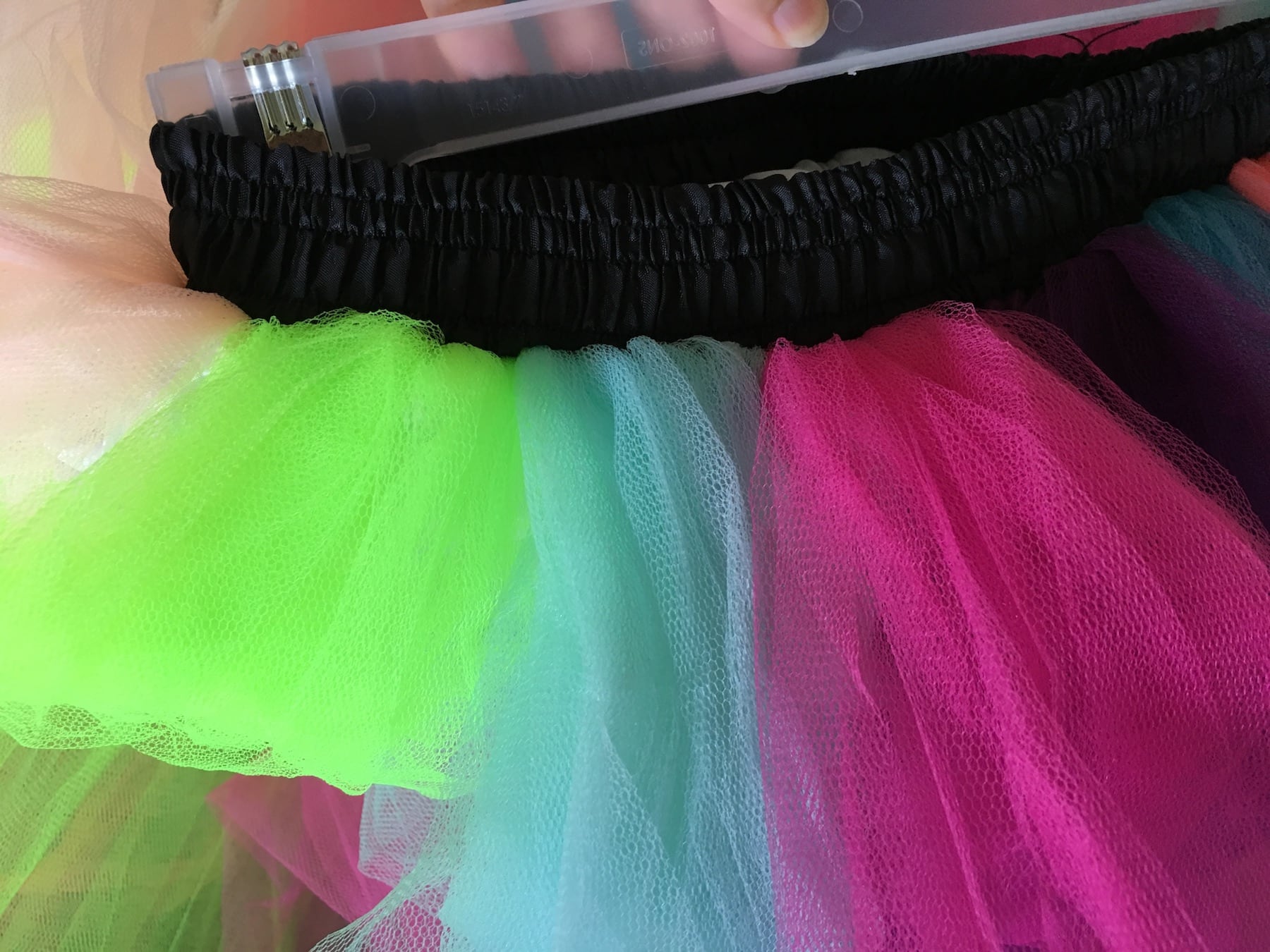 Second, the skirt has two inner linings which go all the way to the bottom of the skirt. They literally feel like shower curtain liners. There was no way I was going to walk around for hours in the Florida humidity with heat trapped under plastic layers around my legs.
I cut the two linings short. It wasn't perfect, but you couldn't tell TOO much.
I'd consider cutting the linings out completely and then wearing shorts or a short skirt underneath, too. In fact, if I wear this tulle skirt again (and I probably will!) I might just remove the lining completly.
Also, the picture on Amazon does not show the neon green tulle that is part of the skirt. It looks soft yellow in the picture. I almost cut it off because it was so bright. But I'm glad I kept them. It actually looks better in photos that way.
I'm SO glad that I got this t-shirt!
The reviews said that it was thicker than most, which I wanted. Most white t-shirts nowadays are see through and you can see your bra underneath.
This white shirt was ideal with its heavy weight thickness. Yet not hot to wear.
Also, I wanted a shirt that wasn't strapless. This one is perfect with it's cap sleeves. Not strapless, but doesn't look like a traditional t-shirt.
I had one in a complementary color from the Dollar store. I'd suggest looking there or using a belt you have.
I've talked a lot about needing to wear comfortable shoes at Walt Disney World. My outfit kind of revolved around being able to wear supportive shoes that would not lead to back pain after walking on concrete all night.
I had Vionic sandals in a nude color already. And have worn them for years. This is the pair that I have. With the length of the rainbow tulle skirt (I'm 5′ 3″), the shoes were almost invisible in my unicorn costume. But they blended in nicely even if they were visible.
There was going to be a couple hours of sunlight at the beginning of Mickey's Not So Scary Halloween party. I wanted themed sunglasses, but not spend money on sunglasses I wouldn't wear again.
I was blessed to find these pink sunglasses with rhinestones at The Dollar Tree. They worked great!
With no pockets in my rainbow tulle skirt, I definitely needed a place to store items such as my phone, wallet, snacks, etc.


I thought about buying a unicorn or pink backpack on Amazon. I found a great pink metallic backpack at Marshalls that went great with the unicorn costume.
Best Unicorn Costume for Halloween
I have to say, I was NOT prepared for how much everyone loved my DIY unicorn costume!
First of all, even my friends that I have known for a while did not recognize me in my wig and makeup. That was shocking. Several of them didn't know who I was until I was talking with them.
Little girls were heard whispering to their parents that "there goes a unicorn!" To me, that was the most magical moment of the entire event. These little kids actually thought I was a unicorn in real life. They couldn't stop pointing and whispering!
Adults would see my costume and comment on how great it looked. And there were a LOT of costumes at Disney World for Mickey's Not So Scary!
And I was not as hot as I had anticipated. Yes, I was sweating like crazy for the first couple of hours. But that was unavoidable with the hot mid-day sun.
Otherwise, it was comfortable to wear a supportive pair of shoes for Disney World that blended in with my unicorn costume. The tulle skirt was breathable, and the t-shirt was nothing more than I'd normally wear to the theme parks.
I would love to see what DIY unicorn costumes you have come up with! Send us a picture of your costume with any of these items and we'd love to share it on our website!