If you're planning a Walt Disney World vacation, don't forget about bringing comfortable shoes! It's so easy to overlook comfy shoes when packing up the Disney shirts, souvenirs, Mouse Ears hats and snacks. But trust us, you will be thankful when you take the time to bring these best shoes for Disney World with you!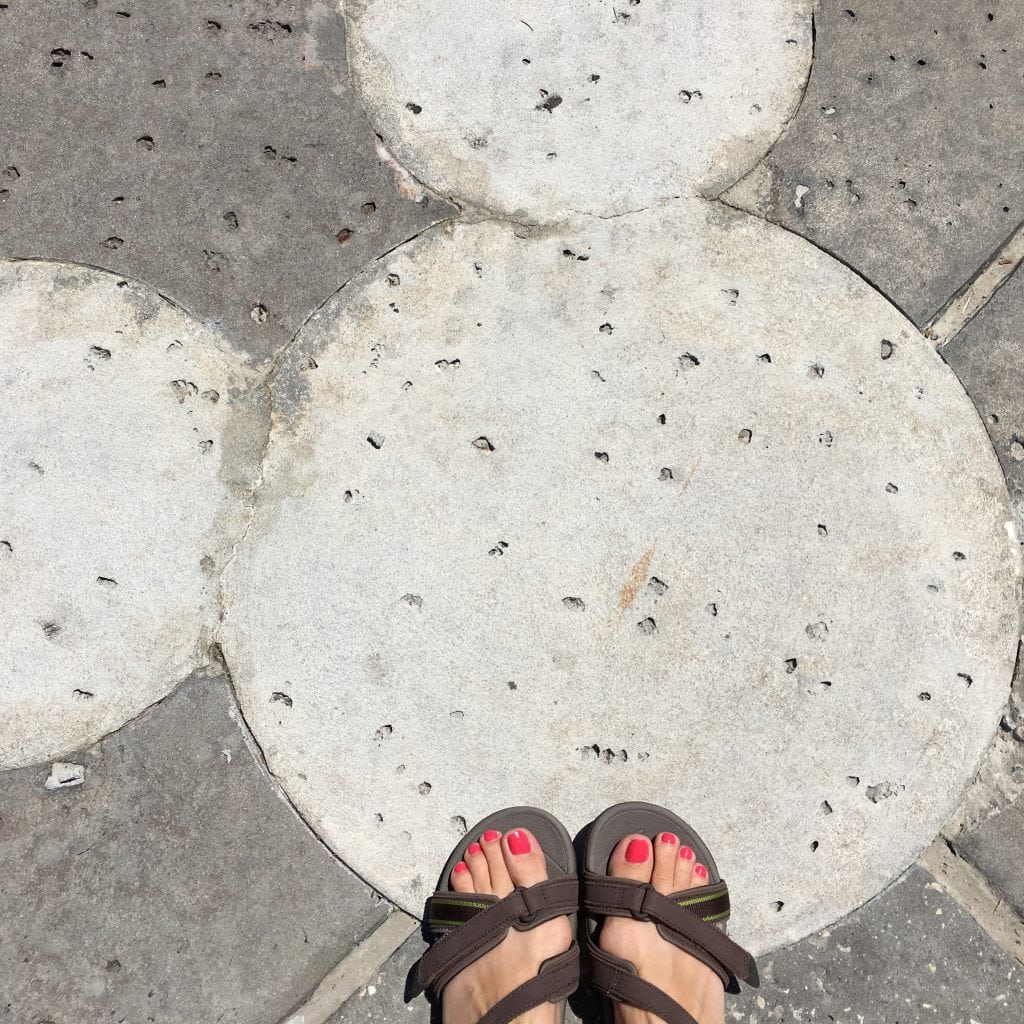 If you have never been to Disney World, maybe you don't realize how much of an endurance game it is. It's like doing a marathon – you've got to plan for the long haul and pace yourself. Wearing a cute outfit with uncomfortable shoes for pictures one day will make your feet (and body) miserable for the rest of the vacation.
And if you do end up getting blisters, sores or aching feet on Day One, you're going to pay the price while limping through the theme parks.
After all, one lap around Epcot's World Showcase is 1.2 miles.
That doesn't even include the crazy distances you have to walk from the parking lot or transportation drop off to the front gate, then through the theme parks all day, then back to the car or bus or boat late at night to start things all over again in the early morning.
So you better bring comfortable and stylish shoes! These are the Best Shoes for Disney World!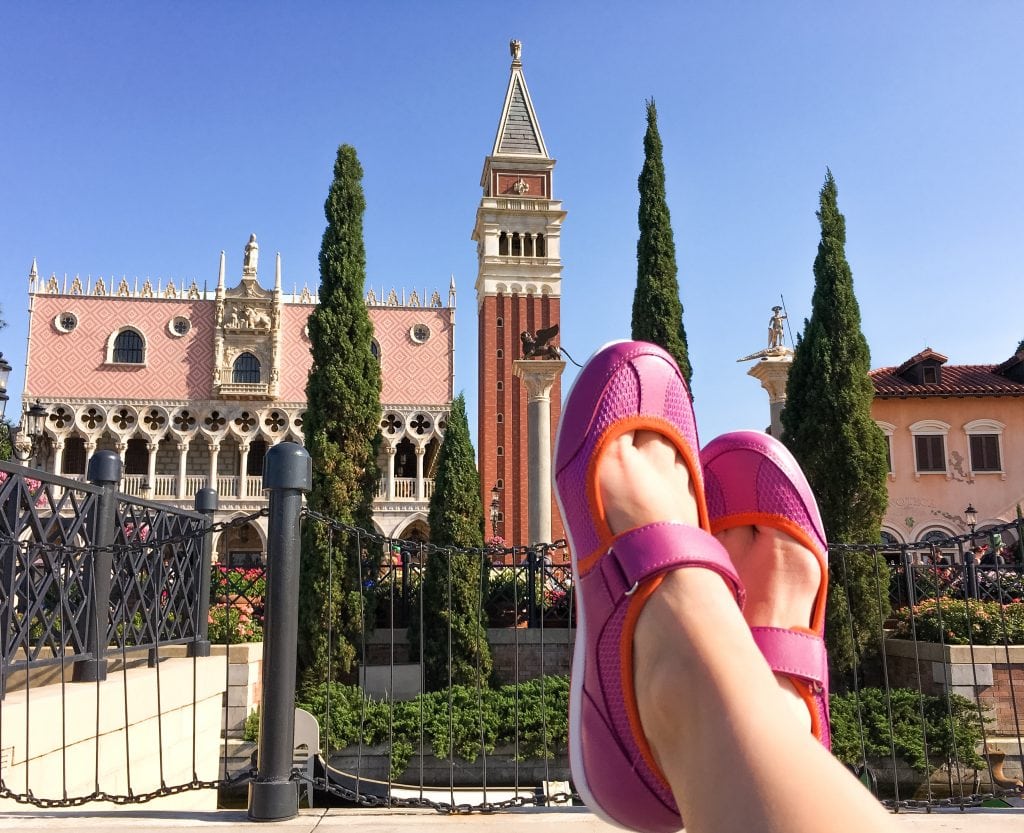 Shoes For Florida
Traveling to Florida is unlike traveling to most vacation destinations.
The heat and humidity of Florida will make your feet swell. Even if it's not summer. So wearing shoes that trap in heat will make your feet miserable.
Wearing shoes that are too tight will cause problems, too. Your feet will swell because of the heat and walking for hours on end.
PLUS, you're walking on hard concrete and asphalt which makes all the things worse. Your feet are hotter than normal and under more pressure.
Add in the frequent thunderstorms and tropical rains, which occur almost every day, and then you've got problems with wet feet and soggy shoes.
Doesn't sound like fun, right?
What Are the Best Shoes to Wear to Disney World
Here are the general guidelines for picking the best shoes for Disney World and theme parks.
Choose Comfort You might be caught up in the popularity of wearing cute Disney-themed outfits to the theme parks. Many outfits (especially the Disney bounding dresses and skirts) don't exactly look good with sneakers or Keen's. Don't sacrifice comfort for fancy outfits.
Wear Broken-In Shoes A vacation to Disney World is NOT the time to pack brand-new shoes that you've never worn before. If you're literally cutting off the tags before you head to the theme parks, that's not a good omen. Buy shoes at least a week before going to Disney World and wear them as often as you can so that the straps and footbed can relax and loosen.
Bring Shoes that Breathe With heat and humidity, the last thing you want is your feet being sweaty and damp with no way to cool off. It just makes the rest of your body miserable. Think about it – if you dunk your feet into a bath of ice water, then your entire body cools off, right? Well, what happens if your feet are swollen, sweaty and moist with sweat all day? Your entire body will be overheated, too.
Support is Everything! You might have never given much thought to shoes with arch support before. But if you haven't walked a dozen miles in a day in the heat on concrete surfaces, you might not have had any reason to. Now is not the time for those $2 discount store flip flops that are 1/4 inch thick and flat as a pancake.
Pack Multiple Pairs of Shoes You'll want to let shoes air out and dry out. Plus, you'll need shoes for different reasons, including water parks, walking in theme parks, heading to the pool and maybe a fancy dinner or two.
Lightweight Shoes If you're flying, the lighter the shoes are, the lighter your luggage will be. Walking is always easier in lightweight shoes, too.
Easy to Pack Shoes that bend or can nest together are the best for packing. That way you have more room for souvenirs to bring back! When flying, always wear your heaviest, largest pair of shoes on the plane. It saves space in your luggage. (Here's what you should also carry on a plane.)
Best Comfortable Sandals for Disney World
I've spent years going to Disney's theme parks, either walking around all day with family or a few hours here and there because I live 15 minutes away.
After two decades of walking in theme parks, I've got my list of best shoes for Disney World after learning my lesson the hard way.
Plus, I've got hip and back pain from some old injuries. And I've got bunions which makes many shoes uncomfortable. So I KNOW what it's like trying to find comfortable shoes.
FYI: I've linked directly to online shops since styles, prices and availability change so often. Click on each white box listing to see more. 
Vionic
My absolute FAVORITE shoes are Vionics. ANYTHING from Vionic.
I've been wearing Vionic shoes to the theme parks for the past few years. Even in 100 degree heat and walking for miles, my feet (and also most importantly, my hips) don't hurt at the end of the day.
With the invisible built-in orthotic support, you'll get lots of support while walking. I've got dress sandals, flip flops and hiking shoes from Vionic. I've worn them all and can't speak highly enough about them!
In the picture above, I'm wearing Vionic sandals. Have had this pair for years and love them! That's why I think they're the best shoes for Disney World.
If you absolutely must have cute flip flops, these are smart choices (see below)! The built in support will cradle your feet. Yet you can let your feet stay cool in these Florida favorites. (And they come in a variety of colors!)


There are lots of styles of breathable sandals with straps that stay on all day long, like this pair:


Or try closed-toe espadrilles:


Keens
Keens are also great comfortable shoes for Disney World. There are lots of styles and they offer all-day support.


Keep in mind that many of these styles come in a variety of colors so that you can customize to outfits, match family members, etc.


Best Women's Walking Shoes
I've done my fair share of walking in theme parks in sneakers. They are comfortable, but they can get hot.
If you're wearing sneakers, consider bringing an extra pair of socks or two each day and changing when your feet got sweaty or wet from water rides.
Skechers
These seem to be among the favorite walking shoes for Disney World.
You can buy traditional sneaker styles:


Or something a little different and stylish, like ballet flats with extra support:


New Balance
The first year that New Balance came out with Disney-themed shoes at a runDisney event, I stood in line for HOURS to get my sister a pair. They were incredibly popular and only available at the Disney marathon.
Lucky for you, anyone can easily order Disney-themed New Balance sneakers without waiting in line or running a marathon. Check these out:


Best Men's Walking Shoes
Vionic
The mens' versions of Vionic shoes are just as comfortable as the ones for women. Try these out:


And there are even Men's flip flops:


Keens
My husband swears by his Keens shoes for comfort. He's worn them in National Parks, hiking, Disney World and just about anywhere we'll be on our feet for a while.
They do come as flip flops for men:


And there are shoes like these, too:
Along with a more traditional shoe, which is perfect if you're heading to Citricos or a nice Disney restaurant at the end of the day:


Cute Disney Shoes for Adults
Sometimes you just want to indulge in cute Disney shoes. If you want to make a style statement, check these out.
Disney Crocs
Sure, you can buy Crocs at Walt Disney World's theme parks and Disney Springs. But do you really want to spend more money than necessary? Because they are going to be more expensive in Disney gift shops.
These are super cute Disney-themed shoes perfect for a fun day at Disney World.
Disney Vans
Disney TOMS




You'll also love these Cinderella Castle and Partners Statue Handpainted shoes, these Cinderella Castle Fireworks Handpainted Shoes, or these Disney Princess silhouette sneakers.
Water Shoes for Water Parks and Theme Parks
If you're visiting Disney's Typhoon Lagoon or Disney's Blizzard Beach water parks, you're definitely going to want some shoes to protect your feet from the hot pavement.
These water shoes are perfect for visiting the water parks.
Also, consider keeping a pair of these shoes in your backpack or locker in the theme parks for going on water rides (like Splash Mountain) to change your shoes before going on the ride. That way your other shoes will stay dry and you can put them back on after the ride.
Bonus points for these shoes that can easily be folded and stored in your backpack.


Keep Your Feet Healthy at Disney
Even if you've brought the best shoes for Disney World, you'll still be on your feet all day. So start planning now for ways to keep your feet healthy, happy and feeling good!
Sunscreen
I once wore a pair of Vionics all day at Epcot in April. I didn't realize the UV rays were as high as they were (a common Florida problem in Spring). The next day, I found that I had some CRAZY tan lines from the straps of the shoes on the top of my feet. Those tan lines didn't disappear for a year.
Did you know there's an entire line of Disney character sunscreens?!?


Whether you're trying to avoid weird tan lines or horrible sun burns, make sure you've put sunscreen on any exposed parts of your feet.
Blister Protection
Let's hope that you don't end up with any blisters or sores. But if you DO, pack a few of these in your suitcase to bring in your backpack or pants pocket while at Disney World.
Yes, there are First Aid stations at the theme parks, but you don't want to have to rely on those. You will have to walk to the location, then wait to be seen and sign in.
Cooling Foot Spray
Not only will this invigorating foot spray cool down your feet with peppermint oils, it will also deodorize your shoes and disinfect your feet by killing bacteria with tea tree oil.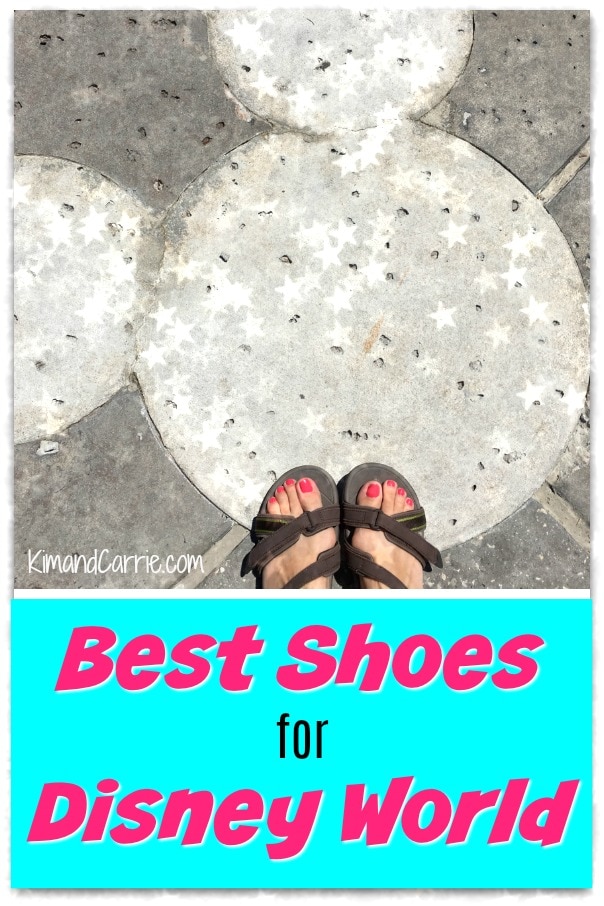 Now that your feet will be happy with the best shoes for Disney World, don't let biting insects annoy you. Check out our list of best clothes to prevent mosquito bites.
AND, check out our 9 Best Water Bottles for Disney World.