Wearing a house robe inside The Wizarding World of Harry Potter is every Harry Potter fan's dream!
However, the heavy dark robes can get pretty gross from sweating, dragging on the ground, and spilling food or drink.
If you are wondering how to clean your Harry Potter robe, here are all the details you need to know.
Official Harry Potter Robes
There are official Harry Potter robes sold at Universal Studios and inside The Wizarding World of Harry Potter.
These robes are a heavier material and have one of the four house logos on them. Unfortunately, they are also quite expensive, too. They cost $139 plus tax. Which is why you want to clean them and care for them to last for years.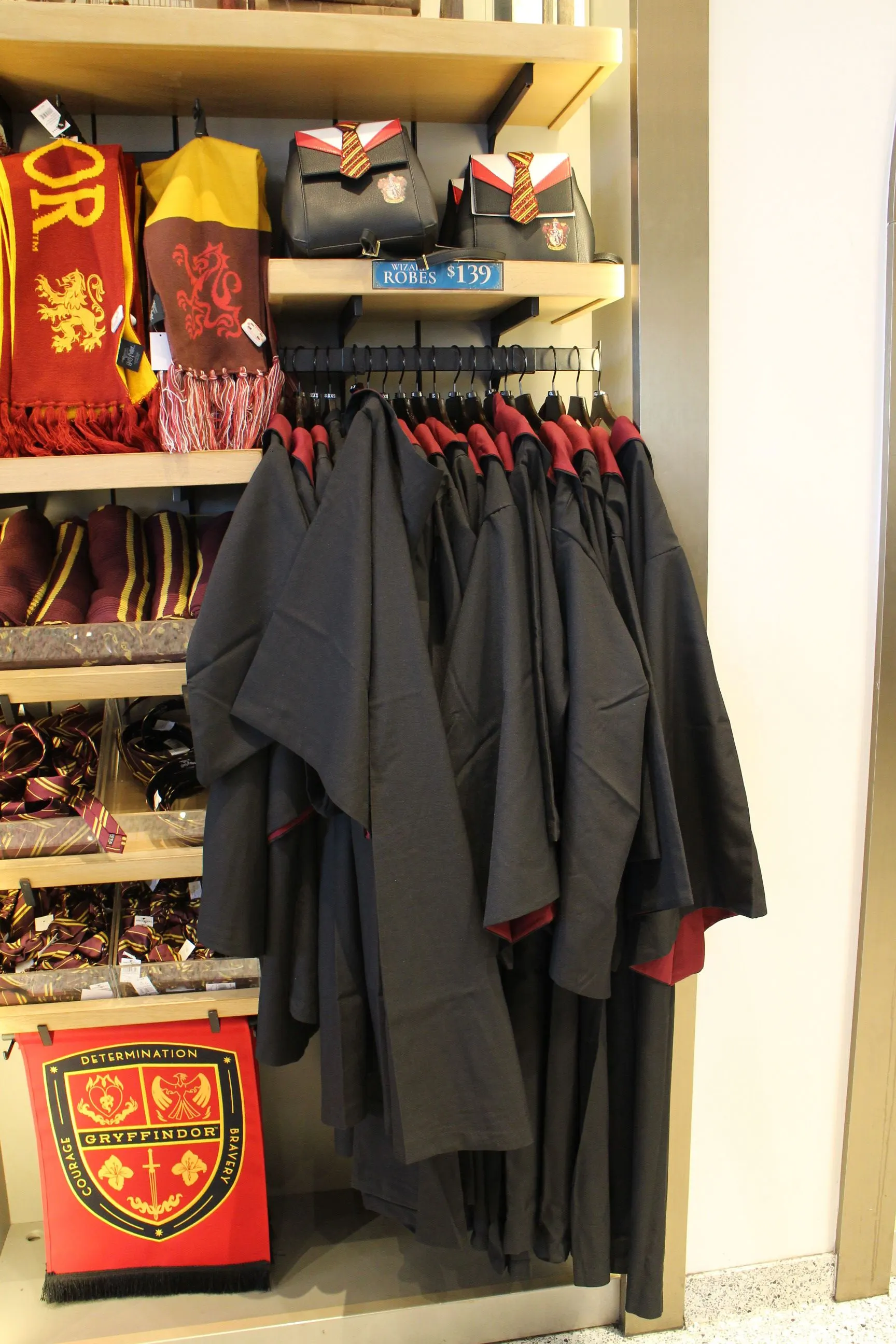 This guide explains how to clean an official Harry Potter robe that was purchased at the theme parks, on the Universal Studios online store, or resold through an online website such as Ebay.
Related Post: Everything to Know About Harry Potter Wands
Cleaning a Harry Potter Robe
The tag in an official Harry Potter robe states "Dry Clean Only."
If you would like to dry clean the robe professionally, then you can definitely do that.
However, many people want to avoid the cost of dry cleaning or do not want to use chemicals to clean the clothes.
Helpful Tip: I cleaned my wedding dress in the washing machine even though the tag said Dry Clean Only. It came out fine, so I know a few things about washing delicates with a washer!
We have had success in washing Harry Potter robes in the washing machine on the gentle cycle, using cold water.
Avoid using an agitator in the washing machine, if possible, when washing your robe in a washing machine.
Make sure you only use COLD water! Not warm and definitely not hot!
Use a gentle detergent made for delicates, such as Woolite Darks Defense which will protect the color of the black robe, as well as the fibers. (Also available on Amazon.)
You may also hand wash the robe in a large tub, such as the bathtub or a utility sink.
After washing, hang the robe to dry. Do NOT use the clothes dryer!
While hanging the robe outside in the sun will allow it to dry faster, it can also bleach out the black fabric.
If you do not feel comfortable washing the robe in water, you can use an at-home dry cleaning kit such as Dryel. (Also available on Amazon.)
Unofficial Harry Potter Robes
There are plenty of unofficial Harry Potter robes that you can buy through Amazon and other online websites. These are much less expensive, which makes them a great buy if you only want a robe for pictures during one trip to Universal Studios.
The materials used in all of the different types of robes can vary. So it is difficult to say whether or not the robes can be cleaned. You will need to use your best judgment and look at the care tag in the robe.
Love Harry Potter? Check out these related posts: