Butterbeer is one of the iconic beverages from the Harry Potter books and movies. It is also the number one consumed item inside Universal Studios' Wizarding World of Harry Potter lands in Florida, California and Japan.
The drink is not available for sale anywhere outside of Universal theme parks. So if you would like to enjoy a delicious Harry Potter butterbeer at home, this copycat recipe is perfect for you!
What is Butterbeer?
Butterbeer is the fictional drink that Harry Potter and his friends enjoyed in both the books and the movies. The beverage was served in Hogsmeade and Diagon Alley.
J.K. Rowling, the author of the Harry Potter series, described the drink as creamy and sweet and tasting like butterscotch.
The beverage is something that Rowling made up. No one had ever made the drink until Steve Jayson, the Corporate Executive Chef of Universal Orlando, was tasked with creating a drink to serve in the Wizarding World of Harry Potter.
He had to create a drink that Rowling would approve of. He succeeded, and the beverage is served throughout Harry Potter land at Universal Studios locations today!
Be sure to see our easy hot butterbeer recipe, too!
Is Butterbeer Alcoholic?
No, butterbeer is not alcoholic. The beverages at Universal Studios in Harry Potter world will not have any alcohol in them unless you buy an adult's version of the butterbeer, that is spiked with alcohol.
Butterbeer was actually created to resemble beer, according to Jayson. It has an amber color with a creamy foam top, just like alcoholic beer.
The word 'beer' in the name does suggest an alcoholic drink. It was never described as being alcoholic, but there are references in the books (Harry Potter and the Goblet of Fire) that suggest it might have a slight alcohol content that could get house elves in a drunk-like state.
If you'd like to make your butterbeer alcoholic, just add some rum or whisky to the beverage.
What Does Butterbeer Taste Like?
Butterbeer has several flavor profiles, so it tastes a little different to everyone. Some of the most popular flavors that people taste are:
Butter
Butterscotch
Creamsicle
Butter cookies
Caramel
Brown Sugar
Pralines
Vanilla
Cream Soda
What is in Butterbeer?
The ingredients of butterbeer drink at Universal Studios have never been revealed.
References to the beverage in the books suggest that the ingredients in traditional butterbeer and extra sweet butterbeer might include:
Butterscotch
Sugar
Water
Sugar Shrub (a magical plant used as a sweetener)
Mallowsweet (a magical herb)
Moondew (a flowering plant in Scotland)
For copycat versions of the recipe, the most common ingredients are cream soda, butterscotch sauce, whipped cream and sometimes vanilla ice cream.
Is Butterbeer Gluten Free?
Yes, this easy butterbeer recipe and the beverage served in the theme parks is gluten free.
Is Butterbeer Vegan?
Butterbeer drinks at Universal Studios were not vegan until August 2022, when the theme park allowed the decision to serve the beverage without the foamy topping.
When making the drink yourself, you will need to be mindful of choosing vegan ingredients. For instance, a dairy-free whipped cream.
How to Make Harry Potter Butterbeer
Servings: 4
Total Time: 5 minutes
Ingredients
4 cups cream soda
2/3 cup butterscotch sauce, divided
1 cup heavy whipping cream
2 Tbsp salted butter
Directions
1. Whisk together the cream soda and most of the butterscotch sauce (saving about 2 tablespoons for later).
2. In a separate bowl melt the butter and whisk it in with the remaining butterscotch sauce as well as the heavy whipping cream until stiff peaks form.
3. Divide the butterbeer mixture between four glasses and top with a generous dollop of the butterscotch whipped cream. Drizzle extra butterscotch topping over the whipped cream if you would like.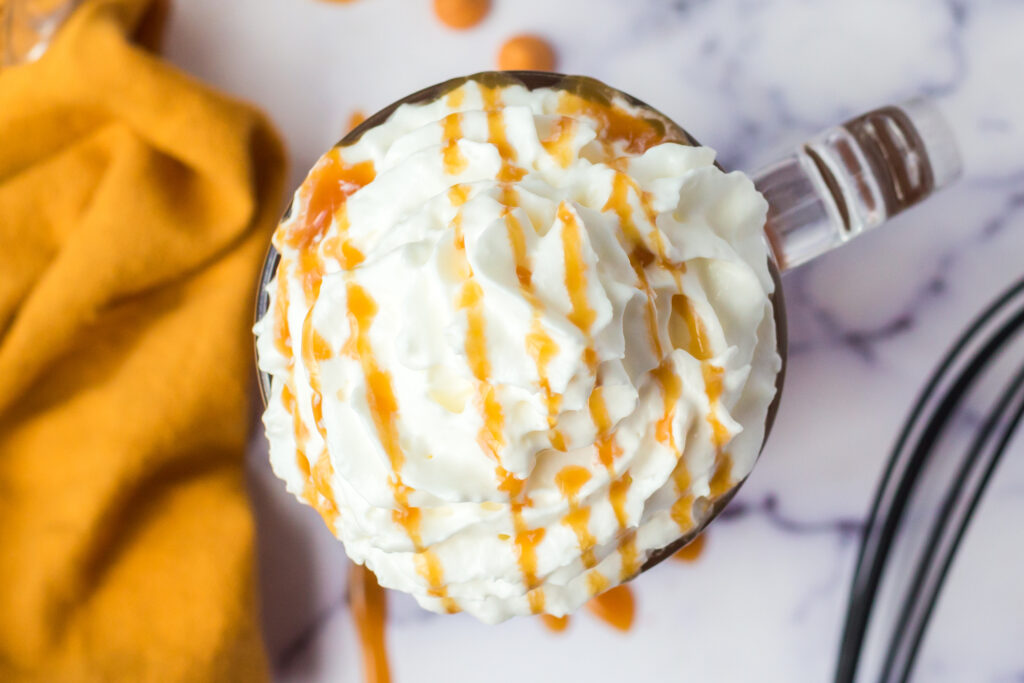 Helpful Tips for Making Butterbeer
Find butterscotch sauce in the ice cream toppings aisle.
The caramel sauce will begin to separate a little bit from the cream soda if it sits for too long, but a quick stir will redistribute the sauce.
You can prep the soda and whipped cream separately and store the whipped cream in the fridge for up to 4 days.
If you do not have butterscotch sauce, you can also use caramel sauce. The only difference between the two is that caramel is made with white sugar while butterscotch is made with brown sugar.
This easy Harry Potter butterbeer recipe is simple to make. Be sure to see our other Harry Potter-inspired recipes, too: