Buying a Harry Potter wand at Universal Studios is one of the most anticipated events for all Harry Potter fans! You will feel just like the characters in the movies and books when you choose your own wand and start casting spells!
It can be overwhelming trying to decide where to buy your wand, and what type of wand to choose. You might also be confused about how the wands work in Harry Potter world and what you can do with them.
Our Ultimate Guide to Harry Potter Wands at Universal Studios shows you how easy it can be to get your own magical souvenir and start enjoying every nook and cranny throughout Diagon Alley and Hogsmeade in The Wizarding World of Harry Potter.
What Can You Do With a Harry Potter Interactive Wand?
Before discussing how to buy the wands, you will want to know what they can do, so you understand why they are such a great souvenir to buy at Universal Studios!
Interactive Harry Potter wands will let you cast spells throughout the two lands of The Wizarding World of Harry Potter. You will feel like a witch or wizard when you move your wand through the air and make "magic" happen at more than two dozen locations with animatronics and special effects.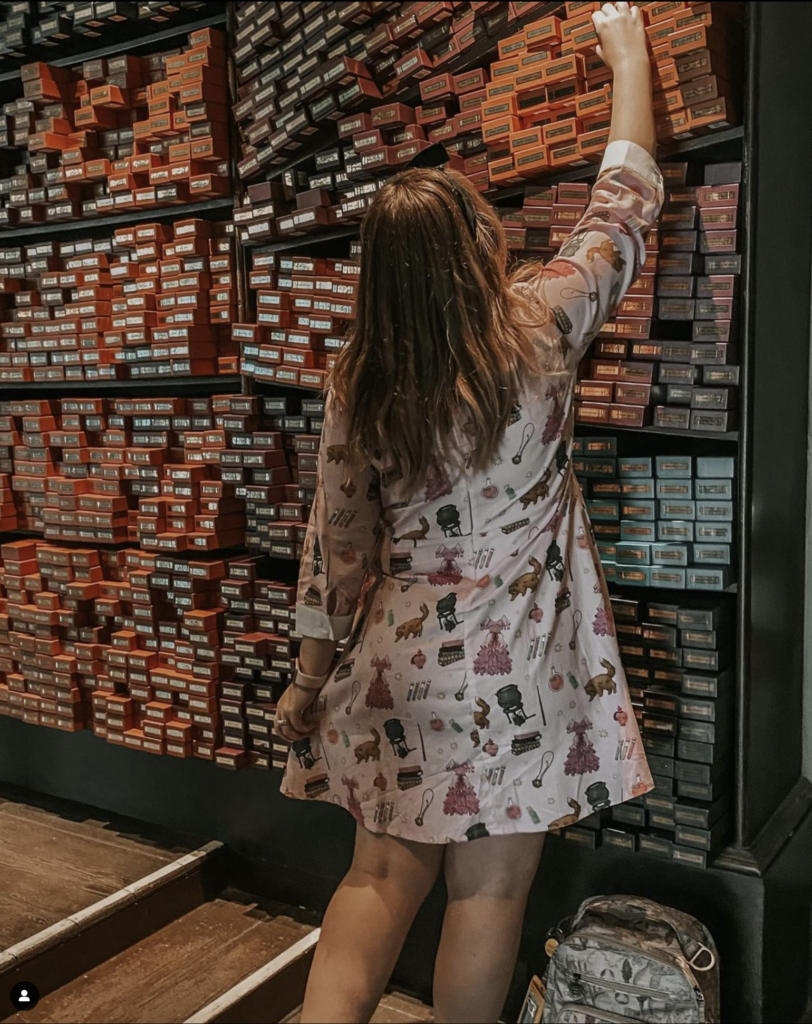 These immersive experiences found beyond the rides and attractions began when Diagon Alley, the second Harry Potter land, opened. Previously, in the first land of Hogsmeade, there were no spell casting experiences, however you could still buy wands.
You don't need superpowers to know where to cast the spells, though. Just look for a brass medallion on the ground to show you where the locations are. You will also be able to refer to your map included with the purchase of an interactive wand.
Sorcerers of the Magic Kingdom and Agent P's Worldshowcase Adventure at Epcot with Phones and Ferb are similar technologies at Walt Disney World.
Each location is usually staffed with a spell-caster assistant, who can coach you how to use your wand and the best ways to cast spells with your wand in that location. So don't feel like you won't be able to experience the magic if you're a first-time wizard or witch!
Check out our Hey Siri Harry Potter commands for more magical spells you can do with your phone!
Types of Wands at Universal
There are two types of wands at Universal Studios:
Standard Wands
Interactive Wands
Exclusive Destination Wands
All wands are made from a resin, not real wood.
Standard Wands
The traditional, standard wands look like the wands from Harry Potter movies. However, they have no special powers.
These wands will be purchased in a box. However, there will be no map included in the box, since the standard wands cannot perform magic spells.
Sizes range from 14 inches to 16 inches. These are going to be thinner than the interactive wands.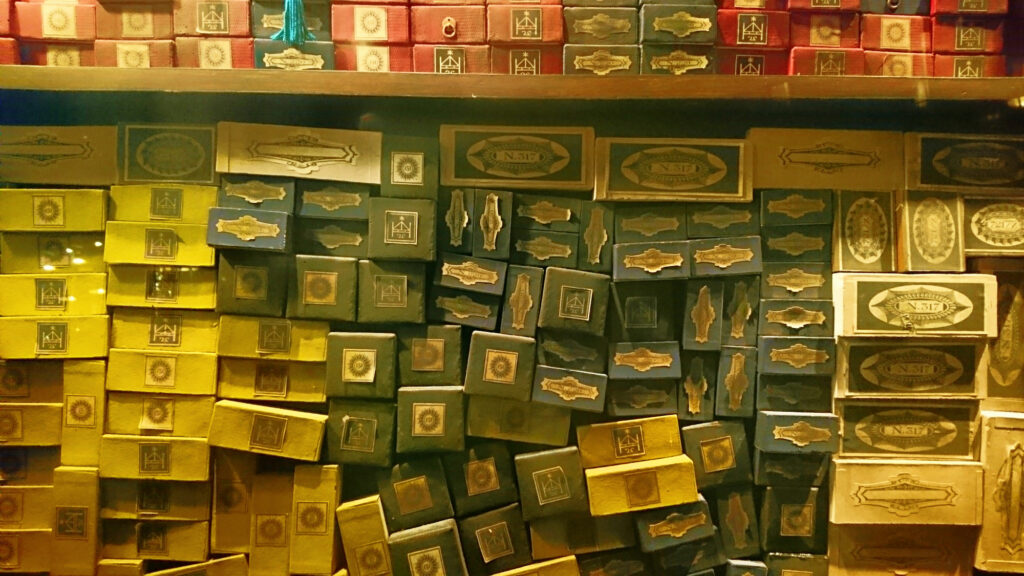 Interactive Wands
If you are wanting to cast spells in Harry Potter world, then you must get an interactive wand. These will work in both parts of The Wizarding World of Harry Potter, including Diagon Alley and Hogsmeade.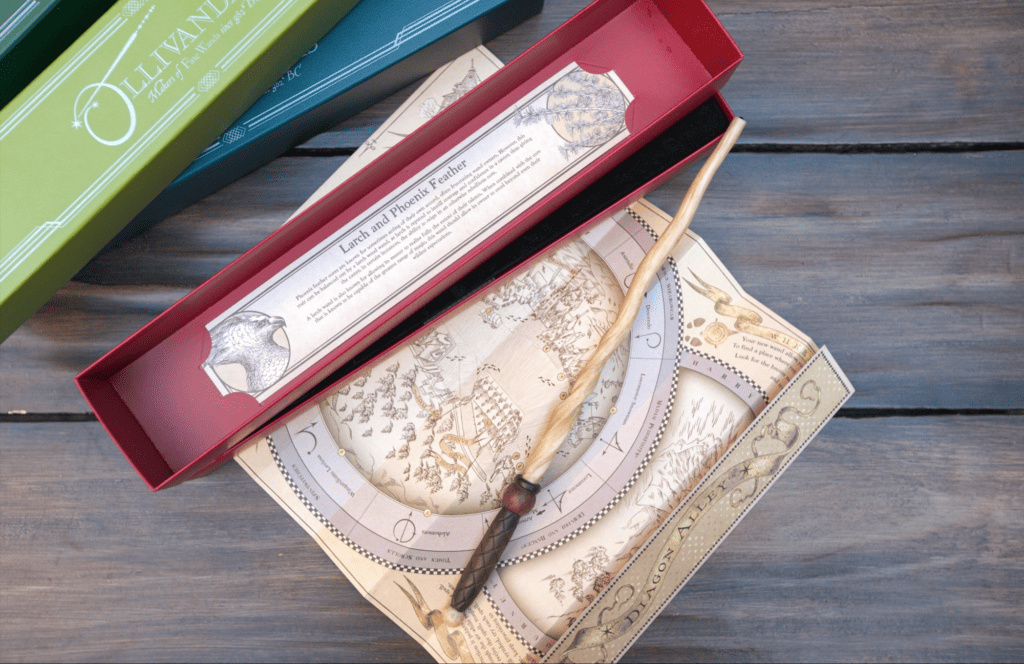 These wands are thicker and have a rounded, reflector tip on the end. This rounded tip is what activates sensors at spell-casting locations in the two lands.
Your interactive wand will come in a souvenir box.
These wands will also come with a double-sided map with spell casting locations. There will be 25 spell locations found on the map, however if you hold the map under a special kind of light you can find even more secret spell locations, too!
Once you have decided to buy an interactive wand, you will need to choose the type of wand, as well.
You can choose a wand like the ones used by Harry Potter characters, including:
Harry Potter
Hermione Granger
Ron Weasley
Sirius Dumbledore
Professor Snape
Lord Voldemort
Neville Longbottom
Draco Malfoy
Professor McGonagall
Ginny Weasley
Sirius Black
Cedric Diggory
Remus Lupin
Bellatrix LeStrange
Luna Lovegood
Mad-Eye Moody
Fleur Delacour
Narcissa Malfoy
Yaxley
Cho Chang
Nymphadora Tonks
Or you can choose a wand that is "unclaimed." There are 13 wands based on the Celtic tree calendar which J.K. Rowling used while writing Harry Potter books. These Celtic design wands use different types of wood for different birth dates or attributes. See our chart below for more information.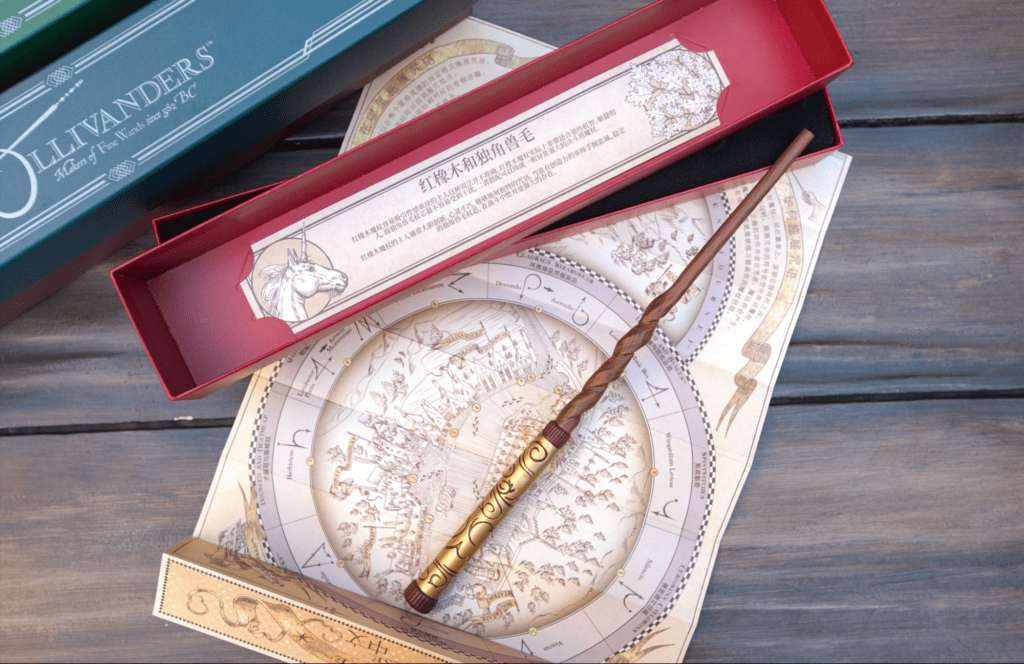 Twelve new interactive wands debuted at Universal Parks on December 6, 2022. Each of the new wands pairs a wood type with one of three powerful cores that Garrick Ollivander, the master wandmaker in the Harry Potter films, uses.
These powerful cores include:
Unicorn hair
Dragon hearstring
Phoenix feather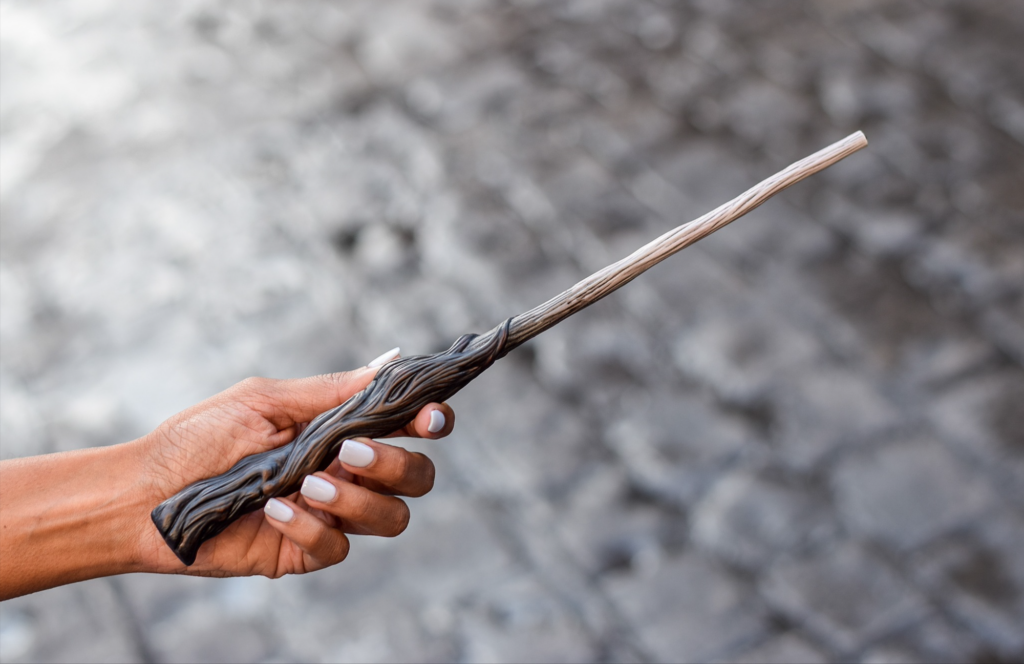 With these new wands, you will also receive a "wand lore" insert that explains the unique properties of that wand and the attributes of its ideal owner. This is the first time the option has been available.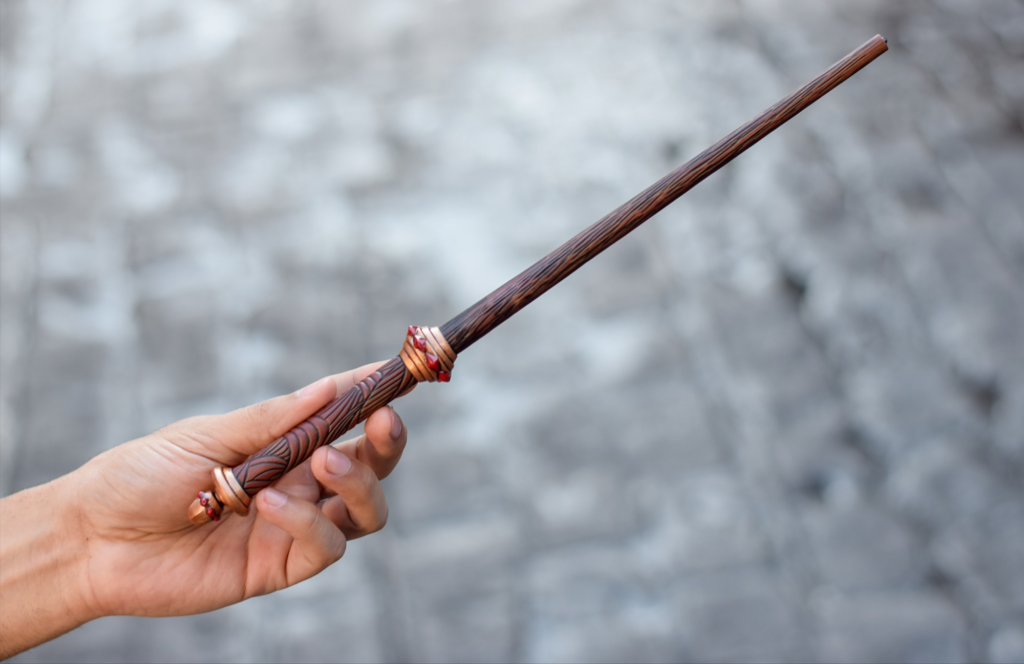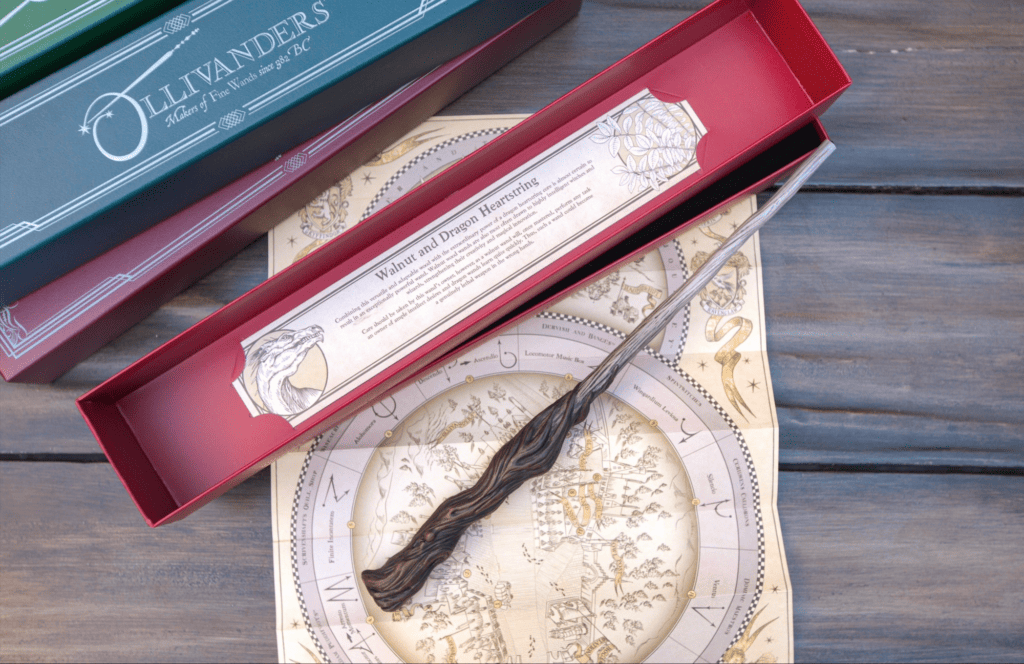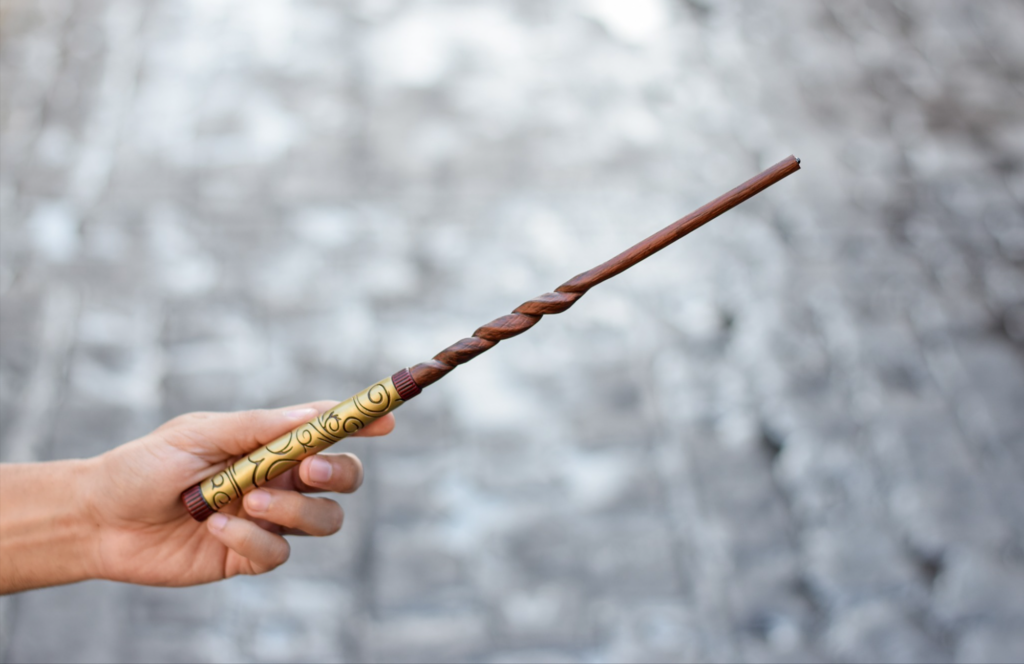 Interactive wands can be used in both lands of Harry Potter world, regardless of where you purchased the official interactive wand.
Limited Edition Wands
Every year you can purchase a limited Collector's Edition wand. These wands are slightly more expensive.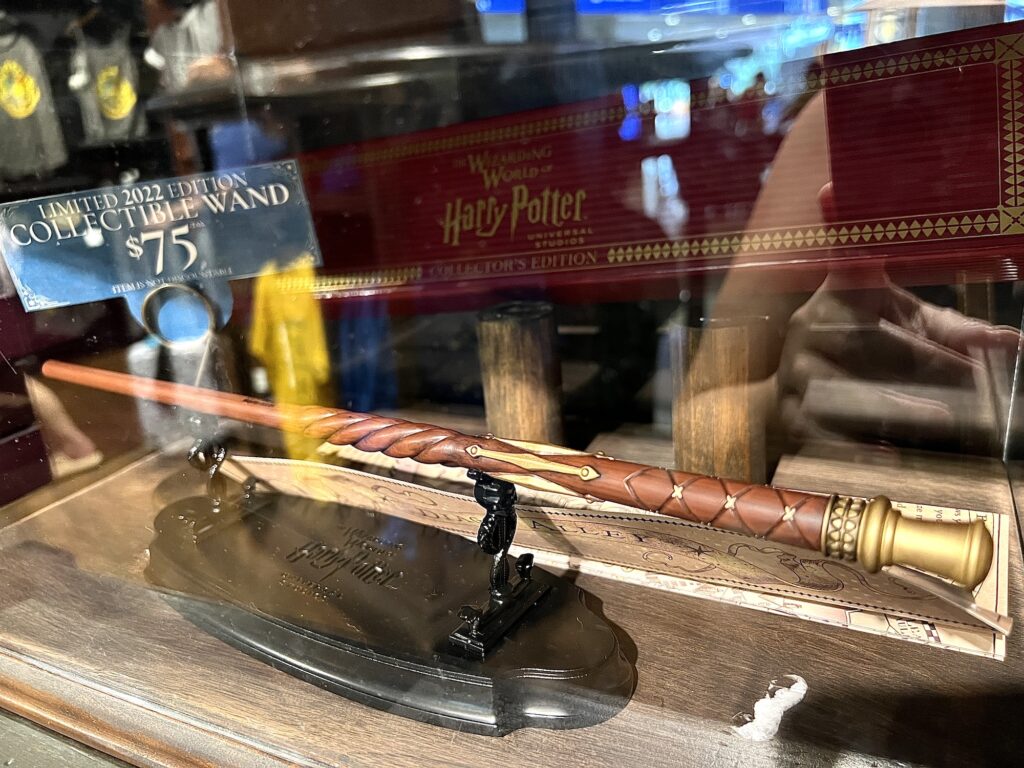 Exclusive Destination Wands
Starting December 6, 2022, each Universal park will have one exclusive wand that can only be bought at the location and nowhere else.
At the Universal Orlando Resort, the exclusive wand is a larch and phoenix feather wand
Universal Studios Hollywood has a walnut and dragon heartstring wand
At Universal Studios Japan, you can get a cherry and unicorn hair wand
Universal Beijing Resort has a red oak and unicorn hair wand
Harry Potter Wand Displays
Regardless of what type of wand you purchase, you probably want to be able to show off your unique souvenir at home. Don't just lay your wand on your dresser where you can't appreciate it!
Check out these cool Harry Potter wand displays to show off your magical purchase.
How Much is a Wand at Universal?
In 2023, the cost of a Harry Potter wand at Universal Studios is from $55-$75, plus tax.
Standard wands are $55, plus tax
Interactive wands are $63, plus tax
Collector's Edition wands are $75, plus tax
The price of interactive wands increased on October 1, 2022 from $59 to $63.
Wands are the same price at any gift shop at Universal Studios theme parks or CityWalk. They are also the same price on the Universal Studios website, however you might need to pay more for shipping and handling fees.
Related Posts:
Is the Interactive Wand Worth It at Universal Studios?
The interactive wand is worth it if you or your child will spend time in Harry Potter world to find the interactive stations and use them.
The cost is only $4 more for an interactive wand, compared to a standard wand at Universal Studios. So even if you only did a few spells, it's definitely worth it for the fun!
However, if you are only visiting Harry Potter lands to ride the attractions then move on to other Universal rides, and you are not a big fan of Harry Potter, then an interactive wand is not worth it for you. If you want a wand to have for pictures, consider buying a very inexpensive wand on Amazon, rather than an official Universal Studios wand at the theme parks.
The Harry Potter interactive wand is a better souvenir than the standard wand because it comes with a map of the spellcasting spots. The standard wand does not come with a map.
Once you purchase a wand, it can be reused on future visits to Universal Studios. It will be a one-time investment that can be enjoyed on other theme park visits.
If you have any problems with your wands casting spells, you can bring it to Ollivanders and they will fix it. This usually means replacing the sensor at the tip of the wand, since there are no batteries to replace or electronics to fix.
Where to Buy Harry Potter Wands
There are four main places to buy Harry Potter wands at Universal Studios Orlando Resort. They are:
Ollivanders Wand Shop in Diagon Alley
Ollivanders Wand Shop in Hogsmeade
Wands by Gregorovitch in Diagon Alley
Wand cart on the way to Hogwarts
There are additional places to buy wands outside of Harry Potter lands, such as the gift shops at the front of each of the theme parks, as well as the large Universal Studios merchandise shop in CityWalk. Some official Universal hotels have gift shops where you can purchases wands.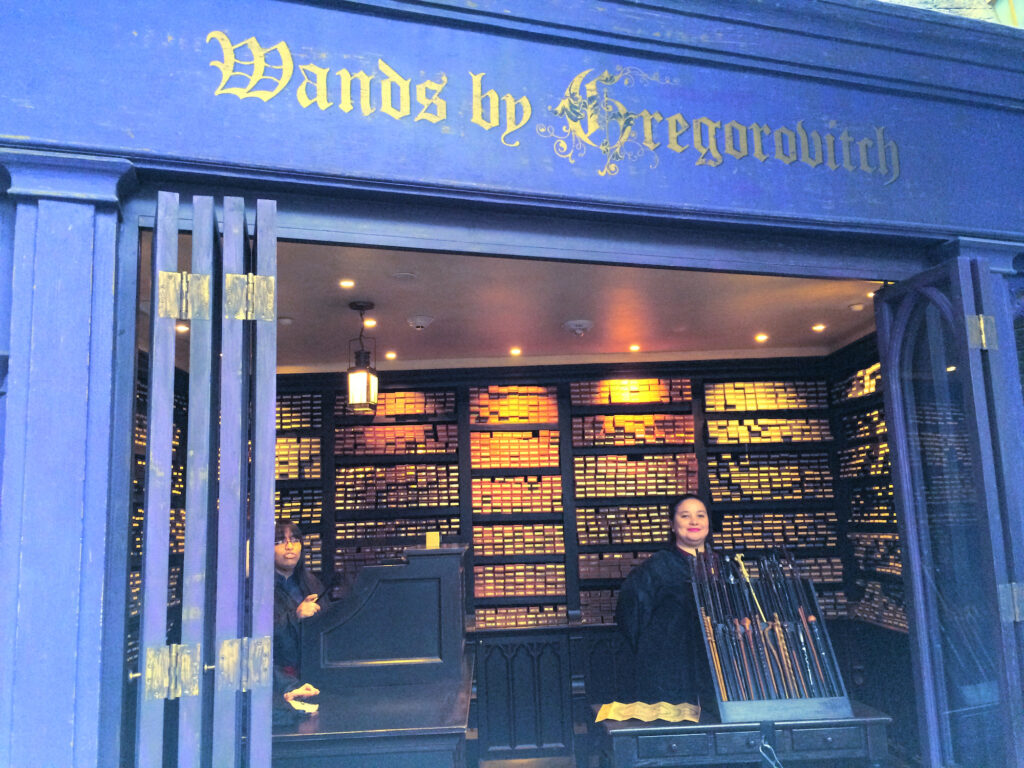 You can also buy official wands on the Universal Studios store online.
Absolute Best Place to Buy a Wand at Universal Studios
Ollivanders Wand Shop is the number one place to buy a wand in Harry Potter world. And the Diagon Alley location is the absolute best place to buy your wand.
While there are several locations to purchase your wands throughout Universal Studios' theme parks, Ollivanders in Diagon Alley is the most magical location. It is here where you can enter a room with rows and rows of wands to choose from. And every Harry Potter fan knows that the wand chooses the wizard, so you want to go where all of the wands are!
You might also be picked for the wand choosing ceremony, which makes the selection process even more magical. This is when one person is chosen from the group of people entering Ollivanders to test out a series of wands and see what magic they make happen. It's just like in the movies! Even if you are not chosen, you will get to enjoy the show and see the wand keeper work their magic!
Note: The wand keeper often chooses a lucky guest that is around the age the wizards and witches get a letter to attend Hogwarts. So if you have a child around 12 years old, the chances are better that they'll be picked (however, adults are often chosen, too!).
There is no extra charge to watch the show or to be a participant! In fact, even if you are chosen to do the wand ceremony, you are no obligated to buy the wand chosen for you.
Ollivanders' location in Hogsmeade is nice, too, but much smaller. You can also buy one at Wands by Gregorovitch, but we suggest going there only if the lines are too long at other locations, or you don't want to be surrounded by too many people.
How Do Wands Work at Universal?
Universal Studios Wand Technology
The interactive wands have a translucent tip that is slightly rounded. The tip is slightly see-through because light comes out of the wand (you won't be able to see the light) and reflects off of a sensor at the spell casting location. The sensor can track your movement and make magic happen!
There are no batteries in the wands. There are no electronic components or motors, either.
If you have problems with your wand, you can bring it to Ollivanders for help. They probably will replace the tip, which means replacing the sensor.
Can You Bring Your Own Wand to Universal?
Yes, you can bring wands with you into Universal Studios.
There are inexpensive wands on Amazon that are perfect to bring if you don't want to cast spells. (They are not interactive.)
You may be able to find discounted wands at thrift shops or on Ebay, too. If you are able to find an interactive wand for sale outside of the theme parks, they should still be able to work at The Wizarding World of Harry Potter.
This hack is just one of our 37 Universal Tips and Tricks you need to know before your next visit!
Should I Buy a Harry Potter Wand Online?
We don't suggest buying your wands online, unless you want to use it as a gift for a surprise announcement of a Universal vacation.
There is magic (quite literally) in being able to pick your wand in person at a gift shop in Harry Potter world.
The unique experience is lost if you buy online. Also, you will need to transport your wand with you, which can take up valuable luggage space if flying.
Harry Potter Birthday Wands (How to Use Your Birth Month to Choose Your Wand)
Much like the Zodiac signs, there are 13 signs based on the Celtic Tree Calendar. This calendar is what J.K. Rowling, the author of the Harry Potter books, used.
You can use your birthday date to find which wand might be best for you. Or maybe choose your anniversary or another special date to choose your wand.
You can look at the attributes of each wand to see which one to choose, too.
This helpful wand chart will guide your towards choosing the best wand for you. However, wands choose the wizards, so if you feel like you really like a wand that isn't for your birth month, it's okay!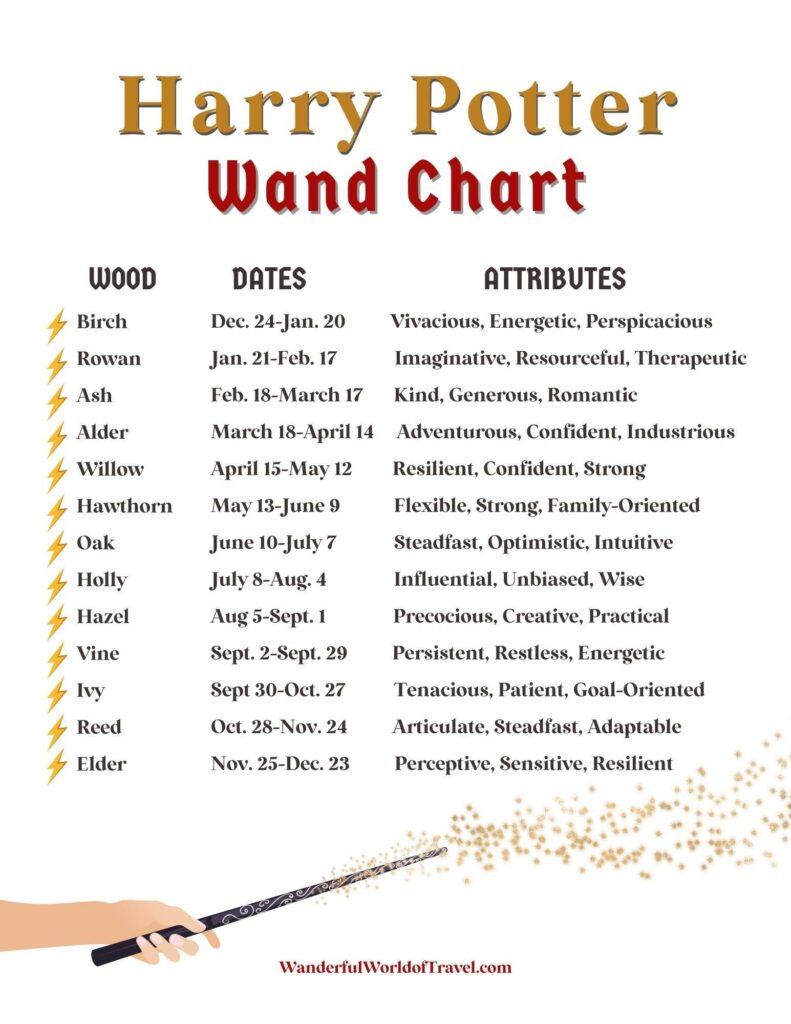 Get a free download of our Harry Potter Wand Chart by Birthday to bring to Universal Studios with you.