Firewhisky is an alcoholic drink made popular in Harry Potter books. Enjoyed by wizards and witches, it was a strong drink that caused a burning in your throat when consumed, according to the books.
This popular alcoholic beverage, also known as Fire Whiskey or Fire Whisky, is one of the most popular items to enjoy in Harry Potter worlds at Universal Studios Florida.
Be sure to see our list of 33 Things Not to Miss in The Wizarding World of Harry Potter!
Whether you are visiting the theme parks and want to know all about this drink, or are wondering how to make it at home, we have all the information you want to know about Fire Whiskey.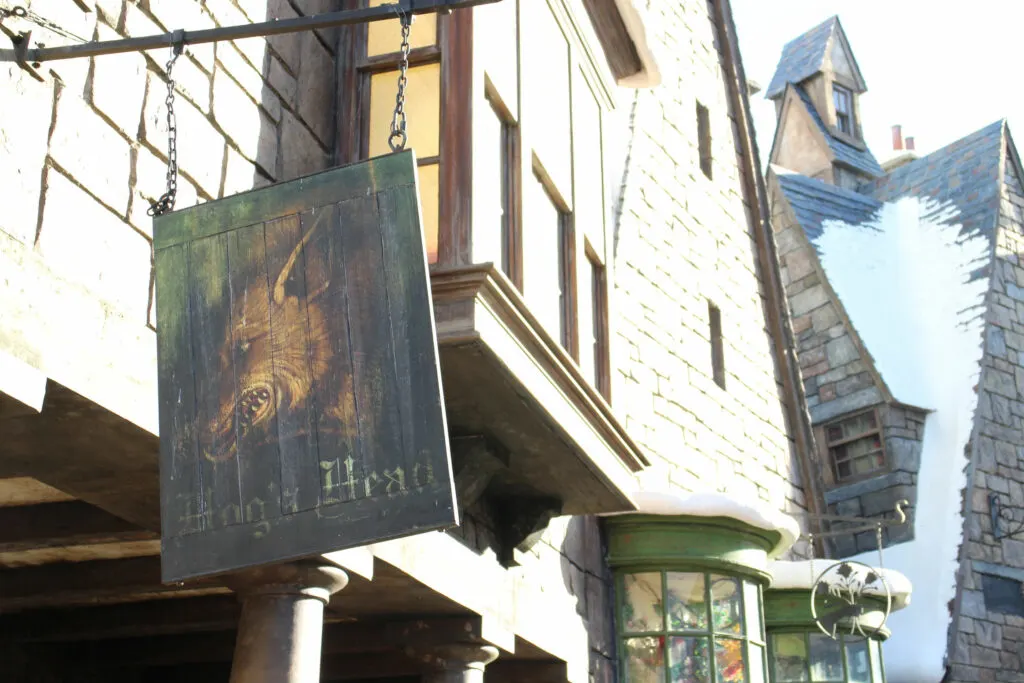 Firewhisky in Harry Potter
Firewhisky was first mentioned in Harry Potter and the Chamber of Secrets.
The drink was also referenced in Harry Potter and the Order of the Phoenix, Harry Potter and the Goblet of Fire, Harry Potter and the Half-Blood Prince and Harry Potter and the Deathly Hallows.
'You know what' Ron mumbled, looking over at the bar with enthusiasm. 'We could order anything we liked in here. I bet that bloke would sell us anything, he wouldn't care. I've always wanted to try Firewhiskey-'

Harry Potter and the Order of the Phoenix
There are two different brands of Firewhisky in Harry Potter, Ogden's Old Firewhisky and Blishen's Firewhisky. Neither of which was to be consumed by anyone under the age of seventeen.
References to Firewhisky include:
Molly Weasleys' tea served with Ogden's Old Firewhisky after a fright at the Quidditch World Cup
Ron Weasley wanting to buy Firewhisky at Hog's Head, even though he was under age
Harold Dingle offering to sell firewhisky for an end of exams celebration to Seamus Finnegan and Dean Thomas
Rita Skeeter poured a glass on herself in the Three Broomsticks as Hermione was blackmailing her
Harry was given Chocolate Cauldrons by Romilda Vane that supposedly contained firewhisky (but they contained a love potion, instead)
Bill Weasley served up Firewhisky to drink a toast to Alastor Moody's memory, which was enjoyed by Harry Potter a few days before his 17th birthday
Harry Potter described kissing Ginny Weasley as more intoxicating than firewhisky
Ronald Weasley's Uncle Bilius would drink an entire bottle of firewhisky and then start dancing at family functions
Rita Skeeter claimed that Neville Longbottom and his wife "both enjoy a little more Ogden's Old Firewhisky than most of us would expect from custodians of our children."
What Does Fire Whiskey Taste Like?
Firewhisky is a cinnamon-flavored whiskey. It is a smooth drink that doesn't have a lot of heat from the cinnamon.
Many believe that the inspiration for Firewhisky came from Fireball, a cinnamon-flavored alcoholic drink.
Where Can I Buy Firewhisky at Universal Studios Orlando?
Firewhisky can be found in both Wizarding World of Harry Potters at Universal Orlando.
The alcoholic drink can be purchased at:
Hog's Head Pub (at the back of Three Broomsticks) in Hogsmeade
Leaky Cauldron in Diagon Alley
The Hopping Pot in Diagon Alley
The Fountain of Fair Fortune in Diagon Alley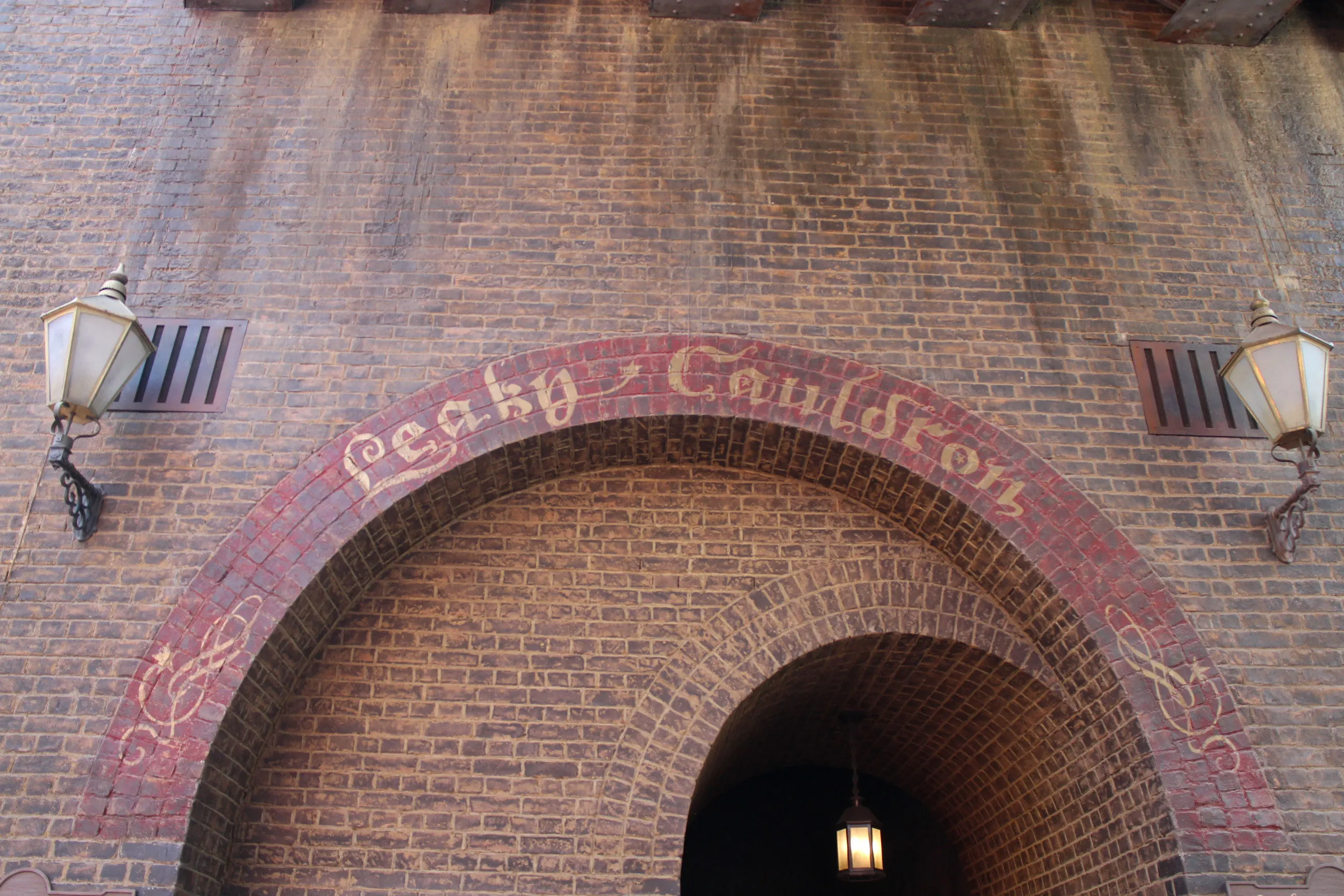 Fire Whisky can be ordered as a shot or double shot.
It can also be added to a mixed drink.
One of the best alcoholic drinks to get at Universal Orlando is the Fire and Strongbow Cocktail, which is fire whisky and Strongbow hard cider mixed together. If you love the taste of apple pie, then this smooth drink is for you! (Cost is $13.50)
Among the most popular ways to enjoy the alcohol are to mix it in a cup of frozen butterbeer or hot butterbeer.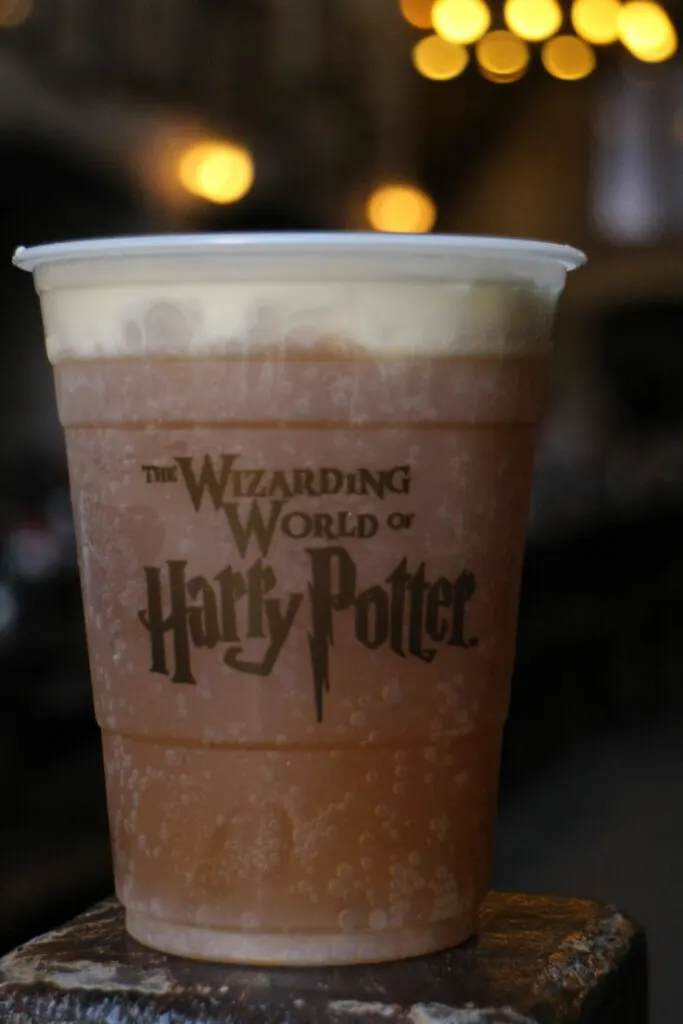 HOWEVER, and this is a BIG caveat, you CANNOT add a shot of Fire Whiskey to Butterbeer in front of a bartender at Universal Studios. This is because of the Intellectual Property terms when it comes to Butterbeer being non-alcoholic.
Seriously, it's a legal thing and don't get the Universal Team Members in a bad situation where their job is at risk because you won't walk away from the bar with your shot.
Related Post: Best Restaurants in the Wizarding World of Harry Potter
How Much is Firewhisky?
A shot of firewhisky is $11.50 at Universal Studios Orlando.
Where Can I Buy Firewhisky at Home?
The Harry Potter-inspired Firewhisky can not be purchased in any store.
Fire Whisky was the first exclusive liquor at the Wizarding World of Harry Potter.
Firewhisky Recipes
It is extremely easy to make a homemade Firewhisky similar to what you will find at Universal Studios and what is described in the Harry Potter books and films.
Basically, you will take a whiskey and let it steep for a week or so with cinnamon sticks and sugar.
We suggest these simple Fire Whiskey recipes:
Want more easy Harry Potter recipes? Be sure to see these: