ICE! at Gaylord Palms is opening on November 18 and runs through January 1, 2017!! We can't wait! The theme this year is Peanuts and A Charlie Brown Christmas and it is awesome. Trust us.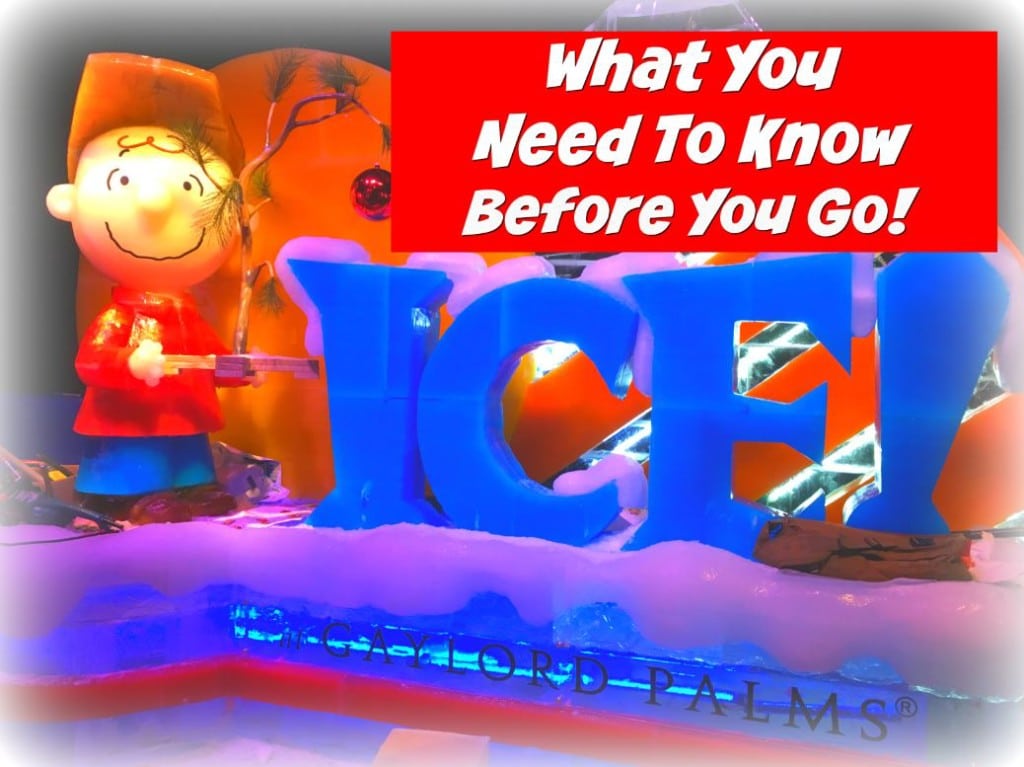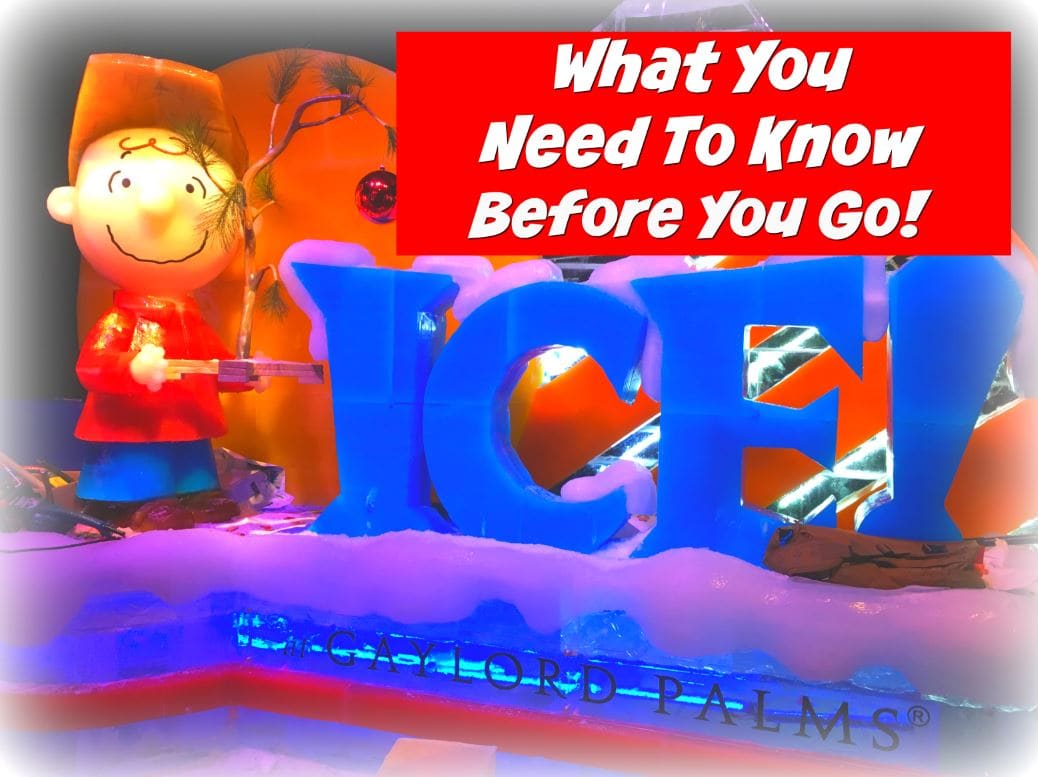 We were there at the official announcement of the 2016 ICE! theme in July. And we've seen behind the scenes as the blocks of ice are being sculpted into classic Peanuts characters.
To have the best time at ICE! 2016 at Gaylord Palms, there are some helpful hints to make your experience even better.
Here's what you need to know before you go – and a lot of behind the scenes photos of ICE! in the making!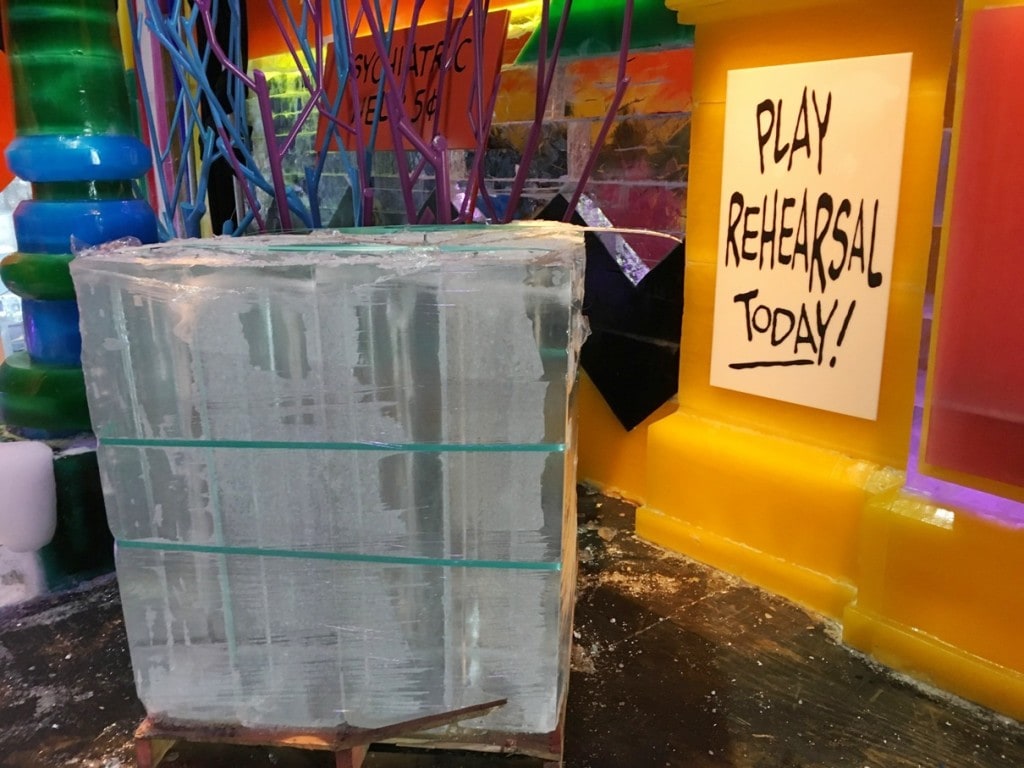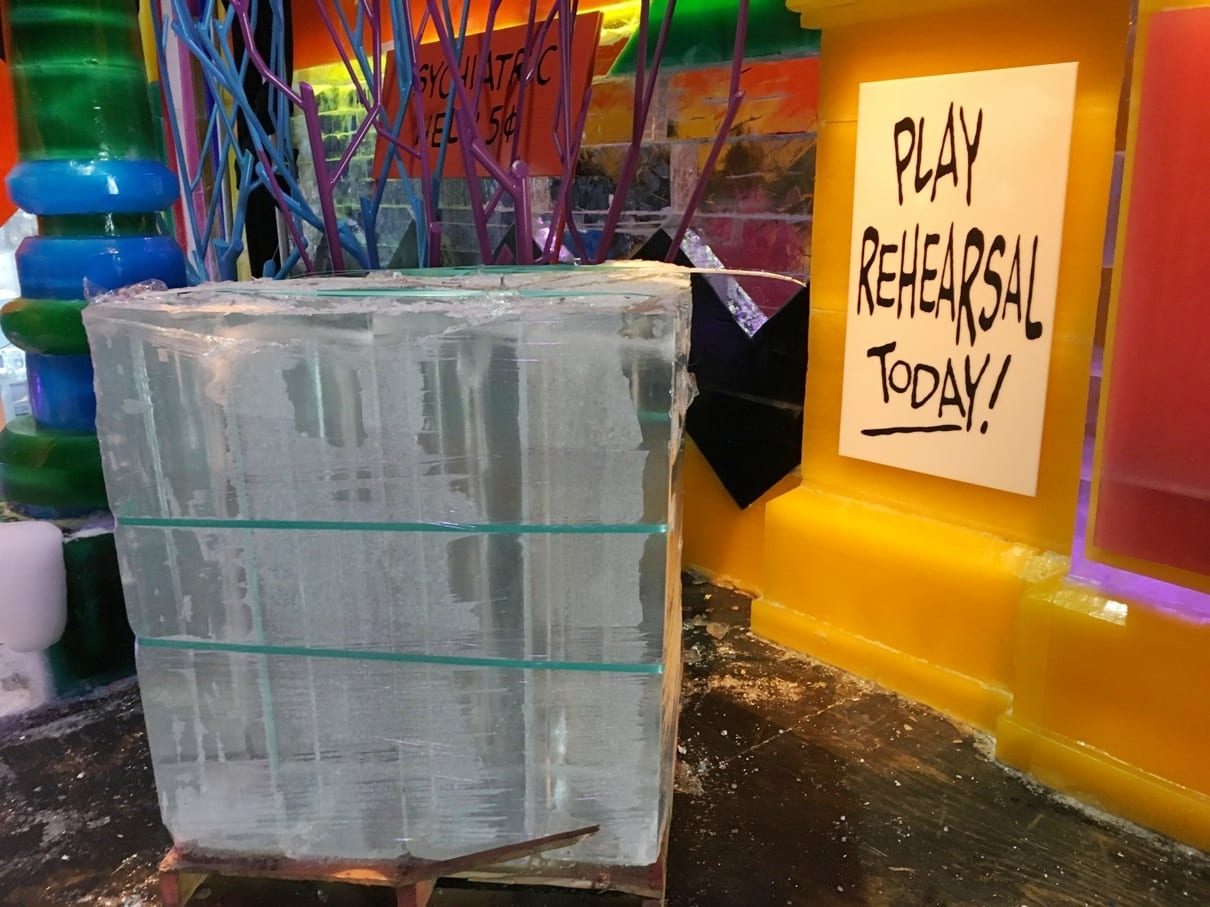 What to Wear
The Number One question is – What Should I Wear to ICE? It all depends on your cold tolerance, quite honestly.
I've worn jeans with a thin layer of long johns underneath; a sweater with a fleece vest over it (thin sweater and vest because I don't own anything too heavy living in Florida!); a warm pair of socks; and thick shoes, such as boots.
HOWEVER, I've also worn just jeans, a long sleeved flannel shirt and that's it. And I pretty much felt just as comfortable either way. The real difference is if you plan on staying extra time to do the ice slides or drink in the ICE! Bar or watch the ice carving demonstrations. The longer you stay, the more layers you'll want.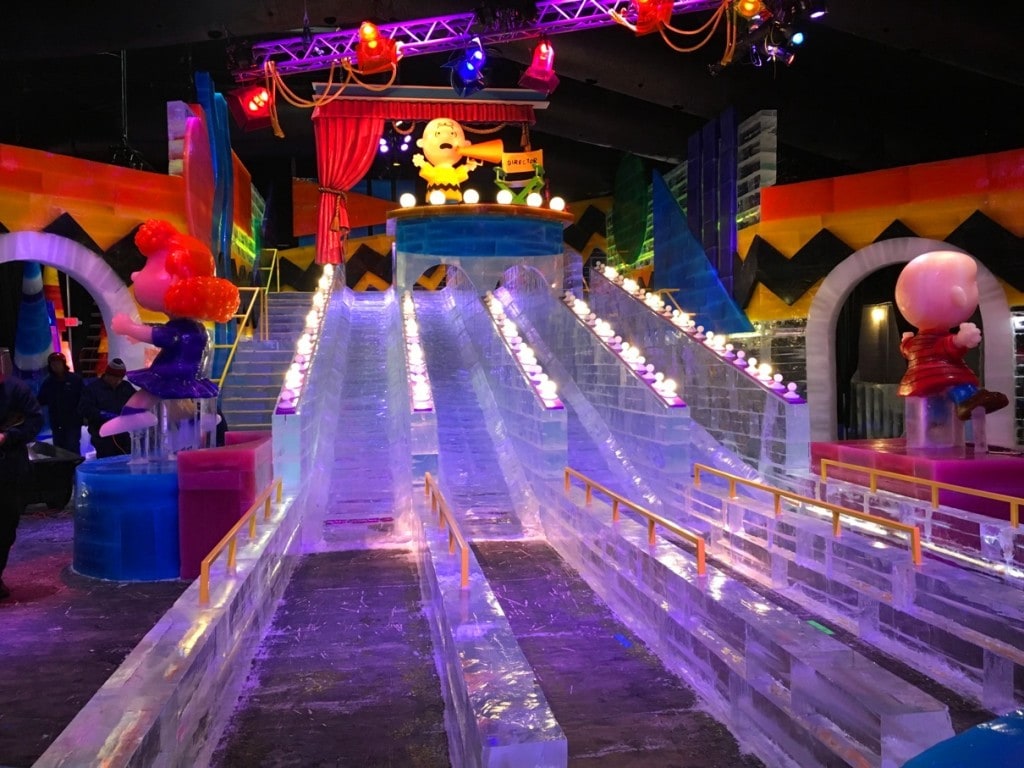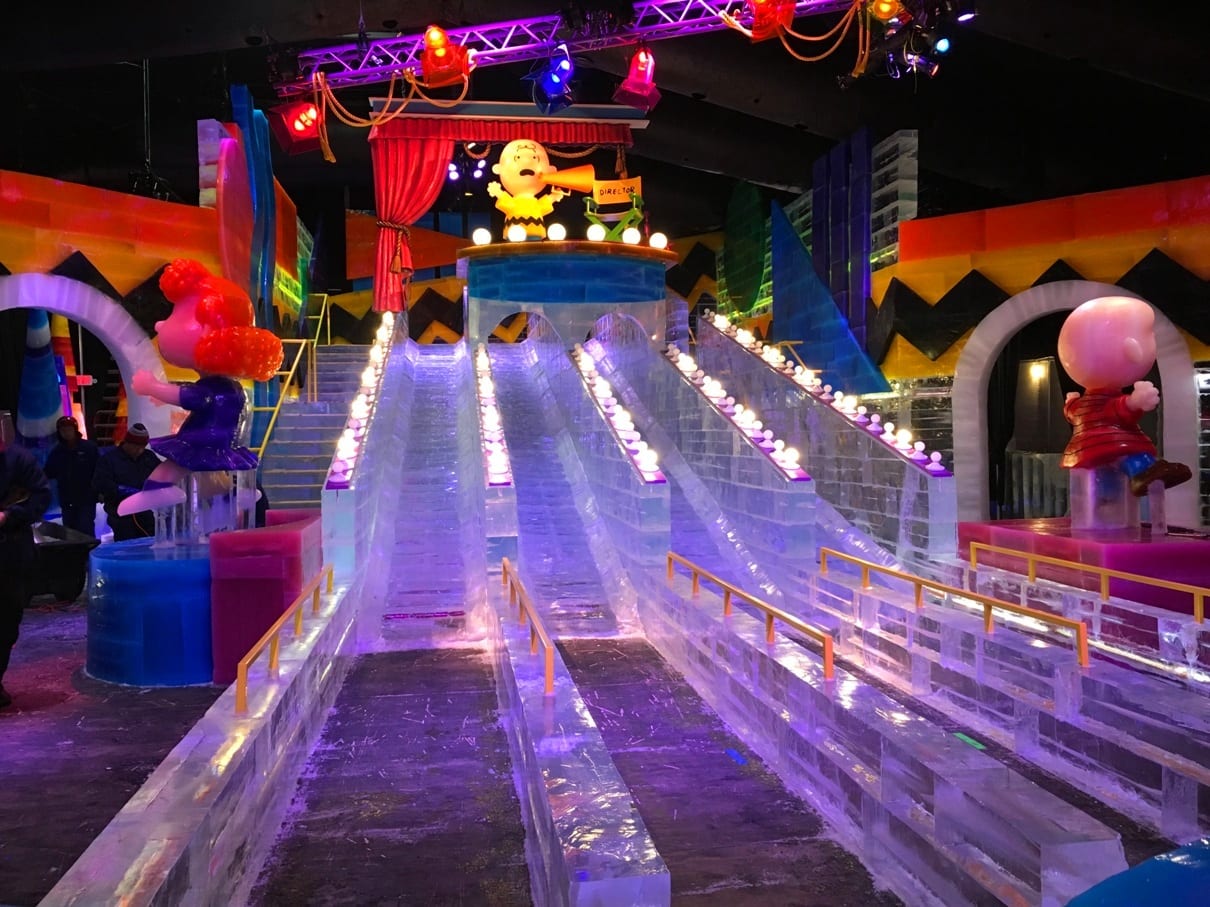 Do not wear open-toed shoes, flip flops or sneakers made with mesh. Your feet will freeze, no matter how hearty you think you are. In fact, long pants and closed toe shoes are required.
See our behind the scenes video for ice carvers in action!
Do I Need to Bring a Coat?
You do NOT need to bring a winter coat! A heavy duty, calf-length parka with hood will be provided free of charge for everyone. You do not have to wear it if you want to bring your own, though.
Should I Bring Gloves or Mittens?
In my opinion, you MUST, MUST, MUST bring gloves – and make them thick ones! (Unless you enjoy feeling like you have frostbite.)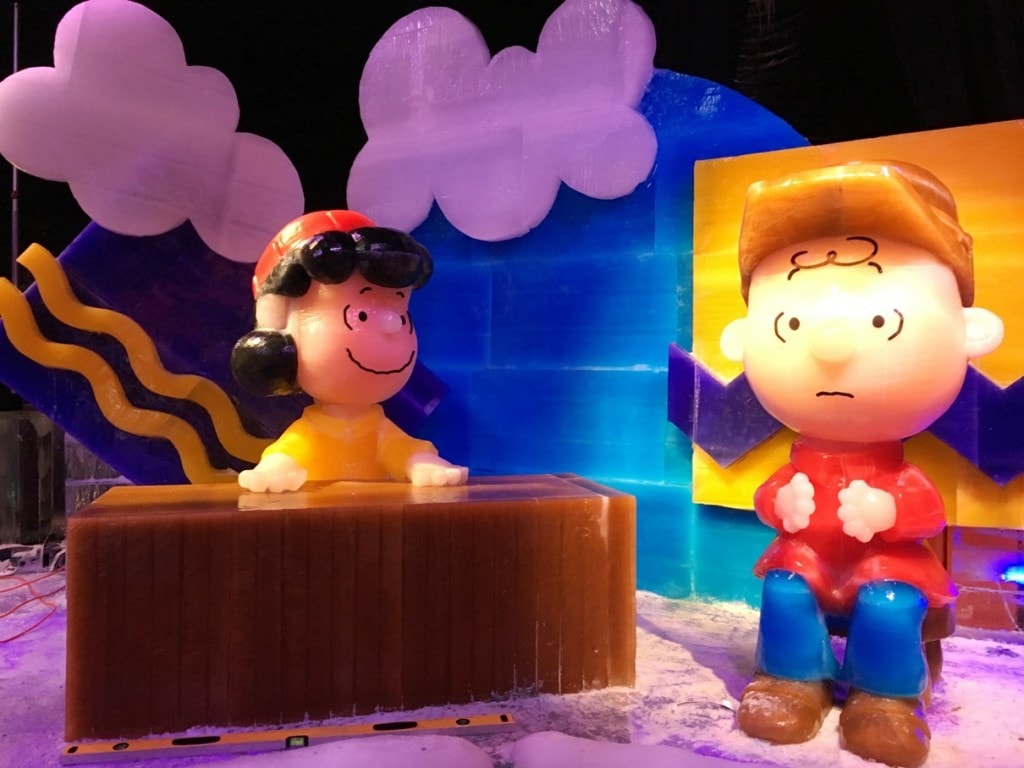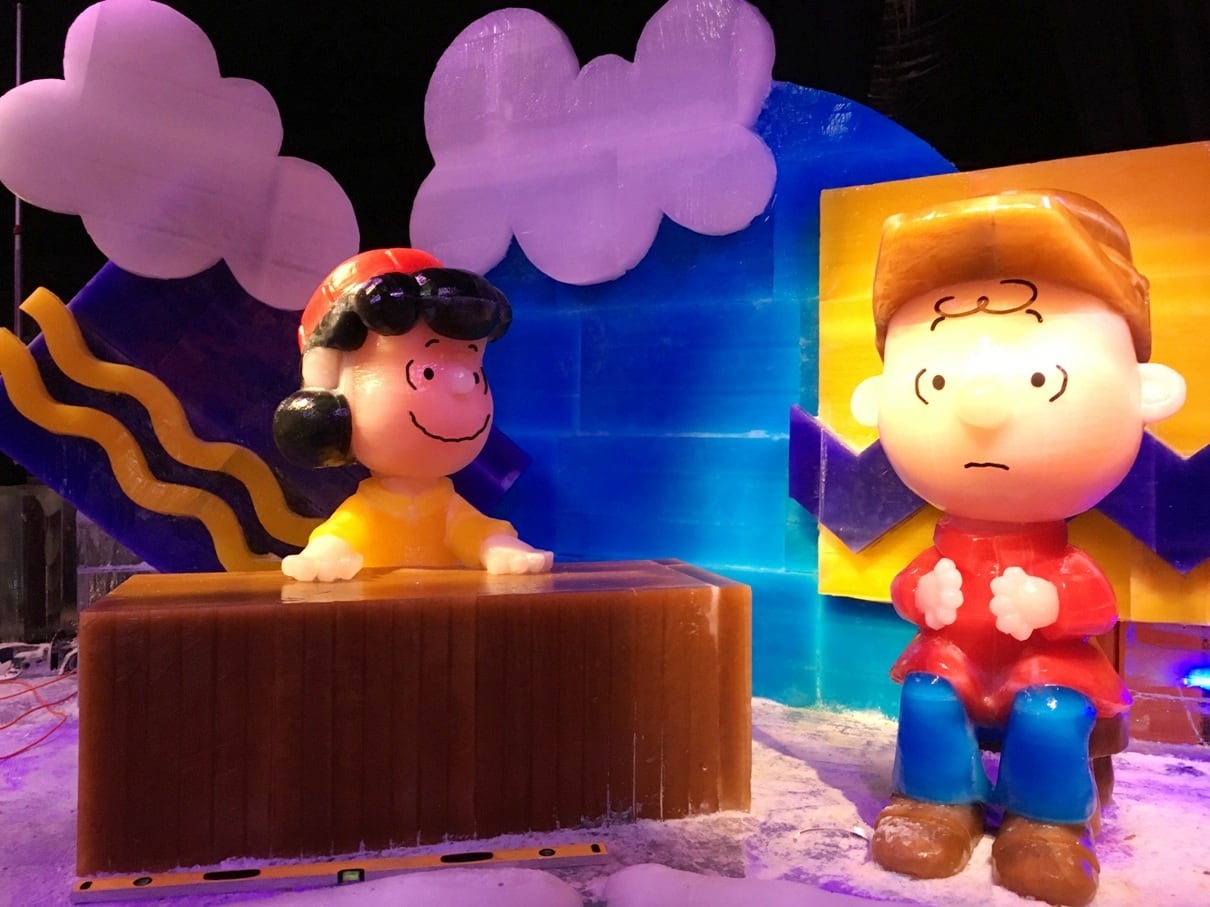 There are no pockets on the parkas, so if you don't bring gloves, your hands will be painfully cold. All you can do is tuck them into your sleeves. It also helps to have the kind of gloves that you can still operate a smart phone with if you are taking pictures. Taking your hands in and out of gloves to operate a camera or phone will become uncomfortable very quickly.
You definitely want to have gloves if you're planning on spending any time at the ICE! Bar.
Do I Need a Hat?
A hat is attached to the parka that they will loan you, but it will not easily stay on your head. Bring a scarf to wrap around your neck outside of the parka to not only keep your neck warm, but also to keep the hat staying on your head. Otherwise, bring your own warm hat (made for snow, not a decorative hat). You WILL want it!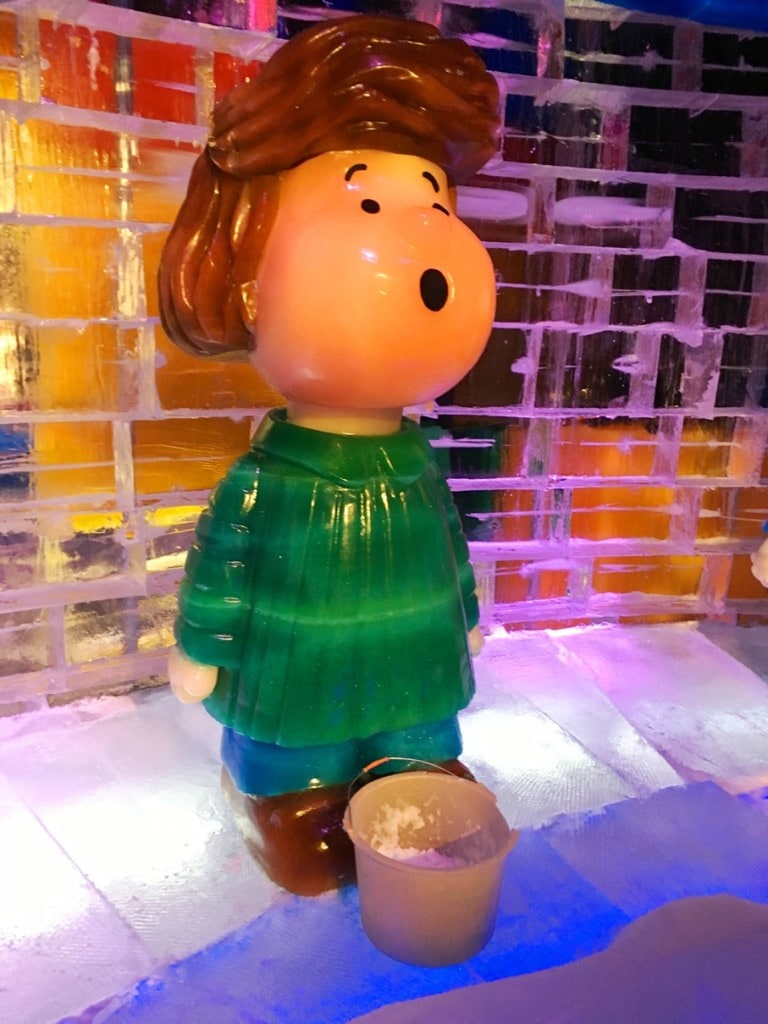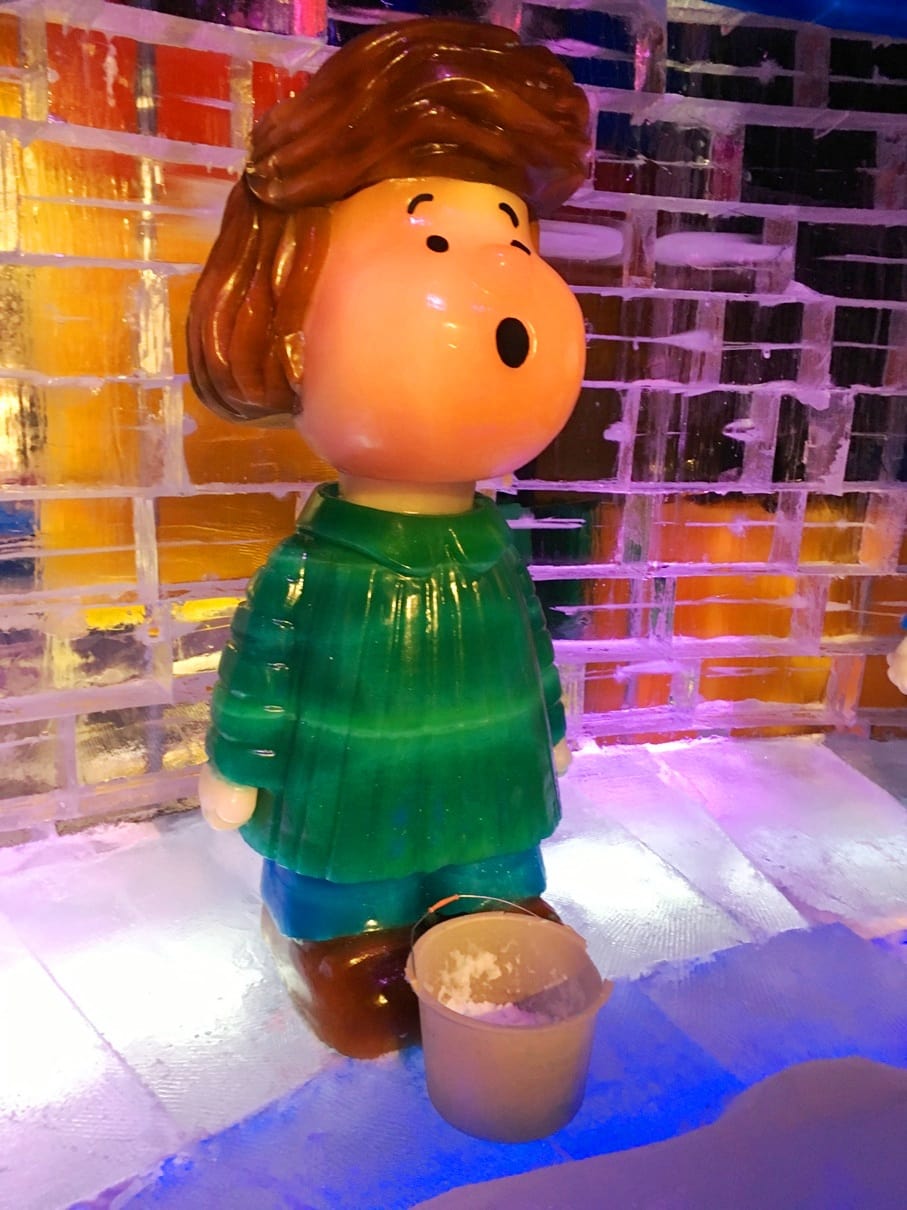 We like these Peanuts themed winter hats. Perfect for ICE! 2016 at Gaylord Palms!
Can I Bring a Bag?
Bring a bag to carry all of the fashion accessories that you'll only need inside ICE! Otherwise, you're sure to lose mittens, gloves, and more. There are no pockets on the parkas provided.
What About My Camera or Phone? Will My Phone Be Okay?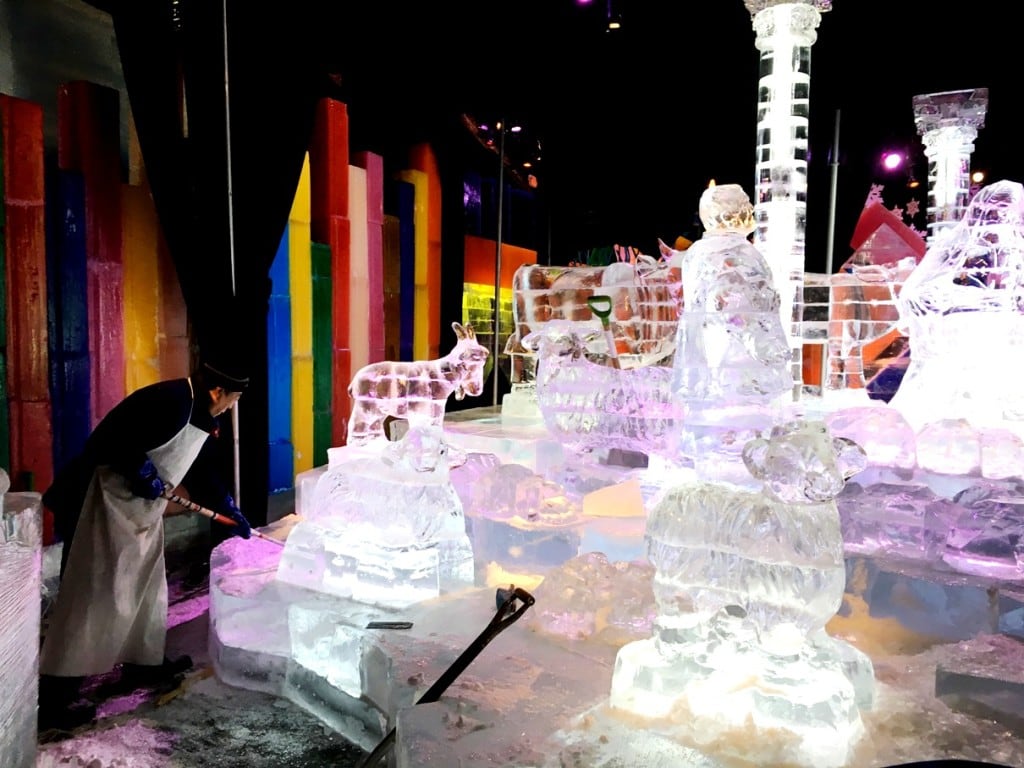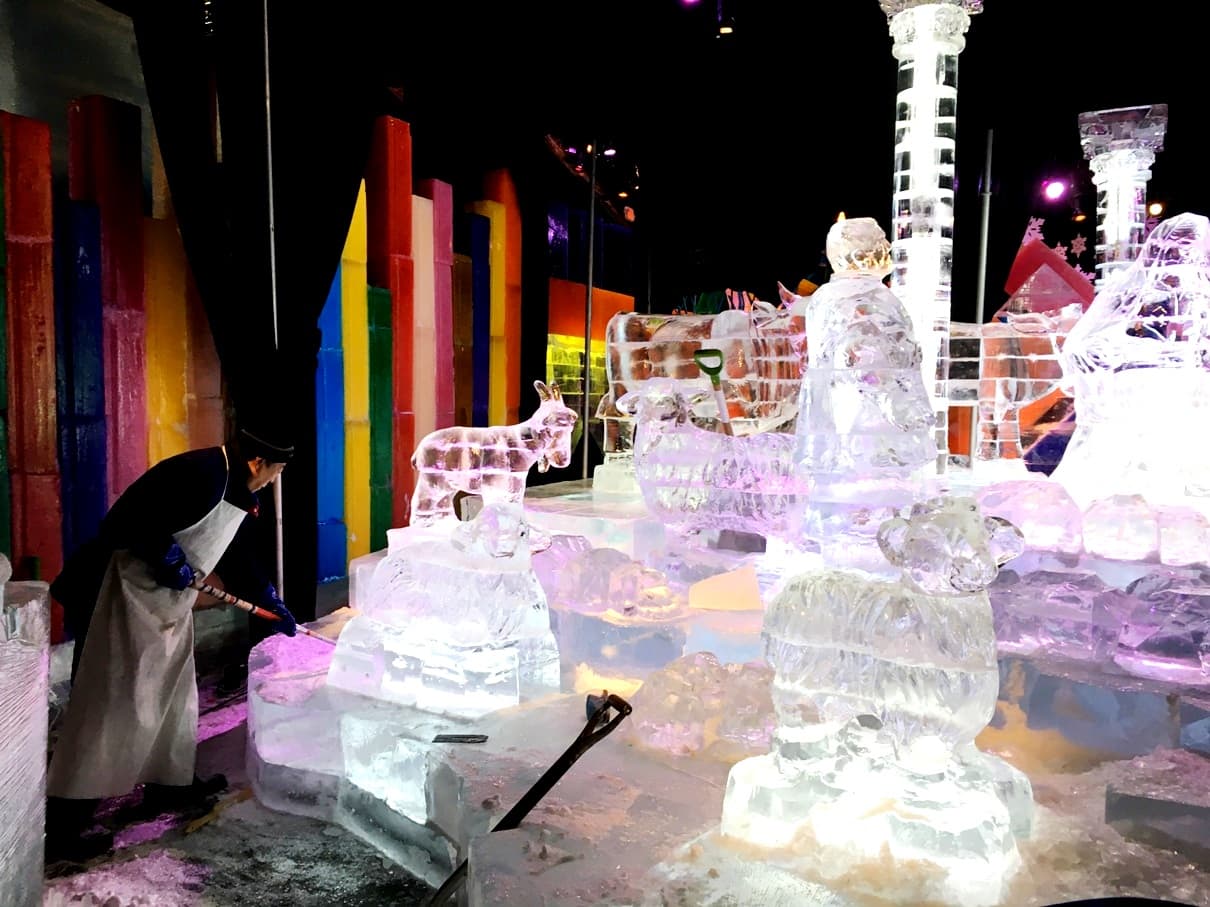 Your phone and camera will be okay. But you need to take some precautions.
For me, my phone battery always dies. Whether it's the battery itself or just the cold, I don't know. This generally happens at the very end of the ICE! 2016. But I tend to stay in there a LONG time taking photos.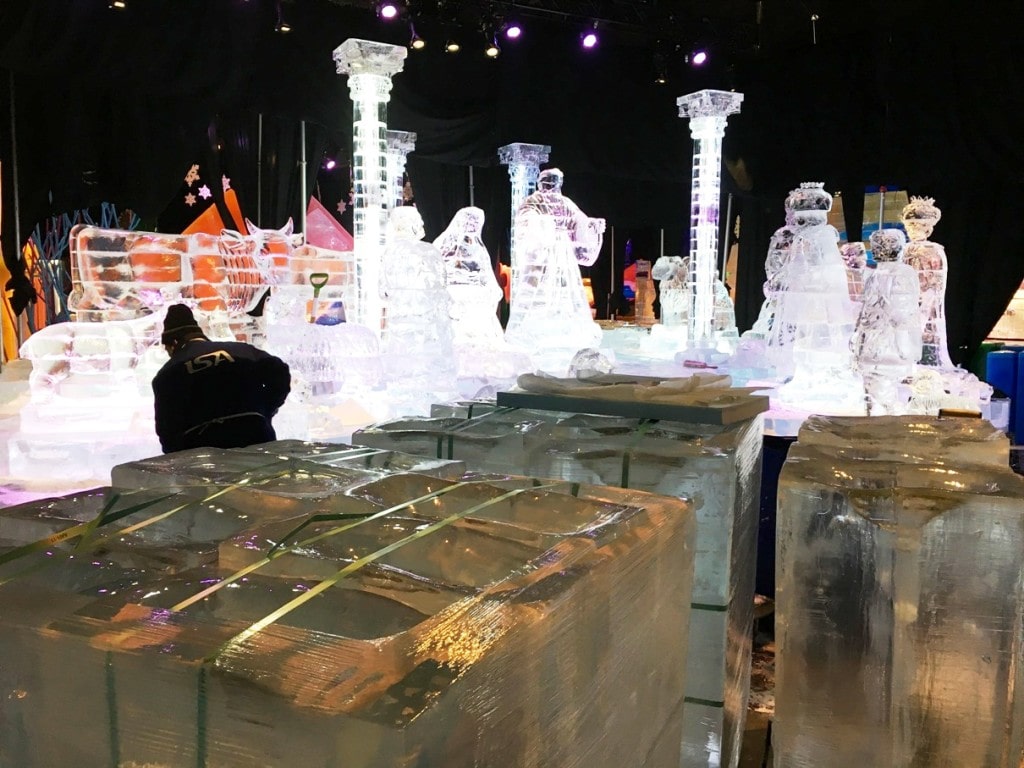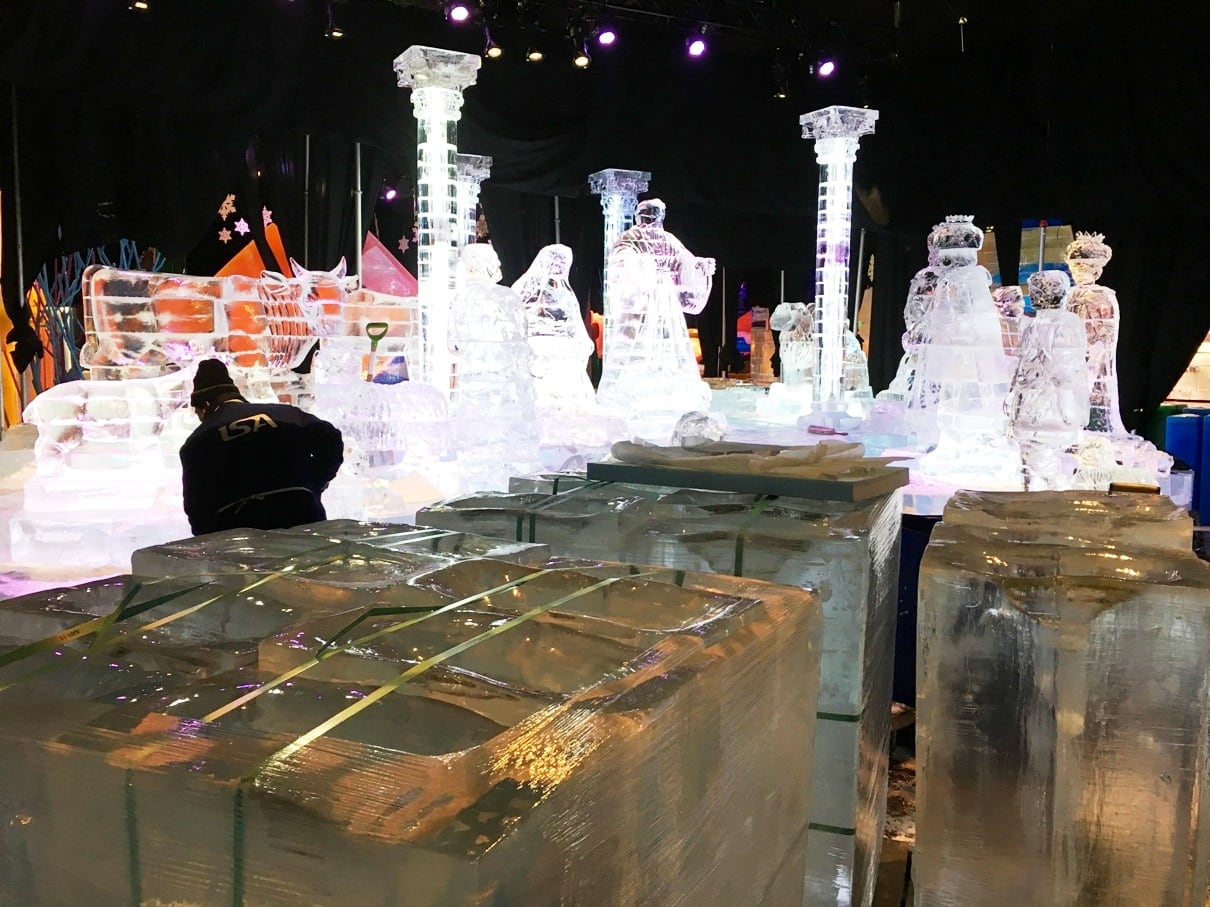 So you need to bring a backup battery pack if you intend on only taking pictures with you iPhone or Android phone and/ or posting to social media while you're in there. (For the 2016 preview, my iPhone quit in the last room, the Nativity Scene, which I absolutely love! I attached my batter pack to the phone and it started working again. My battery didn't show low – it was still at 75% – but I guess it just needed that extra boost because of the cold.)
Your camera lens will likely fog up after leaving ICE! and re-entering the building. Keep that in mind for taking pictures immediately afterwards, depending on how long your lens might take to de-fog. My camera didn't take too long this year, but in years past it was about 10 minutes. Our iPhones, however, had no problem.
When's the Best Time to Go to ICE!?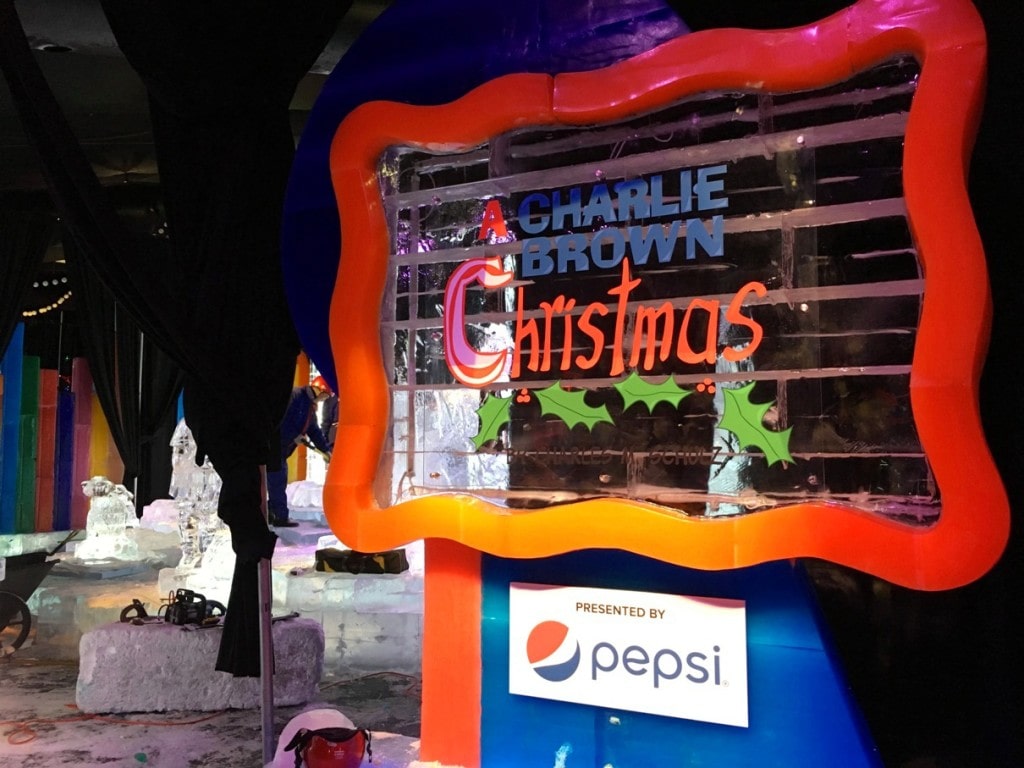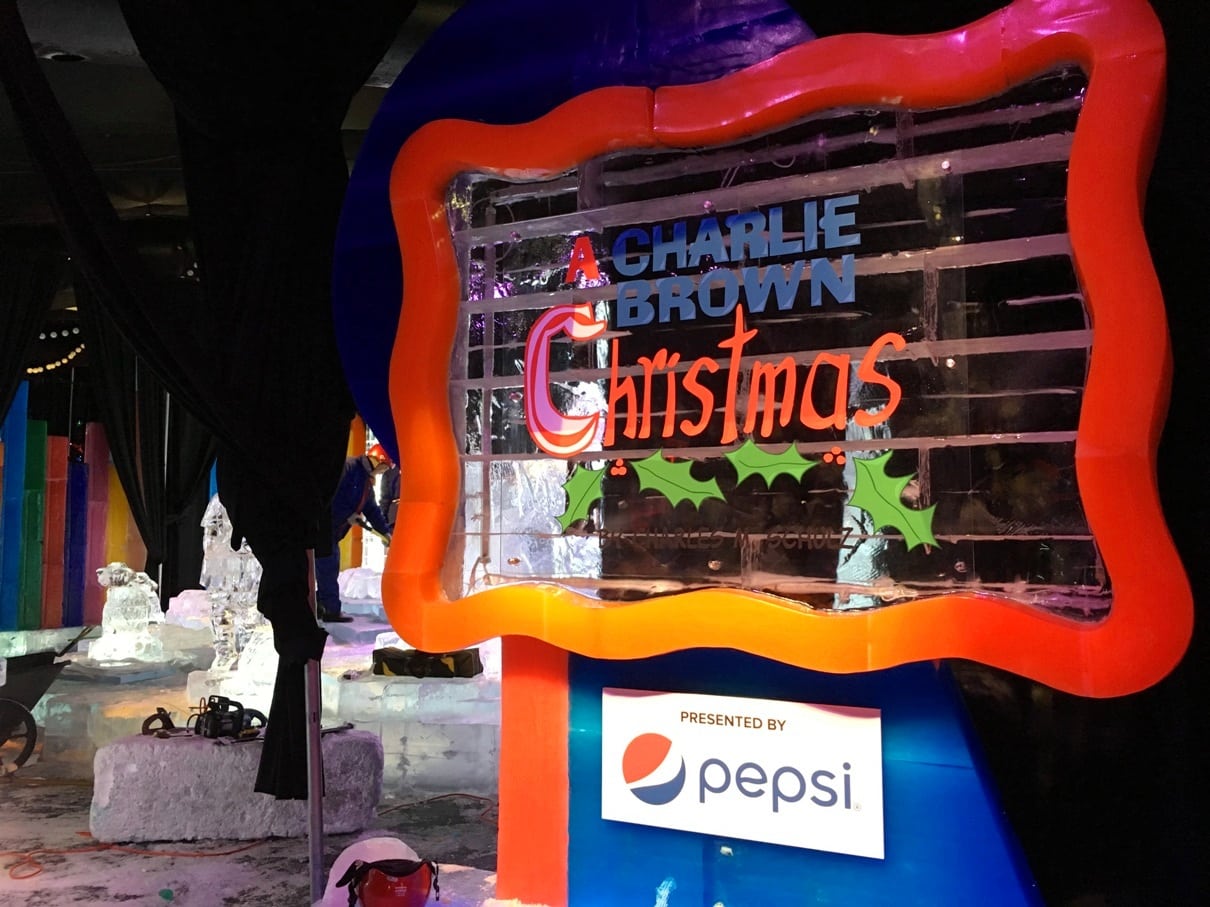 Don't wait until Christmas to go! The closer it gets to the holidays, the more crowded it is. Consider an off-peak time, like early November and December, or mid-week.
How Do I Get Tickets?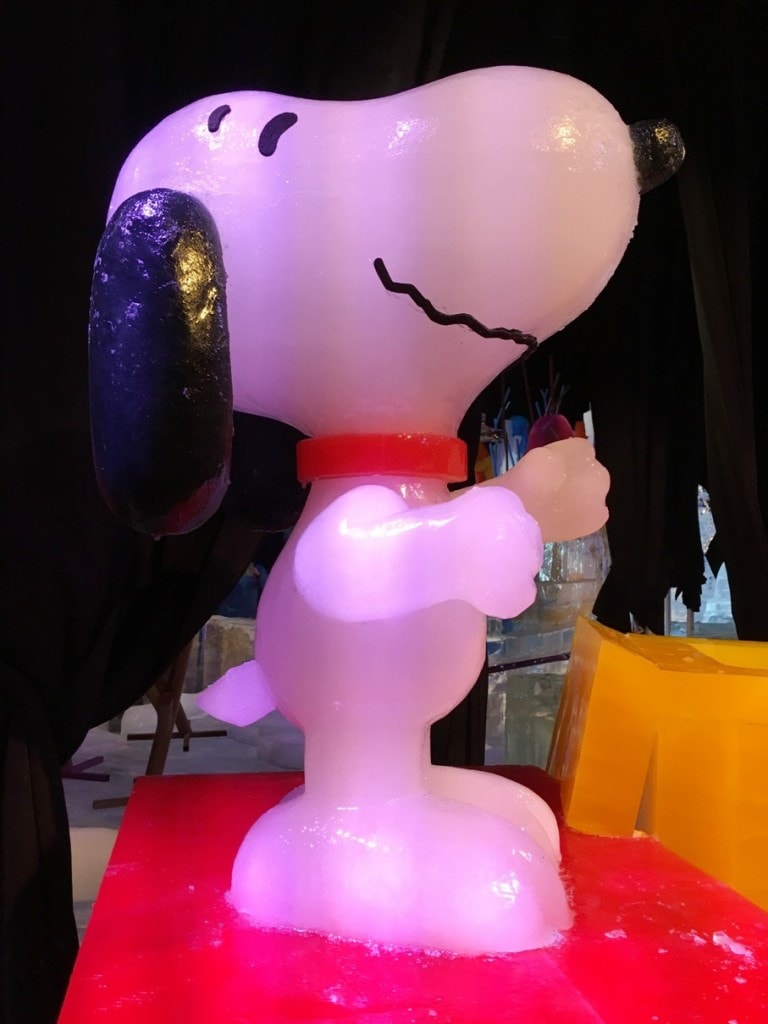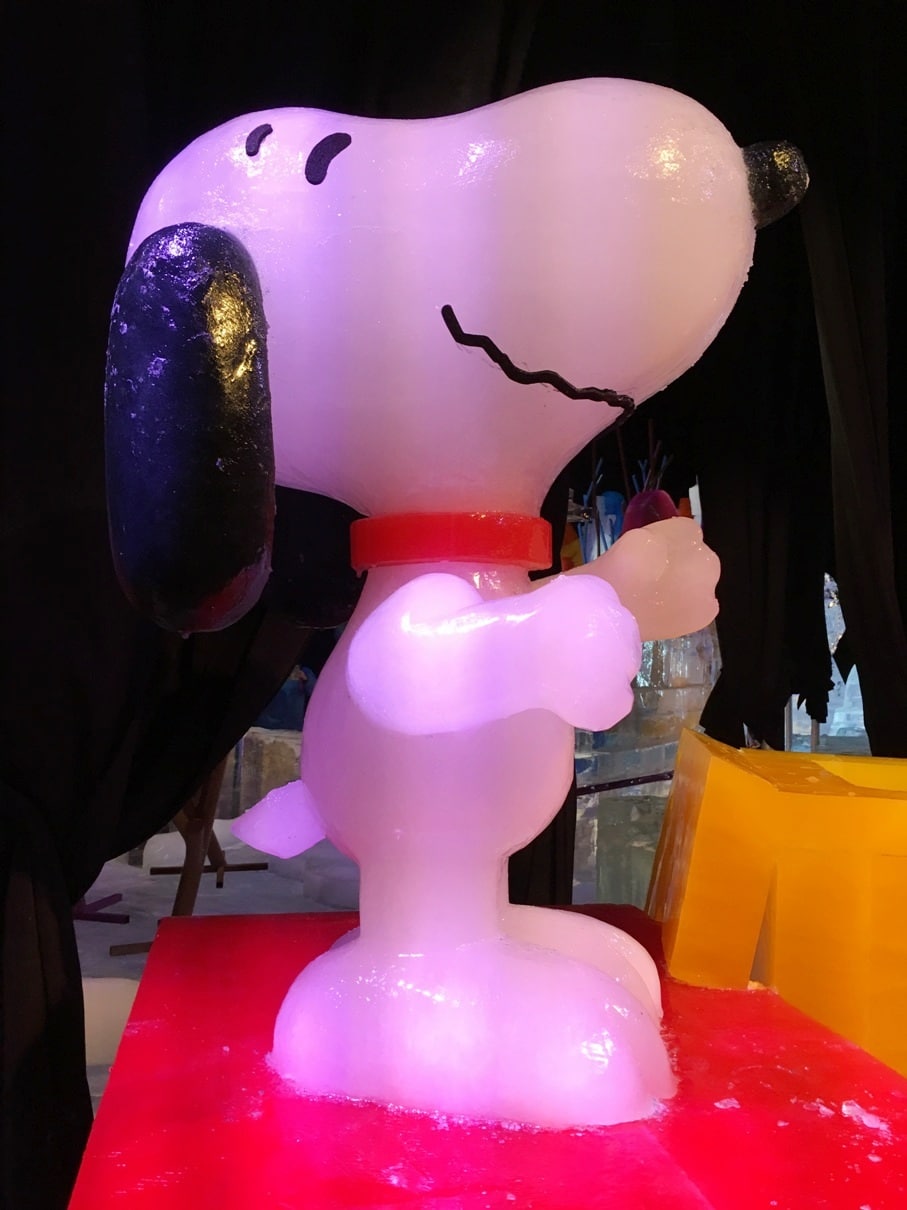 Book online. Not only will you save money, but you'll save lots and lots of time.
Yes, you can buy tickets at Gaylord Palms, too.
What Does It Cost?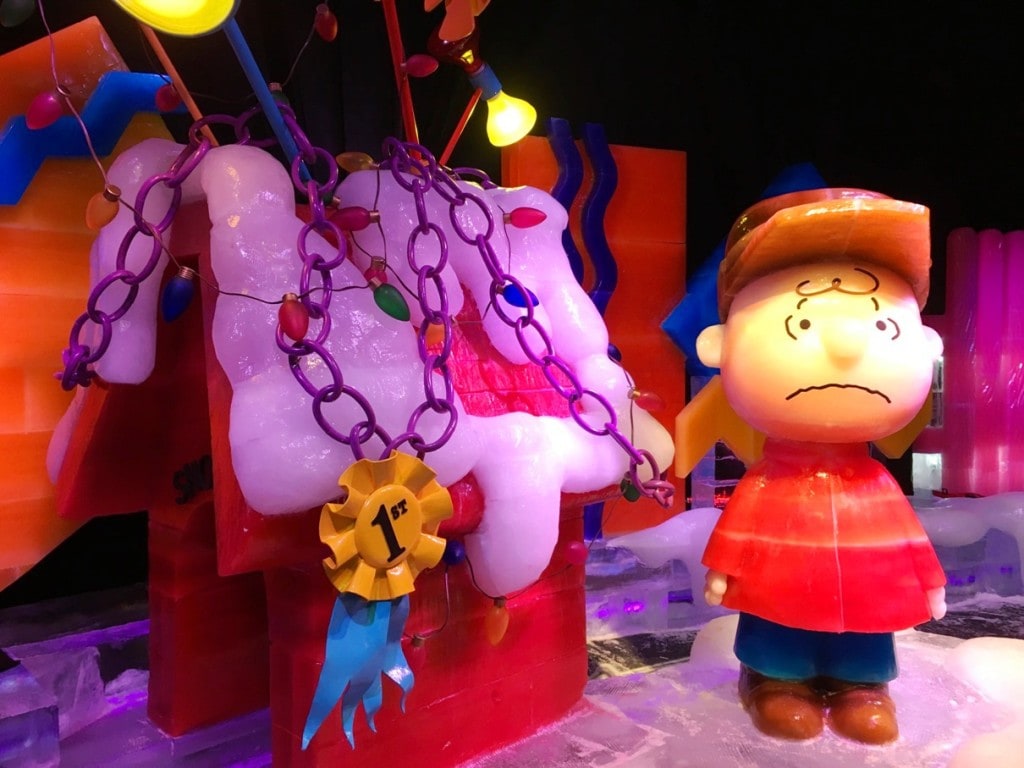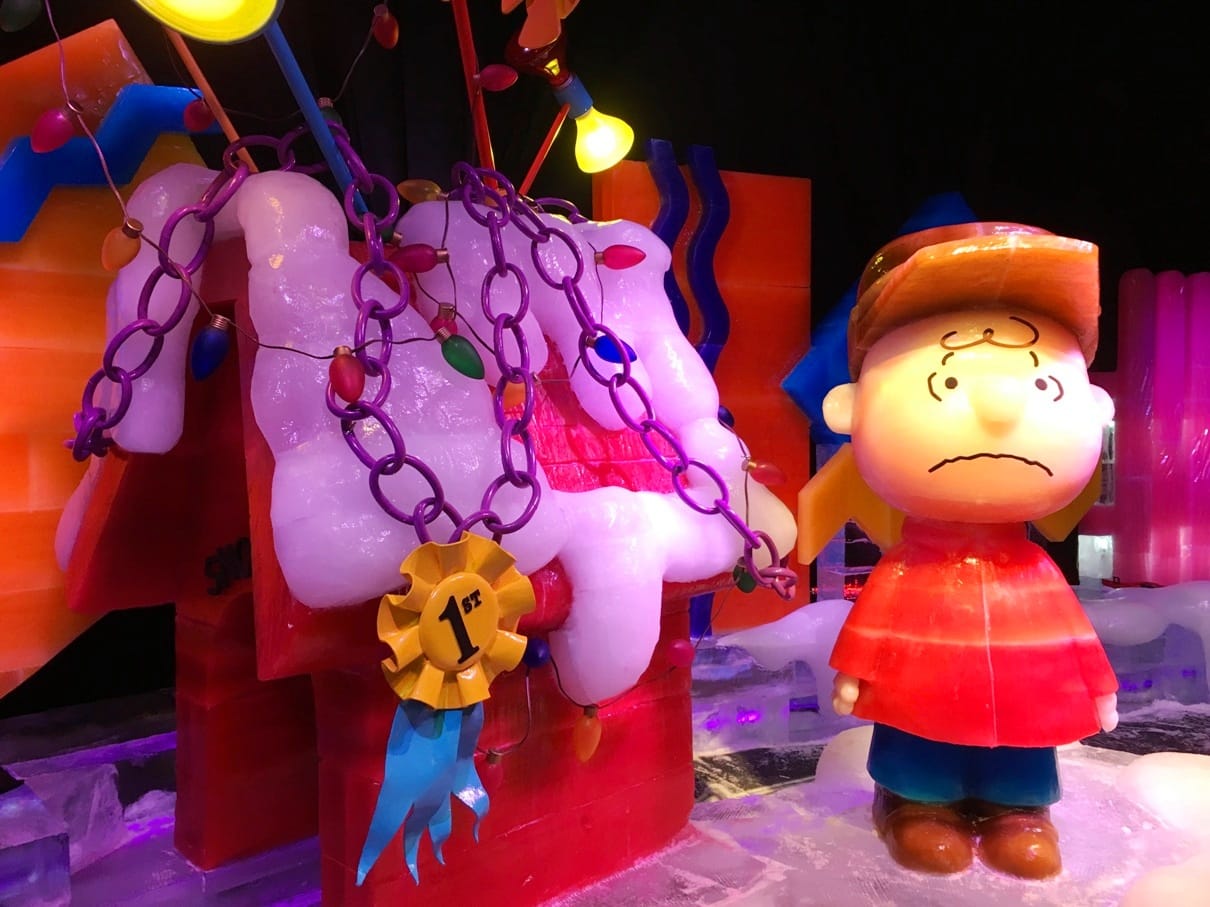 Prices are $28.99 for adults in advance and $29.99 for adults at the Box Office.
Florida residents save $4 off advance tickets, $3 off at the door. Use promo code FLR16.
First responders and their families can use the HERO offer for $23.99 tickets for adults. See website for details.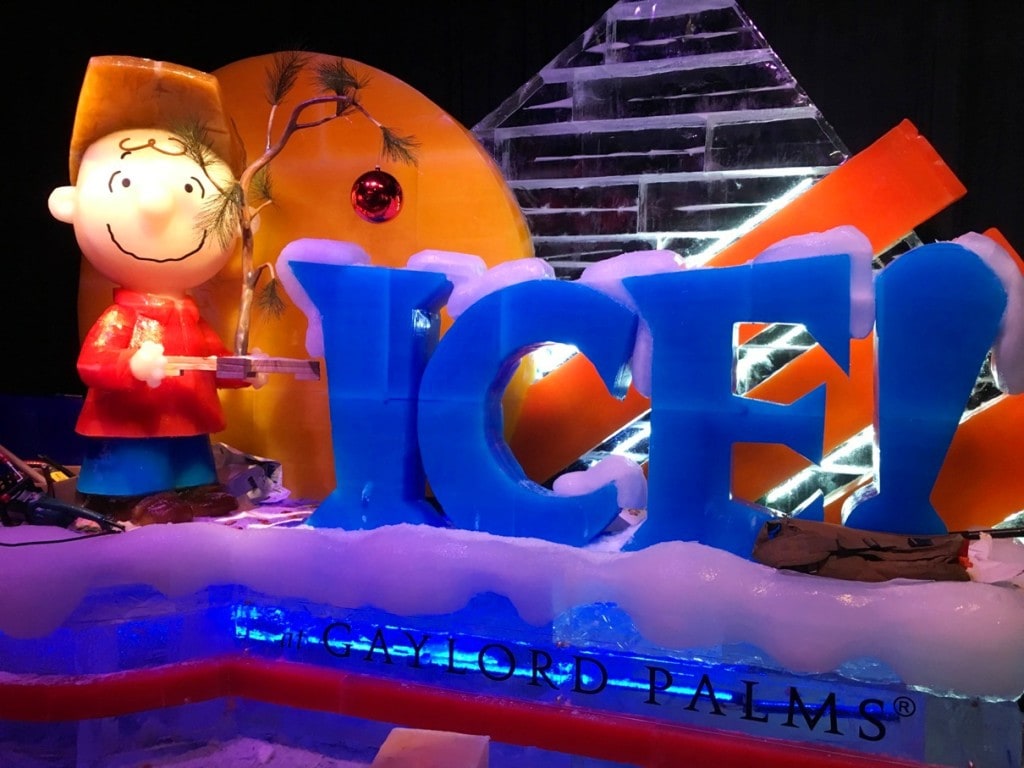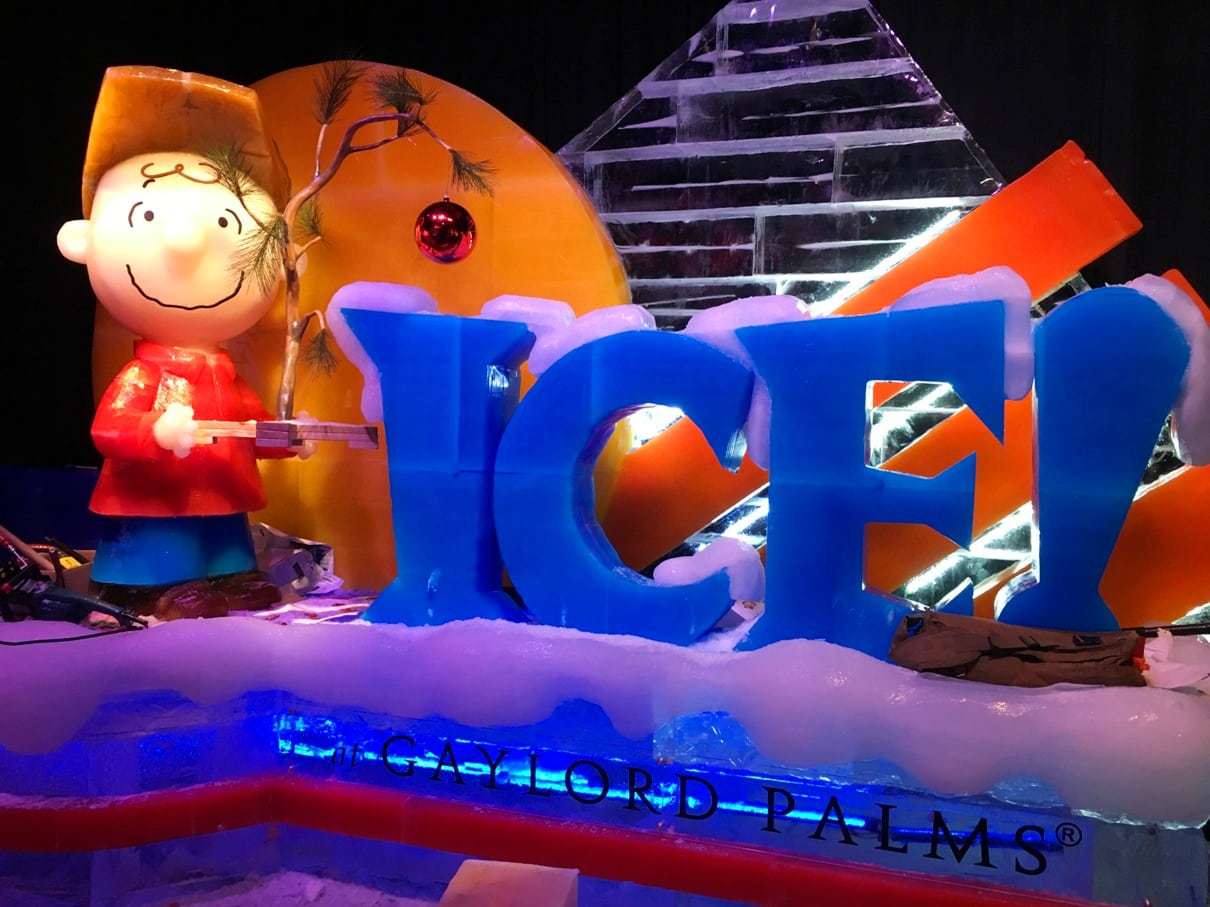 There are a variety of packages, add-ons, etc. Visit Gaylord Palms' ICE! page for even more options.
Parking Fee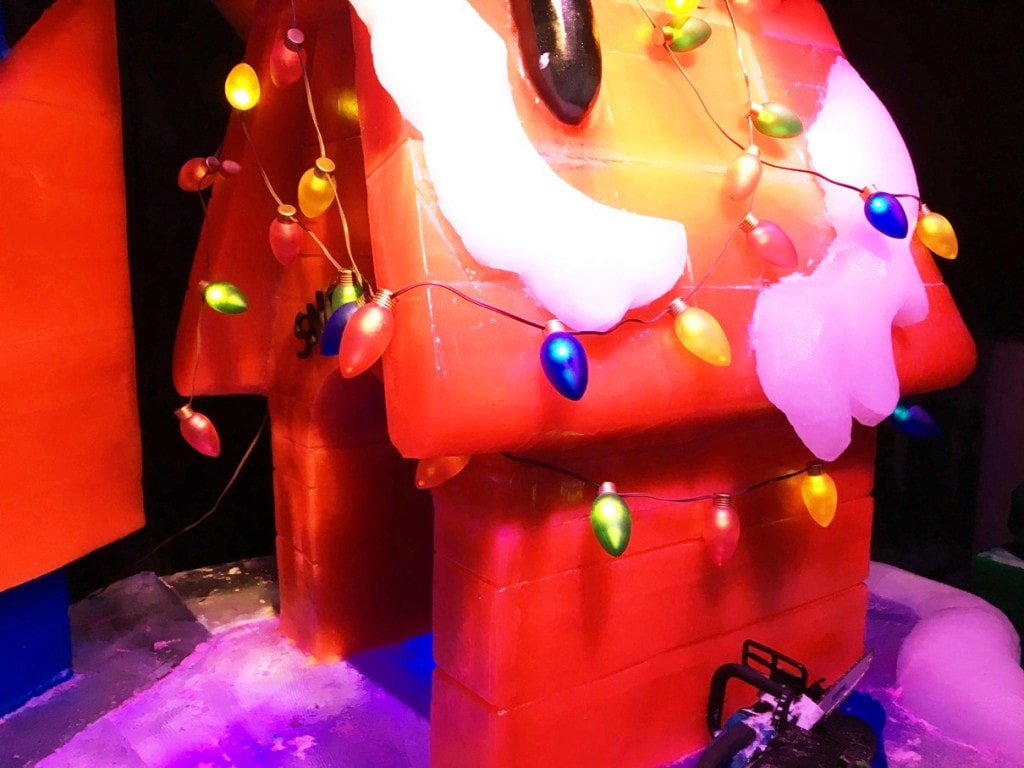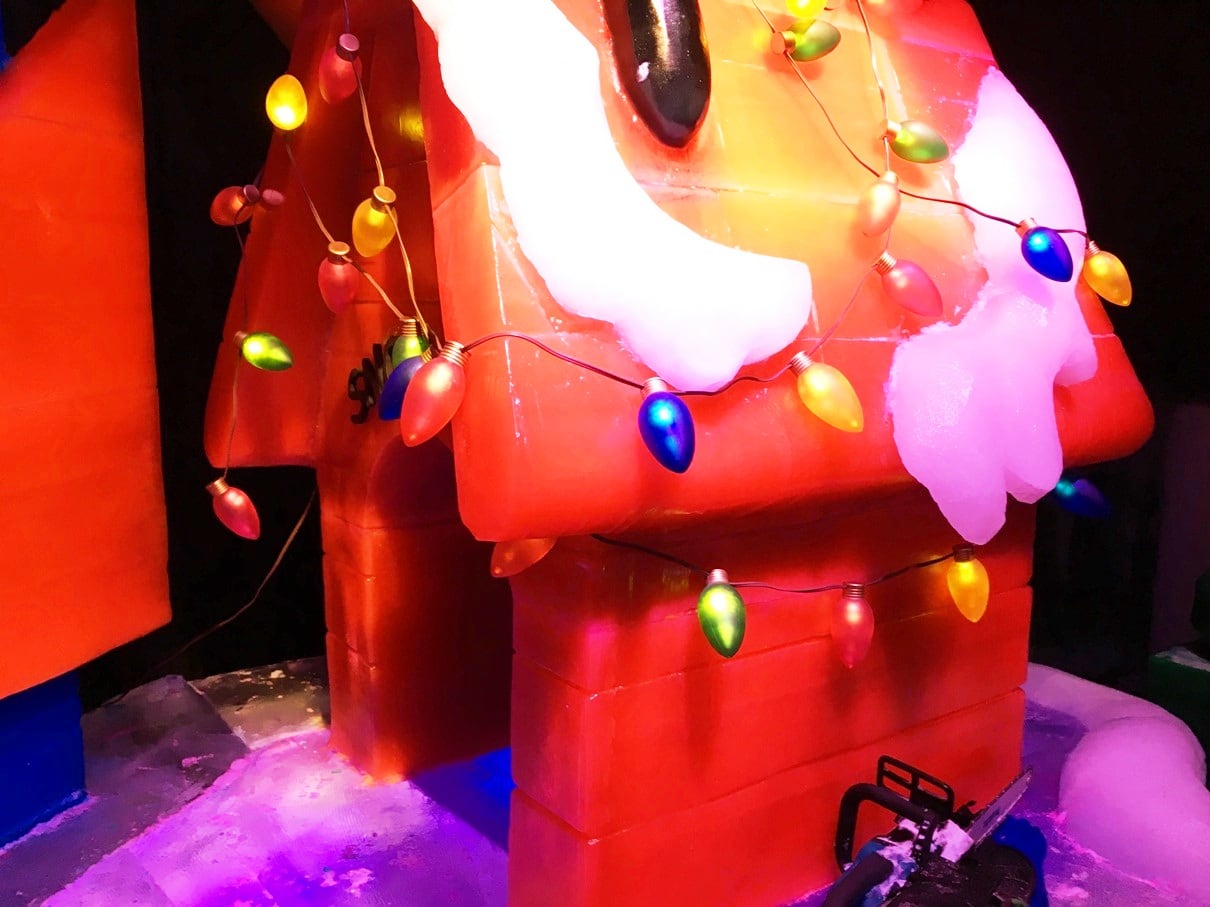 It's $20 to park. That fee is not included with admission. I'd suggest eating at a restaurant at Gaylord Palms that validates parking, so you can park for free.
Will My Nose Run With the Cold?
Tissues are a good idea to have on hand with you. There will be tissues when you leave, but you might need them indoors, too, when your nose starts running with the cold.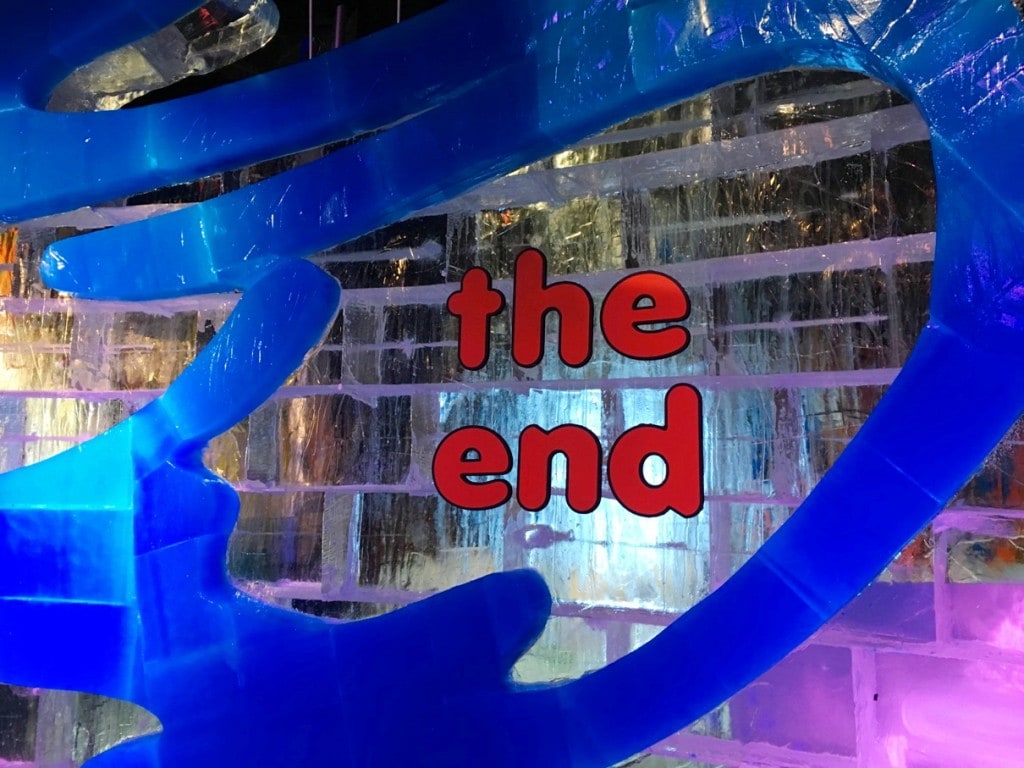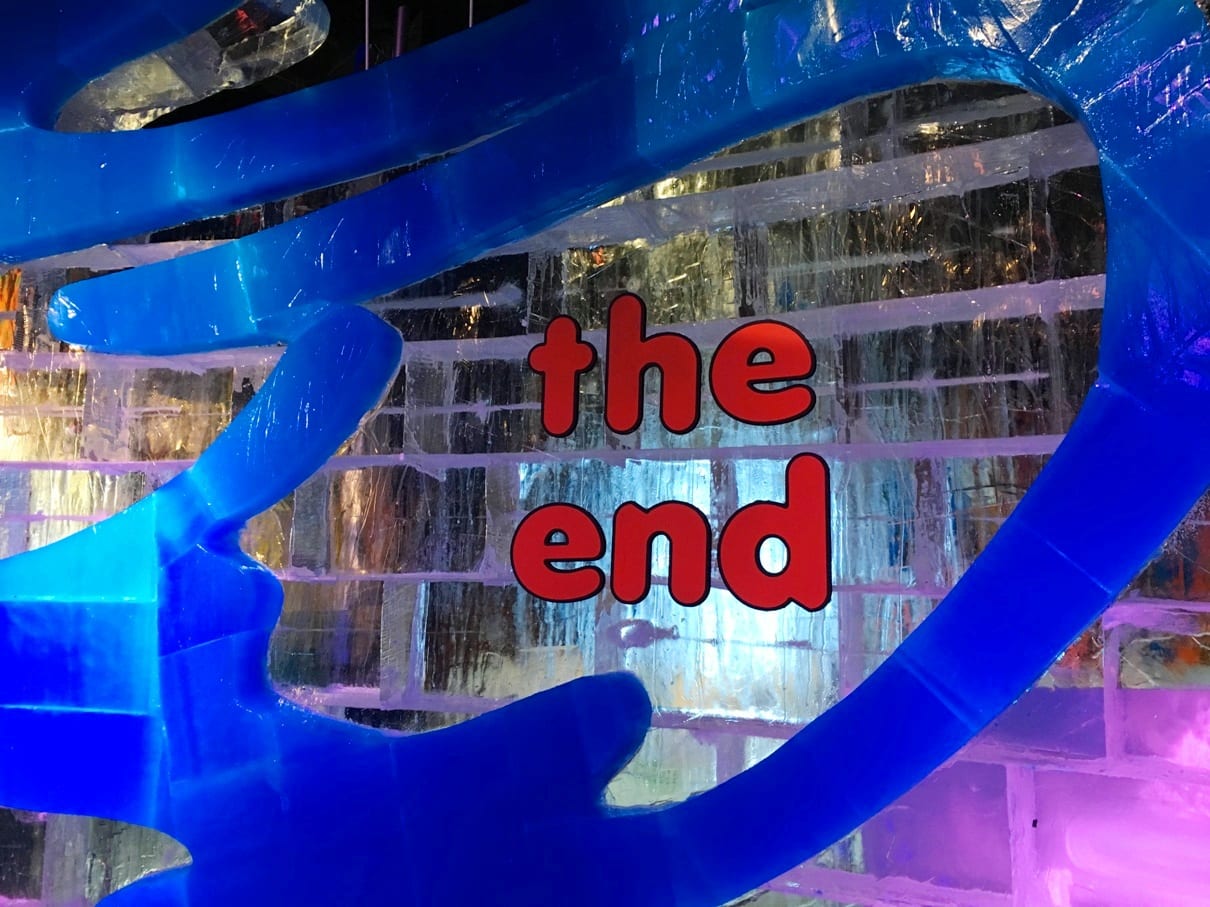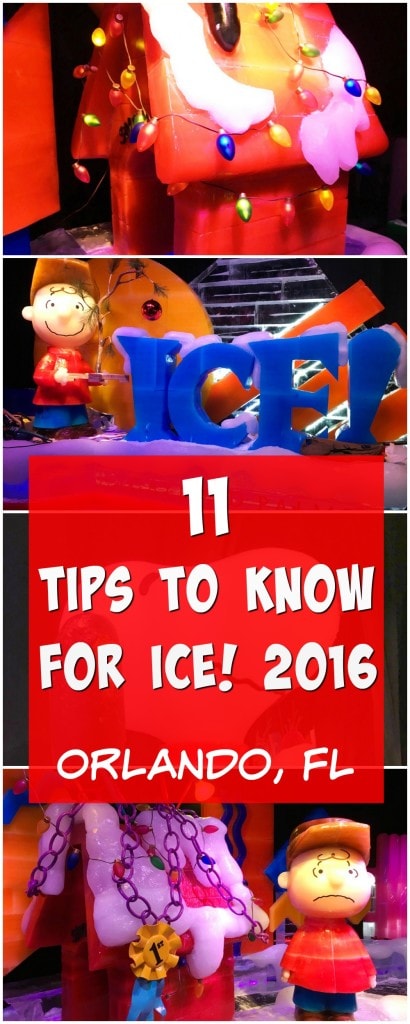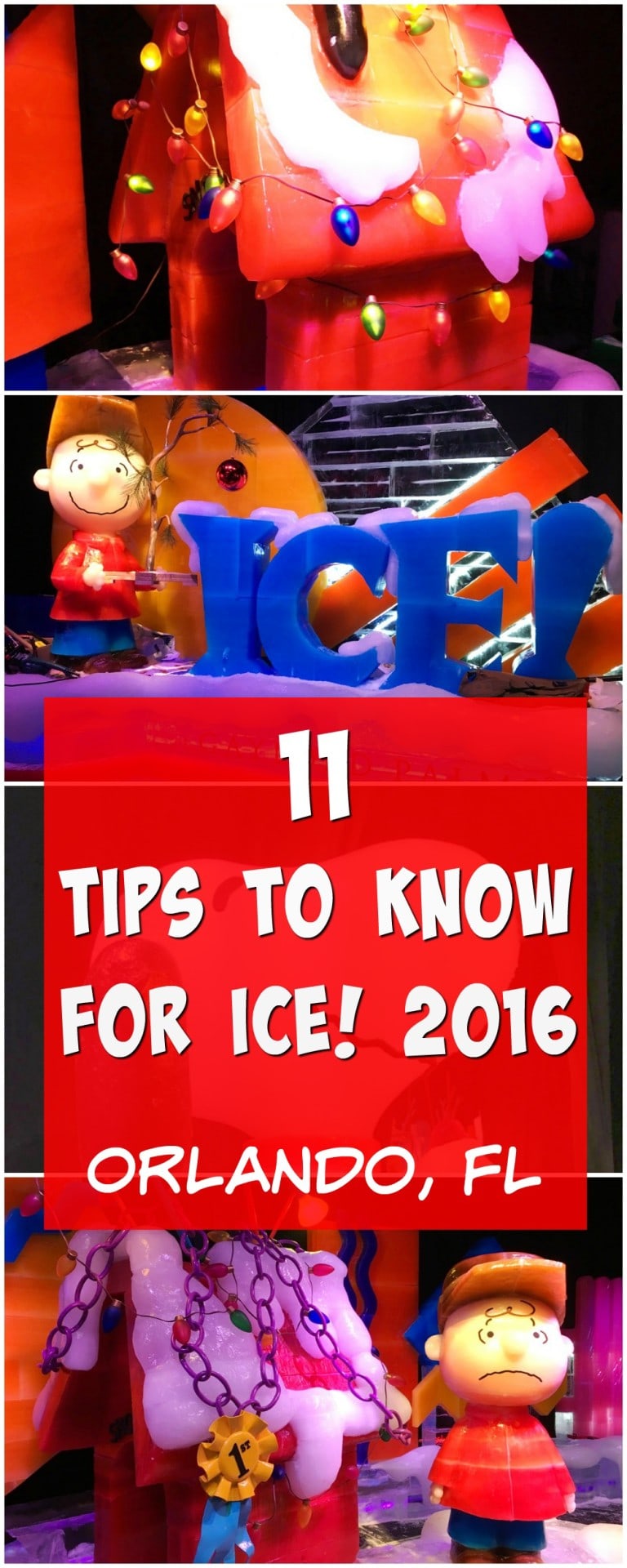 What other tips do you have for visiting ICE! 2016 at Gaylord Palms? Any we missed?
I'm thrilled to be an ICE!Pert for Gaylord Palms this year and see behind-the-scenes before ICE! opens on November 18, 2016 at Gaylord Palms.