Our easy one-day Asheboro itinerary is the perfect way to see the best things in the city and eat at the best restaurants in Zoo City. Whether you are day tripping to Asheboro or planning an overnight stay on your way to another destination, you will see the highlights of Randolph County with our destination guide.
Breakfast
Start your day early at The Table in downtown Asheboro. This gorgeous bakery and restaurant serves up some of the best homemade pastries, breakfast sandwiches, bowls and omelettes. Of course there are delicious coffee drinks and tea, as well.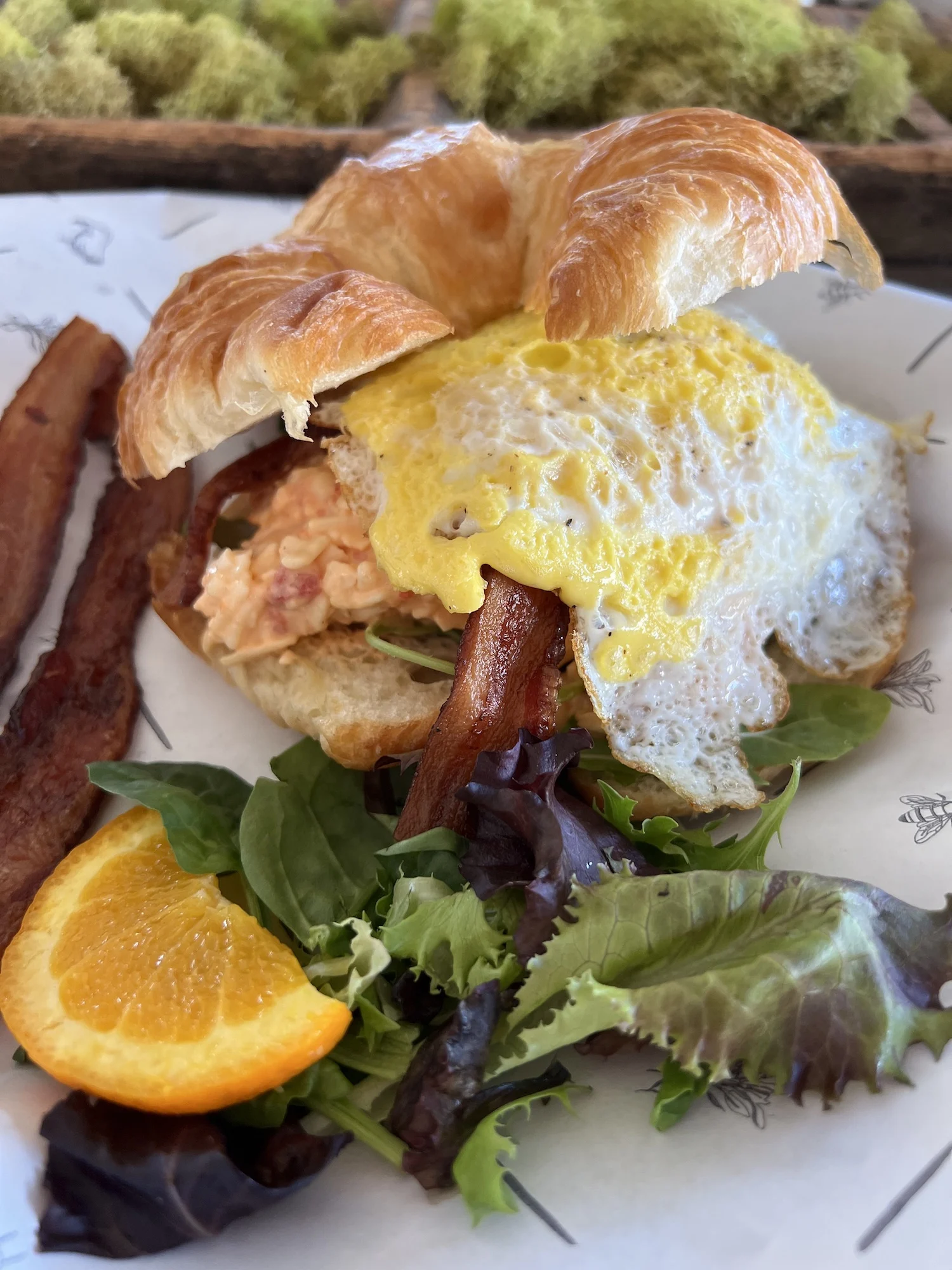 The portions here are hearty, so you can fuel up for the day without needing to stop for lunch soon.
We highly suggest picking up a box of Anigrahams, homemade animal crackers made at The Table in celebration of the NC Zoo.
We suggest arriving at The Table around 8 a.m. to have plenty of time for today's itinerary.
North Carolina Zoo
Drive Time: About 15 minutes
Drive 15 minutes to get to the North Carolina Zoo, the world's largest natural habitat zoo. There is a LOT to do here so you want to get an early start!
The Asheboro zoo opens at 9 a.m. and we suggest arriving at opening time.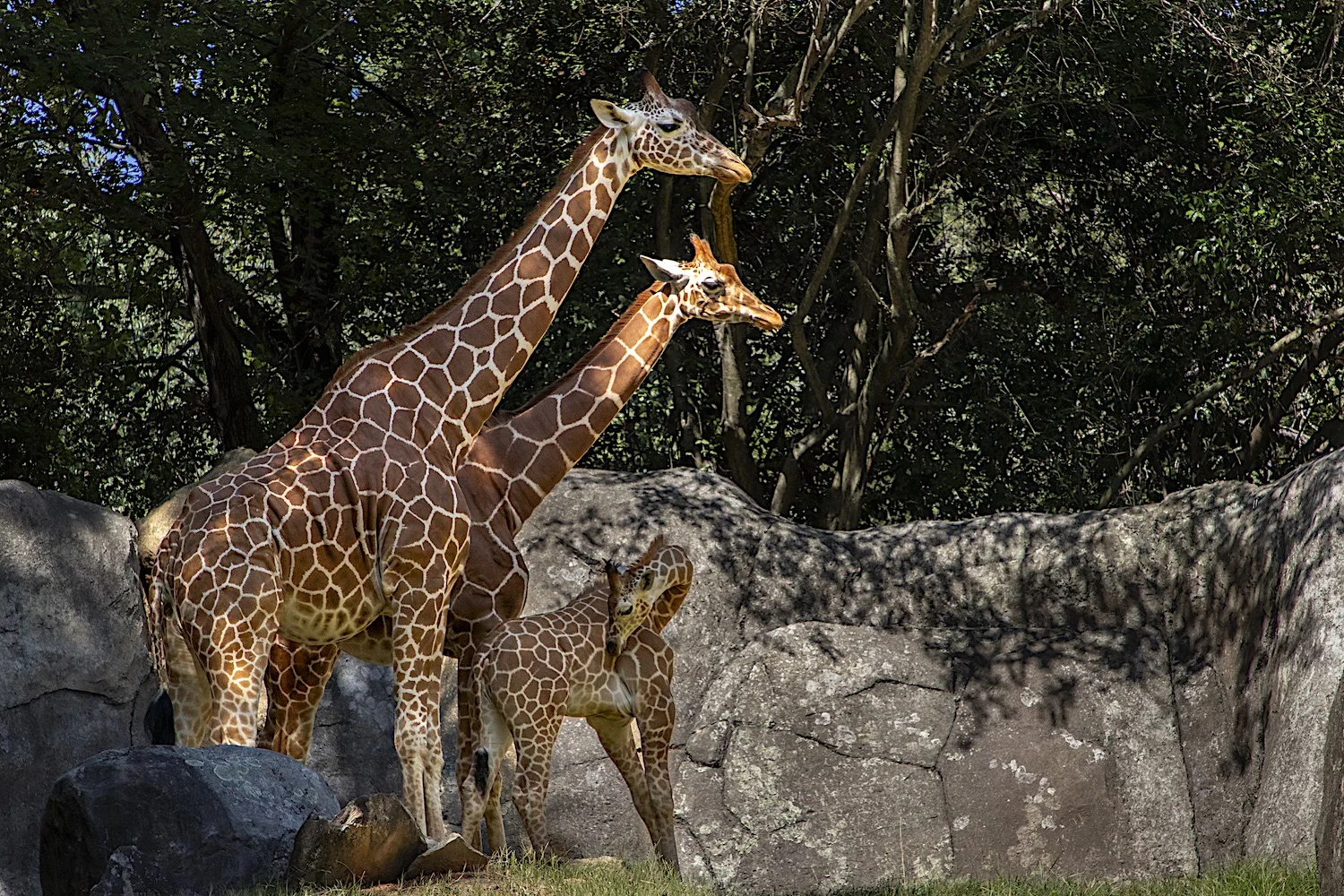 You could easily spend half a day just wandering around the animal habitats. Walking the expansive 2,600 acre zoo can take a lot of time, so we highly suggest utilizing the free shuttle system so that you can see as much as possible.
If you would like, an optional animal experience can be enjoyed during your visit. We love feeding the giraffes, which is available from April to October and is first-come, first-served.
However, if you want to enjoy the Zoofari be sure to get your tickets as soon as you enter the zoo. These open-air safari tours are only available Thursday through Sunday from April to October. It is a first-come, first-served ticket system and the tickets sell out fast, so make the ticket kiosk the first stop for the day if you want to take the 45 minute tour.
Lunch
If you are hungry and haven't been snacking at the zoo already, have lunch at Billy D's fried chicken restaurant inside the zoo. The ingredients are sourced locally from North Carolina farms.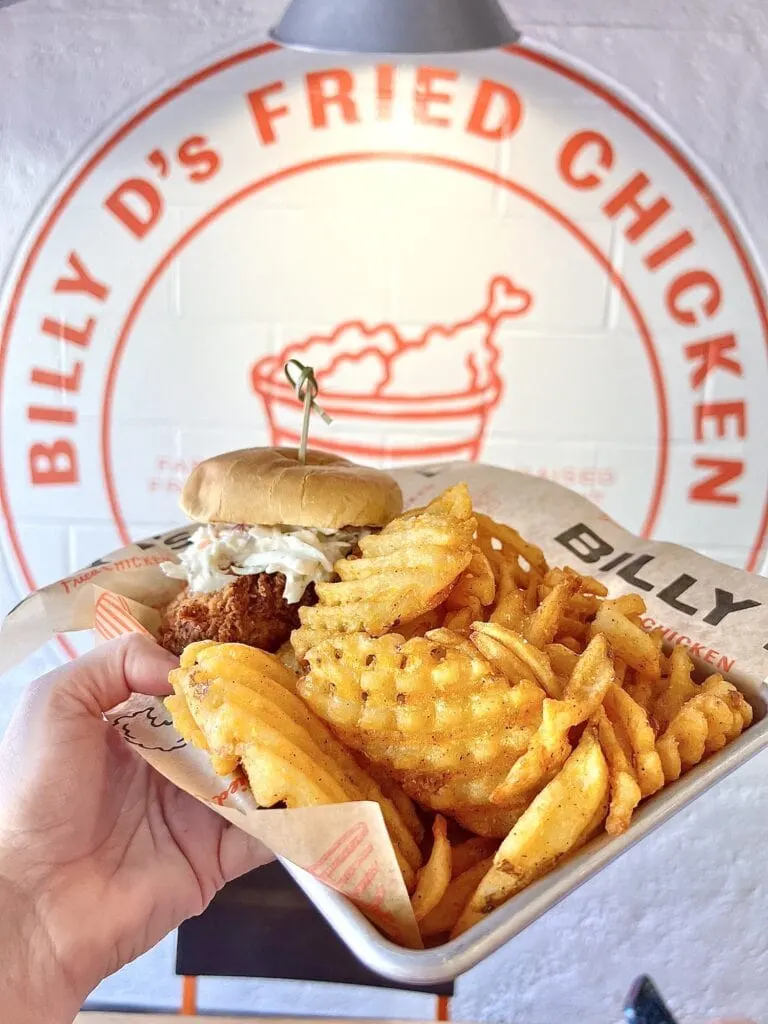 Mobile ordering is available, which can save you some time during your day.
While the prices might be a little higher than you expect for fast food, the meals were absolutely delicious! Just keep in mind the prices at any location inside the zoo would be about the same as you would find in any theme park or amusement destination.
The zoo sources as much food as they can locally while also sending no plastic to the landfills and using compostable or recyclable products.
Outside food is not allowed to be brought into the zoo for picnicking, however snacks are allowed so we suggest bringing a box of Anigrahams from the table to snack on if you don't want to buy a meal at the zoo.
Seagrove Family Restaurant is also lunch locations close to Seagrove where your next stop is.
Seagrove Pottery
Drive Time: About 10 minutes
Just 10 minutes away from the North Carolina Zoo is Seagrove, a community of potters that create gorgeous pottery pieces to buy.
Start by visiting the North Carolina Pottery Center to learn a bit about the artistic heritage of Seagrove and to see examples of pottery from the early beginnings to modern day.
From the pottery center go on a self-guided driving tour to visit a few of the pottery studios. There are 50 pottery shops within a 20-mile radius in Seagrove, so you want to pick just a few to visit.
This Seagrove map gives you a brief introduction to the types of pottery found at the studios so you can choose which ones to visit.
Downtown Asheboro
Drive Time: About 20 minutes
When you are done shopping in Seagrove, drive back to Asheboro. Arrive in downtown Asheboro to stroll the charming streets and see the huge murals painted on the buildings.
As you walk, you will notice animal footprints on the crosswalks, another nod to the city's zoo heritage.
Antiques & Geeks Collectibles is a favorite store in downtown that shouldn't be missed!
Dinner
Magnolia 23 is located in downtown Asheboro and is our favorite place to eat! This southern-style restaurant serves up comfort food inspired by the family's beloved recipes.
This restaurant is very popular, especially since it has been named one of the best places to eat in North Carolina in Parade Magazine. The interior is small so arrive just after opening to get a table.
The menu changes daily but is posted on their Facebook page so you know what to expect.
Other dinner options located downtown:
Cantina Taco Loco
Flying Pig Food and Spirits
Time Square Pizza
Four Saints Brewing Company or The Pharmacy
After dinner, relax for the evening at Four Saints Brewing Company or The Pharmacy cocktail bar, located side by side. These locations are just two small blocks away from Magnolia 23, so it is an easy walk.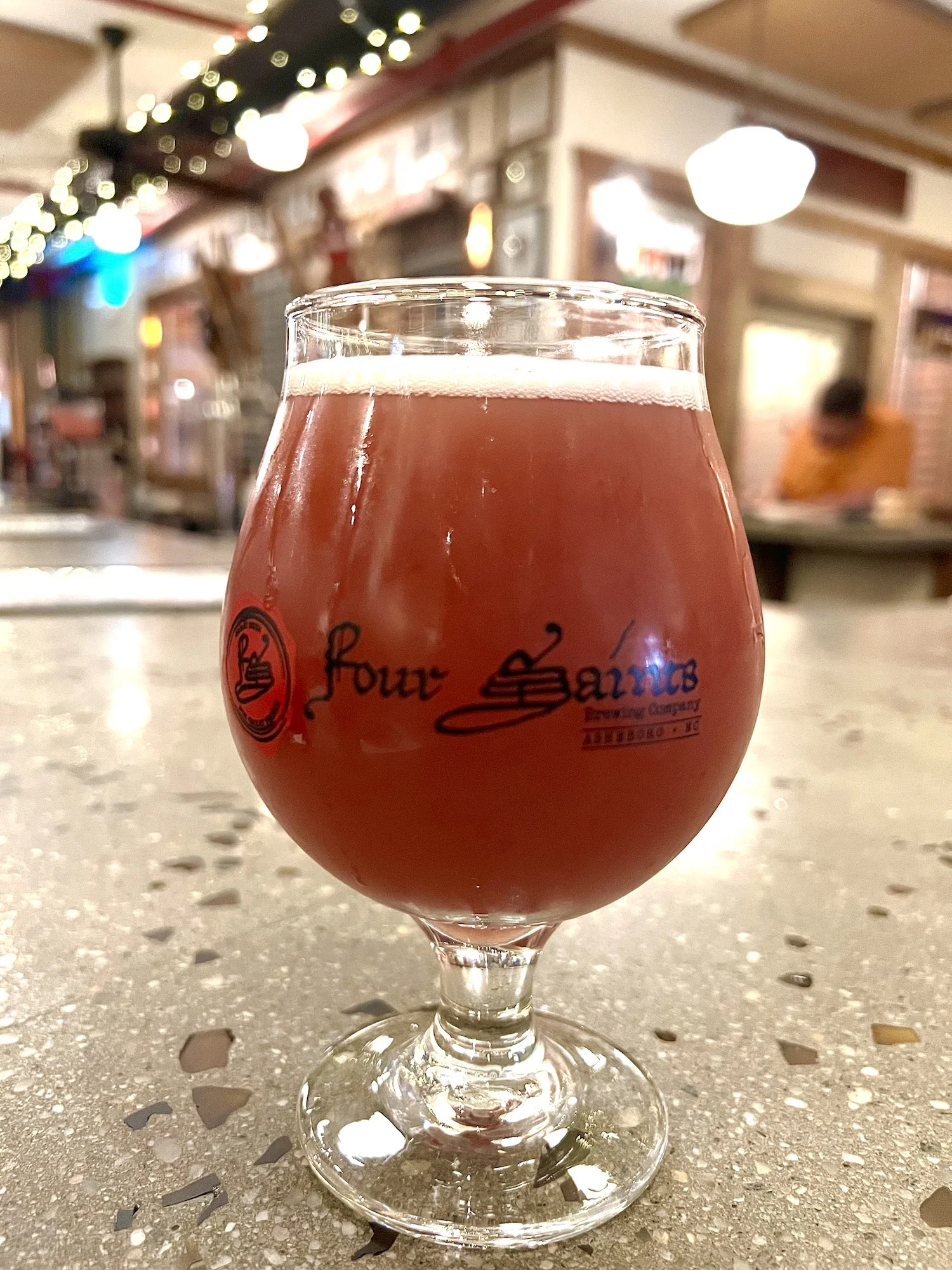 Four Saints has a great selection of beers and occasionally has food trucks or trivia nights.
The Pharmacy, which is owned by Four Saints, is Asheboro's first cocktail bar and distillery. Their hand crafted cocktails are delicious!
Another option for a nightcap downtown is Leo's Whiskey Bar, an intimate location serving up a wide variety of cocktails.
Hotel for the Night
If you are staying in Asheboro, head back to your hotel for the evening. We stayed at the Fairfield Inn and Suites and highly suggest it as a great place to stay in Asheboro. See our video tour of the hotel. The hotel is less than 10 minutes from downtown Asheboro.
Have more time to explore the area? Check out our list of the best things to do in Asheboro for even more ideas.
Screenshot or download this itinerary to save for later. Or be sure to Pin This itinerary to save for later.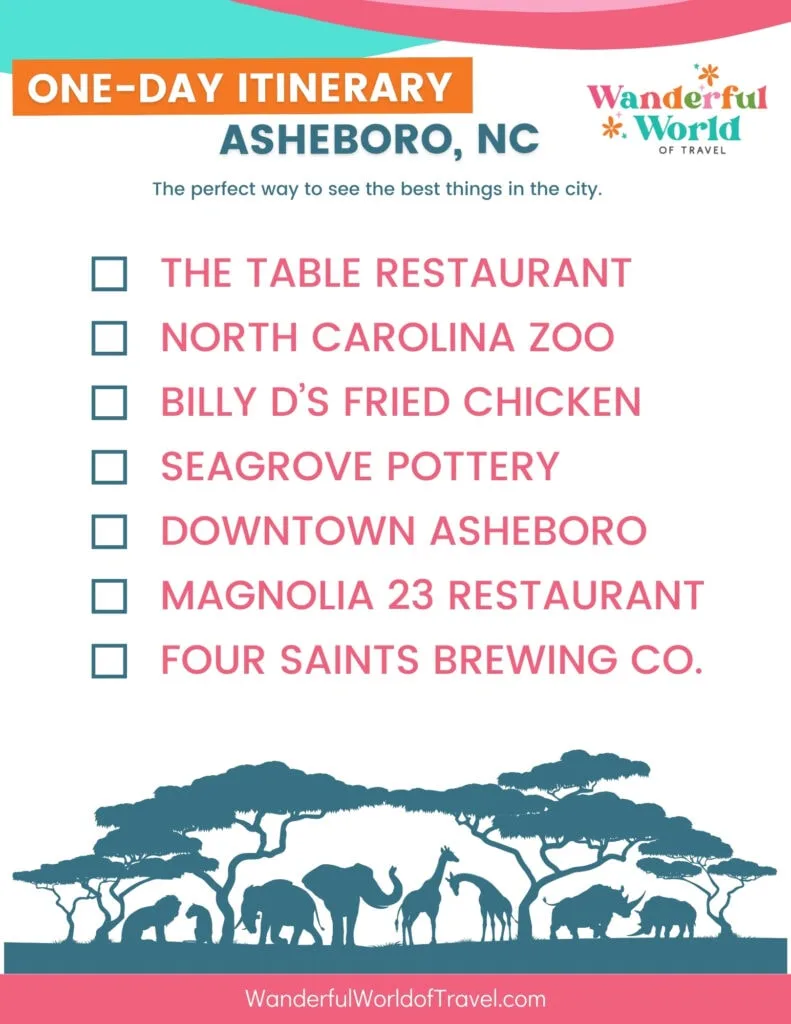 You can see a lot of the best things to do in Asheboro with this one-day itinerary. It is a great way to enjoy Asheboro as a day trip when staying nearby in Southern Pines or Pinehurst.