Asheboro, North Carolina is well-known around the world for its zoo, but there are plenty of other fun things to do in Randolph County for adventure-seeking travelers.
Our list of fun things to do in Asheboro is based on our recent stay in Zoo City. We had incredible meals, unique adventures and indulged in shopping for locally-made crafts and souvenirs. We are excited to share with you all of the places we enjoyed visiting.
North Carolina Zoo
It is hard to talk about Asheboro without talking about the NC Zoo. This state-supported zoo, one of only two in the U.S., is the world's largest natural habitat zoo. The main focus of the 2,600 acre zoo is conservation, with efforts not only in North Carolina and the United States but also around the world.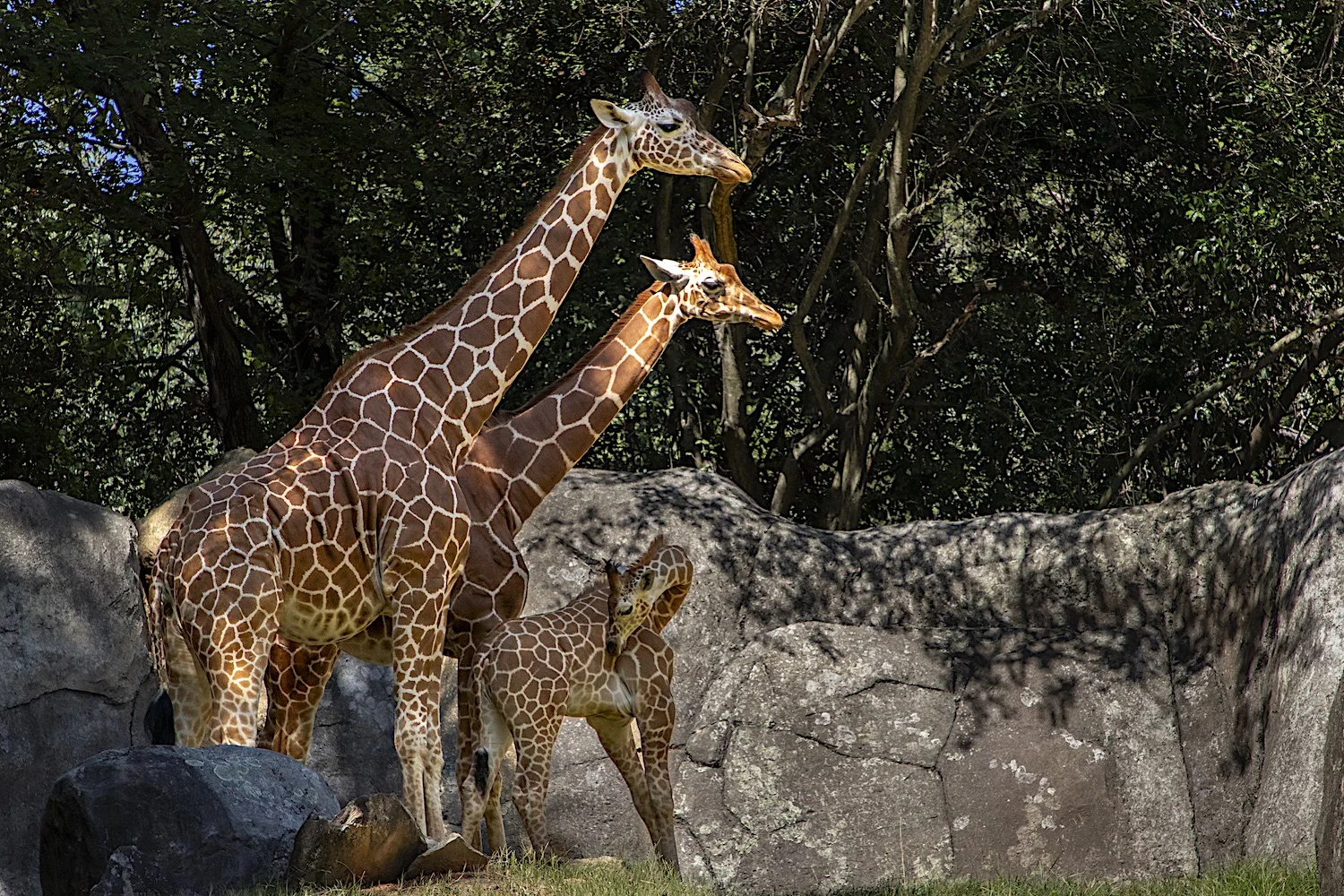 More than 1,800 animals are at the North Carolina Zoo, including:
Elephants
Giraffes
Polar Bears
Horned Puffins
Arctic Fox
Lions
Gorillas
Zebras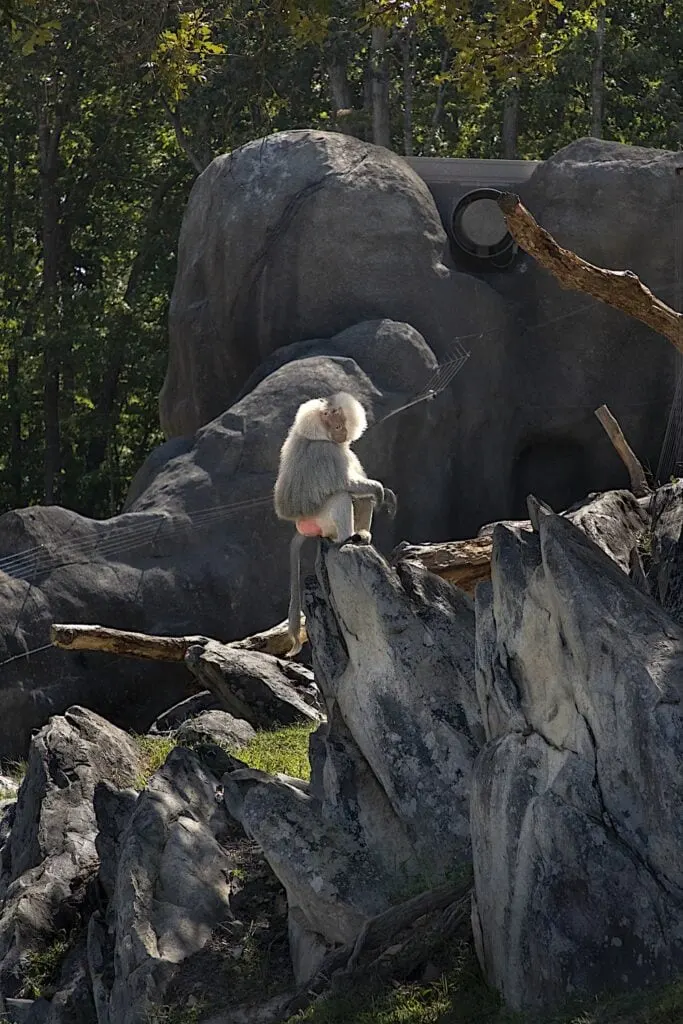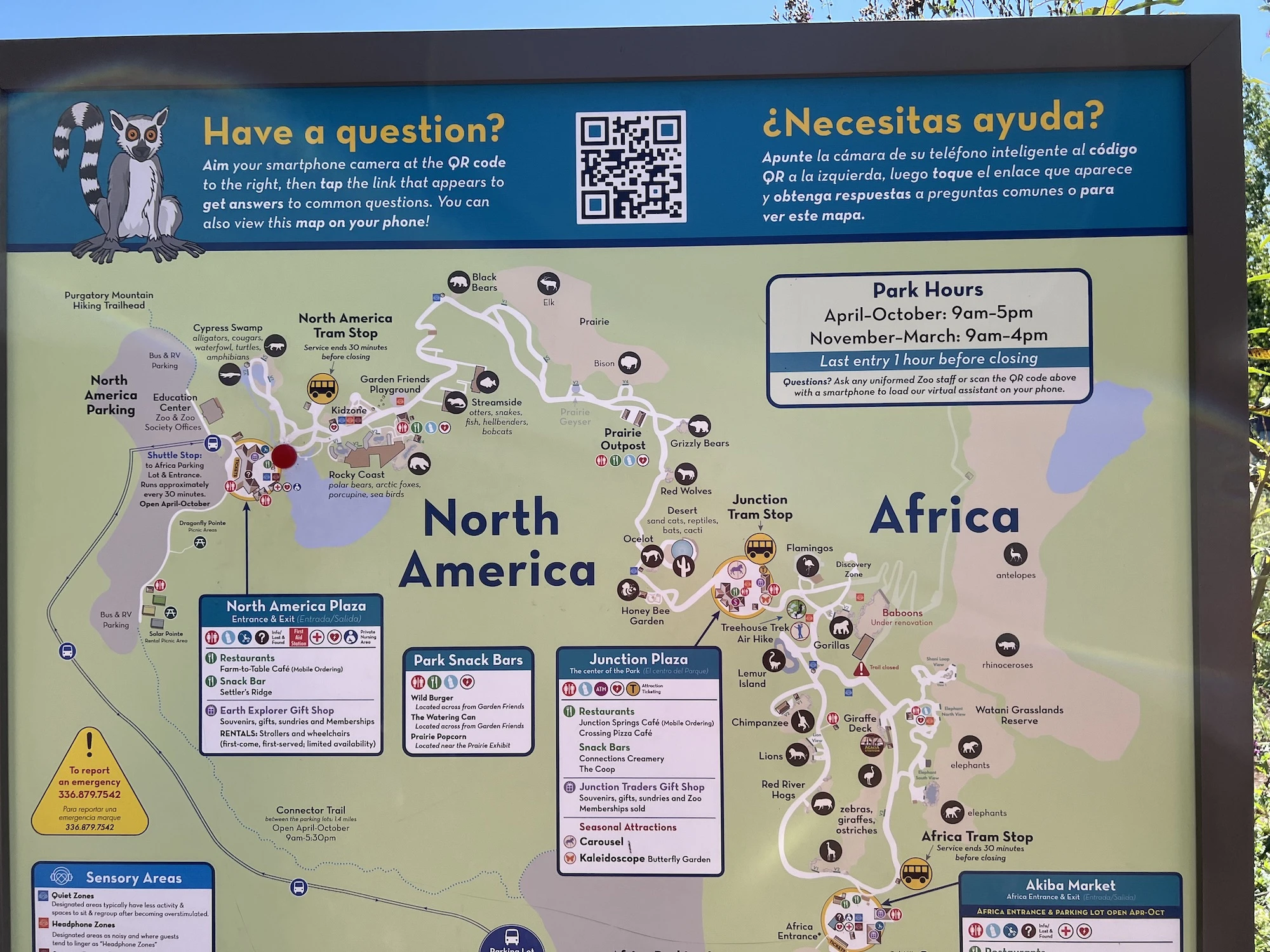 Animal Experiences
In addition to the visiting the animal habitats, there are animal experiences with an extra paid ticket that are definitely worth it.
We absolutely loved feeding a giraffe on the giraffe deck! It was a great experience and we could hand a lettuce leaf to the giraffe and they would grasp it in their long tongue and chomp away. What a great photo opportunity!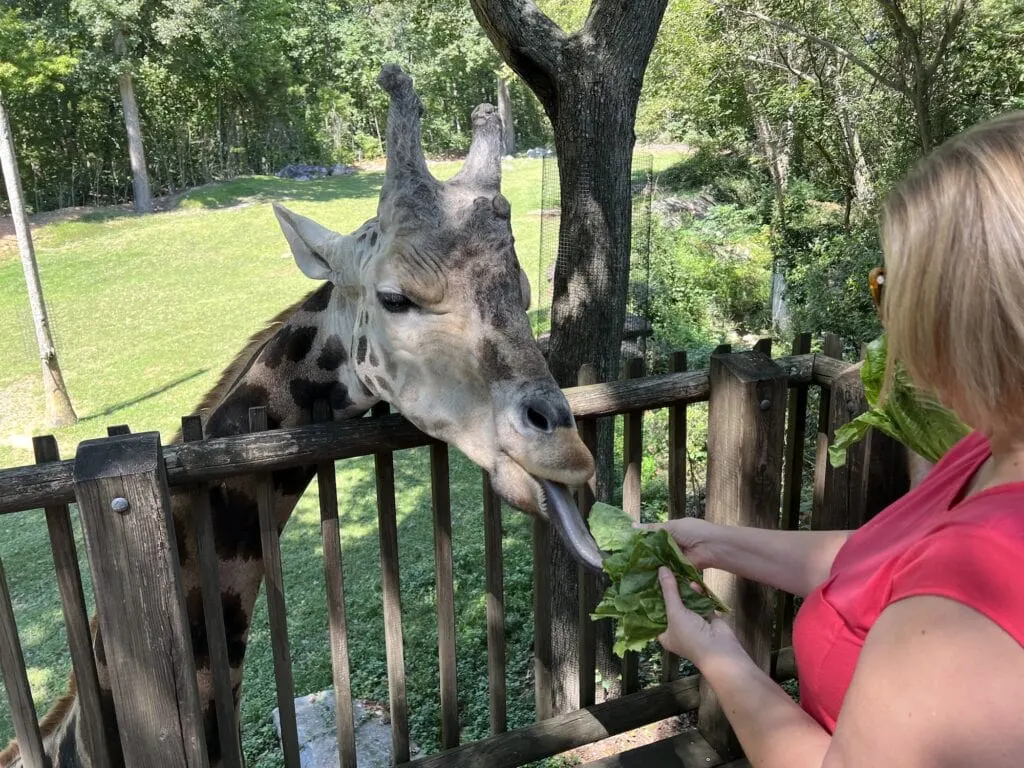 Insider Tip: Everyone that goes onto the giraffe deck for this unique experience needs to pay $5, whether they are feeding the giraffe or just taking photos.
Zoofari is another optional add-on experience that lets you get closer to the animals. This 45-minute tour takes you on the 40-acre Watani Grasslands where you will drive through the habitats of rhinoceroses, ostriches, antelope and other animals.
The open-air vehicle is staffed with very knowledgeable zoo educators who will share fascinating details about the animals living in this habitat. Expect a slow-moving drive with lots of long stops for watching the animals and taking photos.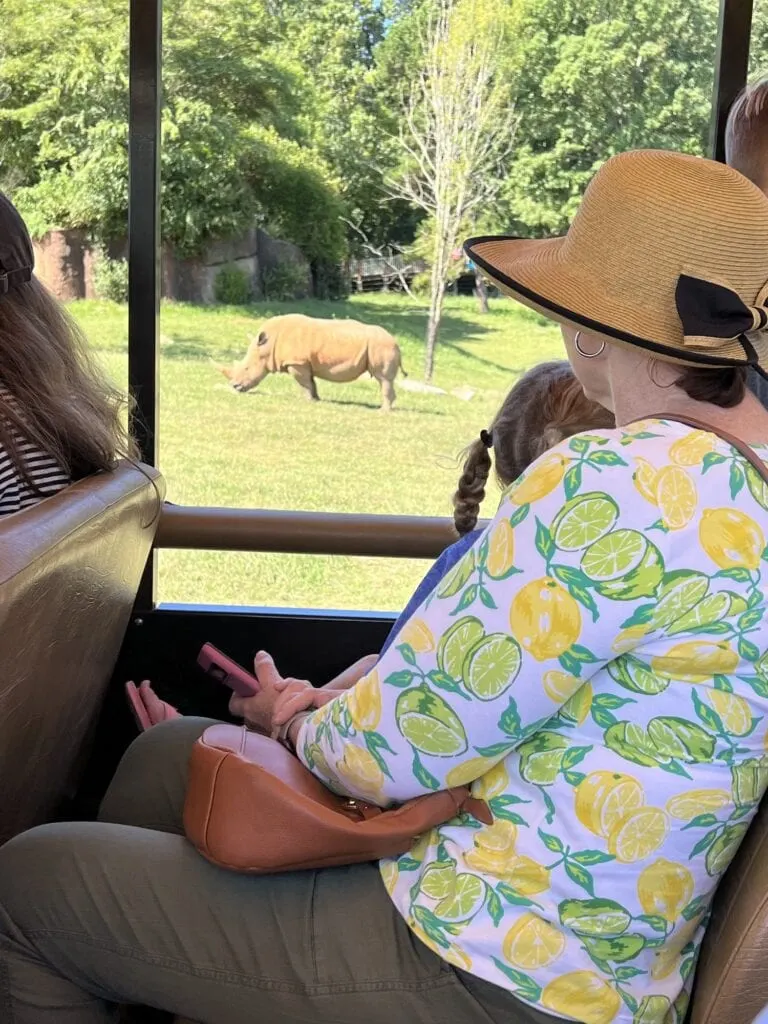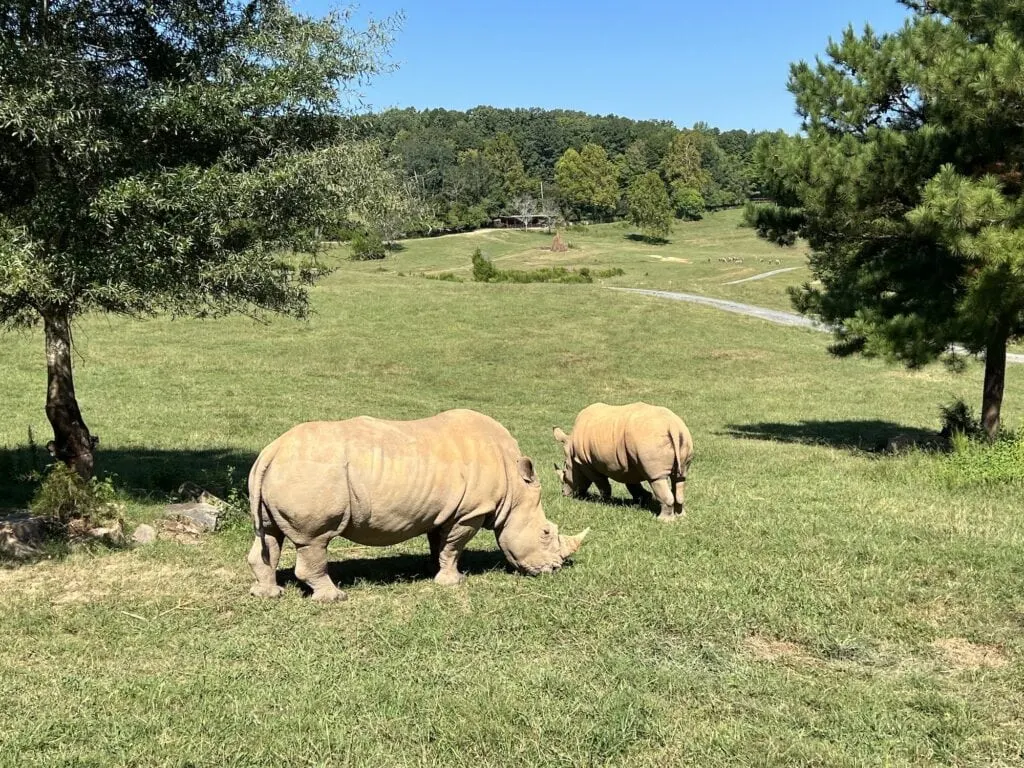 Insider Tip: While the Zoofari is similar to the Kilimanjaro Safaris at Disney's Animal Kingdom, they are definitely not the same, so set your expectations if you are a Disney fan. Zoofari has no rough roads or off-roading adventures. You will also not see as many different types of animals. However, you will stop for longer and be able to ask questions while exploring the habitat.
My Personal Tips for Visiting the North Carolina Zoo
There are two entrances to the Asheboro Zoo. Be sure to remember which one you came through!
Be prepared for a lot of walking! There are shuttles that can reduce the amount of walking you will need to do, but you still will need to walk a decent distance between animal habitats and other parts of the zoo.
The natural landscape is not flat and neither are the walkways. You will be walking uphill and down hill throughout the day.
Bring water! You can bring a reusable water bottle.
Food can be quite expensive inside the North Carolina Zoo. Packing snacks is a smart way to save on food costs.
Don't have a lot of time in the area? See our one-day Asheboro itinerary which includes the North Carolina Zoo and many other destinations on this list.
Millstone Creek Orchards
For a fun agritourism experience, Millstone Creek Orchards is the perfect place to pick apples, pumpkins, grapes and more. The 84-acre family orchard has a wide variety of activities and experiences to enjoy much of the year.
With each season Millstone Creek Orchards celebrates the seasonal harvest in festivals, U-pick produce, bakery items and unique experiences such as painting artwork or making wreaths.
During our visit in September we loved picking gourds and muscadines off the vines. It is an more unusual U-pick experience than picking apples.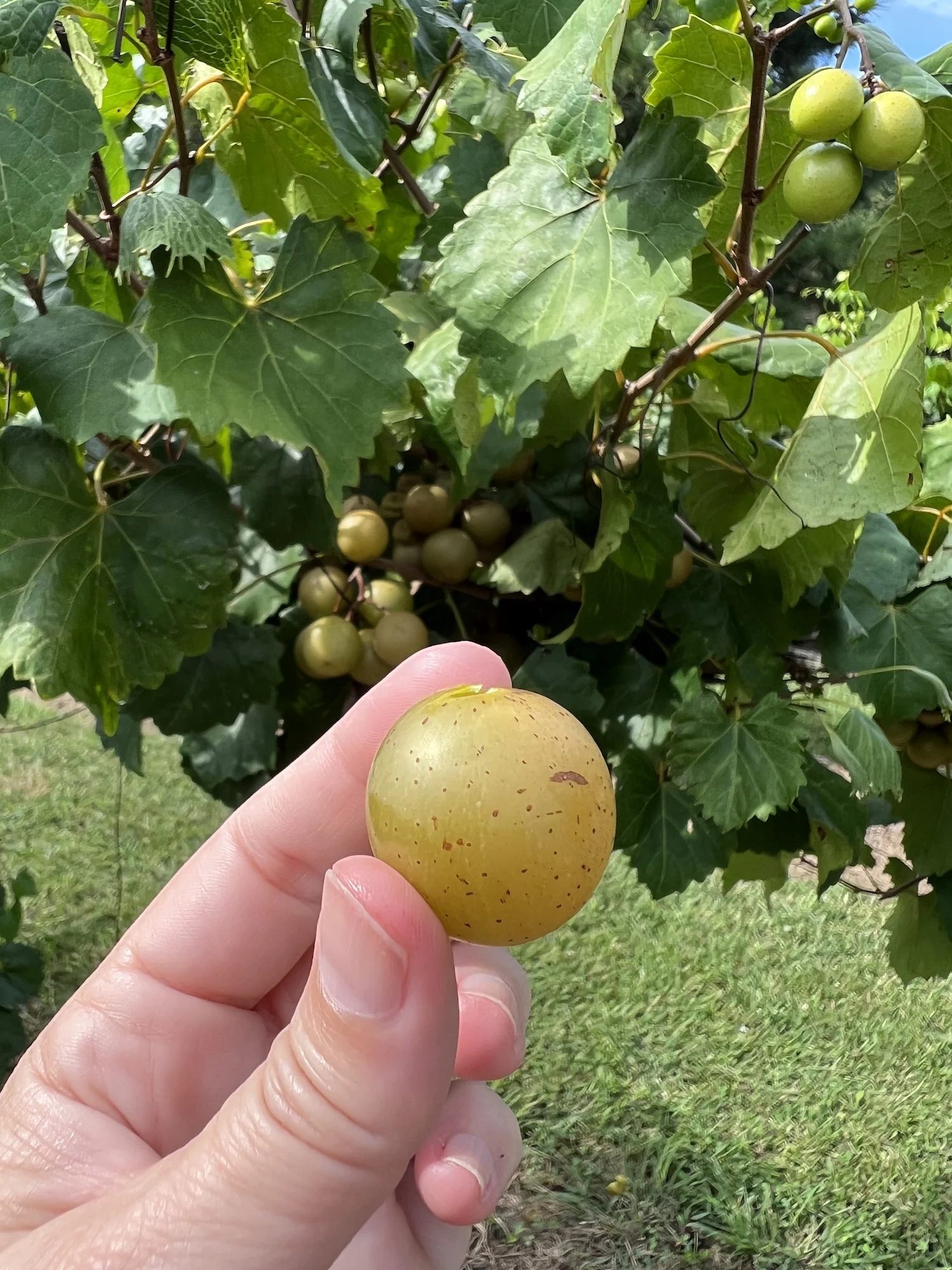 While the apple orchards in Hendersonville are the most well known in North Carolina, Millstone Creek Orchards is a great place for U-pick apples if you are not traveling to the mountains. The bakery has a wide variety of apple products, including the popular apple cider slushies.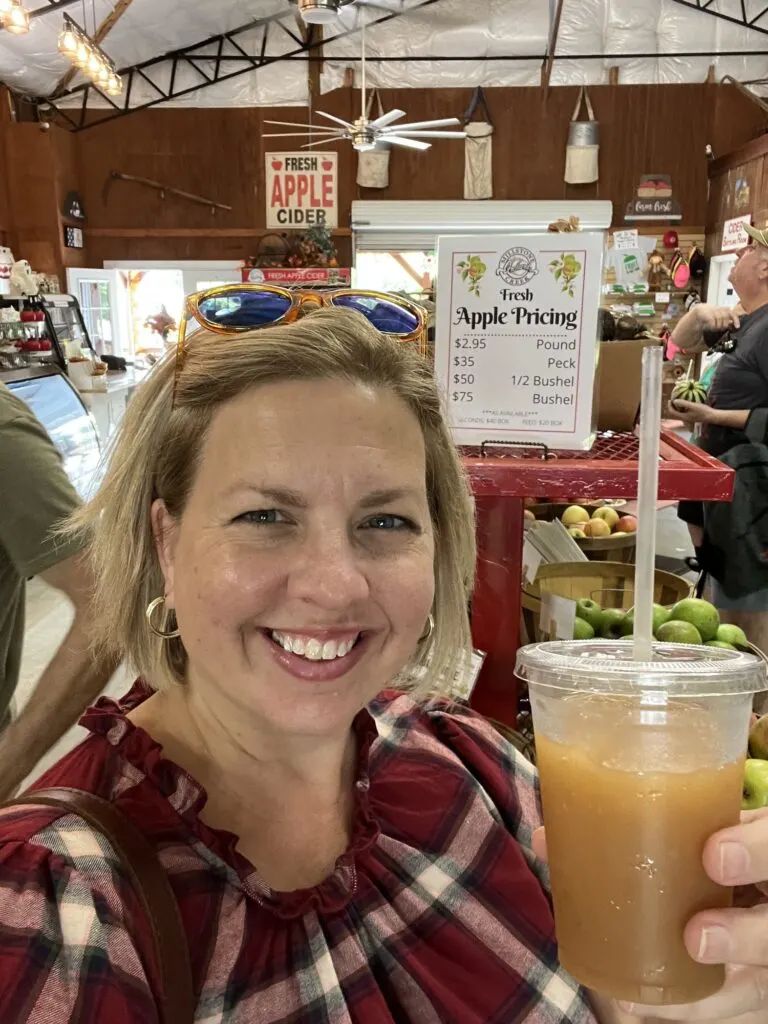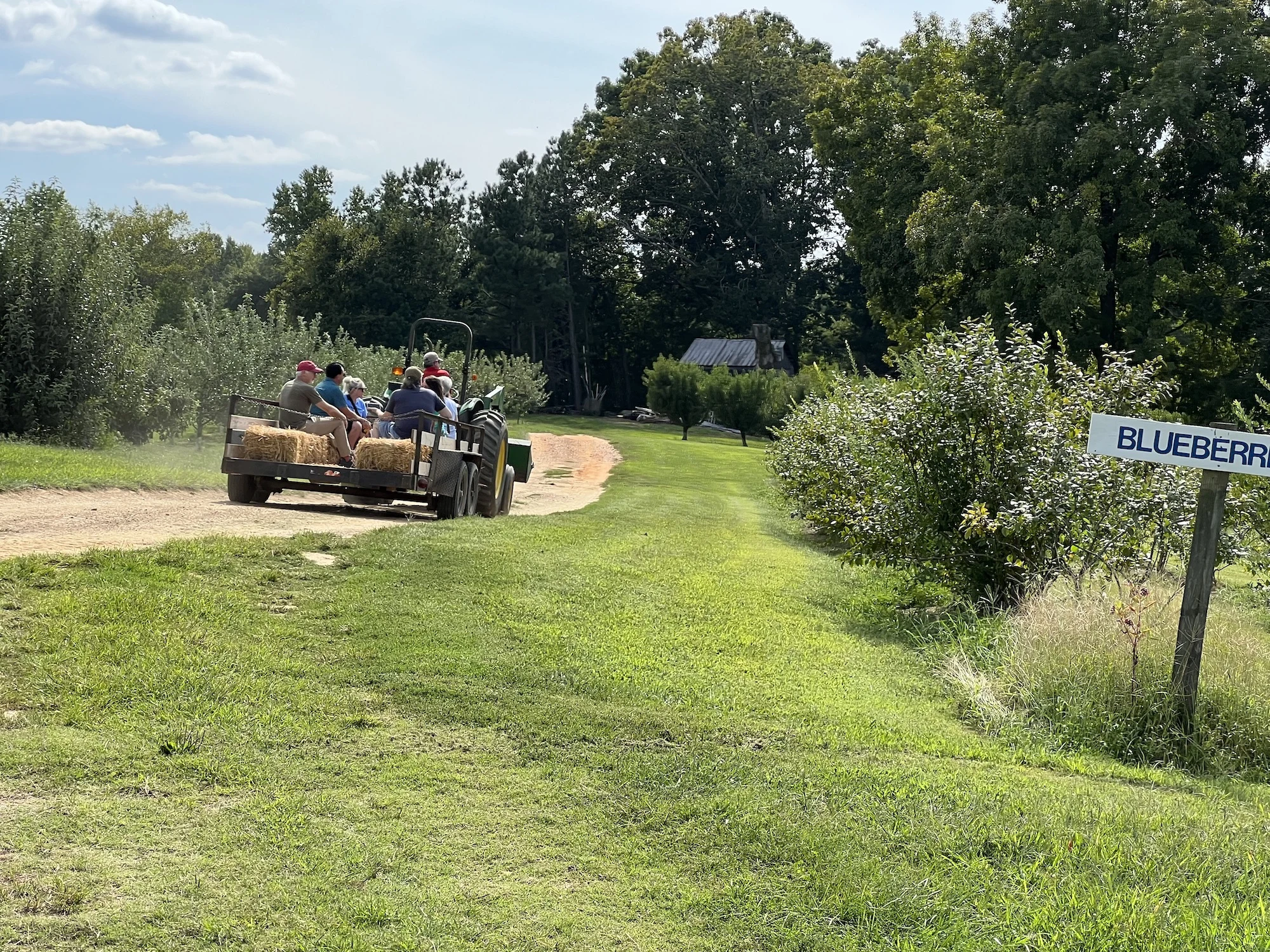 My Personal Tips for Visiting Millstone Creek Orchards
Come hungry! There is a bakery with a wide variety of foods that you will want to indulge in!
Wear shoes for walking. You will be out in working fields if you do a U-pick experience with tall grass, fire ants and weeds.
Get a glass (or gallon) of their fresh-squeezed apple cider. Millstone Creek Orchards is known for their old-fashioned method of making apple cider.
Picking gourds and muscadines were also among our favorite things to do.
North Carolina Aviation Museum and Hall of Fame
This non-profit, volunteer run aviation museum is a treasure trove of military and civilian aircraft, as well as war-time memorabilia.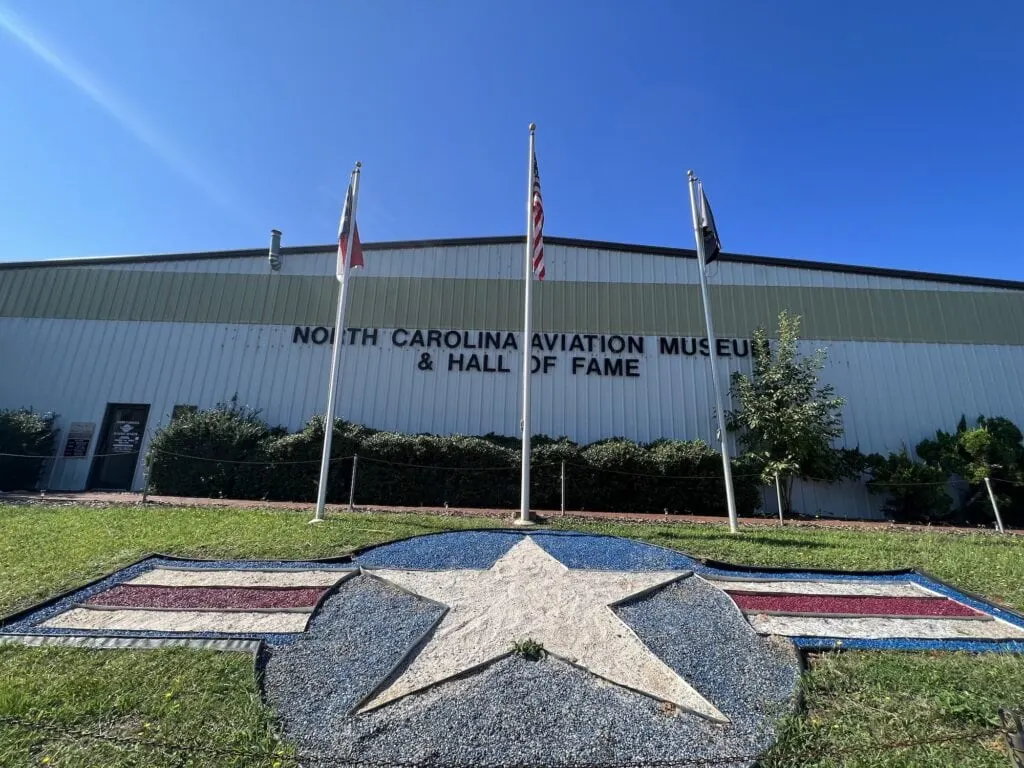 Among the aircraft on display throughout two hangars are a Piper J-3 Flitfire flown by Orville Wright, Piper J-3 Cub that belonged to the "Flying Farmer" and a SK61, a former Swedish Air Force trainer.
It would be possible to spend several hours inside the North Carolina Aviation Museum and Hall of Fame if you stopped to read the wealth of plaques and historical references. Not only will you learn more about aircraft, you will also learn about what life was like in war-time. It is a fascinating look back in time with personal mementos that put a human element on the war efforts.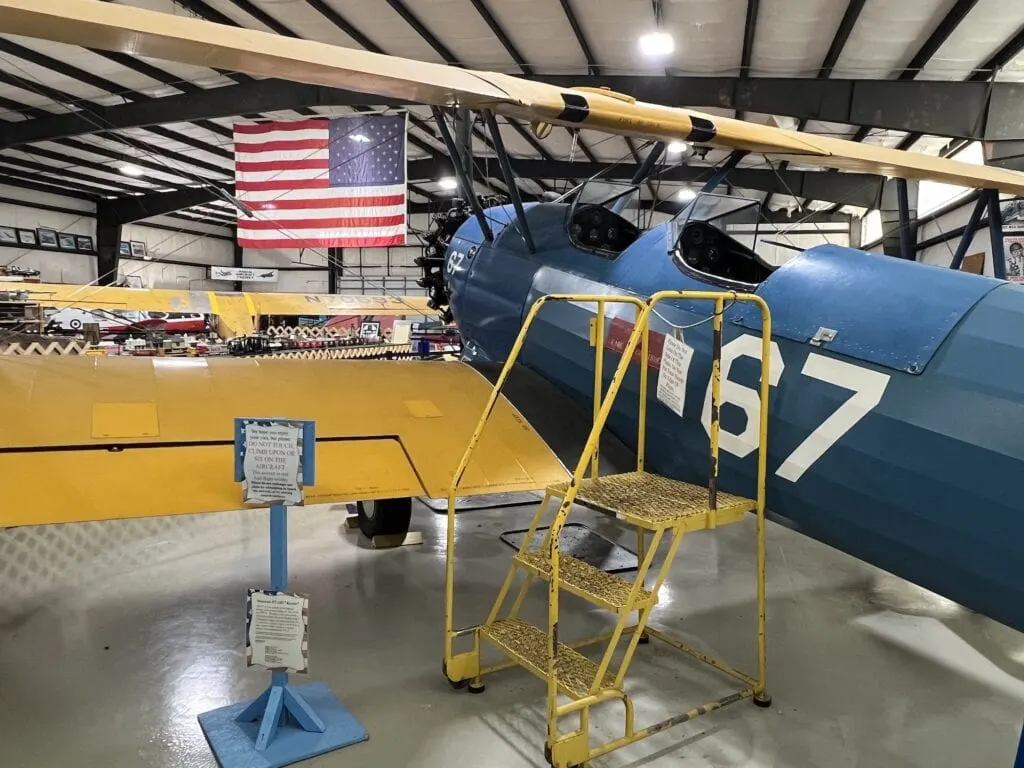 My Personal Tips for Visiting the North Carolina Aviation Museum
An active runway is just outside of the doors of the museum for private planes. You can watch small planes take off and land from the private observation area available to paying museum guests or from the parking lot.
Be sure to see the Piedmont Airlines display! This airline was started in North Carolina and became a part of U.S. Airways.
Pace yourself. There is a lot to see and do here so if you have a short amount of time, you will need to pick and choose what you take time to read.
RV parking is available in the parking lot. This is a great stop while traveling through the area.
Golfing and Indoor Virtual Games
Holly Ridge Golf Links is well known for their traditional golf course outside, but what we are most excited about is the indoor simulators!
Bunker Lounge has six simulator bays that offer indoor golf, as well as a variety of other sports, such as archery, basketball, soccer and more. Book a bay for one price and you can have up to 6 people enjoying the fun!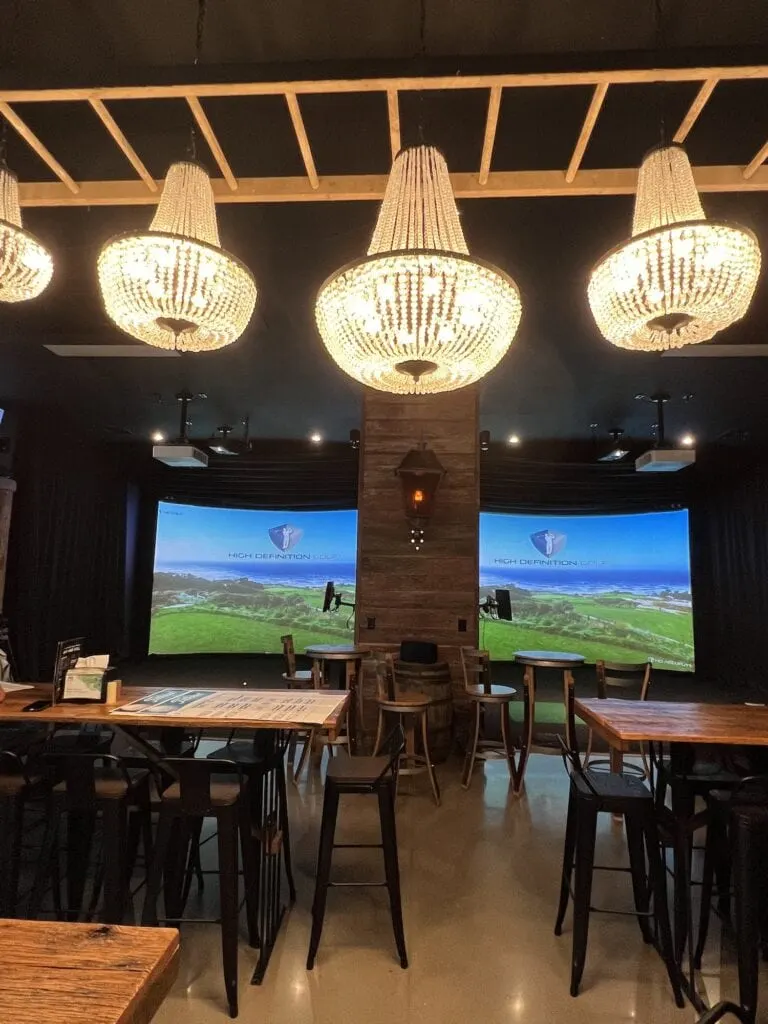 You don't have to stick with one sport during your indoor simulator time. You can switch from corn hole to golf to bowling. This is a fun activity for kids, teens and adults!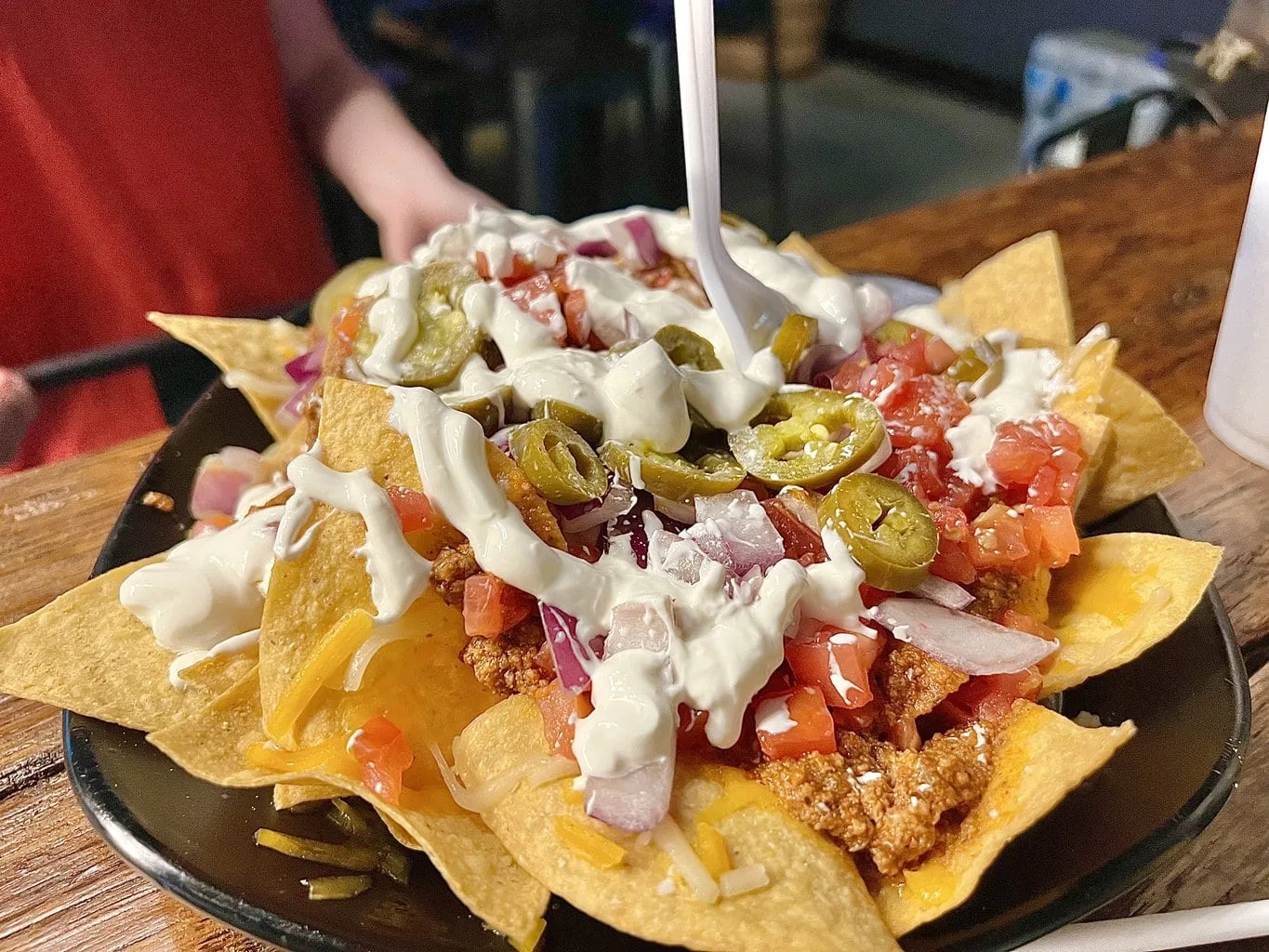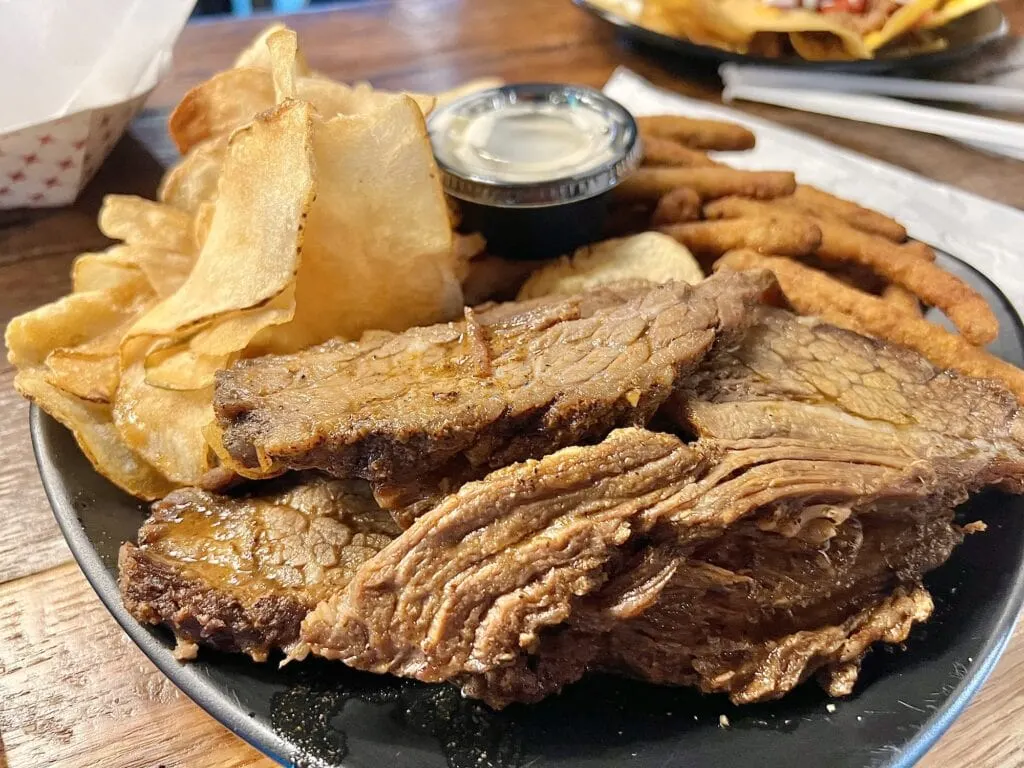 My Personal Tips for Visiting Holly Ridge Golf Links
The restaurant on site is great! Whether you are golfing outdoors or using the simulator bays, be sure to grab some food.
The indoor simulators are a great place to visit during the winter months, rain or really hot days.
Perfect place for a birthday party or non-traditional wedding shower or baby shower.
Kersey Valley Attractions
Kersey Valley Attractions is an awesome adventure park that has so much to offer all year long, however they are probably most well known for Spookywoods, Maize Adventure and Kersey Valley Christmas.
This 92-acre family-owned amusement area looks like a tiny theme park! It is amazing that they have so many fun things to do!
During the year, you can visit for exciting experiences such as :
Ziplining
Axe-Throwing
Laser Tag
Escape Room
Bomb Bowling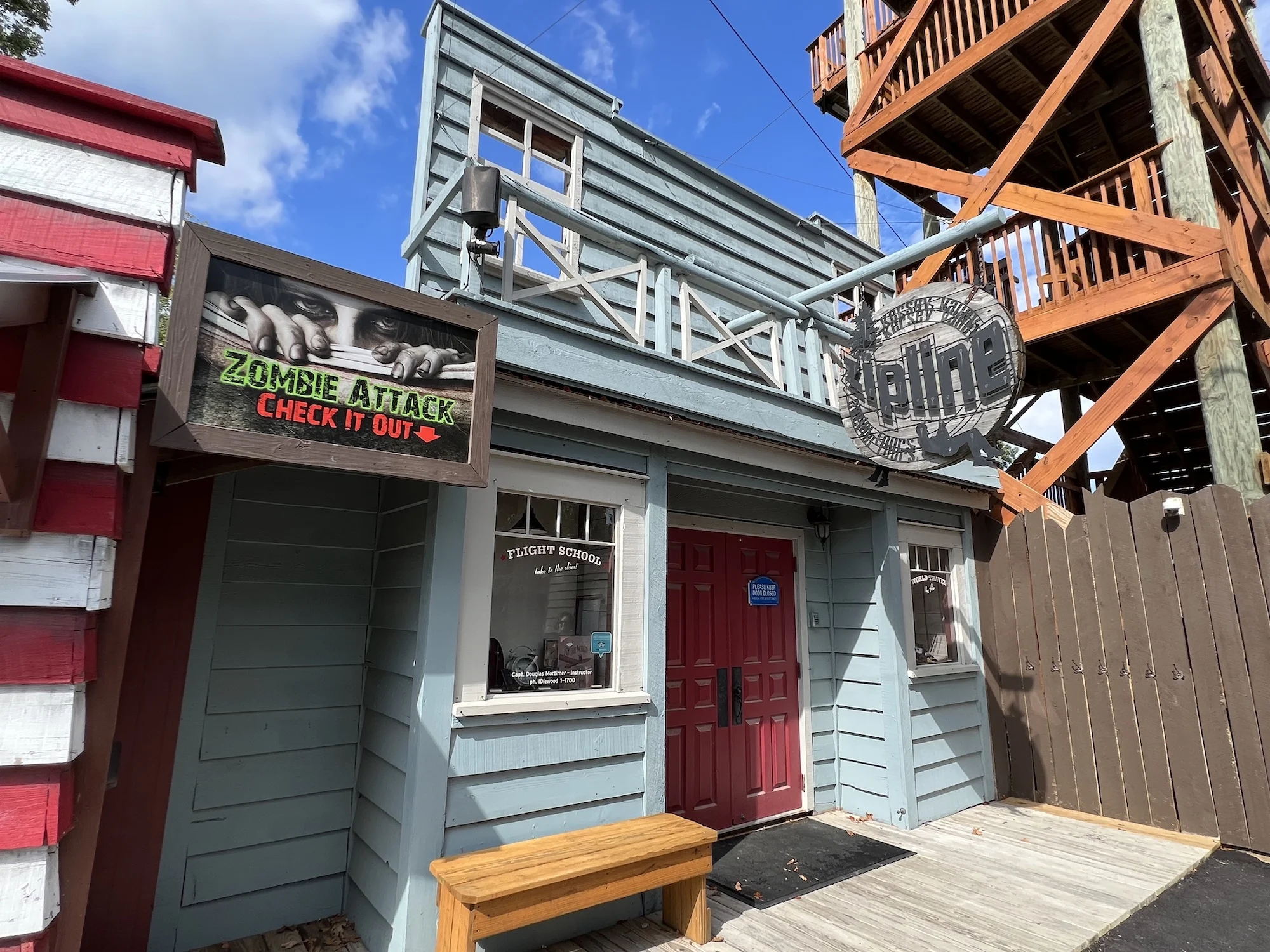 From September through December, Kersey Valley Attractions celebrates the holidays with over-the-top events that draw huge crowds.
Spookywoods is a frightening haunted attraction that will have you running from horror movie characters in the woods and being terrified by creatures that jump out at you in the 15 haunted buildings. A cornfield laser maze and Club Spooky DJ dance party are among other fun things to do during the event.
Kersey Valley Christmas is a family-friendly holiday event that is full of joy, smiles and Christmas cheer. This event is perfect for kids and adults.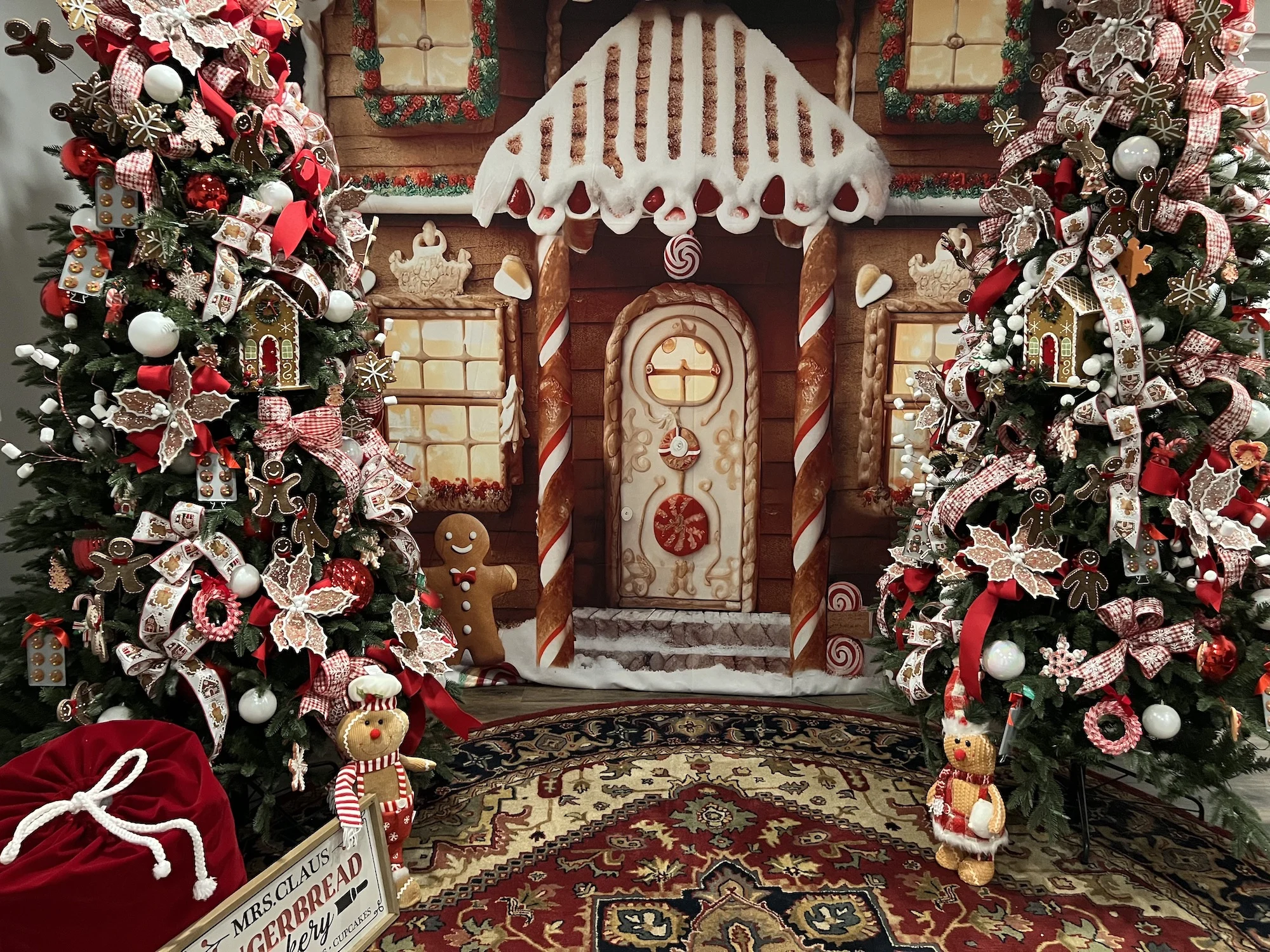 Walk through light displays with over a million LED lights, take a tram ride, and meet Santa Claus during this specially ticketed event.
My Personal Tips for Visiting Kersey Valley
Kersey Valley is cashless, so be sure to bring a credit card or debit card for payments.
Cash is accepted for parking.
Mid-week visits will be MUCH less crowded!
Arrive early to park so that you don't miss your timed ticket entry.
A virtual line system to meet Santa Claus and the Grinch makes it so much more enjoyable! You can virtually hold your place in line while enjoying the other activities and then come meet with Santa when your virtual "place in line" is called.
The only photos allowed with Santa are the profession photo packages that you must pay for. No cell-phone photography on your own camera.
Santa Claus knows sign-language to make visits accessible to more kids.
Seagrove Pottery
Seagrove is a community in North Carolina known for pottery making. Dozens of pottery studios are found along a self-guided drive throughout the area.
Each studio has a different style and craftsmanship. There are so many different studios to choose from that you will want to look at the Seagrove Potters map to get an idea of the styles and types of pottery to be found at each studio.
It is a truly interactive experience, as many potters welcome visitors to observe their creative process and some even offer hands-on opportunities to try your hand at pottery making.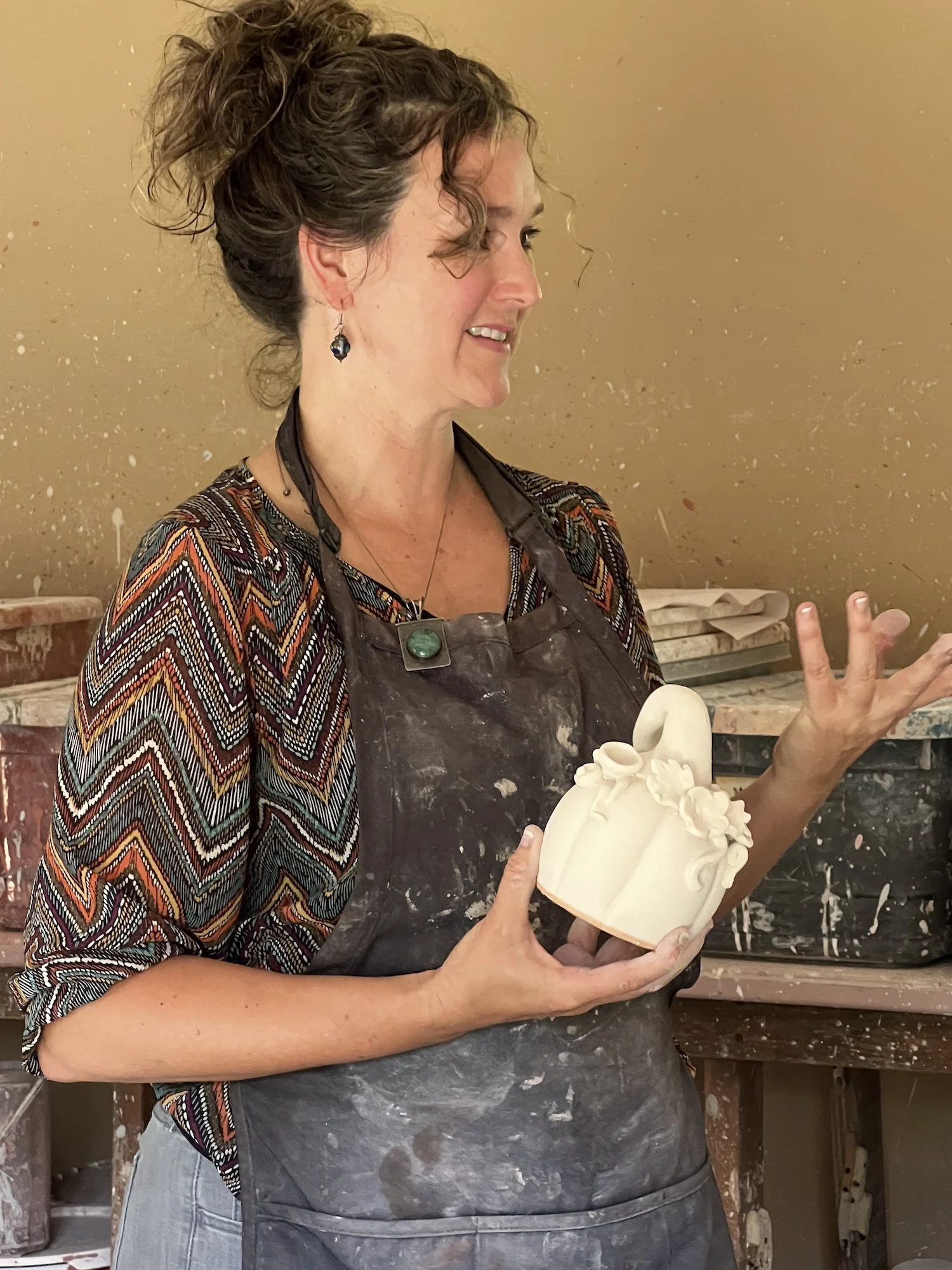 In addition to the incredible pottery itself, visiting Seagrove also allows you to connect with the potters on a personal level. They are eager to share their passion, knowledge, and techniques with visitors, offering insights into the history and evolution of pottery in the region.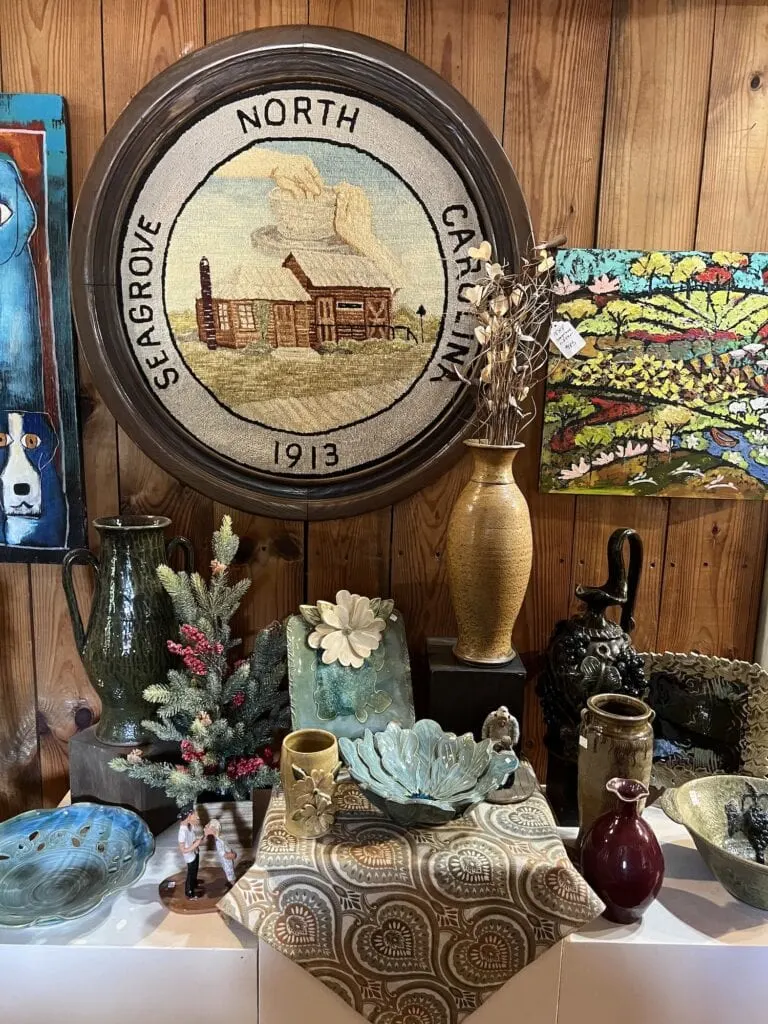 There are several special events throughout the year in Seagrove with themed weekends. Potters Pumpkin Patch is an event that we love. Saturdays and Sundays in October has pumpkin-themed pottery items available at select pottery studios.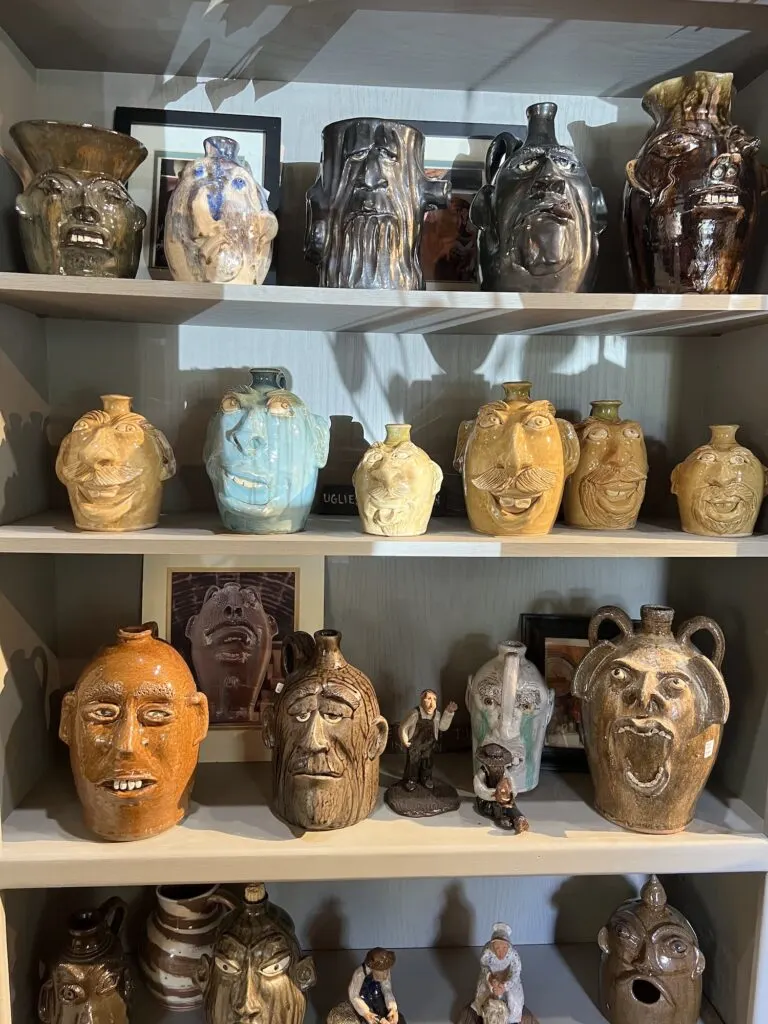 I personally love Crystal King Pottery Studio!
My Personal Tips for Visiting Seagrove
If you want to park and walk to pottery spots in Seagrove, I suggest parking in downtown near Seagrove Pottery Gallery (this is shop with work from Seagrove potters and a few others). From there you can walk to several pottery shops, including potter-owned Seagrove Stoneware Pottery and Uwharrie Crystalline Pottery and Turn and Burn Pottery. B3 Artisan Wares and Studio is a shop in this cluster of businesses near the intersection with local work and locally made items, classes, and more.
Most pottery studios are open Wednesday through Sunday. If you are visiting on a Monday or Tuesday, be sure to see what shops might be open.
Many potters offer online shopping.
Prices vary at all pottery studios. If you feel like a studio you chose is out of your price range, go to a few more where you may find less expensive items to buy.
Face jugs and mugs are popular picks! These are only available at a few studios, so be sure to use the map or call the Visitor Center to know where to go.
North Carolina Pottery Center
If you would like a one-stop destination to enjoy looking at Seagrove Pottery while also learning about the history and culture, then the North Carolina Pottery Center is a must-do on you list.
This museum-like hub for the area's pottery heritage has displays of pottery from decades past, as well as modern designs that defy your traditional concept of pottery.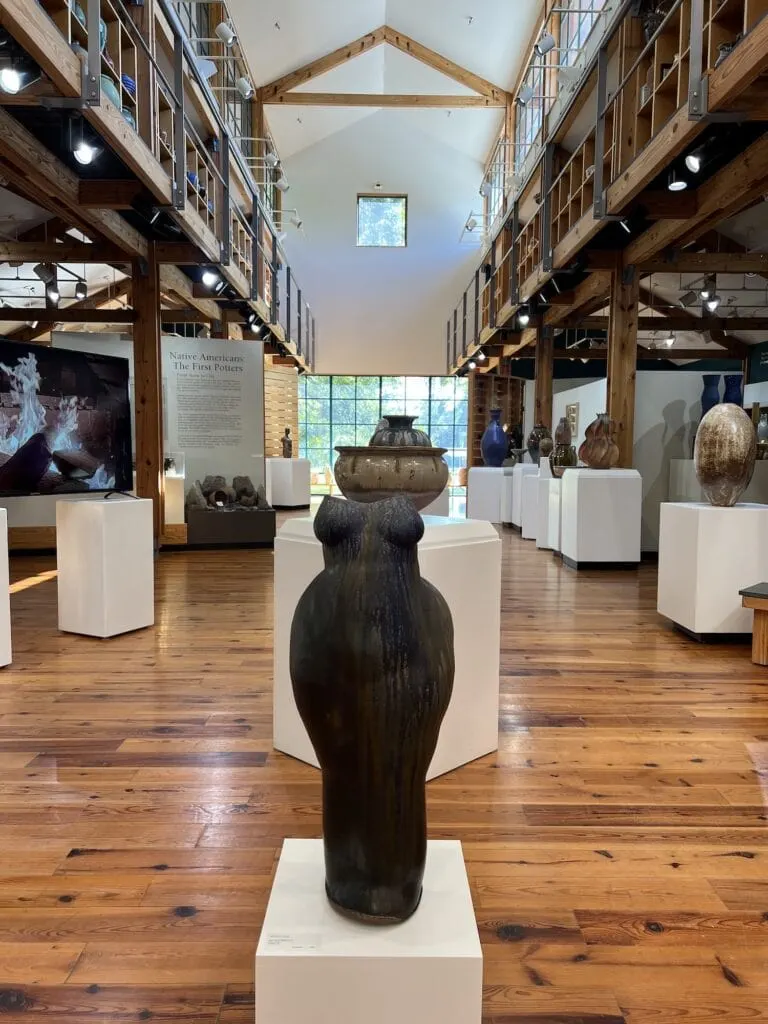 The center is a great place to ask questions about visiting potters, as well as buying some pieces if you don't have time to visit any studios.
Downtown Asheboro
A walk through downtown Asheboro is a fun way to do some shopping, eat some great food, and visit many of the places on our list of the best restaurants and breweries in Asheboro.
Asheboro is known for the zoo, so you will find street signs with zoo animals and animal footprints on the sidewalks.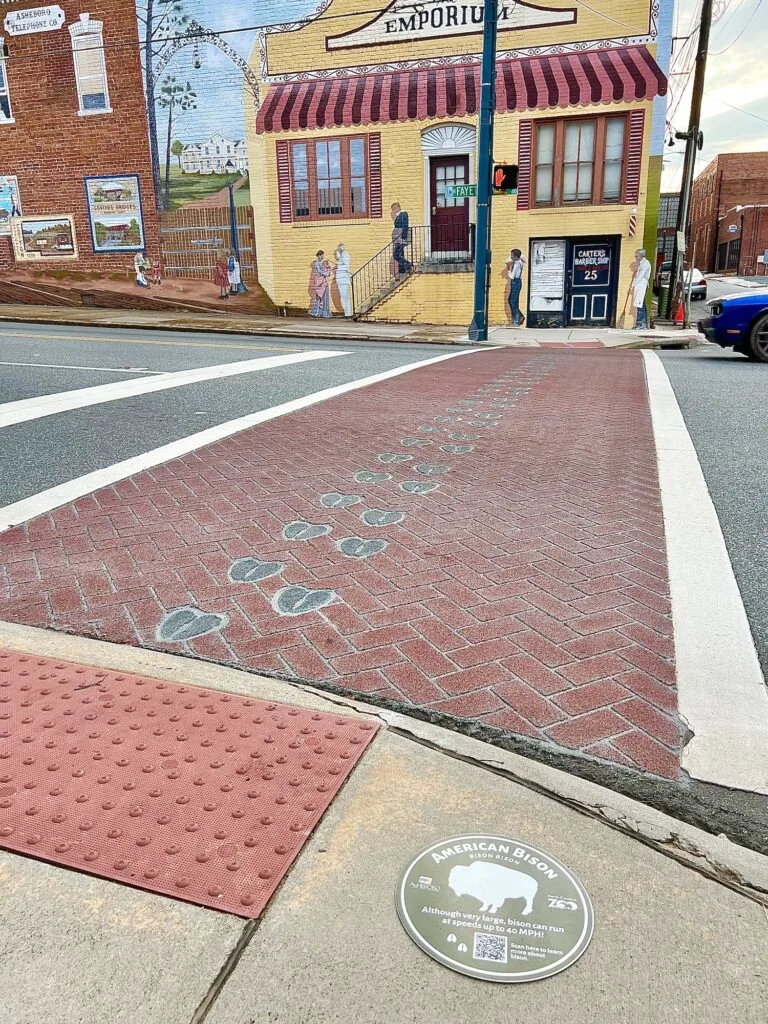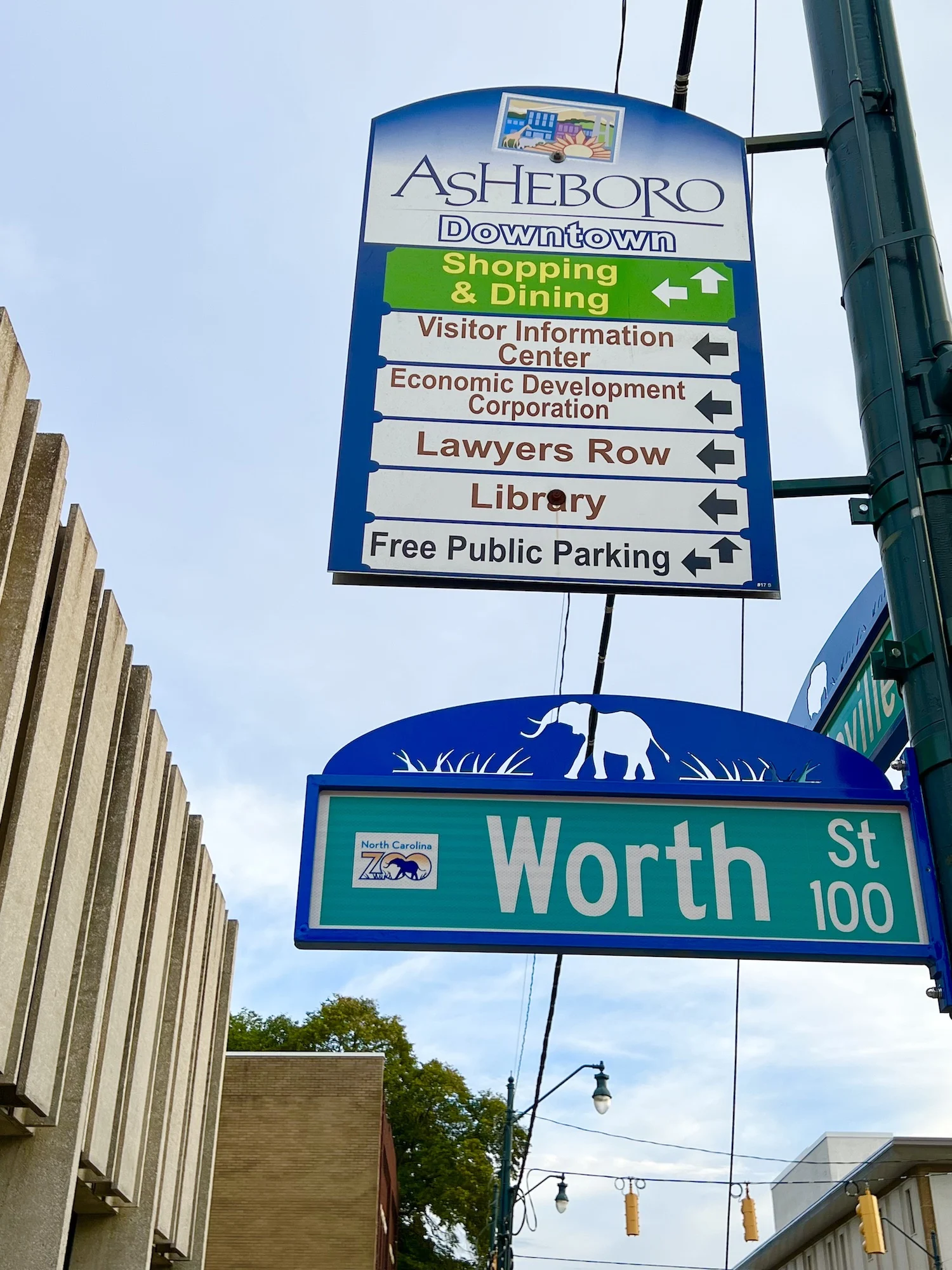 We love the many murals, too. While downtown Asheboro is not as big as some other downtowns, it is a fun place to wander for an hour or so.
Deep River State Trail
Looking for a place to get out in nature and do some exploring? The Deep River State Trail is a beautiful walking path along the Deep River which flows 125 miles through the Piedmont of North Carolina, winding its way by many former mill towns that were once the backbone of the communities.
Faith Rock, a Randolph County Historic Landmark that was the site of a Revolutionary War incident, can also be hiked to, although the path is a bit more strenuous.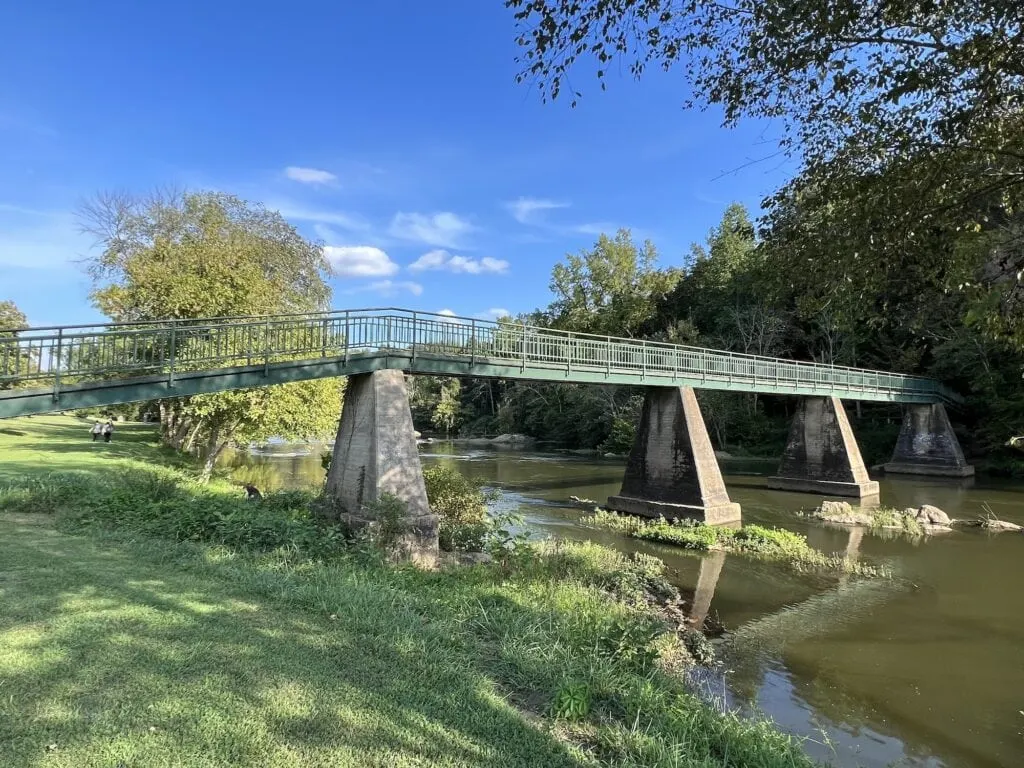 Helpful Tip: The Deep River Trail is located nearby the Franklinville Diner. This small town restaurant that is beloved by locals is not to be missed!
Four Saints Brewing Company
The first brewery in Asheboro, Four Saints Brewing Company has become a local's favorite. The owners are a part of the community and are invested in improving the community from a grassroots level.
Not only will you find delicious beers, there are also special events such as as food trucks, trivia nights, book clubs and Stitch and Sip gatherings.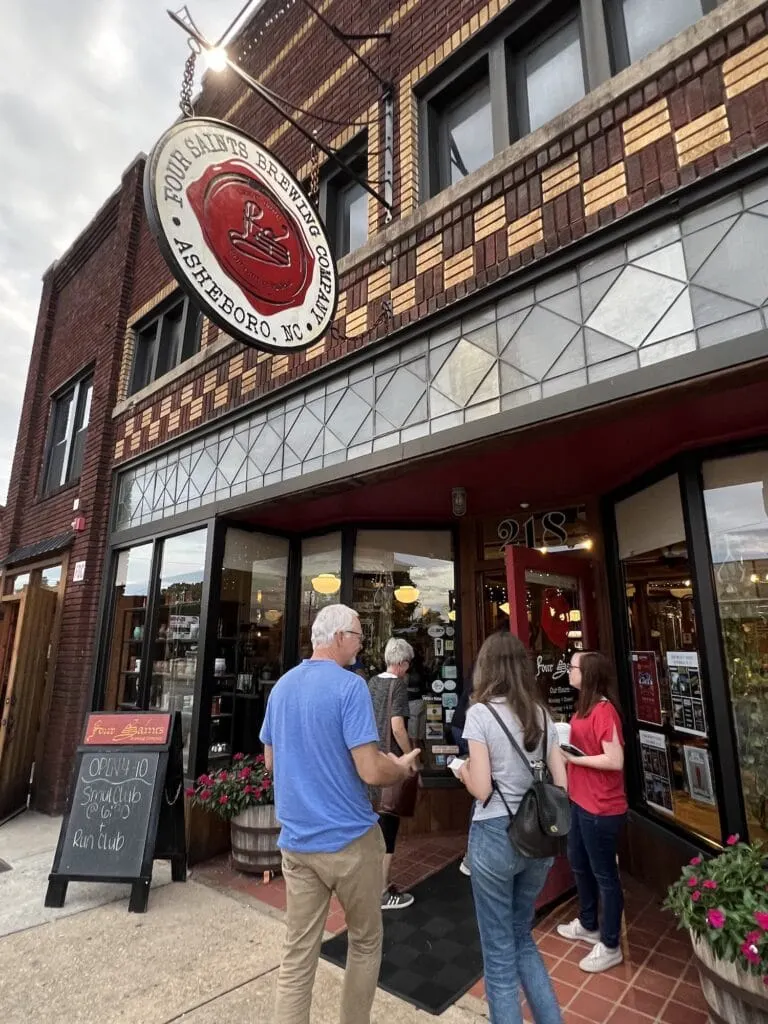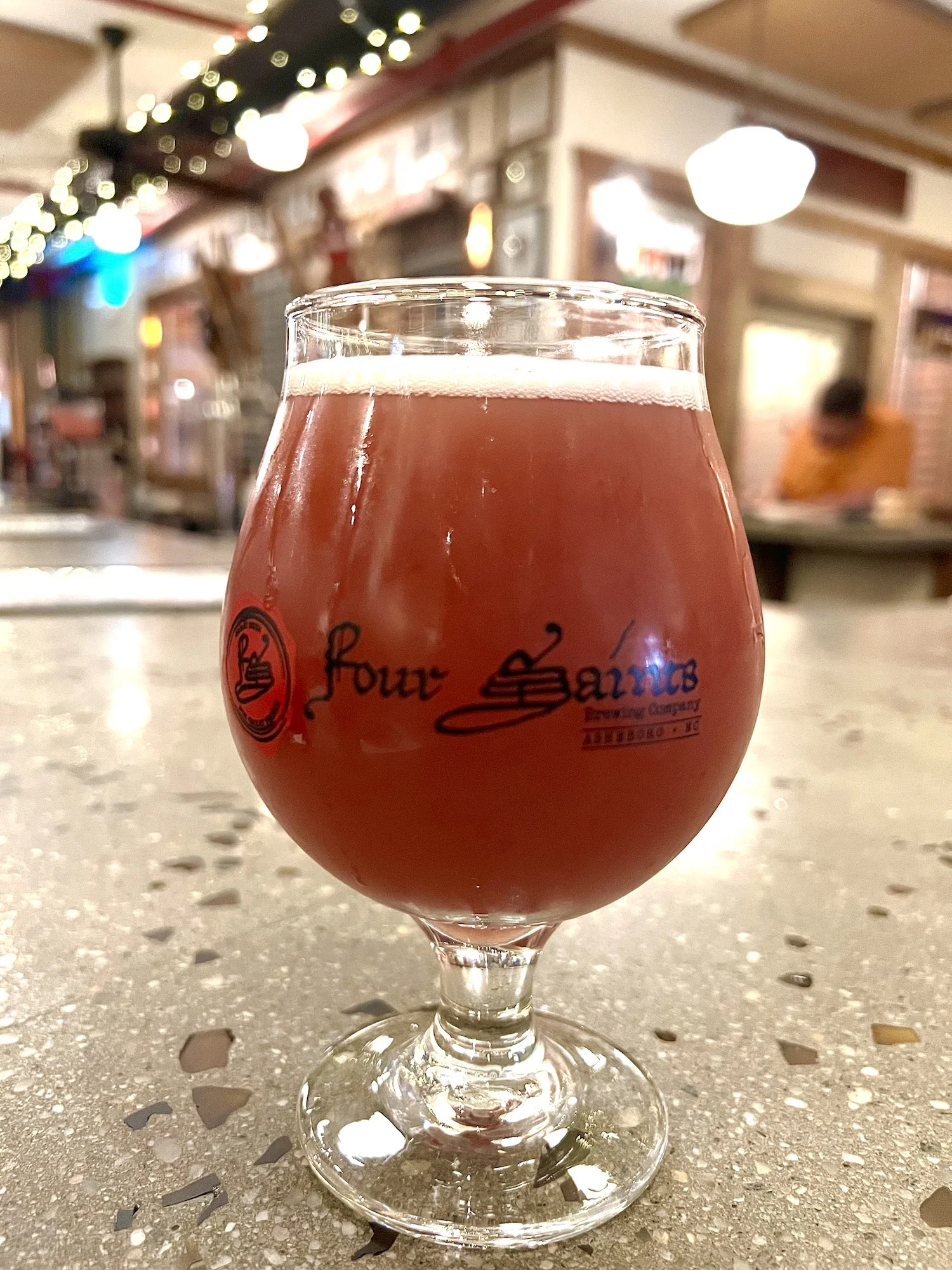 The Pharmacy
Next door to Four Saints Brewing Company is their new cocktail bar and distillery. The intimate setting is perfect for enjoying a handcrafted cocktail. We love sitting in a cozy booth at The Pharmacy and enjoying a cocktail before dinner. The Old Fashioned is a favorite of ours!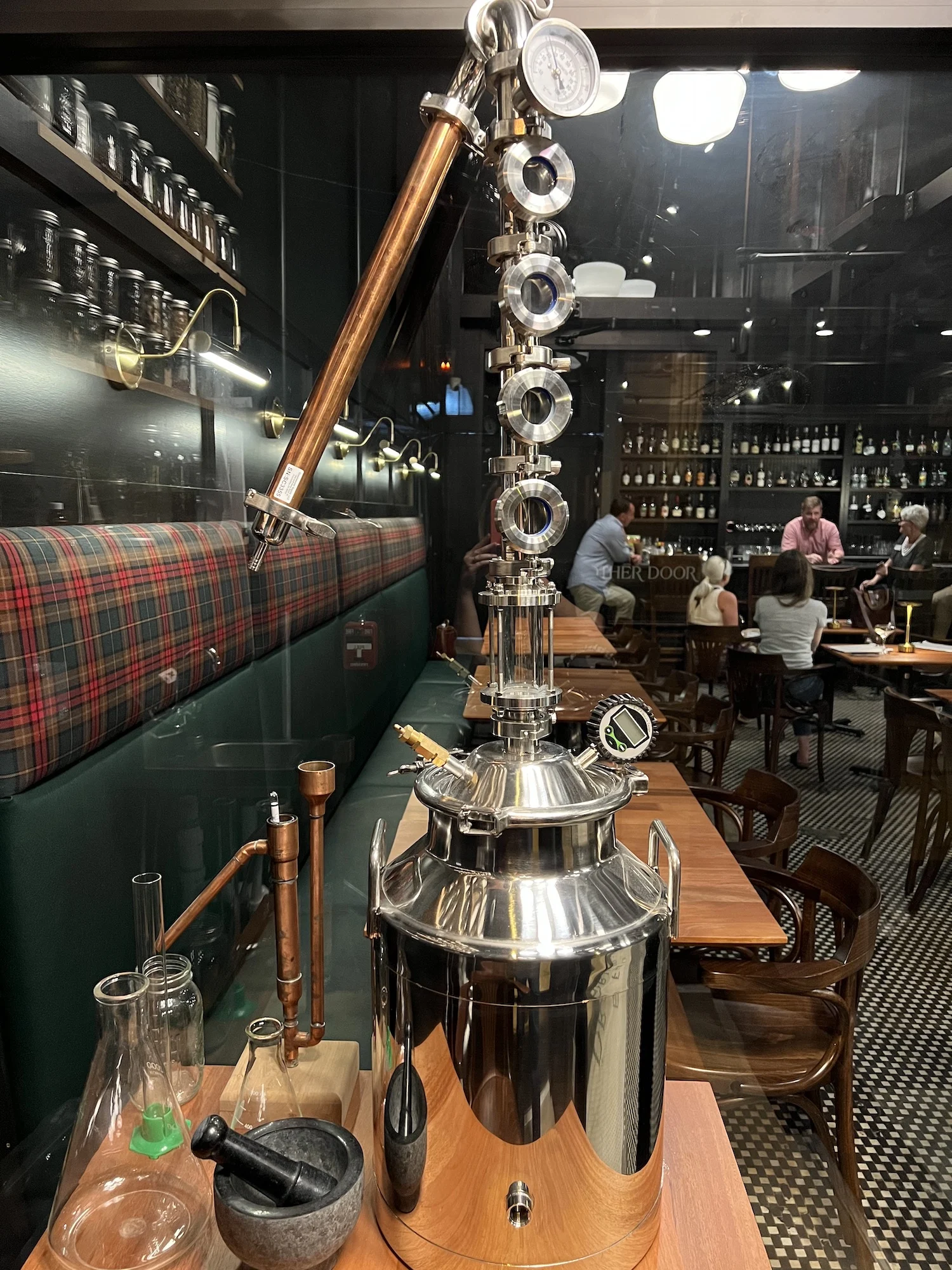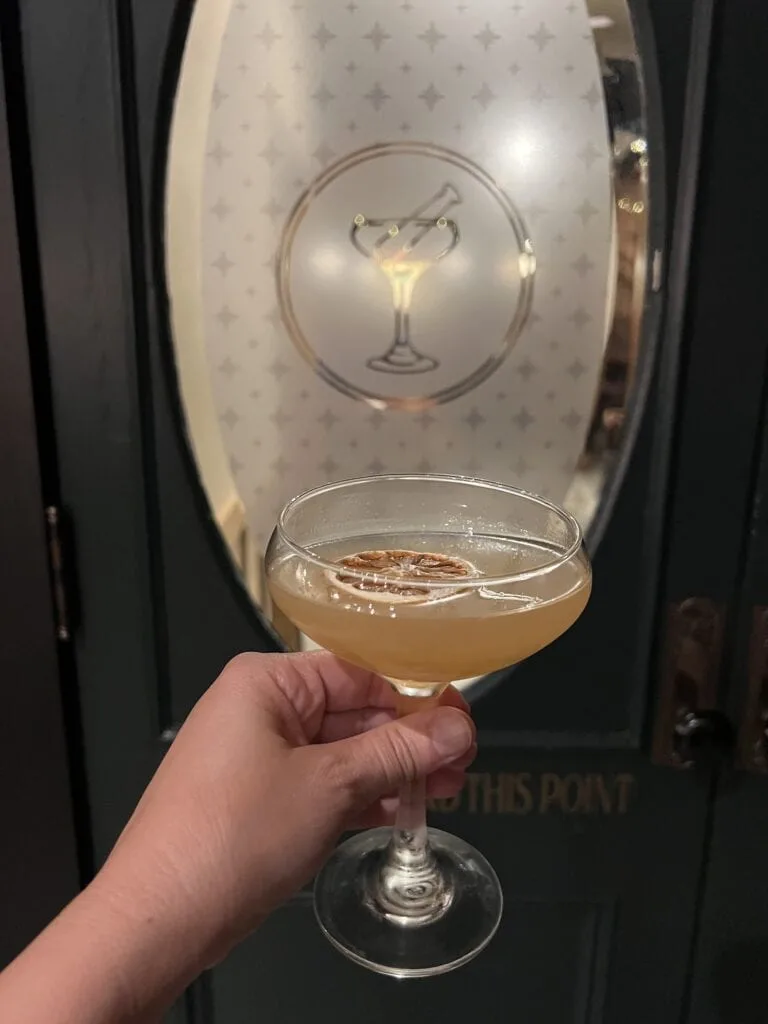 The Table
The moment I stepped into The Table I was in love! This bakery/restaurant specializes in homemade bakery items, as well as breakfast, lunch and brunch, as well as coffee and tea.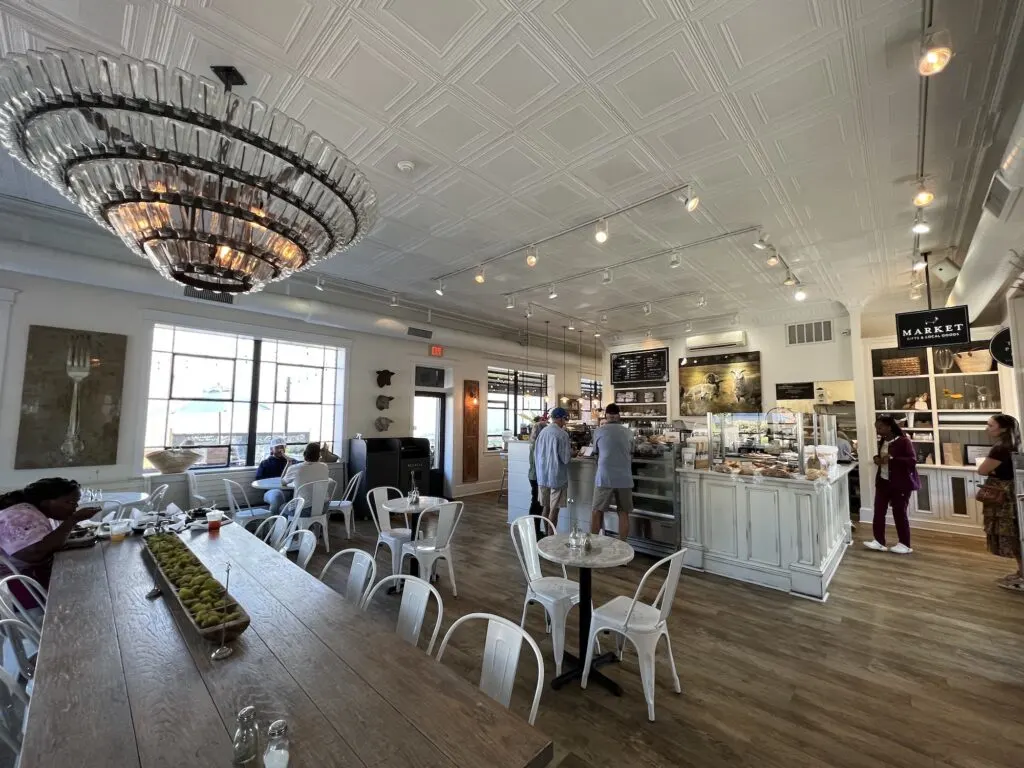 The menu is constantly changing with the seasons. Every single thing that I ate at The Table was delicious!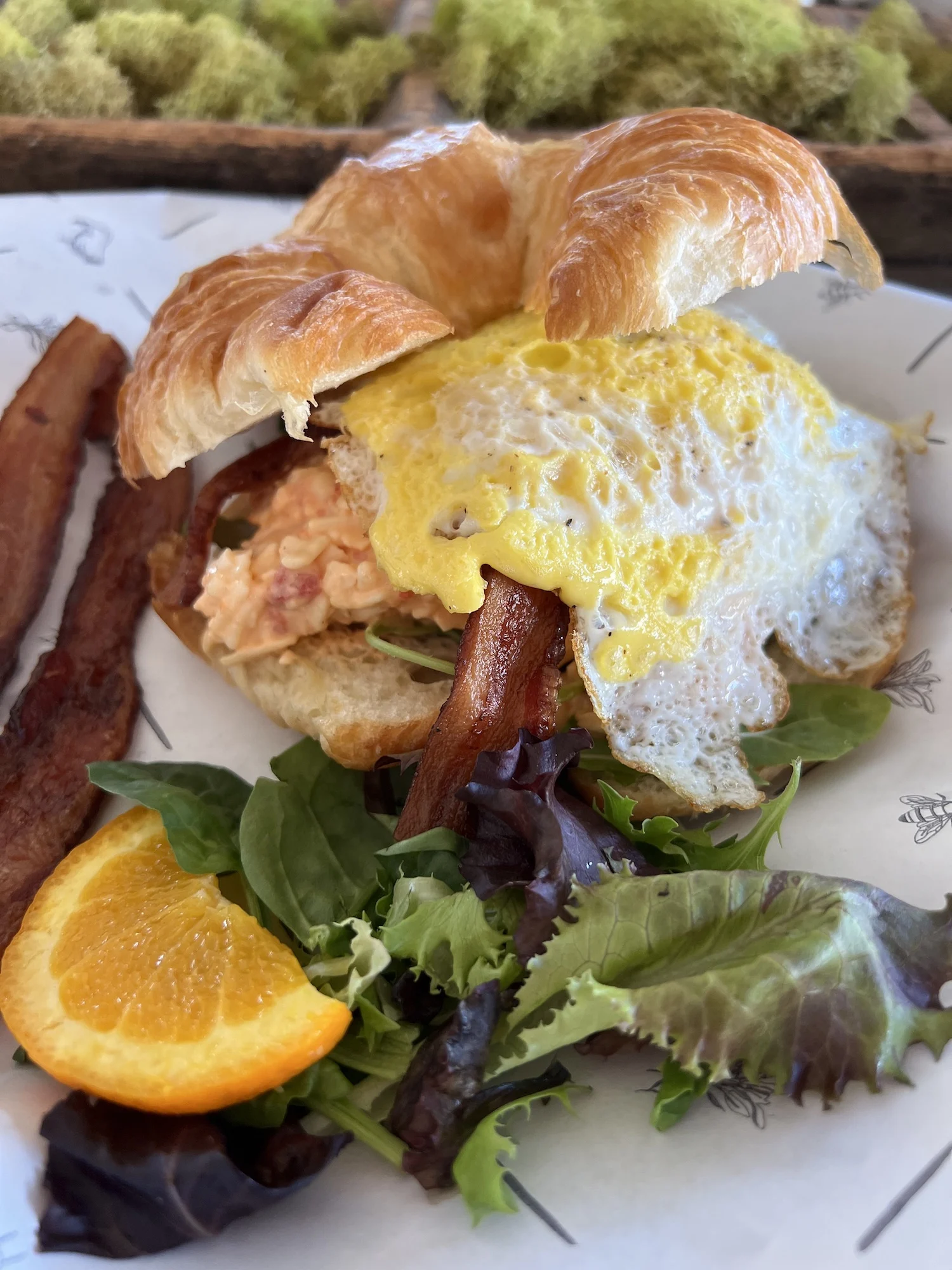 Be sure to check out their retail store, where you can buy a bag of granola to take home. Or try the new Anigrahams, homemade animal graham crackers that celebrate the Asheboro zoo heritage in the community.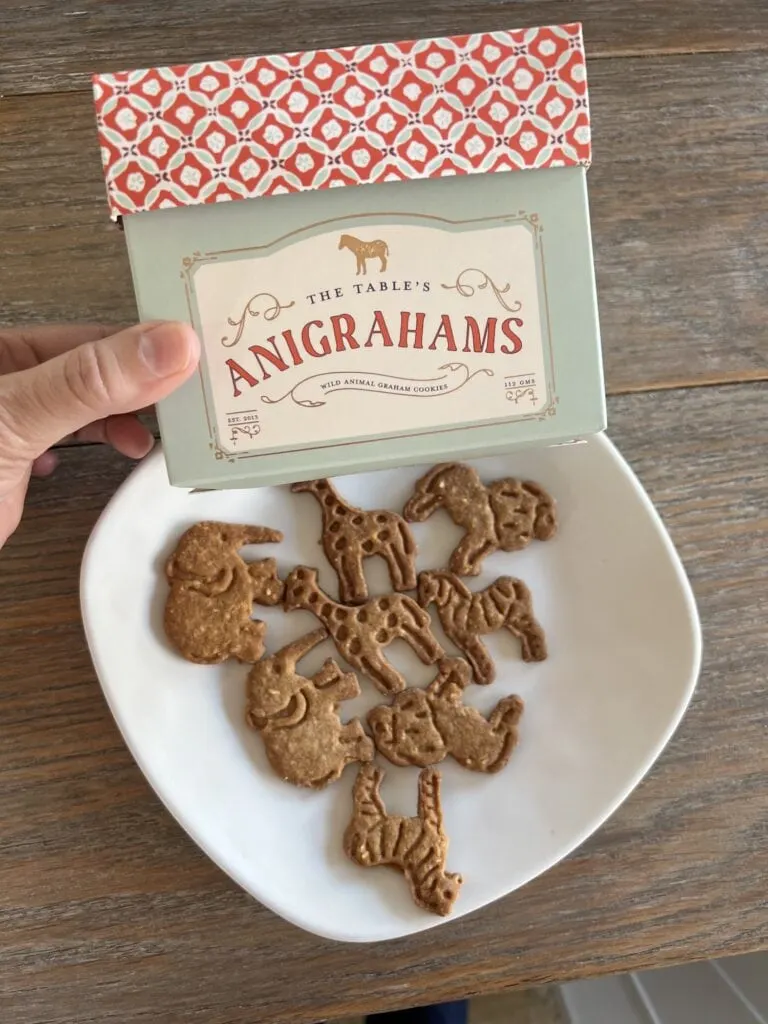 Magnolia 23
This Southern restaurant in downtown Asheboro is a family affair. Known for its fried chicken and homestyle comfort foods, Magnolia 23 has been in the Simmons family for more than 10 years.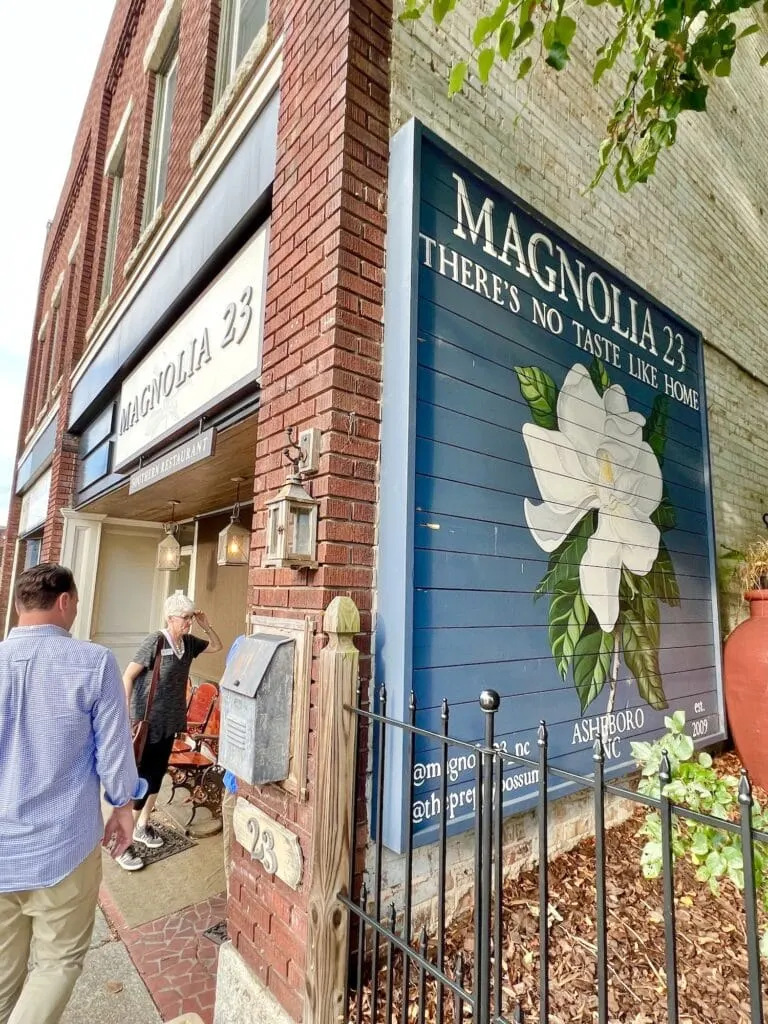 We honestly don't think you can go wrong with anything on the menu which is made from scratch and inspired by family recipes. The menu changes daily, so be sure to look at the chalkboard when you walk in to see what is available.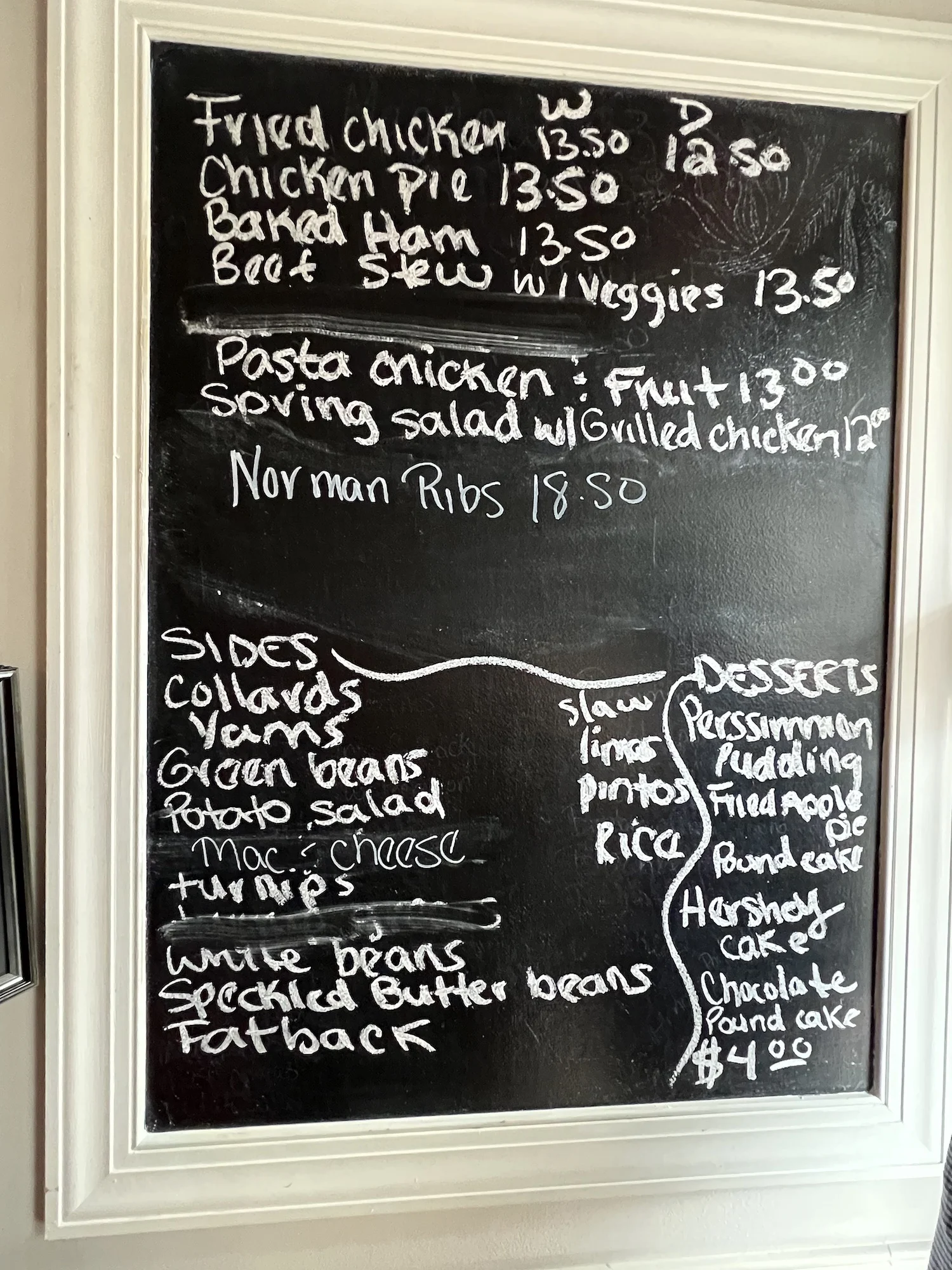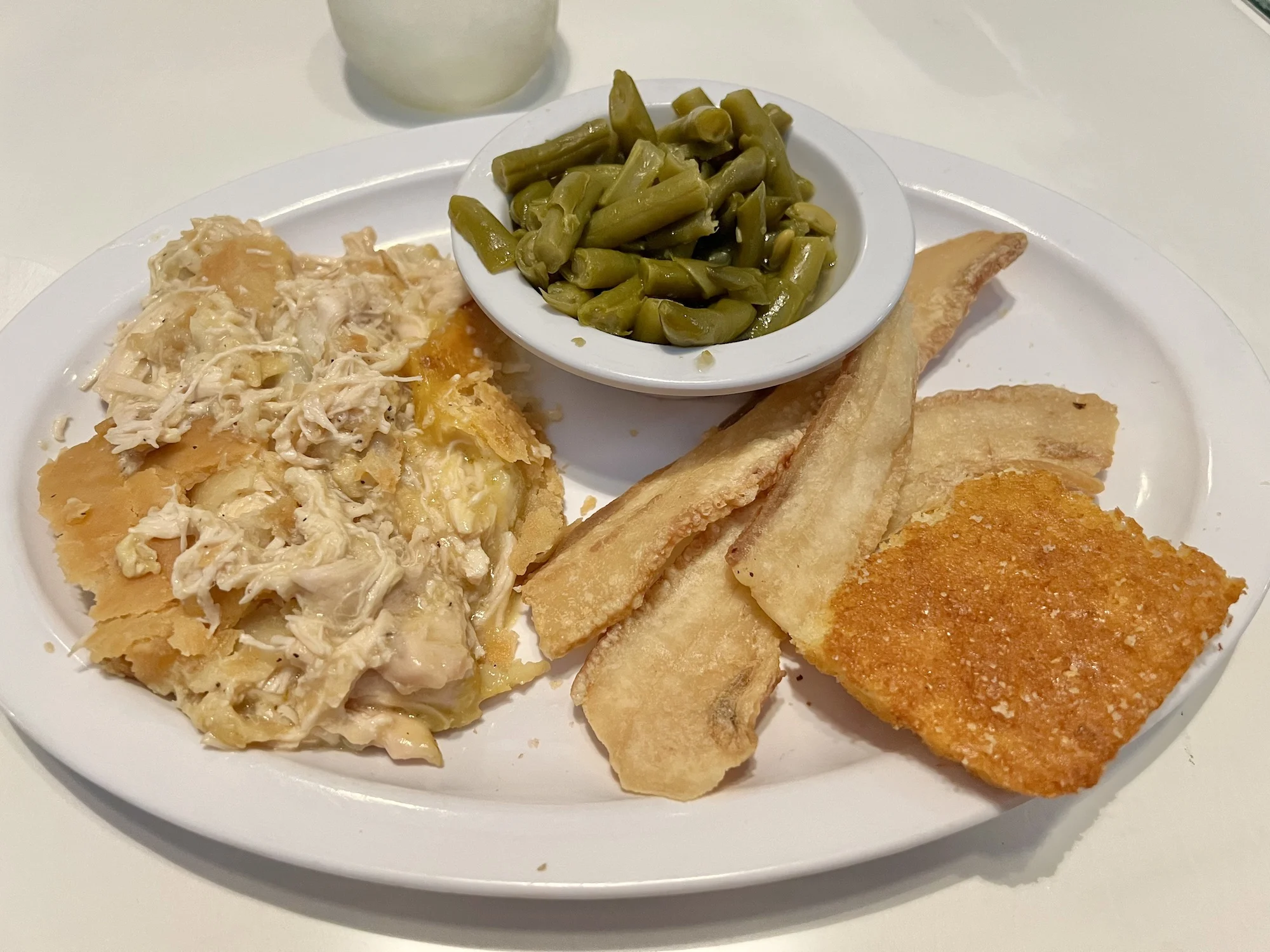 My Personal Tips for Dining at Magnolia 23
The restaurant is small, so be sure to get there early to get a seat!
Fatback is an unusual side, but definitely an old-fashioned Southern treat. I ordered it and found it to be really hard, so be sure to order this side with something that has liquid that can be absorbed to soften it up, such as the beans or collards.
Where to Stay in Asheboro
During our visit to Asheboro we stayed at the Fairfield Inn and Suites. This location was really convenient for getting to the zoo as well as downtown.
See our Fairfield Inn room tour in our YouTube video below:
There are four different hotels all located in this same area, including:
Holiday Inn Express and Suites
Hampton Inn
Comfort Inn and Suites
There are so many great things to do in Asheboro. While in the area, consider visiting Southern Pines and Pinehurst, as well, which are a very short drive away.